Pallets are often deemed as wasted timber. Once households or individuals get their packages, they really don't care about the pallet box anymore, which goes straight to the fireplace or rots away in a storage area. However, pallets are rather versatile,they can turn into anything; from tables, racks, storage areas and even gardens. There are a variety of new items that can be created from these pallet boxes and all a person really needs to do is to be creative and think outside the box.
Pallet gardens are the usual DIY projects that come to mind after receiving pallet boxes. For a home with a smaller lawn or even no lawn at all, these pallet gardens allow the possibility to improvise beautiful and green gardens. Some even take this advantage and create their own herbal gardens from where they can get spices and even fresh vegetables and fruits.
If you are interested in creating your own pallet garden, here are some useful pallet garden ideas that should get you going.
111 Pallet Garden Ideas to Collect
1. vertical pallet garden

Vertical pallet gardens are one of the most encountered types. There is little to change in the appearance of the pallet box, only that the sides are covered so that the dirt can stay in and will not end up scattered around. Then plants are planted on the spaces between the pallet wood. This pallet project is the optimal solution for homes that have little to no space as the pallet can be supported on the wall.
2. vertical herbal pallet garden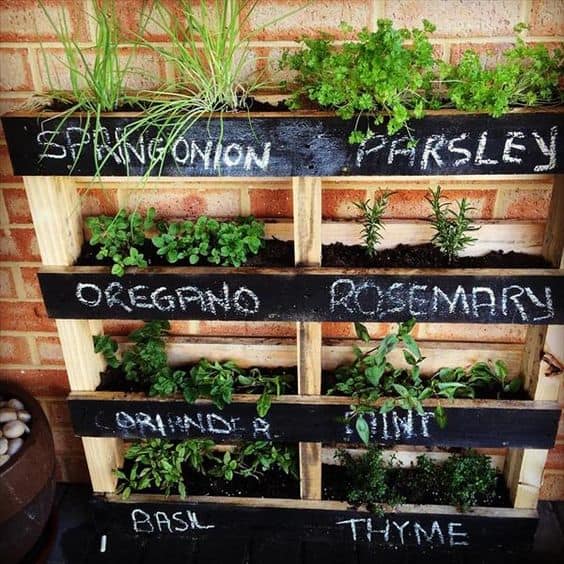 This idea is rather a different vertical garden approach. The pallets are no longer closer to each other and there is more space for the herbs to grown. Again, instead of ornamental and decorative plants, herbs are among the most common pallet garden plants. Since these are rather helpful for various reasons, deciding to go with this plan will offer numerous benefits.
3. colorful VERTICAL HERBAL PALLET GARDEn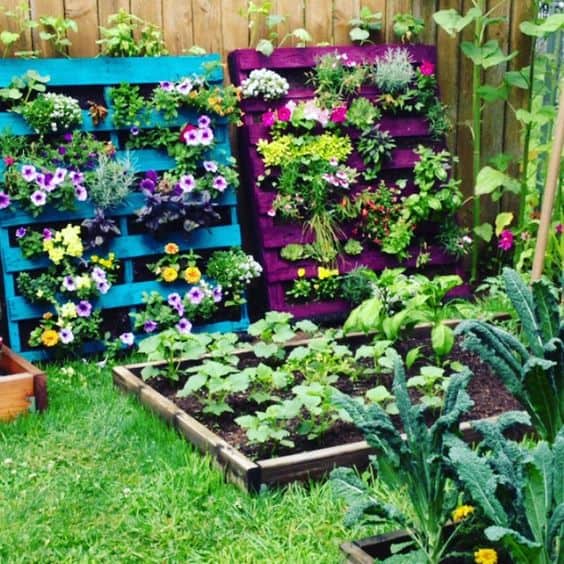 Vertical pallet gardens can become a great piece of art, simply by adding some hues through paint and then planting beautiful flowers as a pop of color. In a garden with mostly greens theserepresent a wonderful addition.
4. unique idea for a pallet garden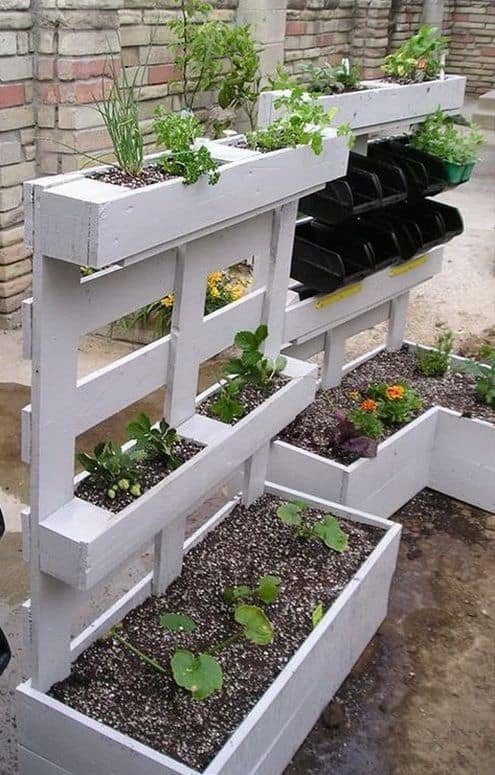 If you want a rather bigger space for your plants to grow in, you can choose to create a vertical pallet that has a bigger box at the bottom for bigger plants you're planning to grow. Of course, this will take some work on the pallet boxes. You will really have to recreate the look to achieve this.
5. perfect pallet garden for smaller areas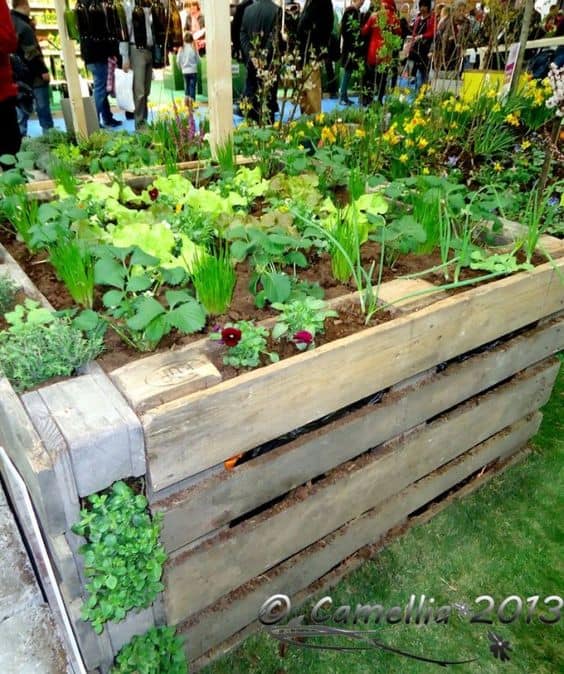 Almost all suburban and city homes have small lawns, but pallet boxes are here to make a difference. Through a small space, various plants can grow and almost every part of this pallet box planter can be used for growing these green lives.
6. vertical pallet gardens for your walls

Here are some examples of vertical pallet gardens that are really created for your walls. The plants you can grow in them can differ, you can either leave it in a corner with other potted plants you have or hang it on your wall as sort of a decoration. In fact, you can even put these vertical pallet gardens inside the patio and create a wonderful new green universe.
7. vegetable and floral pallet gardens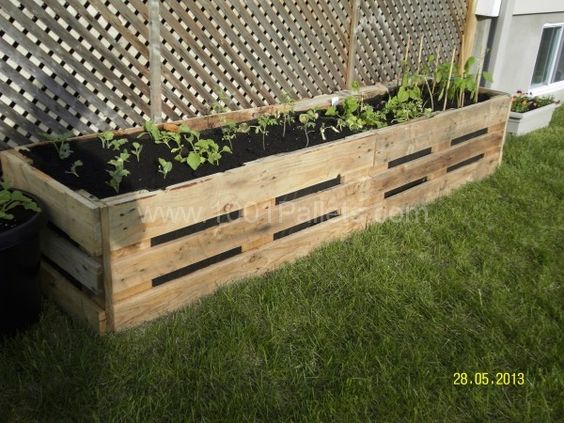 If you want a rather traditional look to your pallet garden, you can create a planter box wherein your plants are free to grow as high as they like. Of course, you will need to create the box from the pallet wood you have. The good thing is you can make use of every pallet you have, whether they are new or old and sustain thus the recycling movement.
8. grow your own food with pallet gardening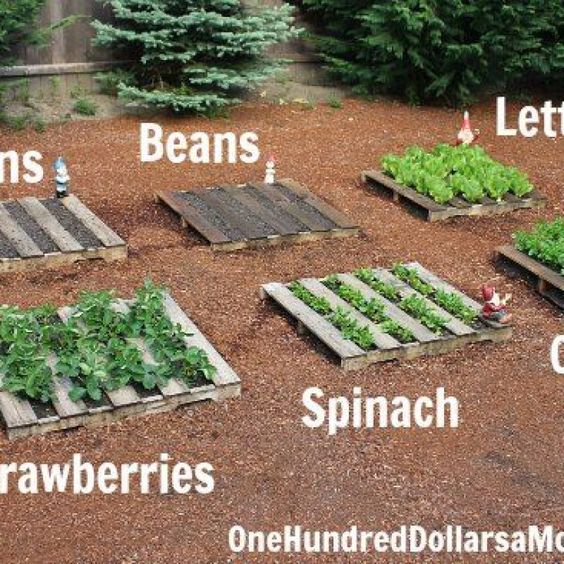 In case you want to start a pallet garden, you may want to choose some vegetables and fruits that you can easily grow using these pieces of wood. This can be considered the optimal solution for saving money and cultivating fresh organic food in your own backyard.
9. potted plants on pallets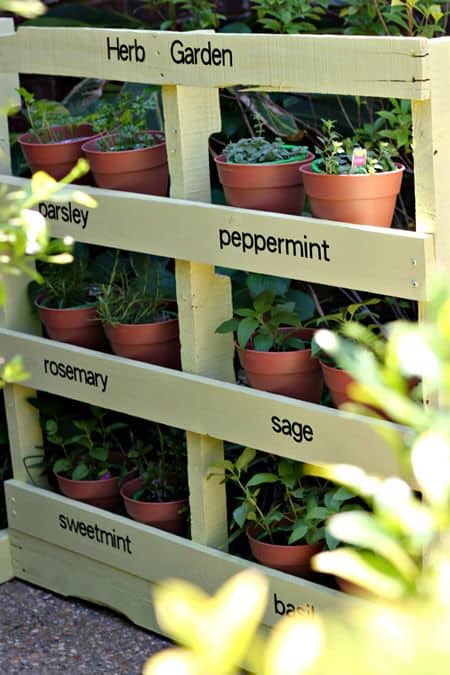 Instead of directly growing your plants on the pallet garden you have made, you can actually try to put you potted plants on it. Somehow, it becomes a "shelf" for your plants, making it easier to transfer the plants if you need to.
10. lovely pallet garden on the patio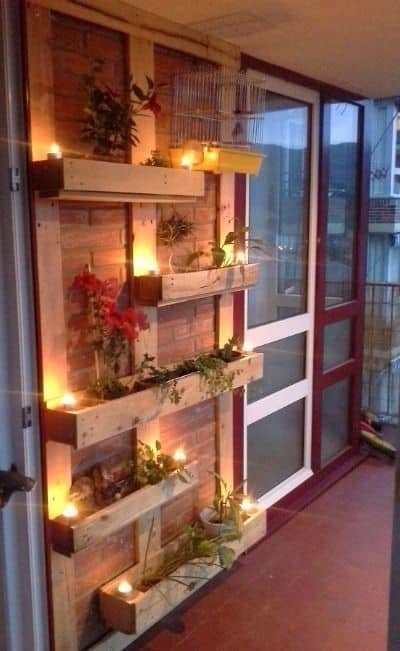 Create a plan and then use old pallet woods and then add lights and beautiful indoor plants to organize a wonderful patio piece. Such a project will require little skill but the visual effects will definitely be appreciated.
11. creative pallet garden with potted plants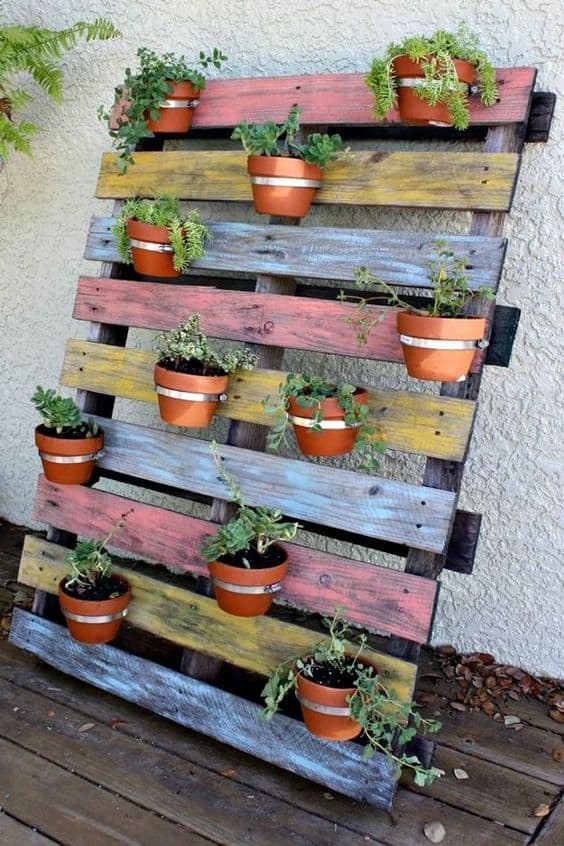 If you have limited skills when it comes to handling hammers and nails, you may want to consider this simple pallet garden. You can nail some aluminum or anything durable that can handle the pot onto the pallet box and then place some of your potted plants. It's almost like a hanging garden of sorts.
12. pallet vegetable box garden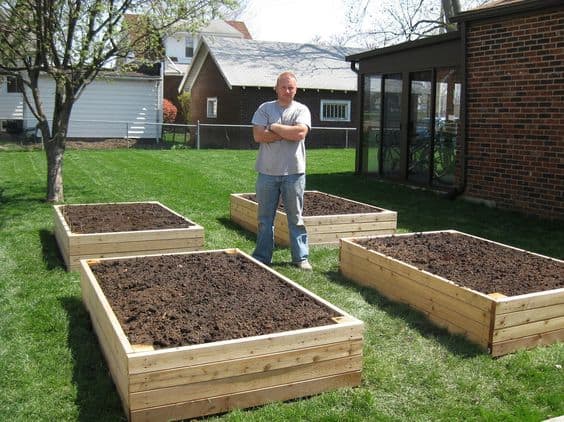 You could choose the traditional way of using pallet boxes wherein you don't have to customize its look to plant your veggies. But of course, you can also create a bed from those pallet woods you have. It can be bigger and wider and you can plant more with this idea.
13. elevated pallet gardens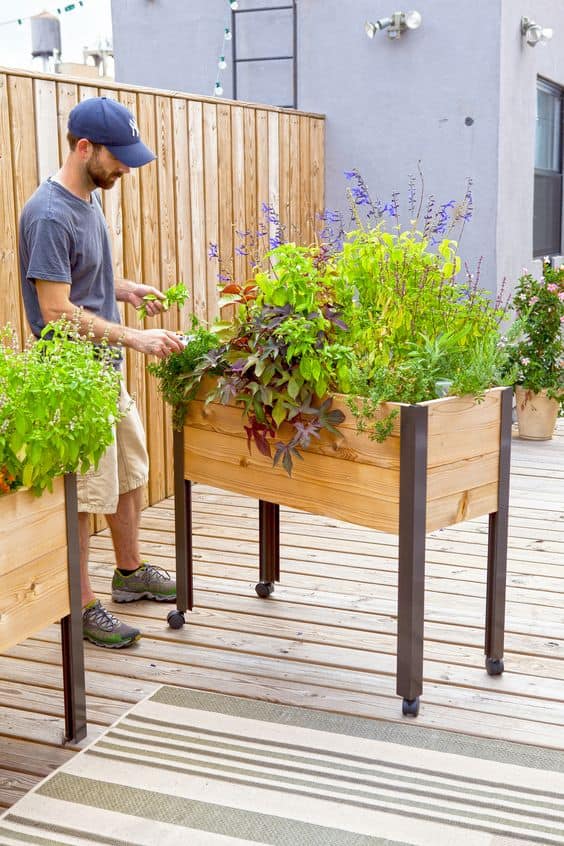 If your place doesn't have a lawn but more of a balcony style, you can still have your own little garden. Create a pallet box planter and simply add legs to it to raise it from the ground and save up on space. The raised beds can make it easier to care for your plants.
14. little pallet gardens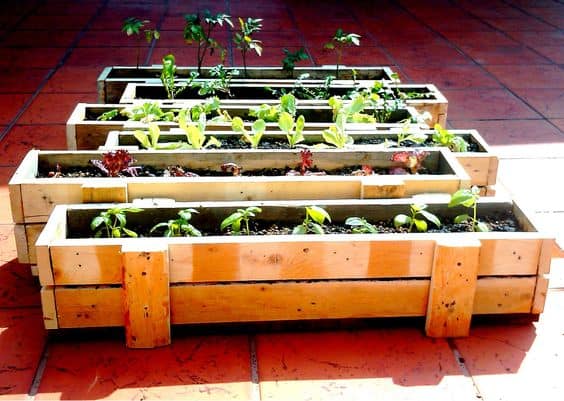 These tinier pallet boxes can only accommodate one row of plants. You can place the boxes alongside each other or on various places around the house, especially when you don't have the freedom of using too much space.
15. diy pallet stairs garden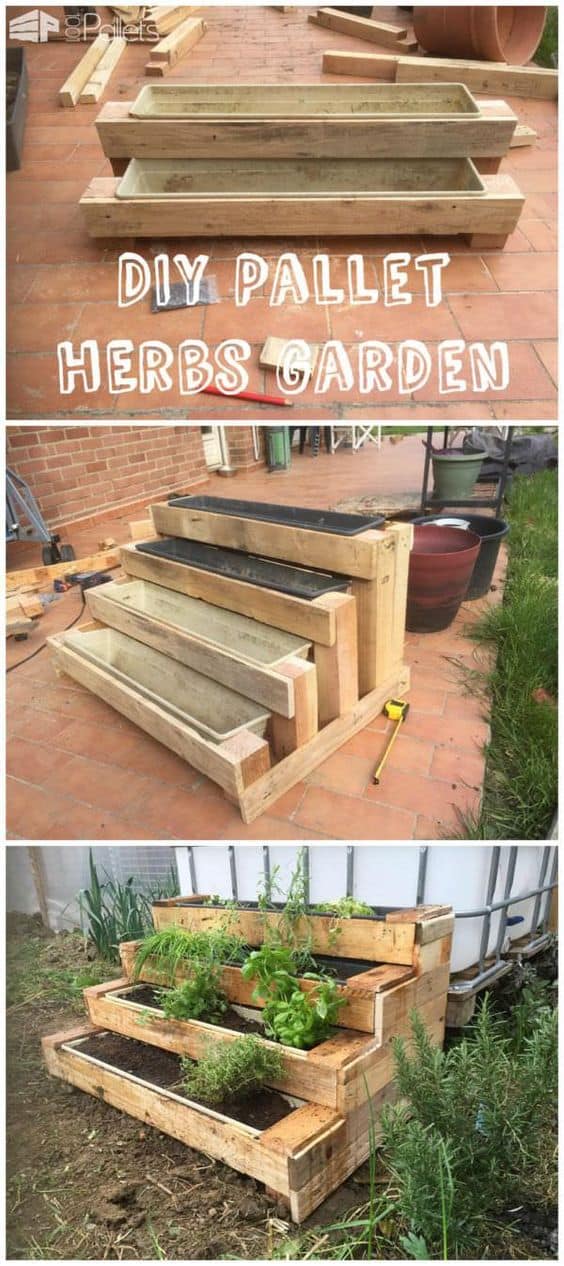 Another common pallet garden idea is a stair pallet planter. It resembles a flight of stairs, as mentioned in the name. Each step can also accommodate 2 to 4 types of plants. The stair idea is great when you're looking for a garden that can be decorative and easier to accomodate your plants.
16. vertical pallet planter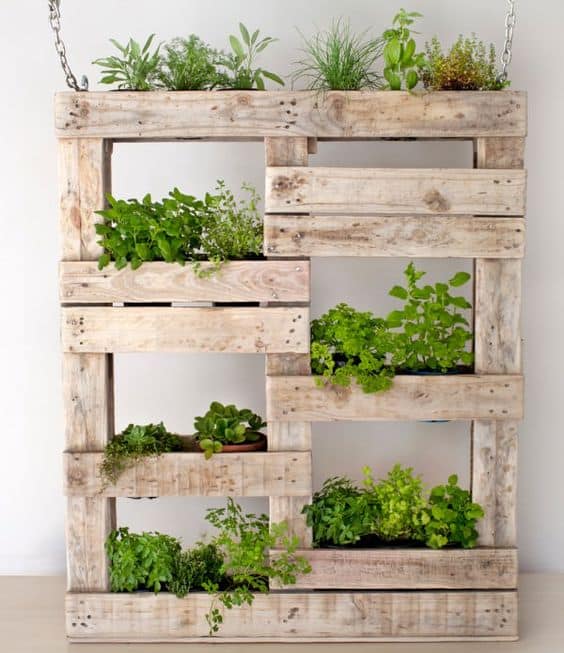 You can build your vertical pallet garden with higher row and thus have more space for your plants to grow in. You can either grow your plants directly onto the spaces or you can place a potted plant. Any way, this design is definitely suitable for modern homes because of its cleaner, edgier look.
17. unique garden pallet boxes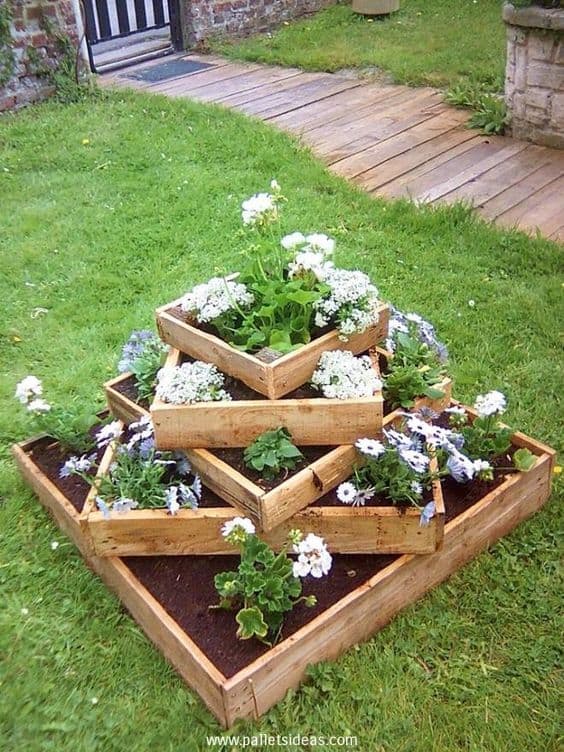 This unique design is great for individuals who are looking forward to making their garden look much better but have no budget for landscaping.Just create four square planters with different sizes, then fill them with soil and stack them according to this design.
18. space saving vertical pallet garden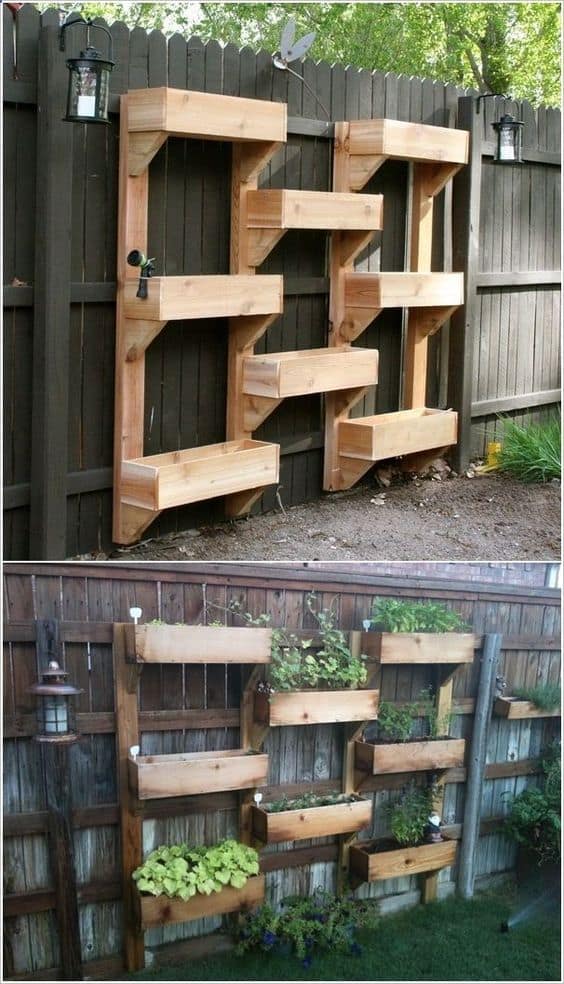 Vertical pallet gardens are one of the best choices for decorative garden pieces and simply for saving space. This beautiful projects alternates planters on a vertical pallet and becomes a great and stunning addition to any home. Since it's attached to a fence, you won't have the problems of finding sufficient space for your new babies.
19. pallet garden fences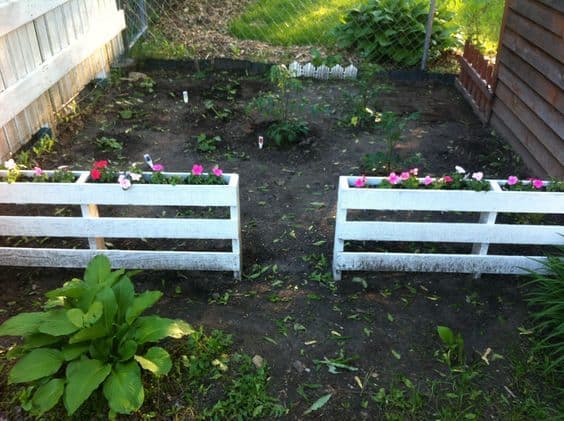 Pallet fences are also a common project for unused shipping boxes. These can be used to create a fence to your mini garden where you can plant more of your shrubs and mini trees. To decorate your pallet fences, use the top space to plant little flowers.
20. smaller vertical pallet garden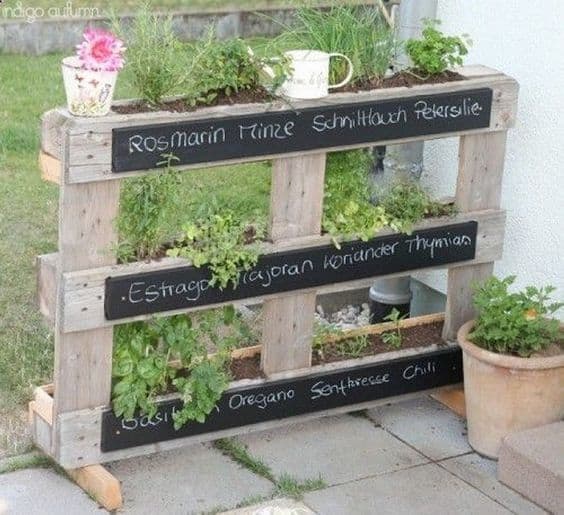 This little vertical pallet garden can be stored anywhere outside your home so it can get sufficient sunlight. But instead of planting flowers or succulents, you can plant herbs that you can use for medication and cooking. Each planter can grow two different kinds of herbs.
21. strawberry pallet garden

Strawberries can be expensive when you buy them at the supermarket, especially off season.If you are really crafty you can save money by creating your own strawberry garden. No worries, these can grow on pallet boxes so it's possible to create one and start planting your own strawberries as soon as the weather allows you to.
22. vertical indoor pallet garden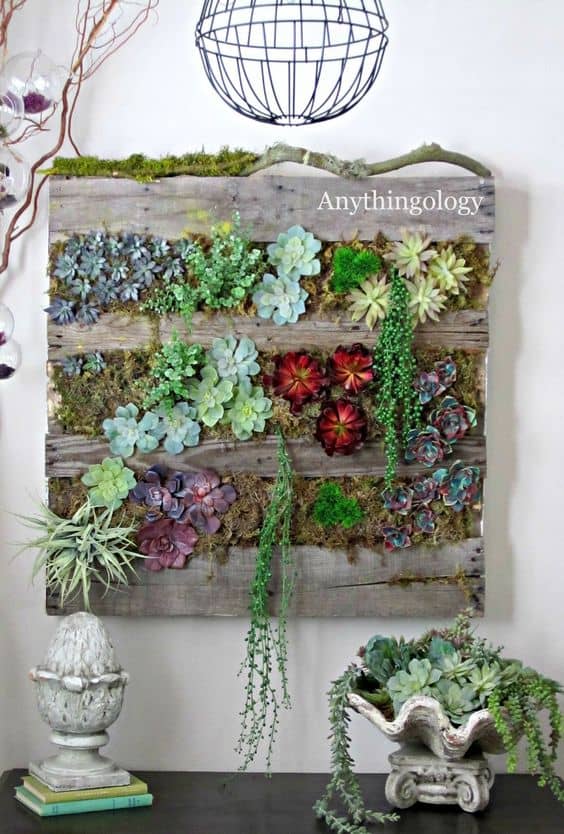 Succulents are not just wonderfully beautiful plants, they are also rather easy to care for, very low-maintenance as compared to other plants. If you don't have enough space for tiny pots, you can build an indoor pallet garden filled with succulents.
23. corner pallet garden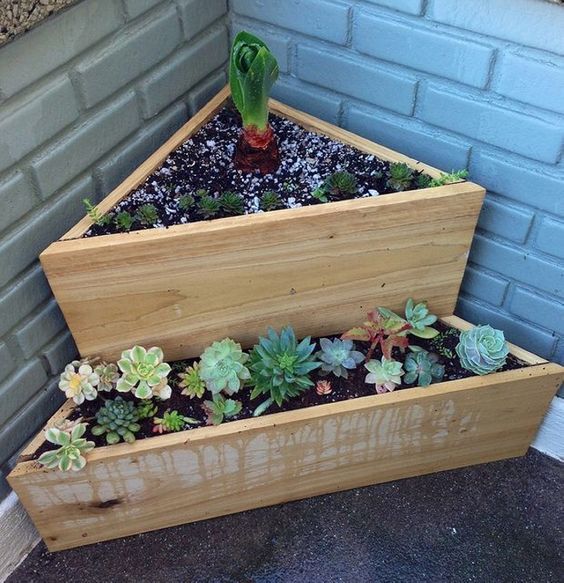 Want to fill out some empty spaces and corners? Creating a pallet planter for this very purpose is doable. Instead of creating boxes, create a triangular planter from your pallet wood. Do no forget to take the measurements of the corner for a perfect match.
24. herbal pallet garden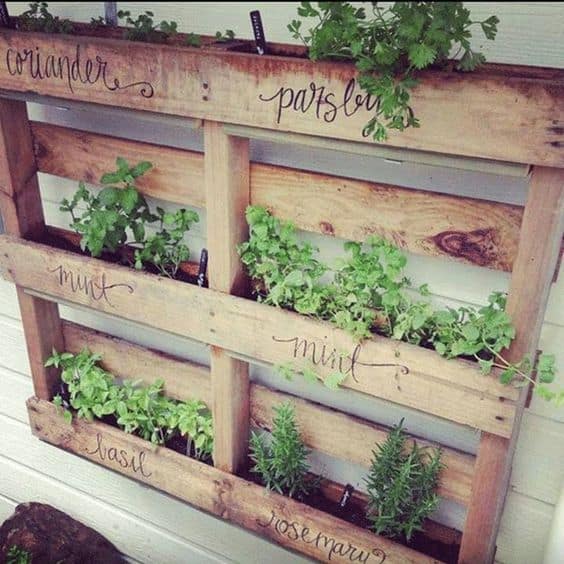 Basil, rosemary, mint, parsley and coriander are great choices of herbal plants you may want to start growing in your vertical pallet planter: Usually used for cooking and also for medical purposes, it's always a good idea to have easy access to these herbal plants.
25. vertical wooden pallet on the wall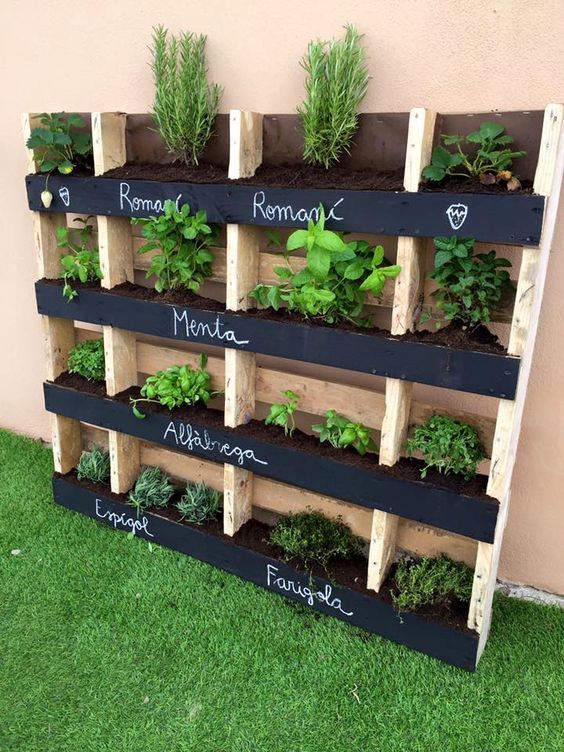 26. decorative home pallet garden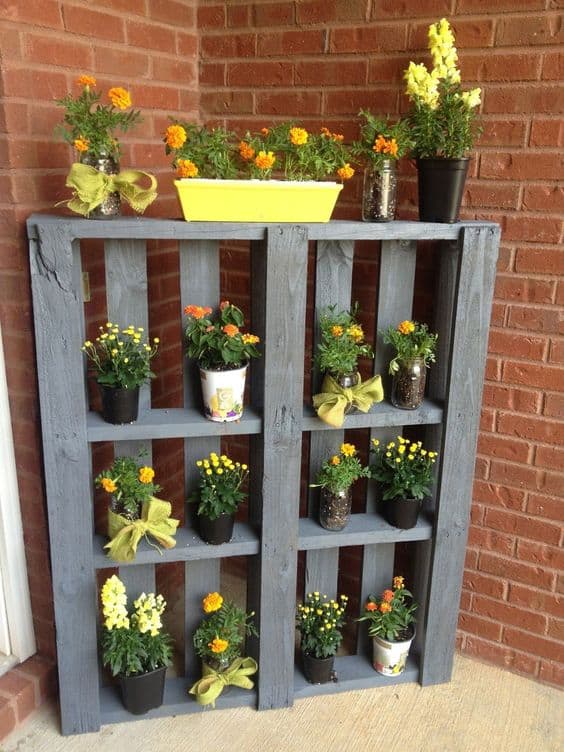 Instead of planting into your pallet boxes, you can simply create a garden by adding mini pots of flowers and plants. You can use it asa party decor prop in your home.
27. pallet garden decoration idea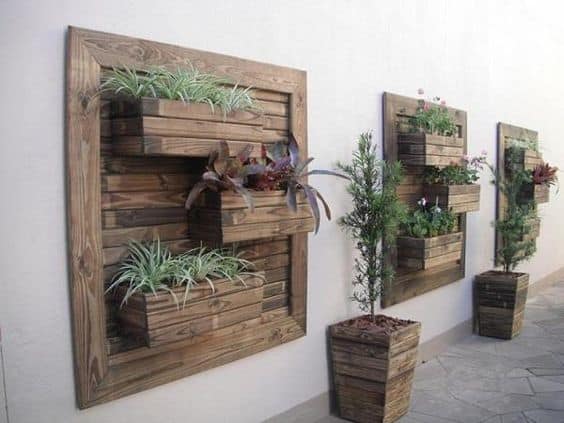 Adding greens and flowers around the home can actually create a more refreshing environment so as much as possible, people try to invite greenery in.
28. pallet garden nursery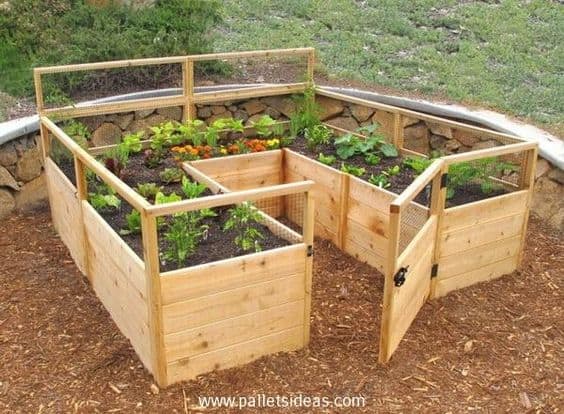 Growing your own food will take time and effort. This little garden nursery made from pallet wood could actually help you in that endeavor as this is a perfect place to start growing those cabbages and carrots.
29. pallet garden fences with green plants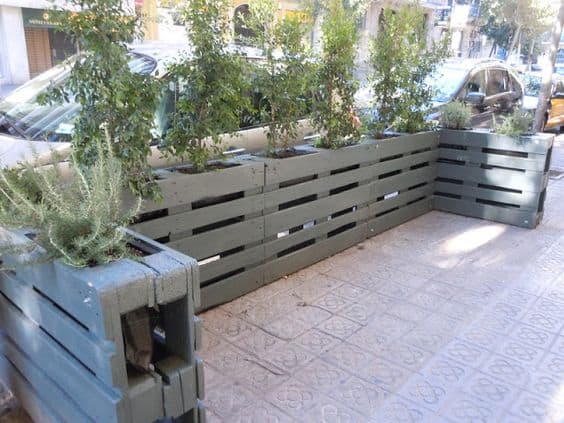 Recycling pallet woods can reduce waste all around. But these can also become the perfect decoration and even a budget-friendly solution for the green initiative around the city.
30. fantastic vertical pallet garden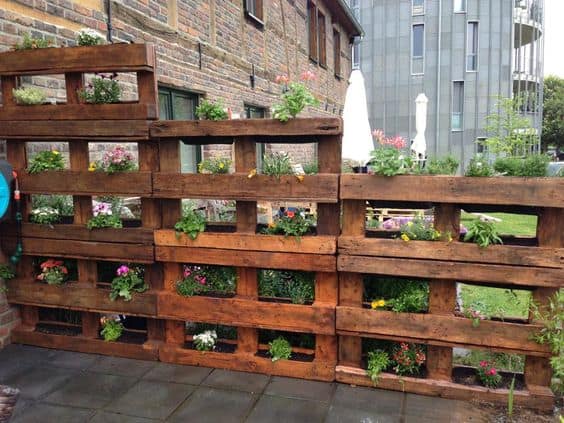 Vertical pallet gardens aren't just for design. Sometimes, they also have their own purpose. For example, these can be used to divide parts of the house or actual properties cheap as you are using repurposed pallet wood that you may already have. All it takes is a bit of hard work and dedication to the clause.
31. mini vegetable farm – pallet garden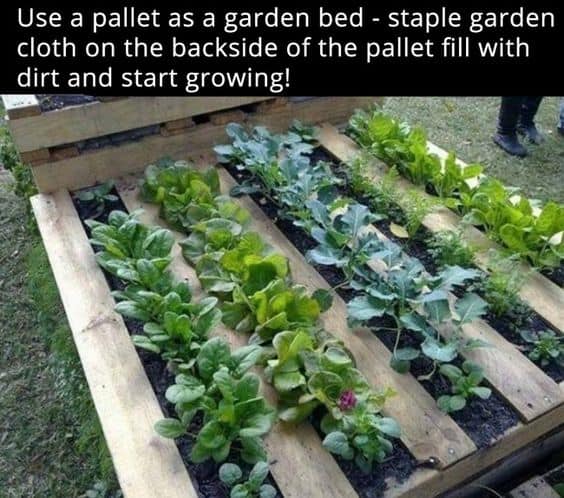 All it really takes are garden cloths to keep the dirt in the pallet planter. It easier to start growing your own vegetables, each row can be allocated to a different vegetable or fruit which makes it easier to have a varied vegetable garden. Soon enough, you can save money by eating what's in your backyard, fresh and organic.
32. budding pallet garden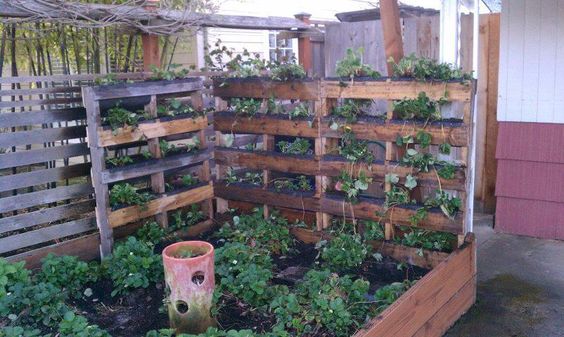 If you are really serious about making a little vegetable garden and you have more pallet wood to spare, creating a bigger space ise possible. A bigger planter can accommodate more plants and a vertical pallet planter can help save space. You don't have to worry even if you're not living on the countryside as this idea will be enough.
33. pallet garden stairs

If you are having doubts with the solution of vertical pallet gardens, you can just choose to create a pallet stair planter. This alternative is more stable than vertical ones that don't have any type of support.
34. know what you have planted in your pallet garden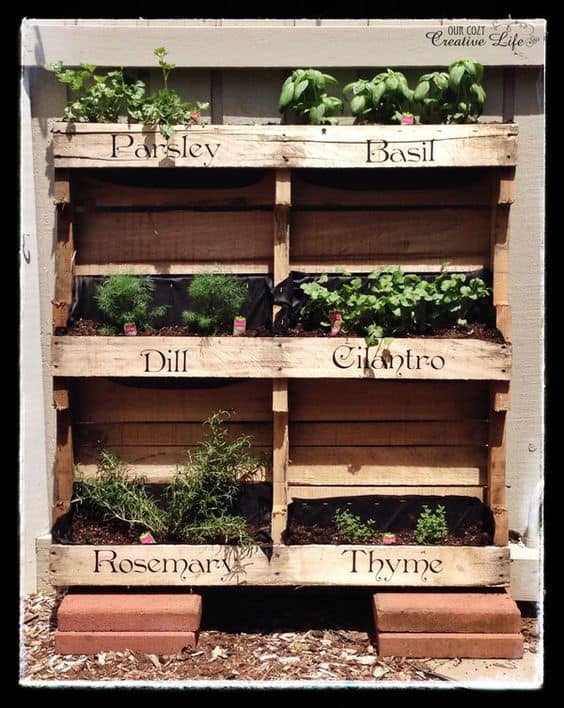 35. raised pallet garden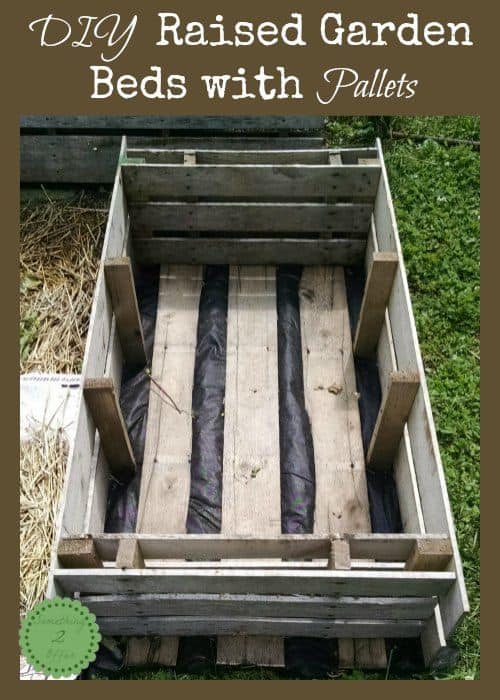 The great thing about pallet planters is that they can be designed to your liking. But the most common and yet the one that is best for almost any plant is the raised bed. Since it's bigger and deeper, it can be filled with more garden soil, making it a great choice for planting.
36. easy pallet garden idea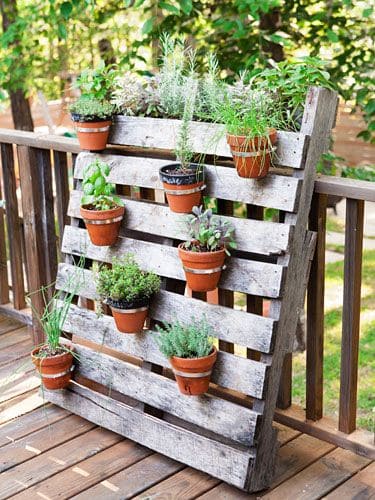 If you have limited pallet wood,use the one you have available as a hanger for your potted plants.
37. potted herb garden from pallet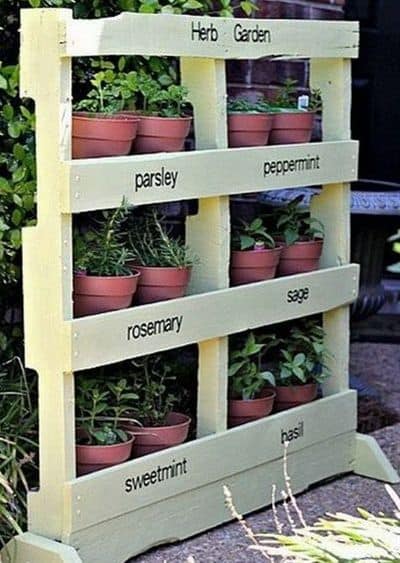 This little pallet garden consist of several potted herbs that can be used for cooking, which also saves you money.
38. raised pallet garden nursery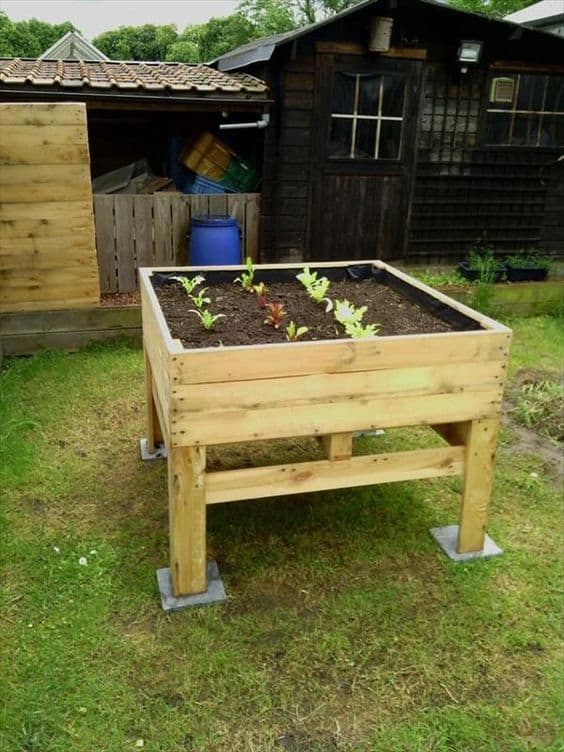 Take good care of your growing plants even more by adding a stand/leg for your raised pallet box planter. This is a great idea for elderly people who can't really bend or stay bowed down to tend to their plants. Raised beds can also be great for homes without a garden.
39. squash pallet planter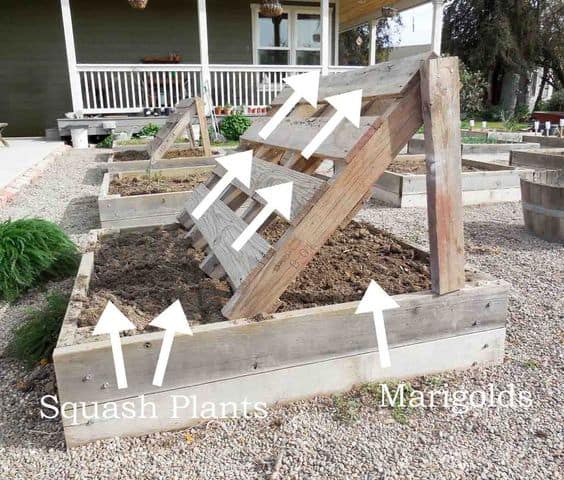 Squash plants aren't simply grown by placing a seed in the ground and waiting for it to grow out. To properly grow it out, you would need a plant trellis, which can also be made from pallet wood. Trellises are used so plants like squash can have something to "climb" on and develop properly.
40. typical vertical pallet garden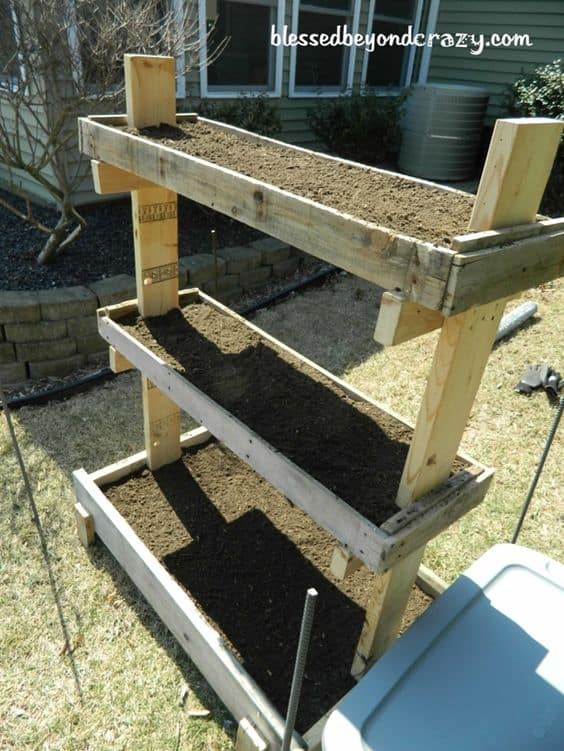 This three-tiered vertical pallet can of course be created with old pallet wood you have somewhere around your home.
41. vertical pallet garden with lights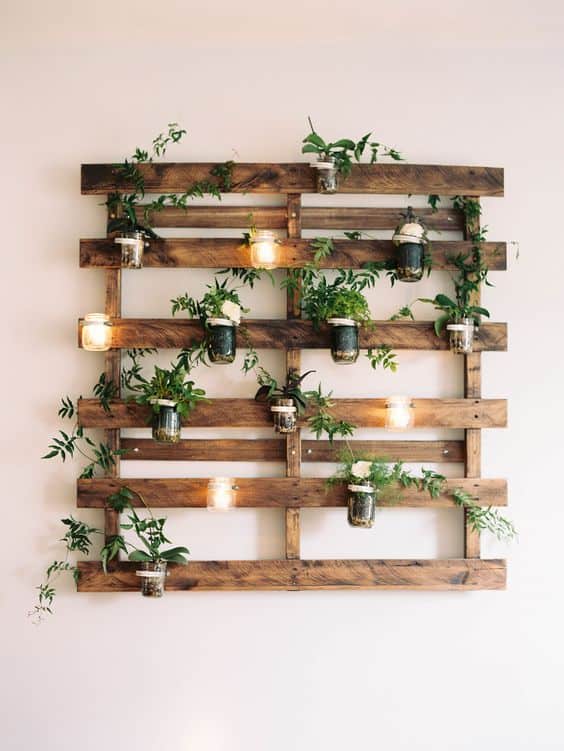 Gardens with inserted lighting are always surreal and beautiful, especially at night. You can add candle light or string lights to your pallet gardens to make them look more cozy and chic.
42. simple pallet garden for first-timers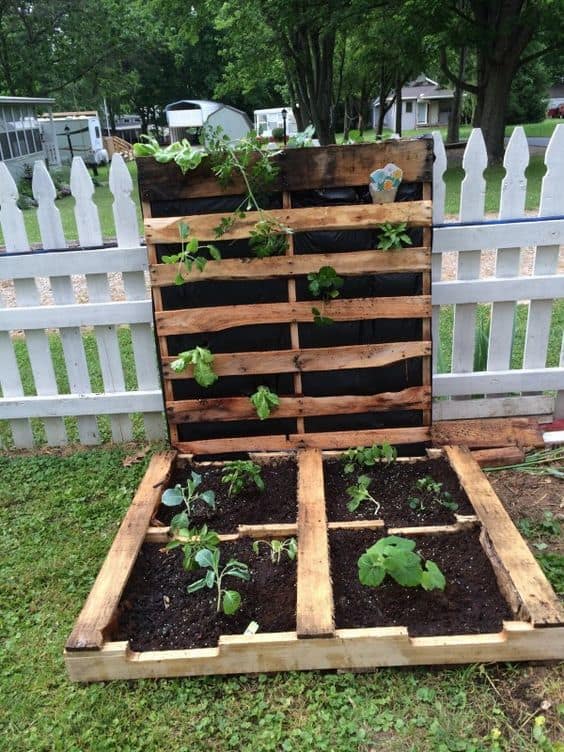 If you're a first-timer in the pallet gardening area, you should start with projects that are rather simpler. This one is a simple pallet garden bed with a vertical side.
43. indoor vertical rich pallet garden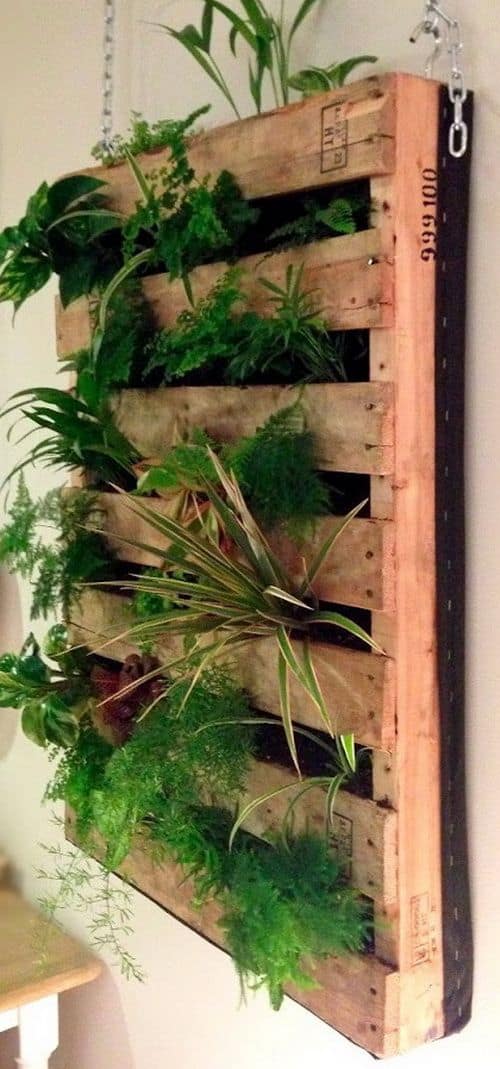 Who said gardening indoors is prohibited? You can most definitely bring a pallet garden within your home. You merely have to secure the sides with a garden cloth so that the dirt will not easily fall and you won't have a hard time cleaning after it. Apart from that, you may want to choose plants that don't need much maintenance, especially with sunlight. But for precaution, choose to place it near a place with sufficient sun.
44. tower pallet garden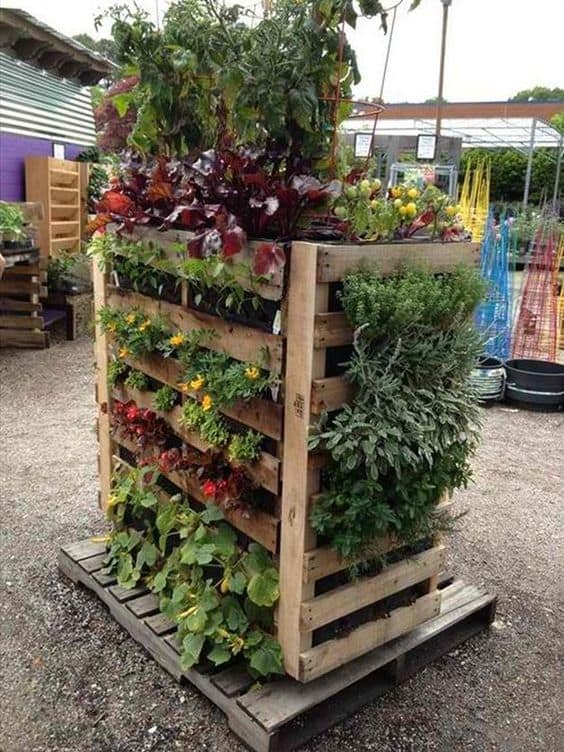 Want more plants but lack much space? This tower pallet garden is the solution you require. Since a lot of homes now have little spaces, planting tends to take up the space intended for other things. But if you really want to have your own garden, create a tower, it's like creating four vertical pallet gardens side to side.
45. Pallet planter design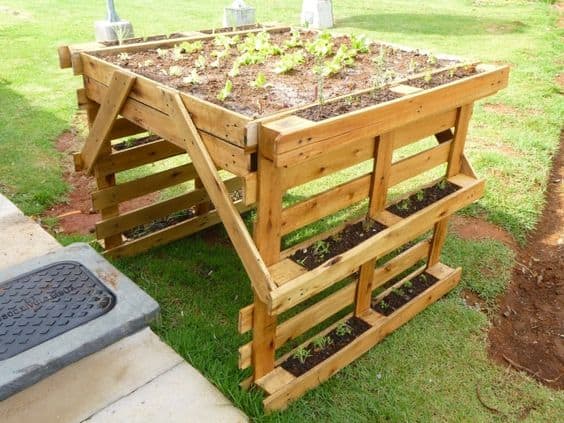 This cute little raised garden nursery has side planters to offer more space for growing your plants. This kind of design also makes it easier to maintain your growing plants. You don't really need to go around the place trying to water everything. At least having a wider place in one spot will make it faster to do your gardening chores.
46. raised pallet garden beds
Pallets are basically a perfect base for raised garden beds. These pallets already have raised platforms, at least an inch or two above the ground. You don't even have to modify your pallet boxes or perhaps it would only take small changes such as making the spaces a little wider in between the panels.
47. hanging pallet garden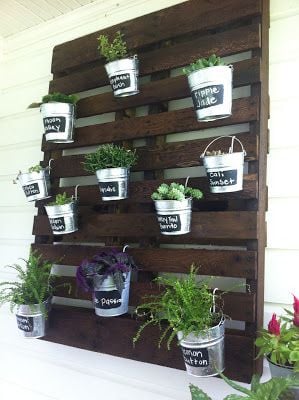 These hanging pots would be a great idea if you can't find a garden cloth to seal in dirt and you want to bring your pallet garden inside the house. You don't even have to nail some handles, you can simply find hooks that you can attach to the buckets and make sure that it can securely get hooked on the pallet.
48. colorful pallet garden idea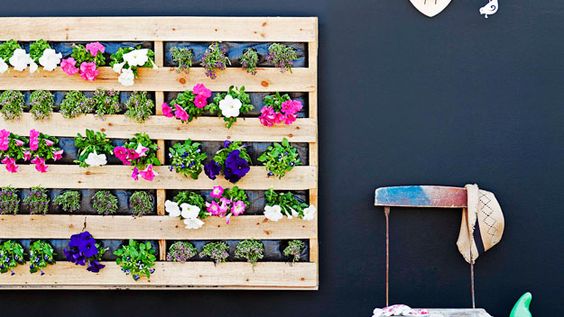 A pallet garden mostly relies on the type of plant you are going to plant to make it look appealing. Of course, flowering plants will do. Nonetheless, it is best to see whether the plants can survive in a space like a pallet. Take note that these won't be growing straight upwards as the distance between the panels is not wide.
49. pallet garden pumpkin trellis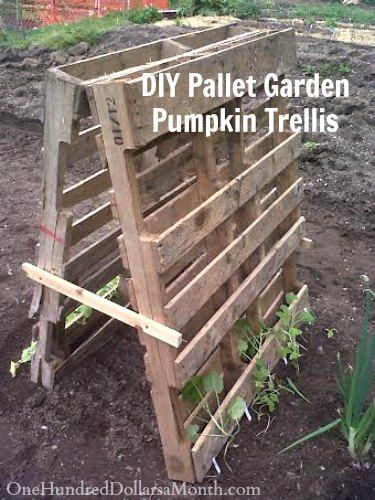 When it comes to planting pumpkins, trellises are common. These are used to support the growth of the pumpkins, as these are vines that will crawl and invade other spaces when not properly taken care of. But instead of finding good pieces of wood to make a trellis, pallet wood will make it easier for you as they are already constructed to look like a garden trellis.
50. pallet gardening table

This project doesn't really directly use the pallet as the planter. However, it can be extremely useful for gardening. For example, you don't have a gardening table and there isn't really much space to place one, a pallet can be turned into a foldable garden table like this one. It is then easier to work on your favorite plants.
51. big pallet garden stairs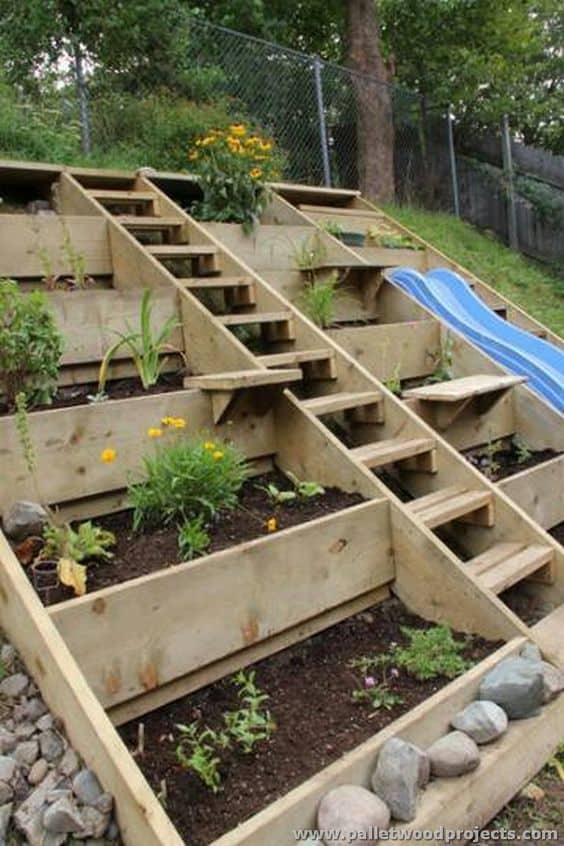 This one is quite an ambitious project, but if you can do it, it would be an extremely great idea. The project features stairs as garden beds with different plants plus real stairs to sit on or climb to the top. There's also a mini slide for the children!
52. pallet garden boxes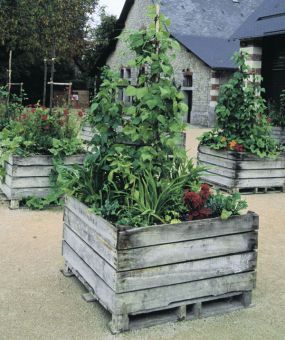 There are those who love gardening, but don't really want to step on plants as you do in a regular garden or find different plants lying around. When the surface doesn't really support gardening a pallet garden box is the best choice.
53. colorful flowers in a vertical pallet garden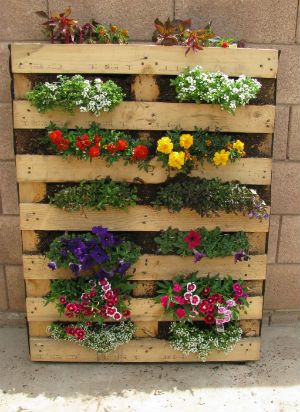 How to transform a great pallet into a garden? It's really about how you take care of the plants. If your plants, especially flowering ones, bloom and grow healthy, you have got great bundles of greens and even pinks, reds, oranges and violets on your pallet garden, thus becoming an amazing garden piece.
54. vibrant vertical pallet garden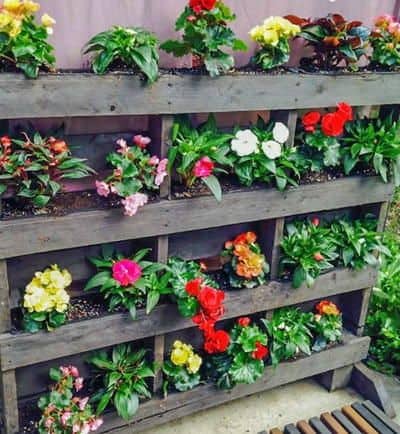 Cover up some old walls that you can't repaint or renovate for the meantime with some vertical pallet gardens. Choose plants that are actually great to look at and can really cover up the walls you need covered.
55. herb garden from repurposed pallet boxes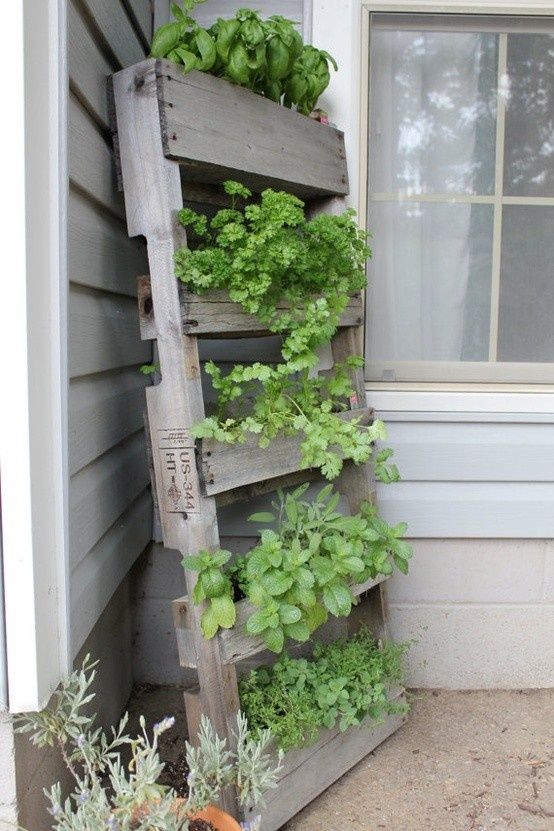 Whether your wooden pallets are old or broken, they still have space for pallet gardens. In case you're the person who wants to get rid of any stuff and pallets are piling up, why not create a vertical pallet garden like this. It's actually easy and you don't need to find any sophisticated spot to place it.
56. a green wall with vertical pallet gardens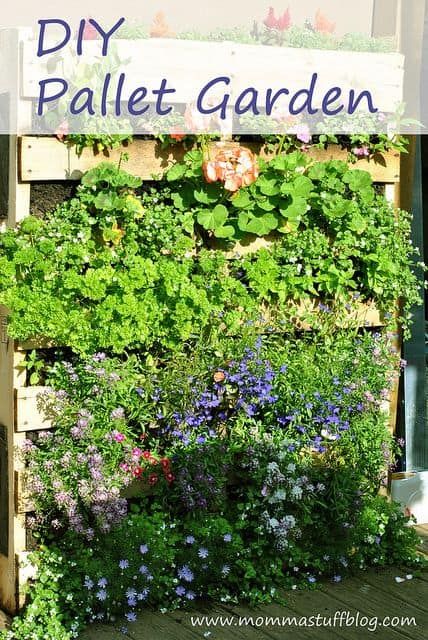 Here's what it would look like if you have chosen plants that can easily grow and bloom well even in a tiny space. It's almost like a green wall made of plants.
57. elevated pallet garden planters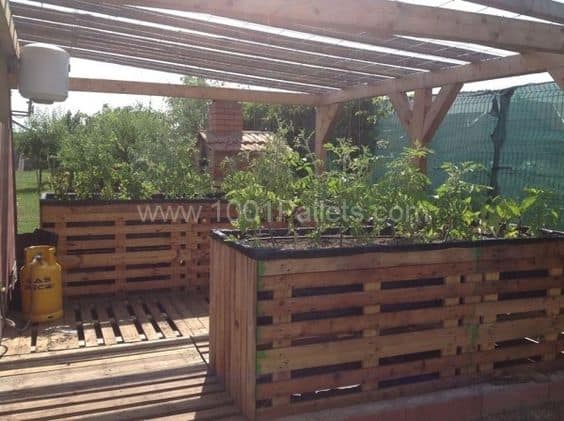 Wooden planters  aren't just for creating planters. If you have enough of them, you can actually create a space like the one above. Most people tend to turn to gardening if they are usually stressed. Gardening can take away stress and clear the mind. Your wooden pallet garden could aid you into a more stress-free life.
58. chic vertical pallet garden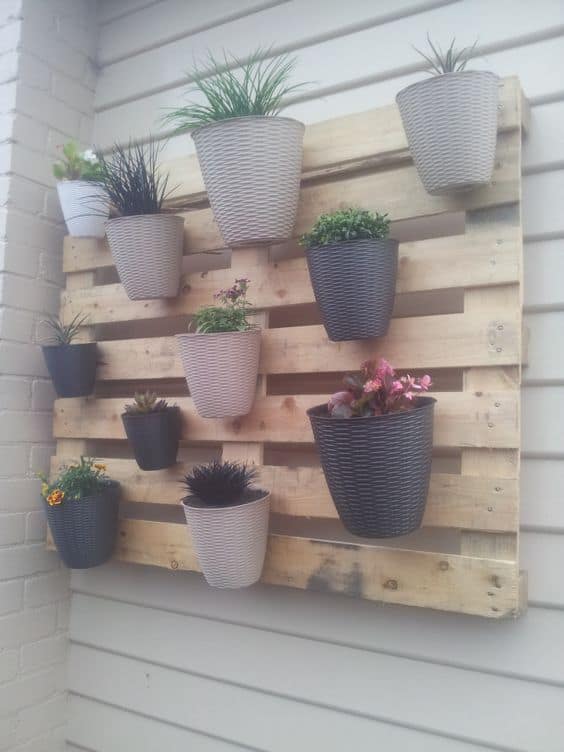 Turns out wooden pallets can also be chic. Instead of old pots, you can grow your plants on these designed pots and then hang them on your vertical pallet garden. Then, you can hang your garden on the wall as a wall decoration.
59. narrow vertical pallet garden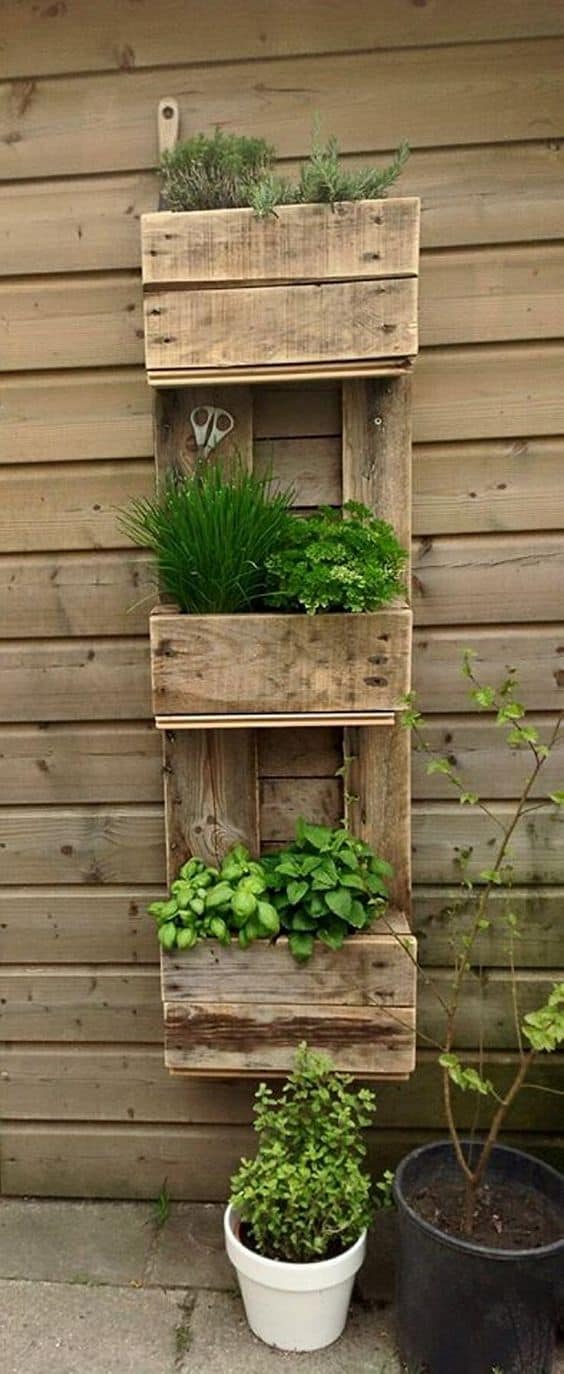 Most vertical pallet gardens are wide, with the same size of a pallet wood. However, you can play with it and instead, create a narrower vertical garden that can fit a single plant. This is great if you only want a nice accent to your home and garden and if the walls aren't wide enough for the normal width of vertical pallet gardens.
60. flowery pallet garden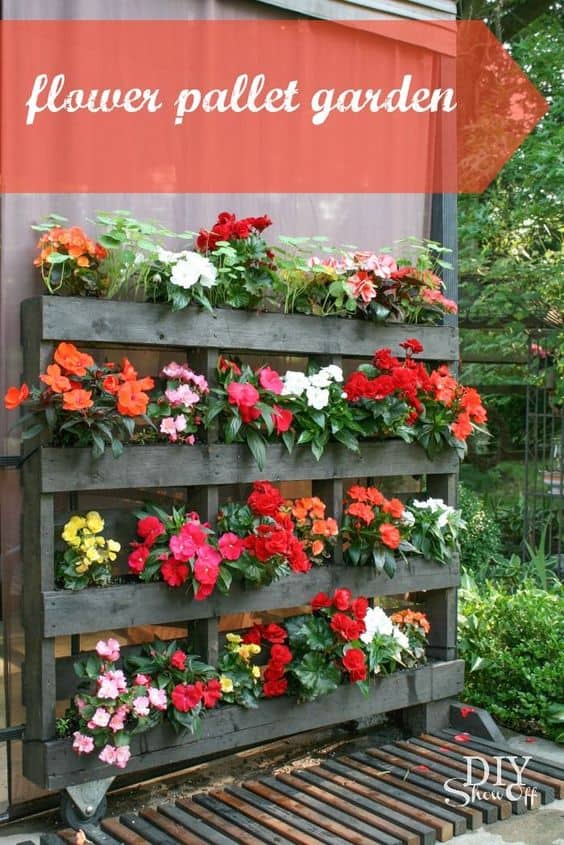 If you want your vertical garden to have blooming, colorful life, you can choose flowering plants as your choice to put in your pallet planters. However, you may want to widen the gap between the tiers/panels so the plant will have the chance to grow upright and more healthy.
61. small vertical pallet garden for decor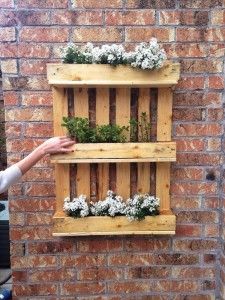 Not everybody has a green thumb, that is why not everybody makes gardening a hobby. However if you really want to try out a pallet garden project, you can start with smaller ones and with plants that can easily live. These are also great as decorations so if you're main goal is to find something that fits your home, go smaller.
62. alternate vertical pallet garden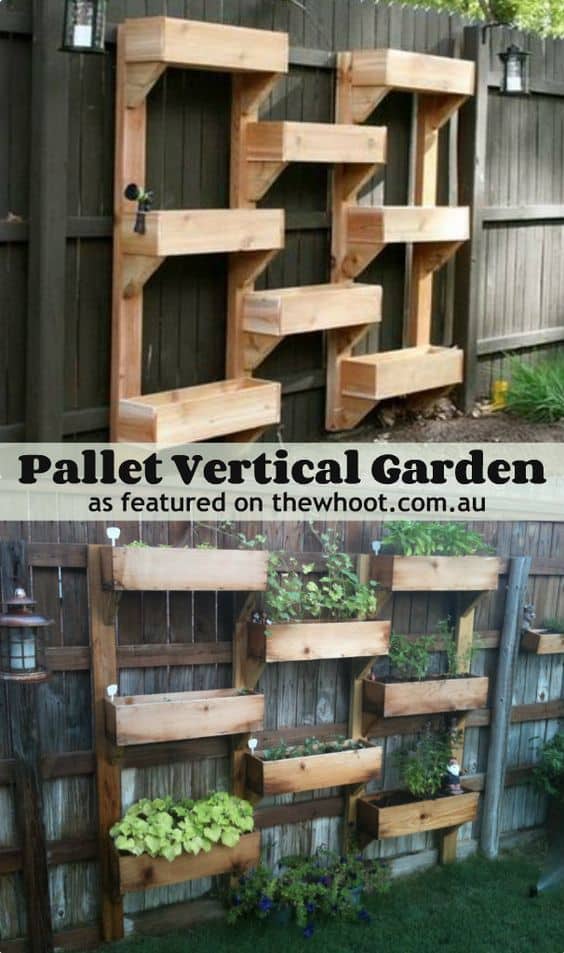 This wonderful vertical garden idea is actually a nice touch to a lawn that's basically filled with fences and pretty much grass only.
63. pallet sign and garden planter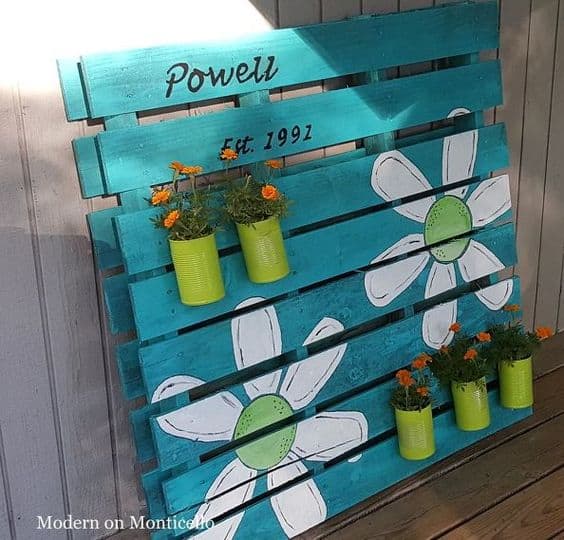 This wonderful pallet sign and mini garden is a great project for both parents and children alike. It would be fun doing such a DIY project with the little ones in the hopes of making them grow up aware of their surroundings and how beautiful nature can actually be.
64. rainbow pallet planter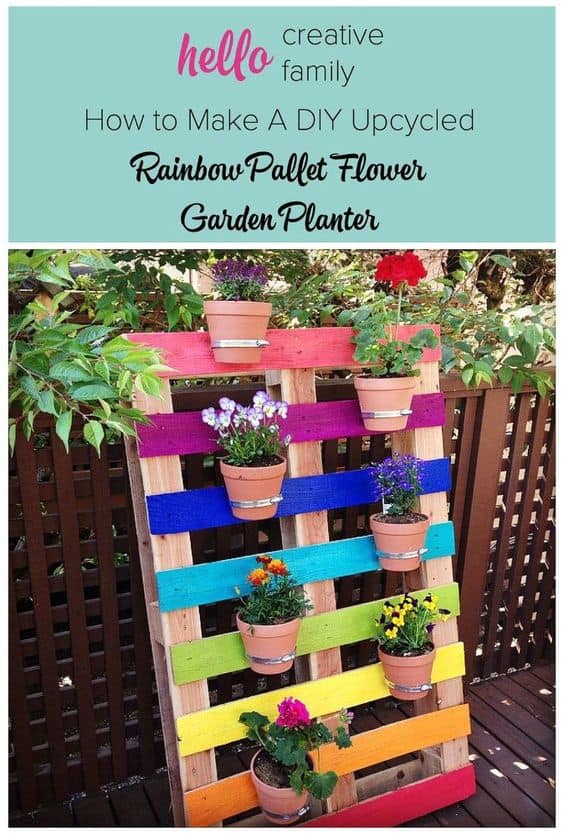 Colors don't have to come from flowers alone. If your garden is a little too monotone or perhaps your home is, this fun pallet garden project can bring out color to the garden. It's also another fun project that can be done with the kids.
65. colored vertical pallet planter with dollar cups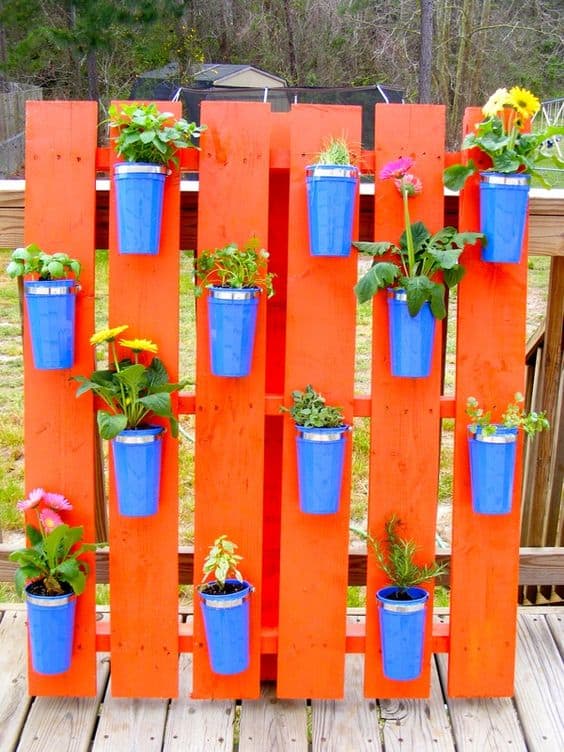 Instead of using pots, why not use dollar cups that can be found on dollar stores? These are perfect for smaller plants.
66. mini pallet garden

This is another different way to design your pallet garden.. It's basically a side to side (or maybe back to back) slanting garden beds with planters on the top; it is also raised which helps you avoid back problems from bowing down a long time.
67. pallet wall succulent garden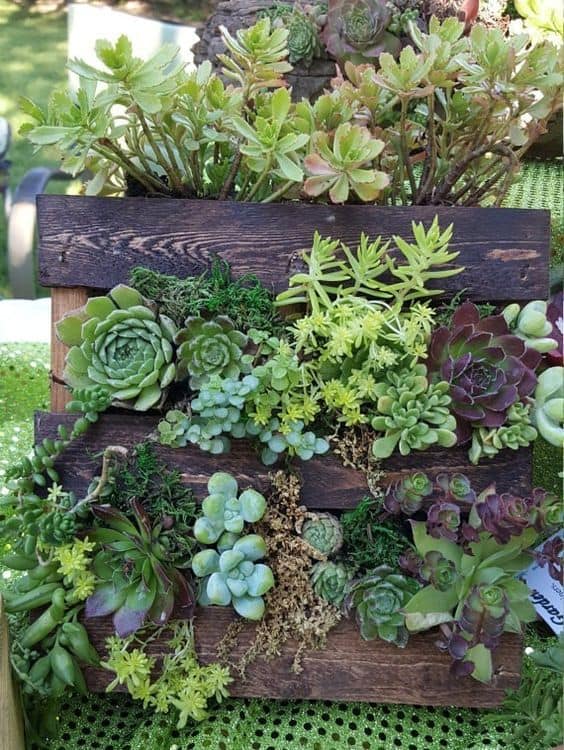 Succulents can be easy to grow and maintain and they are definitely beautiful. Use a wooden pallets to create a mini succulent garden for your home in no time.
68. vertical strawberry planter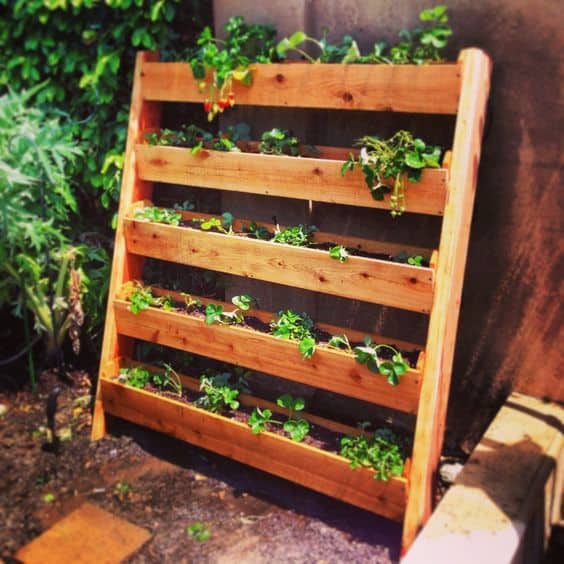 As said, you can now grow your strawberry at home.In contrast with the first one that was shown,a raised bed, this one is a vertical pallet planter. Take note that the planter is wider and there is more space in between each tier. taking up less space as compared to a raised bed though.
69. simple pallet planter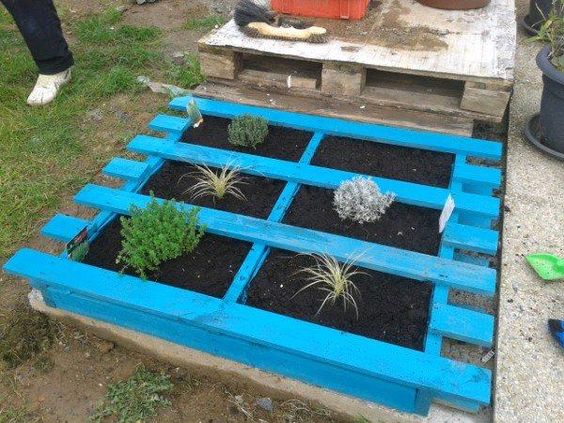 Simply take out some of the panels and then plant each spot with a different plant. Since it's a raised bed, you can choose to go with plants that are rather tall.
70. diy pallet garden with mini pots

This is a great tutorial for first-timers or those who have no idea how to create this type of pallet garden.
71. cool pallet fence idea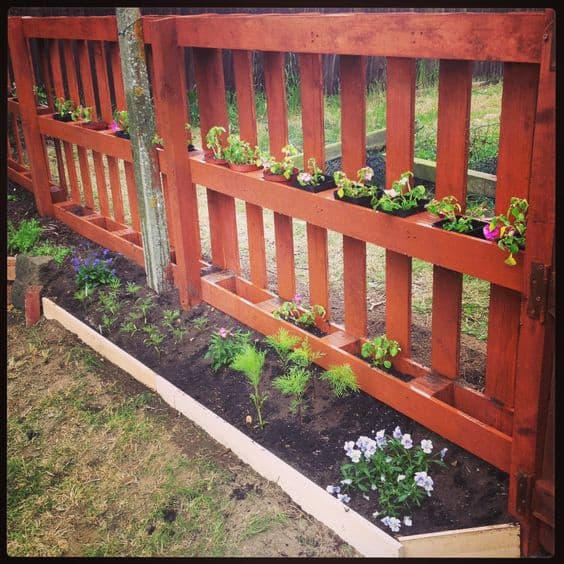 Pallet fences are common, but since we're talking about pallet garden ideas, we offer a creative one that combines both. There are little spaces on the fences where smaller pants can be planted and a bed attached to the lower part of the fence for other plants as well.
72. pallet box for cascading flowers

The bottom image might make you think that it was just a bush that has grown healthily. However, there is actually a trick to this and this one needs the help of a pallet box. Instead of the usual box, this one had small holes where stems of the plant will go through. Once it fully blooms, it would entirely hide the box, making it look like one thick and healthy bush.
73. corner pallet planter with SEATING included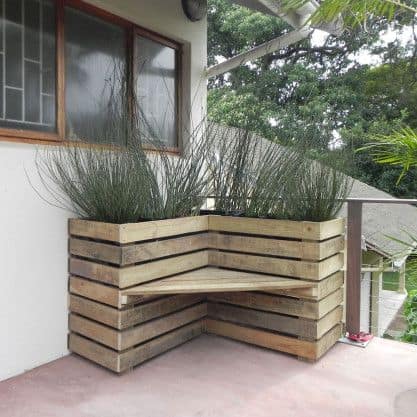 Apart from being great pieces for promoting gardening, this project has the addition of a tiny seat, perfect for balconies and rooftops.
74. pallet planting with colorful pots and plants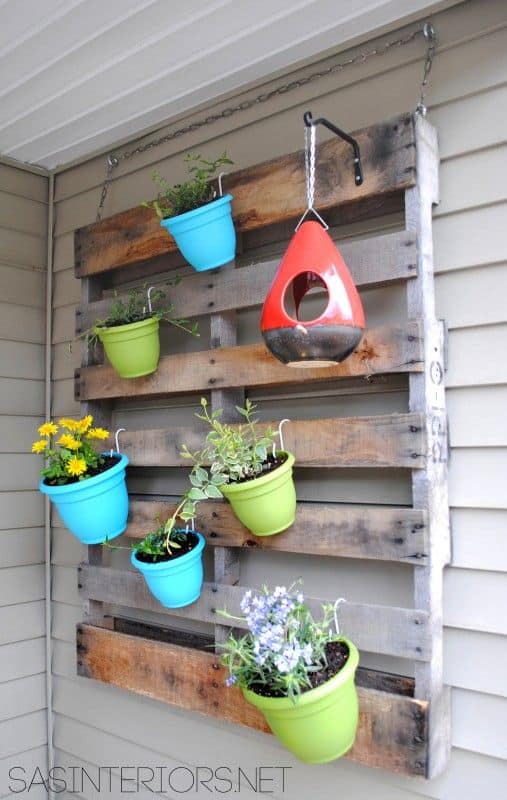 When you get tired of the typical pots or designed ones, you can change the pots you hang from this vertical pallet garden.
75. pallet garden with additional color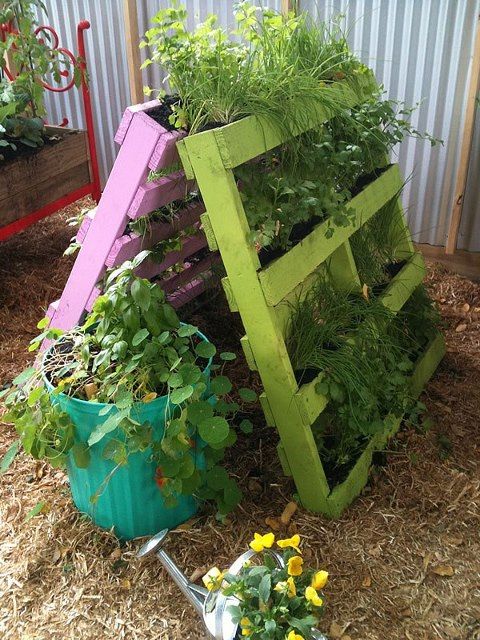 These trellises made from pallet wood were painted pink and green to give life and contrast to a vegetable garden.
76. decorative pallet garden wall for a rustic theme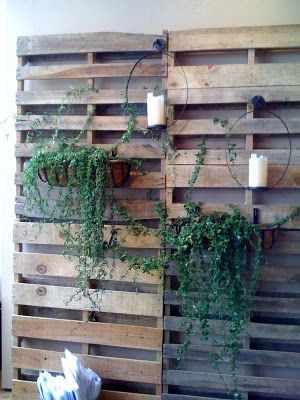 77. vibrant pallet flower garden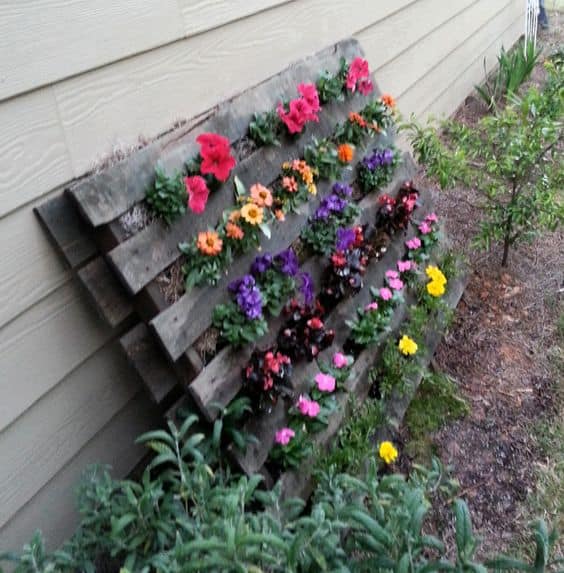 78. creative planter from pallet boxes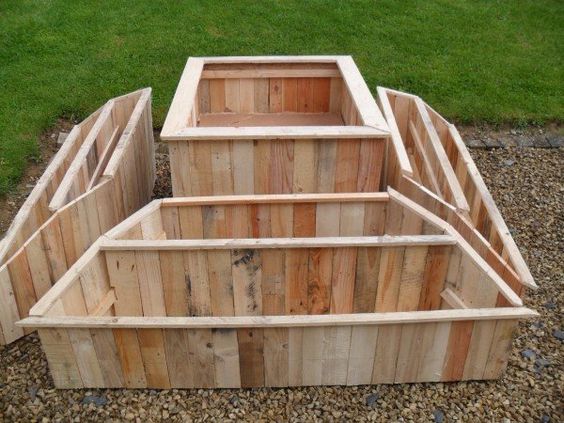 This amazing structure is actually made from pallets and for gardening. These are going to be raised beds, with each side structure having two spaces and a big square planter in the middle. Adding another side structure will make it a cool centerpiece in your garden.
79. pallet garden and garden tool organizer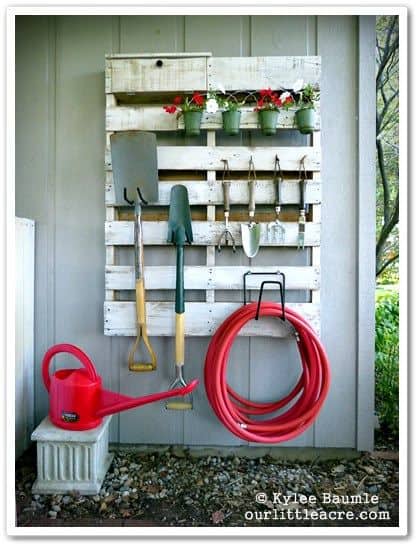 Again, this does not directly makes use of the pallet as the planter. But the pallet can also help organize tools as there are obviously several tools that are required to make sure your garden will look amazing. You can hang this outside on your backyard for easier and quicker access.
80. cozy pallet garden and patio

You can create a garden, why not actually create a whole patio? The flooring is made from pallet boxes, with some parts used as an easy planter.
81. blooming pallet garden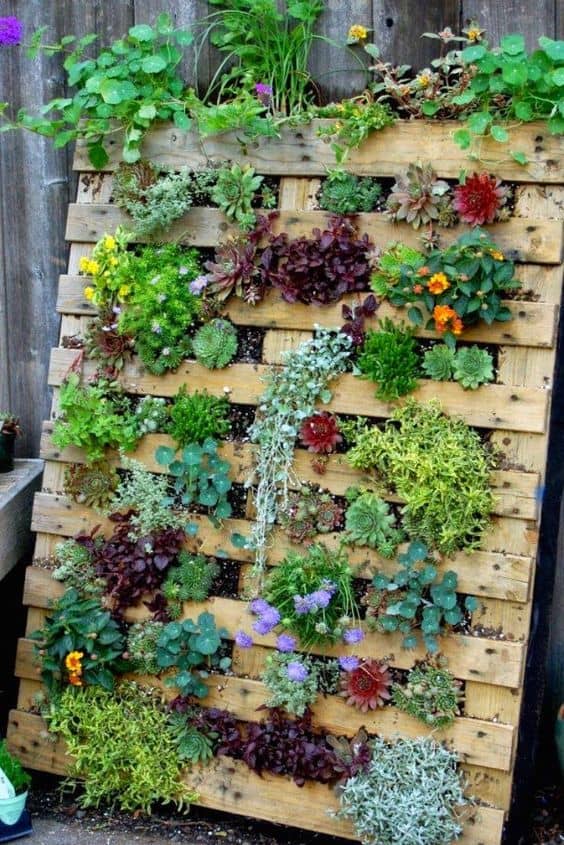 You can choose whichever plant you are going to grow; but choosing the ones you know will fit in with each other and create a lively masterpiece is something you should always keep in mind. Also, be wary of what soil you will use and how the other plants may react with each other. Planting in a tight space like a pallet garden should be taken seriously.
82. pallet garden with bike rack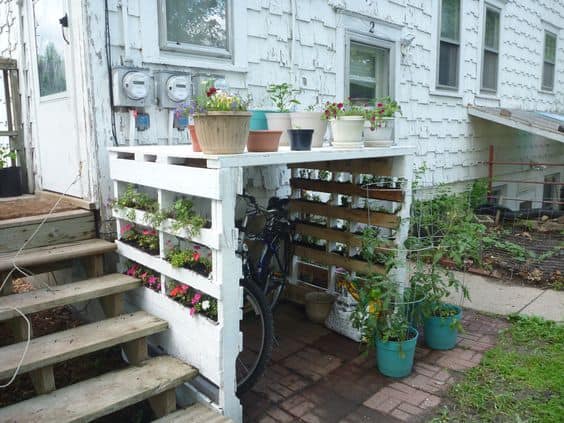 This amazing idea will remind anyone that anything can be convenient. Instead of a simple pallet garden or a simple bike rack, you can combine the two. A couple of vertical pallet garden plus a top which can be used for shade makes it a perfect place to leave your bike to rest when you're not using it.
83. platform beds from pallet wood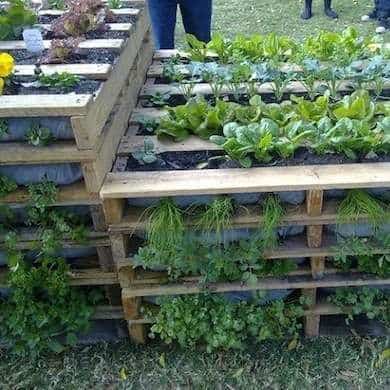 If you make the planter right, you can actually plant on each side of it.
84. small pallet fence with little planter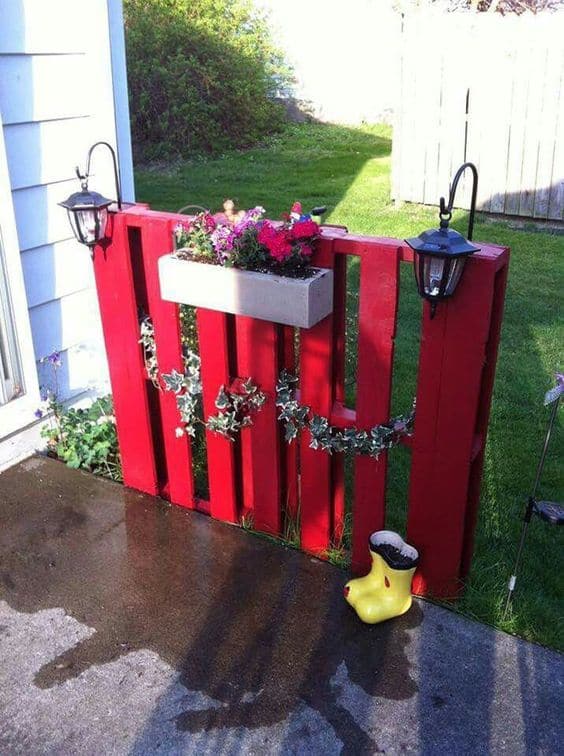 This small little pallet fence with a mini garden makes for a cute front yard design. It makes you feel welcome in a home and  also adds life to your humble abode.
85. vertical pallet garden with fence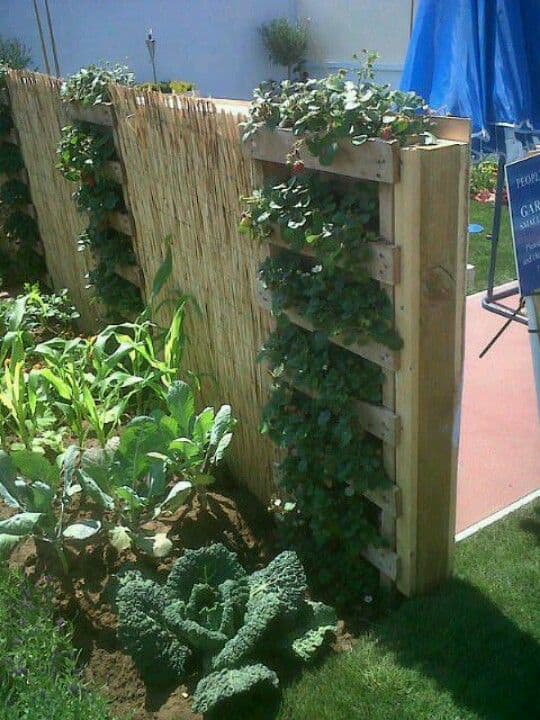 Now if you want the real deal, you can also add pallet gardens on your fences then add some blooming green life on the soil. Having more plants will make your home more refreshing and with cleaner air since plants are known to filter the air naturally.
86. pallet wall planters filled with life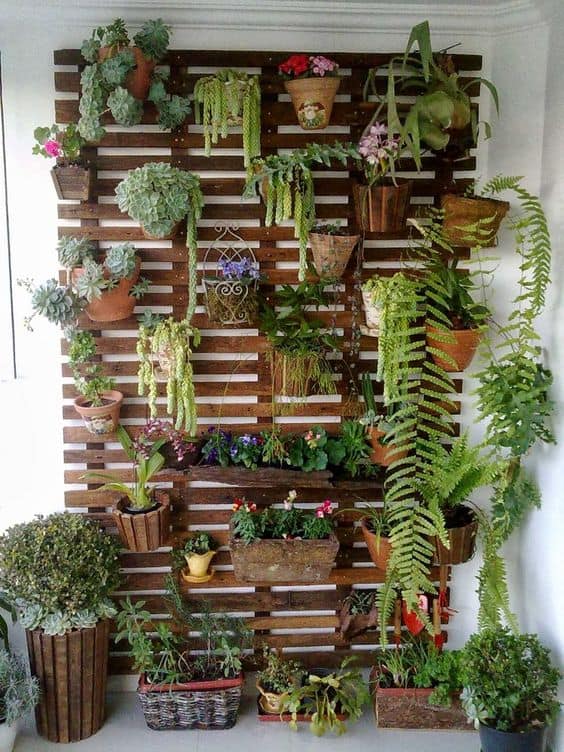 Even though you didn't really make use of the pallet as the planter, you can still hang more pots of plants if you make it bigger and taller. It can simply become a garden of its own. Plus without the soil threatening to spill out, this can become an interior decor.
87. pallet box planter decoration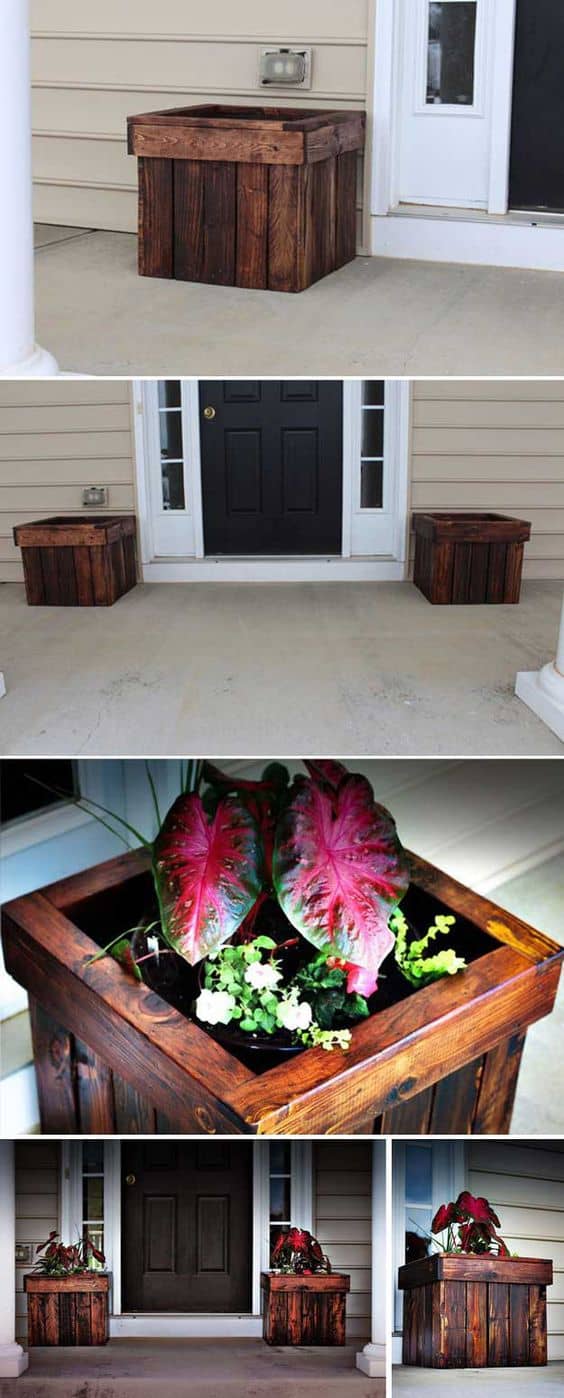 Want to start pallet gardening but you don't have much pallet wood to work with? This little project is the perfect solution. It's a small pallet box and can be placed anywhere such as the patio, right beside the door. It's a simple and effortless wonderful decoration.
88. vertical pallet gardens as  a wall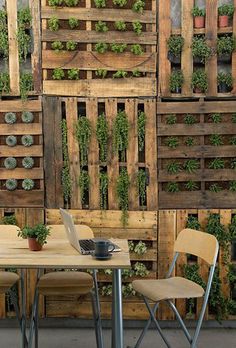 This idea can be used for cafes and offices. This is a whole wall of pallet gardens that is ethereal and definitely Instagram-worthy. This can add charm to your place while making sure the air is filtered and refreshing.
89. pallet planter trellis with plants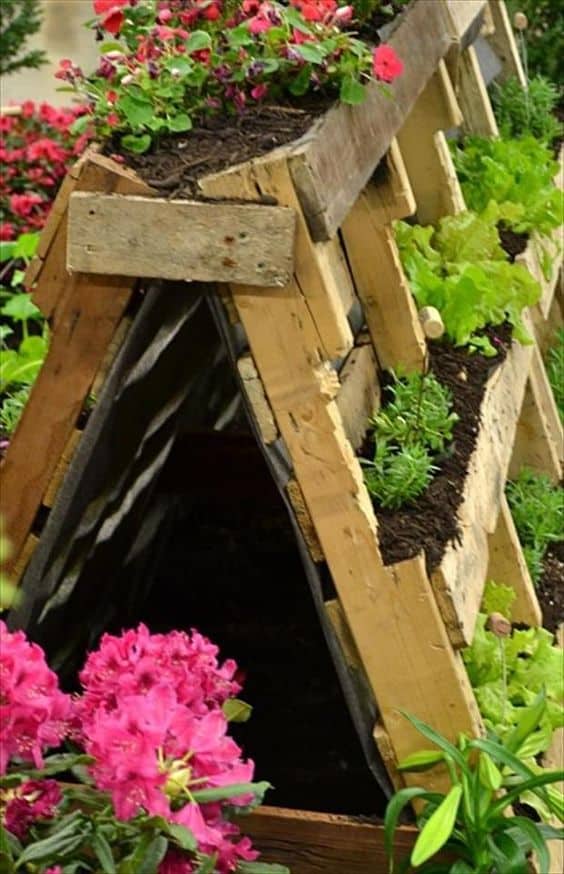 These pallet planters can be used as trellis. But when it's not the season to plant pumpkins, you can make use of the spaces to plant other things. It's easier to transfer them when they have grown and when it's time for the pumpkins again.
90. mini pallet box planters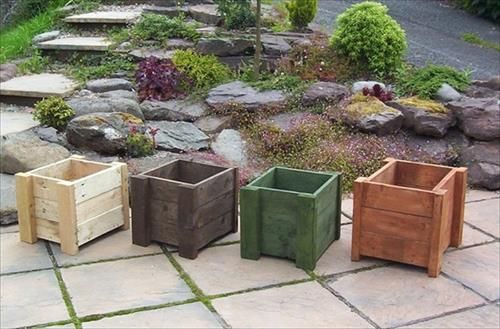 These are mini pallet box planters that can be used anywhere, whether outdoors or indoors. If you have a few pallet wood to spare, you can build a number of these as these are rather small. Once you have done that, you can sell the others you won't be using for profit.
91. garden wall from pallet planters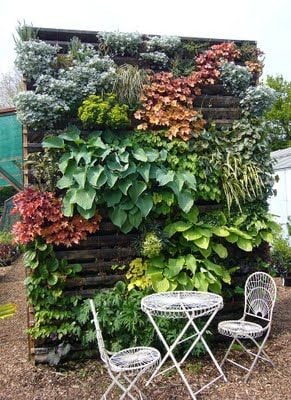 Another Instagram-worthy wall of live art masterpiece. You can create this vertical pallet garden on your own yard and just set a garden table and seat and it would be instantly amazing. The place will be what you are looking for if you want a relaxing place; and it's just right in your own home.
92. vertical planter garden from pallet boxes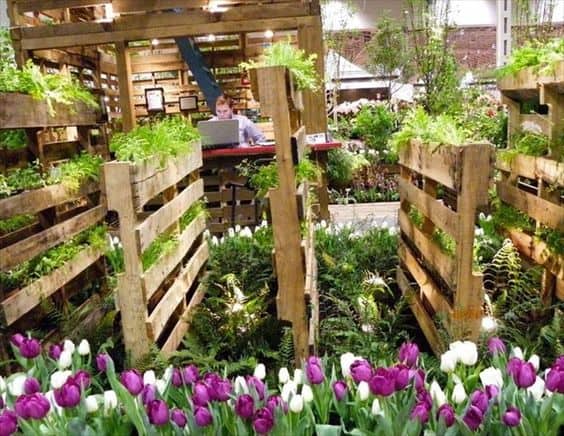 Your business could also benefit from these vertical pallet gardens especially, of course, when the space is not as wide as you want it to be. You can grow out plants or help divide your used spaces.
93. diy pallet top garden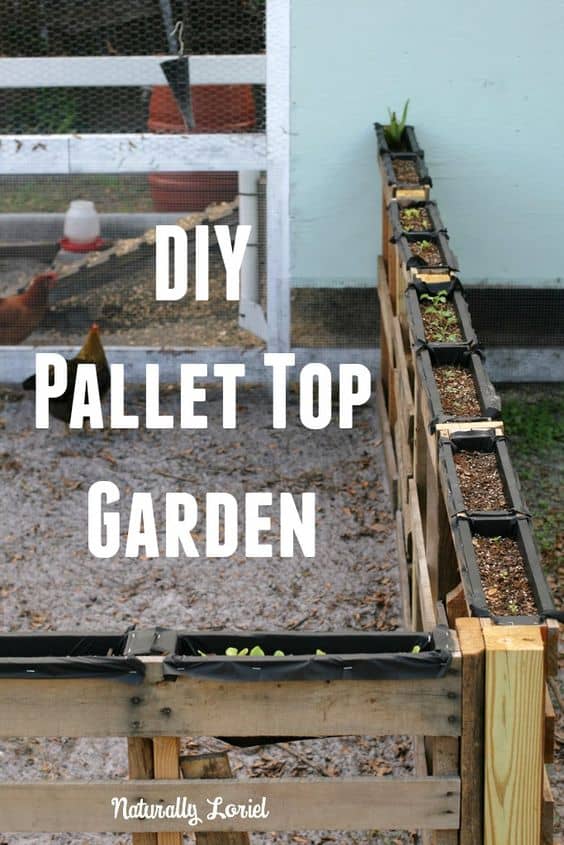 Apart from making a fence for your poultry area, you can also mix it up with a little garden life. The top part can be placed with a garden cloth and you can start planting little plants to give it more life.
94. vegetable garden right in your home with pallet planters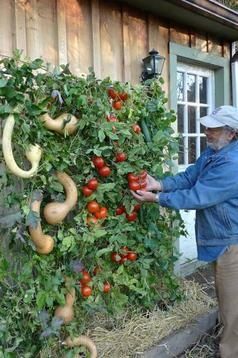 Tomatoes and other fruits and veggies could also grow out of a vertical pallet garden. Once you have these, you can monitor how they are taken care of and you can assure that what you eat is safe. It's also very easy to do the pallet garden and it can be placed anywhere most convenient for you.
95. herbal garden solution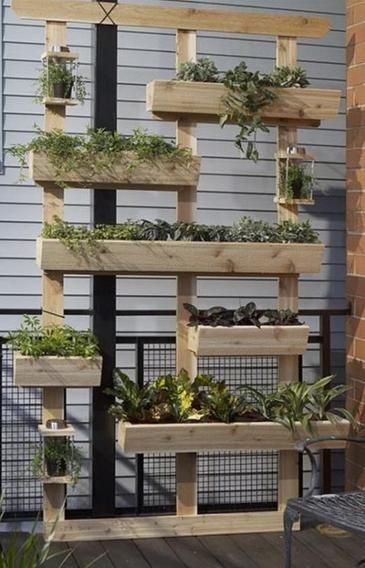 This beautiful pallet garden piece will be an amazing addition to your patio or your balcony. But with a design like this, it would be better to call the help of professional builders since you want this to be a safe piece for your home.
96. lovely pallet fence garden for mini potted flowers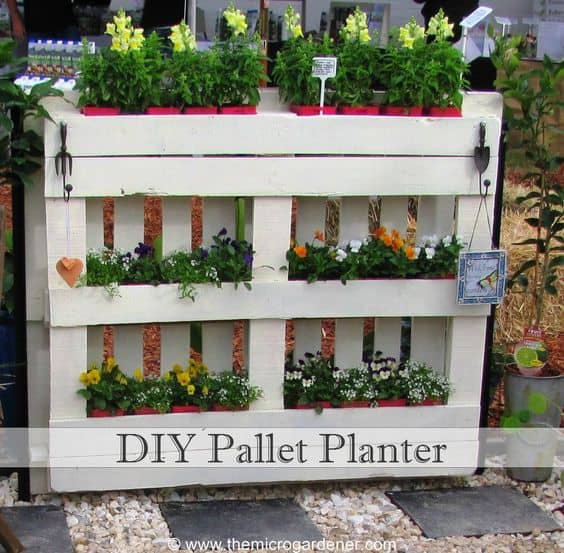 97. creating a simple vertical pallet garden

Here's how you can create a simple pallet garden with the right kind of soil and with garden cloth stapled into a pallet. With this garden, it is possible to transfer grown plants into it just as long as you know they can survive the transfer.
98. diy herbal garden in your home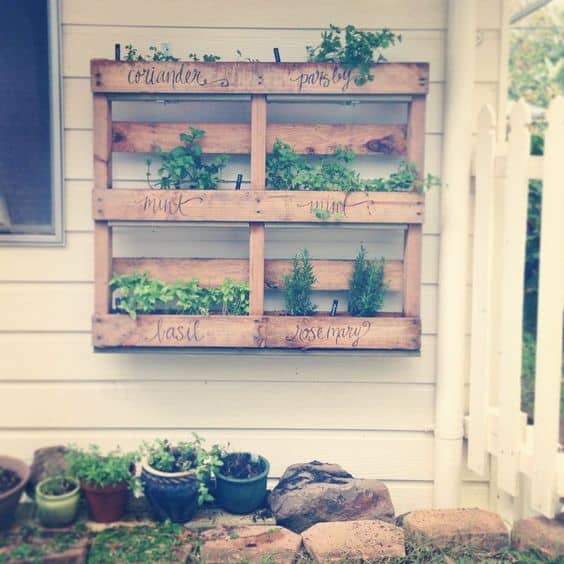 Take note: label your herbs if you don't want to mess things up. Since you would likely be using your herbs, you want to make sure that you're getting parsley instead of mint. Of course, you may know the difference even without the labels, but this is for the consideration of others.
99. pallet garden with decorative candle holders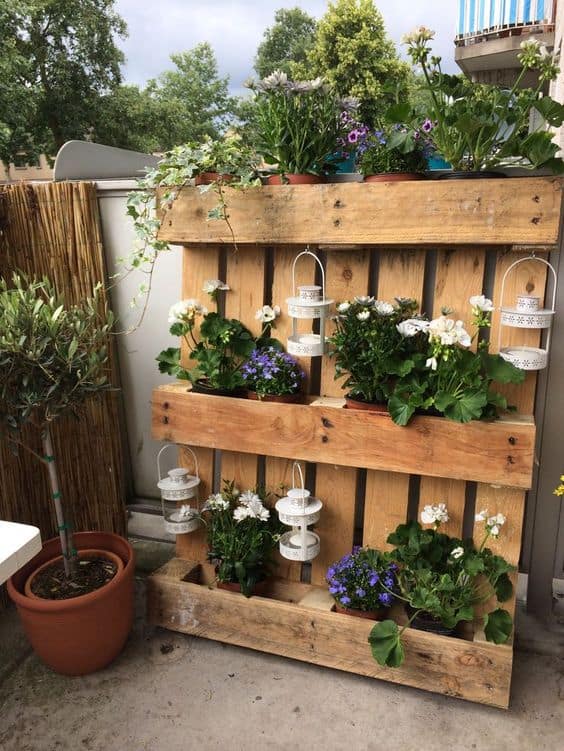 It's even lovelier if you choose to add some cool decorations to your pallet garden. Candle holders are perfect, especially if you're planning on adding some lights to it soon for a romantic decor.
100. raised vegetable garden with pallet boxes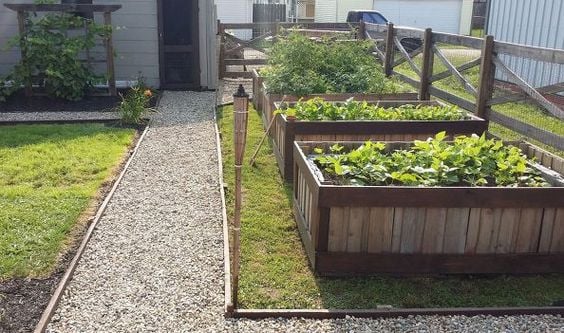 Your yard's soil may not be the perfect soil for growing some types of vegetables. But with a raised pallet bed, you can easily fill it with the right one and then grow them right on your own spot.
101. mini succulent garden inside your home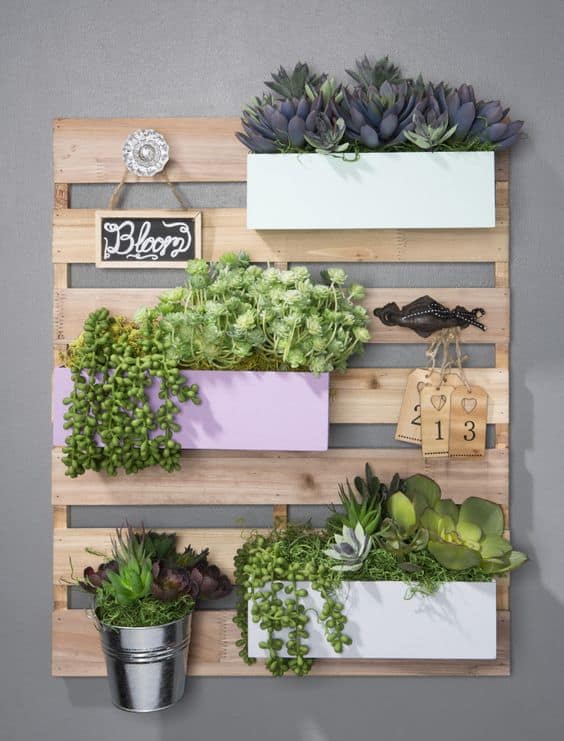 If you want a more organized look to your vertical pallets, you can try and and use pots and boxes to place your succulents in and then hang them. This is easier for the eyes and it makes the garden look cleaner and more perfect for indoor use.
102. small strawberry pallet planter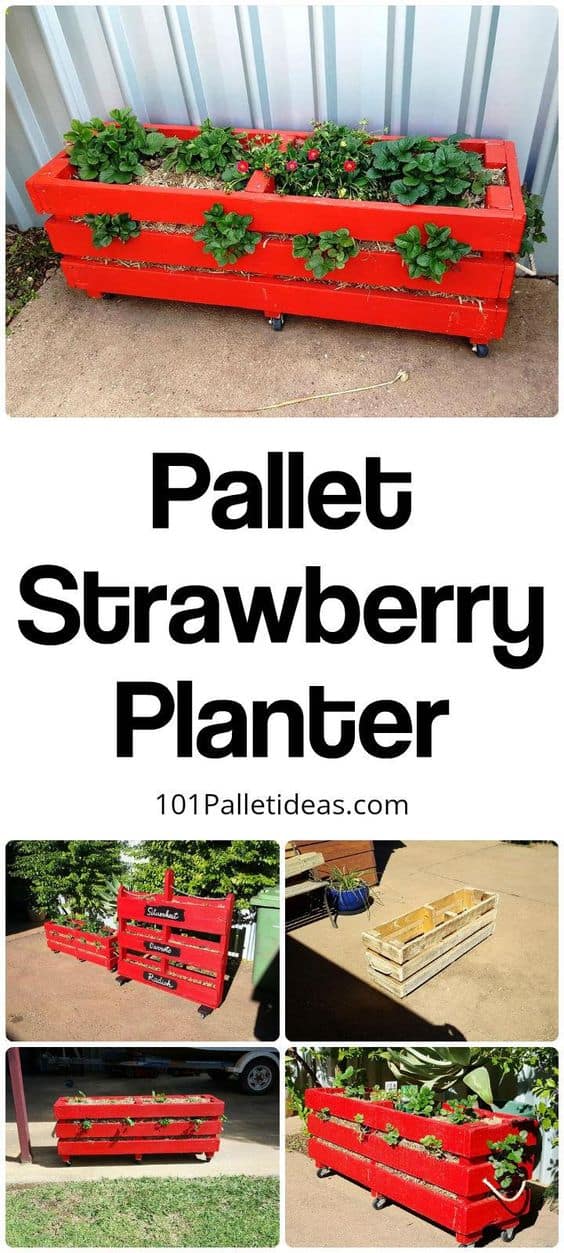 A small pallet box is able to hold at least three shrubs of strawberries. That would actually be enough if you're just planning on eating the strawberries. But for easier transport, you can add wheels to the box and you can just push and pull it around wherever you feel it would fit well.
103. wood pallet vegetable garden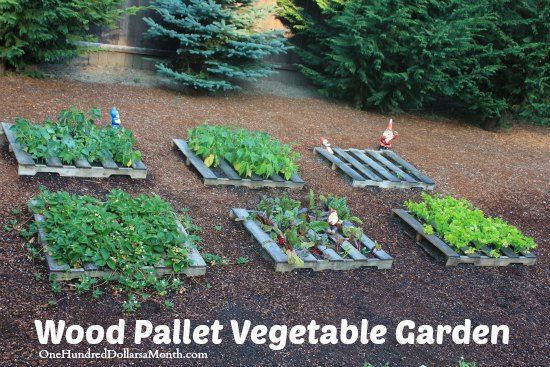 104. mini pallet garden in the city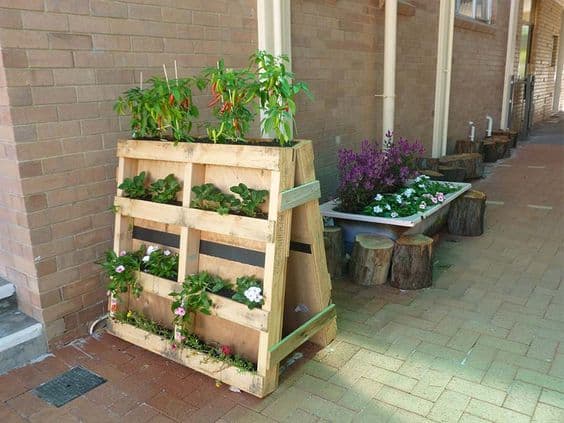 Owning a flat in the city won't really give you the opportunity to have a lawn. But with a pallet, it would be possible to plant at least several flowers and plants.
105. edgy vertical planters from old pallets to hide certain areas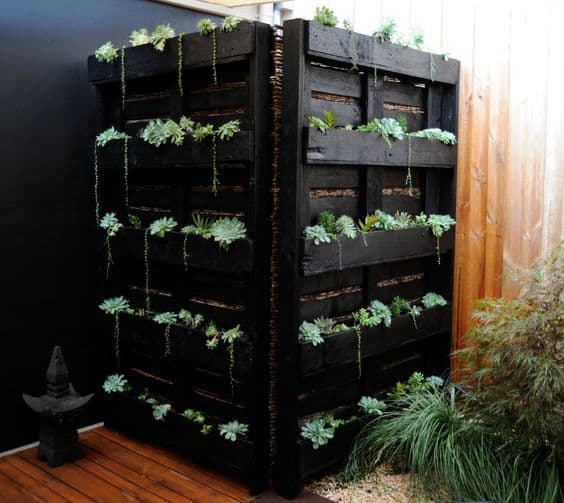 Instead of spending hundreds or thousands covering something up  with a wall, a vertical pallet will do the job even better. It's natural and can be easily placed and removed without costing too much.
106. vertical pallet hanging garden
Since you're already recycling old pallet wood, why not partner it with using cans for pots? It's a different look but it will definitely help manage the waste in your home.
107. palette wood and buckets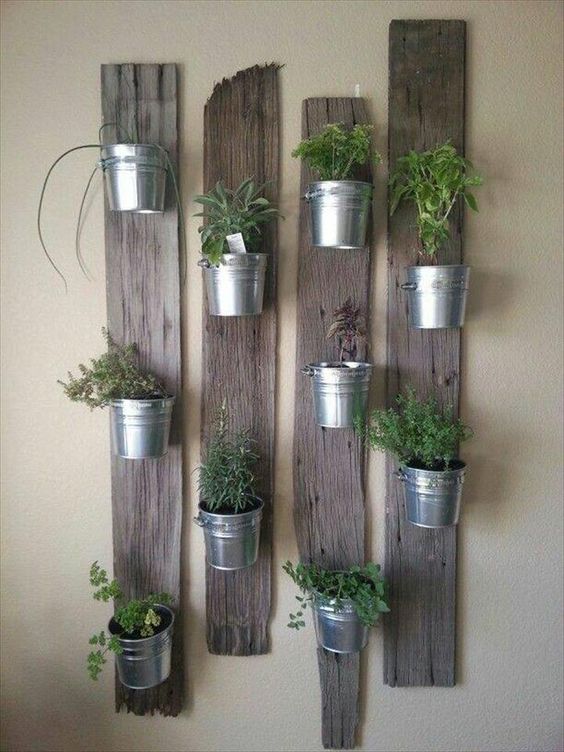 A great choice for when you're looking for a fabulous decor without spending a dime.
108. pallet planter boxes to brighten your home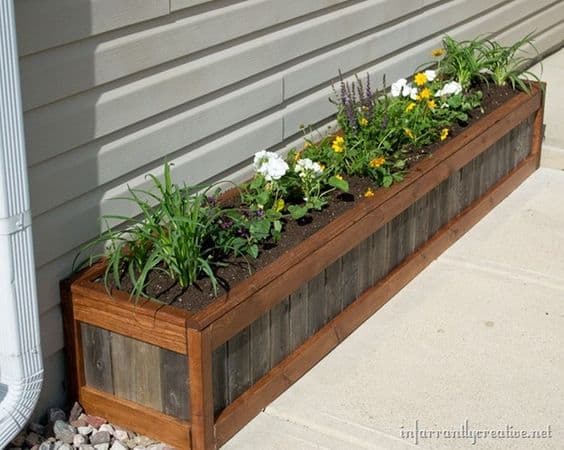 Brighten up your home with this little pallet planter. Add some beautiful flowers that aren't too vibrant, but just enough to please the eyes and give a more natural look to the home.
109. decorative planter boxes with poles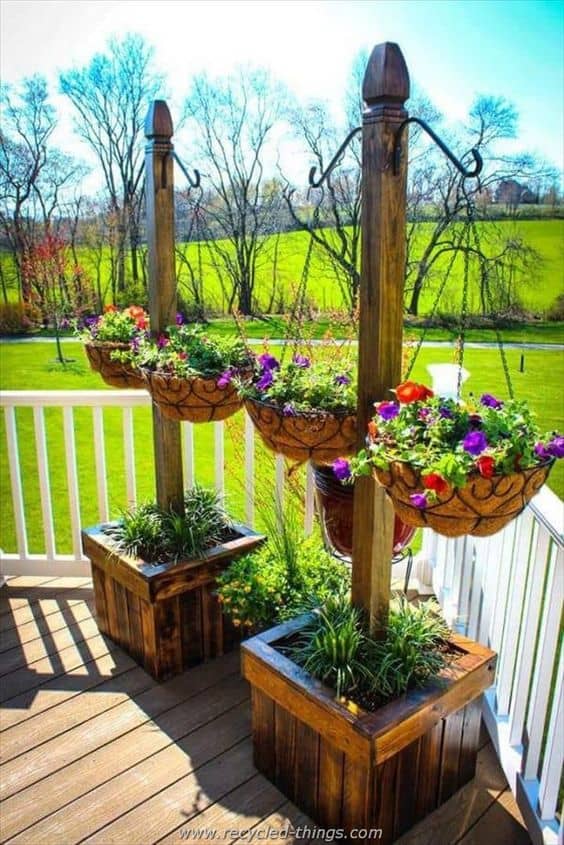 You can add some other features to your pallet box. If you have the money, you can buy these amazing posts that definitely complement your repurposed pallet boxes. The hanging pot
110. diy cedar pallet succulent planter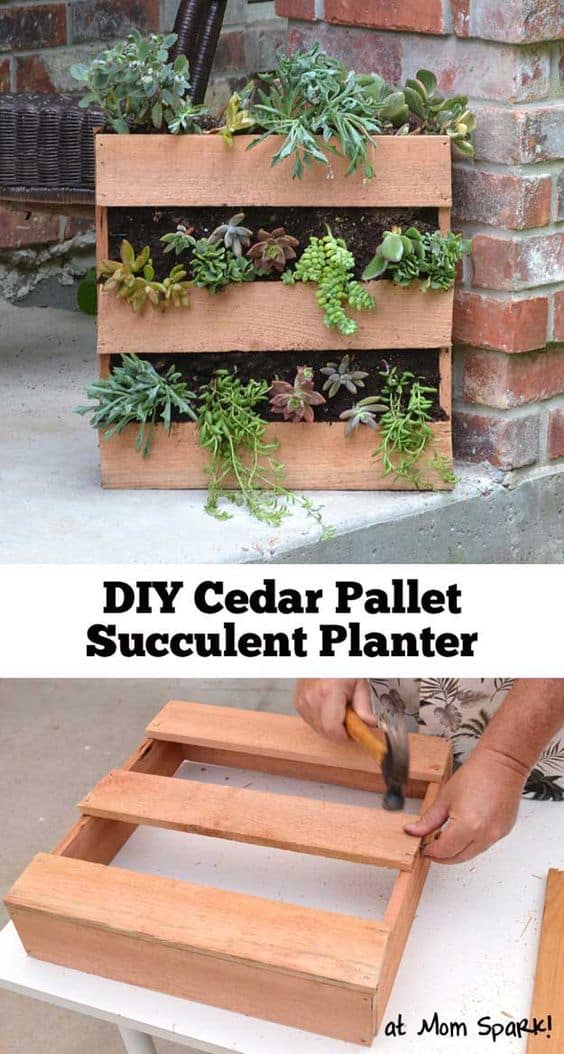 Cedar pallets are exactly like other pallet boxes. If you can't find a cedar one among the ones you have at home, don't worry as you can still use anything you can find. The important point is recycling in order to eliminate the waste and add more beauty to your surroundings.
111. pallet box planter and fairy garden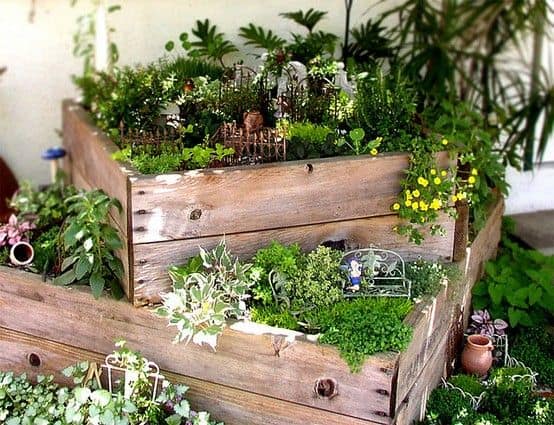 Of course, a garden won't be complete without a little fairy landscaping. Allow your imagination to run wild and feel like a child once more.
What do you think about the idea of a pallet garden? Feel free to share your pallet garden ideas and projects in the comment section below.
What do you think about these awesome pallet projects ?
Do you like pallet projects?
We though you did, here are some awesome pallet fences, pallet bed frames and pallet beds, cast a glance !