Spanish style houses seem to be one of those architectural trends that never grow old.
With the rising popularity of owning a quaint home among celebrities, more people are thinking of buying Spanish style properties. These small yet elegant properties don't just have a unique style but also represent a part of American history.
You can find these houses in different parts of the USA, mainly concentrated in areas like California, New Mexico, Arizona, and Florida, showing influences of prominent Spanish rule. Many listings in these areas can actually lead you to a sweet deal on a Spanish style home.
That's why it's essential to know as much as possible about the design elements and trends associated with Spanish style homes to buy or design a suitable house. We have created a guide to help you out, which is essentially a crash course on these beautiful properties.
What Is A Spanish Style Home
History Of Spanish Style Homes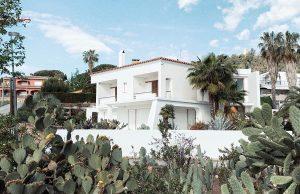 While the earliest history of building Spanish style homes began with the Spanish colonial era, most of the houses date back to the early 20th century. In fact, the 19th century was a crucial time when Spanish style homes and buildings were seen more prominently.
Coming to the more modern take on the style, it gained prominence with the Panama-California Exposition that took place in San Diego between 1915 and 1917. The New York-based architect Bertram Grosvenor Goodhue was given the job of designing the exposition, and Carleton Winslow was to assist him with it.
Goodhue really wanted to make a difference with what he created and chose to go with an urban Spanish Baroque style which would immediately attract people. Rich Mexican and Spanish Churrigueresque decorations were added to the mix along with elements of Islamic and Persian styles seen in Moorish Revival architecture.
That's why the Spanish homes found since then have mostly been a blend of style and can't be put into separate boxes dealing with architectural trends. The trend started by Goodhue was to be known as the Spanish Colonial Revival. It left San Diego with some iconic landmarks like the Giralda Tower, the Mexico City Metropolitan Cathedral, as well as the Cathedral of Our Lady of the Assumption in Oaxaca.
This trend of the Spanish Colonial Revival would eventually pick up pace in the southwestern states of the USA and give rise to several properties. They might not be as grand as the designs of Goodhue, but these Spanish style houses were often built with a blend of Spanish, Mediterranean, and South American design elements.
And, due to the touch of a bit of modernism, or the addition of a second story, the style came to be known as Spanish Eclectic.
Characteristics Of Spanish Style Homes
Spanish style homes often have their unique touch added by a designer. At the same time, there are still some characteristics that bind it to its origins. These are often the telltale signs that dictate if a house has been made with a Spanish influence, so let's have a look at some of them.
A. Exterior Characteristics
What stands out in a Spanish style home is its exterior. The beautiful yet earthy additions of either the stucco or wrought iron detailing can help a house look unique compared to others in the neighborhood. Also, some Spanish style houses, particularly the Mission Style or Churrigueresque properties, are more ornate than usual homes.
1. Stucco Walls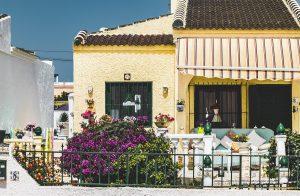 One of the typical characteristics that Spanish style homes share is the use of stucco on the thick walls. This traditional mix of lime, sand, and water helps to add texture to the exterior walls, and people like to keep the natural color of stucco or paint it white.
Other than for decorative reasons, stucco was used to prevent the house from getting too hot during the summer months. Hence, it is used in Spanish style homes for practical purposes while adding a rustic look.
2. Roof Tiles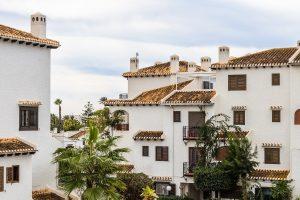 Spanish style homes look incomplete without the use of the iconic red roof tiles. They can either be laid flat or hipped based on the design of the roof. And the tiles definitely help to add more character to the house by contrasting with the white stucco walls.
These tiles are usually made with terracotta and have an "S" or barrel shape. Apart from being an eco-friendly roofing option, terracotta tiles have long been used to line roofs for keeping the house cooler during hot days.
Use of these tiles can often be found in the Spanish style homes of California and Florida. On top of that, these tiles may last for a long time and need little to no maintenance when installed properly.
Although typically red, more modern style Spanish homes can have colorful tiles on the roof.
3. Stone And Brick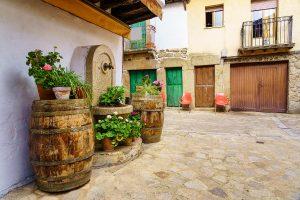 Apart from the use of stucco, stones or bricks can be used in Spanish style homes, particularly those having a more Mission Revival approach. A stone path is often added to these homes to give them a more luxurious yet unpolished look.
You may find these brick or stone paths in the inner courtyard or driveway of the homes. In Mission Style homes, you may even find the exterior walls featuring carved stonework, similar to that used in churches built by the Spanish settlers.
4. Wood Support Beams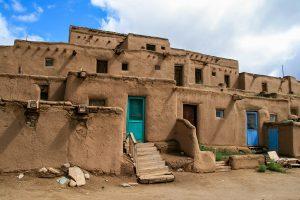 On having a look at traditional Spanish or Pueblo style homes, you'll find wooden beams jutting out of the walls. This was due to the use of wood to hold up the weight of adobe or mud bricks used in making the homes. These days, the wooden beams you see in Spanish style homes tend to be more decorative than functional, enhancing the look of plain stucco walls.
5. Wonderful Arches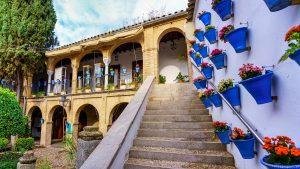 Another common characteristic of homes made in the Spanish revival architecture style is the use of arches. These can be clean, defined arches or more subtle ones, as seen in Mediterranean style homes. If there's enough space, designers may even think about building an arcade – a pathway of arches.
Apart from the typical gates or entrances, the arch might also be added to windows or even as small details to the walls, such as gable vents. You should note that arches weren't really incorporated in the traditional Spanish homes, as earlier people preferred small square windows to ward off the wind.
However, the addition of arches in modern homes, especially in Spanish Eclectic style homes, can make the building look impressive and welcoming.
6. Asymmetrical Design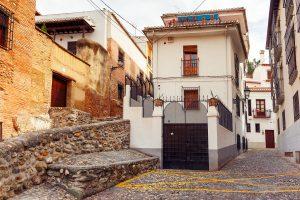 A stark difference between the usual modern homes and the Spanish style homes would be in the layout. Spanish homes have an asymmetrical design with prominent cross-gables and side wings, while some have a distinct L-shape.
Along with the basic asymmetrical layout, these houses also tend to have multi-level roofs. Rounded parapets and turrets might be added to the roofs for extra design elements. And though not common in Spanish Revival or Eclectic styles, tower-like chimneys can be seen in some homes.
Overall, you can never expect two Spanish style homes to have the same design. There are some instances, like in the Monterey style homes, where the design is more symmetrical and similar to that of the English Colonial style houses.
7. Courtyards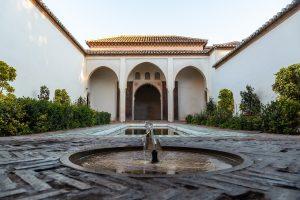 There's no doubt that Spanish style homes are far more welcoming, especially because of the greenery and the presence of a courtyard.
Instead of the usual lawn or backyard, a Spanish home would have an outdoor or interior courtyard. Plus, in warmer areas like California or Florida, adding more drought-tolerant plants like cactus or succulents is the norm.
Landscaping is crucial to add a touch of greenery to these homes, which helps the earthy tones of stucco or stones to pop even further. On top of that, if there's a bit more space, Spanish houses may even have small fountains or reflecting pools. They are the perfect location for idling away your summer holidays when the temperatures are soaring.
8. Minimal Ornamentation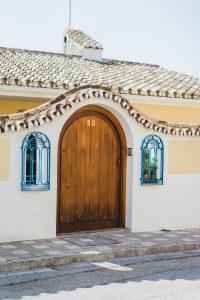 One more noticeable thing about the exteriors of Spanish style homes is the presence of little to no ornamentation. The design includes slimmer trims, and when there is a bit of ornamentation, it's usually to highlight the arches. Some homes have wrought iron accents, such as moderately ornate window grills, gates, or simple wall fixtures.
B. Interior Characteristics
Just like the exterior of a Spanish style house, the design elements of the interior are subdued and more laid-back. You can even see the continuing aspects that bind the interior to the exterior, such as the wooden beams or the arch pathways. Here are some of the common characteristics in the interiors of Spanish style homes:
1. Indoor Stucco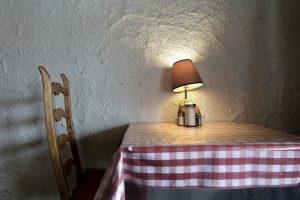 Similar to the exterior of a Spanish style home, you can find stucco in the interior walls. It might be a bit smoothed down compared to the outside, but the earthy tone of the walls does stand out. The best part is that the stucco creates a blank canvas for the entire room, letting you add any décor pieces irrespective of their color.
2. Exposed Beams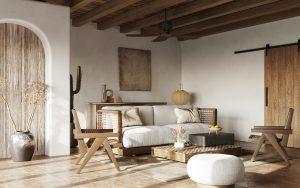 On visiting a Spanish style mansion or even a small home, you'll most likely find high ceilings supported by exposed wooden beams. In a modern Spanish home, it is decorative in nature, with the dark wooden texture adding to the earthy or more natural quality of the property. Furthermore, the unified color of these exposed wooden beams creates uniformity between the different rooms.
3. Patterned Tiles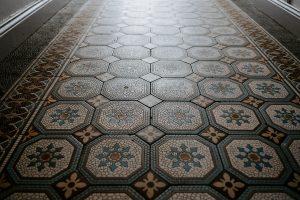 Usually found in Mediterranean style homes, the patterned or decorative tiles have also become a staple in the interiors of Spanish style architecture. These elaborate tiles help to add the much-needed color into a space that's mostly brown-white owing to the use of stucco and heavy wooden pieces.
Some of the common use of decorative tiles include in the risers of a staircase, accents on the walls, or even on the floors if you're feeling adventurous. The use of Mexican hand painted ceramic tiles can add a bit more pizzazz due to blue, green, and yellow colors.
4. Elaborate Fireplaces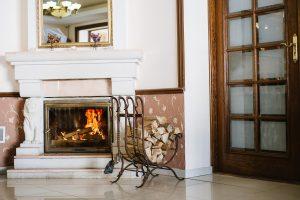 Seen commonly in Spanish colonial homes as well as other Spanish style homes are the elaborate fireplaces. These help to add a focal point to the otherwise plain living area. Often the mantel is quite elaborate and even touches the ceiling. The fun fact is that many people are keeping to choosing these spectacular fireplaces while adding modern elements to other parts of the houses.
5. Wrought Iron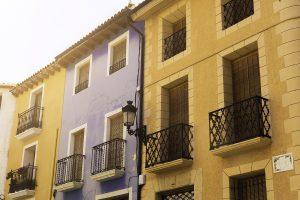 Wrought iron has become an inseparable part of this architectural style, most often seen in the Spanish eclectic style homes. The heavy and dark features of wrought iron pieces stand out among the stucco walls, especially when used as light fixtures. Other than that, wrought iron goes really well with traditional wooden pieces of furniture, which have been stained to be a dark brown color.
6. Wooden Furniture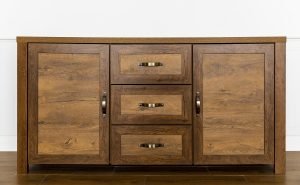 When it comes to Spanish style homes, another décor element is the use of heavy wooden furniture. These pieces usually complement the wooden support beams present in the ceilings. The furniture usually has a rich brown color, with intricate carvings, and may call back to the Spanish Baroque elements. It's like the furniture itself adds details that might be otherwise missing in the simple home of stucco walls.
Along with the furniture, you'll also find the use of wood in the case of cabinetry throughout the homes. This is true for Spanish Eclectic style homes and more traditional Spanish colonial architecture.
7. Proper Window Coverings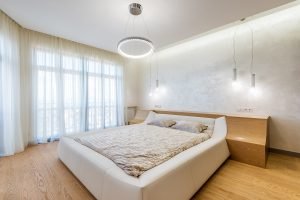 As you might know by now, Spanish style homes are usually present in states known for hot summers. It also means that the days are going to be quite bright, so the windows need to have substantial drapery to limit the rooms from getting too hot. This is especially true for Spanish Eclectic style homes where arched glass windows have replaced the small windows of Spanish colonial or revival houses.
You can also use the drapes to add complementing color to the rooms if selecting rich shades of red, blue, yellow, and orange. Some even use floor-to-ceiling drapes in neutral shades with proper liners to stop the heat from entering the rooms through the windows.
Different Types Of Spanish Style Homes
We have already talked about the Spanish style being more of an umbrella term to define various blended architectural elements. Hence, we thought that it would be better to shed light on some of the styles that have been popular over the years while building Spanish homes.
1. Mission Revival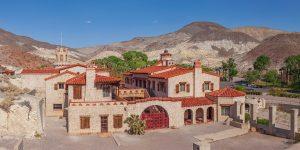 Mission Revival is a style where the homes are similar to that of the Spanish churches built by the Spanish missions. These homes have a relatively simple façade adorned by arched entrances, low roofs, and at times bell towers. Most of them also make use of the classic stucco walls and Spanish tiles.
Quite popular in California, the Mission Revival style was used for residential and public buildings. Buildings of this style were specially built between 1890-1915. Some instances of Mission Revival buildings include the Mission Inn of Southern California and the Louis P. and Clara K. Best Residence and Auto House in Davenport, Iowa. Another beautiful home in this style is the Henry Bond Fargo House of Illinois with its stone carved façade.
2. Pueblo Revival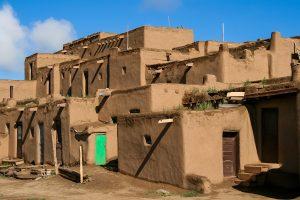 Pueblo Revival is inspired by the living spaces that used to be designed by Puebloans, a native tribe of the Southwestern United States. Like them, natural elements like stucco and heavy rounded wood beams known as "vigas" were used to build these homes during the 1920s to 1930s.
These homes usually have flat roofs covered in Spanish style tiles and walled courtyards or patios. The Pueblo Revival homes often had a red earthen façade compared to the other Spanish styles. La Fonda on the Plaza, a historic Santa Fe hotel, is a notable Pueblo Revival building.
3. Monterey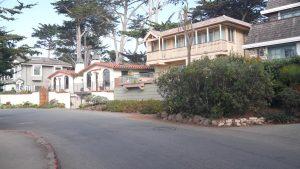 The Spanish style homes of Monterey, California, are said to be unique as they are inspired by the blended style of Thomas O. Larkin. This man started building his homes in 1835, which was way before the Spanish Revival architecture.
What makes the buildings stand out is the design aspects lent from French, Spanish, and English styles of architecture. Hence, in Monterey style homes, you find flat roofs with adobe walls with spectacular upper and lower balconies. The exteriors are also symmetrical as opposed to the usual Spanish style homes.
Currently, the Larkin House and the José Castro House are great examples of this architectural style.
4. Floridian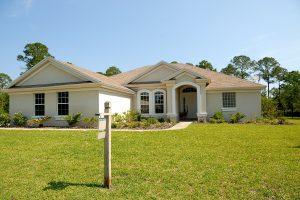 As you can understand, the Floridian architecture style is specific to the state, and it has some key differences, especially in the form of the design elements. In place of the more subdued and plain adobe or stucco walls, homes from the Florida Renaissance borrowed from Moorish and Spanish Baroque styles. You can often find geometric windows, ornate columns, and heavily decorated facades in these buildings.
5. Spanish Eclectic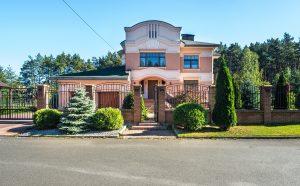 You'll find that most newly built Spanish style homes may have a blend of Spanish elements taken from the above-mentioned architecture styles. Along with that, modern elements can be built to create a unique place, such as a featureful office space or a game room that deviates from traditional Spanish style homes.
These homes also tend to have a split level or added balconies to make them stand out. Hence, to make it less confusing, this blending of style and addition of modern elements is called the term "Spanish Eclectic."
Spanish Style Home FAQs
Q1. What is a Spanish style house called?
Spanish style houses can be called by various names such as Pueblo, Monterey, Mission style, Moorish, Spanish Revival, based on their architectural style and influences. You may even hear people refer to them as Mediterranean style homes because of the similar construction with additional French or Italian architecture influences. 
To simplify the answer and avoid confusion, you can just refer to them as Spanish style homes. More people have started to term the style as "Spanish Eclectic" to honor the distinct qualities of each building, especially the inclusion of modern touch.   
Q2. What makes a Spanish style home?
A Spanish style home is made when the different defining Spanish characteristics are added to make a space. The common among these is the red roof tiles, stones, white stucco walls, courtyards, and homes with lots of arches. 
One can make a Spanish style home either based on the Revival movements, which somewhat closely follow the traditional elements. They may even create a new Spanish home in the eclectic style by blending the traditional with the modern. 
However, what truly makes a Spanish home is its earthy tones and cozy environment created with the use of natural materials. 
Q3. What do Spanish homes look like?
Spanish style homes stand out due to the unique characteristics like terracotta tiled roofs, courtyards, visible stucco sidings, and the presence of arches in the design. Most of them are single-story homes with an asymmetrical shape and cross-gables or side wings. And, the houses might have a hipped or a flat roof with parapets. 
Often little to no embellishments are present on the exterior of a building, but you may find some detailing around the arches. However, some homes have details added by finely crafted wrought iron, especially on windows, stair railings, and gates. Some homes even have exposed wooden support beams and small windows to mimic the look of traditional Spanish homes. 
Overall, the aim behind adding these features is to create a warm and earthy space with the influence of natural elements, making landscaping an integral part of any Spanish style home. 
Q4. What is a Pueblo style home?
A Pueblo style home is usually designed according to the styles followed in Pueblo Revival architecture. Similar to Spanish style homes, natural materials like adobe (sun-dried mud), stucco, and stones are preferred to create the homes. 
The Pueblo style homes were primarily built in New Mexico and Arizona during the early 20th century. Inspiration was mainly taken from the traditional multifamily mud homes built by the Pueblo Indians. It is also said to have drawn influence from the Spanish Mission and Territorial Styles. 
Like the Spanish houses, the Pueblo Revival homes are built using heavy wood components in the form of doors, ceiling beams, and posts. However, a slightly different characteristic is the inclusion of square windows and rounded exteriors. 
Q5. How to modernize a Spanish style home? 
The sky's the limit when it comes to modernizing a Spanish style home. One of the best parts is that the Spanish Eclectic style of building homes has incorporated both modern and traditional elements of Spanish architecture. 
A common way to modernize these homes is to start with the kitchen by opening it even further to make it spacious. You can add islands like modern homes or the required appliances to make the space more useful. 
Another way to add a modern touch would be to use more minimalistic furniture in the space of the heavy wooden ones. Many people also like to replace the small windows with bigger glass windows while creating natural arches commonly used in Spanish architecture. 
However, our most adventurous way of modernizing Spanish-inspired homes is through the bathroom. Adding colors like black or gray can change up the look and make it look starkly different from the rest of your home. You may even use marbles in the bathroom or build a walk-in shower to change the traditional approach 
Q6. How to decorate a Spanish style home? 
Decorating Spanish style homes isn't that hard as you can make it easy with only earthy tones. When choosing drapes and other fabrics for the house, try out colors like brown, yellow, blue, red, or orange. We especially feel that Spanish home décor looks spectacular with the use of natural fabrics like cotton or linen. 
Another popular aspect of Spanish style homes is the use of wrought iron. Apart from the usual fittings used in a home, you can even get wrought iron pieces to add a highlight to spaces. These may be in the likes of wrought iron candelabra, small knick-knacks, or even elaborate artwork. 
Moreover, the use of a traditional rug with colors like red, green, or blue can complement the floor tiles and the white stucco walls. You can even choose to decorate rooms around the theme of the rugs to make the space more cohesive. Lastly, try to focus on lighting the rooms, and we recommend adding at least a couple of pendant lights around the home.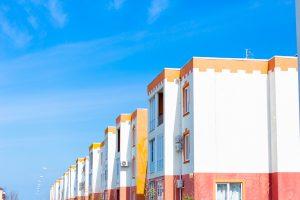 Final Words
That's everything we had to tell you about Spanish style homes. We hope the information will help you decide on either decorating or owning one of the lovely properties.
You can easily tweak the décor of the average home to include some of the elements seen in various Spanish architecture movements. And remember to have fun, as there are no restraints for using only specific elements.
With that, it's time for you to go and check out Spanish style homes!
Related Articles
What Is the Craftsman House Style & Why It's Popular Today
Prairie Style Architecture Details Define Home Remodeling In Canada
Minimalist Japanese Wooden Home Flooded by Sunlight Signed mA-Style Architects
Indigo-Modern Dream Home in Contemporary Style in Catalonia
Cliff View Dream Home with Huge Cantilevers in Contemporary Style by JCB Architects
With Sunny, Modern Homes, Joseph Eichler Built The Suburbs In Style