Wondering if there's a way where you won't need a log or mixing up sand and cement to build a house? Guess what, there is! 
Using the traditional method to build a house is tiresome, and opting for Quonset hut homes is a better solution. These uniquely-styled homes were first built during World War I as camps providing prehab facilities to soldiers. But who would have thought that they will become a popular solution for modern housing?
A Quonset home is known for its durability against extreme weather conditions, and you don't need to be a professional builder to build it. As long as you know the rules, you're fine. 
That's why we have curated this guide to help you understand all about its types and advantages in detail. Plus, we'll answer some of the common questions that most people have regarding a Quonset home. 
So, without further ado, dive in!
What Is A Quonset Hut Home?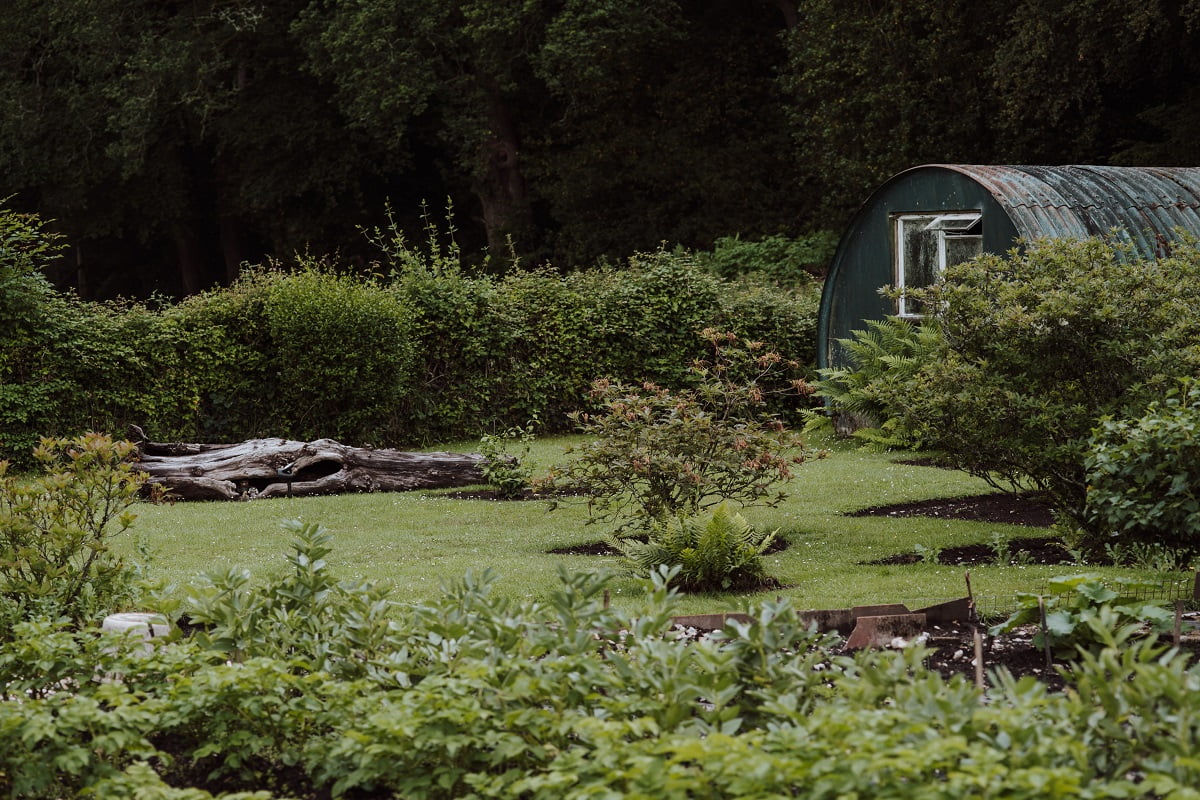 Quonset homes are lightweight homes featuring semicircular designs and are made of galvanized steel. They generally cost less and stand out aesthetically. 
Although the design was first introduced during WWI, it was produced in bulk during World War II (in 1941) when the United States Navy needed a lightweight building that could easily be transported and assembled. And these structures still hold relevance in modern times due to their easy construction and appealing looks. 
You will find these prefabricated metal buildings serving various living and storage purposes. Plus, the characteristics make them suitable for functioning as garages, houses, workshops, or even barns. 
Types Of Quonset Hut Home
Quonset hut homes can be designed differently depending on the climate and the builder's aesthetic preferences. These include:
A. Q Model
The Q model is an entire arch shaped and a military-style Quonset building that is designed in a way to enhance its structural integrity. Provided its simple geometric shape, you won't have much scope to make any further modifications. However, it's the cheapest among the other options that we will discuss later.
B. S Model
In this particular model, you'll see straight and high sidewalls with a domed roof. This design allows heavy snow and rain to slide off easily, making it a viable option for people to live in areas that receive a lot of snow or rain. 
Apart from that, its straight sidewalls provide greater access to the interior space than the Q model. The combination of extra space and added durability has made it a common choice amongst Quonset hut home builders. 
C. P Model
The next one comes with high sidewalls and a peaked roof, and comes close to a traditional house in terms of looks. Its roof is arched enough to effectively shed snow and rain while delivering the look of a gable roof. It's only downside is that you have to spend more on this model than the previous two. 
D. A Model
A model looks quite similar to the P model, so they're often grouped together. In fact, many construction companies offer P/A models. Its roof is arched with a slight peak, as seen in a P model, ensuring easy fall for snow or rain. 
The only thing that sets it apart is that its largely straight exterior walls are angled slightly inward, creating an arched shape, which is not the case with the Q and S models. 
Pros And Cons Of A Quonset Hut Home
Since Quonset homes have been around for some time, their designs have evolved quite a lot, and you'll find many options in terms of design and looks. However, you must know about the basic advantages and disadvantages on offer, which will help decide if this arched house will be the right fit for you.
Pros
Efficient Build
Quonset homes are highly efficient and generate very little waste. Plus, they are very flexible, and are a great option for small warehouses, retail shops, and storage. 
Long Lifespan
Galvanized steel is used to build these homes, which makes them rust and corrosion-resistant. It means there are very less chances that these homes will wear down due to snow and rain. Also, you won't have to spend much on maintaining them, which is a bonus! 
Easy To Build
Building Quonset hut homes are much more straightforward than traditional homes. Only a few people (maximum 4 to 5) are needed to build one such structure and that too within a few days. Besides, only a few standard construction tools are required for the purpose. 
Spacious
These huts span up to a maximum of 80 feet. Although it's not ideal for multi-story Quonset buildings, having a bigger span like this means less hassle. And compared to other homes with straight walls, they are much easier to build and maintain. 
Cheaper
Quonset homes generally come with many hidden costs, the prominent one being insulation. But even after considering that, they are usually cheaper than others. 
Cons
Less Space
Constructing an arched-shaped building means less usable square footage. Also, due to the pitched roof, these homes have less headspace, and you may not have enough space to accommodate all your furniture and fixtures. 
In that sense, they are more suited for small warehouses or people requiring smaller spaces. 
Less Versatile
Although Quonset homes have a greater span, it's much lesser when compared to a rigid frame structure, with a clear span of around 300 ft. Also, the latter offers much more headspace compared to these arched-style homes. 
So, make sure to go through these pros and cons when thinking of building a Quonset hut home. It's clear that despite offering so many benefits, it has certain limitations. And if these are not a problem for you, we would definitely recommend building one. 
Design Ideas For A Quonset Hut Home
A. Traditional Quonset Hut Homes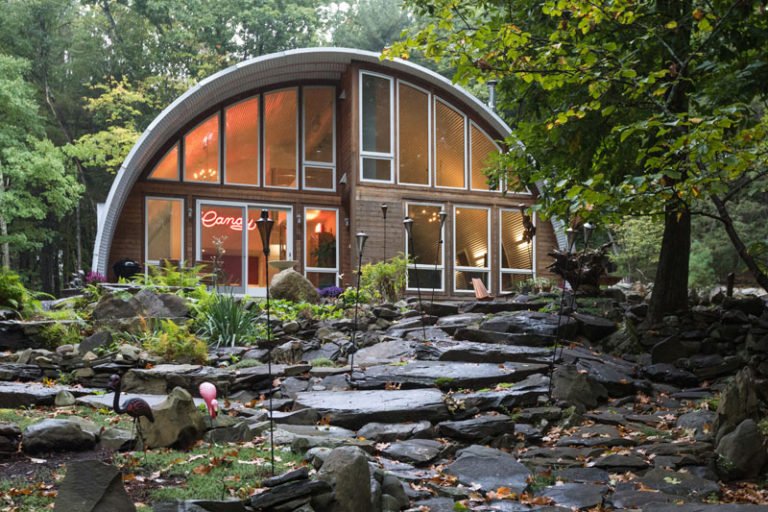 Photography by Jenny Gorman
For people who prefer living in a vintage-style house and love its aesthetic, this particularly-styled home can be the ideal option for them. Its old school exterior has a gorgeous interior, which is an absolute delight for people living in it.  Moreover, you can equip the house with almost all modern amenities and enjoy a relaxed and comfortable living space.  
B. Modern Quonset Hut Homes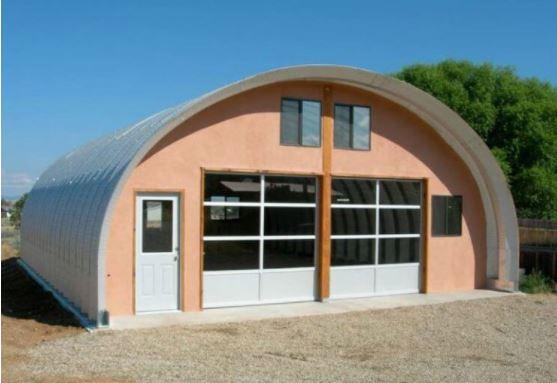 Source: showyourvote.org
Unlike the traditional hut homes, the interior and exterior walls of this home are designed in contemporary style. Sporting a simple yet unique design, it delivers an aesthetic look to the home. 
These houses employ high-quality materials so that you can stay warm and cozy. And the premium glass windows have a sleek look while allowing the circulation of fresh air and natural light. 
Although these houses are expensive compared to the previous type, the cost is surely justified for the features it delivers.  
C. Desert-Themed Quonset Homes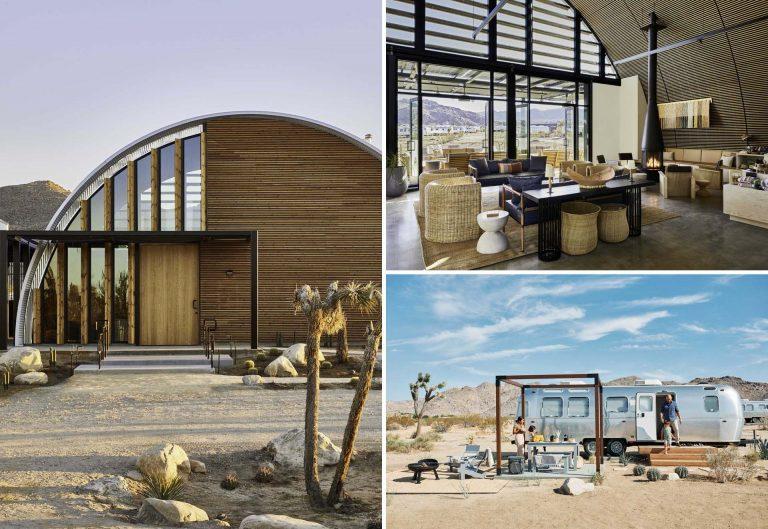 Photography by Matt Kisiday
As the name suggests, these homes are great for living in desert areas or other regions also. Being made of metal, these structures are different in designs compared to other models. 
Their ability to handle excruciating heat stemming from their unique designs is what makes them stand out and makes them work even in the desert. 
D. Wood-Based Quonset Huts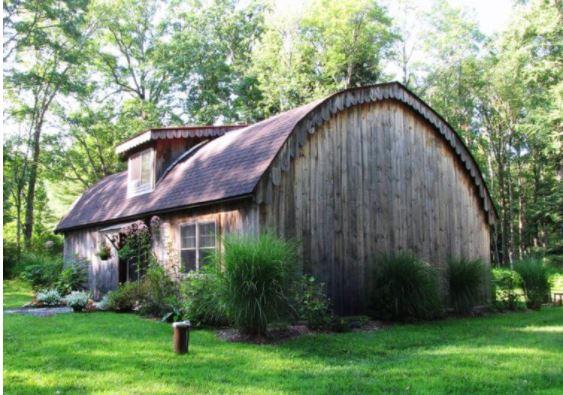 Source: southernliving.com
Most Quonset homes are made of prefabricated steel, but you'll also find some made of wood, especially in the countryside. 
As compared to steel, these huts have some unique benefits and you can change their look and design according to your preferences without breaking the bank. Furthermore, you can decorate your house with creative items and pieces to get the best visuals and a completely contrasting experience. 
However, the design is not completely free from limitations. Although the building cost is generally less, the maintenance costs can become overwhelming in the long run. Aside from that, these are more difficult to build than their steel counterparts. 
E. Backyard Quonset Huts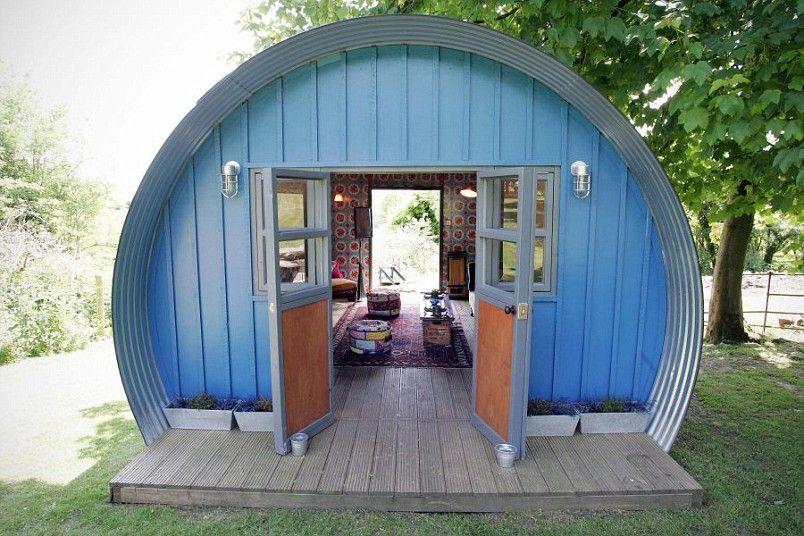 Source: European Property
If you want to build a small Quonset home in the backyard where you can spend some alone time, then consider this design. These backyard Quonset huts come in several attractive and stylish color options. 
For example, the red and maroon combinations have been trending in recent years, or you can select any color combination that blends well with your main house or building. 
F. Simplistic Quonset Homes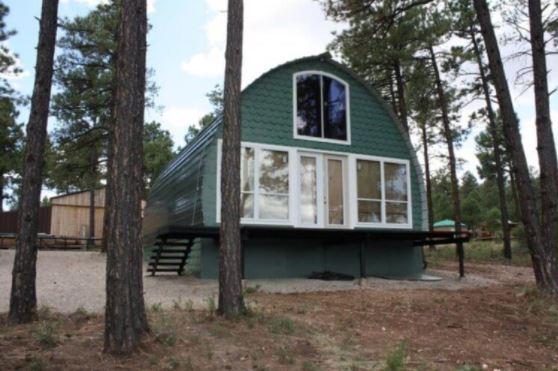 Source: manual10.biz
Simplistic homes are cute-looking homes boasting a simple design with little or no major exterior decor. The only feature that sets it apart from others is its huge glass windows in the front. 
According to the designers, the main motive behind these large windows installed right in the middle is for the entire house to receive quality lighting. You should definitely go for it if you have a knack for simplistic or minimalist-designed homes. 
G. Military-Style Quonset Homes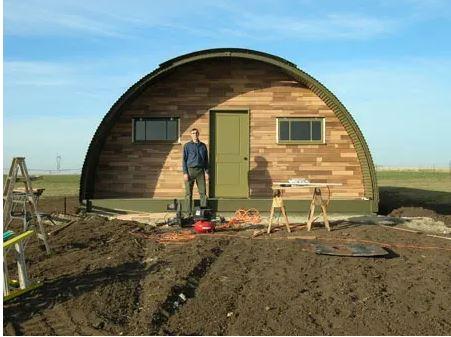 Reprinted from THE RED BULLetin, newsletter of the Red Bull Historic Military Vehicle Assoc. © 2010 Red Bull HMVA. All photos courtesy of Jack Kane and Gary Wirth.
Some Quonset huts don't have to be fancy-looking or boast extravagant designs to look good. Like this Military-style Quonset home, a simple design delivers an old-school look and works wonders here. 
The primary idea behind building a home is to live a relaxing and comfortable life, so for many, interior design and comfort surpass the exterior designs. In terms of comfort, this design stays leaps and bounds compared to others. This Quonset hut offers a great deal of interior space to work with and allows you to accommodate your things effortlessly. 
H. Colorful Quonset Homes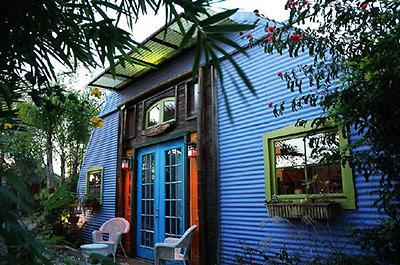 The stunning Quonset home does not have a simple design, but it is not overly complicated. This house is distinguished by the use of a distinct palette of colors. It can be more subdued or bold and bright, and you can paint it to suit your taste and style.
I. Nature-Like Quonset Huts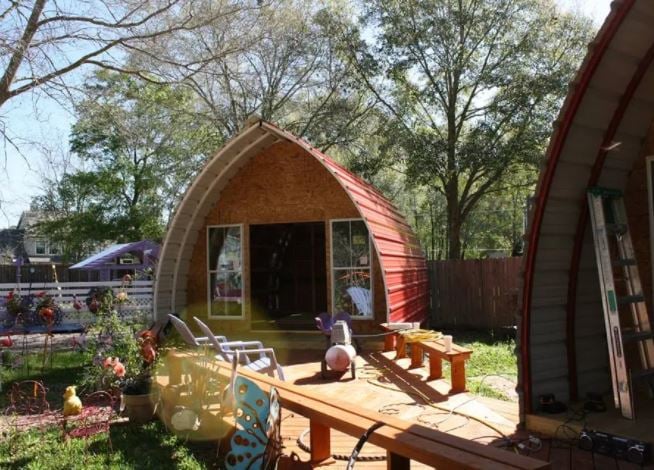 Photos by Arched Cabins
You will find a wide array of designs under nature-like Quonset huts, and the most common one amongst them is the swamp-themed one that blends well with nature. These huts boast a unique lighting system along with delivering an aesthetic look. 
Quonset Home Floor Plans
Like any other home, these Quonset huts also come with a specific structure. And, its floor plan ideas should fit perfectly with the size of the room. Here are some popular floor plans to help you segregate the rooms well. 
A. 24'x24' (about 576 square feet)
Generally fits with a Q and S-model Quonset hut, this small space has been a popular choice and is utilized primarily like a double car garage. Apart from that, it's suitable to accommodate a single person, fitting a bathroom, a bedroom, a dining room, a kitchen, and a living room. Due to its smaller size, it's a practical and cheaper option to consider. 
B. 40'x30' (about 800 square feet)
This floor plan provides adequate living space to a family of three people. You can easily build a smaller bedroom, a master bedroom, a kitchen, and two bathrooms. Plus, you can add a dining room and a living room to make your hut more functional. 
C. 30'x40' (about 1200 square feet)
The largest amongst three, this floor space is ideal for large Quonset homes, where you can build a mezzanine to double up the storage capacity. Its size is enough to accommodate two master and two smaller bedrooms to give a family of six a comfortable living experience. 
Add to that a dining room, a kitchen, and a multipurpose room to make it a livable space. 
Establishing a floor plan before building or purchasing a Quonset hut is crucial to get a better result. You'll get different sizes of floors from various brands, and need to discuss your plans with them and seek expert advice.
Quonset Homes Vs. Steel Buildings
Although both building types are similar in nature, there's a striking difference in their architectural styles. Quonset buildings have arch-type frames, while there are rigid frames in corrugated steel buildings. The interior walls of the former building type are generally much taller, which provides more significant space to store your things. 
On the other hand, being easily accessible and DIY-friendly, Quonset homes are much cheaper compared to its counterpart. These structures are pre-made and self-supporting, making them easier to assemble for a person without any prior building experience. And, you won't need any columns either. As you're building a Quonset home by yourself, it saves a lot on construction costs. 
Steel buildings, however, have a complicated design and require skilled labor to build. Depending on its location and property, these cost much more than the Quonsets. 
Quonset Hut Home Frequently Asked Questions
Q1. How to build a Quonset hut home ?
Constructing a Quonset hut is very simple, but it can get complicated if you don't know where to start. So, here we're discussing some factors to be kept in mind before you begin constructing.
1. Material
Traditionally, these huts used to be made of aluminum with interlocking arches for storing baggage and used as shelters. After the war, other Quonset hut home kits included metal panels, steel frames, and paper insulation. And, after not that long, wooden arches also became available.
The modern Quonset homes are generally made of prefabricated steel, making them durable and long-lasting. Plus, they are also not that heavy and easy to carry around.
2. Quonset Hut Insulation
Insulation is probably the most important process in building an arch-shaped home. Ideally, the metal sheet is designed to be weather-proof, watertight, and free of moisture. But, even the most well-planned project can go through dire situations. If these metal sheets aren't stacked well, heat waves during summer, and cold chills during winters enter through these holes and make your lives miserable.
We'd recommend insulating the house with double-sided tape, and super metal sealant rounded all over the sheets. Also, a closed-cell spray can be a great option to insulate your hut from external weather conditions.
3. Interior Design
You don't need any fancy stuff to make your interior stand out. Just select some right furnishings that blend well with the color. You can always find inspiration for these designs out there or can contact a designer to get it done for you.
4. End Walls
Custom or steel end walls are a great option for an open-ended building, whether you're planning for a sectional or sliding door. It's important to add adequate ventilation and windows to enhance the airflow or install a skylight that acts as a light panel.
Q2. Do Quonset huts make good houses ?
Quonset huts are durable, distinctive, and affordable have gained popularity amongst DIY and eco-friendly crowds. Despite being originated as drafty military structures, these huts have evolved over the period to deliver first-rate comfort once integrated with modern amenities and creatively decorated.
Q3. Are Quonset hut homes cheaper ?
Although Quonset homes are cheaper than most traditional homes, the costs add up quickly once you start building these. If you're considering building one of these, take note of all materials required and the steps involved to establish an appropriate budget.
Q4. Is it legal to live in a Quonset hut ?
Yes, these homes are now permitted to be built for commercial purposes, and you have full freedom to live in these. You won't have to worry about getting inflicted by any legal issues. And the interior and exterior of the hut can be painted with complete creative freedom.
Q5. How much does it cost to build a Quonset hut house ?
The cost involved in building such a home varies from the kind of materials you're using and the designs. But, here are the average prices you'll find on the market.
Small hut building kits generally come in the range of $1500 to $2000, and with appointing interior designers and workers, it might go up to $3000 to $25000.
The costs fall in the range of $5000 to $35000 for medium-sized homes, and depending on its size, location, accessories, and workers, the costs go as high as $10000 to $50000. At the same time, a fully built and complete hut costs around $40000, and an 80-inch x 400-inch hut goes up to a maximum of $10000.
Final Words
So, this is all we have to share about a Quonset hut home. These unique-style homes are much simpler in design but don't lack in terms of functionality. 
High-quality corrugated galvanized steel and other materials are used for its construction, making it durable and long-lasting. Apart from living, this multi-purpose space is useful as a garage, store, or storage buildings. 
Preliminary, these huts were developed to withstand extreme weather conditions, but nowadays, these are explicitly manufactured as residential homes. You can build anything that suits your personality, from traditional and straightforward huts to desert-themed ones. Many companies offer prefabricated Quonset hut home kits that are super easy to assemble and decorate in recent times. 
We hope you loved our informative guide about Quonset homes and will continue to bring such unique and informative content to this space, so keep an eye on it. 
Goodbye until next time and take care. Bye!
Related Articles
Gozdne Vile Glamping Huts Offering Tranquility in a Small Form-Factor
Spectacular Hut-Like Bungalow in Sri Lanka by Narein Perera
Mudgee Tower-Camping Hut With Expansive Views in Australia by Casey Brown
Hut in Tsujido / Naoi Architecture & Design Office