If you need a specialized nailer that you can use around the house to work on cabinets, trims, and moldings, a brad nailer is an excellent product.
We wanted to work on some DIY projects inside, which required detailed wood applications. With a brad nailer that fired brads efficiently, we were able to bind our wood trims correctly.
It is mainly a smaller type of finish nailer, but unlike the bigger version, this one takes care of more minor work needs. If you use a big device to work on tiny parts or thin surfaces, there is a chance that you will crack it. 
With a brad nailer, we felt completely safe while using it for our home projects. Read on to find out about the different purposes it is used for and the benefits it comes with.
What Do You Use a Brad Nailer For?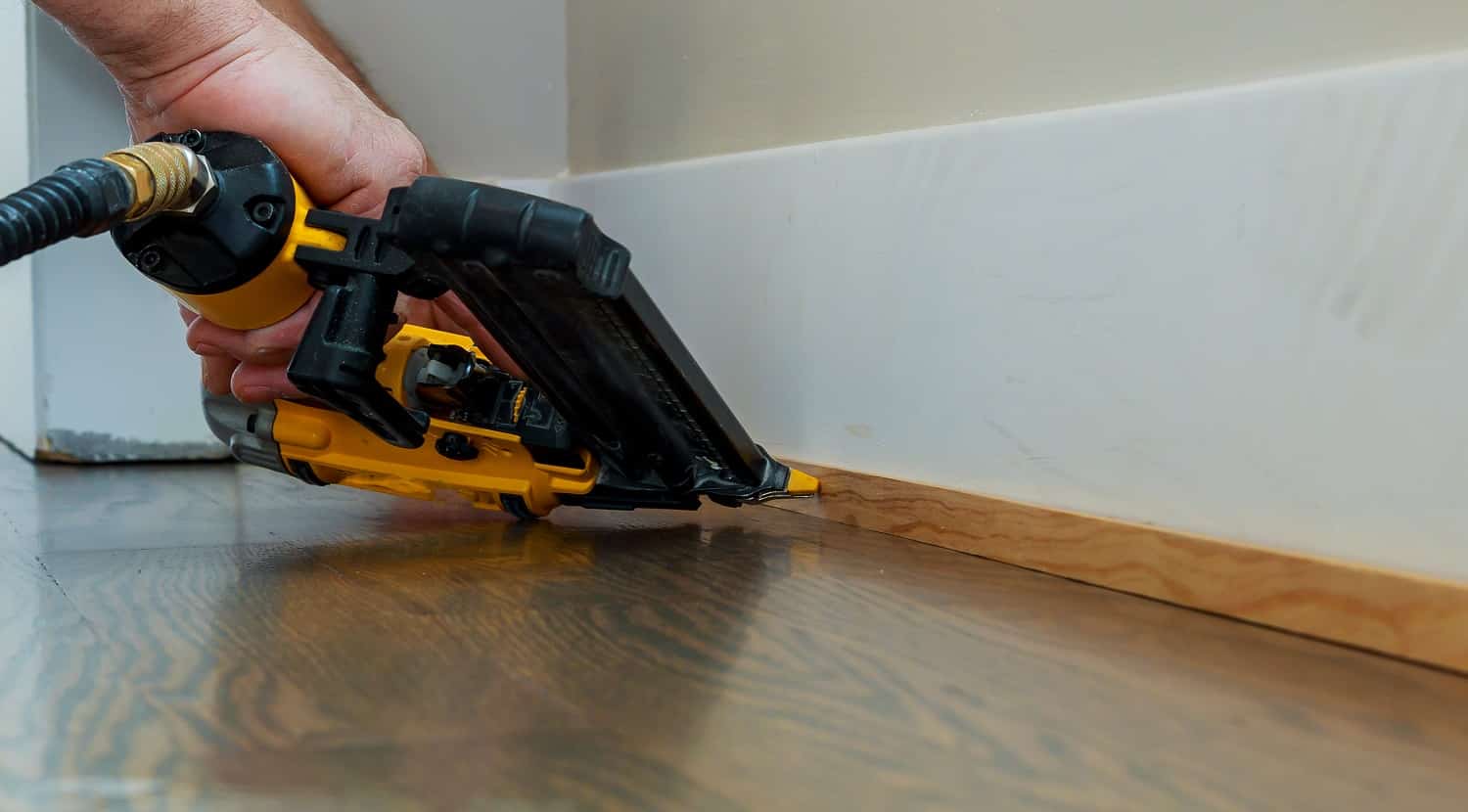 This device has a remarkable way of providing a strong bond between thin wooden trims without splitting or cracking them. It uses thin 18-gauge brads that measure 2 inches long or smaller. Since they are relatively tinier than most nails, they do not make a big hole. This prevents any unnecessary cracking of a thin surface.
If you are looking for a product for home renovations, this is an excellent device to have in your toolbox. Why, you may ask? Because it makes very detailed trims on wooden surfaces of furniture, cabinets, and even smaller objects like photo frames.
Also, it can be used for coves, baseball shoe remodeling, and railings. If you are into making home furniture, a top-notch brad nailer will provide the peace of mind you deserve!
Safety
A brad nailer is considered to be comparatively safer than finish nailers. This is because of the relatively tinier size of the nails. But again, these could cause injury if proper precautions are not taken. So, it is essential that you wear safety glasses to protect your eyes.
Make sure there is no loose end of clothing hanging from your outfit. Also, use hearing protection in case you are working inside a closed space with a noisy device. Since the machine uses an air compressor, the sound level may go up. But again, it does not use up a lot of compressed air, and the noise can be controlled.
Types of Brad Nails
There are mainly two types of brad nailers, the 18-gauge and the 21-gauge one. The one which is most frequently used is the 18-gauge version. This one is fit for woodwork and will be a better choice to go for in case you need it to bind thin wood films.
Going forward, since you will mostly choose an 18-gauge version for your household work, the next most crucial thing to know is the height of required fasteners. The average nail length that this model uses is between ⅝ inch to 2 inches long.
Before you choose the nail size, remember that the length of these nails must be three times the width or thickness of a wooden block that you are nailing it with. If you are wondering why this is essential, the nails need to be long enough to pierce through the wood surface and then set inside another surface. Only then will it be able to perfectly attach both the planes.
Electric Brad Nailer
A brad nailer can be a superb gadget when you are looking to modify your interiors or work on a DIY project. It helps you go about your work smoothly and come up with brilliant designs.
But if a pneumatic model is not what is desired as you do not want to link it to a compressor whenever you use it, we have a solution! The electric brad nailer is one of the best alternatives available today as it does not use an air compressor or hose to perform.
Instead, it is available in corded and in cordless forms, which are operated with the help of cells. The only requirement is nail strips, and when you have a few, you can begin working and hammering in seconds. They are way easier to get started and work efficiently.
These devices can fire 18-gauge brads with perfection. They operate simply with the electric motor loading an air compressor chamber. As the chamber releases air, the nails start firing. Here we should say that the pneumatic model is more powerful though the electric model can drive 2-inch long nails into a thin wooden trim with ease.
The best part about this product is that since it is not connected to an air compressor, you can take it around easily. So, you can perform a wide range of tasks one after the other, beginning from installing trim on windows and doors to various furniture you have in the room.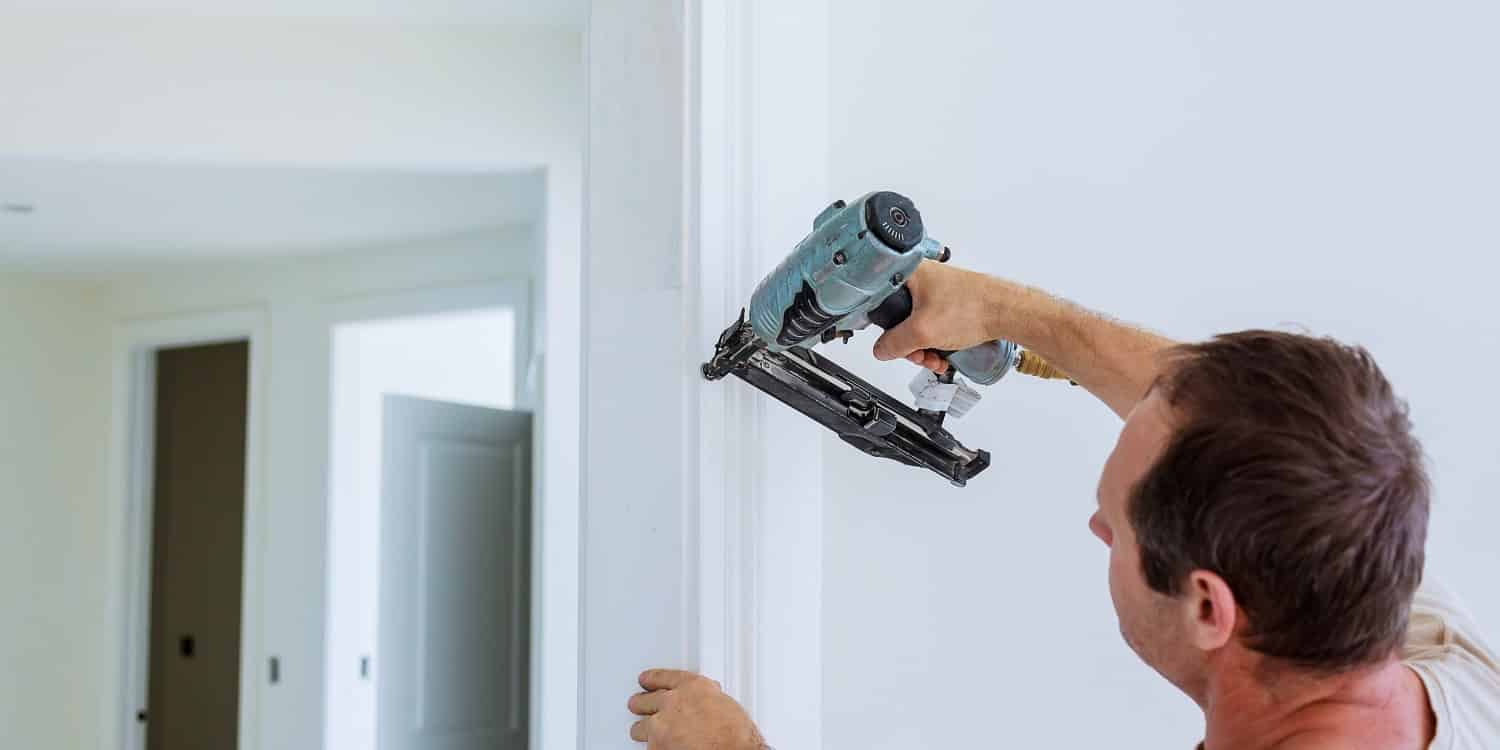 Conclusion
It is essential to distinguish between a brad nailer and a finish nailer because both are not the same. A finish nailer can crack or split a thin board if it is used on one while a brad nailer is suitable for thinner surfaces.
One safety tip which we would like to give you here is to not try using a brad nailer too close to the end of the boards. This may result in splitting, so one should use this machine to attach the surfaces leaving a good margin near all the edges.
Also, try making sure that there are no knots in the wooden piece as the nails can easily bend if they come upon a knot. This can lead to chipping of a side of the wood. 
Now that you know everything about a brad nailer, it is time to try using it for yourself. For any additional help, follow one of the numerous tutorial videos available. Let us know about your experience in the comments section below.
Till next time!
Related Article
Freeman PFR2190 Framing Nailer Review + Buyer's Guide
13 Best Finish Nailers for Woodworking 
What Size Nails Do You Need for Framing?
Pin Nailer vs. Brad Nailer 101 | Key Differences, Advantages & Disadvantages
What Size Finishing Nails For Baseboards?