If you think gardens are just for greens, then you may not be totally right!
And one of the things that you certainly don't want to miss out on is a water feature. After all, who wouldn't like coming back to the sound of trickling water after a long day at work? Besides, these structures invite several pollinators like birds and butterflies, which ultimately facilitates plant growth.
So, here we are with the 48 best water feature ideas that will turn your garden into your favorite zone. Whether you're a DIY enthusiast or not, we've something for each requirement.
Now, let's get started, shall we?
Best Water Feature Ideas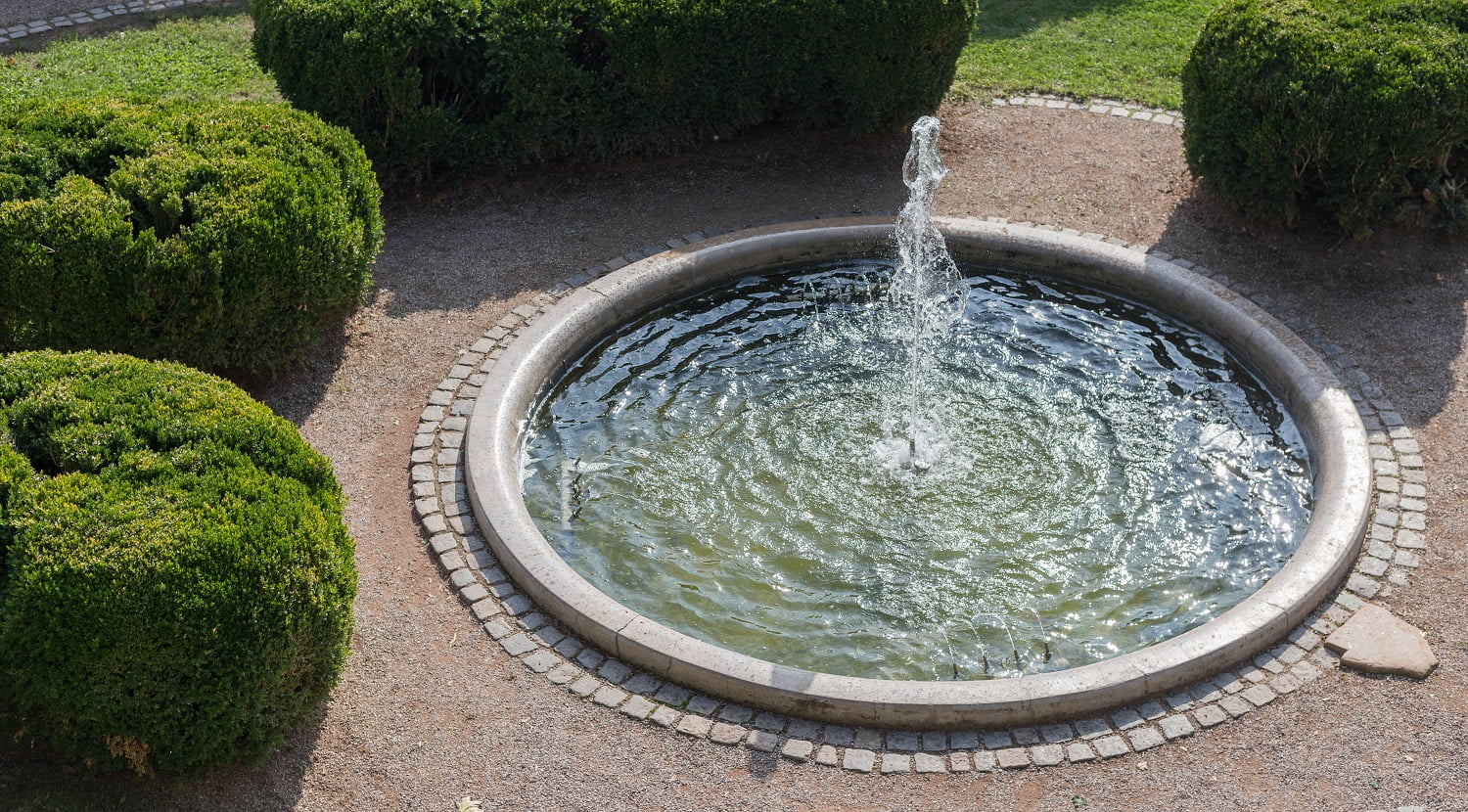 Mixed Metal Water Fountain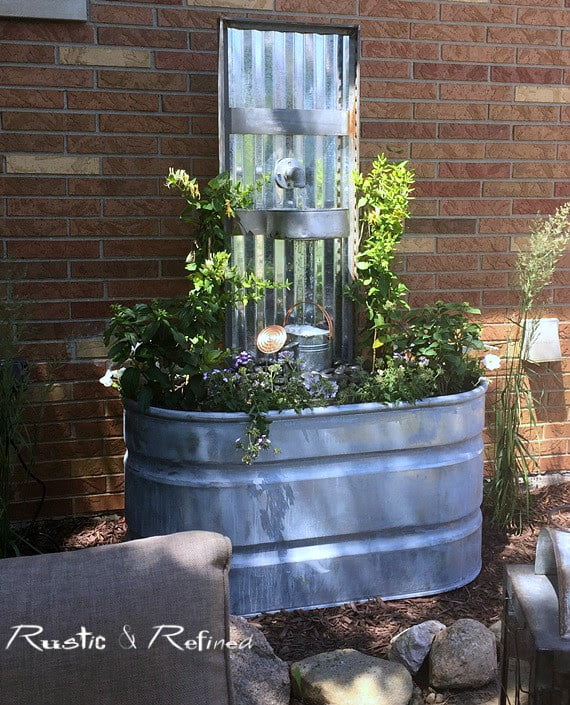 If you have got some leftover metal parts in your garage, then this first idea is just for you. Transform a humble metal tank into the showstopper of your backyard using some galvanized metal, washers, a low shutoff water pump, washers, and a tap. 
Place your favorite greens inside the tank, and you're done! For the finishing touch, bring in the old watering can.
Plant Pot Water Fountain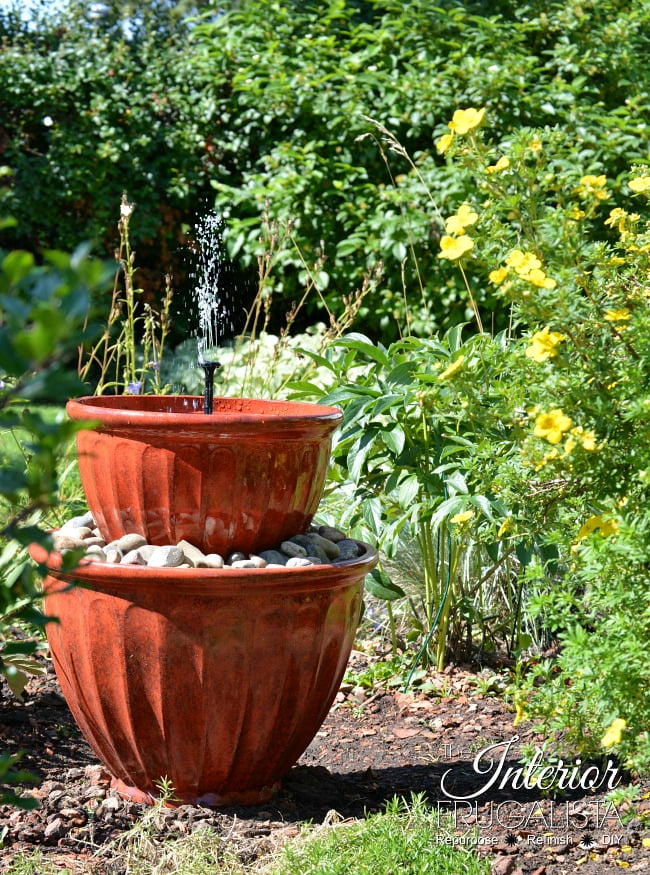 This simple structure consists of two plant pots, one smaller than the other. The bigger one forms the base, so throw in a large pail and cover it with a pot saucer. Add in some river stones above it and make way for the other pot. Don't forget to seal any drainage holes. Lastly, drop a solar pump for waterflow.
Galvanized Bucket Solar Fountain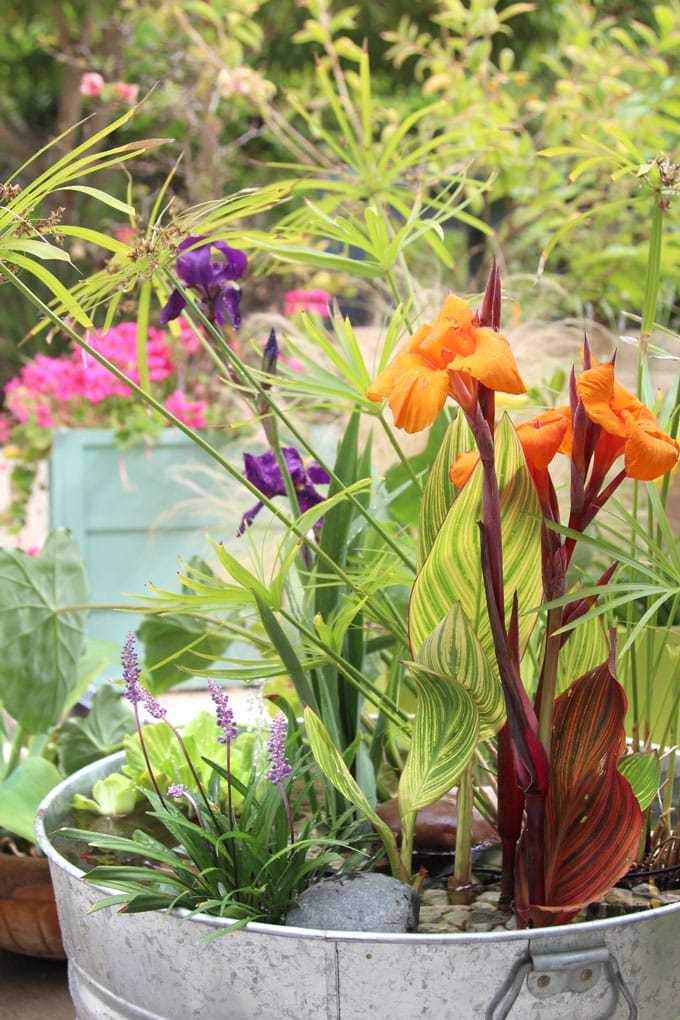 Simplicity has its charm, and so does a plain galvanized bucket. Grab your favorite aquatic plants like cyperus involucratus (baby tut), taro, canna lily, Siberian iris, liriope, etc., while still planted in their respective containers; the roots will keep the water clean. 
Then, put them in the bucket and fill water till you cover the roots. Finally, submerge a solar fountain pump.
Bubbling Water Fountain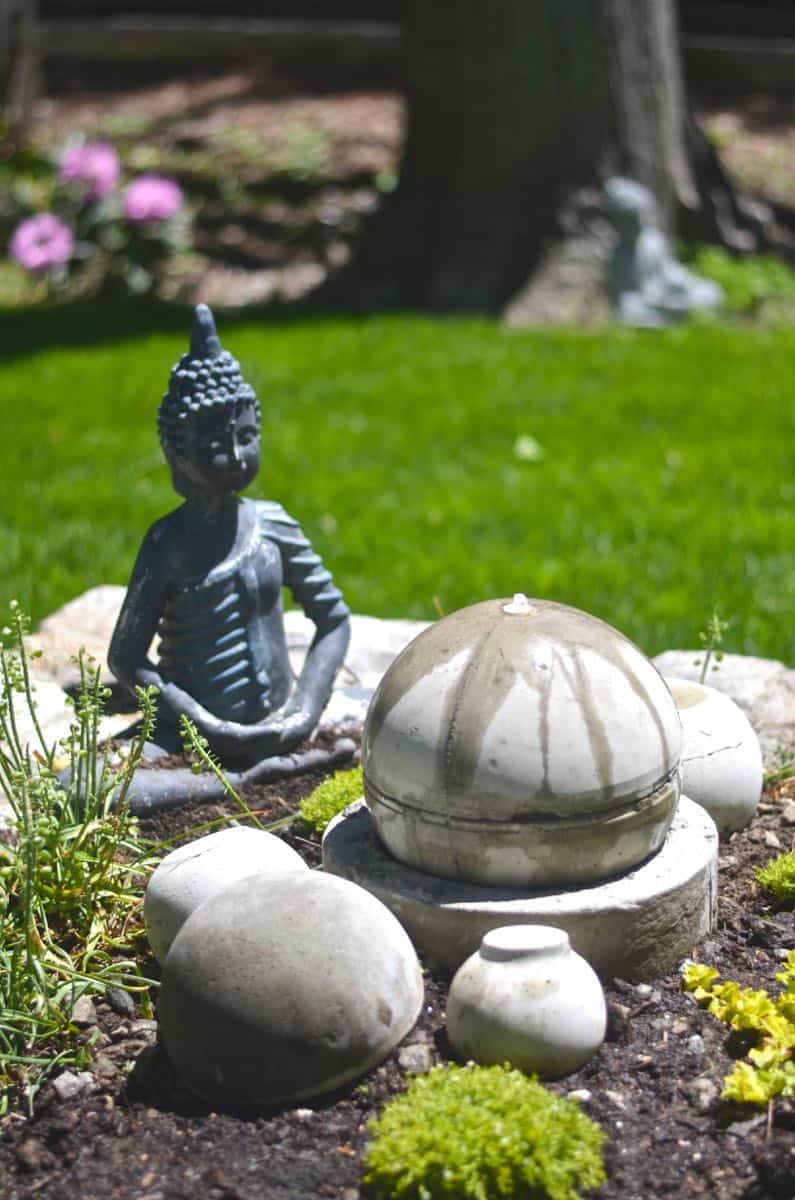 Okay, now constructing this feature is likely to take quite a lot of time, so make sure you have enough on hand. Using a mortar mix, prepare two circular molds (the fountain) with a water inlet and a well-like base that'll house the fountain pump. While we like the earthen look, you can paint the feature to amp up the setup.
Wooden Barrel Water Fountain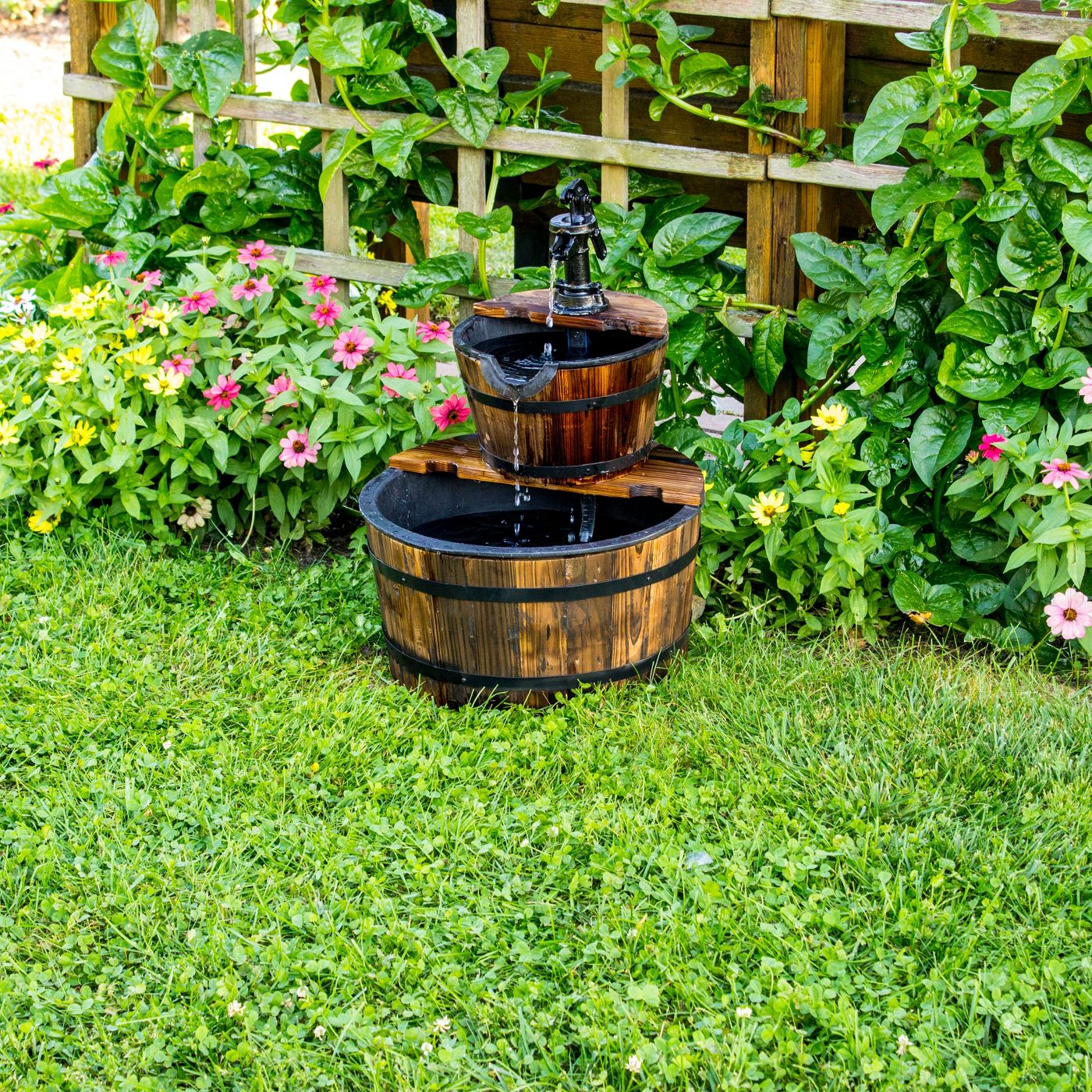 While taking a quick breather from DIY projects, let us introduce you to this classic wooden barrel-style water fountain. What we liked the most about it is the interiors are lined with a plastic coating to prevent any moisture or mold buildup. That said, you can always build one with any material of your choice, or even change the colors if you like.
Tiered Flower Pot Fountain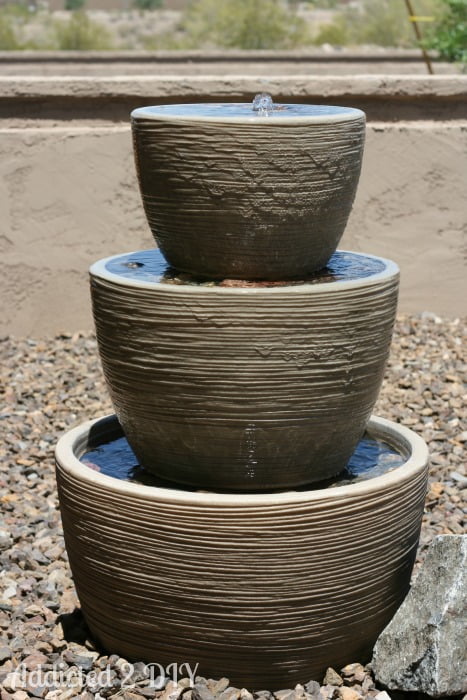 Remember the plant pot water fountain we talked about? Well, here's a variation that you can try for larger backyards. This time, we got three PVC pots instead of two, and drilled a hole on the bottom of the base pot to feed the plug through it. We also found that two-part epoxy putty works better to seal the drainage hole, especially for warmer areas.
Ceramic Cascade Birth Bath Fountain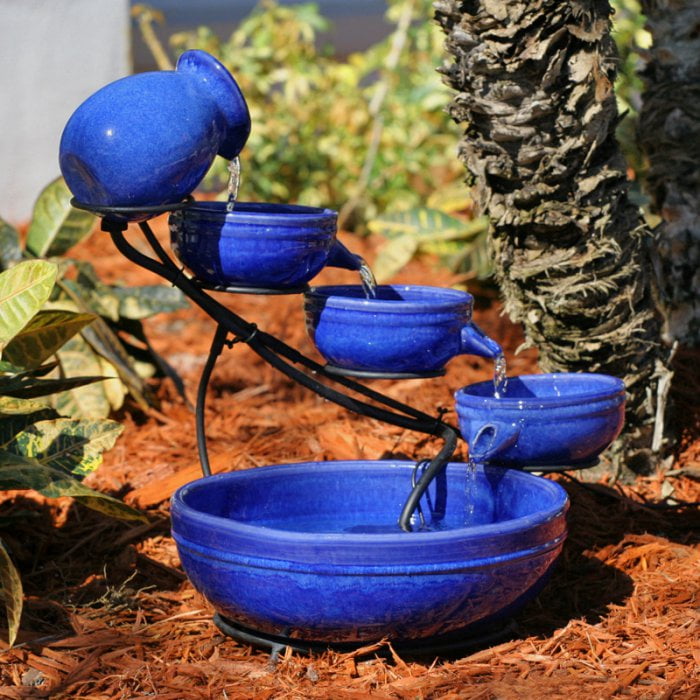 Planning to get rid of that old ceramic tea set? You might want to wait till you see this next water fixture. Thanks to a concealed solar water pump, the mesmerizing waterflow from one level to the other is a sight to behold. Plus, it can be the perfect holiday gift for friends or family.
Tiny Egg Fountain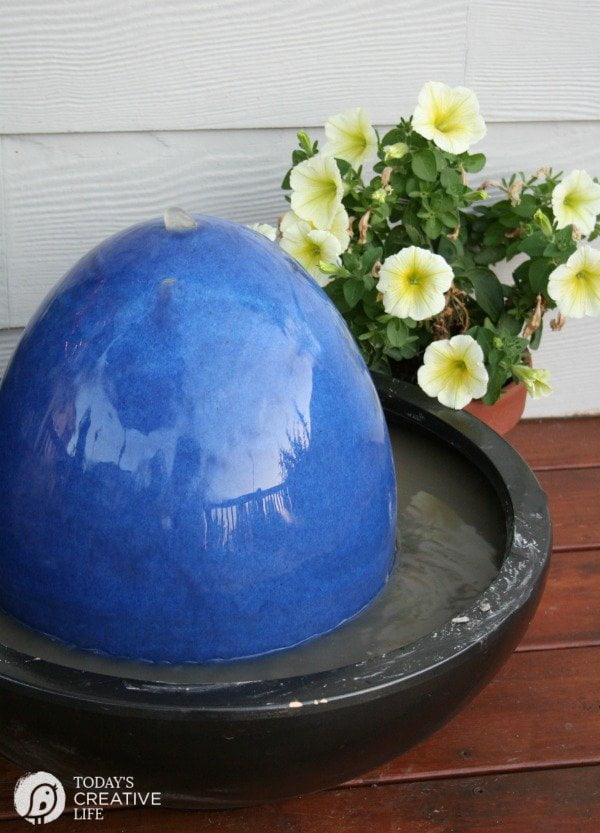 A smaller alternative to the bubbling water fountain is this ceramic sphere fountain top, which is ideal for your patio or indoor garden. Here again, you can create the spheres, but we think you should get the pre-drilled ones at a nursery. Similarly, find a plastic tub that's big enough to hold the spheres. Set it up with a fountain pump, and that's about it.
Solar-On-Demand Fountain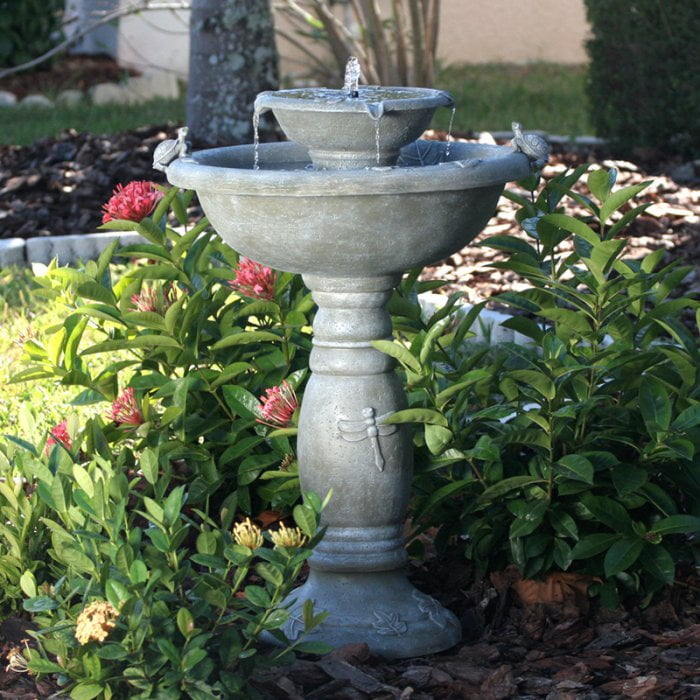 Bring regality in your backyard with this weathered stone-finished water fountain. But there's more than just looks that made us include it in the list. Not only can you switch it on and off with the press of a button, but the unit also stores solar energy for nighttime use. A full day of sun exposure equals to six hours of charge.
Patio Water Wall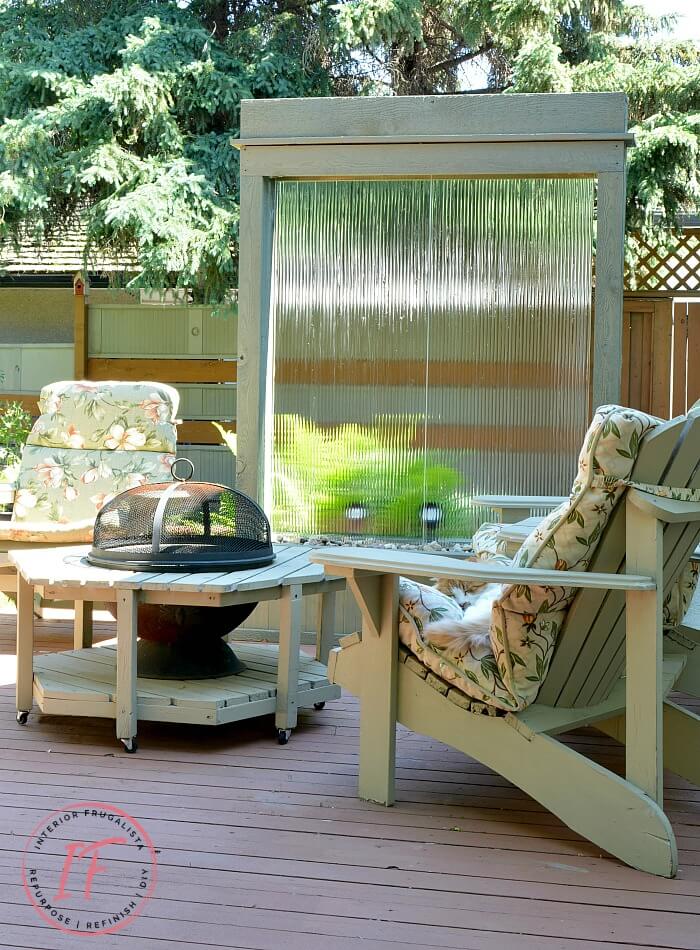 As they say, 'Rome wasn't built in a day'! Sure, this patio water wall won't be among the quickest constructions, but is worth the time and effort. If you can find a safe space, you can even place it in the garden, but we prefer the patio placement. After all, what better than the serene sound of water to calm the senses?
Blue Planters Waterfall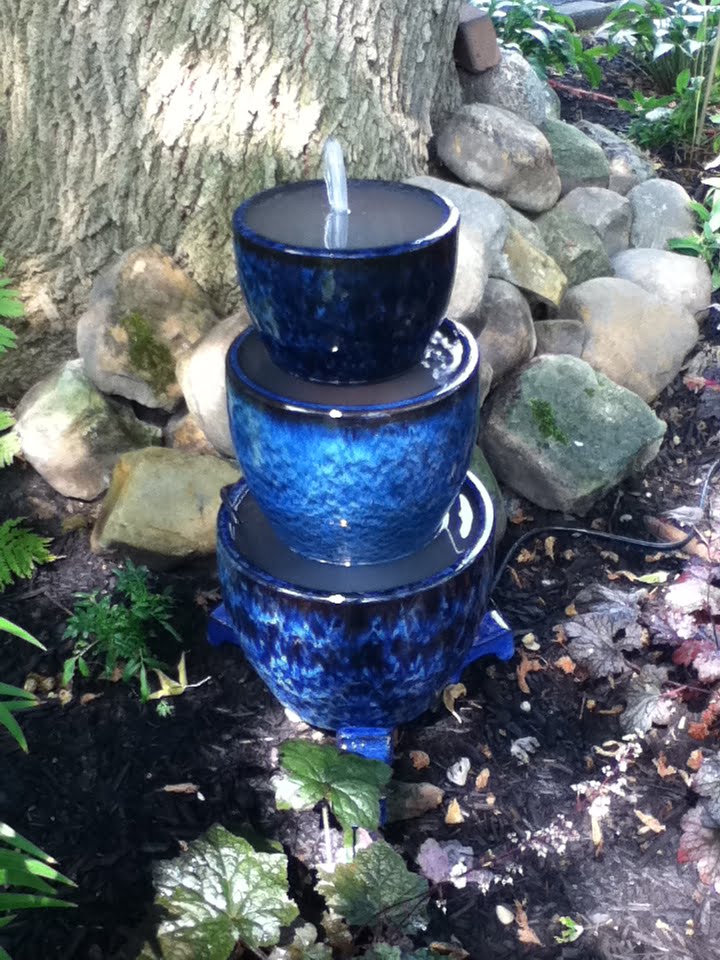 Blue amidst green is quite a symbiotic relationship as each color helps the other to stand out. And the fun part about the design is that it houses some really simple and cheap materials to steer the water circulation. If you don't find blue pots, buy plain terracotta pots and paint them before use. Sounds like a creative weekend activity for your kids, right?
Disappearing/Underground Water Fountain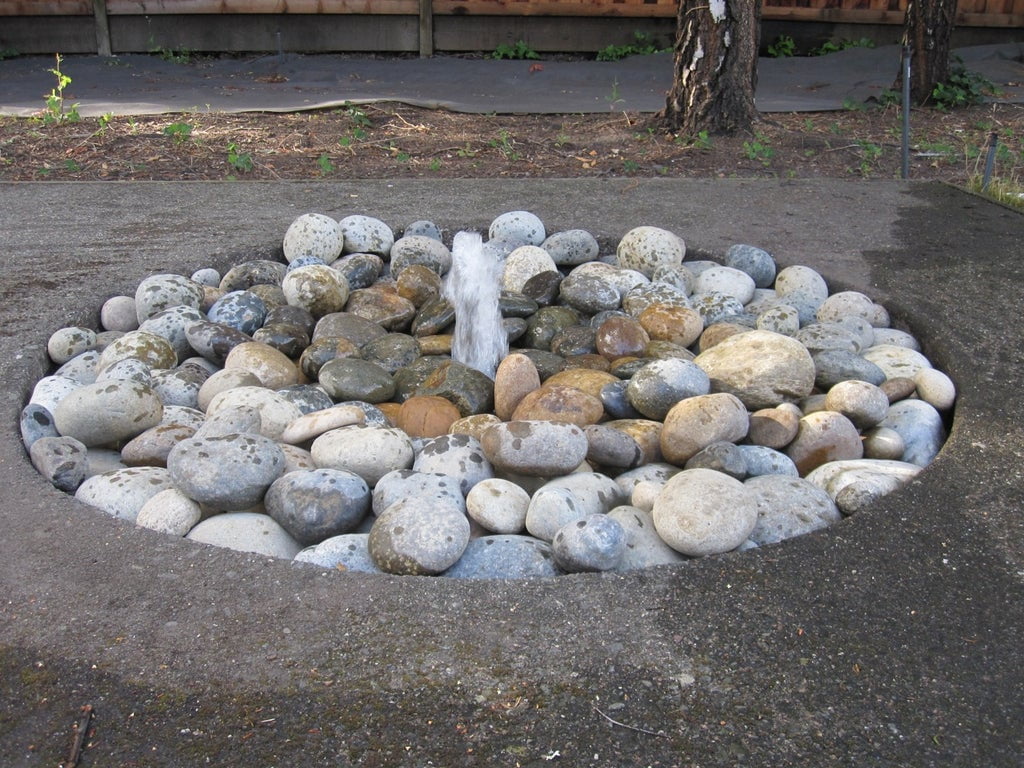 Not in the mood for a prominent fountain structure? Then how about an underground installation? A decorative rock fountain that has just the water stream on display is a brilliant compromise between an open pool and a free standing arrangement, but you may need extra help for the construction. And allow us to suggest a colored water stream for an added appeal.
Three-Tier Fountain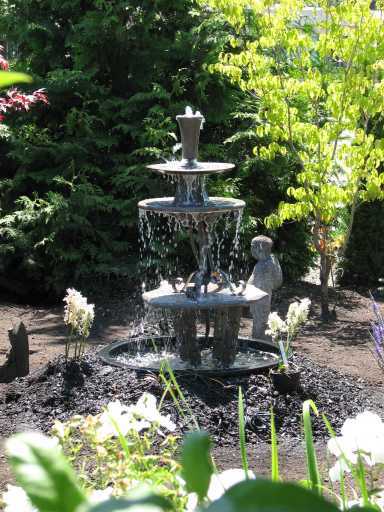 We thought recreating the tiered flower pot fountain for a bigger version would be a costly affair till we came across this structure. Just head to a thrift shop nearby and pick up some fixtures, spacerers, and basins. The measurements and numbers will depend upon the desired height of the fountain. Finish off with a layer of paint, or keep the rustic charm as is.
Spring-Inspired Pond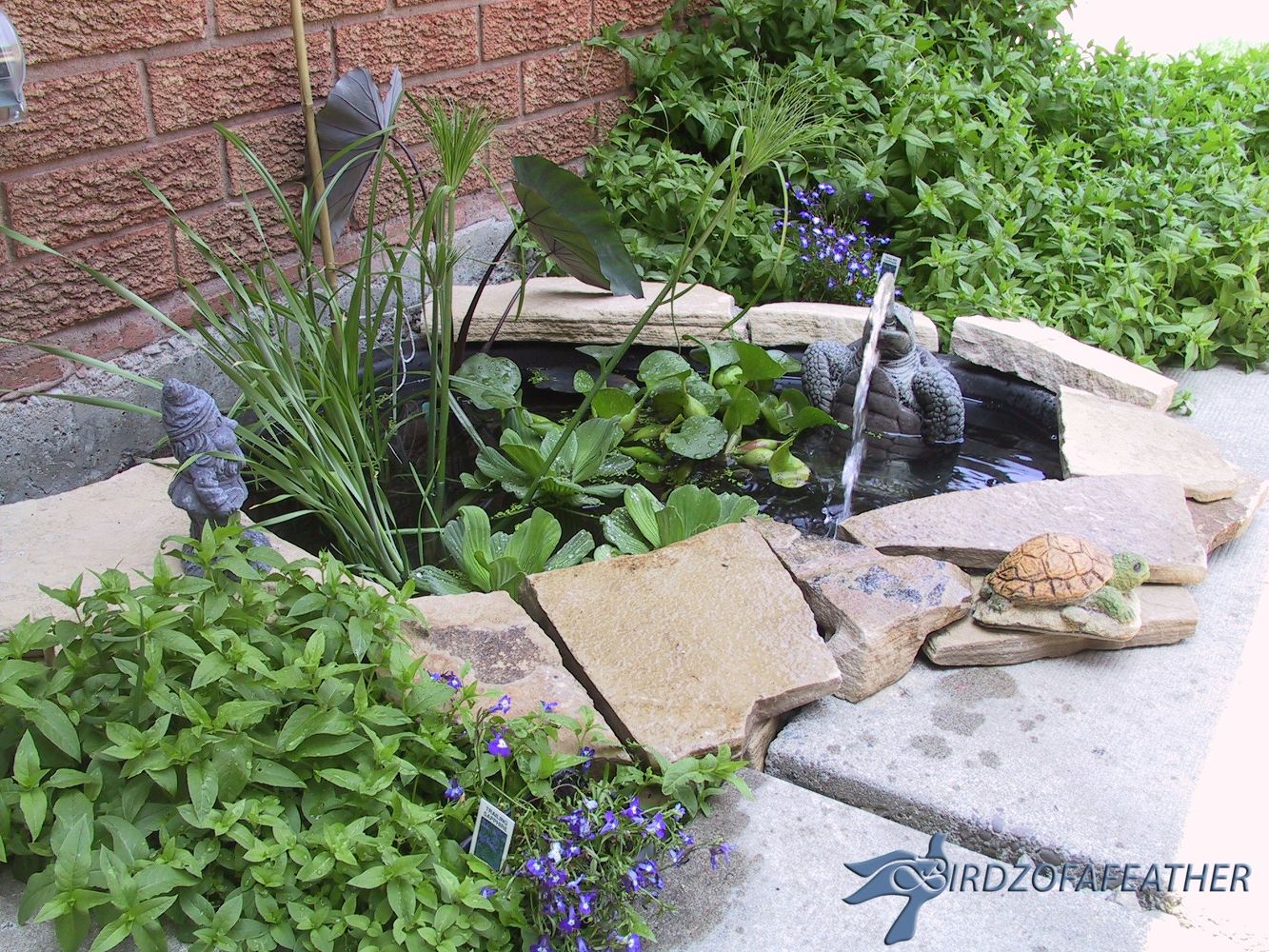 If you're looking to upgrade the walkway, then here's a DIY water feature that may well be the perfect accent. Moreover, you can even recycle the existing slabs to support the pond, so that's a win-win! Throw in whichever aquatic plant you like, or skip this step, but ensure water circulation to prevent building a mosquito breeding ground.
Tea Pot Fountain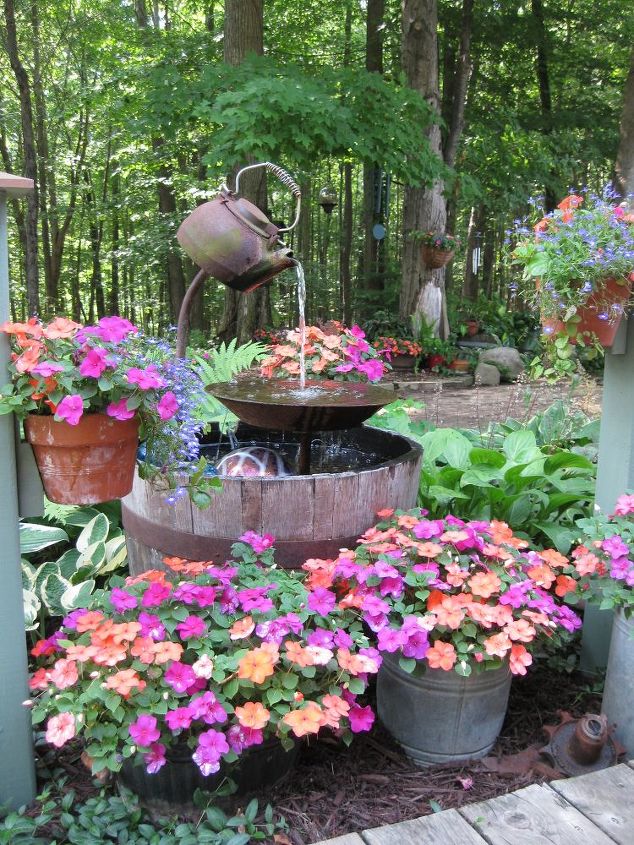 There's a high chance that this free standing feature makes you say 'how did I even build it' after installation! An old iron teapot becomes the water source, while the water flows into the barrel base via a shallow bowl. Aside from being relatively simple to assemble, it can be easily put away when not in use. 
Water Garden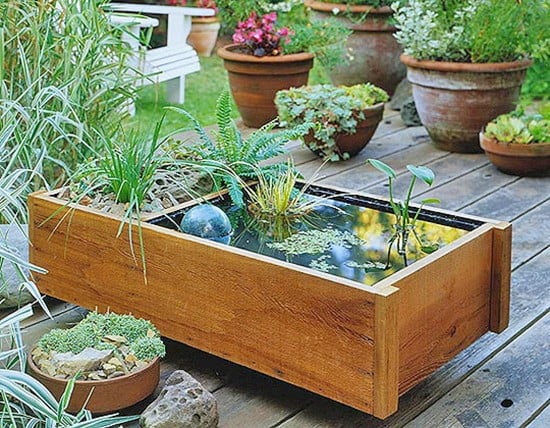 We're loving how this compact wooden garden has brought in so much life to the space. Plus, building one such frame isn't a lot of hard work-just keep the right tools in vicinity. However, ensure that you line the insides with a water sealant for durability. Furthermore, drill a couple of holes in the bottom for drainage if required.
Overflowing Ceramic Pot Fountain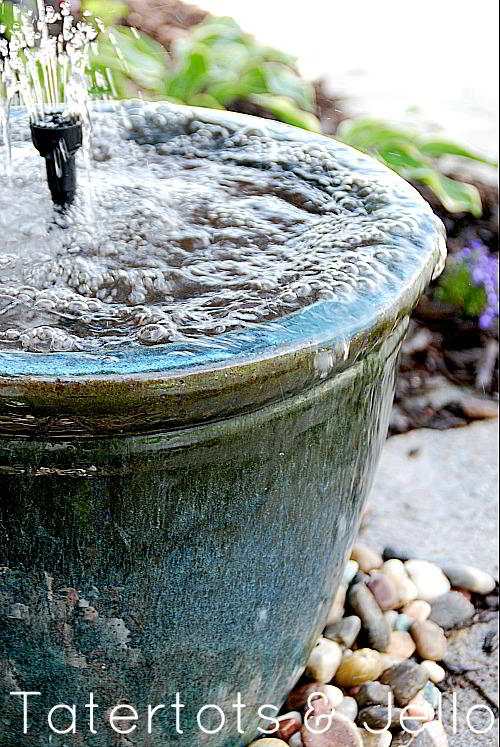 If you're fond of the rhythm of babbling water, we recommend this overflowing ceramic pot fountain. The water bubbles up from the spigot to create a dramatic effect, that honestly we're living for. 
As the cool overflowing water hugs the outside surface before disappearing into the gravel reservoir below, let your fingers experience the soothing tactile pressure. Simply magical, we say!
Nested Ceramic Pot With Fountain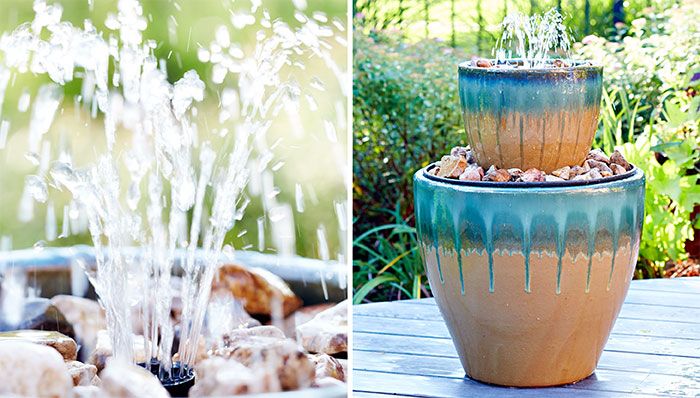 By placing a second, larger ceramic pot at the bottom, you can create a big 'center of attraction' piece, especially for larger spaces. Or, create a miniature version for your indoor garden. Throw in some river rocks to streamline the waterflow.
Old Flower Pot Fountain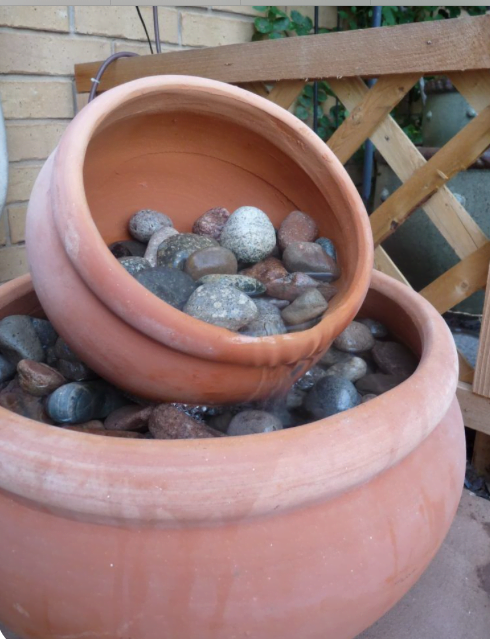 Loosely based around the 'Leaning Tower of Pisa', this structure is perhaps the best use of old terracotta pots that are about to be thrown away. Because of its angle, the river rocks are clearly visible even from a distance. But make sure that you seal any holes to prevent the water from flooding the ground.
Circular Water Wall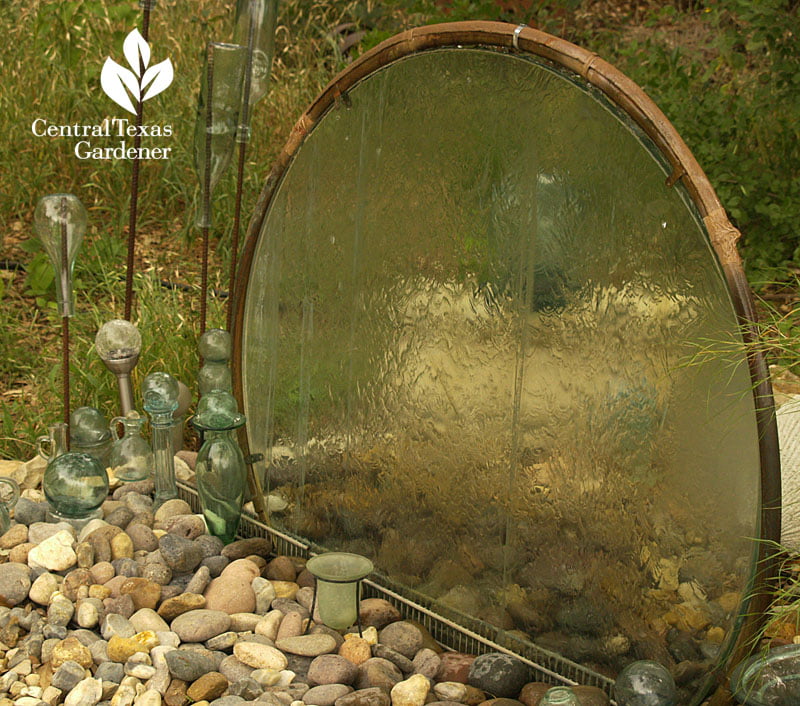 The appearance may tell you otherwise, but this circular water well is actually pretty sturdy, and you can make it even more stable by opting for a thicker glass. Apart from that, you'll need a fair bit of welding to secure the structure on the ground, so call in some professionals. Install a couple of landscape lights for that alluring effect.
Stacked Stones Fountain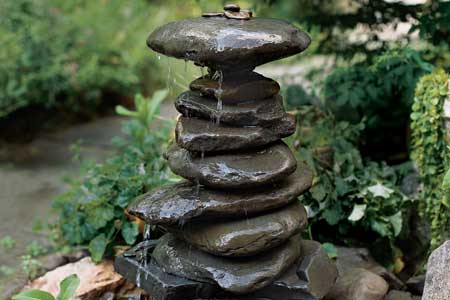 For centuries, stone stacking has been known as an active form of meditation. But given the busy lives of people today, it may be a better idea to install this structure once and for all. The number of stones will depend on the desired height of the fountain, but make sure that all of them have flat surfaces to aid seamless stacking. 
Watering Can Fountain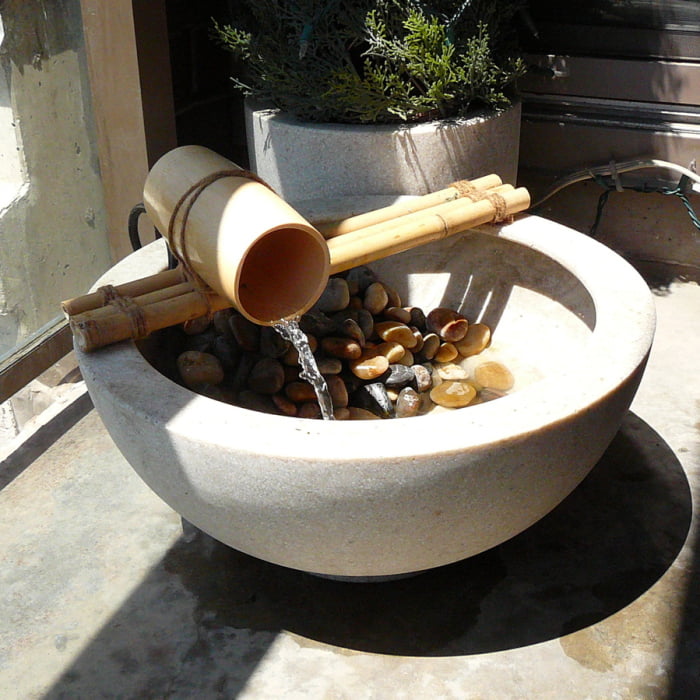 Nothing speaks of country-side vibes like this watering cans and galvanized tank fountain. Connect the three in a way so that water flows from one to another without exposing the pump or tubes. In that sense, the only prerequisite may be a fence or wall that can support the structure. A pro tip: use old metal hangers as the brackets.
Bamboo Trickling Waterfall Basin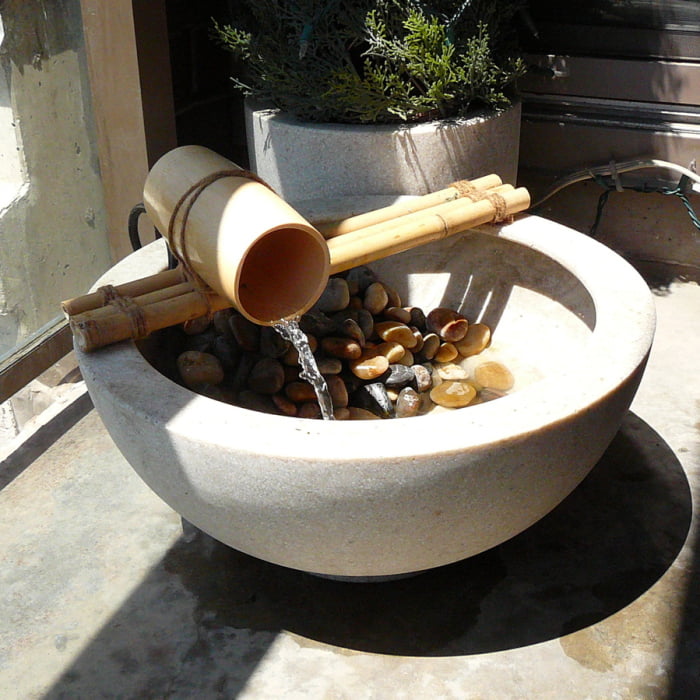 Heavily inspired by Japanese gardens, the trickling waterfall basin uses a long length of bamboo supported by two narrower lengths, which help trickle the water down to a ceramic basin. In this particular instance, the white color represents the zen element, but you can also choose a darker color to create a beautiful contrast. The result? A corner you wouldn't want to leave easily!
Pretty Little Pail Fountain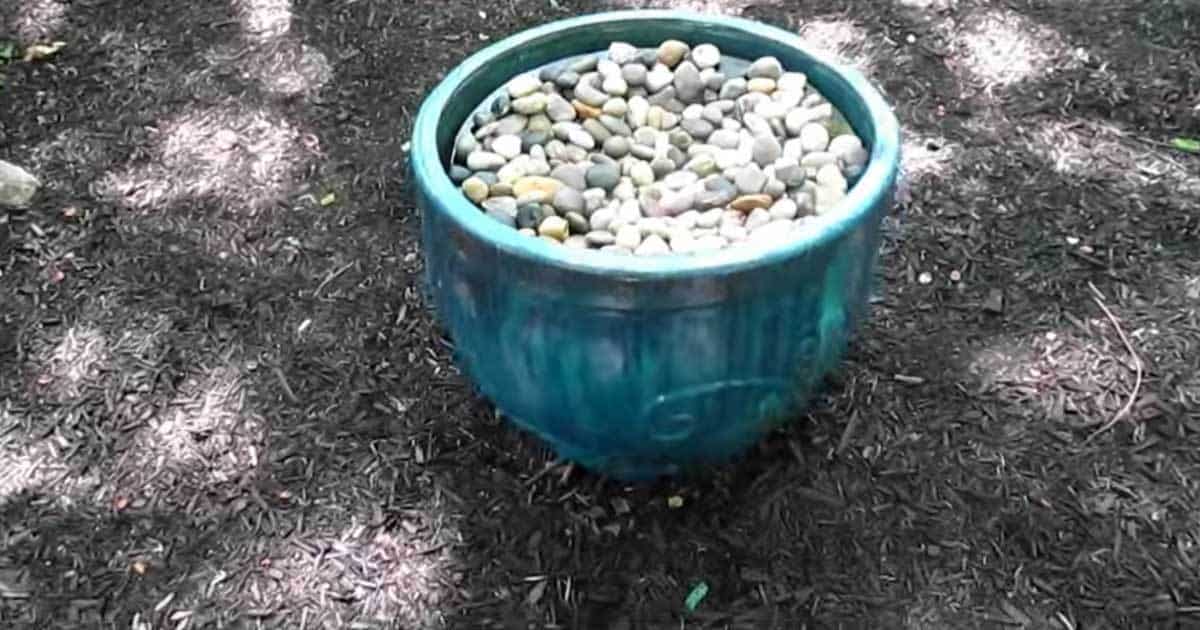 Try this super simple pail fountain to break the monotony of greens in your garden. It basically uses just one element- a pail. Add tons of gravel to fill the bucket to the point where only the stream is visible. The bits of sea glass bring a pop of color to the monotony of cream and gray.
Cascading Copper Wall Waterfall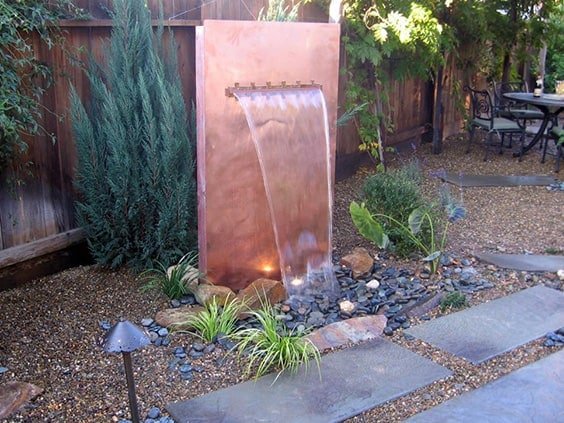 If you grow too many colorful flowers in the garden, then this cascading copper wall waterfall is the perfect accent to provide visual balance. Grab a simple copper sheet and attach it to a box-like reservoir. We also suggest polishing the sheet before assembly for a smooth waterflow.
Fun And Fancy Wheelbarrow Waterfall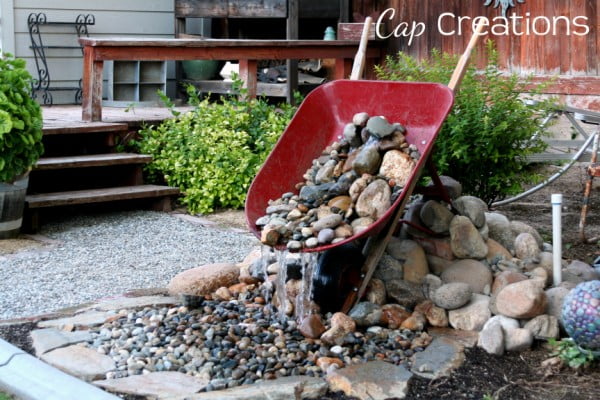 Don't we all have that first wheelbarrow, which is too close to dispose of? Well, by converting it to a funky waterfall, you can keep it as a memorabilia of your initial gardening days. The tilted angle gives a feel as if it's 'building' its reservoir. But a bit of illusion doesn't hurt anybody!
Loop de Loo Waterfall Chain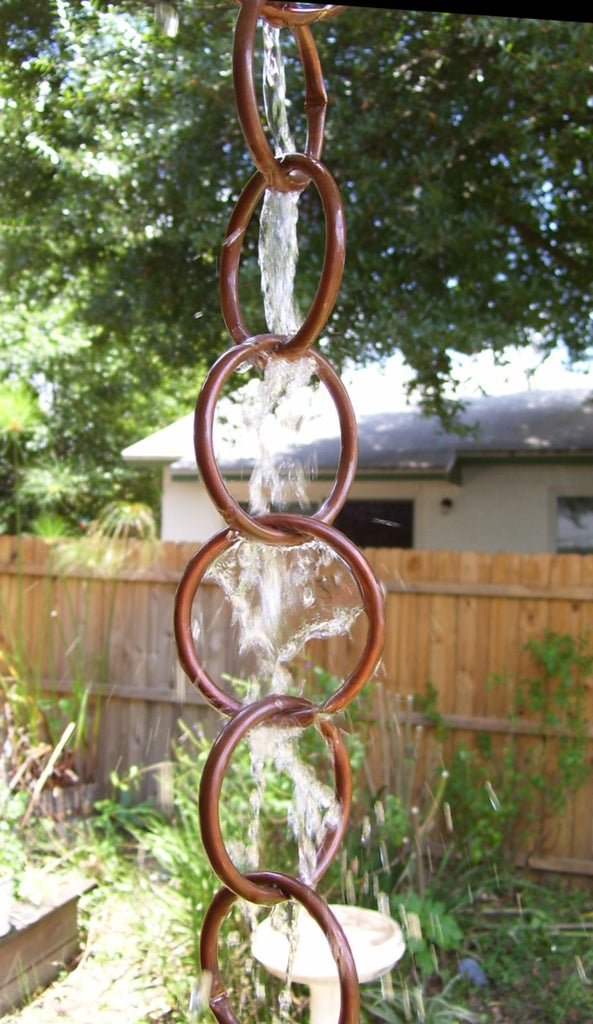 Seasonal water features are a great way to save water without compromising on uniqueness. For example, this copper chain waterfall can be hung from the shade of the patio on rainy days. Likewise, multiple chains within a few inches of each other will create a uniform waterflow.
Ceramic Urn Fountain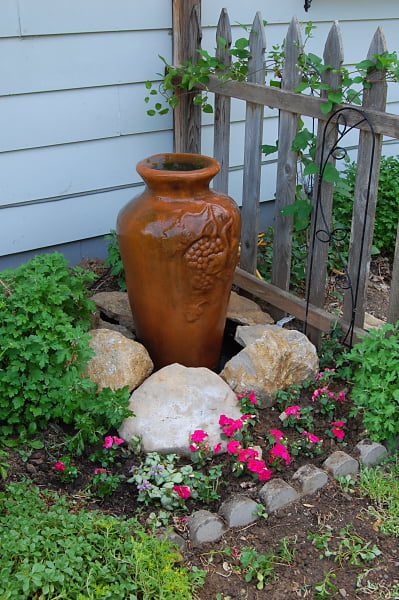 A ceramic urn fountain can be the perfect decor to make the add a touch of elegance to those dull corners in the garden. Plus, you don't need a lot of tools or equipment to make this. One thing to know- some people prefer planting the pot directly in the soil, we think it's better to add a liner in the hole for reinforced stability.
"Treasury Of Rocks" Pail Fountain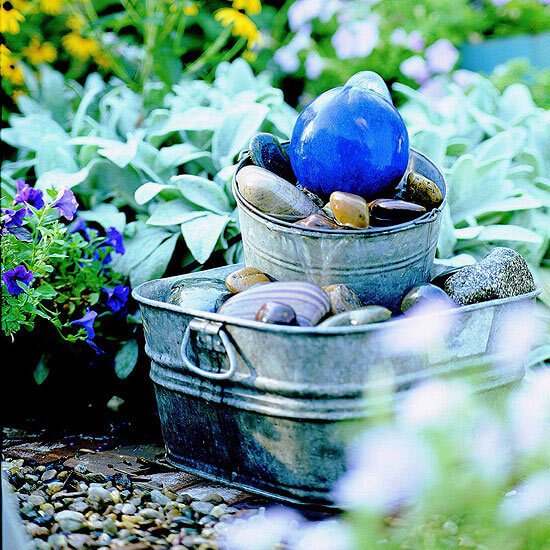 It's safe to say that one of the most liked river-side views is that of the shining pebbles underneath clear water. And this fountain emulates that frame to a good extent. You can slightly modify it by adding or removing the metal containers. However, don't skip a standout piece like the stunning blue bobble to create that dramatic statement.
Vineyard Inspired Barrel Fountain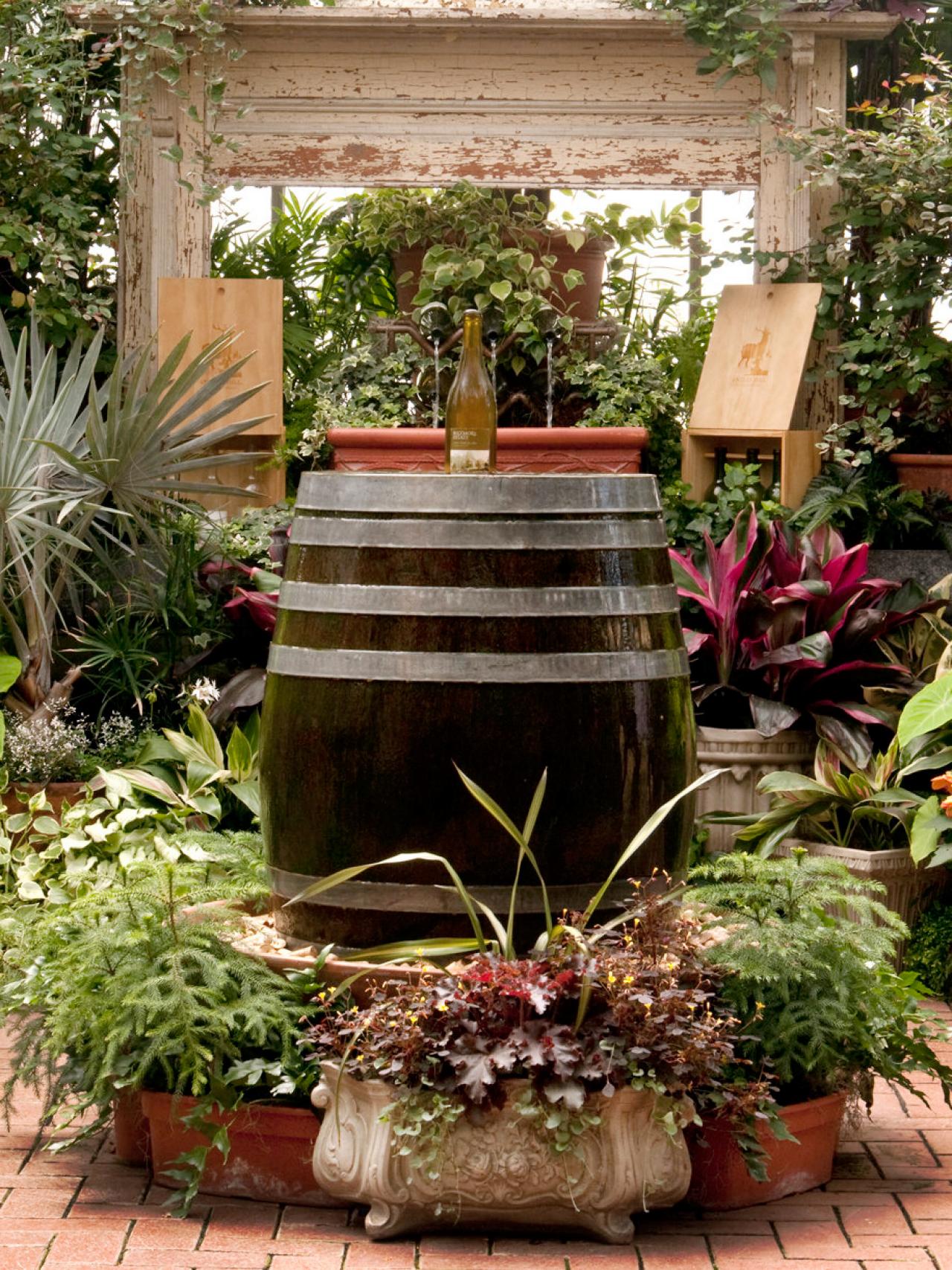 The best way to show your love for wine is by dedicating a structure in the honor of your favorite wine brand. All you need is an old wine barrel that'll serve as the reservoir cover when inverted. Bring the tube through the bottle to secure it firmly atop the base. Alternatively, you can use two or three bottles for a unique look.
"Water Tumbling Down The Wall" Feature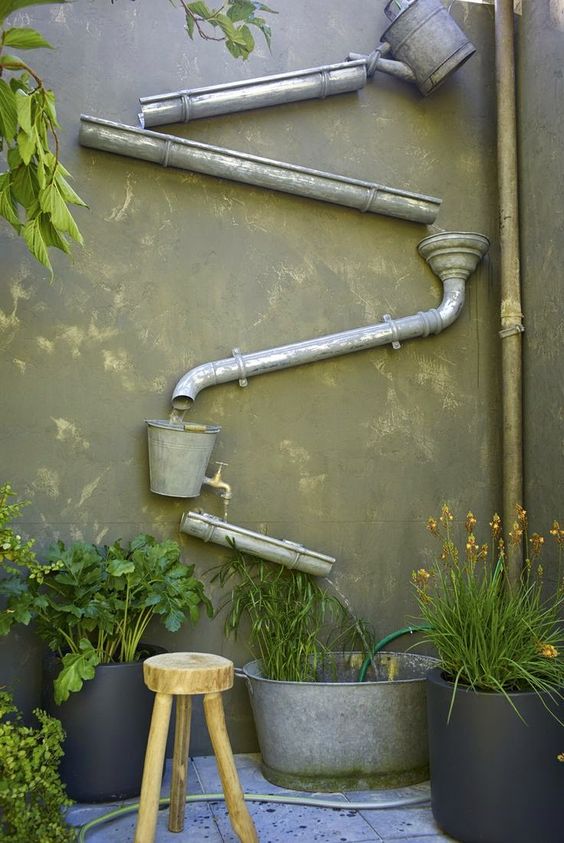 This fun yet attractive water feature can be thought of as an expanded version of the teapot fountain. Water starts flowing from the old watering can to the pipes to the downspout to the bucket. The latter is equipped with a spigot that ultimately lets the water into the galvanized washtub. Frankly, we can look at the waterflow for hours and still won't get bored!
Now, let's take a look at some of the larger water features that can be included in your landscape.
Tall Stone Gateway Water Feature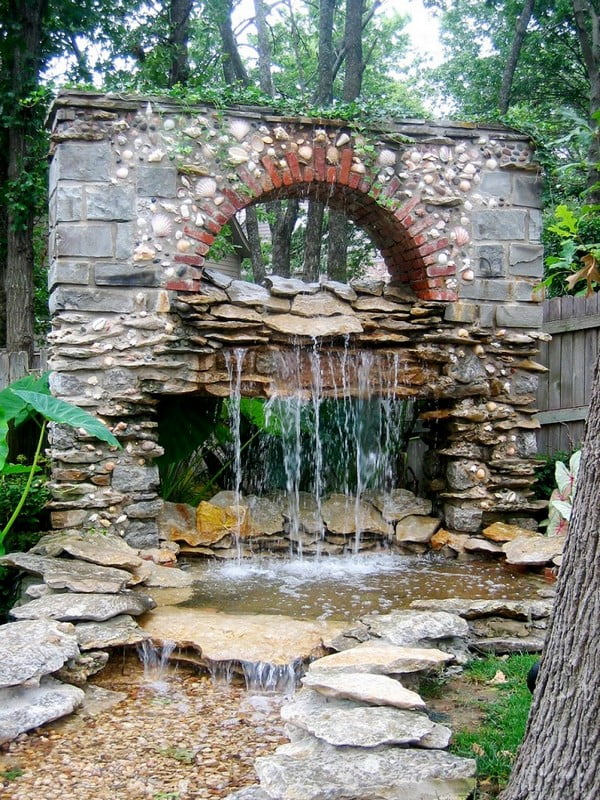 Confused between a fountain or pond? Don't be anymore. This striking stone gateway water feature lets you have the best of both worlds. Get the natural sunlight to bounce off the fountain stream and meet the pond below for a mesmerizing view. Heads up: you'll need plenty of time and work to get this one done, so plan well in advance.
Cascading Waterfall With Stairs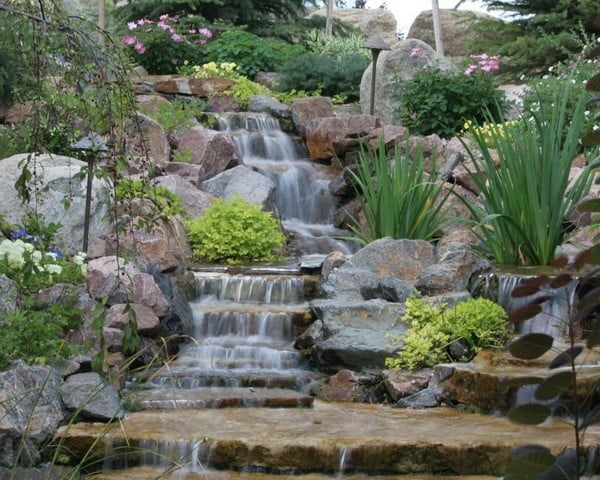 A cascading waterfall that runs over rocky steps makes for a sight to behold. You can surround it with a mix of plants and boulders, which will also double up as its boundary. That said, features like these require a lot of space. So, customizing it to fit smaller spaces may not be a bad idea.
Pond With Fish And Plants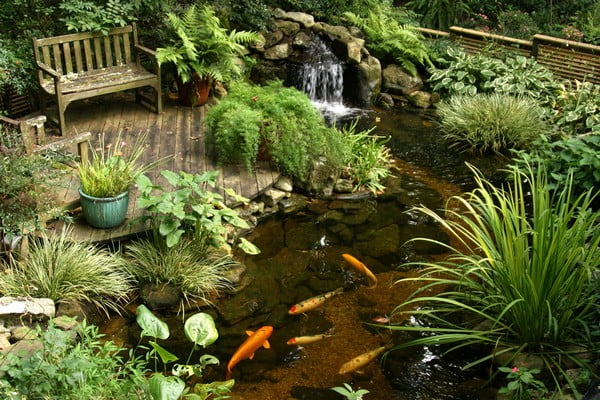 As traditional as it may sound, the traditional charm of a fish pond remains an unmatched phenomena. The secluded bench that completes the harmony between everything that's a part of this serene waterscape. Moreover, the plant reflections and tickling sound of water creates a relaxing environment for the koi fishes. Just make sure to add them after you're done with the rest.
Asian Style Water Garden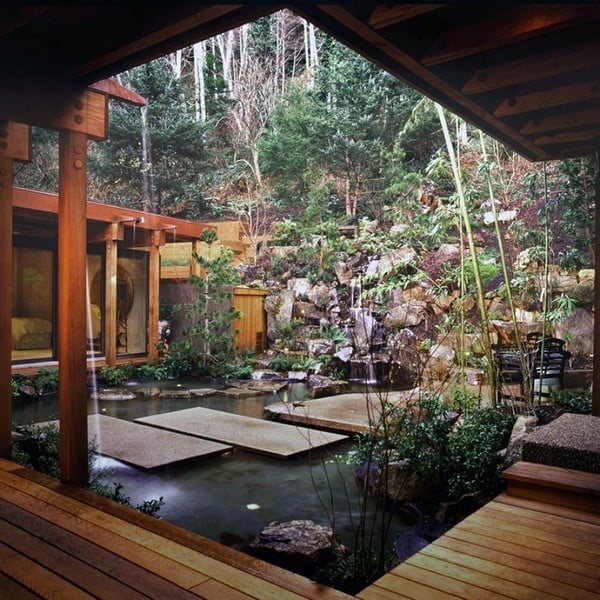 Water features don't always have to be limited to the outdoors. For example, this garden pond  draws inspiration from a combination of feng shui and bonsai art to extend its boundary to the transition area between the indoor-outdoor space. A couple of chairs here and a bean bag there will make you not want to leave this corner.
Water Garden With Wooden Bridge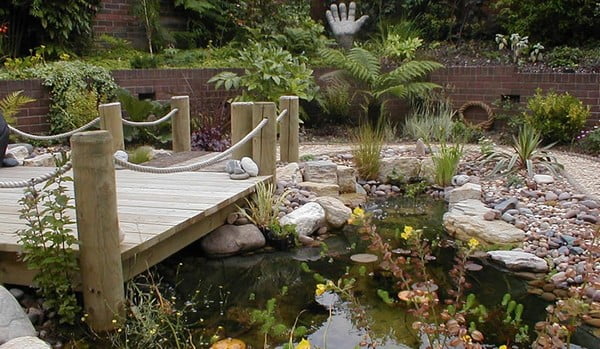 With this setup, you can leave it on the onlookers to choose their respective point of focus. But whatever draws your attention, we bet you can't ignore the tranquil connection between the water, rocks, bridges and flowers. We love this flat shaped bridge, but you can also opt for the conventional curved variant.
Natural Water Feature With Rock Edging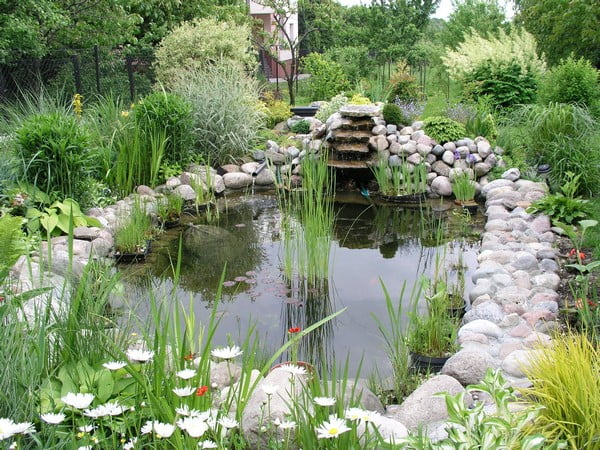 You don't need fancy ornaments to accentuate a simple natural water body, as is evident from our next example. We're really impressed with how the rock barrier adds depth to the pond by cutting between the greens and the almost green water. Another advantage is that you can start off with a smaller pond, and then expand it overtime.
Crystal Waterfall On Brick Wall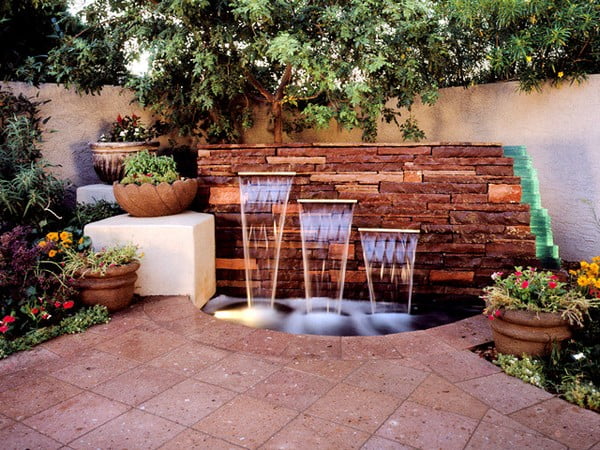 Yes, we know, crystal waterfall sounds every bit fallacious, but it makes for an extremely unique view, nonetheless. The secret? basins with concealed LED lights. As the water falls from the wall, it reflects the light below, thereby giving a sparkling effect like that of crystals. 
Water Feature With Spurting Jets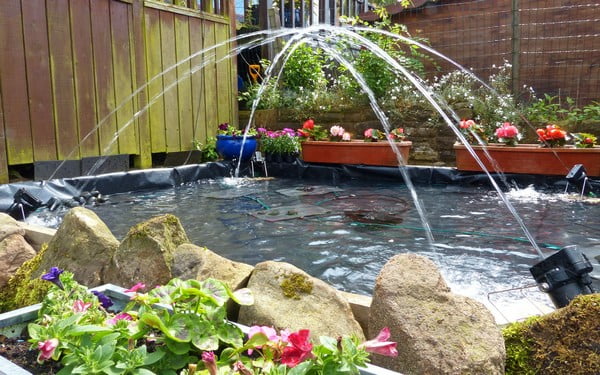 We usually think of water jets to be a part of hot tubs, but not anymore. While the water jets here create a dome-like structure with the stream, you can alter the placements to replicate any shape you want. Accordingly, change the accents to things that best complement the resultant effect.
Multi-Layer Rock Garden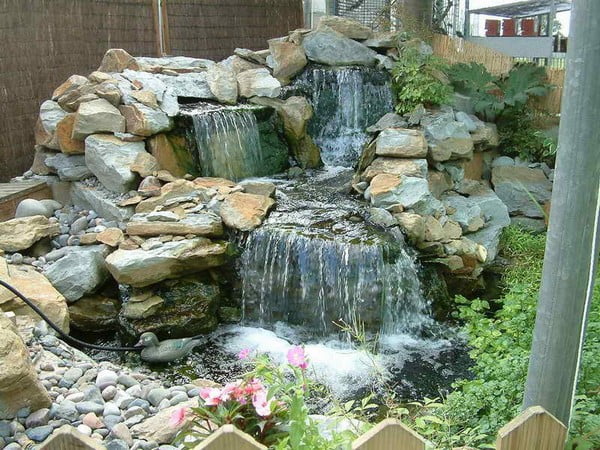 The versatility of multi-layer rock gardens make them a suitable choice for both central and corner positions in your garden. As the cascading stream makes it way from one level to another, the oxygenated water enhances the positive vibes in the surrounding areas. And if quacking isn't an issue, feel free to bring in a couple of ducks.
Rain Shower Fountain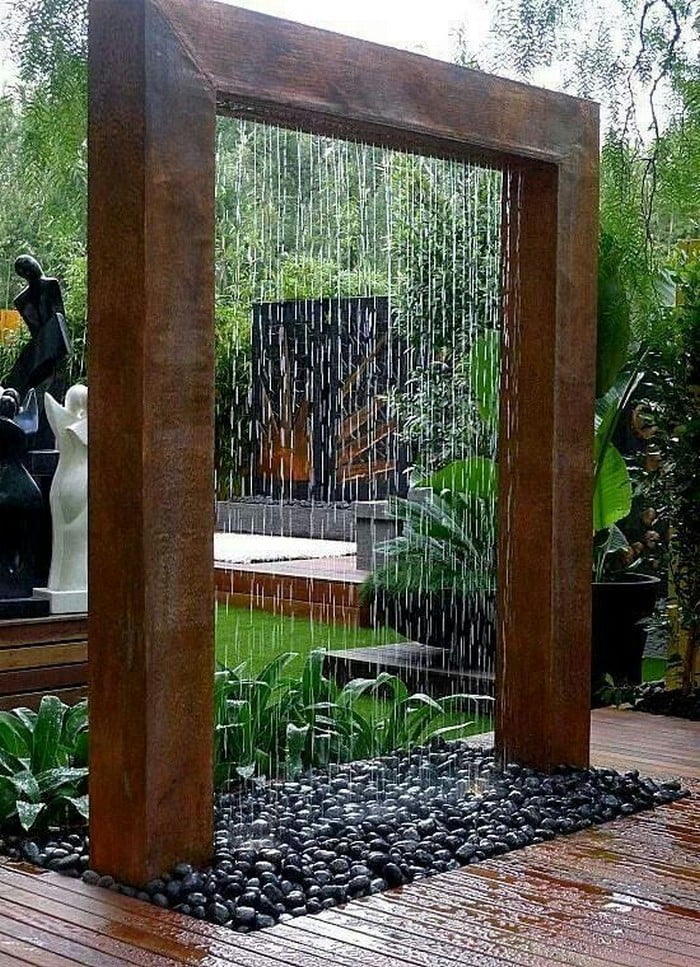 This rain shower fountain is your literal getaway to a rainy day! Use a pressure treated lumber frame to build this gorgeous frame for anytime rain at the convenience of your backyard. Not only can you install a waterproof strip of LED lighting, but you can also customize the dimensions according to the size of your garden.
Looking Glass Water Feature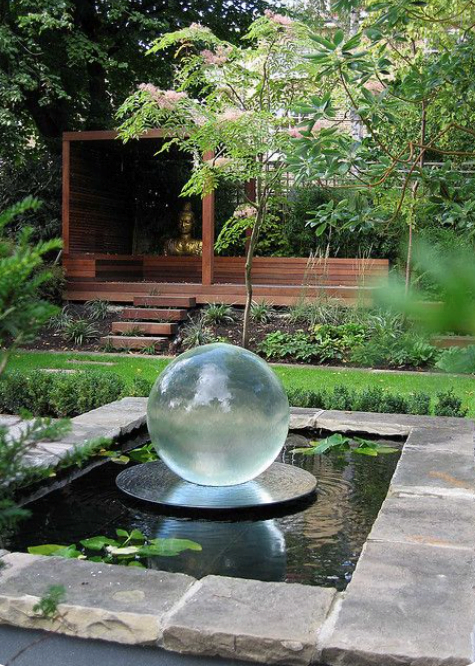 We're in awe of how the glass ball looks as if it has risen from the water bed to show the future. While we feel that this plain transparent ball works the best for the cause, you can replace it with any other color or even shape.
Mini Oasis With Waterfall Feature
Rejuvenate your senses with the sound of trickling water by building a circular boundary made from rough-hewn stone. It uses a long 'keystone' to initiate the waterflow that collects at the pond-like structure below. A mix of prostate and bright flowery plants like chrysanthemums, zinnias, lazy susans, etc. softens' the rough edges of the stones.
Tornado Garden Fountain In Glass Container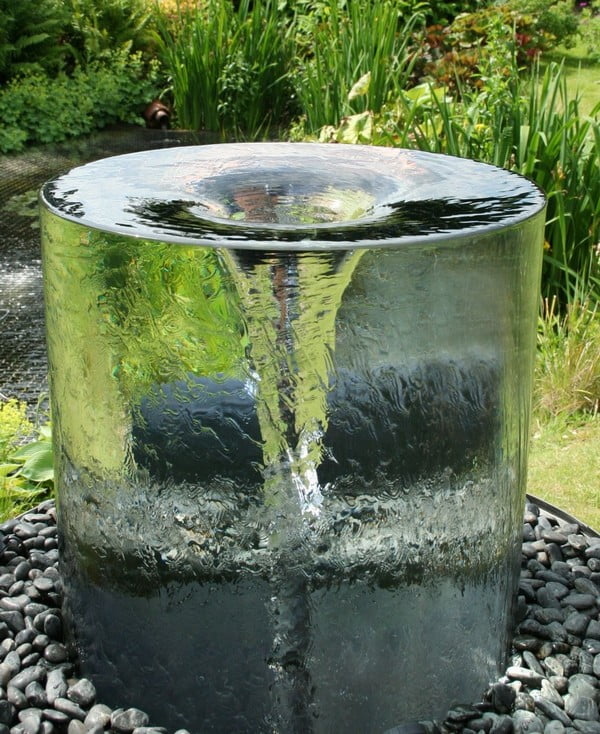 Not many designs define 'out-of-the-box' thinking like this tornado-shaped waterfall. It sits inside a glass cylinder, which is in turn, surrounded by a circle containing contrasting pebbles. And as always, adding a few LED lights will let you enjoy the view even in the dark.
Spurting Face Water Feature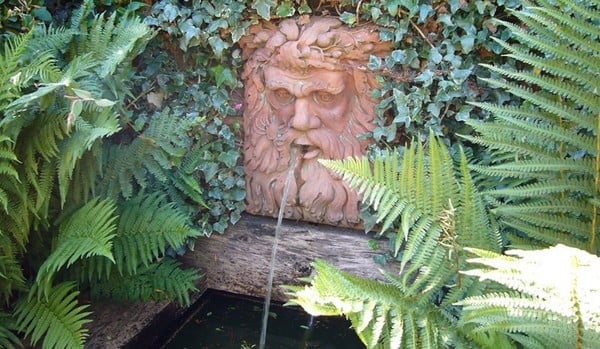 We bet this idea takes you back to the hit 90s show "Legends of the Hidden Temple''. As talks about reviving it for a version with adult contestants do the rounds,  this spurting face water feature that will become the highlight of your garden in no time. And may we strongly recommend installing a couple of red LED lights for the eyes.
Water Fountain With Regular Steps And Stones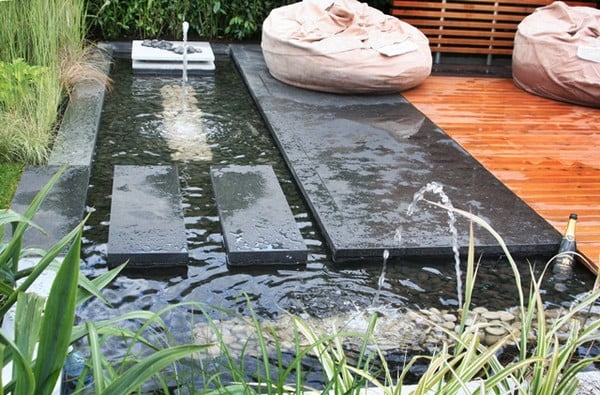 If you're into contemporary designs, then this modern water feature should be on your list must haves. It's basically a combination of stones, decking, and water plants that come together for this classy waterscape. Only thing to consider- the price of assembling this one may be on the higher side.
Traditional Garden Design With Vases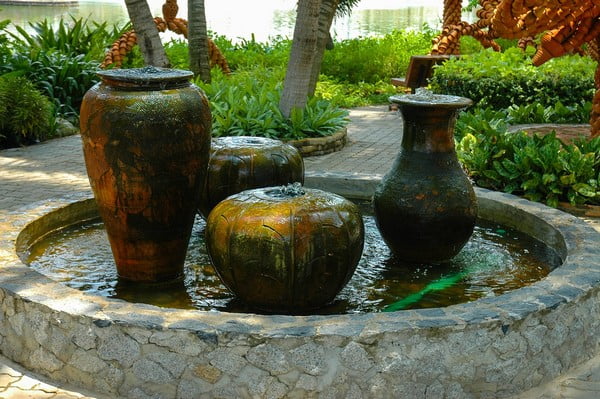 Here's a design that will double up as a water provider to birds. Equipp all the vases with a water fountain pump to accommodate more birds. Besides, you can turn into a seasonal affair by activating the pumps only during summer.
Gazebo Water Feature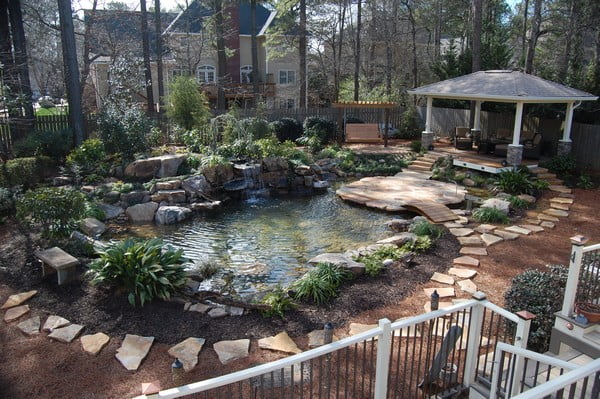 Is your backyard blessed with a pond and gazebo? Then how about creating a winding path adorned with stones and flowers that surrounds the pond and leads to the gazebo? The different textures and colors certainly come together for a gorgeous landscape.
Garden Filled Pond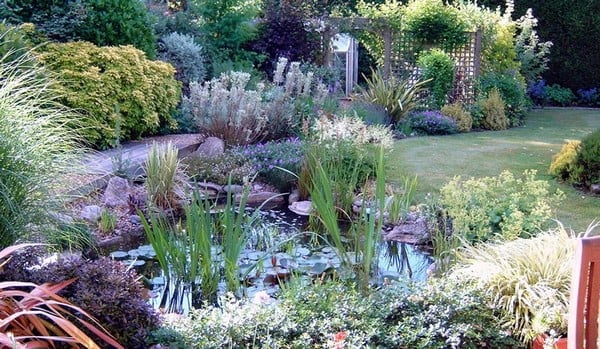 Before we wrap up, here's a simple yet elegant water feature idea that'll save you a lot of money and time. Simply add in a lot of aquatic plants in the pond to create a colorful centerpiece. Besides, the roots of the plants will keep away mold formation on the water surface.
Bathtub Pond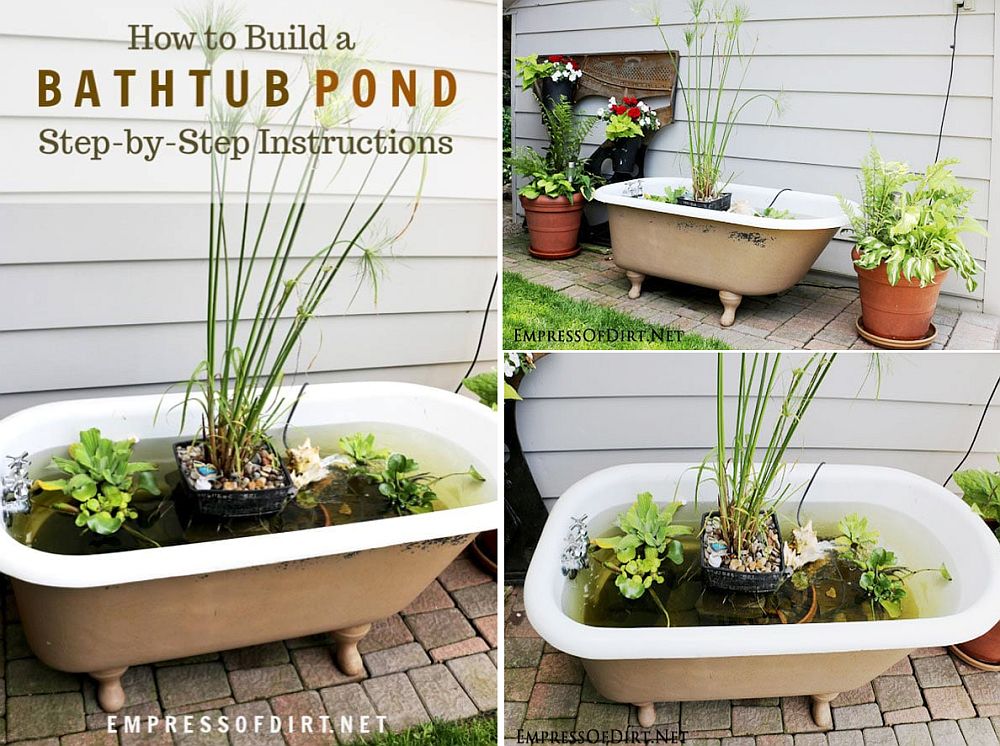 To end the list with something simple, here's a DIY plant-filled pond that's perhaps the best way to recycle your old bathtub. By attaching a fountain pump, you can circulate the water or leave it stagnant. In case of the latter, make sure you change the water regularly to keep it clean.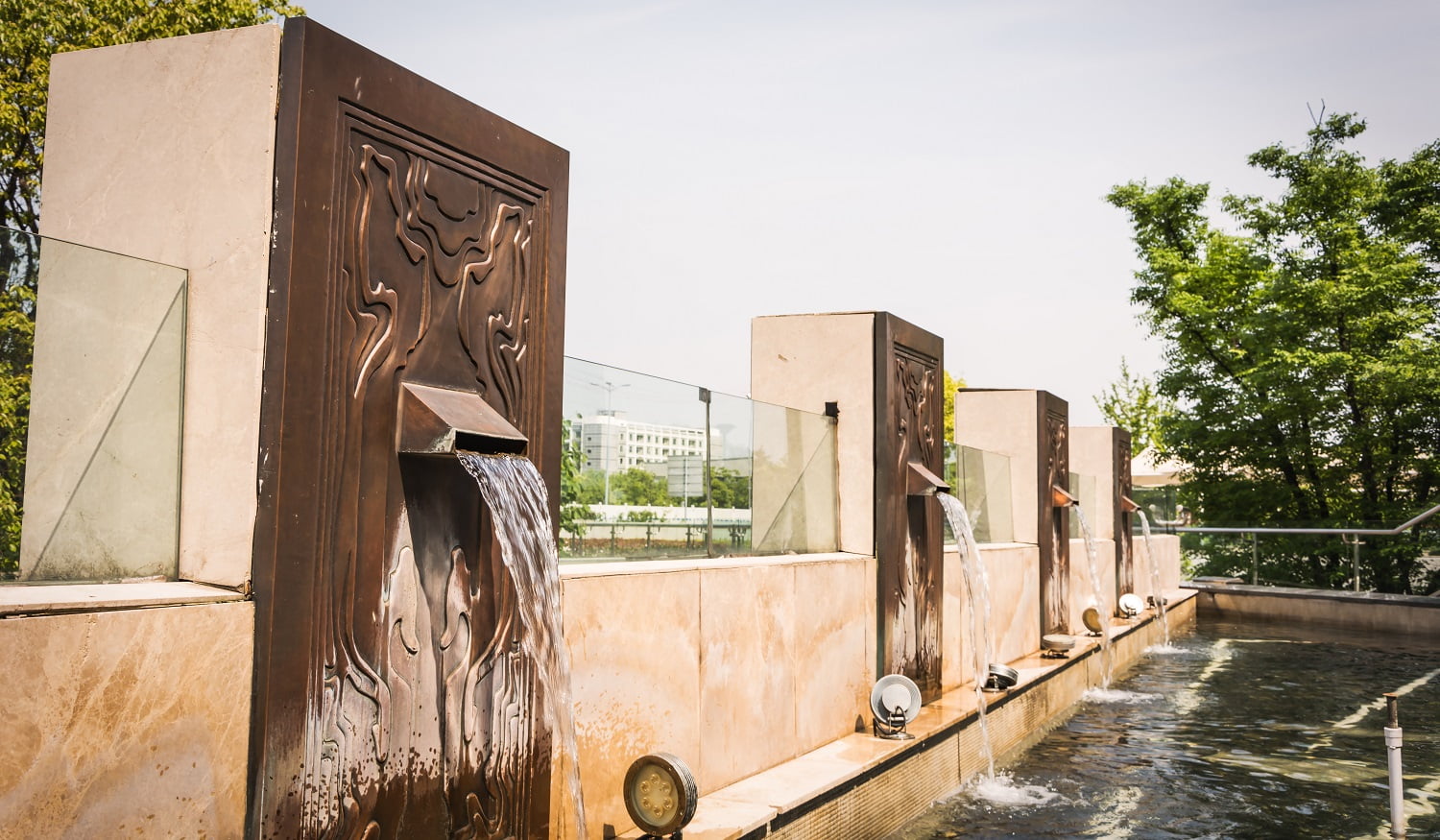 Final Thoughts
That's all from us on the best water feature ideas.
Hopefully, we've brought enough options on the table for you to choose from. And now, we leave you to take the final pick. Almost all our recommendations can be customized to fit a given space, so that's a bonus!
On that note, we'll take your leave, but not without a quick pro tip: circulating water involves less maintenance. So, try to install a fountain pump to your structure.
Till next time, adios!
Related Articles
10 Best Folding Lawn Chairs to Rock
33 Calm and Peaceful Zen Garden Designs to Embrace
53 of the Best GreenHouse Plants for Happy Gardeners and Gardens
72 DIY Greenhouse Plans to Build Easily in Your Own Garden
Effective Tips for a Weed-Free Landscape Design Today
5 Best Weed Barriers and Landscape Fabric for Happy Gardeners
Best Lawn Edging for a Legendary Garden 
Short Intro Into The Basics of Lawn Care for an Epic Curb Appeal
5 Best Self-propelled Lawn Mowers Right Now
The 5 Best Lawn Mowers for St Augustine Grass Right Now
53 of the Best GreenHouse Plants for Happy Gardeners and Gardens
72 DIY Greenhouse Plans to Build Easily in Your Own Garden
5 Best Weed Barriers and Landscape Fabric for Happy Gardeners
7 Best Greenhouse Plastic | Buyer's Guide and Reviews
13 Best Trimmer Lines | Multi-Sided, Round, Square, Twisted & Serrated
8 Best Dump Cart for Lawn Tractor & ATVs | Buyer's Guide and Reviews
15 Stunning Low-budget Floating Deck Ideas For Your Home
7 Best Shoes for Cutting Grass Comfortably | Buyer's Guide
13 Best Tow Behind Spreaders of 2022
11 Best Fertilizer for Citrus Trees Right Now
13 Best Poison Ivy Killer Reviewed
13 Best Fertilizer for Fruit Trees
13 Best Fertilizer For Blueberries
13 Best Organic Lawn Fertilizer 
13 Best Fertilizer for Tomatoes
13 Best Fertilizer For Succulents Reviewed 
13 Best Fertilizer for Hydrangeas 
13 Best Fertilizer for Hibiscus 
13 Best Liquid Lawn Fertilizer Right Now