Are you tired of food going stale sitting in your fridge? If so, we might have the perfect solution for you. 
Even though most of us like the idea of going to the supermarket every other day, it isn't a feasible idea. We usually buy many things in a single go, which quickly develops into a spiral where produce starts going stale. 
Yes, there's always the option of meal prep, but cooked food starts tasting bland after a while. Hence, many people use zip lock bags to freeze food, but vacuum sealer bags might be a better option. 
By vacuum sealing your food, you can retain the taste as well as its freshness. And, it works well for cooked and uncooked food items. However, finding the right vacuum sealer bags can be challenging, so we came up with some great suggestions. 
So, without further ado, let's get started! 
Best Vacuum Sealer Bag 
IMAGE
PRODUCT
DETAILS

Our Top Pick

Our Top Pick

FoodSaver 11" x 16' Vacuum Seal Roll

Supports sous vide cooking
Multi-layer BPA-free 
Contains three rolls 

VIEW LATEST PRICE →

FoodSaver Pre-cut Vacuum Seal Bags

Support sous vide 
44 pre-cut vacuum bags 
8 inches x 10 inches

VIEW LATEST PRICE →

Wevac Vacuum Sealer Bags

Two rolls of 8 inches x 50 inches 
Commercial grade vacuum sealer bags 
BPA-free 

VIEW LATEST PRICE →

Simple Houseware 11" x 50 Feet Vacuum Sealer Bags

Fits FoodSaver vacuum sealing machine
Simmer and microwave safe
Supports sous vide cooking

VIEW LATEST PRICE →

WishDirect Vacuum Sealer Bags Rolls

Pack of four rolls 
Texture on both sides 
Dishwasher safe 

VIEW LATEST PRICE →

Avid Armor 1 Vacuum Sealer Bags

200 or 300 pre-cut vacuum sealer bags 
8 inches x 12 inches
BPS and BPA-free material 

VIEW LATEST PRICE →

O2frepak 6 Pack Vacuum Sealer Bags Rolls

BPA-free material 
Embossed channels on plastic
Bone guards to prevent piercings

VIEW LATEST PRICE →

Wevac A101101 Vacuum Sealer Bags

Comes in a pack of 100 
6 inches x 10 inches
BPA-free and freezer safe 

VIEW LATEST PRICE →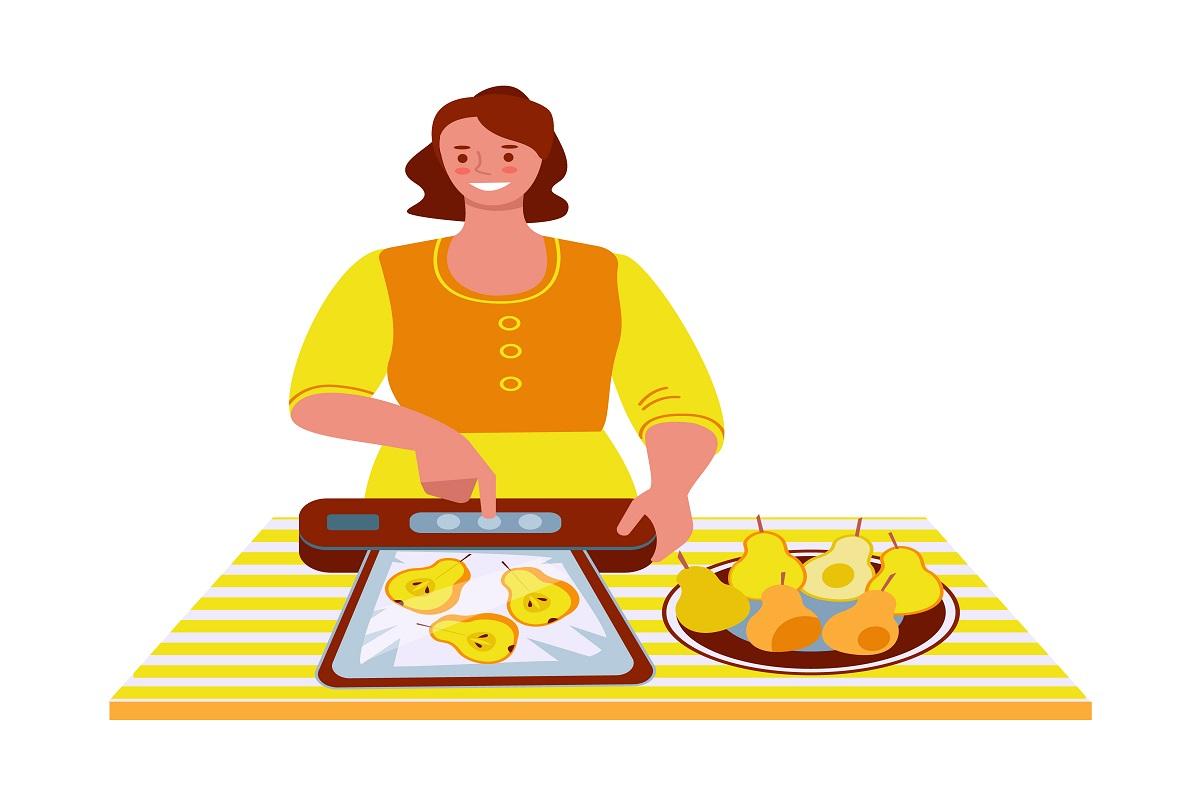 Are you tired of meat going tasteless after storing them in zip lock bags? Don't worry, as these bags from FoodSaver will help you retain the taste of all food items for months. FoodSaver is a company making multitudes of vacuum sealer bag options along with a very own sealing system. So, let's check out the features of this product. 
Why Did We Like It? 
The first thing you will notice about this product would be its quality. The thickness of these plastic vacuum bags makes sure to lock in the freshness of cooked and uncooked foods. On top of that, it can stand temperatures of up to 195° F, making it microwaveable as well as great for sous vide water baths. 
When using the FoodSaver vacuum sealing system, the plastic bags become completely airtight and watertight. Don't worry about tearing the bags, as the material is meant to resist it. Moreover, it won't get punctured even if it is in contact with sharp objects. 
One of the common complaints about vacuum sealing bags is the complicated usage process. But, that's not the case with these FoodSaver vacuum bags. You can even customize the length of these plastic bags to fit any food according to your preference. 
What Could've Been Better?
Overall, this is undoubtedly one of the best vacuum sealer bags we have come across. However, it does come at a high price compared to the other options available on the market. But, the quality of these bags is impeccable and keeps your food considerably fresher. 
Pros
Lets you customize the bags

Bags can stand microwaving and boiling

Strong plastic material

Simple to use
When getting the best vacuum sealer bags, FoodSaver is a company you can trust. Alongside the several variants of vacuum sealer bags produced by the company, these pre-cut ones are good for storing individual portions. So, let's look at the specialty of these plastic bags. 
Sale
Why Did We Like It? 
First of all, let's talk about convenience. These vacuum sealer bags are specifically pre-cut to fit around 1 quart or 946 ml of food. Hence, these are great options for people who live on their own or those who like to meal prep by dividing portions. 
Furthermore, because of its multi-layer protection and high-quality plastic, these bags can be used for cooking. So, cooking your meat in a sous vide bath wouldn't be a problem with these bags. Similarly, the thickness of this plastic makes it good for storing food in the freezer for a long time, sometimes up to three years. 
What's more, the plastic used in these vacuum seal bags is BPA-free.  Therefore, you can store food for your kids or pets in these bags without worrying about the harmful effects of plastic. Plus, it locks in the freshness of your food, making them healthier and nutrient-rich. 
What Could've Been Better?
This isn't really a negative thing about this product, but you must realize that it's only suitable for storing single portions. Because of the 1 quart size, storing big steaks or a large amount of food can be challenging. Moreover, when storing liquid food, try to freeze it beforehand to avoid spills while vacuuming. 
Pros
Convenient to use

Perfect for long storage

Good for storing soups

Sturdy and flexible bags
Cons
Only for small food items
Are you tired of using vacuum seal bags that cause freezer burn to your fish and meat? Don't worry, as these rolls from Wevac are the perfect solution to the problem. Along with outstanding quality, the company provides a combo of two rolls to let you pack a lot of food at the same time. 
Why Did We Like It? 
As someone looking forward to vacuum sealing your food to increase its shelf life, you will want plastic bags that will retain the freshness and nutrients of each item. These Wevac vacuum sealer bags let you achieve that with ease as it's pretty simple to use, even for a beginner. 
Apart from that, these are commercial vacuum sealer bag rolls. Hence, the superior quality of the plastic allows you to store the food items for a longer duration. The packets even have specialized grooves to prevent the foods from developing burns from the cold surface of commercial or home-use freezers. 
Furthermore, Wevac follows a no-questions-asked return policy. So, if you happen to face any issues with the vacuum sealer bag rolls, don't forget to contact customer care. We found them to be quite prompt at dealing with quality or delivery issues of the products. 
What Could've Been Better?
One of the things that could have been better for this product is the sealing process. It supports most of the vacuum sealing devices available on the market, but it can take you some time to figure out the right way to get the best seal. A trick is to take the right measurement and seal the bag keeping the rough side facing up.
Pros
Prevents freezer burns

Doesn't tear or puncture easily

Keeps food airtight

Good for cooked and uncooked food
Tired of using expensive yet thin vacuum seal bags that don't seem to work? Try this combo from Simple Houseware that makes storing your food affordable and keeps it fresh for a long time without a constant need to check on it. And, the best part is that these rolls are compatible with the most common vacuuming systems. 
Sale
Why Did We Like It? 
This pack of vacuum sealer bags rolls from Simple Houseware is by far one of the premium quality plastic bags we have seen on the market. Even though the material is thick, it seamlessly melts while sealing and keeps your food airtight. And, the multi-ply plastic keeps your food from getting dehydrated when kept in the freezer. 
That's not all, as simmering or cooking via the sous vide method was especially simple with this bag. It's easy to seal the mouth of these bags, irrespective of the length you want to keep. If you follow the proper sealing method, the bags won't open while in the bath. 
Moreover, you don't need to worry about safety as the plastic used in this bag roll is BPA-free so it doesn't react with the food. It's also safe to be used in the microwave and doesn't melt even at relatively high temperatures. 
What Could've Been Better?
We have to say that this is one of the best vacuum sealer rolls we have tried out. While going through the past reviews, we found out that the bag doesn't perform well in high temperatures like 195° F. Don't get discouraged as it supports microwaving, but you will need to use a lower temperature setting. 
Pros
Strong airtight seal

Easy to use

Stores a lot of food

Works with most vacuum sealers
Cons
Can't stand very high temperatures
Are you planning to pack a huge amount of food in one go? If yes, these vacuum sealer bag rolls from WishDirect might be the best option. It comes in a pack of four, which makes it perfect to keep the annual stocking of food in your pantry or freezer absolutely safe.  
Why Did We Like It? 
To begin with, we have to say that a combo of four vacuum sealer bag rolls is an excellent product for those with big families. On top of that, each roll has a length of 25 feet, so you can easily customize the size of each bag. And, the length is pretty manageable for a single person who is vacuum-sealing the bags.
However, the best part about this plastic bag roll combo is that the material has texture on both sides. Hence, your meat wouldn't get freezer burns even when stored for a long time. We also felt that the quality of these rolls was better than other plastic bags available in the market. 
Furthermore, you can seal these plastic bags with the best vacuum sealers available in the market. The bags can stand high temperatures and are compatible with microwaves, sous vide baths, and dishwashers. 
What Could've Been Better?
A common complaint we came across while reading the customer reviews was about the rolls being a bit tight in the FoodSaver machines. Hence, if you happen to use one of the FoodSaver vacuum sealers, try to measure the inside to check its compatibility with these vacuum sealer rolls. 
Pros
Simple to use

Fast and tight vacuum sealing

Good for microwaving food

Value for money
Cons
Might need to adjust for fitting into FoodSaver machine
As soon as we got hold of the Avid Armor vacuum sealer bags, we knew that it would be helpful for many people. We suggest these vacuum seal bags to those who have to pack food for commercial purposes or stock up food for a small kitchen. So, let's check out the features. 
Why Did We Like It? 
Let's start by talking about the size of these bags. You can get the 8 inches x 12 inches or quart-sized bags in a pack of 200 or 300 units. The size is perfect for individual portions and can even fit a good amount of cooked or dry foods. 
One of the best features of this product is the cross-hatch pattern present on the plastic. This added texture allows you to store moist foods in these bags and to vacuum seal them easily. It's often hard to seal bags that lack texture as the liquid tends to escape from the packets. And, the bags are compatible with most commercial vacuum sealers. 
When it comes to the quality, one side of the bag has a thickness of 3 mil, while the back has a thickness of 4 mil. So, you can be sure that the vacuum-sealed food will stay fresh and nutritious for long.  
What Could've Been Better?
Before saying the negatives, we do have to mention that this is one of the best individual-sized vacuum seal bags available. However, the only problem you may face with it is that learning the right way to seal the bags may take some time. So, you may need to try a couple of vacuum sealers for the bags. 
Pros
Handy sized bags

Keeps food fresh for long

Good for commercial use

Holds liquids well
Cons
Sealing the bags takes time
Do you vacuum seal foods for commercial purposes? If so, then buying a multi-pack of vacuum sealer rolls might be better to save a few bucks. This product from O2frepak comes with six plastic rolls to let you store a lot of food without needing to rebuy the vacuum bags. 
Sale
Why Did We Like It? 
First of all, this multi-pack of vacuum sealer bags contains rolls with two width variants. Hence, it allows you to portion the food according to personal preference. It's also suitable for storing dry and cooked foods as the volumes are often different. 
Coming to the quality, the plastic used to make these vacuum sealer bag rolls is pretty good. It even has embossed lines to prevent freezer burn as well as any liquids from escaping the bags. If you want to store raw meat, don't worry, as the bone guards make these bags strong against accidental cuts. 
As we have said already, this pack is perfect for those who want to pack food for commercial purposes. The bags can be closed with the most common vacuum sealers available on the market. On sealing, the plastic forms a strong bond that doesn't break easily, and the food stays fresh for long. 
What Could've Been Better?
This isn't really a drawback of the quality of these vacuum sealer bags, but it does take a lot of time to prep the bags. You will need to spend a considerable amount of time measuring and cutting the bags. A small tip, prepare the bags before you start assembling foods to save time.
Pros
Customizable length

Various width options

Sturdy and durable material

Seals quickly
Cons
Prepping bags is time-consuming
Compared to other vacuum sealer bag rolls available in the market, this combo from Nutri-Lock is one of the most affordable options. However, the brand doesn't compromise on the quality and instead provides superior quality plastic bags that let you store food for a long time. So, let's check it out. 
Why Did We Like It? 
As you might have noted, these vacuum sealer rolls come in a combo. The rolls have a similar length of 50 inches but vary in the width of 11 inches and 8 inches, respectively. This allows you to customize the length of each bag according to your need, making these rolls perfect for storing large pieces of food, like pork ribs or lamb shanks. 
Now, coming to the quality, one of the best things about this product is the thickness of the plastic bags. At 3.5 mil, the bags contain the freshness of food items for a long time. It also makes these bags excellent for storing food in a freezer, pantry, or even for sous vide cooking. 
Moreover, these vacuum sealer rolls are compatible with most clamp-style vacuum sealer machines available on the market. So, you need not worry about buying any specialized vacuum sealing system. 
What Could've Been Better?
Even though it's pretty easy to use these bags, you will have to spend considerable time measuring and cutting the rolls. This does give you the ability to store any amount of food items according to your preference. But, based on the extent of your needs, it may take you a whole day when using these vacuum sealer bag rolls. 
Pros
Durable material

No freezer burn

Works well in hot and cold temperatures

Affordable
Cons
Cutting bags is time-consuming
Last but not least, we have some pre-cut vacuum sealer bags from Wevac. The pint-sized plastic bags are perfect to portion out single servings of fish, meat, or even soups, especially while meal prepping. And, the thick plastic with an airtight seal protects the freshness of each meal. So, let's see the features. 
Why Did We Like It? 
There are many reasons to get these vacuum sealer bags, the first one being the commercial quality. Along with being thick, the embossed micro channels on the plastic bags help them to seal efficiently without developing any leaks. So, these bags can be easily used for sealing meat or even for sealing delicate items. 
Additionally, these bags come with bone guards to prevent the plastic from tearing. Hence, you can use the bags for sealing steaks like T-bones and even ribs that have sharp edges. 
Furthermore, cooking meat in sous vide baths is easier with these bags due to its watertight seal along with the ability to stand warm temperatures. Don't worry about the taste of your food, as Wevac bags are meant to keep the freshness intact, with the ability to prolong shelf life.
What Could've Been Better?
One of the things you need to remember while ordering these vacuum-sealed bags is a small size. As it's pint-sized, each bag can hold up to 473 ml of food. On top of that, you'll need to leave some space for sealing the bag. The good thing is that it's available in larger sizes. 
Pros
Easy and convenient to use

Takes less time to assemble

Works well for sous vide recipes

Strong and durable plastic
Cons
For small sized portions only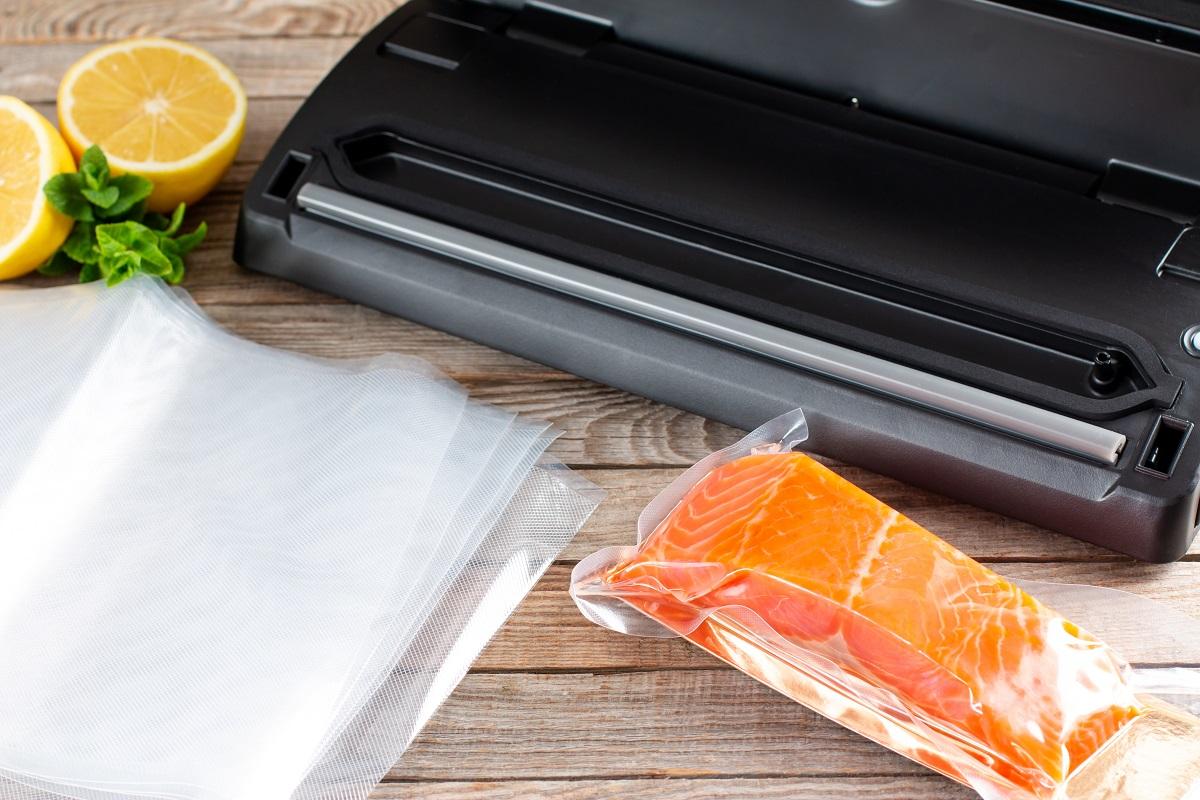 Vacuum Sealer Bag Buying Guide 
Are you still confused about which vacuum sealer bag would be best for your home? Don't worry, as we have gathered some important points to help you select the right product. We have also used these points while choosing the vacuum bags present in the list. So, do remember this before making the final purchase of any vacuum bag for storing food items. 
1. Quality Of Material 
The first thing to remember while getting any vacuum seal bag is to check the quality. As your aim is to store food items, the bags should be made of food-grade plastic. On top of that, it's a prerequisite to choose BPA-free material so that the plastic doesn't react with the food. 
Another key point is to opt for heavy-duty material if you're looking forward to storing food for a long time. This is also true for keeping meat items in the freezer to avoid burns from the cold temperature. Moreover, a multi-layer material ensures that the food remains safe in high temperatures. 
An easy way to know if the bags are made of quality material is to check the thickness. In vacuum seal bags, the value of thickness is defined by the unit of "mil." And, most brands will mention it on the packaging. Also note, that some vacuum sealer bags from brands like FoodSaver call for the use of special machines because of their thickness. 
2. Size Of The Bags 
A common mistake that people make while buying vacuum seal bags for food is to pick the wrong size. This is especially true for instances where a person goes for pre-cut bags. Apart from following the size of the bags according to their width and length, pay attention to the volume. This would give you an idea about the amount of food that might fit into the bag. 
Moreover, if you want to store a lot of food at once, try to opt for a bag roll rather than individual vacuum seal bags. The plastic rolls typically have a length of 25 – 50 feet. But remember to leave a few inches for sealing the bag. 
Furthermore, check the height of a roll to ensure its compatibility with any vacuum sealer machines you might have for sealing the bags.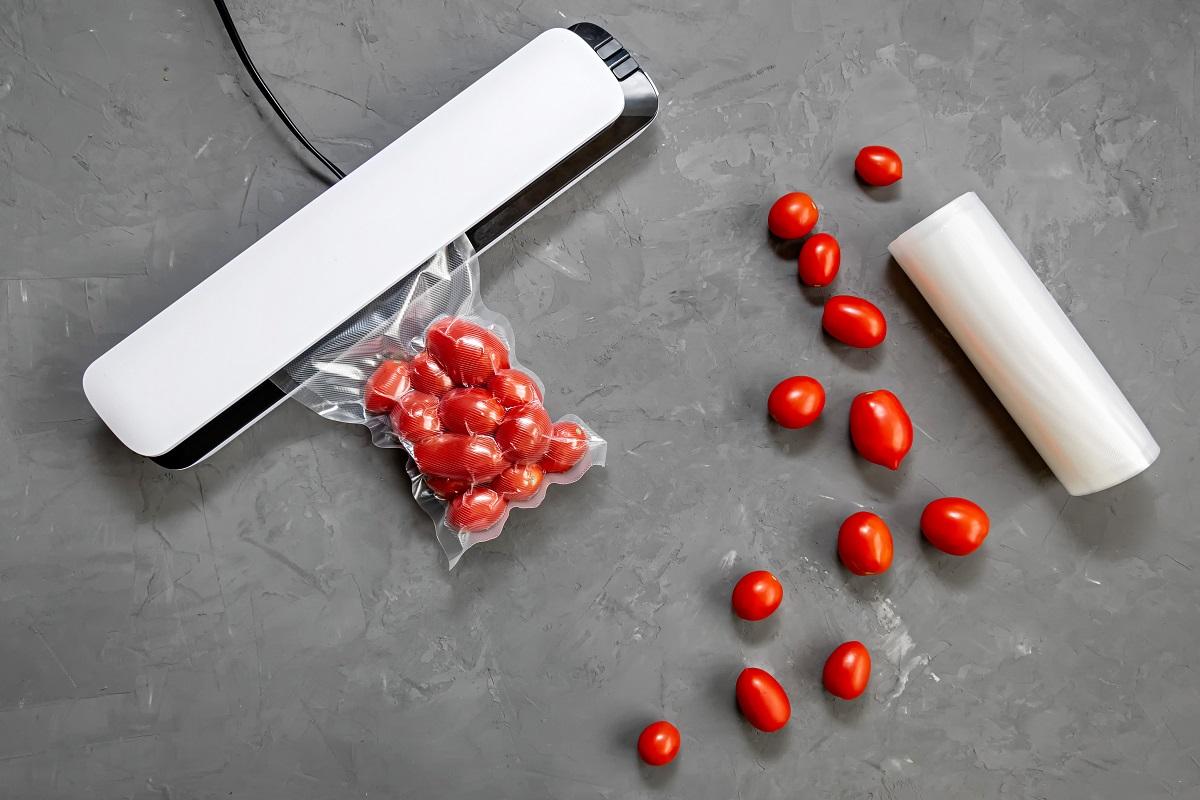 Verdict 
So, that's everything we had to tell you about getting the best vacuum sealer bag for storing your food. We hope that this guide will help you get the right product to keep your food fresh and nutritious for a longer time. 
Among our recommendations, we will suggest the FoodSaver 11″ x 16′ vacuum seal roll to anyone looking for the best-quality plastic bags to seal their food items.
On the other hand, the FoodSaver pre-cut vacuum seal bags are best for storing small portions of food. However, it's a bit expensive to get these individual-sized bags. 
Having said that, remember to read the proper procedure of vacuum storing any food item before attempting to keep it for long. And, don't forget to let us know about the vacuum sealer bag you like the most. 
Till then, take care, and goodbye! 
Related Articles
15 Best Portable Single Burner
28 BBQ Recipes for Fall & Winter Grilling
31 Types Of Bread For Healthy Homes
13 Best Garbage Disposals Under $100