Scale modelling has been a long time hobby since the 1950's , but has essentially existed since the dawn of man. A scale model  would usually represent the last step in understanding and making a design come to life. It's the closest thing to representing a project materializing in real life , hence why it's invaluable for it sense of scale and volume , immediately giving a very close to reality image  and fairly accurate impression of dimension and size. However, in modern history, the role of scale models has become an intricate one. Their initial use has never faded , but in time they also began to evolve into a form of art , not just a final step in a technical process of planning and designing.
The dioramas showcased below cannot be described in words.
Simply shattering beauty.
Even when only part of planning process , scale models are highly interactive and easily capture the imagination of the viewer , being a full 3d representation it  is to the adult audience what a toy is a to child, a fairly easy way of imagining the object in it's real shape and size. Because of this it is instrumental in the design of an item object , but also essential to our imagination , enabling us to share that reality , in which the item is fully brought to life , built finished and operating. Having this unique quality , it enables man to represent anything as a static/mobile scale model.
Static models have an advantage since they represent the item in a static stance , frozen in time where as a mobile model , although mobile its motion may not be within scale of the intended model or rather motion depending on dimensions , weight may seem inaccurate and break immersion . Mobile models are better depicted in a computer animation , or if made in real life replicate the physics of the real life model with difficulty. Static models, however, have achieved in recent days an unparalleled level of detail, some bordering on actual down to size images of reality. They tackle a variety of subject themes and periods , from day to day life to fantasy an historical dioramas. Each theme requires different approaches in technique and  representation to convey the image, and more important , the feel and atmosphere that its creator desires to.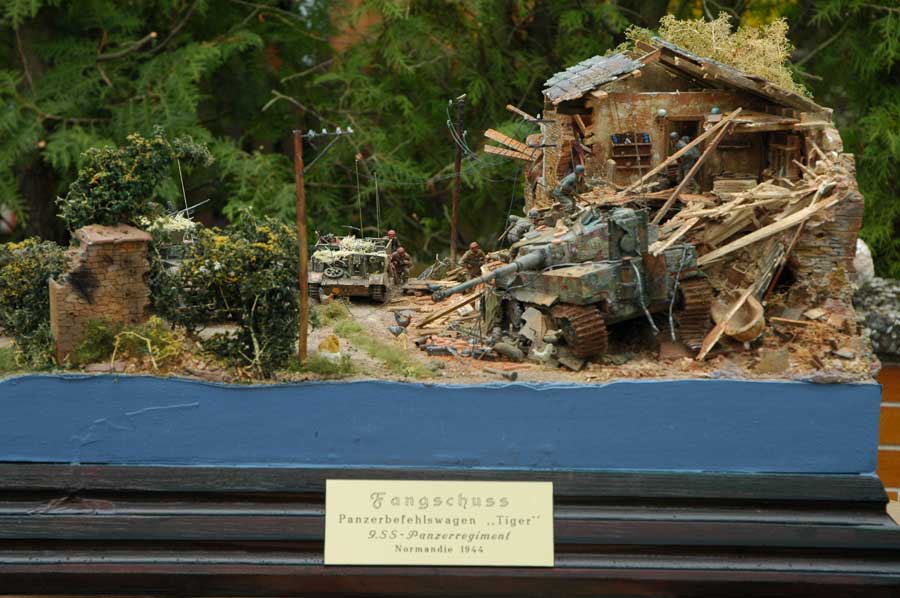 Scale models usually come in separate scales sizes , depending on what the model is ( plane , car or any other vehicle or a figure etc . ..) but the main ranges are 1/48  1/32 and for planes , and 1/35 for vehicles . There are bigger scales like 1/16 or 1/24 (mostly used for cars and some planes) but the only scale in which you will find all types is 1/72 . These scales are selected based on what the actual model and are different due to the fact that different types of vehicles or figures have different nominal  sizes in reality . For example , some military vehicles may have a gun that's 5,25/5,75 meters long , now in 1/35 scale it roughly translates to 15 cm-16 cm , in other words a workable easy dimension where as in 1/32 it would not be a full number . Planes however translate better to 1/32 then 1/35 due to their bigger proportions and size  , so you may the scale usually is selected for this ease of manufacturing and for producing and even model with normal dimensions that can easily find a spot on you desk or some shelf . As far as subjects go , you will find a wide range of periods , ranging from Napoleonic to cold war era , for figures all time periods are available . However some themes are more frequent then others , for vehicles for example you are likely to find most kits from the 1920's onward (both cars and military vehicles) . A favorite and arguably the most encountered time period is WW2 or Cold War era for military models , and 40's to 80's for cars.
In the following examples we tackle a few dioramas, most of them depicting military vehicles and planes , that will showcase the concept of life brought to scale, and the way a real life scene can be realistically depicted .