Watercolor painting can be a fun activity to engage in, as it can boost your creative skills and help you relax simultaneously. 
But we understand that getting the hang of the different types of colors, pigments, and textures can be a task, even the top watercolor paints brands can make your decision difficult with their offering . So, if you have been wondering about the types of watercolor paints, let us help you out. 
We have decided to pen down all the information regarding the types of watercolor paints. Even the pros and cons have been mentioned for each type of paint for better understanding. Also, we have added a buyer's guide and FAQ section to answer all the queries that you may have. 
Whether you are looking to start painting difficult stuff like painting grass with watercolors, or even painting glass with watercolors as a beginner or you're simply looking for new angles on your best watercolor painting ideas, this guide will help you out! 
Types Of Watercolor Paints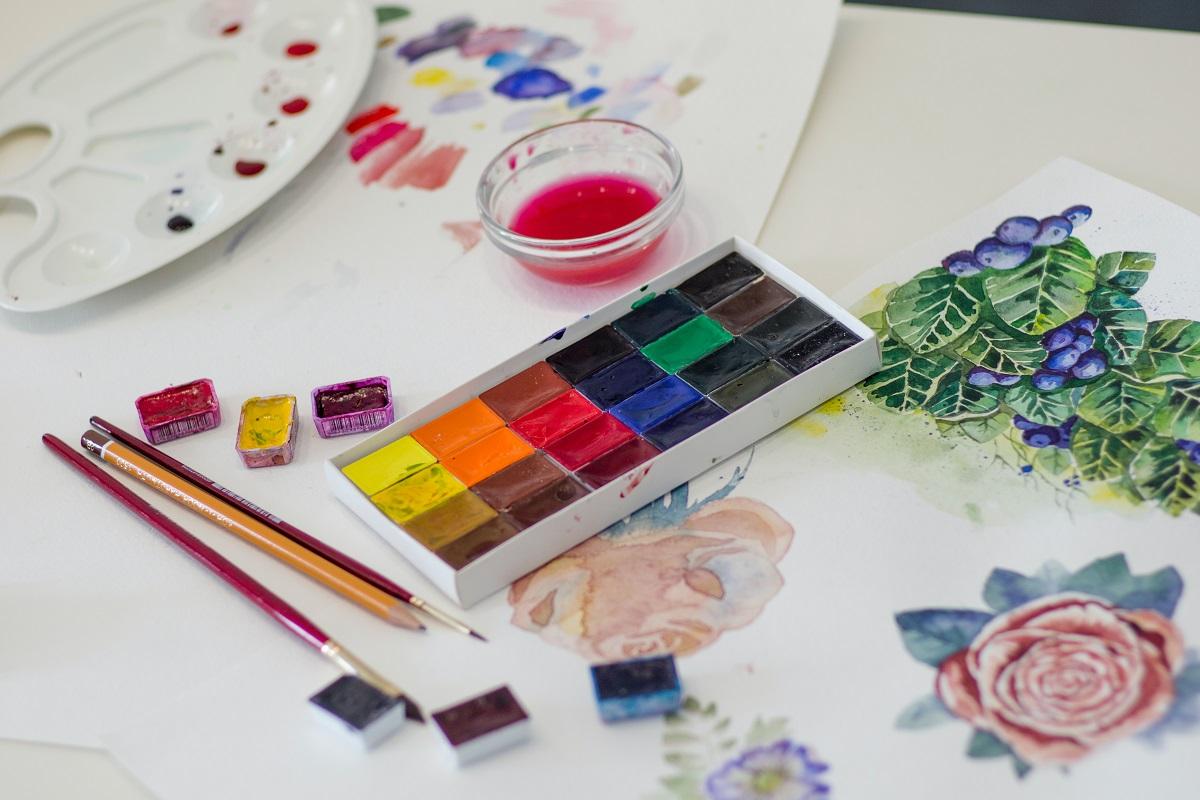 The three main types of watercolor paints are:
Pan Paints

Tube Paints

Liquid Paints 
We will be discussing each of these paints in detail but know that these three types can be used together to create unique artwork and achieve a professional effect. 
1. Pan Paints
Do you remember using watercolors in schools? You had probably started your painting journey with pan paints. 
Pan paints are the most compact and concentrated versions of watercolor paints, and you will find student-grade and professional watercolor paint options. Each color is highly pigmented and stored in tiny squares or circles on a pan color palette. 
The colors need to be mixed with water in order to use them, so you will require a mixing palette; otherwise, the process can be very messy. Also, there is a high chance of mixing the different shades in the paint set box and budding artists should be careful while using colors from the board. 
Another benefit of this type of paint is that they come in travel-friendly boxes that can be closed and carried around easily. 
Pros
No squirting is required

Easy to use

Portable and travel-friendly

New shades can be created

Dries quickly
Cons
Difficult to work with big brushes
2. Tube Paints
Up next is another variety of watercolor paints that work a lot like pan paints and can be added to your art supplies. These paints come in small tubes and need to be mixed with water before use. 
They aren't hard like the dry paint cakes in pans, and you will need a paint palette to work with them. 
Moreover, tubes are better suited for all those who wish to paint more often. That is because tubes have a lot more paint than cakes and will last for a longer time, while you will get options between artist-grade paints and student colors. 
Tube paints will also give you the liberty to choose colors that you want and then create a personalized set with them. Since you can purchase tubes individually, the color choices are more, and you do not have to waste money buying unnecessary shades. This is not possible with pan colors as they are generally available in sets. 
Just remember to be prepared to purchase the proper equipment to use tube paints before buying them. Get a palette knife to create different shades with the paints, especially if you are working professionally with specific colors or if you want to develop skin color. 
Pros
Customized color options

Student and artist-grade paint options

Lasts for a longer time

Well-pigmented option
3. Liquid Paint
Paint in liquid form is found in very concentrated bottles, and they can be used with the help of a dropper. It is usually provided with the paint bottle and attached to the inside of the lid. You can mix a few drops of the paint with a little bit of water to begin painting. 
But before you begin, let us tell you that the paint is in super concentrated form and you may find it difficult to manage the colors in the beginning. However, once you get the hang of it, you will actually find these paint bottles to last for a long time. 
A lot of people use liquid watercolors for calligraphy and if you wish to do the same, just get the right brushes. Liquid watercolors are also available in bright shades, which will add depth to anything that you paint. They even dry fast on paper, which is an added benefit; just remember to quickly mix different paint shades before they can dry, as mixing the colors becomes challenging. 
Pros
Very bright shades

Dries very quickly

Available in super-concentrated form

Comes with a dropper
Using Ink 
Ink cannot be termed as a watercolor, but you can use it to create excellent textures. Take a watercolor paper and drop ink on it because the color is pigmented and can often be mixed with other watercolors. Moreover, it works like liquid watercolor and can be used to create layers. 
That is not all; some artists believe in using white ink to include details in their watercolor paintings. You can add stars or moon with white ink after the entire painting is done. 
Tips To Remember 
While purchasing watercolor paint sets, you will have to be careful about the type of paint that you purchase. There are cheaper options available, but when you compare them with paint from renowned brands, you will see a significant difference. 
Cheaper options have lesser pigments, and you will not be able to get the same effect. It would be best to purchase a smaller set of watercolor paints from a renowned brand rather than opting for cheaper equipment.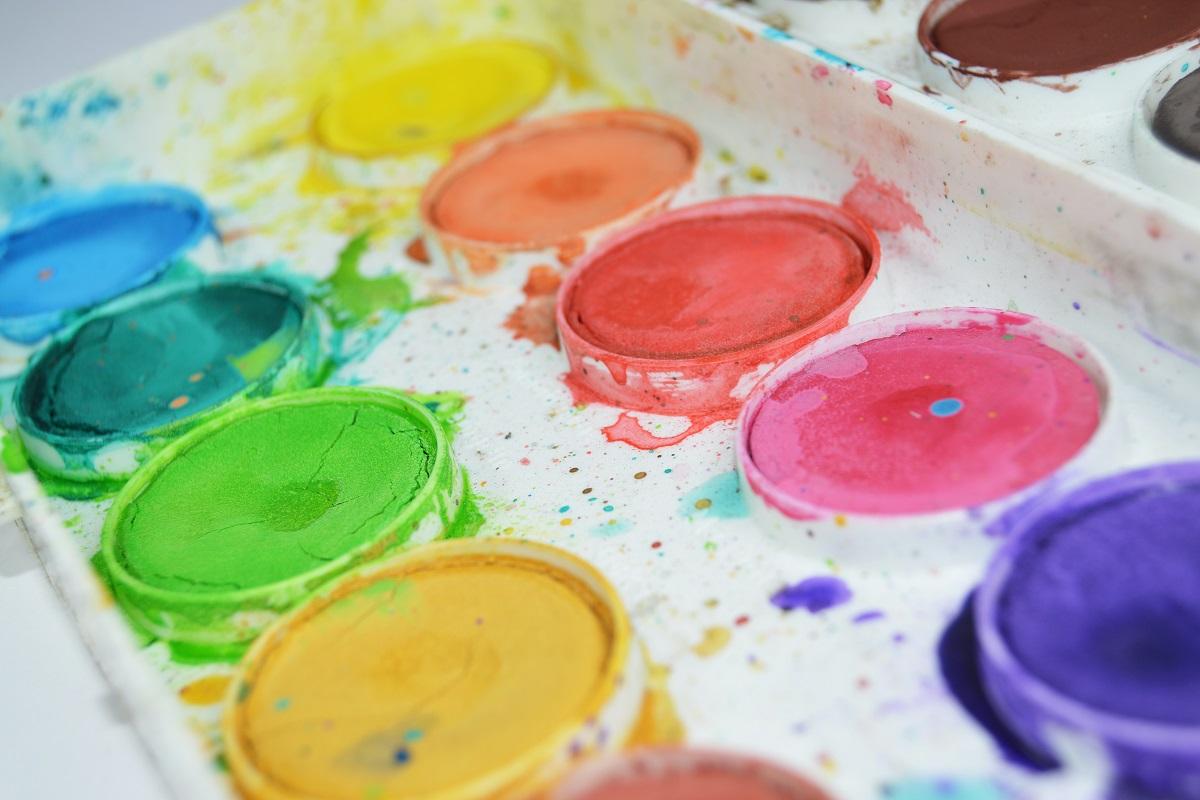 Types Of Watercolor Paints Buying Guide 
While you may know about the best watercolor paint types, there are some other factors to consider. You may not have thought about them yet, but they play a crucial role in painting premium-quality pictures. Read on to know all about these qualities. 
1. Reflective Nature 
Are you going to scan your watercolor painting for digital use? Then there are some paint colors that are reflective, and you need to be aware of them. 
Fluorescent colors and metallic paints will not be scanned in a proper way because they reflect light, and a lot of the parts may look transparent due to reflection. You might have a lot of white spaces in the scanned image, which would not look good. 
If you are planning to scan the painting, then gouache is a pigment name to get familiar with. This works a lot like watercolors, but it will provide an opaque finish to scan and print your work easily. 
2. Safety 
Watercolor pigments can be harmful if consumed by kids, and it is best not to leave kids unsupervised with them. Today, there are non-toxic options that are available, as they are organic, but you might need to pay a little more for them. However, they are going to be great choices for school projects and DIY kits. 
3. Colors 
If you have ever looked at a color chart, you will have noticed that there are thousands of shades to choose from. Now, if you are a beginner, then it is best to select a paint set with primary colors. That will help you get the hang of painting, and you can also create new shades by mixing the synthetic pigments. 
But the mixed colors may not be very bright and are only good to experiment with. Once you get used to watercolor painting, you can purchase a bigger watercolor set with more vibrant shades. 
Moving on, remember that there is no right way to work with colors. The permanency or transparency of the paints can vary, but that is only important when working on professional projects. 
Another thing to consider here is that the color names of different shades will vary with the brand. You may not find the exact shade or same color while buying from a different brand because of the variations in levels of pigments, which creates different hues. 
4. Staining 
Some watercolor paints will be absorbed by the paper and will effectively stain it, while other paints will settle on top. The latter option can be scraped off if not needed so that you can make corrections. However, stains cannot be removed or lifted off after they are absorbed by the paper. 
A lot of artists prefer using a mix of staining and non-staining shades but staining matters in the case of layering paint. If you are going to work with layers, then it is best to opt for the staining variety. 
Non-staining pigment settles on the top and can create a muddy effect when you add a second layer. That could spoil the entire painting, and you need to be careful about this. 
It is not easy to determine if a certain watercolor set is staining or non-staining because most manufacturers will not mention this on the box. So, a lot of people try out the pigment with a sponge to test which variety it is before actually painting. 
5. Brand 
Choosing the right brand is essential when it comes to paints, even if that means spending a few extra bucks. Consult an artist personally to know the top brands for watercolor paints. You can also check out the brands that more customers are purchasing online and the internet should give you the information easily.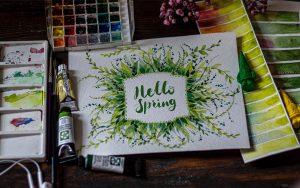 Types Of Watercolor Paints Frequently Asked Questions ?
What is lightfastness, and what role does it play in watercolor paints? 
Lightfastness indicates if the watercolor will fade in the sun, and every watercolor comes with a lightfastness number. This includes I, II, III, and IV, and I is the best kind of paint that does not fade. The ratings should be mentioned on the body of the paint cover or on the tube. 
Also, if you are using a paint palette or tube with a rating of III or IV, then it is best to keep the painting away from the sun. You can actually scan the image and save it digitally to preserve it for the long run. 
What is the difference between student grade and artist grade professional watercolor paints? 
The main difference between student grade and artist grade watercolor paints is in the number of binders and pigments used. Artist-grade paints have fewer binders and more pigment in them, which makes them richer and more expensive. 
On the other hand, student grade paints have less pigment and more binders in them. They are comparatively cheaper, making them perfect options for daily use. 
If you just want to make greeting cards or play with colors, then student-grade paint should work fine. But if you want to take water coloring seriously, then it is best to opt for artist-grade paints to get better textures that will leave you satisfied. 
What are fugitive colors? 
Fugitive colors are those which have a lightfastness rating of III or IV and are prone to fading. Watercolor paintings made with these colors need to be kept away from the sun, and it is best to keep them in a cool place indoors. 
We are not saying that the colors are bad, as they work very well for paintings that need to be scanned. But if you do not want to purchase fugitive colors, opt for watercolor paints that have the word "permanent" mentioned on the tube or bottle. 
Can individual pans of paint be purchased?
If you are purchasing pan colors, then they will be available in sets. They are small cakes of paints that are generally not found in individual containers and you can purchase a small set of six colors if you don't require many shades. 
Tube paints can be purchased individually, and they are of superior quality, so you can choose a particular watercolor type if you are looking for individual shades. 
What are the top watercolor techniques used by professional artists? 
You can learn about the top four types of watercolor techniques once you start painting, that are – wet-on-wet, dry-on-dry, dry-on-wet, and wet-on-dry methods. We recommend reading about all the techniques and then choosing the one which works best for you. 
Is pre-drawing required with a pencil?
Before you use watercolor paints, you will need to draw some guiding lines. Expert painters may not need them, but as a beginner, you will have to form a basic idea of the picture. 
Please remember to use as few marks as possible as you cannot erase pencil marks after you paint over them. Doing so might erase an essential part of the painting and you can try using a watercolor pencil, which does not have to be erased. 
Just blend it with the painting, and it should work well. 
How to measure the water needed?
There is no hard and fast rule regarding how much water needs to be used. Just ensure that you do not form puddles on the paper and that the water is not rolling across the surface. That could make the paper weak, and it could tear easily. 
Instead, just dampen the paper with water and then paint accordingly, but, sometimes, you may not have to dampen the paper beforehand. This depends on the type of painting and detailing that needs to be done. 
What should one paint to start with? 
We will recommend that you begin with easy shapes that do not require too much detailing, like flat shapes. These do not have to be completely realistic, giving you a good starting point. Pictures of the solar system or landscapes with a few basic things should be ideal for learning how to paint with watercolors. 
You can slowly move on to painting things around you, such as a favorite tree or a flowering plant in the backyard. Also, try abstract painting and create wonders just by taking inspiration from daily scenarios. 
Can one dry their watercolor paintings with a hairdryer? 
Painting with all types of watercolor paints will need you to be patient with the process, as you will need to dry each layer before painting another on top. Some beginners do not have the patience and want to dry layers quickly, and, in such cases, a hair dryer can be used for the process.
Make sure that you are not bringing the dryer too close to the painting and keep a safe distance as otherwise, the colors may fade. Technically, it is just the water that evaporates but if you bring the heat source too close to the paint, the pigments may get damaged, which is not desired. 
How to preserve a watercolor painting? 
Once you have finished painting, you may want to frame it and hang it in the house. But before deciding on the location, please keep the lightfastness rating in mind. 
If the rating is too low, then it is best to keep the painting in an area with no direct sunlight. You may alternatively want to scan and print a digital copy of the painting in order to preserve it for a longer time.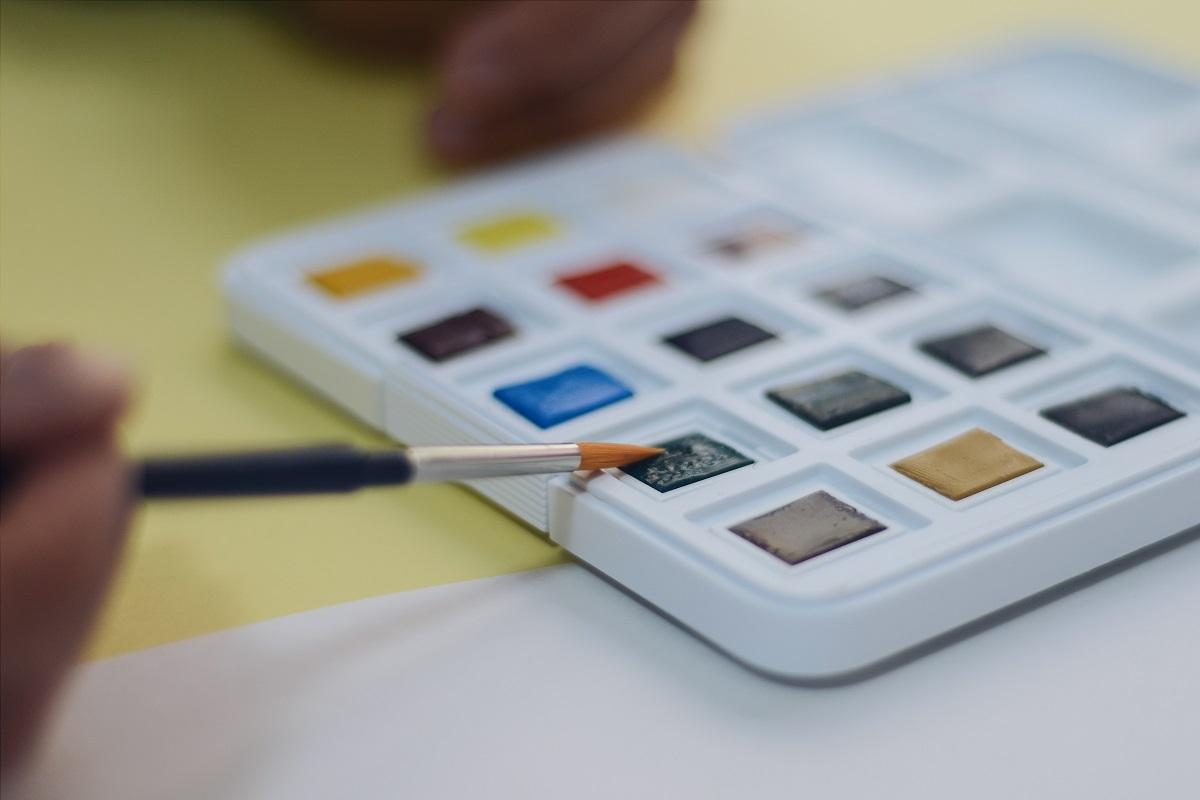 Types Of Watercolor Paints Final Words 
While painting, if you want opaque watercolors, then add less water to the paint from watercolor pan sets or watercolor tubes. The concentration of the paint and water mixture will allow you to adjust transparency. Also, pair the watercolor with a good set of synthetic brushes. 
Professional artists will always have their own set of good brushes and thick paper or canvas. We recommend opting for brushes of all sizes as you will need them for different painting techniques. 
You can use round brushes for making thick lines and small thin brushes to add details. Moreover, make sure that the paper is 300 GSM or tucker as otherwise, it may tear. This is especially true for those who are just starting out and may use a lot of water. 
We will now wrap up this guide about the types of watercolor paints, and we hope you have a great painting experience.