Christmas is but a few days away and we could not be more excited, it it a time of joy, celebration, peace and quiet, a moment in time when everything falls into place and we get the chance to spend more time with our loved ones.The Christmas tree is usually decorated by now in expectancy of Old Saint Nick and the remaining time is spend decorating the rest of the household, preparing sweets and treats for the Christmas family dinner and making last minute errands and buying presents.
At A Glance: Our Top 3 Picks for Pallet Christmas Tree Designs
For the ones who didn't have the chance to catch a break and to properly prepare for the winter holidays, finding the right Christmas tree can seem overwhelming. But, as usual, recycling comes to the rescue and offers a viable cute and creative alternative to the classical pine tree: pallet Christmas tree designs. The all so versatile pallet can form the support for string lights, handmade decorations and even the base for your painting skills. You can use the wood in the classical pallet shape or dismantle it and rearrange the pieces as you seem fit. Let's cast a glance at a few ideas.
Pallet Christmas Tree Designs
IMAGE
PRODUCT
DETAILS

Best Seller No. 1

Best Seller No. 1

48" x 40" Hard Wood Pallet

Perfect for storing and shipping
Economical alternative to plastic pallets
Stackable

VIEW LATEST PRICE →

Best Seller No. 2

Best Seller No. 2

P. Graham Dunn Rectangular Natural Wood Finish

17 x 0.63 x 23.5 inches
Made of solid, dried pine wood
Has countless DIY possibilities

VIEW LATEST PRICE →

Best Seller No. 3

Best Seller No. 3

Jifram Extrusions 05000235 Easy Living

Made in the U.S.A.
Made from recycled plastic
No assembly required

VIEW LATEST PRICE →
1. simple distressed pallet tree in silver coat
Use half a log to form the base of the tree and white string lights for an elegant effect.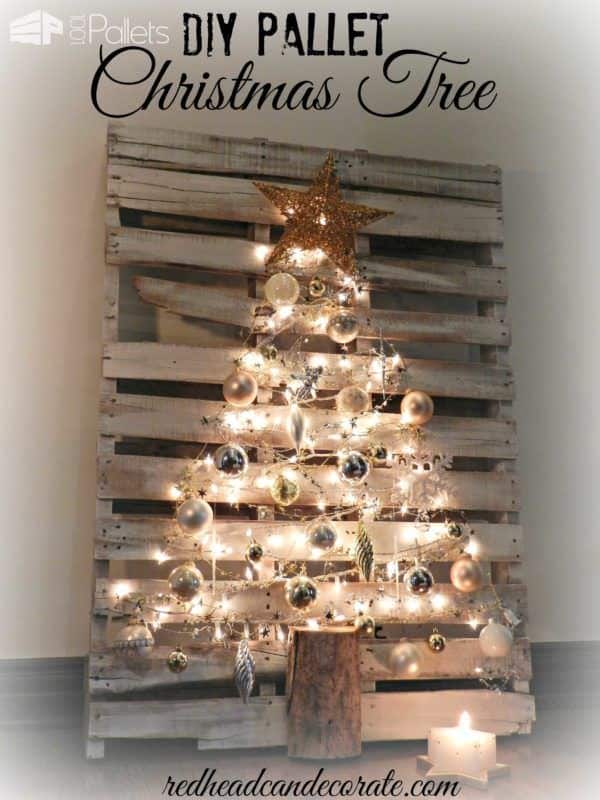 2. hand painted white Christmas tree on brown pallet
You could sketch the tree with a pencil and follow the lines using a white spray paint. Add nails from which you can then hang your colorful ornaments.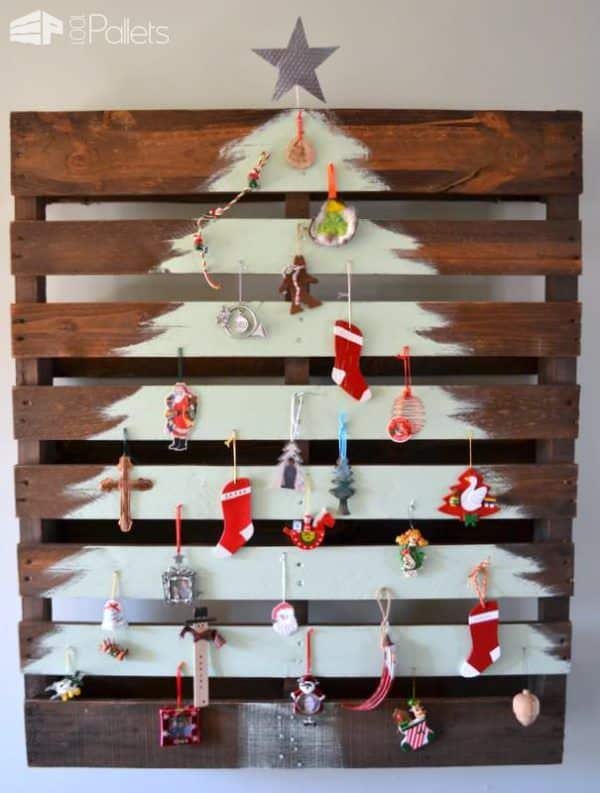 Source
3. nature pallet cut to form the shape of a tree
This simple craft is very spectacular, use very small string lights to go with the delicacy of the tree.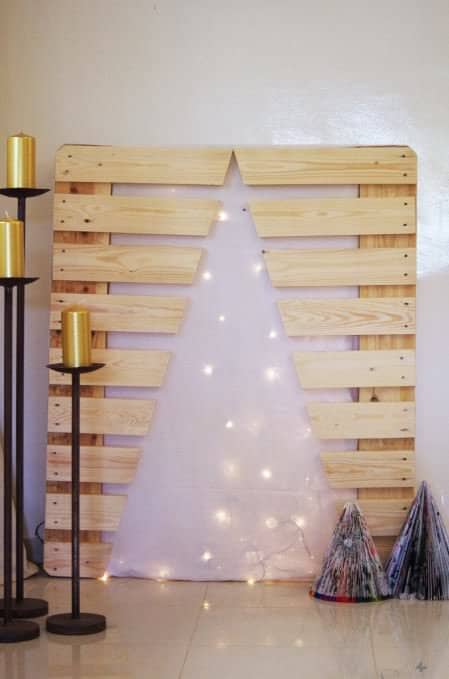 Source
4. paint and handmade decorations in vintage hues
It's the fastest Christmas tree alternative you could choose.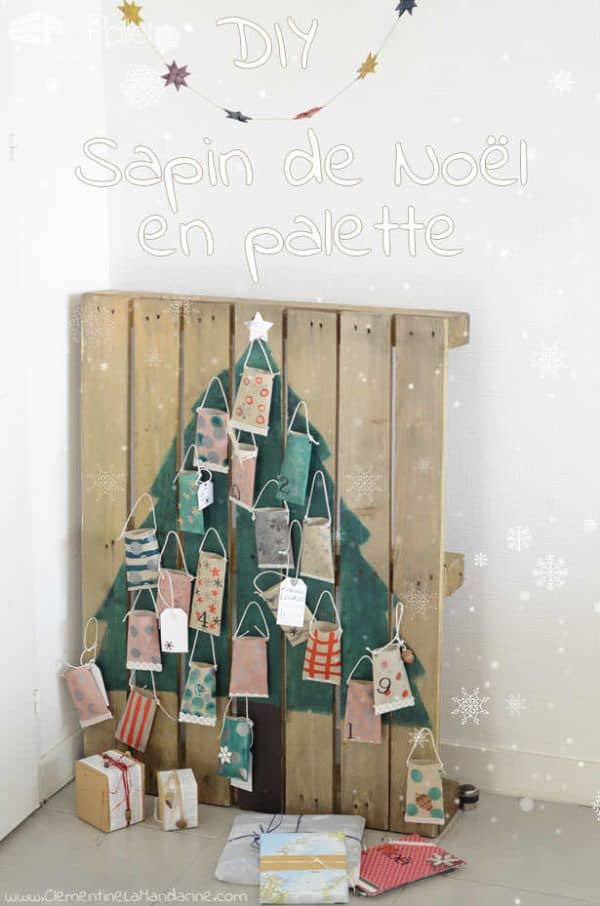 Source
5. add shelves to hold decorations
A tree with shelves? Well a pallet tree can accommodate them for displaying different types of decorations.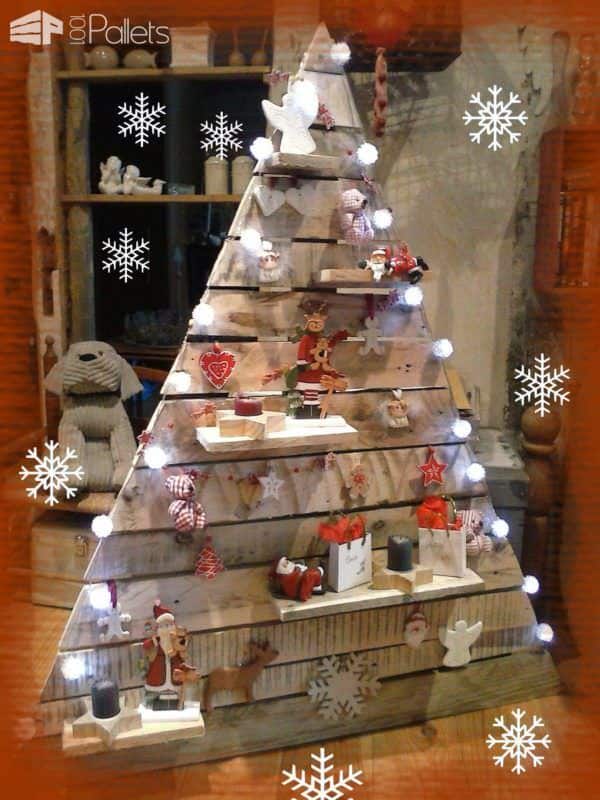 Source
6. pallet wood used to form a complex tree
You can use pallet planks to form a 3d tree, jut juxtapose the wood and place the ornaments on the formed "branches".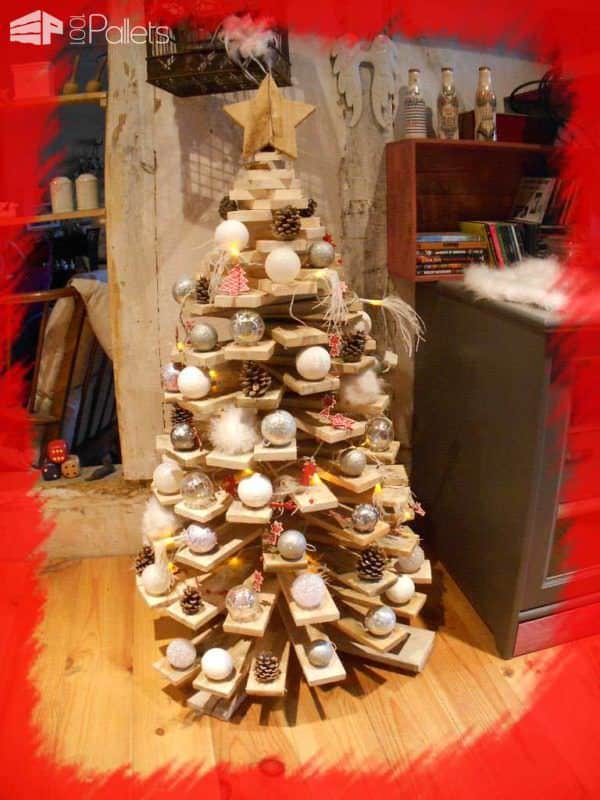 Source
7. minimal and elegant Christmas tree design
For a modern interior design keep the tree simple as well, go for a two tone combination when it comes to the ornaments.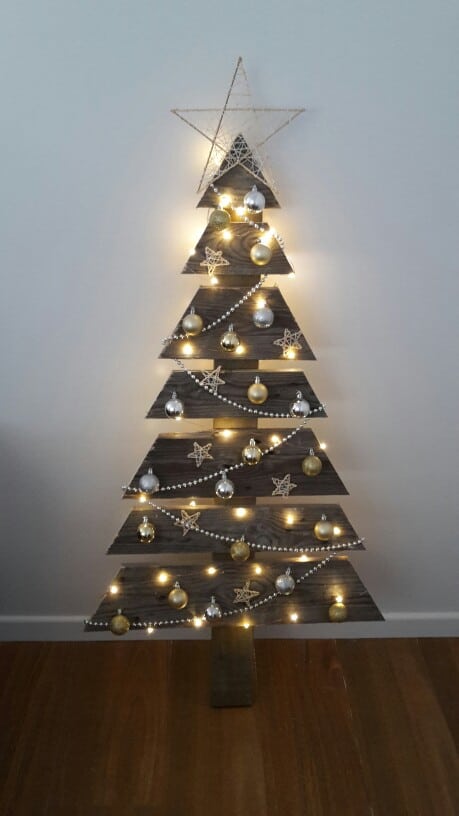 Source
8. cute pallet tree holding multiple figurines
It's the right design to display all those funny and cute figurines you have been saving over the years.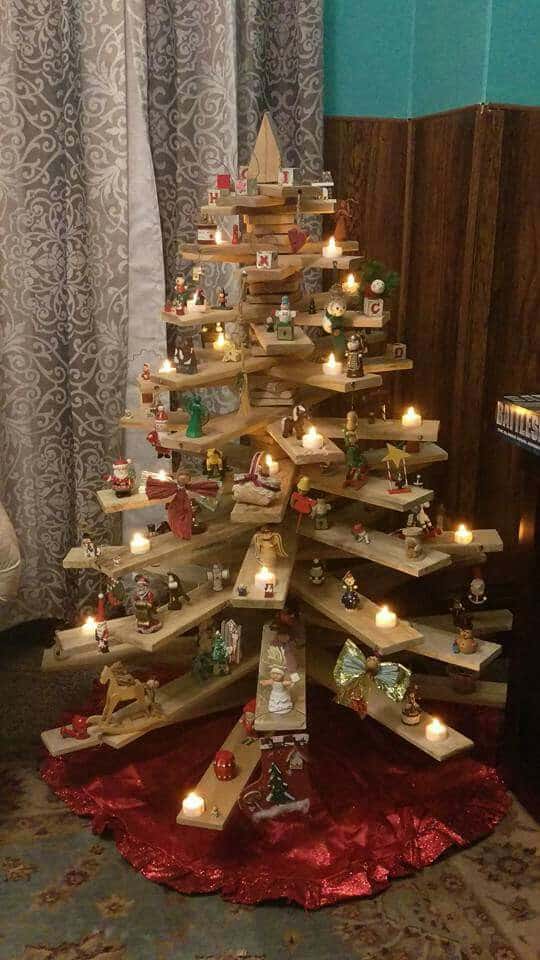 9. a colorful array of globes and string lights
Light is the key element in this design, shaping the tree and contrasting with the natural wood and the colorful globes.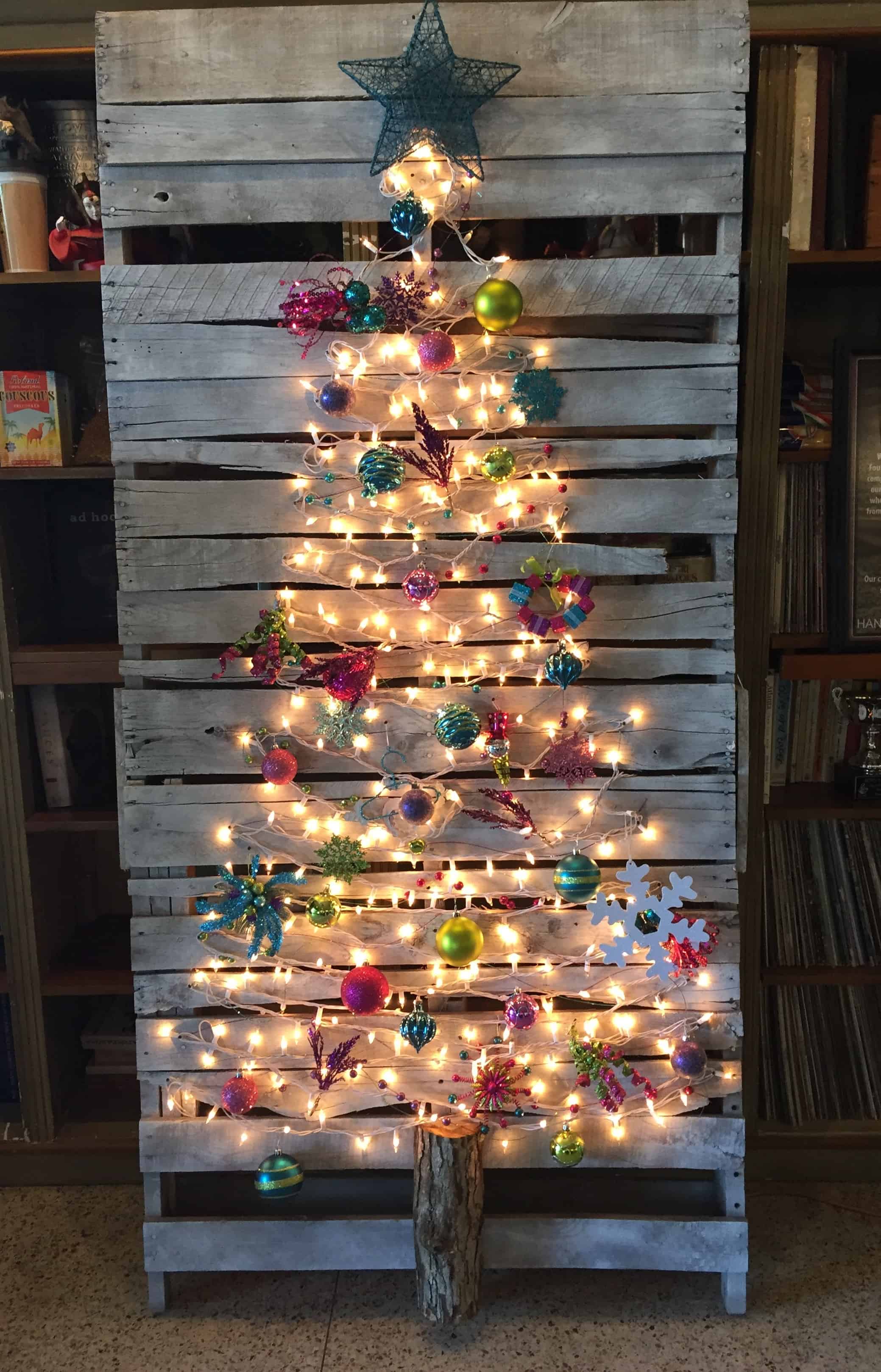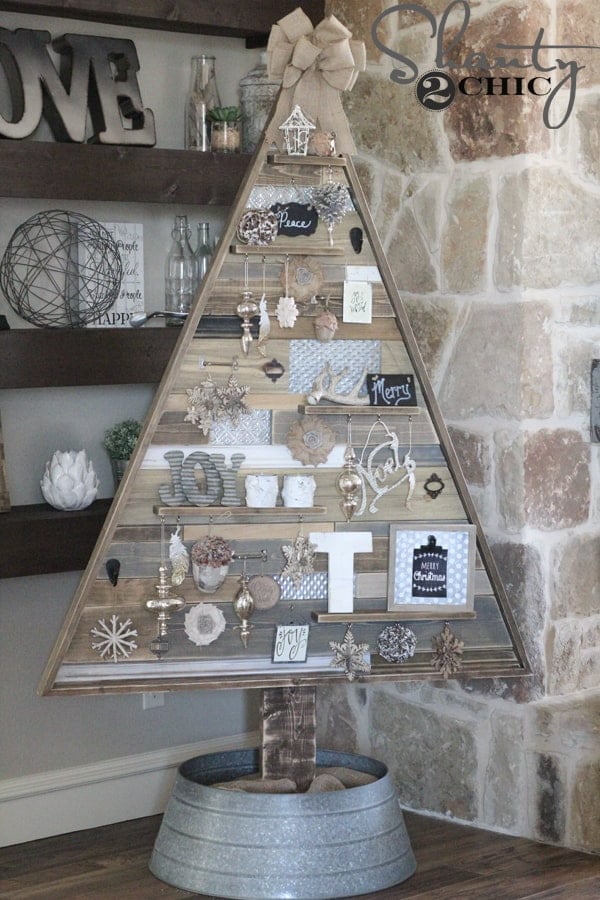 11. simple chevron patterned tree
Create a chevron inspired pattern for your tree and insert small lights equally distributed.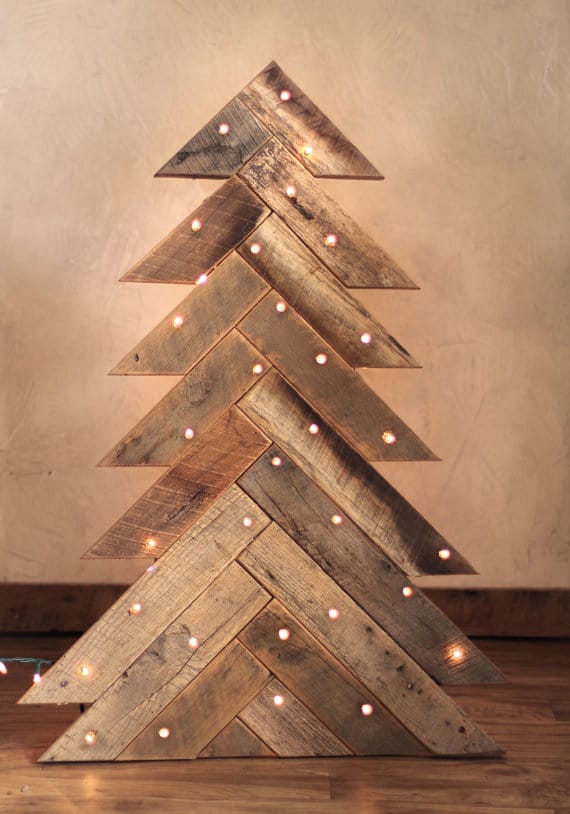 12. let is snow painted tree on pallet wood
Express your artistic skills on a blank pallet plank and paint your favorite tree.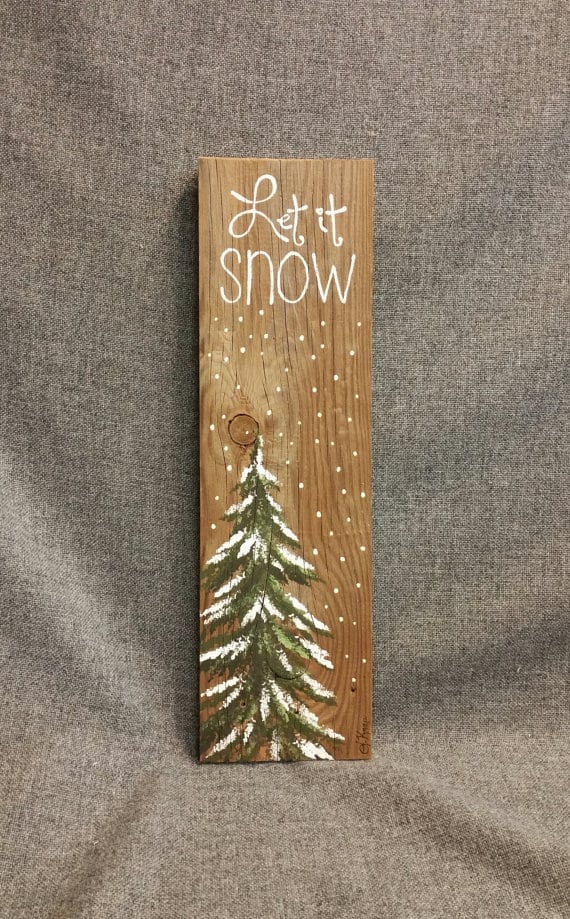 13. a different type of tree design using horse shapes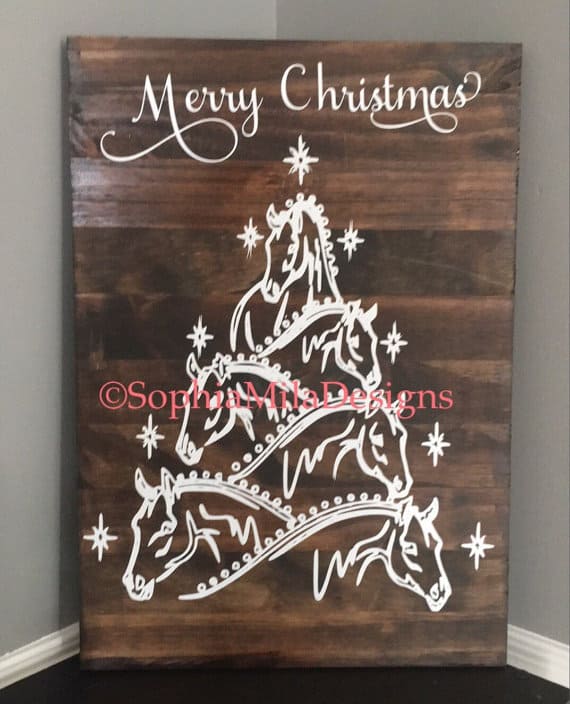 14. elegant simple little trees using multiple textured wood
The alternation of wooden textures with their rich and complex tones gives elegance to this simple tree.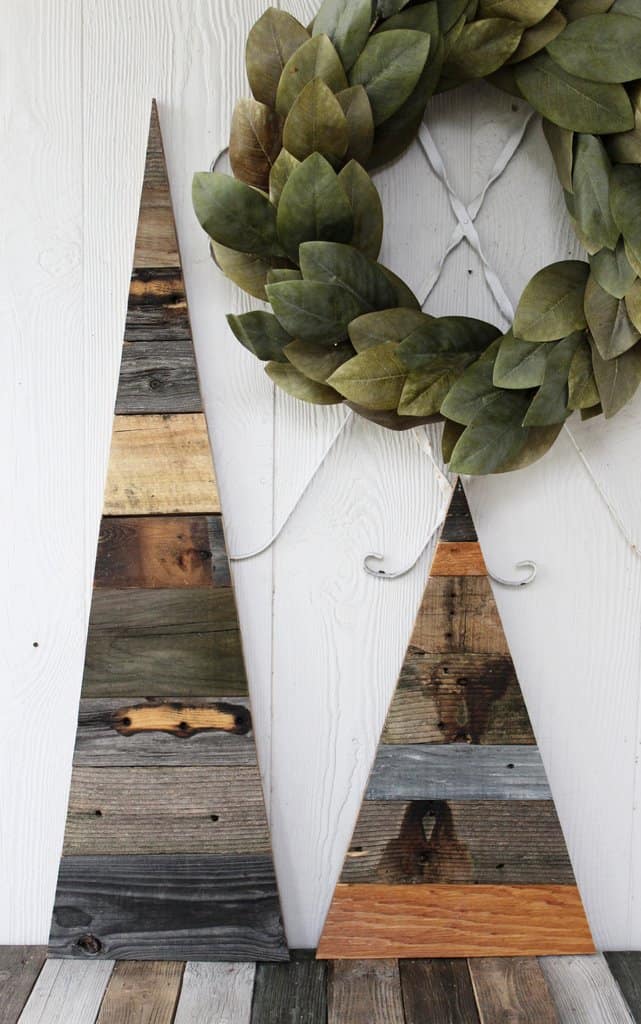 15. a tree frame with ornament support connecting the frame lines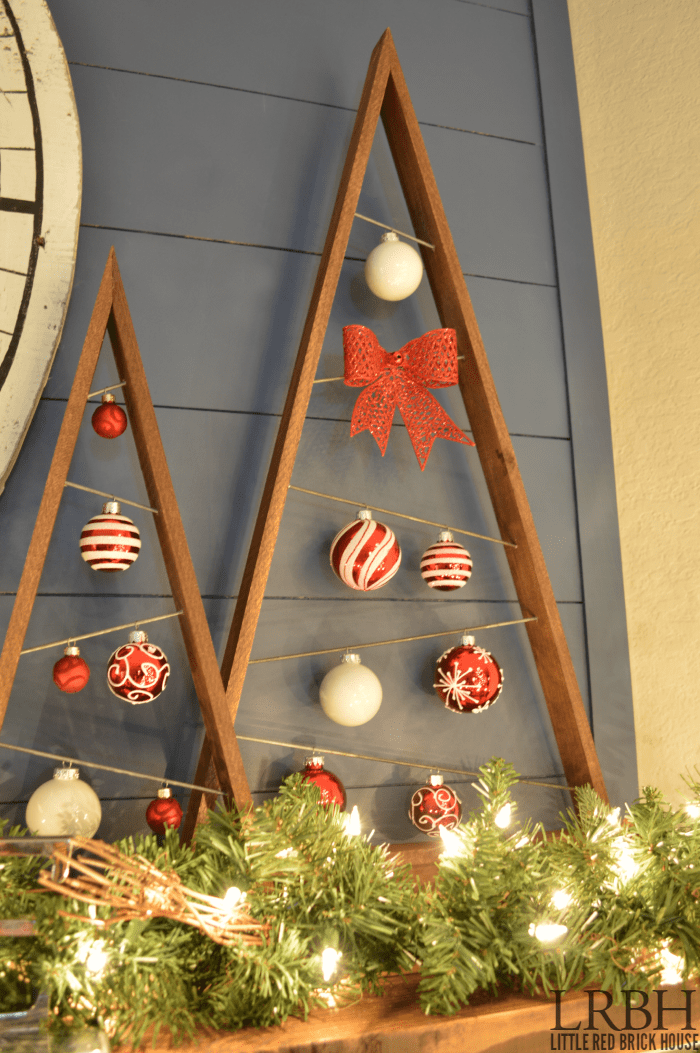 16. an advent calendar christmas tree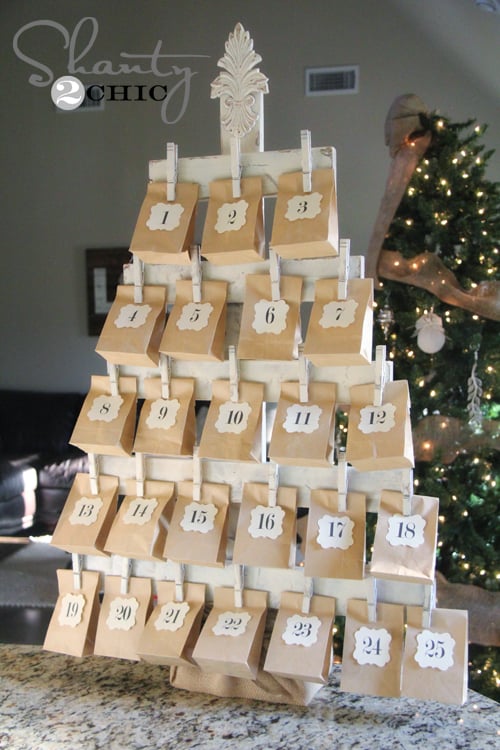 17. distressed pallet wood assembled into a rustic outdoors tree
Invite the holidays in with a rustic inspired Christmas tree placed on your front porch.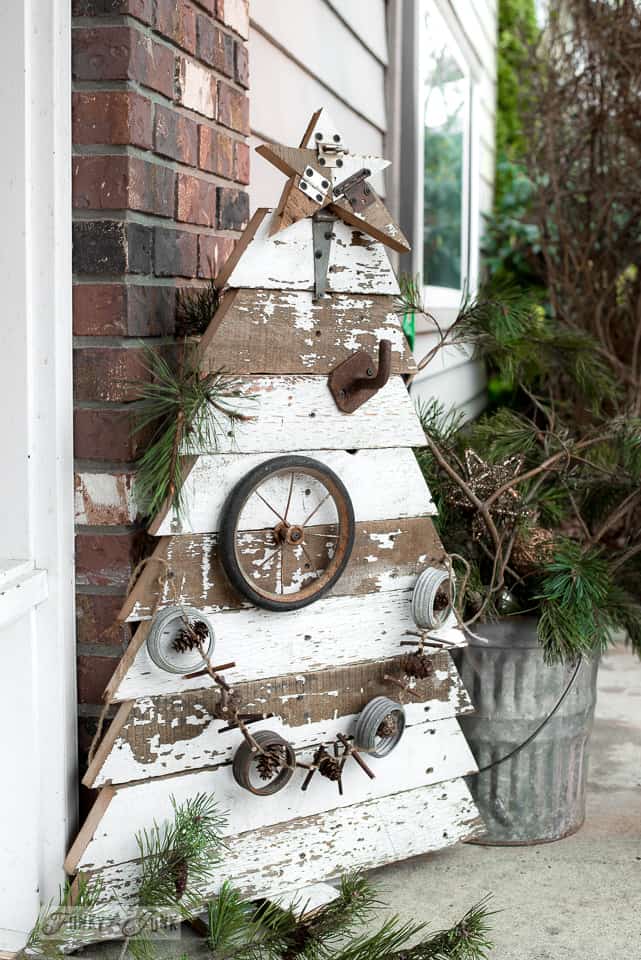 18. simple pallet wood tree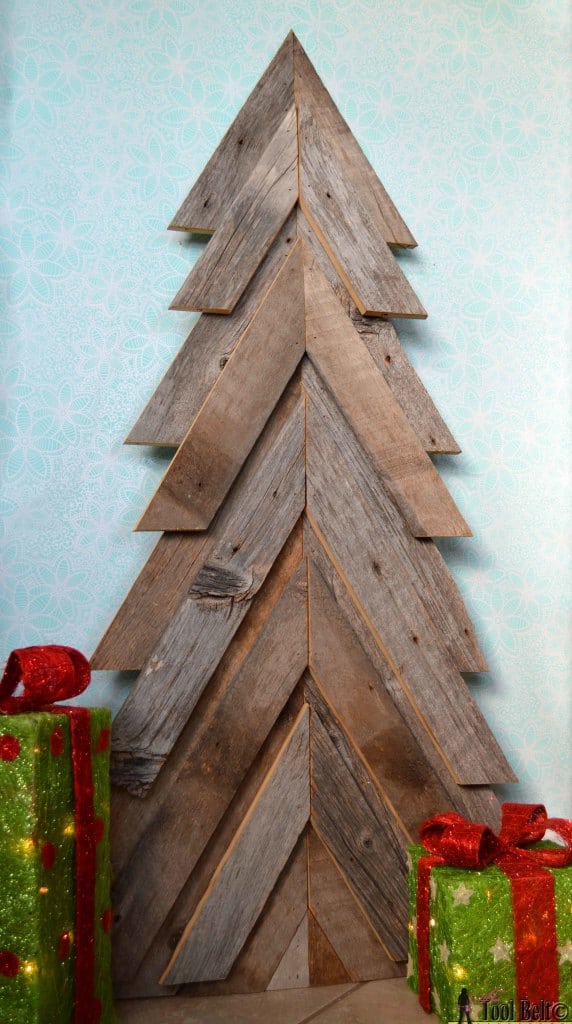 19. classic shape holding elegant white and silver decor
Create a clean minimal design and allow the wood to shine.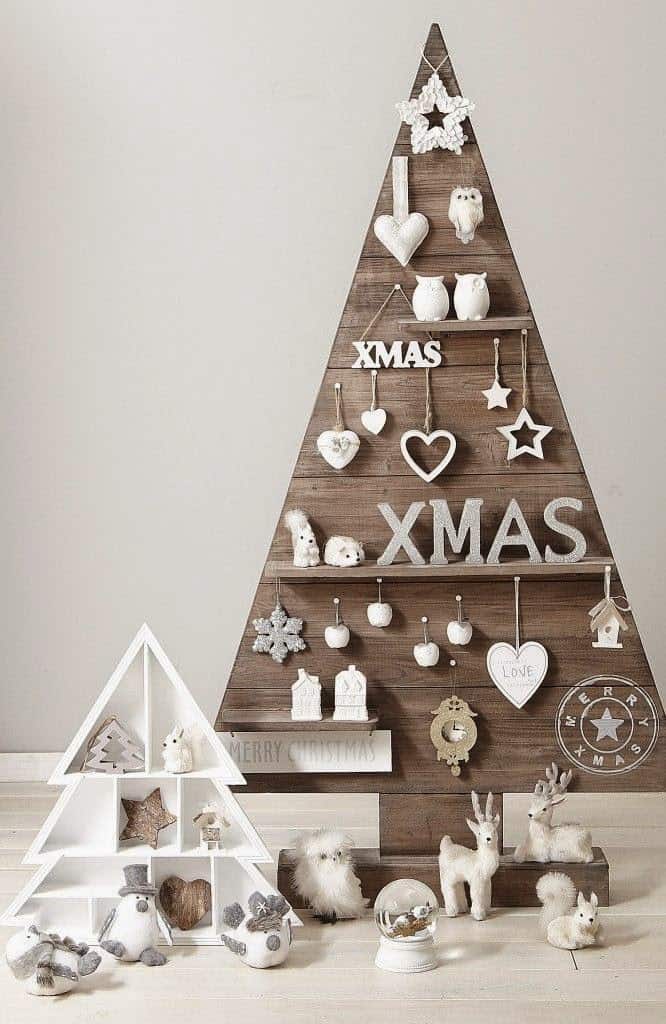 20. write fun messages on each pallet plank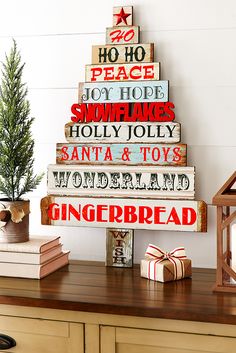 Have you ever considered using a pallet to form your Christmas tree instead of buying the classical pine one? Feel free to share your decorations and ideas in the comment section below.
Related Articles
14 Best Christmas Copper & Rose Gold-Finish Decorations
14 Awe-Inspiring Ceramic Christmas Decorations
16 Best Christmas Glass Ornaments [Bauble & Icicles]
19 Christmas Tree Paper Decorations for Delicate Look
12 Best Christmas Glass Tree Toppers for a Jolly Xmas
14 Best Star Christmas Decorations for a Shiny Christmas
14 Best Christmas Tree Lights to Consider This Year
Learn How to Store Icicle Lights After Christmas
Start The DIY Christmas Gifts Process Early
19 of the Best Candle Gifts Sets & Baskets for Epic Presents | Candles Gift Guide 101
76 Best Lego Gifts & Best Lego Sets for Lego Lovers
14 of the Best Gifts for Sculptors in 2022 | Gift Guide
32 Best Gifts for Marvel Fans of the Realm 2022 | Gift Guide
29 Best Gifts for Interior Designers and Creatives Everywhere | Gift Guide
45 of the Best Gifts for Architects in 2022 | Gift Guide