Do your kitchen counters need a makeover? You're sure to like some of these design ideas for a fresh and updated look. 
As you can imagine, there are limitless options of countertops which you can choose from. But we know that everyone and their neighbor has a preference! That is why we have curated more than a dozen ideas if you are looking to change the look of your kitchen.
Now, there is a reason why tile is the most popular option for countertops. The main reason is that, unlike natural stone or laminate, tiles offer an incomparable variety of options ranging from hexagons to mosaics. 
Also, when it comes to working with tile, the advantage is that you can do it yourself. That in itself saves a massive chunk from the budget.
So, without further ado, let's see the different types of tiles and designs.
Types Of Tiles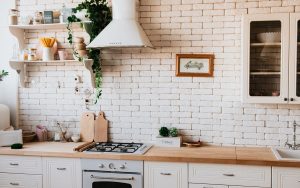 Porcelain
Porcelain is made using clay, sand, and feldspar, which are baked in high-temperature ovens. The final product is quite dense and durable lasting for many years once installed. Porcelain is non-porous and is often applied to walls, flooring, kitchen countertop, and backsplash. 
Also, it can be found in many outdoor projects because of its resistance to pressure and water. As far as maintenance is concerned, they are pretty easy to clean and take care of.
Ceramic 
Ceramic tiles are also made out of clay which is heated and set into shape. The reason they are so popular is that they come in a wide variety of patterns and colors. The good thing about ceramic tiles is that they are scratch and stain-resistant. However, they are prone to cracking if you drop heavy containers on them. 
Vinyl 
This is a synthetic option often used for flooring and countertops and even kitchen backsplash. They have a stone-like finish but can be designed to appear like wood. One interesting feature about vinyl is that you do not need to remove the previous installation to add new tiles. 
Also, it gives a smooth and seamless appearance which is pleasing to look at. However, they are not durable enough to hold very heavy objects.
Vitrified Tiles
Have you seen glazed tiles with a gleaming appearance? It is most likely that those are vitrified tiles. They are similar to traditional ceramic tiles, but they have an additional ingredient, silica. 
While mixing, clay and silica are blended together to form tiles that look shiny like glass. The benefit of this tile is that it is water and frost-resistant, along with being durable enough to last many years.
Stone Composite Polymer 
These tiles appear like stone, but if you take a closer look, you'll find they are, in fact, composite polymers mimicking stone tiles. They are constructed using a composite material with a mix of PVC, limestone, and stabilizers. 
What makes this option so popular is its use in multiple areas of the house, not just countertops. It can be used in kitchens, bathrooms, and porches due to its heat and fire resistance, impact resistance, and waterproof properties.
Tile Designs For Countertops
Square White Tile Countertop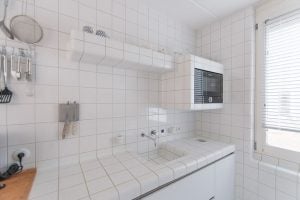 Let's start with the classics. The square tile kitchen counter itself comes in many styles, but we recommended you check out this clean floor-to-ceiling tile pattern. The straight-lined edges are far too familiar anyway, so you can opt for these unique curved lines which cover the entire countertop. This retro design extends to the sink and microwave slot and gives a uniform and clean look to the kitchen.
Large Neutral Color Tiles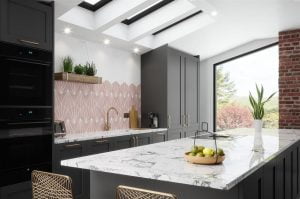 Some people prefer larger tiles because they have lesser seams which offer a gorgeous and lush look. They are also easier to clean and wipe. There are various sizes available, but the most common is 12 or 13-inch tiles which look great in neutral colors like beige and pale yellow. 
You can install the same kind of stone on the peripheral. However, the stone tile needs to be sealed to grout before use.
Large Format Tile Countertop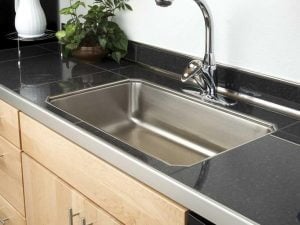 These are much larger tile options for those of you who want to avoid installing separate tiles altogether. This option comes in large pieces which are arranged to fit the size of the counter. Large-format tiles help the countertop to appear larger and even. If your kitchen already has various colors and patterns, this simple look will give a pattern break for a harmonious look.
Handcrafted Rustic Kitchen Countertop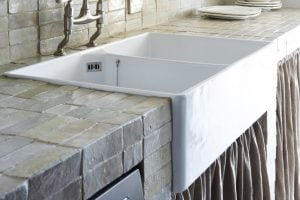 If you are looking for a rustic, cottage-core aesthetic for your home, this option will fit right into this vibe. This design involves handcrafting individual pieces of stone and placing them one by one on any surface you want. 
The slightly uneven effect gives a warm, rustic vibe which works well in neutral colors. However, this option is on the pricier side, so you may have to reconsider if you are on a budget. 
Pop Of Color Retro Design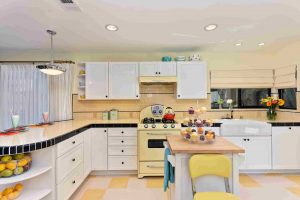 Another option we have selected for you is this lovely color pop option giving a retro look to your countertop and kitchen. You can recreate this look in your kitchen by choosing a neutral color and selecting a secondary color to add interest. 
For example, the backsplash and bottom of the counter can be white, but the countertop can be a pale shade of yellow, blue, or grey.
Handmade Square Tiles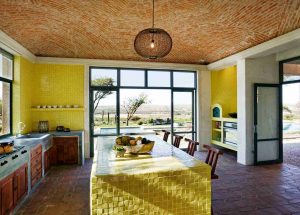 You must consider this option if you want a unique look for the kitchen or even the bathroom. There are endless color options to play around with, and there are different sizes that you can select for different areas of the house. 
For the kitchen, a square tile with a pastel color would go well, especially if there is plenty of sunlight flowing in through the windows. 
Hexagon Pattern Countertop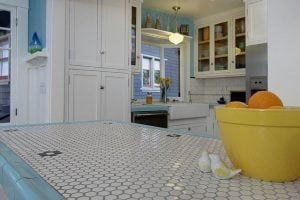 This style gives your kitchen a lovely retro feel. The hexagon pattern adds interest and gives a visually distinct look that is suitable for primary colors like white and beige. If you are looking to keep the color scheme simple and classic, then this is an attractive option to add a unique touch.
Marble Hexagon Tile Countertop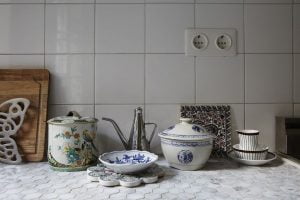 Another beautiful European-inspired tile countertop is the marble hexagon one which gives a smooth finish. The good thing about this design and choice is that it is quite durable and does not shatter easily, even if you drop heavy utensils. A smaller-sized hexagon tile in a pale grey or blue would look amazing, just like a Swedish kitchen. 
Mismatched Color Countertops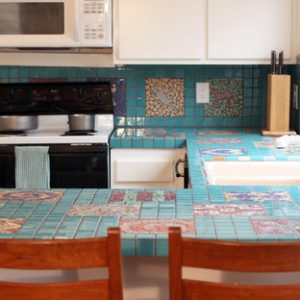 For eye-catching and distinct looks, you can opt for opposing color schemes and mismatched counter options like this one. There is no limit to the creative possibilities with these patterns, and you can make your own unique look by experimenting with placing options. 
One idea we liked was selecting three colors and placing them in either chunks or a whimsical mix to create a never seen before pattern. 
Glossy Tile With French Style Trims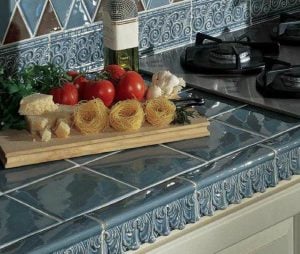 If you love European-style furniture and decor, you are sure to find this beautiful tile stunning. This is a lovely 6-inch tile created for a smaller kitchen in a lovely shade that has a glossy finish. Apart from that, it has an eye-catching trim that is 3-inches wide and adds to the beauty of your countertop. This type of pattern is available in porcelain and vitrified material.
Mosaic Tile Kitchen Countertop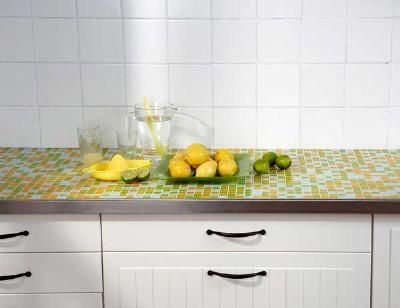 One of our favorite patterns is the old-fashioned mosaic. Even though it has been widely used for decades, the look never gets old. You can use it to add short bursts of focus to an otherwise plain kitchen.
However, you might want to tone down the color if you are not a fan of a busy-looking countertop. Sand, cream, pale pink are excellent color choices for subtle coloring with a stunning mosaic look.
Italian Stone Countertop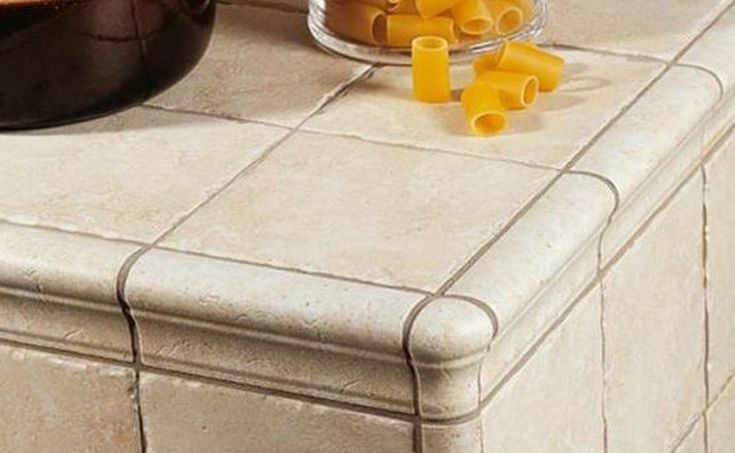 This design looks extravagant even though it is simple and classic. Adding Italian stone-cut tiles to the countertops immediately elevates the beauty of the kitchen. You get many customizable options to select the size and color of the natural-looking stone or porcelain. Some brands also provide matching quarter rounds and caps for completing the installation. 
Terrazzo Tiles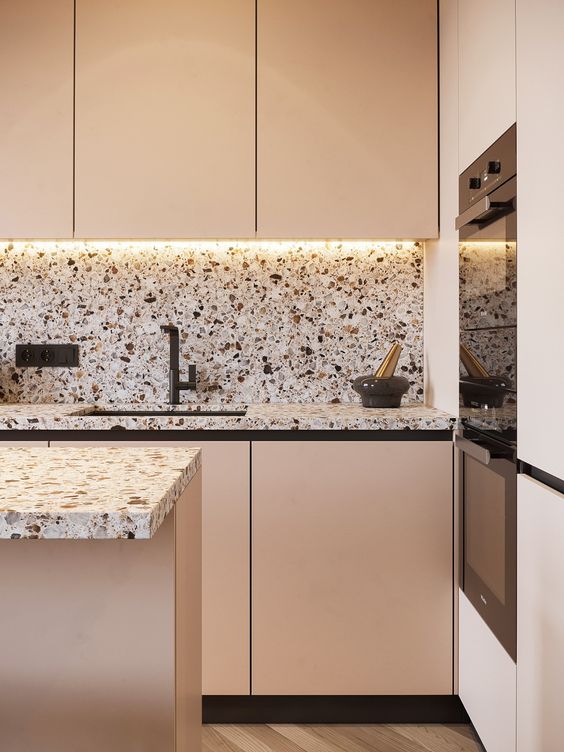 If you are looking to add some pattern to the countertops, terrazzo might be a suitable option. Since there is no defined design, the end product you get will always vary. This type of tile is usually made of marble or glass elements added to cement bases. 
They are widely used for flooring due to their durability, but you can also opt for this design on countertops. If drastic color patterns are not your style, you can customize a terrazzo pattern with only one color.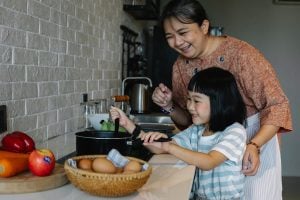 Final Words
So, here we reach the end of our guide for the best tile design ideas for countertops.
As we mentioned previously, there are literally hundreds of designs already available, and on top of that, you can create customizations to your linking. But the design you select must match the overall aesthetic of your kitchen or bathroom. 
That should not be too difficult since all you need is an idea of a color scheme. First, select a countertop that would go harmoniously with the room. Next, you can select a few color options which suit the rest of the walls and floors. 
And that's it! All you have to do is go to the store or check online for a similar pattern. After the final selection is made, hire a professional to apply the tiles or simply do it yourself. We hope this guide gave you plenty of ideas for your next countertop project. 
See you in the next one, bye!
Related Articles
25 Spectacular 3D Wall Tile Designs To Boost Depth and Texture
15 Inspiring Floor Tile Ideas For Your Living Room Home Décor
8 Best Basement Cement Floor Paints [Reviews & Buyer's Guide]
5 Best Polyurethane for Floors [Reviewed & Buyer's Guide]
5 Best Liquid Floor Wax for Hardwood Floors Right Now
Floor Heating Systems 101 | Installation, Cost & How They Work
16 Types Of Flooring To Consider For Your Home