Between small DIY Spring Projects we should stop and think about the upcoming summer as well. In between work and holidays spent away, between every two consecutive days we have an evening, a night to enjoy our family and friends. During these cozy and warm summer evenings we can really get the most out of this season. Enjoying the weather in the nearest park or in our backyards it is insanely rewarding and equally healthy both physically and mentally. Underneath we have showcased probably the best 32 backyard games that you should attempt this season with your loved ones, take a short coffee brake and enjoy the curated backyard game collection showcased below.
Best 32 Backyard Games
#1 Yard Twister
Simply an extremely easy to realize. You can use ground marking spray to prevent damaging your grass this being easy to remove as well. Moreover you can make the board as big as you need too and have more friends play at once. The dots can also be customized in bigger or smaller size to make the game easier or harder . Be creative!
Instructions: Instructables
#2 Creative Jumbo Backyard Ker-Plunk Game
Simple to realize with inexpensive materials. Ball pit balls
 can be purchased for under 25 dollars and with a few simple items from the hardware stores you are good to go.
Go get the instructions: All Parenting
#3 Colorful Giant Jenga
All you need is 2 x 4 boards and some paint and you have your own Giant Jenga Set. Moreover most lumbar yards do cut the boards at any length you want or need so you will not need a saw. Paint the ends in colorful spring colors and enjoy it with your friends.
Go get the instructions: A Beautiful Mess
#4 DIY Passing Practice Tarp
Several size square cut in a tarp with the edges sealed with colorful duct tape to mark values. Simple and healthy especially for a future quarterback. Simply plain funk. You can easily invent games with this piece in your backyard.
Go get the instructions: Spoonful
#5 DIY Ring Toss Game
Everyone knows it and it goes without saying that it`s an extraordinary game to play with your entire family.You can make this small game with ease by using simple home resources like duct tape, an upcycled stool with the legs straightened.
Go get the instructions: Mom Endeavors
#6 Infintely Creative Marble Race
A simple and extremely creative idea that started from a slope. You can really get creative with it and design an entire roller coaster for small rocks and marbles.
Go get the instructions: Spoonful
#7 Smart Giant Outdoor Chess
For chess enthusiasts this is no fresh news. Holding little tournaments in your backyard is probably a daily evening habit and it is without a doubt an extremely useful and healthy one as well. You can extrapolate the final match a little and create or purchase your own huge chess set that would imply some physical activity as well.
Watch the video: DIY Network Buy Pieces Here: Giant Garden Chess Set
#8 Nature Scavenger Hunt
Good scavenger hunts are extraordinary, simply thrilling and captivating. Design a great one for your loved ones and create an unforgettable memory.
Instructions & free printable: Five Little Chefs
#9 Bean Bag Toss
Fix a few plastic buckets to a board and really start having fun. Assign scores to different buckets and see who can get the most beans in the recipients.
Go get the instructions: Lowe's
#10 Backyard Obstacle Course

An obstacle course can stretch in your entire backyard in just a moment, use fun obstacles to generate a really interesting course . You can use recycled tires, ladders, pool noodles, string or rope and even buckets or cones along with huge boards to create a mini park.
Photo & inspiration from: Ashley Ann Photography (mud run birthday party!)
#11 Jumbo Checker Rug Game
 t
You can purchase this item for only 12 on Amazon yet it is also very easy to make. The checker pieces can be pieces of wood or small rocks and as a board you can use fabric paint . Making the game yourself will be far more enjoyable than purchasing it from the link above. Take a moment and shape happiness.
Photo By: Melisa McKolay
#12 Neat Backyard Bowling Alley
If you want to create the alley you will need a small investment along with some power tools and skills but the result will be extremely rewardful. You can simplify the game by arranging a small area that is already paved and only place the water bottles when needed along with the sides.
DIY bowling pin instructions: Moonfrye Bottom photo source: Apartment Therapy
#13 Use Your Noodle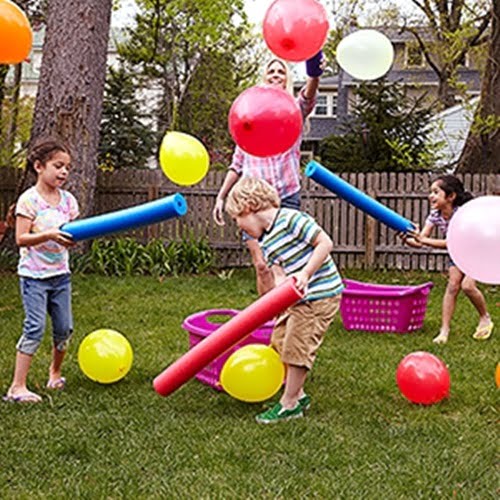 Go get the instructions: Parents
#14 Painted Rocks Tic-Tac-Toe

By far one of the most inventing and simple projects in the pack, the tic tac toe requires just paint patience and time to realize.
Go get the instructions: Chicken Scratch
#15 Extraordinary DIY Dunk Bucket

A very simple game that will make your little ones happy.
Source & Inspiration: The Happy Housewife
#16 Excellent Pool Noodle Olympics

You can shape these things in absolutely anything; whether you are using them bent, cut or shaped them in various manners they will perform extraordinary, a superb resource for your DIY endeavors. You can create an entire tournament around them for the kids in the neighborhood.
Go get the instructions: Parents
#17 Big Pick-Up Sticks
Go get the instructions from: Nellie Bellie 
#18 Creative DIY Water Wall
A simply extraordinary fun game that stimulates creativity and involves strategy making at a certain level. You can built it just like a science experiment with the little ones and with simple plastic containers on a peg board you are good to go.
Go get the instructions: Things To Share & Remember
#19 Branches +Tin Can

String, branches and tin cans. That`s all you need to make it happen.
#20 Huge Lawn Scrabble

Go get the instructions: AJC
#21 The Stumps Tug-of-War

If you do not have mud pit at hand to make things interesting you can play it on some wooden trunks or grocery crates. The game is highly competitive and if it implies children of similar strength it will entertain them for a while.
Go get the instructions: Spoonful
#22 Toy Ice Block Treasure Hunt
Learn your little ones to be careful and patient with a little game. Gather some toys that they love and freeze them in a block. Challenge them to "save" their toys without damaging with the hammer or screwdriver, little by little they will dig with joy and care . Repeat the process with a higher difficulty level. It is insanely easy to realize and almost free.
Go get the instructions: Macaroni Kid
#23 DIY Cornhole Board

Go watch the instructional video: Homes.com
#24 Simple DIY Water Blob
Similar to slip n`slide but better because it is completely dry. Moreover the water gets pretty warm at the end of the day inviting you to stay even more outside on it. You can add some glitter in it or good coloring to make things different.
Go get the instructions: Clumsy Crafter
#25 DIY Plinko Board
Simple project that can involve the hole family.
Photo & Inspiration from: A Turtle's Life For Me
#26 Balloon Dart Board
You can ask the kids to blow up the balloons and staple them to the board at the back or directly in the front. Moreover you can insert a number from the beginning in the balloon and you can correspond each number with a prize. This thing can easily become the centerpiece of the party.
Go get the instructions: This Is Do-Able and She Knows
#27 Bean Bag Bowl Toss Recipients
After a short visit to the dollar store you could ensemble this game with little under five dollars. Each bowl can wear a simple sign that can be realized easily. Who gets the most points in a few turns wins the game. You can customize the items thrown as well to make the game even more fun.
Go get the instructions: Morgan Moore
#28 Human Board Game
Very simple way to use sidewalk chalk in a game simply adored by kids. You can customize the difficulty of the game by changing the board and its dimensions. You can use your driveaway for this but you could make it indoors with scotch tape or blue painters tape instead of chalk.
Go get the instructions: True Aim
#29 DIY Slip N' Slide
Plastic sheeting! I would have never thought of this. If you've got a hose, I think the kids could manage to have a lot of fun. I'm also digging the PVC pipe sprinkler and hanging pool noodles.
Go get the instructions: Diary Of A Preppy Mom
#30 Bean Bag Ladder Toss
Use bean bags and label the rungs of the ladder with different points. Take turns throwing the bean bag and see who will get the most points. The hole game is very simple and cheap to install and make in your backyard. All you require is on old ladder.
Go get the instructions: Landee
#31 Colossal Connect 4
This game is obviously not a DIY, but who wouldn't love a connect 4 in their backyard? It's so much fun and the giant size makes it more appealing.
Buy it here: Yard Games
#32 Backyard Glow Stick Games
You shouldn't limit your outdoor game time to daylight. Use glow sticks to continue playing hopscotch during the night as well and don't ruin the fun. Another cool idea is filling balloons with glow sticks and playing with a glowing balloon dart board. Summer nights just got interesting.
From: Momma Did It
We hope we have inspired you to act like a child again and to enjoy the beautiful spring weather by spending all the free time you can get in your backyard.
Related Articles