Swing sets are quickly becoming relics of the past, which is quite depressing. There was a time when kids stayed outdoors right from the moment they were done with school for the day until it was pitch dark in the night. From tree forts to play sets, kids loved getting muddy and sweaty in the sun, but that has declined ever since technology took over. So, if you're looking to change the course of this tide and make your kids proactive, healthy and in love with the outdoors, then you should definitely make them a personalized swing set.
And choosing to DIY it all also gives you the chance to take the help of your kids and make them realize the importance of teamwork and also inculcate in them the skills of making stuff on their own. So, if you choose to go with even one of the following 47 DIY Swing Set Plans and play swing ideas, you will have contributed a great deal towards the mental and physical well-being of your kids!
If you`ve found the DIY Swing Set  plans  below interesting we invite you to check various other free woodworking plans, we have curated lists that will show you how to build a diy bookshelf, router table, duck house, deer stand, bat house, tiny house, rocket stove, diy tree house, cat tower, garage, fire pit, porch swing, greenhouse, small cabin, farmhouse table, pole barn, rabbit hutch, diy dog bed, a playhouse, a chicken coop,a pallet fence,  a coffee table or a gazebo.
Free DIY Swing Set Plans
The Super Fun Playset
I really love this playset. It is unique in spite of following the basic swing plus slide set designs for its core. On the left side, there is a small clubhouse made out of the A-frame itself, and this set has four A-frames with equal spacing. There is a slide installed on one end and two swings on the other. Pallets and planks are used to striate the A-frames on the slide side while the frames on the swing side are left bare. This set would look even more amazing if it were painted with some peppy colors.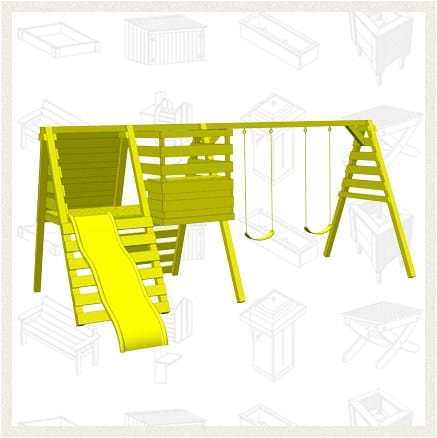 More details at yellawood.com
Gorgeous Swing Set For Adults
This is a gorgeous swing set on the list, and it is not just restricted to kids. This is a special swing set designed for adults to recall their childhood in and to relax. Its color scheme is simply beautiful, and it is impressively aesthetic to look at.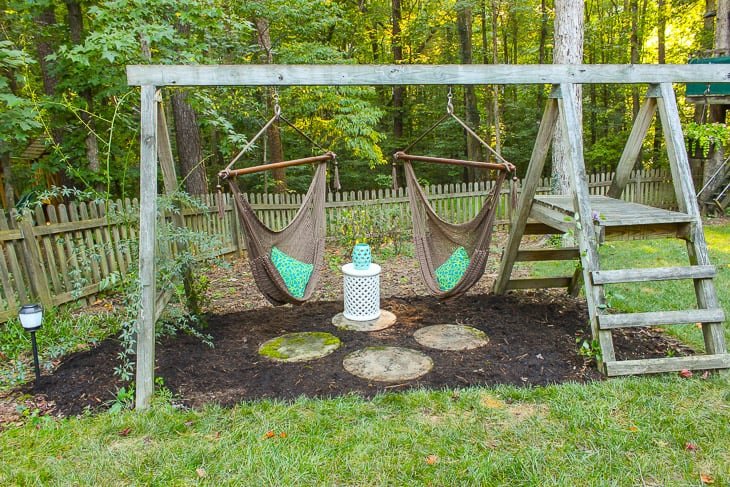 More details at prettyhandygirl.com
The Play Fort
Instead of adhering to traditional swing set or play set designs, this play set has built a mini-fort for kids. With a gabled roof and a small vaulted ceiling and high walled fencing around the clubhouse, this play fort provides kids with a slide to get back to the ground while having fun and has a ladder in the back. It is covered enough to shield from the sun, and its vaulted ceiling beam protrudes outside to work as a support for a tire swing. Painting this play fort is a good idea.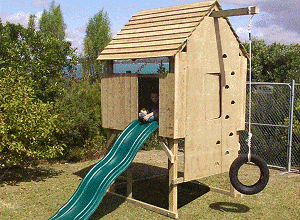 More details at buildeazy.com 
Easy Backyard Swings
This is a window shaped swing frame that makes use of just four beams and four hoisters to hang the swings from. It does not take any great effort to build this swing frame and you can either buy readymade swings or make them on your own using a sturdy material for the seats, some hooks and hoops and a whole lot of rope. What you can add to this swing to give it a personal touch is color and patterns to be painted on the frame. The devil is in the details, and you can have a lot of fun making them.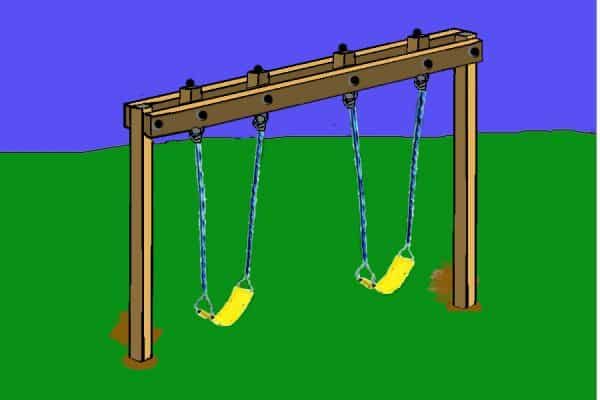 More details at howdyyadewit.blogspot.com
The Tire Swing Playset
This playset has all the essential components of a standard playset. It has a sandbox at the bottom of a moderately spacious clubhouse, with a slide attached to the clubhouse entrance. There is a ladder to get to the clubhouse, and the A-frame supports the swings. But, it is the swings that are different here and unorthodox though traditional. Instead of using the usual wooden plank or plastic seat swing, this playset chooses to have a pair of tire swings. Tire swings might not be popular today but they were all the rage back in the day, and there is no better way to reintroduce that nostalgia than to use them as the centerpieces of this playhouse.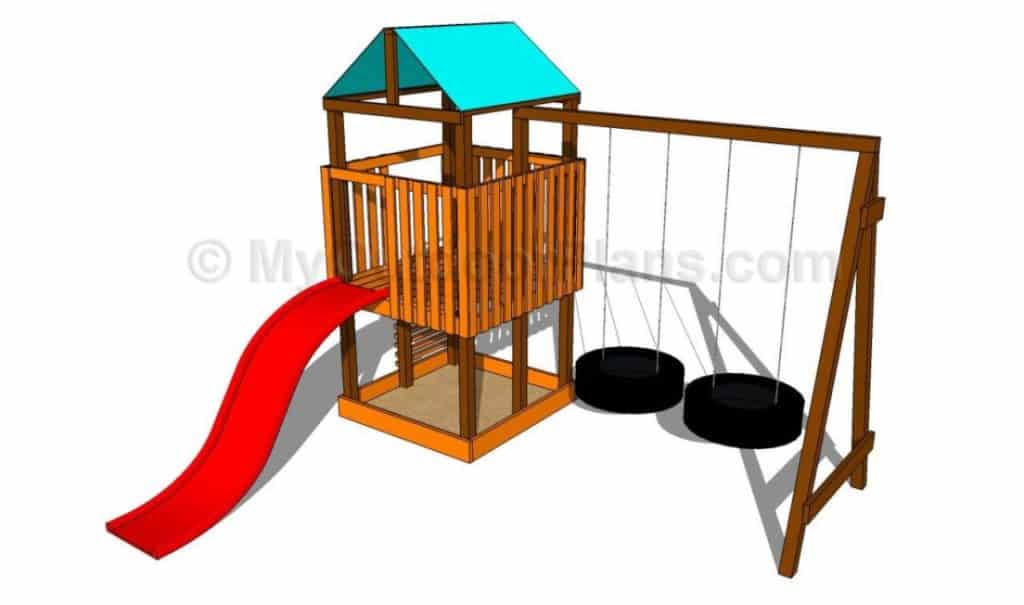 More details at myoutdoorplans.com 
The Backyard Play Structure
This pretty playground doesn't take much space but does offer a lot more in the same area. It has a trapeze bar installed on the outer side of the single A-frame which can also be used as a makeshift swing. On the inner side of the A-frame, there are two swings, while a baby swing is installed on a post connected to the clubhouse. The clubhouse itself has five platforms, a dizzying slide and a swing connected to a beam on its far end. This packed yet sufficient playset is also quite easy to make on your own.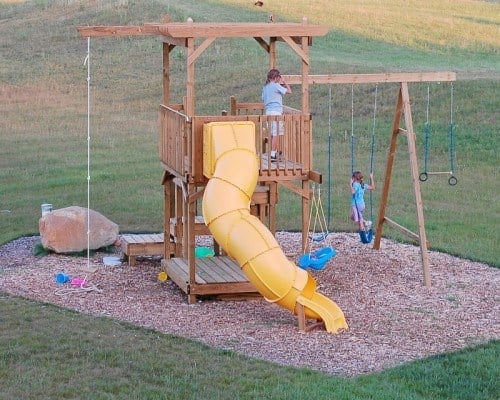 More details at howdididoit.com
The Wooden Swing Set
A simple swingset design with a slide and a ladder installed to the clubhouse, this can be made with a few days of hard work and with a thorough understanding of the plans. It is enough for more than a couple of kids to play in and has a trapeze bar for the ones with an adventurous flair.  You can add more life to this playset by coloring it or asking the kids to color it instead. That's surely a fun activity to partake in.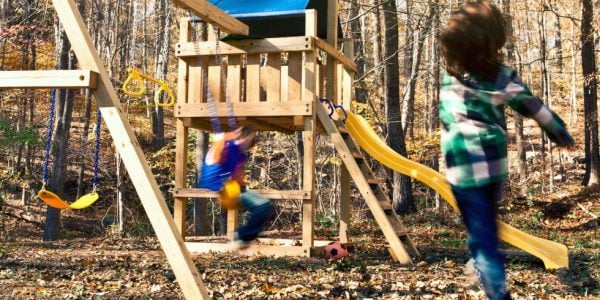 More details at popularmechanics.com
The Swing Set and Play House Combo
This swingset uses a basic design but upends it with a whole lot of style. The frames are accentuated, so are the railings and the steps. The top area is spacious enough for kids or even adults to sit inside and have a meal or sleep or read books. The color scheme is very appealing, and I love how there are various shades of blue used in a striated form to make this play area stand out. Everything about this set is lovely and worth making.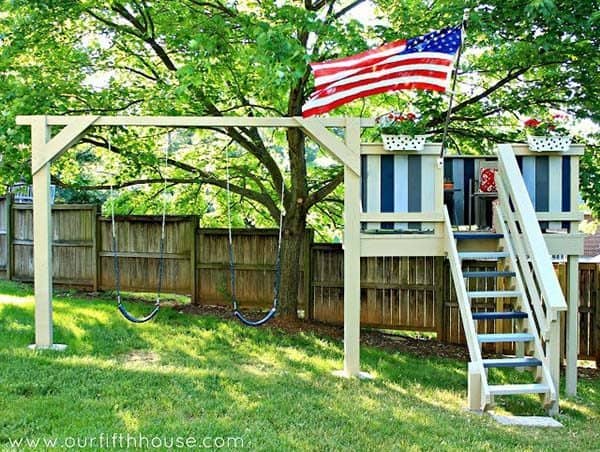 More details at ourfifthhouse.com
The Modern A-Frame Swing Set
A-frames look magical. There is something about A-frames that is grand, be it an A-frame used for vaulted ceilings or a swing set, and these A-frames are a real standout. Firstly, the color for this swingset is vibrant and very cool on the eyes. This shade of blue is a warm and soothing hue which goes well with its surroundings. Secondly, the horizontal wooden bars juxtaposed against a single vertical beam give a unique appeal to this swingset. I also love how the swings are so petite, plain yet so charming with their striking yellow color contrasting the blue of the swingset. Easy to make yet great to look at, you could give this one a shot.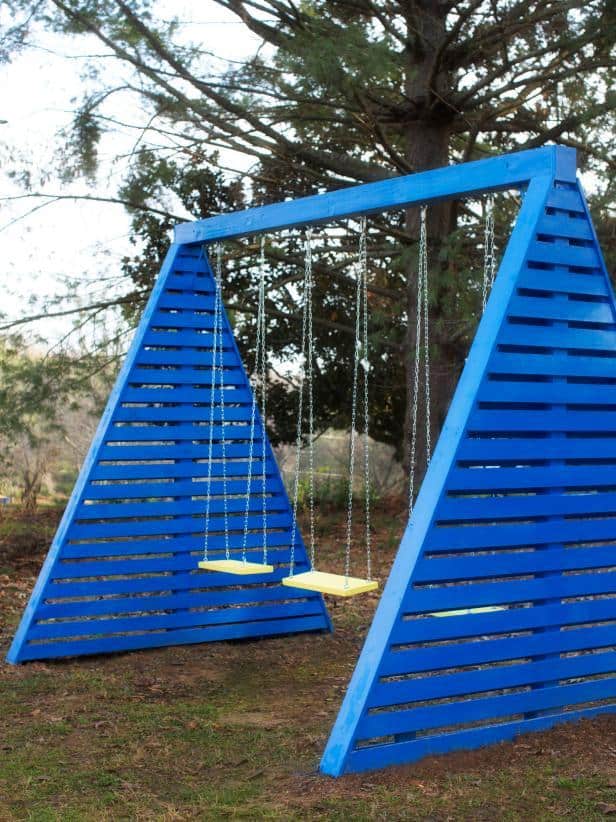 More details at hgtv.com
The Club House Swing Set
Every kid loves a clubhouse. Clubhouses are really cool and very special. They are like actual houses, yet much smaller but with all the coziness and prettiness required, in abundance! This particular clubhouse looks lovely and very charming, but it also has something that makes it a standout. This two-story clubhouse has an elaborate swing and slide set. On its right, it has an A-frame swing set with three sets of swings which are purchasable, and on the left, it has a great yellow slide which twists and turns enough to give kids a thrill and do it all over again, again and again! And you can make it all by yourself!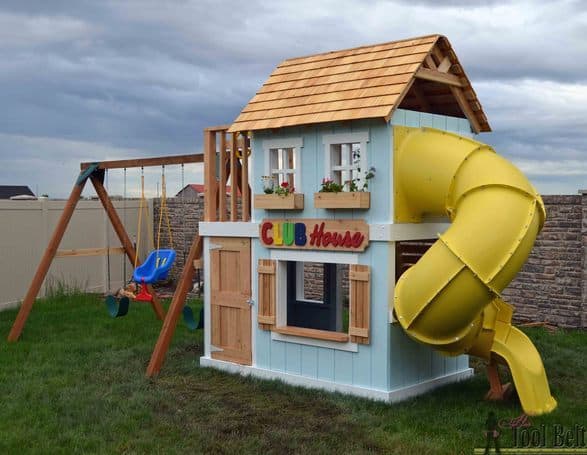 More details at ryobitools.com
The Homemade Playset
Parts of this playset resemble an outpost of a fort. I like how the terrace area of the playset that you need to access to get to the slide has large wooden boards for easily climbable steps. I like the wooden grills and the arrangement of them which makes them not only functional for security reasons but also aesthetically pleasing. The slide is premade and can be purchased. Besides this structure, the swingset stands freely, with a couple of swings hoisted on an A-frame structure for kids to swing on.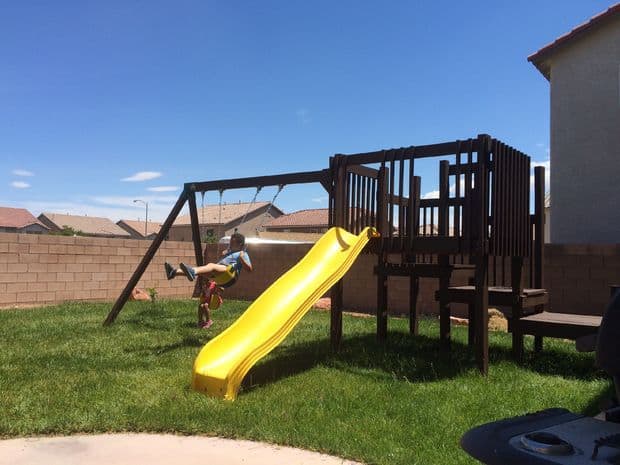 More details at instructables.com
The Stand Alone Swings
You don't always need a full-fledged playset in your backyard. And it is not always a requirement to build swings just for the kids. You too reserve the right to swing your tensions away and relish the experience, and you can do just that on a budget! This simple swing set comprises of a lovely frame and thin planks for swings. I love the accentuated ends of the frame which are very oriental in design. This does not take much space and can be made with an elementary knowledge of carpentry.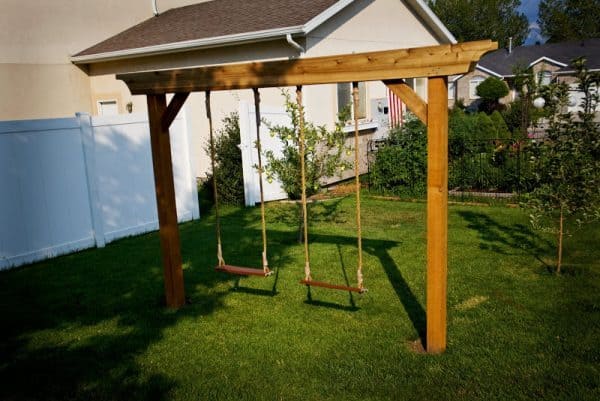 More details at manditremayne.blogspot.co.id 
The Simple Playground
Supported by two very large A-frames, this playground has nearly everything in it that other playsets do, but with the added twist of a refreshing new design. Between the frames is a huge sandbox and above it is a pretty big clubhouse space with a slide attached to get down quickly. A beam protrudes on either end of the clubhouse and has a swing hoisted on each end. This sturdy, well grilled and expansive swingset is a great option goes to with if you want to DIY a playset for your kids.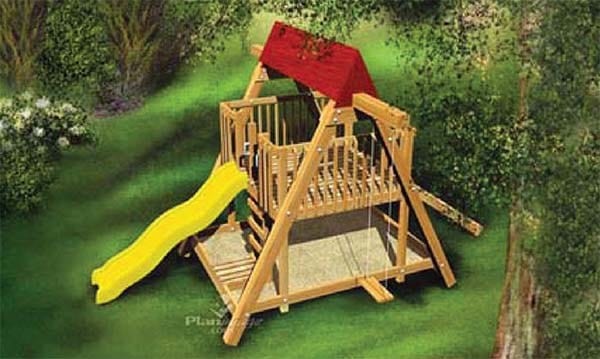 Full tutorials here via rona.ca
The Solar Swing Set
Another amazing way to combine fun and productivity in the best manner possible. This swing and play set uses the extra space it has on the gabled roof the clubhouse to install solar panels. As swing sets are set up in the backyard with a lot of sunlight on offer, attaching solar panels to the clubhouse helps you generate renewable electricity for your house and save on a lot of electricity expenditure. Moreover, it has a ladder and bridge that takes you directly to the clubhouse and helps you access the solar panels if you want.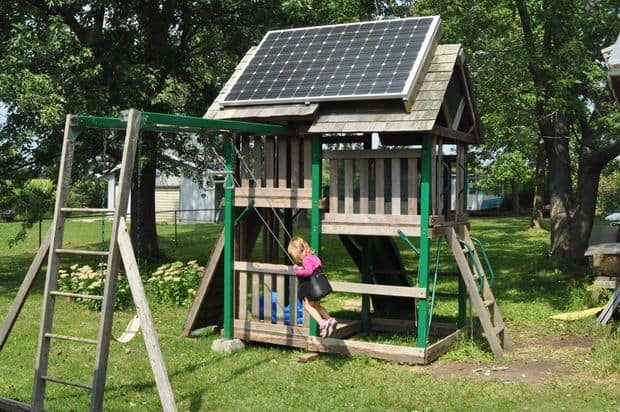 More details at instructables.com
The Swing Set That Goes To A Playhouse
I love how this particular swingset and playhouse design looks like. Firstly, this is way bigger than usual playhouses. Secondly, it has a clubhouse with a porch that looks like a fully furnished exterior of a real house. The A-frame is big enough to fit a few swings and a monkey bar. The area in the bottom can be used as a big sandbox. You can include a slide and perhaps even a small pool to relax in. Paint the clubhouse in any color you like and et voila! You have a brilliant playhouse set for your kids!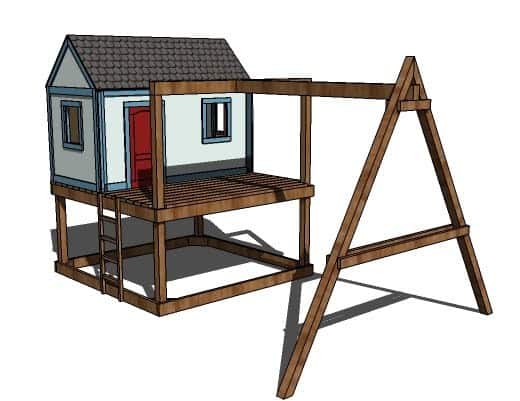 More details at ana-white.com 
The Simple Swing Set Plans
There isn't a shortage of do-it-yourself material on the internet for just about anything and everything. IT is one of the prime advantages of taking the how-to business from print to digital. Easy access to information is a boon. So, having a lot of basic swing set design plans for your perusal is never a bad thing. Rummage through these plans to choose a swing set of your liking and get onto the task of building a swing set for your kids or for yourself or both.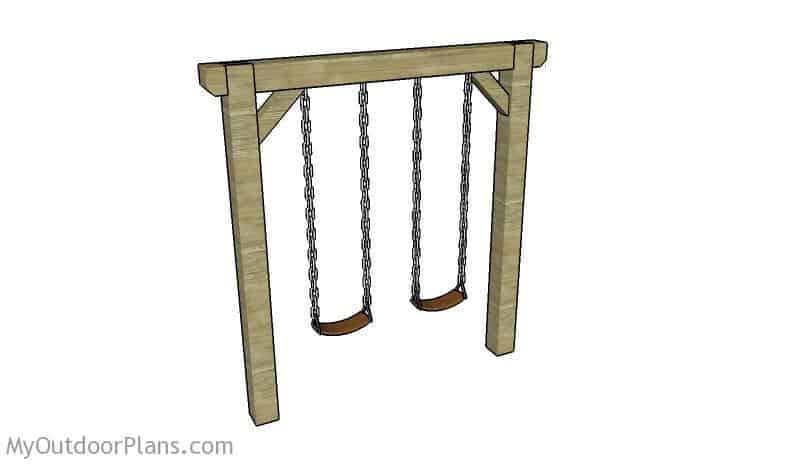 More details at myoutdoorplans.com 
The Swing Frame
The A-frame is the only part of a swingset to be in the spotlight for this DIY manual. Even though there are manuals that show you how to make big playsets, this particular one only focuses on making an A-frame swing and nothing more. In fact, it is simple in its concept and doable by those who haven't really ventured into this before. This A-frame swing building guide helps you make just a swing and nothing else, and sometimes you don't ask for more.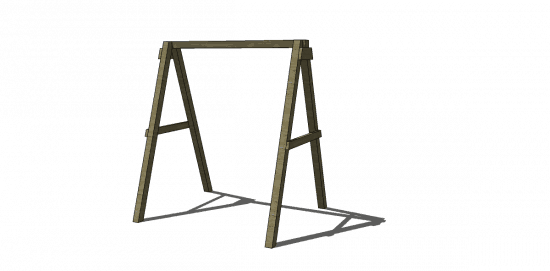 More details at thedesignconfidential.com 
The Mega Outdoor Jungle Gym
Jungle gyms are not just for those who want to join the forces in the future or be part of a boy or girl scout club. They are neat designs that encourage one to push beyond the limits and accustom the body to react to different physically demanding situations with reflex muscle memory. These jungle gyms are, hence, a great way to get your kids to exercise and be outdoors playing. This particular one has a few swings, a slide, a ladder and a monkey bar.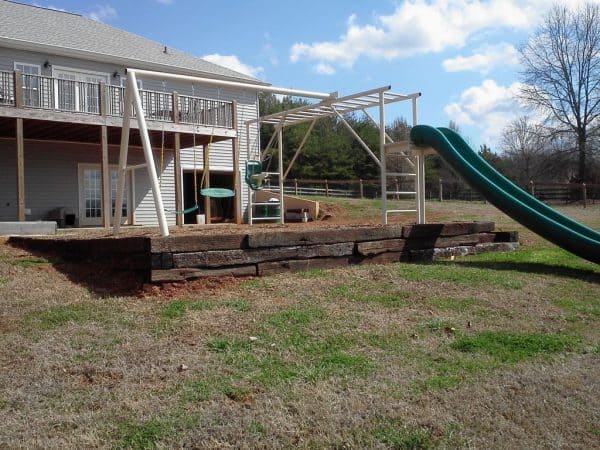 More details at instructables.com
Free Standing A-Frame Swing Set
This A-frame swing set is large. It has three swings hanging by the beam. Two swings are simple seater swings while the third one on the extreme left-hand side is netted and square and has a big standing area. It is great for the kids to swing in, with the rush of swinging experienced while standing instead of sitting. If you extend the beam on both sides beyond the A-frames, you can include more swings or if you want you can create more space between the frames too.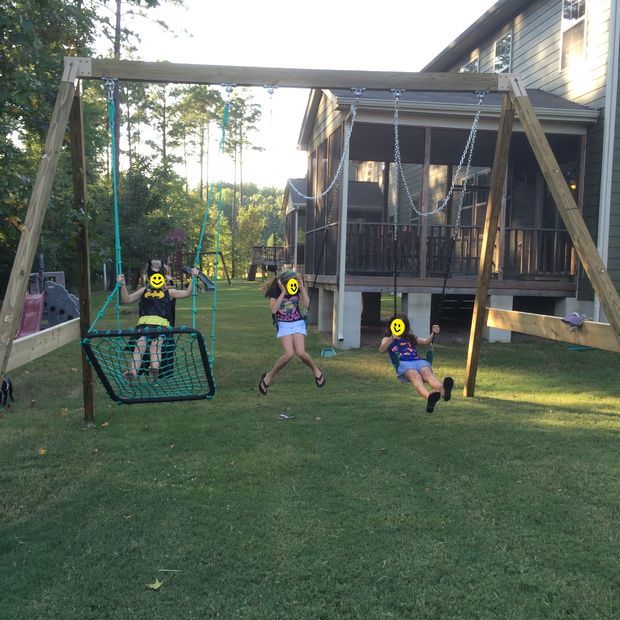 More details at instructables.com
The Airplane Swing
Here's something unusual, but not unpleasant. Take away the elaborate swingsets, playsets and slide sets and replace them with a space saving, money saving and incredibly unique airplane swing. Great for toddlers when made in a small size, but also for kids of older ages with a bigger size, this airplane swing is easy to make and is extremely fun. With enough momentum, you can swing this airplane to create a magical feeling of flying a plane, and you don't need a hanger to store it when you land!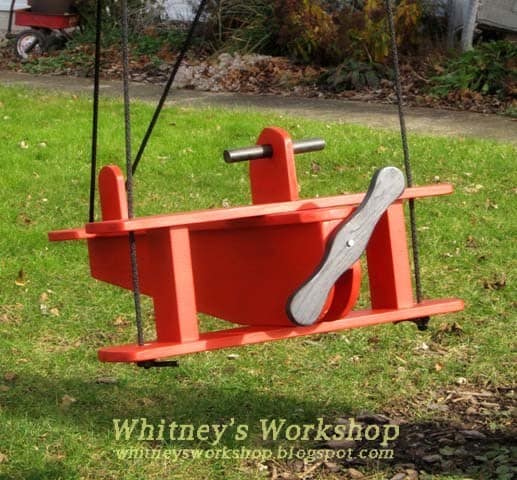 More details at ana-white.com 
The Dream Outdoor Wood Playset
I want this playset in my backyard, and yes I'm not a child anymore. It's just such a stunning installation piece to have. I can imagine the sparks of imagination it creates for the children who play in this. It has two small rooms, one porch, one set of stairs, a fenced bridge, two terraces and a winding swing. It looks neat and has two swings hanging under the bridge. It seems almost necessary to build and educational for any child's formative grasp of adventure. To top it off, it looks like a small fortress, and that is bound to inspire them to draw perhaps and write stories of grand designs!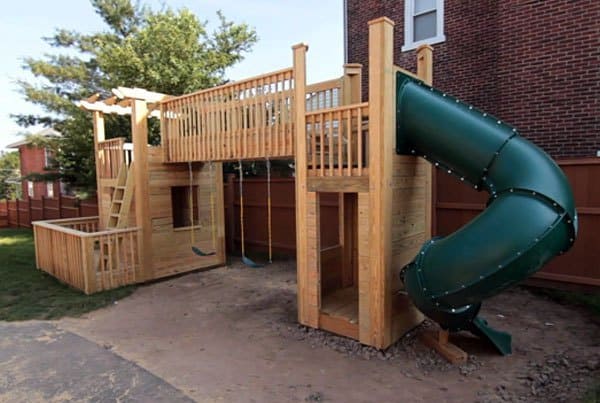 More details at builtbykids.com 
The DIY Playground
A playset design that looks pretty standard but has the option of being customized, it can be made with the help of this very detailed playset building guide. The instructions are easy to follow and comprehensive and will help you complete building this amazing playset in short time. It is multipurpose and has a trapeze bar, along with a swing and a slide. The pictures included in this fantastic how-to guide make your task easier because the visual reference is simple to follow and understand the process much better.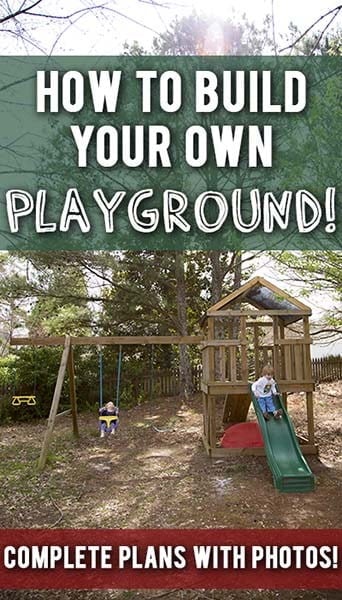 More details at viewalongtheway.com 
The Wooden Playset Project
An A-frame, sandbox, clubhouse, slide and swing set, this is comprehensive and satisfactory. I like the small vaulted ceiling on the top of the clubhouse area and the stairs on the side. There are a total of five swings, with one double seater swing and a backrest swing on either side of the A-frame. The sandbox is big enough for a few kids to fit in and the clubhouse above has a bench to sit on. The slide is big and looks perfectly wonky to have fun sliding on it.
More details at hot4cad.com
The Electric Swing Set
This is genius. Swing sets are all fun and games until someone decides to elevate them to a new level of greatness. This man decided to do just that with this otherwise simple, A-frame, metal swing set. Using an elaborate yet simple mechanism to generate electricity just by swinging in the swing, this man has figured out a healthy and easy way to renew your electricity and power stuff in the house. So, if you have kids who are obsessed with swings, have them swing on this particular electricity generating swing and earn bonus cookie points for their efforts.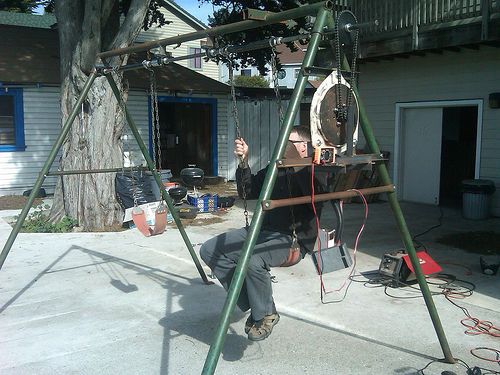 More details at instructables.com 
Swing Set Plans
What if you don't want to follow visual cues, references and how-to blog posts to make your swing set? What if you want to make the swing set from scratch with minute attention to detail and a professional hand in the process of making it? For this purpose, these swing set plans come really handy. These blueprints are more than enough for you to get going with your swing set construction project. They are clear and to the point and with a little focus are pretty much comprehensible.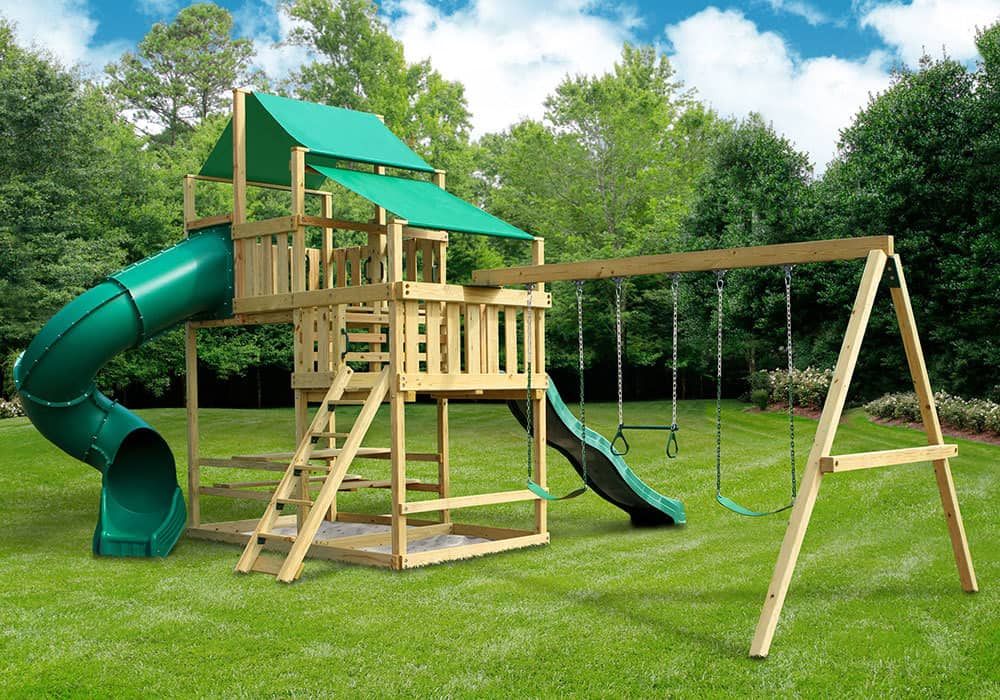 More details at ag.ndsu.edu 
Plywood Play Swings
These adorable looking plywood swings are made out of simple plywood boards, cut and shaped into lovely looking swings and painted to resemble flowers, planes and other stuff that your kids will really like.
More details at dailyfix.co.za
The Swing Set Plans
I love detailed plans. They are extremely precise and give me a neat idea of what I need to do. Plus, plans are lovely to look at. Somehow, architectural elements and furniture look great on paper and have a charm of their own. I found that this do-it yourself swing set plans are just what I needed to build a sturdy swing set for my backyard. Though they are a tad complex for the inexperienced maker, with enough time spent in understanding and with a couple of helping hands, you can build swing sets shown in these plans.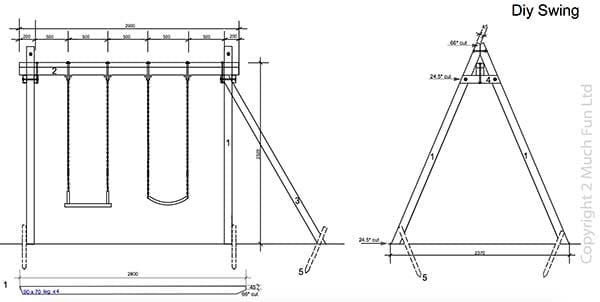 More details at playground-equipment.co.nz 
The Big Tire Swing Playset
Apart from having two tire swings in this otherwise standard playset, the A-frame beam is extended a little to accommodate an additional pallet swing. What this playhouse also has is a single sloping roof for the clubhouse instead of a standard gabled roof. There are always variations for any design and swingsets, of course, are no strangers to this rule. You can add more elements to it if you are looking for something a little more unique than usual. After all, it's all about the imagination.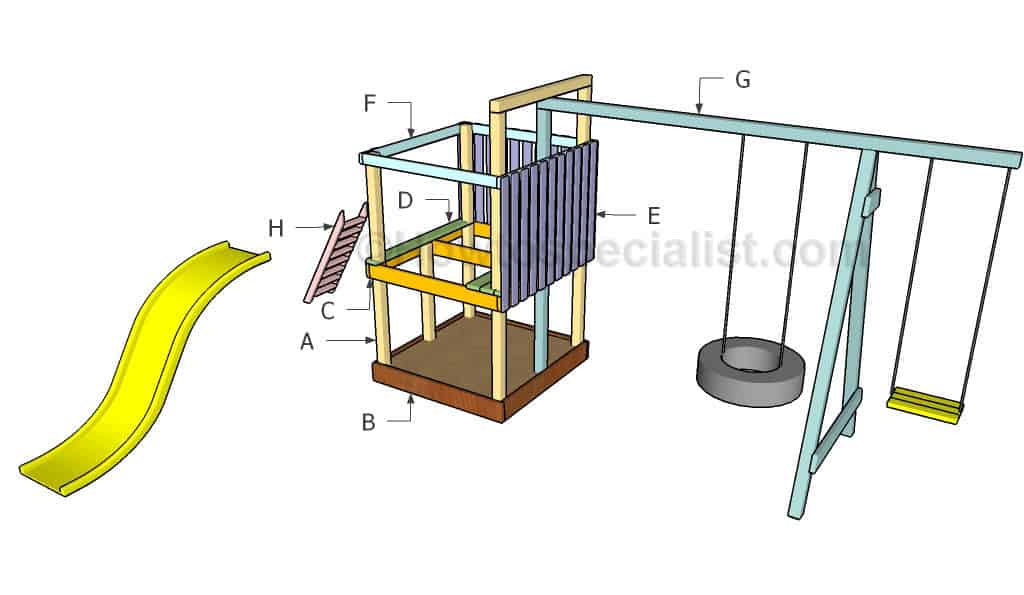 More details at howtospecialist.com
The DIY Tree Swing
I love this swing. It is not just a swing that is installed to provide what it is meant to; it also is very aesthetically appealing. This petite swing has a single and simply carved white seat but two sets of A-frame ropes for the support that have a beautiful golden sheen, interrupted yet linked by two metallic links and hoisted by two sets of ropes that go all the way up to the tree, with a slim, rectangular plank attached for support. It stands out and can be used by both kids and adults. It is a pretty piece to include to your outdoor furniture.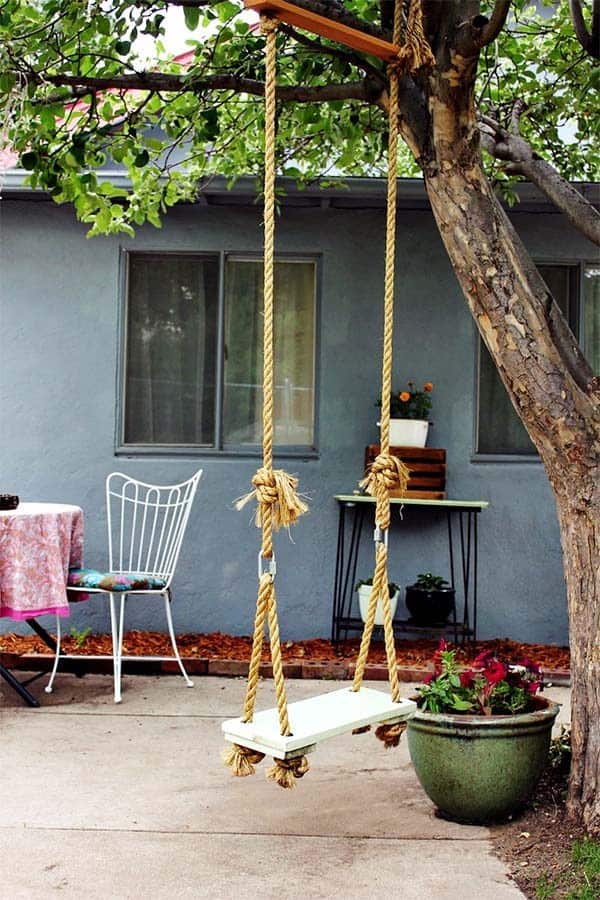 More details at abeautifulmess.com 
The Simple Wooden Swing Set
Simplicity does not always equate to blandness, because simplicity works wonders sometimes. This swing is for people who do not want or cannot have an elaborate swing set installed in their backyard. It is basic and doesn't even require too many instructions to make it. It has two poles planted in the ground for the frame and a top piece for the swings to hang from. There is enough mud dug up and free of rocks and stones for kids to swing and fall on without getting hurt. The shocking red color is a real standout and is a welcome sight. The swings are made out of two wooden boards and ropes attached to them on either side and then hoisted to the top end of the frame.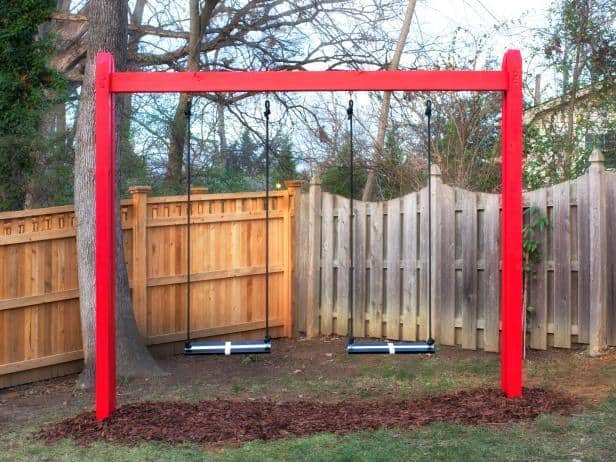 More details at hgtv.com 
The DIY Ultimate Swing Set
I like how architecture can sometimes look like installation art, and be breathtaking in the process. This particular swing set is one such piece that though appears simple in its make, is stunning to look at. It is a fully functional swing set with a rope bridge, a couple of swings, climbing sets, and slides. What's great is that this swing set can be easily made by you! Just follow these instructions and get your kids to help you out and it will make for a rewarding family experience.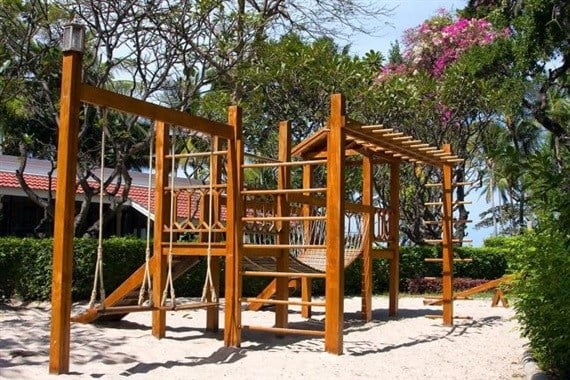 More details at blackanddecker.com
The DIY Swing Set
This is a neat swingset. It has a slide section with a ramp instead of stairs to climb. The roof area of the slide set is pretty enclosed apart from the ramp and the slide openings. It is amply high and supports the swingset beside it. The swingset is supported by a single A-frame, apart from the slide section supporting the beam. There are two swings installed in the larger area of the swingset and a third one on the other side of the A-frame partition. Here is also a bench and a seating area below the slide platform for the kids to rest.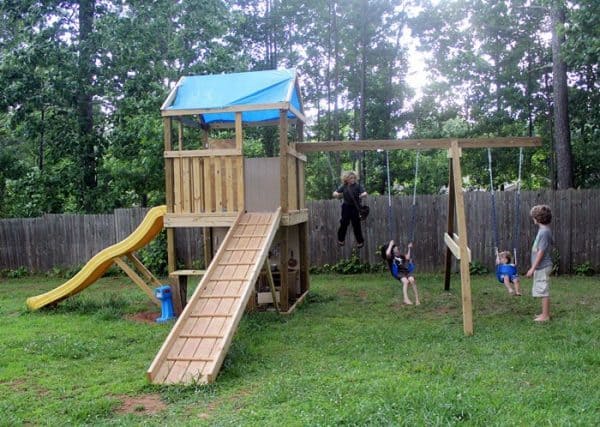 More details at boxycolonial.com 
The Hanging Tire Swing
Sometimes, less is more, and the least that you can invest in making a swing is by using an old car tire and turning it into a swing for the kids to have amazing fun with. I like tire swings. They are so easy to make, and cost you practically nothing. They were really popular back in the day due to the ease with which they can be made and perhaps children today deserve a chance to discover just how fun tire swings are and make the kind of memories you did growing up.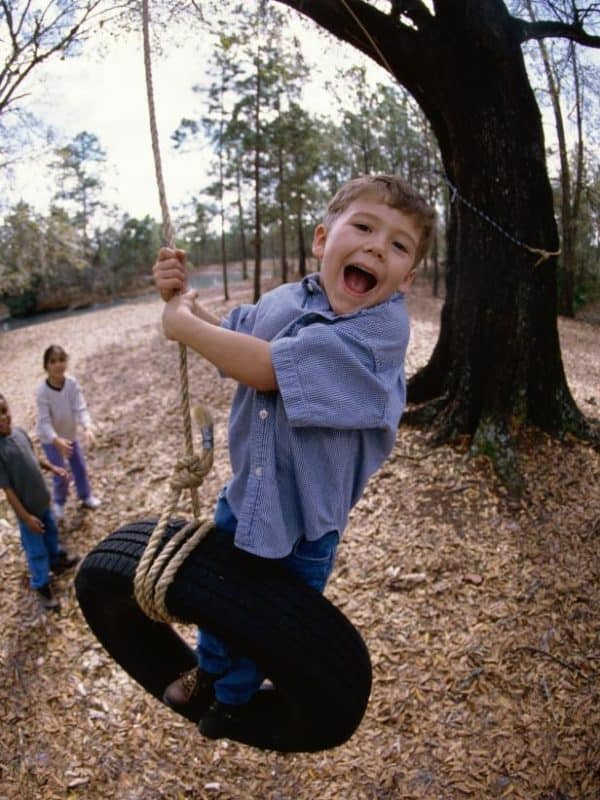 More details at diynetwork.com 
The Rock Wall Swing Set
Here is a playset that offers something new for you and your kids to try your hand at. Accompanying a single seater swing set is a rock climbing board. Taking advantage of the A-frame and the angle it provides, this rock climbing board makes it really fun for kids to rock climb. The height is low enough to offer a safe landing in case someone slips or loses balances and falls on the ground and the rock knobs are easy to hold. You could add a small mattress at the bottom for extra security, and yes you can make this set on your own.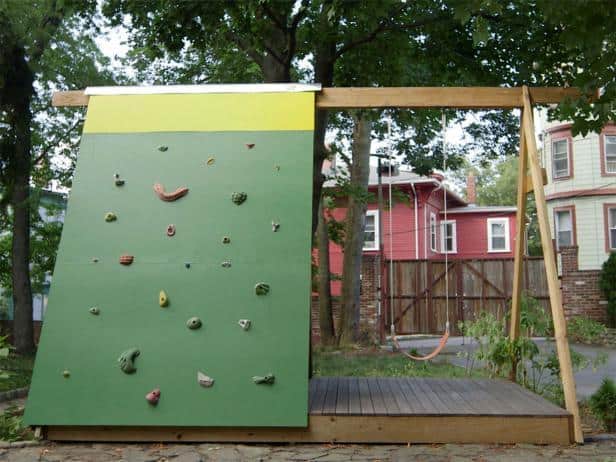 More details at diynetwork.com 
The DIY Friendly Swing Set
I really love how this swing set looks like. The A-frame resembles a hut and is very stylish though simple. The swing set it is equipped with multiple options for children to choose from, and of course, try out one by one. There is a trapeze bar in the middle, which is always really fun though giddying sometimes. Flanking it are a seesaw and a swing on either side. Of course, you will need to buy the swing, trapeze bar, and the seesaw, but everything else can be easily made by you.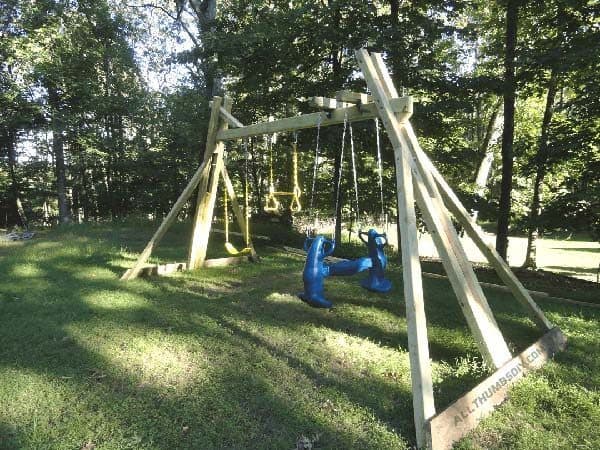 More details at allthumbsdiy.com 
The DIY Backyard Swing Set
A basic swingset design but one that is smaller than most, this swingset has two swings and one trapeze bar on either side of the A-frame. The clubhouse area is really small and has a small ladder and a slide to climb up to it and get down from it. You can add your own touch to this DIY swing set and perhaps color it to make it stand out from the rest. The sandbox in the bottom can be retrofitted to include something more unique. As for what that could be, the choice rests entirely in your hands.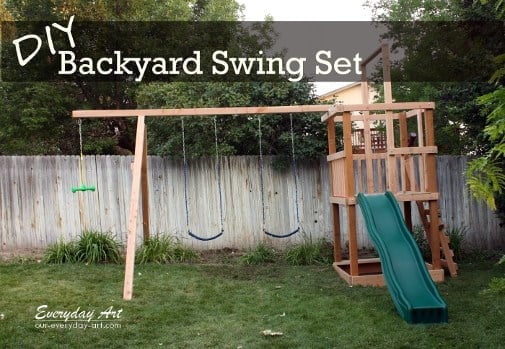 More details at our-everyday-art.com 
Apart from elaborate swing sets, there are also small swings for kids that are pretty creative and are easy and inexpensive to make, and also save a lot of space. Here are some really cool and simple designs for you to choose from.
Low-Height Swing Set
This is an extremely simple swing set designed for toddlers. Having a near ground level height, it is safe for toddlers to swing in, all the while making them feel happy with this colorful and green fabric. A pretty simple DIY that won't take too much of your time, it is also pretty cheap.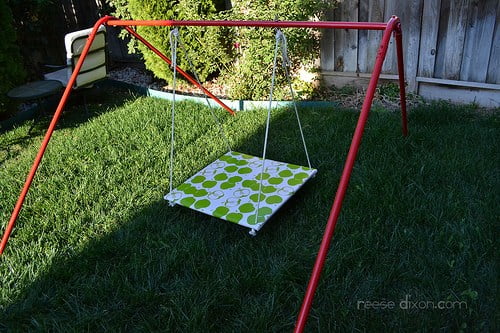 More details at reesedixon.com 
Skateboard Surf Swing
A skateboard swing sounds like a really super cool idea. Remove the wheels, and it looks like a miniature surfboard. So, your kids will be surfing, but on air! The how-to of it is pretty simple, and you can build it in no time.
More details at wikihow.com 
Bucket Swing
Turning a bucket into a swing seems like a simple job, but this particular bucket swing has a very professional seeming shape that has been very neatly cut. So, following the tutorial is a bit essential if you want to make this one for your kids.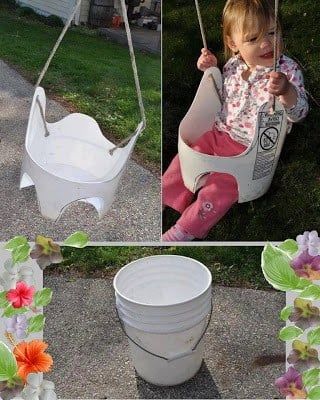 More details at bellartatelier.blogspot.com.tr 
Broken Chair DIY Swing
Turning an old and broken chair into a swing sounds like a pretty cool idea. It looks lovely and light and can be made in absolutely no time! Just follow these simple pictorial images.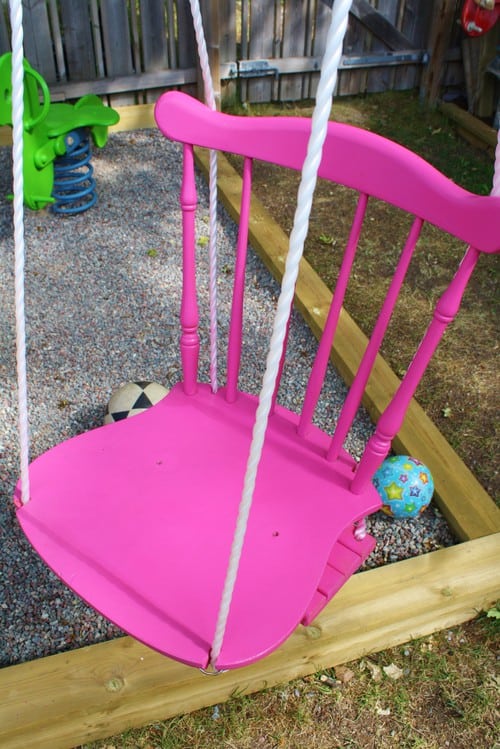 More details at rustaupp.blogg.se 
Quick To Make Tire Swing
This is as simple as it gets. All you need is a car tire with its other components still attached and then fix a rope to it which will then be hoisted on a tree. Extremely affordable, time-saving and simple to make, and once you follow this heavy visual guide, you'll be ready with this swing in no time.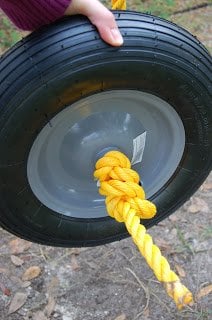 More details at survivingateacherssalary.com
This is one of the best-looking swings out there. It looks pretty complex at first but gets simpler as you read through it. Though this particular one is readymade and not really a DIY, you can make a similar one on your own once you compartmentalize the parts you need to make. It does require a little craftsmanship, but hey, a challenge isn't a bad thing, is it?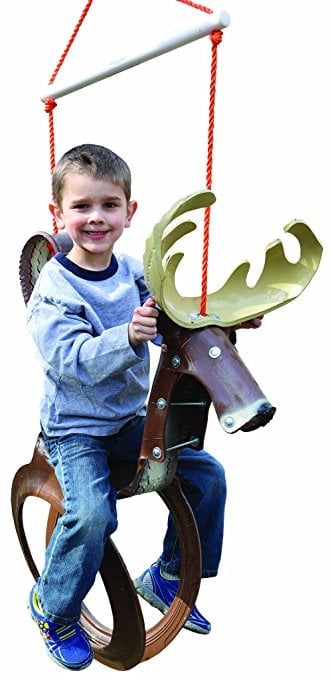 More details at  Amazon 
The Handsome Husband Tire Swing
This tire twister swing made by Handsome Husband is pretty simple, yet the result is extremely fun. There isn't much that you need to do, apart from some linking and drilling and hoisting, but the instructions cover the part of doing the job for you.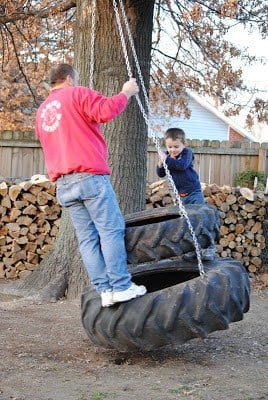 More details at stonecottageadventures.com
Painted Tire Swings
This tire swing was given a very charming makeover. Instead of looking drab and dull and not at all outstanding, this tire swing was painted like a ladybug and turned attractive for the kids and at the same time doesn't give the appearance of a tire. You can paint other things on the tire instead of a ladybug, and you'll have vibrant swings for the kids in no time.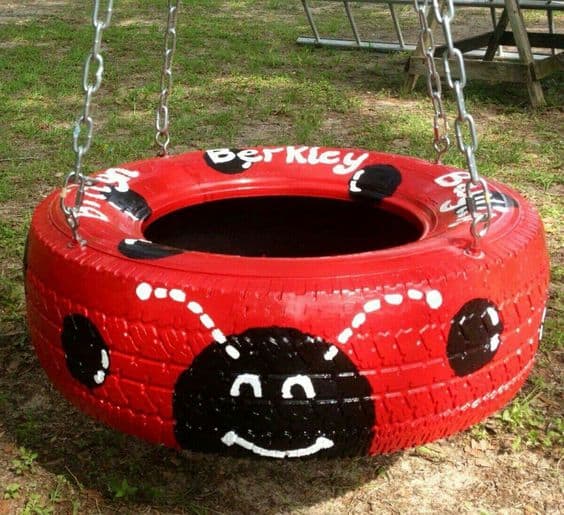 Source Unknown
Multiple Tire Swings
Multiple tire swings are awesome and fun. They look unique and are packed from all sides, while also giving your children and their friends enough standing space that more than one person can swing at a single time. They also have a balanced weight and pretty easy to make.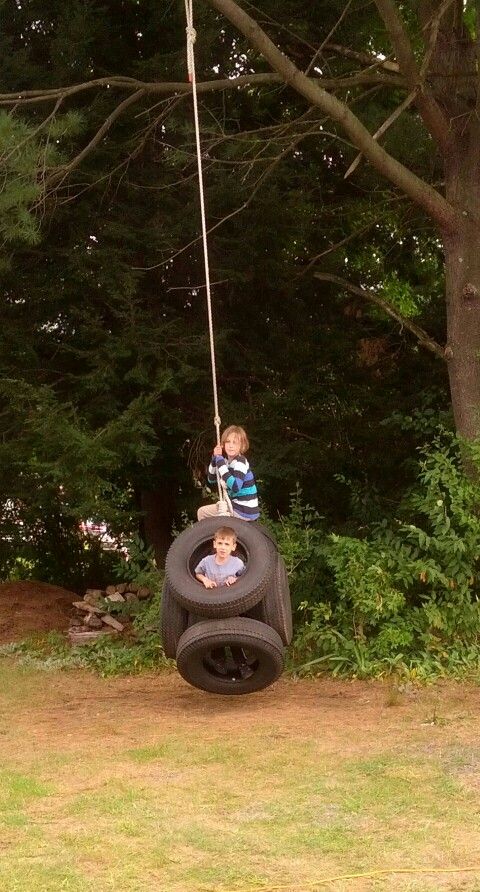 More details at pinterest.com 
Seat Tire Swing
This tire swing was made to look like a seat, and it is pretty cool! It isn't rocket-science, and you can set up this swing in no time. Even though the site that shows you how to make this swing is in German, you can make out the process with the visual references provided in the guide.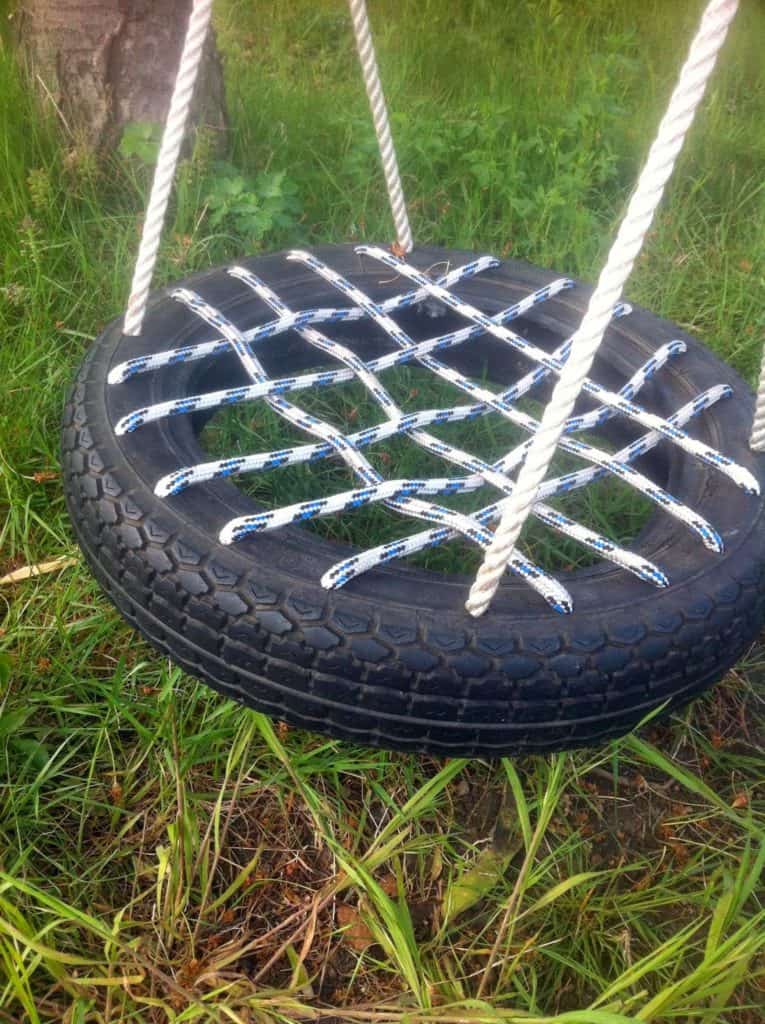 More details at ilsesenkel.blogspot.de 
Creative DIY Tire Swings
There is a whole lot of tire DIY Swing Set Plans featured on this blog. You wouldn't have known there could be so many different types of swings you could make from tires. And none of them look any more difficult than elementary building.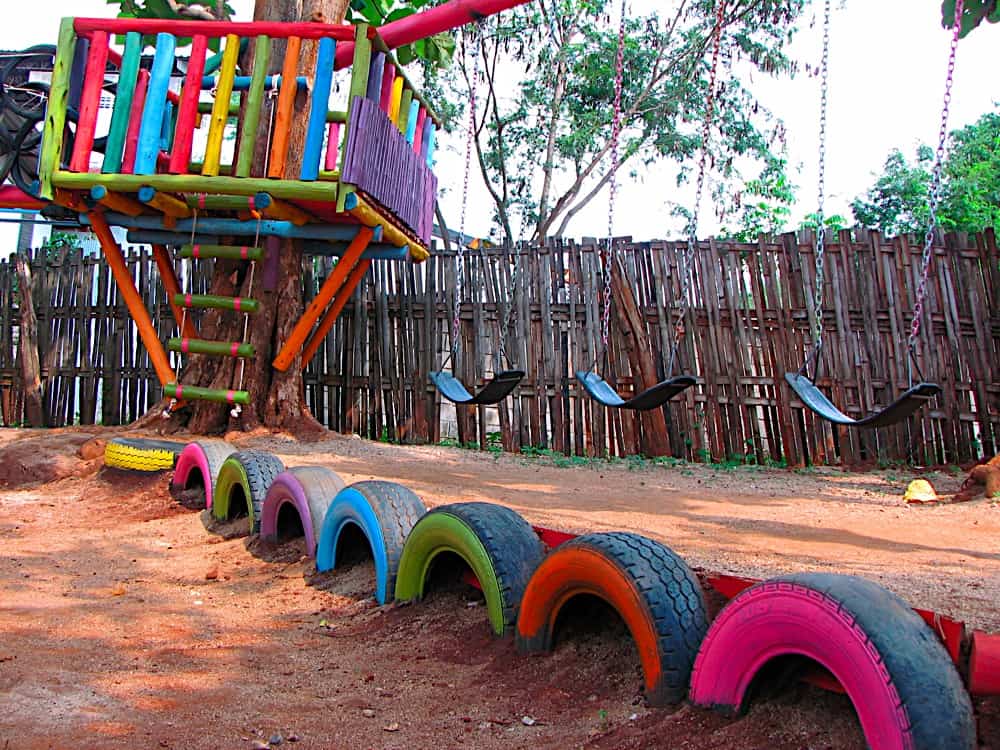 More details at plus.google.com
So, which DIY Swing Set Plans do you think you can go for? There are a lot of them to choose from! Some are really beautiful, and some very practical and cheap to make. In the end, it depends on the space, time, and budget you have to create a play area for your kids.
Related Articles
30 Portable Chicken Coop Plans You Can Easily Move
Barndominium 101 | Floor Plans, Pricing Guide & Pictures
43 Free DIY Playhouse Plans That Children & Parents Alike Will Love
57 DIY Chicken Coop Plans in Easy to Build Tutorials – 100% FREE
49 FREE DIY Router Table Plans For an Epic Home Workshop
43 DIY Duck Houses Plans and Duck Coop Plans to Build Now
57 DIY Bookshelf Plans and Ideas For Healthy Home Libraries
163 Free DIY Pole Barn Plans and Designs That You Can Build Easily
37 Free DIY Tiny House Plans for a Happy & Peaceful Life In Nature
27 Insanely Cool DIY Rocket Stove Plans for Cooking With Wood
39 FREE DIY Bat House Plans to Shelter the Natural Pest Control
19 Adorable Free Cat Tower Plans For Your Furry Friend
23 Awesome Free Deer Stand Plans You Can Start Right Now
23 FREE Detailed DIY Garage Plans With Instructions To Actually Build
13 Epic Free Rabbit Hutch Plans You Can Download & Build Today
101 Simple Free DIY Coffee Table Plans