In a hectic world where everything is digital and online, having a quiet time alone with a favorite book is luxurious to say the least. There are many people who would love to add a reading nook in their homes but have little to no idea on how they would like their reading nook to look like. A reading nook is a particular part of a home where a person will find comfort and quiet while having a great time with a book or two, and there are a lot of designs that can fit any style of a home.
surrounded by all the precious books
A reading nook is meant to have enough space for all the books that a person will and have collected. The more space for books, the better! This is why this reading nook is just as perfect as it can be since it has several shelves for a large collection of books.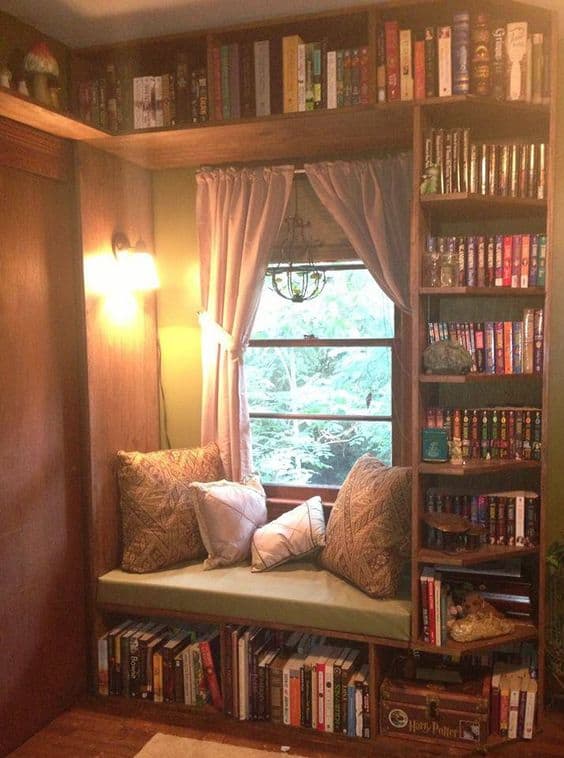 hidden chamber of comfort
Reading nooks are often in an open space, besides a large window to allow natural light in. However, open windows may not be available for some homes, and noise can be a nuisance. This hidden reading nook can prevent noise, provide the comfort of books without the noise or any other disturbance.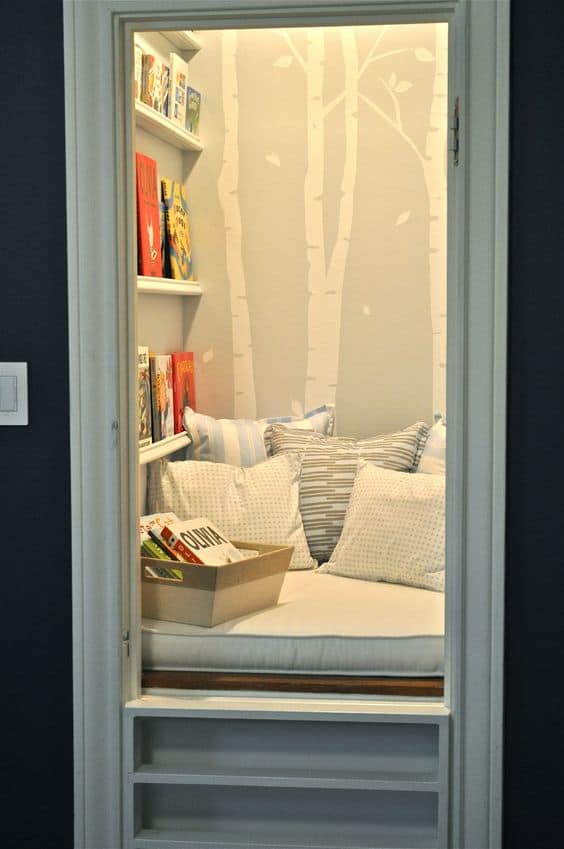 a cozy chair and steampunk lamp
A cozy, classic upholstered couch is never a bad mix with a steampunk floor lamp. Add a lovely side table to hold the books and comfortable pillows and have a personal reading nook that fits any small corner of the home.
the sunniest spot of all
Reading needs an ample amount of light and is necessary for a reading nook. Choosing the sunniest part of the home and making it a reading nook is perfect.  A couch that complements the color of the wall and usually in neutral colors is ideal for this type of reading nook.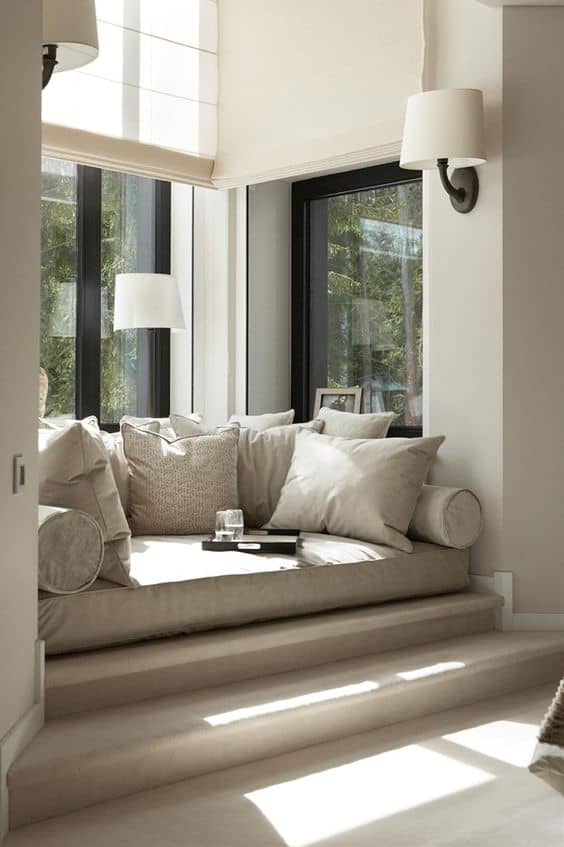 lovely  blue bench for a perfect reading nook
Creating a nook does not mean spending money for a small space of the house. Repurposing old furniture can be a perfect option for people who want to achieve the best reading nook bench, complete with storage for books. The use of light-colored finishings can even make the reading nook bench a lovely place to stay on for hours.
canopy spot for intense reading sessions
For homes that do not have much space, setting up a  canopy for a makeshift reading nook is also a lovely idea. Using dainty fairy lights will help the nook stand out from the rest of the room. The canopy even gives a little more privacy for a person than other designs.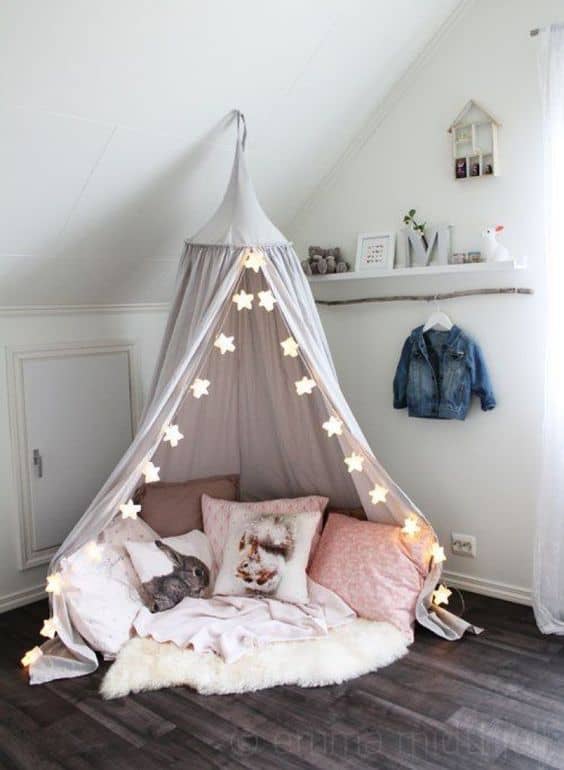 using the best part of the Attic
Attics can either become a room or a storage area that accumulates dust. The attic is also a place where the noise can be minimal and the light that comes in is abundant. Building a reading nook in the attic using pallet wood and cozy country pillows will be a great option rather than keeping the attic just as a storage area.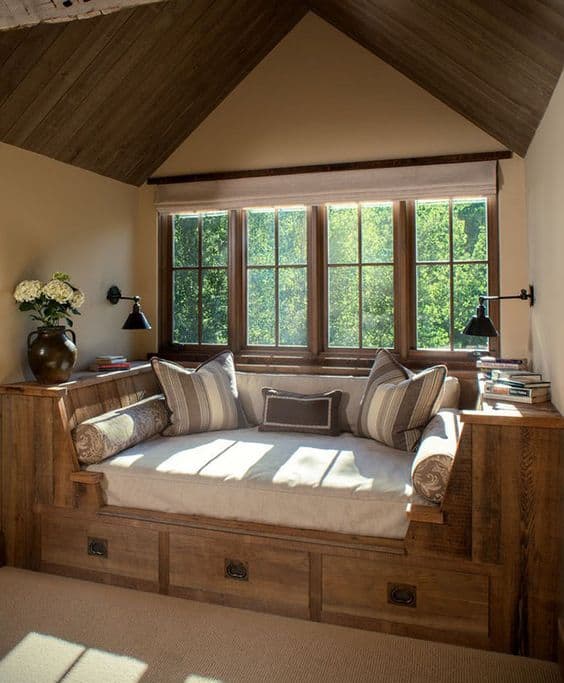 suspended pallet table for books and coffee
Pallet wood is useful in many ways, and using it in a creative way is the best way to go. This suspended table is perfect for an unique reading nook. The suspended pallet table is big and strong enough to hold books, drinks and other items and convenient enough for anyone who will use it.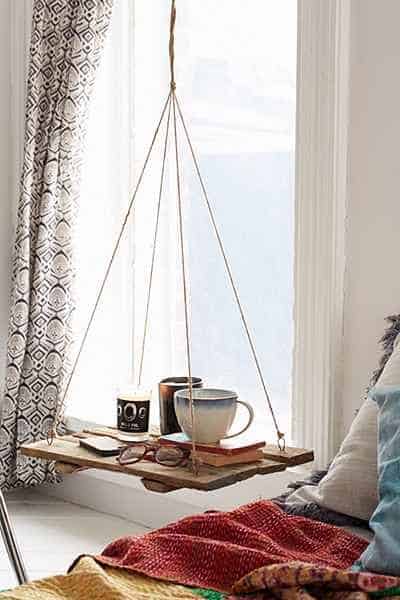 winter worthy reading nook
Having a reading nook this cozy, with the right color and winter  plants to add the right mood will make anyone grab a cup of hot chocolate or coffee in the cold winter days. This setup is also very flexible since changing the flowers and the pillows can easily make it ready for warm, summer days.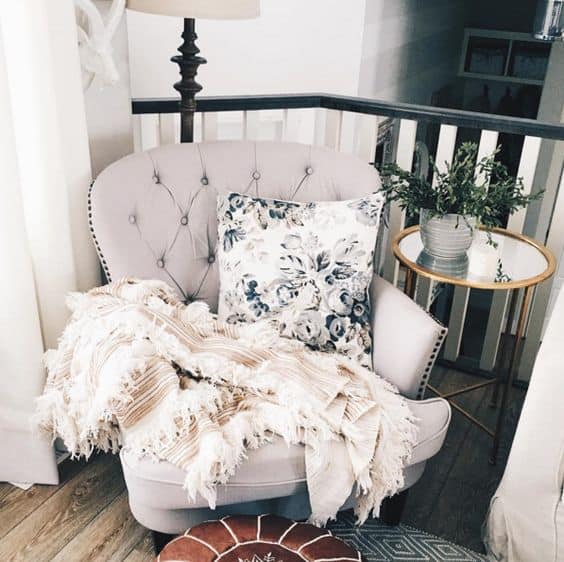 the best things in life in one pillow
People  want to have the perfect accessory in their reading nooks, like this witty pillow. It is simple but says all the great things in life in simple print. The white pillow and black print also go well with any design of the reading nook.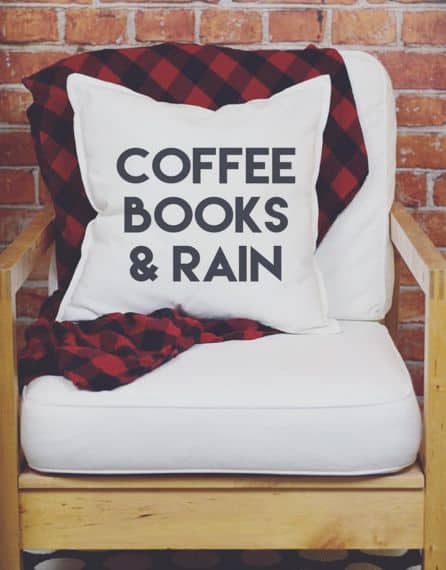 lovely suspended rattan cocoon
While benches and couches are lovely as a reading nook, cocoon chairs are also very desirable since comfort is part of it and cocoon chairs are aesthetically beautiful. If a regular cocoon chair are stunning enough, imagine having a suspended one and with lovely patterns. Add colorful pillows, a cozy blanket and have a reading nook that can make anyone want to sit and read.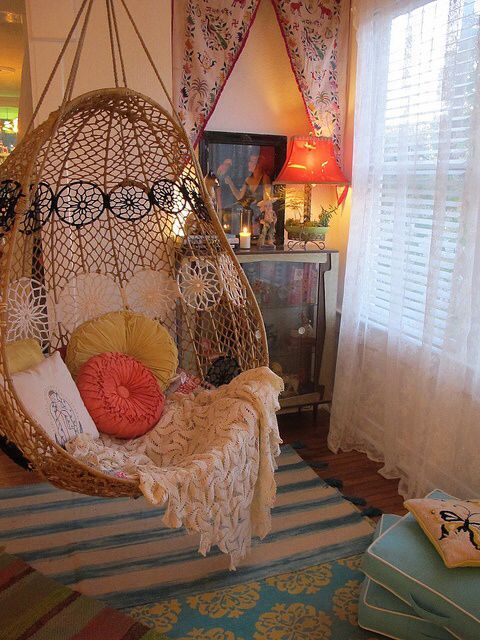 a mix of white and gray
While many will say white and gray are just plain boring, this reading nook setup surely shows otherwise. The soft white drapery makes a perfect background for the gray pillows and stuff toy. Kids will not find this design boring and will probably want to spend time reading, and snoozing in this cozy little place.
lovely idea of maximizing space
The space under the stairs often gets left unused or just used for storing knick knacks, but making it into a reading nook is one idea that can be a better option to maximize space. It can be fixed with the right light, a little decor made with love and a cozy couch and earthy tone pillows and you have a reading nook that even kids will love.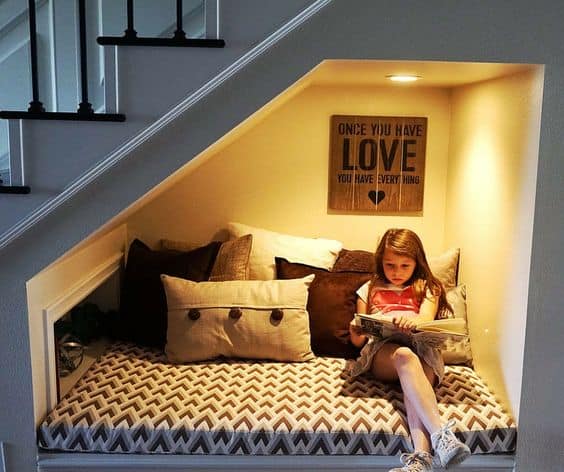 warm place to fight the cold winter
Getting all warm and cozy for winter  also means getting the right book to spend time with. This cozy chair will entice any winter and book lover to just sit for hours. The soft candle light complements the drapes and the autumn look of the whole chic setup.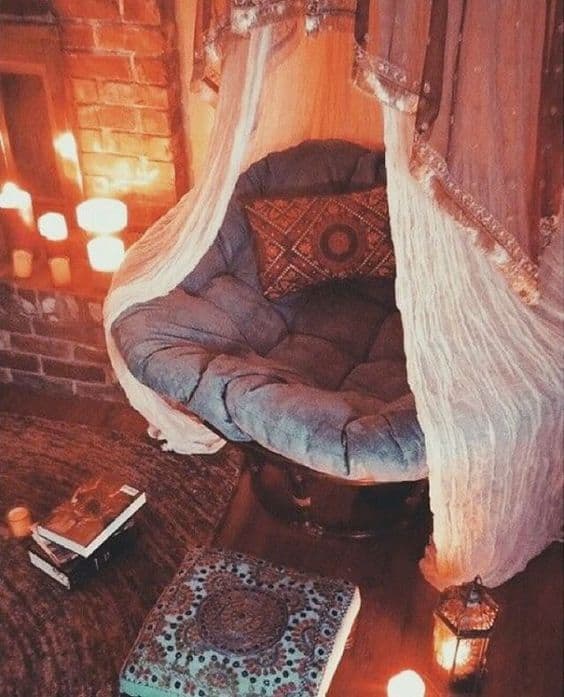 rustic reading nook with colorful pillows
Rustic home settings certainly deserve a rustic reading nook. The earthly tone is enough to get this cozy nook the right appeal for lovers of rustic design. The colorful pillows and couch upholstery are refreshing to the eyes and pop out from the rest of the design.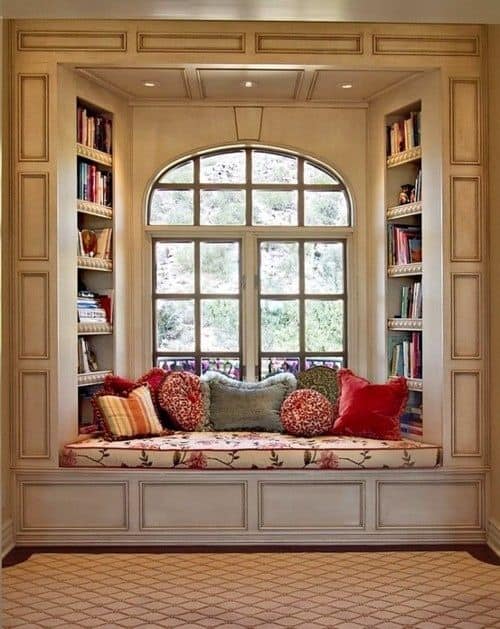 dreamy corner for readers
Kids and young adults will definitely love this whimsical reading nook. The dainty fairy lights highlight the DIY canopy made with soft drapes. The big teddy bear is enough to find this small area a cozy place to spend hours reading books.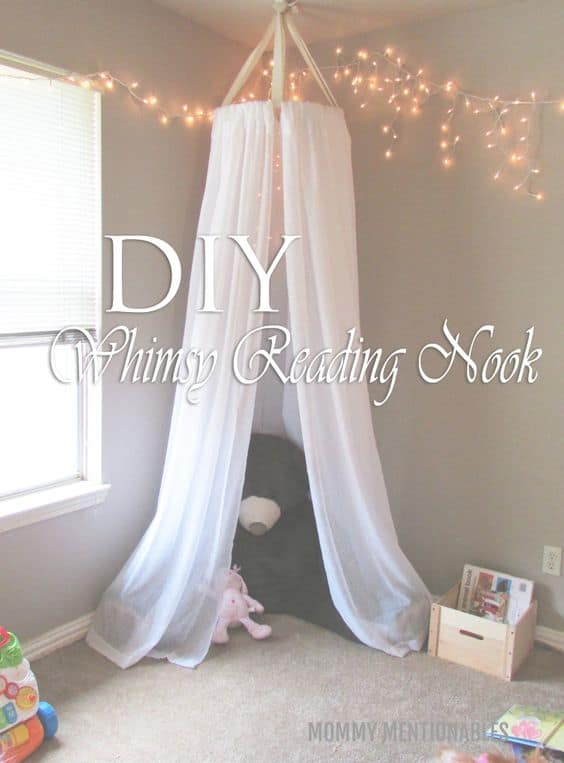 simple yet comfortable nook ready for anyone
Whether for kids or for adults, this all white reading nook layout is enchanting. The soft lights with different shapes give enough light to illuminate the nook. The soft drape and the cozy makeshift couch will entice anyone of any age to just chill on this spot.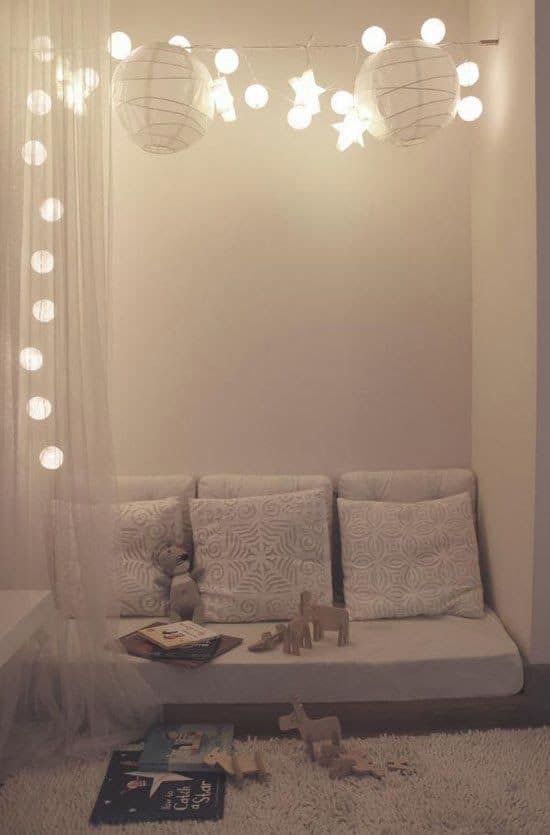 highlighting the best times and things on the best spot
Reading nooks can be as personal as they get. The accent wall which highlights memories, photographs and personal paraphernalia looks lovelier with the pallet wood background. The lively and cute chair also stands out because of its soft pink color. The table, though small, fits perfectly with the whole setup of the reading nook.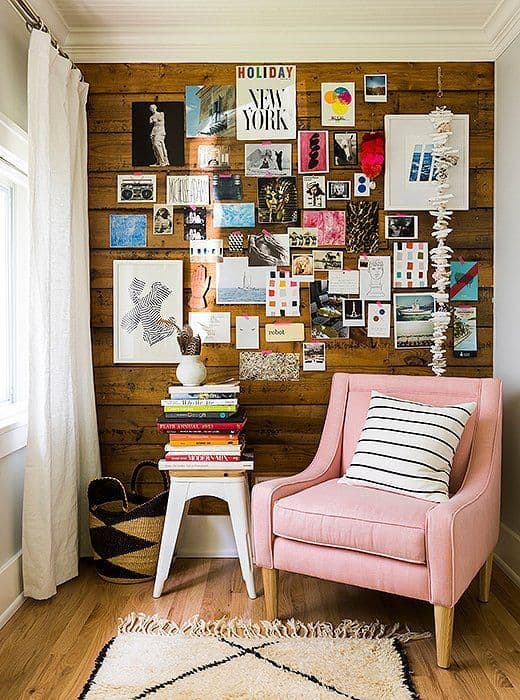 '
Have you ever considered building your own reading nook? Feel free to share your ideas in the comment section below.