Living in a small house is a growing rage among people from all walks of life, quite a few countries are having a big love affair with cabins.
The cabin lifestyle used to be a symbol of the quiet and secluded areas but these days owning a cabin has become an aspirational goal for those looking to reconnect with nature and wanting to lead a minimalist life as cabins are also a cheaper alternative to the traditional houses, and it's a good option for travelers, and students living on a tight budget.
Whatever the reason, cabin kits are being made at record speed, as the demand keeps escalating rapidly. When you're moving to a tiny house, you have to focus on your priorities as it will help you to set realistic goals, you should weight out the different pros and cons to avoid any unpleasant surprises down the road.
We often hoard things because we have more than sufficient space and storage. But, when you lack that luxury, then the focus is only on the essentials. And that can be very rewarding.
Now that you're sold on the idea of cabins, let's check out our top choices for cabin kits.
Small Cabin Kits
When you start living in a cabin, it doesn't mean that you're giving a farewell to the conveniences that the city life brings to you. In this tiny home, you'll get a drool-worthy kitchen, a bedroom, bathroom, washer/dryer, living area, and a loft that can be used as an additional sleeping space.
There is a covered porch for the outdoor space, and the panoramic windows in this cabin will make you fall in love with nature once again. It has been built to withstand some extreme weather conditions, from snowstorms to heatwaves.
If you are looking out to purchase a tiny cabin in Maryland, then you can check out the different models by Hobbitat. This tiny home builder usually constructs its cabin with reclaimed wood, and they conform to the state's building codes. There are various models which can be used year-round without any damage during the adverse weather conditions it starts with a price range of $85,000.
These hobbit styled cabins are small, cozy, energy-efficient and eco-friendly homes. It comes with a unique personality as they have been incorporated with repurposed and reclaimed shingles, rafters, doors, and windows. This building company uses affordable construction material, which is recycled compounds, and they create some thoughtfully-designed cabins.
This one-room cabin has an open floor plan, with high ceilings, a porch, and a small loft. You can build this house to use it for full-time living, a children's playhouse, or a guesthouse. All the cabin kits by Jamaica Cottage Shop are available in various stages of the construction process, which includes just the DIY kit, the frames, and a fully assembled home.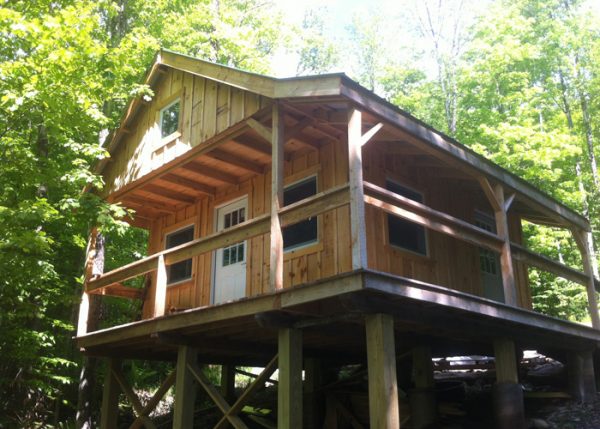 The assembly of this cabin kit is pretty simple as each piece of lumber is color-coded and numbered. You don't need any particular building experience to set-up this cabin. It does come with roofing material, but you have to get the insulation and wiring work done separately.
If you're sticking to a particular budget, then Arched Cabins has the right prefab tiny houses for you. These cabins can be built very quickly by just two people with little or no experience about constructing small dwellings.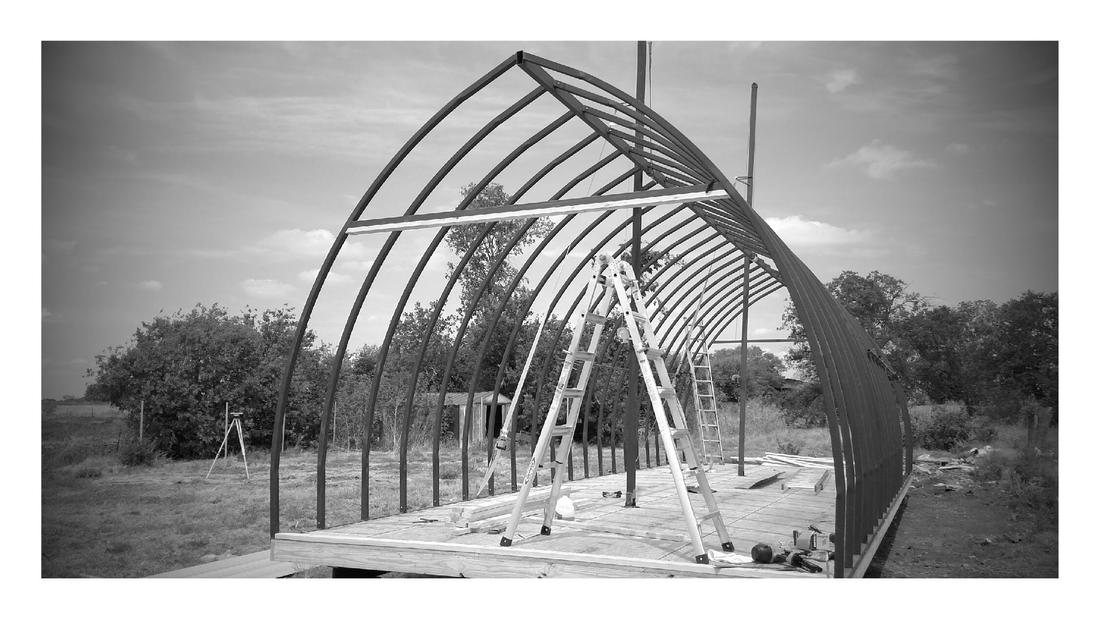 It comes in a variety of sizes but, if you want to consider full-time living, then these cabins have space for a bathroom and kitchen on an area ranging from 130 to 1200 square feet. You don't have the option to build these cabins on wheels, so we advise you to either make your foundation or get a concrete block. It also doesn't offer you with electricity and plumbing upgrades.
For a 20-inch cabin, it will cost around $5,200, which includes all the material that are required to complete the exteriors of this tiny house.
This is a unique tiny house which is set on wheels. It gives a gypsy vibe that is preferred by a small community of people. It has a retro look that is made by Artisan Tiny House. You also get the option to customize the design, and there are various sizes of cabins available that come with or without a loft.
Even though the curved roof is a unique feature of this cabin, but this model does not have a simple assembly process. This building company has Structural Insulated Panels (SIPs) in their cabin kits, which are an affordable, eco-friendly, and lightweight alternative to other frame materials. It comes with proper insulation, but you can upgrade to a thicker one if that makes your home more comfortable.
If you have specific tiny house requirements, then the services provided by Shelter-Kit will be perfect for you. Each kit can be customized according to your specifications, and you can design it for a 1-story, 1 ½ – story, or a 2-story home. This company claims that you don't need any power tools to assemble this model, which is an added advantage.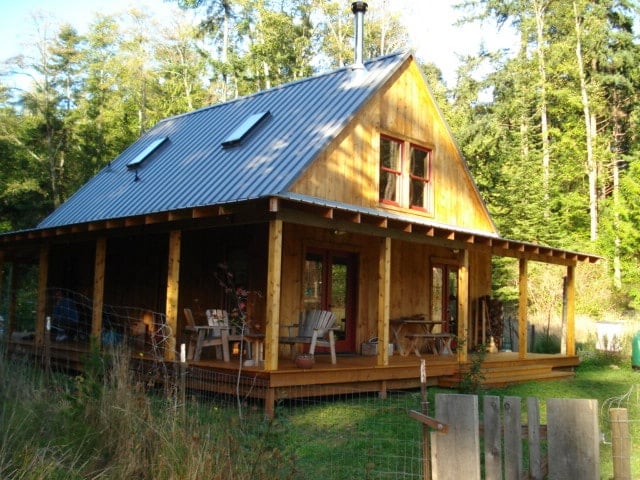 The size options at Shelter-Kit for a cabin usually starts at 875 square feet. But you can customize it according to your preferences, and you can even add more rooms to your home later. Several possible upgrades or additions are available so you can live in the house of your dreams economically.
You'll find that most of the companies usually offer cabin kits with a standard design, but with Tiny Heirloom, you have the option to select from different models. The price tag differs according to the size of the cabin; for instance, the basic 18 feet cabin on wheels will cost you around $18,000. There are several blueprint options to choose from, such as a loft, a trailer, and roofing.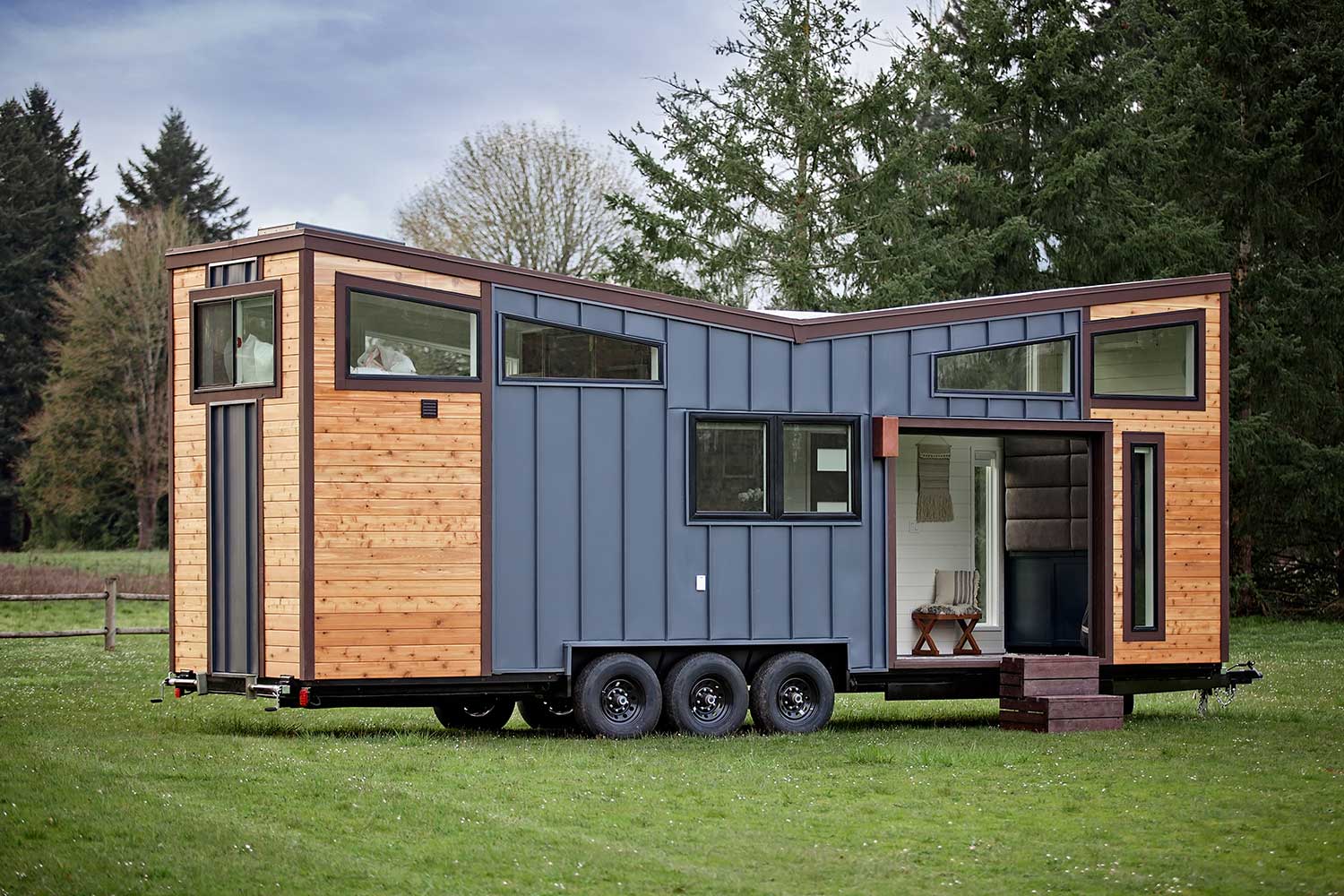 Tiny Heirloom also gives you an option to select a simple and affordable exterior package which includes door, windows, and a stained or primed siding. This DIY frame is known to be one of the most reasonable cabin kits which are available in the market today.
This is a 144-square-foot model with a price tag of $4,999. It has an easy assembly, and you'll take about a day to build this tiny house. Each of the parts in this cabin kit has been cut with precision, and it's made with durable MDF which is not just waterproof but also termite and rust-resistant.
You can snap all the pieces together due to its patented interlocking system, which makes the assembly process completely tool-free. But, you have to ensure that you place this cabin on a solid foundation that needs to be built separately. You can get paintable waterproof roofing and an extension kit if you want to enlarge the cabin separately.
You have the option to buy a cabin kit from your local hardware store if you live somewhere around 84 Lumber. This retailer focuses on home improvement and has recently launched a series of cabins on wheels, which you can either buy move-in ready or build yourself.
There are four models with size ranging from 153 – 205 square feet, and for the move-in ready homes, the prices start about  $50,000. If you're sticking to a particular budget, then there is the 'semi-DIY package' and 'build your own package' starting at $6,884. These packages have different services, but you'll get a trailer for towing, technical support, and building plans for both.
This is a simple tiny house and the best deal that you can get under $5,000. It's around 113 square feet, and the kit does not have insulation, wiring, or a bathroom included. This set consists of pre-cut wooden planks which will take you around 3-4 days to assemble. You also need to sand and stain the woods before nailing the planks together.
There is no compromise made on the quality of the wood craftsmanship that is being delivered. You can use this cabin either for full-time living or as a guest house. If you want to add wall insulation, then you can do it separately. But, for this tiny space, sub-flooring and thermals panels are enough when it's placed between the roofing material and ceiling boards.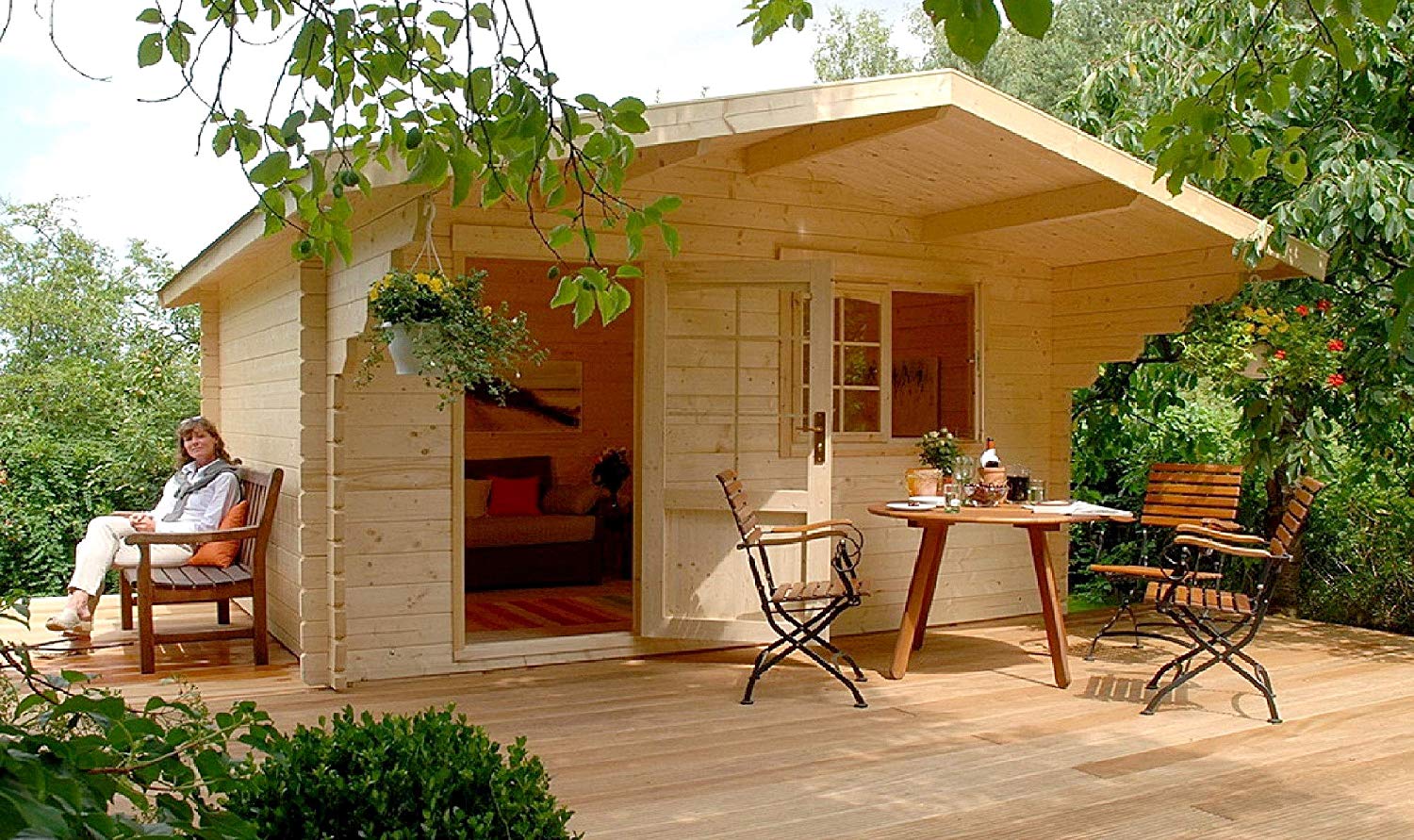 Tiny Innovations has made some stunning smartly-designed homes for couples, individuals, and families alike. You can customize the design of these homes according to your preferences. There are also different sizes available for these tiny houses so you can select the one which suits your needs. The companies website also gives you the option for a virtual walkthrough of the available models.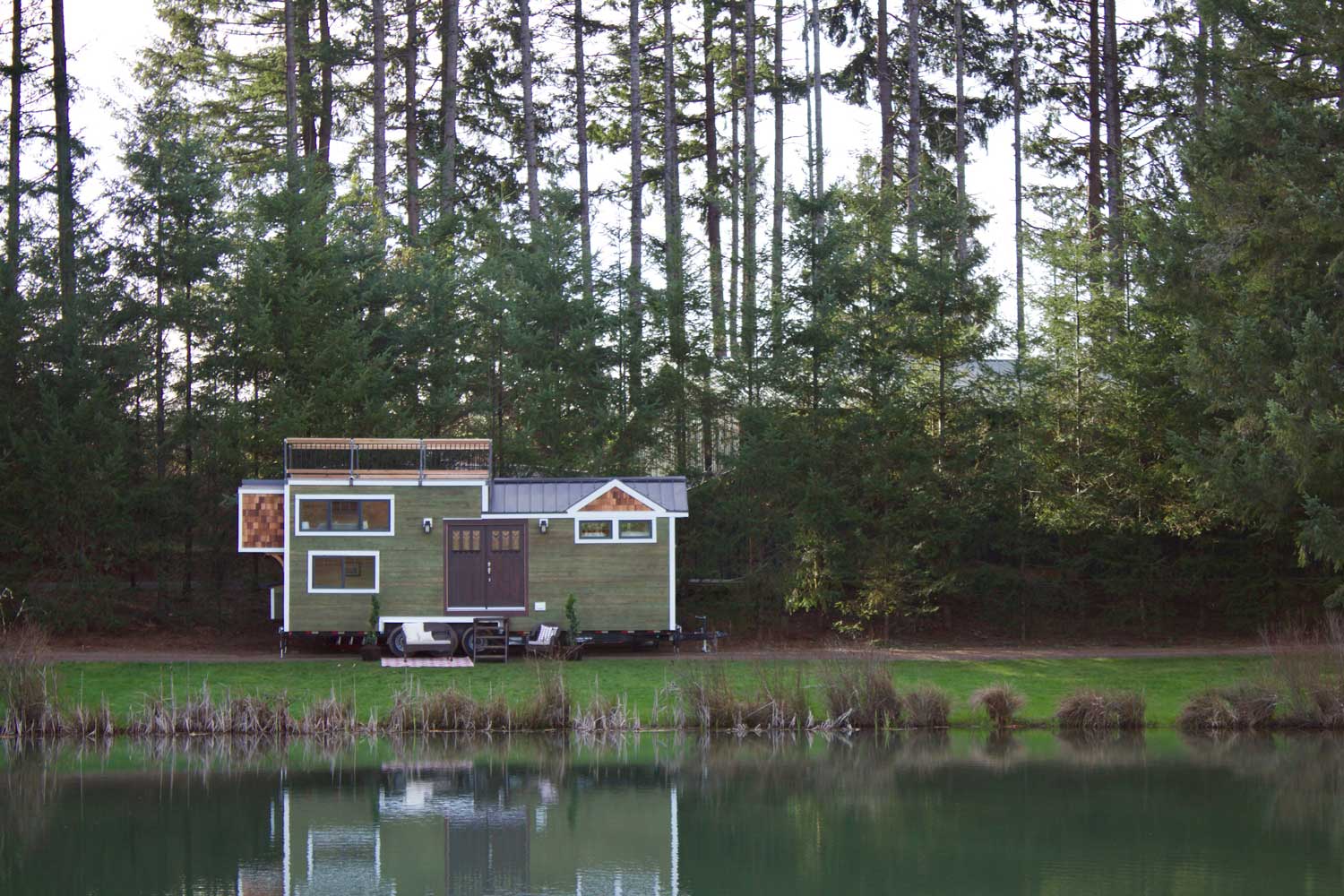 There is a team of excellent engineers and designers who can support you to build the home of your dreams within a small budget. You can maximize the small space efficiently if you have a great plan that can be implemented. This home will add fuel to your wanderlust, and it ensures sustainable living. Your house by  Tiny Innovations will be a standout for its exceptional design.
This prefabricated cabin has a flair for the wilderness, and it is perfect when you're looking for a getaway from the busy urban life. It occupies a space of 230 square feet and looks best in the woods where most of the homes look much above the ordinary. In addition to recreational use, you can also use this as a living space by customizing the interiors.
There are two windows, and a front door which offers proper ventilation and lighting to this small house. You'll not face any problem with erosion even during the monsoons as the roof of this house is made of metal. The home also comes with a small front porch which is covered with wooden railings that offers wind and animal protection.
The extended roof helps to protect from rain and the scorching sun. You can also adjust the space inside the house to accommodate a kitchen comfortably.
This cabin is adequately ventilated and well-lit you can use it either as residential or recreational space. It offers around 200 square feet of living space, which preserves the goodness of living in a tiny house and gives you a comfortable living experience. If you're living in the countryside, then the design of this house will blend in perfectly with the surroundings.
It has a tilted roofing and a light brown wood finish on the exteriors. The house has a long porch with wide windows and doors, which gives this home a post-colonial vibe. Moving inside, you have enough space for a kitchen, living room, and a bedroom. The interior is divided into two areas, so you have the freedom to design the space according to your needs.
You also have the option to add flower boxes, and window shutter with extra windows. The hardware material comes along with this package, but you might need to get the insulation done separately if you live in a cold area. The house will take about 2-3 days to assemble, and the kit includes everything that you'll require to build this house.
This tiny house has a unique design with an extended front porch area and a straight roof. The modern architecture and great design make this house perfect to be built in an urban area. It covers a total area of 172 square feet while the interiors are about 86 square feet. The flooring and house walls are made of Nordic Spruce, which has high resistance to extreme weather conditions.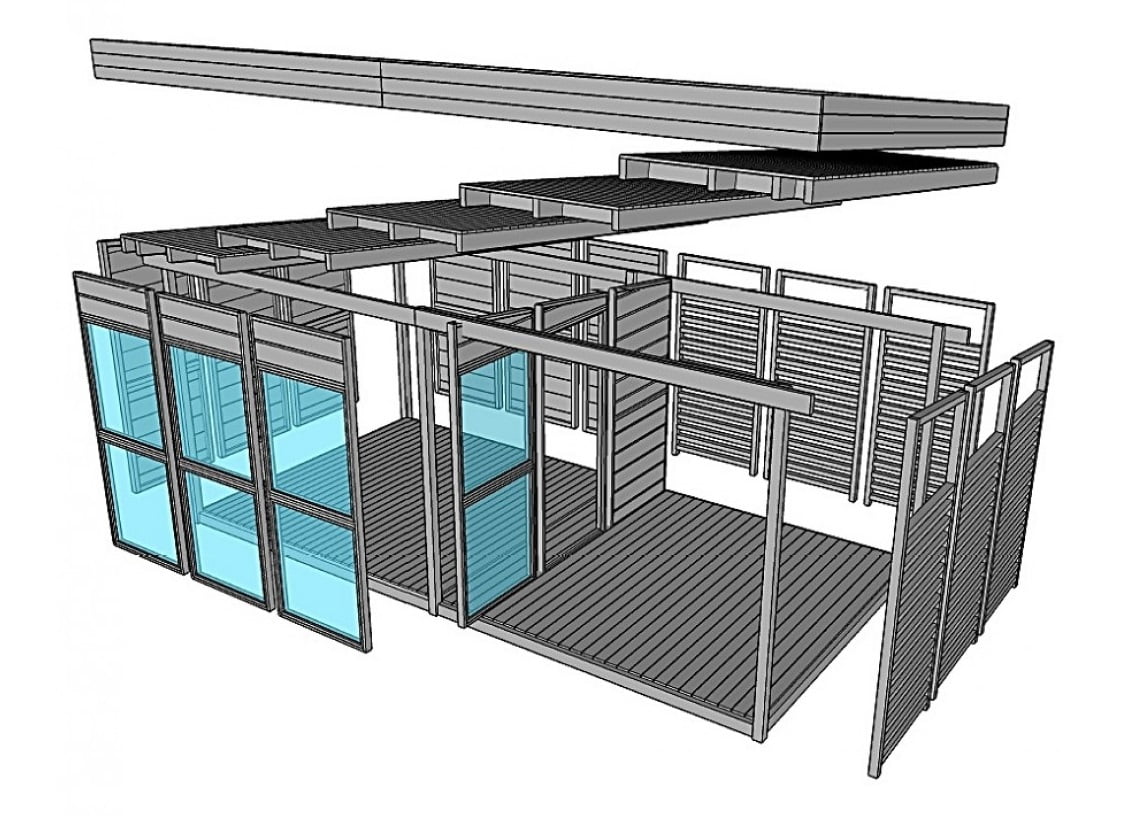 At the front of the house, you have six windows and a patio that is covered by an overwhelming roof of this tiny house. You can dedicate a small space in the house for a bathroom, while the kitchen is placed outside just next to a side window. The kit consists of all the materials that will be required to build the house, from flooring to walls to roof.
If you can decipher the instructions correctly, then you will not face any challenge to set up the house. For insulation purposes, you can use either styrofoam or spray foam, as it's not included in the package.
This is a beautiful and decent size tiny house which covers around 174 square feet, and it's suitable for a simple garden house. There is an extended roof that covers the wide patio, where you can place a small tea table and a few chairs. It is made of high-quality Nordic Spruce wood and wall planks that have WindBlock feature that protect against strong winds.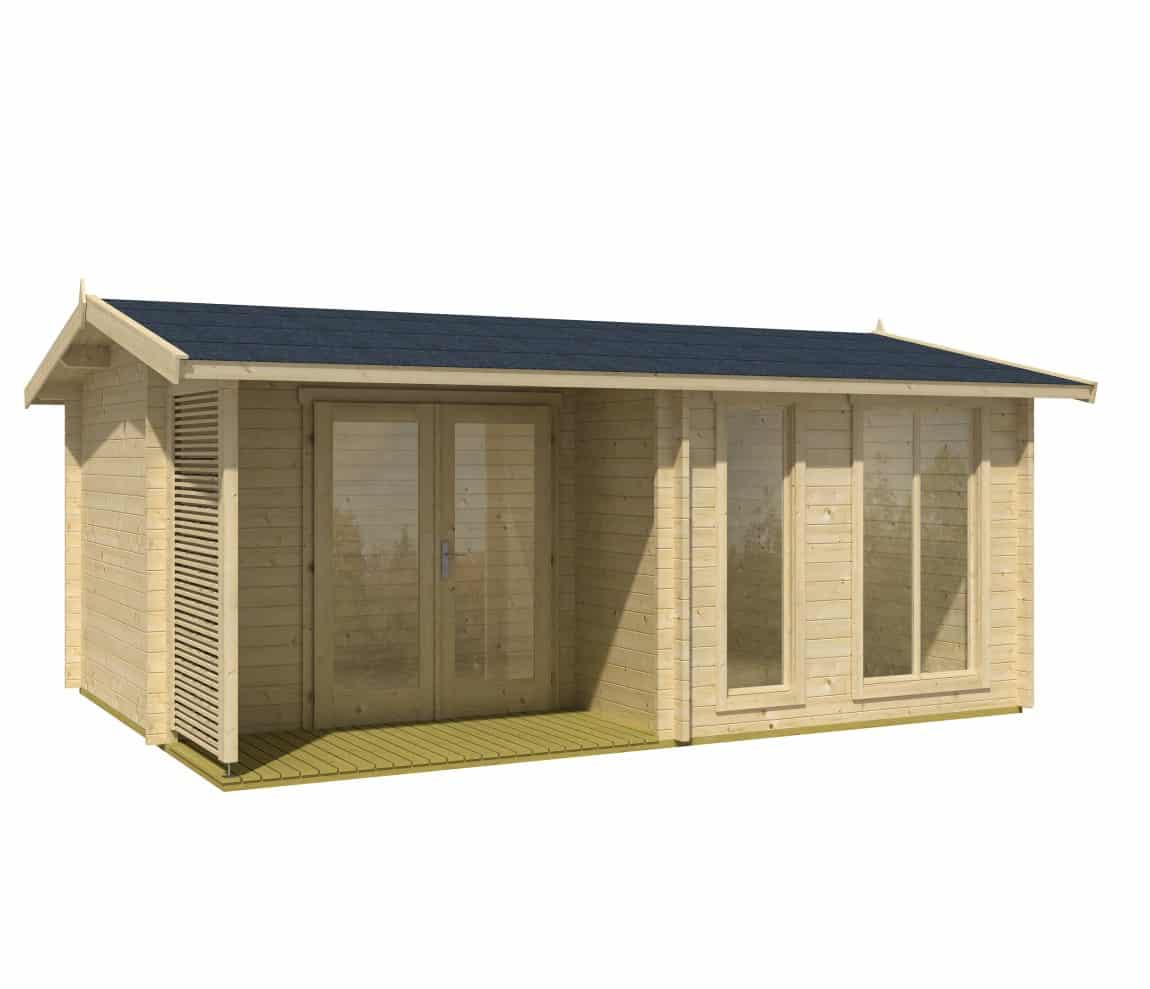 Moving inside, there is a spacious living room with windows on both sides of the house, and there is enough space to place a big couch. You can also add other furnishings to this house, while the kitchen is bigger than the other cabin kits. This house can be built as a recreational, office, or living space.
This is an affordable and thoughtfully designed home which reflects cabin life at its best. It is a compact and rustic model that can be used as a perfect hideaway beside the lake or the mountains. It has an adorable front porch where you can either hang a swing or place a small breakfast table.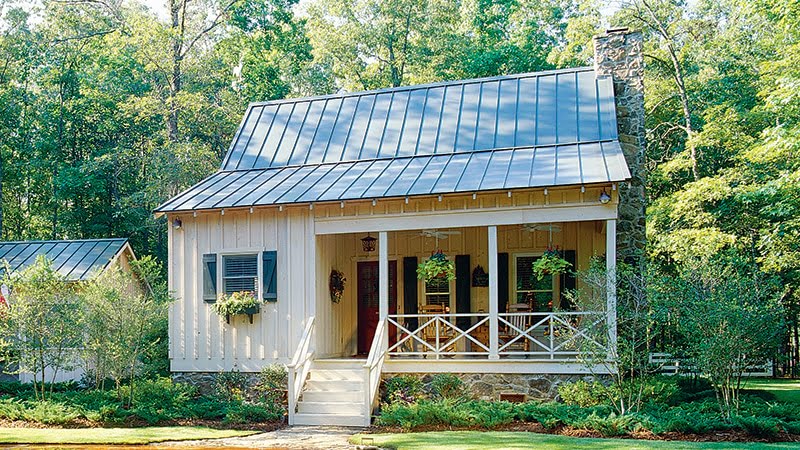 There is an open living room with a beautiful fireplace, windows along three walls, and set of french doors that you can open to the screened back porch. The dining room is the warmest and most cozy place for you to rest at the end of the day while having your meal or reading a book. There is a rear bedroom along with a full bath, and you also have a second bedroom upstairs with a private bathroom.
In this 973 square feet house, you'll get everything that you wanted in your vacation home. It's perfect for a family of 3-4 members.
This modular cabin by WheelHaus is around 400 square feet, and it's built on a trailer with a base price of $ 89,500. You can use this cabin as a recreational vehicle that can be placed anywhere in mobile homes and RV's are allowed. The best feature of this cabin is it's exterior which is made of large trapezoidal windows, impressively tall ceilings, and has a reclaimed snow fencing.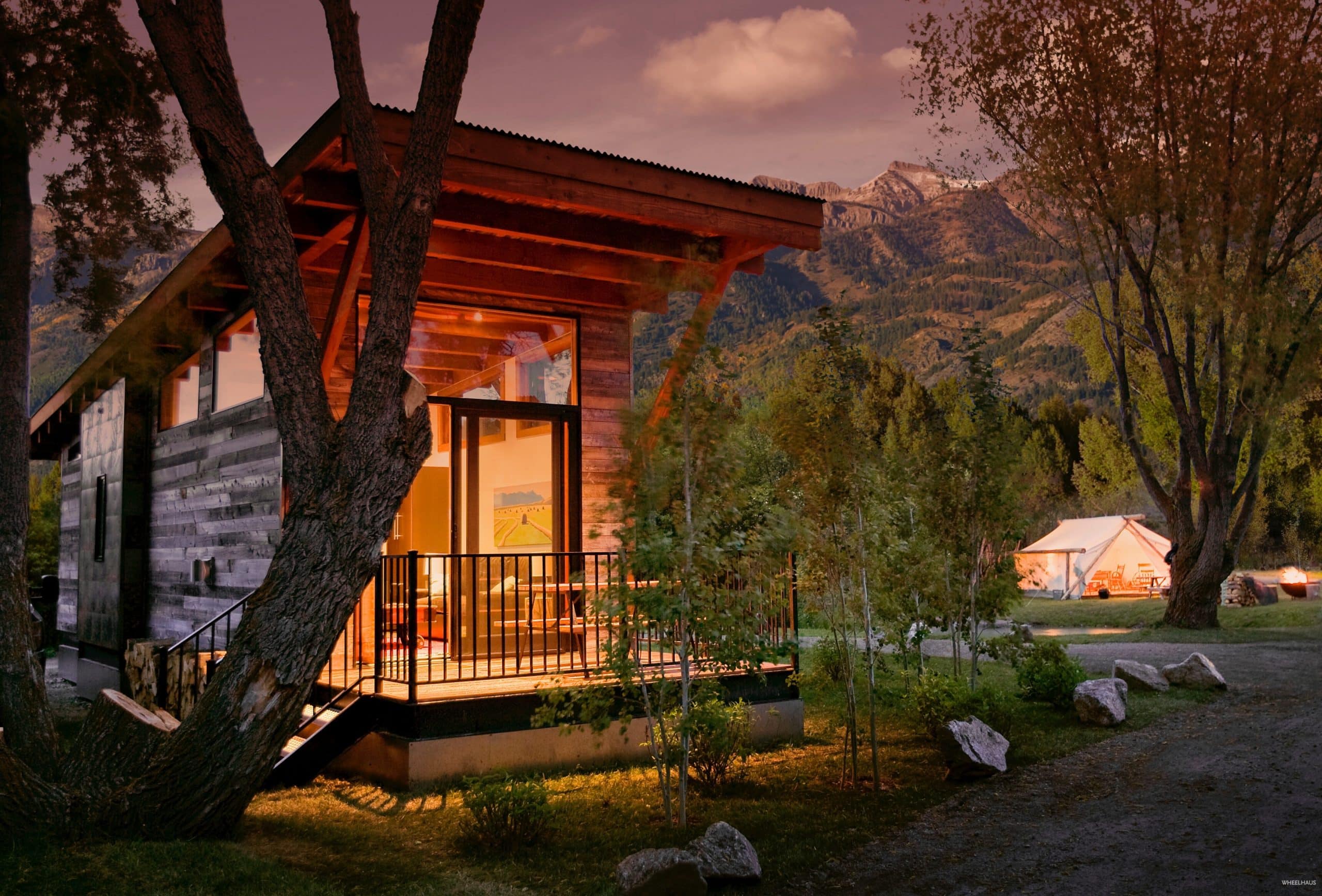 Most of the customers usually appreciate the design of the washroom as it comes with floor-to-ceiling tiles and European-style glass shower. This cabin is also wired for the internet, and it's spacious enough for around 3-4 members. In this model, you'll be getting an unmatched opportunity for relaxation and entertainment with a sliding glass entryway and a  fully covered entry deck.
MUJI is a premier Japanese company who is known for manufacturing affordable and simple products ranging from clothing to furniture. This global retailer has delved into the small cabin business. The first model made by them is the MUJI Hut, which is a little less than a 100-square-feet and has stunning wood paneling that covers floor-to-ceiling.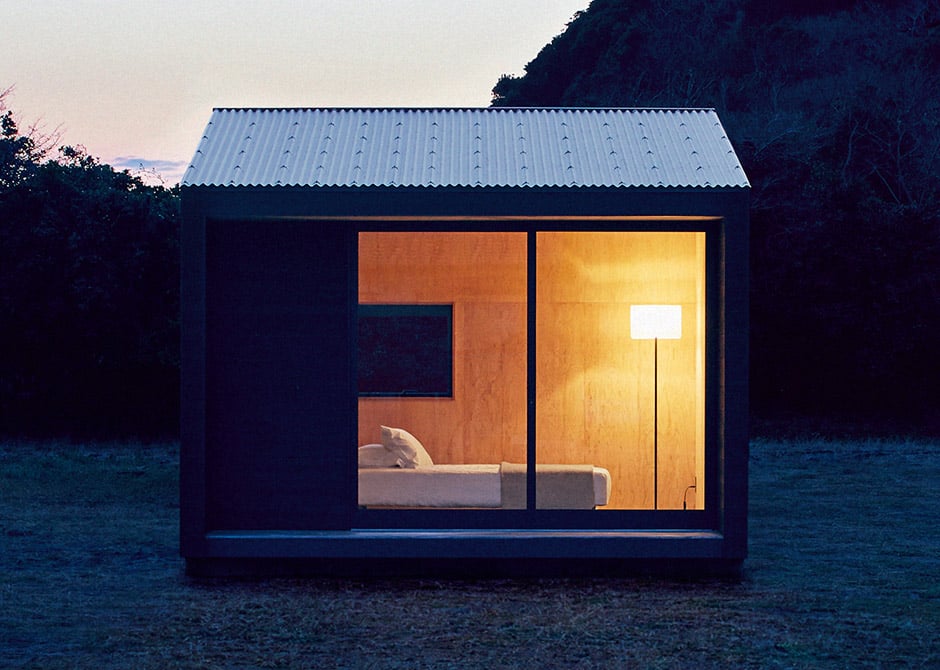 The base price of this product is $28,000, and you can keep it near the ocean, the mountains, or even in your garden, and it will blend perfectly with its surroundings. The simple design of this model makes everything relatively easier, while the raft foundation helps to guard the flooring against the ground moisture.
This cabin is perfect for around 3-4 people to relax comfortably as the high shed roof, and the front porch makes the cabin quite spacious.
There are plenty of available lakefront cabins, but not every model has enough space like this one. You can invite friends your over for a small get together as there is enough room for around 3-4 people. It's a 200-square-foot cabin with large windows and doors that will provide you with sufficient lighting during the day. This model is made of Nordic spruce that is known for its high resistance to extreme weather conditions.
It will take you around 30-40 hours to assemble this entire product with just a few standard tools. You need to purchase the roofing shingles separately as it will help to protect your home and make the roofing more sturdy. This is a perfect one-bedroom home, and its energy-efficient design makes it stand out than the rest.
Final Words
Many people have been showing interest in adopting a simple lifestyle, and that's a great initiative for a better future.
The DIY tiny house kits are efficient, cost-effective, and environmentally friendly, which makes it an excellent investment for you. With some extensive research, you'll be able to select a perfect kit that fits into your budget and lifestyle needs.
Till next time!
Related Articles
Top 10 Quietest 5000 Watt Generators For Home Use
23 Awesome Free Deer Stand Plans You Can Start Right Now
11 Best Composting Toilet of 2022 | Reviews & Guide
38 Rustic Country Cabins With A Stone Fireplace For A Romantic Getaway