A new home – a new beginning, a journey we all await or one that we`ve already enjoyed tremendously among family and friends, among the people that we love and cherish. A new start, a fresh clean slate, a new home layout and yet another opportunity to organize a home thoroughly once and for all, maybe even achieve the much desired clutter-free home status, something epic. During this time guests are what we need, we simply need to mediate these changes with family and friends and there is no better than way to do that than throwing a housewarming party, successfully.
Throwing a Housewarming Party Successfully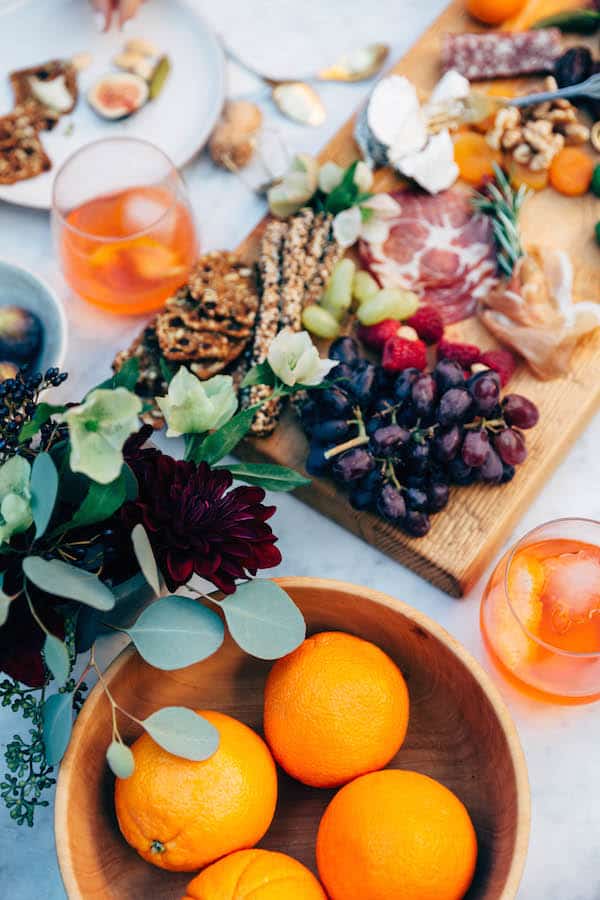 A beautiful guide stands in front of us and it`s about to showcase some brilliant housewarming party hosting ideas for when you're moving into a new home, ideas that could help you shape the ultimate housewarming party, one that will remain in the mind of your loved ones for years to come.
Adopt the open House format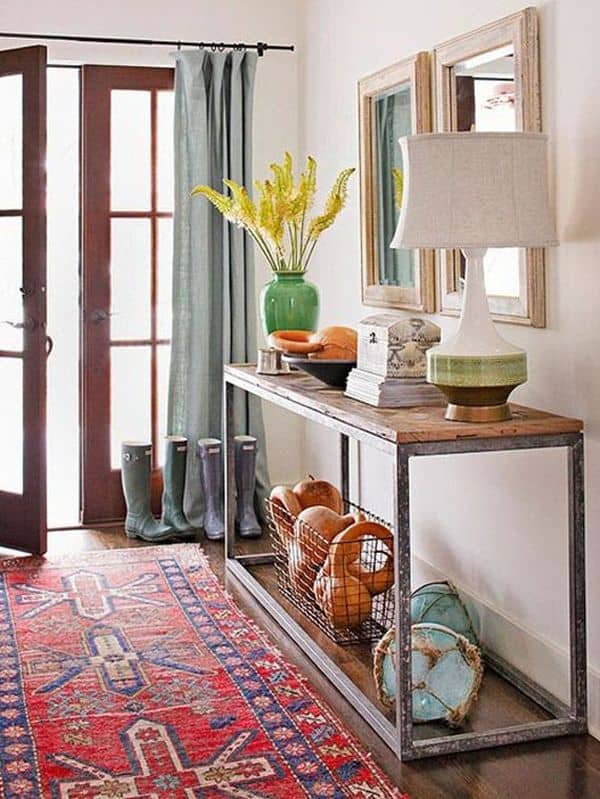 One of the first things that you ought to decide is whether it will be a sit-down calm and highly organized venture or an open house. It goes without saying that the earlier you are in the moving process the harder it is to organize a sit-down, moreover, the larger the guest list the harder it is to accommodate the number of seats needed. An open house naturally feels better for the guest and encourages people to feel free to stay as long as they can or want where a sited event puts both parties in a difficult, rigid position.
Reuse the paint chips to send housewarming party invitations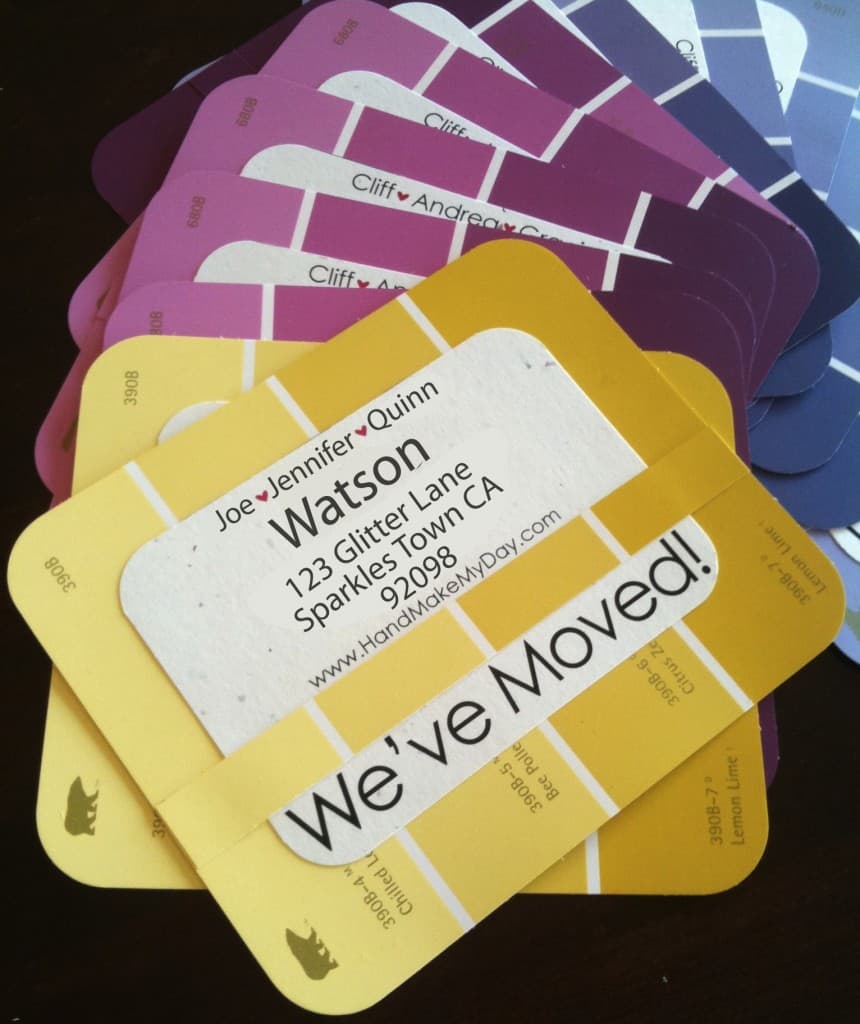 You`ve had the paint chips at your grasp through-out the first stages of your interior decor; a cool way to put them to good use now is to simply adapt them to invitations, a pretty cool and meaningful move.
via handmakemyday
Clean the entire home from a to z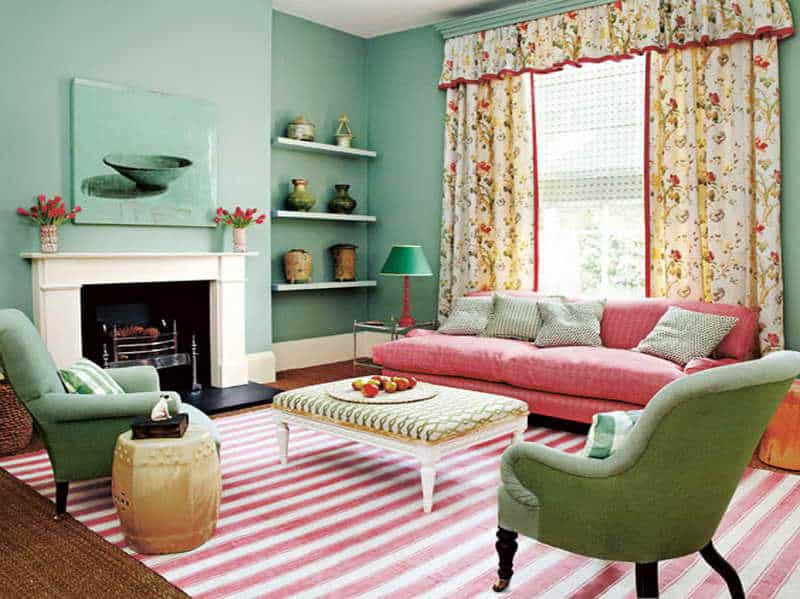 The first sight of your home should be impeccable, your guests ought to perceive the home as the perfect refugee for you and as a possible nest for future events that will birth memories. Make sure everything is spotless even if you still have things to organize in the home, surfaces should be flawless.
adopt the open-door policy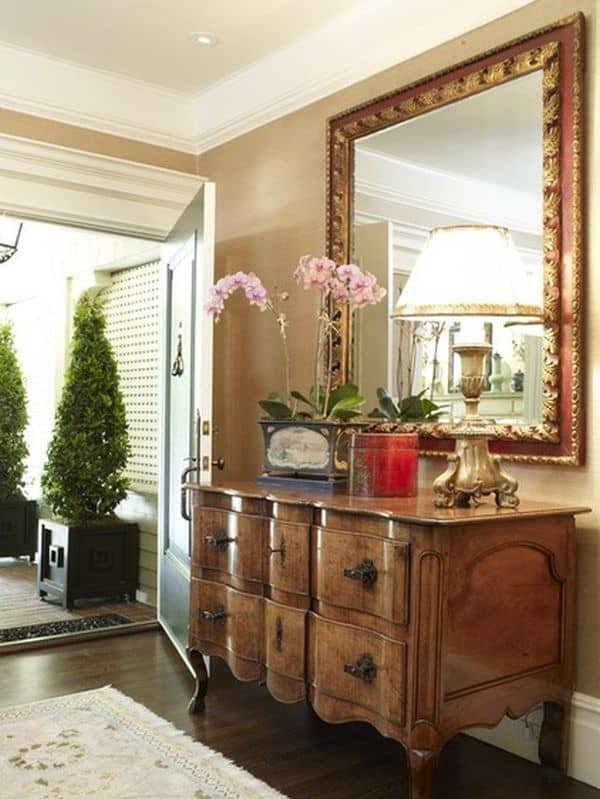 The guest list for this event is really really hard to conceive. One could launch an invitation to family and close friends yet he could open the front door to shelter that inviting, welcoming vibe that one neighbor might need to pick up to come for a casual drink. It is important to invite people in indirectly, this might be the opportunity to bond, to create connections with your neighborhood.
think about your house tours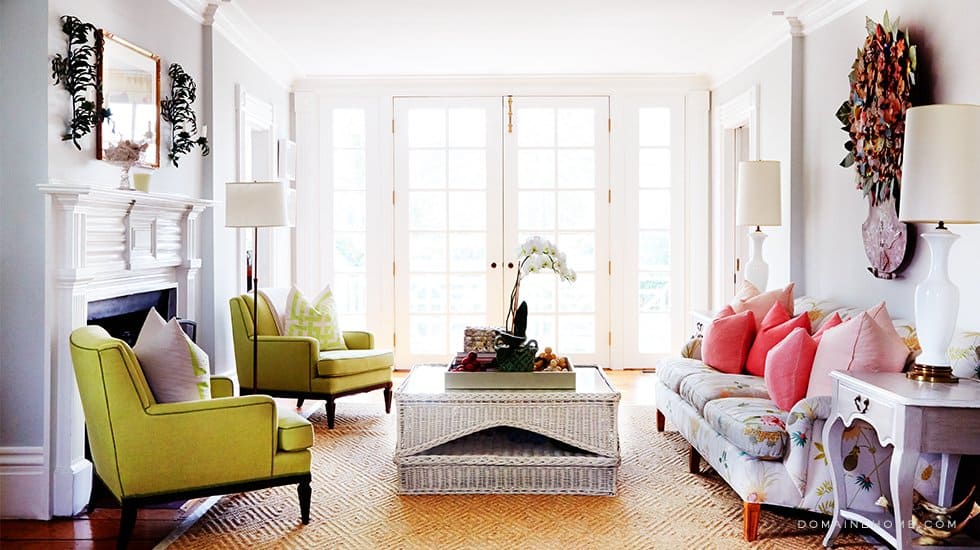 It is important to be realistic, people are interested in your new home. Make sure you feed their curiosity, it is important to have some house tours prepared in mind, maybe a joke at a room you`re not comfortable with yet or additional information on what you like on the home so far.  These house tours themselves can be ice breakers in awkward situations.
have fun with diy sunshine-dyed napkins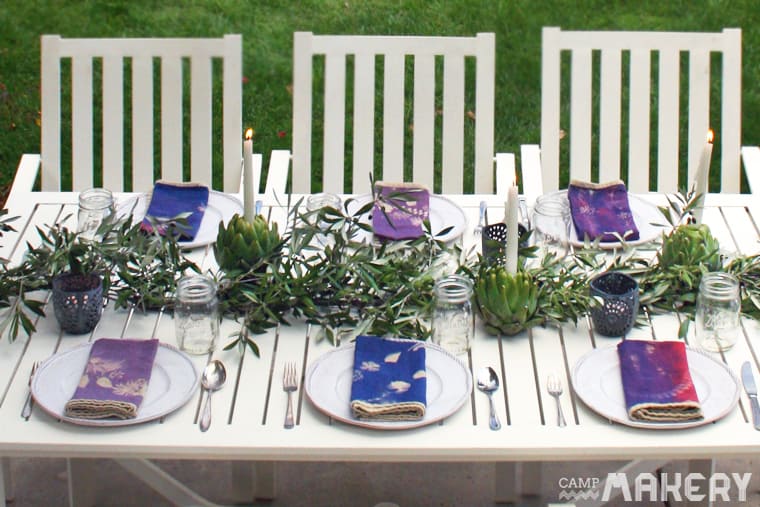 A pretty unique project that uses ink-o-dye on regular linen napkins to create surprisingly graphic look in a short amount of time. The craft might emphasize your party with a welcoming-particular feel and it could be yet another great ice breaker to have in your pocket.
via campmakery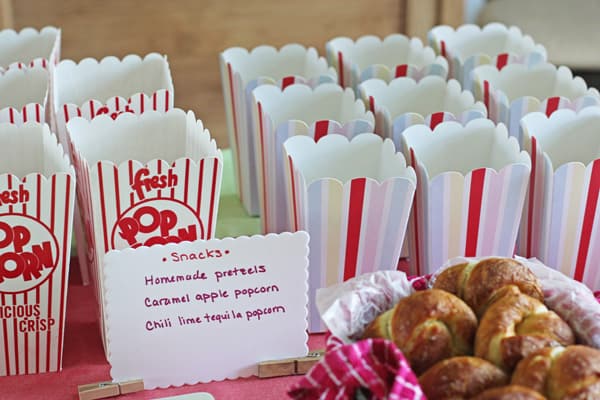 A guest asking the host about the menu might be an awkward situation for both parties; this could be avoided with an open menu, one showcased clearly near the food stands. Purchase simple, colorful containers and provide all the necessary means for the individual to serve itself and actually feel very good about it, welcomed, happy he can serve the delicious snacks seamlessly.
tailor diy paint chips cutlery holders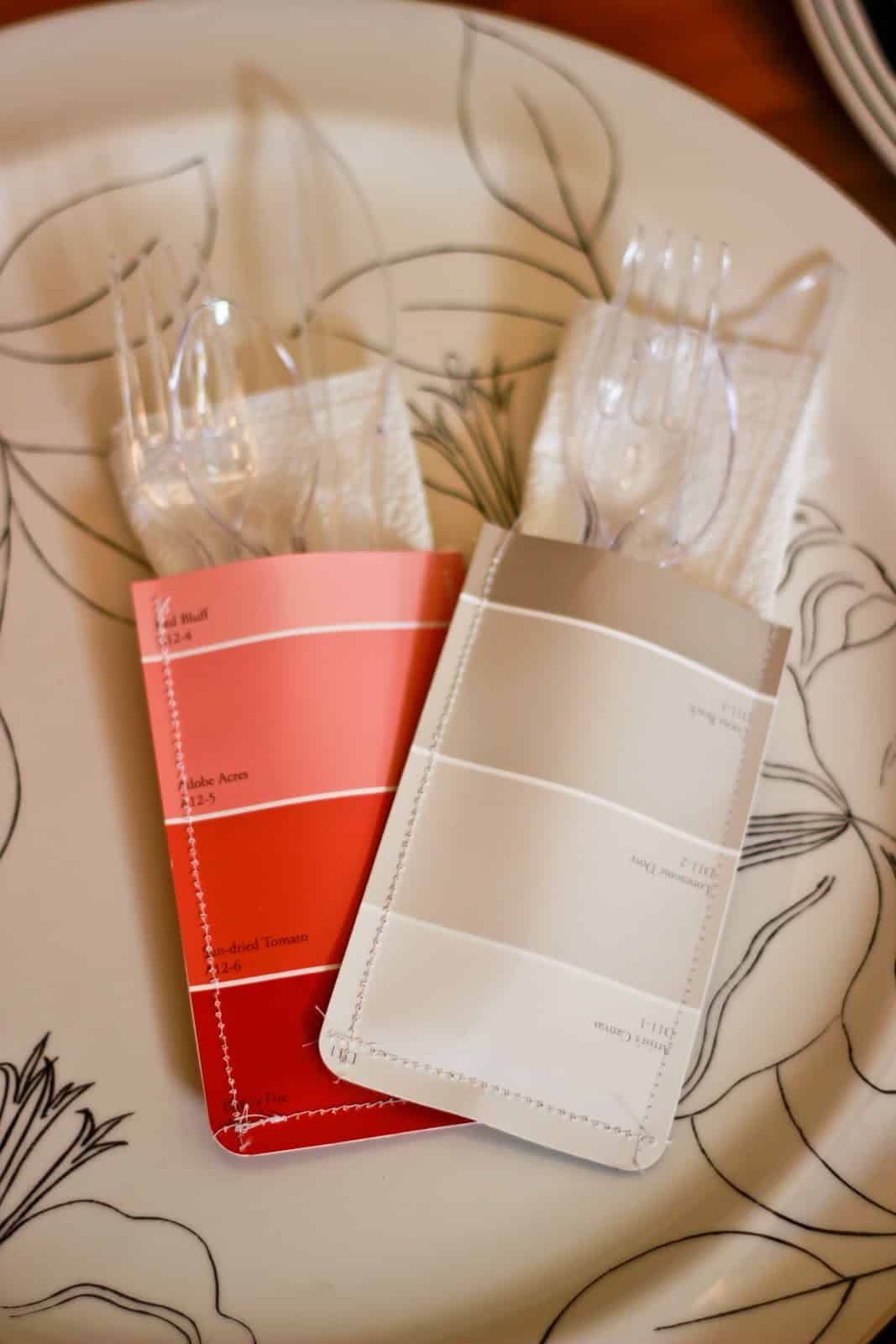 Creativity plays a crucial part in everything in our lives and a creative mind does appreciate an original take on simple, mundane items. In the painting process you`ve had the paint chips at grasp; use them now to create little pouches to serve the cutlery in, the graphic aesthetic values are phenomenal, the idea will remain in the guest's memories. Insanely beautiful and insanely easy to realize.
have various activities and games prepared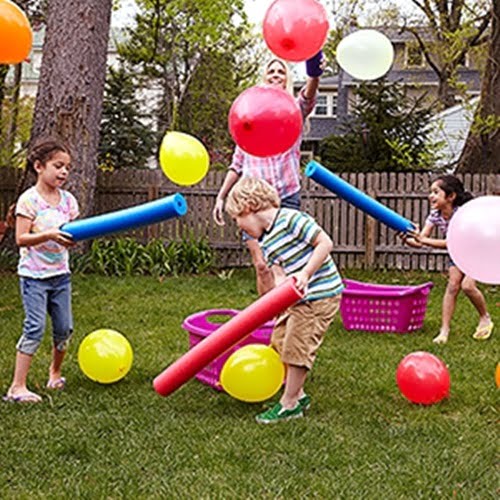 For little ones and adults alike some entertaining should be prepared especially if we have the possibility to host these outdoors. It`s important to have distractions and energy-burning activities at our grasp for the little ones and for the calm of their parents.
build a paint chip garland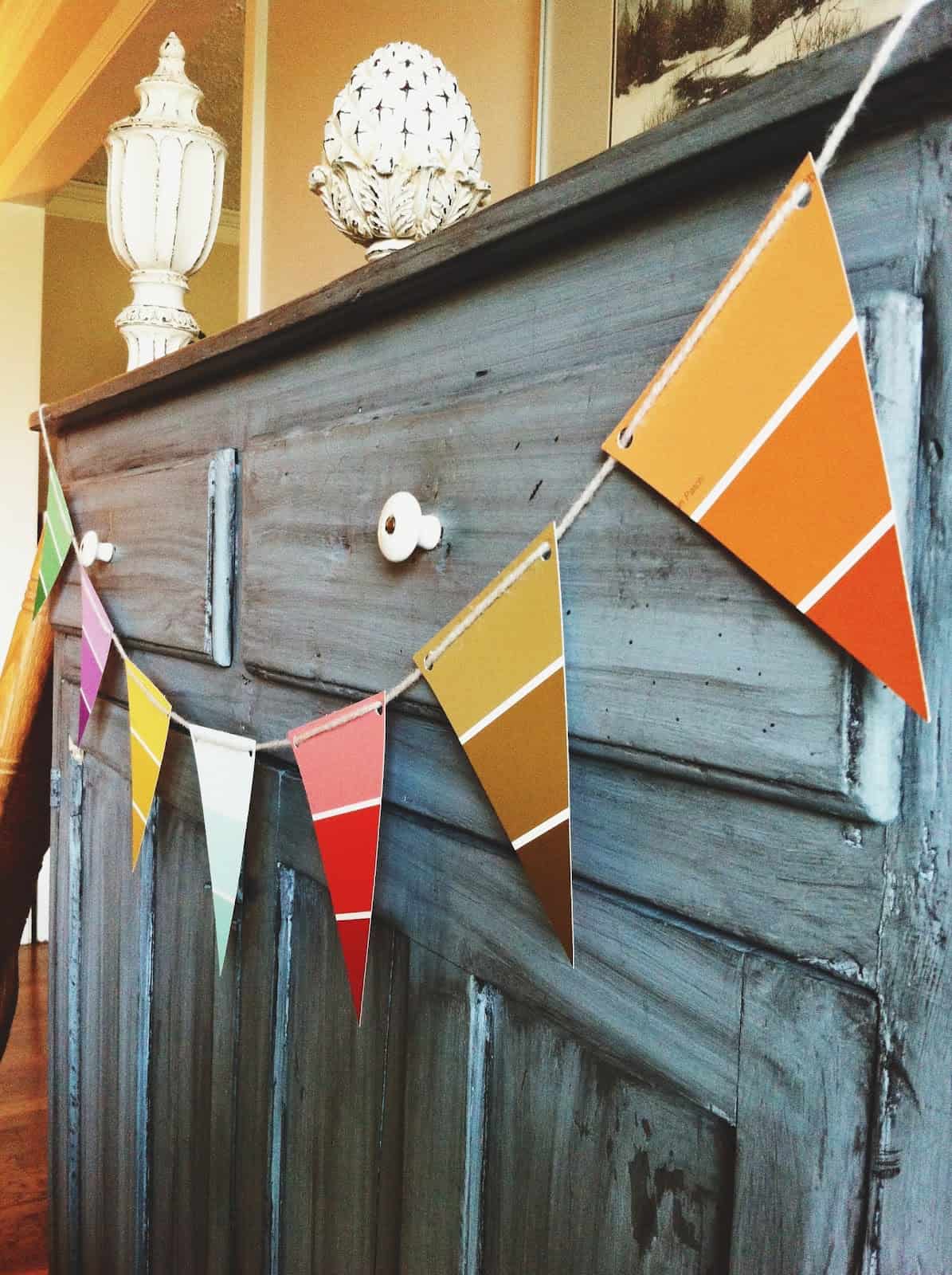 The paint chip garland can work in pretty much any festive celebration yet at a housewarming party seems to makes the most sense. The colorful presence infuses energy and a festive vibe through inexpensive means.
decorate your space with string-light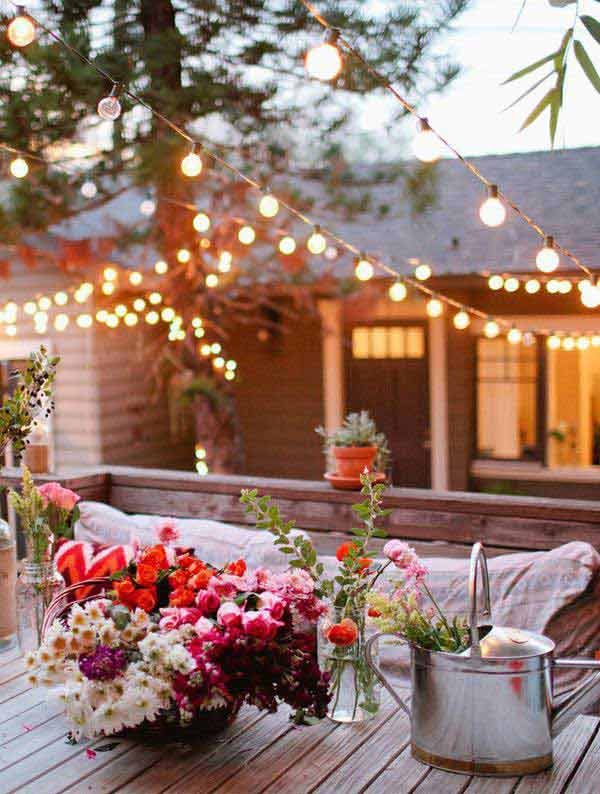 Very much like garlands that can be implemented everywhere to cheer up the space and create that festive vibe, string lights too create an awesome atmosphere, a cozy and warm inviting light that simply offers a familiar feel, something special that can be reused at any celebration, a housewarming party decor with which you simply cannot go wrong.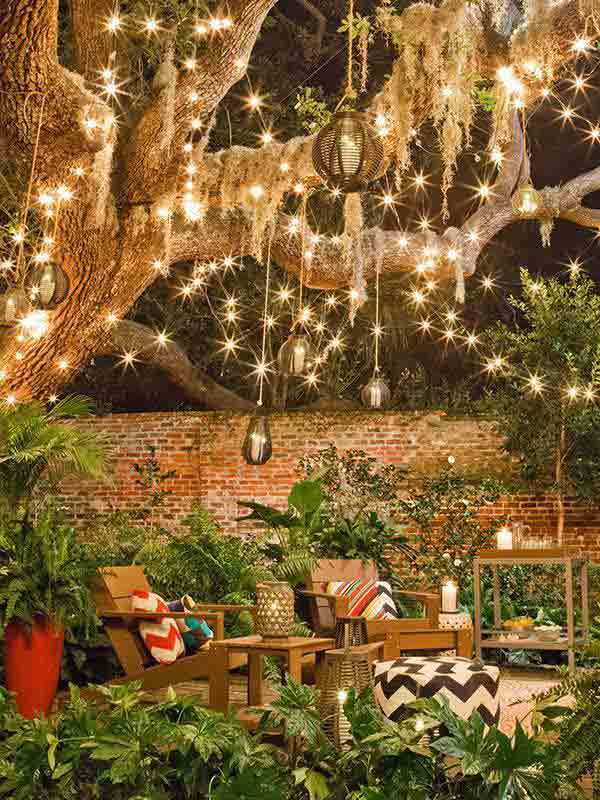 install a note guest wall with post-it`s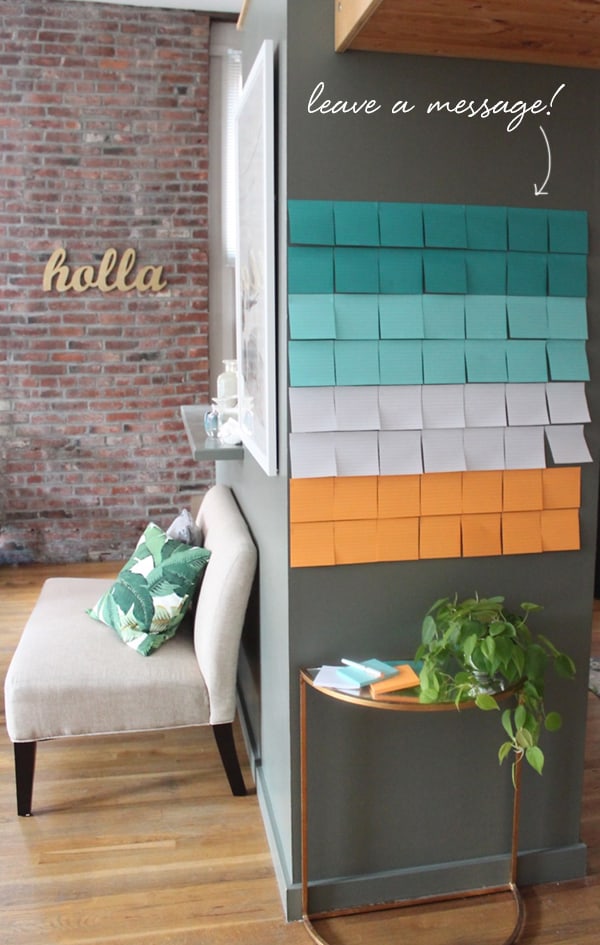 The normal guestbook route is in no way dull or outdated yet there are alternatives that one might consider and the example above is a clear contender. The note guest wall invites the individual to pick a color from the composition for completion; the arrangement once final can be framed and displayed in the hallway as a timeless memory; a great welcoming message to future guests, a mirror in time.
via cocokelley
Fun Guest Thumbprints catalog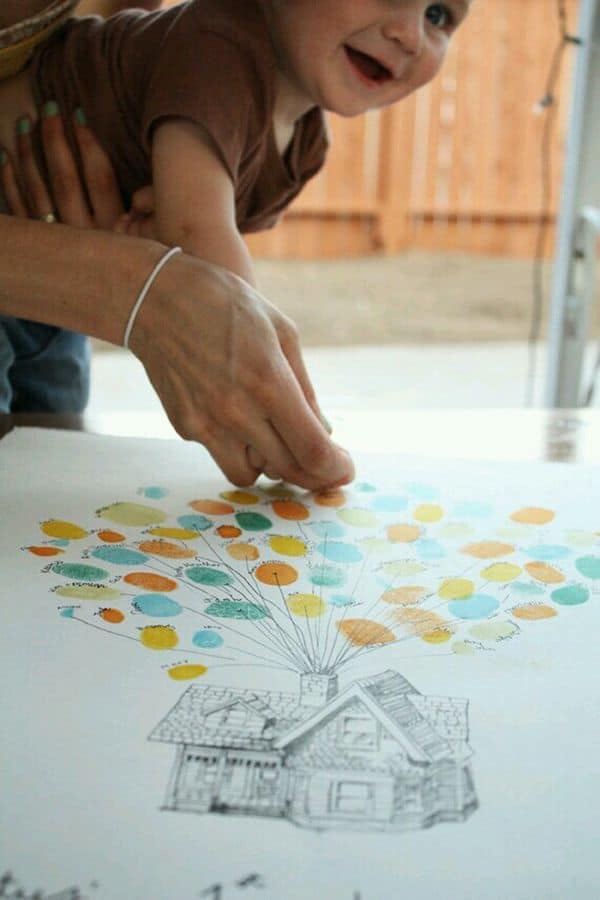 Various sketches portraying balloons, trees or flowers can be painted with fingers gradually by guests who step by; make sure you print these beautiful pieces on thick white paper and have ink pads ready for guest. This can be framed or be kept safe in your treasure chest as a great memory. A beautiful craft, a small collective effort with insanely splendid, delicate results.
finger foods supremacy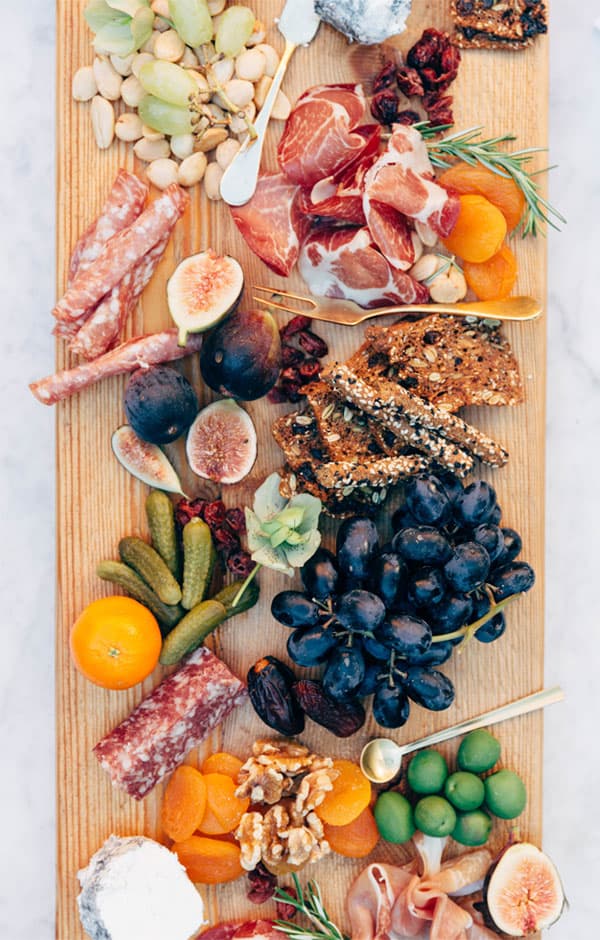 Housewarming parties with open house should shelter some pretty epic finger foods ranging from veggies to exotic cheese, fruits, crackers and sushi the menu should be defined by variety in a small form factor. Get as creative as possible with finger food.
via apartment34.com
have a space ready for the housewarming gifts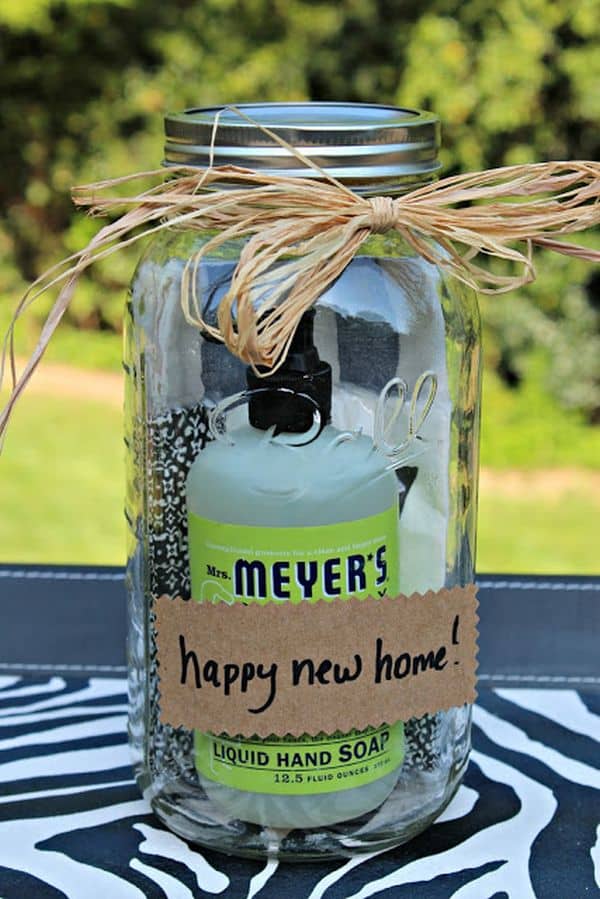 The gifts are not required nor are they expected but if they do show up, one ought to be prepared for them. Housewarming gifts are a traditional part in the housewarming party and a few will surely surface so prepare some counter space, a side table or a patio corner. Welcome them with a huge smile and a short thank you.
have the bathroom ready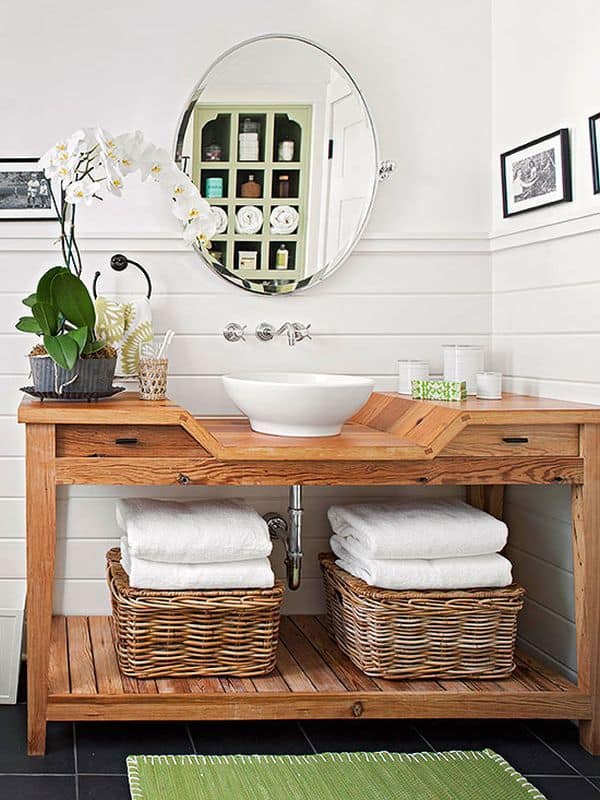 One of the most important part in the home is the bathroom and although it is new it should be ready, well-stocked, welcoming and familiar from first glance. Towels, toilet paper, soap and a spotless mirror are a must, add a fresh scent and greenery for the atmosphere.
ensure an easy flow in between furniture pieces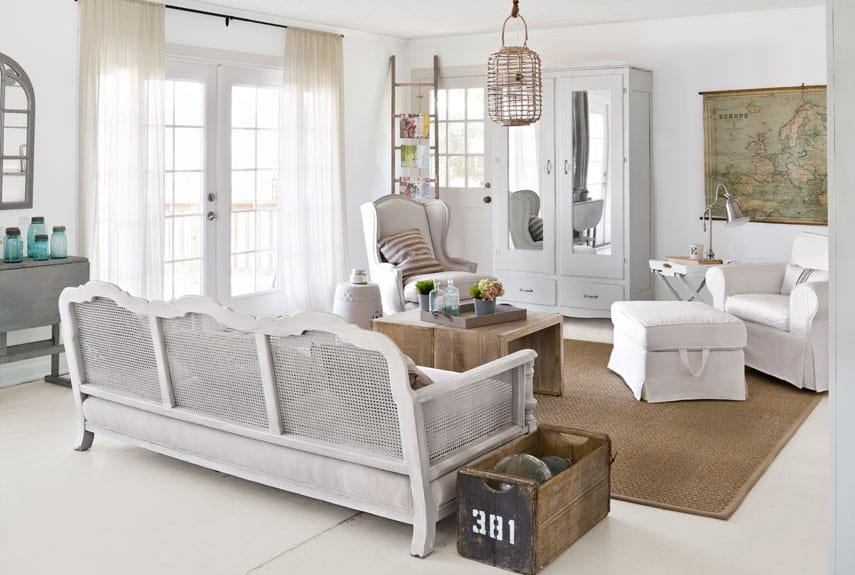 Whether it is ideal for your permanent layout or not, that is not important during the housewarming party; make sure you have enough space to move in the living areas, ensure an airy layout and keep in mind that there will be a fair amount of people walking around. Make the walkways comfortable, wide enough for passing through and if need be, even for a small gathering. All people involved will need space to breathe and at a certain point, you, more than anyone, will.
nestle mason jar flower vases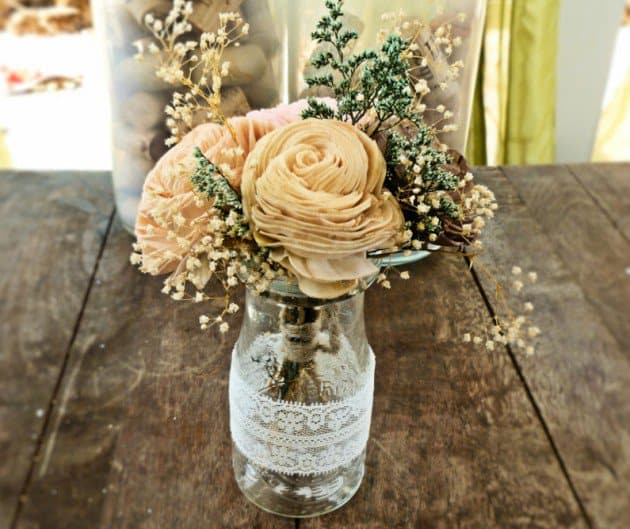 Mason jars have thousands of uses in do it yourself projects yet the most beautiful ones reside by the natural habitat, featuring flowers on a piece of wood. The simple glass recipient is breathtakingly beautiful itself and when animated by the flower`s color everything becomes extraordinary. A positive, elegant look that will bring pure smiles in your event.
have simple drinking cups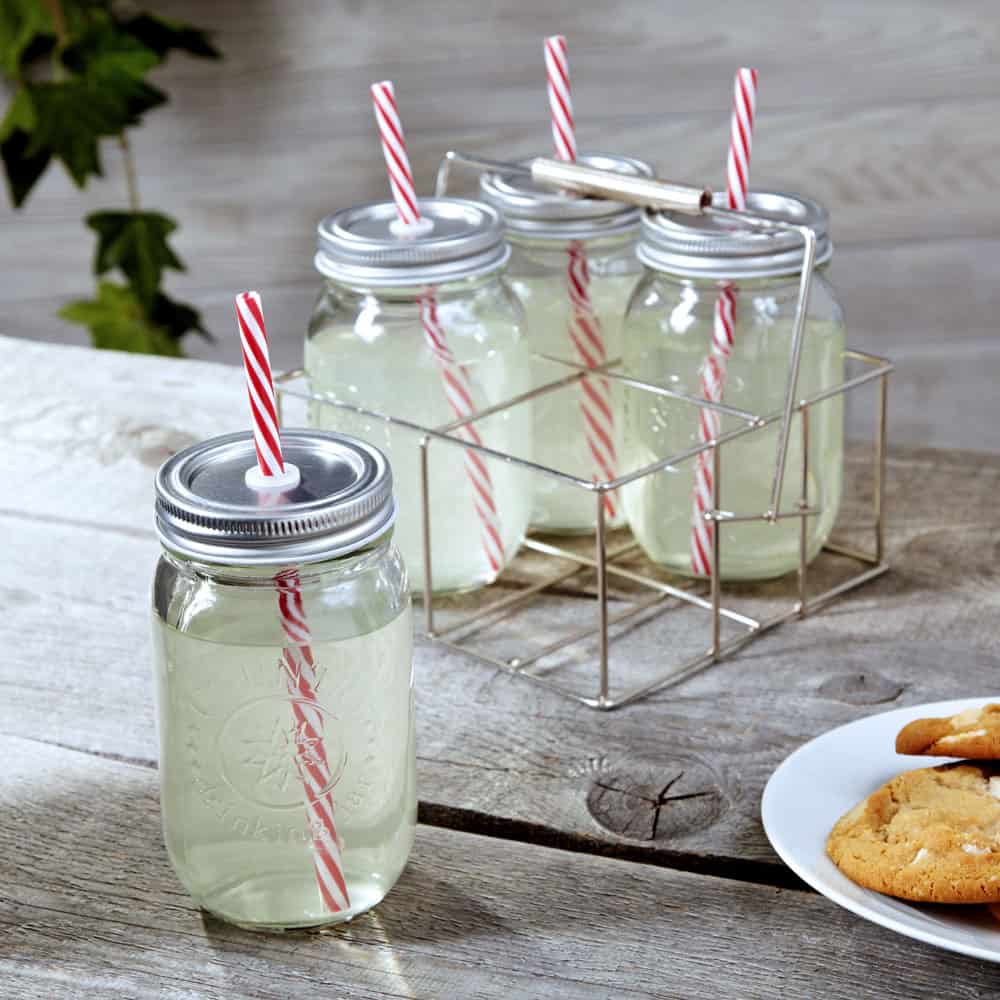 In most settings disposable cups might seem way to casual and at the opposite pole high maintenance glasses might ruin everything. Mason jars equipped with a colorful straw might be the ideal way to serve the refreshing beverages in style.
ensure diversity with cold and hot foods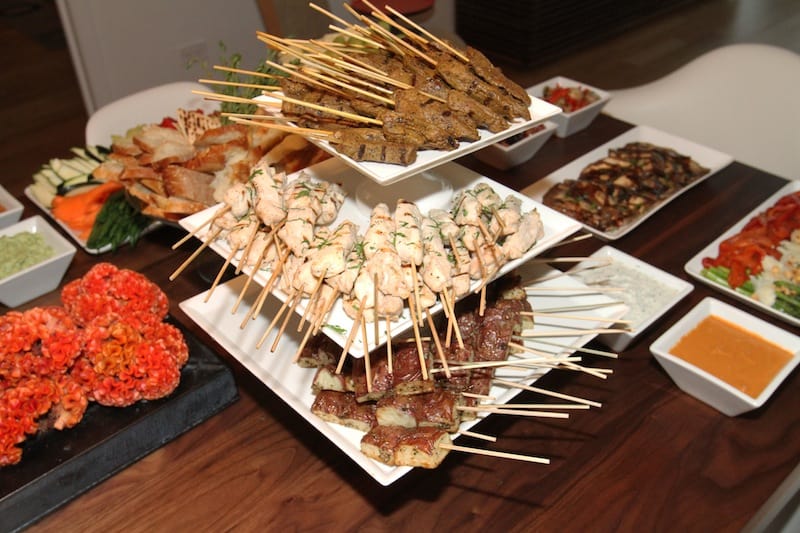 It might be more difficult but the more diverse the food the better; if you could provide both hot and cold food alike you might have something available for all present.
exquisite straws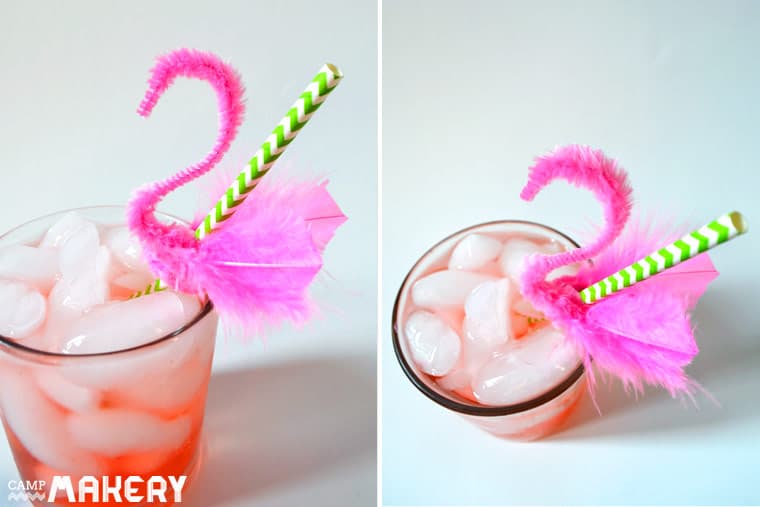 One could have a great deal of fun creating simple and equally odd flaming straws for his house-welcoming party; these could address to guests of any age and lighten up the mood of the party. Infusing color in a party is always a great idea.
via campkaery.com
Nestle light in paper lanterns outdoors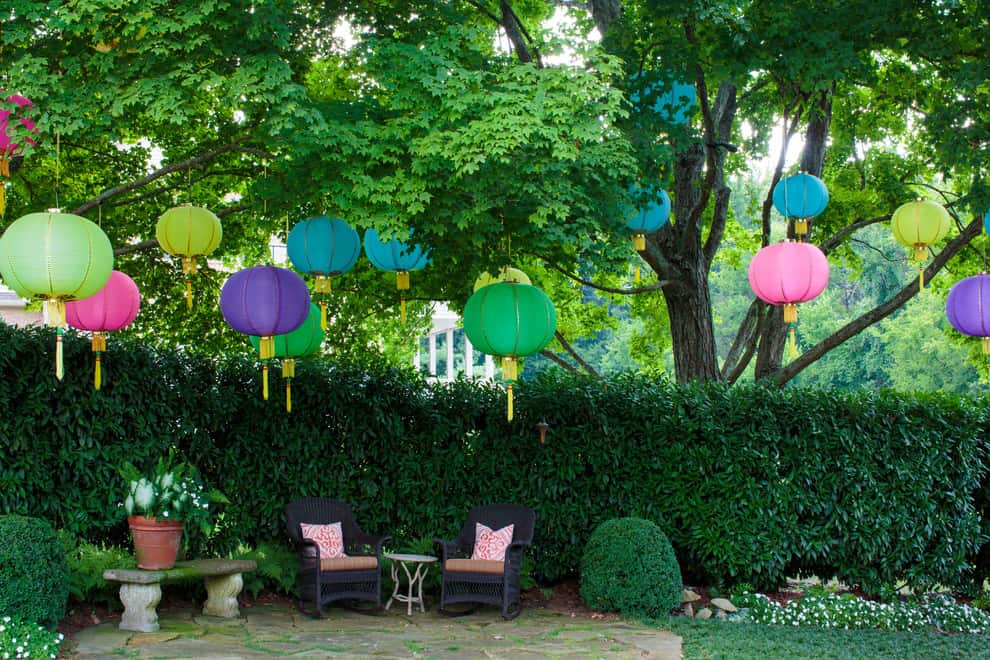 If weather allows you, spending time outdoors should be a clear must. Outside festivities in fresh air always end up far better than their indoors counter parts.
Simple party favors for guests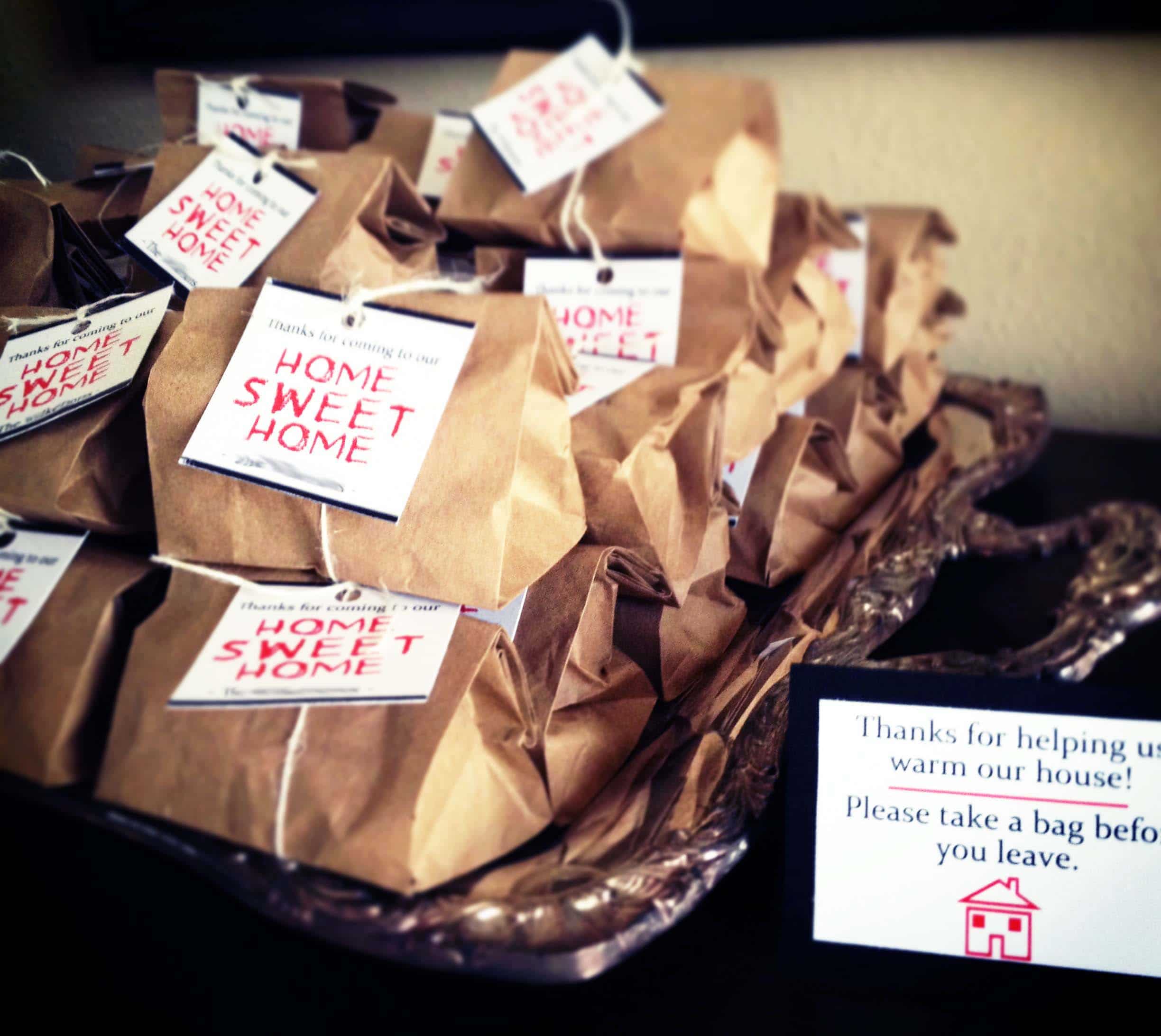 A simple, small attention for your guests on their way out is a beautiful, thoughtful way to end a successful party. Filled with candy, the sweet thank you will appeal to all guests.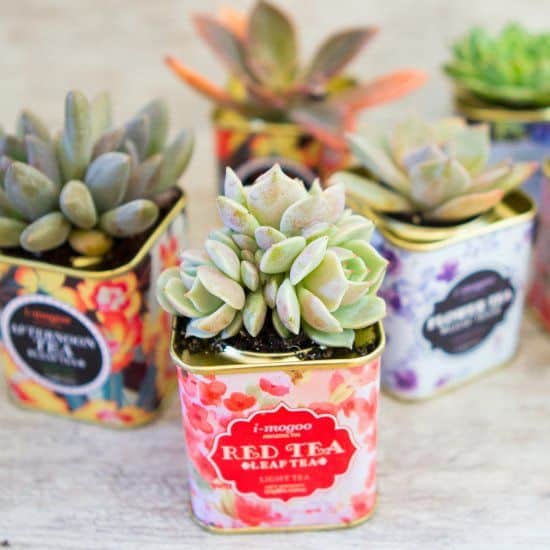 An avid gardener might also want to gift a plant, a little succulent grown in his garden, an item that will remain in the receivers home as a beautiful memory for years to come. Needless to say that this appears in events with a smaller guest list and that we can all particularize these little gifts.
In the end it all comes down to one thing: having fun. Among your friends and family everything should be easy, any mistake can be forgotten, the atmosphere should be relaxed and highly positive.
We are not having this house-welcoming party to receive gifts, to show off or to update our peers indirectly with the latest news, this event should be kept to celebrate a new beginning with the people that you love, a new step in the life in which they too will be a an extraordinary presence. After this event, hundreds of memories built with friends and family will animate this home, this is the first of many, enjoy it to the fullest.