This product is currently discontinued and no longer available in the market.
Portable AC's can be a blessing in disguise, especially for people with housing restrictions and limitations regarding installations.
Gone are the days when getting a new air conditioning unit meant a time-consuming installation process and unnecessary expenditure. With the demand for portable air conditioners on the rise, you can cool any room in half the time and effort. And, in a sea of air conditioners, the Shinco YPL3-10C has stood out for many. 
Now, we aren't saying that this product is devoid of faults (technology may be advancing but not at that rate!). But, it does have many promising features, and after using this AC for a while, we strongly vouch for it.
But don't just rely on that one sentence. Read on below for some specifics on why this product stands out from the rest.
Shinco YPL3-10C Review
Why Buy This Product?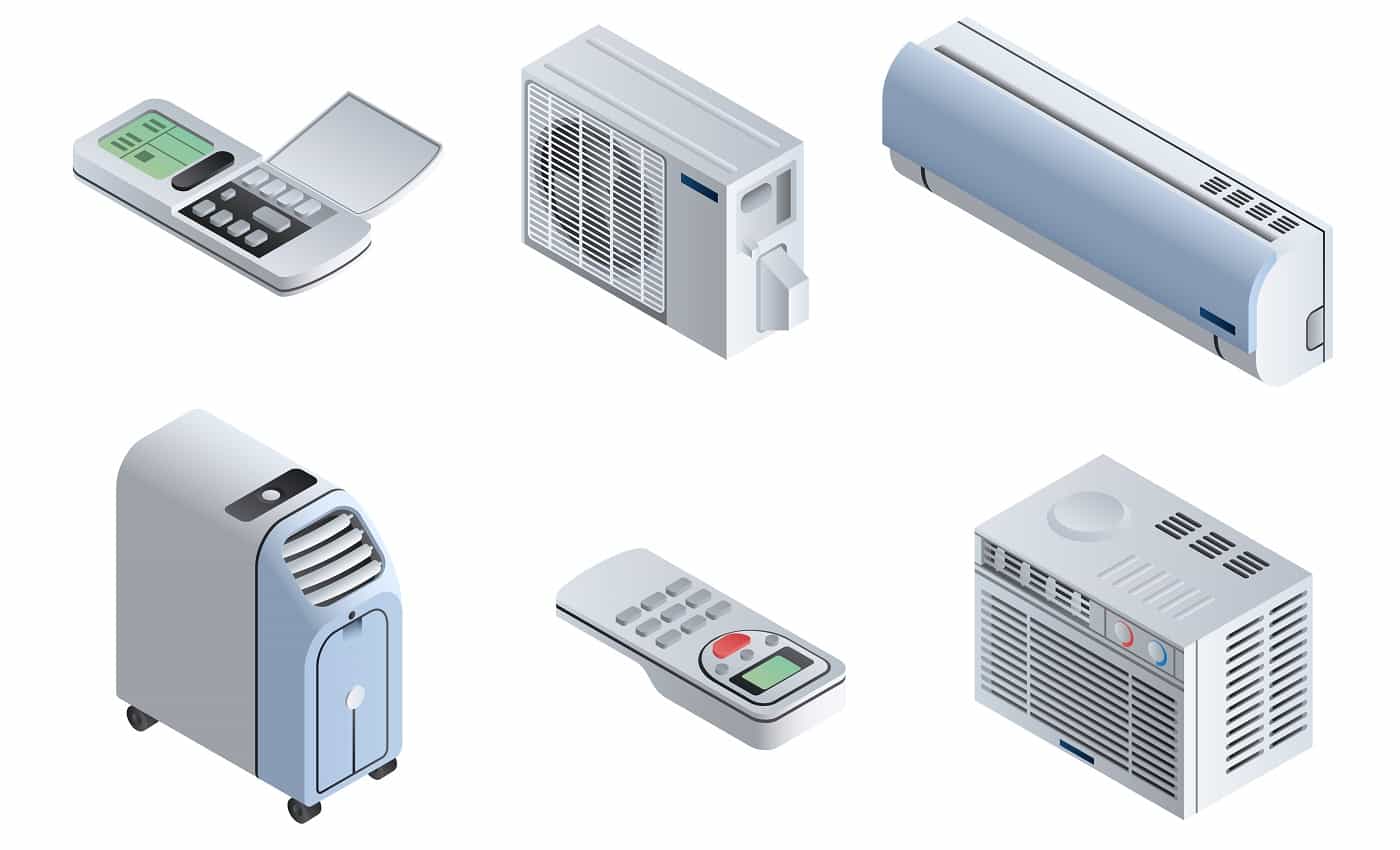 Shinco is a popular brand when it comes to air conditioners and other home appliances. A great thing about the company is that it offers a one-year warranty, a 30-day money-back guarantee, and lifetime tech support on all products. But that's not the only reason why it's becoming a household name. This portable AC has a ton of other eye-catching features like…
Design
Starting with the way this product looks, it is very simple and has a seamless make. We understand aesthetics are important, and it's crucial to have a unit that does its job while looking good. This is why you will appreciate that this unit has a neutral color and can easily blend into any interior style.
When it comes to products like these, they need to be easy to handle. Fortunately, this one only weighs about 54 lbs and is much lighter than others in the market. Plus, the dimensions are 17 x 31.3 x 13 inches, making it ideal for rooms sized between 300-350 sq. ft. 
It also has handles on the sides and wheels on the bottom to effortlessly transport it from one room to another. We tried rolling it on wood as well as carpet, and this unit did not disappoint. 
Power
One of the most important things to expect from a portable air conditioner is its cooling power. For this purpose, it is crucial to pick one that is appropriate to the size of your room(s) so that the cooling is effective.
With the dimensions offered and a cooling capacity of 10K BTU, it can fully cool a 300 sq. ft room and partially cool a 350 sq. ft one. It is a powerful product that does not need a lot of time to cool any space, thanks to the dual-fan speeds. Moreover, the cooling is even because the air blows in four different directions.
Cost
Another essential aspect to look at when buying anything is the price. No matter how good the product may be, no one likes to spend their entire life's savings on it. 
This is why the Shinco YPL3-10C is so popular. Despite being powerful and having many exciting features, it's budget-friendly and less expensive than most of its competitors.
User Friendliness
Having a cost-effective, powerful air conditioning unit with an ergonomic design is every homeowner's dream. And, that is where Shinco stands out again as it does not just work efficiently but is also very easy to operate. 
This unit comes with a remote control that makes it extremely user friendly and allows you to operate the unit from any point in the room. The days of standing right in front of the AC unit and aggressively pushing the buttons are long gone. 
Moving on to another user-friendly feature: installation. All you need to do is spare 10 minutes of the day, connect the exhaust pipe to the unit and place the other end out of a window.  In a nutshell, this AC unit has features that are mainly aimed at making it easy to use, and it does not fall short.
Self-Evaporating 
One of the biggest reasons people avoid portable AC's is because of the condensate. Many units in the market require manual emptying, which can become tedious to do daily. This is where the Shinco YPL3-10C is different. 
The brand has ensured that this unit is effortless to use by making it a no-drip air conditioner. What this means is that the condensate evaporates by itself without accumulating. The unit has no water tank, and all the condensate is recycled for cooling. However, there is a tray provided on the off chance that the water does drip.
The self evaporating feature can be pretty beneficial for people living in areas with less humidity.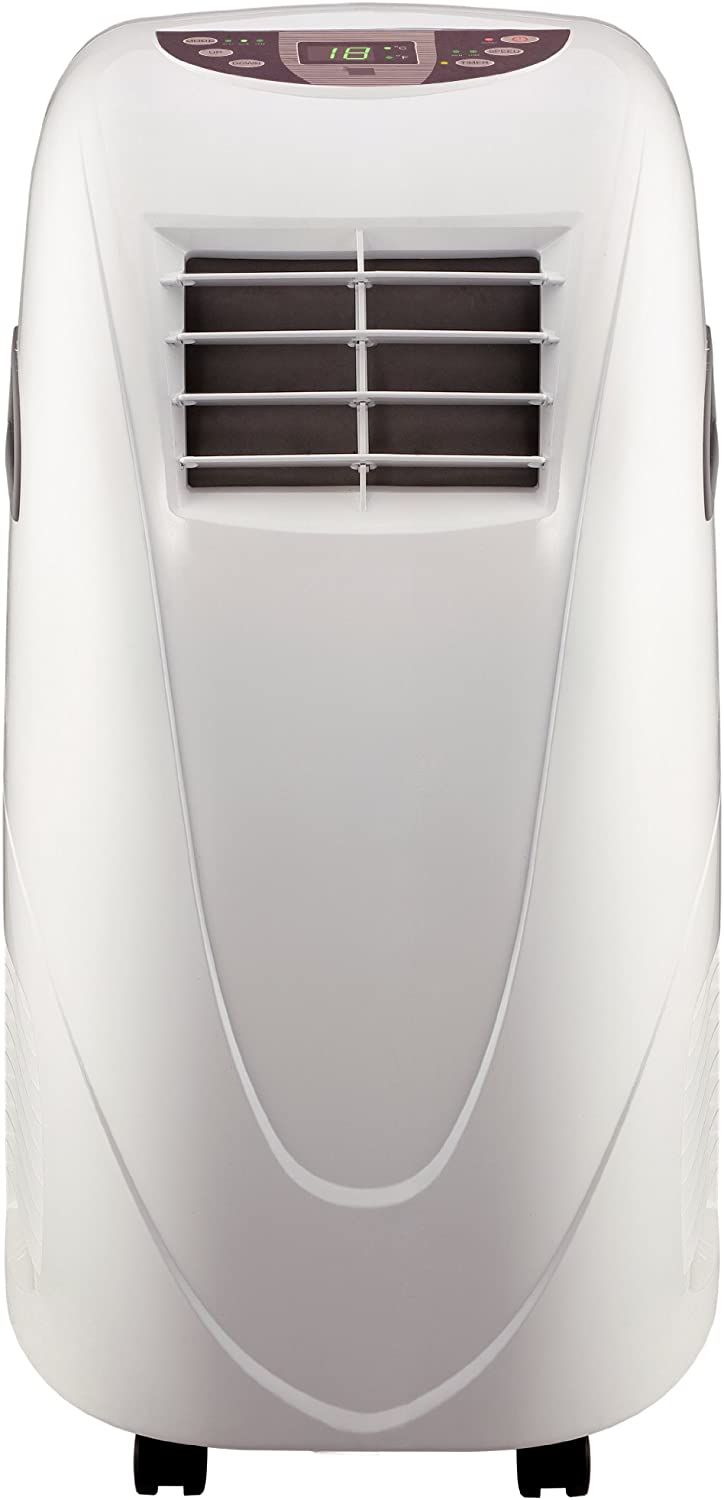 Safety
One prominent concern people have with portable air conditioners is safety-related. Since it is not a window-mounted AC, it can be easily accessed by kids and pets. But what makes it safe is the exhaust pipe through which hot air can be directed outside the house via windows. This prevents the heat from getting trapped in the room and keeps the unit cool to touch.
The Shinco YPL3-10C has an exhaust pipe specifically made for this unit, making the installation less tedious and safe. Plus, it has a 6-foot power cord that allows enough flexibility in terms of the unit's placement. We advise referring to the instruction manual to ensure that the installation has been done correctly.
Extra Features
As we mentioned, the unit comes with a remote control. In addition to that, the surface of the unit has an easy-to-understand interface. All the buttons are labelled clearly, and there is a small display screen. With the availability of this feature, coupled with the remote, operating this unit is an absolute breeze.
This portable AC also has a 24 hour on/off timer, which makes it energy efficient. With this, you can set a schedule for the AC and get it to turn off automatically once it reaches the desired temperature. This way, it will help save energy and not generate a high electricity bill. 
Another feature that is not available in many ACs within this price range and is appreciated by a lot of customers (and us!) is the adjustable vents. These are quite beneficial since you can easily direct the air to blow out in any direction you like. Moreover, it is particularly helpful if you do not want a full blast of air on the face.
This unit also has a built-in dehumidifier that can remove 62.4 pints of moisture, and washable filters. We suggest washing the filters on regular intervals to improve the efficiency of the AC. To sum it up, it has all the essential and additional features which make it a great buy. 
What Could've Been Better?
As we mentioned earlier, every electronic device has faults and this one is not an exception.. However, we don't think they overpower the benefits of the product. The first minor issue we noticed was the noise the unit made. It has a decibel level of about 55, which is considered a bit much for an AC this size.
It isn't just us; there are a few customers who have complained about the same. One user even said that during the initial time of usage, the AC noise drowned the sound of their ringing phones. However, it isn't something that you cannot get used to overtime, so don't be discouraged.
Another issue we found was that the exhaust pipe tends to pop out of the window at times. There is no particular reason as to why that happens, but it's easy to fix. Adding some tape to secure the pipe to the window will help.
Pros
Affordable unit

Lightweight and portable

Easy to assemble

Simple digital interface on the unit

Attractive design
Cons
A bit loud initially

Exhaust fan needs to be secured tightly
Shinco YPL3-10C Buyers Guide 
We think, by now, it is clear that the Shinco YPL3-10C has the potential to cater to your needs. It cools any space effectively without costing a fortune. That being said, you may want to explore a bit more, and that's fine. Finding the perfect portable AC can be a tedious task, considering the options available. 
To make it easier, we have put together a buyers guide that discusses the essential features to look out for in any portable AC. 
Price
Although cheaper than a window AC, a portable air conditioner can cost a considerable amount depending on several factors. The power of the unit plays a significant role in fixing the price. If you are looking to cool a large space, you will need a bigger unit which will cost more (and that is obvious).
Additionally, brand names matter too. If you want a unit that guarantees quality and service, turning to bigger and popular brands is the way to go. The only issue that there is a chance you will have to pay more. However, it will be worth it since there won't be a need to spend money on such a unit for a long time.
Finally, additional features like a digital interface, remote, dual-functionality are all considered when fixing a price for any AC. This boxes it within the $100-$800 price range with an occasional hike to about $1000 for commercial units. Ultimately, the idea is to buy something that performs according to your expectations within an appropriate price range.
Energy
Everyone that's looking to buy new electronics needs them to be energy efficient. Not only is this good for the environment, but it helps keep the electricity bill low. Most units displayed, online or in a showroom, have information of how much energy they utilize written on the unit itself. It is always advisable to keep an eye out for that.
Secondly, features like auto-on/off, energy-saving mode, timers, sleep mode and programmable thermostats are of great help. These automatically switch the unit off once the room reaches the temperature you set it at. 
Installation
This is an essential factor since this is where portable ACs differ from window ACs. Most people buy the former because it is easy to install and can be done in under 20 minutes. The only thing requiring effort is fixing the exhaust hose to the window. 
To further enable this, the unit must come with clear instructions and illustrations. Most units come with a kit and all the hardware necessary. And although installation of these units are very beginner-friendly and can be done by anyone, having an extra hand to help is always appreciated.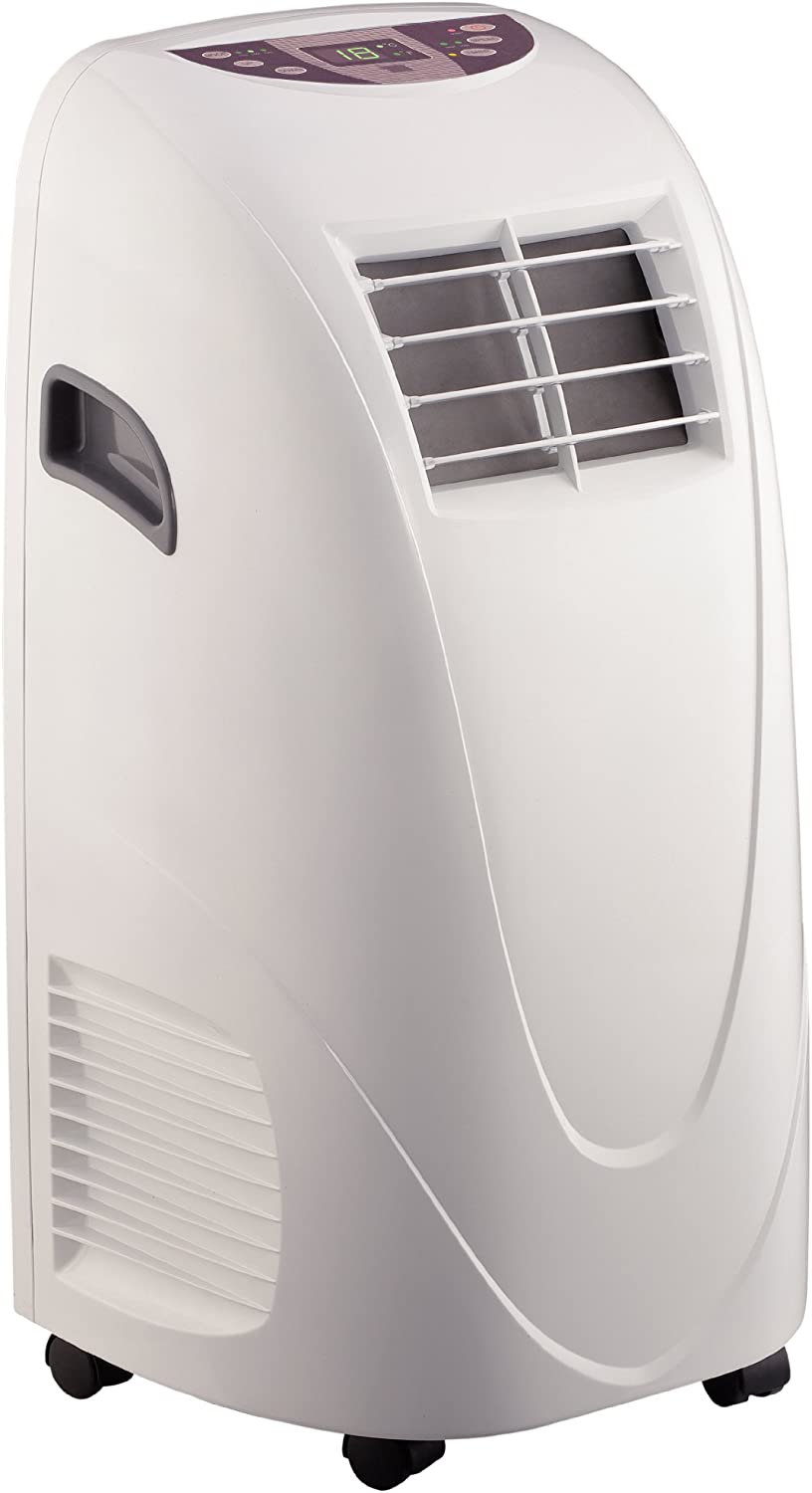 Room Size and BTU
For effective cooling, having a good idea of the living space is essential. It is vital to know how big or small the room is because, on the one hand, you wouldn't want to pay more than required. On the other hand, you don't want to buy a unit that does not cool effectively.
Keep an eye out for information on the ideal room size for any unit (manufacturers mention that at times). If it is not mentioned, we advise doing a bit of research after measuring the room. Also, remember that certain obstructions like excessive doors or thick walls can hinder the cooling process. 
Ventilation
Most portable ACs come with a window kit that will allow you to set up the unit accurately. It is reasonably straightforward and can be done in any room. If the unit is kept far from the window, check how long the exhaust hose is and whether it can be extended. 
There are two kinds of hoses used for ventilation. The single hose unit is the kind where only one hose takes in and exhausts the air. On the other hand, a dual-hose unit is one where there is one hose each for intake and exhaust. They both work efficiently, but the dual-hose one is more popular.
Noise
Certain electronics like washing machines and air conditioners make noise, no matter how quiet they claim to be. A noiseless machine is a myth, so it is futile to look for something that will make no noise. However, the volume is the thing to be wary of. 
Noise from an electronic product can range from low white noise to "my house feels like a construction site" type noise. The key is to ensure it's the former, not the latter. The best way to determine that is by going through reviews (like this one!). Moreover, if the units USP is that it makes less noise, it will be heavily advertised. 
Additional Features 
Now that we are done with some of the basics, let's move on to the fun stuff. Having a unit that is easy to install and functions efficiently is what everyone needs, but it helps to have few extra features to make it fun. In this regard, design is the topmost priority. 
A portable AC is one of the few products in the house that can be utilized in every room. This is why having a unit with a seamless make, and neutral color is preferred. This way, it does not cause any visual obstructions when kept in the room. 
Moreover, since it has to be moved around, it should be easy to transport. Having wheels in the bottom and handles are appreciated since they make it effortless to move the unit. 
Shinco YPL3-10C FAQ
How Is A Portable AC Beneficial?
Summer heat can be really exhausting, and for some, it can cause illness. For those people, having a portable AC in the house can reduce the chances of falling sick. Moreover, it is a smarter option when compared to a window or ductless AC since it takes less time to install and consumes less energy. 
Is A Portable AC Safe To Use?
Yes! As long as the installation is done correctly. One pressing concern with these units is the release of heat from them. To make it safe for residential use, it comes with an exhaust hose which ensures the heat does not get trapped in the room.
This is why there is an emphasis on proper installation. The exhaust hose is fixed to the window to let the heat go out, and till it remains secure, there is nothing to worry about.
How Long Should The Exhaust Hose Be?
Ideally, it should be about 3-4 ft. However, it depends on the model and brand. In case you need a longer one, they are easily available to purchase. It is generally advisable to buy from the same company and not try and make your own (which is very possible). 
Another thing to keep in mind is that a long hose will make it difficult for the AC to cool the room. As a general rule of thumb, a hose shorter than 10ft will allow the unit to function correctly.
Can The ACs' Efficiency Be Improved?
Of course, it can! With time, the efficiency of any electronic device tends to deteriorate. But there are certain things that you can do to ensure it works properly. The first thing will be to install it with care and ensure that it remains secure. Keep an eye out for gaps and loose screws, as those make it worse.
You can also use the AC with the fan on since the combination of the two will cool the room faster. Additionally, keep it in a cool place under shade and make sure it is not exposed to harsh sunlight.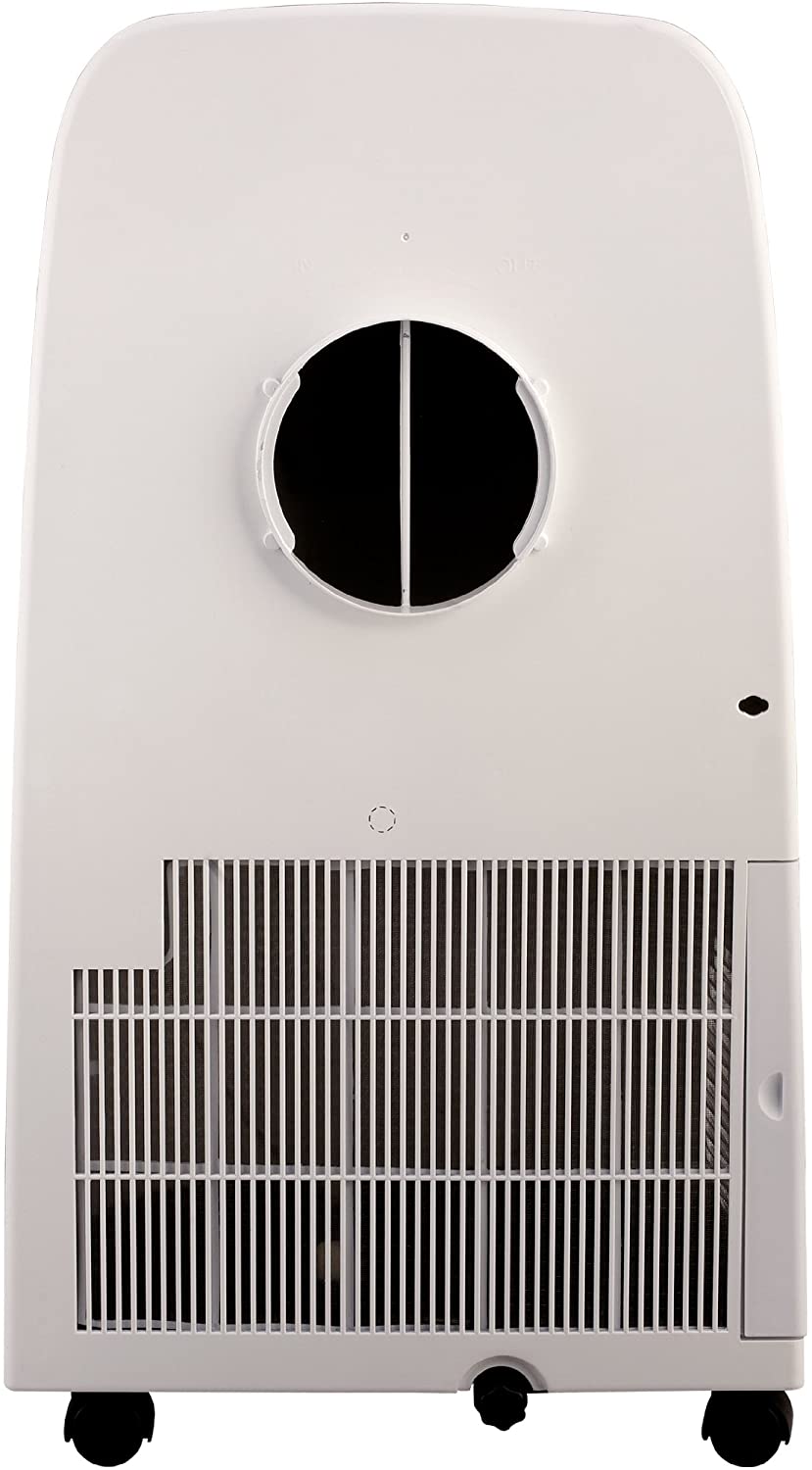 Shinco YPL3-10C Verdict
To sum it up, the Shinco YPL3-10C is an excellent buy. It is ideal for anyone looking for a compact unit that has a lot of power. And since the design is simple and neutral, it will blend into the room and won't be a visual obstruction. 
For the price range that it is in, it's quite a steal. Yes, it does have its flaws but nothing a little extra care cannot fix. We think it can be a great addition to homes that often feel like a furnace during the summer months. We urge you to try the Shinco YPL3-10C out yourselves and let us know how the experience was.
We'll see you next time with many more reviews!
Related Articles
10 Best Dual Hose Portable Air Conditioners
13 Best Portable Air Conditioner and Heater Combos of 2023
How To Hide Your [AC] Air Conditioner Unit?
13 Quietest Portable Air Conditioners
9 Best Ventless Portable Air Conditioner
Zero Breeze Mark II Portable Air Conditioner
7 Best Through-the-Wall Air Conditioner
How To Clean Air Conditioner Coils Properly
Replacing or Repairing Your Air Conditioner Unit 101
Zero Breeze Mark II Portable Air Conditioner
Coway AP-1512HH Mighty Air Purifier
Can You Recharge A Window Air Conditioner?