Keeping plants around is an excellent way to connect with nature while also enjoying several health benefits. 
However, as all nature lovers know, taking care of plants is not as easy as it sounds. You need to consider several factors, and making sure that the plants get sufficient amounts of water is one of the most important concerns. 
Now, ensuring that your plants are adequately watered when you are away is a challenge. One of the most effective and popular solutions to this problem is getting a self-watering planter.
Self-watering plants offer several advantages, and there is a wide variety of them available on the markets. However, selecting the one that best suits your needs can be both time-consuming and challenging.
That is why this guide will provide all the information regarding the best self-watering planters that are worth purchasing. So, without further ado, let's get straight to the deets.
Best Self Watering Planters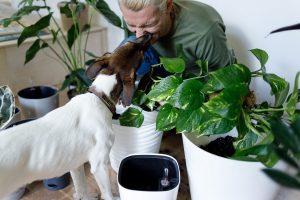 The MoMa WetPot Self Watering Pot is one of the most popular planters currently available on the market. It comes with a modern design that caters to those looking for a plastic-free option. This pot is made up of a large glass reservoir which includes a terracotta planter within. 
This planter allows the roots of the plants to absorb the required amount of water through its walls. Additionally, the transparent glass design also makes it possible to know when your plants need more water. 
This self-watering planter is available in three different sizes, and it is perfectly suitable for both indoor and outdoor use unless the temperature is extremely low. 
For those looking for a lighter option that is easier to move around, the Lechuza Cubico Cottage Self Watering Garden Planter is an excellent option. It is a rectangular-shaped planter made up of UV and frost-resistant plastic. You can also use it in outdoor areas like the backyard as well as indoors. 
This planter comes with a drainage plug for removing excess water from the pot before bringing it inside. It is available in two different sizes of 22 inches and 30 inches. 
Furthermore, the Cubico Garden Planter has a box-shaped liner where your plants rest. It is on top of a water reservoir and has an opening at the top. There is also a water level indicator that makes it easy to know when to refill the planter. 
One of the best things about this planter is that the soil is separated from the water reservoir through a specially created filler that ensures better aeration for the roots. While this filler protects the roots, it also ensures that they quickly get the required amount of moisture. 
Etsy Wine Bottle Self Watering Planter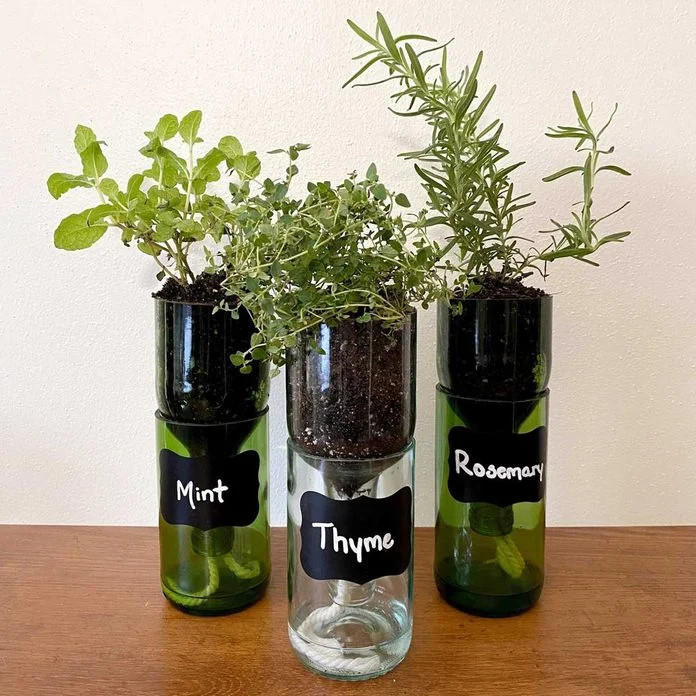 The Etsy Wine Bottle Self Watering Planter is the ideal choice for DIY enthusiasts. It can be easily crafted using DIY methods. Alternatively, this upcycled planter is also available on the market.
The Etsy Wine Bottle Planter can be used effectively to plant herbs and is available in three different shades of glass, including amber, clear, and green. 
The cork of the wine bottle helps secure the self-watering rope, providing a great sustainable option for reducing waste. This self-watering planter also comes with complementary seeds and some soil for an overall planting experience. 
A unique self-watering planter from an innovative brand, the Cole and Mason Herb Garden Planter includes felt pads inside. These pads allow the water from the reservoir to travel up and reach the roots of the plant. 
The water tray lies below the planter, which has a pouring spout. The reservoir of the Cole and Mason Planter can hold up to ten ounces of water. This feature makes this pot perfect for growing herbs that need water but not too much of it. 
The four felt pads in this planter are more than enough for self-watering purposes and will easily last for up to a year. The pots are not very large, making them suitable for growing small herbs like cilantro and basil. 
Another thing to note is that this planter does not require repotting of plants. If your plants are in plastic pots with drainage holes at the bottom, you can place the plastic pots on the felt pad, which will provide adequate moisture.   
The African Self Watering Planter Pot is one of the most attractive-looking pots on the market. It is handcrafted and comes with four holes around the base. These holes allow the plant to draw up water from the outer dish as and when required. 
These ceramic pots are made-to-order and available in different shades such as blue, white, and green. The planter is about four inches tall and seven inches wide. Since these planters are custom-made, the process of manufacturing and shipping takes about two weeks.
When looking for budget options, make sure to check the Mkono Self Watering Planter. It is made up of highly durable plastic that also provides the pot with a modern look. This planter is also suitable for both outdoor and indoor use. 
Another advantage that the Mkono Pots offer is the easy setup process. The pots come with a cotton rope that you need to place through the holes in the interior pot, which will hold the plant. Fill the exterior pot with water to the level of the interior pot, which will get moisture through the cotton rope. 
You can also mark the fill line with a marker or tape to serve as an indicator. Once the pot is filled, it can hold water for up to ten days or more, depending upon the moisture requirements of the plant. Keep in mind that the soil in these pots stays too moist for plants that require less moisture, such as cacti.
As gardening enthusiasts must be aware, hydroponics is the science of growing plants without soil, usually in water. If you are looking for a planter ideal for hydroponics, you should go with the Lettuce Grow Farmstand. 
This self-watering planter is made of recycled plastic and promotes water conservation by using 95% less water than traditional gardening methods. It is one of the most flexible options on the market and lets you grow between 12 to 36 plants. 
There are five different sizes to select from, with multiple stackable rings that accommodate the required number of plants. For running the pump of the planter, it needs to be plugged in at all times. Additionally, adding a drip tray below can also help prevent wastage of water. 
Hence, the Lettuce Grow Farmstand is the ideal choice for those who want to grow their food throughout the year, making it easy to cultivate several types of herbs. 
For first-time users, it is not easy to find a suitable self-watering planter. That is why the Windows Garden Aquaphoric Planter makes such a compelling choice. It comes with oxygen-rich fiber soil and is available in several different colors. 
What is more, this planter comes with an easy-to-read water level indicator that makes it simple to know when the plant needs more water. It also comes with illustrated instructions that provide step-by-step guidance for setting up and using the planter. 
This Aquaphoric planter is one of the simplest to set up and also has a visually attractive appearance. You can easily use it in both indoor and outdoor conditions without any worries. 
Another affordable option is the Laerjin Self Watering Pot, which is available in two sizes ranging from 5.5 to 6.7 inches. This self-watering planter comes with a reservoir at the bottom, which provides plants with the required amount of water when needed. 
This planter is perfect for susceptible plants and needs extra care when developing their root system. For growing herbs or small houseplants indoors, this is an excellent option. 
This Windowsill Herb Planter Box from Amazing Creation is a uniquely designed planter that provides plants more room to spread their roots and grow. It comes in a set of three pots in different colors, including orange, green, and coffee. 
The boxes are four inches deep and ten inches long, which provides plenty of space for growing herbs. Additionally, the material of the pots is highly durable, crack-resistant, does not fade and is completely food safe. 
In general, window boxes are excellent for growing herbs and small plants on your windowsill. However, the problem regarding window boxes is that it is not easy to water plants grown inside them. 
The GardenBasix Elongated Self Watering Planter Pot holds an adequate amount of water that ensures that you do not need to water plants frequently. It has a modern and sleek appearance while also being extremely sturdy. 
This self-watering planter also has a water level indicator that makes it easy to know when the pot needs more water. The water injection port helps you quickly add water to the planter without any hassles. 
The GardenBasix Planter comes with coconut coir discs that transform into plant fiber when water is added. 
As far as the process of watering potted plants goes, most hanging planters do not make the process an easy one. It is because as soon as the water is added, it tends to drip down. Eventually, it leads to a lot of water wastage. 
Self-watering hanging baskets strive to solve this problem, as they retain the required amount of water to meet the needs of plants. The Vivosun Self Watering Hanging Basket is one of the best ones in the category and can be used both indoors and outdoors. 
It is available in a two-pack with four different colors to select from. Furthermore, this planter is made up of durable plastic that is rust, fade, and peel resistant. 
For growing shrubs like tomato or cucumber plants, the Hydrofarm GCTR Tomato Trellis is one of the best products you can get. It is straightforward to assemble and provides an adequate amount of space for the plants to thrive. 
There is a watering port for filling the reservoir quickly, and the trellis can expand to several feet high. The wheels on the planter make it easy to move around to protect it from harsh weather when needed. It also helps save effort on repotting the plants somewhere else, ensuring that they remain undisturbed.
People who do not have large outdoor spaces will find this planter to be perfect for their needs. It is suitable for keeping on porches, balconies, decks, etc. 
The Lechuza Cube Cottage is one of the larger self-watering planters that you will find on the market. It is in the shape of a cube that is 12 inches large and comes with a liner for planting the plants in. To make the planting process more manageable, you can quickly move the liner in and out of the cube.
This liner also helps separate the plants from the water reservoir to aerate the plant roots and provide them space for optimal nutrition. There is also a drainage plug that allows you to help remove excess water from the planter quickly. There are several color options to select from, and the wicker style design provides a great appearance. 
For those looking for an option that uses recycled material, the Tierra Verde planter is ideal. It is made from rubber recycled from tires, which makes it eco-friendly and provides excellent durability. It is especially suitable for outdoor plants. 
While plastic planters tend to crack in extreme temperatures, rubber can easily withstand such conditions. This property makes the Tierra Verde perfect for cold temperatures as it does not break or crack. What is more, the exterior of the planter is also UV and stain-resistant and can be left out in the sun without any worries.
There are several different sizes that this planter is available in, and it also has a modern look that makes it perfect for porches and balconies. One thing to note is that while most self-watering planters require adding water separately to the reservoir, it is not the case with the Tierra Verde planter.
When the soil is watered, the reservoir collects the excess amount of water and stores it later when required. There is also an overflow hole that helps release any excess moisture if the reservoir is overfilled. 
One of the largest self-watering planters on the market, the Keter Easy Grow is about 20 inches deep and 44 inches wide. It comes with a water gauge that indicates when the planter requires adding more water. Furthermore, there is a drainage system to remove excess water from the pot. 
The Keter Easy Grow planter has a weather-resistant design which makes it great for using on patios or decks. You can easily use it for herbs, flowers, vegetables, etc. 
While the previous item was one of the largest self-planters, the Gardenix Décor Self Watering Succulent Pot is one of the most miniature self-watering planters. It is ideal for fairy plants, small houseplants, succulents, herbs, etc.
This self-watering planter can last up to two weeks between watering and is available in different colors like white, teal, and grey.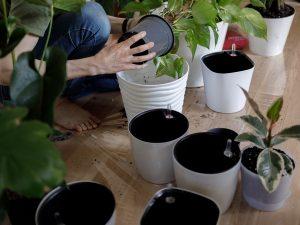 Final Words 
And with that, we have finally concluded this list of the best self-watering planters currently available on the market. You can use several of the items both indoors and outdoors. It is also possible to use two or more of these planters together to meet different requirements. 
Moreover, you can get self-watering planters in different shapes, sizes, and colors with a wide variety to select from. So, next time you plan to go on a business trip or a vacation, get a self-watering planter and put your worries to rest. 
Let us know your favorite self-watering planter in the comments below, and we'll be back with more interesting guides soon. Until then, happy planting! 
Related Articles 
Ingenious Wine Cork Planters For Your Little Plants
Gorgeous Succulent Planters Instantly Beautifying Your Home
28 Ways to Accessorize Your Household With Creative DIY Hanging Planters
21 DIY Inspiring Ideas for Planters That Will Make Your Plants Happy
50 Cool Water Feature Ideas For A Soothing Garden
59 Best Vertical Gardening Ideas to Grow Right Now
39 Best DIY Garden Trellis Ideas To Consider
40 Best Online Gardening Stores
13 Best Potting Mix For Orchids