Any door, be it in a commercial or residential place, is not complete without a door closer to make sure the door closes smoothly.
While a sliding door may not need such an attachment, any standard door that opens inwards or outwards is susceptible to slamming shut. This is where a reliable door closer comes in to help extend the lifespan of your door frames.
However, finding the best screen door closer can be challenging. After all, there are so many types of doors; aluminum, wood, and metal doors have many differences in construction and qualities. To help narrow down your search for the perfect closer, we have gathered the best models on the market as well as a guide to aid you in making the most informed decision.
With that being said, let's get right into it!
Best Screen Door Closers
IMAGE
PRODUCT
DETAILS

Our Top Pick

Our Top Pick

Hampton Products

Pneumatic door closer
Wood or metal out swing doors
90-degree opening

VIEW LATEST PRICE →

Ideal Security

Compressed air closing system
Versatile installation
Aluminum, steel, or wooden doors

VIEW LATEST PRICE →

Greenstar Touch 'n Hold Smooth Door Closer

Hands-free door open
Easy door release
Durable metal construction

VIEW LATEST PRICE →

National Hardware

Ergonomic door open button
Adjustable closing speed
Easy auto release

VIEW LATEST PRICE →

Greenstar Touch 'n Hold Smooth Dual Door Closer System

Can replace existing closers
For medium and heavy-duty doors
Full metal construction

VIEW LATEST PRICE →

Onarway Automatic Door Closer

90-180 degree open lock
Commercial-grade aluminum alloy
All-purpose medium door compatibility

VIEW LATEST PRICE →

FORTSTRONG Door Closer

Hydraulic closing system
Independent adjustability
Aluminum and steel construction

VIEW LATEST PRICE →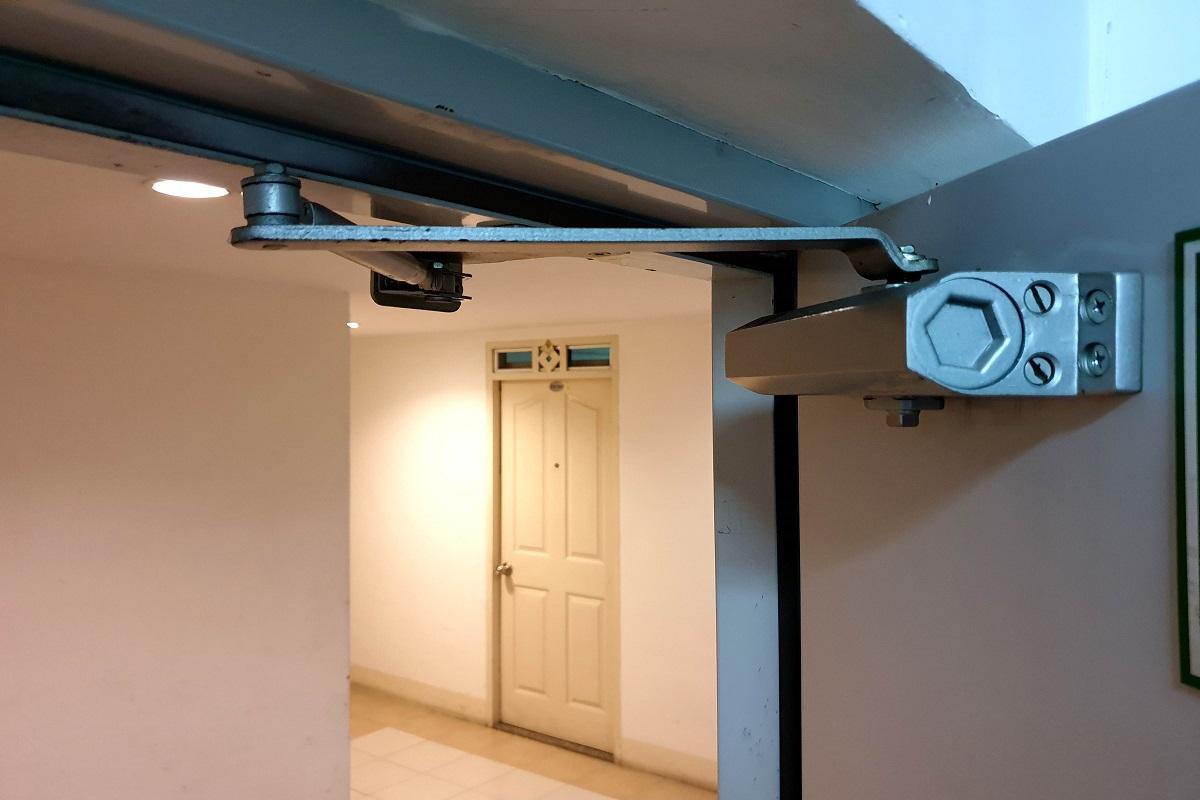 The Hampton Products V150WH door closer has a heavy-duty pneumatic design to catch the door from slamming shut. It is compatible with a wood or metal door that swings outward. With the adjustable closing speed and easy installation, it is an excellent option for beginners and experts alike.
Why Did We Like It?
What makes the V150WH so great as a door closer is the durability it offers to protect the hinges and frame of the door. It is built for heavy doors, so the door's weight can be supported by the patented pneumatic system. What's more, it is compatible with Storm doors that are 3/4th of an inch to two inches in thickness.
Additionally, the door closer has an effective opening of 90-degrees for doors that open outward. This gives a set area that keeps the storm door from suddenly banging open, even in strong and high wind.
Whether it is wood or metal heavy-duty doors, attaching it to the door is a simple matter of screwing in the mounting brackets to the frame. The closing speed of the door closer can then be adjusted to close as slowly or quickly as you need.
What Could've Been Better?
One minor inconvenience that we found while testing out the V150WH was the sudden closing of the door towards the end of the closing motion. This made the frame suddenly slam shut, no matter how slowly the pneumatic system was adjusted.
Pros
White finish

Heavy-duty door closer

Easy to install

Adjustable closing speed
This pneumatic storm and screen door closer from Ideal Security has a tough yet flexible design that is perfect for any heavy door. It can be adjusted for having the right closing speed and can be used while replacing screens and door panels, which are a few of its user-friendly features.
Sale
Why Did We Like It?
Ideal Security has prioritized versatility in the installation of the SK1730B as it is possible to attach the jamb bracket on the top, middle, or bottom of the door. There is no loss of latching power no matter the location of installation, allowing the door closer to adjust to the design of any door.
Furthermore, this door closer is compatible with aluminum, steel, and wooden doors that are 1.25 to 2 inches thick. It is easy to say that no matter the door weight, the SK1730B is able to support the entire door.
Of course, being a pneumatic door closer, adjustment to the closing speed is possible via the end of the cylinder with an air screw. These adjustments also allow for changing out the screen doors or panels on a storm door for a seamless maintenance experience.
What Could've Been Better?
Although it may not be as big of an issue, we noticed that the parallel arm gave off quite a few creaks as compared to other standard duty door closers. Thankfully, it is an easy fix by applying a few drops of lubricant to allow for smoother travel regardless of how many positions the door is opened at.
Pros
Anti-rust construction

Adjustable closing speed

Smooth, sweep motion closing

Easy installation
Sporting patented smooth closing technology; this Greenstar door closer has a touch 'n hold feature for ultimate convenience and safety. At the push of a button, the door closer will remain open, a valuable ability for any residential or commercial door closer. With an easy installation to boot, this Greenstar door closer is a solid choice for medium doors.
Why Did We Like It?
Obviously, the standout feature on this Greenstar automatic door closer is the touch 'n hold design. Being able to keep the door open at the push of a button makes moving in and out much easier, especially when your hands are full with groceries or other items. To get the screen door closer resume its closing motion, simply open it a bit more, and it will slowly shut by itself.
Greenstar has made its own patented closing technology to make a smooth path that has a reliable latching power when closed. Once released from the locked position, the parallel arm glides into the cylinder and seals shut.
Furthermore, this Greenstar closer is able to be installed where other parallel arm closers have been used. It has a straightforward installation, making it compatible with other brackets from various manufacturers.
What Could've Been Better?
While this Greenstar pneumatic door closer has a useful halting feature, this makes it vulnerable to high winds. These winds can compromise the structural integrity of the closer and prematurely close it, which should be taken into account if you live in a particularly windy area.
Pros
Quiet operation

Straightforward installation

Easy replacement design

Smooth closing force
Gone are the days of struggling against a closing screen door, thanks to this National Hardware door closer. A top button allows for the closer to lock up and keep the screen door opened at any position you need—definitely a handy feature for any lightweight doors that need an extra bit of support.
Sale
Why Did We Like It?
National Hardware has taken convenience and the user experience as the priority with their door closer. As far as screen door closers go, the ergonomic button is a rare but welcome feature. It is located on the top of the closer, making it easily accessible and comfortable to use.
Additionally, when released, the closer has a slow path, allowing the more delicate door frame of lightweight doors to be held intact for longer. This slower path is achieved by adjusting the closing speed during installation.
What makes this screen door closer a delight to use is the easy auto-release function. Simply pushing the door a bit more open will unlock the mechanism and free the door to gradually shut at the speed you set.
What Could've Been Better?
If there were one caveat to getting the National Hardware screen door closer, it would be the inability to use it as a top jamb. Putting it at the top of a door frame can leave the button beyond arm's length and make the hold-open feature obsolete.
Pros
Non-greasy design

Powder finish

Easy to install

Simple hold open design
Another offering from Greenstar, this particular model is designed as a dual storm door closer. It can withstand exposure and weight from wind, making it a heavy-duty attachment to keep doors secured. What's more, it also features the trademark hands-free open design for convenience.
Why Did We Like It?
What makes this storm door closer so unique is the dual design that is able to withstand the heavy weight of storm doors. It does not compromise on its durability, having an all-metal body that can replace a number of other door closers.
Furthermore, this dual storm door closer has a simple installation and features the patented smooth closing that Greenstar is known for. There are no unexpectedly fast or slower closing speeds; it moves at the rate you set it as while installing.
Of course, the highlight feature has to be the button that can be tapped to keep the door propped open. This feature works at any position and can be released by pushing the door slightly more open and allowing it to close. Truly, an easy-to-use design that comes in handy when you need it.
What Could've Been Better?
While it is not a dealbreaker, one minor inconvenience to this Greenstar dual storm door closer is the placement of the door hold button. They have only included it on one closer, meaning to have the feature on both doors will require an additional purchase to get a closer with the button.
Pros
Designed for heavy-duty storm door

Versatile installation

Durable body

Hands-free operation
Cons
Only one closer has hold button
The Onarway automatic closer is an incredibly heavy-duty option if you need the absolute best in top jamb closers. With the opportunity to keep the door open past 90 degrees, it is a one-of-a-kind opener that keeps heavy doors from closing too fast.
Why Did We Like It?
Right off the bat, this door closer stands out as a versatile attachment for any medium-sized door, whether they are indoor or outdoor. Material and right or left orientation is also not a factor; the door closer can be applied regardless.
With such a broad scope of applicable contexts, it is surprising to see that the closer is able to support the entire weight of the door in an open state. When opened past 90 degrees, the door will remain open at the position you leave it at. To close it, simply return it to any angle lower than 90 degrees, and it will softly close itself.
Furthermore, it has a durable build of antioxidative and non-corrosive aluminum alloy. This material also has the benefit of being resistant to rust and whether condition while giving a steady, silent operation.
What Could've Been Better?
As this door closer is meant for heavier doors, it does have a heftier weight than other door closers. Young children and older people may find opening or closing the door to be challenging; more force is required to get the door to the locked open position.
Pros
Automatic closing and opening

Weather and abrasion-resistant

Easy installation

Supports 99-132 lbs. doors
Cons
Strong push/pull required
A high-quality piece of hardware, the Fortstrong commercial door closer is a seamless way to slowly and smoothly close doors. With two independent adjustment levels, there are a number of customizations in terms of closing speed that can be made.
Sale
Why Did We Like It?
One feature that came especially in handy was the option to adjust the sweeping motion and catch mechanism of the closer. The sweeping motion ensures the door doesn't open too fast, while the catch will limit the closing speed to the desired level. Each of these parameters together makes for a fully custom motion for the door to work precisely the way you want.
As the FORTSTRONG door closer has an aluminum housing, it is relatively lightweight and ideal for many residential doors. There is also a steel-encased body that brings an extra layer of durability to the entire construction.
For an added touch of convenience in the installation process, FORTSTRONG includes a full fitting template to follow in case you are drilling into a new frame. This cuts down on figuring out the correct measurements, allowing for a seamless installation process.
What Could've Been Better?
Similar to many other hydraulic closers, the FORTSTRONG door closer has a tendency to squeak when being opened or closed. While the noise level is not at a considerable level, it is still notable when compared to other door closers.
Pros
Easy to install

Top jamb placement

Supports 144 lbs. doors

Wood/metal door compatible
Cons
Squeaking when moving hinges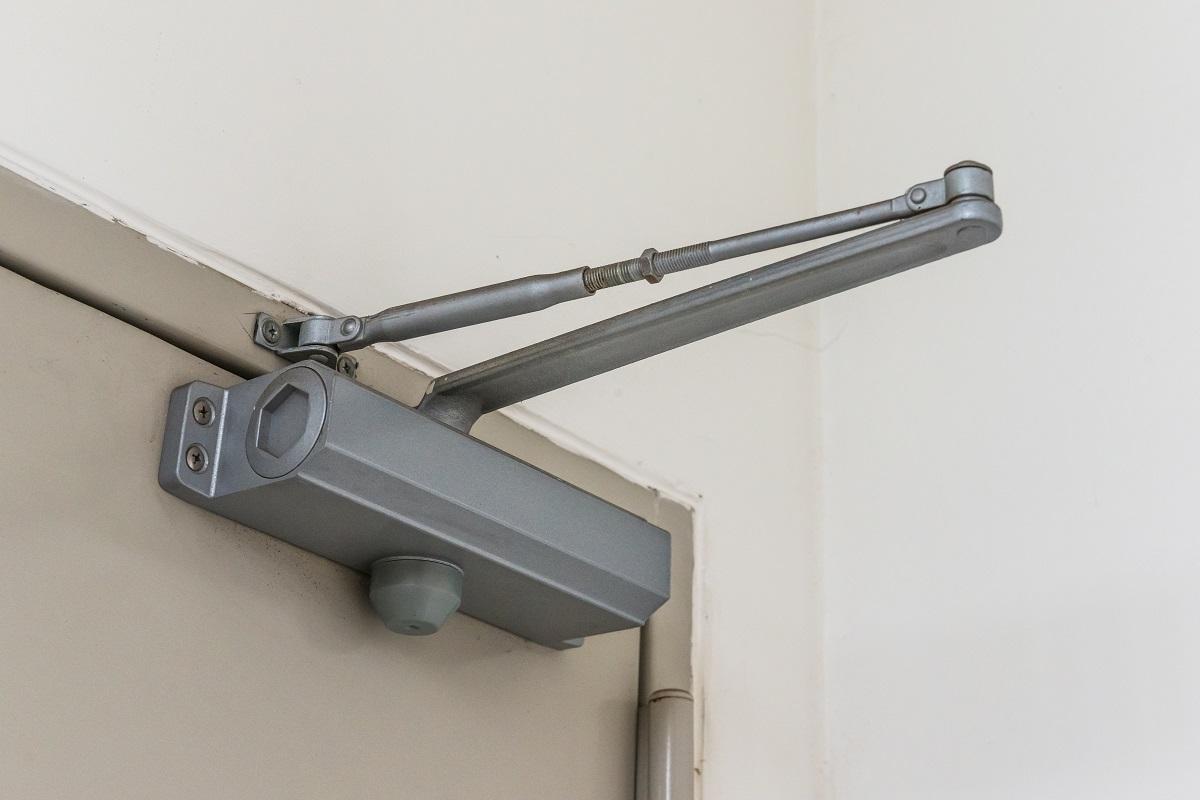 Screen Door Closer Buying Guide
Among door closers, there are specialized types for external and internal doors that can significantly affect performance. Knowing the types and various features in these types of attachments can be the difference in a successful installation or not.
Keep the following factors and features in mind when looking for a door closer in order to get the best performance possible.
1. Closing Method
Depending on the type and weight of the door being supported, the closing mechanism is one of the crucial factors to be considered. There are two main camps when it comes to door closing methods to soften the motion before it hits the frame.
A. Hydraulic Door Closer
One of the most popular methods used, the hydraulic door closer uses a system of air in pipes to open and close the door as smoothly as possible. Opening a standard door with this type of mechanism attached will result in the cylinder being compressed with air and then released when closed.
By making adjustments to the amount of air being used in each motion, the closing force can be altered. More or less air in the cylinder will equate to a faster or slower movement. Depending on the weight of the door, these adjustments can help make opening and closing the door more manageable and safer.
B. Spring Mechanism
A spring mechanism door closer is similar to a hydraulic system, save for the fact that instead of air, it uses a spring box. This spring box has an adjustable spring that is used to control how taut the door will open or shut.
Usually, a spring box mechanism will allow the closer to remain open until 90-degrees from the frame. As such, a spring box method is a popular option for household doors that need to be easily kept open with one hand.
2. Types Of Overhead Door Closers
Just as there is a selection of closing mechanisms to choose from, the installation and design of the door closer is another factor to consider. Below are a few of the most common overhead ones used in both commercial and residential doors. Each closer type has its own unique benefits and drawbacks, so look for the one with all the qualities you are looking for in a closer.
A. Standard Arm Closer
One of the most basic designs of door closers, this regular arm closer uses two arms to ease the door closed. While one arm is anchored to the frame, the other is attached to a spring box. Where this design falls short is that it sticks out perpendicularly from the door, which is not the sleekest design.
B. Top Jamb Closer
Seen as one of the best storm door closers in terms of design, a top jamb design is incredibly robust. Storm doors require substantial support to remain closed, which is why a top jamb is perfect, with its spring-loaded box that is mounted on the face of the frame of the door. Hydraulic storm door closer
C. Parallel Arm Closer
Commonly seen in residential doors and other types of lightweight doors, a parallel arm closer is used for its clean aesthetic. Although its closing speed is not as strong as the other types of overhead closers, it is valued as it is not damaged easily. This makes using it on light doors like a screen door more feasible in the long run.
3. Types Of Concealed Closers
On the other end of the spectrum of door closers, there are concealed closers that can not be visibly seen when the door is closed. There are two types of concealed closers that can be used in place of an overhead design to give a cleaner, more polished look to the frame.
A. Surface Mount Closers
A surface-mounted door closer is placed on the back of a door frame to add support and act as a buffer. Typically, it is used for automatic doors that close autonomously. Additionally, they are available in a wide range of colors, so matching them to the finish of the frame and door is quite easy.
B. Floor Spring Closers
One of the most high-quality door closers in terms of design and budget, a floor spring is incredibly difficult to identify. Of course, this is the primary goal of a concealed closer, an illusion that is achieved by keeping the mechanism buried in the floor. Underneath the floor, these closers control how fast or slow a door moves.
As these types of closers are pretty costly in installation, they are not always seen in residential doors. Commercial applications are more common for a concealed floor spring closer.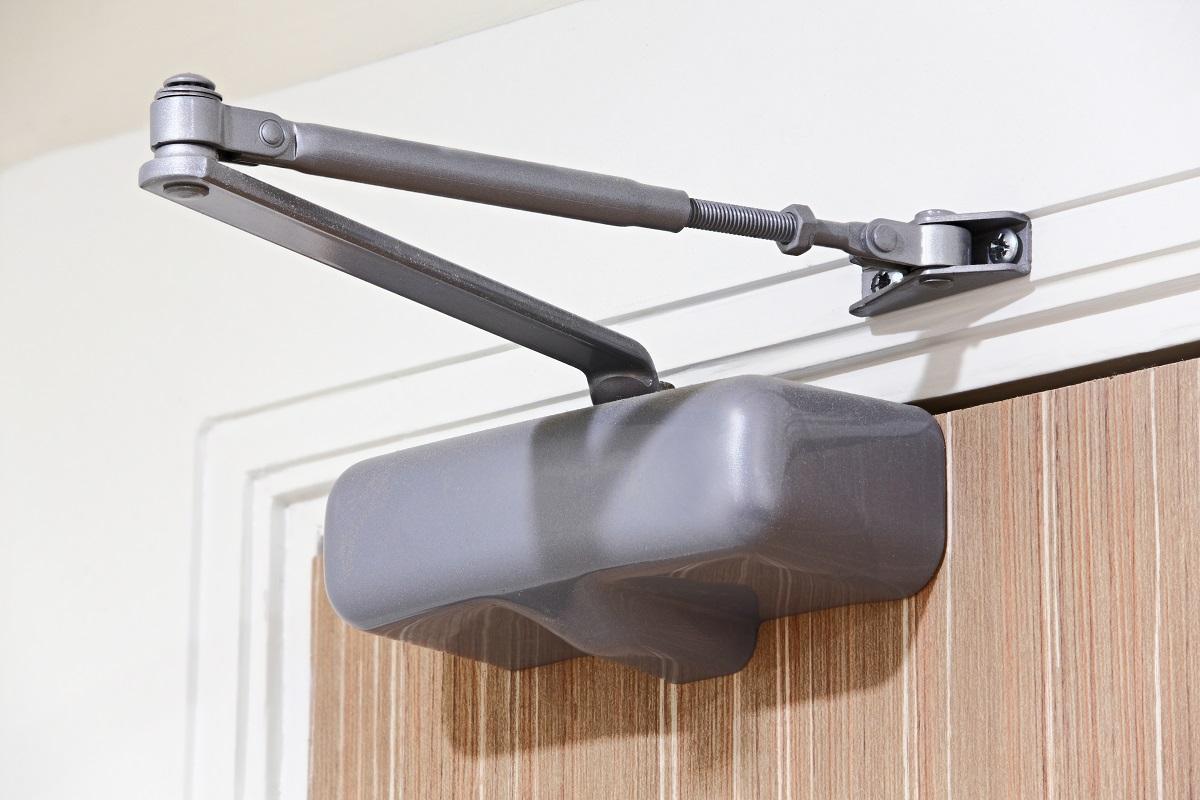 Verdict
With that, we will wrap up our review and guide for door closers; hopefully, you were able to find what you were looking for.
All that's left now is selecting a model; our top choice has to be the Hampton Products for its incredible durability. However, we would give the best storm door closer to the Ideal Security as it has a number of installation possibilities. As for the best screen door closer, the Greenstar Touch 'n Hold Smooth Door Closer has a handy halted opening design.
Regardless of what door closer you decide to go with, one thing is clear. No longer will you have to worry about the doors catching you off guard and slamming on any heels with a closer installed. A door closer is a small step in the right direction to a higher quality of living; treat yourself today!
Related Links
10 Best Fingerprint Door Locks
10 Best Fingerprint Door Locks
26 Types Of Doors to Consider for Future Your Home
Learn How To Make a Sliding Door For Your Home For Under $40