Disclaimer | This article may contain affiliate links, this means that at no cost to you, we may receive a small commission for qualifying purchases.
Who doesn't like a rejuvenating cup of coffee early in the morning? Or some delicious oats for breakfast?
Boiling water in the microwave takes a lot of time, and the stove certainly wasn't made for the lazy. Thus, the best way to get your steaming espresso or the occasional pasta is to use an electric kettle.
People are apprehensive about using electric kettles with plastic, owing to plastic's toxicity. But, what about electric kettles without plastic? Sounds perfect, right? They are safer to use and are far more stylish, with varying color options and several exciting features.
Now, we've compiled a list of the 13 safest electric kettles on the market that are free of plastic. So, without further ado, check what we've brewed for you!
Best Electric Kettles Without Plastic  
IMAGE
PRODUCT
DETAILS

Our Top Pick

Our Top Pick

HaddinEEon DE1733 Electric Kettle

1.7-L capacity
360° swivel base
Strix thermostat controller

VIEW LATEST PRICE →

COSORI Electric Kettle

1.7-L capacity
360° rotating base
Boil-dry protection

VIEW LATEST PRICE →

AmazonBasics Electric Kettle

1-L capacity
1500W power facilitates fast boiling
Boil-dry protection

VIEW LATEST PRICE →

Secura SWK-1701DW Electric Kettle

1.7-L capacity
Double-layered wall
British Strix technology

VIEW LATEST PRICE →

Mueller Electric Kettle

1.8-L capacity
In-built LED light
British Strix technology

VIEW LATEST PRICE →

Comfee' Electric Kettle

1.7-L capacity
360° swivel base with cord winder
Automatic switch-off

VIEW LATEST PRICE →

HadinEEon HB3166-E Electric Kettle

Gooseneck design
360° swivel, slip-resistant base
British Strix thermostat controller

VIEW LATEST PRICE →

Miroco MI-EK004 Electric Kettle

1.7-L capacity
Temperature control option
Comes with a 'keep warm' button

VIEW LATEST PRICE →

Miroco MI-EK005 Electric Kettle

900-ml capacity
Variable temperature option
100% stainless steel construction

VIEW LATEST PRICE →

BonNoces Electric Kettle

0.5-L capacity
Uses 800W of power
Stainless steel construction

VIEW LATEST PRICE →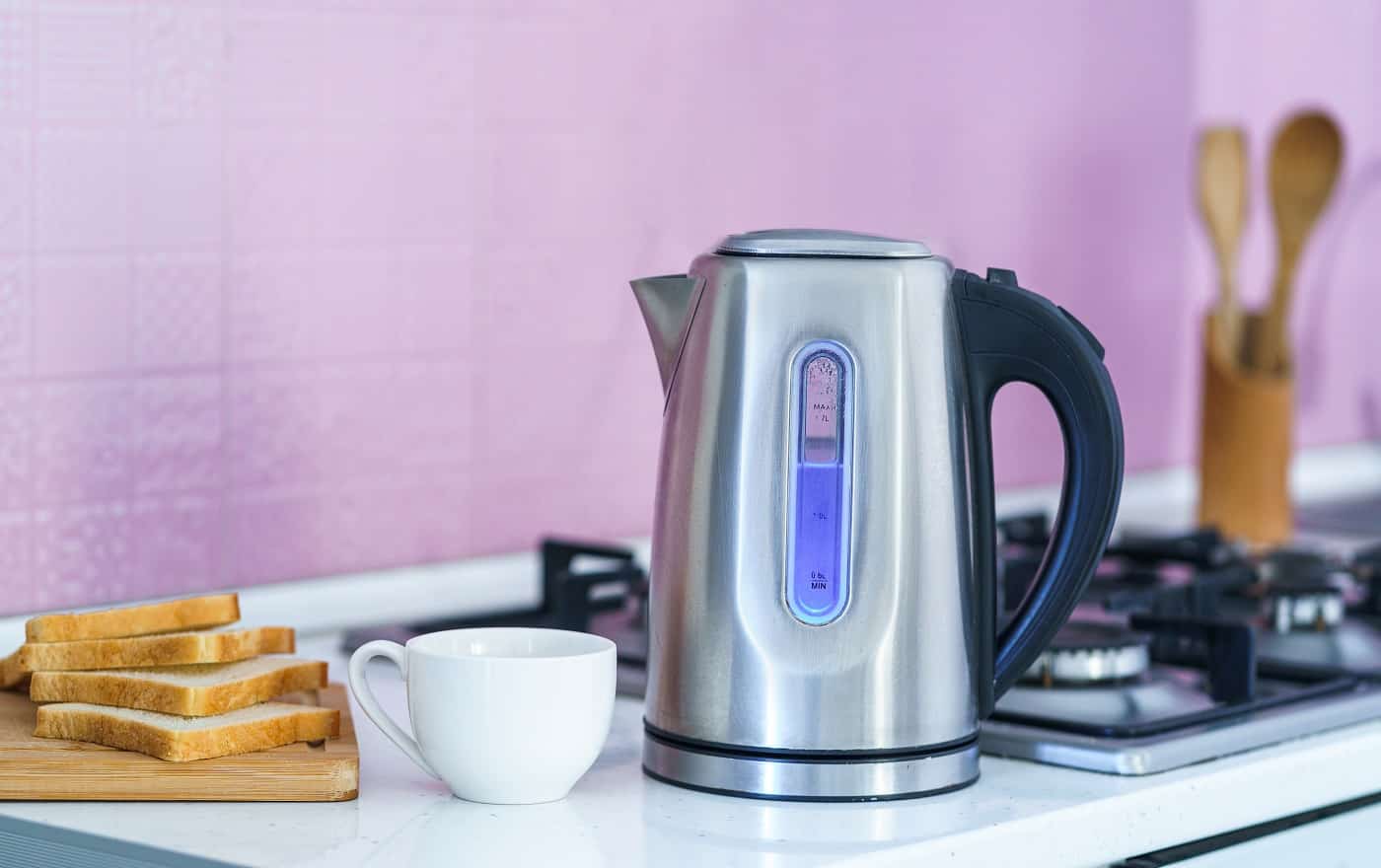 Are you in a rush with no time for breakfast every morning? This DE1733 Electric Kettle from HaddinEEon will come to your rescue with its quick-heating properties. With it, you will have a cup of hot chocolate or coffee ready in no time and can even make some quick cereal on the side.
No products found.
Why Did We Like It?
This DE1733 electric kettle from HaddinEEon comes in three striking color options and has a stainless steel and glass body. Its top-grade borosilicate glass is resistant to scratches and heat.
Furthermore, the glass exterior has a blue LED light around the rim that gives the product a very stylish and aesthetically pleasing look. Not just that, it also makes locating the kettle in the dark easy. The inside of the lid and base uses 304 food-grade steel, which adds durability to the model.
This device uses the Strix controller, which guarantees safer performance and eliminates all chances of instability. You will particularly appreciate additions like the auto shut-off feature and circle heating technology, enabling fast brewing. Besides, the unit also provides thermal shock protection.
Lastly, we'd like to highlight the brilliant ergonomics of this cordless product. It comes with a slip-resistant, cool-to-hold handle and is easily removable. Thus, serving your favorite beverages has never been easier.
What Could've Been Better?
This unit from HaddinEEon doesn't come with a temperature adjustment feature, which might be a drawback for potential buyers. Not just that, suppose you need multiple rounds of boiled water. In that case, you'll have to hold up the lid every time for refilling, which is inconvenient since the lid gets hot after several rounds of heating.
Pros
100% BPA-free

Wide mouth for thorough cleaning

Sleek and stylish design

1200W fast heating system

Illuminating blue light
Cons
No variable temperature option

Lid automatically closes during refilling
COSORI is a leading manufacturer of affordable and highly functional kitchen appliances, and this electric glass kettle is no exception. It has 4 color options and is of the optimal size, easily fitting on your kitchen countertop. Not just that, it is built to last. Read on to know why it's one of our top recommendations.
Why Did We Like It?
Durable and stylish, this electric kettle from Cosori has a scratch-resistant borosilicate glass body and a stainless steel base. They make the handle out of BPA-free plastic, and the cobalt blue light shows boiling water.
Like our previous recommendation, it uses the British Strix thermostat controller, and the water boils safely and evenly within 7 minutes. Besides, 30-seconds after the water boils, the auto-shut feature switches off the device. In addition to this, refilling or meticulous cleaning is easy, given its wide mouth.
The kettle's minimalistic design makes it a perfect fit for the kitchen worktop, and its 1500W quick-boiling technology helps you cook staples like pasta, oats and even brew some tea in no time. The cordless unit's boil-dry protection feature is praiseworthy and turns off the unit when there's no water inside.
For this device, COSORI offers lifetime customer help, making it a reliable purchase.
What Could've Been Better?
We noticed some residue spots and calcium buildup developing on the kettle's bottom after a few days. To prevent this, we recommend keeping the unit dry when it's not being used and regularly clean it with white vinegar. Also, make use of filtered water for boiling.
Pros
Comes with an indicator light

Auto shut-off feature

1500 W power boils water quickly

BPA-free plastic
Cons
Rust and calcium build up on the steel base
Up next, we've got this lightweight and budget-friendly kettle from Amazon Basics. Its stainless steel and BPA-free construction make it the best purchase in its price range. Not just that, it's easy to carry around, and you can take it with you to work for some quick coffee or instant soup.
Why Did We Like It?
Amazon Basics is renowned for introducing affordable and user-friendly products, and this electric kettle is no different. It draws 1500W of energy, which ensures quick heating. Thus, say goodbye to the noisy microwave or time-consuming stove and opt for this alternative, which gives you boiling water in just 5 minutes.
Next up, we've got the option of monitoring the water level in the kettle through the water-level window. Besides, the boil-dry protection technology and auto-shut feature automatically shut off this unit once the water boils.
Furthermore, the cordless design allows the carafe to be removed from the power base for easy serving and refilling. The base comes with a 30-inch power cord that can be wrapped for compact storage.
Moving on, this device has a hidden heating element and cleaning it is very simple, owing to the filter removal system and the wide mouth of the kettle. 
What Could've Been Better?
This electric kettle doesn't have any insulation, so it gets heated when the water is boiling. So, if you've kids in the house, be very careful while using this product.
Moreover, we'd like to reiterate that it has a plastic water window, so it's not entirely plastic-free, but there's nothing to worry about since the plastic is BPA-free.
Pros
Removable filter allows easy cleaning

Quick heating

Automatically shuts down when water boils

Concealed heating component

Water-level window for easy monitoring
Cons
Doesn't have proper insulation

Has a plastic water window
Secura is a leading manufacturer of small, everyday appliances in the USA for years, owing to their affordable and easy-to-use products. This electric kettle is a fantastic addition to Secura's range of products, with 5 bright color options and a stainless steel interior.
Why Did We Like It?
If you're on the lookout for one of the safest electric kettles on the market, this product from Secura should be your ultimate pick. The interior of the unit does not come into contact with plastic at all. From the lid to the spout – every component is made of 100% stainless steel.
The exterior is double-layered, allowing for adequate insulation and keeping the boiled water warm for a very long time. Since water remains hot for a long time, there is no need to reheat it, and thus this device is energy efficient.
Not just that, the heat does not travel to the exterior, and you can avoid accidental burns – a win-win situation for everyone!
Moreover, the Strix controller enables the unit to work stably and guarantees proper temperature regulation. In case it falters, the 2-year warranty on this product will have your back.
What Could've Been Better?
One minor drawback of this unit is that it weighs 3.69 pounds, without water. This is primarily because of the 100% steel construction. Thus, it becomes relatively heavier, and when filled with water, lifting the product for serving might put an unnecessary strain on your hand.
Pros
No plastic comes into contact with water

Large opening for ease of cleaning

Wide spout for quick pouring

Water remains warm for a long time
Our next recommendation is the Mueller Electric Kettle, made with durable borosilicate glass and food-grade stainless steel. Besides its affordability, there are a lot of impressive features in this European-engineered unit. So, read on to get all the deets.
Sale
Why Did We Like It?
Get the right taste of water or coffee with the Mueller Electric Kettle. Its high-quality borosilicate glass and heat-resistant co-polyester make sure that the unit is safe and lasts for a long time. Besides, it uses the Strix thermostat controller that renders maximum efficiency and adds stability to the device.
Additionally, it comes with an in-built LED light that indicates boiling water. Once the water is boiled, the auto-shut feature turns off the device within 30 seconds. Like our previous recommendations, this kettle has a boil-dry protection feature too.
Also, this cordless kettle comes with a 360° swivel base that makes it easy to remove and pour. If accidents during pouring are one of your primary concerns, keep those fears at bay because this unit comes with a heat-resistant handle that is also slip-free.
So, be ready to get boiling water safely for your coffee, oatmeal, and pasta in no time with this device.
What Could've Been Better?
The lid of this unit is not removable and is smaller than our other recommendations. Thus, cleaning the kettle is slightly difficult, as is draining the leftover water after use. As a result, the device doesn't dry properly after use, and this leads to condensation.
Pros
Heat-resistant co-polyester construction

Use of 1500W energy enables fast boiling

Heat-resistant handle

Includes safety features
Now that we're halfway through our list, here's another excellent product for your consideration. The finest quality of borosilicate glass makes this appliance from Comfee' resistant to scuffing and scratches. That's not all there is to it. Keep reading on to know more about this product.
Why Did We Like It?
This electric kettle from Comfee' comes with a stainless steel interior that makes it durable and doesn't let the water come in contact with plastic. It has markings on one end for precise measurement. Besides, the blue LED light indicates boiling water and adds a very aesthetic look to the device.
Moving forward, we were impressed by the BPA-free, quick pop-up lid that makes pouring water or refilling quite convenient. This feature and a removable filter make cleaning the unit easy. Besides, the cool-touch handle, with a release button, is also an impressive addition.
For safety, the product has auto-shutdown and boil-dry protection. Thus, the device switches off when it reaches the boiling point and shuts down when there's no water in the kettle.
With this 1500W unit, you can put aside the microwave and boil 1.7 liters of water in just 7 minutes.
What Could've Been Better?
Several buyers have complained about the unit being noisy, which wasn't a deal-breaker since the appliance offers unrivaled features at a nominal price. However, we understand why high-noise operation might be an inconvenience for some, and if you're looking for a low-noise unit, this one might not be ideal.
Pros
Concealed heating element

User-friendly design

Removable water filter for easy cleaning

Power cord winder is space-saving
Up next, we have another excellent product from HadinEEon. Right off the bat, we liked its gooseneck design, which makes it a very sophisticated addition to your range of kitchen appliances. It comes in sage green, bright red, and classic white colors – so here's all you need to know about a product that'll spoil you for choice.
No products found.
Why Did We Like It?
Who doesn't like showing off their fancy kitchen appliances? Well, with this model from HaddinEEon, you'll get to do just that. Its elegant green-and-black design is a sure shot winner, as is the gooseneck spout that pours water with no splashing.
Furthermore, the unit does not have any plastic inside and is constructed out of 100% food-grade 304 stainless steel. So, you get hot boiling water within five minutes, and it poses no risk to your health.
Besides, it has the Strix thermostat controller that lends stability and durability to the product and guarantees adequate safety. Like our previous recommendation, this unit comes with auto-shutdown and boil-dry protection features that negate any chances of accidents.
Its ergonomic handle, which has a place for the thumb to rest while pouring, was particularly impressive. So, here's a unit that functions as well as it looks!
What Could've Been Better?
This model's total water capacity is lower than our previous recommendations, standing at just 0.8-liters, roughly translating into 4 cups. So, this might be a disappointment for those who need a larger kettle. Also, the unit does not have a good cord management option, so that's another drawback.
Pros
3-year warranty luxurious and elegant design

Ergonomic grip

Water doesn't come in contact with plastic

Fast heating technology
Cons
Insufficient capacity

No cord management system
Our long list of recommendations would be incomplete without the inclusion of the MI-EK004 model from Miroco. This 1500W fast boiling kettle has a sleek black design and food-grade stainless steel construction. Several exciting features come with this product, so keep reading to know why we like it so much.
No products found.
Why Did We Like It?
The MI-EK004 comes with a temperature control option that is usually not present on most electric kettles. The temperature varies from 100℉ to 212℉, and if you wish to avoid the hassle of choosing between the six temperature options, you can straightaway press the start button. The unit will then start boiling at the highest temperature.
Moreover, it has a double-wall design with a vacuum layer in between that doesn't let heat escape. Besides, the 'keep warm' button keeps the water at the set temperature for nearly an hour. What's even better about this addition is that it saves electricity in the long-run, as there is no need to reheat the water at frequent intervals.
Finally, we've got the 100% BPA-free exterior and stainless steel interior that doesn't allow any plastic to come in contact with water. The Strix Technology makes the unit safer and protects the user from accidents through its overheating protection, boil-dry protection, and auto-off feature.
What Could've Been Better?
The lid opens only partially, which makes cleaning a bit complicated. This is a real bummer since calcium builds up quickly on this device's base. Not just that, there are no increments on the outside to monitor the water level. However, these are only minor gripes, and the kettle works efficiently otherwise.
Pros
Double-walled insulation prevents scalding

Quick-heating technology saves electricity

Adjustable temperature options

Sleek black design
Up next, we have another fantastic product from Miroco. The MI-EK005 electric kettle has a glossy black design and a stainless steel body. It's another gooseneck kettle that helps you brew the most refreshing, aromatic cup of coffee. Furthermore, it is compact enough to be a stylish addition to your kitchen countertop.
No products found.
Why Did We Like It?
Black is a color that never goes out of fashion, so this kettle is a timeless purchase. To add to its durability, we've got the 100% stainless steel construction that ensures no plastic comes in contact with water and the base doesn't rust.
Not just that, the British Strix controller makes it perfectly safe to use, and it has auto-shutdown and boil-dry protection features. We quite liked the adjustable temperature options, which lets you choose between 104 to 212℉. Besides, the kettle base has an LED panel that allows easy temperature reading and making adjustments accordingly.
The unit draws 1200W of power, and its rapid heating technology heats the water in just two minutes, while the in-built thermostat keeps it warm for an hour. Just press the 'keep warm' button, and you're good to go.
Lastly, we've its ergonomic grip that makes pouring very convenient. The handle comes with a thumb-rest to allow you to pour over without spillage.
What Could've Been Better?
The device can only hold 900-ml of water, which is a little over 4 cups. Now, this isn't an issue if you want it for occasional brewing for just yourself. However, if you're looking for a family model, this capacity might not be adequate.
Not just that, we noticed some water leaking out around the lid, which can lead to accidental scalding.
Pros
Adjustable temperature control

Elegant black design

Quick heating

In-built thermostat

Slender gooseneck for convenient pouring
Cons
Insufficient capacity

Water leaking issues
Now that we are towards the end of our list, we have another product for your consideration. The BonNoces Electric Kettle is a portable unit and comes with three classy color options – pink, blue, and white. It is sufficiently compact for traveling and for everyday usage.
Why Did We Like It?
If you travel a lot and miss out on brewing tea for yourself, we've got a solution right here. This cordless electric kettle from BonNoces weighs merely 1.9 pounds and is easy to carry around while you're traveling. Its ergonomic grip allows you to pour conveniently after separating the unit from the base.
Not just that, say goodbye to accidental burns with its cool-touch exterior and its automatic switch-off and boil-dry protection features.
Besides, we have its detachable lid that you can remove for ease of refilling and cleaning. Additionally, it allows the kettle to dry fast and prevents calcium buildup and condensation. With its 800W power, it can boil water in 5 minutes, and its V-shaped spout allows for convenient and safe pouring.
Thus, drink healthy, warm water while traveling, in your office, at home, or in your shop with this gorgeous and highly functional electric kettle.
What Could've Been Better?
The kettle's edges are very sharp, especially near the spout, so be careful while cleaning it. Besides, the cord is relatively short, and that might not be a problem if your power socket is nearby. However, if it is at a distance, you might have to place the kettle closer to the socket.
Pros
Compact and portable

Minimalistic color options

Quick boiling within 5 minutes

Comfortable handle
Next on our list is the 40930 Electric Kettle from Hamilton. It doesn't take up much space on the kitchen countertop, and its 1-liter capacity makes it perfect for small households, offices, and dorms. This lightweight and budget-friendly model has many features that make it worth your consideration.
Why Did We Like It?
This model from Hamilton has an alluring design – all glass with a steel base and BPA-free handle. Besides, it fits easily on the countertop and blends with your kitchen appliances. Moreover, its in-built blue indicator light for boiling lends an aesthetic appeal to the unit.
We liked its auto shut-off and boil-dry protection features, which lets the device turn off when water is ready to serve, and in case there is no water in the kettle, the boil-dry protection turns off the device. So, forget about your stovetop and opt for this safe and comfortable-to-use kettle.
It is easy to refill this unit and monitor the water level through the markings on the outside. Also, it has a capacity of 1-L, which is ideal for regular use and makes over 4 cups of coffee or tea.
Finally, we'd like to mention that this one is a cordless model and has a cord wrap option for compactness and ease of storage.
What Could've Been Better?
The product doesn't have any significant issues but is slightly noisy. This can be an inconvenience, especially if you've got children in your house and want to operate the kettle early in the morning. Even though it is easy to clean, we noticed calcification at the bottom from the first use.
Pros
Cool-touch handle

In-built mesh filter allows ease of cleaning

Stylish and elegant appearance

Easy-to-open pop-up lid

Easy to monitor water level
Next on our list is an electric tea kettle from Ascot. This unit has a minimalistic look that is perfect for modern households and will blend with your contemporary kitchen appliances. So, whether you want to brew a few cups of coffee or make oatmeal for breakfast, this kettle will do it most efficiently.
Why Did We Like It?
If you're on the lookout for a kettle that'll make tea for your entire family in one go, this Ascot model should be the instant pick. Besides its 1.7-L capacity, it also has quick-heating technology, and you'll have nearly ten cups of water ready within 4 minutes.
Not just that, its 304 food-grade construction is quite impressive, as are the 100% BPA-free plastic components. No plastic comes in direct contact with water, so you know you're only serving healthy water.
This unit is 100% safe, with its boil-dry protection and automatic shut-off features. It also works faster than a microwave oven and saves more energy.
Now, let's get to the ergonomics of this product. It has a cool-touch handle with a reliable grip that makes pouring from the kettle very easy. Besides, its anti-scalding design minimizes the risk of accidental injuries.
The unit is cordless and can be removed from the base for pouring or refilling.
What Could've Been Better?
The stainless steel body of this unit is an impressive addition and adds to its durability. However, it is not insulated. This is a significant drawback, as the body of the kettle gets heated when the water boils. So, be careful not to touch the exterior when the device is hot.
Pros
Stainless steel construction makes it durable

Water boils in just 4 minutes

Stylish and elegant appearance

Easy to hold handle
Cons
No insulation; device gets heated
Another mini electric kettle on our list is the Eglaf Electric Kettle. Available in light and dark blue shades, this 500-ml unit is perfect for all your travel needs. So, make some quick noodles or brew fresh coffee away from home with this portable device. There's more to it. Please keep reading to know what makes it appear on our list.
Why Did We Like It?
This lightweight and affordable mini kettle from Eglaf will be your ultimate travel companion. Tug it along on your camping trips, on business tours, or for regular traveling. The inner surface has stainless steel and does not come in contact with plastic. Thus, the water that you drink is safe.
The device has a double-layered wall for proper insulation and a cool-touch handle, minimizing the chances of accidental scalding.
Furthermore, it operates with 800W of power and heats water within 5 minutes. Plus, it comes with auto-shutdown and boil-dry protection features and has markings inside that make monitoring water level easy. Thus, here's a kettle that'll not just quickly boil water but also save electricity by turning itself off after the water is ready.
In addition to this, cleaning this unit is a breeze since it has a 4-inch wide opening. Also, you can remove the kettle from the rotating base for ease of storage.
What Could've Been Better?
If water is above the water-level mark, it'll lead to an overflow of boiling water. This compromises the safety of the user. So, be careful while filling the unit with water. Besides, the lid has to be removed manually. Now, this can be slightly inconvenient if you intend to refill the unit more than once since the lid might get hot.
Pros
Portable device

Wide diameter allows easy cleaning

Well insulated

Cool-touch, comfortable-to-hold handle
Cons
Lid needs to be removed manually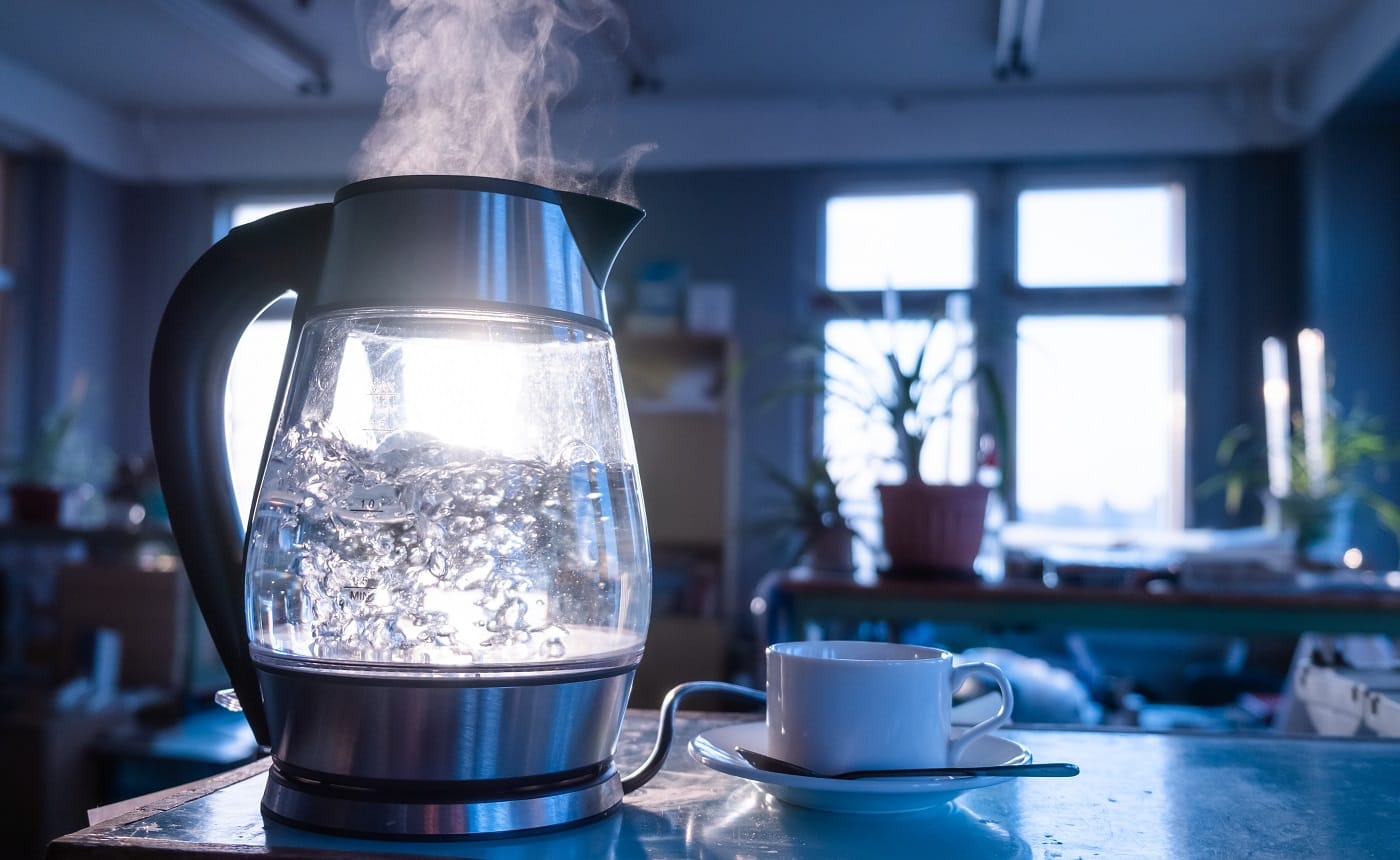 Electric Kettle Without Plastic Buyer's Guide
Those were our reviews for the best and safest electric kettles. However, just knowing about them is not enough. Several considerations go into purchasing an electric kettle that meets all your needs. This can get a little difficult since we've presented some of the finest options on the market before you.
But do not worry! We've got a buyer's guide right here to help you make a purchase. We've carefully listed all the factors that must be kept in mind while purchasing a kettle. Read on to know more.
Material
Plastic kettles are out of the picture here. So, it leaves us with two other popular options: glass and stainless steel. Some models make use of a combination of both. However, let's get into the details of both these materials individually.
Food-grade stainless steel is used in the construction of electric kettles. They are durable, easier to clean, and water stays hot for much longer. The rust and corrosion-resistant properties of steel add to the longevity of the device. The only downside to using steel is that it becomes difficult to monitor the water level, and the kettle gets slightly heavier.
The other popular material is glass. However, we're not talking about regular, fragile glass here, but borosilicate glass, which is resistant to thermal expansion. This means that the glass is unlikely to crack under high temperatures, making it a perfect choice of material for electric kettles.
Not just that, a glass kettle will allow you to monitor the water-level and closely watch the process of boiling. Most of our recommendations come with an in-built blue light that indicates boiling water. However, one minor drawback of using glass is that it is prone to scratches.
Depending on your needs, you can purchase either a glass or stainless steel kettle or a mix of both.
Capacity
Another important determinant is the capacity of the kettle. Usually, kettles vary from 0.5-L to 2-L. The unit you choose must hold enough water for your requirements. If you want something for light traveling, for trips, etc., then we'd recommend a kettle with a capacity of only 0.8-L. They are portable and less power-consuming.
However, if you're on the lookout for a device for regular use, opt for a high-capacity kettle – anywhere between 1.5 to 1.8-L would be perfect. High-capacity kettles are also great for smaller families and hold sufficient water for a longer time.
Safety Features
Adequate safety measures are essential for all electronic devices, especially for units dealing with boiling water. So, while you're purchasing an electric kettle, carefully go through its safety features and see if it satisfies your needs. Top-quality kettles use British Strix Thermostat Controller that allows the unit to operate with the utmost safety.
This safety feature automatically shuts down the unit when there is no water in it or when water runs out because of overheating. This prevents the kettle from becoming excessively hot and causing injuries.
In this feature, the kettle shuts itself off when water reaches its boiling point. Thus, there are no chances of it pouring out of the vessel and causing spillage. So, if you switch on the kettle and forget about it, there's nothing to worry about because this feature ensures your safety isn't compromised.
Usually, the best kettles come with handles of 100% BPA-free material. This is because glass and steel heat faster, and they are not ideal for handles. Cool-touch exterior handles make pouring and refilling very convenient and prevent accidental scalding.
Temperature Control
Not all electric kettles come with a variable temperature option. Usually, they boil at the standard 100℃. However, some kettles come with this feature, which gives additional control to the user. It allows them to choose their desired water temperature and lends greater flexibility to the entire process.
This option is a massive boon for tea and coffee lovers since it enables them to brew their favorite cup at the perfect temperature and thus get the required aroma and flavor.
Power Consumption
Since these kettles operate on electricity, they will naturally consume a considerable amount of electric power. Usually, they draw around 800 to 1500-W of power. However, since they heat water quickly, these units are relatively cost-efficient in the long-run.
Devices that have a lower capacity draw less power and thus consume less energy.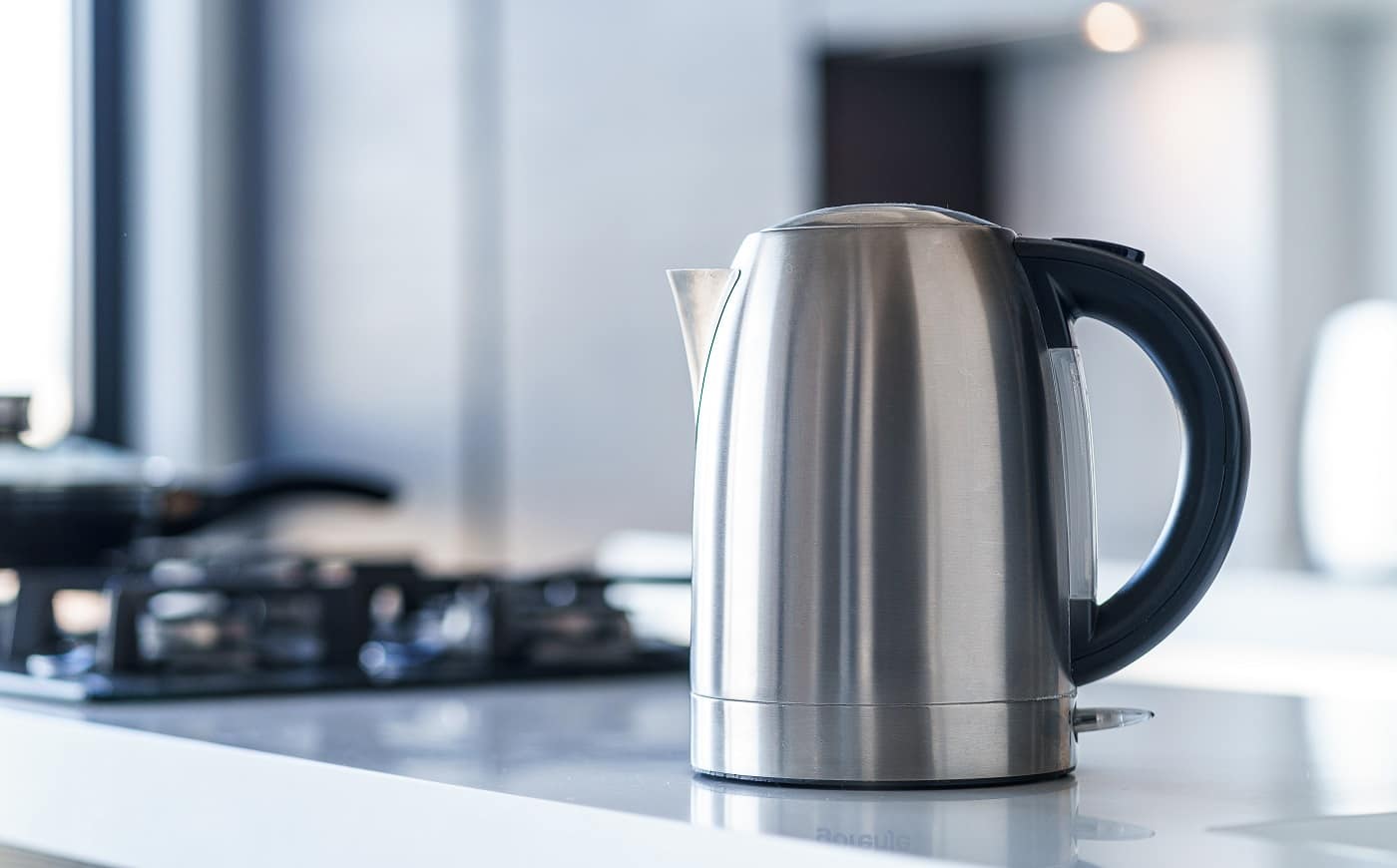 Verdict
With that, we come to the end of our detailed reviews and elaborate guide. We hope finding the best electric kettle will now be an effortless task. Remember to pick a model that aligns with your needs.
Now, we will take our leave, and you can ponder over these options in peace. However, before we go, here's a quick recap of our favorites.
The Secura Electric Kettle is the best pick if you're looking for a large, 100% stainless steel kettle that is safe for everyday use and provides sufficient insulation.
If you're on the lookout for a model that provides a temperature control option, we'd recommend the Miroco MI-EK004 Electric Kettle. However, if portability is a factor, opt for the Eglaf Electric Kettle without second thoughts.
That's all the time we have for you today. Do let us know which electric kettle caught your fancy in the comments below.
Till next time!
Related Articles
11 Best Under Cabinet Range Hood
Vitamix 5200 vs Vitamix 5300 [All You Need to Know]
4 Best Ways To Reheat Chicken Wings [Oven, Refrying, Sauté, Microwave]
13 Best Electric Kettles Right Now | Buyer's Guide
10 Best Food Scales Buyer's Guide and Reviews
15 Best Electric Smokers – Guide & Budget Picks
13 Best Kitchen Shears Right Now Reviewed
13 Best Mini Freezers for a Chilly Year
10 Best Hot Dog Rollers | Buyer's Guide and Reviews
13 Best Cappuccino Makers to Enjoy Today | Buyer's Guide
11 Best Range Hoods to Consider
11 Best Bar Stools Today | Buyer's Guide and Reviews 
13 Best Wine Coolers Right Now
7 Best Hand Crank Ice Cream Maker