Rustic tables have become the talk of the town lately. But do you have a clear idea of how you want your centerpiece to look?
If not, then you've reached the right place, as we've collected some of the best designs out there, that'll impress the connoisseur in you. We've searched high and low for unique artistic models that are also impressively generous in terms of space.
That's how we tabulated these 99 best rustic table ideas that are too perfect to ignore. Hopefully you'll have as much fun going through this list as we had while compiling it.
Take a look at these marvelous pieces now!
Related Articles
45 Magic DIY Rustic Wedding Decorations to Embrace
47 Splendid Rustic Countertop Ideas For Your Kitchen
53 100% FREE DIY Farmhouse Table Plans for Your Rustic Dinning Room
20 Splendid Rustic Dining Rooms That Will Inspire You
15+ Beautiful Cheap DIY Coffee Table Ideas
99 Best Rustic Table Ideas
The Bright Kitchen Table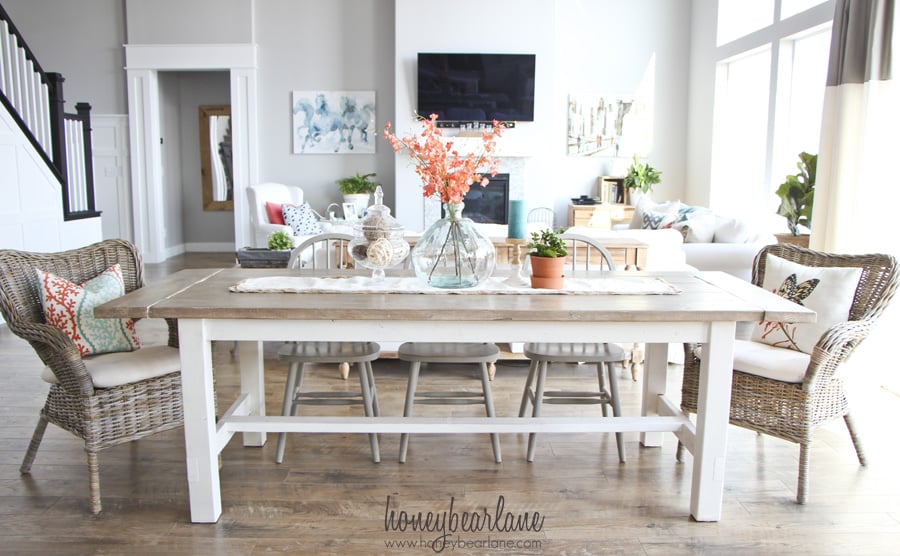 When we first saw this table, we immediately felt like it belonged in a room with huge full-size windows, welcoming a gust of fresh air.
And honestly, it's the solid wood top with the white legs of this table that give any open living space a brighter feel. So, if you want a farmhouse table that gives off summer vibes, then this could be it.
The Large Farmhouse Table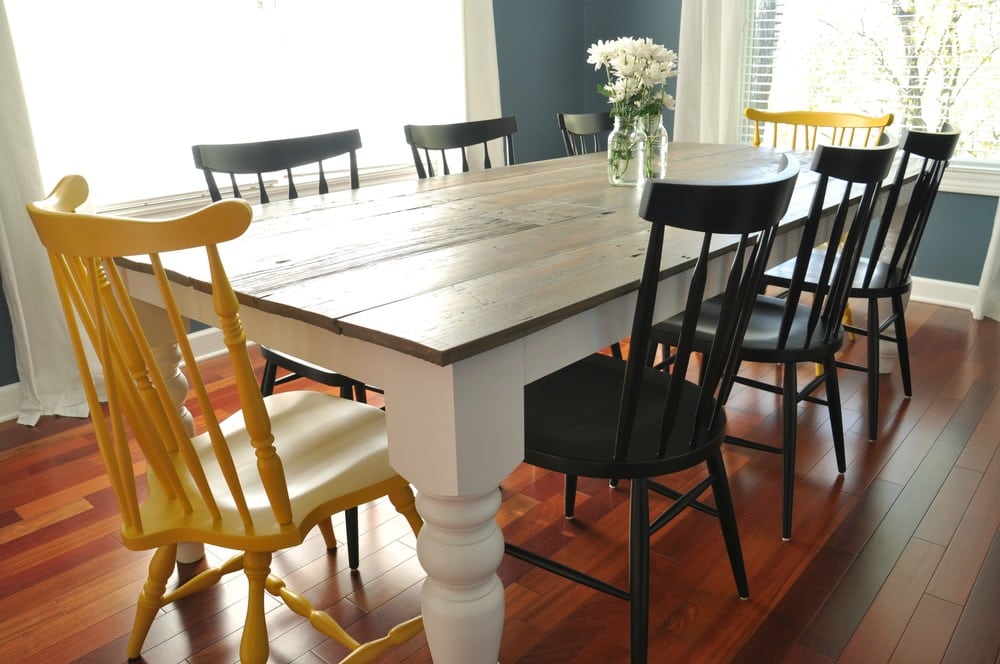 This large table is sure to impress the vast majority of homeowners out there. It holds up to 8 people and has an elegant look and feel. If you need to have plenty of seating while also creating an old-world charm in the process, then this table is the ideal fit.
The Outdoor Farmhouse Table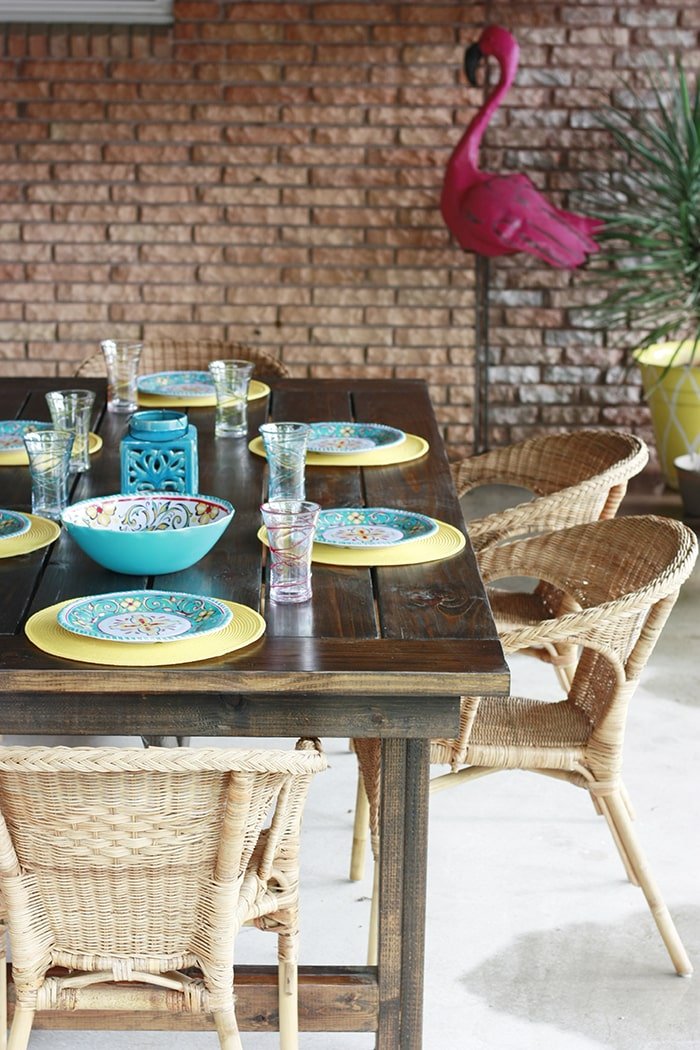 This is not exactly a traditional farmhouse table. But if you often play host and have an ample outdoor living space, you will find this quite useful.
Plus, it's spacious enough to accommodate a family of any size, which is perfect for people looking to sit together during meals.
DIY Farmhouse Table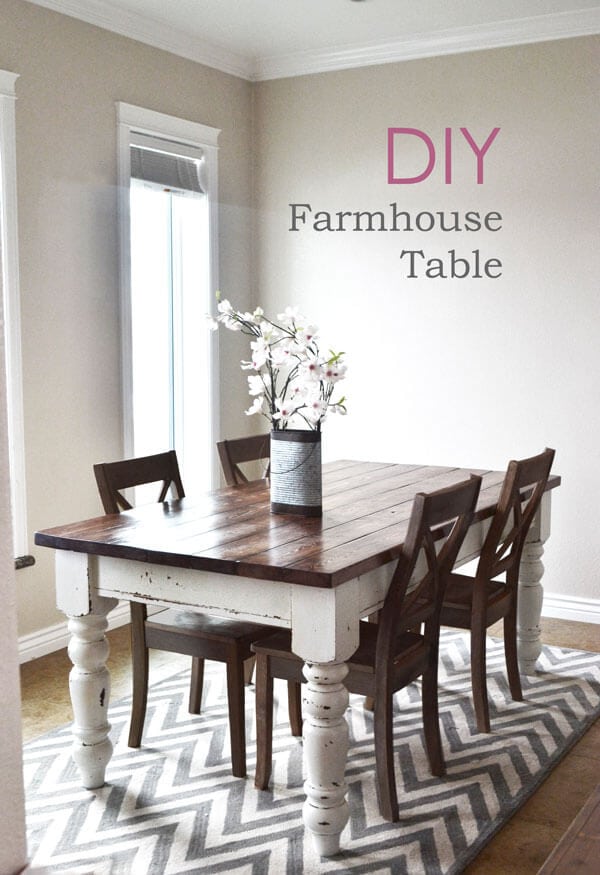 This table doesn't have the glossy finished appearance that most tables do. But if you dig the pastoral appeal, then you'd probably adore this piece of furniture.
Also, it appears to be extremely sturdy, which is really important if you are planning on having many years of memories made around it.
The Rustic Farmhouse Table
This table is undoubtedly gorgeous. We love the arrangement of mismatched chairs around the table, which brings out the centerpiece's expert carpentry and get-up.
It's basic yet sturdy, which makes it a reliable choice for everyday home use. Also, it gives you room for improvement and experiment, unlike most other options.
Farmhouse Table With Bench
It looks so welcoming at first glance, offering sufficient space for quite a few people. Also, this kitchen table amps up the decor of an otherwise clumsy-looking area at home.
The low bench appears stylish and complements the wooden-top furniture piece perfectly. So, if you want comfortable seating to spend hours eating and talking, pick this one.
The Wide Farmhouse Table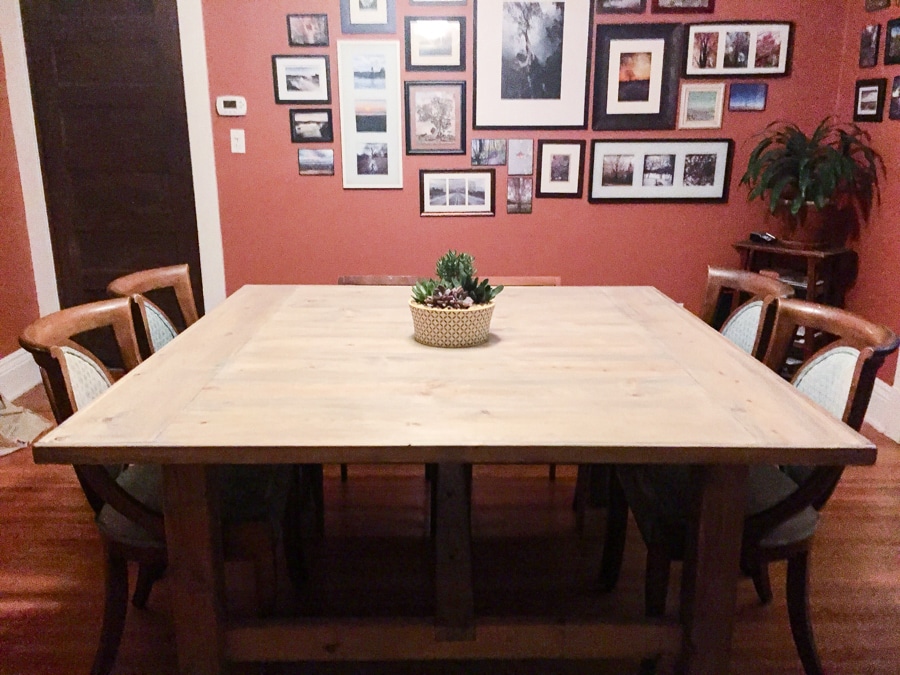 This farmhouse table is majestically wide. After looking at this, the first thing that comes to mind is a large Thanksgiving spread for a big family.
You wouldn't have to worry about leaving half of the food in the kitchen as this table can literally fit it all.
The Easy Farmhouse Table
The design of this farmhouse table is such that even those with basic carpentry skills can master. And it provides good seating as well. If you want a simple piece with a rustic charm, then consider this option, it can even be made of recycled materials.
The Double Bench Farmhouse Table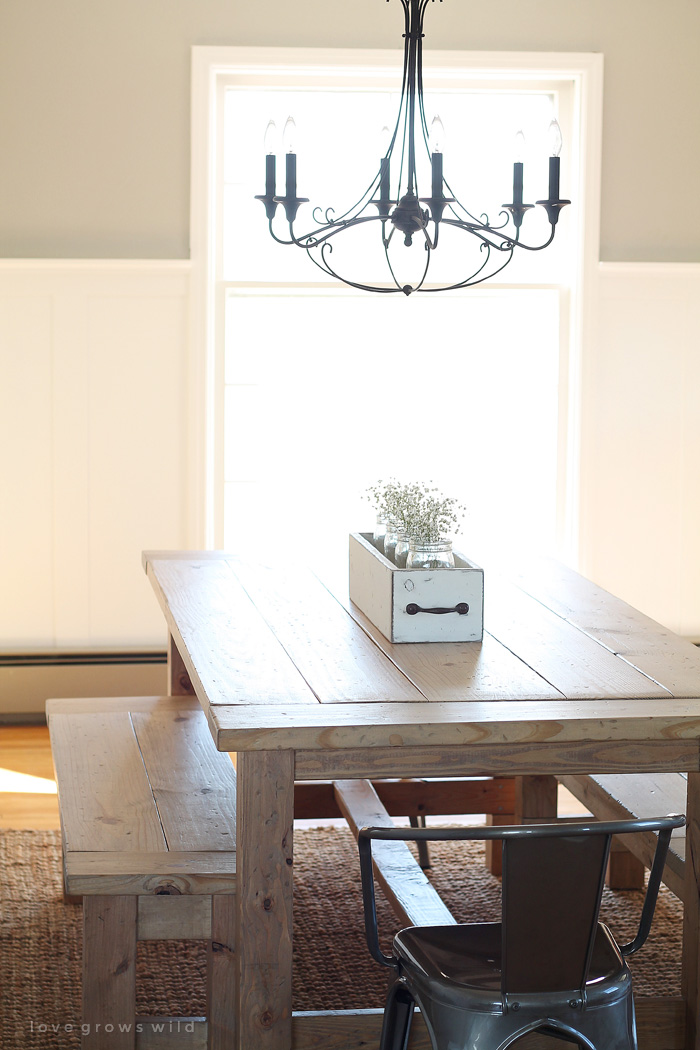 Bench and table is a classic combination that has stood the test of time. It's simple yet so functional, especially when you have a lot of guests over at your place. People can just slide in and sit across for a chat or a meal.
The Gigantic Farmhouse Table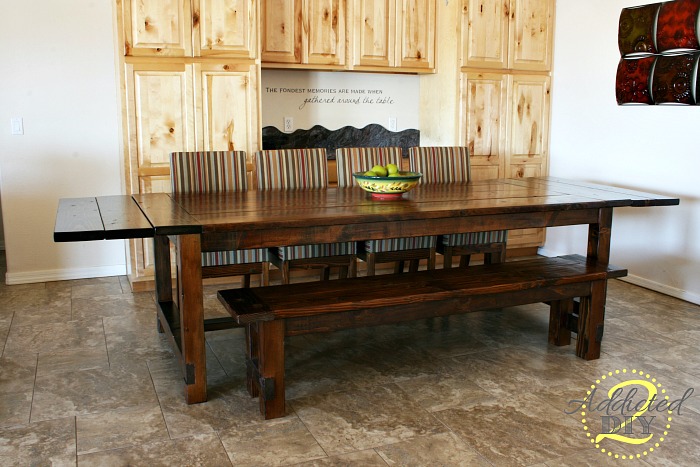 Farmhouse tables are usually quite big. But this one surely takes the cake. Long story short, you can fit at least 10 people around this one.
However, it's a feasible option only in a larger kitchen or dining room. So, make sure you have sufficient space to move around even with the table.
The Simple Farmhouse Table With Benches
This is another farmhouse table that deserves all your attention. The wooden table, together with the benches, has an old-school appeal that will transport you to a kitchen in a countryside home. It's quite generous in terms of space, so you won't be struggling to fit more people at a time.
The Modern Farmhouse Table
We love how unassuming yet classy this table looks. What impressed us is the footrest at the bottom, which is a functional detail adding to the visual element as well.
It's modern with a rustic vibe, something that works regardless of the interior decor.
The Simple Farm Table
This table is another chic addition to our list. Construction-wise, it's convenient to assemble, and the bench is not too complicated either.
We love the warm wood appearance that enhances the overall look and has a rich sheen to it. If you want, you can add chairs of darker wood color to create a nice, eye-catching contrast.
The Simple White Farmhouse Table
This table is a great idea if you love to throw some white pieces in the mix. It's rather simple to build, but the chairs are a little more challenging.
However, this is one of those rare options that will immediately command your guests' attention. But maintaining the pristine white appearance could be a hassle, so choose wisely.
The Cherished Table
This table is unique mainly because of the added elements which help create a vintage theme. It's simple enough to build, regardless of the carpentry skill level, and yet adds a sophisticated touch unlike any other. Decorate it according to your taste and style for a warm, inviting feel.
Rustic Table With Wood Top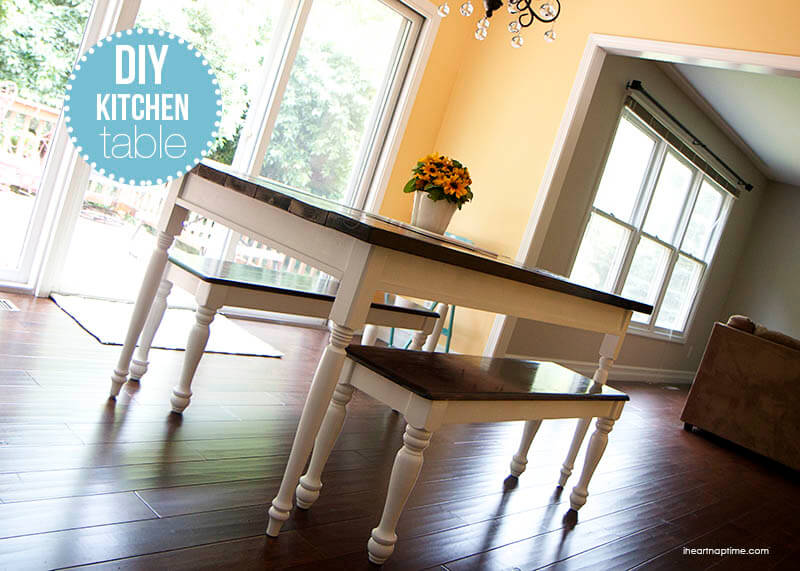 If you dig the worn-out look, this rustic table is the ideal piece of furniture for you. The beautiful wood finish top looks quite attractive and tasteful in an open kitchen set-up while the distressed parts simply add to the charm. Just place a rug underneath, and you're good to go.
DIY Rustic Farmhouse Table
This table serves the purpose of a workstation, especially if you need a dedicated space for your projects. We like the longish design and the intricate legs that enhance the overall vintage look. While it may not be the best idea for dining purposes, there's no reason you cannot multitask.
The Round Farm Table
Let's just say that a nicely-made round table will never go out of fashion. It's not the ideal option if you're looking for more space, but it works wonders as an accent piece. Plus, the design is quite sturdy and does not compromise the style. So, if you're looking for something unconventional, give this a shot.
Basic Double Bench Farmhouse Table
Frankly, the no-frills design of this table is not for everyone. While that makes it relatively easy to build, the low-profile look may not impress all. Nevertheless, we like this double bench option mainly for its utility space-wise. Also, users get to customize the piece by incorporating decorative items to keep things interesting.
Farmhouse Table Island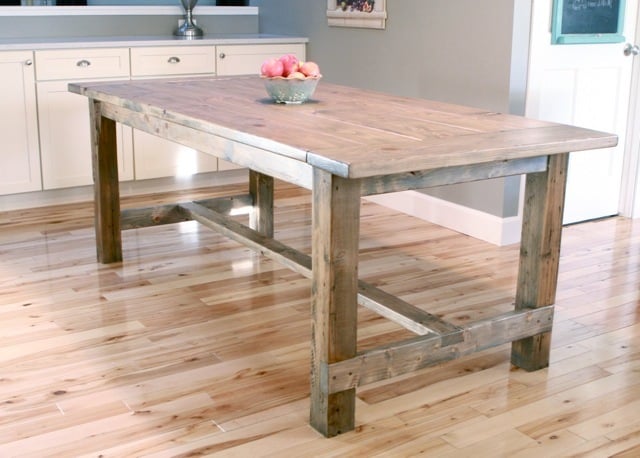 This is another neat idea for people with limited dining space. It provides enough space and lets you show off your taste in all things vintage. The best part is that you can also use it as a kitchen island. In that case, you won't be needing a second table as this works as both.
The Smaller Farmhouse Table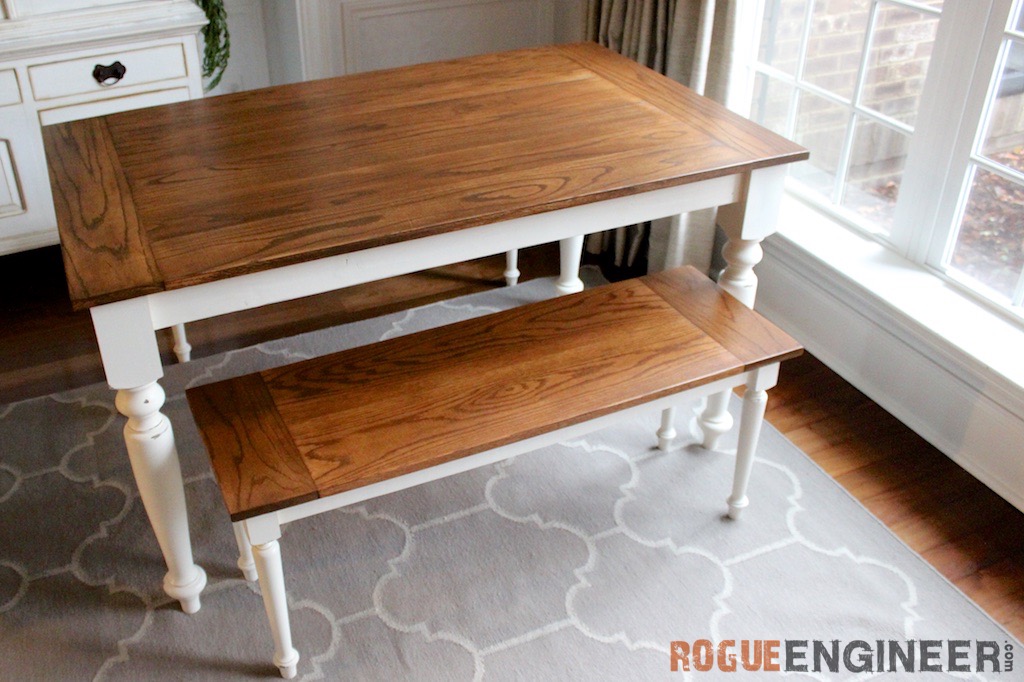 For some of us, kitchen space is a luxury, and that's why this farmhouse table makes for a suitable option. The table, together with the matching bench, looks regal and seems like something out of the Victorian Era. So, if you want a piece that stands out without taking a lot of room, pick this one.
Classic Farmhouse Design
This classic farmhouse design is one that'll never go out of style. Thanks to the bench seating, it's very functional and comfortable, allowing a bigger group to assemble.
Also, it's pretty straightforward to build, and you won't have to spend a lot of time on intricate details.
The Larger Farmhouse Table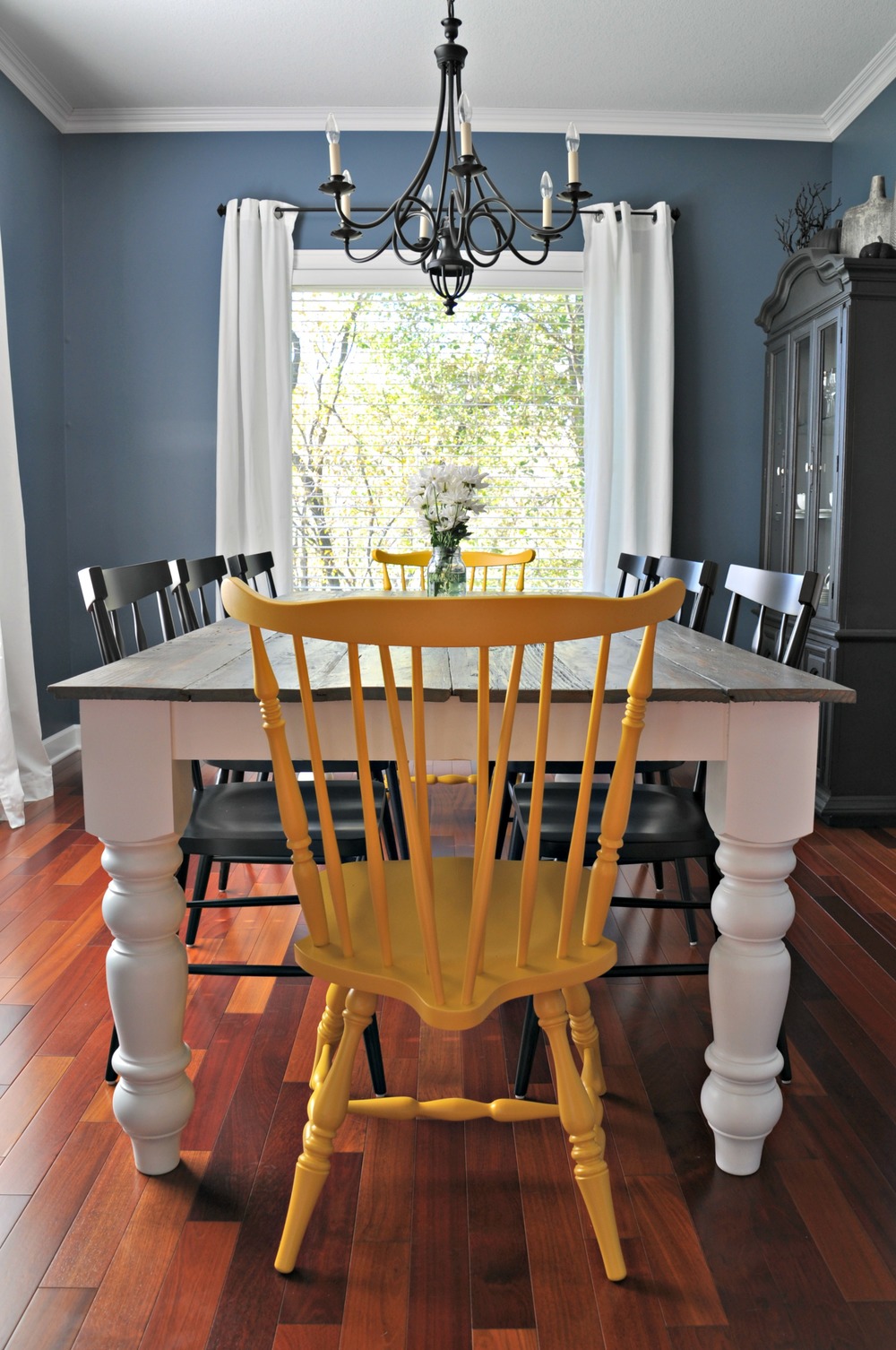 Evidently, this is a table that demands a substantially larger kitchen or dining area. But it's hands-down gorgeous. Featuring a solid wood top and white painted body, it has a rich, antique glamor that's hard to ignore. You can experiment with different colored chairs, as that will further add to the appeal. Honestly, if you have the space, go for it.
The Simple Farmhouse Table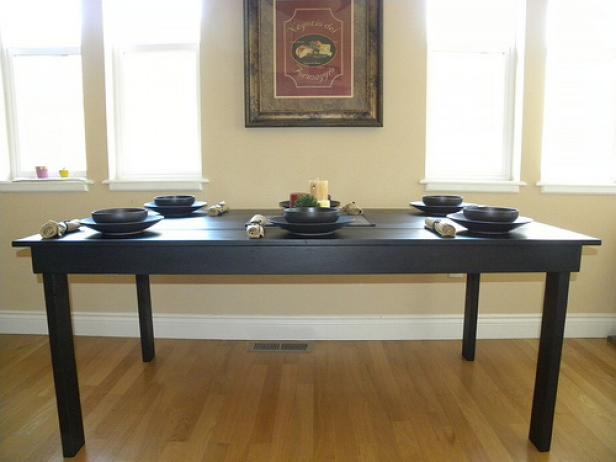 Although the design is pretty simple, we like the minimalist appearance of this black beauty. This will look great against white or walls with muted colors, creating a lovely, eye-catching contrast. Also, nearly any wooden chair or bench will go with it.
Large Picnic Design Farmhouse Table
Source
This may not have the benches that usually accompany a picnic table, but the top is laid out like a traditional piece of the same variety. Therefore, you can add differently styled chairs to complement the look.
DIY Farmhouse Table With Extensions
Wouldn't it be amazing to have a table that could extend or shrink as per requirement? Well, with this farmhouse table, that's a possibility as it includes leaf extensions for more space. Also, the flat wood looks great in all settings with or without the extra space.
The 6-Seater Farmhouse Table
This farmhouse table is shown as a 6-seater, but you could add a couple of chairs at the ends, comfortably accommodating 8. So, if you need a larger model featuring a neat, sophisticated design, you can settle for this.
The Domestic Heart Table
This table has a minimalist appeal, which makes it perfect as an accent piece in the living room. However, it may be too large unless you have an open living space. Alternatively, you may use it for dining, especially if you have 5-6 members in the family.
Shanty 2 Chic Farmhouse Table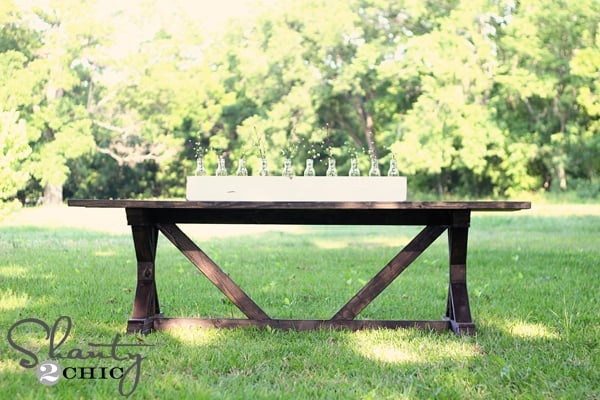 This table is ideal for an enjoyable outdoor experience. We love the untreated wooden design, adding a rustic flavor to the natural look. But that doesn't mean that you cannot use it as a dining table since it provides sufficient space for all in the family.
The Large Simple Farmhouse Table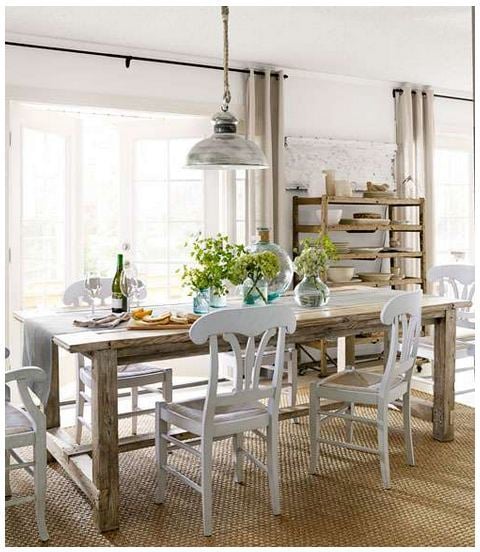 We find this table absolutely adorable. The distressed finish, together with the white chairs, looks terrific in any space that receives a lot of light. It seems like something where you could spend hours chatting, working, or eating as it has an inviting feel.
The Everyday Farmhouse Table
This warm wood table would be very functional to a family of any size, as it's something meant for regular use. You may add a bench or a set of chairs or both depending on your needs as it goes will all customizations.
Smaller Farmhouse Table
We understand the need for compact tables that don't end up hogging a lot of room. If you live in a small apartment, you'll need a sturdy option that provides sufficient space for diners and food. In fact, this can accommodate up to 6 seaters without compromising on the legroom.
My Dream Farmhouse Table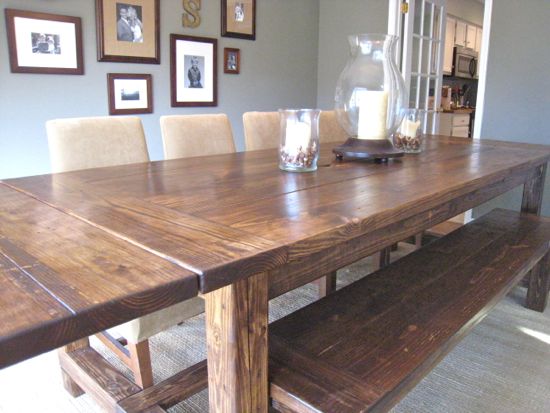 Again, this would require a larger dining area, but this piece will make a stylish addition if you have that kind of space. It's comparatively easier to build and works well with both chairs and benches.
The Basic Shanty 2 Chic Table
This table has a unique structure, unlike its four-legged counterparts. It's simple yet appealing and packs in a lot of rustic charm. You could use it in the dining space or as supplementary furniture in the drawing-room.
The Multi-Purpose Design
As the name suggests, this is a truly versatile number that you can put to multiple uses. It has a good length to width ratio, so you'll be able to fit in more people with space to spare for food trays, plates, and bowls.
The Traditional Farmhouse Table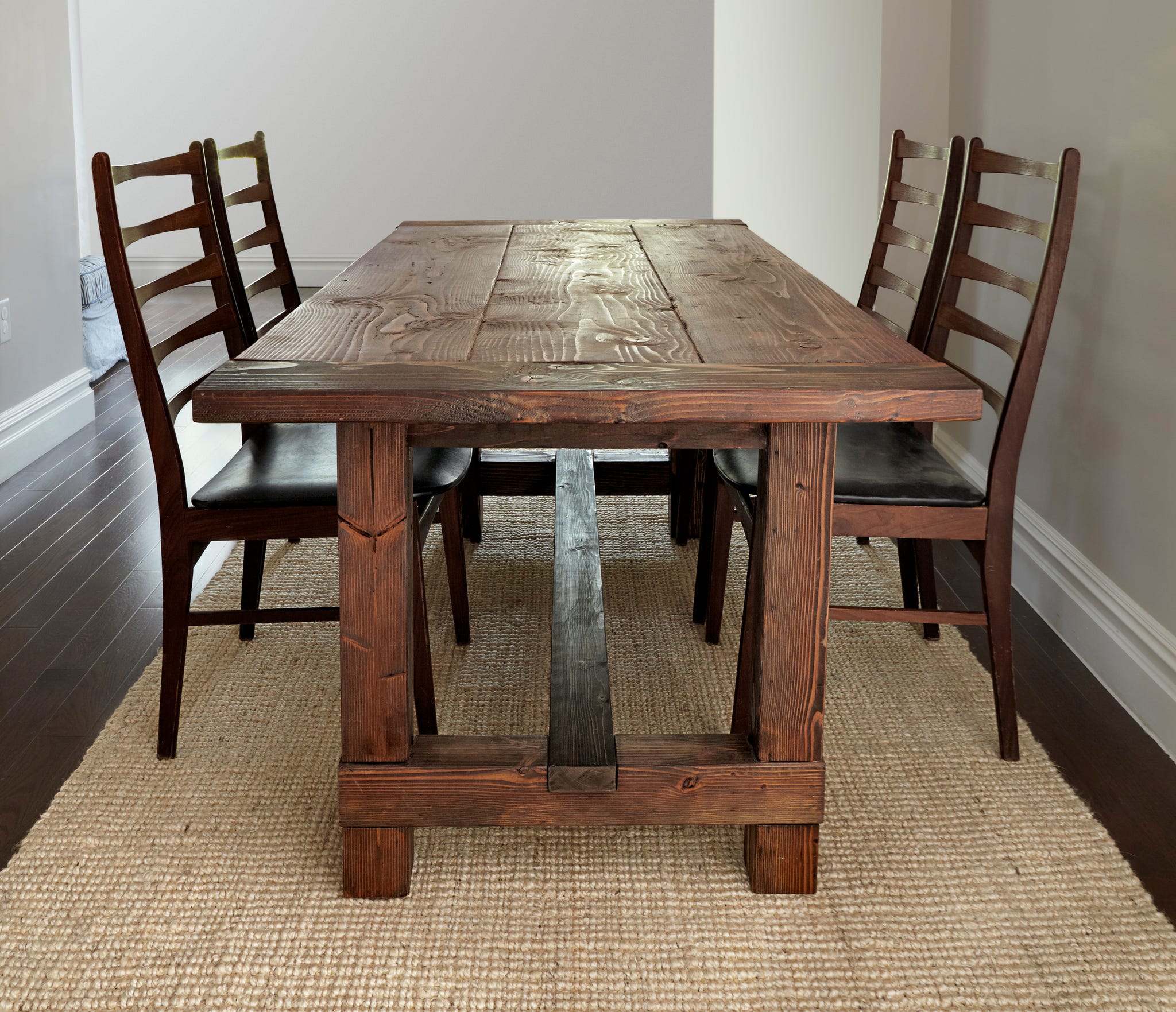 As homeowners, we love how functional and neat this table is, bringing a rough and earthy feel. It can easily seat at least 8 people and looks quite gorgeous if you pair it with a set of matching chairs.
A Modern Farmhouse Table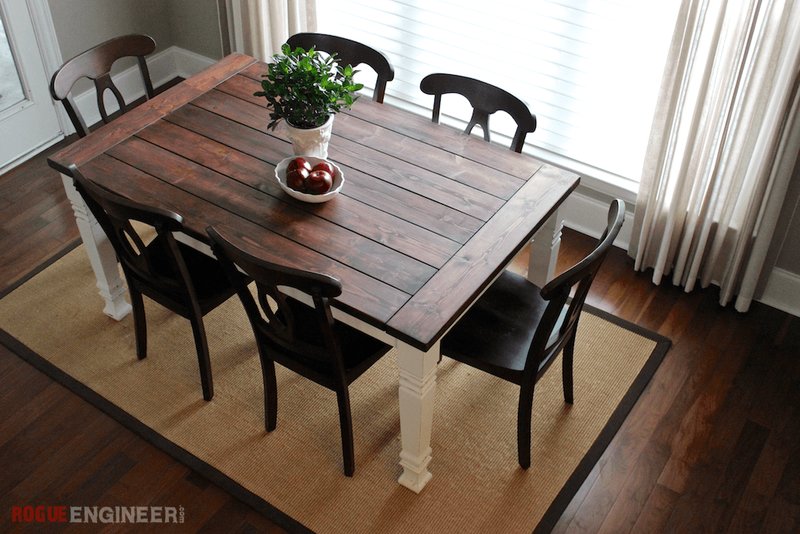 If you're looking for something that will perfectly blend with your contemporary home decor, take a look at this item. Honestly, we love the wooden top and white legs combination as it syncs with literally any decor and adds a sophisticated touch.
A Basic Farmhouse Table
This table offers plenty of possibilities, which would make it a superb piece for almost any home. We actually quite like the plain, low profile appearance as it does not awkwardly jut out amid other furniture pieces. Plus, you can pair it with any chair you desire.
The Picnic Farmhouse Table
This furniture piece has boatloads of character. So, if you don't want a traditional picnic table, don't forget to check this out as it provides a lot of room for a bigger group. You can also take things up a notch by adding a rug underneath, which will complete the look.
A Daily-use Farmhouse Table
As the name suggests, this table is designed for heavy use and is ideal for a small family of say 4 or 5. It may not be much of a looker, but you can add decorative pieces to make things more interesting.
19th Century French Style
This particular model is undoubtedly regal and is best suited for an open kitchen with plenty of light. In this case, the chairs are tastefully designed to bring out the unique style of 19th-century French carpentry.
Modern Root Table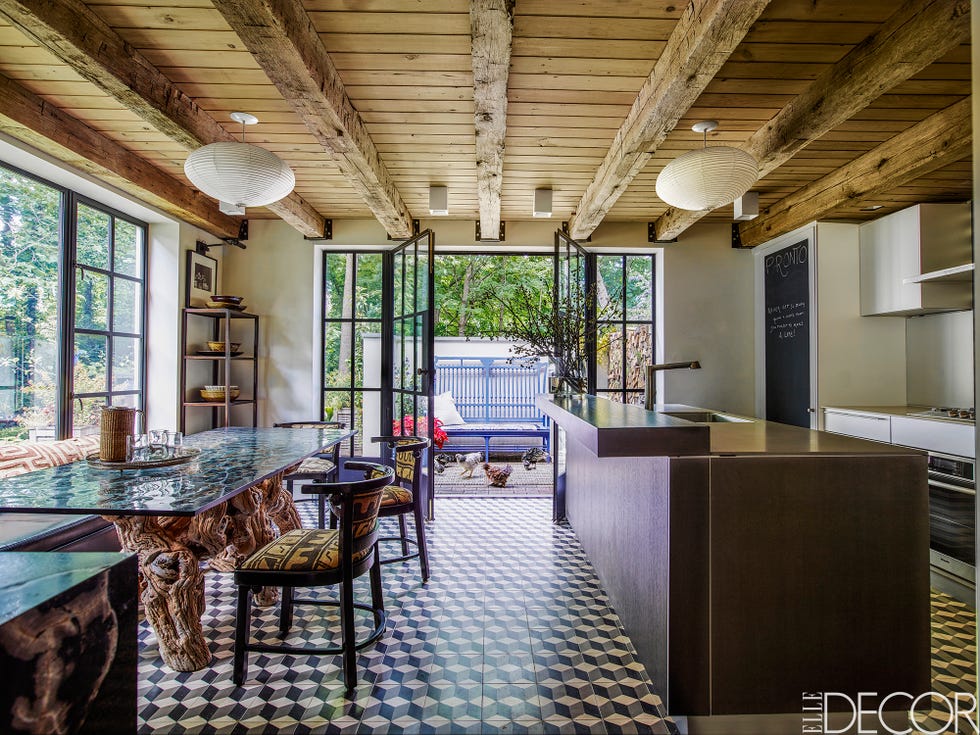 When you think rustic, you should restrict yourself to conventional ideas only. For instance, this root table will make an exciting addition, regardless of your kitchen set-up. We love the glass top as a wooden one would appear overbearing and take away the attention from the base.
The Classic Long Wooden Table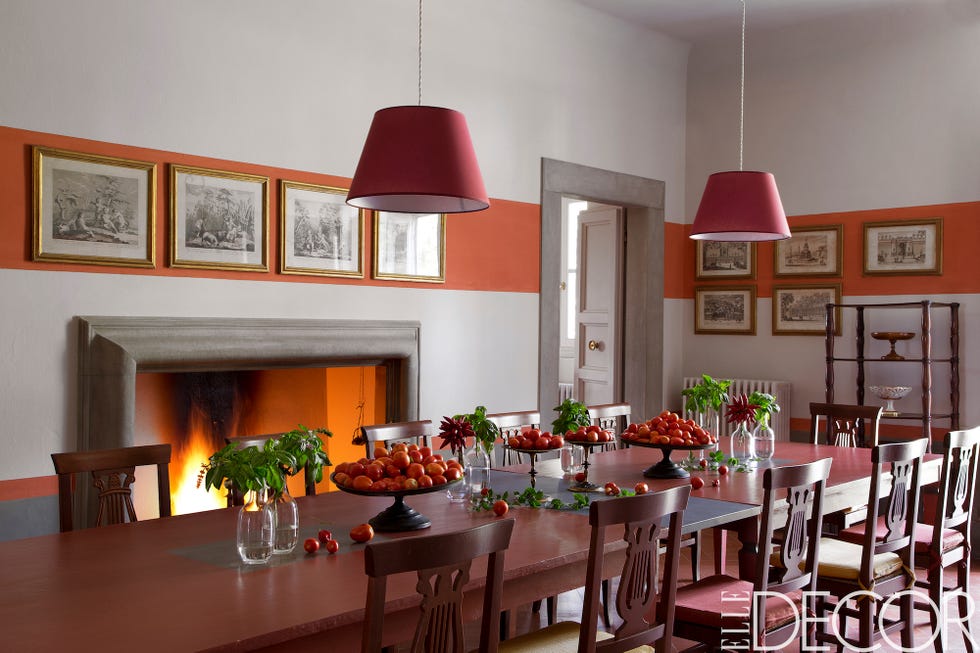 If you're arranging a banquet or hosting a big family dinner, you may want to consider this antique option. It offers outstanding capacity and frankly looks quite charming once you lay the table. We suggest getting a few decorative pieces to break the monotony.
The Jungle Terrace Table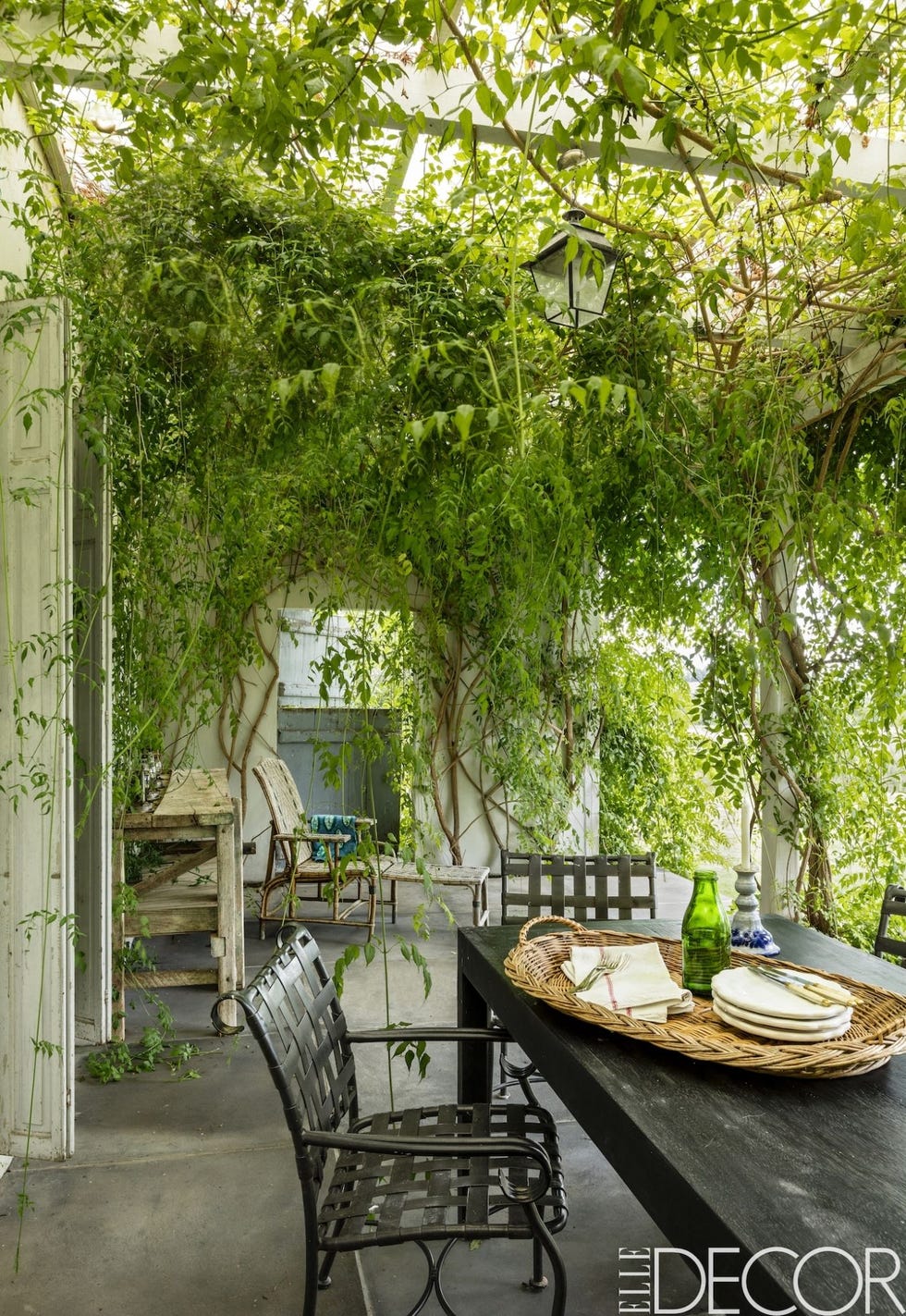 If you're lucky enough to have a beautiful terrace, it warrants a wooden table exuding that old-world charm. You can lounge here with a cup of coffee and enjoy the outdoors with your preferred company. Just get some comfy chairs, and you're all set.
Antique Oak Refectory Table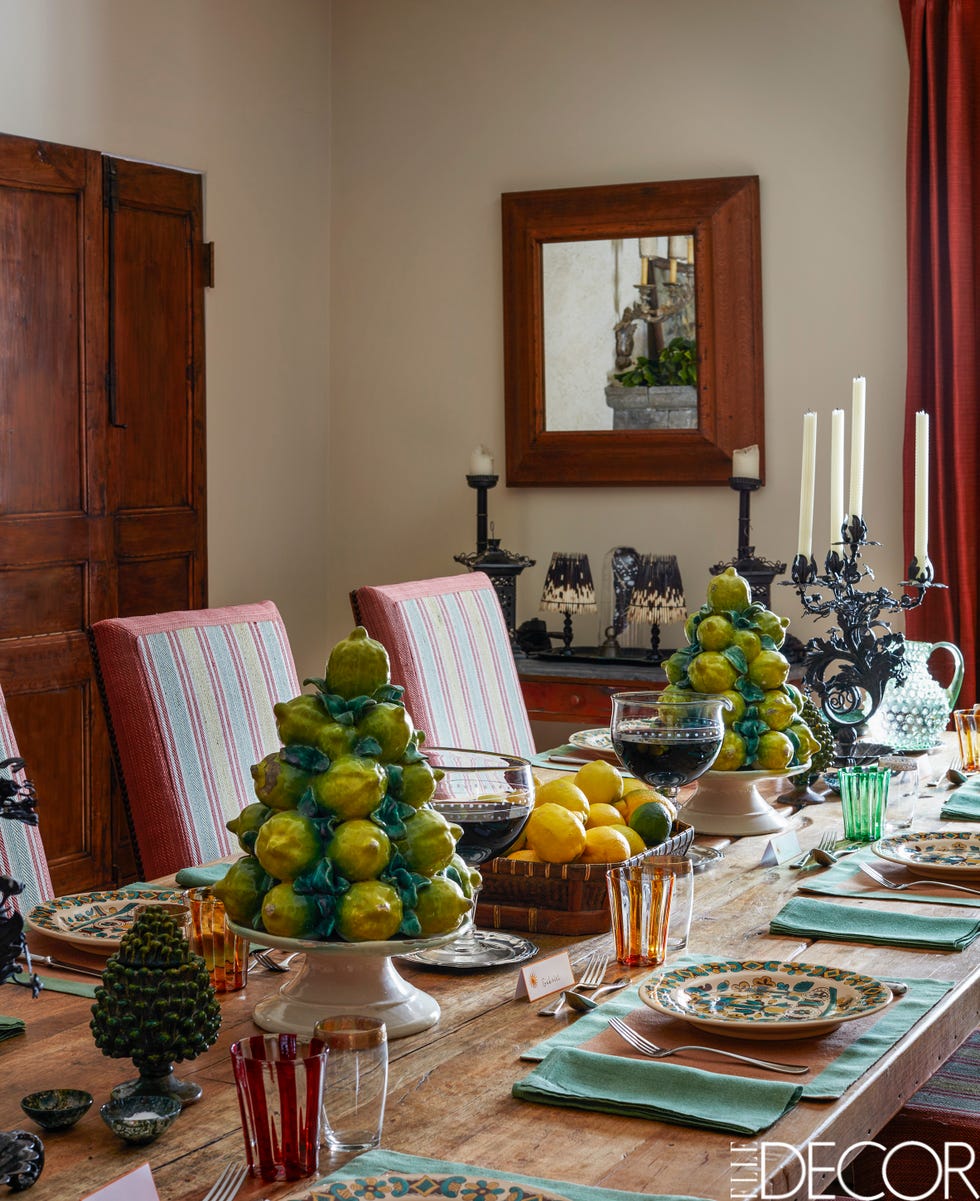 This is an 18 ft antique oak refectory table that will leave you obsessed and very pleased. To be honest, we've all looked for a table which will command our guests' attention. With this, you can do it in style and also experiment with modern chairs.
Modern Beach House Table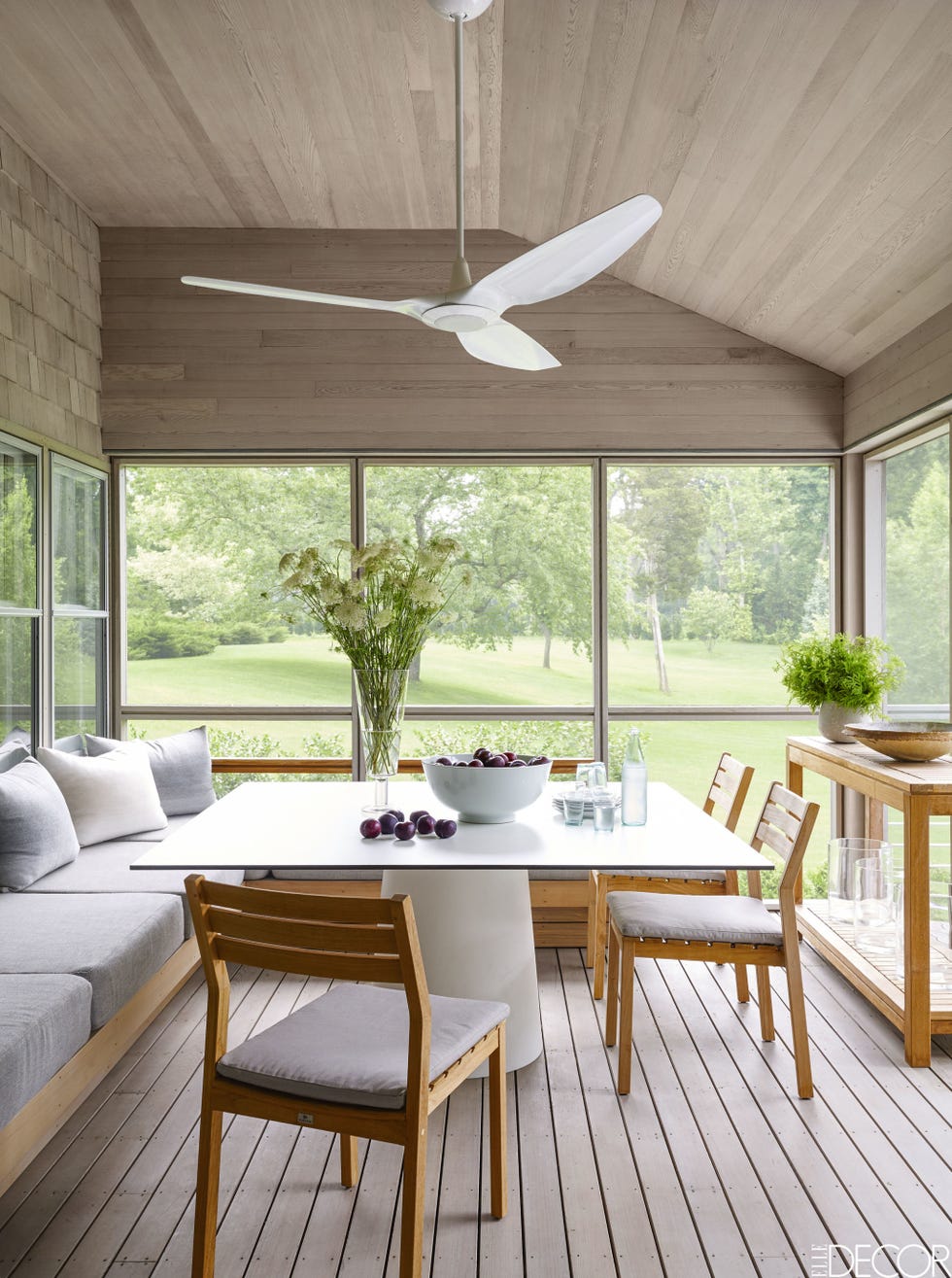 This is far from a conventional table, sporting a unique style that looks great in a rustic set-up. If you're looking for something to snazz up your bachelor pad, give this one a shot. We especially like the white stem base as it allows more legroom to the occupants.
19th Century French Table with Rounded Ends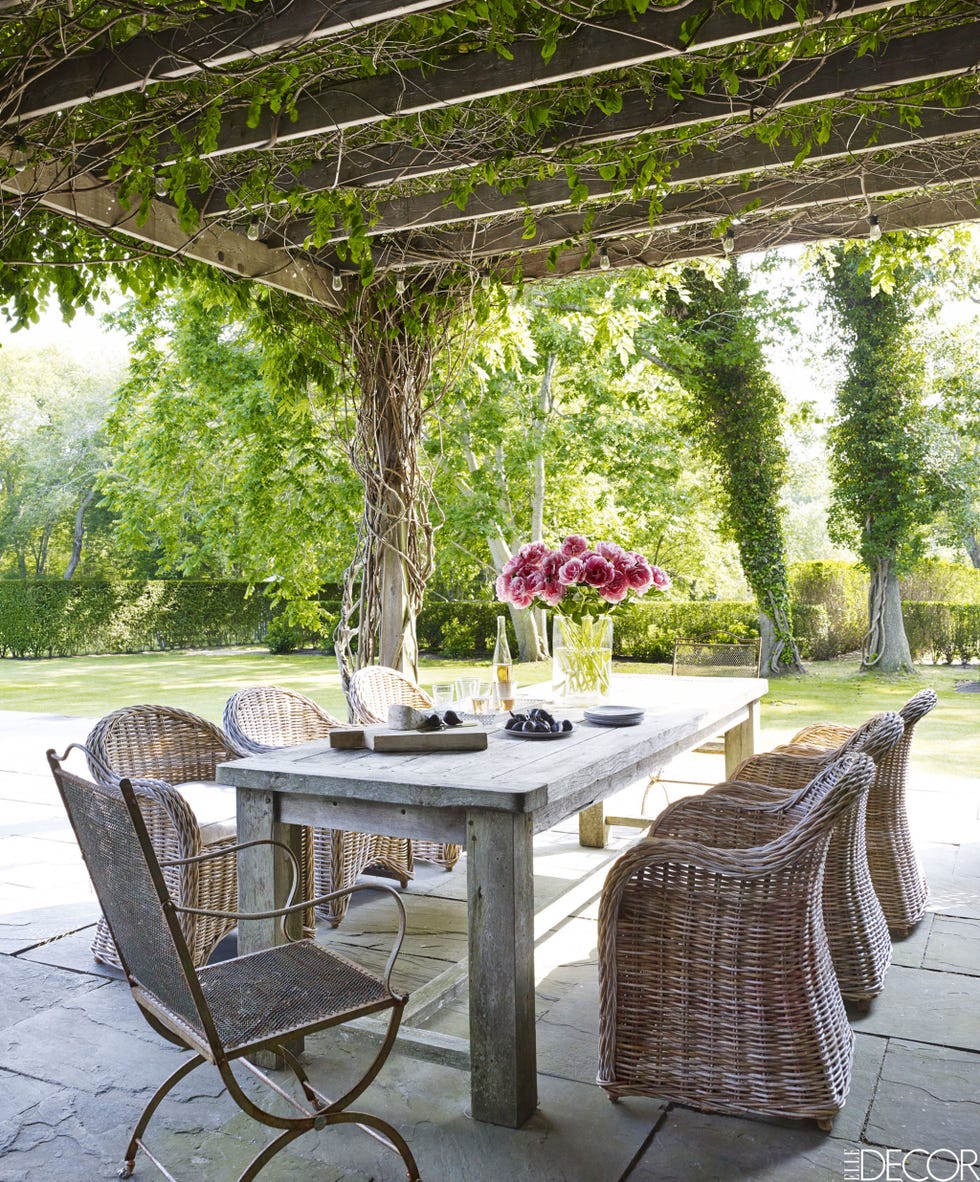 When it comes to rustic tables, we cannot stop obsessing over 19th-century carpentry. This table has that typical untreated wood look that perfectly complements any urban set-up. However, we recommend using white chairs with it to get that classy appearance.
19th Century Farmhouse Table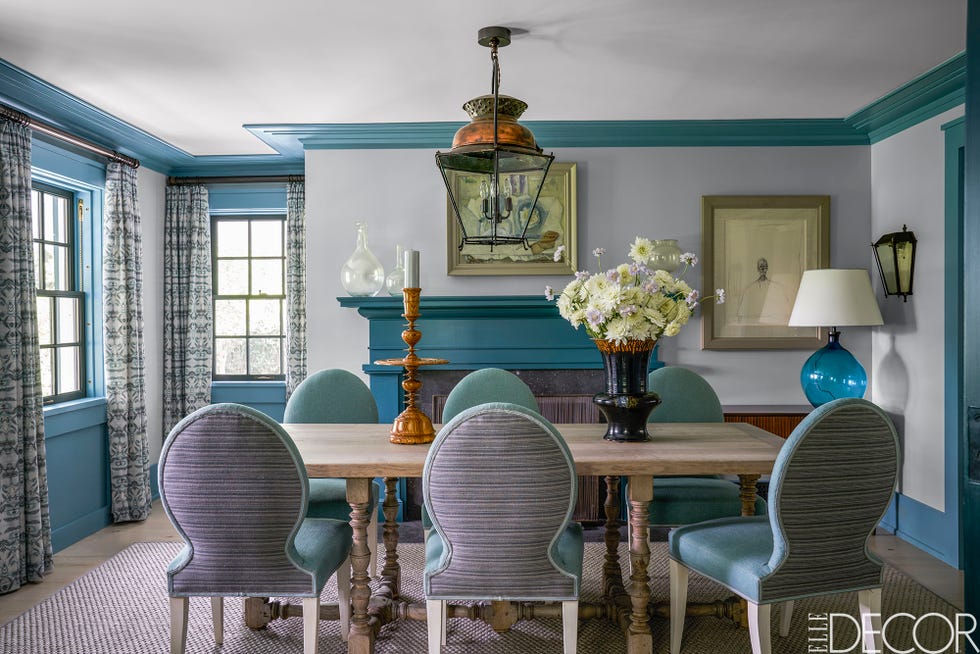 Having a modern home decor does not mean that you have to restrict yourself to contemporary options only. In fact, you can get something like this antique farmhouse table, especially if you have a large dining space. It can accommodate up to 8 people, which is plenty for a small household.
Classic Rectangular Farmhouse Table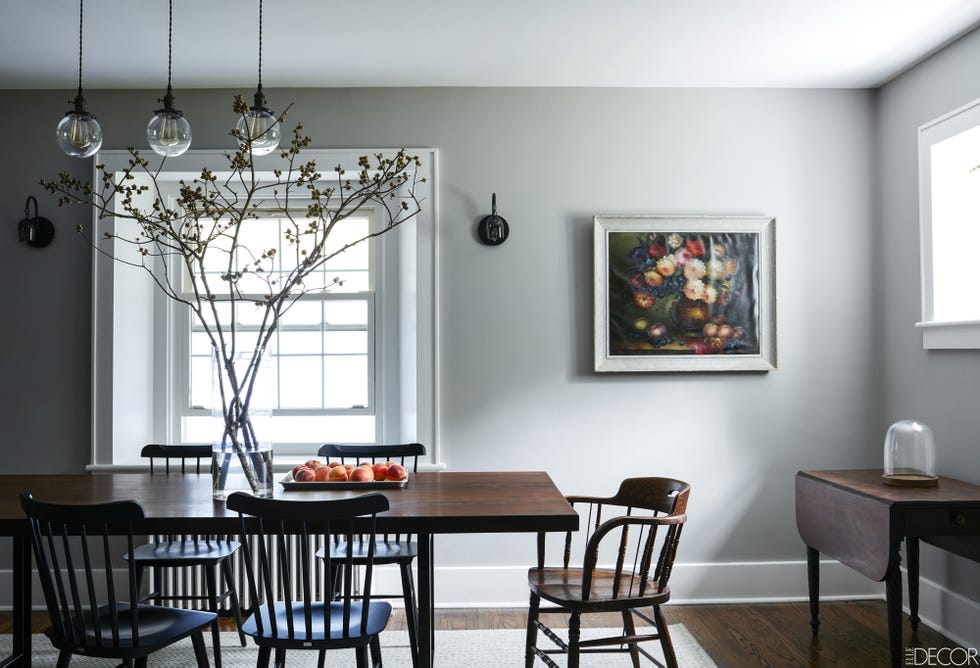 There's nothing like a classic rectangular table when you're looking to combine utility with style. You can personalize the look with matching wooden chairs as contrasting ones would look ostentatious. As shown here, you could also place a houseplant as a centerpiece and use a rug underneath for a refined touch.
19th Century Swedish Table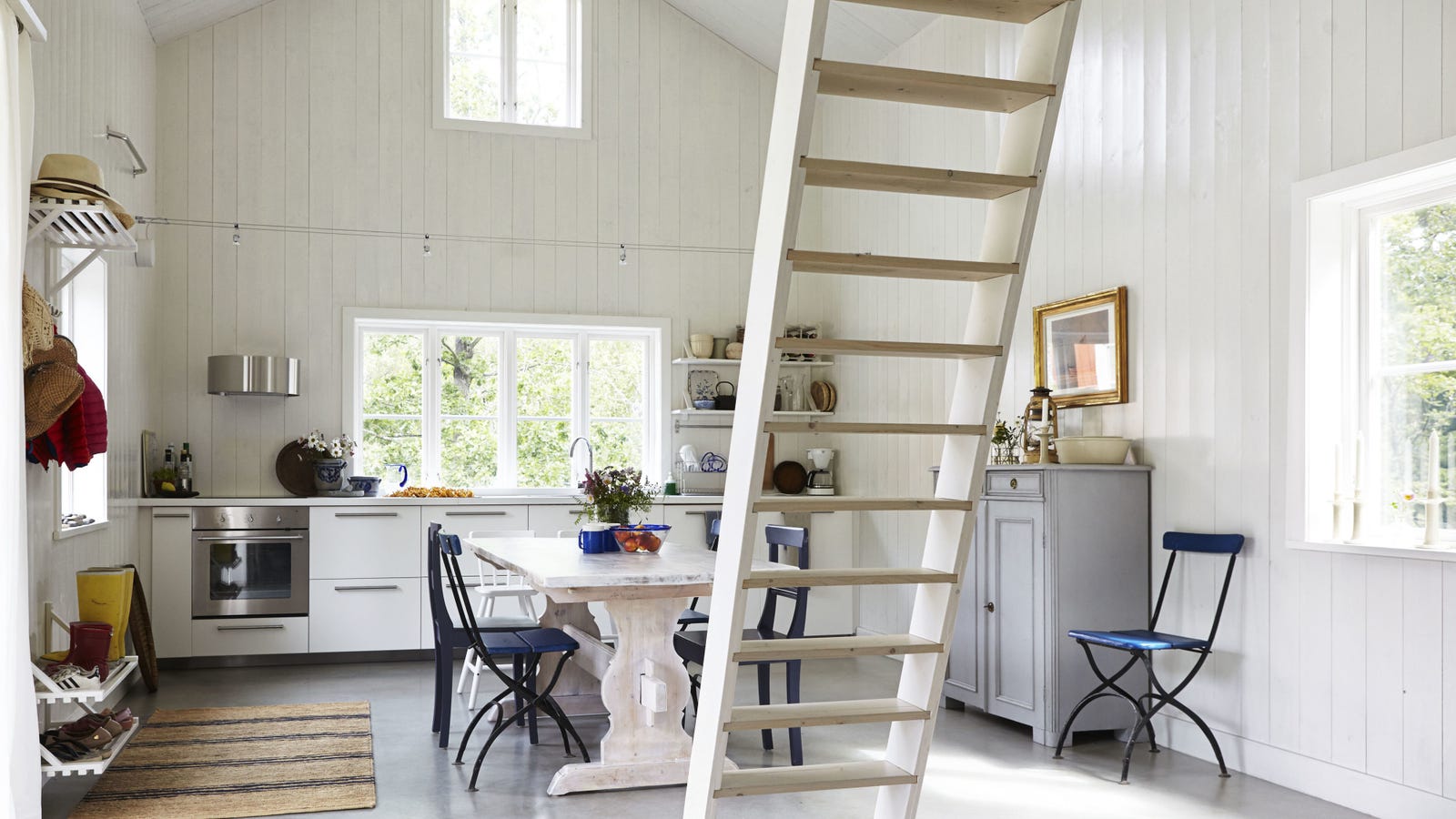 There's no denying the charm of this minimalist 19th-century Swedish table. We can't get enough of the flawless white get-up and curved design of the stumps on either side. It might take a lot of effort on your part to keep it stainless and clean, but it's worth the hype.
17th Century French Table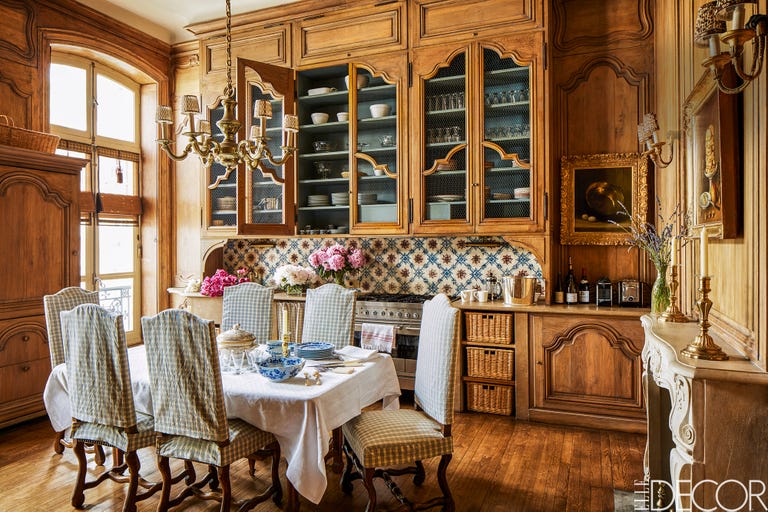 If you have a dining space with a high ceiling and wooden flooring, this will make a great choice. Nevertheless, that's not a prerequisite for its charm to work as this model is a timeless one that will stand out in any living space of this century.
Vintage Garden Table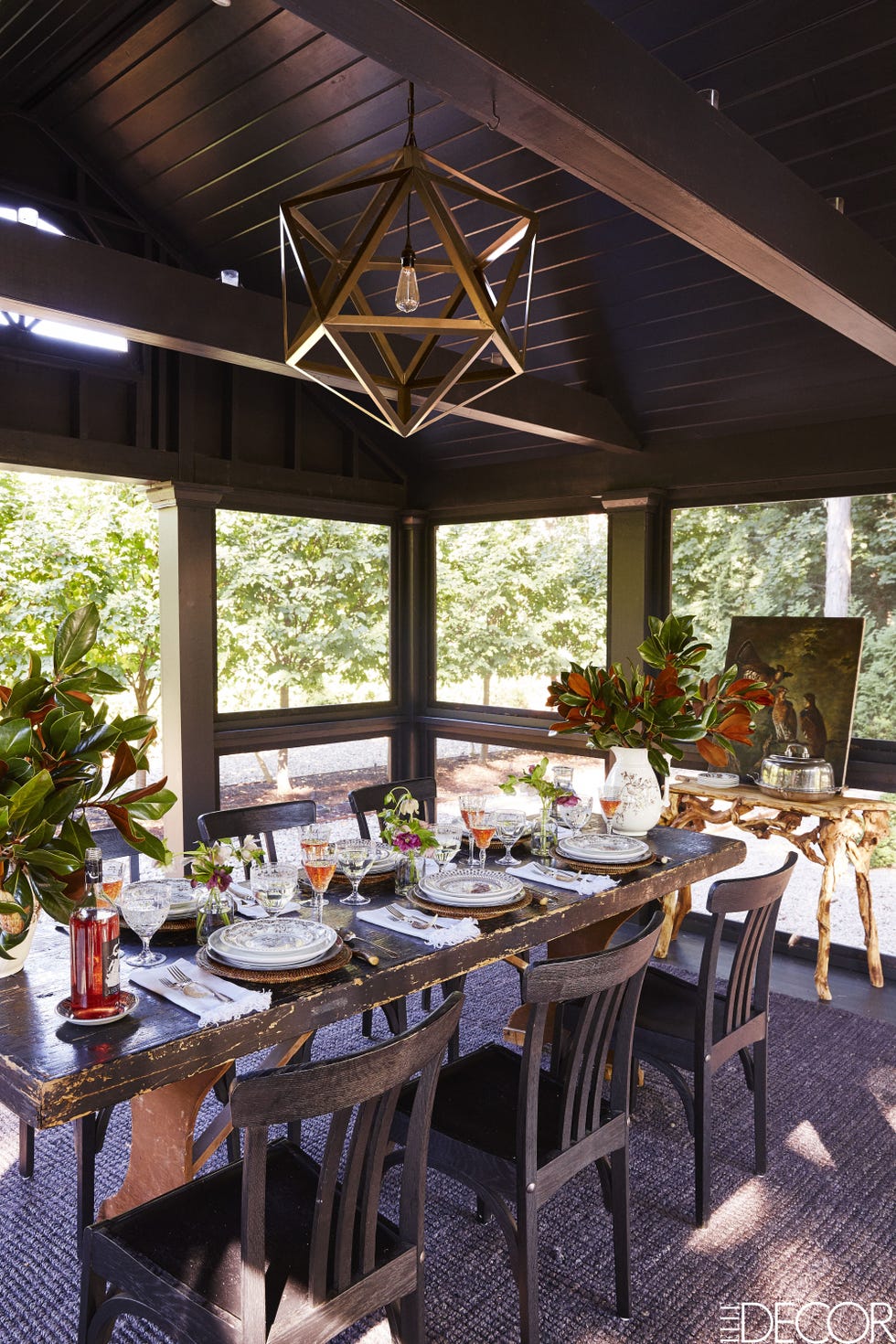 Are you looking for a rustic table for your cute garden cafe? Check out this beauty, providing a capacity of 8. With the right setting, this table can work wonders for you. It can quickly turn into that special table customers wait for, all because of its unpolished wooden look.
Classic Black Guesthouse Table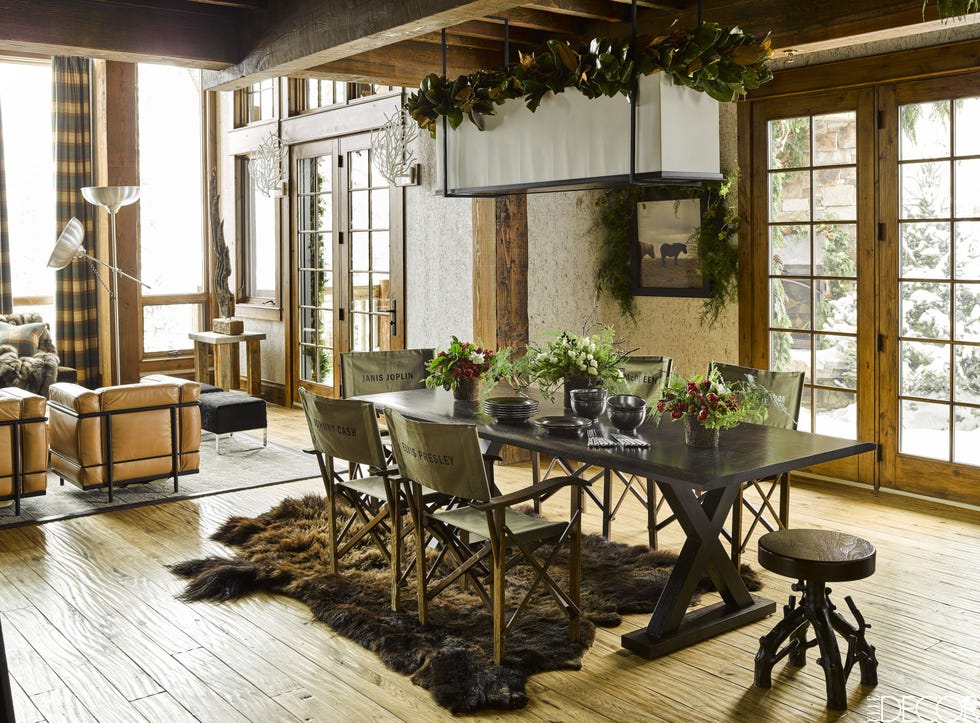 There's something about a classic black wood guesthouse table that you simply cannot overlook. It gives you that cozy feel and yet looks gorgeously gothic. Honestly, it would be perfect if you stationed it close to a fireplace, but anywhere in the dining is also fine.
Simple Kitchen Table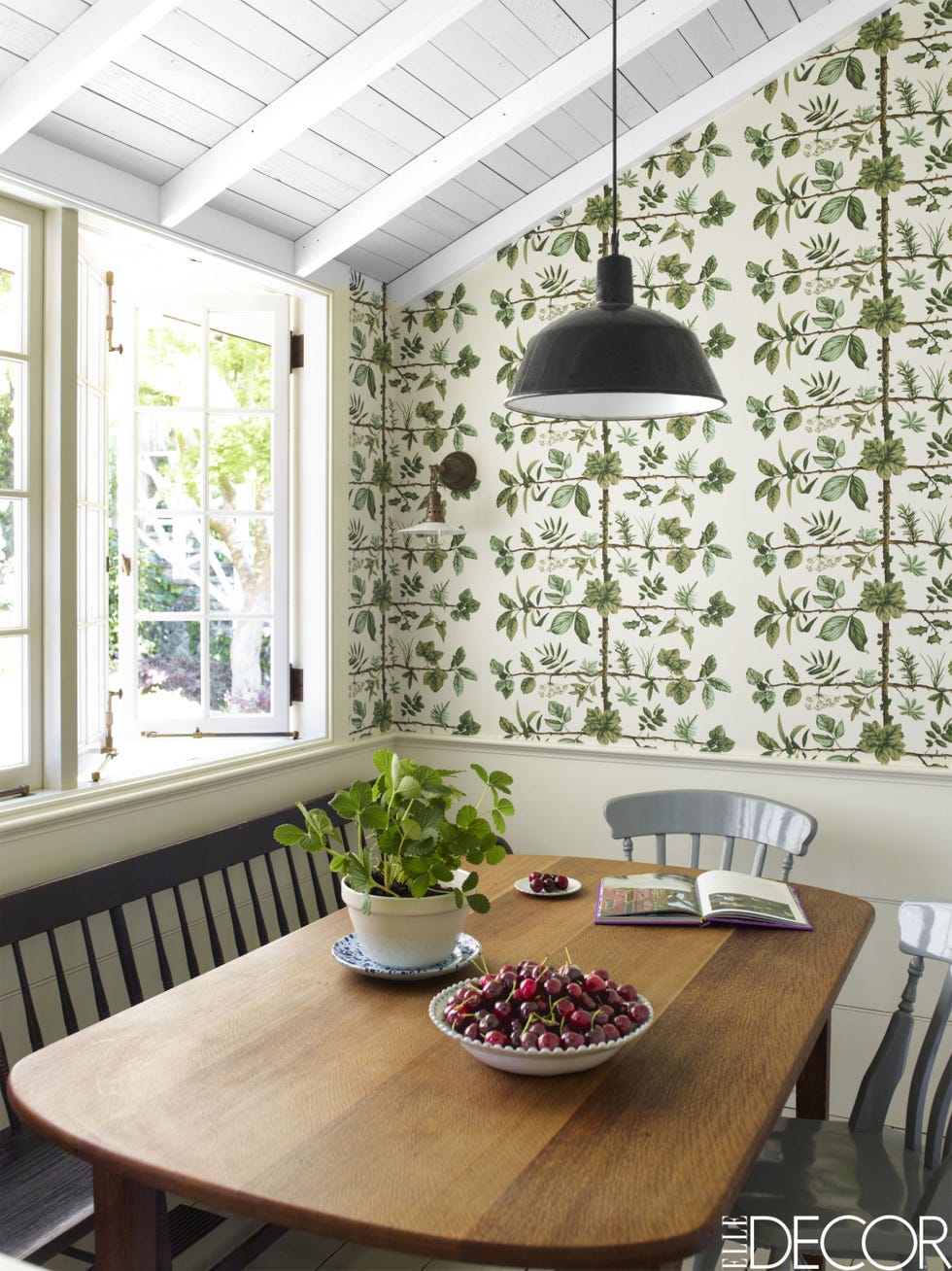 While it's great to have a big table showcasing elaborate carpentry, there's nothing a simple kitchen table can't fix. If you want to save space and, at the same time, elevate the decor of your dining area, we suggest getting this option.
Swedish Dining Room Table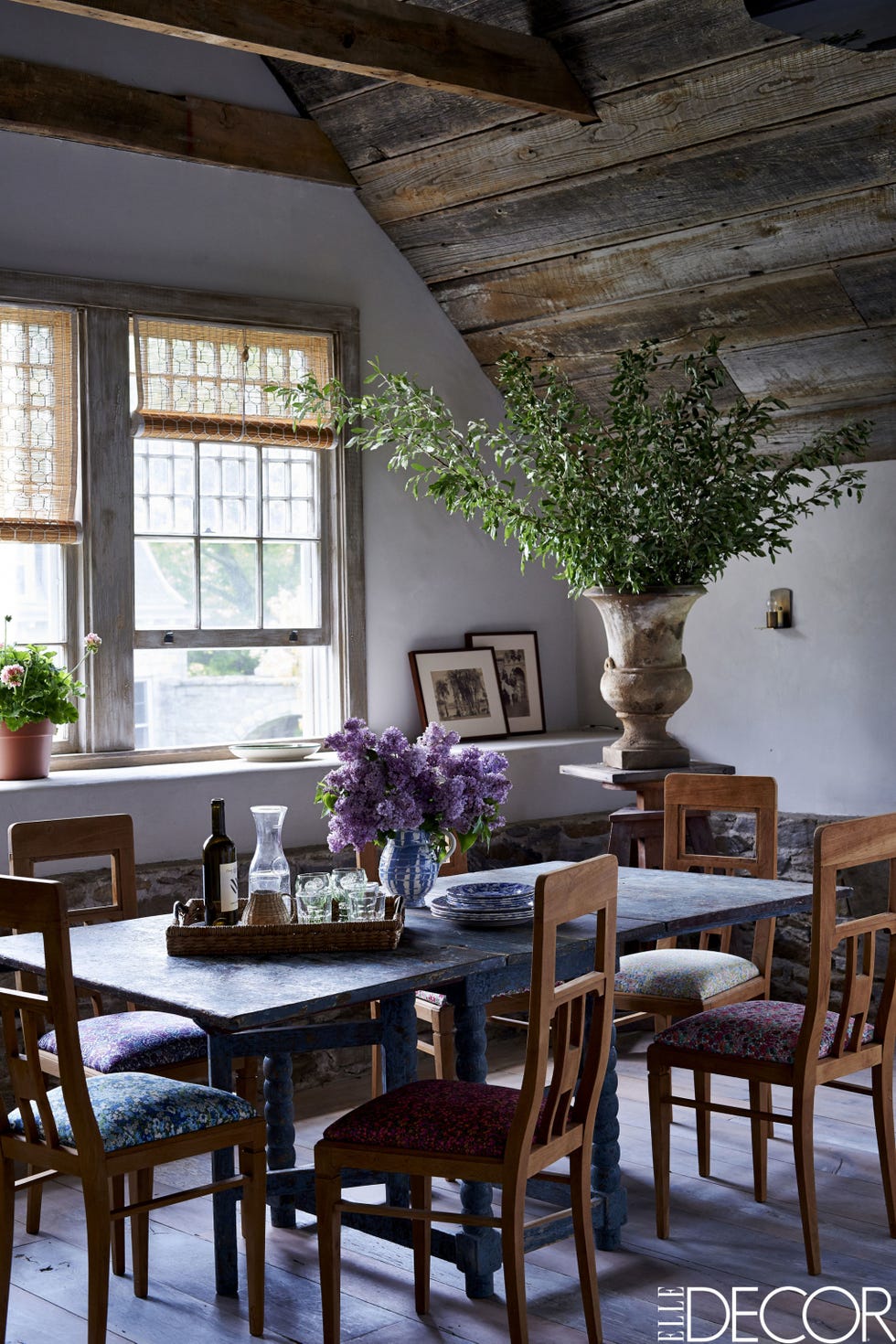 This luxurious dining room table will make you feel pampered every time you sit down for a meal. Get some plush, comfy chairs to go with it; you'll be needing a set of 6. This is one unique table that will stand out regardless of the home decor.
19th Century American Table
Some of us prefer tables with slender legs and a sleek top that looks great in an outdoor set-up. If you're thinking along those lines as well, we suggest getting something like this. You can pair it with mismatched chairs just to make things more fun.
French Dining Room Table
If you're living in an old house featuring classic wooden architecture, this French dining room table will seamlessly blend with interior decor. Nevertheless, even the modern apartment can have this rustic piece as it's quite versatile that way.
Vintage Round Table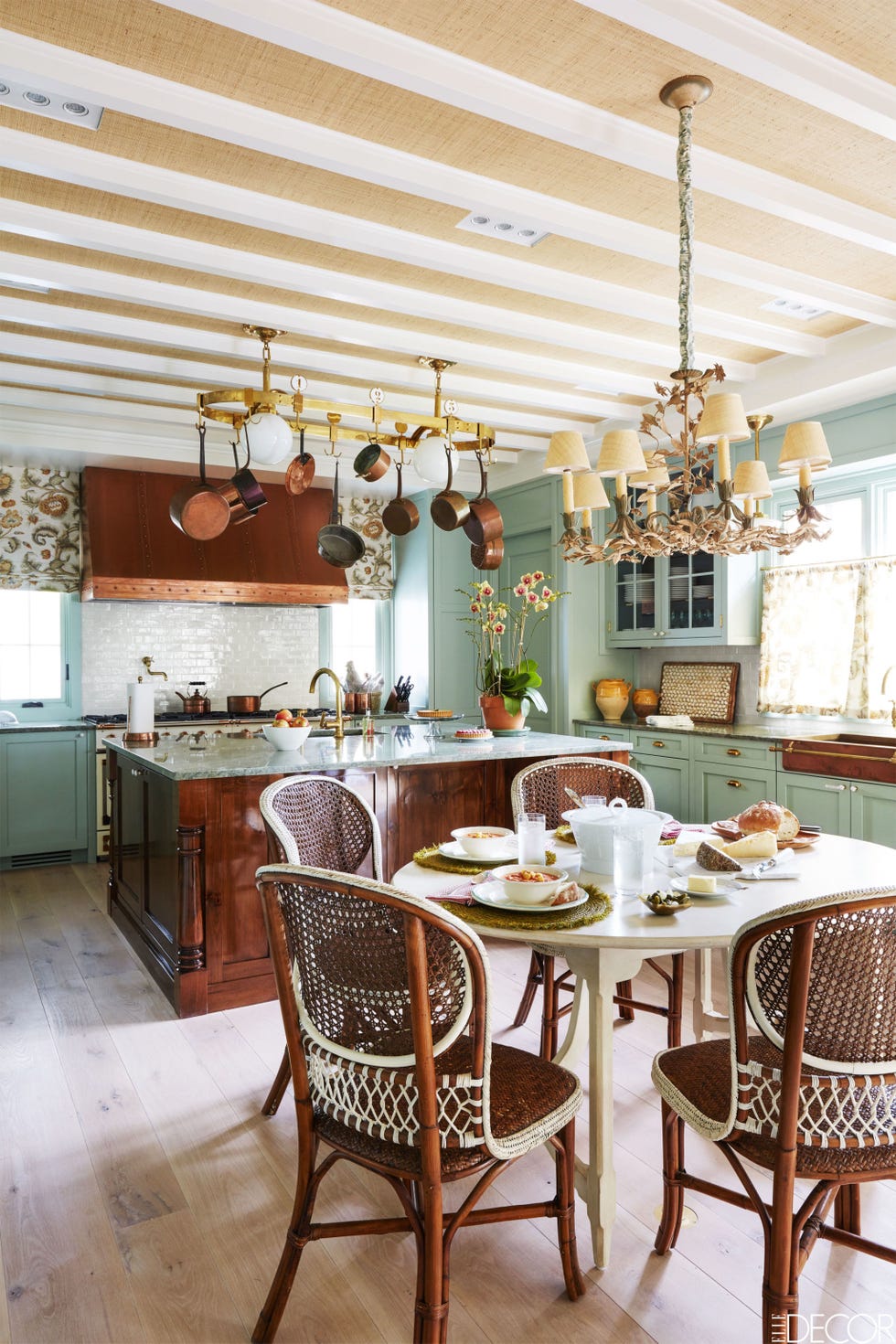 When you plan on updating the kitchen area, the first thing that you should replace is the table as it's the centerpiece of the space. This vintage round table is best for the purpose as it offers sufficient space and ups the style quotient by several notches.
The Directoire Table
This wooden table with golden detailing on the legs is bold and majestic, something that'll enhance the overall decor of your room. It can accommodate up to 6 people and has enough space to hold a large, elaborate spread.
Antique English Refectory Table
This here is a magnificent antique English refectory table that will transport you to a countryside villa every time you sit for a meal. We love the distressed, worn-out look as it spins a pastoral charm, unlike modern-day furniture pieces.
English Dining Table
This is a small round table that you can put in the corner of your dining space to sit down for a quick snack. It can hold a group of 4 at best, so consider this option only if you can make do with such limited space.
Custom-made Kitchen Table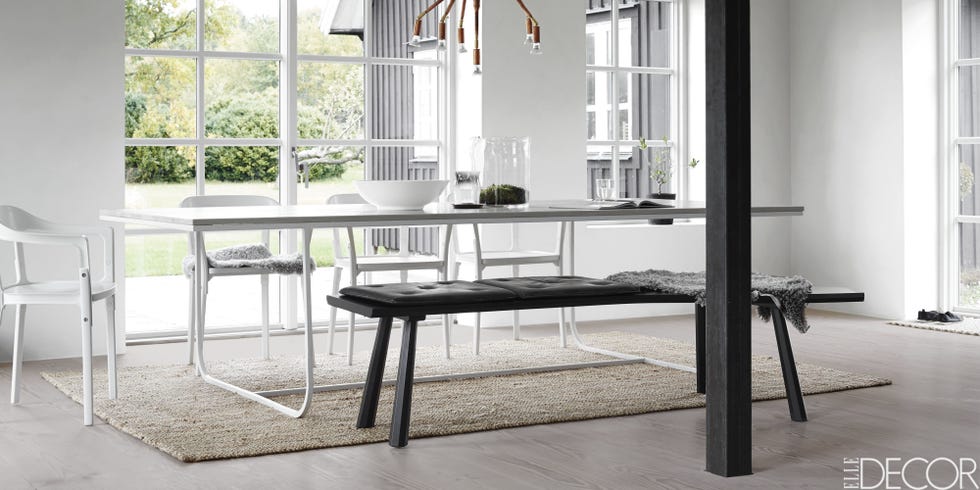 This custom-made table wins no prize for practicality, especially if you live in a smaller apartment, as you can see it's quite large. However, if you want something for commercial purposes that can withstand heavy use, get this stat.
Basic Kitchen Table
If you prefer the no-frills design when it comes to kitchen tables, we suggest getting something like this. It's quite sturdy and generous in terms of space, featuring a smooth wooden top in true rustic style.
Hand-planed Pine Table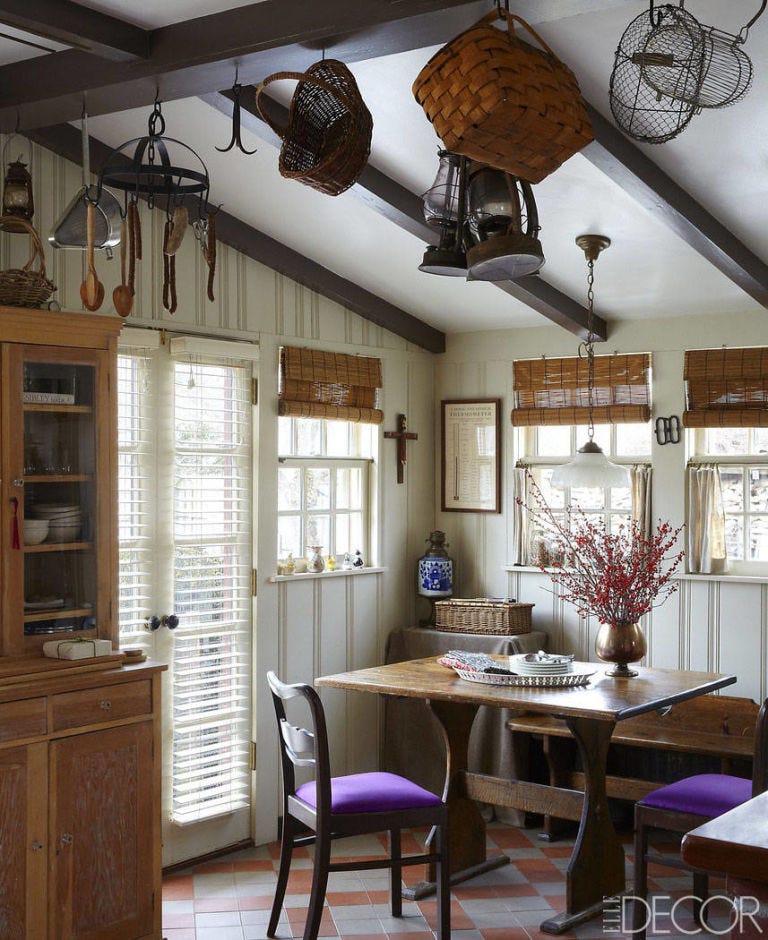 This cute little pine table is everything you need to stylize the decor of your cozy dining space. It features a hand-planed wooden top perched on a pair of artistically curved legs. So, if you're looking for a unique 4-seater, we recommend going with this option.
Marble-topped Dining Table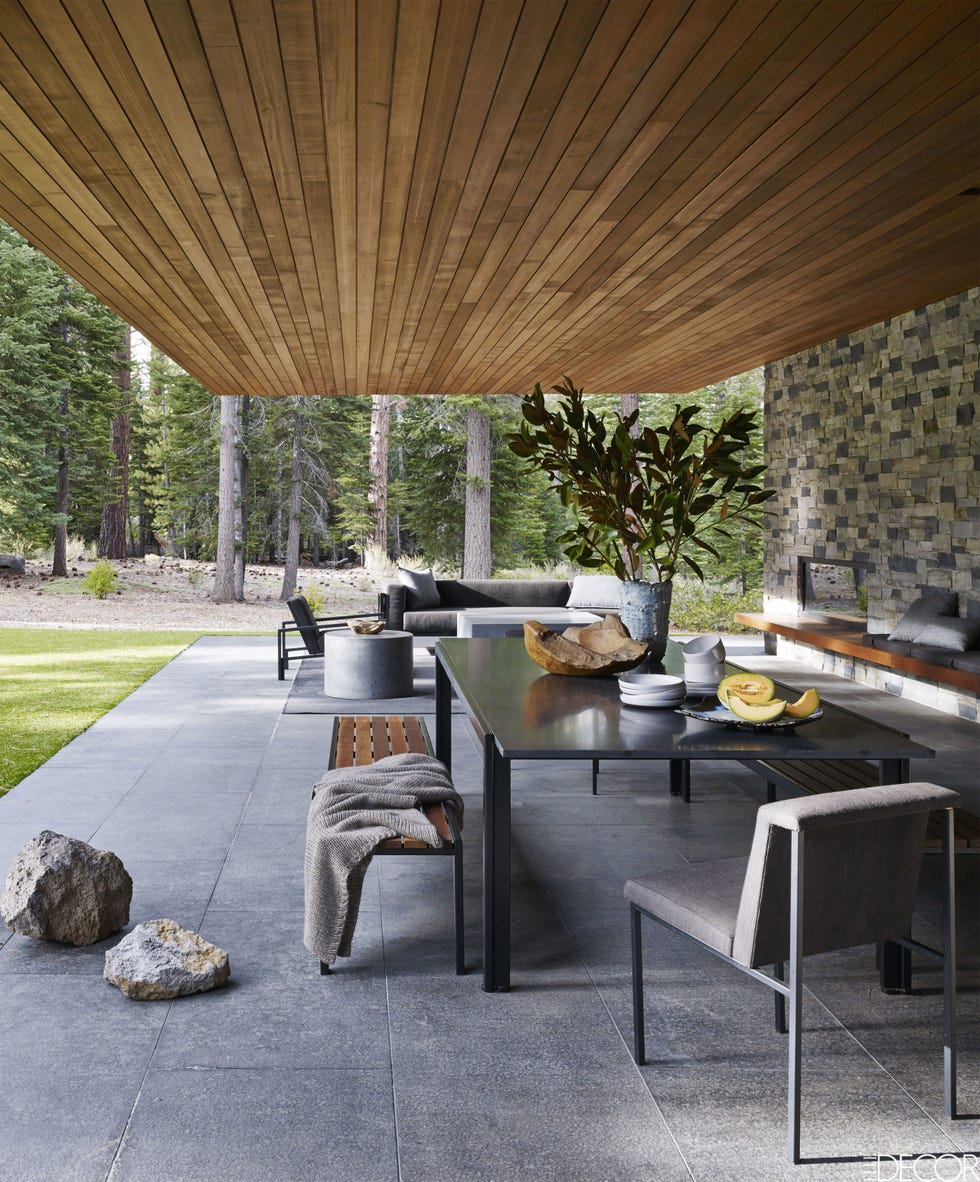 A marble-topped table spells out grandeur and, at the same time, syncs perfectly in a rustic outdoor set-up. So, if you have a lovely porch that you want to convert into a sitting area, pick this one and pair it with chairs and benches of your liking.
Rustic DIY Farmhouse Table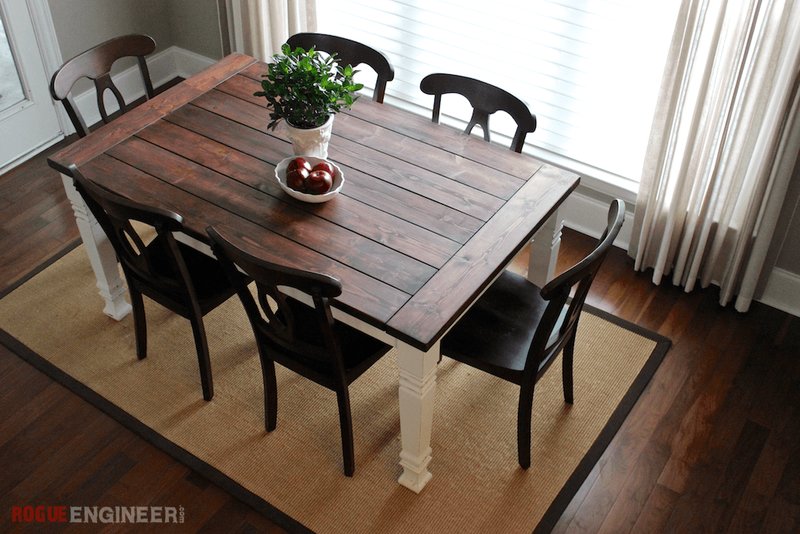 A rustic DIY farmhouse table is something that will perfectly fit inside your dining or extended kitchen area. You can use the accurate dimensions to your advantage and build the perfect table to meet your home's needs.
New Wood Table with Warm Patina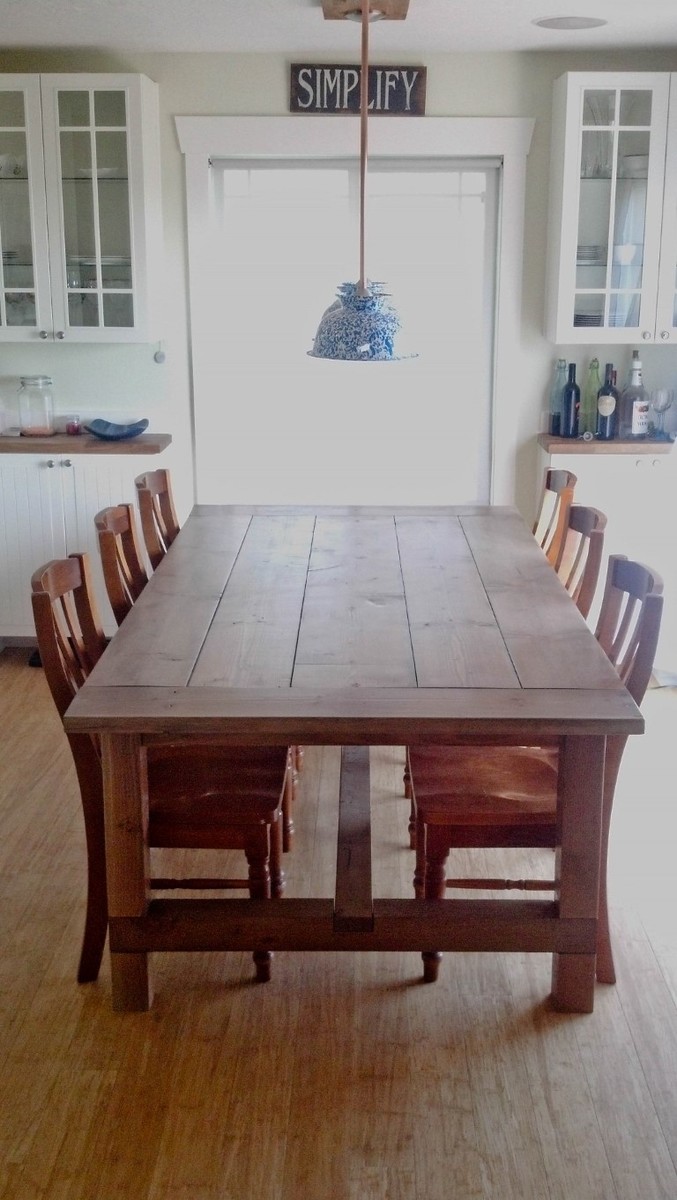 You can turn a new wood table into a rustic one with a beautiful warm patina finish, and nobody will notice the difference. It's a hack that carpenters have been using for ages, and frankly, we love the old-world charm it creates.
DIY Pallet Farmhouse Table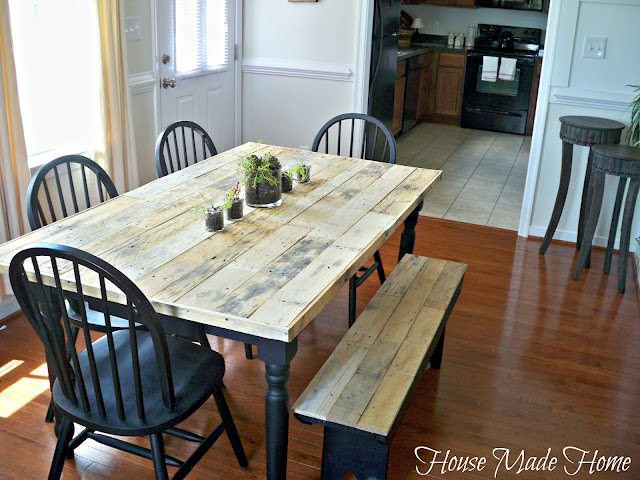 This warm wood pallet table is a neat piece of furniture that can brighten up the decor of your kitchen space. It's pretty easy to build and does not involve any complicated carpentry, yet the outcome is nothing short of outlandish.
X Brace Farmhouse Table
The X brace farmhouse table is designed to make a bold statement in your dining space. You can pair it up with mismatched chairs and easily fit up to 6 people. To give it a proper antique look, place a handwoven rug underneath.
Shabby Chic Baluster Leg Dining Table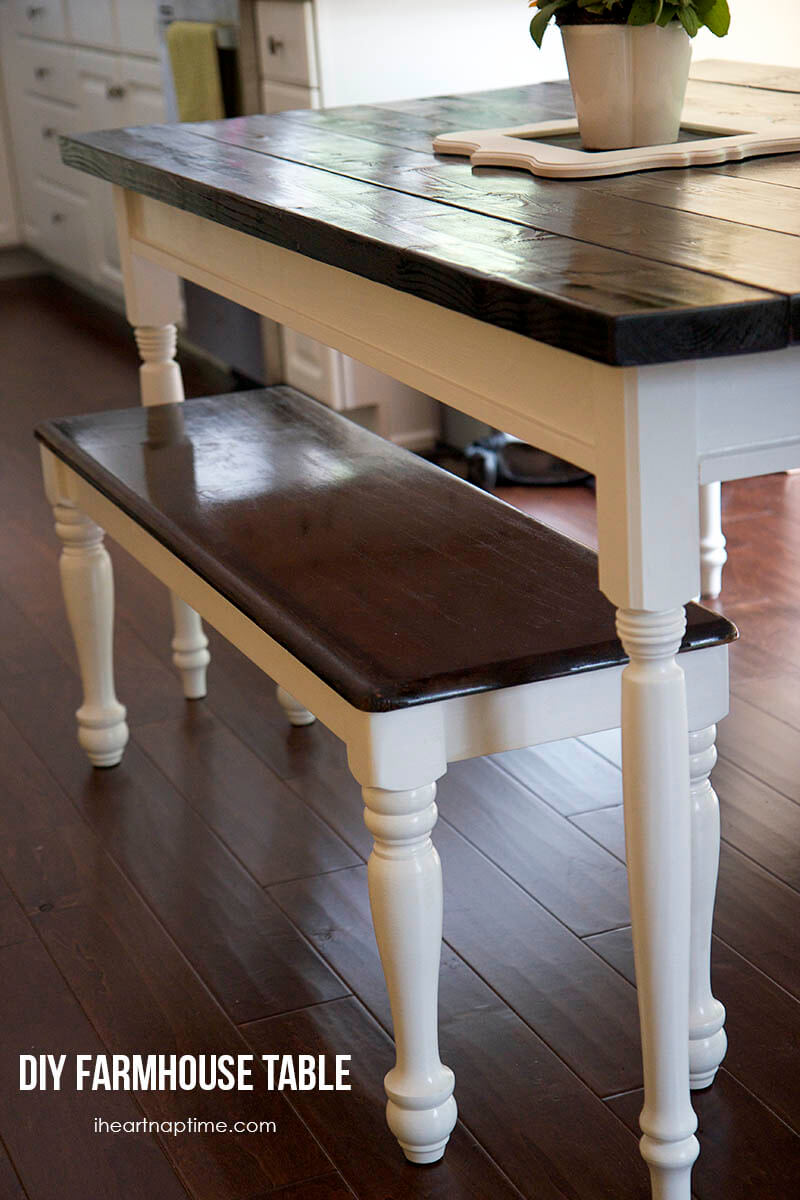 This Shabby Chic, distressed table is truly one of a kind and has a cheerful, summery look about it. Although it shows seating for 4 here, you can comfortably fit 2 more chairs at the ends and still have enough space for serving bowls and plates.
Farm-inspired Dinette Table
A round table with a solid base embodies a rustic feel unlike any other of the same shape. Most of them fit up to 4 people, but this dinette table can accommodate up to 5 individuals and allows you to be more experimental with the decor.
Budget Farmhouse Table
Not all of us have the budget for a luxurious wooden table, but you can build one on at a low cost. Therefore, if you're looking for some ideas, we suggest getting on board with this one. Pair it with a matching, low bench and iron chairs for a complete look.
Farmhouse Table with Reclaimed Wood
This farmhouse table is made of recycled materials, which is quite economical and a sustainable choice at the same time. If you have an old table at your home that can be reclaimed, just use your DIY skills to give it a fresh new look.
Country Dining Table
This country dining table has impressed us with its simplistic and practical design, good enough for a group of 6. We love the smoothed wood top that looks quite attractive and cozy when placed on a carpeted floor, as shown.
Expandable Farmhouse Table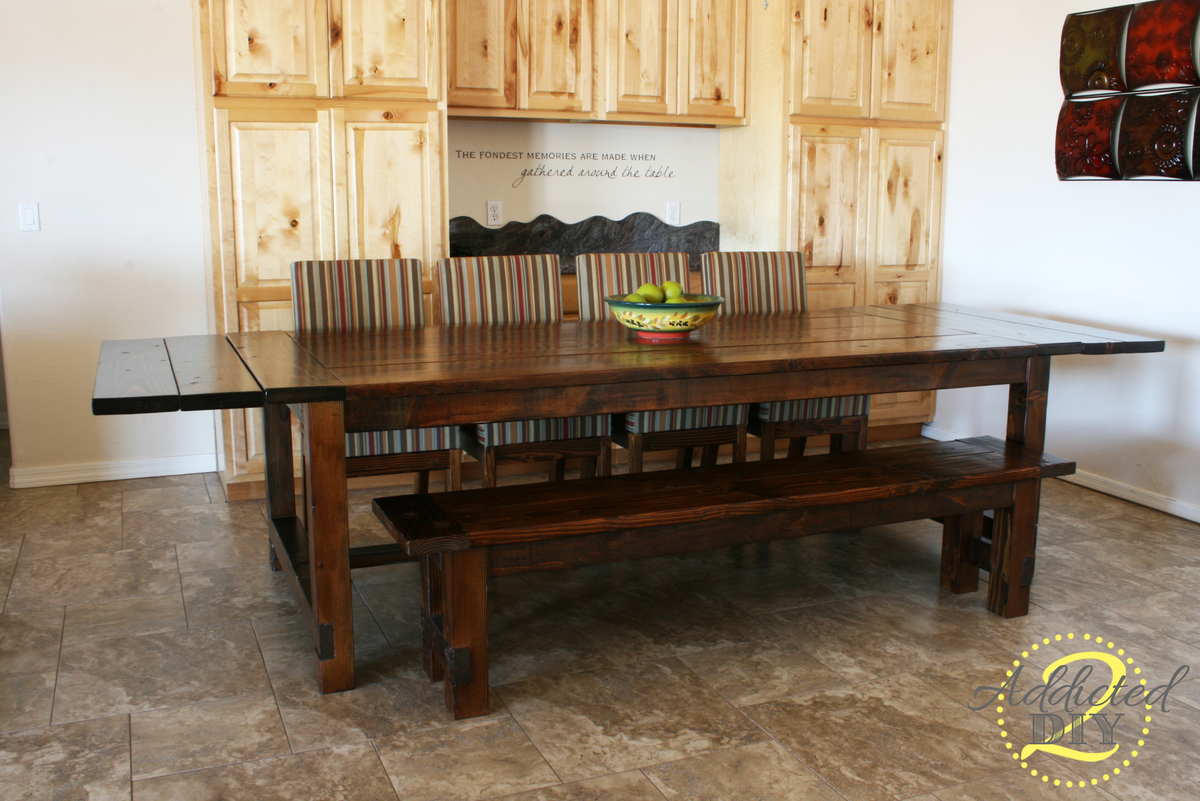 Sometimes, we could all do with a little extra space on the table while serving guests. That's where this expandable farmhouse table with leaves comes into the picture. It has an iconic dark wood design and includes removable leaves that you can use when you require additional space for serving wares.
Designer Farmhouse Table
Build the designer farmhouse table that you cannot afford. If you have the skills for this, you can use the idea and follow some simple steps to create this rustic wonder. Your guests won't notice the difference, plus, you can flaunt your skills to anybody who asks about this table's origins.
Chunky White-washed Dining Table 
If you have ample dining space, make sure you have the right table to fill it up. That said, if you're looking for something chic yet classy, get this white-washed number for a bright look. You can finish off by adding differently colored chairs as the possibilities are endless with this dining table.
Small Kitchen Table
Having a small kitchen table is economical and space-saving at the same time. You can make this dark wood table and put it in any corner of the dining area, but it'll still get noticed for its unique appearance. It works for a smaller family of 5 and can be paired with differently styled chairs.
Modern Farmhouse Dining Table and Benches
The modern farmhouse dining table is quite generous in terms of sitting and has an unparalleled rustic vibe. This is one table that you can put even in the living room area as the long benches make it ideal for lounging and relaxing. To break the monotony, you can spread a colorful rug under it.
Barn Door Farmhouse Table
This barn door farmhouse table with a white base is a typical design found in countryside homes. We can't get enough of its classy appearance as it brightens up the decor of any clumsy area indoors. The matching benches further enhance the rustic appeal and look quite inviting from the get-go.
Contemporary Farmhouse Table
This black wood table is surprisingly gorgeous and is the perfect piece for creating a garden sitting area. It would be great to sit here and watch sunsets while sharing a drink with friends. Also, we love the matching benches and chairs as we believe there's no such thing as too much black.
Oak Statement Table
If you're looking for some inspiration to build an oak table, you can never go wrong with this statement model. It's genuinely one of a kind, offering sufficient space for up to 6 diners and looks excellent with both chairs and benches. Furthermore, you can add a centerpiece and a contrasting carpet, to make things interesting.
Foldable Garden Table
This foldable garden accent piece allows you to relax in style. Thanks to the cleverly concealed hinge in the middle, the table can be folded back when not in use. This way, you can retain the polished finish of the wooden top for longer, even if you leave the table outdoors.
Designer Coffee Table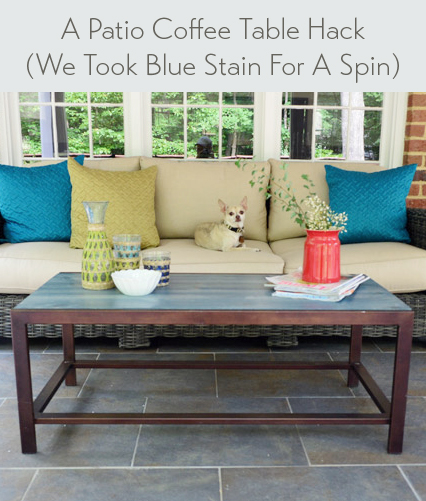 A coffee table does not necessarily need to have a glass top to look attractive, and this model proves that point. This table featuring a wooden top with a dash of midnight blue is everything you need to turn your patio into a cool hangout. Skip the chairs and benches and instead add a couch for a cozy look and feel.
Outdoor Dining Table with Reclaimed Wood
This outdoor table made from reclaimed wood is perfectly finished up with a beautifully weathered wooden board tabletop. Meanwhile, the crossbeam at the base of the table provides sturdy support for your feet when dining or kicking back with friends.
Outdoor Coffee Table
You could repurpose the ottomans at your home, use them to make a steady base, and then top it with lumber boards. The result? A majestic, low coffee table, ideal for your outdoor escapades in the evening. You can even pair it with a small couch and put up your feet while relaxing.
Repurposed Pallet Table
This repurposed pallet wood table is pre-aged and distressed, making it an interesting choice for outdoor furniture. We love the hourglass-shaped legs, made of scrap wood that provide support and stability to the bulky top while lending style to the overall structure. It blends perfectly with the surrounding trees and foliage for the ultimate au natural look.
Country Chic Patio Table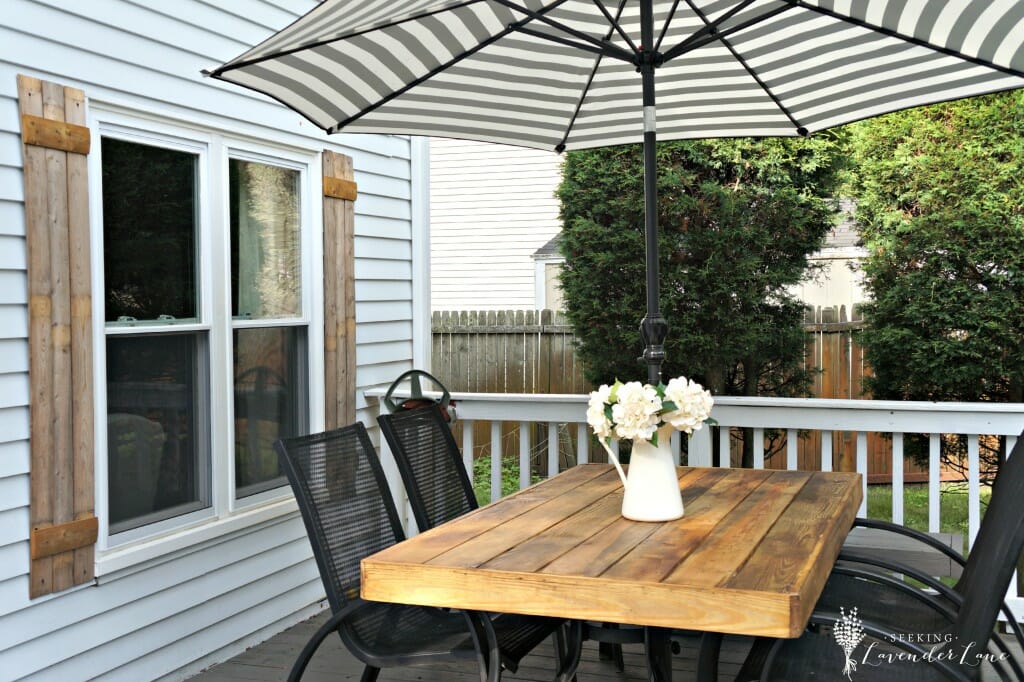 This golden-hued country style table is made out of an outdated tabletop and looks great in a modern patio set-up. You can drill a hole in the center to set up the patterned umbrella, but even without it still looks very charming.
Outdoor Picnic Table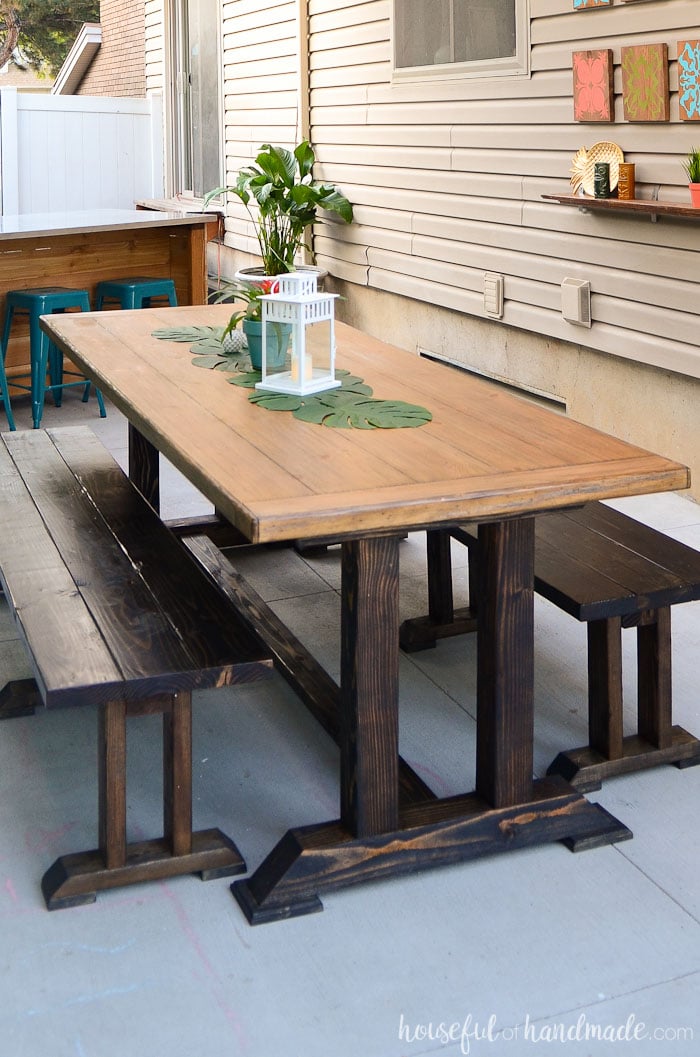 Eating outdoors is one of the many joys of summertime, and your meals will taste even better on this majestic outdoor picnic table. It's big enough for about 8 people, which makes it perfect for a barbecue with friends. Skip the chairs and get matching benches instead, for more space.
Modern Picnic Table
While the traditional picnic table is undoubtedly the favorite backyard furniture, you can still pull a modern twist with this dark wood variety. This one transforms your backyard into a contemporary refuge, offering sufficient space for at least 4 people. It's quite plain-looking, which works if you want a low maintenance table.
Round Pedestal Table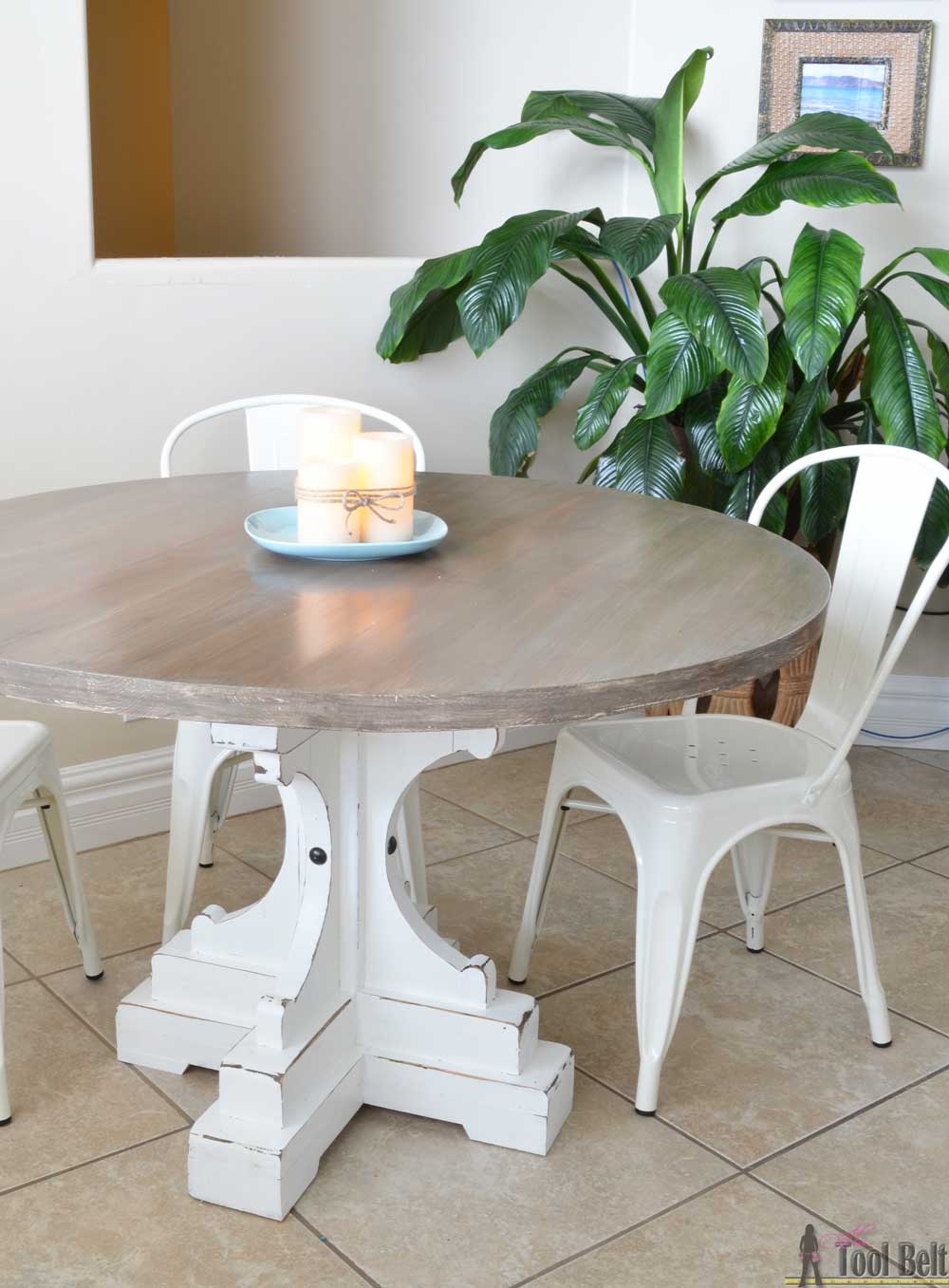 With a pedestal table like this one, you can squeeze more people, especially if you're short on floor space. But space-saving is not the only benefit it can provide as it sure looks stylish as heck. We love the worn-out white base and the smoothened tabletop, adding a dab of sophistication to your interiors.
Dining Table with Metal Legs
When you imagine rustic, you do not necessarily have to limit yourself to wood only. This is another dining table that deserves all your attention as it combines a white-washed wooden top with copper legs. It also includes copper cross beams which look quite attractive and lend more character to the piece.
Retro Hairpin Leg Table
This dining has it all: a reclaimed, rustic top and retro hairpin legs. When you combine modern design with a classic wood structure, the outcome is always unique, but it's rarely as ravishing as this one. Its generous dimensions make it a great family hub as you eat, chat, or play for hours.
Modern Round Farmhouse Table
This round table with a modern twist is the perfect addition to tight corners in the kitchen or dining area. The prominent base adds to its grand appearance while the unpolished look enhances the rustic appeal.
Traditional Dining Table with Painted Legs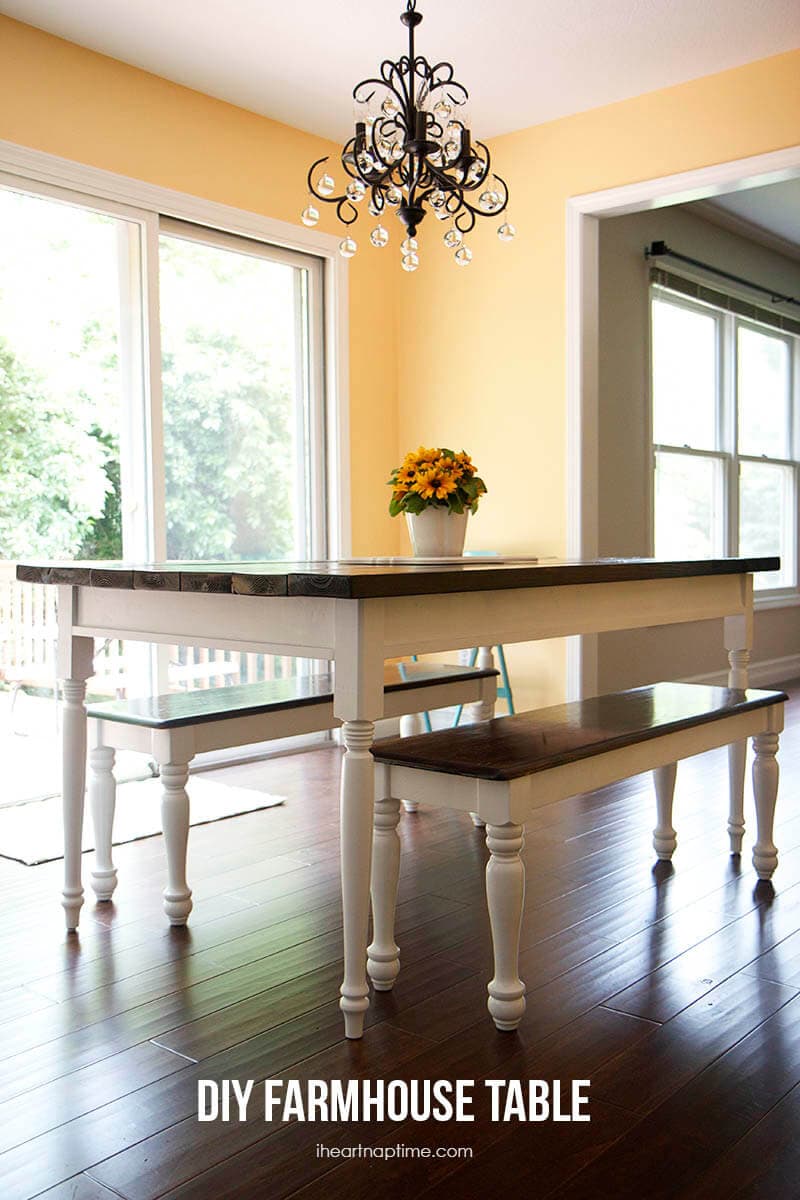 This dark wood dining table with painted white legs deserves a spot in the dining area, close to full-size open windows. We just love the matching benches paired with it as they create a neat look and appear very welcoming and casual. Alternatively, you can use arch-backed chairs too for a more sophisticated look.
Simple Dining Room Table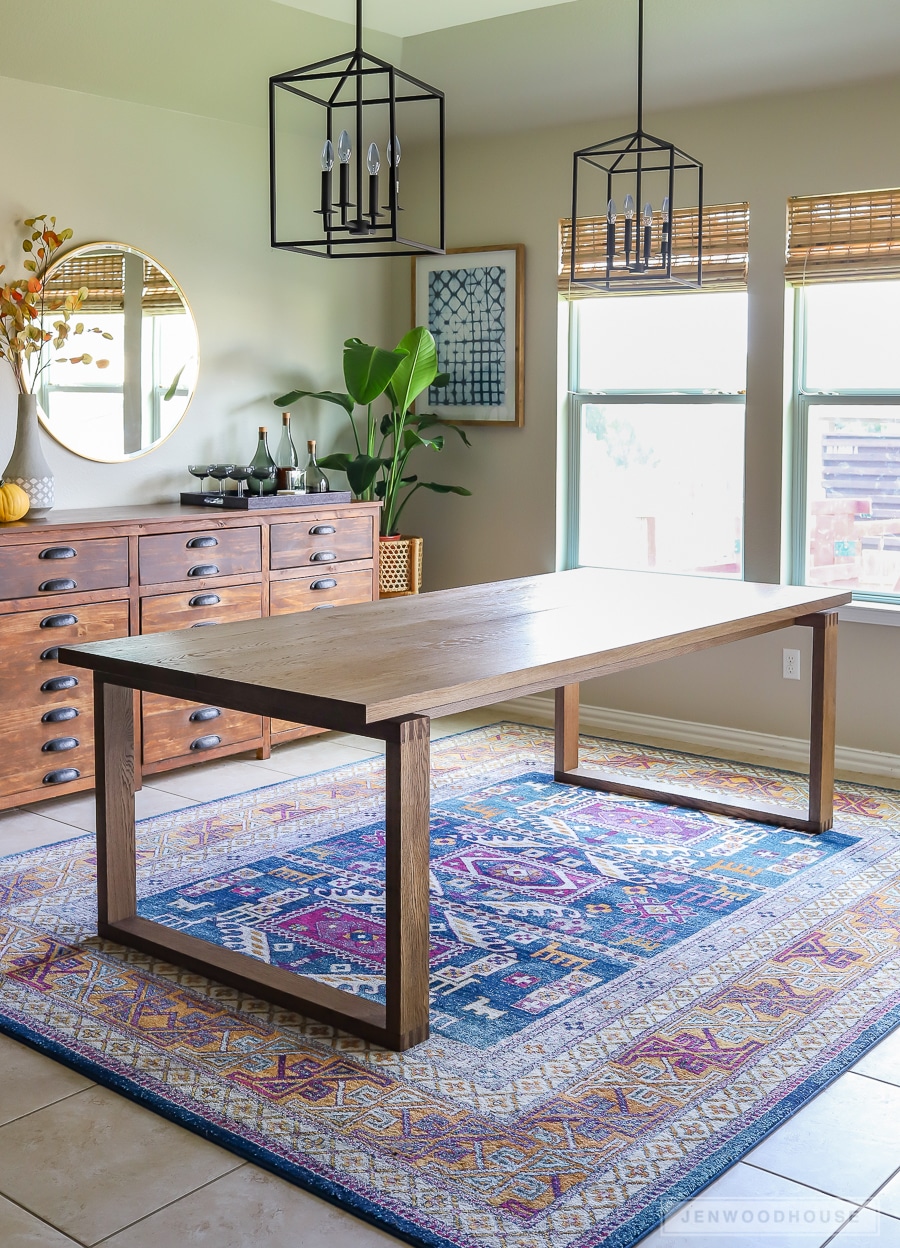 This dining room table is ideal for beginners looking to try their hand on carpentry. It does not have complicated joints like a dovetail or butt joint but instead features sleek box-style joints, which keeps the appearance clutter-free. You can accessorize with regular wooden chairs, but make sure that the seat is higher to perfectly match with the table's height.
Small DIY Farmhouse Table
This small DIY table is the ideal fit for compact dining spaces. It has a typical desk-like appearance and yet looks quite charming under the right lighting. If you have a small family of 4, we recommend working on this idea.
Herringbone Dining Table
If you're looking for a little more challenge to level up your carpentry skill, try your hand on a herringbone table like this one. If you want, you can scale down the size according to your needs, as the pattern will look good anyway. Make sure you have the right kind of tools for this exclusive project.
Basic DIY Farmhouse Table
This is another table that can turn on the rustic charm when placed in the right setting. You may add chairs or benches or both depending on the seating requirements. Place a rug underneath to complete the entire look. Also, put it beneath a chandelier to enhance the old-world charm.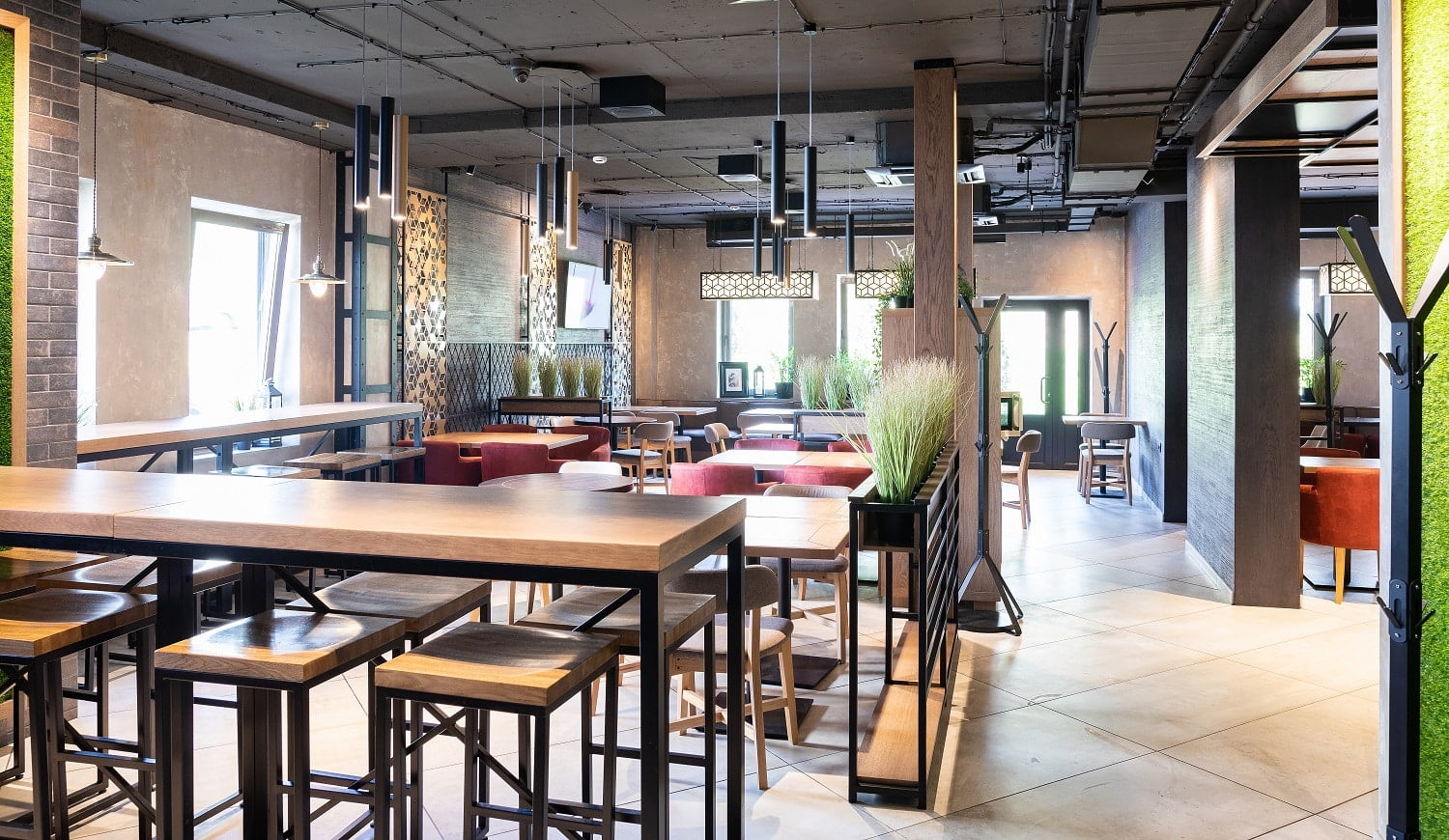 Conclusion
That's all, folks! We're pretty sure that you wouldn't be running out of rustic table ideas anytime soon. Even though you're spoilt for choices right now, it's important that you pick a model that will work perfectly in your preferred location.
Not all tables are meant for outdoor use, so make sure that the material can withstand the elements of nature. At the same, take into account the space you have inside your home and compare it to the table dimensions to get the appropriate fit.
Let us know in the comments section below about your favorite pick from this lot.
Till next time, keep this tabled!