Whoever said that the best form of beauty is the unadorned one was hitting really big in life with his philosophical knowledge.
But a plain, rustic kitchen is indeed one of the most beautiful places where you can nourish the body as well as your soul.
Since counter-tops are the center of any kitchen and quite a hassle to spice up, it could be a challenge to provide a rustic look to the counter-tops of a modern kitchen, to begin with.
But, if you're reading this article in hopes of getting an answer to your prayers, consider it done!
Cause, today we've come up with 49 splendid rustic counter top ideas for your kitchen, that will bring in the unadulterated beauty of a pastoral life into your contemporary cookhouse!
Related articles
13 Best Farmhouse Sinks of 2022 Reviewed
43 Super Cool Bar Top Ideas to Realize
43 Ingeniously Creative DIY End Table For Your Home
39 Spectacular Tree Logs Ideas for Cozy Households
Rustic Countertop Ideas
1. The crude granite countertop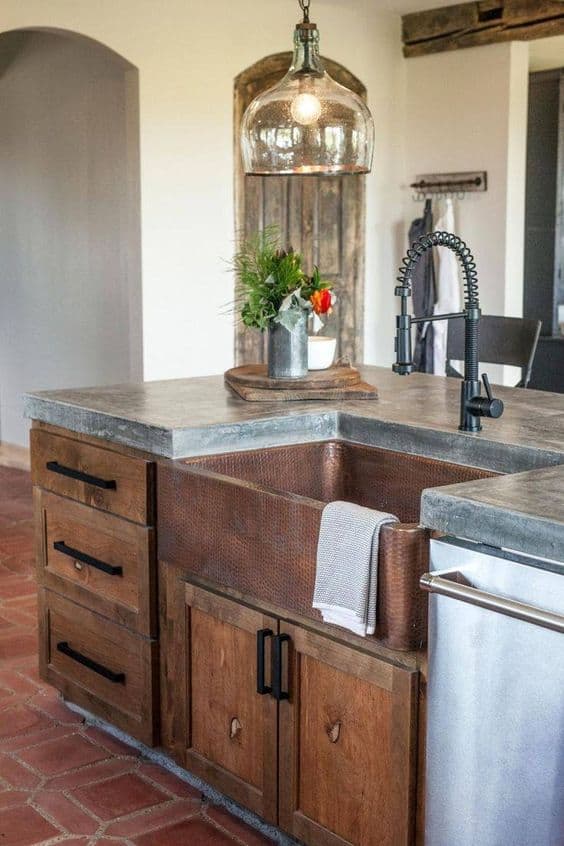 Traditionally, a polished and textured dark granite countertop can single-handedly own it in any kind of kitchen-décor whatsoever.
Paired up with an equally unpolished wooden cabinetry design, red-cement floors, and mineral-washed walls, the look can drastically transform the atmosphere of a conventional kitchen, to make it cozier in look and feel.
We absolutely heart the minimalist glass pendant lighting with no extras, bundling the look up together in a mellow statement.
Source Unknown
2. Plank up the bar!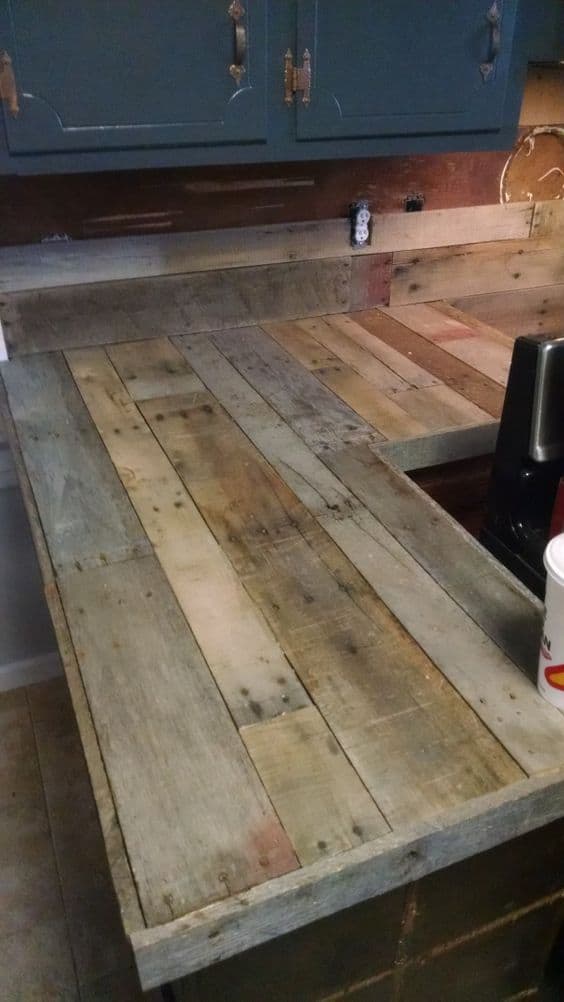 Using unpolished, crude plank furniture seems to be the new, raving in-thing for kitchen decors in recent times. Not only do these look fabulous, but it also makes for a clean, unadorned and simple statement, especially if the rest of the kitchen is done in darker or richer tones. The tonal variations to a plank design provide shifts in color and textures.
A touch of corn flour blue on the cabinets contrasts beautifully with the wooden textures to bring you a beautiful rural décor.
via 1001pallets.com
3. Straight-edged raw grays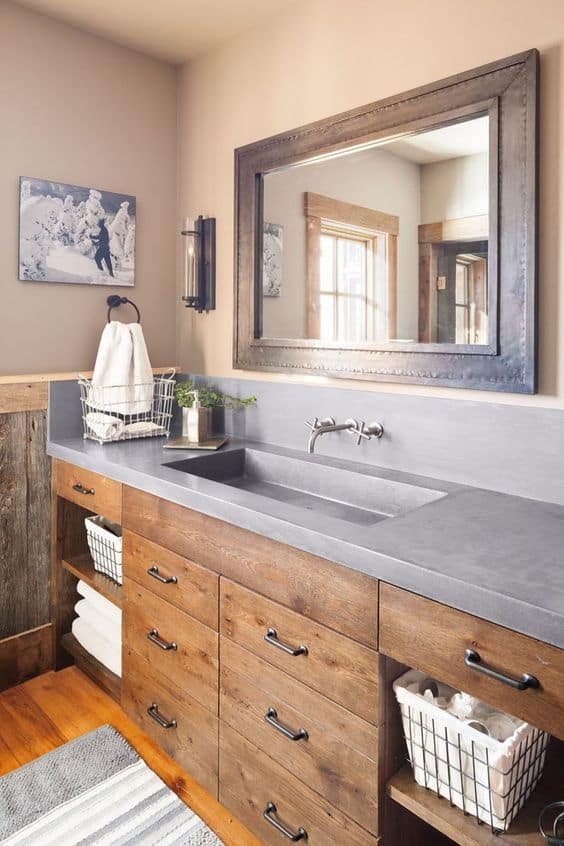 One of the most stunning designs for a minimalist look is undeniably something that's done in unadorned, raw grays. You could go for a monolithic statement with a singular long, gray counter complete with a sink slot, contrasting beautiful ivory or beige tones for the walls and polished wooden cabinetry and floors in different textures.
The contrast looks marvelous and makes for a calming visual effect and feel. These colors also have the capacity to play with natural lights, bathing the place in soft natural shades.  
4. The rough-cut way to go!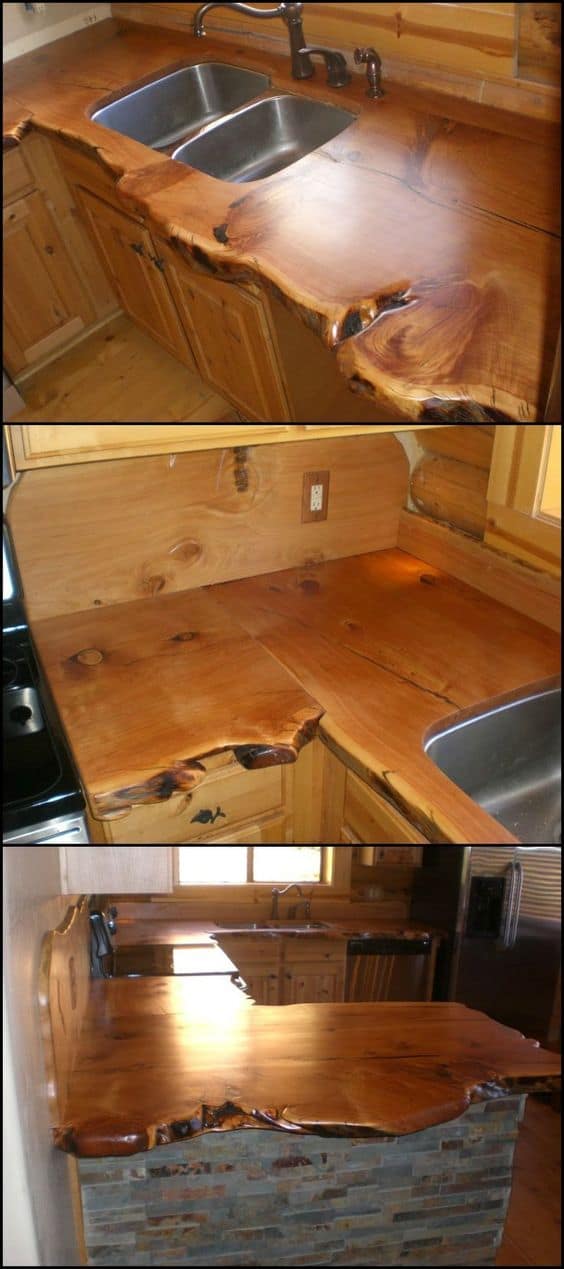 Rough or broken-cut edges on countertops are swiftly becoming the new hot favorite for every kitchen that likes to play with wooden designs and textures. This is one look that puts the contemporary in the traditional.
Yet, surprisingly enough it appeals to the natural state of the art for decors, unlike futuristic designs that can look very mechanical and clockwork-ish in excess.
Polished or not, the broken or rough-edged designs could provide that unique and unconventional element to an otherwise bland look, drastically changing the style with a single touch.
5. Polished plank designs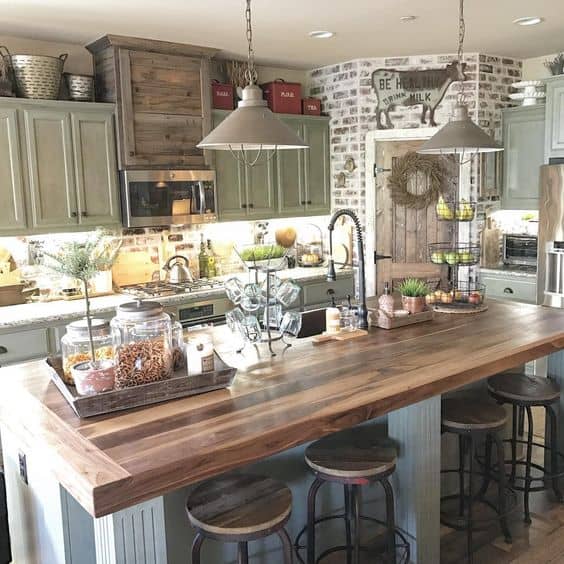 Now that we have already discussed crude and unpolished plank designs for your cookhouse décor, it's time to look at some richer, varnished tones on the same planky way.
Polished, cohesive plank countertops in luxuriantly darker colors could be the center of all attraction in a kitchen done in lighter to neutral shades.
A farmhouse kitchen done in varying tones and textures of white or gray could deliver a grand contrast scheme for such countertops. A little dash of natural colors could brink the entire look to life.
via instagram.com
6. Varnish and epoxy for your wood!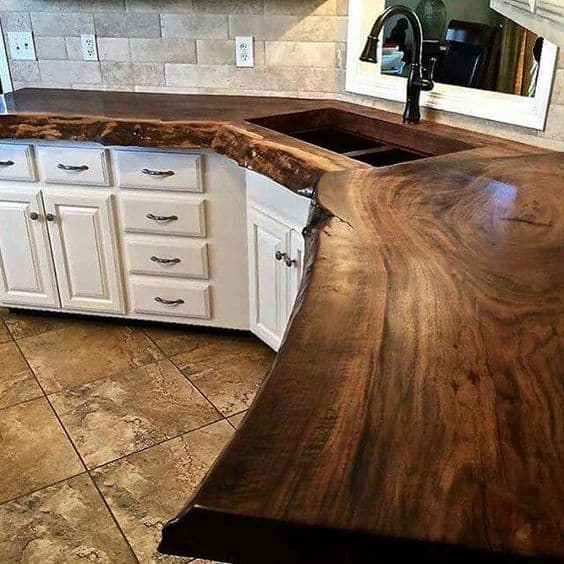 Mirror polishes for wooden countertops could be the ultimate game-changer in traditional kitchen designs. Varnished and epoxied darker tones possess the ability to scatter light stunningly and magnificently across the place and usher in a cheerful mood.
What we have here is a beautiful broken-edged dark wooden countertop glazed to perfection and entirely functional with an inbuilt kitchen sink. It brilliantly compliments a sandstone wall décor and an eggshell lower cabinetry bringing in marvelous textural contrast in the place.
via campdotcom.com
7. Wood for balance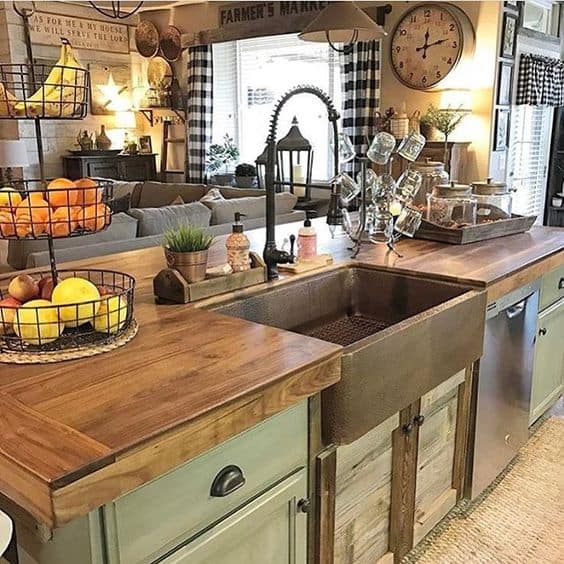 Wood can work exceptionally well for medium sized kitchen, especially if it has too much going on with it. For the kind of kitchen that might be sharing its boundaries with an adjacent living, dining or reading room space, wooden countertops could balance out the structural integrity and cohesion of the area.
It looks and feels clean, it makes for a comfortable recreational environment, but most importantly, it manages to take the eyes of a congested situation by making the area appear spacious and inviting.
via instagram.com
8. The touch of the pristine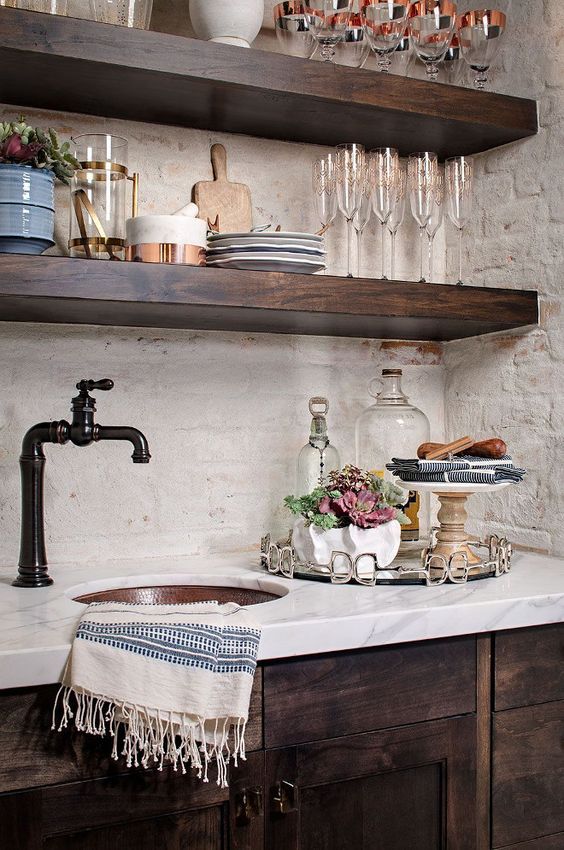 Coupling creamy marble tones with unpolished darker wooden panels could work magically to give you a pastoral and ethereal scullery. A speckled marble with soft tonal variations and a geometric oval design for the kitchen sink adds a subtle touch of luxury in a space that is otherwise tamed with unembellished dark wooden cabinetry complete with open shelves on a mineral white-washed wall.
This kind of a décor works for almost all kinds of cookhouse structure. However, it could work best in a smaller and cozier space.
via Tracy Lynn Studio
9. Central wooden counters 
Singular polished wooden counter-tables placed centrally in the kitchen is all you need to amp up the glam quotient in a simple kitchen. Not only does it make for an immensely sophisticated and dignified statement, but it also serves as a pretty functional unit that combines the utility of countertops and kitchen tables in a dynamic style and form.
It works best for medium to larger kitchens, especially if you're going for a rustic, easy going yet uncluttered look.
10. 

Granite

 for the farmhouse!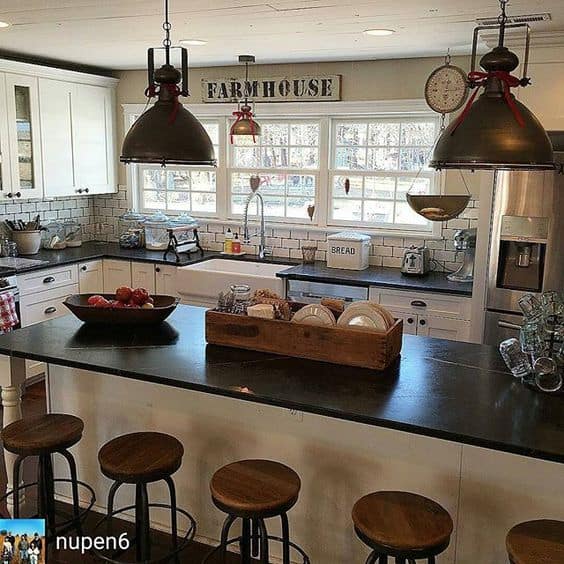 A simple yet dignified element of granite can put a charm in a casual and much-loved farmhouse kitchen. A bustling and lively kitchen space with a white subway-tiled backsplash and white cabinetry find expression in textured, dark granite counter-tops that cut smoothly and beautifully through the monochromatic effect.
The visual appeal of such a place is heightened by the use of simplistic wooden counter-stools and huge pendant bell-lights in glamorous brass accents.
via instagram
11. White granite play!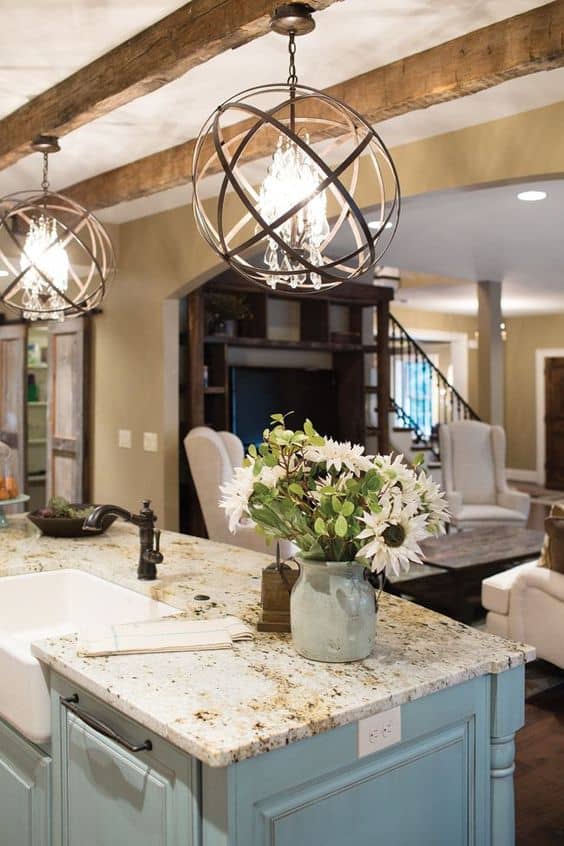 Thanks to certain incredible developments in the field of kitchen décor and granite textures, you can now play and manipulate the basic atmosphere of your kitchen with variegated and multi-textured granite elements.
We love an ageless cool-toned kitchen with astoundingly serene colors such as peppermint blue or even softer pastel shades.
Pair the look with magnificent speckled granite in white or lighter grays and hail in the spirit of spring and bloom in the space, white and gray kitchens are sublime, airy, awe-inspiring indeed.
We're in love with the self-referential pendant lighting, bathing the place in a mystical aura.
Source Unknown
12. The epic rural cookhouse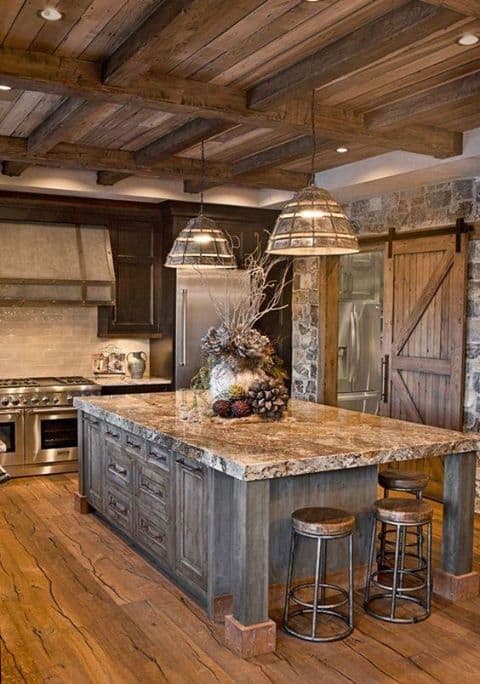 For a completely rustic and tough, yet diplomatically suave statement, lock the rural sandy tones on marble countertops and go all woodsy with the rest of the kitchen décor.
A classic wood-paneled kitchen can seldom go wrong with whatever you might want to set it up with.
However, the polished stainless steel appliances add a touch of the intrusive modern in an otherwise starkly contrasting culinary set-up.
We absolutely dig the barn door and the wicker basket pendant lighting that accentuate the thematic importance of the place even more.
via myfantasycorner.tumblr.com
13. Of rural shelves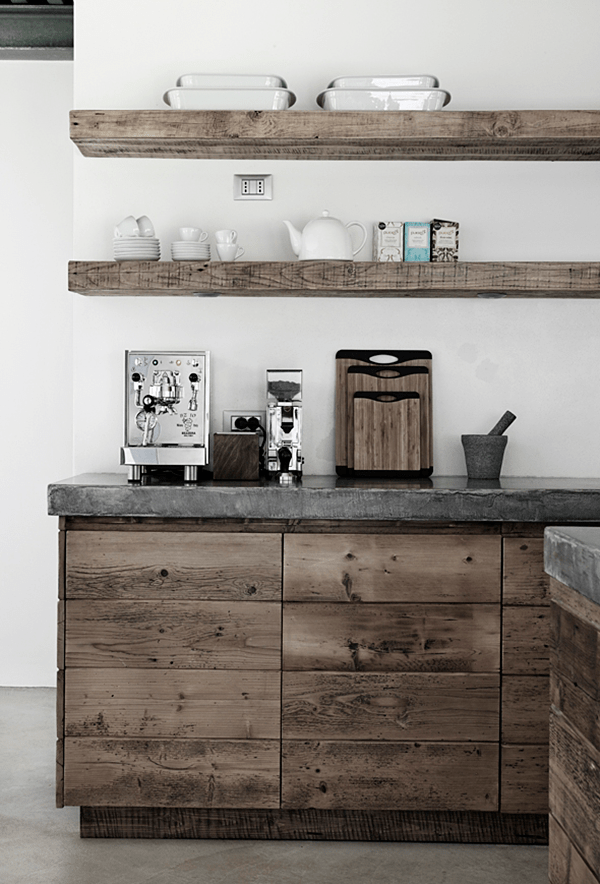 Basic, bare-wood shelves could look absolutely stunning in a minimal or futuristic layout. This is all that you need to have the perfect blend of rural and glamorous to spice up a bland, white wall.
Complete the look with crude, dark granite countertops and wooden lower cabinets done in a refined and symmetrical layout, to balance out each of these elements in their tones, structures, and textures.
Appliances with metallic accents or even milky porcelain pieces could be all the adornments to amp up this look.
14. The basic wooden countertop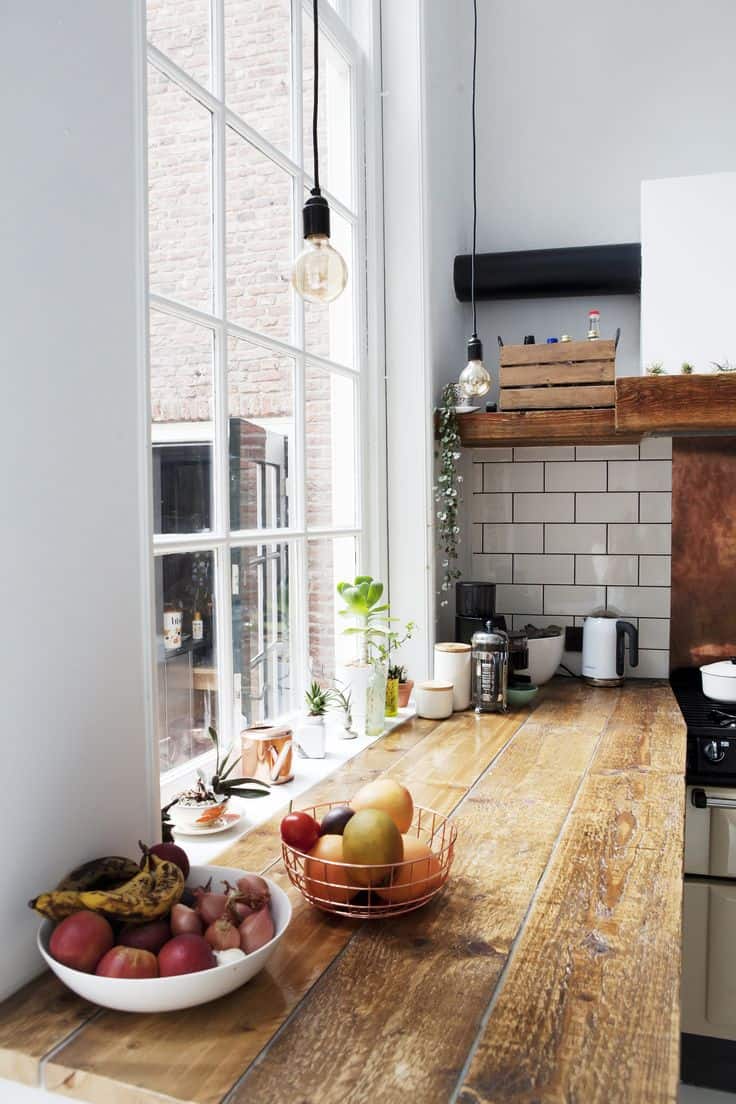 The basic wooden countertop is one thing that you can never go wrong with. Sweet, simple and amply stylish, this is the perfect thing to opt for if you have a basic white kitchen.
The simple wooden countertop brings in a very organic element into the space that you could further play with by putting a delectable dollop of natural colors. Put some greens on the adjoining window sill and a bit of red or yellow in a simple white bowl on the counter, and the look's all sorted!
Usher in all the sunshine with this woodwork into your kitchen!
via bricksstudio.nl
15. The subtle expressions of an artistic mind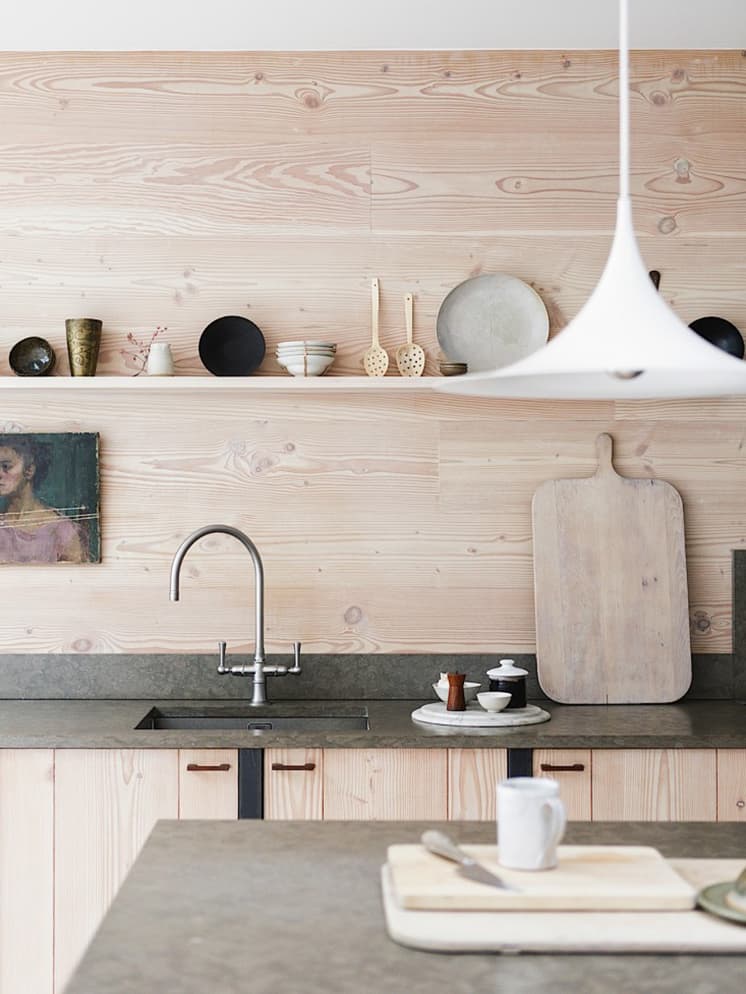 Go blissfully pastoral with a variegated and threaded woodwork wall panel accentuating posh, dark granite countertops. These find common ground with exquisite white open shelves.
Perfect for an absolutely minimalist look, this kind of a style can subtly express an imaginative and perceptive individual preference where one would like to flaunt an array of select objects on the counters.
The stunning pendant light binds the look in a self-referential way to reflect a personal love for all things artistically beautiful in the kitchen space.
via estliving.com
16. The homespun hanging rack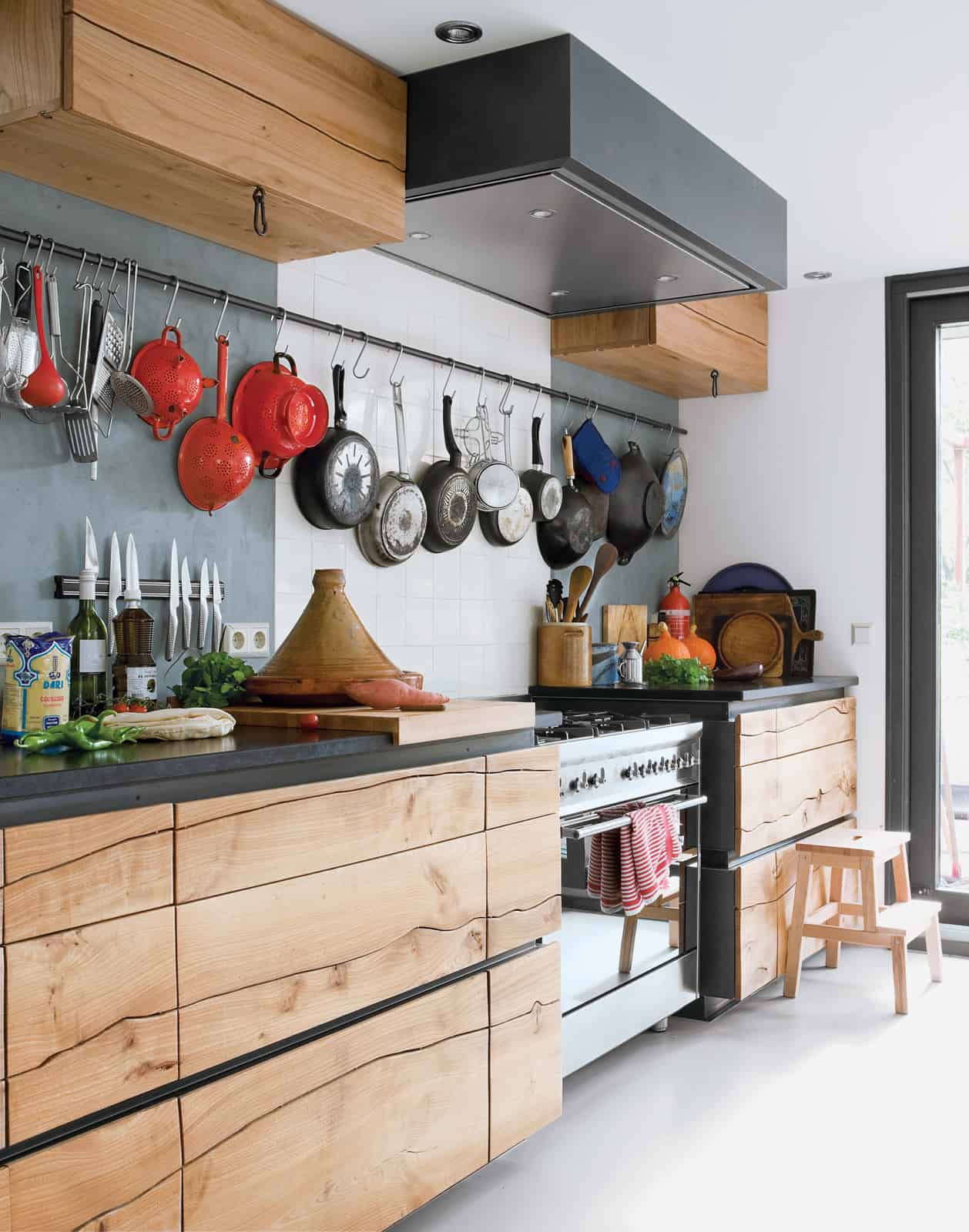 A hanging rack in the kitchen could be a very homely addition, especially if it's put in a space having all modern designs. Visually, it gives the structure a look of comfort and amiability. If the kitchen is too sharp in décor with all bold colors or accents for the appliance, a sweet and simple hanging rack for the pots and pans could be a friendly touch for the eye.
So, go ahead and pair up those dark granite and richly toned wooden countertops with a simplistic rack for putting up your utensils to add a relaxing look to the décor.
via renemesman.nl
17. Elegant rustic with white concrete countertop

White concrete and wooden accents can dramatically change the interior décor scene to bring in an agrarian look that is nonetheless stylish and fabulous!
A wooden cabinet space set in an all-white countertop looks marvelous and works especially well for smaller spaces with a curving cooking-platform. Opt for wicker and woodworks for the rest of the space to really amp up the rustic look and top it off with a beautifully tiled floor to bring this look to a conclusion.
via hervegoluza.com
18. Of woods and spice-gardens 

Unstructured and crude wooden fixtures could look stunning in an all-white minimal, rustic décor. A touch of stone and lush green on a bare-wooden counter brings in a raw and stunningly natural element in the space. A chink of glass for your spices and herbs will be the ultimate thing for providing a traditional overall look.
The bare-bamboo pole serving as a hanging rack is a clear winner for the look!
It's almost as if you're cooking in a wooded area, blending up all the natural elements together for a meal for the heart and soul.
via Hale Mercantile Co
19. Contrasting polished and raw wood  

Contrast and balance are crucial for a perfect décor, be it anywhere in the house. And when it's about rustic, wooden designs, one could feel a little lost or even overwhelmed and end up piling on.
The right answer for this is how to play with different textures for a single element. What we're looking at right now is a beautifully balanced kitchen décor done in all wood, yet played upon textures by bringing polished and unpolished surfaces together. You could go for polished countertops, counter stools and floors getting some eclectic designs in raw wood for the rest of the space. Add a dash of polished metal: works well works wonders!
Source Unknown
20. The big, dark table

One of the most amazing things to put a rustic and raw touch in an otherwise, modern, contemporary kitchen is the large, rough-hewn, dark-wood table. Not only does it serve as the ultimate counter plus table for all your culinary chores, but it also magnificently contrasts a modern kitchen décor and conventional, dark granite cooktops in the rest of the place.
It looks brilliant and brings in an essential organic and natural touch to the mechanical look. Pair it up with some classic vintage lights, and turn the space into a thing to behold!
via Nest of Bliss
21. The Arcadian setup!

Few decors can be as beautiful as a classic white and blooming space. Lock in the eternal spring with luxuriant wooden countertops spangled with lush blooms. Glass works magically in such a place. So, go ahead and flaunt your beautiful glassware on those open cabinets. Add a splash of rich copper or gold tones to the mix for upping the glam quotient of the place. Let the colors swill and unravel in this creamy white setting and in the meantime bring the look to a conclusion with a vintage brass chandelier, tying the entire look up.
via minimalisti.com
22.  Mirror-finished wooden countertops

Highly reflective surfaces and mirror finishes for wood or other materials not only look stunningly beautiful, but they also give the space an immaculate and fresh feel. The only effort that you would require to make is to prevent the delicate surfaces from scratching, as it can scrape easily. But this doesn't stop us from loving the look and feel they do provide. So, if you're in for some high-shine surfaces, keep it simple and minimalistic on the countertop to show them off in all their glory!
23. Muted or multi-toned stone tops!

Apart from traditional dark granite counters, you could also play with darker or multi-chromatic stone-slabs to put a very rustic element in the kitchen. We love the cool feel and absolutely brilliant color options of these crude stonework that are easily available for use.
Although these could be a bit up there in price than conventional granite or marble, it is totally worth as a single stone slab could drastically transform the atmosphere of a modern kitchen.
Source Unknown
24. Naturally-hewn wooden countertops

Roughly hewn wooden tops made from single hauls of wood look as beautiful as it feels.
You could go for this look for a completely organic feel. Natural-cuts are increasingly becoming the hot-favorites for every modern kitchen design since it brings in a perfect balance of biotic and mechanized.
And for the ones who want to take the woodwork up a notch, further extend it to cabinets and oven-slots for an overall, cohesive, rural layout.
via Creative Kitchen
25. Crude, blockwood design

Unrefined, blockwood layouts can look incredible when coupled with brushed or polished metallic accents. This kind of a look makes for a well balanced of two similar décor styles, blending the seams evenly out on all fronts.
A dash of bright natural, colors (love the touch of peonies over here!), could really make this look bloom!
Go all out with rough, wooden open shelves on a similarly tinted wall and spice it up with some delicate metal and glass to amp up the feel.
Source Unknown
26. Twinning with marbles and woods!

Experimenting with multiple, contrary elements has been there for interior designing for quite some time now. And, it is swiftly gaining momentum in the changing scenario of kitchen décor as well.
What we have here is a stunning blend of rustic wooden accents and creamy white marbles, brought together beautifully for your countertops, in an all-white kitchen. A perfect design for both suburban or urban residence, bringing the best of both worlds together.   
via Pinterest
27. Bare it all kitchen!

A dark-wood kitchen with dark granites for countertops is hands-down one of the most breathtaking cookhouse décor. But the icing on this cake is undoubtedly the bare-brick walls and a cobbled floor which provides the overall layout with a beautiful texture.
Even one that's pretty homespun in essence, the luxuriant gold and copper tones for the utensils, set off the polished dark of the wood, sending the natural lights cascading all over the décor.
via melissarufty.com
28. Of the rival marbles and granites

Granites and marbles are undoubtedly two of the major contenders and rivals in the interior décor game. With awe-inspiring innovations taking place for both of these elements, the face-off is getting even more tremendous with the changing décor scenario.
But! It doesn't have to be a competition if you bring them both on amicable terms for a fabulous new design! With alternating speckled granite and white marble, throw in some bare brickwork and spring hues as the ultimate truce-caller and beautifier! Keep in mind that the balance in a kitchen between these granite counters and marble counters can go back forth a great deal, find the right one for you!
via Kelly Harmon
29. Where geometry rules

We don't know about your experience with textbook theorems and mathematics in general, but what we do know is that the geometric designs are the new smoking hot thing to have in your kitchen.
And the good news they aren't restricted to modern kitchen designs. Transform your kitchen with the cutting-edge geometric, slanting, or straight-angled styles on wooden counters, kitchen sinks and more to shock and amaze the conventional eye. Balance it out with appliances in metallic accents and fall in love with geometry all over again!
30. The jagged-edged love

A little obsessive love for the kitchen hasn't really done any harm ever. And, this could be aptly depicted in a fierce broken-edged counter-cum-table placed in the center of an otherwise dignifiedly minimalist kitchen to bring out the wild side of things!
The polished wood contrasts beautifully with an understated dark granite cooktop for a shocking appeal on the senses and a jarringly beautiful effect.
via hgtv.com
31. Epic Herringbone barkaboda IKEA Countertop

The herringbone pattern is probably becoming as popular as the act of fishing itself! From countertops to the backsplash, there are but a few things that you couldn't get in this layout.  
A classic blue wall in the pattern with a magnificent wooden table in herringbone impression provide all that you could possibly want from a kitchen décor: style, depth and for your friends to be endlessly envious of your new kitchen!
We recommend serving them fish to cure the burn. Enjoy!
via IKEA
32. Of laceworks and porcelains

The coalescing of laceworks and porcelains with untreated, pure wood designs is undeniably one of the most ethereal and timeless kitchen designs. Flaunt your delicate wares in the nothing less than the classiest way with pristine white cabinets and fragile laceworks topped with bare wooden tops. The white open shelves contribute to the overall style, single-handedly owning the look with a fine array delicate glass making for a spectacular view.
via brocanteblog.nl
33. Bare counters and kitchen blue

The kind of colors you select, decide the mood and vibe of your space. Therefore, it's essential to get a hue that creates the kind of environment you want for the kitchen. An unvarnished wooden countertop with a splash of calming blue on the upper cabinets can put a very cooling effect on the entire place.
However, a portion of dark polished wooden texture to the lower half brings in a balance that indispensable for gathering the look up in a beautiful unit.
via 1001pallets.com
34. The wooded gallery diner!

A big ol' place to dine is after all not just a place to digest food but a silent spectator to heartfelt conversations of love and life! And for the ardent lovers of all things natural, we have brought in natural countertops and open shelves hewn out of single hauls of timber.
A classic case of bringing the entire forest in, this kind of a décor works best for medium to larger areas and allows free play of natural lights.
via spottedsf.com
35. An oriental love-story

Oriental patterns can weave a different kind of mystical love-story with their enigmatic form altogether. Exquisitely intricate designs could enliven any space, and your kitchen wouldn't be any exception to this rule.
Stunningly beautiful floral or mandala designs on niche-wall tiles could now be the centerpiece to compliment those beautiful plain wooden countertops, balancing the creative with the organic.
36. Singular wooden counter

For a starkly minimalist kitchen, centrally located singular counters could be the ultimate show-stealers. And if you're going for wood, you really need not think about anything else.
It brings in a perfect balance of things and plays with natural lights, bringing in a depth to the area. Opt for different or alternating textures for the counter-structures and tops so that the tones can comfortably blend in with the rest of the décor.
via indulgy.com
37. Of sylvan hues!

We have previously mentioned how tints of blue can bring in an extremely relaxing sensory feeling to the kitchen space. And when its paired with wooden accents, it could work wonders to usher the natural aura into your house.
For an immensely rich and sensual feel, pair up polished, rich wooden textures on the countertops with darker blues on the cabinets. A touch of lush, dark green in the mix can calm the atmosphere and bring in the kind of peace you thought you could never have in a kitchen!
via etsy.com
38. When potted plants speak

We noticed that even though we have gone on recommending the touch of the natural colors and elements in most of our suggestions, we haven't quite emphasized the importance of natural and organic elements for your kitchen.
Things like potted plants, wooden or earthen-wares, can drastically change the environment for your kitchen, from a mechanical one to something that brings out the natural and passionate side of things.
However, be sure to not go overboard with the style to keep your kitchen from looking like the savannahs.
Source Unknown
39. Remodel, Refashion, Rework!

Going for a converted wooden countertop could be a wonderful idea if you want to keep sweet, simple, yet add a touch of funkiness! Remodeling wooden stuffs like a door or even a previous, outdated counter for your new ones could be the perfect thing to bring the sexy back into your kitchen!
Mount such a piece on chiquer designed structure to play with the textures and colors, and make it your own personalized and signature statement!
via indulgy.com
40. Wood and gray

Softer, mute grays can really change the look of a wooden kitchen. And, what we like best is how gray-stonework achieves beautiful effects in more spacious cookhouses with wooden interiors. We absolutely love a singular gray-stone slab for the counter complimented by wooden seating and a basic stone floor bringing all the sunshine into the place. This adds a sharp edge to a kitchen interior that otherwise seems playful and at home with the familiar wooden accents.
41. Crude cement counter-tops

Unrefined and raw cement countertops can look endlessly stylish in all its crudeness set up in a smaller kitchen. Go for simple layouts in course grays, preferably open cabinets without the hassles of doors, serving as a functional design for the lower half of the kitchen and looking dapper as countertop colors.
Metallic accents can really transform it into a sultry hot statement and bring about a dynamic collision of both worlds.
42. Freckles and speckles

Speckled marble countertops not only bring every inch of glamour into the space, but these also dismiss the need of piling up numerous other things to make a place look happening, being the show-stealer for any kitchen décor.
Now if you go ahead and pair it up with dark, varnished, rich tones, you get what you call a regal and magnificent love affair between two winning designs!
The basic ceiling-lamps add the final touch to dress this kitchen in its perfect royal attire.
via jmwoodworks.com
43. Low-rise square counter-tops

Low-rise countertops in square, straight-angled layouts can bring in a stylish barn-house look into your otherwise modern kitchen. The style is becoming immensely popular especially in décor for smaller spaces, as it provides a pretty cozy touch to the entire area.
Gray marbles with wooden accents for such countertops work perfectly to whip a splendid mix of the modern with a rural tinge.
via style-files.com
44. Treehouse rock! 

Unarguably one of the most stunning designs of all, a very rustic kitchen with rough-hewn rock basins, stone countertops and tree trunks for open shelve pillars is not for the ones too scared to experiment.
This is fundamentally a look for outdoor cookhouse scenes but could be implemented in a space adjacent to a natural guardian or even one with large dimensions.
But even if you have a medium-sized area where you want to bring this marvelous touch of nature, simply go for a paneled mirror element which would visually widen the view for you!
via mountainvagabond.tumblr.com
45. The basic, small, cozy kitchen

For our beloved, basic and beautiful white kitchen you need not fret with anything extra. Simply bring in a sweet wooden table and dark granite countertops together against a textured herringbone backsplash to work up some magic in the space.
We love how they've chosen classic inverted glass lamps for the ceiling, transforming the feel of the area after sundown!
via decorpad.com
46. Of lush greens and woods

A white kitchen with a contrasting darker backsplash may be the perfect hosts for an equally amazing countertop design in wood and granite. But what makes it special is the play of natural greens and the element of glassware on the countertops.
A breezy look for any kitchen, this is definitely one of the most comfortable designs to go with.
via designtrolls.wordpress.com
47. Classic rural countertops

A standard rural set up calls for some heavy-set crude cement counters and unrefined wooden doors for your cabinets. A plain whitewashed wall imparts a cohesive look to the structure and continues with the unadorned look and feel for the place.
A simple porcelain sink provides a homespun statement for the place, making the overall environment even more comforting and friendly.
Source Unknown
48. Contemporary wooden designs

Newer designs for wooden counters can be customized to have any kind of texture and finish that you would want in your kitchen. Since wood is an exceedingly versatile material, it has cheerfully welcomed all the modern experimentations to come out looking even more elegant than ever.
So, go ahead and fish for the real deal with wooden accents out there, because even though the market has changed offering even more stunning designs, wood is here to stay in all certainty!
via designtrolls.wordpress.com
49. Asymmetric open shelves

Alternating or asymmetric open shelves on your kitchen walls could make for a really natural design, yet being extremely functional in style and form. More than just holding up a lot of things in the kitchen, these give you the scope of utilizing all the space on the wall and customizing it in your own way.
So, we suggest keeping the counters clean and dive headlong with open shelves to flaunt your precious culinary collections in style!
via Pinterest
Conclusion
So this was our take on beautiful rustic looks for your kitchen counter tops that are sure going to pull all eyes to themselves!
We hope you enjoyed this read as much as we did putting it all together for you!
And we're going to be back with more!
Till next time!