Earlier this year we have gathered a collection of the most beautiful 101 DIY pallet projects to take on, providing you with what be believe to be useful inspirational information for future DIY projects. Today we have focused our attention to recycled pallet bed frames, a topic commonly encountered and of high interest among fellow drafters. Pallet wood is an infinite resource, filled with creative possibility and multiple functions. The number of pallet projects or areas where pallet wood proves to be useful grows larger with each passing day, filling in blanks left in the furniture industry and being re-adapted, reinterpreted and beautified in creative, imaginative ways. Whether we are talking about recycled pallet bed frames, outdoors patio furniture, pallet coffee tables, raised garden beds and so on, pallet wood is and should be recycled and up-cycled on a daily basis.
"A pallet /ˈpælᵻt/, sometimes inaccurately called a skid (a skid has no bottom deck boards), is a flat transport structure that supports goods in a stable fashion while being lifted by a forklift, pallet jack, front loader, work saver, or other jacking device, or a crane. A pallet is the structural foundation of a unit load which allows handling and storage efficiencies. Goods or shipping containers are often placed on a pallet secured with strapping, stretch wrap orshrink wrap and shipped. Since its invention in the twentieth century, its use has dramatically supplanted older forms of crating like the wooden box and the wooden barrel, as it works well with modern packaging like cardboard boxes and Intermodal containers commonly used for bulk shipping.
While most pallets are wooden, pallets can also be made of plastic, metal, paper, and recycled materials. Each material has advantages and disadvantages relative to the others."
The advantages of using the beautiful material of pallet wood are numerous: they are very easy to find , with healthy strong wood and sturdy structure, rather cheap, which makes them a wonderful alternative to other store available materials, not to mention the actual beauty of the wood, its intricate complex texture evoking the natural environment with all its small perfect imperfections, raw texture and multitude of varieties and tones.Pallets come in different sizes, offering numerous possibilities of interpretation and modification.They can be cut up to fir a tiny corner, the wood stripped and reused in creative projects, layered to form storing units or raised beds and so on. Imagination and patience is all that is required in the process. Left bare, in their raw shape, they would fit nay decor from the modern, contemporary ones where they will add a necessary contrast with other sleek pieces of furniture, to industrial raw environments where exposed brick walls and concrete flooring demand such a material to warm up the atmosphere. If chosen to be painted, pallets welcome neutral tones of white, beige, grey or even pastel tones that will fit perfectly a Scandinavian inspired decor. Choose to invest your creativity wisely and opt for pallet furniture.
Related Articles
10 Best Full Size Bed Frame Reviews
111 World's Most Loved DIY Projects
The Most Beautiful 101 DIY Pallet Projects To Take On
39 Insanely Smart and Creative DIY Outdoor Pallet Furniture Designs To Start
27 Of The Worlds Best Ways to Transform Old Pallets Into Outdoor Furniture
22 Simply Clever Homemade Pallet Furniture Designs To Start Right Now
60 Beautiful Inspirational Ideas On How To Recycle Wooden Pallets
47 Epic Ways to Repurpose Old Picture Frames at Home
Recycled Pallet Bed Frames
Further on we invite you to cast a glance at out small collection of pallet bed frames and we encourage you to choose your favorite project from the list below.
1. Layered pallet frame bed with a white tile background serving as a headboard
Notice how the natural tone of the wood exudes warmth and coziness into the room. The rest of the decor has been kept to neutral tones as well, letting the atmosphere to breath and not overwhelm it. This like many other beds in our list are simple, inexpensive examples of DIY platform beds with pallets, a simple and swift resolution that can boost your comfort with little to no costs.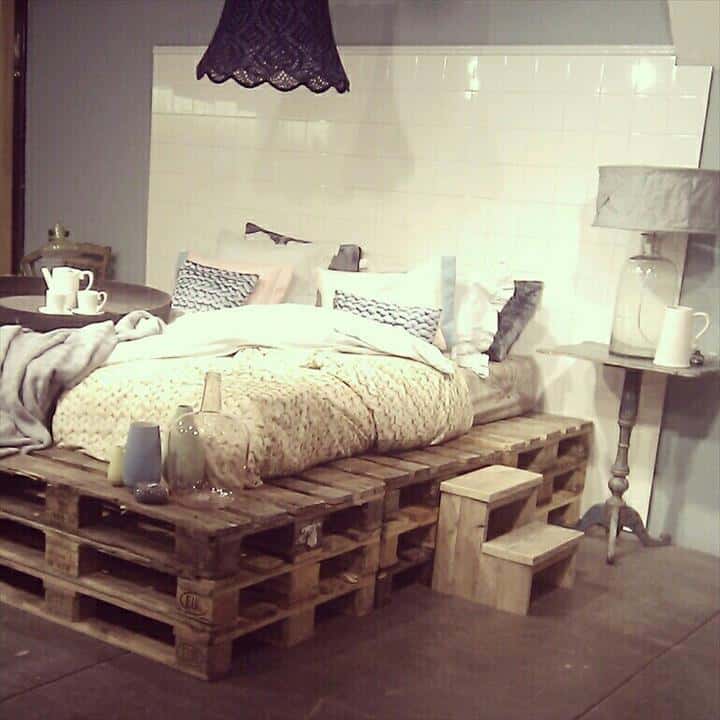 2. Wooden headboard and bed frame exuding warmth and coziness
A rather small bedroom requires storage space. Here pallet wood has been used to create the bed headboard and floating nightstands. The space beneath the pallets themselves is being used as book and magazine storage.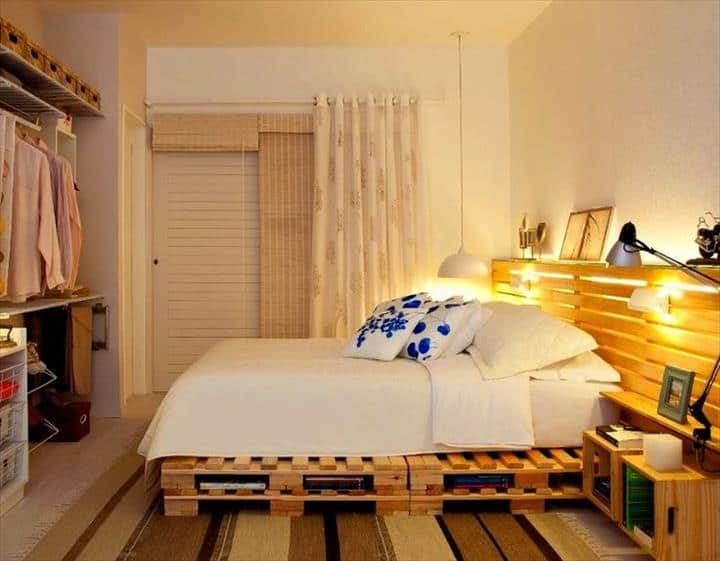 3. Narrow pallet bed overlooking the city
For a narrow bed placed near a large glazed wall overlooking the city line, pallets seem like the right smart choice. Cheap and versatile, don't you think?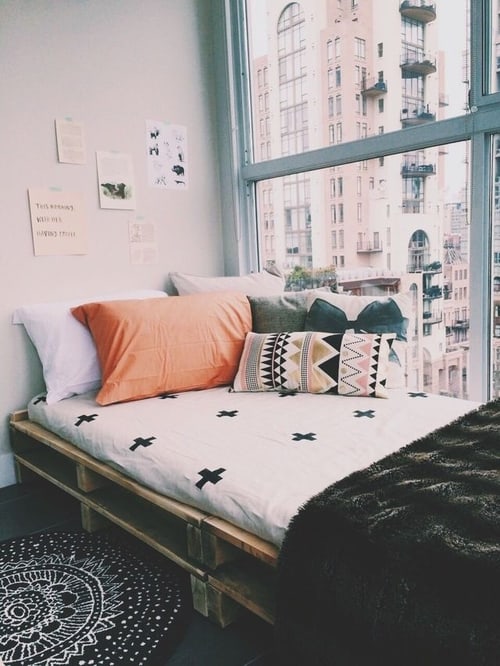 4. A simple pallet bed frame illuminated with christmas lights
Add a cozy holiday spirit to your bedroom by adorning your pallet bed frame with sparkling string lights.
5.  White pallets used as bed headboard
White works wonderfully on pallet wood, opening up any space and fitting perfectly into a small bedroom.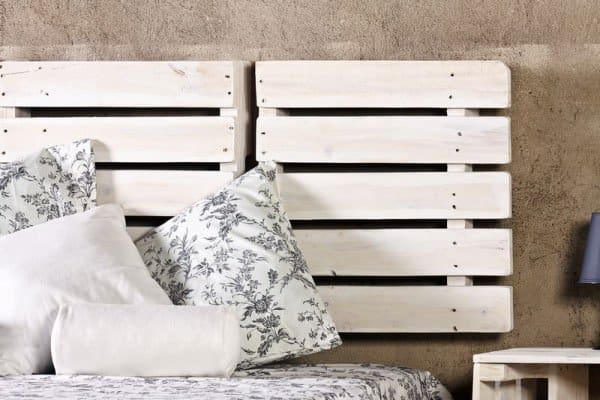 6. A boho-chic atmosphere integrating a pallet bed frame and greenery
We love the mixture of pallet wood warm and cozy and the green fresh touch of nature. Wooden crates have been added to the décor to complete the image and store plants and pillows.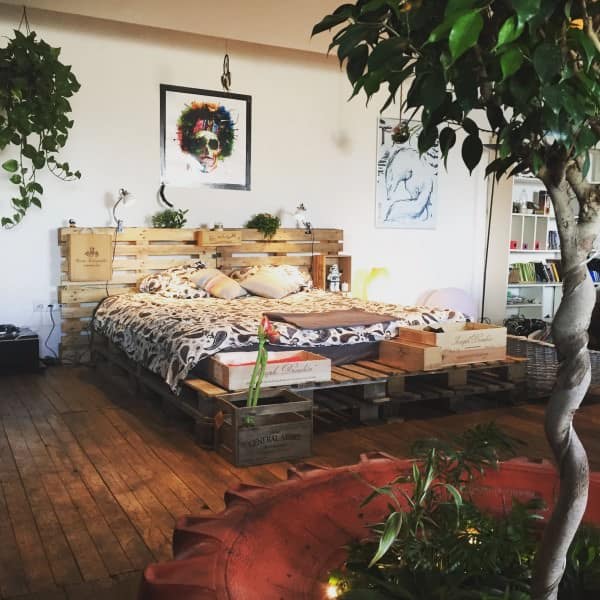 7. Delicate pastel TURQUOISE pallet bed frame lit by string lights
For a feminine touch this diyer chose to paint his pallet bed frame in a delicate turquoise tone that is here emphasized by the warm touch of string lights.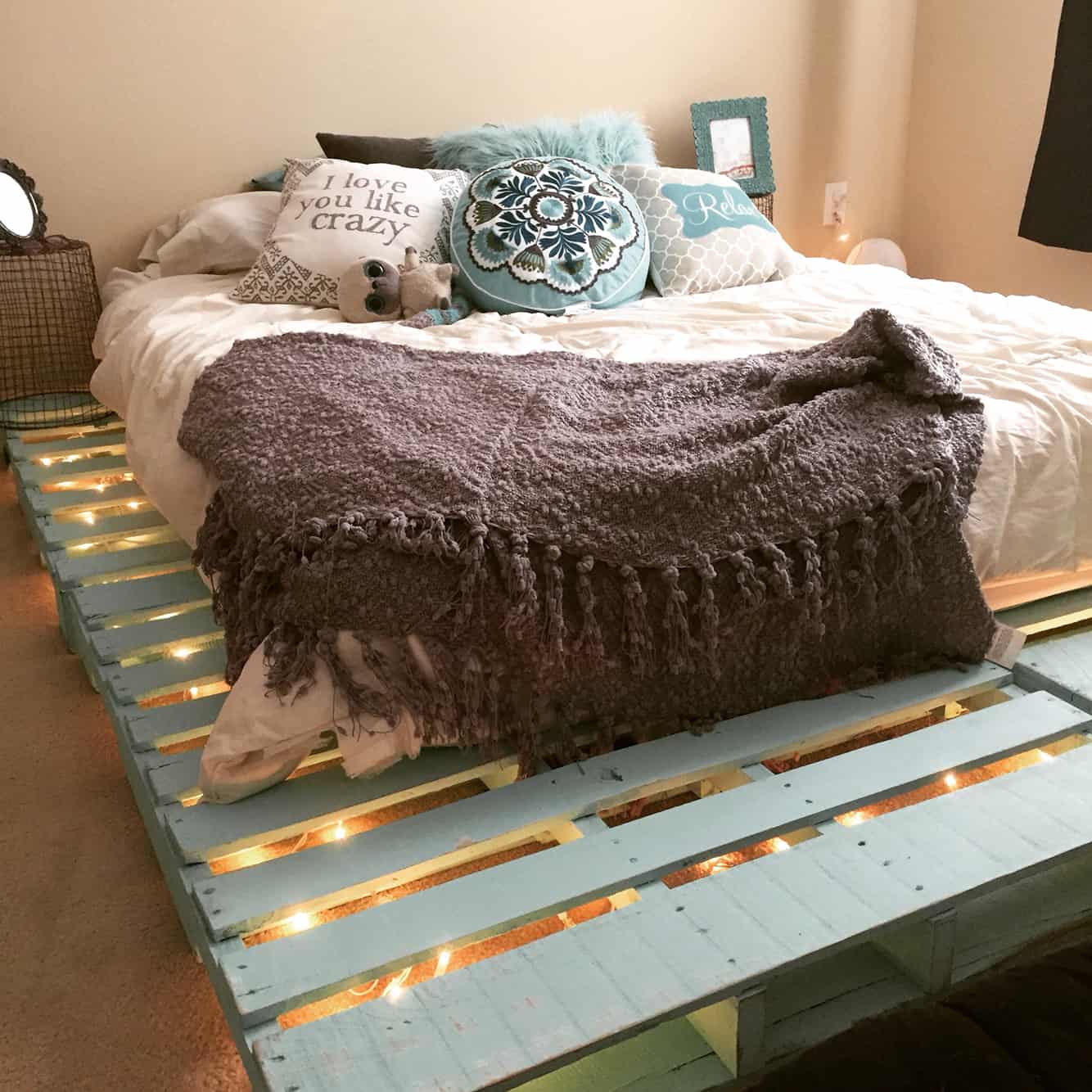 8. Delicate feminine pallet wood bed
Pallets have been deconstructed and their wood used to build a simple yet elegant bed frame decorated with feminine pink bed covers.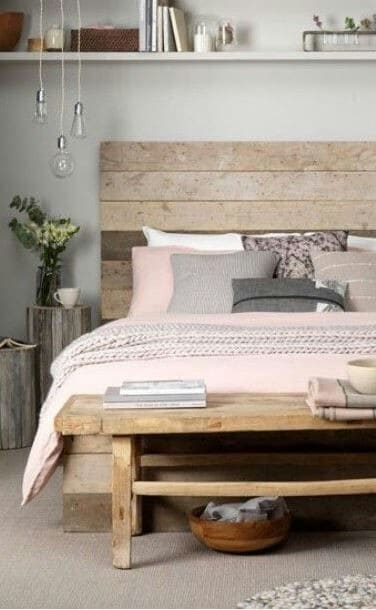 9. Minimal bedroom design in neutral tones
The simplest of designs, featuring a single layer of pallets nestling a rather comfortable mattress and warm fluffy bed covers.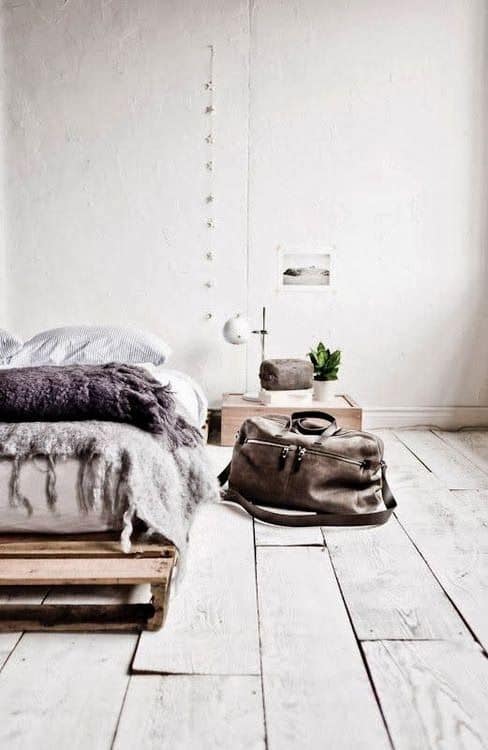 10. The perfect bed frame design for an airy large modern bedroom
Large bedroom with huge glazed walls overlooking the natural environment should be let to breath, with as little furniture as possible. Here the pallet bed does just that, allowing the surroundings to trespass the physical limit and become part of the actual bedroom.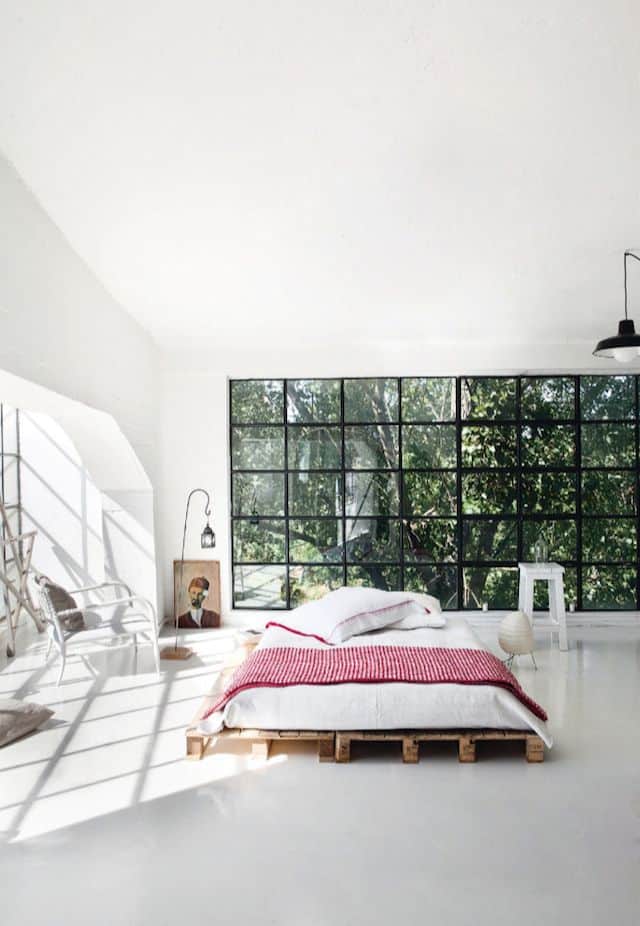 We at Homesthetics have always found the Scandinavian style with its airy open neutral fresh style adorable and suitable for so many individuals. It is a spirit that allows you to feel cozy at home without overdoing it. Here old pallets have become a beautiful rustic bed headboard emphasized by the stark white of the rest of the décor.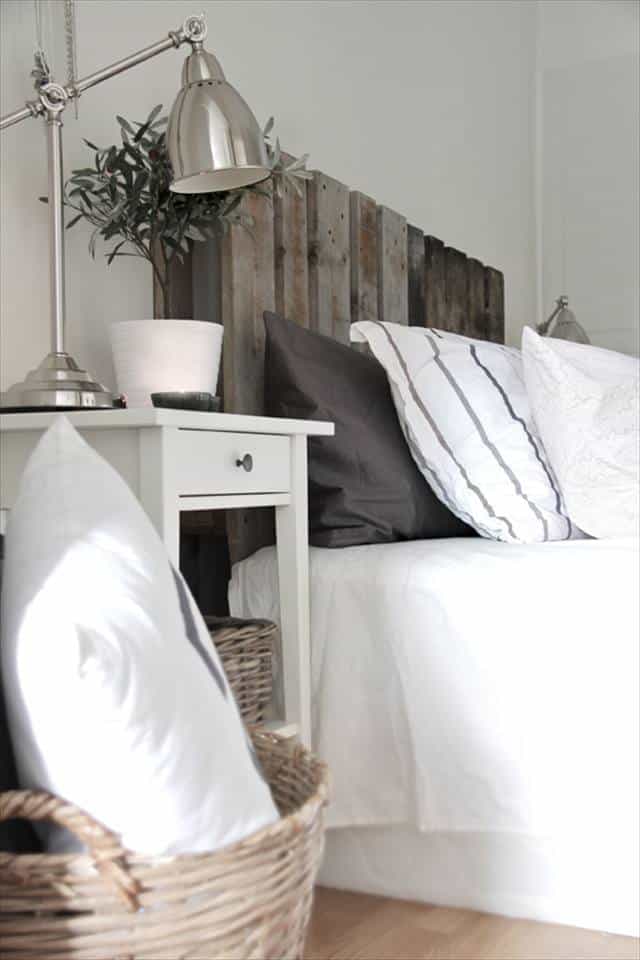 12. Bright neon green pallet bed adorned on a gold and green wallpaper background
Feeling cheerful and creative? Opt for bright toned bed frame that will raise your spirit each day.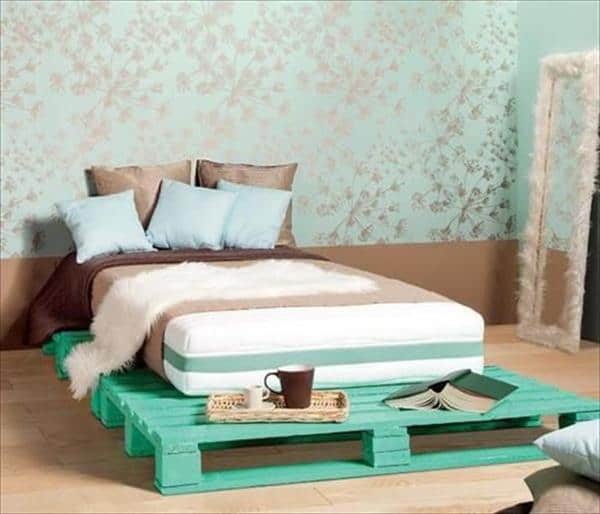 13. Cozy small bedroom with a pallet bed frame serving as a shoe storage at the same time
A narrow room with an exposed brick wall requires a light furniture, one hat will contrast the raw texture and intense rich tone of the wall itself. Choose a pallet bed frame adorned with white bed covers which can double as shoe storage as well.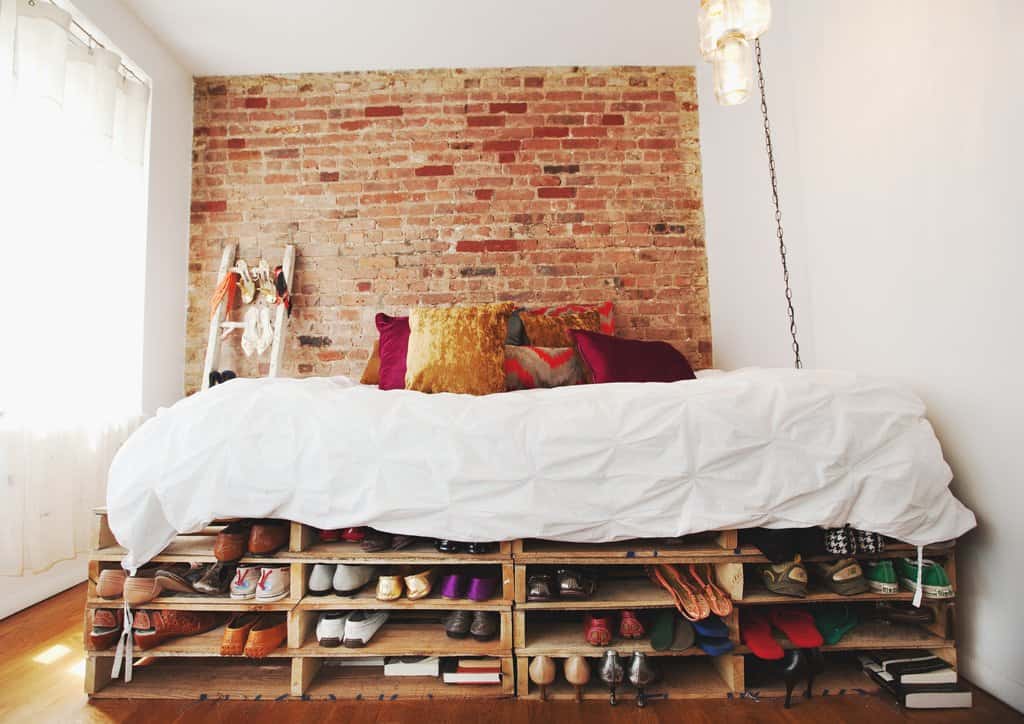 14. Simple and clean bedroom design
Pallet beds can exude a serious conservative atmosphere as well, even if at a first you wouldn't associate recycled pallets with such a style. Here perfectly cleaned pallets frame a simple bed adorned with elegant bed covers and pillows with delicate blue accents.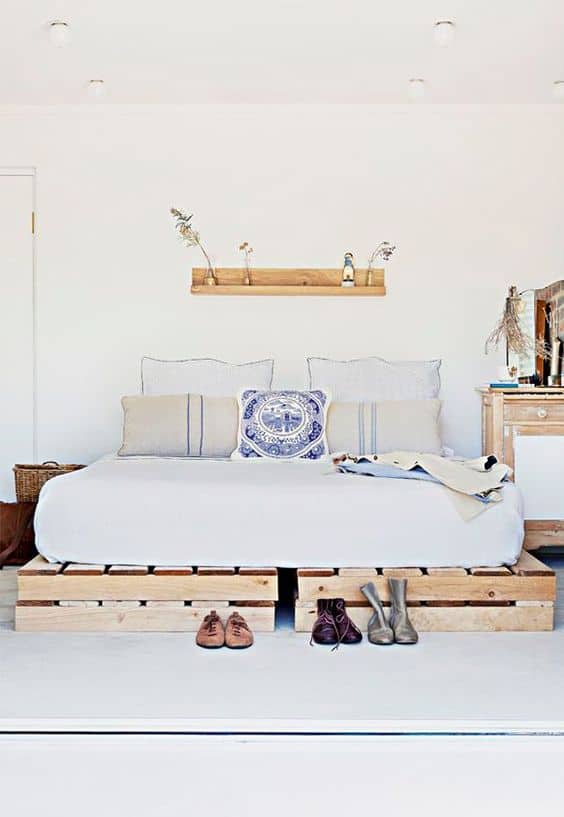 Source unknown
15. A very low pallet bed frame offering comfort in a minimal design
If you are a big fan of the Japanese style, improvise a low pallet bed frame, keep the decorations to a minimum and the tones neutral and obtain a relaxed bedroom style that will bring you closer to the earth's energy.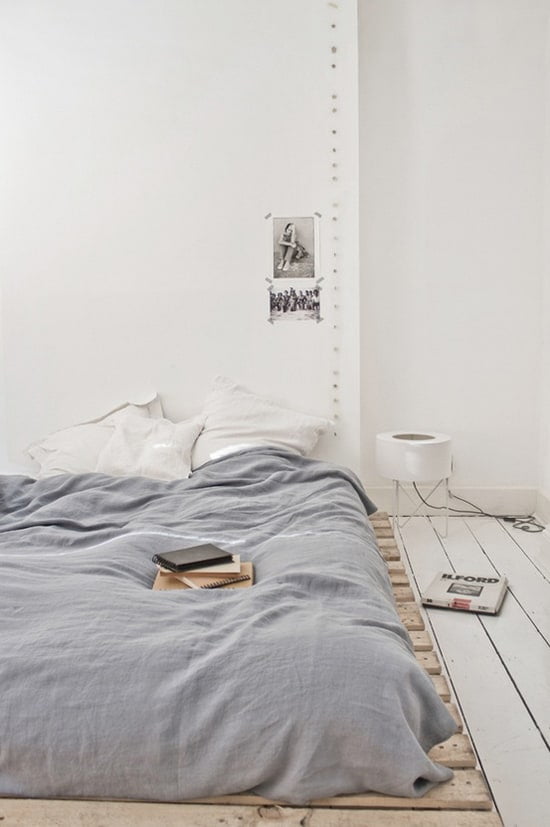 16. Raw industrial loft design with exposed brick walls, cement flooring and pallet bed frame
The industrial style adores raw insertions: exposed brick walls, concrete floors, pallet furniture, hanging wires and free lighting bulbs to illuminate the scene.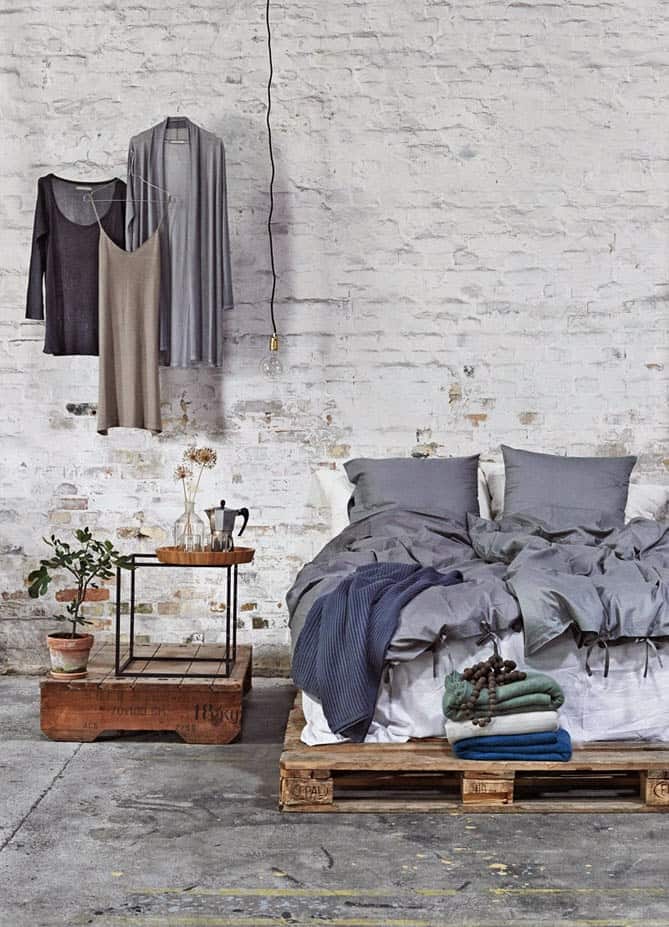 17. An all white open plan apartment
Paint your pallet furniture all white and integrate it in an all white themed apartment with delicate lighting and fluffy cozy fabrics.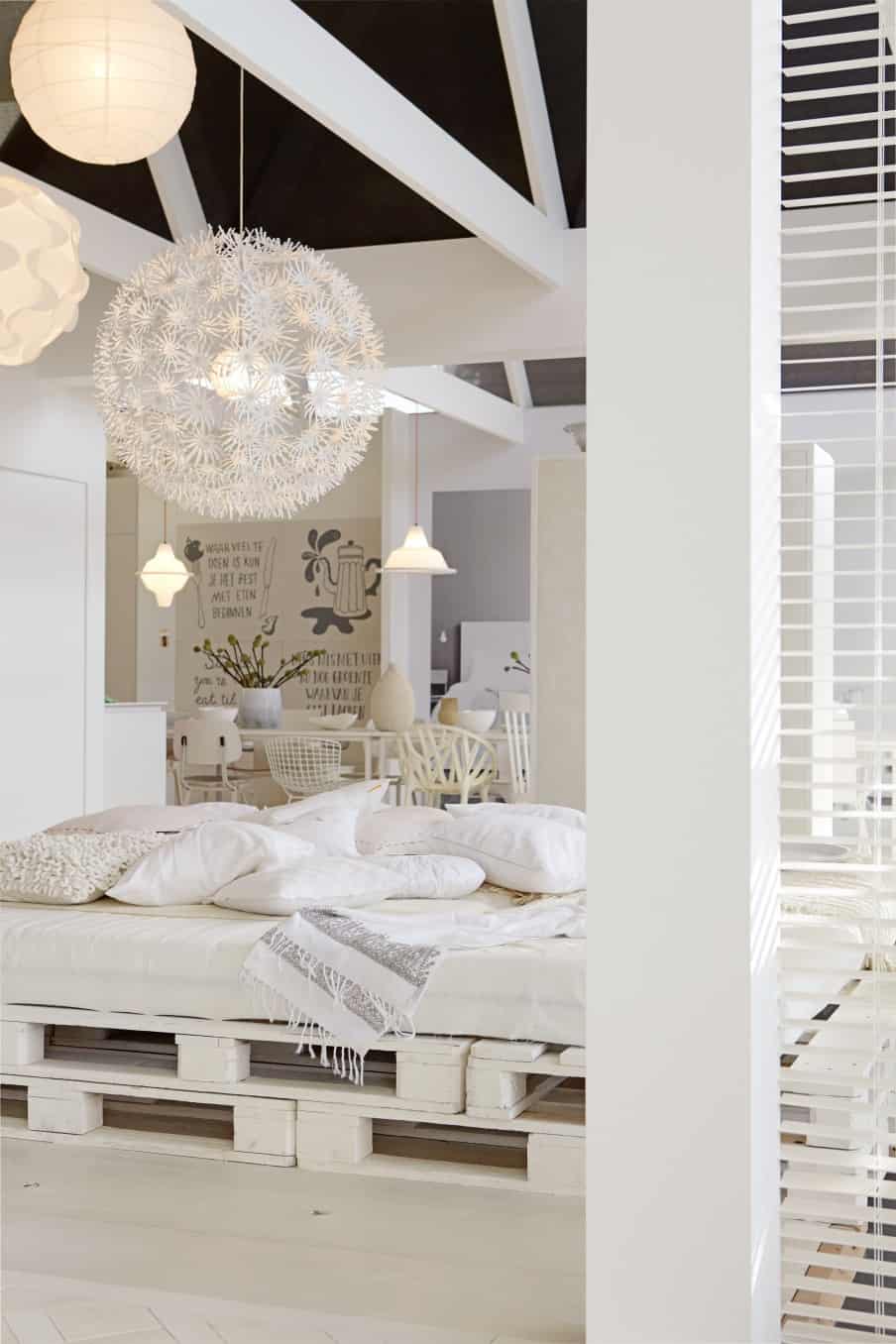 Wood, white and lots of natural light will define the perfect simple Scandinavian bedroom design.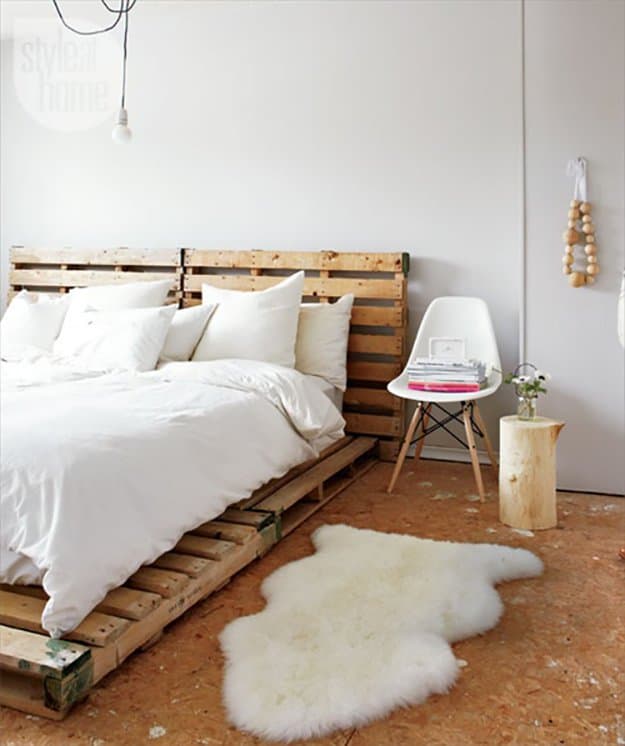 19. Neutral very simple pallet bed frame in an all white décor
Another beautiful example on how pallet wood can be integrated and transformed into a key element of a fresh airy bedroom.
20. Small bedroom providing comfort through a simple pallet bed
Small spaces can be quite tricky to furnish but pallet furniture can turn out to be the solution you were seeking for.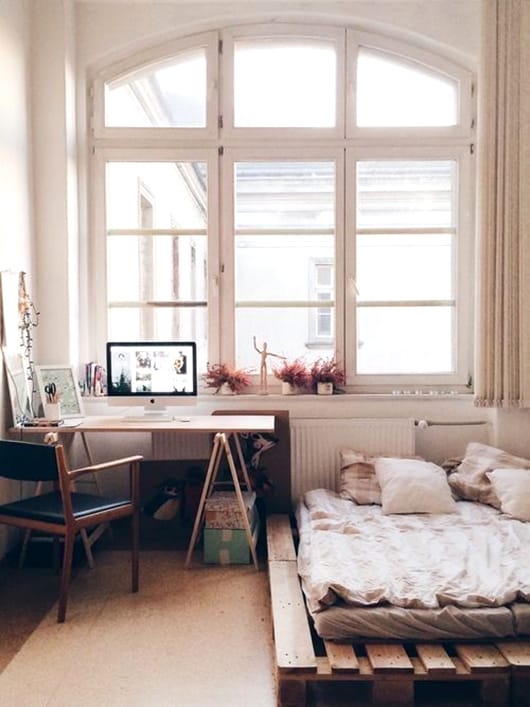 21. Pallet bed offering storage space
Storage is of the essence when you are dealing with a small apartment so opt for a layered pallet bed frame that will provide you with all the shoe storage space you require.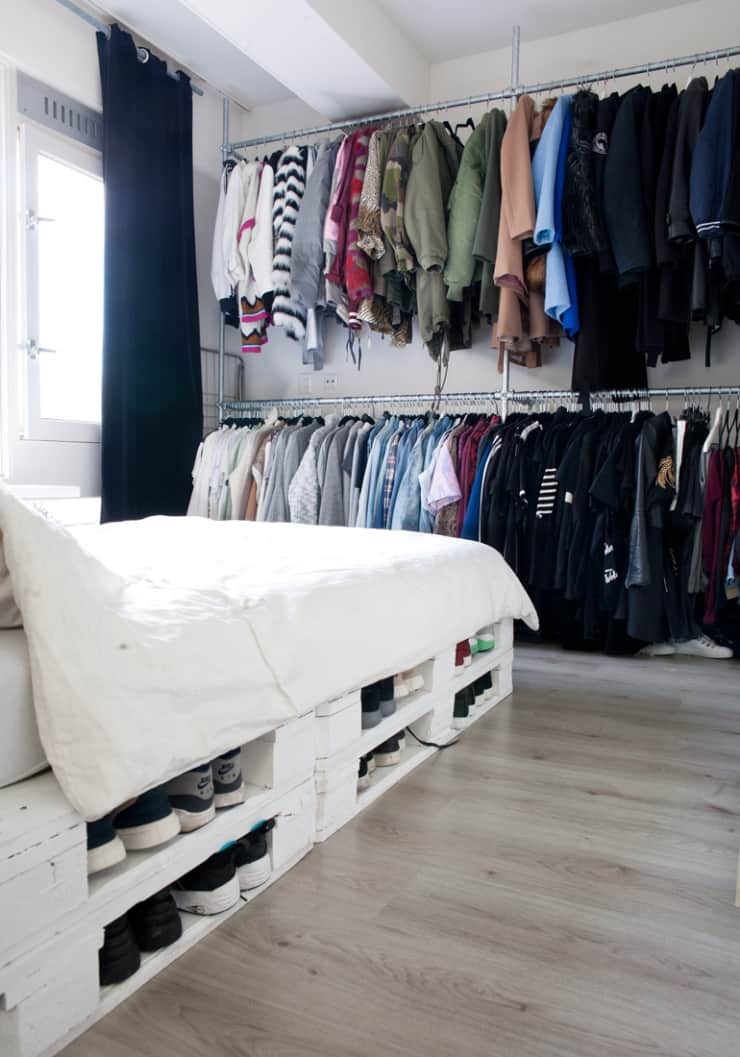 22. Dark hues contrasting an airy light atmosphere
A beautiful dark tiled floor requires a similar bed frame approach. here a dark toned pallet bed frame complements the Moroccan inspired floor whilst contrasting the beautiful natural light invading the bedroom.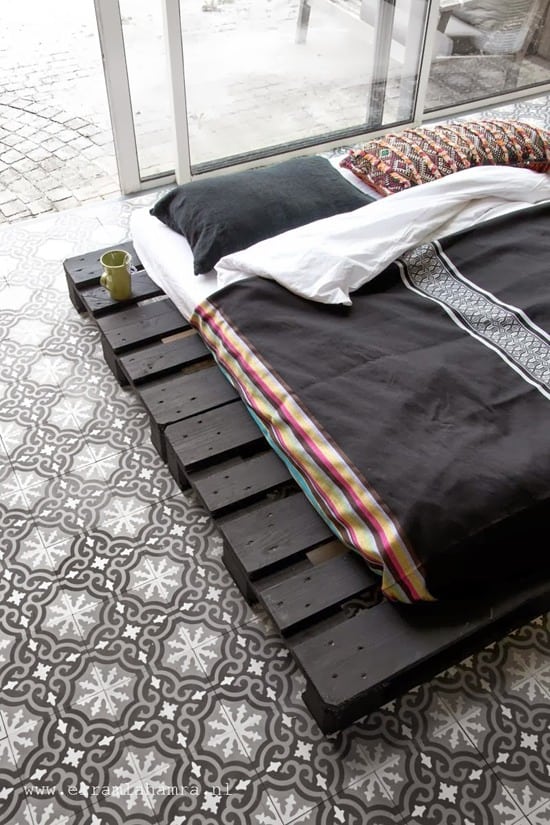 23. Baby crib pallet bed frame
Baby cribs can be quiet expensive and are used only for a short period of time. Create your own crib from pallet wood and invest time and love into the design.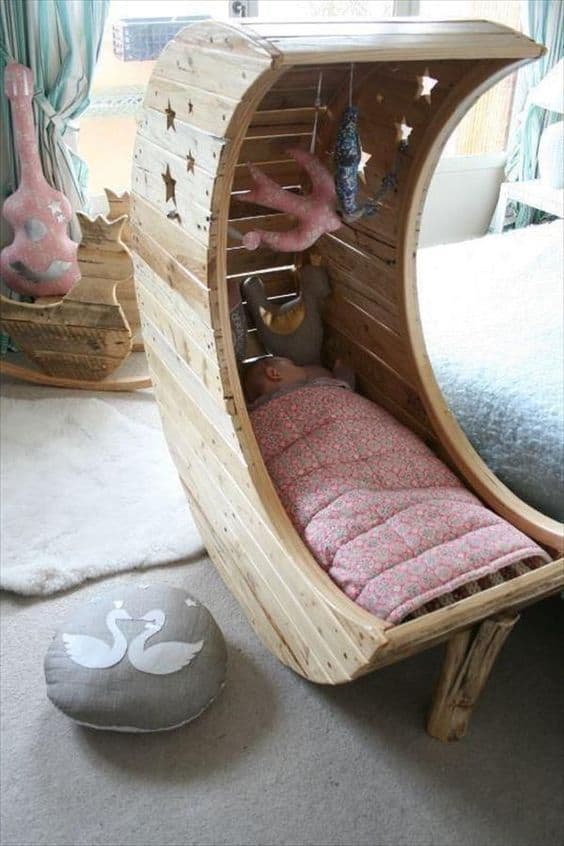 24. A day pallet bed frame with accent decorative pillows
A day bed that doubles as a sofa can be created out of wooden pallets and adorned with comfortable pillows, a fluffy mattress and delicate fabrics.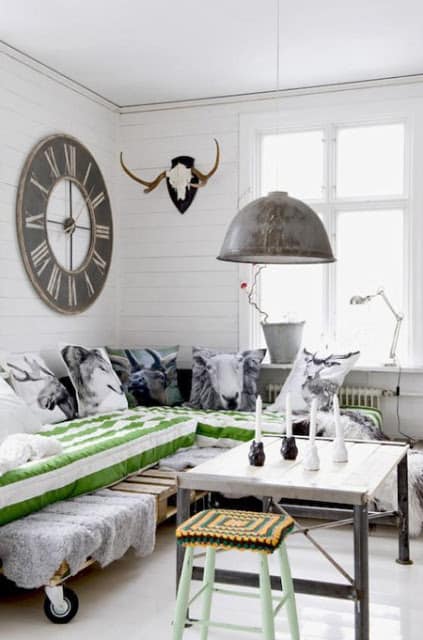 25. High pallet bed in a colorful yet peaceful background
Choose to contrast your colorful bedroom background with a neutral bed piece made out of wooden pallets.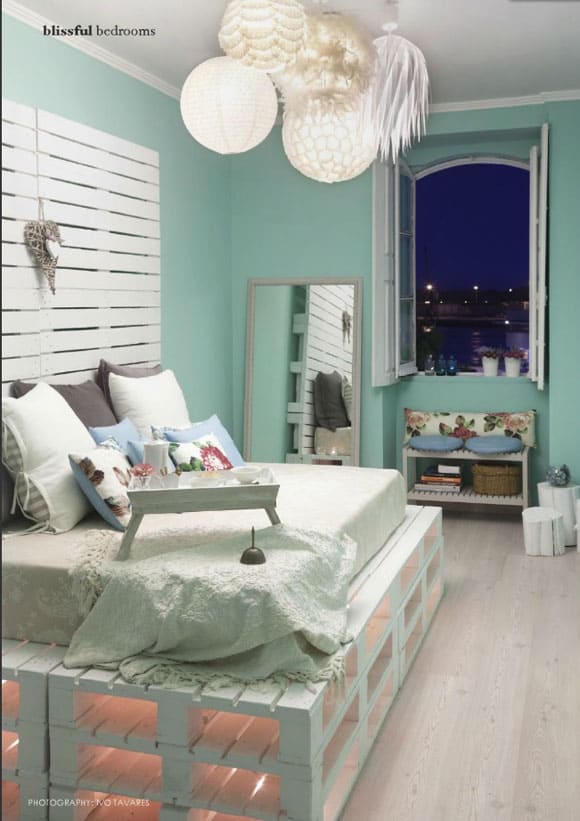 26. Bohemian chic cozy bedroom corner
For an unconventional Bohemian chic bedroom design opt for the unconventional: stacking up pallets to create the bed frame and use them as nook storage as well.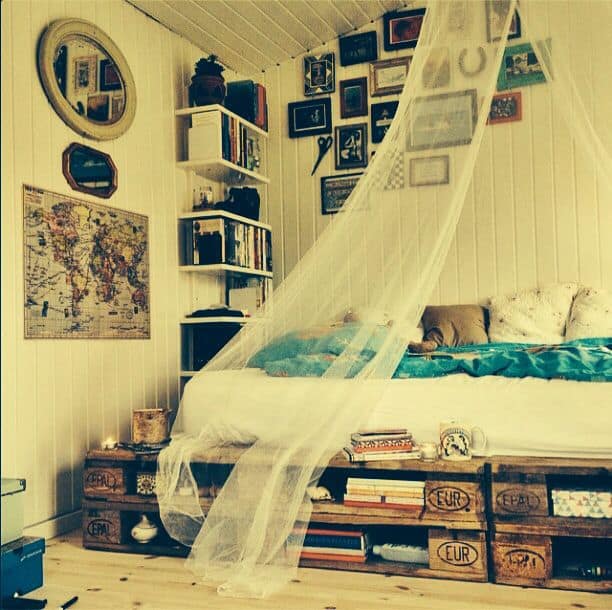 27. Feminine décor embellishing a pallet bed frame
Simple pallets can become quite feminine with the right touches: fluffy white pillows, delicate greenery and pink accents.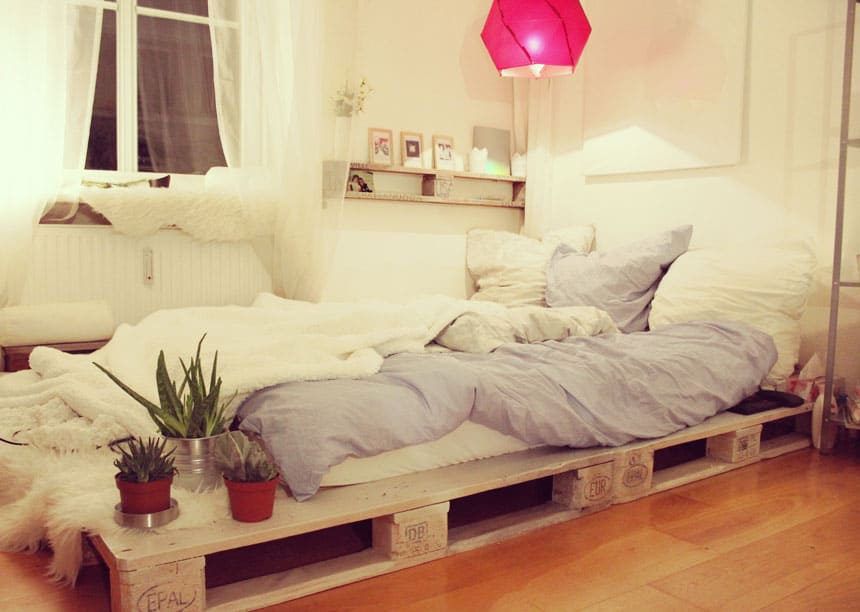 28. Cozy pallet bed frame for your furry friends
Create the perfect cozy bed frame for your dog or cat using inexpensive pallet wood.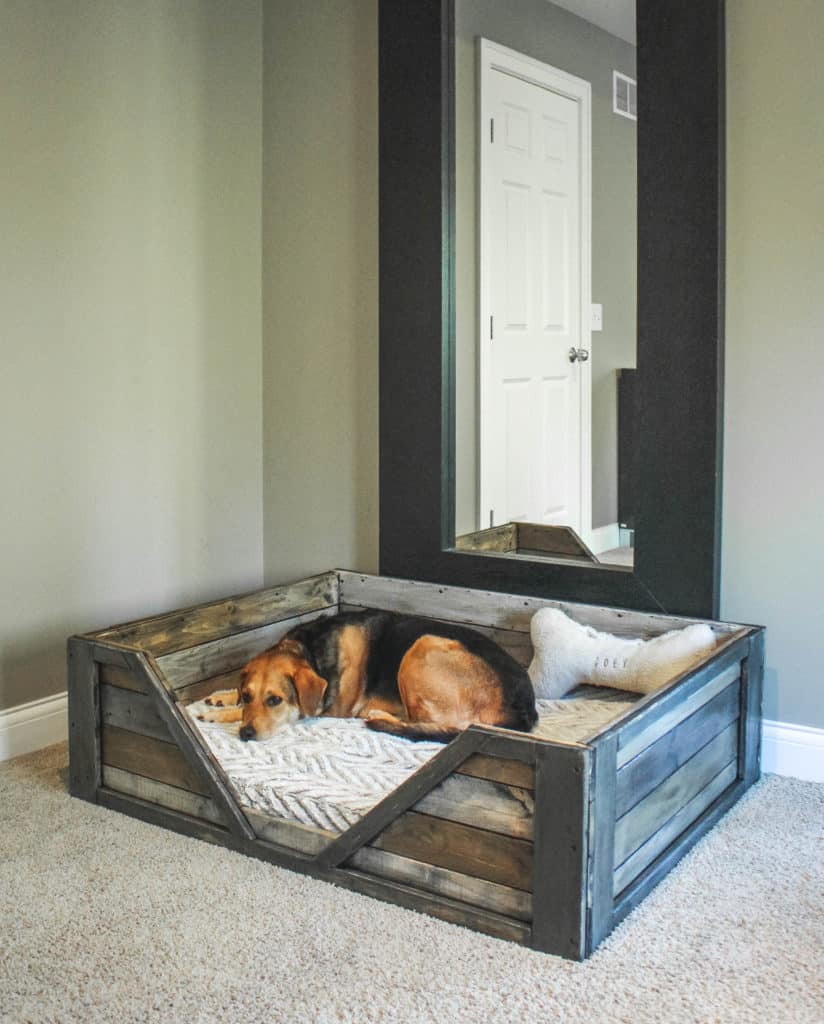 29. Small narrow pallet bed on wheels
Add wheels to your narrow pallet bed creation for easier maneuvering.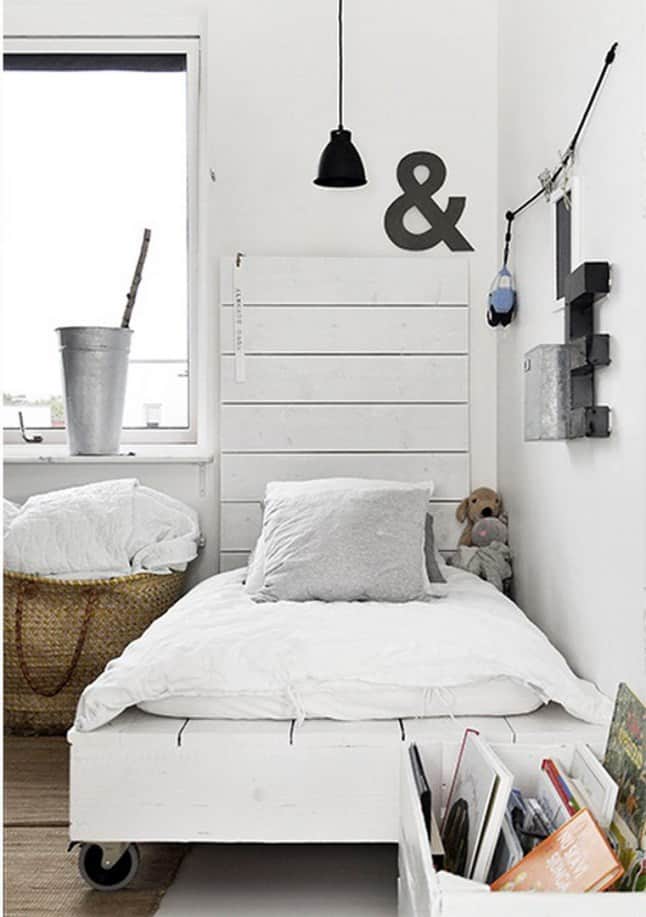 30. Pallet swing suspended outdoors
Use and join a set o two pallets and suspend them outdoors for the perfect swing/ day bed to be enjoyed in summer days and nights as well.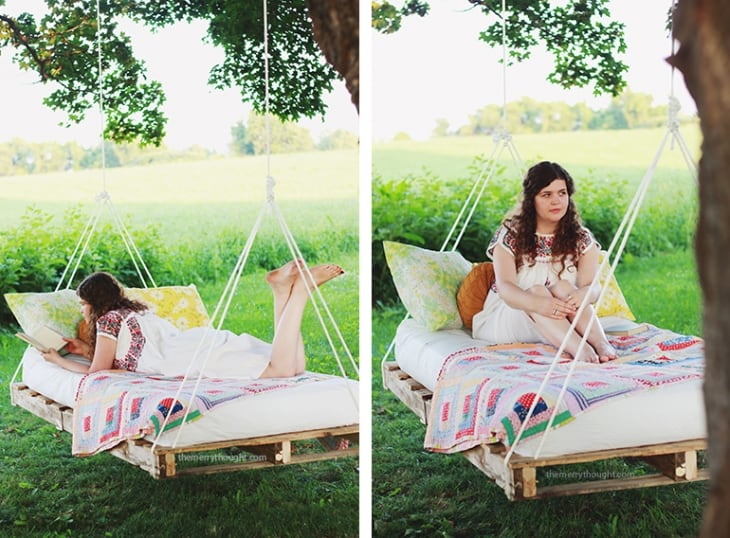 31. Simple pallet and rope creation perfect for the front porch
Adorn your front porch with a simple pallet swing you and your little ones will adore for a long long time. Create it as a family project and have fun with it.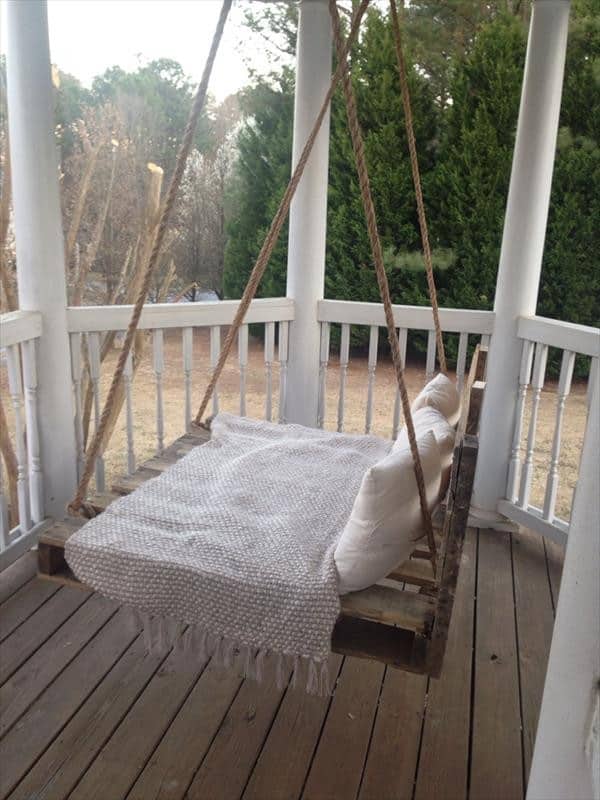 32. Modern vibe exuded in an airy living room design
You can take the vintage rustic look out of pallets if this suits you better and insert them delicately into a modern living room design.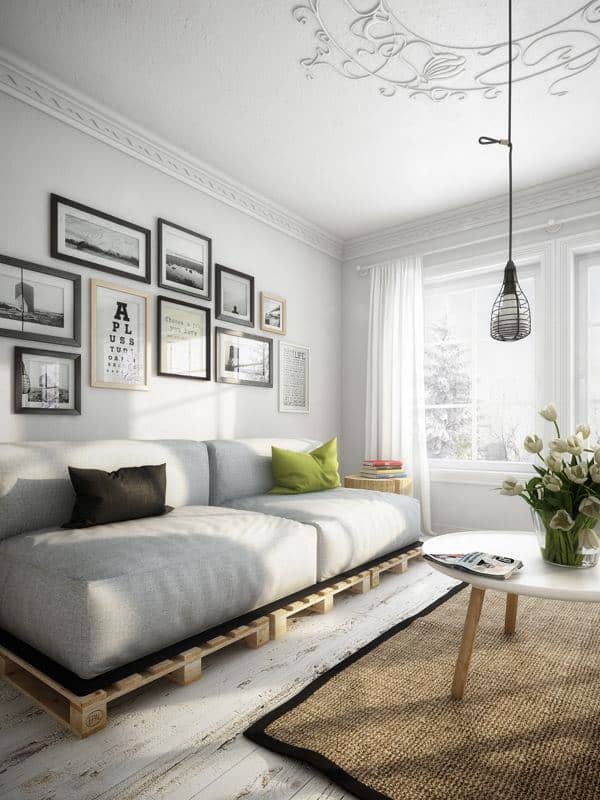 33. Warm wooden hues balanced by bright blue tones
Warm can be complemented by a variety of tones. Here bright blue hues contrast and accentuate the beauty of natural pallet wood frames.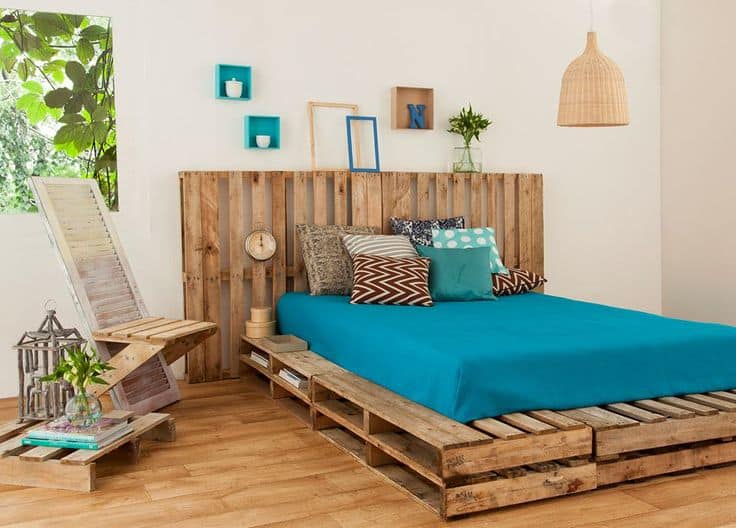 34. Cozy pallet bed frame and headboard touched by shimmering light
If you have chosen to construct a pallet wood headboard don't forget to accentuate its beauty and texture through artificial lighting.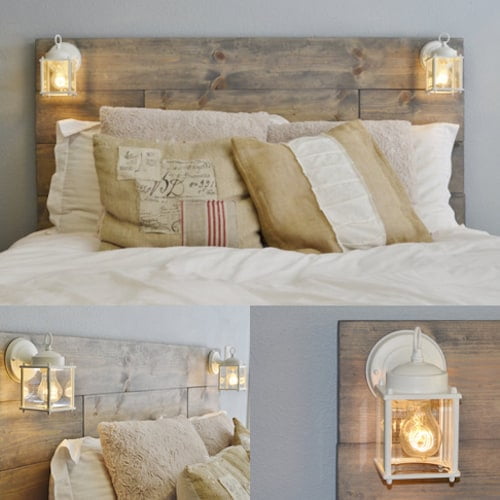 35. Feminine outdoors pallet frame sofa
You patio or terrace requires a comfortable sofa where you can relax and entertain at the same time. Pallet wood provides the perfect base material for this project if treated properly against the natural elements.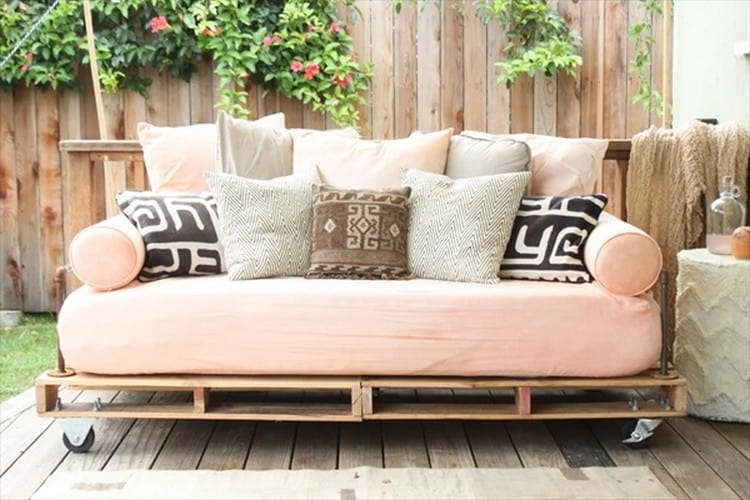 36. The simplest pallet bed swing
A very simple yet smoothly finished approach to a bed swing viable for indoor and outdoor usage at the same time.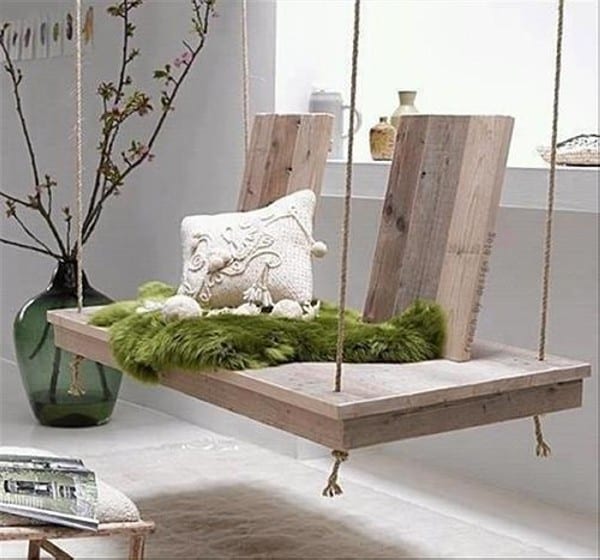 37. Cozy pallet day bed perfect for a small living room
Create your perfect living room day bed with little effort and a small budget.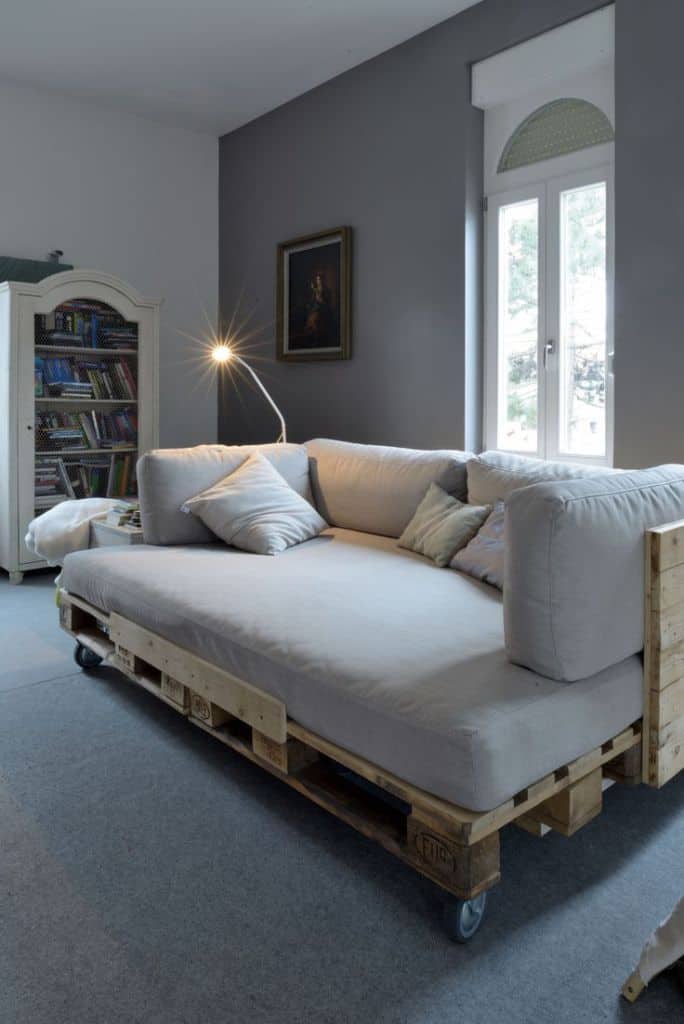 38. Fun decoration of a pallet bed headboard
Have fun with your pallet projects and decorate your headboard with hand-painted birds or other natural elements you adore.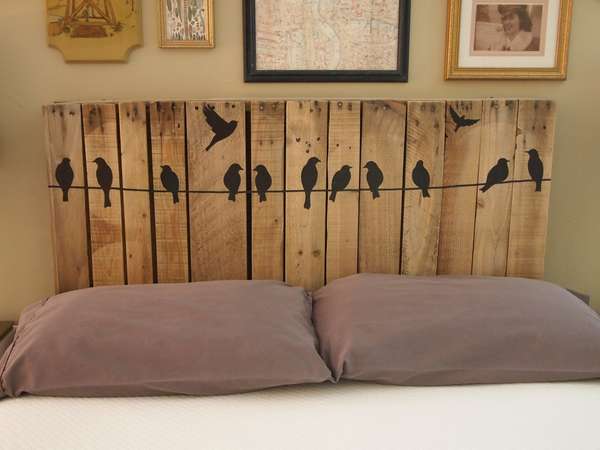 39. Simplest choice to adopt for an outdoors day bed zone
Why spend tons of money on outdoor furniture sets when you can create your own out of pallet wood?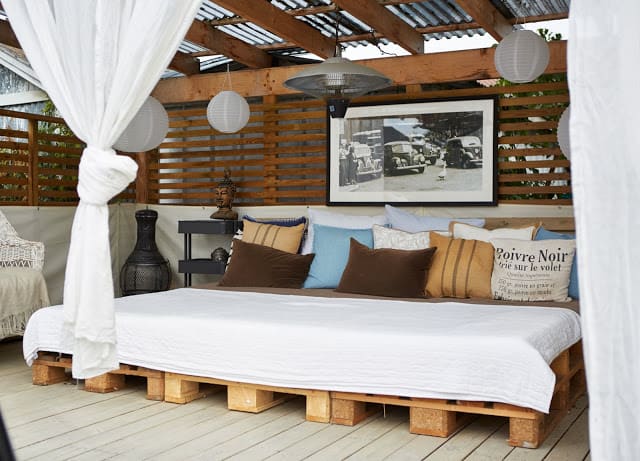 40. Stacked layers of pallets serving as an outdoors furniture set
Stack up wooden pallets add in a few comfortable pillows and you've got yourself a cheap cozy alternative to a patio furniture set.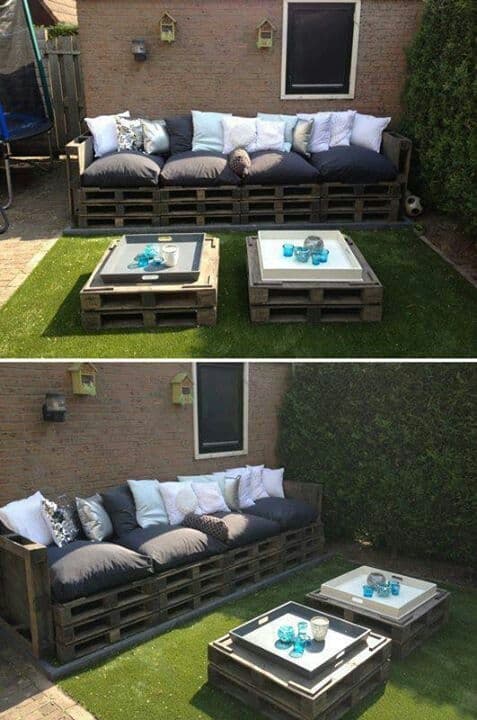 41. Simple nature pallet bed frame warmed up with string lights
Adorn your pallet headboard creation with a single string of Christmas lights to add that romantic glow to the entire room.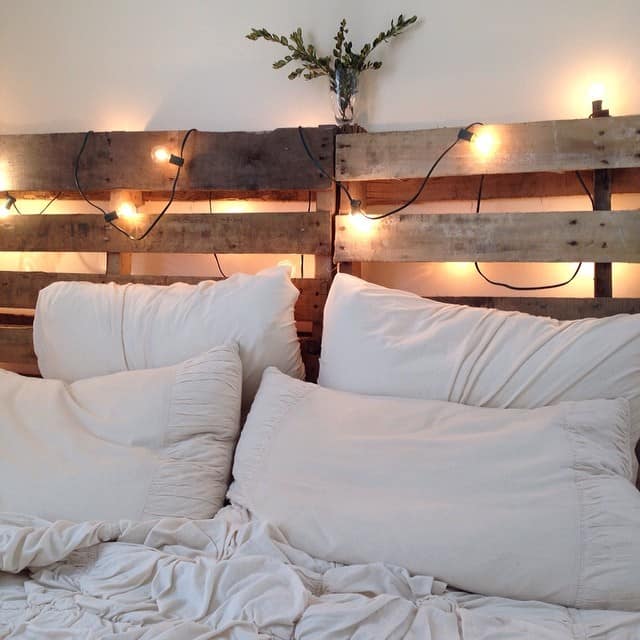 42. Modern nonconformist bedroom design
Simplicity should define a bedroom as a space of relaxation and comfort.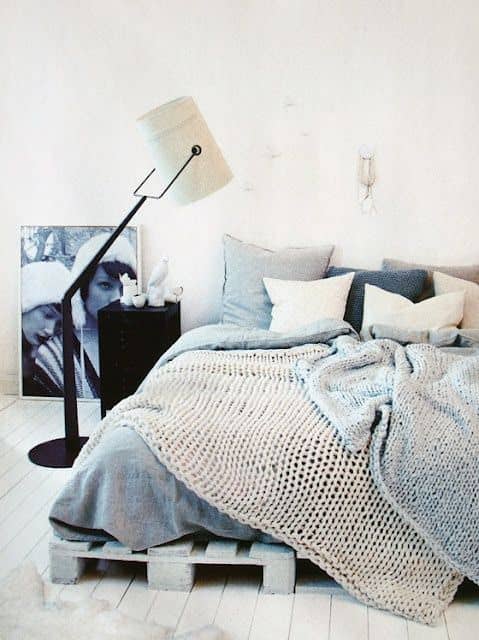 43. Mondrian inspired pallet bed frame
Get creative with your pallet bed frame design and decorate or paint it as you please.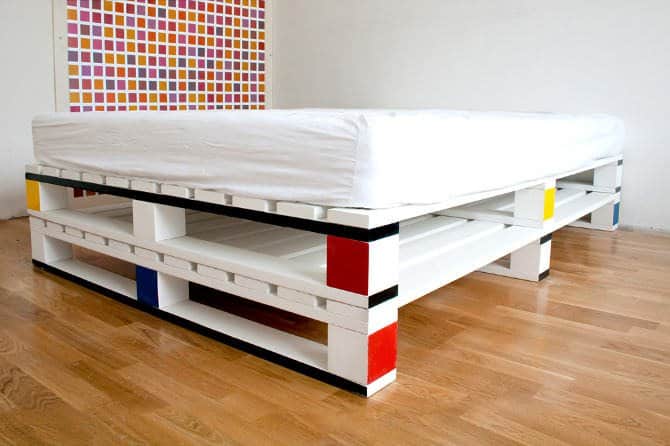 44. Simple bed frame with storage space made out of pallet wood
Deconstruct wooden pallets and use the sturdy wood to recreate the perfect bed. Don't forget to create storage space underneath.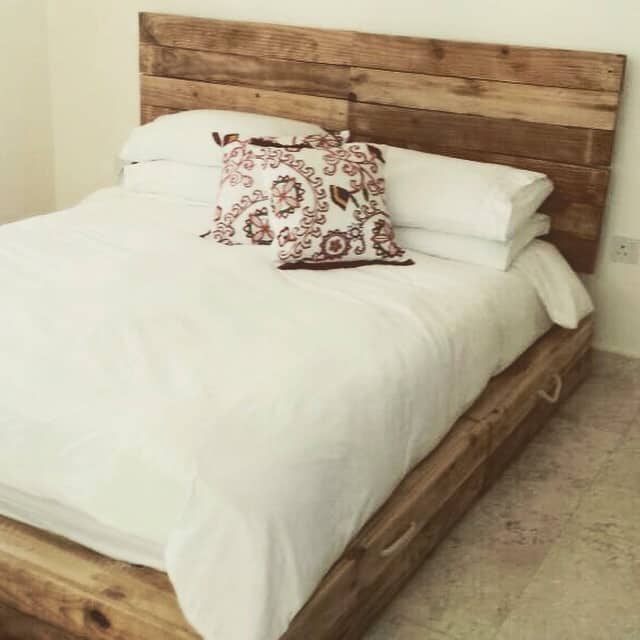 45. A colorful fun approach to a kid's bed frame
You could have fun with the organization and decoration of your little one's bedroom and opt for a pallet bed frame painted in a bright tone he will adore.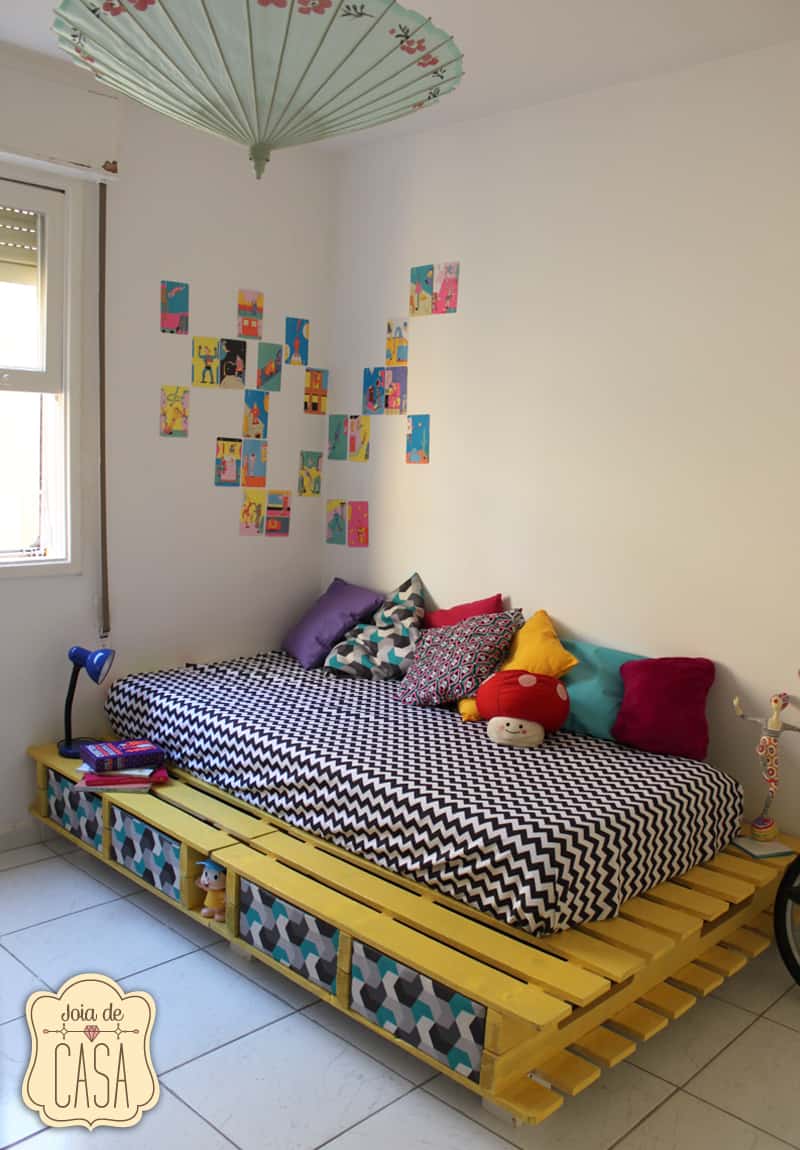 46. Pallet bed headboard offering shelving space
Even the headboard can serve as storage space, here for books, working as beautiful diy bookshelf for both family photos and books.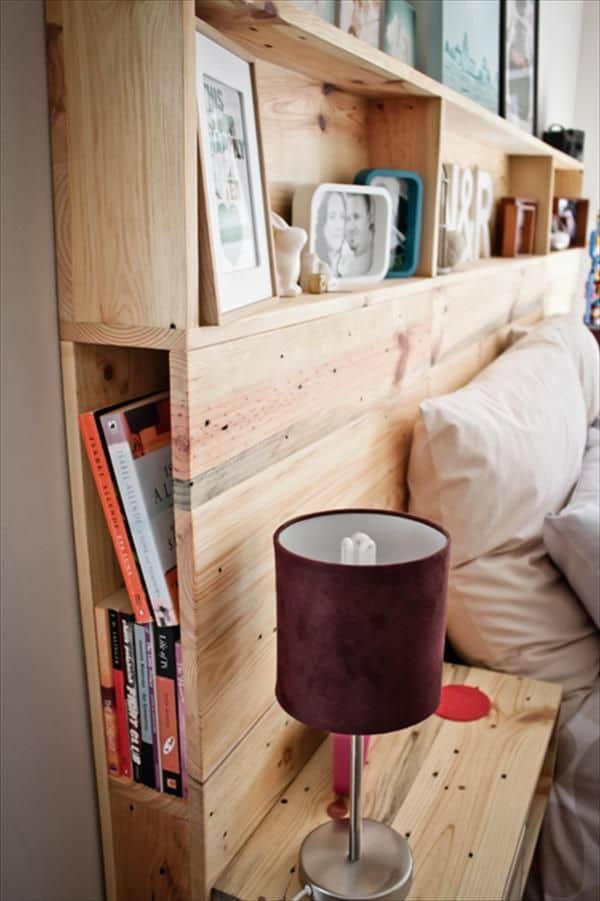 47. Shabby chic bed frame design
Use weathered old pallet wood to recreate a wonderful yet strange bed headboard ripped out of fairy-tales.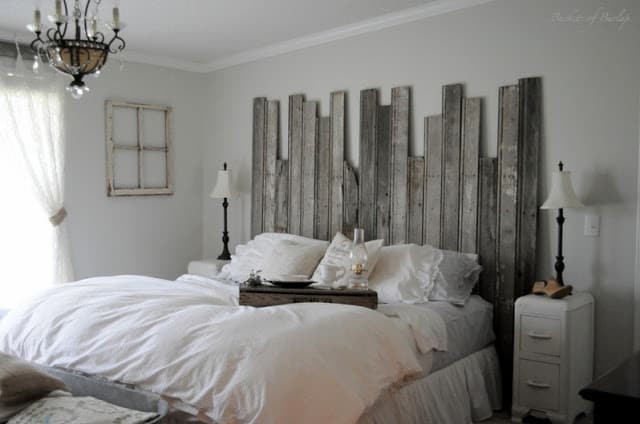 48. Pallet bed frame nestled in a small attic bedroom with exposed beams
The attic space can be transformed to suit the most comfortable and cozy bedroom there is. Exposed wooden beams complement the small space and fit perfectly with the warm tones of a pallet wood bed frame.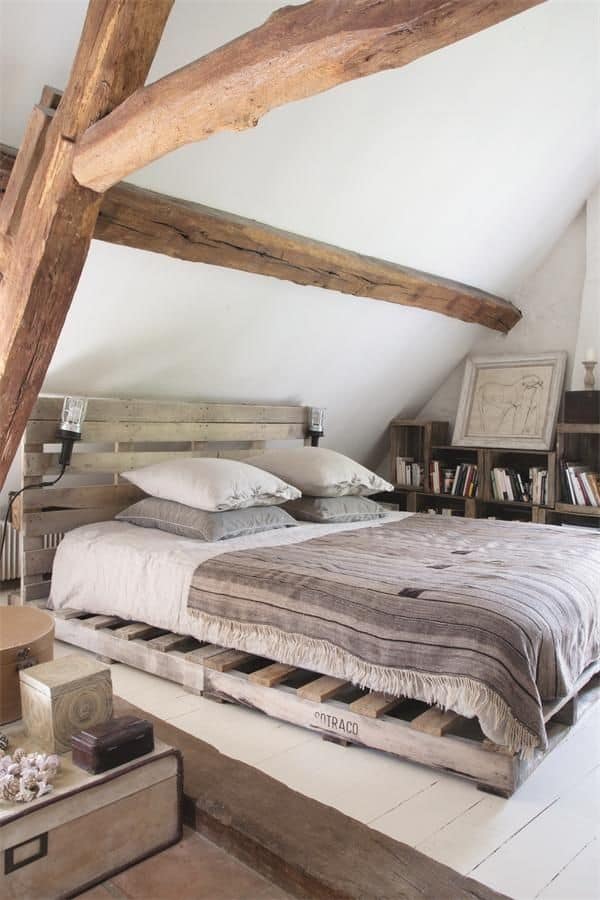 49. Simple pallet bed frame with a large vintage map serving as its background
A pallet bed frame can serve as neutral base for a teenager's bedroom. Here an old large map has been used to decorate the background.

50. Cozy dark hued bed frame in a similar background design
If you are looking to decorate and furnish a wooden cottage, the possibilities revolve around iron or wood as materials go. Here the wonderful wooden dark paneling has been let to be the primary focus of the room whereas the pallet wood bed frame evokes the same dark tones without drawing attention.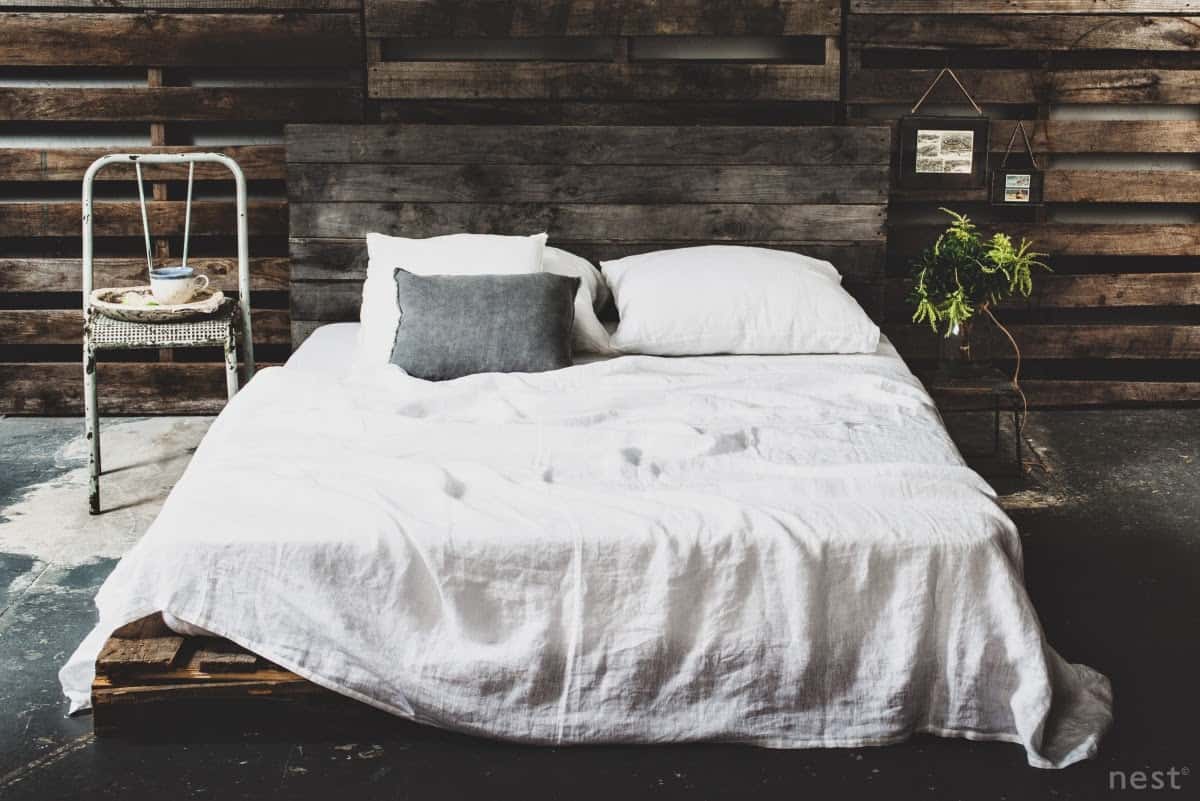 51. Attic loft featuring exposed and raw finishes
Another wonderful example of how to decorate and furnish an old attic space.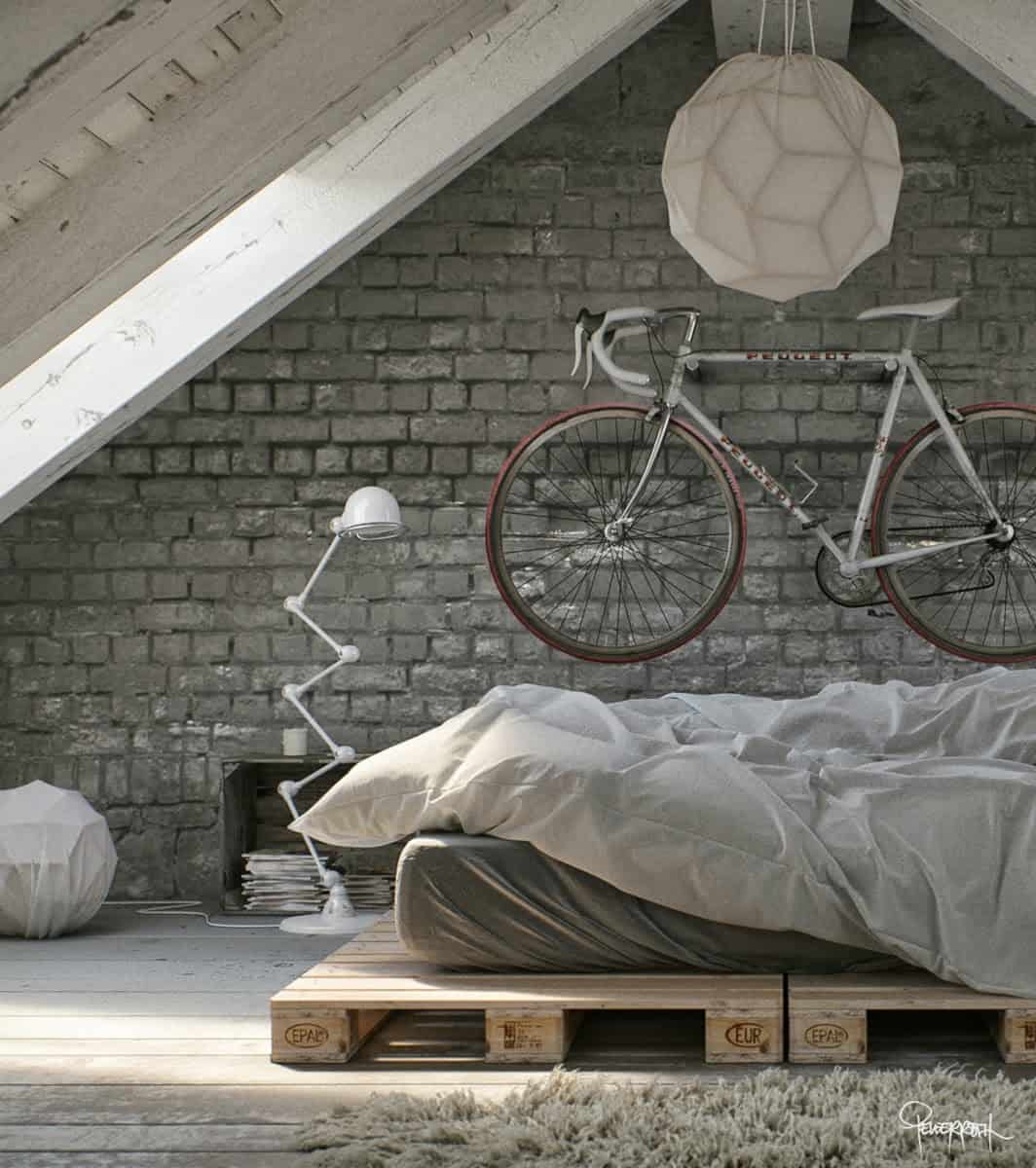 52. Simple cozy pallet canopy bed
Canopy beds can be create around the pallet bed frame as well with an airy fresh touch and a dreamcatcher adorned above the headboard.

53. Modern pallet bed with a feminine delicate touch
The image below is quite simple to obtain and seems quire comfortable.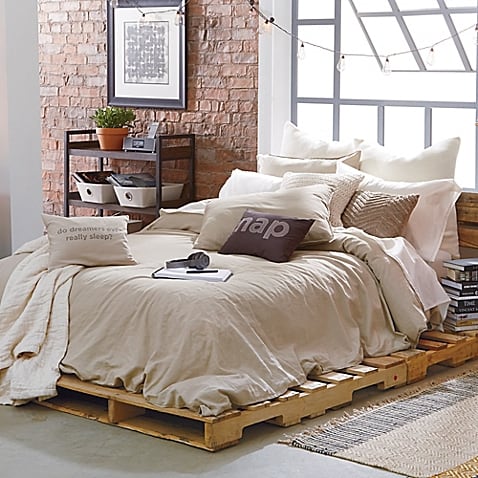 54. Pallet bed frame kept in natural hues
You can create a rather larger bed frame than the size of the mattress and use the extra space to hold a wooden create nightstand.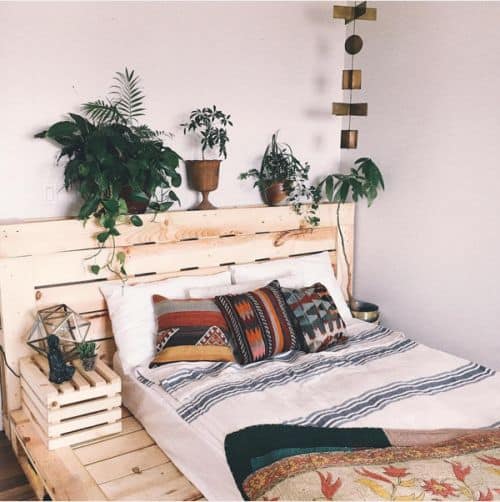 Details are the ones that transform a design in the end and the example below is no exception from this rule.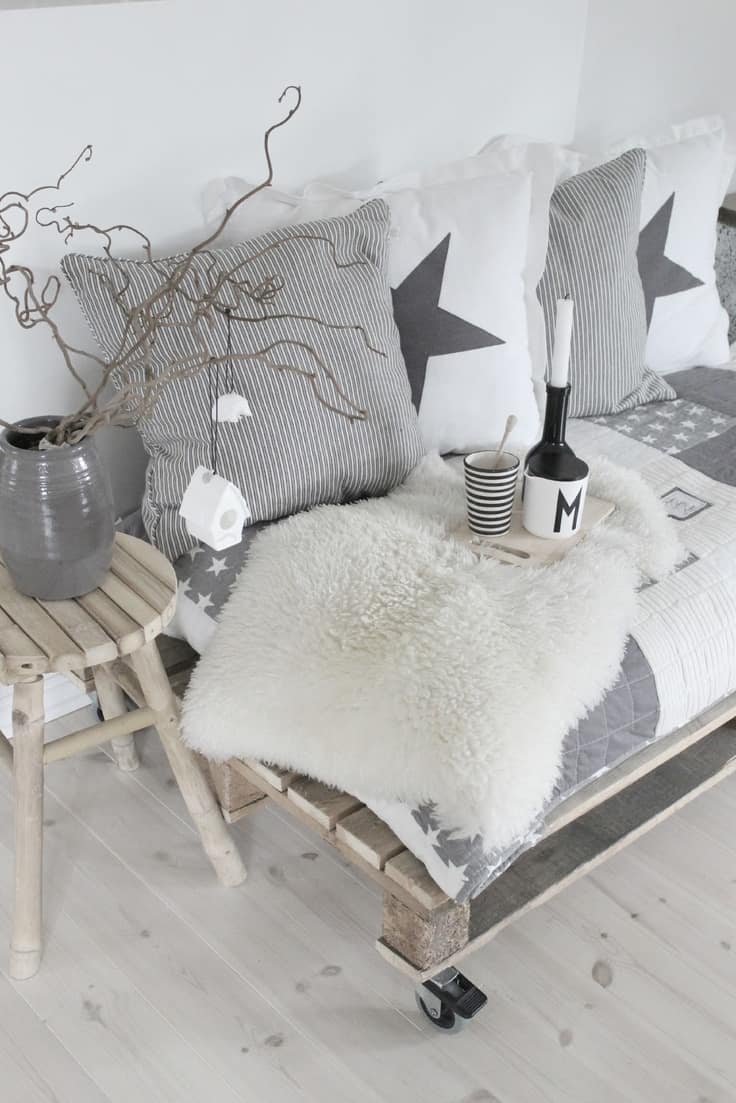 56. Suspended pallet bed frame in a glamorous industrial chic décor
This bold design features a multitude of elements that manage to create an opulent atmosphere without being necessary expensive themselves.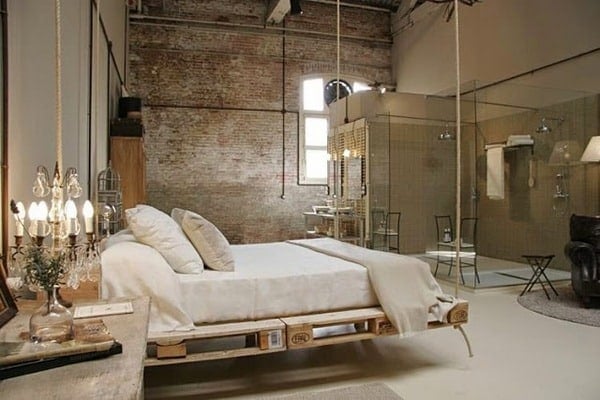 57. Bunk beds created out of pallet wood
Bunk beds are such a great option for your child's bedroom, fun and creative at the same time.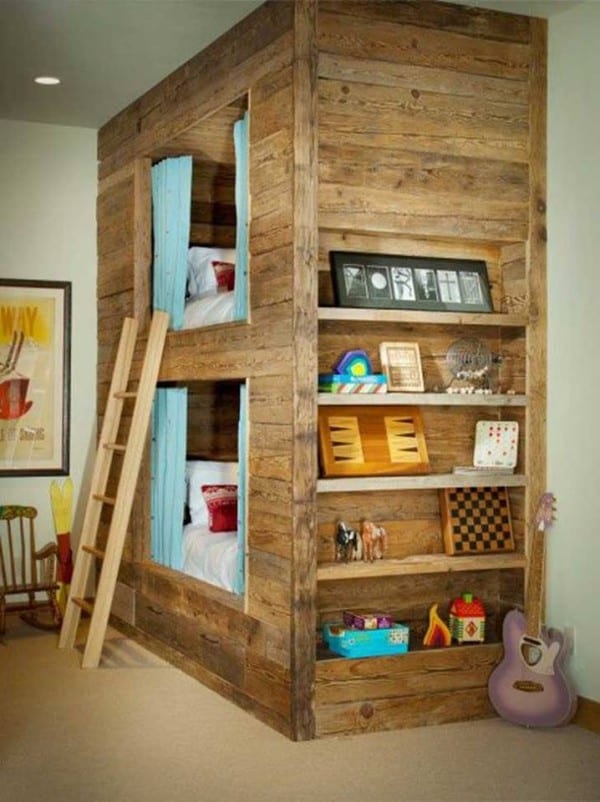 58. Simple minimal yet elegant pallet bed frame in an all white décor choice
A very clean simple design puts the accent on the few pieces of furniture and décor it nestles.

59. A rather large living room pallet couch and coffee table set
A fresh airy living room design requires a simple furniture design.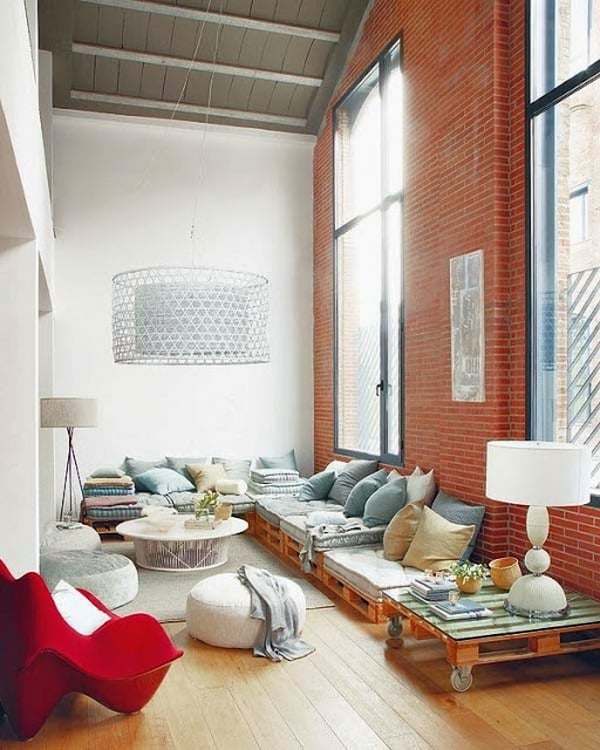 60. A tree house- pallet bed fun composition
A suspended bed- tree house will enthusiast your little one beyond measure.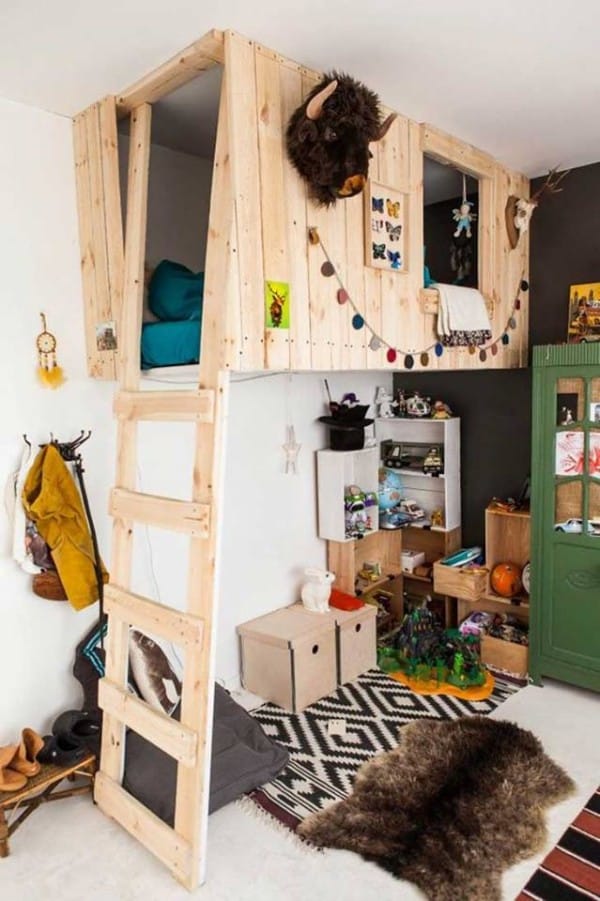 61. A stack of pallets and a simple mattress is all that is requested
Keep things to a minimum and you will fall in love with the results.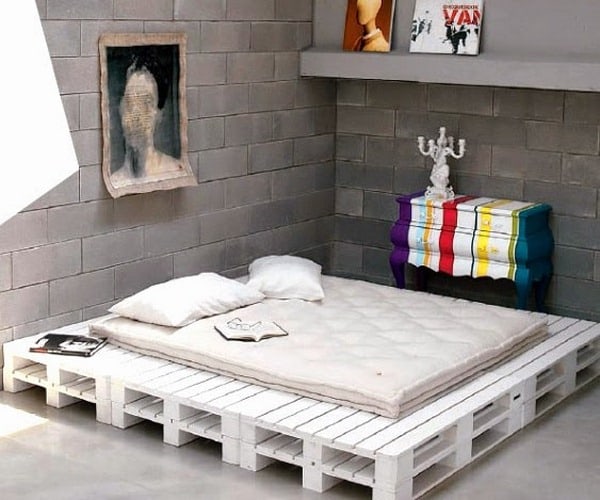 62. Simple pallet day bed frame for two
Such a comfortable elegant piece created out of two pallets.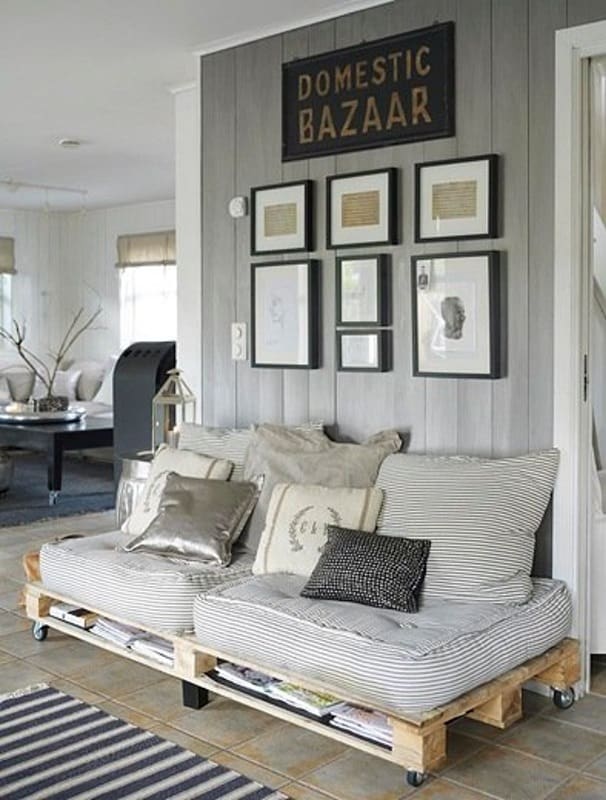 What do you think about the idea of using pallet wood as a base for your bed? Is the style a little bit too nonconformist for your taste? Feel free to share your ideas and opinions in the comment section below.
Related Articles
12 Ways To Put Your Bedroom Corner Space To Good Use
29 Brilliant Easy to Build DIY Platform Bed
21 Mindbogglingly Beautiful Fairy Tale Bedrooms for Kids
21 Super Small Nightstands Ready to Fit in Petite Bedrooms
37 Simply Spectacular Tree Bed Designs to Pursue
Recycled Pallet Bed Frames – DIY Pallet Collection
47 Epic Ways to Repurpose Old Picture Frames at Home
15 Creative Small Beds Ideas For Small Spaces
30 Small Bedroom Interior Designs Created to Enlargen Your Space
37 Smart DIY Hanging Bed Tutorials and Ideas to Do
Bedroom Christmas Lights Ideas For A Cozy Atmosphere
32 Dreamy Bedroom Designs For Your Little Princess
100 Inexpensive DIY Headboard Ideas for Your Bedroom Design
47 Stylish Floating Bed Design Ideas
53 Incredible Hanging Beds to Float in Peace
33 Epic Navy Blue Bedroom Design Ideas to Inspire You
6 Best Vacuum Cleaners for Mattress  
Intex vs. SoundAsleep vs. King Koil | Air Mattress Comparison & Buyer's Guide