The Rain Bird 32ETI Automatic Sprinkler System features an electronic hose timer, retractable sprinkler heads and automatic draining to prevent freezing. It's priced competitively and is built to last. 
A well-maintained lawn livens up its surroundings and is a source of pride for the owner. 
Lawn maintenance entails watering, and a sprinkler system, such as a great low-pressure impact sprinkler, makes light work of it. We tested one of the most trending products in the market, the Rain Bird 32ETI Automatic Sprinkler System, across a variety of parameters and seasons, to find out if it's worth the investment. 
Rain Bird Sprinkler System Review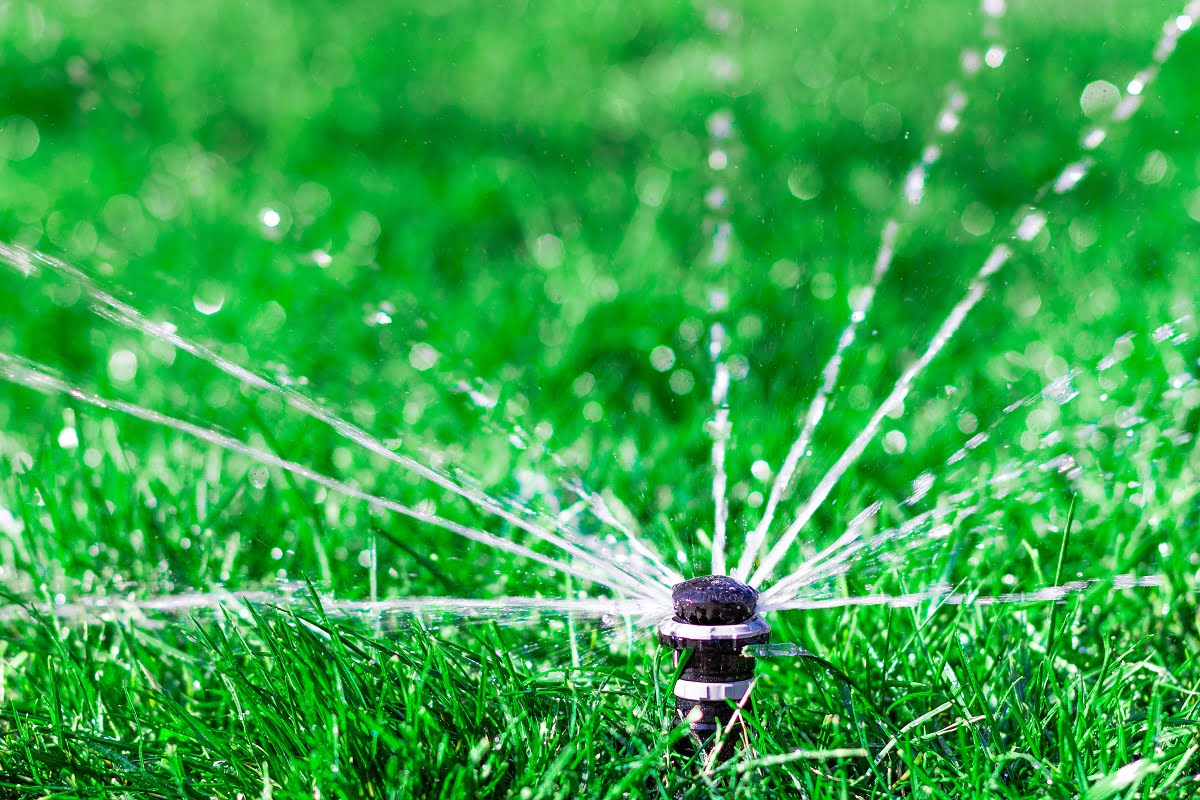 Installation: Easy and quick
The Rain Bird Automatic Sprinkler System is designed to be an effective, affordable and convenient alternative to full-blown professional systems. Therefore, ease of set-up and installation have been emphasized in the product design. The kit includes an installation manual that details the installation process in five simple steps. The first step entails sketching and staking the layout of the target area (i.e., the lawn) to ensure that the Rain Bird system fits snugly in the area. 
The second step is simple as it requires running the tubing along the sketched area and connecting it to the sprinkler heads. The third step required us to test watering coverage, which is as simple as turning on the faucet (it's best to check for water pressure at this stage). For the fourth step, we dug half-inch trenches in the grass on the yard and buried the tubing in our lawn to ensure a clean appearance and ease of mowing (Rain Bird recommends using a specialized trenching shovel). Finally, we set the included timers as necessary.
We found the set-up and installation process to be relatively simple and straightforward; there are no complex steps, and with a little bit of manual adjustment, we were able to get the system running easily and quickly. The Rain Bird fares well as far as ease of installation is concerned, as it took us no more than five hours to install.
Usability: Convenient, straightforward
While sprinkler systems aim for maximum convenience, not all of them end up being convenient or efficient to use once installed. Complex controls, eccentric modes of operation and obscure replacement parts have the potential to make an irrigation system inconvenient to use.
We installed and tested the Rain Bird 32ETI Automatic Sprinkler System for an extended time and found it to be usable. It features six high-efficiency rotary sprinkler units also found on professional-grade sprinklers (e.g., those used to water stadiums) that control the spread of water precisely with minimal spillage.
Sprinkler adjustments are easy; simple adjustments to the sprinkler heads can be made via the adjustment screws located on top of each head; the spray rotation can be adjusted between 40° and 360°, and the distance can be adjusted from 19 to 24 feet with just a simple flat-blade screwdriver. The product is most efficient between water pressures of 45 psi and 75 psi and the irrigation time is well-measured for optimum irrigation.
The included timer is easy to read, even in direct sunlight, and has a host of features to do away with manual watering, including scheduled watering, manual overrides (i.e., "Water Now" and "Cancel Watering" functions), a 96-hour rain-delay feature for rainy weather and two-time watering per day. Once irrigation is complete, the sprinklers retract automatically to ground level to preserve the target area's aesthetic and enable lawn mowing.
Quality: Satisfactory, but could've been better
Investing in a sprinkler system is a major decision, partly owing to the expenditure involved. Naturally, garden owners looking to pull the trigger on a sprinkler system pay top dollar and demand top quality in return. The quality of materials used to manufacture a sprinkler product directly impacts its feel, longevity and operation; hence, part quality is crucial.
On this front, we found the Rain Bird 32ETI to be mostly satisfactory but felt the quality could've been slightly improved in certain areas, especially in the manufacturing process of certain fixtures and fittings.
While the installation process was straightforward, we did not notice some flex in the fixtures and fittings, including connector bits and some hose fittings. While a certain degree of flex could well be necessary for trouble-free operation of the product, it raises questions about the build quality and can be viewed as flimsiness. A few buyers faced problems with leaking pipes, although our pipes didn't leak, so we assume it depends on the hose being used.
That being said, the quality of the rest of the parts, such as the main piping section, the sprinklers themselves, the retraction mechanism and the timer control unit, is top-notch. There is some heft to these parts, which inspires confidence in the durability of the product. They dealt well even with heavy-duty applications, such as an average residential water pressure higher than 75 psi.
Overall, we found the quality to be satisfactory, but your mileage may vary.
Durability: Worked flawlessly
Sprinkler systems need to function in all conditions and seasons for years on end. Therefore, testing the long-term durability is vital. We tested the Rain Bird 32ETI Automatic Sprinkler System for an extended period in varied conditions in order to get a feel for the long-term durability of the product.
Right off the bat, it's pertinent to mention that with the Rain Bird 32ETI Automatic Sprinkler System, you won't need to worry about any freezing inside the pipes or throughout the automatic system whatsoever; the system features a self-draining mechanism to avoid freeze damage by removing residual water from the pipes. We found the mechanism to be effective and convenient at the same time; it saves the hassle of having to drain the piping yourself, and it never caused us a problem in cold weather conditions.
Similarly, despite our reservations about some of the fittings feeling tacky at times, we must give credit where it's due and state at no point during our testing did we encounter any problems with them. Despite repeated dismantling and reassembly of the system (as part of testing), none of the pipes or connecting bits cracked or wore out for the whole season.
Lastly, the retraction system employed by the sprinklers worked flawlessly; when not in use, the sprinkler heads stayed level with the ground and complied with lawnmowers, and automatically rose up for scheduled watering without missing a beat.
Miscellaneous: Extra features would be welcome
While the Rain Bird 32ETI has most of the features the average lawn owner will realistically need for a greener lawn, some features that are present on competitors' products but not on the Rain Bird make their absence felt at times. For instance, the lack of a water-sensor on the Rain Bird means that it continues to sprinkle, even if it begins to rain, which is not only redundant but also wastes water.
On the same note, a pressure gauge is a relatively inexpensive and minor part but is not present on the 32ETI. While the sprinkler performs well when faced with inconsistent water pressure, the user is unable to ascertain the exact pressure in the pipes in the absence of a pressure gauge.
Price: Reasonable for the intended purpose
At first glance, the Rain Bird 32ETI Automatic Sprinkler System may appear to be priced on the higher side, as these systems usually retail for lower than what this system retails for. 
However, that's unfair to the 32ETI; it is a complete underground sprinkler system kit, meaning included in the price is nearly everything one may need to set up an underground sprinkler system from top-to-bottom. The 32ETI also includes features such as scheduled irrigation, automatic draining and retractable sprinkler heads, which justify the price of the system. Garden owners can save money by opting for the Rain Bird over professional-grade products. 
For a sprinkler system designed for use in residential/light-duty applications, the 32ETI is priced competitively. Therefore, while the alternatives give it stiff competition (discussed below), the Rain Bird holds its own against them, represents great value for money and is one of the best systems on the market. 
Competition: Tough but the Rain Bird holds its own
Rain Bird products have a reputation for value, but the 32ETI has some stiff competition to contend with. The Orbit In-Ground Sprinkler System with Hose Watering Timer which retails for slightly less is a solid alternative. It includes extra features such as a pressure gauge and Orbit's proprietary "Blu-Lock" tubing. It's supported by a mobile app and has a greater coverage area too. However, users have reported issues with Orbit's system, such as quality control issues, difficult installation despite the inclusion of Blu-Lock tubing, etc. The Rain Bird skips out on the extra bells and whistles to provide a solid, durable product with better quality. Both the Rain Bird and the Orbit brands are firmly part of the new era of sprinkler solutions. 
What We Like
Thoughtfully designed, easy to install and operate

Hose timer works well and is easily legible even under direct sunlight

Presence of some professional-spec irrigation parts

Sprinkler retracting mechanism works well

Durable system works flawlessly across seasons
What We Don't Like
Quality of some parts can feel tacky

Missing features, such as a rain sensor, are missed
Specifications
Product Name: 32ETI Automatic Sprinkler System
Product Brand: Rain Bird
SKU: 6901900
Product Dimensions: 4.16 x 2.1 x 4.3 inches
Floor Area: 3000 square feet
Maximum Flow Rate: 12 Gallons Per Minute
Product Weight: 1.71 ounces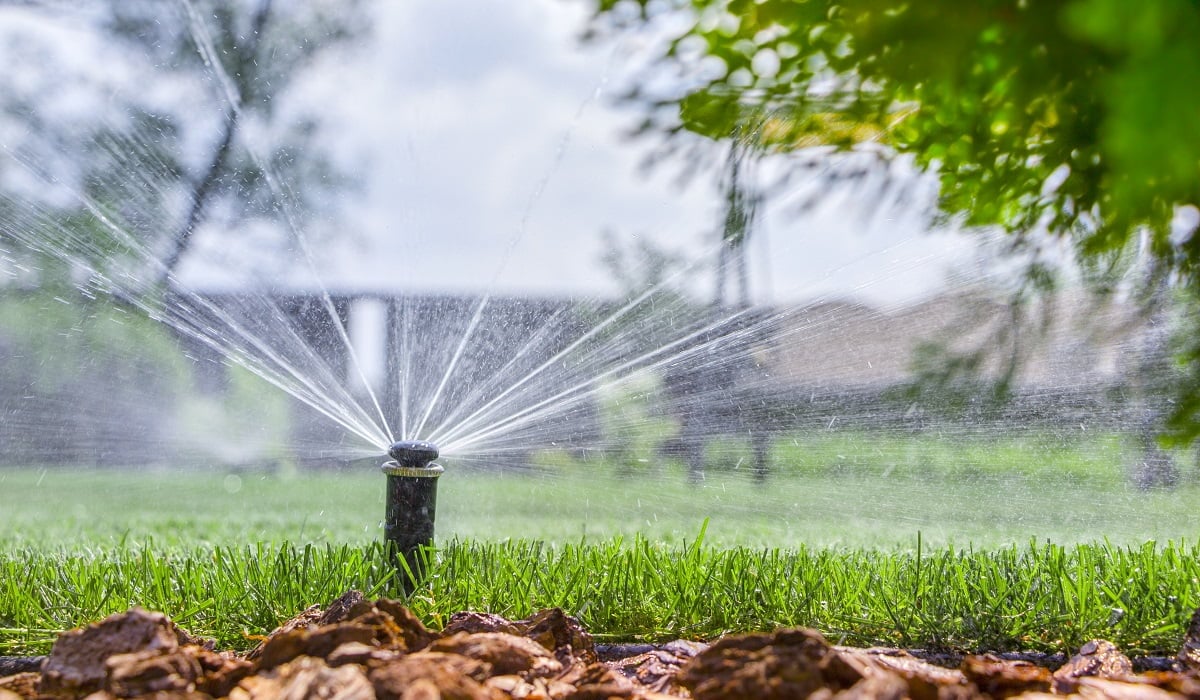 Rain Bird Sprinkler System Final Verdict
Having tested the Rain Bird 32ETI Automatic Sprinkler System for an extended time across a variety of conditions, we can safely conclude that it is one of the best automatic sprinkler systems on the market and a perfect irrigation solution for small and medium size lawn areas that is well worth the asking price. The emphasis with this product has been on getting the basic elements, such as ease of use and installation, durability, etc. right, even though that entails sacrificing some cutting-edge features. Nevertheless, the features that are included are well thought-out parts and the entire system feels built to last.