Buying an air compressor can be pretty challenging. It is time to blow your confusion away and find a perfect product for yourself.
With so many choices flooding the market, it is often a headache to find one which perfectly fits the bill. To make it a little simpler for you, we have dug deep and come up with a list of the ten best air compressors in the market.
We also understand the need for a quiet device. You would want to work in peace, just like us and disturbing people around you is never the motto.
Keeping this in mind, we have gone forward and explored the specific features of the devices. Also, we made a note of the noise levels to make life a little easier for you. The pros and cons have also been detailed.
Keep reading to know more about the products and do not miss out on reading the buyer's guide after the reviews.
So, let's get started, shall we?
Top 10 Quietest Air Compressors For Your Garage
IMAGE
PRODUCT
DETAILS

Our Top Pick

Our Top Pick

Makita MAC2400 Big Bore 2.5 HP – 4.2 Gallon

4.2-gallon size
4.2 CFM at 90 PSI
Max Pressure up to 130 PSI

VIEW LATEST PRICE →

California Air Tools 8010 Air Compressor

8 gallons in size
.2 CFM at 90 PSI
Max Pressure up to 120 PSI

VIEW LATEST PRICE →

California Air Tools 10020C

10 Gallons in size
5.3 CFM at 90 PSI
Maximum pressure up to125 PSI

VIEW LATEST PRICE →

Senco PC1010 1-Horsepower Peak, 1/2 hp 1-Gallon Compressor

Delivers 0.7 SCFM at 90 PSI
Maximum pressure up to 125 PSI

VIEW LATEST PRICE →

Industrial Air IL1682066.MN 20-Gallon Belt Driven Air Compressor

20 gallons in size
5.3 CFM at 90 PSI
Maximum pressure up to135 PSI

VIEW LATEST PRICE →

Industrial Air ILA1883054 Belt Driven Air Compressor

30 Gallons in size
5.7 CFM at 90 PSI
Maximum pressure up to 155 PSI

VIEW LATEST PRICE →

Industrial Air IV5076055 – 5 HP Two Stage – 60 Gallon

60 Gallons in size
15.3 CFM at 90 PSI
Maximum pressure up to 175 PSI

VIEW LATEST PRICE →

DEWALT Air Compressor, 135-PSI Max

1 gallon in size
Delivers 0.75 SCFM at 90 PSI 
Maximum pressure up to 135 psi

VIEW LATEST PRICE →

Makita AC001 Compact Air Compressor

Powerful 1/6 maximum horsepower induction motor
Delivers 0.58 CFM at 40 PSI
Maximum pressure up to 125 psi

VIEW LATEST PRICE →

Campbell Hausfeld DC010500

Sound level up to 68 decibels
Delivers 1.2 CFM at 90 PSI
Maximum pressure up to 125 psi

VIEW LATEST PRICE →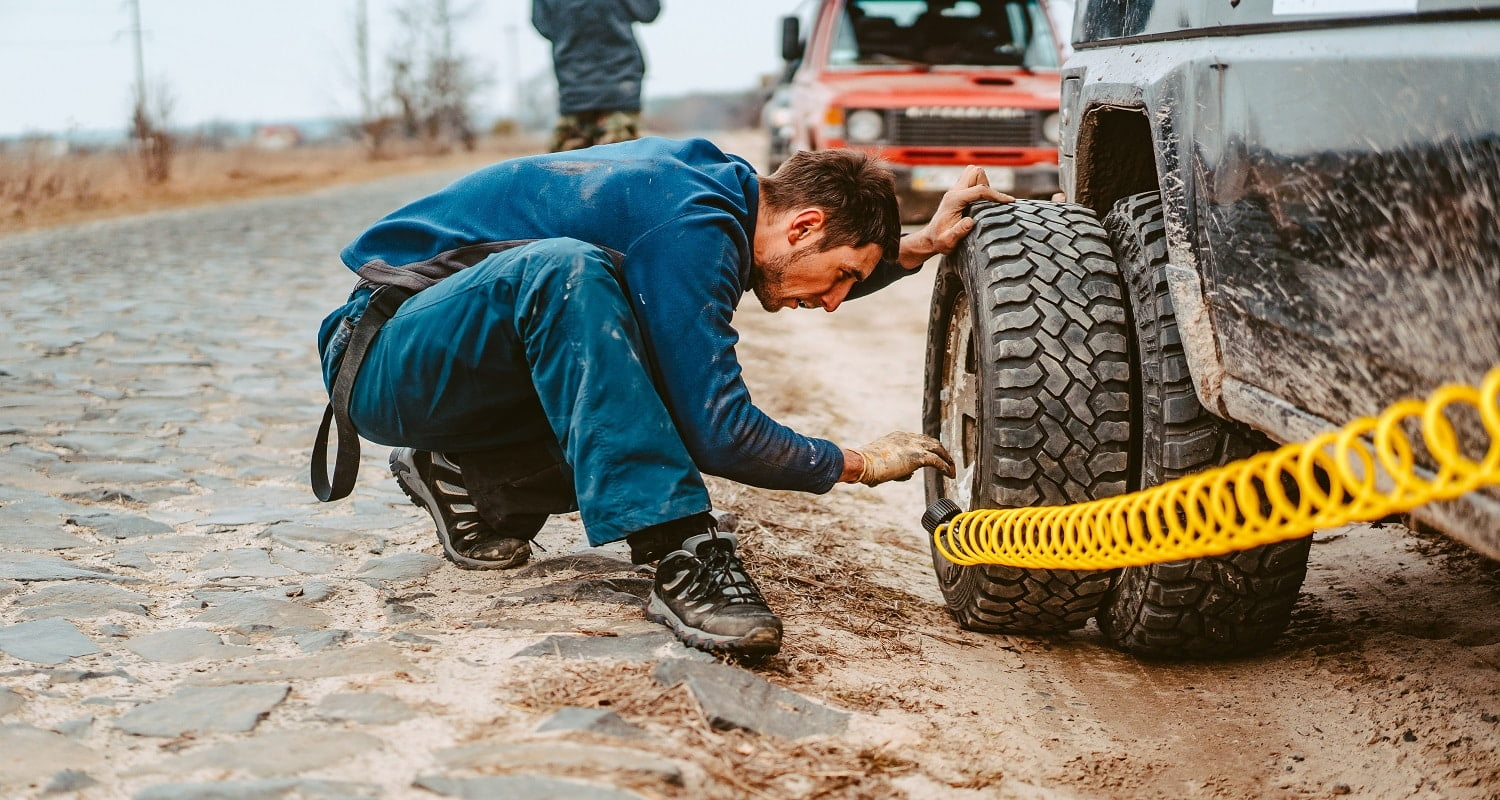 If you are looking for a powerful air compressor that will be able to fill big tires and perform any heavy-duty task you may have, this product is a good choice. The Makita MAC2400 is a beast of a machine that has everything you can expect from an air compressor packed in a sturdy body.
Why Did We Like It?
Equipped with serious power in a 2.5hp 4-pole motor, the Makita MAC2400 delivers compressed air at a rate of 4.2 CFM at 90 PSI. We were able to do a wide range of jobs because of this feature.
Also, the presence of twin-stacked 4.2-gallon tanks adds to the power of this machine. We think it is the most powerful device on this whole list. And to top it all off, it supports stability like never before. You do not need to worry about placing the device on uneven terrains.
The pump in the product is oil-lubricated, allowing cooler operation and more extended durability. The compressor that comes along is also super quiet, emitting only 79 DB of noise. It is not silent altogether, and you would hear the machine whirring, but it would not cause any hindrance to your conversations.
What Could've Been Better?
All these features are packed in a strong body which comes at a higher price than most compressors. Considering the features, the price is worth it, and if you have a good budget, don't stop yourself. The product is slightly bulky but not too heavy to be a problem to take around.
Pros
Compact and highly portable

Very quiet

Powerful

Two pressure outlets

Recharges quickly
If you are looking for a machine for your simpler tasks like inflating, powering an air drill or chisel, this machine will be sufficient. Anything that does not use up too much power will work well with this device. The California Air Tools 8010 Air Compressor makes a lot less sound and is a great product to bring home.
Why Did We Like It?
With a noise level of 60 decibels, this is quieter than the previous device. All you will hear is a slight whirring sound beyond which is essential in a way for you to understand that the machine's working. 
Further, the device comes with an oil-free dual-piston pump system that works perfectly well in almost all temperature and terrain. We were delighted to have an oil-free device as it saved us a lot of effort and cost us less.
Also, the life cycle of this product is 3000 hours plus before it shows any signs of wear and tear. This makes it extremely valuable compared to most of the other compressors, which stand at 500 plus hours. 
Additionally, it is 54 pounds in weight, and a wheel kit is given with the package to enable smooth mobility. So you will not face any problems with moving the device. 
What Could've Been Better?
The product functioned well for the few months that we are using it, but we were disappointed to see that the valve was made out of inferior material. Even if the rest of this device lasts long, the valve could become an issue. 
Pros
Lightweight

Does not require oil

Ultra-quiet machine

Highly portable and durable

Excellent performance
Cons
Valve made of cheap material
Being a humble-sized design, you would not expect the sheer power it comes with.  It gives 2.0 CFM at 90 PSI and 3.0 CFM at 40 PSI and is one of the most robust devices on this list. If you need a machine for small hand tools or airbrushing, this is the product to opt for.
No products found.
Why Did We Like It?
The air compressor is pretty compact, and it undoubtedly exceeded our expectations. Sufficient for both home and automotive workshop use, this machine can work for an hour at 2.0 CFM. This may not be too much considering some of the other devices on the list. But it is a lot considering the size of this machine.
It is very easy to maintain this device. All you have to do is gently wipe it to clean dust and debris, and that is all. The machine is built in such a way that it does not let foreign particles in.
Lastly, it is stable and durable. Rest assured that you have a strong device for your smaller as well as bigger needs.
What Could've Been Better?
The one issue we have with this compressor is the manifold feed line. The tubing is only 1/4″, and if you want a higher flow, you will need to pump manually. This could be a little strenuous, and we were tired after one round of manual pumping.
Pros
Little maintenance required

Low amp and can function in any weather

Lightweight

Quick-Connect Coupler

Reasonable priced
Cons
Needs manual pumping for a high-flow output
This is one of the most affordable and quietest machines we came across. Apart from being a quiet machine that your family members will love, it would not burn a hole in your pockets. This is one of the best combinations that we could get. Let's get on with the other significant features.
Sale
Why Did We Like It?
The product comes with a 10-inch wide tank and handles to make it easy for us to carry. And it is literally just 20 pounds in weight. So, you can easily carry it in your bag if needed.
To add to it, this unit has an oil-free compressor that may be small but is remarkably powerful, producing a maximum of 125 PSI of pressurized air. Compared to other devices with the same pump capacity, this one is far lighter.
The sound level extends up to 68 decibels and is super quiet while functioning. Lastly, we recommend using this product for smaller needs or projects. It will work very well and would not be difficult to handle.
What Could've Been Better?
Considering the device is pretty small, it is not suitable for bigger projects. Any complicated task should not be attempted with this device. This Is one drawback we found about this compressor. But it works wonders when we are trying home DIY projects.
Pros
Lightweight and portable

Delivers 20 to 44 drives per minute

Ideal for a range of renovation

Tank capacity of 1 gallon
Cons
Not suitable for bigger projects
If painting cars is on your mind and you cannot afford to buy a full-sized air compressor to do this job, this is the second-best choice in the market. It is compact, and it is affordable, two very important features that we needed to have. Go ahead and explore the other amazing specifications.
Sale
Why Did We Like It?
Being smaller and compact in design, it is easy to maneuver and take from one side of the car to another while painting. This works very well if you have a limited workspace, and there is no such area for you to drag around a full-sized compressor. 
Another feature we appreciated a lot is that it dissipated heat easily. We wanted to paint for an hour, and the machine worked really well.  There was no damage to any delicate components inside because of too much heat. Thus this makes sure that the overall wear and tear are reduced to a great extent.
It is ideal for car painting and smaller tasks. A budget option which takes care of your specific needs, this device did what it was supposed to exceptionally well. 
What Could've Been Better?
It performed its work very well, and we have no complaints there. The only thing which was of hindrance was that it was only compatible with low volume spray guns. With a capacity of 6.2 CFM at 40 PSI, it cannot support anything higher than these guns.
Pros
Durable construction

Easy to maneuver

Fast heat dissipation

Ideal for smaller tasks
Cons
Compatible with low-volume spray guns only
This is one of the top-rated products currently available in the market. The Industrial Air ILA1883054 Belt Driven Air Compressor is one of the best selling products with its machine being super quiet while operating. You can easily continue a conversation while ignoring the noise even when you are standing next to it.
Why Did We Like It?
With a sound level at 78 decibels, this device makes less noise than its competitor models of the same tank size. To add to it, the machine is highly versatile and can be used for multiple purposes.
You can use the 120-volt outlet as it is, or you could convert it to a 240-volt application. Though the machine functions the best at 120 volts, you can still use it for a larger power need.
Further, the body of the machine is sturdy and constructed with hard materials. You can rest assured that it would not be affected by general wear and tear easily. It is also oil-lubricated for better durability and performance. At this price point, we should say that this device is an excellent option to have. 
What Could've Been Better?
The one drawback we found was that it takes time to recharge and refill. We spent 8 minutes filling up and reached 155 PSI, which is a long time, according to us.Though this bit is compensated by 2 minutes, which is the time taken to recharge from 90 PSI back to 155 PSI. 
Pros
Relatively quiet

Oil-lubricated for durability and noise reduction

Durable cast iron construction
With a 5 HP engine, this machine is made for the professionals out there. We loved the features that came with this giant device, and multiple users can use it at once. It lasted longer and was a boon to have when we wanted an air compressor for our workshop.
Sale
Why Did We Like It?
This device can actually fill up from empty to full capacity in 90 seconds, which is the shortest duration we have as of now. Along with it, the sound of operation is pretty much negligible and does not bother anybody around. With the 720 r/m slow pump, the device is indeed a quiet beast.
Further, the components used to make this product are of high quality and can fight the daily wear and tear better than most other devices. It is sturdy and will not let moderate external conditions determine its run time.
This machine comes with a two years warranty, which is excellent according to us and helps us keep calm while using this machine. We have been using it for around 50 days, and there is not a single scratch on the body.
What Could've Been Better?
This device has shown remarkable function and comes packed with a lot of brilliant features. But this also makes the product heavier, and that is one of its drawbacks. You cannot move the device much, or you have to buy a wheeled cart that can take it around. 
Pros
Patented Pump design used for a cooler Running Pump

Electric motor with Thermal Overload protection

Provided with a tank pressure gauge
Cons
Comparatively heavier than other products
Weighing just 24 pounds, the DEWALT Air Compressor is a powerful, lightweight machine that can be easily carried around when needed. The colors yellow and black are one of the most beautiful things about this product and immediately classifies it as Dewalt's.
Why Did We Like It?
We found the gadget to be extremely compact, measuring 15 inches wide and 19 inches deep. We needed to carry it up and down from one garage to another while working, and this feature was a boon.
Also, the compressor came with everything that could be needed from a tank pressure gauge to a regulation knob and gauge. The rubber feet that are provided help in absorbing the vibrations and leading to less movement. It also made sure that the machine leaves no marks on the surface it is placed on. 
The machine may look small but functions really powerfully. It does make some sound at a maximum of 71 decibels, which is not too much to wipe out your conversations if you are talking in the same room.
What Could've Been Better?
We have been using this product for eight months now, and the one issue we noticed is that the machine is showing signs of wear and tear. It is working well, but there is a slight decline in its functionality over time. This could be an issue if you are going to use the compressor for more extended periods.
Pros
Heavy-duty 1-gallon trim compressor

Equipped with a protective roll cage

Oil-free compressor

69-71 decibels
This is one of the most attractive devices on this list with a cage for added style and protection of the pump and motor. The protective cage surrounds the main motor giving this machine a chiseled look as well providing handles to pick it up.
Why Did We Like It?
The machine weighs only 23 pounds making it lightweight and portable. To move it around, the machine has two handles. It also comes with rubber feet to add to the convenience. We had to place it in the house once to work, and the rubber feet absorbed vibrations along with helping us leave no mark on our tiles.
Additionally, with a sound level of 72 decibels, the machine did not cause a ruckus in the house. We used it with ease, and our kids could sleep peacefully in the next room.
Also, the device houses a regulation pressure gauge and regulation knob as well as an air output connector. This covers everything that a compressor needs to function. This little guy has it all packed in its compact body.
What Could've Been Better?
This is an exceptional device and does all its work quietly. But the one problem we had with it was that it could not be used to fill tires. If you are planning to buy a device for filling tires, this one would not be appropriate. Other than that, it functions really well. 
Pros
Lightweight design

Low noise, ideal for indoor use

Low AMP draw reduces incidents of tripped breakers at start-up

Roll cage construction for extra protection
This is one of the quietest air compressors in the market. Now your neighbors will not complain every time you get to work. The sound is low enough not to reach them at all. The Campbell Hausfeld DC010500 is easy to carry around and is a treat to have in the garage.
Sale
Why Did We Like It?
This suitcase-style compressor is beautifully made to make it easy to hold and carry. The metal covering protects the tank securely inside. At 29 pounds, the product is lightweight while its handles add to the convenience. 
The size and the compact design make it easy to store this product in the garage; however, small it is. 
Also, it comes with a dual-piston pump system, which makes filling up the tank four times quicker. When there is a severe time crunch, this machine will be a boon. 
To add on, the parts of the machine are made with high-quality metal, and they are pretty durable and long-lasting. We have been using it for a few months, and the efficiency of the machine has not decreased. 
What Could've Been Better?
It took us a while to set it up in the beginning, and that process was time-consuming. This was slightly problematic and the only hindrance we had with this product. We recommend you to watch videos of how to set it up online before assembling it to make your work simpler.
Pros
Oil-free pump and induction motor

Revolutionary slim suitcase design

29 pounds in weight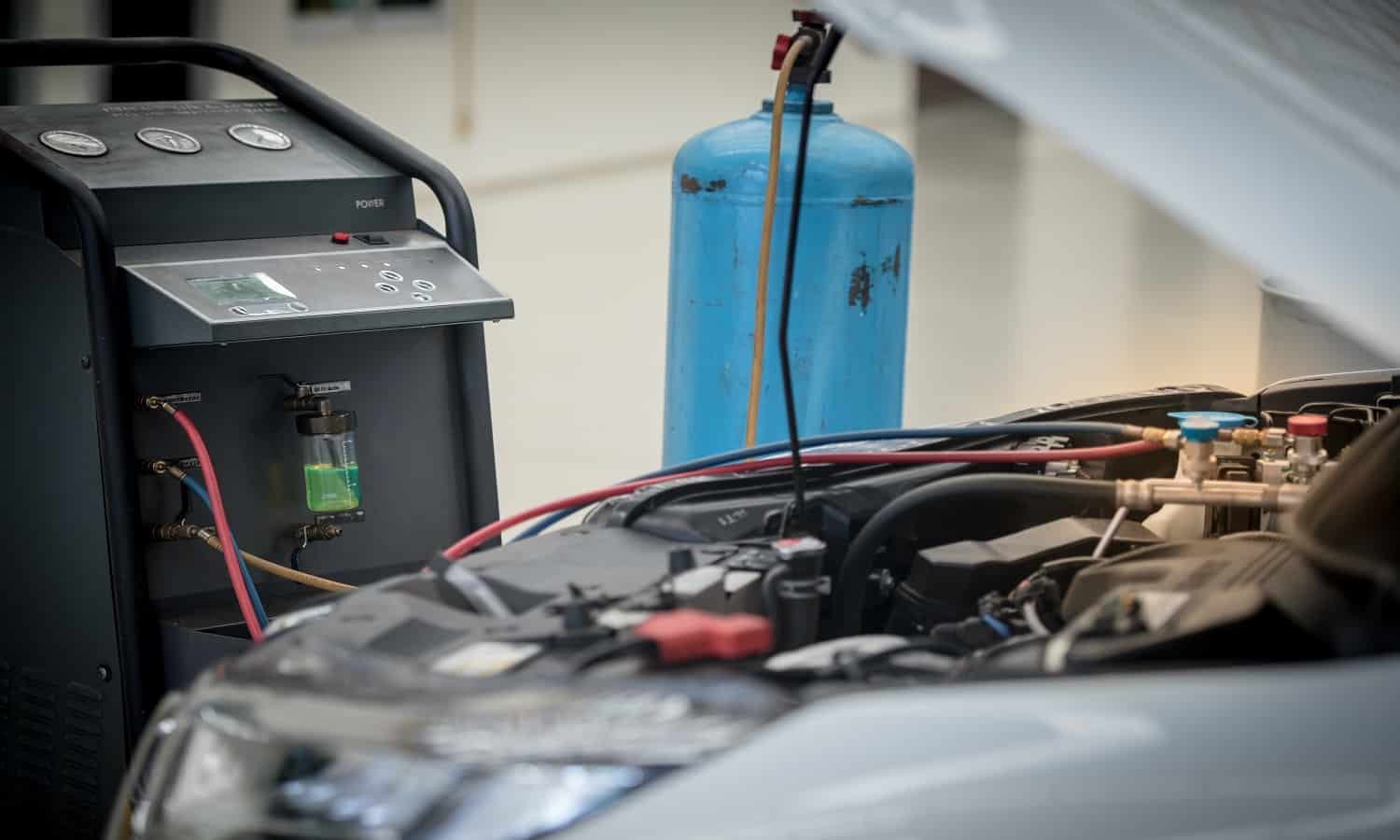 Buyers' Guide for Quietest Air Compressors
You are already well versed in the different types of air compressors in the market. A good air compressor can do wonders for your garage, but buying one which fits your exact needs is essential. We have noted down a few things you should keep in mind before purchasing a device. Read on to find out about them.
Noise Level
A very noisy machine can be a hindrance not only for your family but for your neighbors too. Also, with a noisy machine, you can only work at certain hours a day when people around you are awake. We suggest you look for a device which makes less noise.
If you are living alone or in a house with no nearby neighbors, you can still opt for a noisier device, which costs less. Anything above 70 decibels can be of distress, so keep that in mind and choose accordingly. 
Pressure And Volume
The pressure and volume are the most important things to be kept in mind. Heavy-duty tools will naturally require more pressure and a larger volume.
If you buy a smaller gadget with less pressure and try to use it to run power tools, the efficiency immediately gets decreased. So be careful while dealing with these two categories. 
Understand Your Requirements
Do you want an air compressor for filling up your tires? Are you looking to paint the house, and a product is needed for this purpose? Make a note of what you exactly want the device for. If you buy a random compressor based on its tire, it could be that it does not fulfill your needs. 
Some devices are smaller and cannot be used to fill tires. Be sure to check out the specifications before buying one.
Size Of The Tank
Do you want a compressor for smaller needs like using a nail gun? Or are you looking for one to paint? Depending upon your needs, buying a compressor with a smaller or bigger tank.
A small tank will suffice if you need it at intervals for smaller projects while a bigger tank is required in order to fill up big tires or to paint the house.
Portability And Weight
If you plan to move the device around a lot, do not settle for a large bulky machine. They may be more powerful but will make it extremely difficult to carry around. Always go for a small and compact device with handles, preferably, which makes it easy for you to carry it around.
Also, if you have bigger projects in hand but you also need the machine to be portable, go with one which has wheels attached. If not wheels, make sure there is a wheeling cart that will make the huge device easy to move.
Materials Used
A product may look fancy to you, but it has to work well to satisfy its purpose. Check  the materials used to build the body and valve. If cheap materials have been used, you will face problems in time with longevity.
They tend to get damaged faster, or parts corrode, and the machine dies. It is better to buy a device that may be a little more expensive but will last longer and has high-quality parts to boast of.
Cost
Make sure to find a good product at a good value. With budget constraints, you may go for a lower-end device, but if it causes a lot of issues when using it, does it really solve your purpose? Also, you may end up spending way more to get parts repaired.
Opting for a device that is reasonably priced and offers stable functionality is the best thing to do.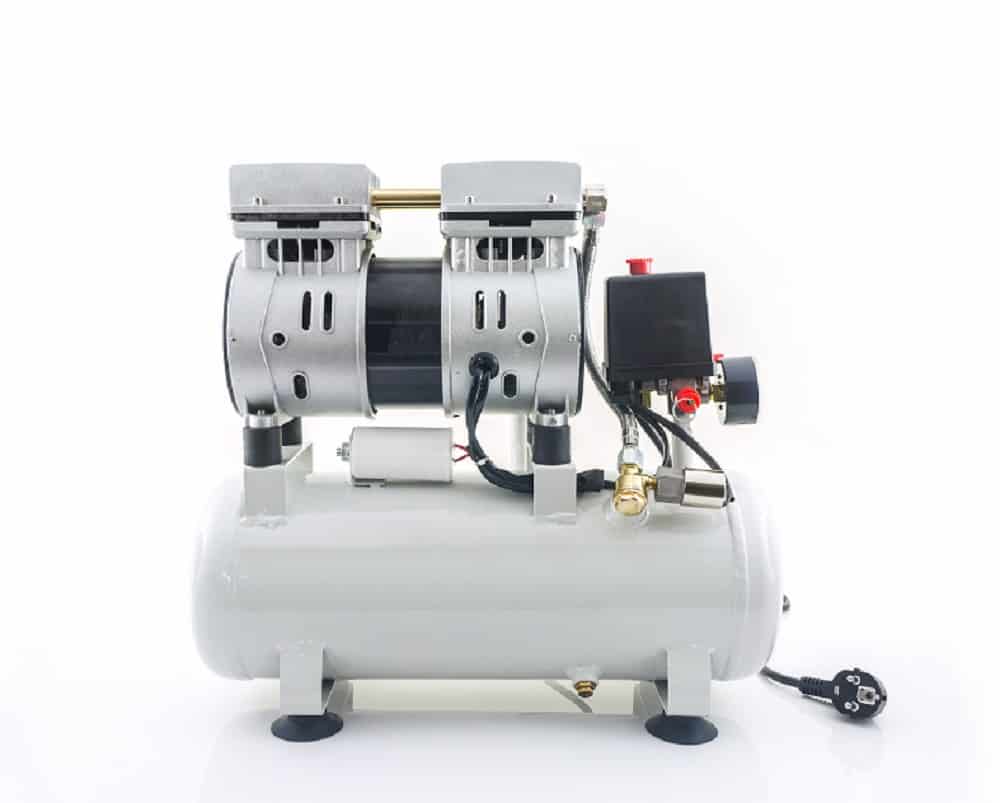 Verdict
We are at the end of this guide, and you are already well-versed with the best air compressors available today. Now, if we have to pick the best among the lot, here are our favorites.
Based on functionality, the Makita MAC2400 Big Bore 2.5 HP – 4.2 Gallon works amazingly well for larger projects and heavy usage. It can be used to fill tires as well as for nail guns. This is a complete all-rounder that we chanced upon.
The Senco PC1010 1-Horsepower Peak, 1/2 hp 1-Gallon Compressor, is a clear winner when it comes to a small and compact gadget that will work very well with smaller projects. Weighing only 20 pounds, you can take it around with ease.
It is time to hit the stores now. Happy shopping!
Related Articles
7 Best Beginner Airbrush Kits With Compressor 
5 Best Airbrush for Body Painting 
10 Best Paint Sprayers Reviewed
13 Best Air Compressors | Buyer's Guide and Reviews
13 Best Impact Wrenches Reviewed
10 Best Tire Inflators | Buyer's Guide and Reviews
10 Highest CFM Air Compressors of 2022 Reviewed
10 Most Powerful Leaf Blowers to Consider
8 Best Blowers For Drying Cars This Year
13 Brightest Light Bulbs For Garage 
10 Best Tire Pressure Gauges on the Market Today
10 Best Hand Cleaner for Mechanics and Grease 
13 Best 30-Gallon Air Compressor
Makita Mac2400 Air Compressor Review
10 Best 80-Gallon Air Compressor to Consider
13 Best 20 Gallon Air Compressors
13 Best Battery Chargers for Cars
13 Best Portable Air Compressor
How To Refill Co2 Tank with Air Compressor?
13 Best Quiet Air Compressor for Your Home 
10 Best 60-Gallon Air Compressors to Use 
13 Best 10-Gallon Air Compressors for the Buck 
10 Best Air Compressors For Impact Wrenches 
10 Essential Air Compressor Accessories You Need
10 Best Air Compressors For Nail Guns
9 Best 6 Gallon Air Compressors for Your Home & Garage
13 Best Finish Nailers for Woodworking 
13 Best 60 Gallon Air Compressor 
12 Best Gas Powered Air Compressor for the Buck in 2022
13 Best Electric and Propane Heaters for Garage
12 Best Bi-Directional Scan Tools