When it comes to measuring, precision is key, be it in distance or thickness; nearly every field calls for high levels of accuracy.
In environments where the slightest fractional difference can determine success or failure, these precision instruments are an essential tool. For measuring out ingredients or materials, there is nothing that comes close to using a precision scale to get the readings you need.
With so many variants to a precision scale on the market, how can one find a suitable model for their needs? Worry not, dear reader. We have included the absolute best scales available as well as a guide, so you can get the accurate readings you need.
Now, that being said, let's get right into it!
Best Precision Scales
IMAGE
PRODUCT
DETAILS

Our Top Pick

Our Top Pick

Nicewell MQD-C018

High-precision load sensors
Tempered glass and stainless steel design
Tare function

VIEW LATEST PRICE →

Etekcity

Includes temperature sensor and alarm
Detachable stainless steel bowl
Vivid blue backlit display

VIEW LATEST PRICE →

Nicewell Food Scale

0.1 oz. to 22 lbs measuring range
Digital meat thermometer included
Four load sensors

VIEW LATEST PRICE →

OXO International

Removable measuring platform
Unit conversion button
Stainless steel construction

VIEW LATEST PRICE →

Framar

Tempered glass top
Precision tare button
Up to 11 lbs weight capacity

VIEW LATEST PRICE →

MEGAWISE Digital Kitchen Scale

Two power supply options
33-pound weight capacity
Lasts two months on one charge

VIEW LATEST PRICE →

Greater Goods Kitchen Table Top Scale

Single sensor model
Four units of measurement
11-pound capacity

VIEW LATEST PRICE →

Geekclick Food Scale

22-pound capacity
Two-minute auto-off feature
Dedicated unit conversion button

VIEW LATEST PRICE →

Geekclick Kitchen Scale

Stainless steel and tempered glass construction
Four units of measurement
22-pound weight capacity

VIEW LATEST PRICE →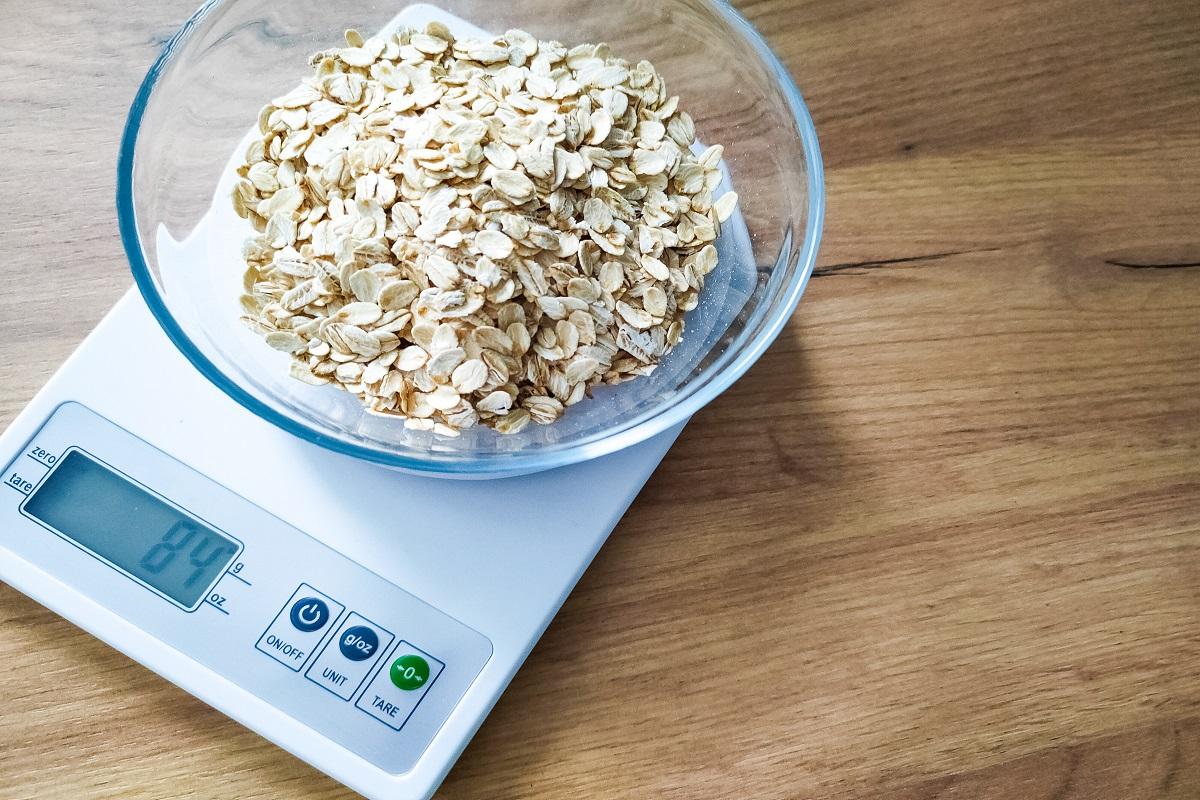 This Nicewell digital scale is an easy-to-use precision scale to serve all your precise measurement needs. The scale measures accurately and has a tare function that makes it perfect for a digital kitchen scale. With four high-precision load sensors and a stainless steel platform, this is a complete package as far as digital scales come.
Why Did We Like It?
Being a digital kitchen scale, this Nicewell precision scale features a backlit LCD display that has multiple units for easy conversion. It is easy to change the units on display from the standard American ones to other units of measurement, like kilograms.
Additionally, there is a tare button to easily subtract the weight of a mixing bowl or container and get an accurate reading. This feature comes especially in handy when measuring food and other high-precision items.
Another handy feature is a low-maintenance design that is fingerprint-resistant while being durable. A stainless steel platform prevents items from sticking to the scale and makes cleaning a breeze using just a damp cloth. The tempered glass layer underneath also helps to bear the load for larger measurements.
What Could've Been Better?
Although there is an auto-off function that comes in handy for preserving the battery, it tends to switch the unit off quite quickly. This feature can become a minor inconvenience while cooking or going through a recipe, as you have to turn the scale back on after every few minutes.
Pros
Easy to clean

Highly sensitive sensors

Multiple measuring units

LCD screen
Etekcity has designed this multi-functional and versatile scale to measure both liquids and solids. A uniquely designed stainless steel bowl is attached to provide high precision measurements no matter what material you are measuring. Using strain gauge sensors and a clear LCD screen, the EK4150 makes for an excellent scale with various applications.
Why Did We Like It?
One feature that stood out in the EK4150 was the storage method when not in use. The scale turns into its own storage unit by using the bowl as a cover. Placing the stainless steel bowl upside down on the scale will protect it while being stored away.
Furthermore, the scale features an alarm and built-in conversion on the display to help speed up the cooking process. Having a bowl attached to the scale helps the tare calibration weights to provide accurate measurements in liquid and solid materials. The timer feature is also handy to notify you when preparing dishes without a separate timer.
Another outstanding feature is the LCD screen having a backlight, meaning it is easy to read no matter the lighting conditions. A built-in unit converter also helps make adjustments to get measurements as accurately as possible.
What Could've Been Better?
Where most scales require the user to manually input the units the scale should be measuring, the EK4150 does this autonomously. However, this can become counterintuitive as getting measurements in ounces for anything above 16 ounces is impossible; the scale will convert it to pounds.
Pros
Smart units display

11lb/5 kg capacity

Convenient storage

Solid and liquid measurements
Cons
Measurements limited to a pound
Packaged with a digital meat thermometer, this food precision scale from Nicewell is a perfect tool to keep around the kitchen when preparing meals. Sporting a durable metal body design that is quite spacious,  it can accommodate and measure a large number of materials with precision and ease.
No products found.
Why Did We Like It?
Measuring out liquid or solid materials is a seamless experience when using this Nicewell food scale. With a metal body, the scale is easy to clean and has a high load capacity. Even heavier or more robust materials will not damage the measuring platform so that it can have an extended lifespan.
High-precision load sensors also allow the scale to give a fast and accurate readout in g, kg, lb, oz, fl.oz., or ml. The tare function and durable design allow this digital scale to accommodate wet and dry ingredients alike.
Furthermore, the control panel has a wide range of information besides the actual weight readout. There is an overload alarm and a low battery alert so that you can stay on top of maintenance. However, with its maximum 22-pound weight capacity, this shouldn't be too much of an issue.
What Could've Been Better?
This Nicewell scale has a metal body construction, so it is easy to see why it has a hefty weight. While carrying it around or getting it out of storage is not difficult, the extra weight may be a minor inconvenience to some users.
Pros
Wide measuring range

Dedicated tare button

Water-resistant

Durable metal body
This precision scale from OXO International has several great features that make it a standout for measuring ingredients and materials quickly. A large digital screen and pull-out LCD display make it a contender as one of the best precision scales today.
Why Did We Like It?
Although this precision scale already has a large area for placing material, OXO International has increased the effective area by including a pull-out feature on the display screen. Usually, large bowls and plates cause the screen to become shadowed, making readings challenging to see. This makes it much more convenient to use the scale even if you need a larger area than what is provided.
Furthermore, the weighing platform can be removed to make cleaning more accessible. And as it has a stainless steel construction, wet or sticky materials can be wiped off or washed away with a damp rag. Another benefit of having a stainless steel design is reducing the number of fingerprints and smudges on the scale between cleans.
Another feature that increases the OXO precision scale functionality is a dedicated button for unit conversion. Switching between oz, lb, g, or kg is tactile so that it won't be accidentally activated.
What Could've Been Better?
One slight caveat to using this scale is the half-second delay that it takes when the material is added or taken away from the platform. This forces the user to pause between adjustments to ensure the correct amount is being measured out.
Pros
Smudge-resistant platform

Pull-out display

11-pound weight capacity

Easy maintenance
An elegantly designed scale from Framar, the 0203 is both stylish and accurate, with a tempered glass platform and bright LCD display. With a low-profile design, it is easy to store away when not in use and is lightweight to allow for easy transportation.
Why Did We Like It?
Using tempered glass as the base for the measuring platform, the Framar precision scale has an easy-to-clean design that is practical for various uses. It can withstand up to 11-pounds and is low-maintenance, only needing a quick wipe-down to get it clean.
Powered by two AAA batteries, the scale will power off after two minutes of inactivity. This gives the user more than enough time in between measurements to prepare ingredients without having to pause and turn the scale back on.
Additionally, the scale features a dedicated conversion button to switch between three units. Grams, pounds, and ounces give a range of measurements to work with and provide total accuracy with graduations of 0.05 oz at a time.
What Could've Been Better?
While the range of units that the Framar precision scale comes with is quite precise, it is limited to only three units. This simplification of units does restrict it if you are looking to measure a particular amount of material.
Pros
Easy unit conversion

Slim and lightweight design

AAA batteries included

Two-minute auto-off
Cons
Only weighs in oz, g, and lbs
Megawise, as the name suggests, is a brilliant piece of equipment that provides accurate results every time. Apart from its functionality, this sleek and modern digital scale goes well in any contemporary style kitchen.
Why Did We Like It?
From its sleek design to its functional aspects, the Megawise Digital Kitchen scale is modern through and through. First off, this product comes in a light white color and is made of sturdy tempered glass that is easy to maintain over time.
An LCD screen, tare, and unit button are conveniently located on one side of the horizontal screen so that you can look at the measurements and change the units with ease. The scale itself has four precision sensors that take accurate readings from 1g to 33lbs, making it versatile in the amount of material it can measure.
Furthermore, there are dedicated buttons for both the unit conversion and tare function, so the user interface is quite intuitive and easy to use.
What Could've Been Better?
A slight inconvenience to using a digital control panel is the accidental touch that occasionally happens. When working with wet material, the probability of having a "ghost touch" increases. While it is not a deal-breaker, digital controls are a factor that should be considered for this precision scale.
Pros
Five weight units

Horizontal screen design

Tare function

Tempered glass platform
This kitchen scale from Greater Goods is trendy and accurate in measuring ingredients to the slightest gram. Preparing meals and portioning out ingredients is much easier; from the bright LCD display to the intuitive and straightforward user interface, the Greater Goods kitchen scale is a solid choice for any kitchen.
Sale
Why Did We Like It?
Whereas other food scale models use multiple calibration weights, the Greater Foods kitchen scale uses only one. This increases the accuracy by having the total weight of the material measured on one axis. As a result, the scale is able to detect the slightest changes in weight, with a total of four different units of measurement.
Additionally, the scale has a beautifully minimalist design that blends into any kitchen decor. The body is also sleek enough to be easily stored out of sight when not needed. No longer will a singular scale stand out and take away from the overall aesthetic of the kitchen.
What's more, the measuring platform and body of the scale are low-maintenance. They can both be used and cleaned easily without worrying about sticky materials leaving marks and stains.
What Could've Been Better?
While the precision scale itself is accurate, the measuring platform does not offer much in terms of measuring real estate. It is narrower than the body of the scale, meaning large bowls or plates tend to shadow the display. A pull-out screen or larger platform would have been a welcome feature to have.
Pros
High-contrast LCD

Easy-to-clean

Sleek and modern design

Slim profile
Whether you are baking, cooking, or simply prepping for meals, the Geekclick scale is a valuable tool to keep on hand. With the high precision load sensors, accurate measurements are taken in no time at all. The large LCD display is backlit as well to help you read out measurements in any lighting condition.
Why Did We Like It?
Right off the bat, the control panel on this Geekclick scale has a user-friendly layout that is easy to understand. In particular, there is a button specifically for unit conversion, allowing you to measure in the unit that you need. The scale will not automatically change units when a specific weight limit is reached, which makes following recipes much more effortless.
Another handy feature is the durability and ease of use that the scale has. As it is made of robust stainless steel, cleaning is straightforward, and staining is pretty much non-existent.
Storing the scale away is made easy as well, thanks to the attached hook on the underside of the unit. With the slim profile, it lies flush against the wall and stays out of the way until you need it.
What Could've Been Better?
As is the case with several scales that use a touch-sensitive control panel, this Geekclick scale is prone to ghost touches. When measuring out ingredients, moisture or spilled material can cause the buttons to activate at the wrong time. This minor inconvenience isn't a deal-breaker, just an occasional instance that could have been solved with physical buttons.
Pros
Stainless steel platform

Tare function

Blue backlit display

Attached hook design
Made from two of the most durable materials in kitchenware, this Geekclick kitchen scale has a solid build that will last you a while. Maintenance is also much easier thanks to the robust nature of these materials. Not to mention the incredibly hefty 22-pound capacity, it is sure to meet any meal prep measurement needs.
Why Did We Like It?
Equipped with four unit measurements, this kitchen scale has a dedicated button to switch between them depending on your needs. It measures in one gram increments, so there is as much accuracy as possible when adjusting ingredients on the platform. The sensors in the scale have been upgraded as well to give a faster readout as elements are added or taken away.
Besides, the scale features three modes for measuring out different mediums. There is a standard weight mode, a water mode, and a milk mode. Each mode is calibrated to accurately measure that specific medium to provide the best performance and versatility possible.
Of course, Geekclick has added a sharp LCD display screen that can be seen in various lighting conditions. This screen can also be put on a two-minute timer to preserve battery life and consumption.
What Could've Been Better?
One addition that would have been welcome in the control panel of the Geekclick kitchen scale is a dedicated button for the tare feature. While there is a button for unit conversion, the tare option is part of the power button, which is already used for the auto-off and turning the scale on and off.
Pros
Fingerprint and smudge resistant

One gram increments

Auto-off feature

Lightweight design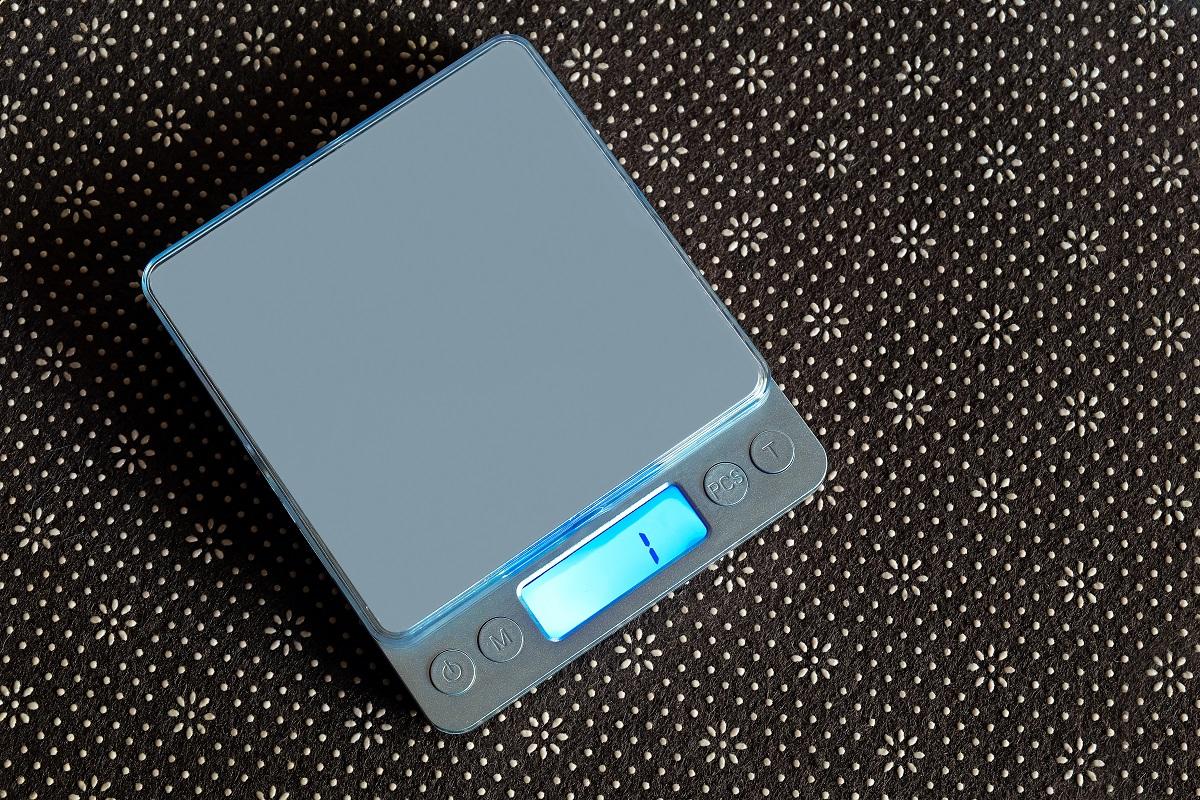 Precision Scale Buying Guide
Before you get into ordering a precision scale, there are a few things that you should keep in mind in order to get the best performance out of it. There are so many features and models from various manufacturers, so it is essential to know precisely what you should be looking for on a scale.
To highlight a few essential factors in the selection of precision scales, here are a few facets to consider.
1. Types Of Precision Scales
A. Tabletop
Usually, these types of scales are kitchen scales and are some of the most commonly seen precision scales. Some of these scales come with a container attached to the unit to help weigh out wet and dry ingredients alike. Otherwise, a separate bowl or storage container may need to be used alongside the scale.
Whether you are baking or simply brewing coffee, these food scales are able to accurately measure out the required amount of ingredients. Essentially, a tabletop scale is the perfect option if you are looking for kitchen scales and regularly engage in cooking.
B. Pocket Scales
As the name suggests, a pocket scale is a compact version of a precision scale. Being so portable, a pocket scale is ideal for making measurements on the move or for easy transportation. Of course, being so small, the scale will not have many advanced features like a tare or having a container for measurements.
2. Design
Depending on the construction of the scale, the net weight that the weighing platform is able to support can vary. Durability and maintenance are also affected by the materials used in the design of the scale.
The weighing platform is an essential component of the scale, as most tasks that involve measuring use the platform as a base. This is why having an adequately sized platform is critical. After all, if you don't have much space to measure, then the scale won't be as functional as you would have hoped.
Another important feature to look for is anti-skid padding, which secures the entire unit and prevents it from moving while adjustments are made. By stabilizing the scale, it is able to take measurements more accurately. The more accurate the tool, the better performance you can get out of it.
Furthermore, if weight is a consideration, then you may want to opt for a hefty and robust or lightweight scale. Compared to other scales, the weight of a robust scale usually has a higher net weight capacity. On the other hand, lightweight scales like glass scales may have a lower capacity but are easier to transport.
Digital scales offer a backlit display to give the readings to the user. For the absolute best in terms of functionality, then a pull-out display is the way to go. The benefit of having a pull-out display is being able to measure large items without it blocking the display while taking measurements.
3. Power Supply For Digital Scales
With the development of technology, today scales usually run on battery power or use a USB connection to function. While a battery-powered scale is dependent on the battery life, a USB is able to run so long as it remains connected. Additionally, the battery life of a scale is determined by how power-efficient the scale is, which can be considered a maintenance factor in the long run.
4. Weight Capacity
When looking for the best precision scales, a high weight capacity does not always equate to better performance. The minimum capacity should also be considered, as it tells how accurate and precise measurements the scale is able to detect.
Of course, maximum weight limits are essential for weighing out heavier items; however, the maximum capacity is not always needed for regular, everyday use. Weight limits should only be considered if you plan on using the scale for an extensive range of materials and measurements.
5. Advanced Features
A. Auto-Off Function
The purpose of an auto-off function is self-explanatory. It will turn the scale off after some time in order to preserve battery life. An auto-off runs on a timer, so this feature may be a minor inconvenience if you take too long every time you measure ingredients.
B. Tare Function
One of the most common features found in precision scales is a tare feature. This setting will negate the weight of the container holding the material to be measured from the overall weight it detects. As such, it is incredibly useful for measuring fine or wet ingredients in a container without making a mess.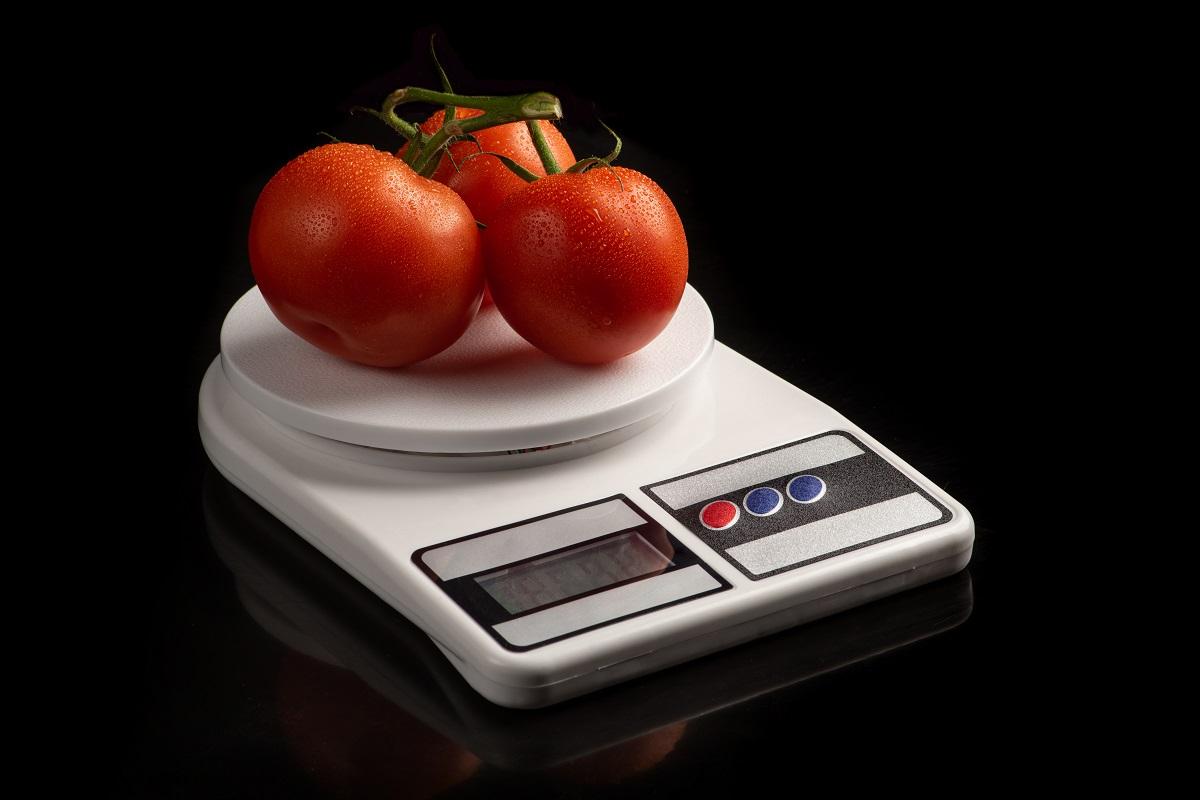 Verdict
With that, it is safe to say that you are now more equipped with the knowledge to get the correct amount no matter what you are measuring out.
Our top choice has to be the Nicewell, being the best all-rounder in terms of durability, accuracy, and functionality. However, the Etekcity and Nicewell Food Scale are worth looking into as well, with high-quality performance and build to match.
These precision scales come in handy for a simple weigh-in of ingredients when following a recipe or preparing a well-portioned and healthy meal. As the famous saying goes, measure twice, cut once; you will be cutting down on those pounds in no time with these handy scales by your side!
Related Articles 
11 Best Precision Screwdriver Sets
5 Common Tools to Measure Distance
5 Best Split Beam Torque Wrenches
11 Best Precision Screwdriver Sets
11 Best Screws For Particle Board