Barns are a staple of the average homestead or farm. You need a barn for multiple purposes. Either it is to store your produce of grain, or to keep the livestock fodder dry and safe. Or you need space to keep the livestock itself, if not the tractor that you use on your farm. Barns are large enough for storage yet small enough to not take too much land space.
What is also great about barns, and especially pole barns, is that they aren't too difficult to make. Unlike other structures, they do not require an elaborate planning or understanding of architectural techniques. It also helps that most of the barn on the inside is pretty empty.
But, what is required for building a barn is the know-how, both while constructing and before constructing. Which is why following detailed architectural plans for building pole barns is important. Thankfully, there are 163 plans included here for you to choose from. From books, to videos, pdfs to articles, there is enough research material to get going with.
If you`ve found the pole barn plans below interesting we invite you to check various other free woodworking plans, we have curated lists that will show you how to build a small cabin, greenhouse, porch swing, fire pit, garage, cat tower, a rocket stove, tiny house, duck house, deer stand, bat house, diy tree house, cat tower, porch swing, farmhouse table, rabbit hutch, diy dog bed, a playhouse, a chicken coop, a coffee table or a gazebo.
Do it yourself projects are something else entirely, we all know how rewardful the end result of a craft can be and happily the internet understood this beautiful act and we today have thousands of step by step tutorials and projects with detailed instructions to use, the collection presented below for example contains no less than 16,000 woodworking plans, and no, that`s not a typo, they are literally thousands in one place, 16 of them to be exact.
If you`re just starting out, having a detailed step by step tutorial might help you a great deal and keep in mind that you can always add your own twist when it comes to woodworking projects, wood is an extraordinary material that allows mistakes and invites creativity, it is perfect for amateurs and enthusiasts alike.
In the package bellow you will find plans for multiple types of wood project such as barns, greenhouses, cabins, sheds, chicken coops, desks and even ducks and goat houses, you ought to find pretty much every woodworking project that you need, in one place.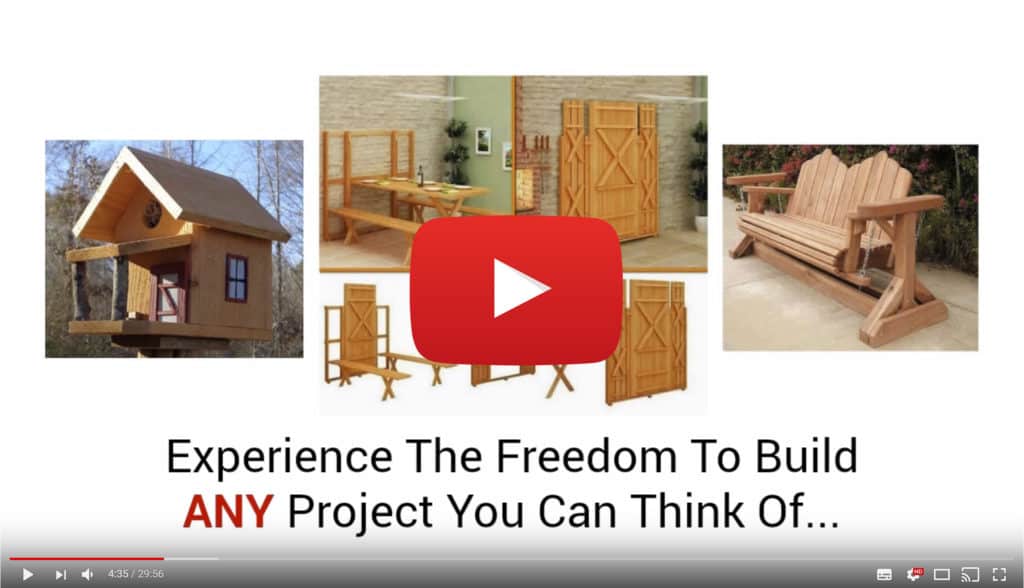 CHECK IT OUT
More on pole barn projects after the break!
Free DIY Pole Barn Plans and Designs That You Can Build Easily
Pole Barn Building Series
If you're someone who prefers a more audio-visual tutorial and think it will be easy to grasp the concepts by observing them in real time, then this series of videos on how to construct a pole barn will be the perfect fit for you. It also helps that the person who made the video is someone who has done it before and works on a homestead.

How to Build a Pole Barn Pt 1 – Site Prep & Layout
How to Build a Pole Barn Pt 2 – Digging Holes
How to Build a Pole Barn Pt 3 – Setting Posts
How to Build a Pole Barn Pt 4 – Banding & Bracing for Trusses
How to Build a Pole Barn Pt 5 – Setting Trusses
How to Build a Pole Barn Pt 6 – Sheeting & Wrapping
How to Build a Pole Barn Pt 7 – Metal Roofing
How to Build a Pole Barn Pt 8 – Cost, Materials, and Closing Thoughts
Iowa State University Fifteen Barn Plans 1-15
Iowa State University has been a great resource for architectural plans that people can procure on the internet. Whether you're looking for plans to build a mansion, or plans to build a cabin, or in this case plans to build a barn, the ISU database has enough information for you to get started. Their website has fifteen plans for building pole barns, with a lot of pictorial references attached.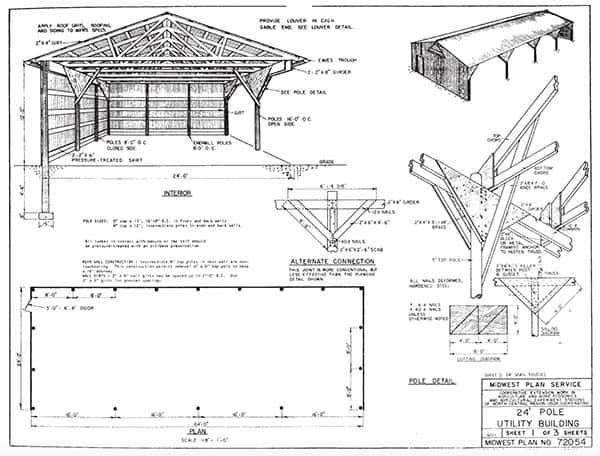 More details at public.iastate.edu 
Iowa State University Barn Plans 16-29
As mentioned earlier, Iowa State University has a plethora of architectural plans at its disposal, freely available for perusal by the public. So, they provide fourteen plans for big grain storage containment complexes for large homesteads.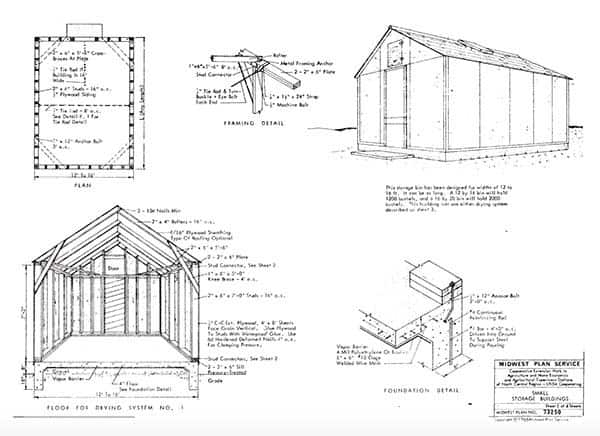 More details at public.iastate.edu
Comprehensive Barn Plans 68-85
Sometimes, a pole barn isn't used just for storage of supplies or for vehicles. Sometimes, you need a barn large enough to turn it into a stead for your livestock, with its own elaborate inner mechanism and partitions. For this very purpose, this guide has eight plans to choose from.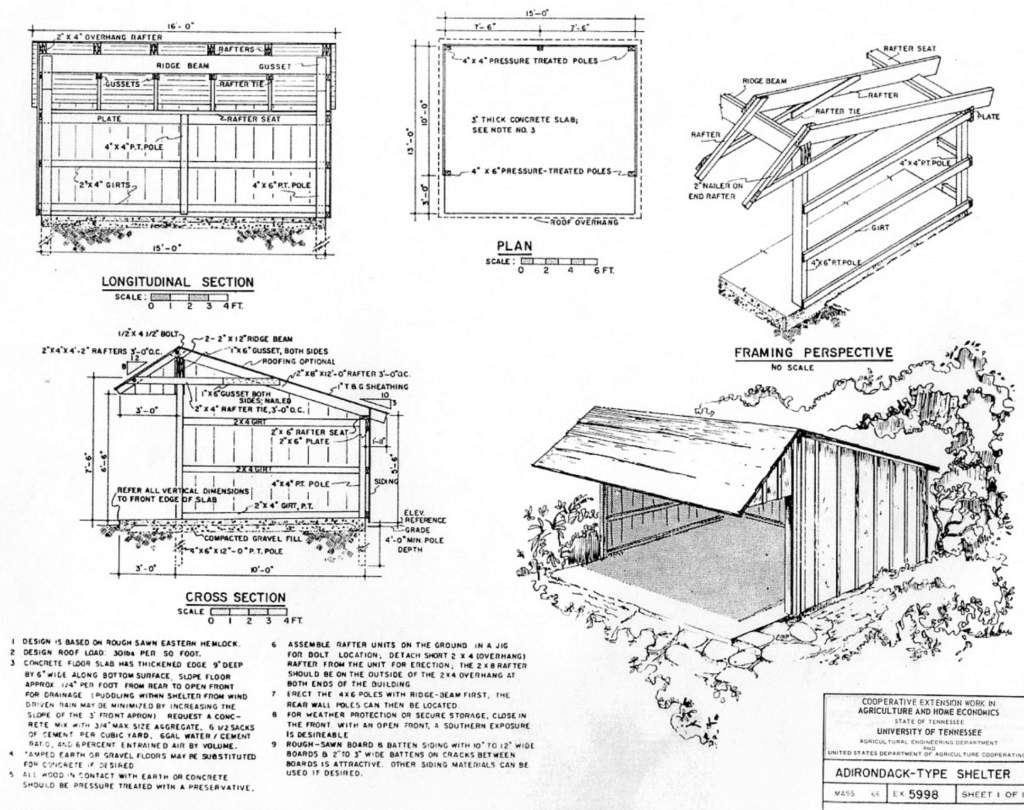 More details at heartlandpermacolumn.com 
The Detailed Barn Building How-To Guide
It can be quite a strenuous exercise, building something from scratch. There is just so much to consider when doing something of this sort all on your own. What if you make a mistake here or a mistake there? Will the entire thing collapse? Will you have to redo it? This guide answers all your queries and calms your qualms by covering all such worries. Moreover, the pictorial aid only adds to the effectiveness.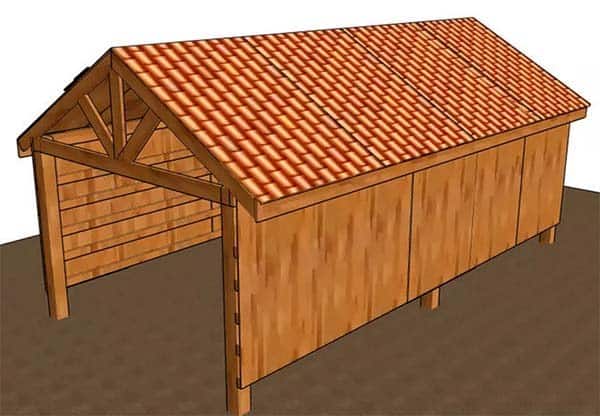 More details at wikihow.com
The Simple Pole Barn Plan
Homesteads are all about self-sufficiency, and a big part of being self-sufficient is cost management. What is great about this how-to article is the fact that it details how it can be really economical to build your own pole barn for storage if you make some smart decisions while constructing it.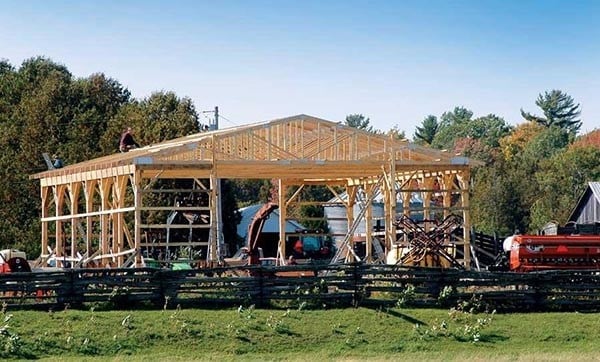 More details at motherearthnews.com 
The Low-Cost Pole Barn Construction Manual
This is a how-to guide that eases beginners through the process of pole building. This book is great also because it focuses on low-cost construction. Once you read the book, you'll be ready to build your own pole barn in no time and on a budget.
More details at ana-white.com
University of Tennessee Barn Plans 45-67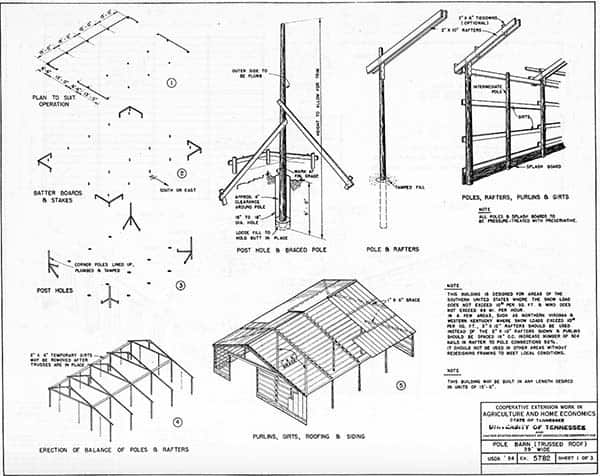 The University of Tennessee has a very comprehensive pole barn building guide for free usage. Providing the do-it-yourself enthusiast with twenty three options, it ensures that you don't have to stick to just one design and can mix and match and experiment to your heart's delight. Aesthetics matter, after all.
More details at bioengr.ag.utk.edu  #General Barn and Utility Shed Plans
Canadian Storage Barn Plans 100-109
There are some really lovely pole barn plans in here, both traditional and non-traditional. These Canadian building plans are for both animal steading and for grain storage, and even for tractor and other machinery storage. They have some lovely designs with ample details for you to start building.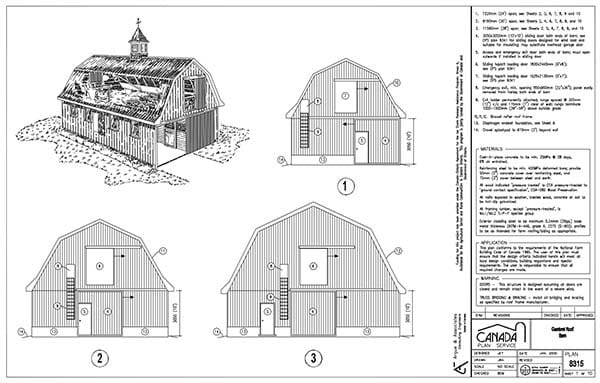 More details at cps.gov.on.ca
The Pretty Barn Guide
These plans for a traditional yet very appealing pole barn are a little too complicated for novices and intermediate barn builders. They have a few bemusing details that will baffle the reader. But, an experienced eye will understand these plans better and if you aren't the latter, you might want to ask someone who is and get to the job of building the plan.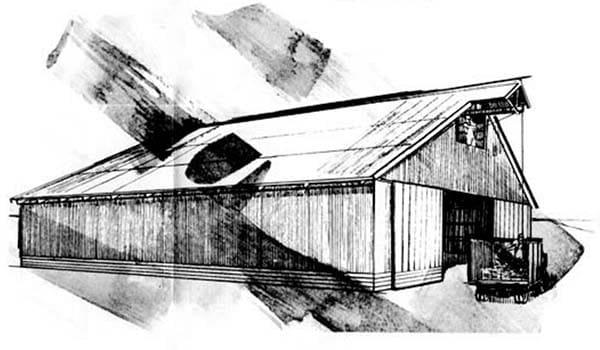 More details at cobblumber.com
The Equestrian And Storage Barn Plans
These plans for making a pole barn a little elaborate and cover designs and needs. Dealing with both equestrian and livestock barns and also vehicle and grain storage, the options are comprehensive and the drop down menu on the website will take you through the process in a very simple way. These plans are great for both small-scale farmers and homesteaders and for ambitious professionals with an eye for a large barn area.
More details at buildyourown.ws
The Cosy Pole Barn Plans
This is a pretty looking barn which is sufficiently large enough for most users. It comes with a free to use plan which is comprehensible for builders of all skill levels. Lovely to look at and easy to make, this is worth considering as your option.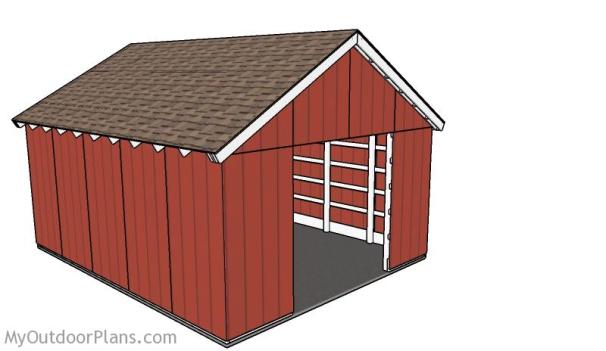 More details at myoutdoorplans.com
The Garage Barn Plans
This plan is for a beautiful garage barn build. It is large enough to fit vehicles and naturally spacious enough for storing your produce. It is sturdy and has multiple doors and looks neat while doing what it is meant to. Plus, the plans are detailed enough and simple to follow.
More details at todaysplans.com
The How-To Barn Build Tutorial
Building a structure is just not about the wood and brick and the shape of it. It is also about the preparation before you get to the actual building part. It is about the soil it will stand on, and the very foundation that will ensure it remains intact. This guide helps you through all that with thirty one steps that make sure you are absolutely prepared to build a barn on your own.
More details at pole-barn.info 
Monte Bunch's Barn and Outbuilding Guide
Monte Burch's How To Build Small Barns & Outbuildings is a comprehensive guide. With twenty plans detailed in the simplest of instructions, this professional guide is a wholesome read.
The Half Open Barn Style Plan
This particular guide does not offer you a variety of plans, but where it lacks in diversity, it makes up for with meticulously gathered information. The plans for building this pole barn are very finely drawn and the barn itself can be custom used for several purposes.
More details at cps.gov.on.ca 
The Small Barn Shed Plan
There is enough detail for you to go with when building this particular 12 by 16 barn. The plans provided take into consideration different storage ideas, such as livestock steading and grain storage. They are free to use and come with a list of materials you will require to build this pretty looking barn on a budget and in small amount of time.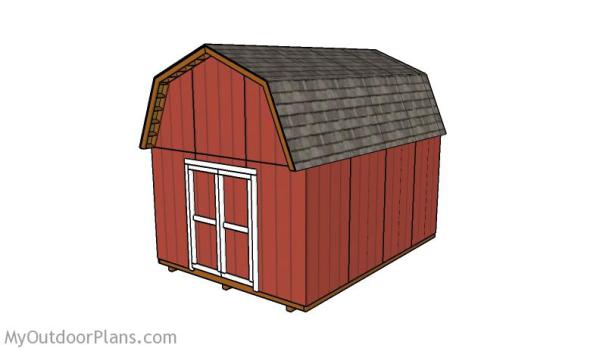 More details at myoutdoorplans.com 
Hundred Paid Pole Barn Plans
These list of plans are not free to access, but with a minimal purchase fee paid, you can peruse a hundred comprehensive pole barn plans that cover everything from barn sheds, garages and workshops. If you think you are willing to spend a little extra cash on procuring these plans, then you should definitely go ahead and buy them.
More details on shed plans, barn plans, garage plans and workshop plans can be found on BackRoadHome.com
LSU AgCenter Plans For Pole Barns 116-153
The LSU AgCenter is most gracious in its efforts to help people build barns on their own. The list of plans are very detailed and cover barn usage of all types. What more would you need from this guide? Well, for one, it provides thirty eight plans, and that number is enough for you to choose from.
More details at lsuagcenter.com
The North Dakota Pole Barn Plans 86-92
North Dakota State University has a number of elaborate plans for all sorts of house building. They are comprehensive and simple to follow and cover everything that needs to be covered before you get onto the task of actually building something. Pole barn plans are a natural inclusion herein and the university provides seven plans for your perusal.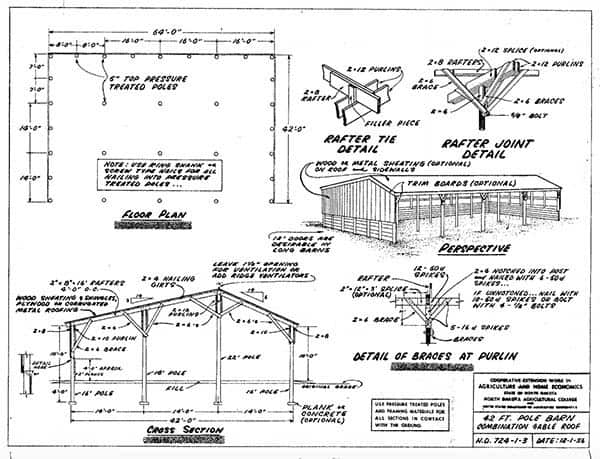 More details at ndsu.edu
The State of Oregon Barn Plans 30-42
The State of Oregon is very generous in providing free to use barn building plans for the common man. From six plans for traditional pole barn designs to more modern looking and size varying designs, the State of Oregon free barn building plans are sufficient and detailed.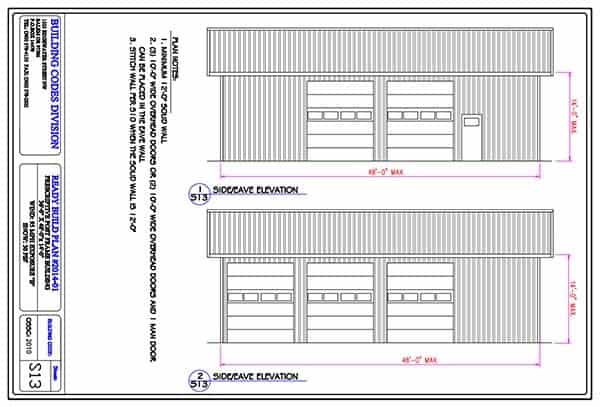 More details at cbs.state.or.us
The Garage, Livestock and Grain Barn Plans 96-99
DIY pole barns come in all shapes and sizes, and sometimes they aren't all too traditional in their make. This particular barn is more of a large house type than a standard pole barn. But, it is as effective as any barn with the additional advantage of looking great.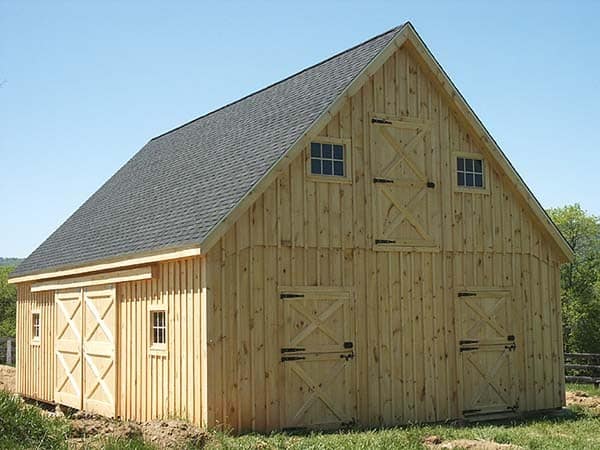 More details at barntoolbox.com
The Sixteen Thousand Woodworking Plan Guide
This guide is quite the overkill, but yes, an overkill that only benefits you. I know more is merrier in most cases, but this is one guide that will leave you spoilt with options. The designs included in this guide are elaborate and come in myriad shapes. So much so that there are a total of 16,000 plans in it. But, yes, all these plans are not just for pole barns. It is a ginormous woodwork guide that covers every type of furniture. So, wouldn't it be great to get this? You could use it to make other stuff later on.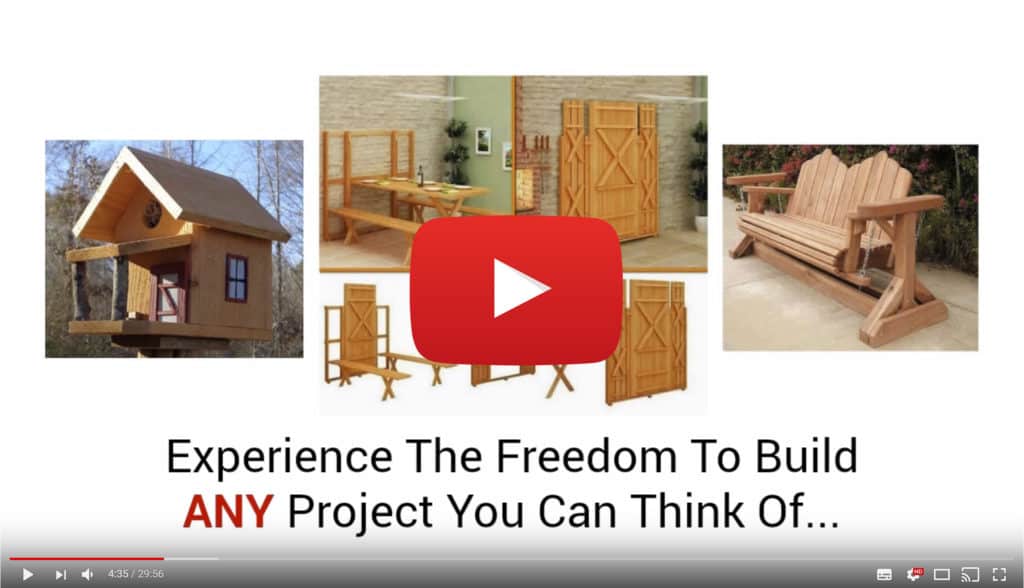 More details at Homesthetics
The Large Shed Barn Plan
It's a beautiful shed with a very spacious design. Adding to the functionality of it are motifs that bring a more aesthetic appeal to the barn. The storage areas are sufficient for grain and hay storage but can also be used for other purposes. Plus, the plans for it are pretty simplistic.
More details at barntoolbox.com
So, are you ready to take on your own DIY pole barn project? Do you have any new designs that have come to your mind poring through these plans? Perhaps you have a hybrid in mind. These plans are inspirational and educational at the same time and I believe they will be more than sufficient for you to embark on this endeavor.
There is, after all, a beautiful sense of satisfaction in making things on your own, right from scratch. The experience is rewarding and you get to master a skill that you had never thought of even trying before. It helps you in building more things and keeping your mind busy and productive, and maybe teach others how to do it too.
So, whatever your purpose of building a pole barn, I hope you succeed in it and succeed fashionably.
Related Articles
30 Portable Chicken Coop Plans You Can Easily Move
Barndominium 101 | Floor Plans, Pricing Guide & Pictures
57 DIY Chicken Coop Plans in Easy to Build Tutorials – 100% FREE
47 Free DIY Swing Set Plans for a Happy Playing Area in Your Backyard
49 FREE DIY Router Table Plans For an Epic Home Workshop
43 DIY Duck Houses Plans and Duck Coop Plans to Build Now
57 DIY Bookshelf Plans and Ideas For Healthy Home Libraries
163 Free DIY Pole Barn Plans and Designs That You Can Build Easily
37 Free DIY Tiny House Plans for a Happy & Peaceful Life In Nature
27 Insanely Cool DIY Rocket Stove Plans for Cooking With Wood
39 FREE DIY Bat House Plans to Shelter the Natural Pest Control
19 Adorable Free Cat Tower Plans For Your Furry Friend
23 Awesome Free Deer Stand Plans You Can Start Right Now
13 Epic Free Rabbit Hutch Plans You Can Download & Build Today
23 FREE Detailed DIY Garage Plans With Instructions To Actually Build
101 Simple Free DIY Coffee Table Plans
The Rise of Barndominiums and Why You Should Buy One