Commonly people confuse patio pavers with pavements, and they couldn't be more wrong about that. 
We understand this comes from the conception that pavers are merely concrete blocks one adds to the ground for a flatter surface. But, believe us when we say a paver patio can be much more than that. 
A well-thought-out backyard has endless opportunities for building, creating, and beautifying. And we'd like to highlight some ideas you can use to transform your yard into something out of a magazine cover! 
Check out some beautiful paver patio ideas below… 
Gorgeous Patio Paver Ideas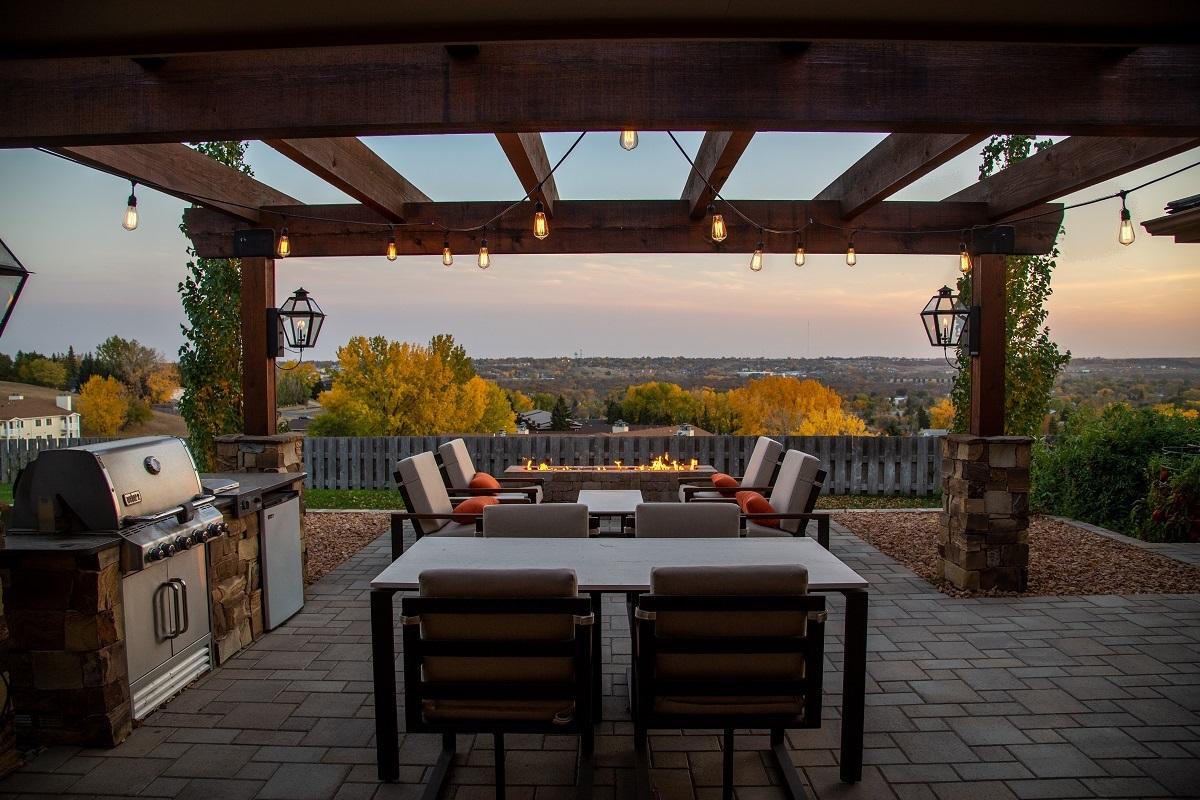 1. Neutral Toned Gridded Paver Patio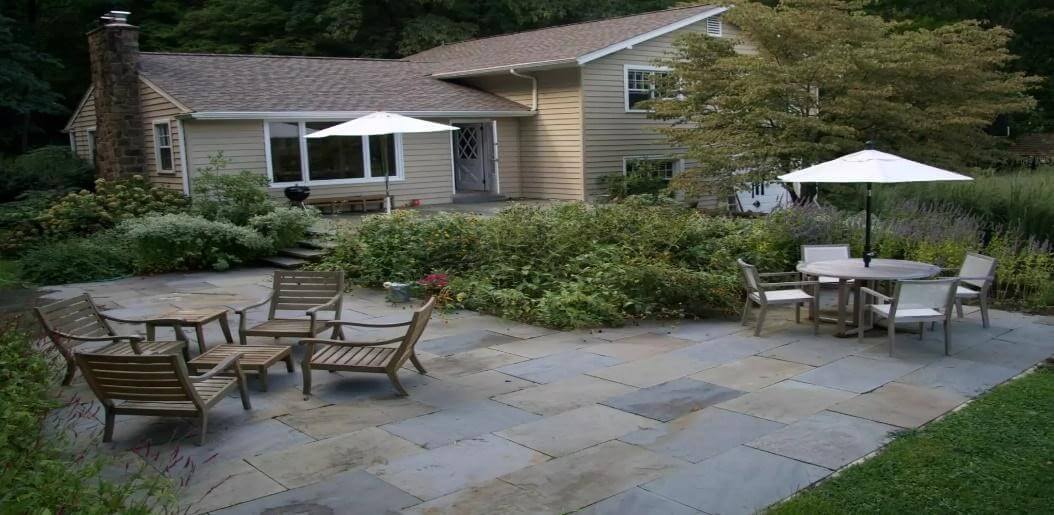 Kicking off this list with the basics, we have a concrete or stone-gridded paver patio that is as simple as it gets. If you aren't into flashy ideas and all you want is a cozy backyard space for outdoor coffee breaks, go for a neutral-toned patio. 
You can't go wrong with this regular grid consisting of rectangular gray slabs. This option will work well for people who already have an established garden with lush green surroundings. You can also add some seating, wooden tables, and sun umbrellas to complete the look.
2. Paver Patio With Steps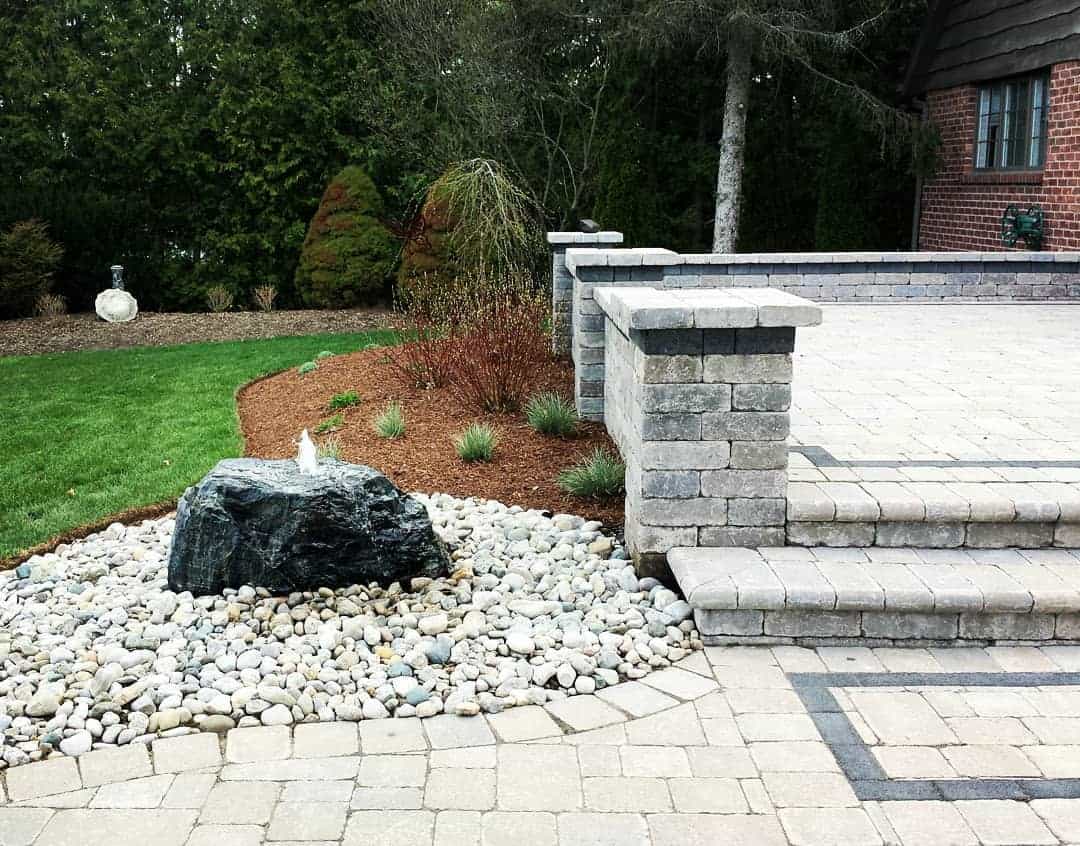 Adding a few steps in your backyard gives the space some dimension and sections off the seating area from the lawn. In this example, even flat stone pieces are used to build a mini elevated patio that leads down the steps to the garden. It also features a large pebble stone section to add visual appeal to the patio.
3. Light Up Your Paver Patio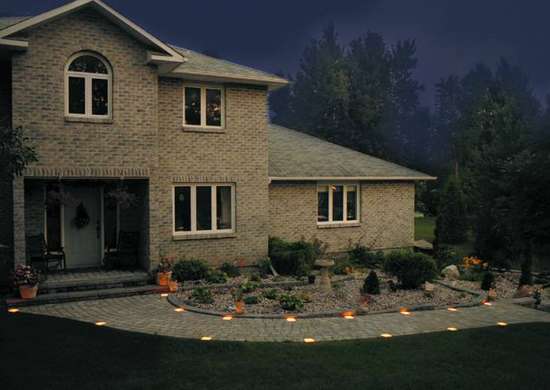 We'll get right down to it. Paver patios with lighting are a patio owner's favorite in our not-so-official poll! And we understand the obsession too well since it also serves a function apart from looking fabulous in your backyard.
Whether you have a narrow footpath or driveway, you could replace some of the cobblestones with flat lights, which will keep the path well lit. Plus, most of the ground lights are pretty sturdy, and you can easily stand on them without breaking a thing.
4. Backyard Stone Paver Patio With Bar Area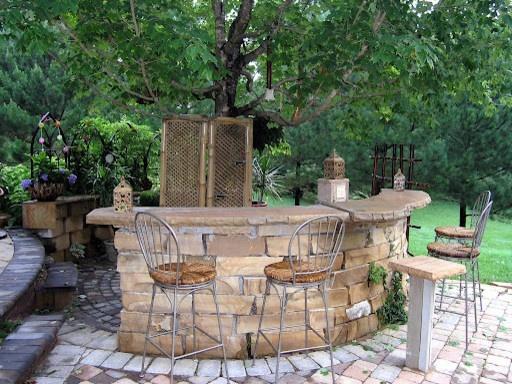 If you already have trees in the backyard, try converting a corner tree as the base for a circular bar nook. Using natural stone with marble as the countertop will give you a permanent outdoor bar that will come in handy for house parties. Either install permanent high stools or get some light wooden chairs for friends and family to gather around.
5. Terraced Paver Patio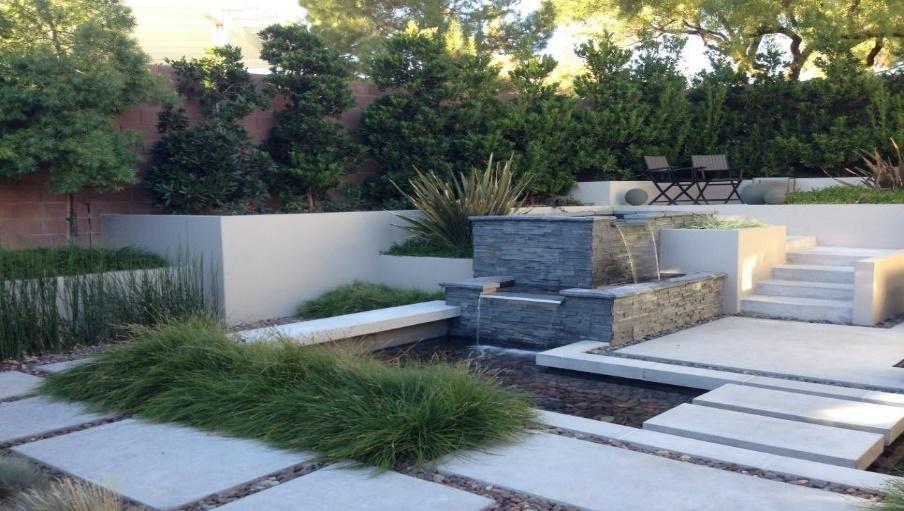 Adding elevations to the home may not be easy, but you can always add angles and layers to the backyard patio. Consider paver patio ideas that include stone or brick pavers in an ascending path leading to the pool, fireplace, or benches. With fresh grass, a lawn surrounding the paver makes for a stunning landscape.
6. Concrete Pavers With Pea Gravel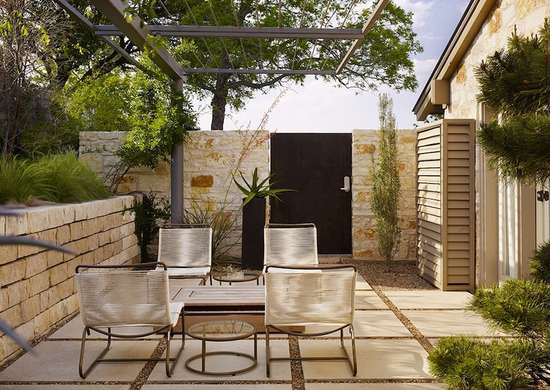 One of the most popular paver patio designs is a pure concrete paver in pale colors or grays with small gravel lining each block. While the individual paver can have the same depth as the pea gravel lining, you could also elevate the concrete portion for contrast.
Alternatively, using stone pavers in combination with gravel on the patio area is a splendid idea and enhances the outdoor space. Don't worry about getting things wrong or right with this combination because using different materials and exciting designs will only make the paver unique.
7. Patio Pavers With Curved Walls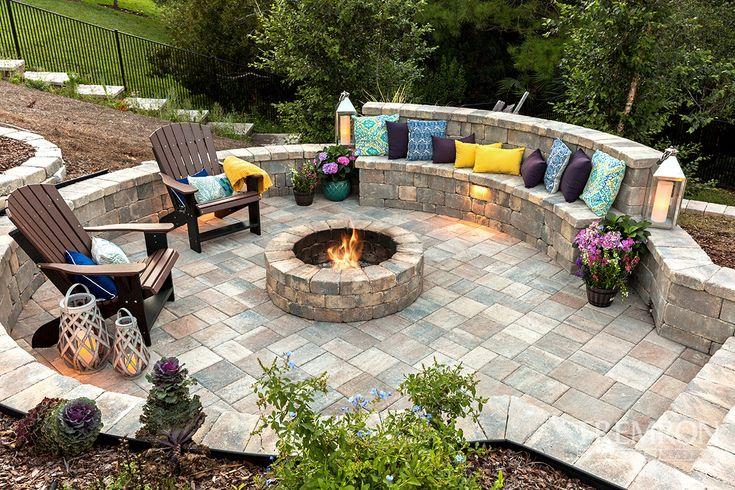 Once the bricks are set in place, all that is left is to add furniture to the patio area. But, something better than placing wooden furniture would be permanent seating space using identical stone slabs. This can be achieved by adding curved walls in strategic places around the edges of the patio. 
8. Flagstone Paver Patio With Outdoor Dining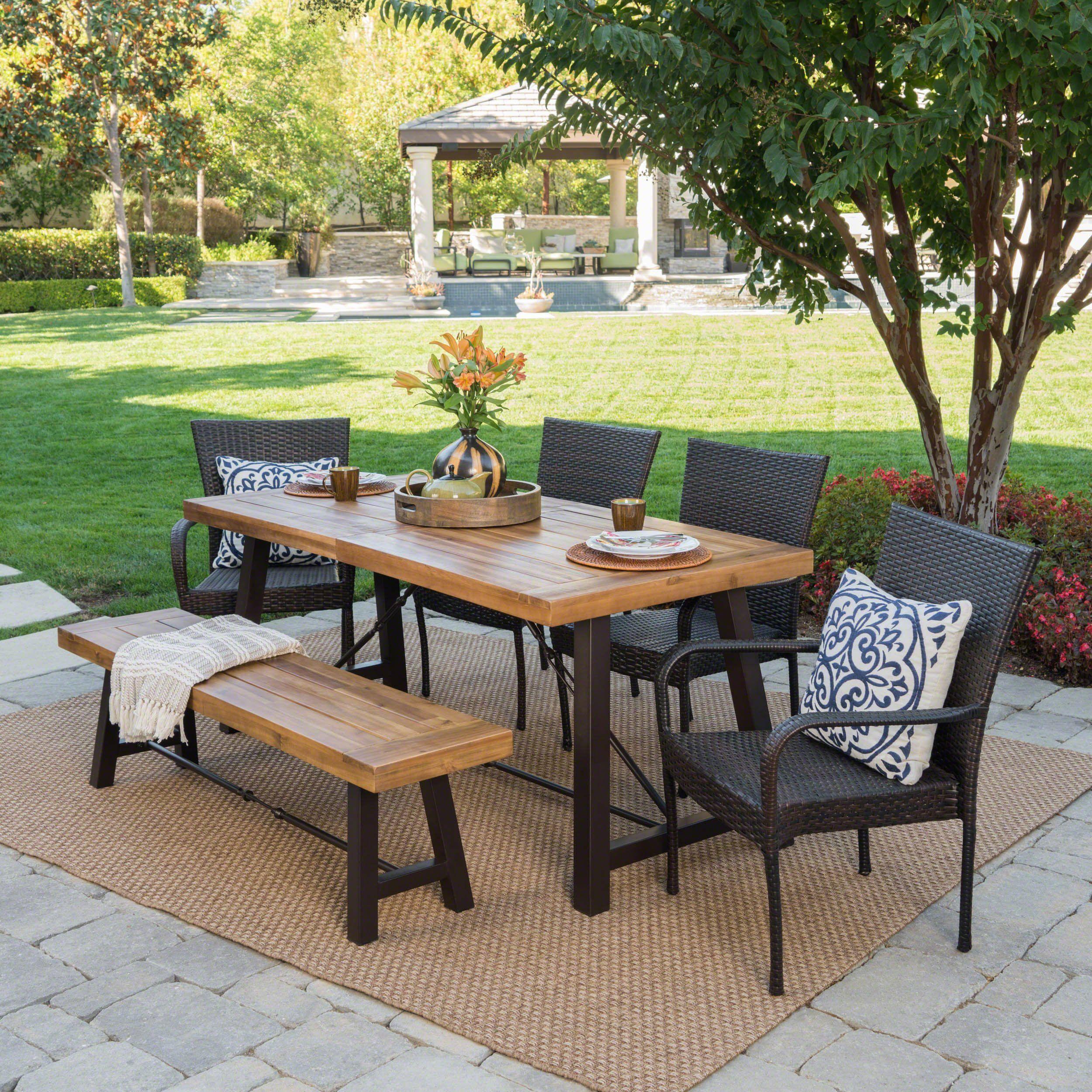 Sometimes the weather is so good you'd rather brunch in the backyard. If you are lucky enough to live in such a pleasant climate, go for outdoor dining set up for weekend lunches. You can create this patio style by dividing the backyard into two sections- lawn and dining area.
In the dining area, install a permanent stone fixture that seats six to eight people and match that with wooden chairs.
9. Cobblestone Paver Patio With Seating Area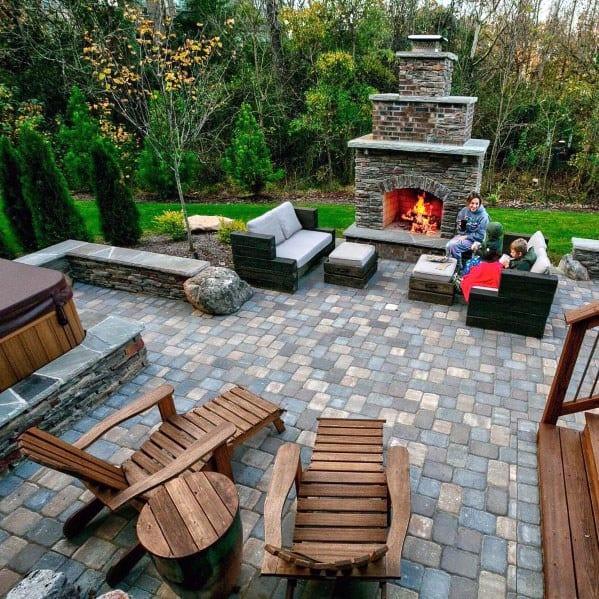 Nothing is cozier than spending a breezy evening by the fireplace in lounging chairs. Like this example, making the fireplace the center of attention works pretty well since you can arrange furniture around it. Unlike circular fire pits, this option is focused on building a rising structure for the fire made of brick or stone.
10. Zen Garden Paver Patio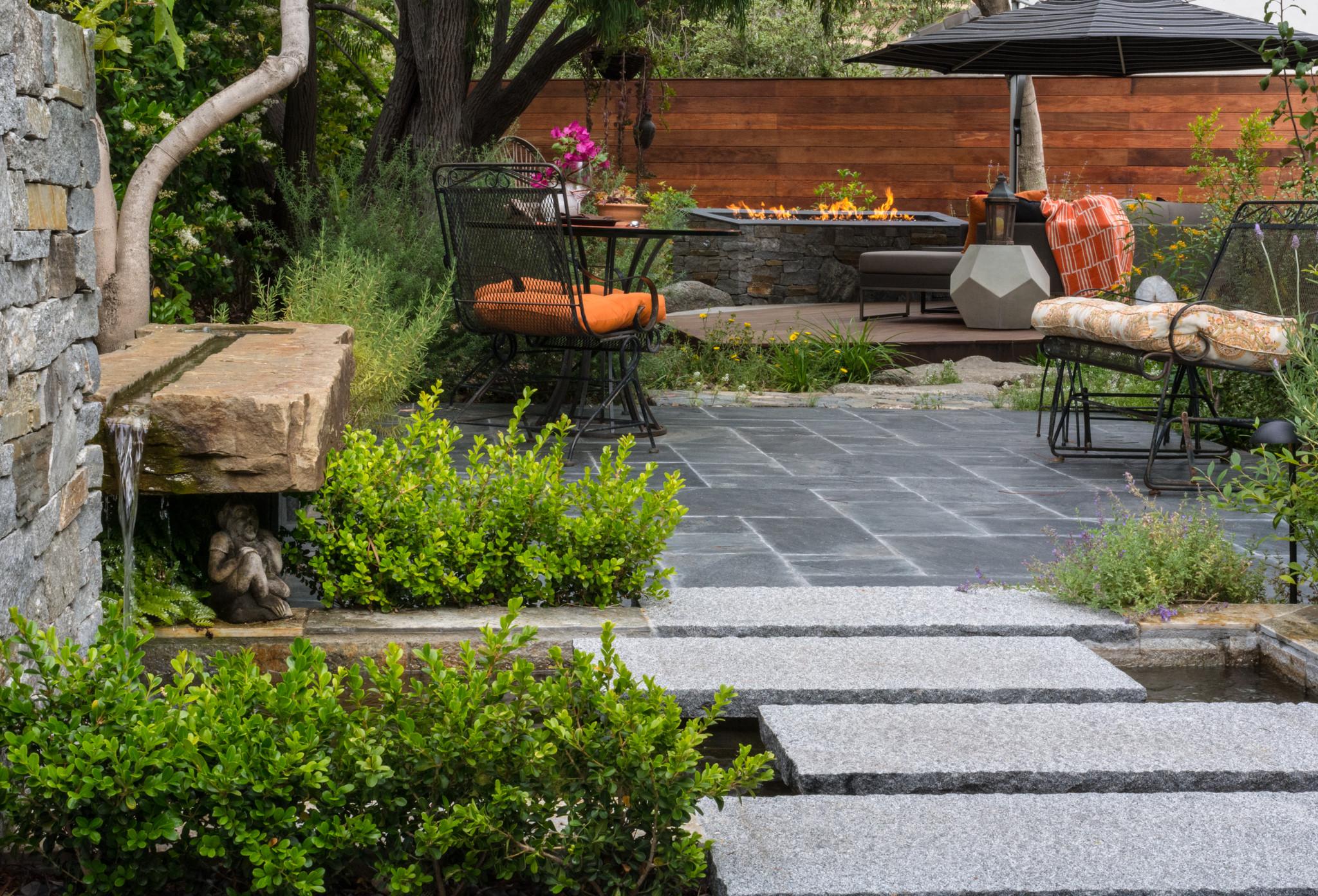 Imagine a pristine garden with plenty of plants and grass surrounding you while you meditate. If you would like to recreate a Japanese-style garden patio, then look for ways to incorporate natural stone into the surroundings. While the ground will look best in neutral gray, you could add a low-rising stone wall and trees for privacy.
11. Combination Paver Patio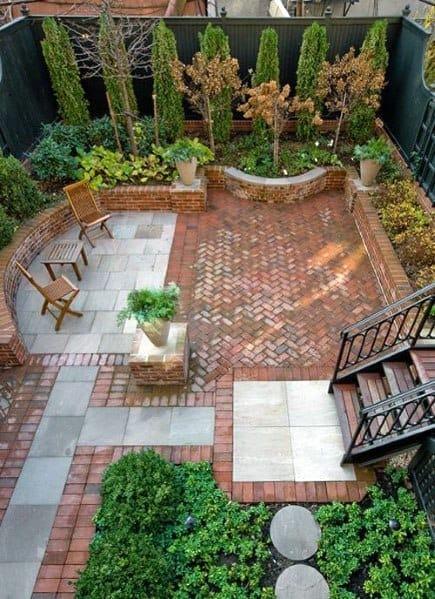 Can't decide on a single design for including in your paver patio? Well, there is no rule saying you cannot have it all. You could include two or three of your favorite patterns like bluestones, cobblestones, herringbone design, and more in one space. If you mix these contrasting designs tastefully, it might turn out to be one of the more unique patios in your neighborhood!
12. Hopscotch Grid Paver Patio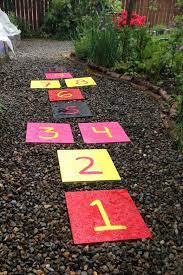 If you are looking for interesting paver patio ideas for kids, consider a hopscotch grid pattern to up the fun element in the backyard. After all, simply because you are installing a new patio, it doesn't have to be plain or just like the neighbor's stone pavers. You could install only a few slabs that correlate with the game and hand paint the numerals too.
13. Brick And Ashlar Paver Patio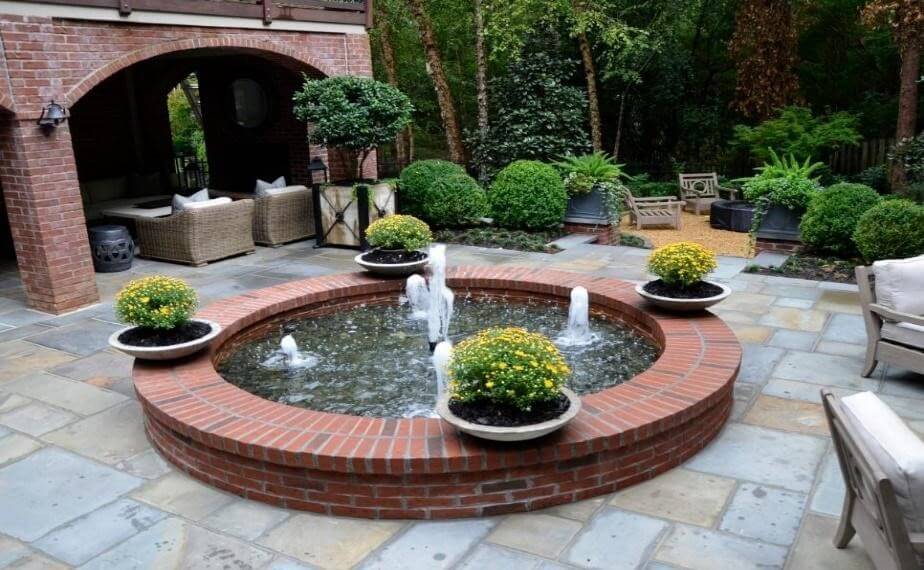 Try something out of the ordinary by creating a backyard patio with brick and ashlar. The usual stone materials with accents of wood may be overused for some people. Thus, you can always experiment with paver patio designs for creating something that suits your taste. 
Like this example, you could opt for a Hispanic-style yard that uses brick pavers with a pool, fountain, or firepit as a centerpiece. Actually, there are several styles and paver patio ideas to incorporate, like adding a low retaining wall for improved structure.
14. Concrete Paver Patio With Grass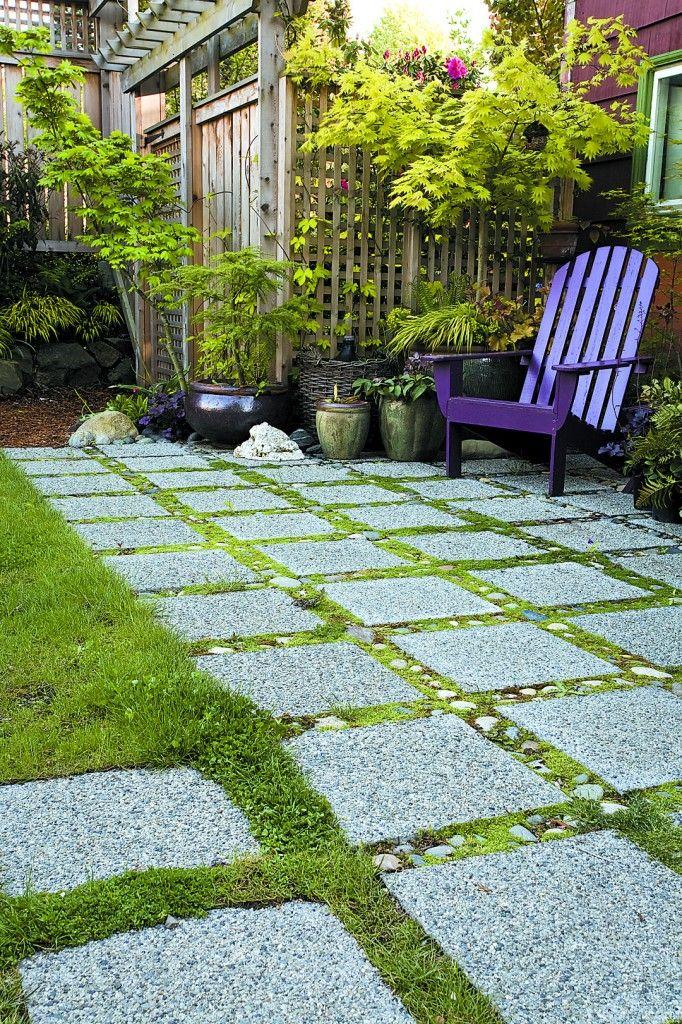 While most concrete or stone pavers are laid down close to one another, it is not uncommon to space them out a bit. We already demonstrated this with the pea gravel example, but you could also do the same with grass for a natural touch. The best part about this is the patterns you can create from your imagination.
Besides, the slight partings with bright green grass or moss give any garden a modern, organic, and clean appearance. 
15. Paver Patio With Pergola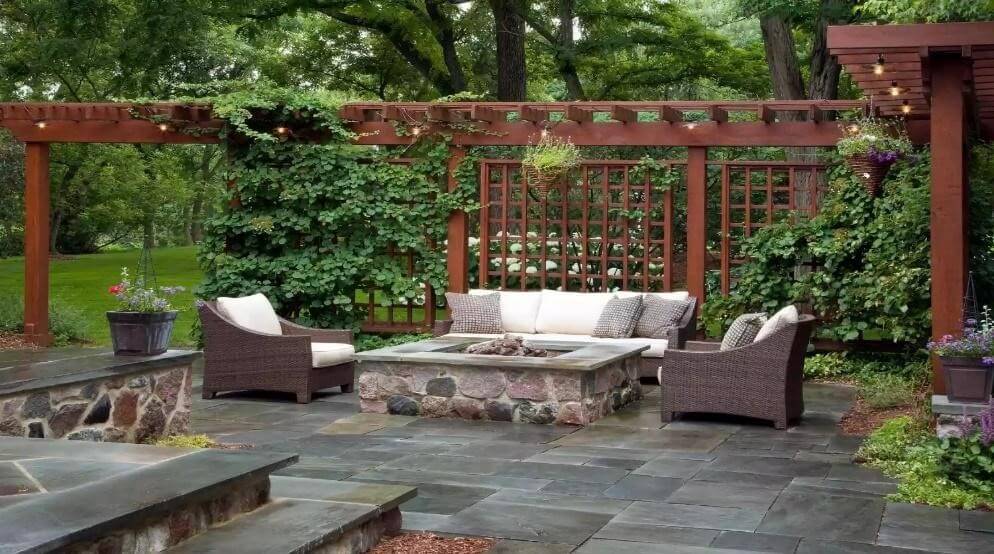 Building a nook in your backyard or garden is possible with the combination of a circular paver patio with a pergola. These two structures will contribute to the spaciousness of the yard and give you room to lounge or host parties. Adding bluestone pavers to the landscape will enhance the space naturally.
Additionally, you could have a stone fire pit installed in the center of the circular paver patio. To accompany that, add a few cement benches for seating and encourage a gathering around the fireplace. Slatted pergolas will complement the patio and firepit incredibly well, and you could even have climbers on it.
16. Pool Surround Paver Patio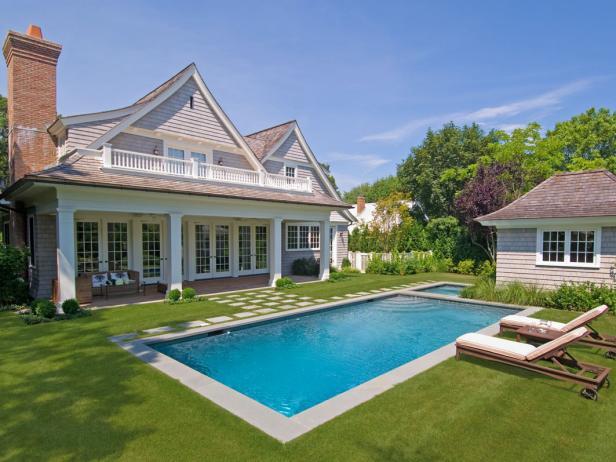 Already have a pool in the backyard? That means a lot of the patio space is already used up, and adding pavers may not be necessary, unless you incorporate a classy stone paver surrounding your private pool. Not only will you get the look of paver patios, but it will make for a convenient place to sit while not in the water.
This relaxing spot will give you and your family a cozy gathering spot when meeting for outdoor dinners or barbeques.
17. Backyard Paver Patio With Grill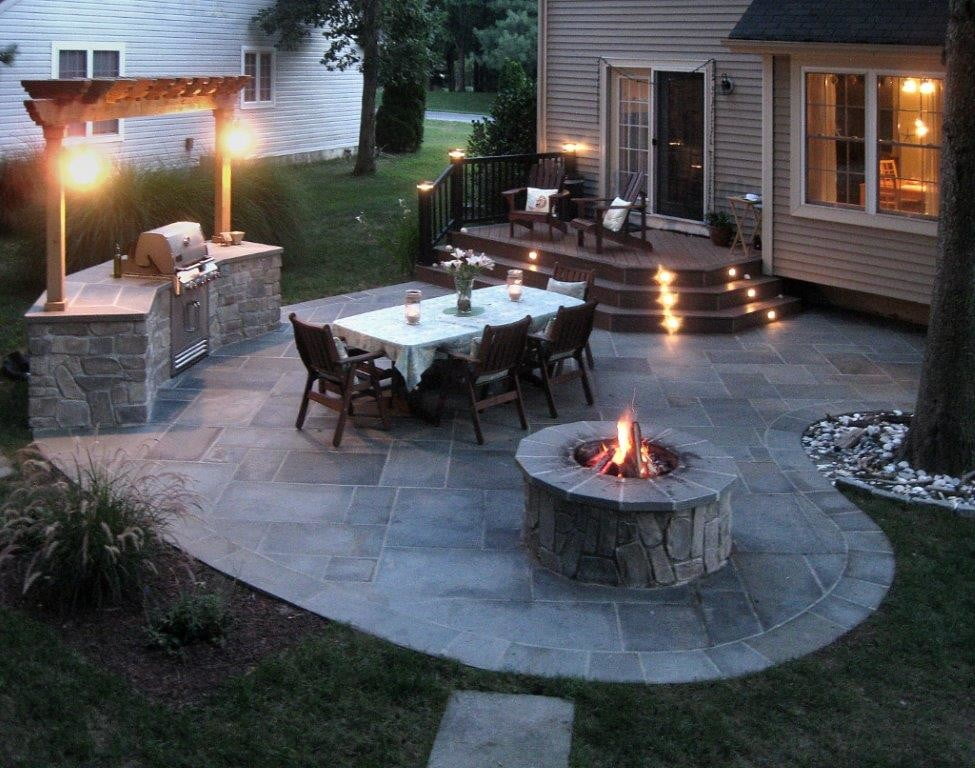 Hosting dinners and barbeque parties will be much easier with a permanent grill in the backyard. When it comes to incorporating paver patio ideas with other functions like outdoor cooking, the results are always immaculate. Mark a perimeter where the brick oven or barbeque grill will stand, and you could add countertops to match the stone pavers.
18. Flagstone Paver Patio With Slatted Roof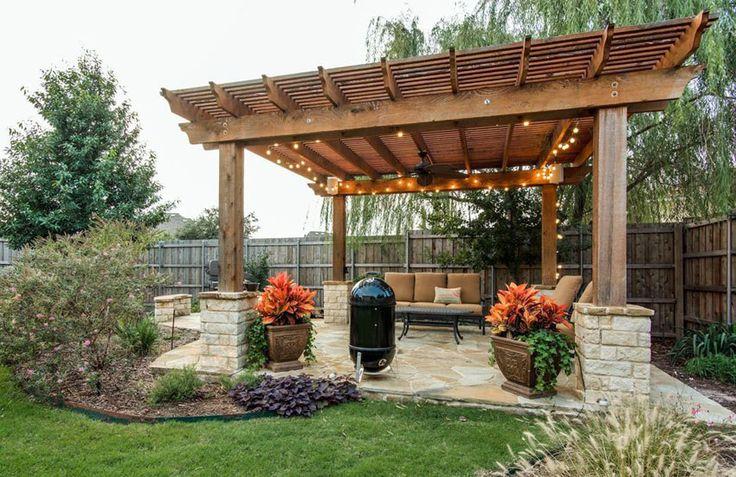 Usually, flagstone pavers make for a tidy-looking backyard patio. So, if the clean look with a slightly smoother landscape is what you are going for, then creating a covered flagstone patio would be perfect. A slatted roof or pergola made of wood will prevent excess heat during the afternoon. Strategically add seating in the shaded areas to get the best possible outdoor experience. 
19. Herringbone Pattern Paver Patio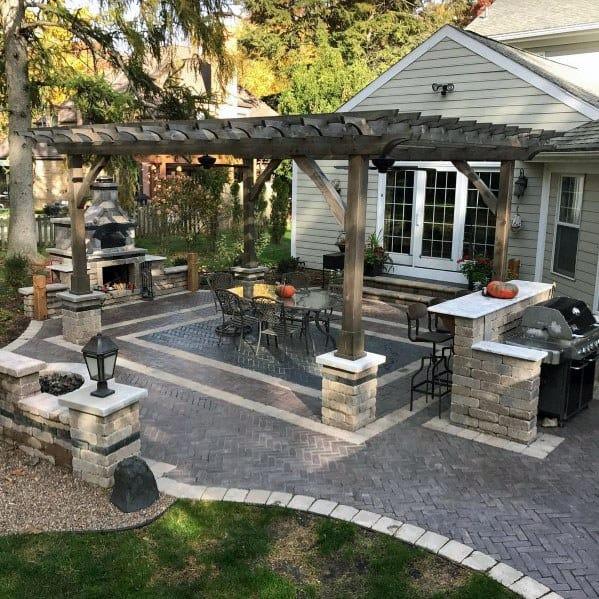 The herringbone patterns are simple to install, but they give the backyard an interesting design. If you are looking for paver patio ideas, try converting a section of the lawn with stone or bricks in herringbone style. If you have open spaces, the landscape can be evenly divided as separate walking and sitting areas. 
20. Garden Path Paver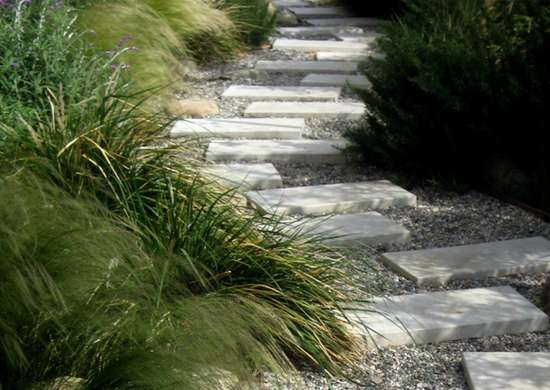 In some cases, you may not have enough space to install a complete set of patio pavers. Disappointing as it may seem, there is a way to arrange the landscaping to get a few stylish pavers in without using much space. When working with a small outdoor space, remember to remove the clutter like tables and chairs to make the area spacious.
Next, add stone or concrete pavers one after the other to create a path to the lawn, pool, or garden. Leaving some space between two pieces can add visual interest so that you could opt for that as well. 
21. Stone Paver With Outdoor Kitchen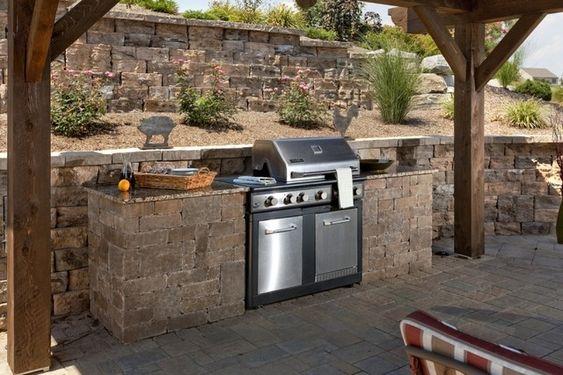 Installing a grill could be fun, but a full-fledged outdoor kitchen would be even better. This means you could create a corner on the stone patio with countertops and a place to keep the oven. To match the ground pavers, it's possible to use the same stone material to build the countertops and place a microwave on top of it.
Additionally, having a permanent wooden roof will bring a cozy element and protect you from the sun while cooking.
Frequently Asked Questions About Patio Pavers
How Much Does A 20×20 Paver Patio Cost ?
Of course, patio pavers have a price range that ranges from low to high depending on material type, size, and labor involved. However, per square foot of patio work will cost around $10 to $17. According to this estimate, a 20×20 paver patio should be $3,800 to $6,800 for a brick installation.
Note that the materials cost only $4 to $6 per square foot. The major chunk of the budget will be spent on labor charges which will be about $6 to $11 depending on design complexity.
What Is The Cheapest Paver For A Patio ?
The absolute cheapest material available for paver patios is pea gravel. Even if you decide to fill up a large space to 200 square feet, pea gravel will not cost more than $250 to $380 to install. Obviously, the fancier options or the colored ones will cost more.
However, if you don't like the idea of gravel-covered patio spaces, the second cheapest material, concrete, is always an option. Plain concrete slabs will be $3 to $10 per square foot for any yard. Again, the better the quality of the slabs, the pricier it gets.
What Should I Put Down Before Pavers ?
Prepping the ground before adding a new layer of pavers is not only recommended, it is also necessary. When you pour sand on top, the soil must be free of rubble, tree stumps, or roots. For a backyard patio, leveling the ground manually should be good enough.
After you lay down the sand, use wooden or metal leveling boards to run along the area to get a smooth and even surface. It is only after this step that you can proceed with laying patio pavers in a style of your choice.
How Do You Spruce Up A Paver Patio ?
If you are tired of how the patio looks, consider giving it a makeover to make the space more inviting. Firstly, clean up the stone or concrete slabs by removing moss, overgrown weeds, and grass. Then, sweep with a broom to get the smaller particles like dirt and dust out of the way.
From here, you have a few options, the first of which is to paint the slabs a different, fresh color. Applying a tint on old concrete pavers can transform the patio and also allows you to add patterns and designs. Alternatively, cover the old concrete layer with brick or stone without removing the bottom layer.
How To Build A Paver Patio On A Slope ?
It's possible to build a patio on a slope if you use the correct techniques. Begin by marking the area that will turn out to be the final paver patio. Then, level the slope and make it as even as possible using strings and other flat equipment. Dig a solid trench within the assigned area and fill it up with gravel.
After leveling this layer, adding a retainer wall will stabilize the patio and give it a finished look. After this, backfill the retaining wall with gravel to further solidify the structure. Even out this layer, and you should have a paver patio ready on your slope.
How To Slope A Paver Patio Away From House ?
Sloping a patio in any direction will require at least two inches of gravel on the elevated side. For adequate drainage, add one inch on the lower end for every four to six inches on the higher side. Keep in mind a slope in the patio surface is needed to allow water and runoff to drain away from the house foundation.
Ensure to level the gravel and slabs when you lay them down, and the slope is not more than 5% sloping downwards. Anything that slopes too deep will not be able to hold furniture without sliding.
How To Excavate For A Paver Patio ?
Firstly, draw out the patio shape and size on the ground with masking tape. This area will need to be dug up to 8 inches to get the correct depth. Ideally, you should dig 10 inches extra around the actual patio size.
This will provide extra support to your structure once you place the brick or concrete slabs. Even if your patio is small, the dirt and mud that comes out from the excavation site will be sizable. So, arrange for pick-up trucks to collect the dirt and dump it at another location. After this, you are ready to prepare the base and lay out new bricks.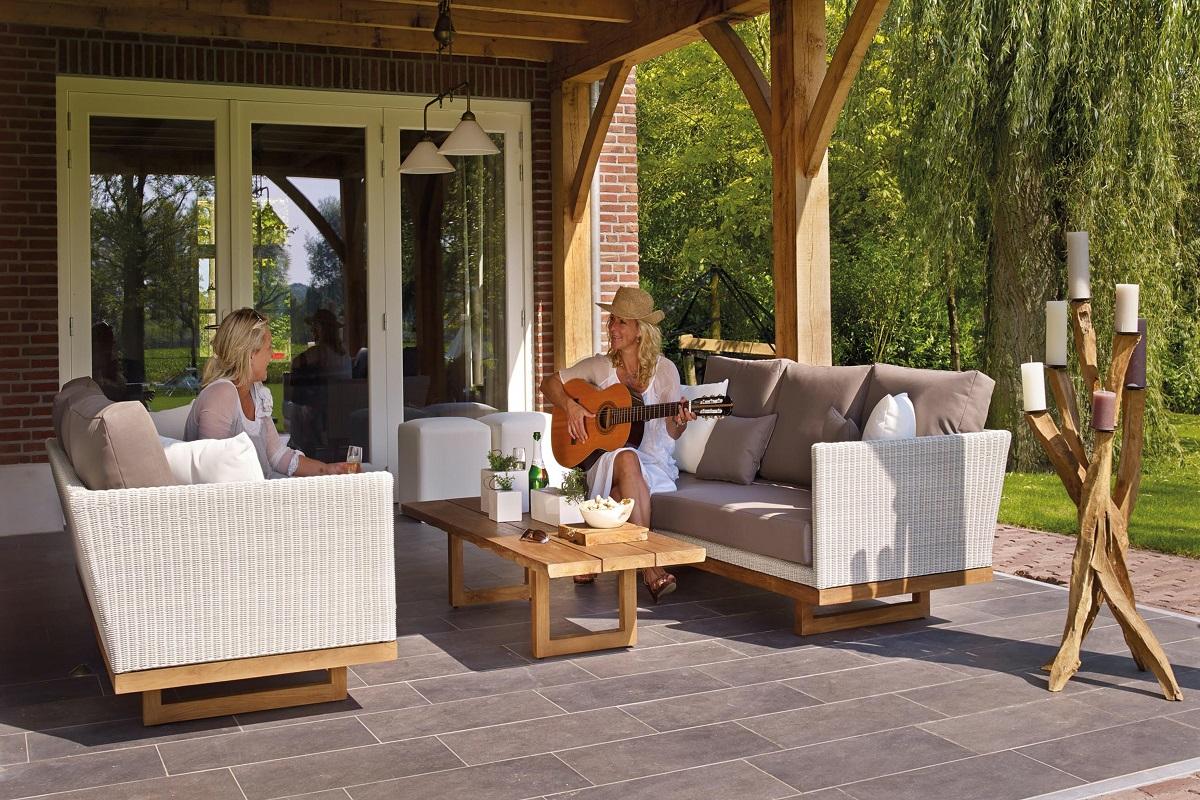 Patio Paver Ideas Conclusion
So, that was all we had for today's idea journal for fantastic paver patios. Whether you need to install a paver next week or sometime in the distant future, come back to this guide for a dose of inspiration. These options should be enough to help determine the style you'd like for the backyard. 
Finally, remember that there is no correct or incorrect approach to paver patios. Most of it comes down to personal preference and the available space to work with.
That's all for today, see you next time!
Related Articles
13 Best Offset Patio Umbrellas
10 Best Small Patio Tables With Umbrella Hole
15 Of The Most Elegant Patio Designs
Backyard Landscaping Ideas Series
16 Extraordinary Beautiful and Relaxing Patio Designs
31 Creative Touches to Prepare Your Patio for Summer
Learn How To Build A DIY Patio Table With Built-in Beer/Wine Coolers
24 Jaw Dropping Beautiful Yard and Patio String Lighting
Backyard Landscaping Ideas-The Process of Building a Patio
DIY -Welcome the Fall with Warm and Cozy Patio
59 Cool Rock,Concrete & Brick Patio