Basements are mostly dark and compact spaces with very little natural lighting. So, deciding on designing or choosing the best ceiling paint can be more difficult than doing so in any other room. 
One of the newest additions to interior decoration is exposed basement ceilings. While there are some excellent old-school and contemporary basement ceiling designs, going all bare-bones with the ceiling can give your basement an edgy look. Moreover, an exposed ceiling gives you easy access to the wiring and plumbing. 
Whether you go for an exposed industrial vibe or a nicely painted but covered ceiling, the tucked-away basement space will give you a chance to be creative. 
Need some pointers on how to get started and see the project through? Worry no more! We have compiled a comprehensive guide that will help with it. 
So, without further ado, let's jump right into it. 
Best Ceiling Paint For Unfinished Basement Ceiling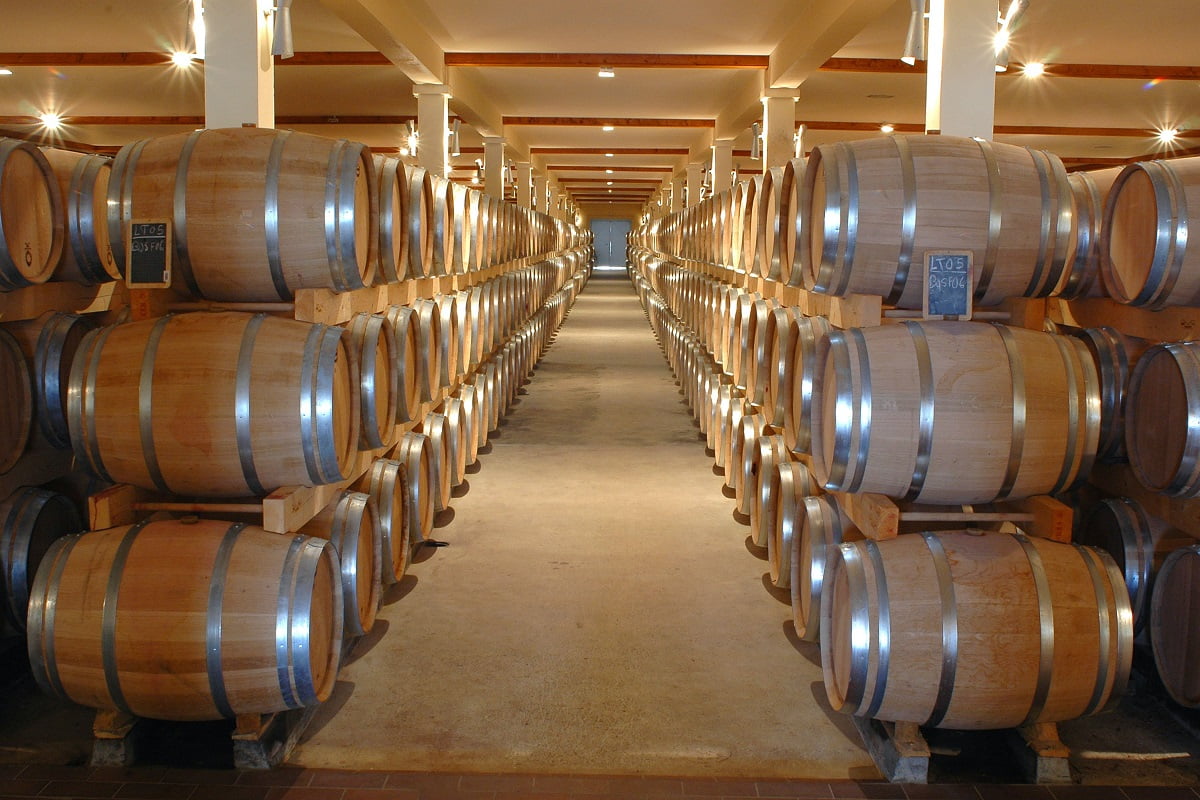 There is no lack of appealing colors for your ceilings. But in most cases, white, gray, or black paint is used for unfinished basement ceilings. The following are some of the perks of this basic color palette for your exposed ceiling. 
1. White
Basements are generally darker, but with a white ceiling, you can have a bright basement space where different bright colors will suit well for walls, decor, or furniture. One of the best colors for an exposed ceiling, the illuminating color of white enhances the lighting in the basement space. 
White is versatile precisely because it reflects more light, making your basement look bright, colorful, and fresh. Hence, a basement with white ceilings is excellent as a playroom, craft room for kids, or vibrant living space. 
However, if you intend to hide flaws in the ceilings, white is not your best choice. It has low coverage and usually needs several coatings. White also needs special primers to prevent it from gradually yellowing with time. As it involves several factors to be taken care of, painting your basement ceiling white will be time-consuming and more expensive than the alternatives. 
2. Black
Many people will not find black the best choice for their exposed basement ceiling. It might seem like a confusing choice considering it's too dull for a dingy basement space. But trust us when we say that a black basement ceiling offers a plethora of advantages. 
The disguising black hides any flaw your unfinished basement ceiling may have and makes it look sleek and stylish. It generates a smooth synergy of colors between the exposed pipes and wires. A black ceiling also helps other colors of the basement walls and furniture to pop, giving you the liberty to choose either neutral or bright colors for the furniture or walls. 
With its bold tones, black will add a certain charm to the exposed ceiling. It is a particularly fantastic choice for exposed basement ceilings of old houses. Darker colors also make a space feel warm and cozy.
However, the disadvantage of painting your basement ceiling black is that it may make the ceiling seem lower. Also, the basement ceiling acquires a lot of cobwebs, gunk, and dust. These will stand out even more with an exposed black ceiling. So, if your basement has absolutely no natural light source, black might not be ideal for you. 
3. Gray
Don't know which color to choose for your basement ceiling? Go for gray. It's neither as dark as black nor as low coverage as white. Gray-painted basement ceilings look excellent if you have a comparatively darker basement. As it provides better coverage than white, fewer layers will do the job. 
Gray might sound like a boring color, but it's actually available in a number of shades. There are gray shades mixed with other colors as well. For instance, a gray shade with hints of red accents will provide ample lighting. So, if you plan to transform your basement into a hobby room, gray shades will be ideal. 
4. Sky Blue
Painting your basement ceiling in a non-neutral color might be an unorthodox choice. But if executed correctly with the right shades, it will render fantastic results. And if you are going for a non-neutral color, why not paint your ceiling like a bright sky? 
To make your basement feel more like an open space, pair up sky blue ceilings with off-white basement walls. The contrast between the two colors will make the ceiling stand out. A sky blue ceiling is playful and turns your basement into a welcoming and playful space. 
Estimated Cost To Paint An Exposed Basement Ceiling
The average expense of paint for basement ceilings depends on the size of the basement and the materials you choose to use. However, the cost of painting an exposed basement ceiling is a little higher because of the ducts and beams. In the below table, we have detailed an estimated expenditure for you to expect if you are planning to paint an exposed basement ceiling. 
| | |
| --- | --- |
| Average Cost | $260 |
| Average Range | $125 – $300 |
| Minimum cost | $50 |
| Maximum cost | $2,500 |
Benefits Of Painting An Exposed Basement Ceilings
Aesthetics
Exposed ceilings have become quite fashionable in recent years. With the exposed pipes, beams, and wires, such ceilings bring an industrial vibe to the space. Painting this ductwork will add a shine and pop to your basement. 
Better Lighting
Painting an exposed basement ceiling white will not only upgrade the whole look but also reflect more light in the otherwise dark space. That way, your basement will look much brighter and larger. 
Budget-friendly
Paying a professional to drywall the exposed basement ceiling will be heavy on your pocket. On the other hand, painting the ceiling is a much cheaper option. And if you already have a paint sprayer, all you need is the paint, primer, and a weekend!
Saves Time
Putting up drywall on the exposed basement ceiling involves a lot of work and thus, takes up a significant amount of time. But if you spray paint your basement ceiling with a spray gun, putting one layer will take just a couple of hours. While you need only a few hours for each layer to dry, drywalling your ceiling may take days to complete. 
Shopping List For Your Next Painting Project
To paint the basement ceiling, you will need the below-mentioned items.
Low VOC interior paint (as per your choice)

Primer

Protective gloves

Painter's tape

Overalls

Respirators

Dust mask

Exhaust fan

Lead testing kit

Turpentine

Cleaner (preferably citrus-based)

Vacuum Cleaner

Broom and cleaning brush
How To Paint An Exposed Basement Ceiling?
If you are not a professional, being confused on how to paint a ceiling is evident. It is even more relevant if you are planning to paint an exposed basement one. 
You can follow the below steps to complete the task in hand.
Step 1 – Secure The Area
As the first step, cover the unfinished basement area you are working on. Instead of plastic coverings, using a drop cloth on the floor will prevent the floor from getting stained and will provide better grip. If you are using spray paint, it might result in some overspray. To avoid this, hang plastic covers over your walls. 
Step 2 – Check The Vents And Pipes 
Painting an exposed basement ceiling can be a tricky business. If it's an old house, the chances of vents and pipes becoming loose is high. So, make sure the exposed pipes, wires, and beams are secured and are not in need of any maintenance. 
Adjust them according to your requirements. You can even use sturdy wires to secure the beams tightly. 
Step 3 – Trim The Sticking-out Nails
Check whether your basement ceiling has any long nails protruding from the upper floor. You can use a rotary tool to trim them. It is important to trim the nails for leveling them with the ceiling as it makes the paint job much smoother and safer. 
Step 4 – Set Up Ventilation
After securing the work area, you need to set up ventilation. This way, air from the work area will be pulled outside. Good ventilation will help you minimize the overspray and keep the toxic fumes out of the basement.
Step 5 – Fill In The Gaps
Having gaps on the exposed ceiling will make the painting process inconsistent. Foam insulation is a great ingredient to fill in the gaps and create a smooth surface for you to paint on.
Step 6 – Securing The Equipment
Cover the exterior of the paint sprayer, handle and hose with spray silicone for convenient cleaning up. It will stop the paint from sticking to the outside of the sprayer and make cleaning up afterward much easier.
Step 7 – Clean The Ceiling
Now that you have placed the necessary preparation, it is time to start cleaning the ceiling. Use a broom for initial cleaning. You can also use a vacuum to nicely clean up the built-up cobwebs. Then use a fine and thick brush to scrub down the remaining dust, cobweb particles, and gunk.
If your basement ceiling has stubborn dirt sticking to it, using an air compressor will be a good idea to clean up the debris. 
Step 8 – Apply Primer
After cleaning up the ceiling, apply primer to the ducts, pipes, ductwork, rafters, and wires you plan to paint. Choose a primer that matches the color you intend to use. Primer will help the paint to stick on the surface properly. If you are using gray or black paint, choose a primer that has a gray tint for more coverage.
If you opt for a white ceiling, cover the wood with a sturdy primer to prevent the color from fading over time. Using a primer with shellac is the best way to go with white paint. 
Start spraying the primer all over the ceiling surface and cover the ducts and pipes  first. Every joist has to be covered with primer for the results. So, pay attention to the difficult corners of the ducts and beams. You need to maneuver the spray gun with quickly moves for an even layer. Make sure you use your arm instead of just the wrist. 
Avoid spraying on the same patch for too long, as that may cause the primer to drip. After you apply the first coat, wait for sometime and let it dry before you apply another. Check if you have covered all the areas you intend to paint. Don't paint over the primer unless it's absolutely dry.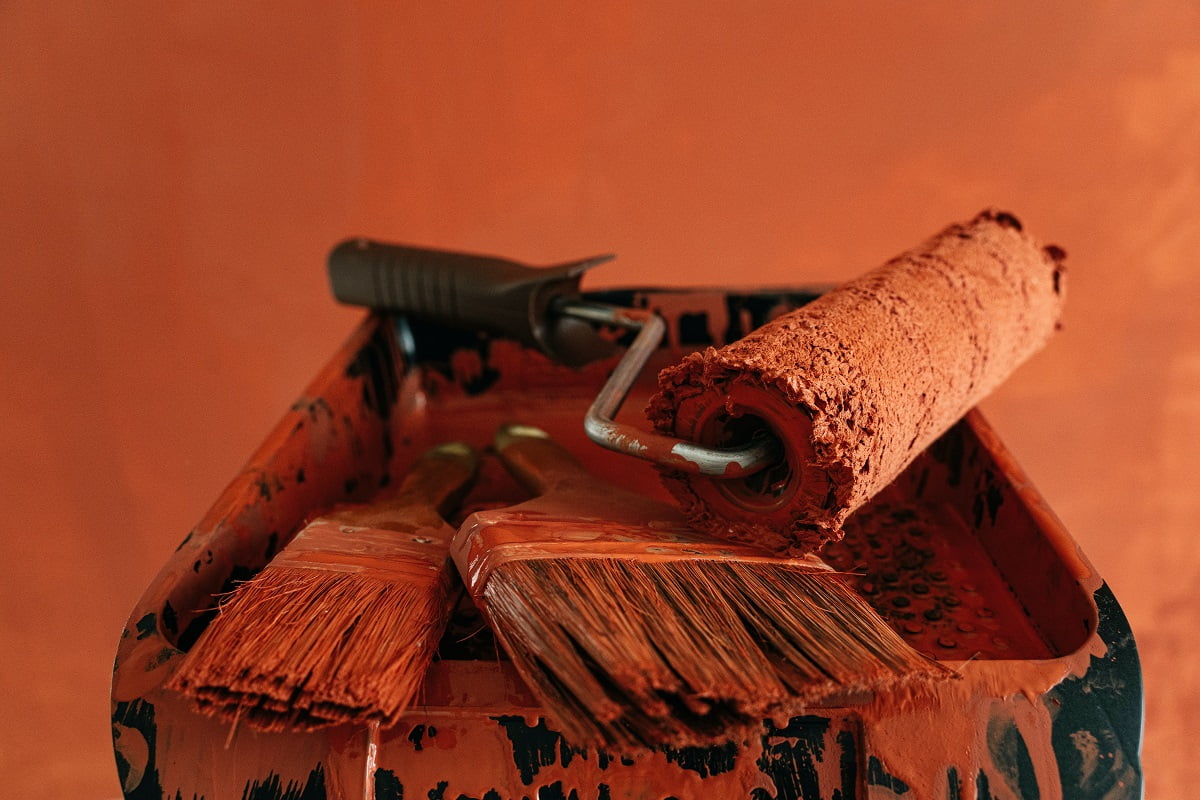 Spray Or Brush?
While many people use a traditional paint brush or paint roller to paint their ceilings, using an airless sprayer to paint the exposed basement ceiling will produce the best results. Just ensure that the spray nozzle is lightweight.
If the basement ceiling is made of wood, you will require extra primer and paint. When it comes to exposed basement ceilings, keep in mind that with joists, pipes, or wires, the surface area will be two times more than the surface of a flat ceiling.
If you want full coverage, an exposed basement ceiling requires at least three coats of paint on average. Use a ladder to get access to every edge. But do remember that painting with a brush or a roller would be much more tricky and time-consuming. 
In case you have decided to ditch the good old brush and go with the spray gun instead, your job will be much easier. Start spraying the paint evenly on the exposed basement ceiling. Then move your paint sprayer through all the edges of ducts and pipes. You don't want to spray in one area for too long as that would cause drip. 
Let the first coat dry completely. After that, check if you have missed any corners, and start applying the second coat. Also, ensure that you smoothen out any remaining drips before the paint dries off.
Tips For Painting Basement Ceilings
For a clean and efficient process, invest in an airless paint sprayer.

Buying a 5-gallon paint will be much more cost-effective than buying in small quantities.

It is always better to have a surplus of ingredients when you are not an expert on the task. 

Do remember to cover yourself with overalls. 

Finish painting the entire ceiling the same day with all the pipes, wires, and ductwork.

If you are painting the ceiling black, use less paint in each layer for better and smoother coverage. 

Blue painter's tape does not stick well to concrete walls

Taping the room is likely to take much longer than the whole painting process with a paint sprayer, and start the work with ample time on your hands.
Precautions To Take Before Painting Basement Ceilings
1. Safety First
Paint fumes are extremely harmful. Painting ingredients can also be a fire hazard as they are severely flammable. An exhaust fan will help you to get rid of the toxic fumes from the air, so that you don't inhale too much stripper or paint fumes.  
We also suggest wearing respirators when you use solvent-based material. Additionally, avoid using any open flames in the basement while painting, and keep all flammable objects away from anything that might cause a light.
2. Floor Covers
Painting your exposed basement ceiling may involve a lot of mess on the floor. To avoid that, you should use drop cloths instead of plastic. Clothes will provide your feet with a far better grip. 
3. Lead Test 
Did you know that lead in paint is a major cause of lead poisoning in children and can also be harmful to adults? Hence, you need to take extra measures while dealing with any lead-based paint. If your house was built in the early 70s, conduct a lead test on the basement ceiling with a kit. 
If the surface tests positive for lead, you should strictly avoid scraping or using heat to strip the surface. To safely strip lead-based, you can spray the surface with water and scrape off the chipped paint very gently. Immediately dispose of the stripped chips and use a vacuum cleaner to clean the area. It is better if the machine has a HEPA filter attached to it.
4. Be Cautious Of Power Outlets
According to reports, more than 140,000 fires each year are electricity-caused, resulting in 400 deaths, 4,000 injuries, and $1.6 billion in property damage. So, taking appropriate caution is of absolute necessity when it comes to painting your exposed business ceiling. 
Before you start painting the basement ceiling, make sure to cover all electrical outlets, as exposed outlets can cause severe accidents. You can use painter's tape to do that. 
Different Ceiling Designs 
Now that we know about the deets on how to paint basement ceilings, let's explore some ceiling designs you can choose from.
1. Exposed Wood Beam
Exposed wood beams on your basement ceiling bring out a rustic but contemporary  architectural aspect to your basement. You can paint the ceiling panels white and leave out the lightly stained beams to create a more naturally traditional look. 
When the light would reflect on the old wooden beams, your basement would look nothing short of a modern farmhouse. 
2. Drop Ceiling Tiles
A classic choice for basement ceiling decoration, drop ceiling tiles pack efficiency and aesthetics. Installing these tiles will create a grid structure overhead and integrate a geometric pattern. The perk of having such a basement ceiling is that the grids will move the eyes throughout the room and make the humble basement look larger. 
Added bonus? Even after installation, you can remove drop ceiling tiles according to your needs to access wirings or plumbing pipes. 
3. Graphic Ceilings
With abstract patterns and graphics on the basement ceiling, you can bring out your personal style. You can have a stunning and abstract graphic ceiling with just some painted lines, shapes, or abstract wallpaper stickers.
There is no fixed rule for designing a graphic ceiling. However, you must place the designs strategically to make them look beautifully abstract. Planning out the design on a sheet of paper before starting the process will give you a clear vision of the idea. 
4. Painted Rafters
Black ceilings in the basement might not be everyone's cup of tea. But if you have an exposed basement ceiling with a lot of rafters, applying charcoal-hued paint to them will bring texture to the standard black ceiling. It will also provide a dash of warmth. 
Combine painted rafters with deep gray floors and gray-tinted furniture and enjoy a classy and cozy basement ready to be your designated hangout space.
5. Natural Wooden Planks
If you want to make your basement look classy, go for the good old natural wooden ceilings. Decorating the basement ceiling with shiny and polished wooden planks will reflect taste and suave. For added charm, install hidden light strips inside the support beams. And voila! Enjoy an illuminated basement space ideal for curling up with a good book on a cold afternoon. 
6. Tin Ceiling
Do you want the old-school look of a Scottish pub to the otherwise boring basement? Then you should consider installing tin tiles on the ceilings. These decorative elements will make the cramped-up basement feel lively with bounced-off lights and booming sound effects. 
Tin ceilings are ideal if you want to transform your basement into a hangout and entertainment space. The old-school charm of the tiles not only creates a fun vibe but also reflects your outgoing personality. 
7. Corrugated Metal Ceiling
If your basement has a low ceiling, it can seem more dingy and cramped. So, add decorative elements that reflect light and include unique textures to the space without adding bulk. Also, adding corrugated metal to your ceiling will bring an artsy ambiance to your boring basement. 
With such a unique addition, the low ceiling won't stick out like a sore thumb. Instead, the rustic metal ceiling would be your basement's focal point. 
You can install full sheets of corrugated metal to cover the ceiling. There are also corrugated metal tiles available in the market. 
8. Traditional Coffered Ceiling
The best part about coffered ceilings is that it makes the beams look like a traditional architectural element instead of a boring structural one. Coffered ceilings have just enough touch of embellishment to give your basement a classic ambiance. 
A white-painted coffered ceiling in your basement will add an element of interest above eye level. This way, the otherwise lower ceiling will seem much higher and still hold on to the originality of the structure.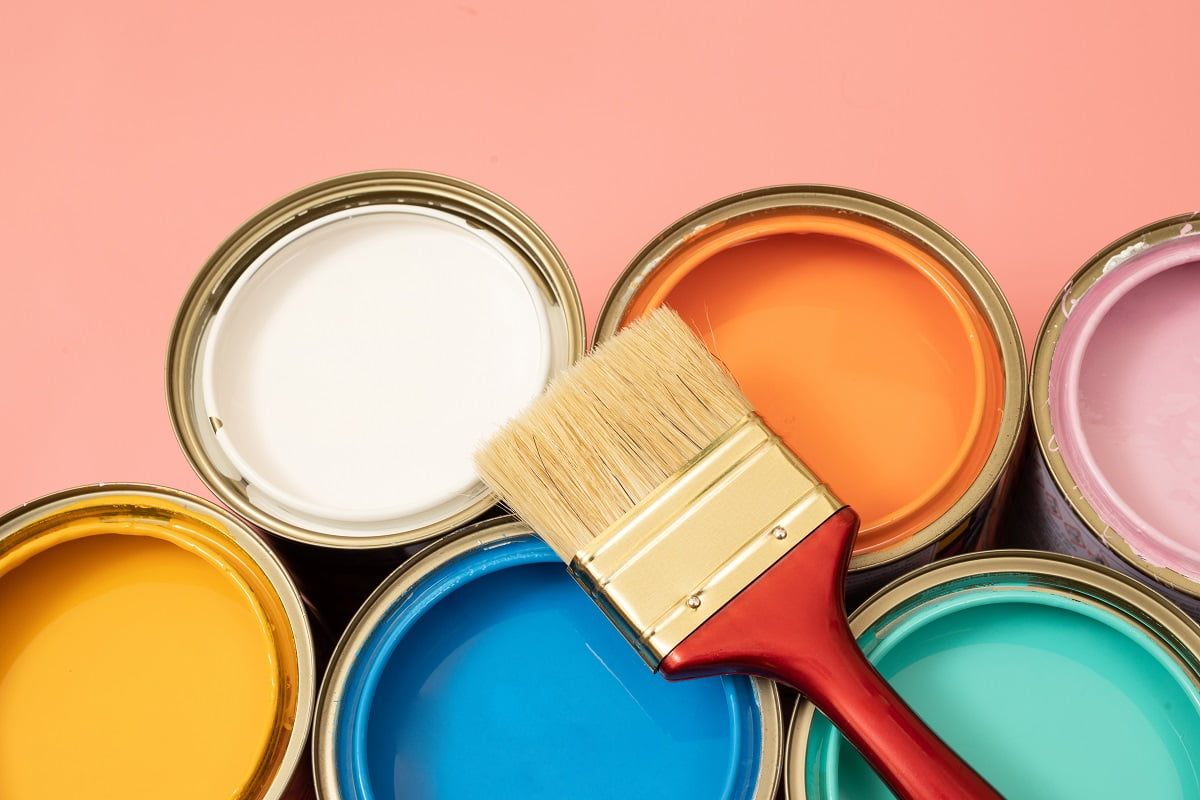 Paint For Basement Ceilings Frequently Asked Questions ?
What is the minimum height for a basement ceiling? 
The allowed measurements for the height of the basement ceiling vary based on the locality you live in. However, the International Residential Code requires the ceiling of basement space to be at least 7 feet of clear floor-to-basement height. Exceptions to this code depend on the existing beams, ducts, and mechanical systems attached to the ceiling. 
But those must have a space of at least 4 feet between them and must not extend beyond 6 inches below the basement ceiling. 
Should I insulate the basement ceiling before painting it?
If your basement ceiling is not already insulated, we recommend promptly getting it done before you start painting the ceiling. The basement is one of the spaces of your house that is prone to losing heat. 
So, if the basement ceiling is insulated, you will have a more comfortable and energy-efficient space. Another perk of having an insulated basement ceiling is that it considerably diminishes any noise between the basement and the upper floor. 
To insulate the basement ceiling, people mostly use rolled fiberglass batting. It is essentially fiberglass placed between two paper sheets. You can also use spray foam insulation for the same.
Can I paint the wires of the basement ceiling?
Yes, you can paint wires in an unfinished basement ceiling. Painting them will only change their look and won't interfere with their efficiency. If the wires do not match the color you are going with, painting the wires will be a good idea to make the ceiling look smooth and uniform. Also, spray painting the wires is the easiest way to get it done. 
Note that painting over wires attached to your basement ceiling is safe. However, make sure the outlets and switches are covered with painter's tape. 
Can I paint the ducts and pipes attached to the exposed basement ceiling?
Yes, you can paint the exposed ducts and pipes on the basement ceiling. It is a good idea to keep their visibility to the minimum while still maintaining the industrial look. 
Pipes and ducts can be made of various materials like PVC, metal, etc. So, ensure that you use a primer to make the paint stick to the duct's surface better and last longer.
What kind of paint should I use on an exposed basement ceiling?
Choosing the right paint for your basement ceilings is important to yield the best result and make it last longer. If you are not a professional, then latex paint is the ideal option when it comes to painting a basement ceiling. They are easier to apply and easier to clean and dry much faster than the alternatives. 
Such ceiling paint doesn't result in too much fading or peeling, and the shine lasts longer. They are also non-flammable. Hence amateurs can use it to paint their basement ceilings safely.
What kind of paint should I use to paint the ducts and beams? 
It would be best if you paint the ceiling ducts with latex paint. That way, you can easily maneuver within the nooks and crannies of the duct joints. 
Latex paint also works very well with wooden beams of the basement ceiling. Consider mixing paint and primer to save time and effort. 
How to properly store excess paint after painting the basement ceiling?
If you are not a professional, estimating the exact amount of required paint is tough. So, you might have some leftover paint. Storing it properly is necessary to make use of it later. 
Always store the leftover paint in a dry and cold place – the colder, the better. Place the lid tightly and store the container upside down. If there are children in the house, we suggest storing the paint inside a cabinet which you can lock properly. 
Is the marble effect a good look for basement ceilings? 
Yes. If done right, the marble effect on the ceiling, instead of a monochrome look, will make the otherwise dark space stand out. Instead of white or black paint, opting for multiple color layers on the basement ceiling to create a marble effect will give your basement an exuberant effect. 
Such a ceiling will bring synergy with the other colors in the space and bring a unique warmth to your basement space. 
However, painting the basement ceiling with multi-colored layers is on a more difficult spectrum. So, we suggest you hire a professional for the best results. 
Are white basement ceilings out of fashion? 
If there is something that would never go out of fashion, it's the color =white. Painting your basement ceiling white is not just about tradition. Homeowners and interior designers alike, most people prefer white for their ceilings because it reflects light. 
A white ceiling will reflect more light than the four walls. As basements are mostly dingy, compact spaces almost devoid of natural light, choosing white paint for the basement ceiling is actually a smart idea. 
What is a textured ceiling? 
Also known as popcorn ceilings, textured ceilings have a bumpy surface made of polystyrene or vermiculite. Such coatings block sound from traveling through floors. 
There are various advantages of having a textured ceiling in your basement. Some of these are
Acoustical surrounding

Bright white appearance for increased lighting

Ability to cover up imperfections
Textured coating mixtures are available in fine, coarse, and medium grades. The ideal paint for textured ceilings is white, but there is no harm in experimenting with DIY projects. 
Despite its useful features, the popularity of textured ceilings has significantly reduced around North America. Textured ceilings are also more prone to acquire dust and different contaminants. Plus, they are more difficult to patch up if you want to have drywall installed. Besides, smooth ceilings reflect more light than popcorn ceilings.
For all the above reasons, people are now more inclined towards smooth or exposed ceilings to give their homes a more trendy interior.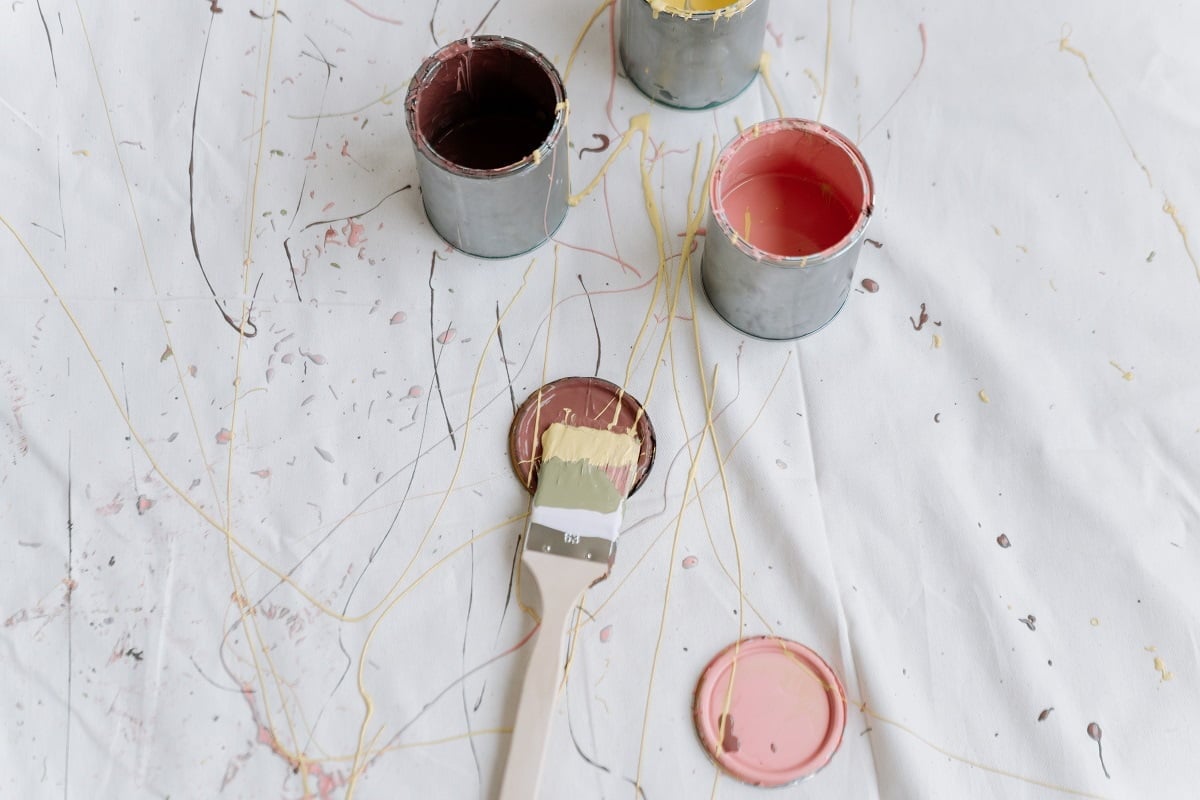 Paint For Basement Ceilings Conclusion
As we wrap up today's blog, here is a reminder to take all necessary safety measures before and after you are done decorating the basement ceiling. If the basement has a popcorn ceiling, check if you're using the best ceiling paint for a textured surface. In case you have an unfinished basement ceiling, thoroughly consider the pros and cons of painting it without professional help. 
The fun with DIY projects lies in the liberty of creating according to your own style. Whether you decide to opt for a traditional color or an abstract design for your basement ceiling, don't forget to put some personal touch to it. 
So, stay safe from the toxic paint fumes and have fun with some color this weekend!