Outdoor mats are a great way of improving the appearance of your home while also preventing the entry of dust and dirt.
Unlike indoor mats, purchasing mats for the outdoors requires more research as many additional factors need to be considered. For instance, outdoor mats must be tough and resistant to harsh weather conditions. At the same time, they need to ensure that dirt from shoes does not enter the house. 
We understand that shopping for outdoor mats isn't a fun task; most people do not have the time to go through a list of the best options available. That is why we bring you our curated selection to help you select the right product. 
Not only that, but we have also included a buyer's guide that will inform you of the factors you should consider while selecting a doormat. So, without further ado, let us dive right in! 
Top Nine Outdoor Doormats
IMAGE
PRODUCT
DETAILS

Our Top Pick

Our Top Pick

Plus Haven Coco Coir Door Mat

100% pure coconut coir
High-grade backing
Heavy-duty

VIEW LATEST PRICE →

Ubdyo Extra Durable

Leak-proof rubber backing
Multifunctional size
Raised pattern

VIEW LATEST PRICE →

DII

100% coconut coir fiber construction
Non-slip PVC backing
Multiple designs and colors

VIEW LATEST PRICE →

Gorilla Grip

Rubber-beveled border
Sleek low-profile design
Heavy-duty construction

VIEW LATEST PRICE →

Barnyard Designs Welcome Doormat

Non-slip rubber base
Large size
Weather-tolerant and waterproof material

VIEW LATEST PRICE →

BeneathYourFeet Door Mat

Premium PVC material
Low profile
Non slip backing

VIEW LATEST PRICE →

Sierra Concepts

Ribbed polyester material
Recycled PVC construction
Non slip backing

VIEW LATEST PRICE →

MontVoo Front Door Mats

A-Class absorbent polypropylene surface
2KG/㎡heavy duty durable rubber backing
All-weather material

VIEW LATEST PRICE →

Chichic Entrance Door Mat

Unique fabric
Non slip rubber backing
Flocked natural fiber surface

VIEW LATEST PRICE →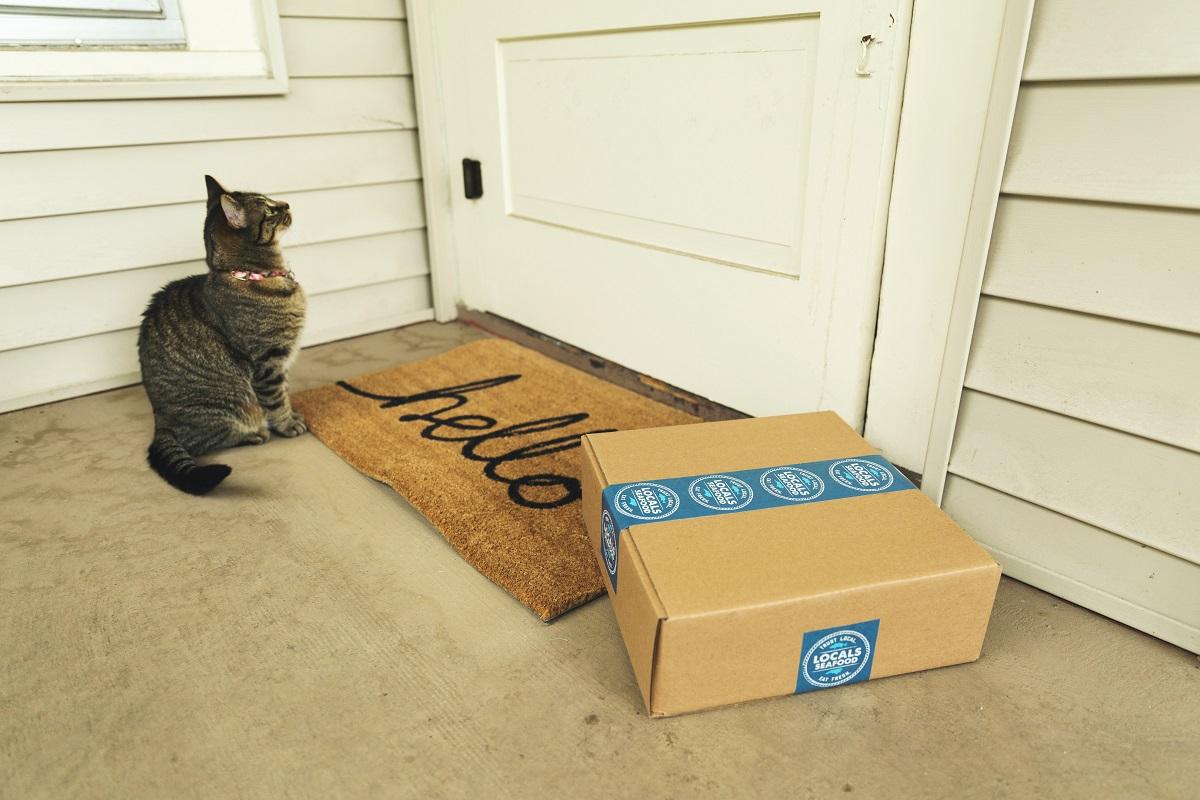 Let us start with the Plus Haven Coco Coir Door Mat, which is made of 100% pure coconut coir, one of the most durable natural fibers. These fibers help the mat easily capture dirt, moisture, and other particles, thus preventing them from entering your home. 
Sale
Why Did We Like It?
To begin with, this coconut coir mat is a heavy-duty mat that can withstand regular traffic without shedding. The 0.60″ thick pile also ensures that there are no see-through patches. 
This outdoor mat is an excellent option for those who wish to follow a sustainable lifestyle because the coconut coir is a renewable material produced by hand. Now you can keep your house clean, and your planet too. 
Not only that, but the fibers of this doormat have excellent water-resistant capabilities, making it a great option if you live in an area that sees heavy rainfall. On that note, it can be very useful for preventing any wet marks — sunshine or rain. 
Also, as far as maintenance is concerned, this outdoor doormat is also very easy to clean. You only need to vacuum it once in a while to keep it in good condition.
What Could've Been Better?
It was nearly impossible for us to find any downsides to this impressive doormat, which is excellent for outdoor and indoor use. However, we would like to point out that the dye used in this product is pretty strong and can even stain the area where the mat is placed.
Pros
Attractive design

Durable

Low maintenance

Suitable for both outdoor and indoor use
We bring you the Ubdyo Extra Durable outdoor doormat, an excellent product for the holiday season. This Christmas-themed doormat comes with rubber stripes and artificial grass that provide an attractive appearance to the mat while preventing the entry of dust and water inside.
Sale
Why Did We Like It?
First of all, we were very impressed by the design of this outdoor mat. Ubdyo has rightly named it a functional smart design as it offers an attractive appearance while effectively capturing dirt particles.
This durable doormat has been manufactured in such a way that it will last a long time, even if your home witnesses a regular stream of visitors. Besides that, the raised pattern ensures dirt from shoes is completely scraped off when a person steps on the mat.
Furthermore, cleaning the product is simple and only requires you to spray water on the outside of the rubber doormat and shake it off. Alternatively, you can simply vacuum this product or wash it with warm water. 
You will also be glad to know that the rubber backing is leak-proof and provides a non-slip design. So, you can ensure that there are no accidents even when the floor is wet. 
What Could've Been Better?
Once we tested this product, we found that this doormat is incredibly thin and can easily be rolled up like paper. And while it does not compromise durability, some customers may prefer a thicker doormat, especially outdoors. 
Pros
Attractive design

Pet-friendly

Sturdy

Easy to clean
DII is a brand that has been manufacturing high-end products for homes for over thirty years, offering quality items for a great experience. The CAMZ11552 is a classic example of just how good their products are. It offers a timeless design with excellent dirt capturing capabilities for both indoor and outdoor areas.
Sale
Why Did We Like It?
We came across the DII CAMZ11552 while searching for an indoor-outdoor doormat and are happy to say it did not disappoint. This versatile product can be used in several locations, such as patios, garages, porches, etc.
Constructed from coconut coir, this is one of the best outdoor doormats when it comes to sturdiness and durability. 
At the same time, the fibers of this doormat also do an excellent job of keeping dirt and debris out. And thanks to their water-absorption quality, this outdoor doormat is ideal for areas with frequently wet weather.
Furthermore, if you love customizing the look and appearance of your home, this product is available in several different colors and designs. It is great for adding style and personality to your entryway. 
The CAMZ11552 also comes with non-slip PVC backing that prevents slipping by keeping the mat in its place in all conditions. 
What Could've Been Better?
We loved the DII CAMZ11552 for its versatility, durability, and multiple design options. Unfortunately, these excellent features come at a significantly higher price. Indeed, this doormat is one of the costlier options on the market and may not be an ideal choice for those with a tight budget.
Pros
Suitable for different types of areas

Durable

Several options to select from

Ensures safety
The 8541848335 model from Gorilla Grip is one of the best options on the market for those who are looking for a low-profile door mat. It comes with a premium build, a 100% natural rubber border and backing, and a woven polypropylene fabric center for welcoming guests in style.
Sale
Why Did We Like It?
The Gorilla Grip 8541848335 model is manufactured by Hills Point Industries LLC, a manufacturer dedicated to bringing customers household products at affordable prices.
At the same time, this premium product offers excellent value for money, superior construction, and an appealing design. It also features a beveled border that helps trap moisture, mud, and dirt, preventing them from creating unsightly tracks indoors. 
This outdoor doormat is also available in a wide range of stylish patterns and colors, making it easy to find a product that matches your home's decor. Not only that, but the design is also flexible enough to allow you to place the mat in various locations, such as living spaces, lobbies, and even office spaces.
Other than that, the low-profile design of the 8541848335 model from Gorilla Grip makes it excellent for doors and entryways with a low clearing. That said, you can easily use it in areas that are unsuitable for thicker rugs.
What Could've Been Better?
The only flaw we noticed with this otherwise excellent product is its relatively strong rubber smell, which emanates from the rubber backing and beveled borders. However, the smell tends to fade away with use and will completely disappear after a few weeks. 
Pros
Available in many attractive designs

Value for money

Works great in all seasons

Easy to clean
Cons
Has a strong rubber smell
Outdoor doormats are not only meant to prevent dirt and grime from tracking into your home but are also one of the first objects guests come across while visiting. They can help create the right kind of impression, which is why the Barnyard Designs Welcome Doormat is a great choice.
Sale
Why Did We Like It?
Many of you must have heard of Barnyard Designs. It is a brand that focuses on designing and developing home decor products that make life easier and more comfortable. The Welcome Doormat from the brand offers an excellent way to greet guests while also making a bold statement.
One of the things that we liked most about this front door mat was the size. The Welcome Mat is one of the largest outdoor doormats that we could find on the market, which is great for capturing dirt and debris from a wide area. 
This front door mat comes with a non-slip rubber back and is completely waterproof and weather-resistant. Not only can you use it in different weather conditions, but you can also clean it easily by washing it with a garden hose. 
Another thing to mention is the excellent durability, which is why this doormat will last for several years. 
What Could've Been Better?
This Welcome Door Mat from Barnyard Designs offers a delightful experience, making it difficult for us to find any significant drawbacks. If we had to nitpick, we'd say that this welcome mat does not come with a finished edge, so you will need to place a rug underneath it for a better grip.
Pros
Attractive design

Thick, durable construction

It can be used in all weather conditions

Comes with Happiness Guarantee
Moving on to the next product on the list, we bring you the BeneathYourFeet outdoor doormat, one of the highest-rated products on the market. It is a multipurpose door mat that comes loaded with several exciting features that will be incredibly useful for your home.
Sale
Why Did We Like It?
There are many reasons why we decided to include this product on our list, the first of which is the excellent construction. The BeneathYourFeet mat is made of premium PVC material, making it one of the most durable products in this segment. Even with heavy use, you won't be needing a replacement anytime soon.
Furthermore, the concave embossed word and the convex border work flawlessly for trapping dirt and mud from shoes and feet of pets. We tested out the product and were delighted to see that it could even trap snow as well, making it suitable for all weather conditions.. 
The manufacturer has also made it very easy to clean the mat. The simplest way is to shake the mat outside, and the debris will fall off. Otherwise, you can also use a broom to sweep away the particles or use a vacuum cleaner.
What Could've Been Better?
While testing out the mat, we discovered that the non slip backing works very well on dry surfaces to prevent slipping. However, the manufacturer advises using the mat only on dry surfaces as the backing is not very effective. Water under the rug can cause slippage.
Pros
Requires low maintenance

Strong and durable

Suitable for low entryways

Beautiful design
Cons
Not suitable for wet surfaces
A steadily increasing number of manufacturers are now offering products that meet sustainable standards, as demand for them is multiplying. Sierra Concepts is one such brand, and its SC105, made of eco-friendly material, is one of the finest outdoor doormats that you can buy right now.
Sale
Why Did We Like It?
The Sierra Concepts SC105 is the perfect option if you are looking for the best value for money option on the market. It includes two indoor outdoor floor mats in a set, helping you save money without compromising on the product quality.
The mats are available in a large size and are made of high-quality polyester and recycled PVC materials. These recycled materials provide additional sturdiness to the mat while also preventing moisture leaks. 
Additionally, the PVC material provides a non-slip backing to the mat, which reduces the chances of slipping by keeping the mat in place.
Moreover, these outdoor doormats have a ribbed surface ideal for scraping dirt and mud off dirty boots and feet. As mentioned earlier, the SC105 is an indoor outdoor welcome mat and can withstand different weather conditions reasonably well. 
Additionally, there are multiple color options available for use with different types of decor.. 
What Could've Been Better?
These heavy-duty mats are undoubtedly one of the best ones we tested while compiling this review. The only concern was that they were prone to slipping if water got underneath. It is recommended not to keep them on surfaces where water can go under the mats.
Pros
Suitable for heavy-duty use

Cleans easily

Environment-friendly

Choice of different colors
Cons
Not suitable for wet surfaces
We are nearing the end of our list, so it is time to introduce you to the MontVoo Front Door Mats. MontVoo is well known for its range of home and kitchen products. This welcome mat is another excellent product from the brand, offering premium quality with exceptional performance.
Why Did We Like It?
MontVoo is one of the newer entrants in the home products industry and is rapidly making a name for itself through its extremely high-quality home products. This doormat from the brand is one of the best ones we came across, suitable for heavy-duty use and offering multipurpose functionality.
It comes with a non-slip rubber backing, which helps it stay in its place on all types of floors. We tested the mat on marble, concrete, and even wood and were impressed with the results. Additionally, the A-class absorbent polypropylene surface that absorbs moisture from shoes and feet.
Since the mat is highly resistant to weather and seasonal changes, you can also use it in several types of different locations. Besides performing well in rainy weather, we also found that it does not fade even when exposed to direct sunlight for prolonged periods.
What Could've Been Better?
There is hardly any drawback worth mentioning about this product, which offers the perfect combination of durability and versatility. The only thing we wished was there were more attractive designs and colors to select from. The available patterns are somewhat limited compared to what the competition is offering.
Pros
Very durable

Suitable for all-weather

Easy to clean

Meant for heavy use
The Chichic Entrance Door Mat is the final product on our list, but don't let that fool you. This fantastic product has a high-quality construction that ensures long lasting durability and impressive performance. The unique fabric also provides it with an attractive design, so you can impress visitors easily.
Why Did We Like It?
Starting with the design, the Chichic Entrance Door Mat comes with a flocked fiber surface that helps provide it with a beautiful appearance. Not only that, but the fabric is very effective in trapping dirt due to the patterned grooves. 
You can place this mat near the front door, back door, porch, and other similar areas, and it will stay in its place due to the excellent rubber grip backing. The chances of anyone slipping due to this mat are extremely slim. 
This durable doormat is also available in different sizes suitable for various types of locations. One thing that we liked most about this mat is that maintenance is effortless. It can be easily cleaned by either sweeping, vacuuming, or washing it with a garden hose. 
Furthermore, the firmly stitched edges provide it with an elegant look while ensuring additional durability. 
What Could've Been Better?
This mat is one of the costlier options currently available on the market. Those who are willing to spend that much can get an excellent product with superb features. However, if you think the price is too much, it would be better to look for more affordable alternatives. 
Pros
Beautiful design

It can be used in many different areas

Sturdy construction

Suitable for heavy usage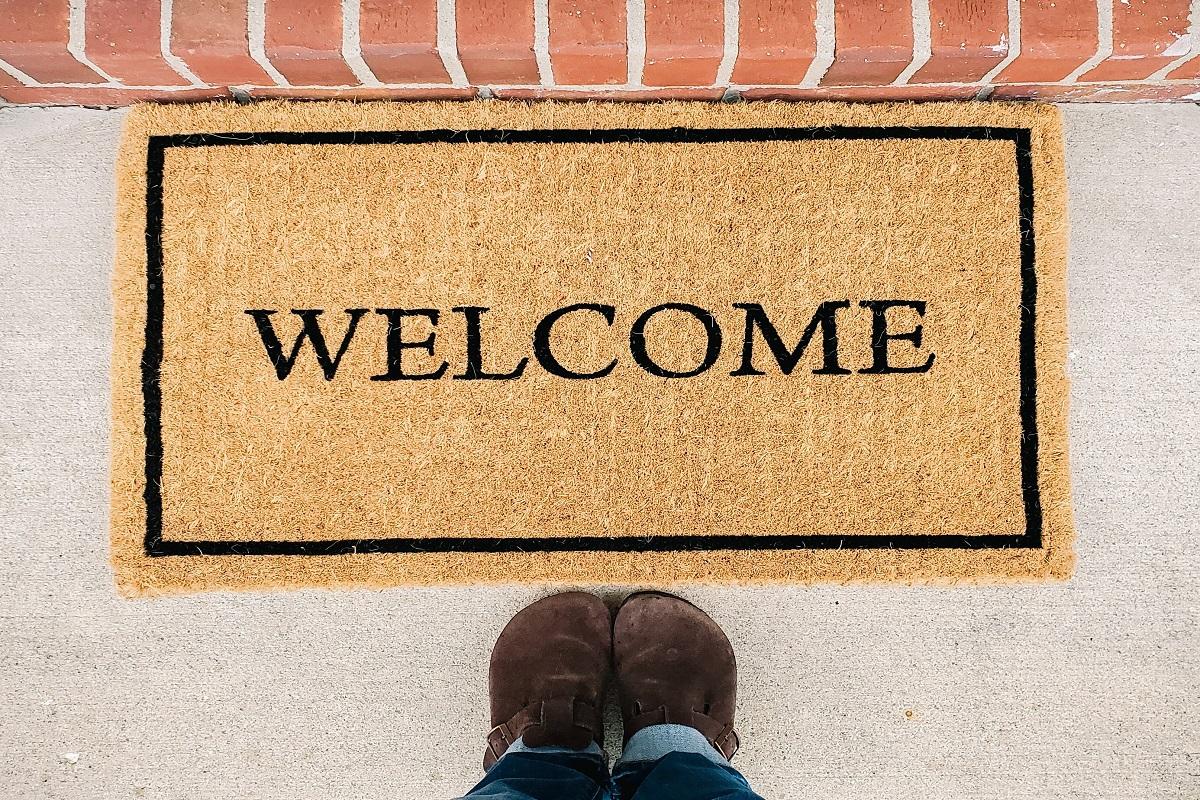 Outdoor Doormat Buying Guide
We have listed the best outside doormats that are available on the market. To make your task even simpler, we also include a buyer's guide. This guide lists all the critical factors that should be considered before making a final decision. Read on to learn more about these factors.
1. Build Material
One of the primary considerations when purchasing an outdoor doormat is the type of materials that it is made up of. Manufacturers use different materials, such as polyester, coir, recycled, etc. Each material comes with different advantages and disadvantages. 
For instance, polyester is easy to clean and slip-resistant, while coir offers a more natural look and is environment-friendly. On the other hand, recycled rubber is non-porous and long-lasting.
2. Shape And Size
Outdoor mats are also available in different shapes and sizes, even unique ones like round, oval, semicircle, etc. Since mats are meant to be used in various locations, the numerous options make selection easier. 
It is recommended to select that mat size that can fit comfortably in the required space while ensuring proper coverage and protection. The shape can be selected based on personal preference, looking at what might be most suitable for the existing decor.
3. Surface Of Doormats
The surface of the doormat not only determines how the mat looks but also how effective it is for capturing dirt and grime. For instance, ribbed textures are highly efficient in capturing mud particles and help the mat stay in place. Different mat surfaces can be used with various types of decor.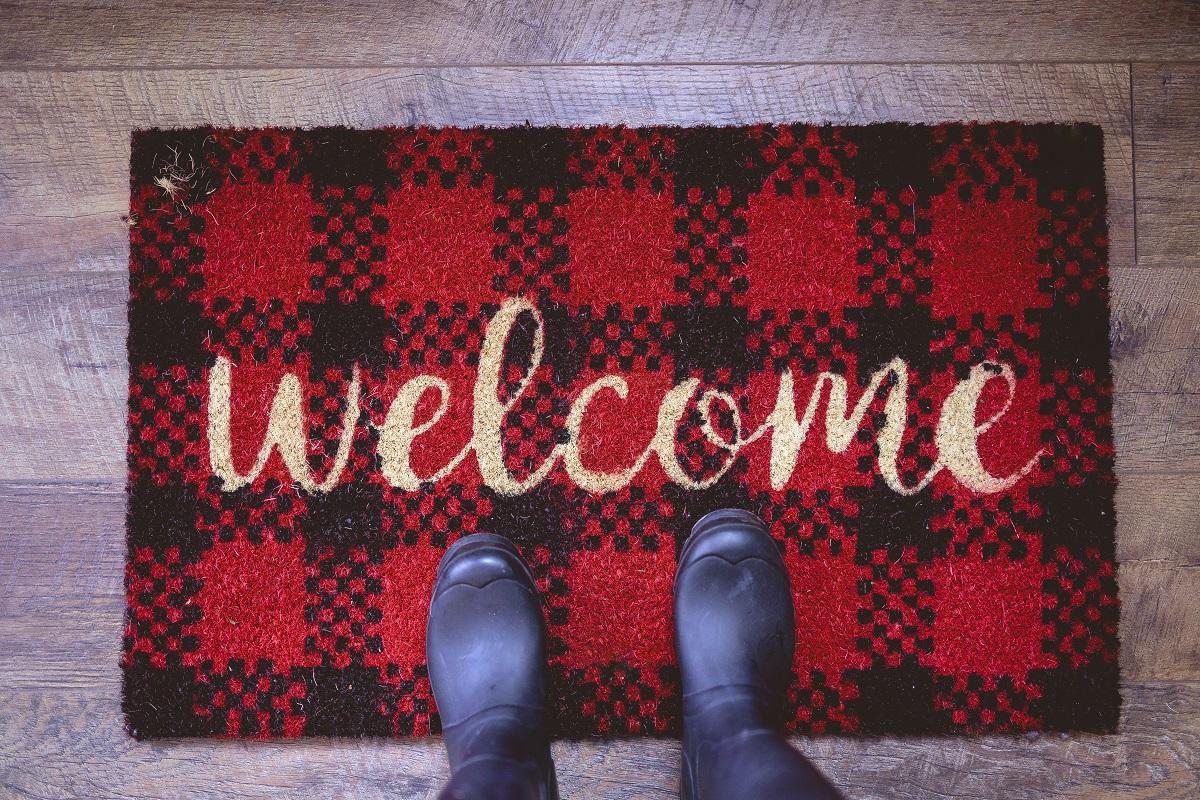 Verdict
Outdoor mats are the perfect solution for preventing dirt from tracking into your home while also adding to your home decor. We hope you found our review-based guide helpful in selecting the right product to keep your indoors clean and outdoors more beautiful.
Before you go, check out our favorite products from the list. Firstly, the Plus Haven Coco Coir Door Mat is our overall favorite as it is suitable for heavy-duty use and is a sustainable option. 
And if you are looking for a versatile and low-maintenance option, then the Ubdyo Extra Durable outdoor doormat might be more appropriate. Finally, DII is an excellent choice for those who want multiple color options and a sturdy build. 
With that, it is time for us to sign off. Until next time!
Related Articles
How To Get Creative With DIY Door Mats
The 53 Best Funny Welcome Mats
21 Autumn Porch Ideas That Will Make You The Envy Of Your Neighbors
36 Examples on How to Use River Rocks in Your Decor Through DIY Projects
39 Insanely Smart and Creative DIY Outdoor Pallet Furniture Designs