Today we are going to confess something, we are obsessed with green spaces, we spend our time drooling over Japanese gardens and breathtaking green walls, you have probably noticed already after all the backyard landscaping ideas and sustainable projects featured on Homesthetics. Today`s article does not quite fit in the backyard landscaping series but is definitely an article that will surprise each and every one of you.
We`ve ordered recently  Rooftop Gardens: The Terraces, Conservatories, and Balconies of New York and we had no idea how breathtaking it will be until we got our hands on it. It`s basically a coffee table magazine/book that will feed your imagination with some of the most beautiful private rooftop gardens in the world. The book is co-authored by a real estate agent entitled Denise LeFrak Calicchio and Roberta Model Amon, and as a result, the gardens presented are exactly what should they should be, extraordinary outdoor spaces and gardens, living proof that the green design that we love is not just a design theme but a way of life, a unique approach to everyday life.
Happily the book goes beyond pretty pictures offering gardening techniques and countless ideas of how you can transform your outdoor space. In a dense and highly populated city like New York where small studios are lived to the fullest you would imagine that the private outdoors spaces are very rare. The most green spaces in New York may be observed by drooling over the city silhouette from a high perspective point, moment in which you will observe that some architectural objects are featuring high gardens and leafy terraces. Even those are seen less often then you would probably expect, the technical solution for a green roof being complex and elaborate especially if it is realized on an older building. The selection bellow is obtained thanks to LeFrak's high end client list and Amon's important connections and even though they`ve respected the privacy of the owners and did not divulge spicy details, they  did mention that three of the breathtaking spaces are related to the fashion designer Lisa Perry, makeup mogul Evelyn Lauder and the former home of Oona Chaplin .
The breathtaking book has been published by Rizzoli New York and it offers inspirations in a lot of different garden styles. From English cottage gardens and sculptural terraces up to Japanese rock gardens, flowering woven arches; everything is jaw-dropping, lush greenery along with bamboo structures completed by trickling water, serene escapes stolen from the mountain landscapes and sheltered in one of the most beautiful city in the world, what else could you ask for?
Important is that the book offers endless gardening ideas, regardless of locations, we can use the gardening ideas in pretty much any corner of the world if we consider the climate . We can plant different sized greenery in all kind of pots to match our big or small balconies and terraces and if we have the possibility, we can even plant trees in pots, a huge bonus considering the shade and fresh air they provide. If we are aiming for the shade yet we are not able to plant trees the book has yet another valuable idea, many times featured on our website already, simple and beautiful wooden pergolas, well anchored to the horizontal plane. Wooden Pergolas can become the perfect structure for a sky garden, they can accommodate wisteria and even grapes whilst offering shade and a breathtaking look. You should also consider that the taller structures along with potted treas can act as privacy barriers where needed, offering the perfect secluded retreat.
Something that definitely has to be mentioned in our small description are the aromatic plants, if we have a superb retreat why we would not want a natural herb to offer the place a supreme scent, rosemary or lavender could to the job easily and while we are on the aromatic plants subject, if you are into cooking consider planting something that would help you in your kitchen endeavors, maybe a plant that`s rare thanks to low demand but can easily grow in your sky garden, you know what suits your needs.
We have to be honest and say it out loud, when it comes to New York`s architecture and real estate we all shiver, they tend to start all the voyeuristic tendencies and we can`t stop wondering with what they will surprise us next . Do you know what is the newest green apartment building ? The newest Fifth Avenue dream home ? Do you have a top of the most amazing modern mansions in New York? We would love to know about all these .
PS: All the breathtaking gardens in the book are designed by leading landscape architects and designers from which we would like to mention a few: Greensleeves Gardens, the Brooklyn-based Studio Gerard, Gresham Lang Gardens, Paula Hayes, Miguel Pons Landscaping, LLC,Adele Mitchell, Ken Smith Architects along with many others.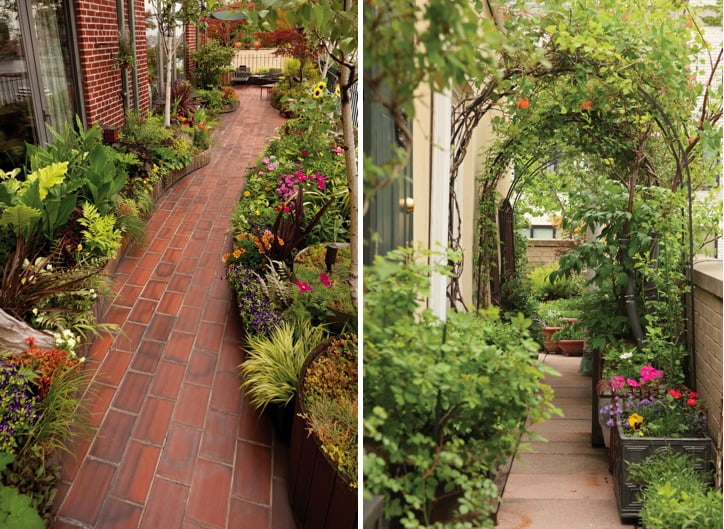 All images © Norman McGrath, Rooftop Gardens, Rizzoli New York 2011