A couple of years, decades ago napping at work would have constituted solid grounds for being fired out of some offices yet things are massively improving with the advance of technology today. Thanks to this insanely rapid growth you can actually take a nap at work. In fact, tech giants such as Google or Facebook are installing napping pods in their offices to encourage you to have this healthy refresh at your workplace. The simple idea behind this new epic trend is that a swift nap will actually increase your productivity as they rejuvenate the mind and body.
The most common presence in the trend are the EnergyPods envisioned by MetroNap, they look futuristic, greatly fit for a tech setting. In the following article we will go to through a couple of nap pods that might fit your workplace, cast a glance.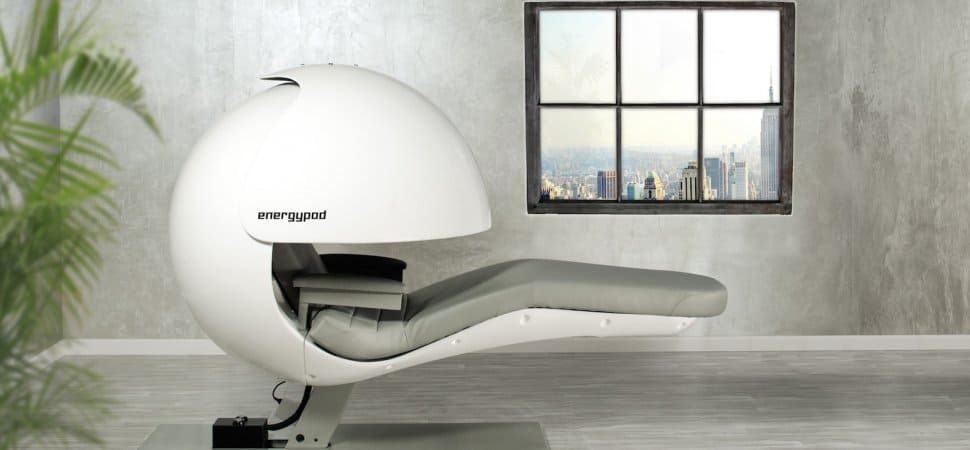 via EnergyPod
A nap pod in the wild awaits a subject to immerse into deep sleep.
a break with capsule pods
As previously mentioned, the EnergyPods are the most popular choice when it comes to these refresh capsule, they are basically C-shaped pods that have the bottom part extended to accommodate the taller individuals.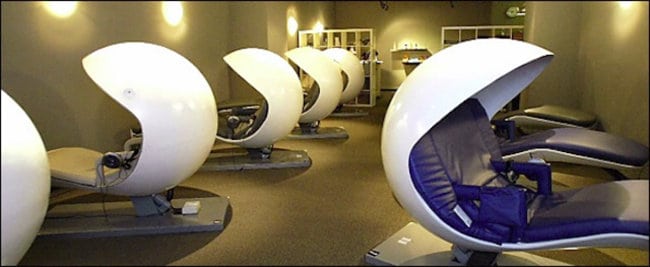 In certain workplaces there are dedicated napping rooms where one could rest peacefully.via Wellbeing Workout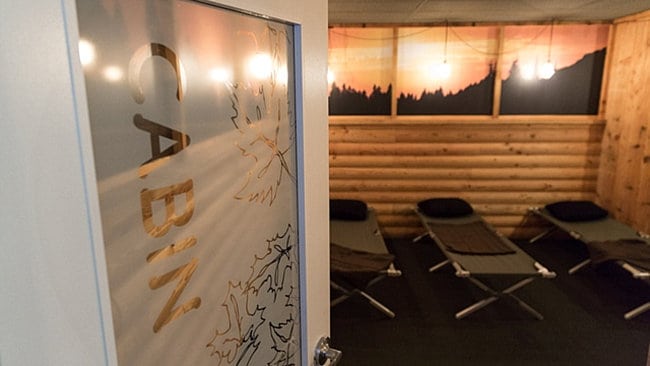 The napping rooms sometimes include simpler setups like camp tents, pillows and blankets in a cozy cabin-like atmosphere that is meant to calm the individual and soothe its nerves, this is the case with the HootSuite napping room in Vancouver.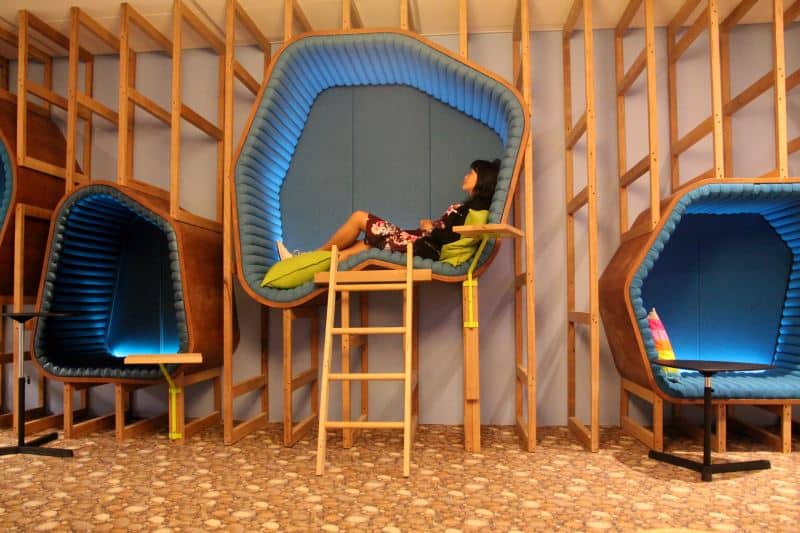 via Playing Holidays
In Sidney the Google offices have tailored epic fluffy compartments for quiet work time, and they`re naturally being used as nap pods too. If you feel the need to work in a more comfortable setting sometimes though, you can do that here, you can find refuge in a small comfortable pocket and work in peace.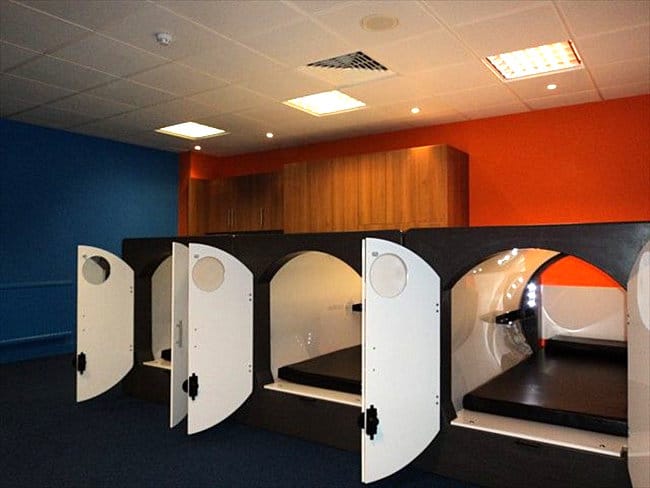 via Podtime
The nod pods sometimes take an odd space-travel inspired shape. Above three pods reside in a London office, they were installed in a room with a soft light in the attempt to make the refresh session easier, more efficient. This London office also features a small lounge, showers and a kitchenette thus encouraging one to feel at home, especially when a deadline is ahead and every creature comfort matters threefold.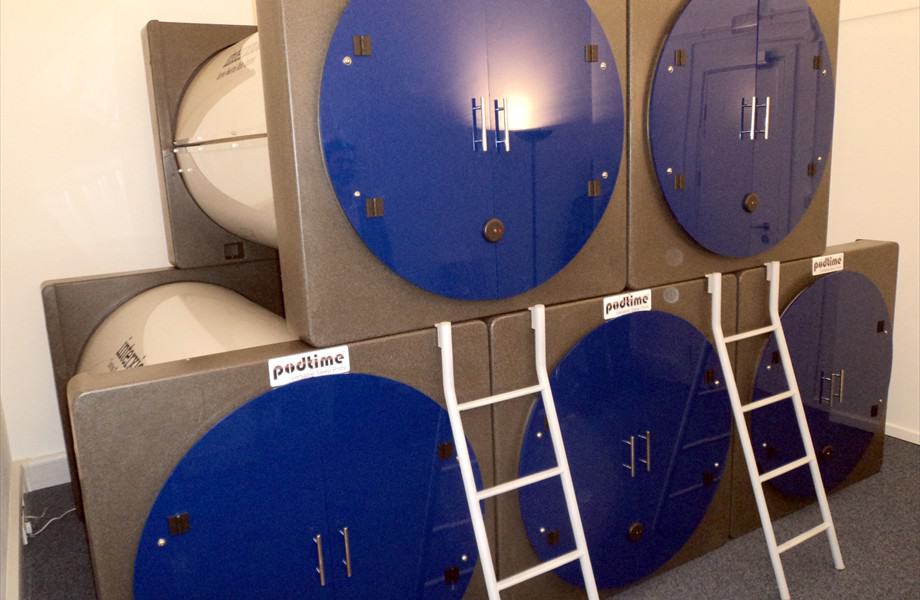 You can stack nap pods too,  nestle comfort in your company.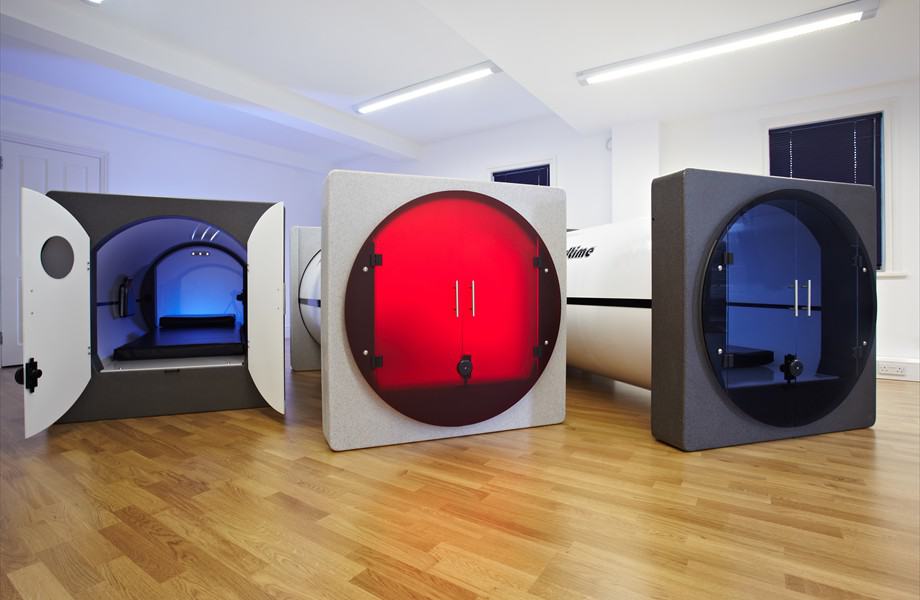 Podtime offers great customization options, and while the base poly-carbonate tube remains constant the company could choose from things that range from the technology in the tube up to the doors and light of the pod.
Sleeping capsules around the world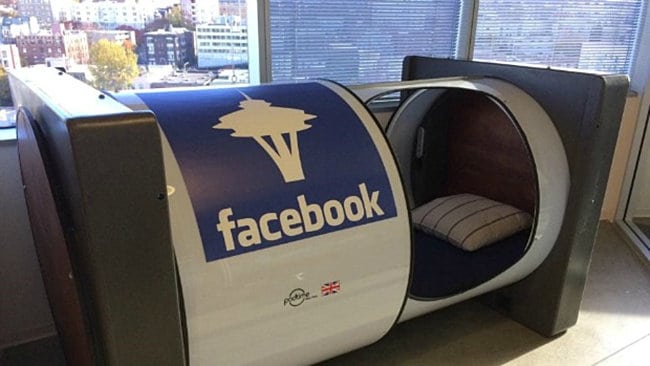 via High50 Health
Capsule sleeping is already quite spread around the globe reason for which in the following section we will cover a few from various offices, we will start with the Facebook offices in Seattle. In this particular design the capsule is entered differently, on the long side thus making sleep far more accessible. It goes without saying that the capsule looks really comfortable, we would grab that pillow right now, wouldn`t you?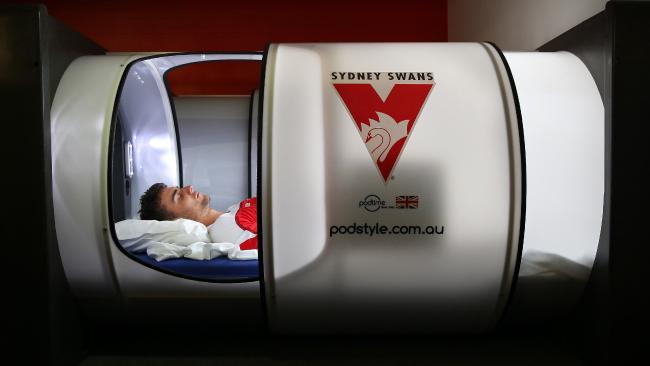 via The Daily Telegraph
Another sleeping pod has been noticed in the land down under, in this case, the pod is being used by Australian footballers, the ones that make the team entitled Sidney Swans. These capsules are especially useful for athletes when they have more than one training a day, it allows them to rest and refresh in between easily.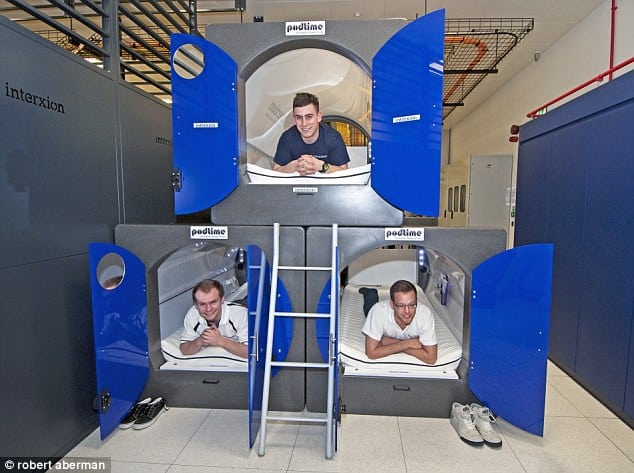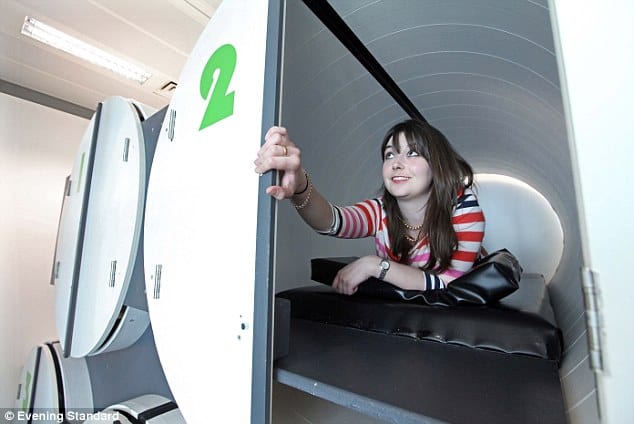 via Robert Aberman and Daily Mail
In particular scenarios in which getting to and from work becomes significantly difficult the approach of sleeping in the workplace has been adopted by certain companies. In 2012 the Summer Olympics have buzzed London beyond belief and for some business that cannot be interrupted Interxion installed their space pods, the PodTime capsules mentioned above, in the attempt to make the commute easier or eliminate it completely during those Olympic traffic times. Employees were able to take an hour nap after work to leave the office when things cooled down a bit or could have come in early to avoid it.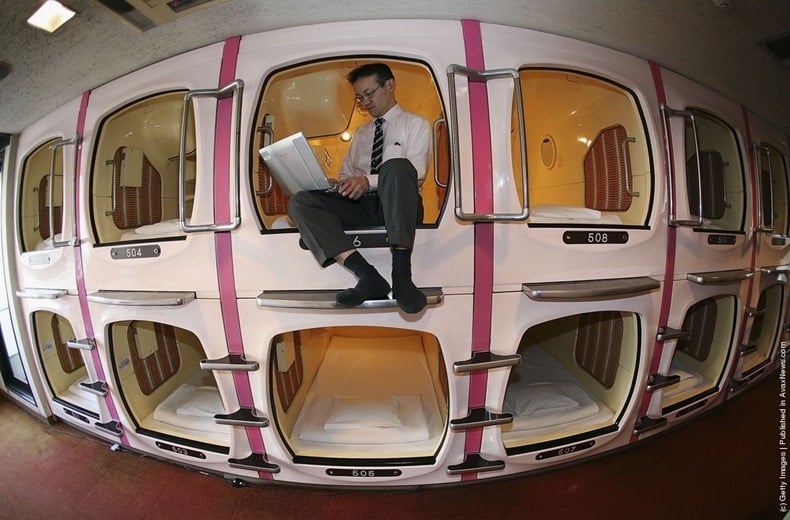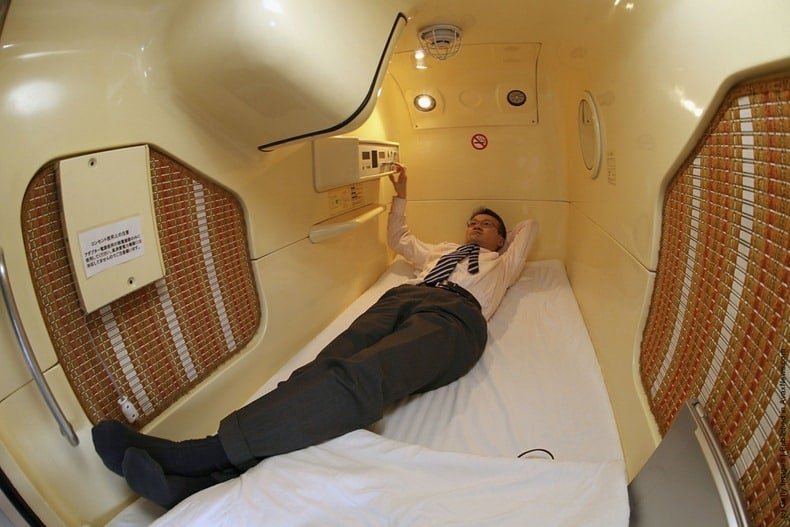 via The Tokyo Times
In Japan, people that are unable to reach their home for more than a couple of hours of sleep are occasionally using capsule hotels around the workplace to maximize their sleeping time. In this way they avoid running home and from home the next day for two-three hours of sleep, businessmen use these when 24 hours in a day are not enough.
sleeping in your local Library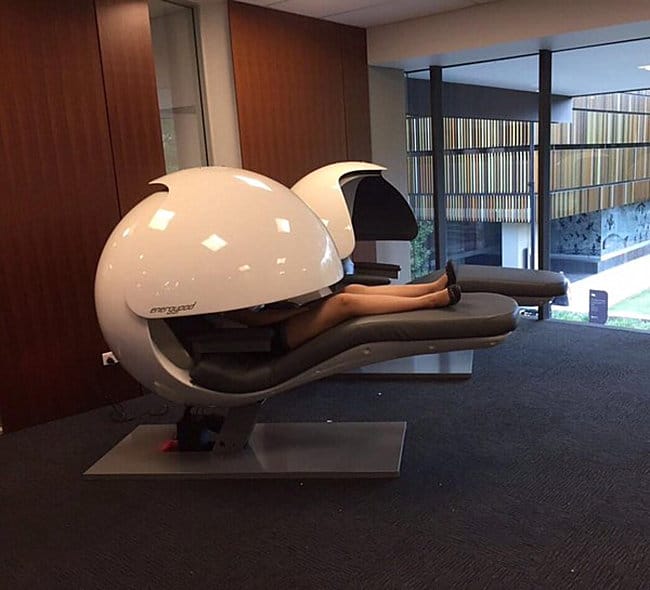 via David Cowan
One sure imagined once in the library that a nap would be the cherry on the top, a small break after hours of reading awesomeness would have been purfect before you would re-engage the world of written knowledge. The Library Australia's University of Queensland has read your mind, a student now luckily can take a short sleeping break in full comfort using the EnergyPods, this ought to encourage studying and the time spent in the library itself.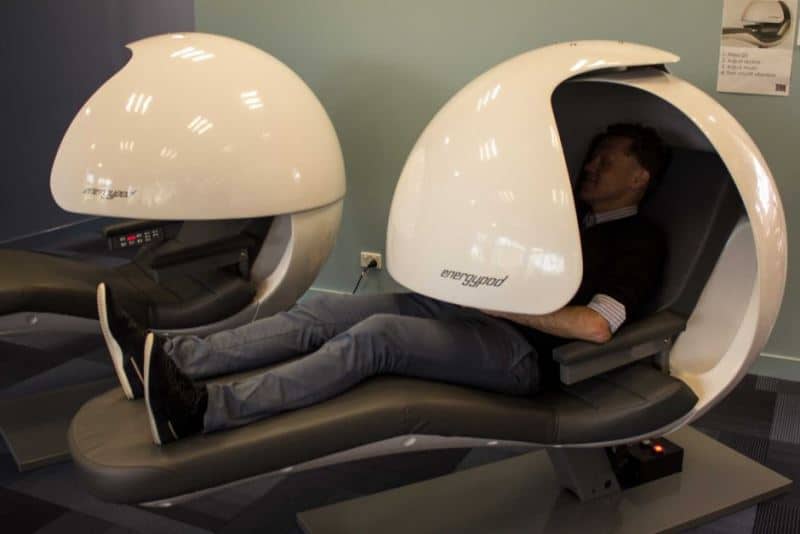 via ABC News
The Edith Cowan University Library in Joondalup, Australia too features sleeping pods, cast a glance above.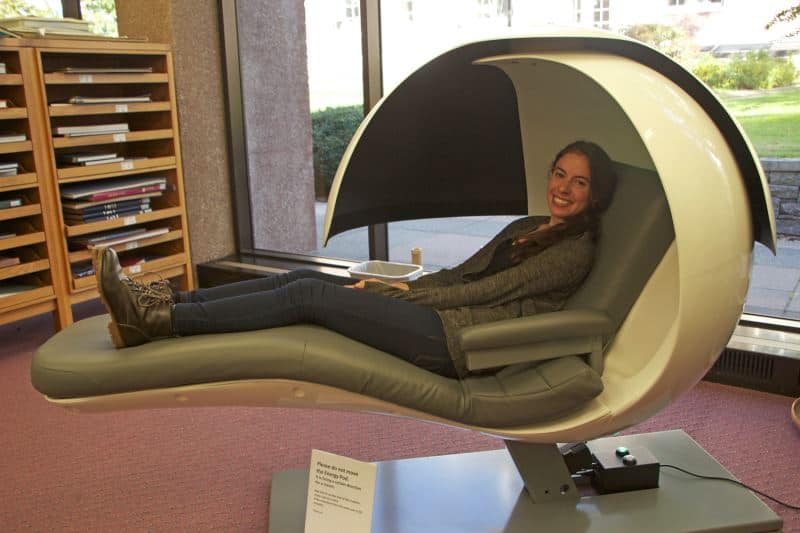 EnergyPods can be found in the United States libraries too, the last example of a pod in universities comes from Wesleyan University in Connecticut, naturally, in a student library. You can enjoy a short nap in a super comfortable reclined seat, surrounded by soothing sounds and rhythms and a privacy visor.
Epic Dedicated Napping Space
In the start-up culture and tech companies in particular,world-wide, the versatile space is a must. Sleeping and relaxation areas get a great deal of attention, as they`ve proved that they can increase the productivity, health and well being of the employee. In the following section we will present relation areas from various office around the world.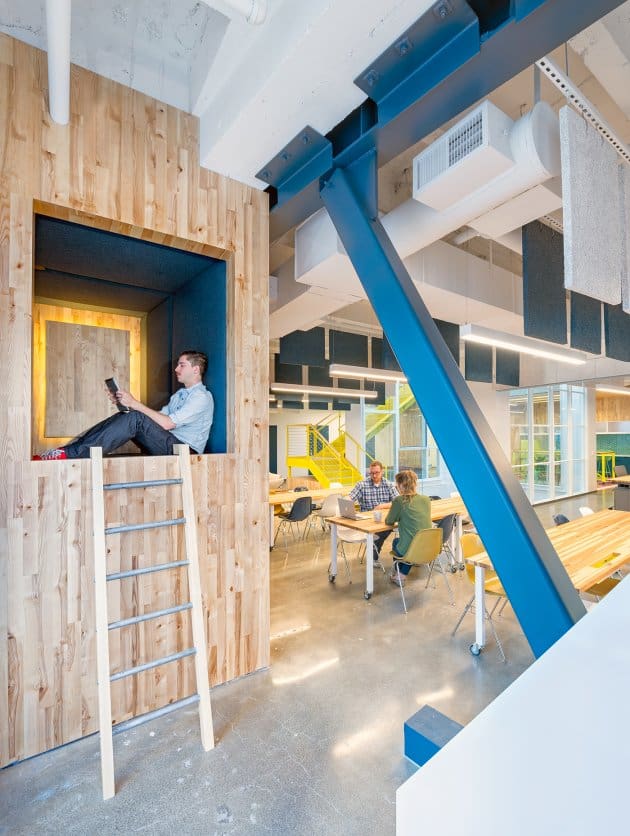 via Endy
Capital One Lab in San Francisco offers elevated sleeping nooks only accessible through a ladder, every bunk includes a soft mattress and various amenities meant to encourage you to relax whilst offering you the opportunity to read your mail, newspaper or book in silence.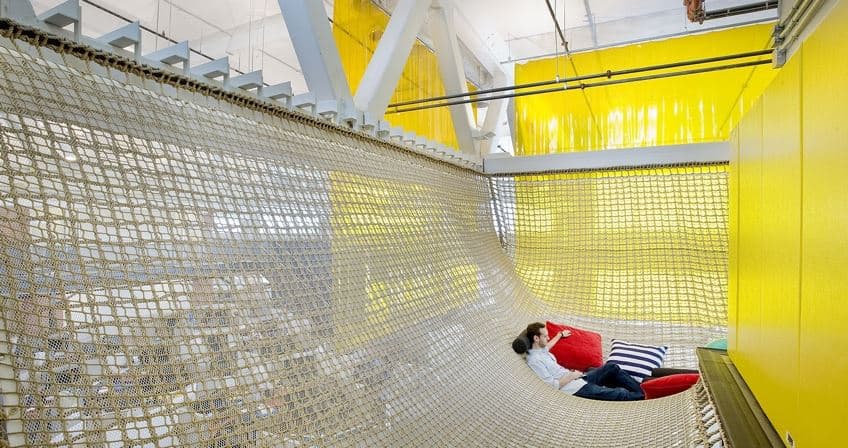 via Flavorwire
In Pittsburgh at Google things are different, an immense rope area offers you the opportunity to sleep in full comfort, you are in your office, elevated off the ground in thin air, surrounded by pillows and invited to rest, sounds like a pretty good selling point for the office.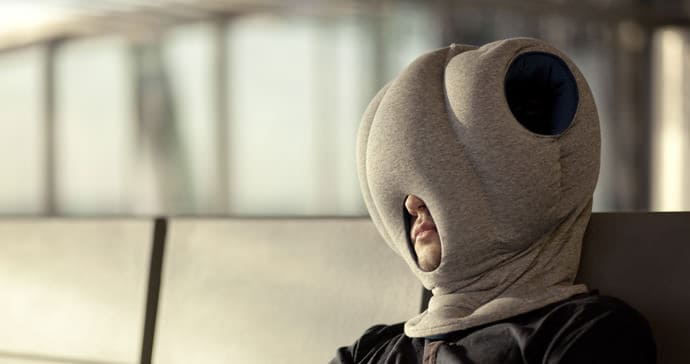 In certain offices the small space will not allow one to enjoy a sleep in a regular bed, in these cases there are alternatives, the Ostrich Pillow is one of them. Various workplaces around the world have stocked a few of these to encourage their employees to rest. They look weird and funny, they are comfy and they block sound and light, they encourage sleep. You can order one for yourself and try it out, if the current office is not offering you nap options you could use this one in your launch break for a quick 20 minutes refresh.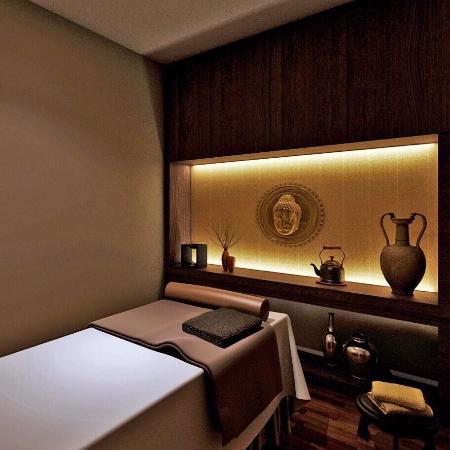 via Trip Advisor
If your workplace lacks a sleeping option and the Ostrich Pillow simply ain`t enough to put you to sleep certain establishments have been envisioned for you, you get out of your office when need be and simply go to sleep somewhere, above illustrated, Natureland, offers  reflexology sessions, you can get a massage, spa-like treatment and a nap in full comfort, happy times for folks living in Singapore.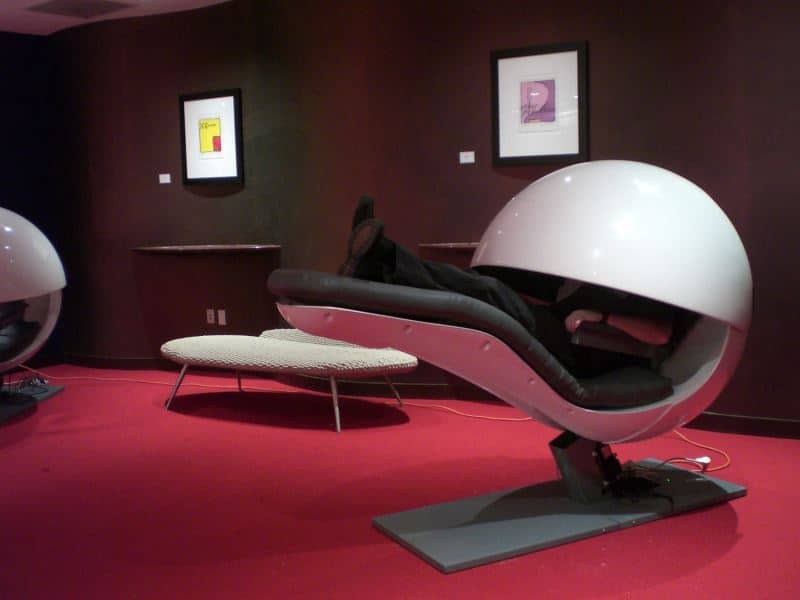 via Bit Rebels
Napping in the office might not work in every industry or every workplace but the trend not only encourages sleep and relaxation but a less stressful work environment altogether, something that will be surely felt in absolutely every job at a certain point as we get closer to robots that will start to replace stressful, irritating jobs. What do you think is going to happen next in the workplace environment and how do you see the napping pod trends? We would love to hear from you !