Are you a fan of intricate architecture that offers a luxurious living experience? We think you'll be interested to know about some of these beauties.
The high-end lifestyle is a dream that all of us aspire to have. Choosing the right house is the first stepping stone in entering the world of an extravagant lifestyle. Whether it's the beautiful view of the estate or the luxurious design of the architectural homes itself, get ready to be mesmerized. 
On that note, we present to you some of the most expensive houses currently available in the US. You can have a look at what the finest homes in the country have to offer. It can be the beautiful widespread estate, the high-end architecture, or the posh interior design of the houses- there's a mansion to suit every taste!
So, without wasting any more time, let's get on with it! 
Most Expensive Houses In The US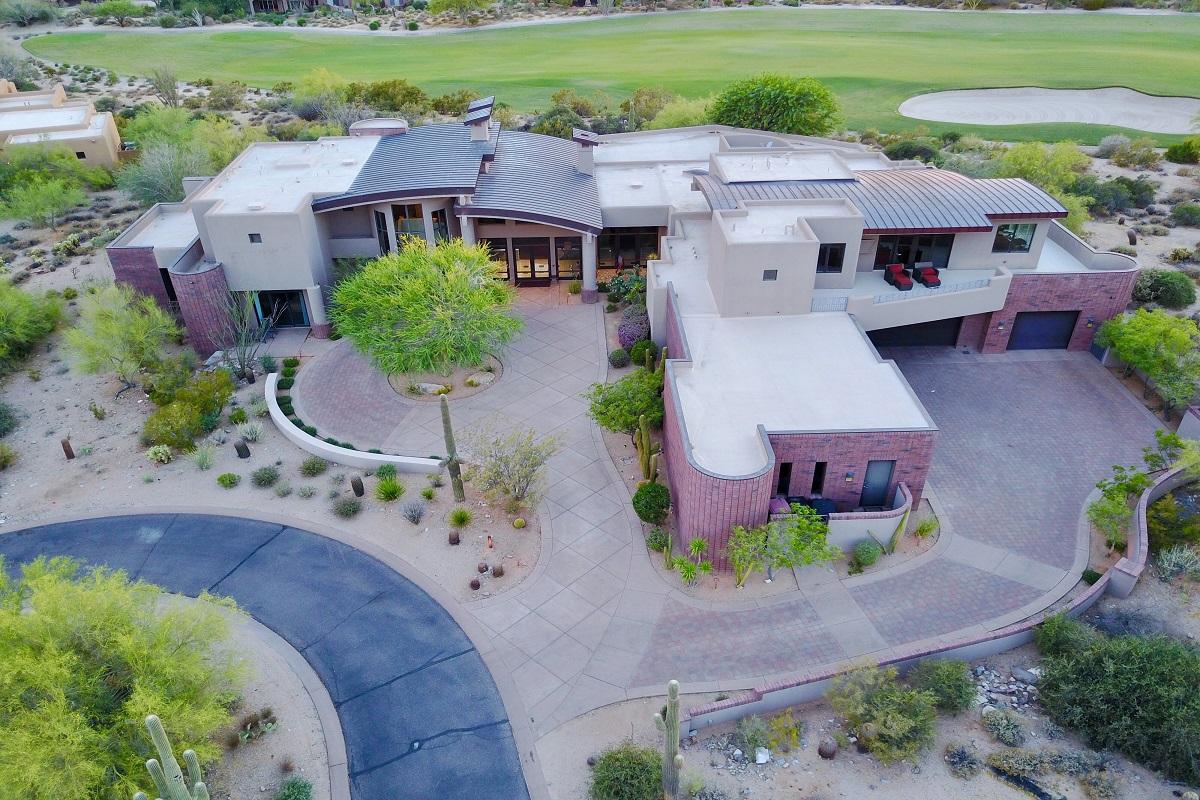 The One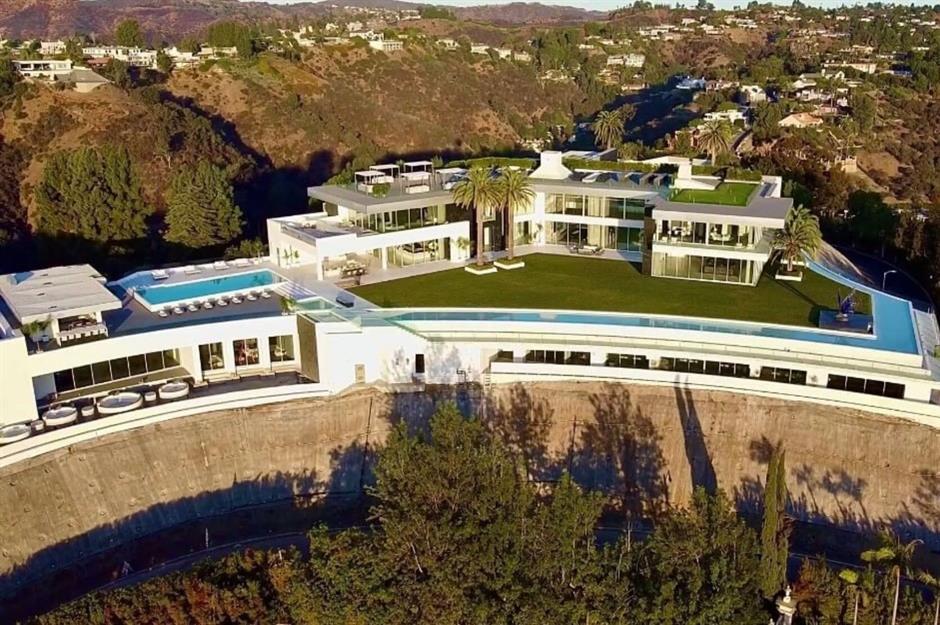 The One has taken the number one spot among the most expensive homes in the US that took eight years to develop. This private residence is a modern masterpiece of Nile Niami and is spread over a five-acre plot in Bel Air, Los Angeles, California. 
Moreover, the house comes with the view of one of the dreamiest sceneries in California. You get a full 360-degree view of the San Gabriel Mountains, Downtown LA, and the Pacific Ocean. This 105,000 square feet house is the architectural wonder of architect Paul McClean. It also has a modern and minimalist interior design that is the dream child of Kathryn Rotondi. 
Moreover, this extravagant private residence comes with 21 bedrooms and 42 bathrooms that'll be more than enough for you, your entire family, and some uninvited guests! With its 26 feet high ceilings and five swimming pools, The One is your ultimate dream house.
Bel Air Four Story Mega Mansion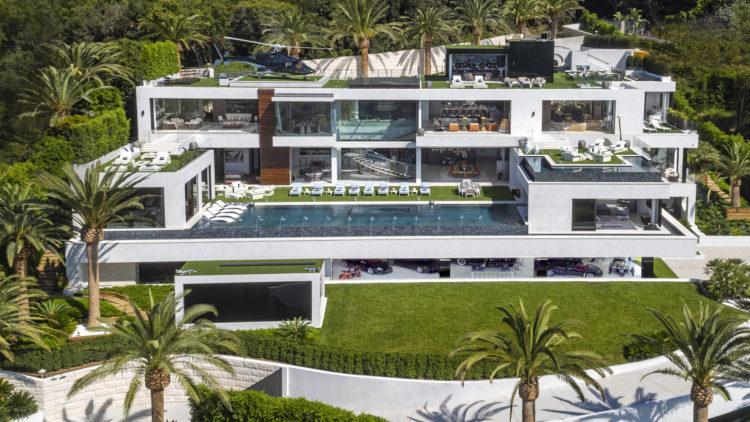 This luxurious mansion, located in Bel Air, LA, California, is indeed one of the most expensive homes in the US. Designed by Bruce Makowky, the mansion features a collection of rare and expensive artworks. It took four years and 300 workers to complete this ginormous piece of real estate.
With interior space of 38,000 square feet, 12 bedrooms, and 21 bathrooms, it is a real catch for anyone who has a knack for luxurious living. You also get 17,000 square feet of outdoor deck area, along with a swim-up bar.
Furthermore, you get an exquisite 270-degree view of the entire LA skyline, including the breathtaking mountain and ocean views that the city has to offer. You also get seven full-time staff members with the house who'll cater to your every need. Hence, this mansion offers you the best high-end living lifestyle that you can dream of. 
La Follia Estate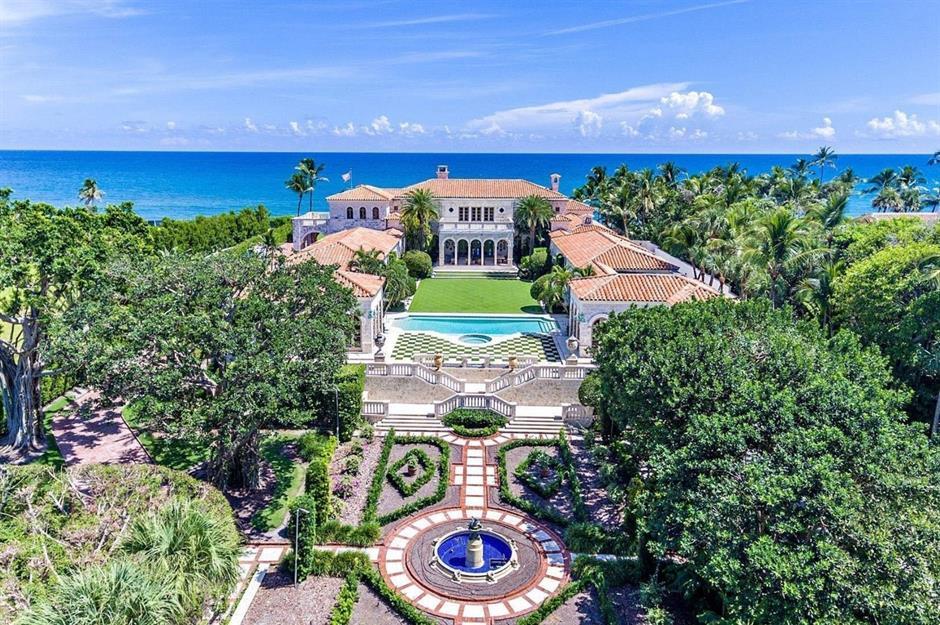 The La Follia Estate became one of the most expensive real estate properties in the history of Palm Beach back in 2019. It belonged to the famous Broadway producer Terry Allen Kramer in 2018 and landed on the real estate market in the following year. 
Constructed during the mid-1990s, the Italian Renaissance-style design provides a lavish and dramatic appeal to the mansion that is surrounded by five acres of lush tropical greenery. It also offers direct access to the Lake Worth Lagoon and the ocean, along with 210 feet of private beachfront.
The mansion also comes with 13 bedrooms and 18 bathrooms, a movie theatre, and private staff quarters. It also has a master suite of 4,500 square feet accompanied by dual dressing rooms and a private office. Thus, it is the ultimate billionaire dream house with its elaborate and intricate design, as well as exquisite and jaw-dropping views. 
The Manor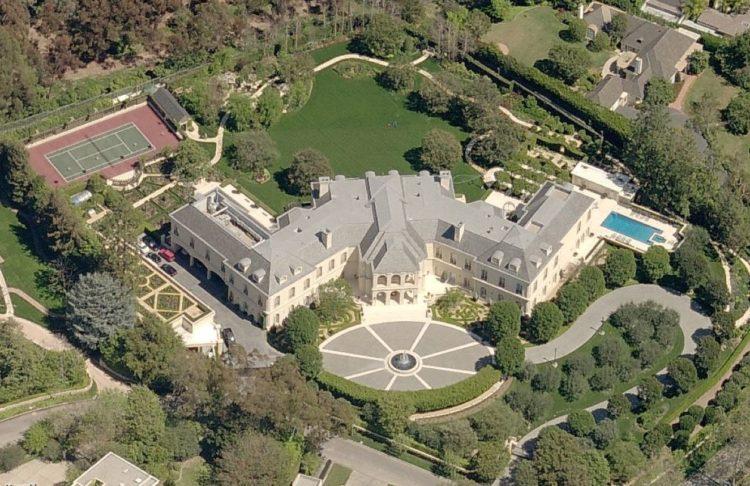 This grand estate is a prime example of a luxurious heritage house. Located in Holmby Hills, Los Angeles, California, it is one of the most expensive residential places in the country. So, if you're looking for an older luxury mansion, this might be the right choice.
It was built by James Langenheim and Associates in 1988 in the style of a French chateau. It was later renovated in 2011 to incorporate a more modern and contemporary design into this luxury mansion.
With interior space of 56,000 square feet, 14 bedrooms, and 27 bathrooms, it offers enough space to entertain guests. It also comes with an exquisite landscape that offers beautiful hilltop views. Moreover, the mansion is equipped with several amenities, including a rectangular pool, a full-size tennis court, and a decadent double-stair entryway. 
The Beverly House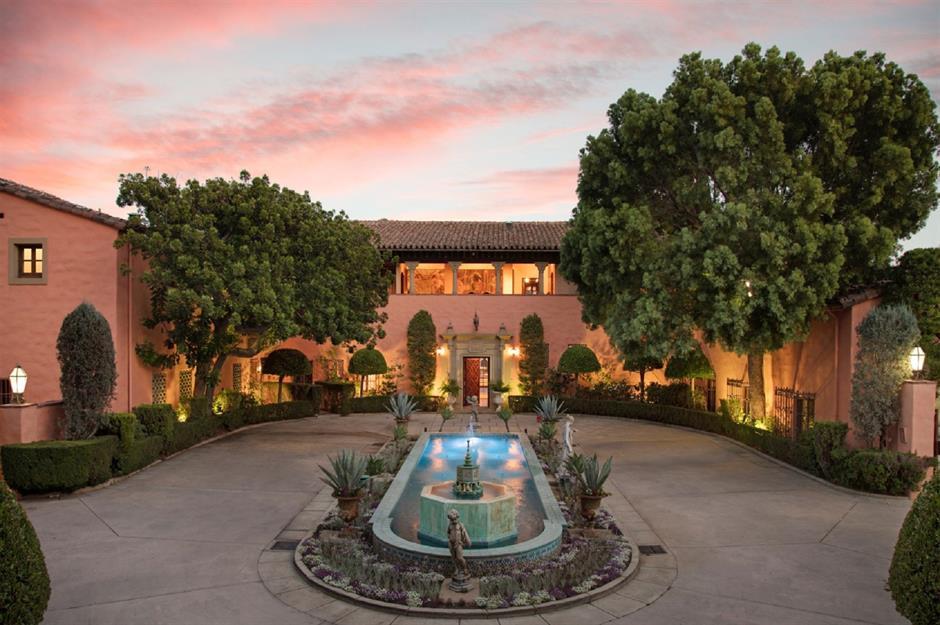 The Beverly House has been a showstopper in several famous Hollywood movies, including The Bodyguard and The Godfather. Located at the very heart of Beverly Hills, the property offers all the grandeur and extravaganza of Old Hollywood. 
This Mediterranean Revival-style luxurious mansion was built in 1926, and it sits on three acres of spectacularly landscaped grounds. The architectural design of the house features high-arched ceilings, gilded furnishings, as well as decorative paneled walls. 
It also comes with an 82-feet hallway, 25 bathrooms, and 18 bedrooms, along with a two-story library and two dining rooms. You can easily accommodate 1000 visitors within the mansion grounds. Moreover, the Olympic-sized swimming pool and the tennis court make it ideal for entertaining guests. So, the mansion is one of the most sought-after real estate properties in the country. 
Manalapan Megamansion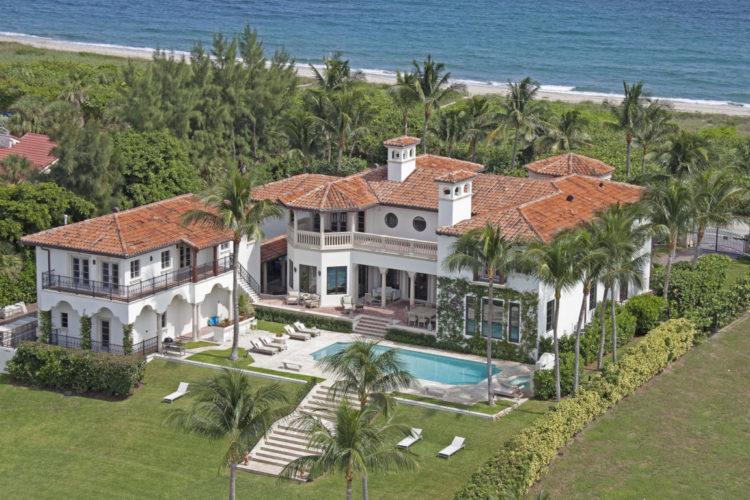 The Manalapan Megamansion has a unique historic charm, along with all its grandeur and luxury. Situated in Florida, the mansion was built in the 1940s, and it features some of the most delicate architectural details. 
It sprawled over a widespread green landscape that comes with a botanic garden featuring over 1500 tropical plant species. The mansion also offers 1200 feet of sandy beachfront property and direct access to the ocean. Additionally, the private oceanfront makes it ideal for hosting extravagant beach parties. 
With 22 bedrooms and 57 bathrooms, the estate is also ideal for hosting and entertaining guests. It also comes with a fully equipped sports complex and a treehouse for the kids. Hence, you get all the facilities of a luxurious house with this mansion. 
Beverly Hills Estate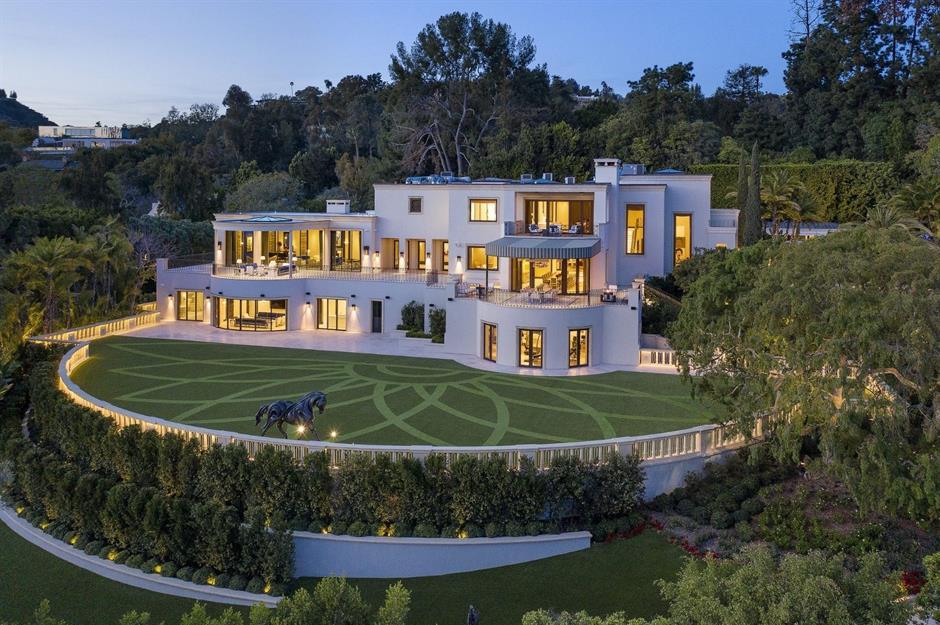 This beautiful estate is located in Beverly Hills, LA, California, and was the home of billionaire casino and business tycoon Steve Wynn till 2015. However, the property became available on the market in January 2021 and was soon considered one of the most expensive houses in California. 
Wynn turned the house into a masterpiece of modern art and architecture under his ownership. At present, this three-storied mansion comes with an interior space of 27,150 square feet that includes 14 bathrooms and 11 bedrooms. It also features high-end furnishings and architectural elements that go perfectly with its eclectic décor. 
Moreover, the mansion has a movie theatre, a bar, a gym, and a wine cellar that offers five-star hotel vibes. You also get a beautiful view of Downtown Los Angeles from the terraces. It is a brilliant piece of real estate that showcases modern architecture at its best. 
Great Island Estate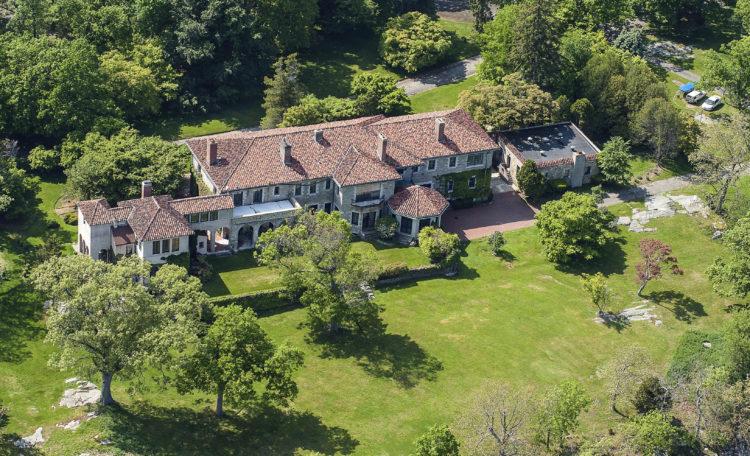 The estate offers you natural surroundings and wildlife while you're just an hour away from the Manhattan metropolis. So, you basically get the best of both worlds with this luxurious estate. You get to enjoy the peaceful rural area and take a break from the busy city life.
The main house of the estate sits on the fourteen acres of the conservation area that is surrounded by meadows and lavish gardens. Along with the main house, the estate also comes with several smaller houses and beach cottages. 
It was built in 1902, and it features a very traditional European architectural design. The main house comes with ten bedrooms, four fireplaces, eight full and two half bathrooms, dining rooms, a beamed living room, and other facilities. You'll also get the benefits of other amenities, such as a greenhouse, terrace, dock, and veranda. 
Briar Patch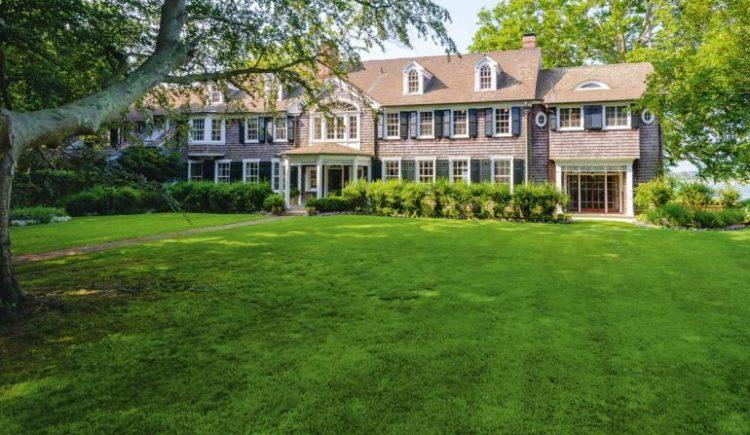 Briar Patch is the most expensive home in the Hamptons, which automatically gives it a spot on this list. The waterfront estate hit the US market in 2014. The house is set on 11.3 acres of beautiful open landscape that comes with spectacular water views. 
It features ten bedrooms, nine full baths, one partial bath, four fireplaces, along with hot tubs, a gym, spa, and tennis courts. It also comes with a lavish teak-bordered 60-feet outdoor pool. Moreover, the quarter-mile of private beachfront makes it ideal for an extravagant beach retreat. 
The interiors show numerous high-end architectural elements, including French doors and handmade wallpapers designed in a Georgian Revival style. So, this can be the perfect house for spending a lavish summer vacation in the Hamptons. 
Chartwell Estate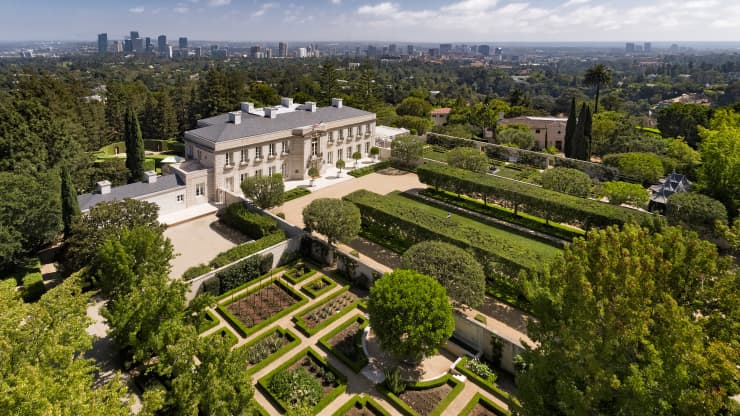 The Chartwell Estate was one of the priciest real estate listings in 2017. And it remains one of the costliest residential houses in the US. Located in Bel Air, Los Angeles, California, Chartwell can easily compete with any historic fairytale French chateaus. 
It was designed in the 1930s by architect Summer Spaulding as a French Neoclassical-style mansion. The main house sits on ten acres of lush green land with an interior space of 25,000 square feet. Along with numerous formal dining rooms, living rooms, and ballrooms, it also features 24 bathrooms and 18 bedrooms. 
The lavish interiors of the house are decorated with the finest furnishings and architectural materials. Moreover, the estate grounds feature exquisite gardens and elaborate fountains found in European palaces. So, Chartwell offers an extravagant palatial grandeur that very few modern-day mansions can. 
Il Palmetto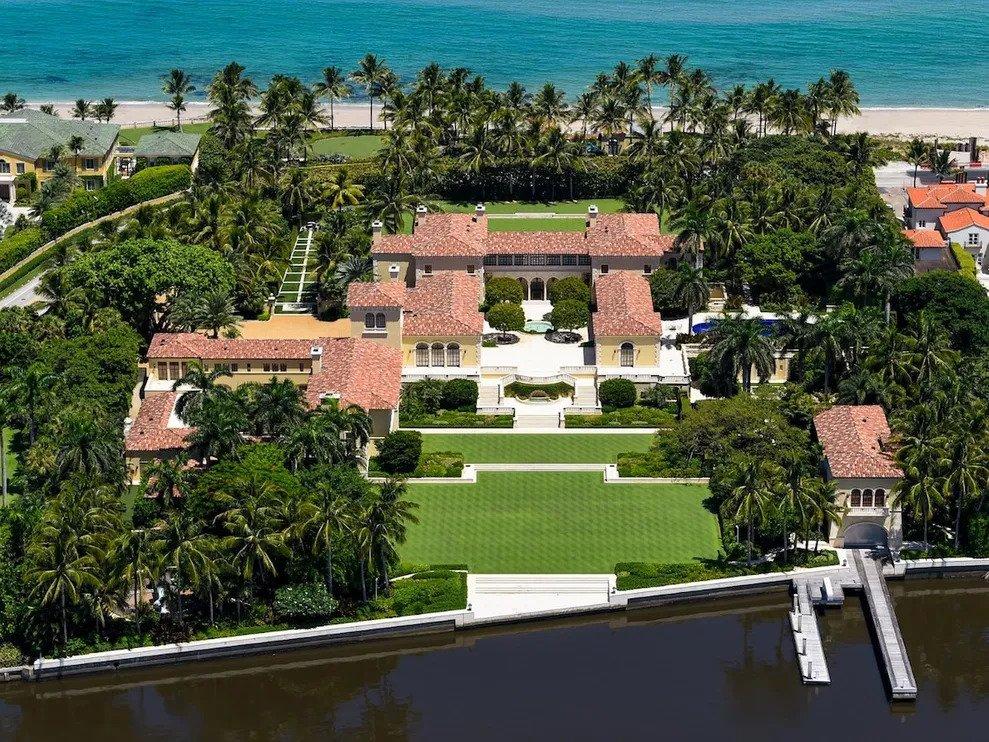 The architectural design of Il Palmetto is a major tribute to the 1930s Italian Renaissance style of design. Located in Palm Beach, Florida, the mansion also comes with a magnificent interior design that was developed by Fairfax and Sammons. 
The 60,000 square feet interior space includes ten bedrooms, two elevators, and a formal dining room having 16th Century carved ceilings. It comes with a fully-equipped kitchen, pantry, library, home theater, and offices. Additionally, it has a decadent two-storied dramatic entrance. The main house also has a fine wine cellar that holds around 20,000 wine bottles. 
Furthermore, the estate grounds feature a lavish courtyard with an elaborate fountain. It also comes with a protected private beach access that offers you a magnificent view of the Atlantic Ocean. This luxurious estate is a fine blend between traditional Italian Renaissance-style and modern contemporary architecture. 
Mylestone Mansion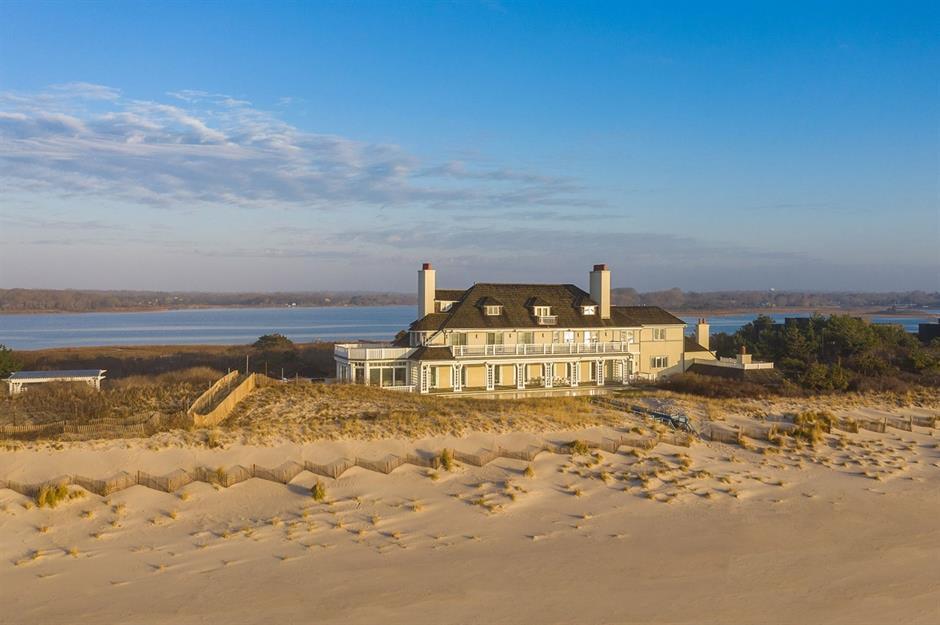 The modern Tudor-style mansion is one of the most prestigious and lavish houses located at Meadow Lane in Southampton. With an interior space of 15,521 square feet, Mylestone is the most expensive house in the neighborhood. It is one of the best waterfront retreats that Southampton has to offer. 
The house sits on eight acres of land with direct access to the open waters of the Shinnecock Bay and the Atlantic Ocean. It also comes with its very own helipad, which makes it the dream retreat home. Additionally, the lavish interior has a timeless aesthetic appeal that goes perfectly with the contemporary coastal decor and the neutral ocean tones. 
It also comes with twelve bathrooms and eleven bedrooms, along with numerous living rooms, a dining room, and a breakfast room. Furthermore, the master suite has a 660 square feet oceanfront terrace that features a hot tub. So, you can enjoy beautiful landscape scenery from every corner of the house.
Rancho San Carlos Mansion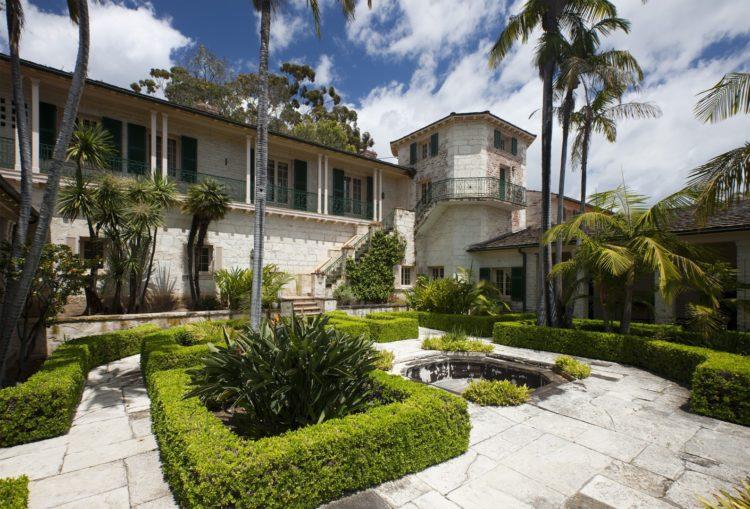 This historical residential home is located at East Valley Road, Montecito, California, offering exquisite views. The Colonial manor was built in 1931 designed by Reginald Johnson. With an interior space of 29,483 square feet, the main house has more than thirty rooms.
The architectural design of the house ensures privacy and offers a magnificent view of the surrounding natural terraces. Furthermore, the living rooms surround the central courtyard as the master and family wings of bedrooms extend down from the high terrace. 
Apart from the main residence, the estate also features ten residential cottages, orchards with fresh produce, and other equestrian facilities spread over a private property of 237 acres. So, it offers the perfect getaway for you and your family amidst the lavish and magnificent scenery of California.
Casa Encantada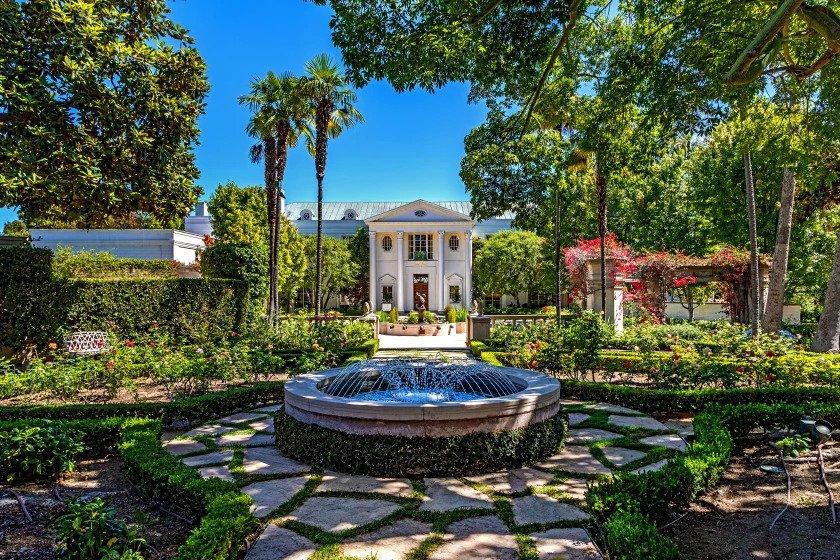 Casa Encantada is a real estate masterpiece that hit the US market in October 2019. This is a majorly sophisticated pad that was built in 1937. Located in the posh Bel-Air neighborhood of Los Angeles, California, the house sits on an eight-acre plot.
Designed by architect James Dolena, this Georgian-inspired mansion comes with sixty luxurious rooms that offer exquisite ocean, garden, and city views. The mansion has been the home of many high-profile billionaires over the years. So naturally, it is one of the highest-priced real estate properties in the country. 
With an interior space of 40,000 square feet, each room is furnished with the finest architectural elements and materials. It comes with seven bedrooms, twenty bathrooms, a living room, a family room, and a walnut-paneled library. The property also offers maximum privacy to its occupants due to its unique design. Hence, it sets new standards for luxurious home design. 
West Creek Ranch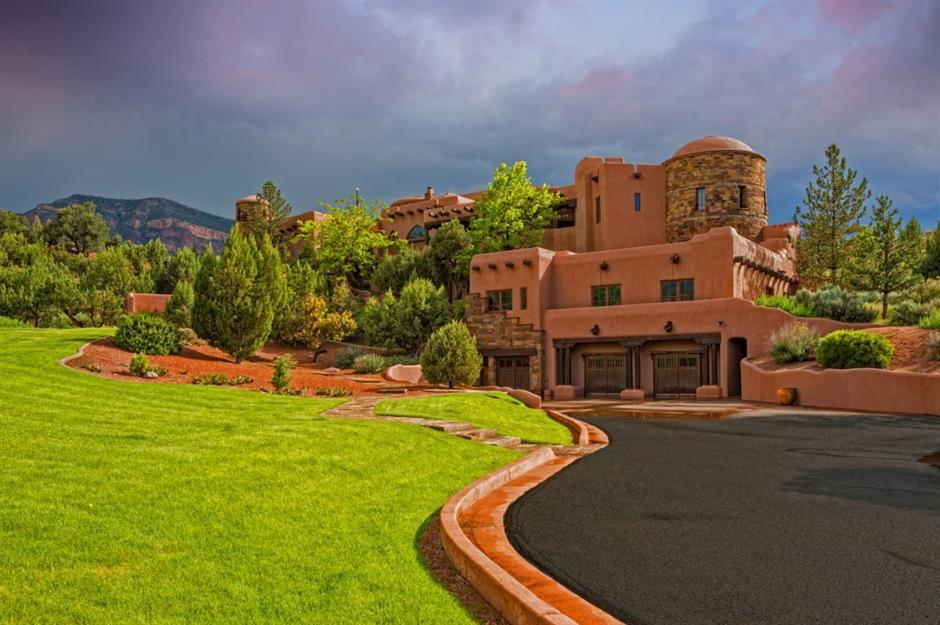 This is one of the largest and most expensive home listings in the US. The estate stretches over 8700 acres, and its area is so expansive that it covers two states, Utah and Colorado. The property first became available on the real estate market in 2017. 
The main home has an interior space of 22,000 square feet, along with several resort-style lodges having a total of 72 rooms. The interior is a unique blend between rustic touches and elaborate architectural flourishes. 
Additionally, the four-storied main residence comes with eight bedrooms and eight bathrooms, a two-story library, a gym, a swimming pool, and other facilities. The estate also features a 400 square foot observatory, along with a car museum and equestrian and bison pastures. Hence, the property takes billionaire backyards to a whole other level. 
Las Varas And Edwards Ranches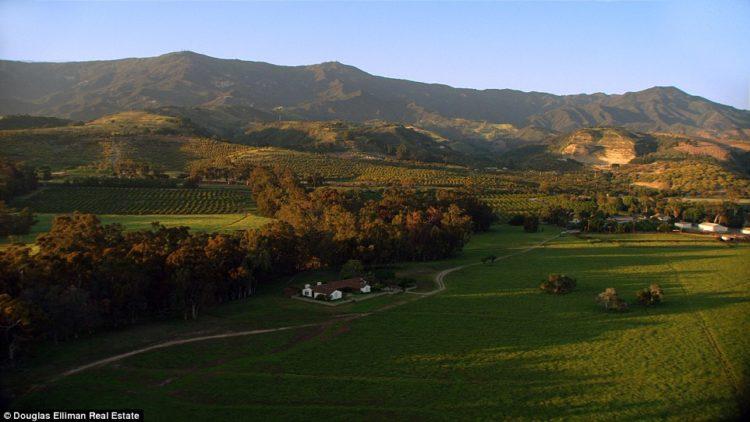 Located in Goleta, California, these ranches sprawl over an area of 237 acres. The estate offers picturesque views of pastures and is surrounded by forests of Live Oak, Eucalyptus, and Juniper. It also offers optimum privacy to its occupants with a ten thousand feet private access oceanfront.
The main house also comes with ten bedrooms, ten bathrooms and is surrounded by a beautiful landscape. Moreover, the estate features a Victorian-era guest house, horse barns, manager's cottage, and other amenities. 
It offers a luxurious and lavish living experience with exquisite views, beautiful lemon and avocado orchards, and high-end architectural elements. So, if you are planning to taste the ultimate luxurious lifestyle, this estate can be a good place to start. 
Fifth Avenue Duplex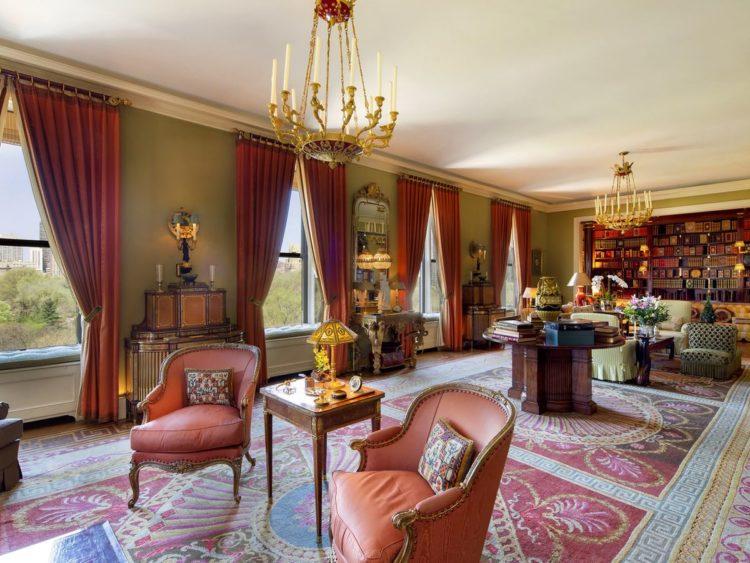 This Fifth Avenue duplex occupies the seventh and eighth floors at the very heart of New York City. So, if you're planning to enjoy the ultimate luxuries of the Big Apple, this can be your dream home. With amazing views of Central Park, this house offers one of the best living experiences in the city.
Built in 1931, it has an exquisite limestone exterior that was designed by famous architect Rosario Candela. The two levels of the duplex feature twenty rooms that include a master bedroom, along with a wine cellar, sitting room, fireplace, a full dressing room, high ceilings, hardwood flooring, and palatial entrance. It also comes with a library furnished with 17th Century leather walls.
Additionally, this residence comes with 24 apartments, which makes it ideal for entertaining your guests. The interior of the duplex is elegantly furnished in a marble style featuring 1930s mirrors in the bedrooms and bathrooms. So, you can experience the ultimate luxurious city life with this house. 
Brookline Estate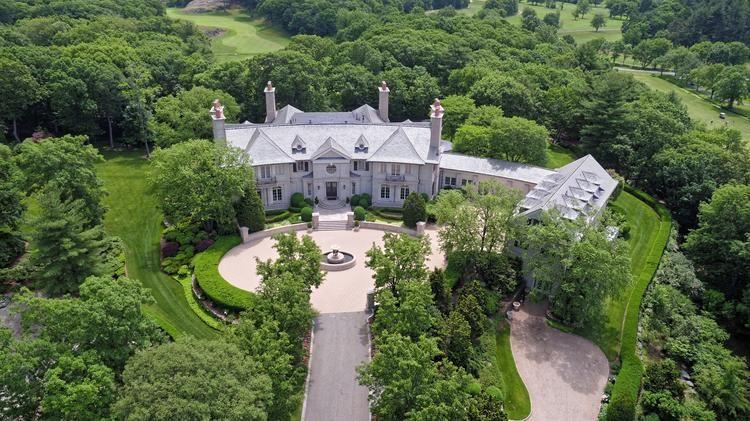 Located five miles away from Downtown Boston, Massachusetts, Brookline Estate offers a nice escape from all the hustle of city life. It comes with an interior space of 23,623 square feet and is currently owned by the former CEO of Reebok, Paul Fireman. 
The main residence is beautifully designed with a limestone exterior and sits in the very heart of the country club and golf course of the estate. It also features 24 rooms, including eight bedrooms and twelve bathrooms, along with eight fireplaces. 
Additionally, the main comes with an attached garage with four places and a central air-conditioning. The paved driveway also adds to the luxurious appeal of the estate.
Silicon Estate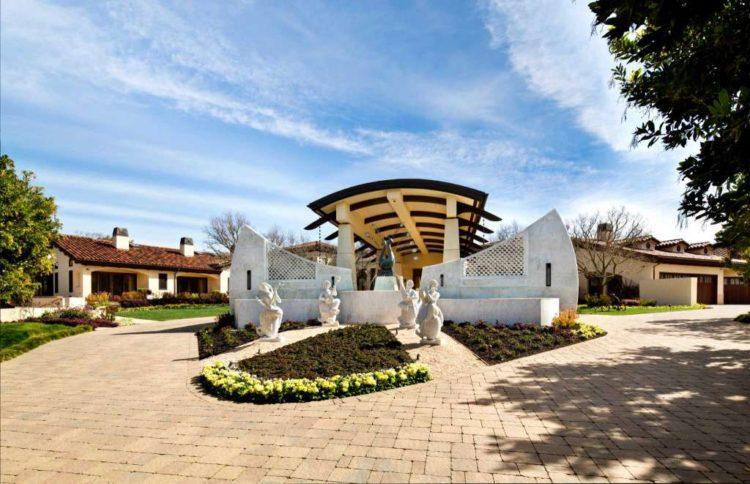 Situated in the Los Altos Hills, California, this estate is one of the most expensive house listings in the US. At present, it is owned by the Silicon Valley tech mogul Kumar Malavalli. The house has an architectural design that is suitable for both work and residential living. 
It comes with five bedrooms and separate girliest rooms, along with a freestanding office. The main house sits on eight acres of land that is suitable for organizing any major events for both business and pleasure. 
Furthermore, the house features a retractable room with an indoor swimming pool. It also has a sauna that offers a lavish experience, along with the massage room. Hence, this piece of real estate property offers a luxurious residential living experience as well as all the facilities necessary for office work. 
Kings Point Estate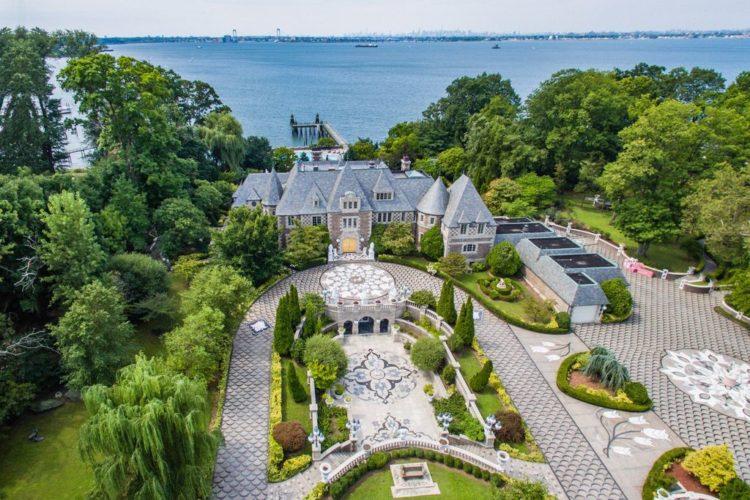 The Kings Point Estate features three residences of palatial grandeur. Located in Long Island, New York, the estate offers outstanding views of the New York City skyline. It also comes with a private waterfront property of eight acres. 
Built in 1928, the three residences of the estate celebrate high-end architectural elements that add to the palatial quality of the property. It comes with 35 bathrooms and 13 bedrooms, along with a wine vault and a hair salon. 
Moreover, the residences come with other amenities such as a bowling alley, several indoor pools, an indoor racquetball court, a casino, and a private yacht pier. So, this estate has all the amenities that can offer you the lavish billionaire household experience.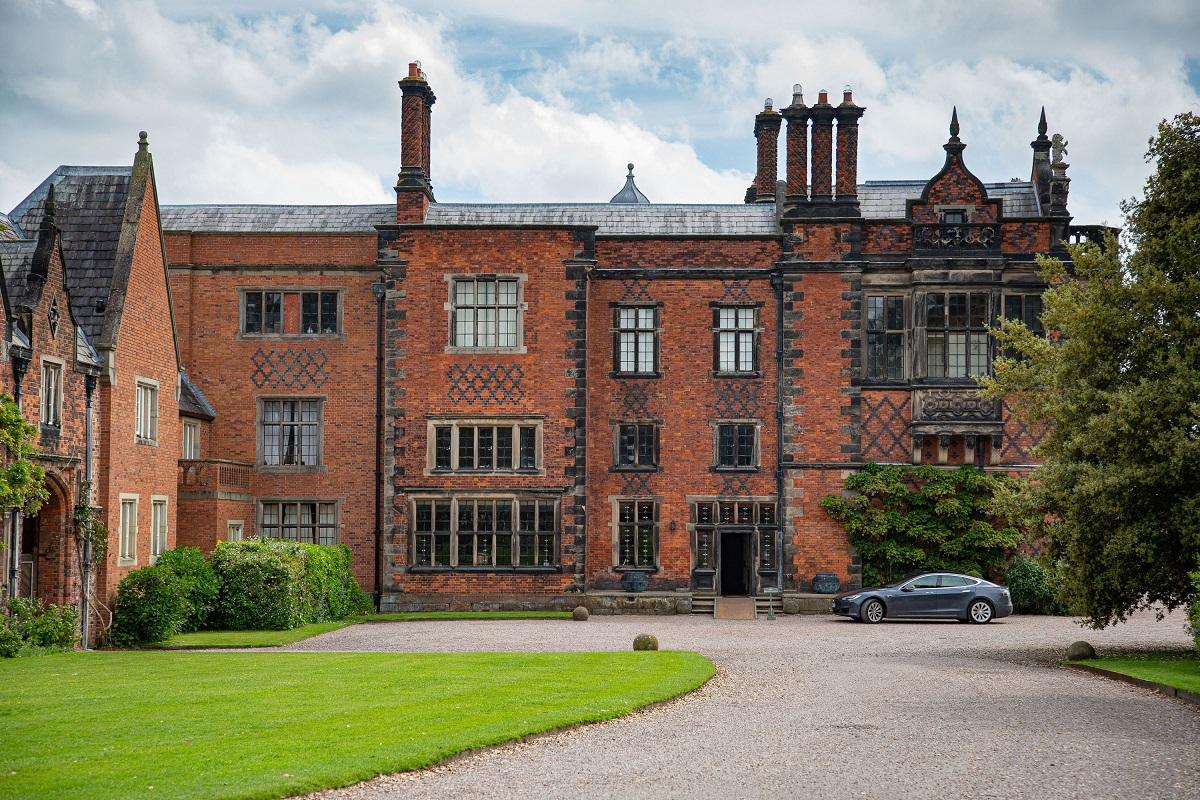 Final Words 
And thus, we come to the end of our list of twenty most expensive houses in the US that you can consider if you're looking to step into the world of grandeur and luxury. Whether it is to experience the billionaire lifestyle or to admire the architectural brilliance, you can have a look at any of the real estate properties that we've mentioned in this list. 
The list covers various types of properties that can offer you the convenience of city life as well as the peace and tranquility of rural areas. However, we've only covered the tip of the iceberg. There are several other lavish high-end houses in the US that you can check out. So, you can always dig in and do some research to find your dream luxury home. 
And on that note, we'll be taking our leave. Low about some of your favorite luxury homes in the US in the comments below. Take care, and we will see you next time! 
Related Link 
35+ Different Types of Houses for Your Future Home
19 Different Types of House Siding to Consider
What Is the Craftsman House Style & Why It's Popular Today
9 Best Home Fire Escape Ladder