Are you looking for an economical heating option that warms you up, but doesn't hurt the pocket?
Space heaters are one of the best alternatives when it comes to heating requirements. More energy efficient than centralized systems, space heaters are a great choice when it comes to adding that extra layer of heat to your home or workspace.
But with a mind-boggling collection of heaters out there, it can become challenging to choose the right one. So to help you with just that task, here's a list of the thirteen most energy-efficient space heaters that you can consider in 2022.
And what's more, we've also included a lengthy buyers' guide that can help you make the right choice from among the ones listed. So stick around till the end.
Let's not wait anymore and dive right in!
Most Energy Efficient Space Heaters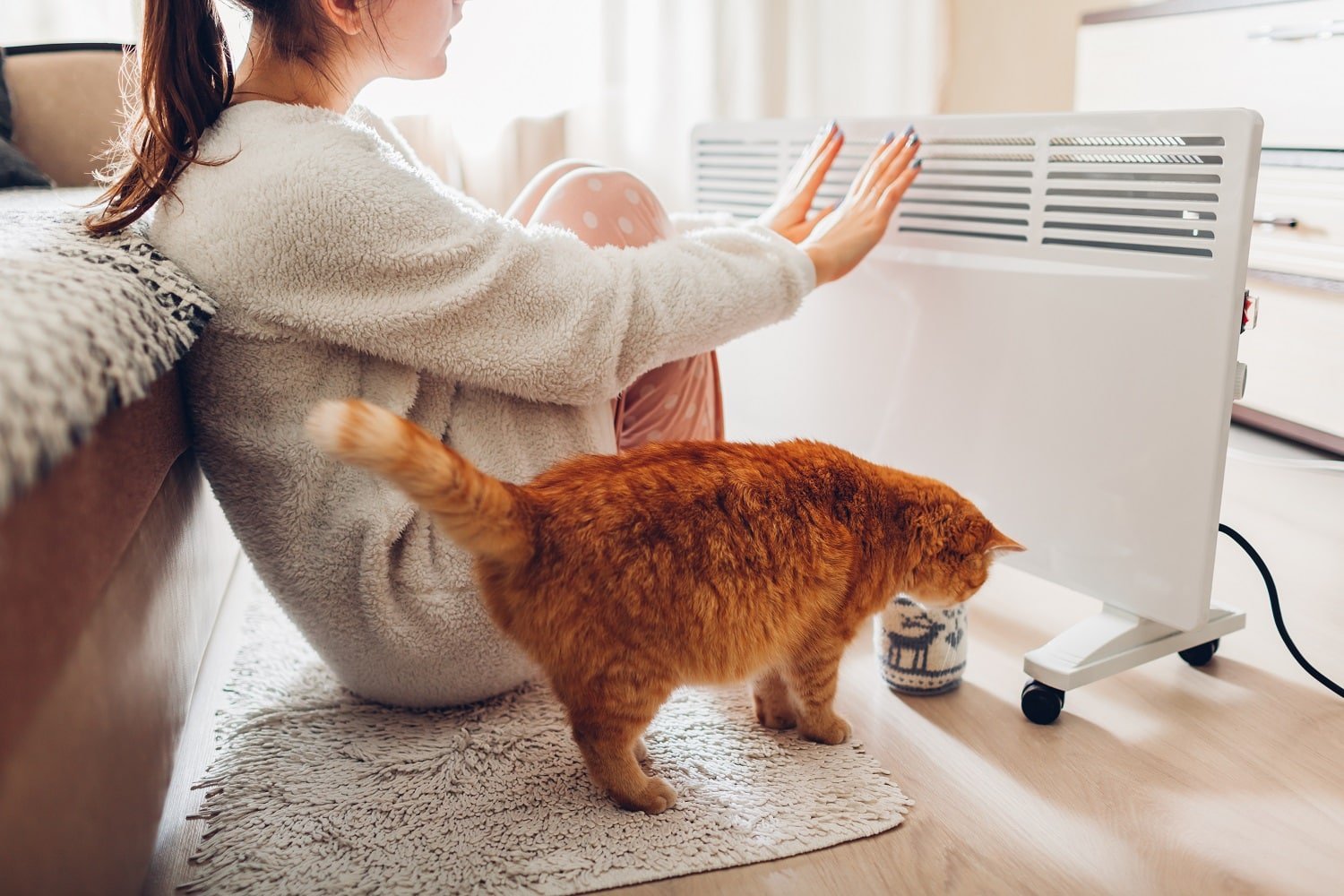 Mr. Heater's reputation precedes it, and the MH9BX is no exception. With a sleek design, red-black color scheme, and portable form-factor, this is one heater that ticks all the right boxes. And it runs on propane, which makes it more cost-effective.  
Sale
Why Did We Like It?
The first thing that caught our eye regarding this model is that it runs on propane. This promises independence from electricity grids and usability in the face of power outages. It's also an excellent solution for outdoor use.
Operating the device is easy due to the presence of a simple rotary knob and the Piezo ignition button. The device is completely portable and has a foldable handle that makes transportation and storage a simple matter. Further, the ceramic burner tiles installed on shock-absorbing insulation allows the device to handle any shock received during transport.
But perhaps the defining feature of this unit is the automatic safety mode, which includes auto-shutoff features in the event of being tipped over. The unit also has a low oxygen safety-shutoff, and an auto-shutoff mechanism in case the pilot light goes out. It further boasts of a high-temperature wire guard.
What Could've Been Better?
In this otherwise excellent product, two points of concern stood out for us. The first is that the device doesn't come with a thermostat that allows one to control the temperature; the second is that none of the controls of this unit are digital. But if you choose to look past these two relatively minor points, this is one of the best heaters money can buy.
Pros
Multiple heating modes

Excellent safety features

Powered by propane

Suitable for use anywhere
Cons
No thermostat for temperature control
Lasko is yet another brand that comes with a positive reputation, and the ceramic series doesn't disappoint. With designer looks, an ornate stand, and multiple operating modes, this is one heater you certainly want to consider.
Why Did We Like It?
The Lasko model is one of the most competitively priced units on the market and comes with built-in safety features that caught our fancy. The unit provides three temperature settings that allow you to adjust the level of heat you desire. To make things even more efficient, it uses a ceramic heating element for heating large spaces.
The most noticeable feature of this unit is its outstanding designer looks. A far cry from traditional box-type heaters, this model proves that a space heater needn't be boring. The ceramic jar shape accentuates the elegance of the model, while the ornate stand adds a dash of old-world charm. Couple that with the four available modes of operation, and you've got a real winner here.
The unit can be operated using the electronic controls or via remote, and the digital thermostat makes things more efficient. This means you don't have to get off the sofa to change settings. The device also has an auto-shutdown feature that comes into action in case of overheating. And we'd like to mention that though the unit has a wide heating range, it's surprisingly noiseless for a device of such power.
What Could've Been Better?
This model gets full marks from us except for the fact that unlike the MH9BX, this one doesn't have a tip-over shutoff feature. Other than that, there's nothing else to detract you from purchasing this beauty.
Pros
Multiple Heating Modes

Sophisticated design

Digital thermostat

Overheating auto-shutoff
Cons
Doesn't have a tip-over shutoff feature
For those of you searching for a space heater that's also pretty cool, the Dyson AM09 is the one to go with. The stunning design, brilliant colors and unique features make this unit one of the most coveted heaters in the market. And what's more, it can act as a cooler as well, so you actually get two for the price of one.
Why Did We Like It?
Like every Dyson product, this device comes with patented technology that promises the best service all the year-round. The heater has an extensive range and operates quickly to heat any space within a small amount of time, while the powerful fan cools you down during those scorching summer months.
Safety and efficiency are the hallmarks of this product, and we don't mean it lightly. There are no exposed heating elements that can lead to accidents, and the device automatically shuts down when it is tipped over. It also scores on the efficiency front through the use of an intelligent thermostat, which monitors the ambient temperature and adjusts the heating levels accordingly.
But that's not all! The AM09 also features a sleep timer, a handy remote control, and also comes with a Quiet Mark Accreditation. Overall, a device worth the buy.
What Could've Been Better?
There really can be nothing to complain about a product as fantastic as this, but if you ask us, the price tag is a bit steep for regular buyers. However, with so many features that's only to be expected. Bear in mind that this is a heater as well as a cooler, so the price point is justified.
Pros
Stylish design

Heater-Cooler combo

Intelligent thermostat

Auto tip-over shutdown
Cons
A tad on the pricier side
If efficiency is the crux of your search, then De'Longhi is one of the brands you should definitely consider. The HMP1500 Mica uses micathermic technology to quickly and efficiently heat any surrounding. This makes it one of the most cost-effective heaters on the market.
Why Did We Like It?
The first thing that catches your eye about this model is its slim look. Room heaters are generally known to be bulky devices, but this one is slim enough to slip into a backpack. But that doesn't mean it compromises on quality. The device uses a dual combination of convection as well as radiation and reaches the maximum operating temperature in about a minute.
The HMP1500 has triple heat settings that offer you the flexibility of choice. The two power modes allow you to control the amount of electricity consumed, and the thermostat monitors the room temperature and adjusts according to your specifications.
Coming back to the thinness of the product, it's the micathermic technology that holds credit for the ultra-thin design of the product. This makes it simple to pack, store, and transport. To further facilitate moving this product, there is a set of wheels that allow it to be slid easily from place to place.  
Apart from ease of transport and efficiency, De'Longhi doesn't compromise on the safety side of things. The device comes with a thermal cutoff to prevent overheating, and there's an automatic tip-over function that guards against accidents. The unit also flaunts power and caution indicator lights for extra protection.
What Could've Been Better?
In spite of the slim design, the device is surprisingly heavy. This makes the use of the wheels a necessity when moving the unit from one location to another.
Pros
Multiple heat settings

Super-thin design

Overheating protection

Automatic tip-over switch
This is perhaps the cheapest device on this list, and also the smallest. But don't go judging it by these two parameters. The UberHeat Ceramic Heater from Honeywell is a powerful little beast that can heat up a room in a jiffy. Don't believe us? Just take a look below.
Why Did We Like It?
As mentioned before, this model is compact and lightweight, so it can be moved from one room to another with ease. But surprisingly, it delivers a sufficient quantity of heat wherever it is placed. The powerful 1500 watt heating system is responsible for this stellar performance, and that won our hearts over, just as the price won over our pockets.
The device comes with dual low wattage heat settings and a programmable thermostat that can deliver the exact temperature that you desire. On the looks front, the device has a compact feel and stands almost alarm-clock like on two non-slip rubber feet. The housing is plastic but doesn't get heated one bit in spite of prolonged use.
Finally, safety has been made a top priority of this product. The device features overheat auto-shutoff as well as 360-degree tip-over protection that shields the unit from damage. And the energy-efficient settings contribute towards lowering your power bills. So it's a win-win deal for anyone.
 What Could've Been Better?
After seeing such exquisite products as the Lasko and Dyson series on this list previously, the simple black and white appearance of this product might seem a bit bland. But we don't want that to dissuade you from buying this otherwise fantastic product.
Pros
Powerful heating function

Programmable thermostat

Auto shutoff and tip-over protection

Easy to store and transport
Cons
A bit low on the design quotient
We are back again with another stellar product from the house of De'Longhi, and it doesn't get any better than this. A fully functional radiator-based heater, this device simply epitomizes the concept of efficient heating and maintenance-free operations.
Why Did We Like It?
The very first thing that's noticeable about this product is the patented, high-quality steel chassis that houses the unit. This makes the device extremely durable, and as a result, it requires very little maintenance. 
The design of the housing is also unique in that it features thermal slots that maximize heat flow into the surroundings, and at the same time, prevent the unit from getting warmed up. With 1500 watts of pure heating power, you can expect every corner of your space to get heated to perfection.
The device comes with an electronic display that records and shows the ambient temperature. Also, the adjustable thermostat allows up to three heat settings that give you the freedom to customize your heating profile. 
As far as safety is concerned this unit scores full marks. The thermal shutoff works flawlessly to prevent overheating, and the permanently sealed oil reservoir never needs refilling. So that's one less thing you have to worry about. And finally, the entire arrangement comes on top of a four-wheel assembly, so moving the device around is simply a matter of rolling it along.    
What Could've Been Better?
Again, we'd like to mention that this De'Longhi product too is heavier than it looks, so the wheels are required. Also, the price point is a bit too high, but that's only expected, given the premium quality of the product.
Pros
Durable steel assembly

Permanently sealed oil reservoir

Customizable thermostat

Thermal shutoff feature
Yet another product from Lasko, the 5586 tower heater heats as good as it looks, maybe even better. Offering 1500 watts of heating capacity, this one is the perfect blend of form and function. With a sleek, futuristic design and fully digital controls, this is a product to watch out for. 
Sale
Why Did We Like It?
Lasko prides itself on efficiency and safety, and this device ticks the boxes in both aspects. The ceramic heating element houses built-in safety features that guarantee peace of mind, and the programmable thermostat with an easy, eight-hour timer makes for a smooth operation. Add to that an elongated heating element, wide oscillating area, and deep penetrating push velocity to drive the heat, and you've got the perfect device for the purpose.
Coming back to the safety features, the self-regulating safety ceramic element and cool-touch housing provide protection from accidents. Further, the electronic control panel makes adjusting the setting on this unit a breeze. And if you feel too lazy to get up and do the needful, there's always the remote to use. 
What Could've Been Better?
One of the important features that we couldn't find on this device is the auto-shutoff, which we feel should have been incorporated. Other than that, there's nothing that should prevent you from going with this option.
Pros
1500 watts of warmth

Programmable thermostat

Electronic remote control

Portable and stylish design
As far as portable heaters go, Dr. Infrared is a trusted brand and is very popular with the customers. The heater uses infrared technology to warm up your space and hence is incredibly energy efficient. It also comes with a range of other nifty features, as listed below.
Sale
Why Did We Like It?
With a vintage radio-like theme and visible electronic display, this heater does its job superbly. The model has an excellent heat distribution system that spreads the warmth across a wide space effectively and efficiently.
A significant difference between other room heaters and this unit is that while most heaters heat the air in a room, this product works by heating individual objects. The ambient heat from the objects then contributes to the overall temperature. This results in significant power savings in the long run.
Besides the infrared heating, this model also comes with excellent safety features. There are no exposed heating elements, and so it's perfectly safe to use around children. Also, it has a tip-over protection system and overheat guard that makes it doubly safe.
Apart from the above, the model boasts of a dual heating system, programmable timer, and remote-controlled settings. Add to that the super-quiet operation, and you've got the perfect heater for your home.
What Could've Been Better?
This is one room heater where anyone would be hard-pressed to find a fault, with so much packed into it. But the very feature-richness of the device adds to its bulk, and makes this unit take up considerable space. But considering the fact it has wheels attached, portability shouldn't be a problem.
Pros
Infrared heating technology

Digital thermostat

Multiple heating modes

Noise-free operation
Powered by German engineering, this efficient, wall mounted fan heater from the house of Stiebel combines excellent looks with effortless performance. Extremely quiet and space-saving, you won't notice anything but the comfortable warmth spreading through your home. With a surface mount design and quality construction, this one takes all the prizes.
Why Did We Like It?
The first thing: slimness. With less than five inches of depth, this device won't take up much space on your walls. The design is minimalist, and so can seamlessly blend with any room decor. But don't think that the design is only for the looks department alone; the downward vents blow hot air towards the floor and enable quick heating. 
This leads to an even cooling of the entire space, and you also get the added advantage of avoiding cold floors. For colder climes, the unit comes with a frost protection setting that allows uninterrupted usage during the winter months.
Other than this, the unit comes with a built-in timer and thermostat which ensure efficient operation. The device also has a frost protection setting and heats spaces fast. Very well engineered and put together with skill, this device has a low noise level of 49 decibels at its loudest. This is almost as quiet as a library, so you don't have to worry about the disturbance. 
What Could've Been Better?
With such excellent features, you've probably already guessed the only fly in the ointment. Yes, the price! The device flaunts a really hefty price tag and is certainly not for those on a budget. But considering the features you get, we certainly recommend this one.
Pros
Smart, wall-mounted design

Super-quiet fan

Even, downwards heating

Built-in thermostat
Want to introduce a touch of the old-world charm together with modern efficiency? Then this Duraflame model is the one you should certainly go with. The classic fire-stove design, with realistic-looking embers and flame, create the illusion of an actual fire. With a matching metal body and excellent features, this heater gives you the right returns on investment.
No products found.
Why Did We Like It?
What's not to like? This 4600 Btu heater provides sufficient supplemental heat that can warm up a space of up to 400 square feet with ease. The metallic chassis adds to the vintage look, and the fully operational door only serves to take the theme forward. The artificial fire can be used with or without the heat and adds to the decorative style of your home or office.
And in spite of the metallic exterior, this device comes with heat protection technology that can safeguard against accidental burns. It also has an overheat protector that detects excess heat and shuts the machine down. This not only protects the users but also contributes to extending the longevity of the device.
But the most efficient and cost-effective feature of this unit is the Zone Heating effect. This lets you create areas of high temperature that can be preserved for a significant amount of time. Doing so can result in lowering your power bill by a considerable amount.
What Could've Been Better?
The only drawback of this product is that it is a bit noisy as compared to the other, quieter options on our list. While many people might not mind a bit of noise, it might nevertheless be a cause of concern for others. So keep this in mind when making the purchase.
Pros
Supplemental zone heating

Classy metallic construction

Auto-shutoff overheat protection

Energy-efficient operation
This model from LifeSmart Offers you safe and secure heating for larger rooms. Perfect for big houses or office spaces, this heater uses infrared quartz elements to provide all-around heating. Efficient, effective, and pocket-friendly, this heater is yet another stellar product that you can consider buying.
Why Did We Like It?
The defining feature of this product is the infrared heating technology that warms up even large office spaces in a short while, yet saves on the electricity bill. The device has three different heat settings that can be used as per your requirements and a 12-hour start-stop timer for extra control.
Further, the unit comes with a remote-controlled digital thermostat that can be used to change heat settings without you having to get up. It also houses a lifetime washable filter and an Eco Setting that uses only 500 watts to heat a smaller space.
Finally, the entire arrangement is housed in a stylish metal cabinet that doesn't get heated despite the ambient temperature. And as the device uses infrared heat, no fuel residue leaves a significant carbon footprint. And unlike other convection heaters, it doesn't dry out the air, thus preserving atmospheric moisture. 
What Could've Been Better?
Because it packs so many unique features in a single unit, this product is a heavy one. And while we do wish that it were lighter, we are grateful for the EZ Glide casters that make moving the unit a simple task.
Pros
Provides clean, efficient energy

Perfect for zone heating

Multiple heat settings

Digital remote control
As we near the end of this list, we are going to present you with two options from either end of the price spectrum. Our first choice is the ceramic space heater from Brightown that comes with a modest price tag. But that doesn't mean it's low on features, as the following sections will make clear.
Why Did We Like It?
This portable heater epitomizes value for money; it comes with three heating modes (High Heat/Low Heat/Cool Blow) that give you year-long operation. Quiet and powerful, the soothing, radiant heat that this device provides is calming as well as comfortable.
The compact dimensions of this device make it ideal for both indoor as well as outdoor use, so camping nights needn't be cold anymore. You can also use it in an office setting as the noise level is very low and will not cause any disturbance.
And finally, despite the low price point, this device does not compromise on safety. It offers both over-heat as well as tip-over protection, and this makes it an ideal choice for domestic environments. And as far as efficiency goes, you can rest assured that your bills will be lighter when you use this product.
What Could've Been Better?
The only thing we wish this device had was an included remote control; that would've made things easier. But at this range, you certainly can't expect the entire world. Still, it doesn't hurt to wish, does it?
Pros
Adjustable thermostat

Lightweight and portable

Multiple heat settings

Excellent safety features
This is as advanced as room heaters get. This Heat Storm model is WiFi-enabled so that you can control and change the heater settings right from the comfort of your smartphone. You can also monitor room temperature and make adjustments accordingly. Now you don't have to return to a cold house anymore! But wait, that's not all.
Sale
Why Did We Like It?
The heater delivers a whopping 1500 watts of power, which allows you to heat a 300 square feet area as a primary heat source. The device can act as a supplemental heat source and can quickly warm up to 750 square feet. The infrared technology of this unit allows smooth and even heating, and doesn't leave significant carbon-footprint.
And it's also wall-mounted, which means there's no need to occupy floor space. This makes it perfect for both home and office environments, where placing a large heater might become cumbersome.
Finally, the unit also has excellent safety features; the grill is safe to touch, and the body and walls do not heat up even after prolonged use. So it can be safely installed in homes where there are kids.
What Could've Been Better?
There isn't much to find wrong with this product, but still, we'd have preferred it if the price tag had been a bit lower. But since this is almost a smart device that's internet-enabled, we're sure you wouldn't mind parting with a few extra bucks.
Pros
WiFi connectivity

Wall-mount design

Advanced safety features

Infrared heating element
Cons
A tad on the expensive side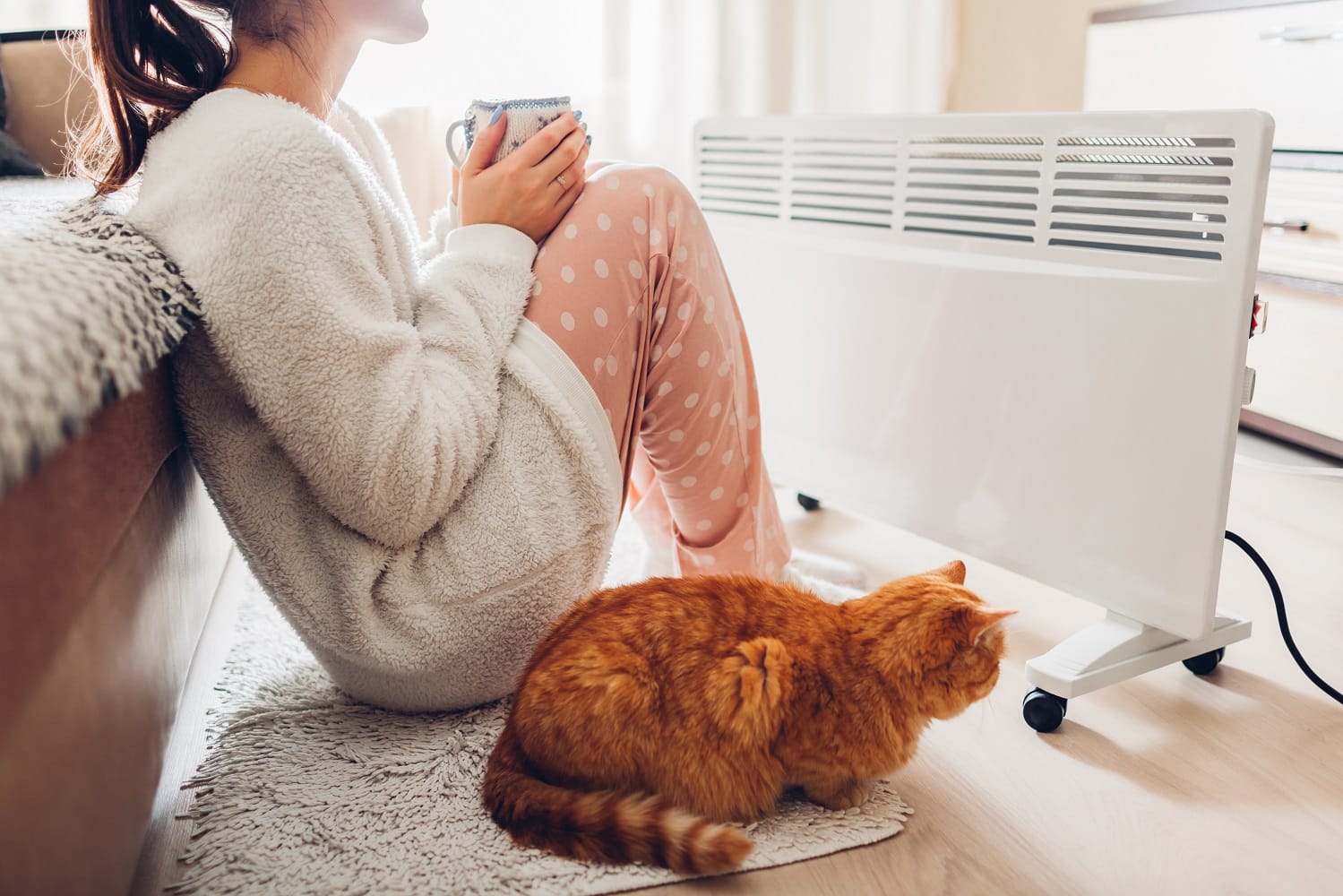 Energy Efficient Space Heater Buyers' Guide
So now you know all about the thirteen most energy-efficient space heaters of the year…but does it mean you should go out and get one? Even thirteen is a sizable number to choose from, and you are sure to have trouble deciding which one to go with.
To help you along that path, we've got the following buyers' guide that is sure to come handy when making the decision. This guide will help you to understand the many factors that you should keep in mind while choosing the right heater for your purposes. It'll also clear some details about the finer points of room heaters.
So, let's start!
The Room Size
The first thing that you need to keep in mind when choosing a room heater is the size of the room where you will be using it. The room size plays a crucial role in determining the energy efficiency and heating effect of your device. So before you settle on that room heater, take the time to consider the dimensions of the room, and make the choice accordingly.
Once you know the size of the area that you are going to heat, check out the wattage of the heater. Typically, a room heater uses 10 watts of power to heat each square foot of space. So once you know the room size and the heater wattage, it's merely a matter of basic math to calculate whether a particular model will suit you or not.
Keep in mind that the above is only a general rule, and heating capacities vary based on the type of technology that the heater uses as well. This is what we are going to discuss next.
Type Of Heater
The next important factor to consider while settling on a heater is the kind of heating technology the heater uses. And while multiple heater styles can be found, typically every heater falls under one of the following four categories:
Convection heaters, which provide uniform, large-area heating.

Radiant heaters, which provide targeted heating and are more suited for smaller spaces.

Fan Heaters, which use an internal fan to circulate the heat.

Micathermic heaters which provide all-around, energy-efficient heating and also economize on space.
Based on your needs, the type of heater that you choose will vary.
Also, another factor that you should consider is whether you need to get a floor heater or a wall-mounted heater. Standing heaters are usually bulky and take up a lot of space, but they are portable and can be moved from one room to another. So if you are looking for a portable option, then you can easily go with this variant.
If, however, you are looking to save floor space, then you should opt for a wall-mounted variety, such as the Heat Storm or Steibel models on our list. These are usually attached to the wall and hence offer significant space savings. Perfect for homes or offices with a lot of furniture. 
Safety Aspects
Unless heaters are properly monitored, they can quickly turn into hazards at home. Hence, the safety features are something that you should always pay special attention to. Look for features such as cool-to-the-touch surfaces, automatic shutoff in case of tipping, and overheat sensors. 
These components are essential not only for the safety of the device but also of your property and loved ones. If safety is the top factor on your mind, then you can go with Brightown, Duraflame, or De'Longhi, to name a few.
The Noise Levels
Being the electrical appliances that they are, heaters often emit a considerable amount of noise. While almost all heater models give off a particular volume of sound, some models are notorious racket makers. Noise is usually a severe irritant in the boardroom as well as the bedroom, so the place where you plan to use it should determine your tolerance level.
Usually, fan-based heaters are known noise-makers, so if you are using the heater in an office environment, be sure to go with a baseboard heater or an oil-filled radiator one as these make less noise. But if you are looking for a fan-heater minus the noise, then go with the Stiebel Eltron model on our list.
Energy Efficiency
This, of course, has been the common thread in our discussion. If you are concerned about energy conservation and want to save on the power bill, be sure to compare energy efficiency figures before making the decision.
Energy efficiency is determined by two primary factors: the heating technology that your heater uses and the dimensions of the room where you are going to use the device. However, additional features such as multiple heating modes that allow you to conserve energy can also contribute towards energy-efficiency. 
Other add-ons such as programmable thermostats, adjustable timers, and low-wattage heating can also contribute towards lowering power costs.
Fuel Type
Finally, the last and most vital factor that you should consider while choosing the right heater for your purposes is the type of fuel used. While the term 'heater' invariably brings the electric variety to our minds, there are, nonetheless, different makes of heaters available. Some of these are discussed below.
Electric heaters are the most common type of heaters that are used. Simple to use, these can be run from your home or office power supply, or even on rechargeable batteries. Some models can also be integrated with your centralized heating system. Electric heaters are the most energy-efficient and least polluting of the lot.
But if you are looking for a cheap option, then go with propane heaters, such as the Mr. Heater model mentioned above. The great advantage of propane heaters is that they don't need to be used near a power source; this makes them perfect for outdoor use.
Verdict
Heaters have certainly made winters more comfortable, and with such a wide range of options to choose from, you are actually spoilt for choice.
But remember, too many cooks spoil the broth, and too many choices can lead to the wrong decisions. But we hope that if you stick to our list of the top thirteen space heaters, you're going to get the perfect combination of effectiveness and efficiency.
Before we wrap this up, we'd like to mention our key recommendations. For those of you who don't mind spending top dollar, we'd suggest going with the HeatStorm WiFi heater. This model gives the user the perfect combo of form as well as function.
However, if you are looking for a more modest option, yet with all the bells-and-whistles, consider the Brightown Ceramic model. And if looks are your top concern, then Stiebel Eltron or Lasko can be good choices.
Whichever way you decide, be sure to keep the buyers' guide in mind while making the decision.
Happy Shopping!
Related Articles
23 Best Space Heaters | Reviews & Buyer's Guide
6 Best Wood Stove Fans | Buyer's Guide
Dyson AM07 vs Dyson AM06 Fan Comparison
Vornado 530 vs 630 vs 660 | Room Air Circulator Fans Compared
19 Best Pedestal Fans | Buyer's Guide
Lasko 2554 vs. 2551 vs. 2511 | Tower Fans Compared & Buyer's Guide
13 Best Pool Heaters | Buying Guide
13 Best Portable Air Conditioner and Heater Combos of 2022 | Buyer's Guide
10 Best Bathroom Exhaust Fans Right Now
What Size Tankless Water Heater Do I Need?
Beacon-Morris "BRT" Residential Garage Heater Review
13 Best Bathroom Exhaust Fans With Light & Heater 
Ceramic VS Infrared Space Heaters | What's the Difference?