Showers are lovely experiences; they make you feel refreshed and beautiful. However, for most of our bathroom floors, getting out of shower seems more like a chore than an enjoyable moment. The dull tapestry of marble or wood may have cut it in the old days, but, now it is not deemed as enjoyable.
This is where moss shower mats have enter the scene. They provide with ergonomic, natural feel in our bathrooms, while increasing oxygen content and the soothing feeling of nature at our feet. Questions are numerous though, what if moss creates moisture? What if moss brings in fleas. Well, moss does not develop molds, unless they are attacking it. It is not a habitat for fleas, and it does not get killed just by people stepping on it. You can read more about that here.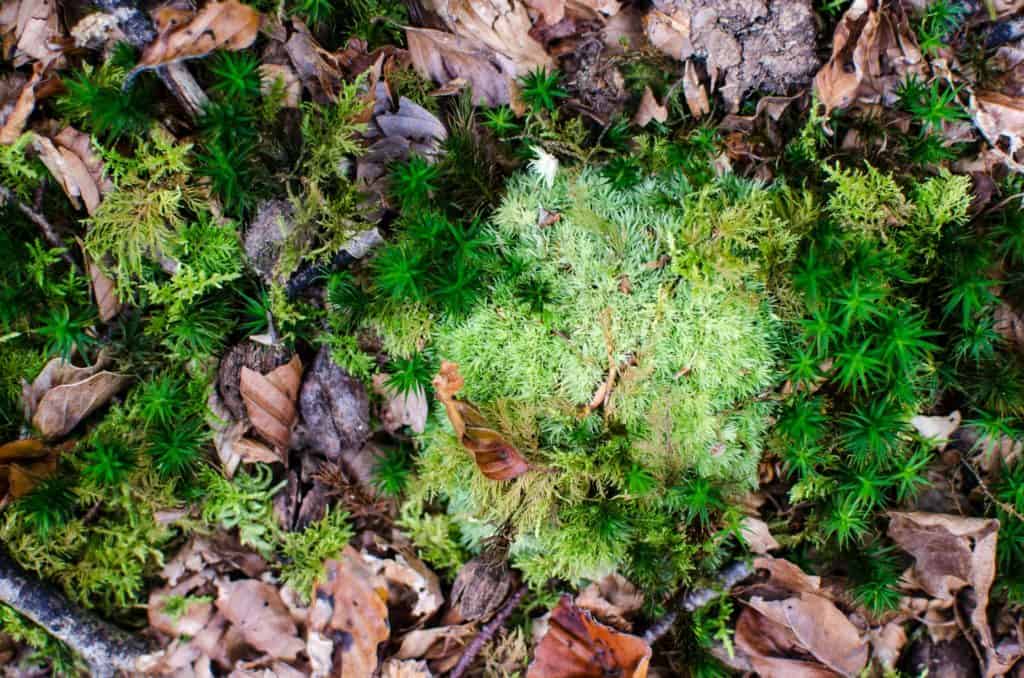 Image via Gary Rockett@garyrockett
Why not have a renovation of your soul?
Doing it yourself sounds like a chore, however, sometimes it can be entertaining. With shower mats, this is even more so, because not only, is the final product soothing to the eye, but, the learning curve for creating the moss mats are easy too.
You can create them to match your overall aesthetic, add any shapes you want, and be very creative. Unlike other DIY projects, this isn't bound by as many strict rules. You even have a choice of a wide variety of mosses.
So, how to make it? Here goes.
What do you need?
High-density foams, thick and high-density foams will provide a place for the moss to grow in. They are also specialized to let the water accumulate so the moss gets the most moisture.
A sharp utility knife for cutting the foam.
Silicone sealer like cement to block the dampness from getting through to the ground
Poster boards for making the maps for the bathroom floor
Grease-free markers
Moss, use the types that would grow in your bathroom the best. Remember moss can thrive in most shadowy and damp environments so you can get a large variety if you want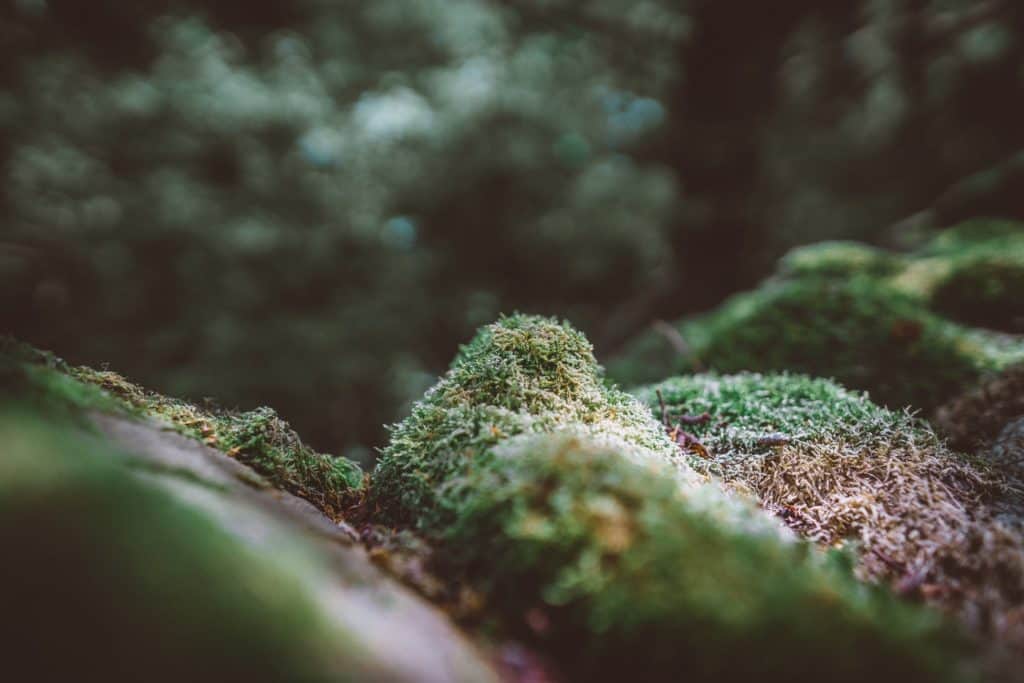 Image via Joshua Newton@joshuanewton
How to do it?
The moss shower mats need to be the size of your bathroom, so mark the dimensions and check the area that you want your new moss carpet to cover.
It is essential to keep in mind that you will need to buy double the amount of foam to spread on the floor, according to the area you will choose.
Cut the foam to shape it for the carpet. This is where your knife would come to use, use it to cut through the foam after making the outlines using your markers. You will also need to make a lot of cutouts for moss. These cutouts are also of your choice, make them star-shaped like the Hollywood Boulevard or simply, add a sort of spice by creating abstract shapes.
Use cement or silicone-based caulk, to seal the top layer of the foam. Add it to the bottom side of the top layer and press it down overnight. The foam must be pressed on a bottom layer and sealed as such. Using silicone-based works is important because it is waterproof and will protect your bathroom floor.
Spray some water into the mats to prepare it for planting the moss.
Plant the moss
The moss would grow very well. They might need some more watering than available through merely the shower mat, so, you can just read up on the moss variety you use to check the water you need to use. Moss would grow soon, and you would have your moss mat.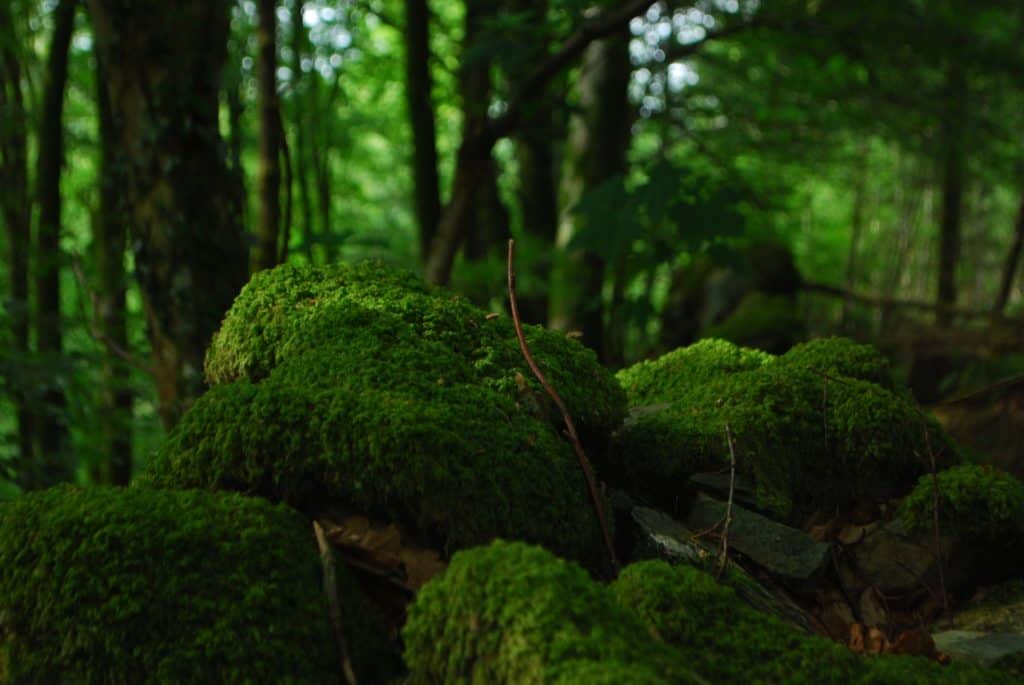 Image via Jeff Cooper@jeffcooper
What moss to use?
Iceland Moss – This is my absolute favorite. Though island moss falls in the mosses which need the least humidity to survive, they have this color of pale yellow that is beautiful. Iceland mosses can also grow to be gray to compliment your mat.
These are readily available everywhere, just ask your florist, and get going. These are low maintenance so you would not have to worry.
Forest moss – The original moss. These are green and tropical, so, these need a lot of humidity to thrive. Remember, your shower might not be enough, ask your florist for instructions about watering.
This is the original green carpet, and it works well with any shade. Especially, if you have a white bathroom.
Also, since, this is the traditional moss, it is available quickly everywhere.
Ball moss – I am cheating a bit here, since, this is not moss, but, a flowering plant. However, ball moss is used to build structures in different spaces and if you are adventurous enough, then you can get yourself, nice little balls under your feet as you shower,
Why use them?
Moss shower mats are completely organic and would help you in creating a perfect environment for your body and for the environment. Here are some reasons why building the moss matt might be a good idea for you.
They reduce your carbon footprint significantly. You can give back to the environment substantially. By using moss in your shower, you can increase the pure air around your home.
They make your feet feel comfortable; moss isn't as slippery as we make it out to be. So, we won't slip as much on a watery bathroom floor
Moss is a beautiful feel aesthetically. It adds the green tint to your bathroom, which, can improve your eyesight if viewed in the morning.
The whole environment of your bathroom will change, and you will feel regenerated with time.
Moss helps you remodel your home and make it feel like it's a personal space made for you. It is one of the best things to renovate your home with and create the environment that would make you feel nice and airy. By building the whole thing in a few months you will be creating a calmer, cleaner bathroom, which you need to clean only once awhile. Moss shower mats are much less fussy than other bathroom mats.
Featured Image via Monica Silva@monicasilva
Related Articles
How to Remove Calcium Deposits from Shower-heads With Vinegar
Top 10 Best High Pressure Shower Heads of 2022 | Editor's Top Choices
Walk-in Showers 101 | Pros & Cons, Tips & Tricks, Design Ideas
99 Super Cool Shower Curtains to Transform Your Bathroom Today
11 Best Shower Body Sprays Today Reviewed
5 Best Shower Systems With Body Jets
15 Best Shower Systems with Body Jets