Remodeling a bathroom isn't an easy task because after deciding on the bathroom design and paint color, you also need to choose the best paint for the bathroom ceiling. 
As you know, bathrooms are highly prone to moisture and humidity. So, you have to consider factors like moisture resistance and humidity while choosing the most suitable bathroom paint to avoid damp walls and mildew growth. 
In this context, you need to look for paints that don't only look good but also offer long-lasting protection against peeling, humidity, unpleasant odor, and mold infestations. But the question is: how to choose the best bathroom paints when you have tons of options? 
That's why we're here to guide you in making the right purchase decision by highlighting certain key factors and reviewing our top three bathroom paints. So, without any further ado, let's get on with it! 
What Factors To Consider While Choosing The Best Bathroom Paints?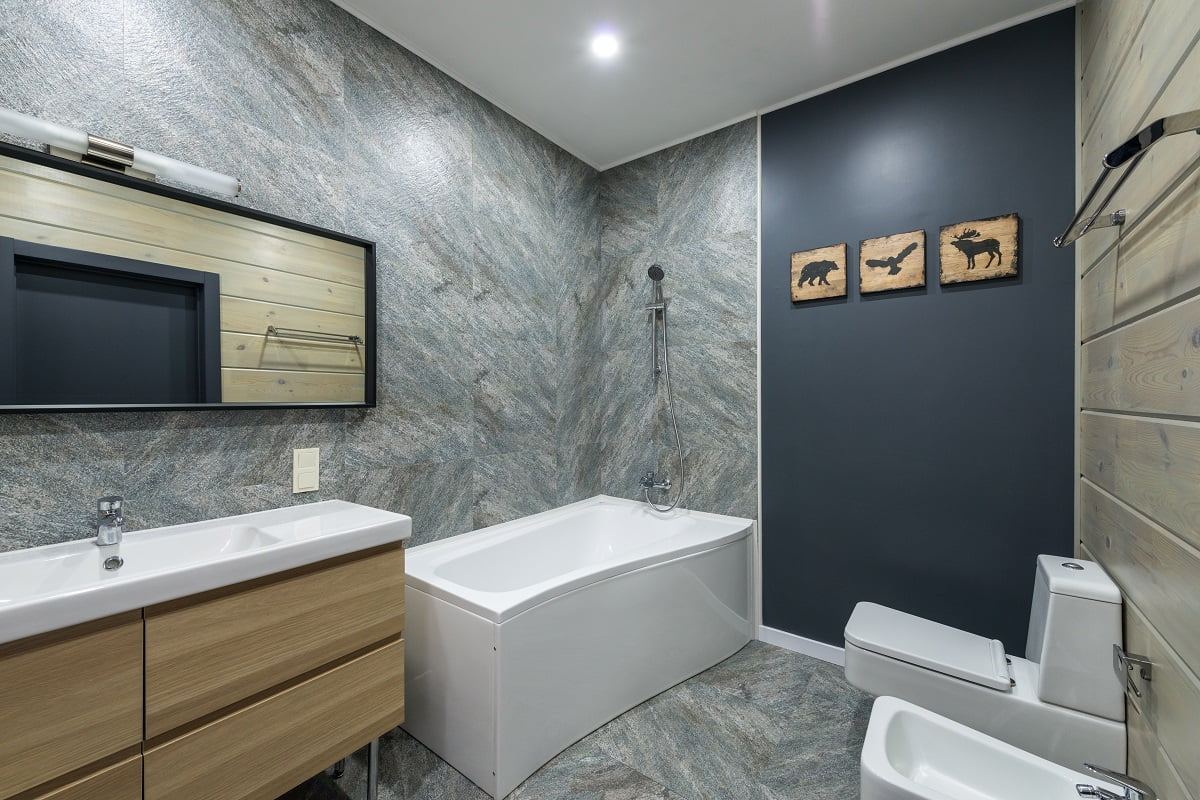 You can spruce up the entire look and aesthetic appeal of your bathroom with the right paint color and technique. Even though there are several paints for bathroom tiles and bathroom cabinets, we'll mostly focus on discussing the most suitable paints for your bathroom walls or ceilings. 
In this section, we'll discuss the main factors you need to consider while selecting the best bathroom paint. Let's take a look! 
1. Base Types
The first thing you need to check is the base type of paint before you can use it in the bathroom. Depending on the base, durability and application technique of the paint can vary significantly. The standard base types of bathroom paints are mentioned below: 
A. Oil-Based Paint
Oil-based paint is often considered the best for bathrooms because of its high water resistance and durability. These paints are also resistant to abrasion, and you can easily wipe down the painted bathroom walls without peeling off the paint. 
On the downside, oil-based bathroom paints take a lot of time to dry and contain high levels of chemicals producing toxic paint fumes. Moreover, cleaning up these paints can be quite a hassle because they are not water-soluble, and you'll need some other solvents or spirits. 
B. Latex Paints
In contrast to oil-based paints, latex paints are water-based and are much more eco-friendly. You don't need to worry about producing toxic fumes or using harmful solvents and spirits if you choose latex paints for the bathroom. 
As a water-based paint, it is easily water-soluble, making the cleanup process much easier, and you'll only need some hot water, soap or detergent, and old rags. Furthermore, modern latex paints are carefully formulated to offer durability and water-resistant features and can exceed any oil-based pants in terms of performance quality. 
C. Acrylic Paints
Acrylic paints are synthetic-based and widely used in crafts and DIY projects. However, thanks to their water and light-resistant quality, you can conveniently use them as exterior or interior paint. So, this waterproof paint can be an ideal choice for painting the bathroom walls and ceilings without showing any signs of peeling or damping. 
On top of this, these synthetic acrylic paints usually come in bright and vibrant colors that can transform the entire look of your bathroom, making it much more visually appealing.
2. Moisture Resistance
Since bathroom spaces usually have high moisture and humidity, they frequently face issues of condensation, including damp patches on the walls and ceilings. Even though adequate ventilation by installing an exhaustion fan or a dehumidifier can help, it might not be enough to protect the bathroom paint job. 
Under such high humidity environments, your best course of action is to look for moisture-resistant paints with a closer-knit molecular structure, preventing water molecules from penetrating. In that way, these paints won't peel away due to humidity or condensation, and your bathroom walls and ceiling can stay damp-free for a long time.
Furthermore, it's easier to clean off moisture-resistant paints because they don't gather dirt, thanks to their smooth surface. So, you don't have to worry about the ceiling or wall color fading soon because of dirt and grease if you choose these bathroom paints. 
3. Antimicrobial Properties
The growth of microorganisms and fungi, such as mold and mildew, is pretty common in humid and damp spaces, and your bathroom can be an ideal location. You can easily get rid of small patches, but they can soon become a serious health hazard if you face a full-fledged infestation. 
However, many premium-quality bathroom paints have several antibacterial properties, including a mildew-resistant finish. In fact, mold-resistant primers typically contain a potent fungicide to control the mold and mildew growth if you directly paint it over an existing mold patch. 
You can also apply a two-in-one paint and primer combination to avoid the recurrence of such mold and mildew infestations in your bathroom for a long time. Hence, it's best to choose a mildew-proof interior paint if you want to maintain the health and hygiene of your bathroom in the long run. 
4. Volatile Organic Compounds (VOCs)
VOCs are found in high amounts in oil-based paints, while they are present in much lower amounts in latex paints. These are harmful organic solvents and are released in the air after the paint dries up, forming toxic paint fumes that can cause headaches and dizziness. The US Environmental Protection Agency (EPA) considers certain VOCs to have severe carcinogenic effects on long-time exposure. 
It's best to look for bathroom paint containing VOCs within the legal limit. For instance, the VOC content of non-flat paints, like semi-gloss paints, needs to be within 380 grams/liter. On the other hand, the VOC limit for flat paints, like satin paints, is 250 grams/liter. However, in California, the rules are stricter, with the highest VOC limit of 50 grams/liter for all paints. 
You can look for manufacturers offering low-VOC paints containing VOCs within the legal limits to avoid health issues. There are also some zero-VOC paints, but they may contain 5 grams/liter VOCs, which might increase if you add tints. So, carefully read the product description to determine the VOC content of the paints before using them in your bathroom. 
5. Drying Time And Coverage
Even though paints from two different manufacturers might look the same or have the same price, their coverage area might vary significantly. The coverage area is typically mentioned on the paint can as the square feet covered per gallon. 
You may also consider the number of coats to apply while painting the bathroom. If you're applying a light color over a dark color, it's best to apply two or more coats to get the best results. 
In addition, pay close attention to the drying time of your chosen bathroom paint. Drying time signifies the time after which the paint will be dry to the touch without getting tacky. If a bathroom paint has a drying time of around two hours, you'll need to wait for several more hours before you can apply a second coat. 
If you start applying a fresh coat without giving sufficient time for the first coat to dry up completely, you risk lifting it and messing up the paint job. You can go through the product description or try out some test runs to accurately determine the drying time of the bathroom paint. 
6. Types Of Paint Finishes
The finish of your bathroom paint greatly determines its visual impact, durability, and dirt-resistant quality. Depending on your bathroom decor and design, you must carefully go through different finish types before making any final purchase decision. So, we've discussed the properties of various paint finishes below: 
A. Gloss Paint
Gloss paints come with a robust high sheen finish and are known for their smooth glossy, easy-to-clean surface. They also offer excellent durability and water resistance, thanks to the high gloss finish. 
However, on the downside, they reflect too much light and can clearly show the underlying architectural imperfections or faults of your painted walls or ceiling. On top of this, you might not be able to detect any residual water droplets on the bathroom walls due to the light reflecting the quality of this paint finish. 
B. Semi-Gloss Paint
Semi-gloss sheen offers the benefits of both gloss finish and matte finish, but semi-gloss paints are not as reflective as glossy paints. On the other hand, they are also more durable than matte finishes of flat paints. Thus, a semi-gloss finish paint can be an excellent choice to withstand the high-humidity environment of your shower room or bathroom. 
C. Flat Paints
If your bathroom is quite old with dented ceilings or walls, using a flat or matte finish paint can be the perfect way to hide all the imperfections. Furthermore, paints with a flat finish work excellently with neutral tones and offer a minimalist look to your bathroom, and also create sophisticated monochromatic bathroom décor. 
However, the absence of light reflection might make a matte finish paint look a bit dull. So, you must be careful while pairing and experimenting with different color contrasts of flat paint. 
D. Satin Paint
Satin paints might not be as robust as gloss paint, but they offer some sheen finish and work exceptionally well in hardworking rooms, such as bathrooms and kitchens. They are resistant to abrasion and can easily withstand regular cleaning and scrubbing. 
But, the glossiness of satin paints can distinctly highlight wall and ceiling imperfections, such as dents, cracks, or patches. So, you might need to repair these architectural faults before applying the satin finish paint in your bathroom. 
Top 3 Moisture Resistant Bathroom Paints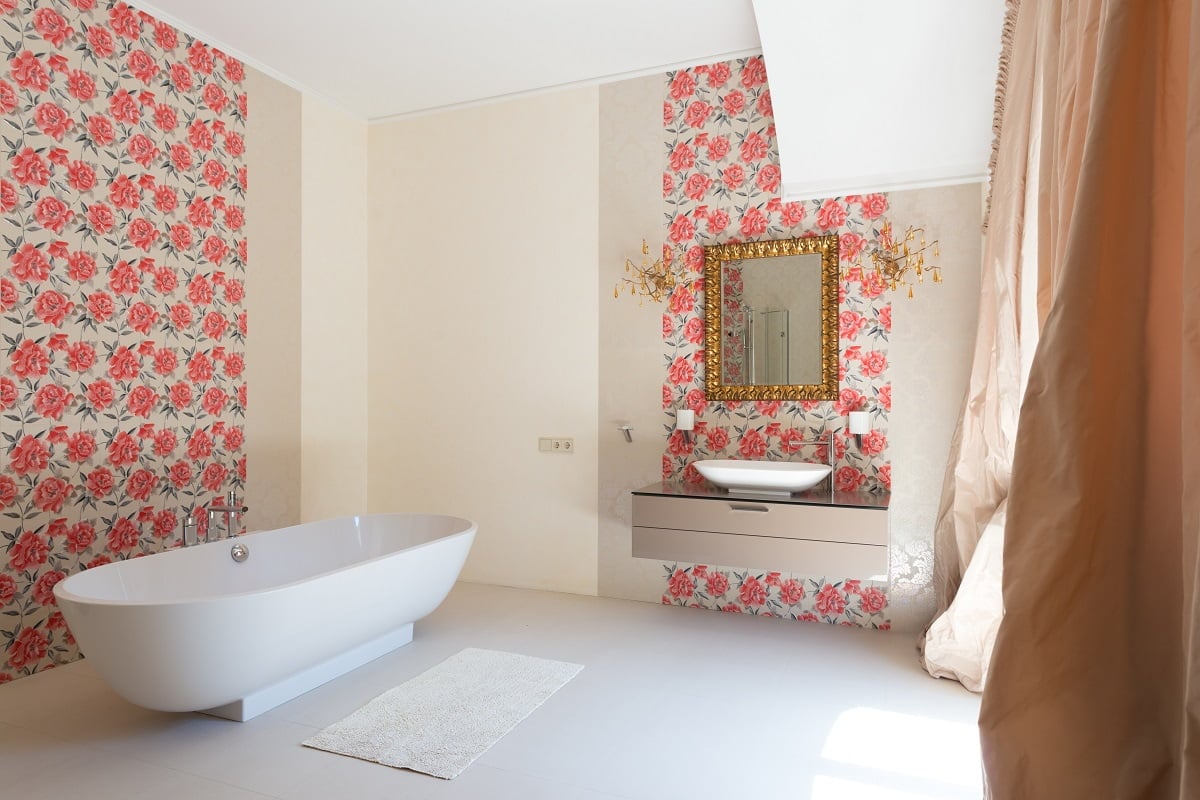 Now that you know what features to consider while choosing the best bathroom paint, it's time to look at some premium-quality moisture-resistant paints. In this section, we've carefully curated and reviewed three top paints that can work quite well in different bathroom designs. 
1. Rust-Oleum White Perma Interior Paint
If you are looking for mildew-resistant paint with a durable semi-gloss finish, the Rust-Oleum mold and mildew-proof bathroom paint can be an excellent choice. This acrylic paint is available in white and can work quite well with different design ideas for your bathroom walls or ceilings. You can also use it in your kitchens, basements, laundry rooms, closets, and for other utilitarian purposes. 
Furthermore, the low-odor formula of this Rust-Oleum acrylic bathroom paint can help you prevent the growth of mold and mildew on the paint films. So, if you already have a mold infestation in your bathroom, applying this paint can effectively keep the mold growth under control.
Not just this, but this bathroom paint also has a drying time of only 30 minutes, so you can easily apply the second coat within a few hours and get the paint job done effortlessly. Moreover, one gallon of this paint can cover between 75 and 100 square feet. You can paint a small or medium-sized bathroom using just one tin of the Rust-Oleum interior paint. 
The paint is also self-priming and can adhere to the wall or ceiling surface without sanding, making it pretty convenient to apply it directly. Since you don't need to go through the hassle of priming, you don't need to hire a professional painter to apply this bathroom paint. 
However, the biggest drawback of the paint is that it's not waterproof and can fade away after a while if you use it on your shower room walls. It's best to use it for your bathroom ceiling, where it won't be exposed to direct water splashes. 
2. Diamond Brite Kitchen & Bathroom Paint 
The Diamond Brite kitchen and bathroom latex paint is specially designed to withstand water splashes and steam, offering a robust semi-gloss finish. It is available in a bright white shade and contains additives to prevent brown spotting, so your bathroom walls and ceilings will remain spot-free and glossy for a long time. 
Thanks to its smooth, high-sheen finish, you can easily clean the painted walls with water and soap. Besides, it's pretty convenient to apply, and you can use any premium-grade paint roller or paint brush to get the job done. 
The paint has a drying time of 30 minutes, and you can apply the second coat within an hour. Once the paint dries, it becomes much more opaque, highlighting its semi-gloss finish, which is resistant to fading and abrasion. On top of this, it offers excellent coverage of 300 square feet per gallon, so one tin of paint can be sufficient to paint a medium-sized bathroom. 
But, the paint doesn't come with an integrated printer, and you might need to apply an initial layer of primer before you can use this product. Furthermore, the manufacturer doesn't mention the VOC limit in the product description, so you can't determine whether the paint is safe and eco-friendly. 
3. INSL-X Stix Acrylic Primer
If you're looking for a low-VOC bathroom paint, the INSL-X Stix acrylic primer can be an ideal choice, offering unparalleled adhesion and protection. It's highly versatile and works on different surfaces, including galvanized metal, glazed brick, glossy tiles, fiberglass, and PVC. So, you can use it to paint your bathroom tiles, ceilings, walls, water pipes, and much more. 
As an acrylic primer, it adheres to almost every surface, and you can use any product to top coat the primer base for a smooth and even finish. It also has an excellent enamel holdout, offering a durable base for the top coat. With a coverage of 75 to 100 square feet per gallon, the primer works perfectly for both interior and exterior walls. 
Additionally, the lower VOC content ensures that the primer won't produce any toxic fumes once it is dry. So, you don't need to worry about suffering from severe health hazards even if you're exposed to the product for a long time. What's more, the cleanup is pretty effortless, and all you need is some soap and water to do it. 
The only downside of this product is its long drying time, and you might have to wait for almost 24 hours in between applying two coats. But even though it might take some time to complete painting your bathroom using this acrylic primer, the result will be durable and long-lasting.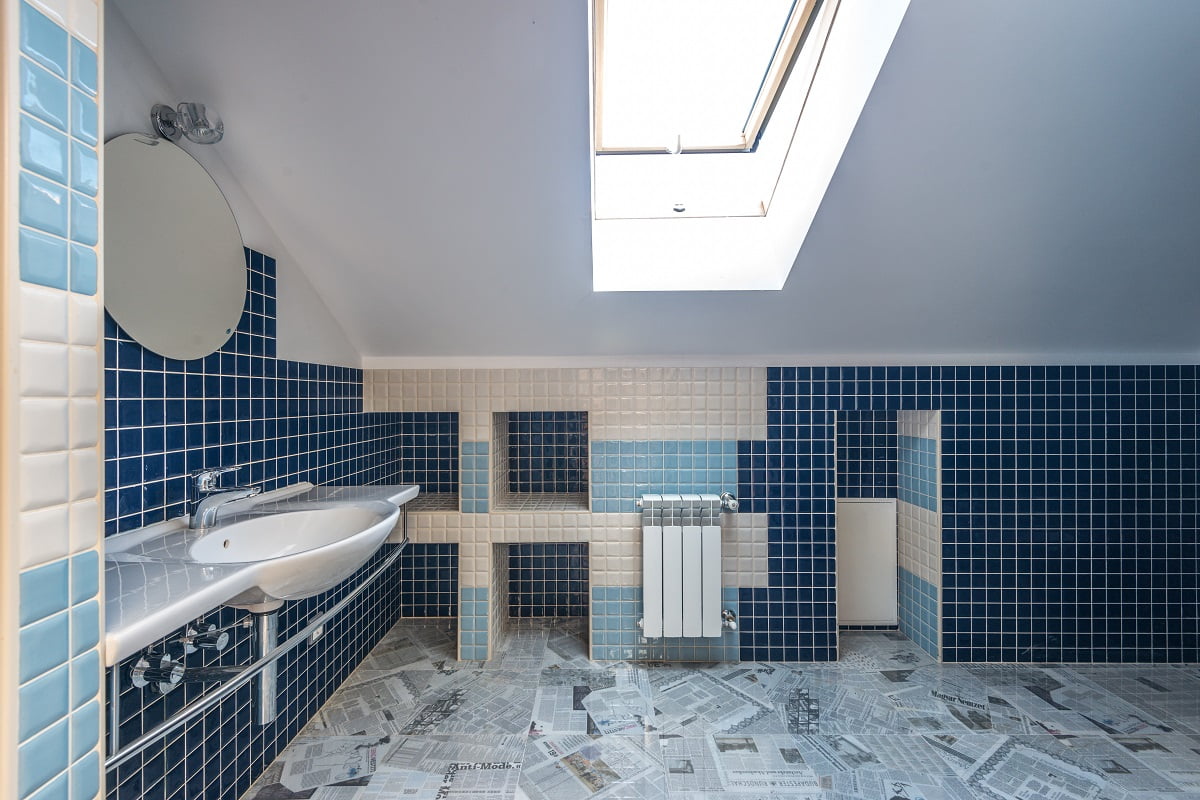 Moisture Resistant Paint For Bathrooms Frequently Asked Questions ?
Are there any special paints for bathrooms?
Although you can use ordinary paints for your bathrooms, paint manufacturers always recommend using specially formulated moisture and mildew-resistant paints for the bathrooms. These paints are more durable, can withstand highly humid environments without peeling or damping, and are also designed to prevent mold and mildew infestations. 
Is priming the bathroom walls necessary before painting?
The best paints for your bathroom are mostly self-priming and contain a primer, so you don't need to buy a primer separately. But, if you want, you can purchase mold-resistant and antibacterial primers to keep mold infestations under control. 
How can you prepare the bathroom before painting?
Before you start painting the bathroom walls and ceiling, you need to undertake a thorough cleaning to remove the old paint and dirt and prepare the surfaces. You can try bleaching the walls and ceiling to clean the grease buildups and sanding the surfaces to get rid of old paint stains. Then, rinse these surfaces with clean water and let them dry before applying the paint.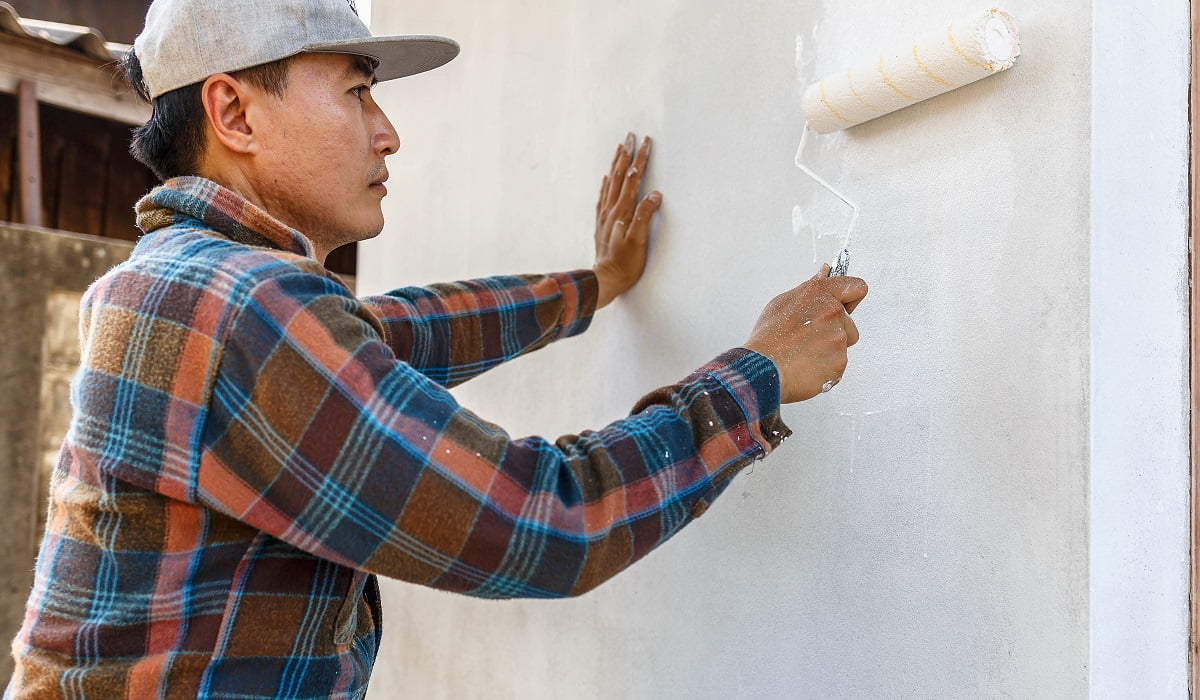 Moisture Resistant Paint For Bathrooms Final Thoughts
When it comes to choosing the best paint for bathrooms, always look for paints that have a mildew-resistant formula to withstand steam or condensation. 
That said, you might come across several products that fit the bill, so you have to carefully consider the key features mentioned above to make the right purchase decision. If you feel overwhelmed and confused about choosing the best bathroom paints, you can always try out our recommended products. However, you can also roll up your sleeves and do some more digging before selecting the best paint. 
On that note, we bid you goodbye. See you next time!