Making extraordinary things from ordinary everyday objects or from inexpensive craft items is what excites home improvement enthusiasts the most. This is a quest in which Homesthetics strived to help its readers by sharing exciting craft ideas. The projects shared below are perhaps the most elegant shared so far and none of these requires a lot of money to execute. The dollar store crafts discussed below will make a home look elegant without burning a hole in your pocket.
Dollar store Pottery Barn-style Eagan mirror
Every house owner gets excited seeing an Eagan mirror from Pottery Barn, but its $699 price tag makes it inaccessible to most of the home improvement enthusiasts. The design of the mirror attracts people but its price dampens the spirit. The price indeed is exorbitant, but there is a piece of good news. A person does not need to pay such a hefty price to own a Pottery Barn-style Eagan mirror. With a little effort and a little bit of money, one can make a similar mirror at home. This is the beauty of this particular dollar store craft. It helps a DIY artisan create an expensive looking Pottery Barn-style Eagan mirror by just spending a little amount of money and time.
The first step in the process of making the mirror involves deciding on the width and height of it. Afterwards, one also needs to think about the design and size of the molding that will go around the mirror and in between the mirror tiles. It is always better to keep a pen and a sheet of paper handy during this process to create a scaled diagram of the mirror you will make. This will help you find the exact size and placement of each mirror tile and the number of those tiles required. Once you have these details, you can do your DIY magic and create a beauty resembling the one shown below.
Along with glass tiles and wood molding, you will need a ply board, MDF board or particle board, if you want to go for a cheaper option, nails, wood glue, spray paint and cut tack.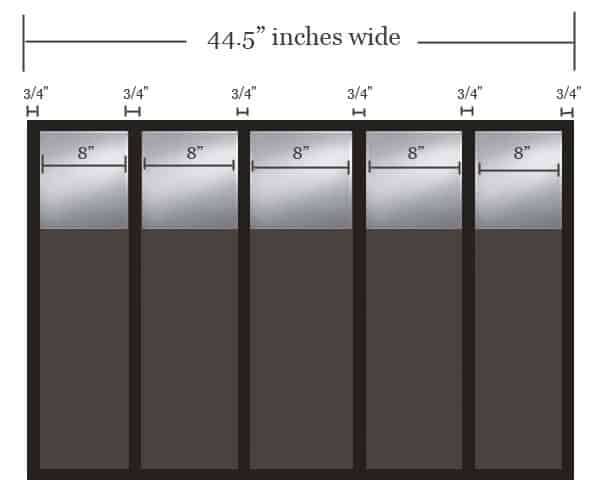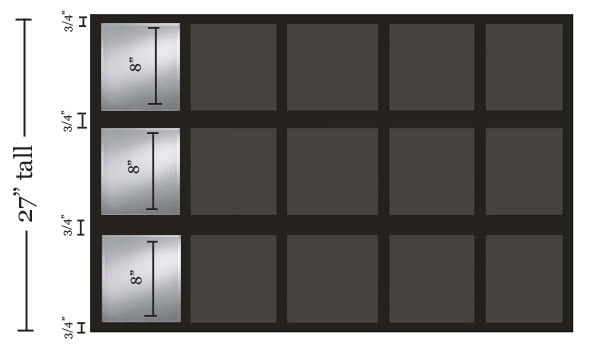 Source: The Lettered Cottage
If one wants to make a frame-less Pottery Barn-style Eagan mirror like the one shown below , such a craft can be emulated.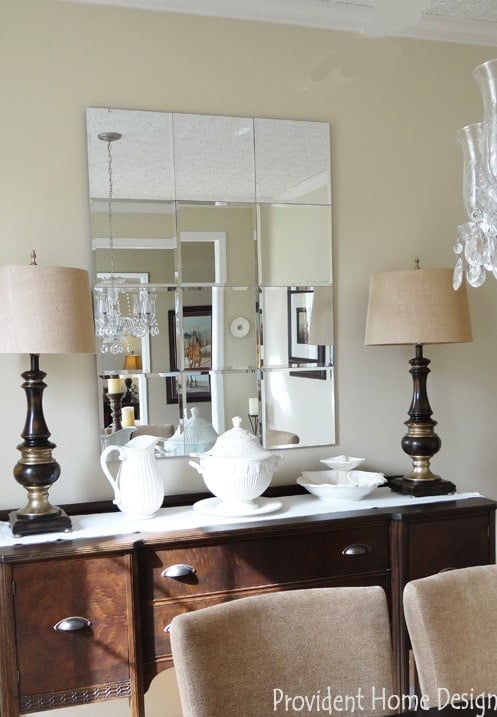 Source: Provident Home Design
more mirror designs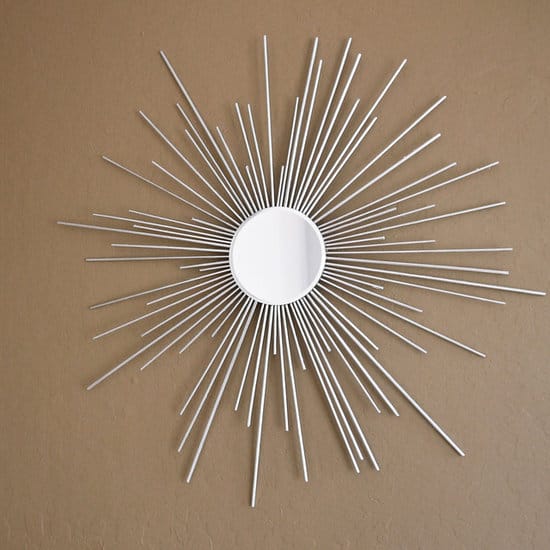 Source: Popsugar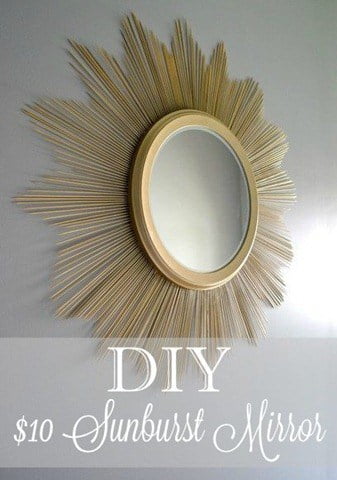 Source: Healthy Wealthy & DIYs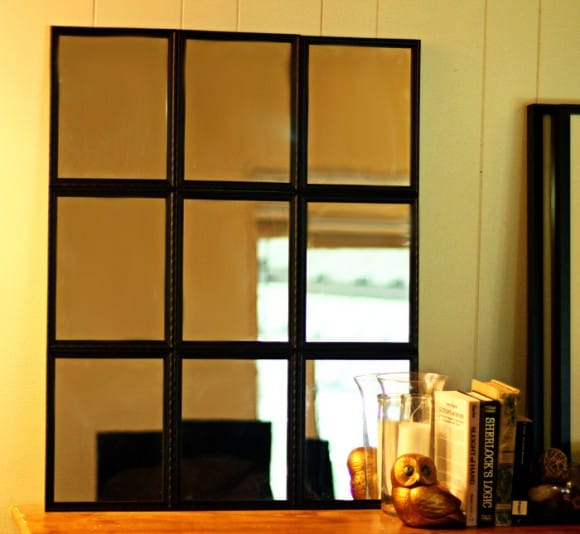 Source: Dollar Store Crafts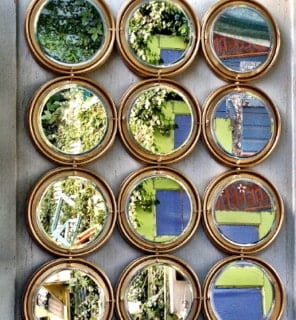 Source: Dollar Store Crafts
Dollar store trash can makeover
Gone are the days when waste basket makeover didn't find a place in an interior design scheme. These days, almost every home makeover factors in the bathroom renovation, which includes installing a matching waste bin. This pushed the demand for wonderfully designed waste baskets, which means the market is full of beautifully-designed but heavily-priced trash cans. Some of which are so ridiculously priced that most of the people cannot imagine investing that outrageous amount of money to buy a trash can, but wherever this is an expensive item, there are expensive-looking inexpensive DIY counterparts. The dollar store trash can makeover craft dealt below will make your ordinary trash can look stylish.
Creating a chic waste basket does not require many things. A typical trash can, a bit or rope, glue, glue gun and lot of patience to execute this DIY craft with precision are enough. When done properly, the result would be similar to the one shown below. One can take this forward and add colors or embellishments to the exterior of the trash can to make it look even better.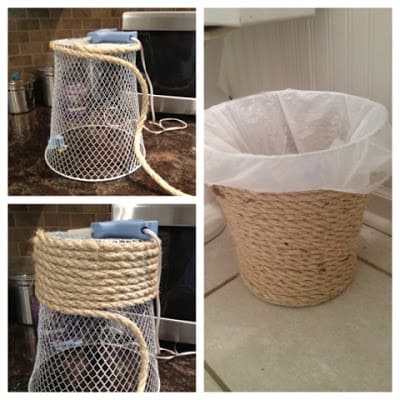 Source: Two It Yourself.com
DIY Studded Faux Bois Centerpiece
To add luxury to the living room, one does not need to invest a great deal in buying expensive items. Such exclusive items may make a living room look classy, but it will not give the satisfaction and joy that one gets from making elegant decorative items on one's own.
Elegance oozes out of each piece of DIY studded faux bois centerpiece that the article is going to talk about below. The centerpiece is so chic that even DIY detractors will feel compelled to try this out and make this expensive-looking inexpensive centerpiece and flaunt it in their living room.To make a centerpiece like this, one will need a white platter, five metallic studded headbands, wood grain contact paper, glass vases, white candles hot glue, paper trimmer and patience to see the project to the end.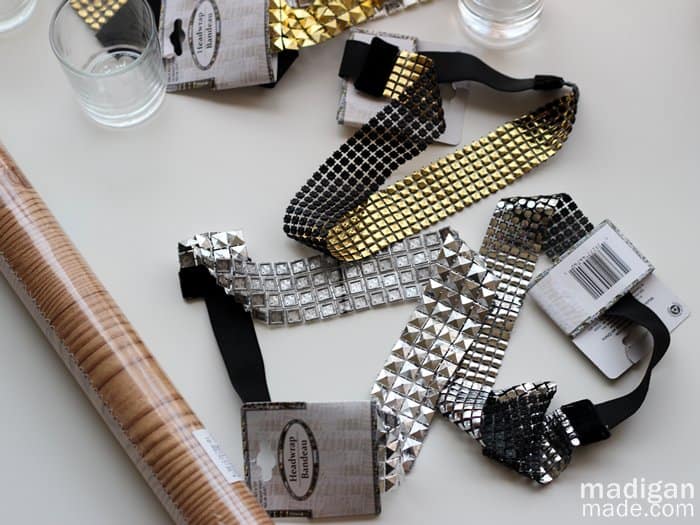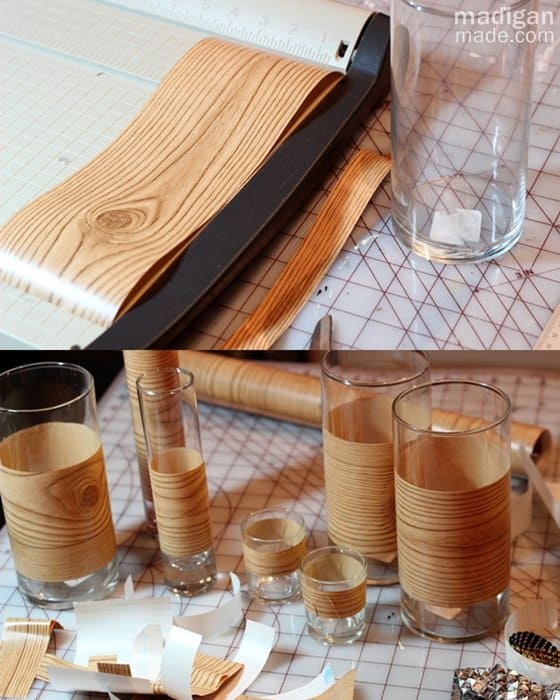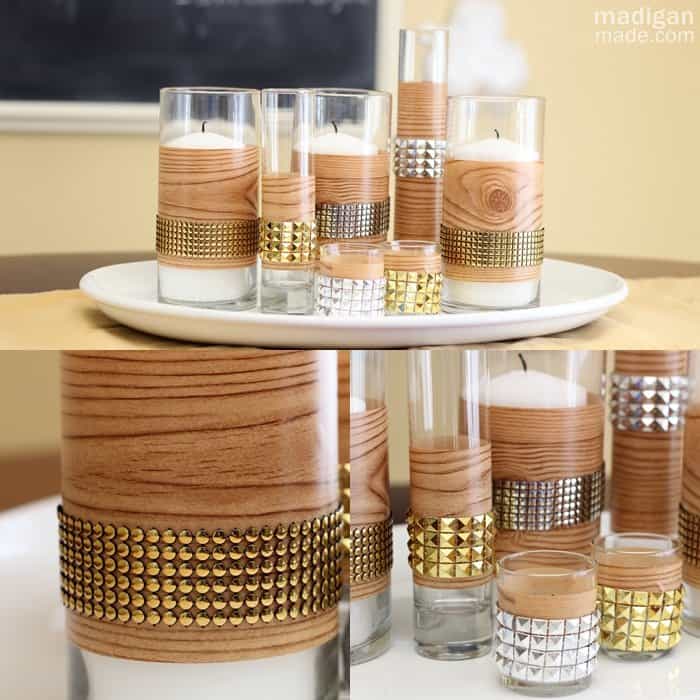 Source: Madigan Made
The following candle set will also catch the fancy of a DIY enthusiast, particularly of those who are looking for a minimalist alternative.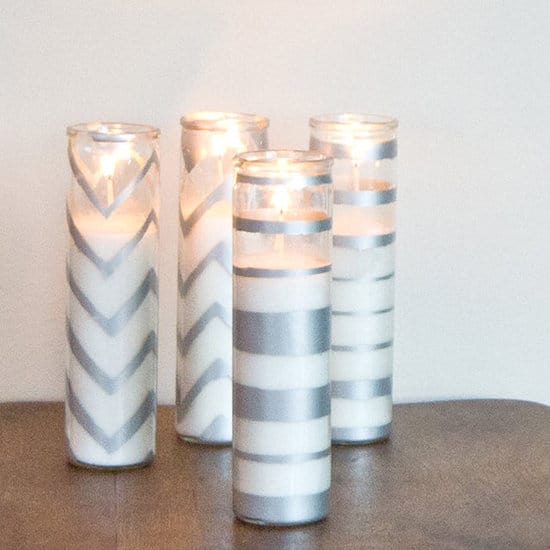 Source: Popsugar
Dollar store craft chandelier
It is hard to imagine but a chandelier can also be created at a shoestring budget. This is what this dollar store chandelier craft is talking about. One can make a beaded chandelier like the one shown below or one created from used plastic stemware like the second one. To make a beaded chandelier, you will need the following items: hanging wire basket, 6 packages of Mardi Gras-style metallic beads (about 48 necklaces), light gauge wire (floral wire will work), spray paint, wire cutters, hot glue gun & sticks and additional embellishments. And the total estimated cost of the DIY craft would be a whopping $11.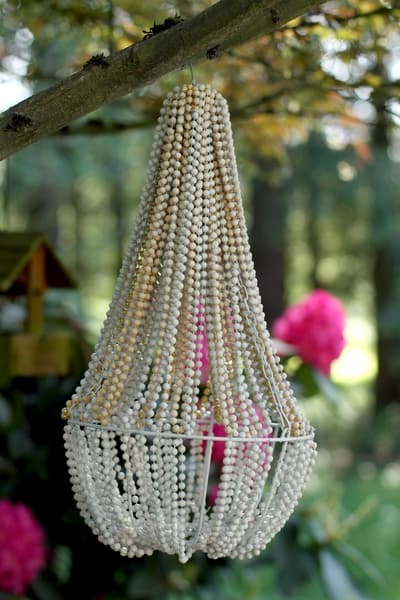 Source: Dollar Store Crafts
Another DIY chandelier that caught the fancy of many DIY experts is made of simple things like plastic stemware, plastic rope, embroidery hoops, bungee cords, rhinestones, mardi gras beads and glue, which you can get from any dollar store.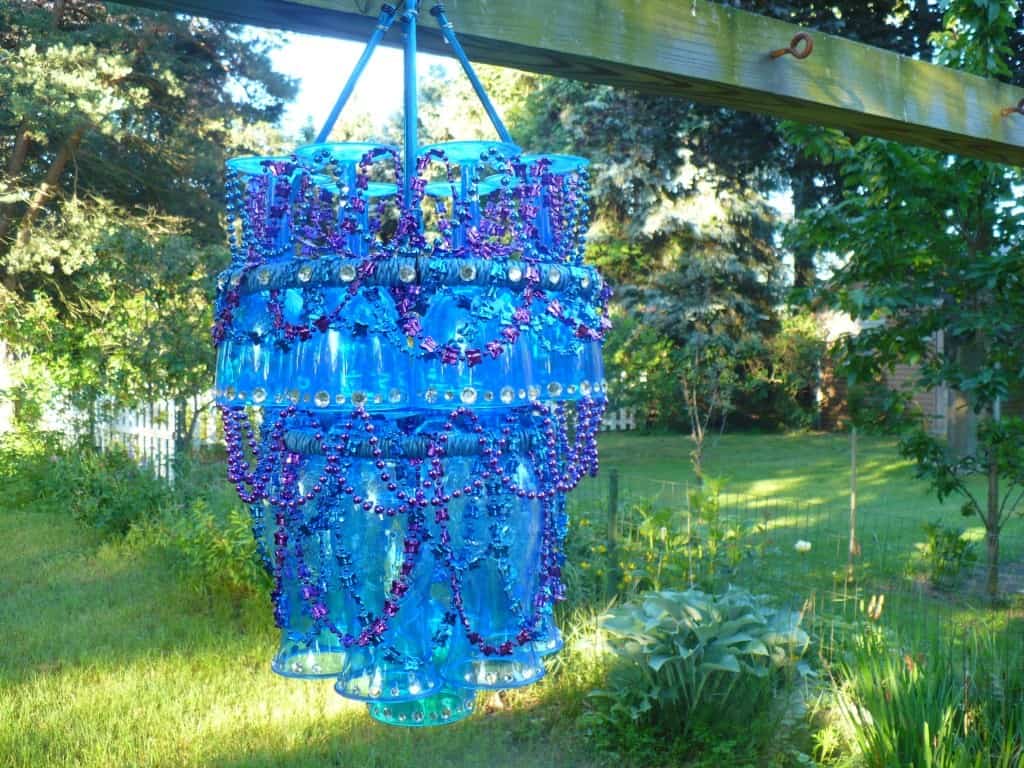 Source: Mrs. Greene
Butterfly flower vase
Flowers are featured in almost all design schemes, so it is necessary that the article shows you some elegant flower vases that can be made at home. The one shown below looks so cool and fresh that it deserves an honorable mention in this article on elegant dollar store crafts. To make one such vase, all you requires is an everyday glass vase, foam cutouts, spray paint, painting tape, and an eye for detail. The DIY project is simple to execute and will brighten the atmosphere in your house.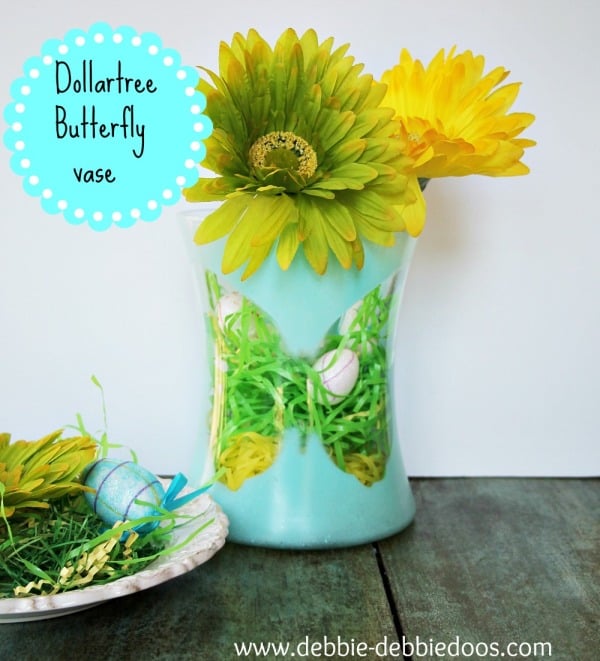 Source: Debbie-Debbiedoos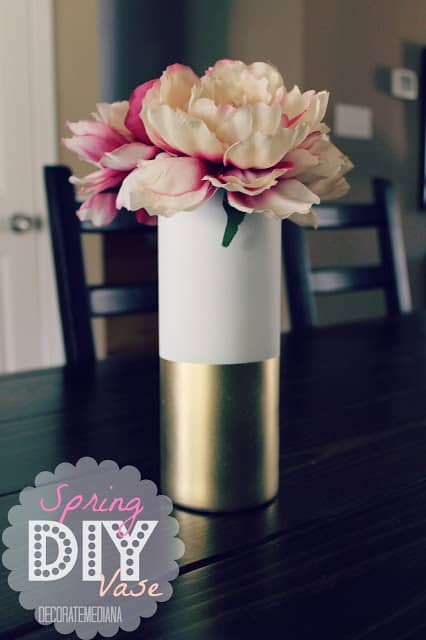 Source: Down Oxford Street
Some more Decorative vases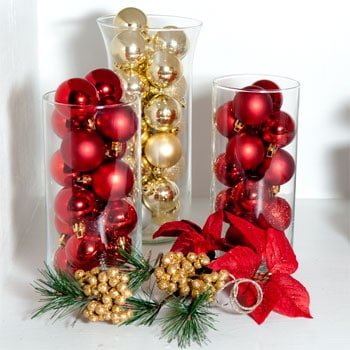 Source: Dollar Tree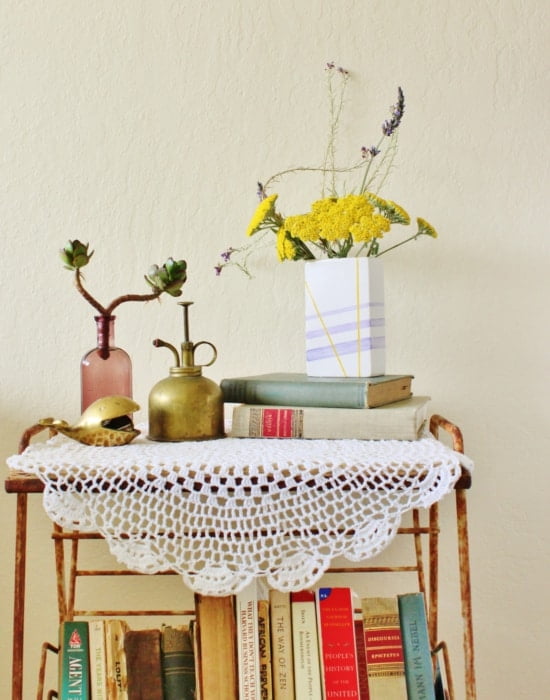 Source: Our Designed Life
Dollar store art
Art, as they say, transforms the everyday. It transfigures the everyday. This is true for dollar store art works as well, a sample of which has been shared below.
Rose soap wreath and bouquet
Who can imagine that soap can be turned into a beautiful flower bouquet and wreath? This is the beauty of a DIY dollar store craft. To make this possible, the artist has used white, red and pink rose shaped soap she bought from a dollar store and turned into an artwork worth admiring.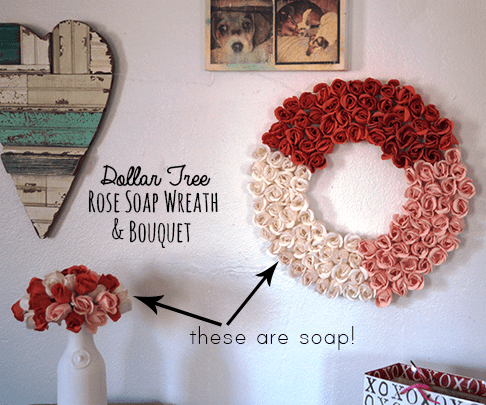 Source: Saved By Love Creations
Painted plate garden art
DIY geeks will also get excited about the idea of converting some vintage dishes into a work of art using some glass paints, marble, embellishments like the one shown below.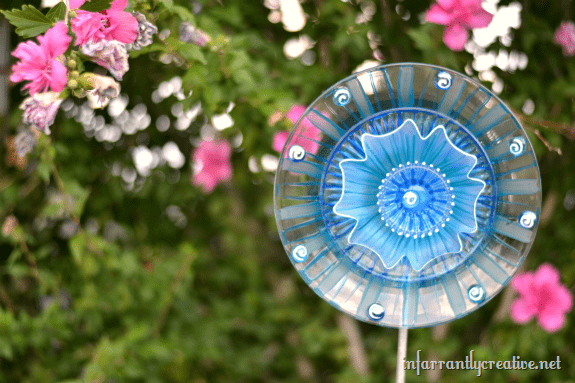 Source: Infarrantly Creative
Winter platter
Another piece of art, which the artist claims is easy to make, can be created using an inexpensive silver plastic platter, paints, printed design, sparkle, embellishments and snowflakes.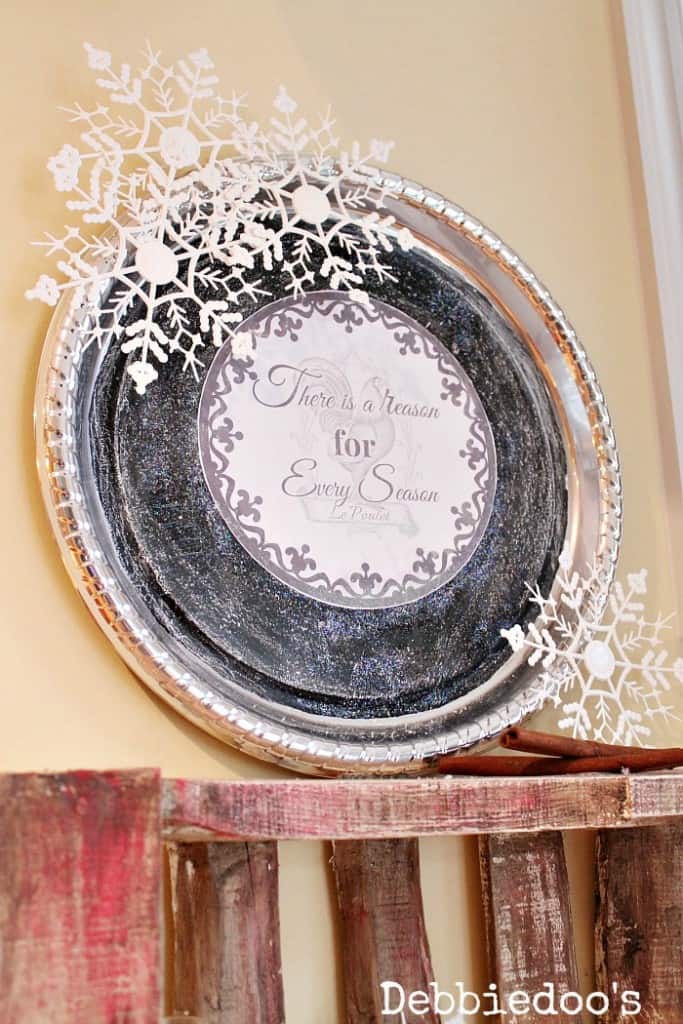 Source: Debbie-Debbiedoos
Art for the wall using door mats
This sounds too far fetched, but it will cease to do so when you will look at the following wall art projects made using cheap dollar store black rubber door mats and white paint.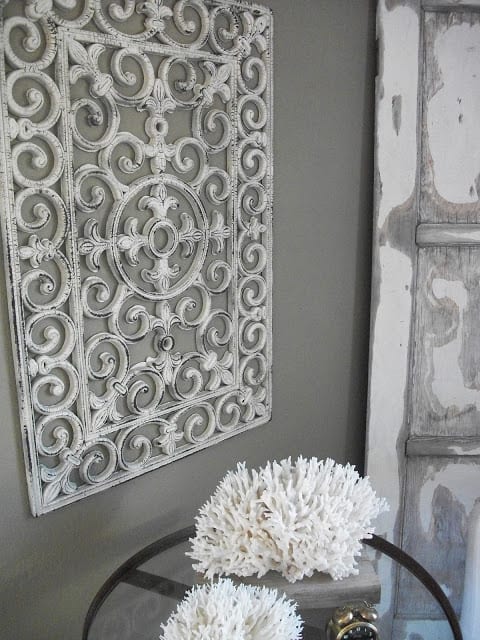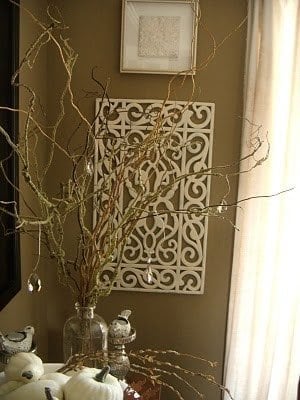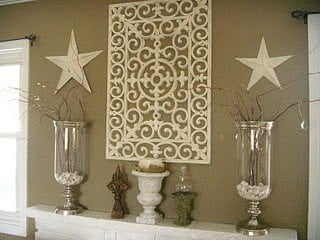 Source: Salvage Dior
In the end
Using dollar store crafts for home decor is all about making the most of the resources you have. It is about getting simple everyday things from a neighborhood dollar store and transform it into something functional, elegant and suave. The idea is to give the Midas touch to everyday mundane stuff and show the world that elegance is not always about buying expensive stuffs. It is about doing creative beuatiful items with your own hand.