The Lasko High Velocity Floor fan is space-saving and versatile. It can be mounted on a wall as well as placed on the floor for use. The fan has a durable construction, powerful air circulation, and adjustable speed settings. 
Lasko High Velocity Floor Fan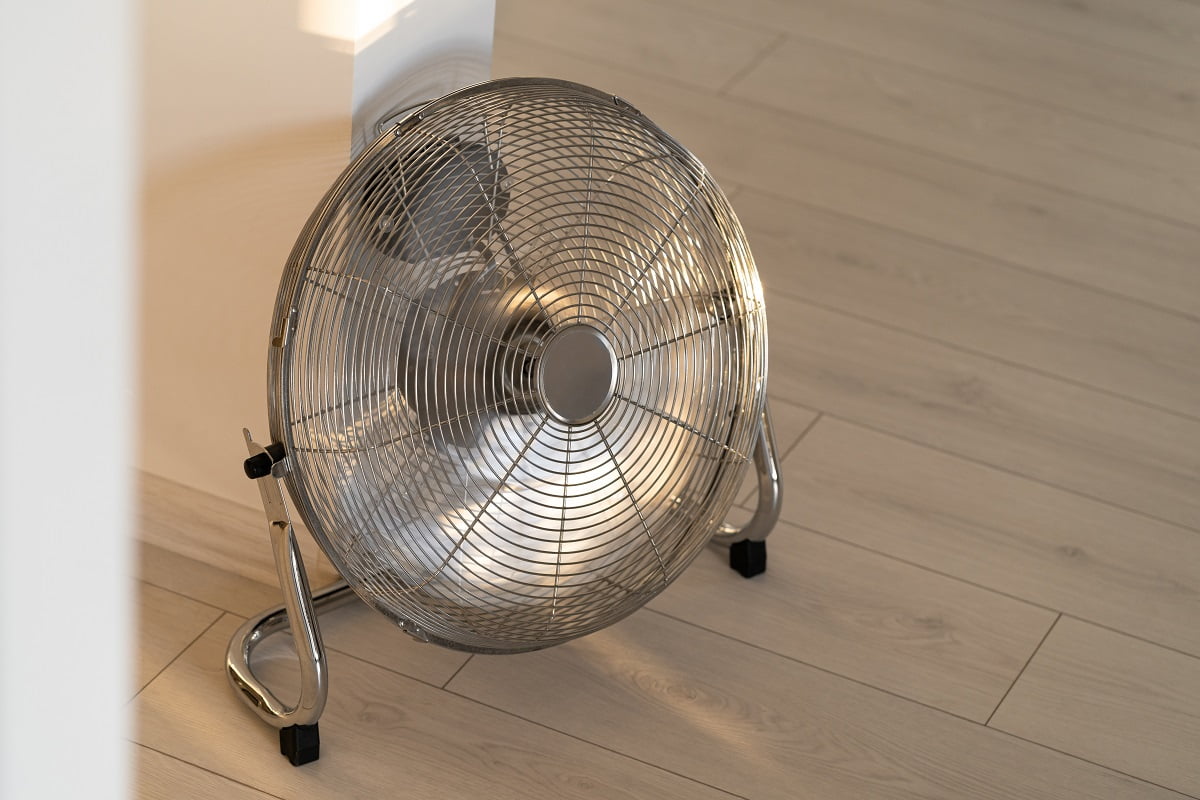 If you are looking for a practical-sized high velocity fan that is convenient to move around the house, then Lasko might fit the bill.
It is a portable and handy fan with multiple nifty features. On top of having a rugged metal body and blades, the fan is highly user-friendly. And the best part is, you won't have to burn a hole in your pocket while buying it. 
Want to know more about Lasko High Velocity Floor Fan? Keep reading to find out!
Key Features
1. Steel Construction
To begin with, Lasko has a durable tubular steel construction, which gives it an edge over other plastic options on the market. Its stainless steel body makes it rugged and minimizes the chances of rusting.
Additionally, this fan is an ultimate space saver with a width of 7 inches and a height of 20 inches. Simply put, it is roughly the size of a standard wood cabinet, so you can replace your old fan with Lasko if your house looks too cluttered.
2. Metal Fan Blades
Another feature that makes the Lasko High Velocity fan durable is its metal fan blades. Unlike other cheaper plastic options, Lasko is safer and doesn't pose the risk of blades breaking off over time.
The metal fan blades also have a better shape that cuts the air more efficiently to deliver maximum air movement.
3. Direct Air Flow
Having spoken of blades, let's now discuss the air flow provided by the Lasko fan. It has a pivoting head that lets you direct the air flow wherever you want. So, instead of waiting for the fan to cool the entire room, you can simply pivot its blower to the spot you are sitting in. 
4. Adjustable Speed
If you live in a place where the weather fluctuates too much, Lasko's adjustable speed settings may save the day for you. When the sun is too bright outside, use the fan at its maximum speed and keep the heat at bay. But if only a few days are left before the fall season and a little breeze is all that you need, adjust the fan speed to low and enjoy. 
However, note that the noise produced by the fan also changes with the speed settings. While it will create a pleasant environment in your room, it may also cause a little disturbance with its whirring.
5. QuickMount® System
Isn't it restricting when you can either get the fan fitted on your wall or place it on the floor? But with Lasko, you won't have to choose. 
The fan has a QuickMount® System, which lets it convert from a wall fan to a floor fan in a jiffy. It saves the hassle of gathering all your tools and permanently installing the fan on the wall. What's more, it also gives you the option to take it off the floor when the room feels too cluttered.
6. Blue Plug™
Another impressive quality of the Lasko High Velocity fan is that while delivering top-notch quality, it doesn't cut corners on safety. It is equipped with patented, 3-prong ground safety plugs. This means, despite its steel body, the fan runs no risk of giving you an electric shock.
7. Built-in Carry Handle
Lastly, Lasko comes with a built-in carry handle which makes transporting it hassle-free. You can easily move it from one room to another or even take it out on your deck. Simply prop out the handle to carry it and prop it back in when done.
What Makes the Lasko Fans Standout?
The following features make the Lasko fan stand out from others:
QuickMount® system

Ultra safe Blue Plug™

Pivoted air circulation
What We Like
Here are a few qualities that give the Lasko High Velocity fan an edge over other options on the market:
1. Durability
The Lasko fan is a good investment owing to its durable tubular steel construction. Its robust build ensures that it stays in your house or office for a long time. And the best part is its steel body won't rust, or the polish won't peel off over time, maintaining the ambiance of your room.
2. Air Flow
As discussed earlier, the Lasko fan provides direct air flow, which makes it a fantastic option in peak summers and amid heat waves. Additionally, its pivots let you adjust the blower head in the preferred direction, giving you instant relief from the heat. 
Standing true to its name, Lasko delivers maximum air movement and high velocity air, which makes it ideal for large spaces like garages, workshops, basements, etc. 
3. Versatility
Lasko is versatile because you can easily convert it from a floor fan to a wall one. This makes it unique because not many fans offer such convertibility. It comes with a QuickMount® bracket which can easily be fitted on the wall to mount the fan.
4. Ease Of Use
Another key feature that we liked is you don't have to be a tech-guru to use the Lasko High Velocity fan. It comes with user-friendly manual control located on the front of the fan so that you can adjust the setting even if the fan is mounted on a wall. The fan has a dial to toggle between the speed settings and tweak the air flow as required.
5. Portability
The Lasko fan is space-saving and portable, so you won't have to buy one for every room separately. It is a practical option if you live alone or have a small family, as you can move it to different rooms. Furthermore, the fan is lightweight and has a built-in carry handle, making it easier to transport. 
6. No-Tools Assembly
Lastly, the Lasko fan has a simple no-tools assembly. So, except for mounting a bracket on a wall, you won't need any equipment or handymen skills to install it.  
What We Don't Like
While the Lasko fan had an array of impressive qualities, it also had a few features that could be improved. Take a look:
1. Fan Control
Although Lasko offers a user-friendly dial to adjust speed, it doesn't have a remote control. Therefore, every time you feel like increasing or decreasing the speed of the fan, you'll have to get up and manually do it. That's why we thought having a remote control could have been more convenient.
2. Sound 
The major downside of installing a fan is that it always generates noise because of its motor. Lasko also makes a whirring noise when in use.
However, the sound isn't that disturbing when the fan is on low or medium speed. It's just the high-speed setting that makes the most noise, and you might find it distracting. 
3. Color Options
Another thing is that the fan comes in just two color options, and you can choose between metallic and black. While it's not exactly a con, we would have appreciated more color options to suit different aesthetics and ambiance.
Value For Money
The Lasko High Velocity fan packs a powerful punch with its durability and versatility. Considering all its features, we can safely say that the product has a good value for money. While some might find it a little pricier, we'd like to reassure you that it is worth every dime. That's because it will last longer than other cheap options on the market.
Lasko High Velocity Floor Fan Buying Guide
It goes without saying that a little research is required while buying a fan for your home or working space. Here we will briefly talk about general features that you should look out for when shopping for a new fan:
1. Construction
First and foremost, check the construction of the fan. See if it has a metal build or is made of plastic. Preferably, opt for a fan with steel construction and blades as it would be durable and won't break after some time. Some blades can be really fragile and crack while in use, posing a risk of injury to the user.
2. Air Flow
Keep a rough idea in your mind of the area of the room where you want to install the fan. All fans aren't powerful enough to cool large spaces like garages and the basement. So, if you just want a fan for your kitchen or bathroom, a small one would be enough. But if you want to mount it in your workshop, then a high velocity fan like Lasko would be a better choice.
3. Speed Settings
Moving on, pay attention to the speed settings of the fan you are purchasing. The more speed levels, the merrier, as you will have better control over the temperature of your room. While most fans offer three basic settings – slow, medium, and fast, some offer 5. So, choose according to your budget and convenience.
4. Portability
Size and portability matter a lot if you are opting for a floor fan, as you might need to change its position frequently. However, it doesn't matter much if you just want a wall mount fan. But our suggestion is that a convertible fan offers more options of placement and ease of use.
5. Value For Money
Lastly, we suggest buying a durable fan even if you have to shell out extra cash, as that would be more cost-effective in the long run. So, don't stay limited to cheaper models and compare the features of the fan to its cost. Chances are, you'll find a practical option.
Lasko High Velocity Floor Fan Final Verdict
The Lasko High Velocity fan is loaded with all the excellent features that one may need. It is robustly built, delivers maximum air movement, and comes with a built-in carry handle.
Lasko's QuickMount® System lets you install it on a wall or use it on the floor, and the patented Blue Plug™ keeps you safe from electric shocks. Overall, it is a reasonably-priced fan, made to last long in your home.
Related Articles
Lasko 7050 vs. U15701 vs. 655704
13 Best Air Purifiers for the Baby