2D and 3D rendering can be an exciting task, as you can paint your wildest imaginations on digital screens. However, inspiration is often needed. 
In fact, we believe that nothing in this world is created without inspiration be it any form of art. And with the internet in place, you can surf through millions of images at any point in time. But it can be a taxing process, and you may end up becoming more confused. 
So, we decided to list the 77 epic knight concept art to inspire the concept artist in you. This involves 2D and 3D images, as well as paintings made with different art and design software. 
Read on to know all about them.
Knight Concept Art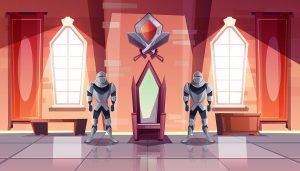 1. The Warrior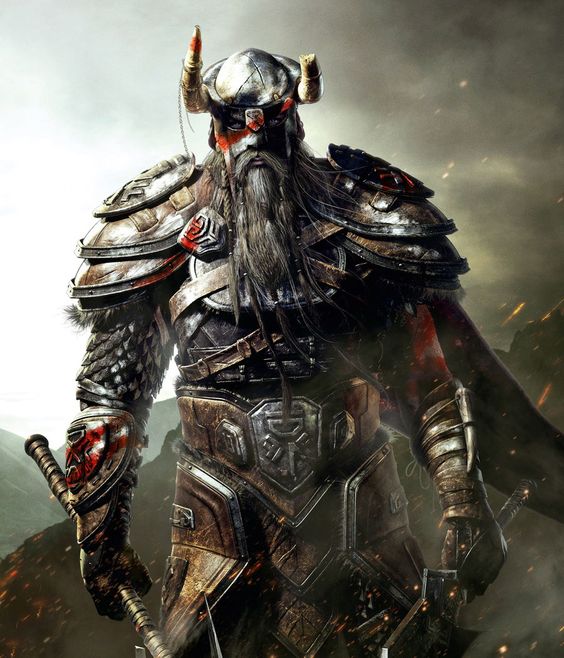 This is a depiction of a knight who has been fighting a war. He has a ferocious expression on his face and a broken horn depicting bloody combat. In fact, there is blood visible on different parts of the armor, indicating that there has been a lot of struggle and bloodshed. 
If you want to paint this, remember to use the shades of green, gray, and rust to bring out the feel. 
2. Realistic Kratos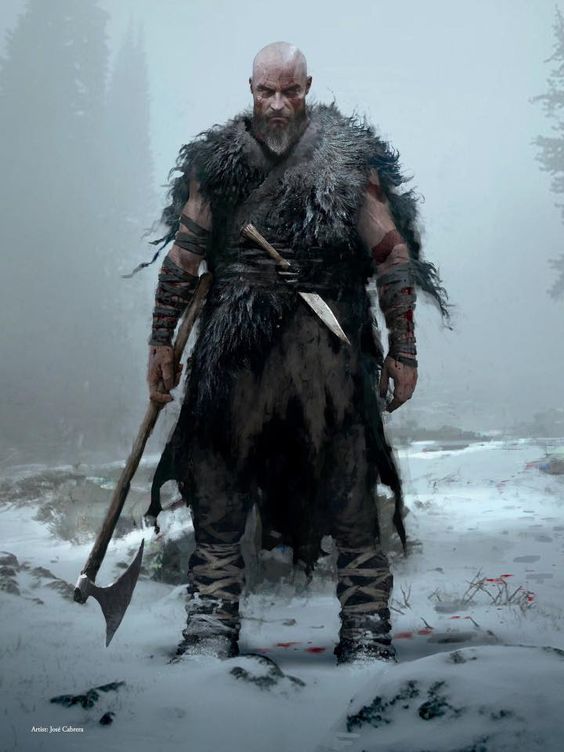 If you are into making or weaving realistic images, then this concept art depicting Kratos may be a brilliant piece of inspiration. Kratos is known to be the God of war and personification of strength. 
He was seen as a Spartan warrior, and the ferocious look on his face indicates the strength and determination he holds. So, if painting a warrior is on your mind, this is something to take note of. 
3. Ascension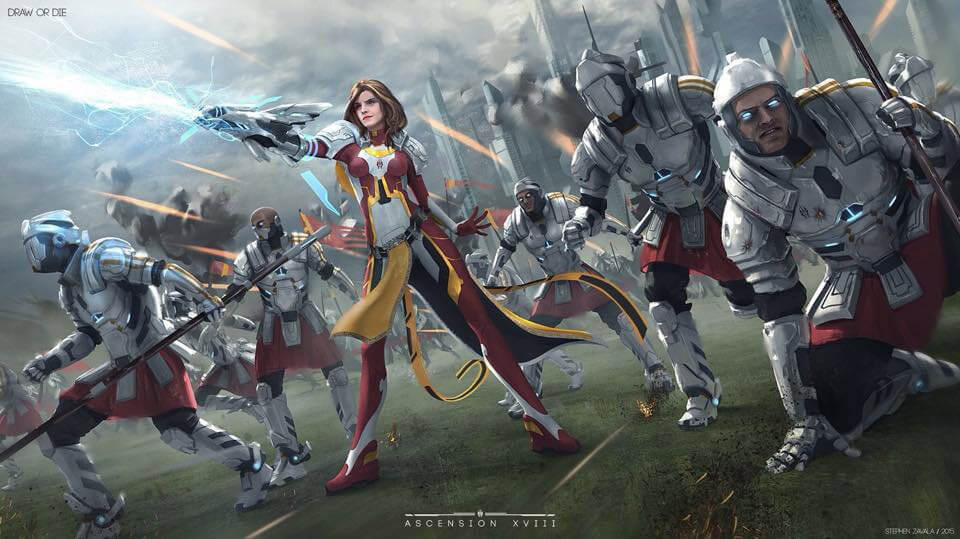 Why should warriors always be thought of as part of ancient times! This is an entirely new kind of concept art where you see a futuristic woman leading the battle. There are soldiers around her, and all of them have futuristic garb on. The warrior seems to be using laser power to attack the enemies as you can see the blue light emerge from her weapon of choice. 
4. Loki Prime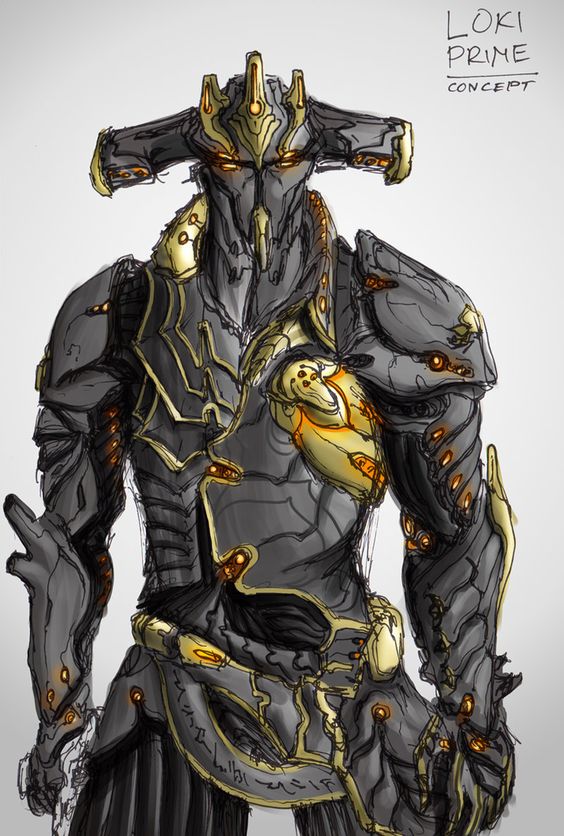 Loki is known to be a quick manipulator who focuses on sabotage, deception, distraction, and stealth. In this image, you see a primed version of Loki, who has a high energy capacity. The armor looks dangerous, and the image seems unforgiving. 
Here, the use of a shade of gray with hints of yellow and orange makes this concept art all the more attractive. 
5. Undead Dragon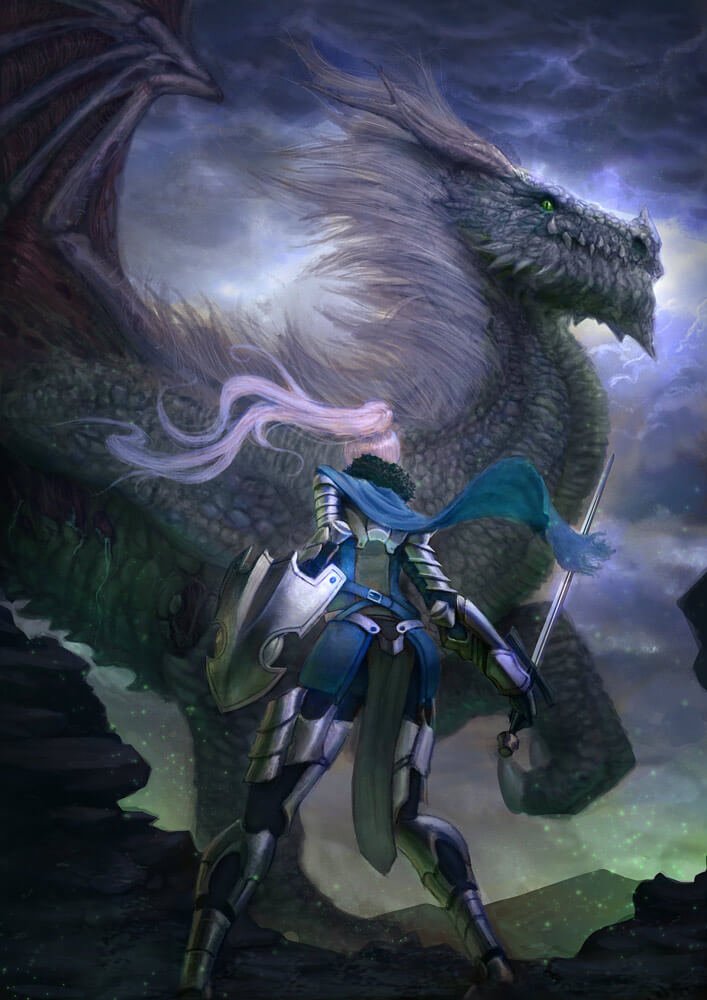 If you are keen on painting or creating dragons in Photoshop, then this is an excellent piece of inspiration. Here, you see a giant dragon flying with a warrior in front facing it. There is a lot of tension in the picture, which has been created in shades of purple and pink with hints of blue and green. 
6. Knight Artorias, Dark Souls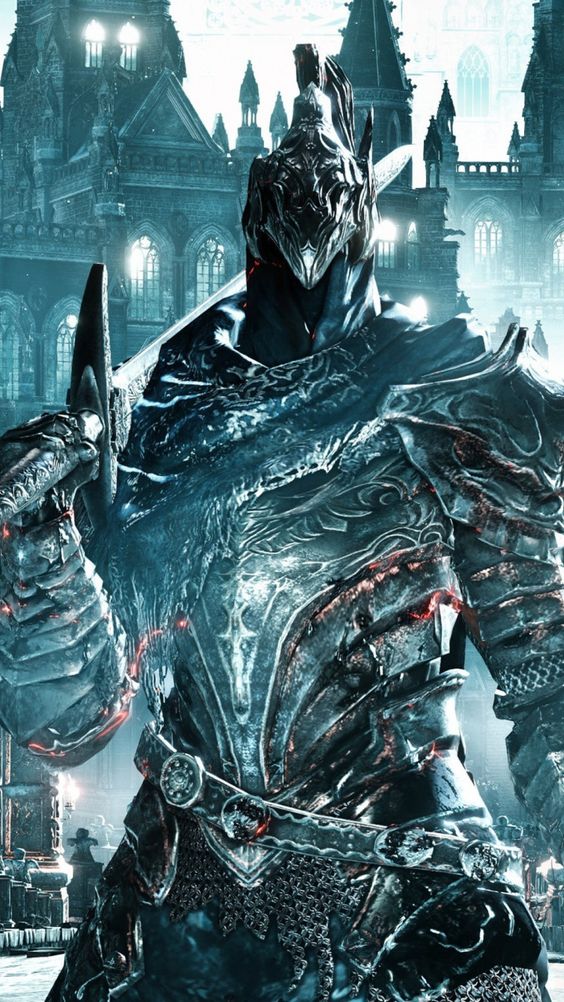 Here, you can see a depiction of Knight Artorias, also referred to as Artorias, the Abysswalker. He is the knight boss of Dark souls and is among the Four Knights of Lord Gwyn. This knight is always seen wearing distinct armor and will make for a brilliant piece of inspiration. 
7. The Crusader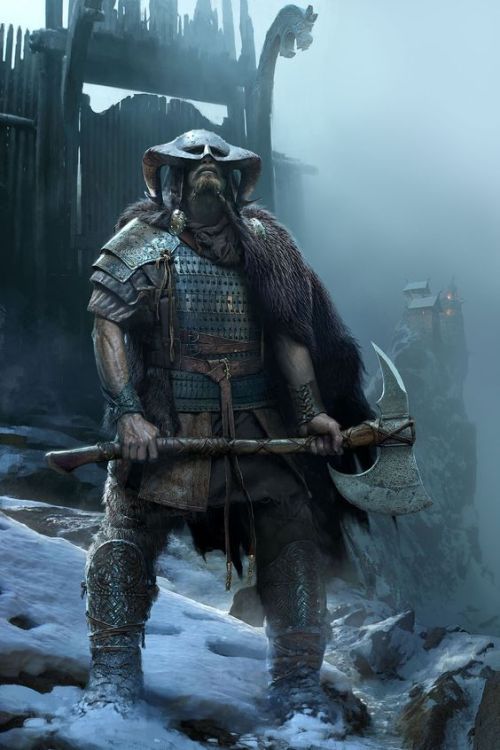 The Crusader is known to be a destructive being who crushes enemies with his sheer willpower and strength. He looks dangerous and often overwhelms the opponents with his brutal power and teamwork. 
Meanwhile, the surrounding ambiance is cold and grim, making the mood just right for an oncoming battle. 
8. The Cursed King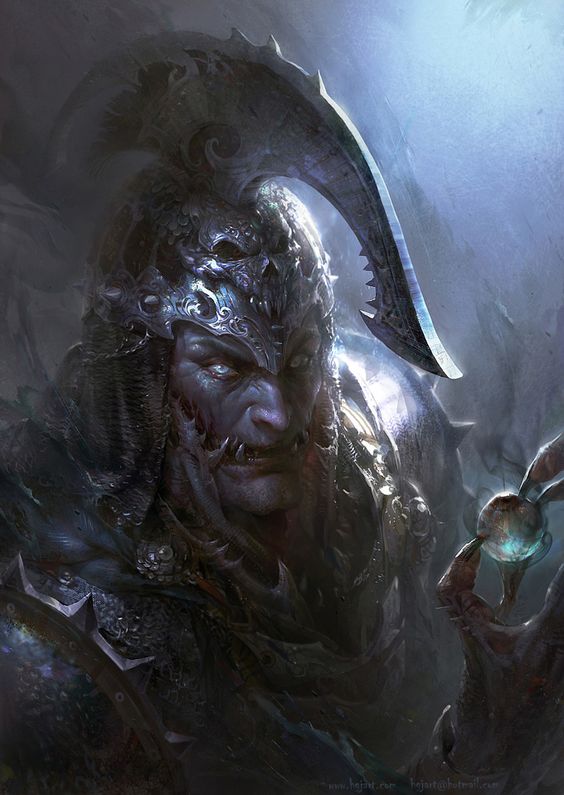 This is an image of the cursed king wherein you can see the face of a warrior that looks harsh and steely. If you are looking to experiment with facial expressions and lighting, then this can be used as a reference point. 
Also, do not forget to check out how the light falls on one side of the face while the other is in complete darkness. 
9. Storm the Castle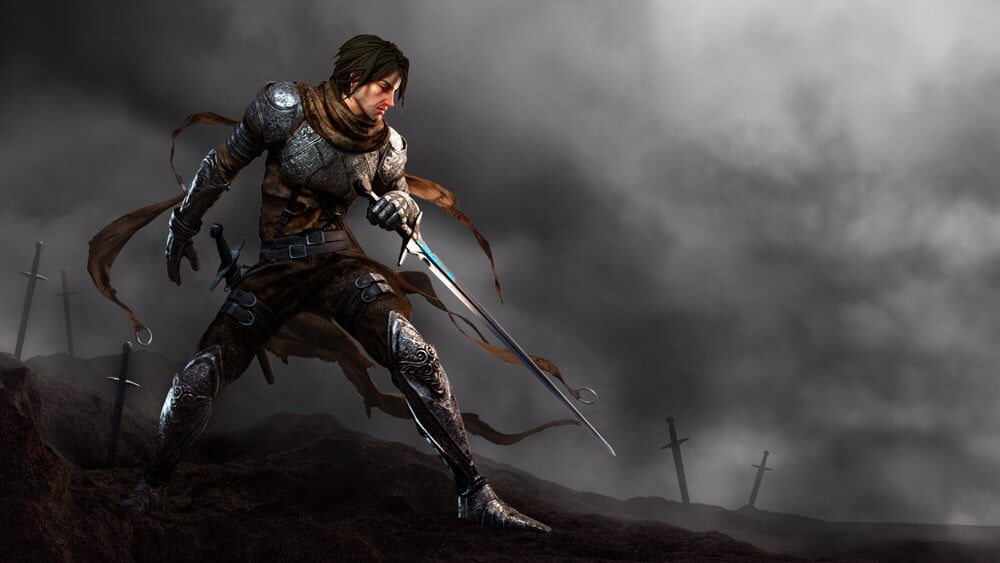 Here, you will see a warrior in his true glory with a very grim war-like background. There are swords placed around the frame, which indicate dead bodies and a war that has been fought. 
The dark background filled with black clouds and smoke speaks of dark times while the warrior stands undefeated in front. We believe that there is a lot to learn about colors and blending from this piece of concept art. 
10. Little Bird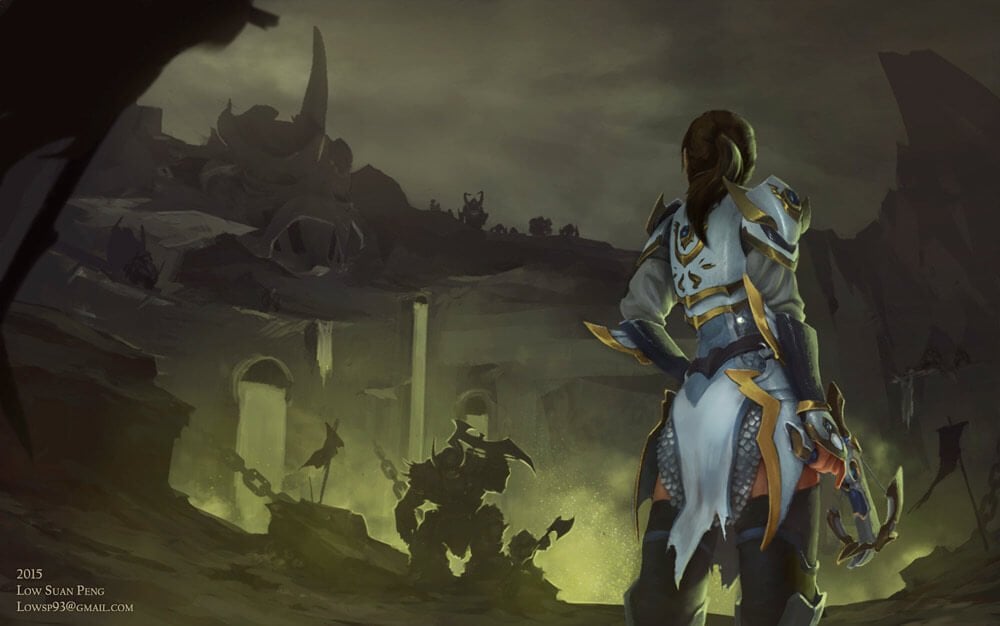 If you are studying human anatomy and want to design battle characters, then this can be very inspiring. Here a female warrior is looking at the oncoming enemy and there is a sense of power in the way she strikes a pose. The enemy troop is not very visible adding to the mystery of the scene. 
11. Female Knight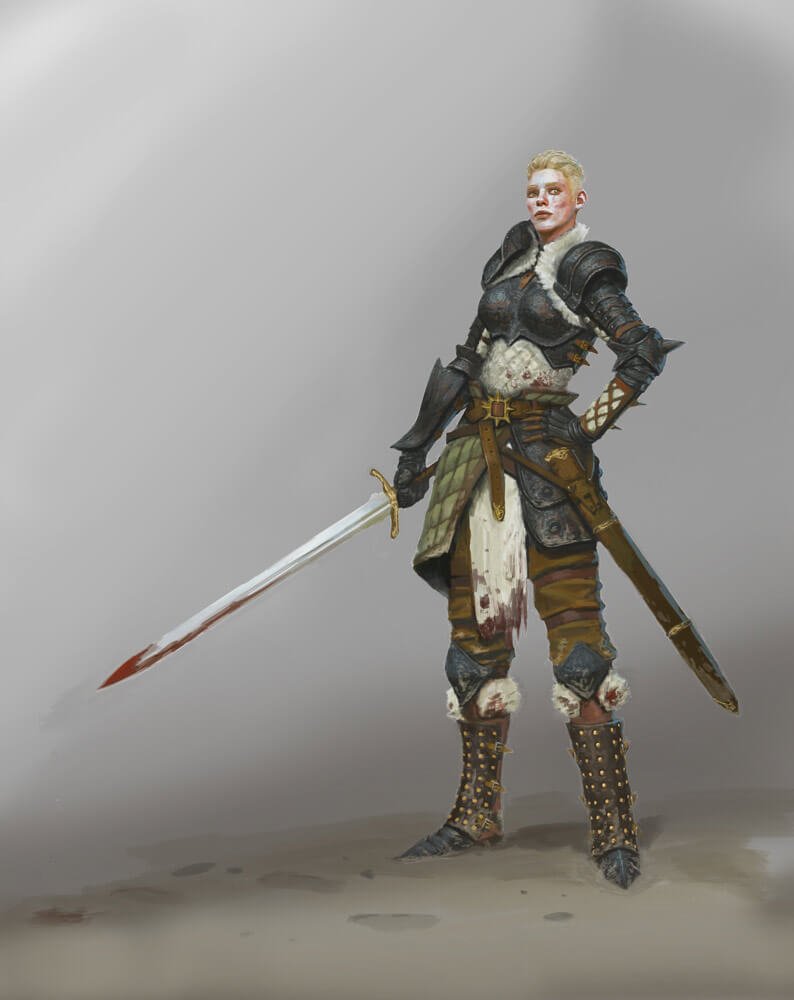 Here is another example for those interested in studying human anatomy and are learning how to create the human form. You can see a female warrior striking a confident pose while holding a blood-stained sword. She has a very strict expression on her face, which goes with the character. 
So, if you are learning about pose, structure and expressions, this can be a great piece of concept art to look at. 
12. Horned Death Knight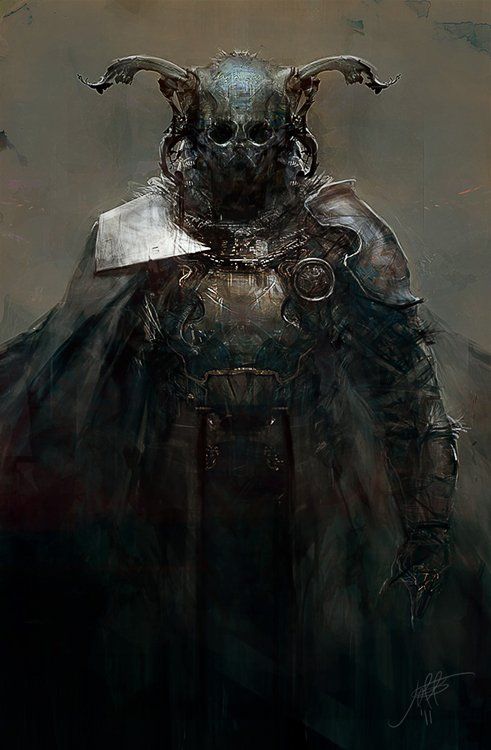 If you are interested in creating dead or horror characters, then this is an amazing piece of concept art. Here, you can see a knight who is dead with hollow eye sockets. The overall look is scary, and there is rust visible on the metal armor. 
We feel that the subtle red of the rust paired with tones of gray and beige brings out the deadliness of this scene. 
13. Armored Knight Female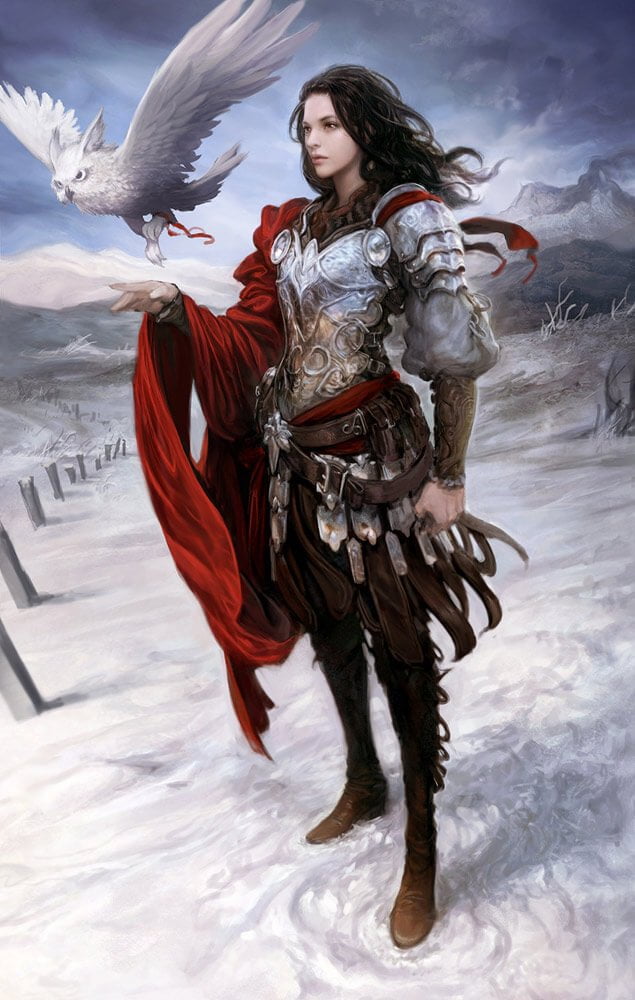 After a deadly image of the knight, we have a very positive picture of a beautiful girl in armor. She has a bright red shawl along with a white owl flying on top. While the background looks deserted, you will see that white and bright colors have been used to create this art piece. 
Plus, there is a strange sense of hope that the picture brings forward. 
14. The Warrior And The Child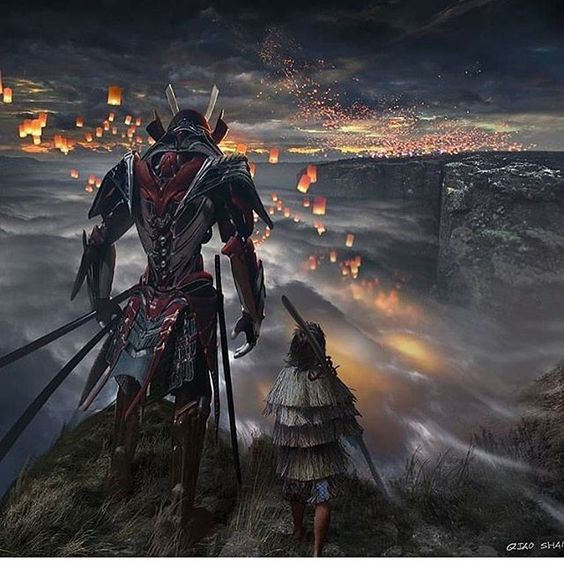 This picture shows a knight along with a young child looking at war from a hilltop. There is a sense of anticipation in this art piece, which is brought forward by the foggy landscape and yellow lights. You will find that the pair has been painted in great detail while the landscape is slightly blurry. 
15. Casca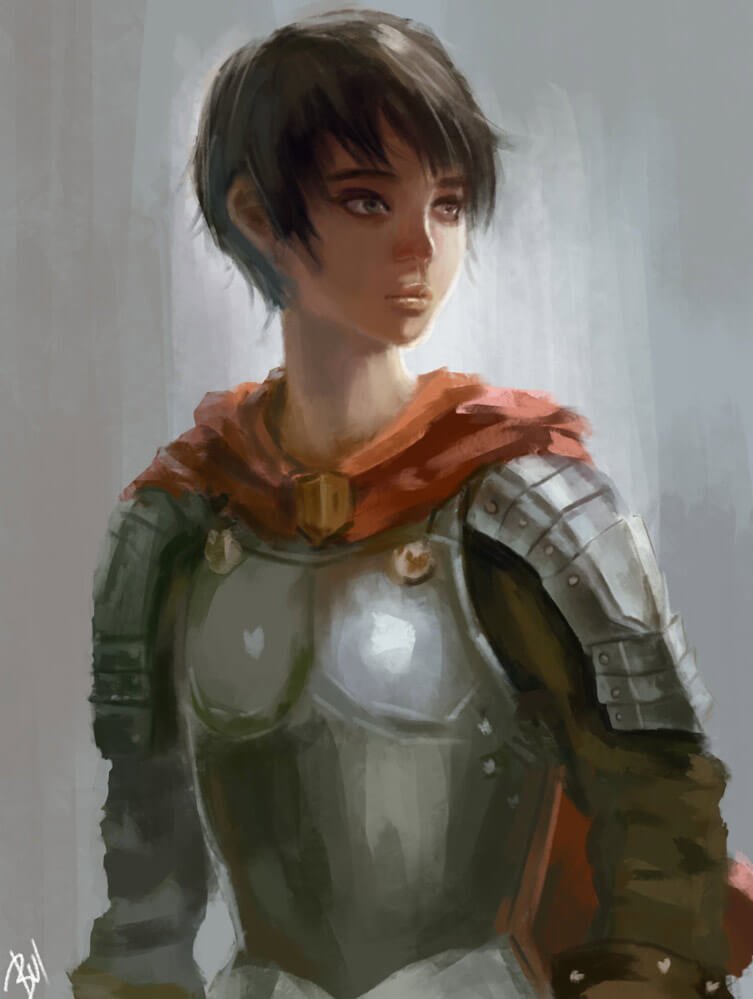 Up next is a painting of Casca, who was a part of the Band of the Hawk and was known to be a very formidable warrior. She is a deuteragonist who is seen in manga and anime series, and this is a beautiful portrayal of her character.  
Moving on, check out the detailing done to make those expressive eyes. If you are looking at watercolor paintings to create a digital image, this could prove to be useful as a reference. 
16. Female Knight In Field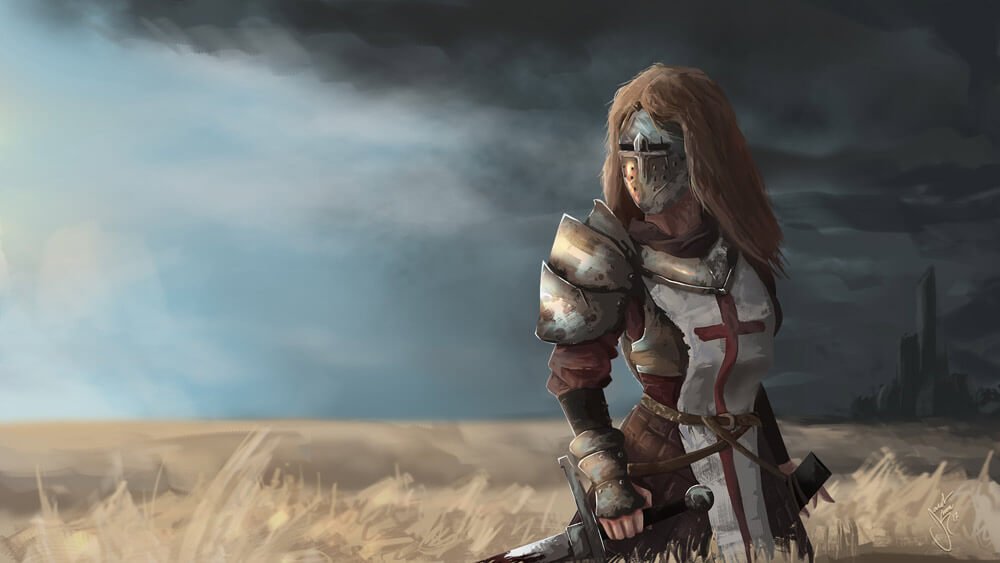 While most female knights are shown to have pretty faces, here, you can see a ferocious female knight with a mask on the face. 
Meanwhile, the sky behind has black clouds taking over the blue sky, which signifies that darker times are coming. If you are studying shades and textures, this image can be impressive. 
17. Fiore / Departure

A warrior is seen staring at a beautiful landscape before departing for war. This is a gorgeous image that shows the human and affectionate side of the person who is then heading for war. 
While the artpiece looks very positive, there is a sense of melancholy as the warrior does not know if he will ever be able to see the sight again. The color play and the concept is simply outstanding.
18. Artorias Of The Abyss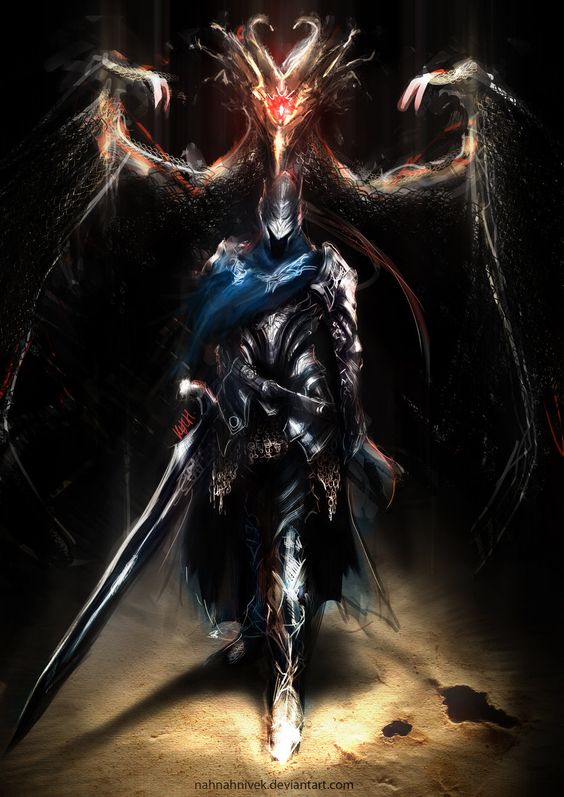 Inspired by Dark Souls, which is a role-playing action game, the Artorias of the Abyss is a magnificent character, and you can try painting him in Photoshop. This is a great inspiration for those looking to practice texture. There are multiple surfaces shown in the picture, and each demands a separate kind of color blending, which you will be proud of. 
19. Redesigning Old Work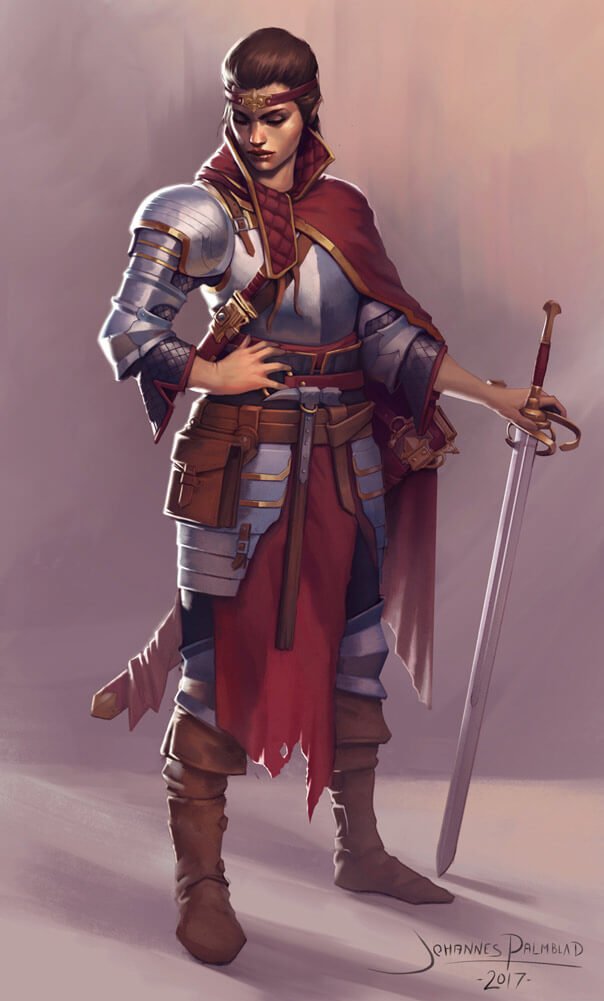 If you are learning about warrior attires and fabric blending, then this can help you out. Here, the complete focus is on the outfit, which constitutes the fabric and the armor. The boots and the headgear are also pretty detailed, and you can study the folds, and the way fabric wraps around the body. 
Moreover, as you can see, the background has been kept very simple, ensuring that the entire attention stays on the warrior.
20. Lin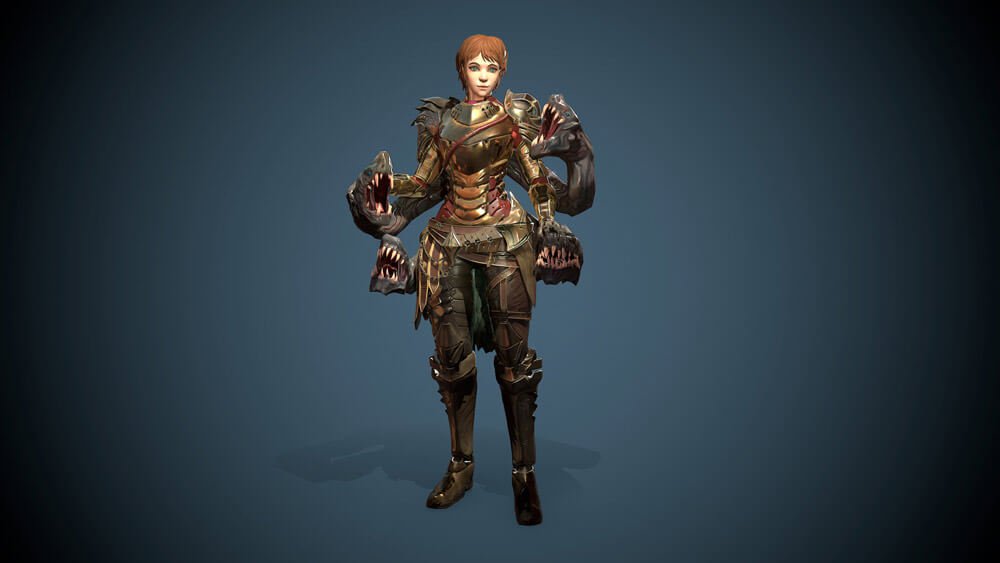 This is a 3D image that has been modified to create a very interesting character. You can create your own versions with a lot of detailing and different kinds of limbs. Let your imagination guide you through! 
21. Reimagining Artorias Of The Abyss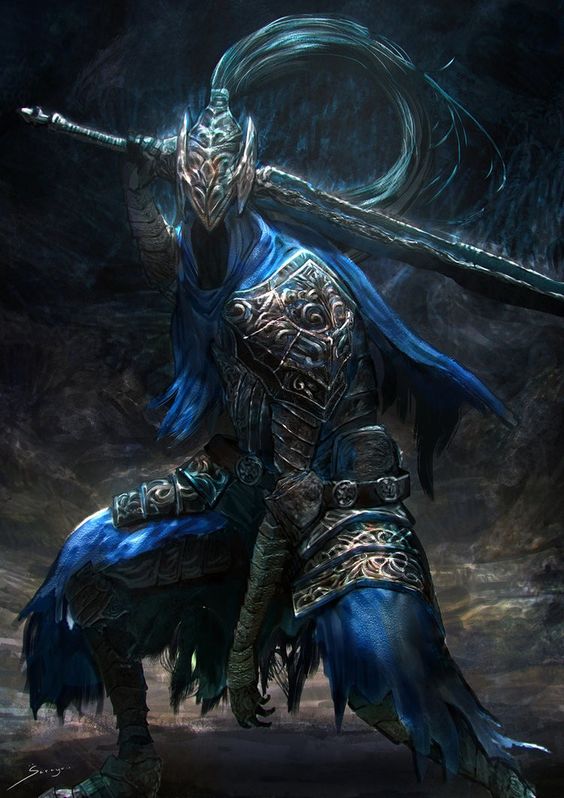 This is another version of the Artorias of the Abyss, which we have already discussed earlier. Here, the image is weaved together with bright shades of blue and rust gold. The brilliant blue against the grim black clouds is sure to draw a lot of attention. If you are learning to play with colors, then this can help you get inspired. 
22. Blacktip Knights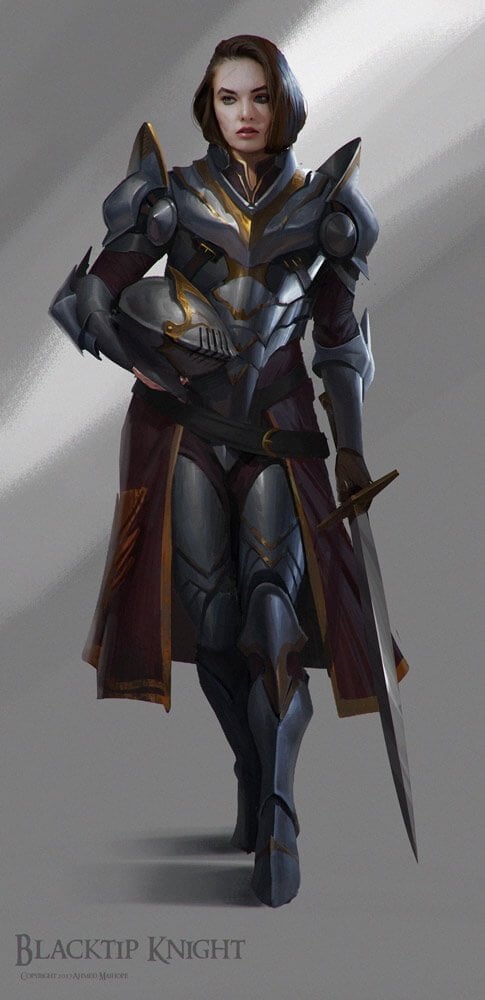 Here, you can see a young girl in a complete armor suit with headgear in hand. She has a determined expression on her face, and her hand is holding a sword firmly. While looking at this image, you must have noticed how the light falls on the body and it reflects on the metal and leather. 
This painting will help you learn more about how to play with two or three colored garments and show the reflection of light on them. 
23. Dragoon Knight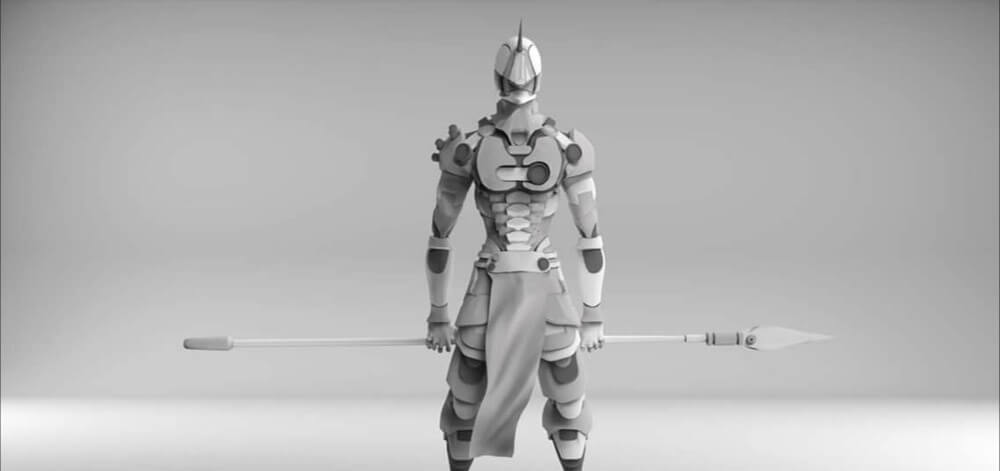 This is going to be a treat to paint for 3D artists who are just learning to create characters. Here, you can see how the body has been made with distinct details. Plus, colors have not been used as the main area of interest is the structure and the main anatomical formation. 
24. Futuristic Knight Armor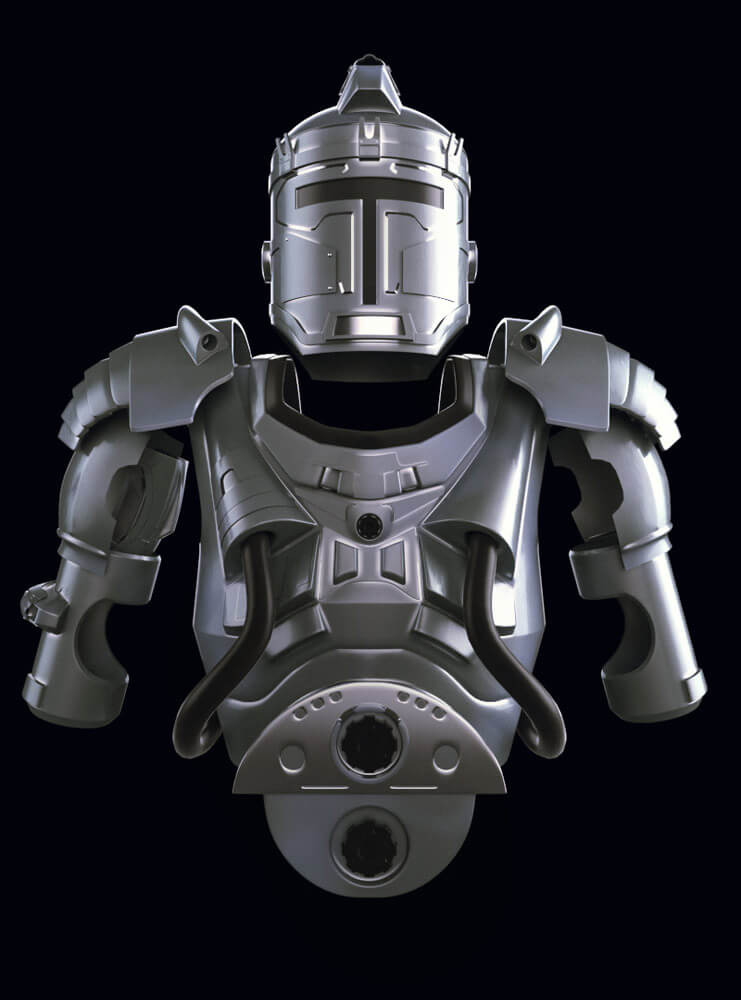 We have another 3D image where a knight has been designed from scratch. The focus is on the metal armor, which almost looks real. Plus, the shine, shadow, and texture are brilliant, making it a perfect work of art. It is futuristic, making it a good reference point for budding artists.
Additionally, this will help in experimenting with lines and hard surfaces, as you can already see from the picture. 
25. Futuristic Knight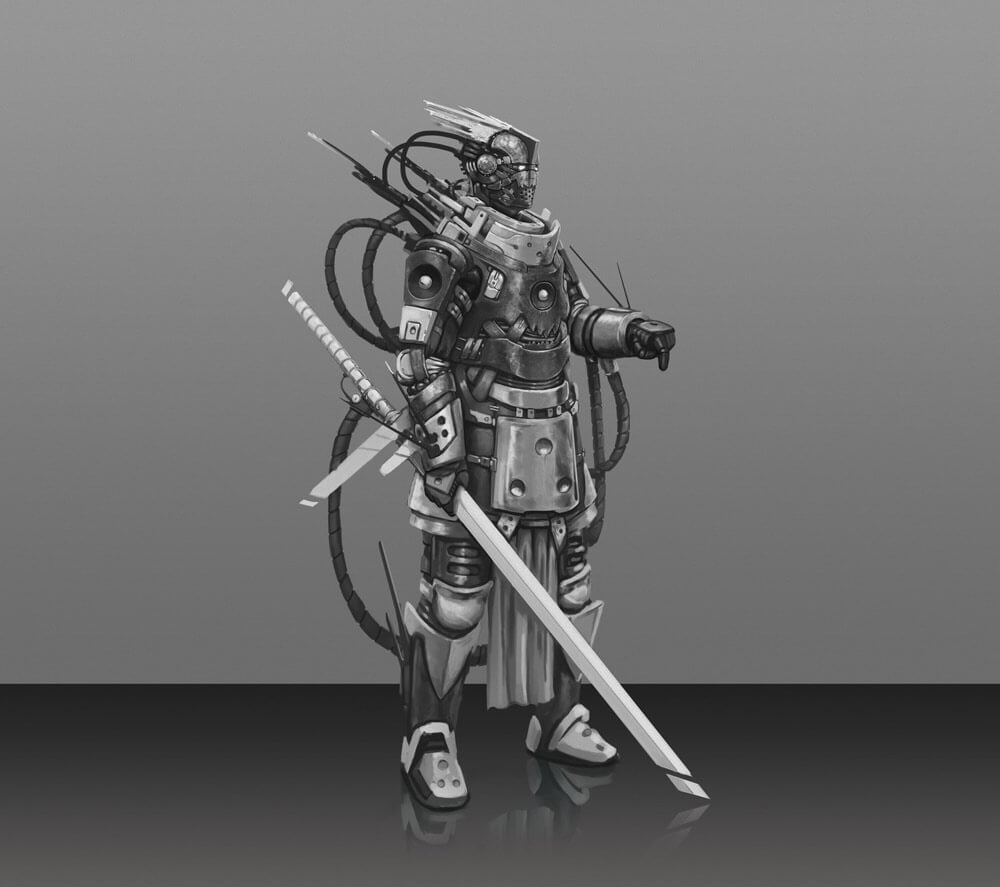 We have yet another futuristic knight model, which can help people who are learning character design. In this image, you can see a very detailed structure with intricate work done on it. You can learn about how to add elements to a normal human structure to make it look extraordinary and unique. 
26. Sword knight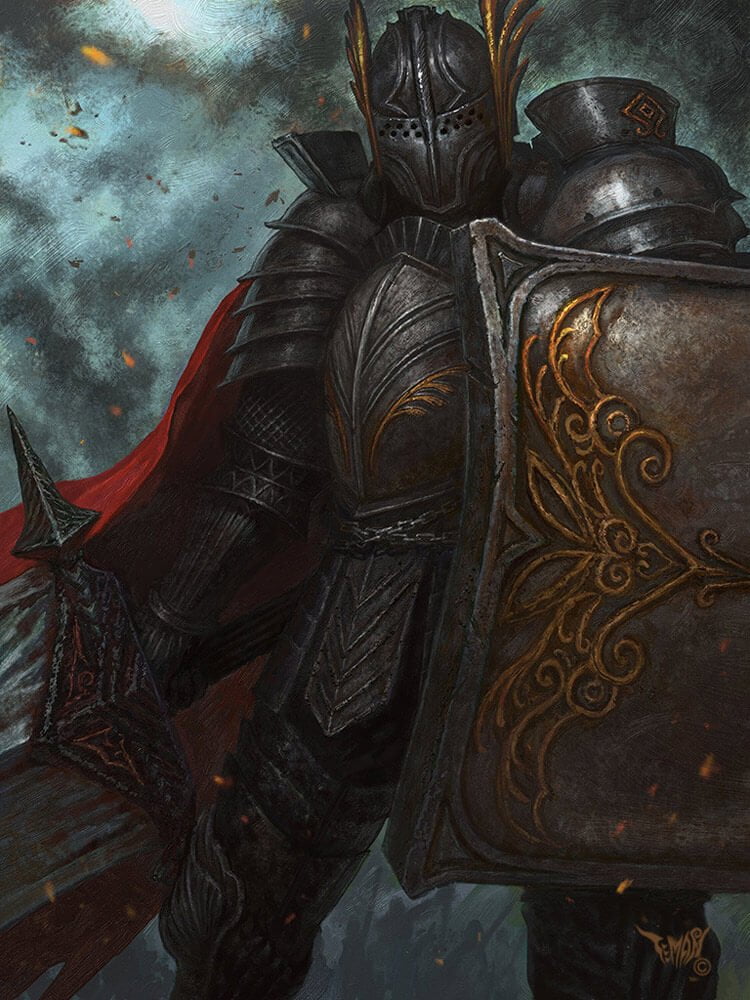 Next, we have a beautiful image of a warrior wearing an iron mask and holding a shield. The pose is very impressive and unique, making it a good reference. You can also see the colors and the texture of the hard surface that is made with an oil pastel effect. We love the grim blue and black background, which indicates a battle in full swing. 
27. Lord Knight Fan Art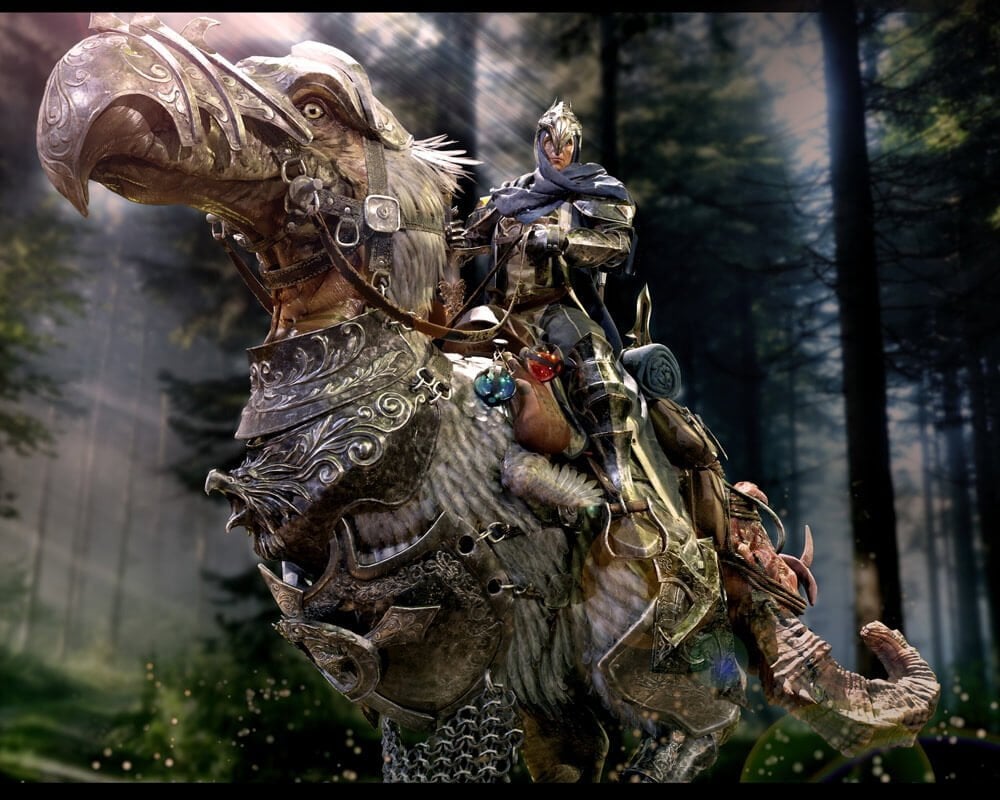 Imagine a knight riding through a mysterious forest with sunlight streaming in! Yes, this image feels like it has been taken out of storybooks and painted. The animal that you can see the knight riding is a fantasy character that resembles a horse. If you want to practice how to use the right shades and paint, then this is going to be a great reference point. 
28. Red-Eyed Knight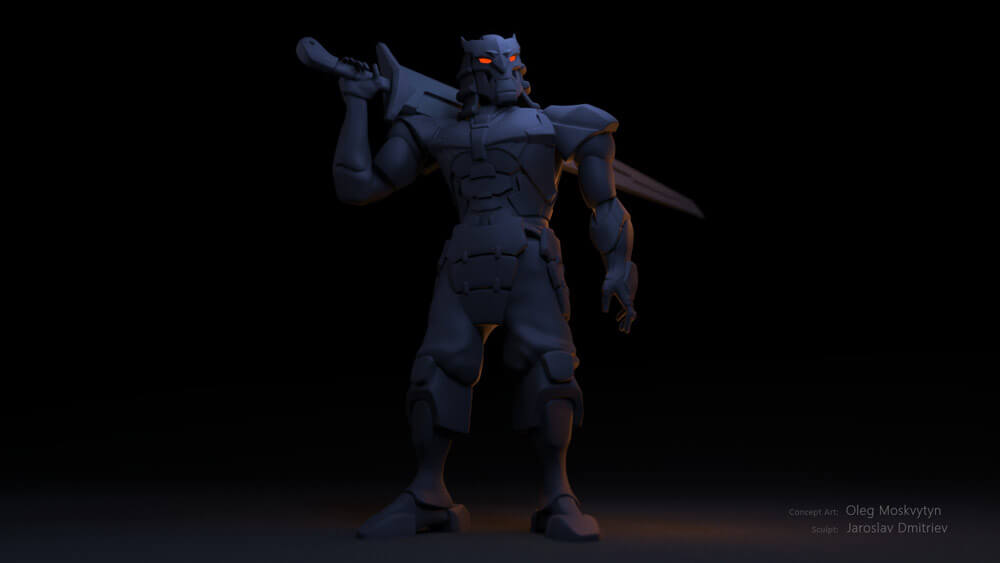 Painting a scene that is completely dark can be a difficult job, and you may be struggling to bring out the character in a dark scene. When this happens, this image can be a good piece of inspiration where you can see a little more than the silhouette of the knight. The focal point of the picture is the redness of the eyes, and that stands out very well.  
Plus, there is a little amount of light streaming in from a doorway on the right side, which catches the attention. 
29. Photoshoot For Knight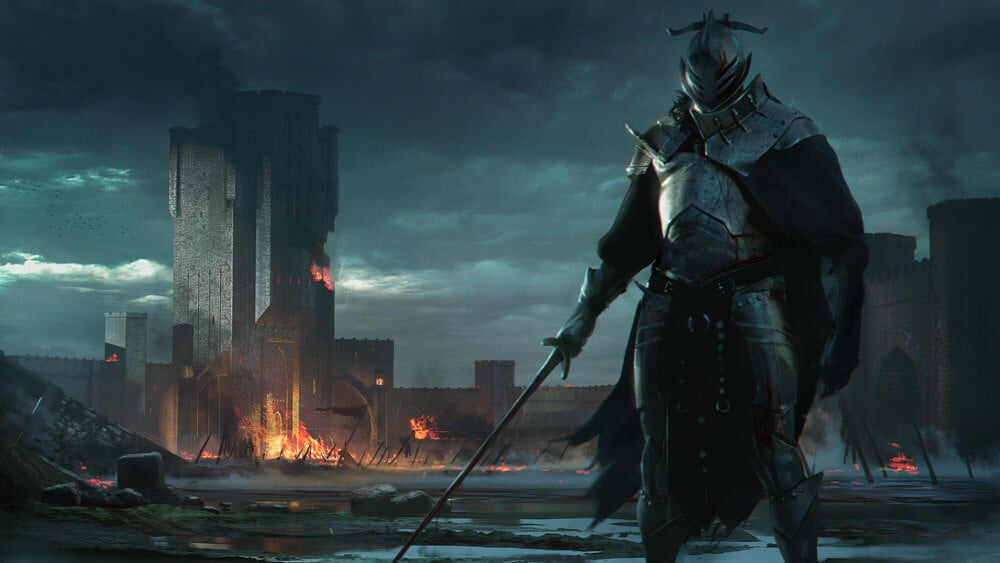 As you can see, there is a gorgeous play of blue and yellow in this scene. You can see a battle that has ended, which is represented by the burning fire behind the knight. There is an essence of death and mourning that you can feel from the picture. 
On the other hand, the knight stands in front with his face covered. There is a sense of victory there without any expressions being shown. For those looking at different concepts, this can be a good starting point. 
30. Knight Concept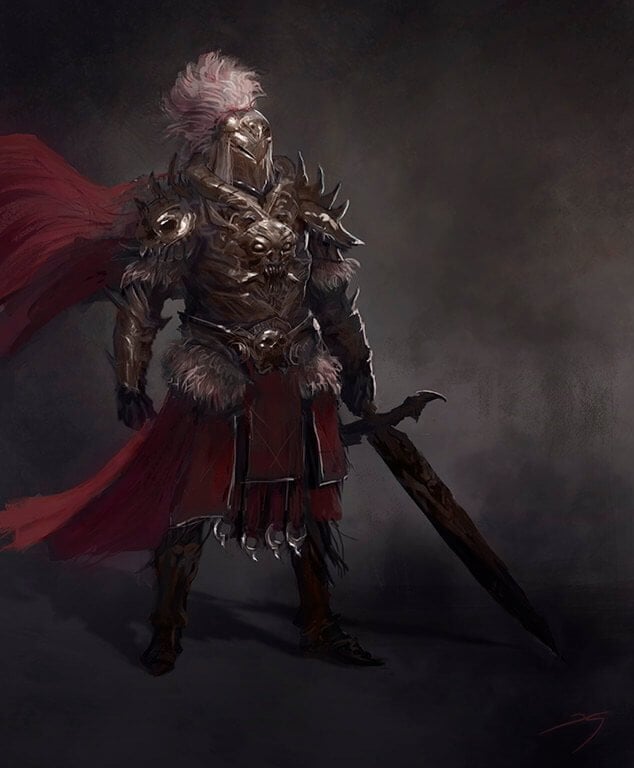 If you are studying armors of different kinds, then this is a suit, which will definitely stand out. The armor is very different, with a dangerous-looking skull made right in the center. 
You can see spikes near the shoulders and feathery headgear on top of the metal mask. Moreover, the knight looks all prepared for the battle with his red cape flying in the wind. You can take note of the details in the picture and the color tones used. 
31. Knight With Ax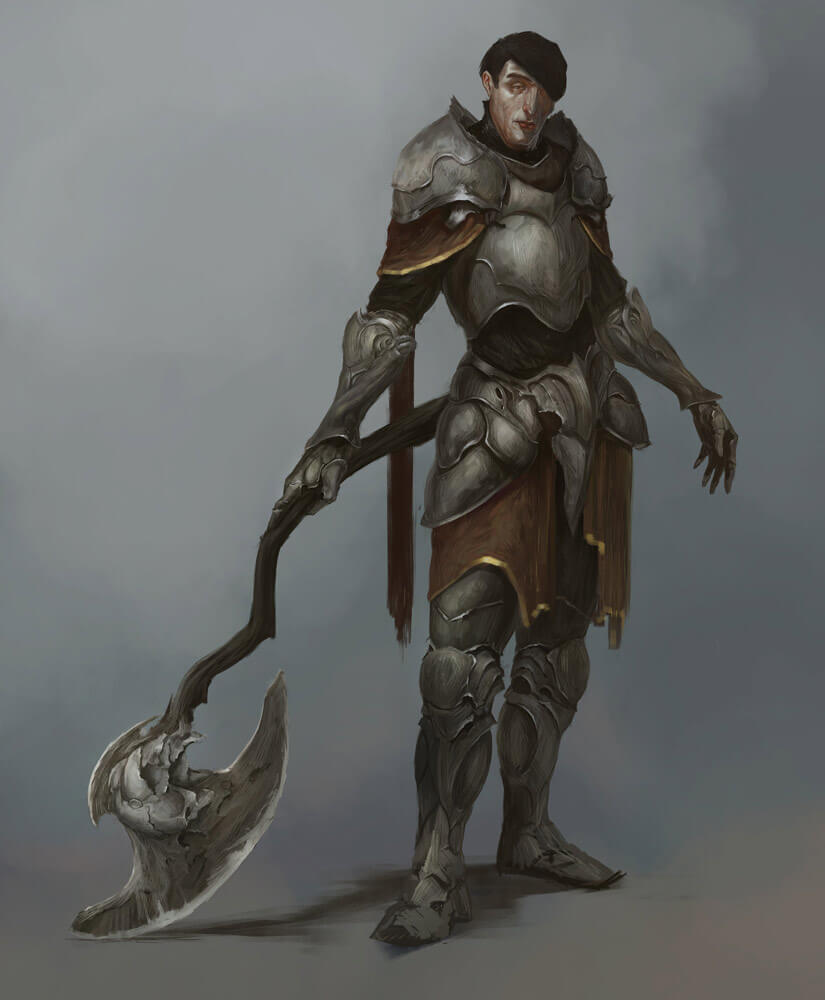 This is a different variant of the knight where you can finally see a human in the garb of a warrior. The facial expression is something to take note of, and so is the posture. He is striking a pose with a rather curious-looking ax weapon. If you are into character designing, this is something to make a note of. 
32. Knight Character Concept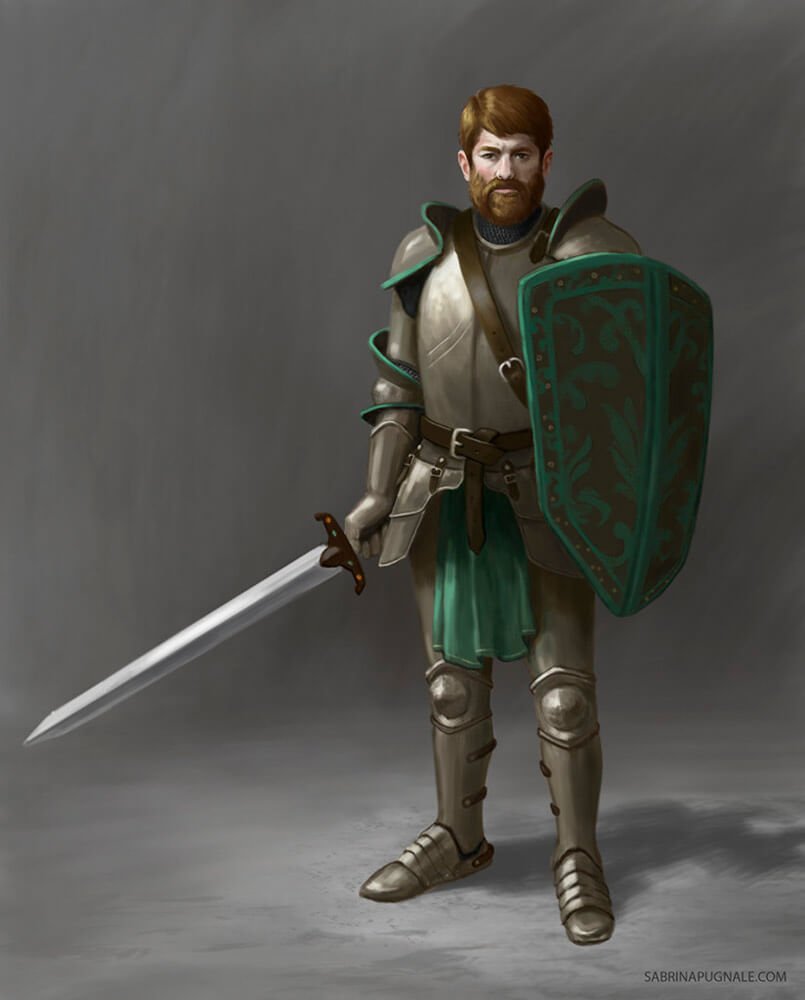 Up next is another human in a warrior suit. This design is for those who are creating characters that look very real. If you have a project where you need to design a team of warriors, this can be inspiring. 
Plus, the green color stands out because mostly, you must have seen a red cape being used for war gear. 
33. Serene Waters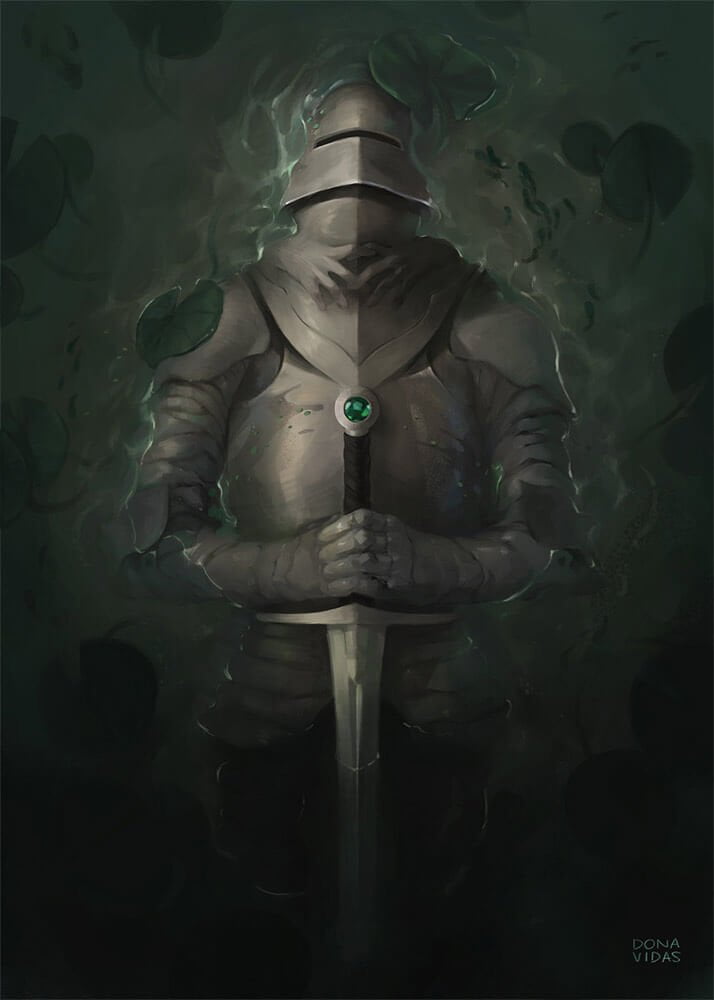 Just like the previous image, green has been used here to make the stone on the sword as well as paint the background. You can see the stone shining, and that has been made possible by using different shades of green. The background has the texture of water, and you can see the swirls. It also makes the knight stand out. 
34. From Ashes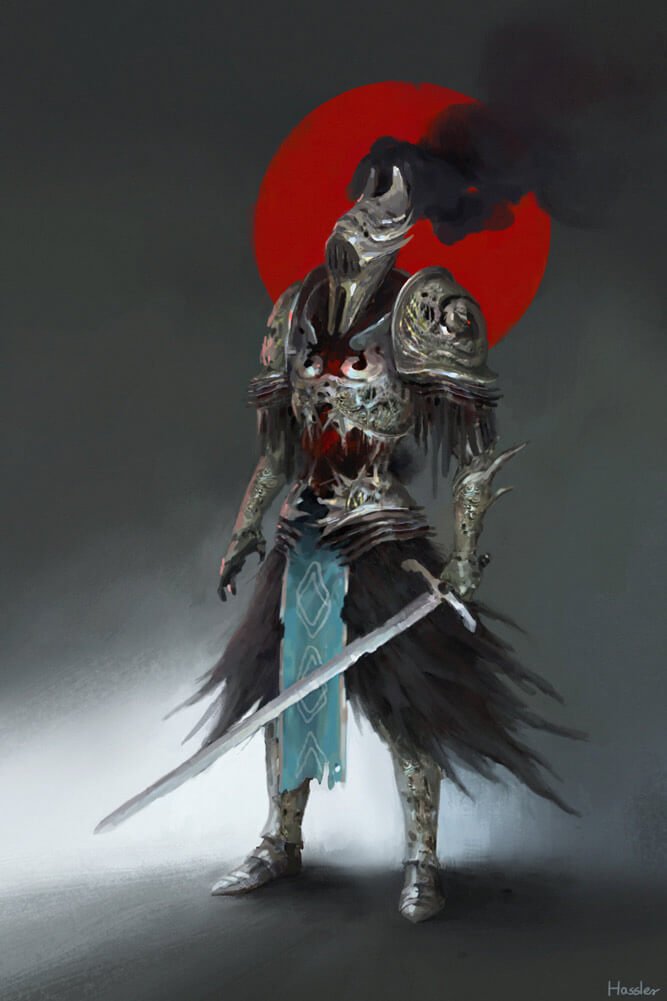 If you are planning to paint with water or oil colors on a digital canvas, then this can be a good inspiration. This concept art piece has beautiful detailed armor and headgear, which stands out.  Then there are two bright colors used, which are red and blue.  
The red color forms a half-moon at the back, and this brings attention to the head of the knight. Blue and golden highlights have been used to balance the red and to make your eyes wander around the entire image. 
35. Hover Knight Concept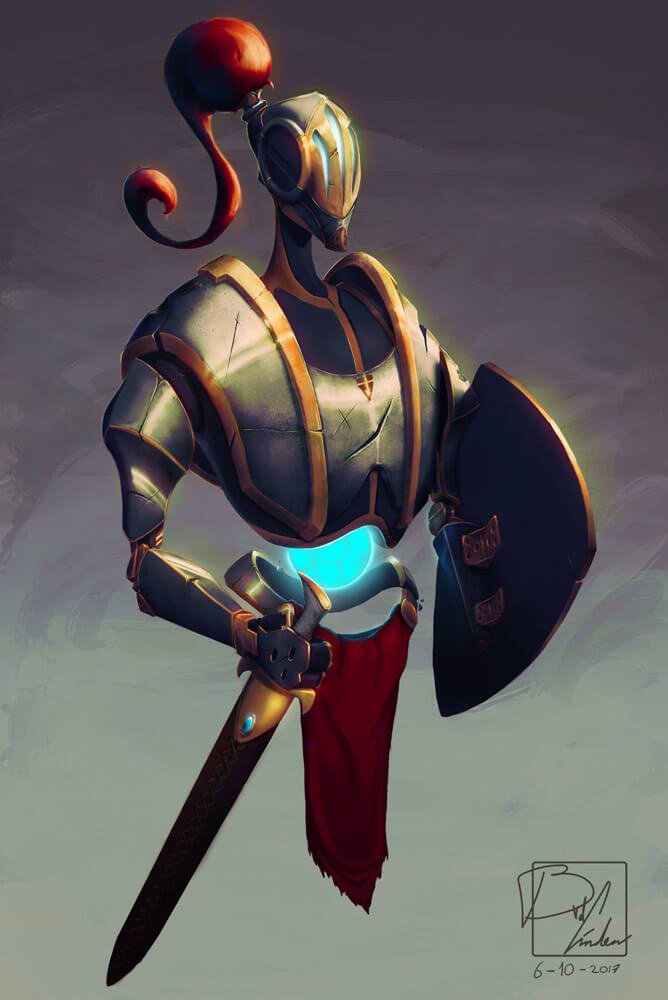 The glow that you can see is brilliantly made with the right shades and colors. The artist has sketched the knight from scratch and then used beautiful colors to create the final piece of concept art. 
You will see that there are no legs, and a glowing blue ball is present in place of a stomach. This is very different from the regular figure that we see, making it a great source of inspiration. 
36. Knight Of The Dark Castle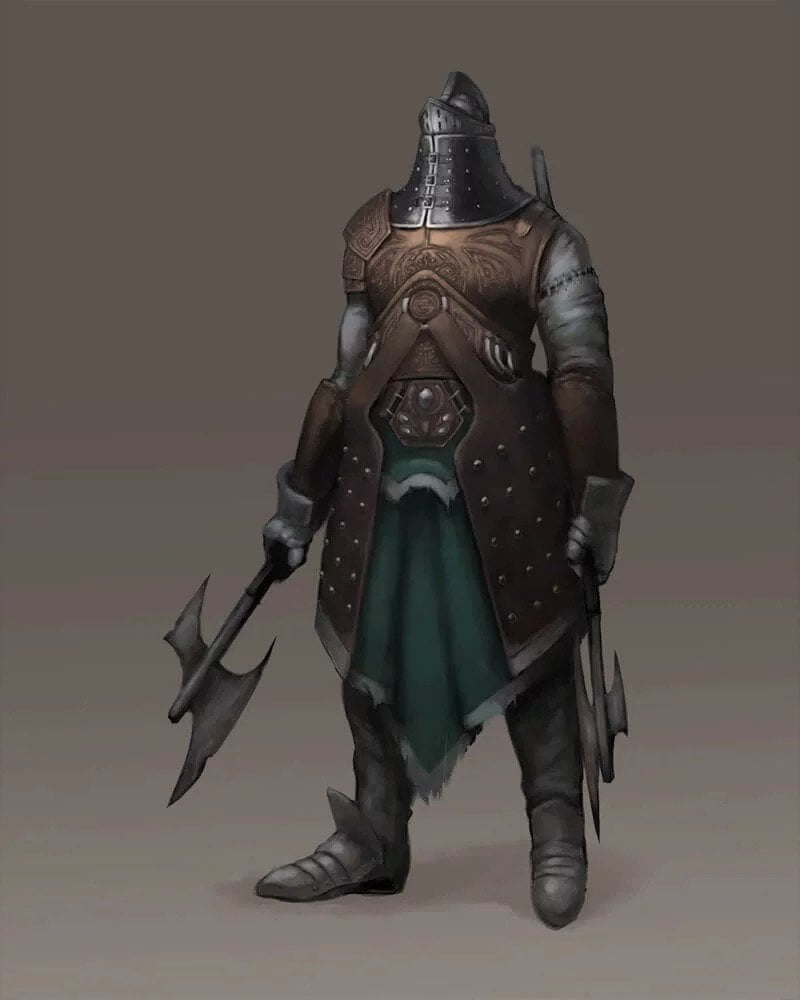 If you find the painting of this knight interesting, then you can actually check out how it has been made by visiting his page. There are steps that will help you create the perfect image. The artist begins by painting a black silhouette and then adds more details to it. Finally, the colors are added, and the shades are modified accordingly. 
37. Female Knight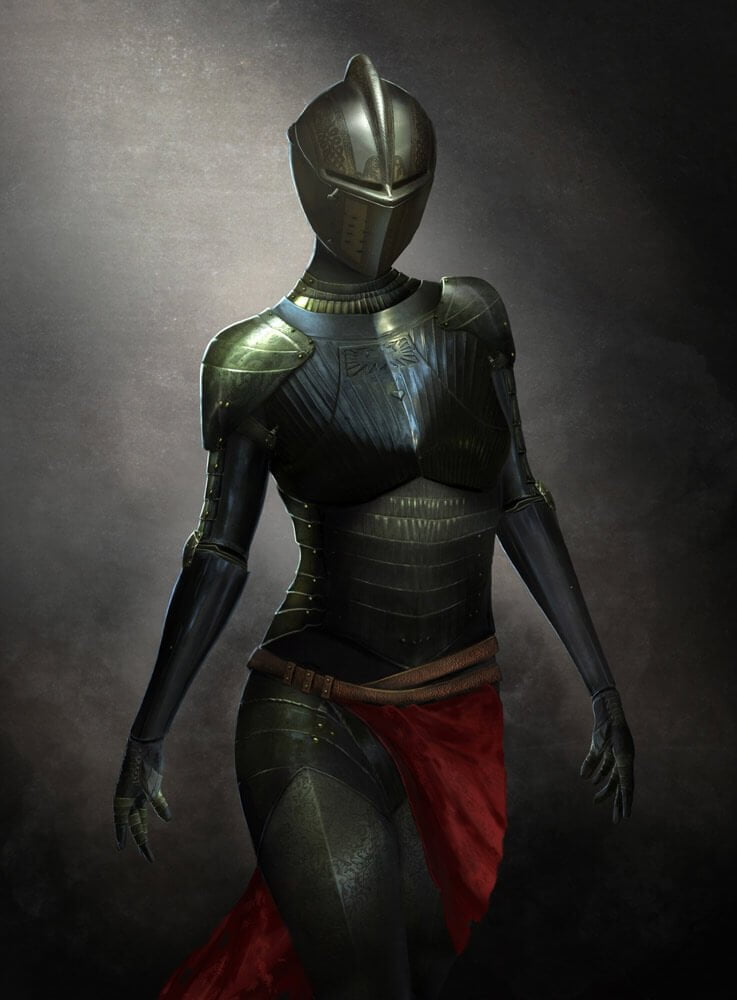 While the face of the knight is not shown, you can pretty well guess that it is the body of a female. This can be a great point to begin from for all artists who are learning to create human anatomy. Then you can add armor to it before experimenting with lighting and structures. 
Plus, there are subtle hints of green, blue and red, which have been painted, keeping the light in mind. 
38. Arcane Knight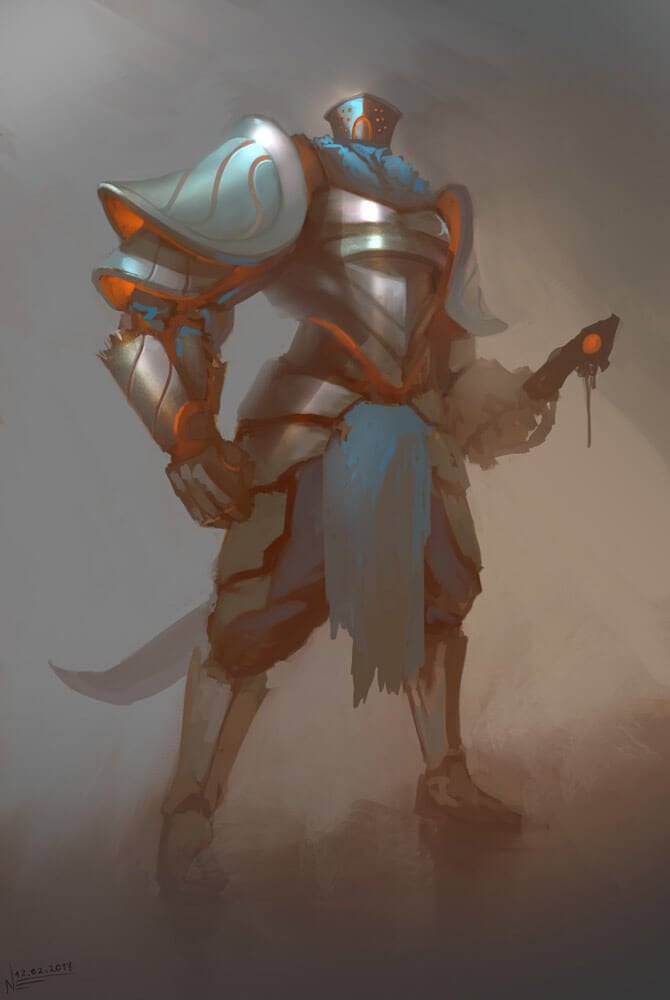 When you first see this picture, you will be able to witness a battleground with dust blowing in the background as the knight stands tall. He looks confident and ready to fight his enemies, while the dust and fog do not allow one to see anything behind him. 
Meanwhile, the light is streaming in from the right side, and it is reflecting on the metal armor. 
39. DoomSayer Knight Concept Art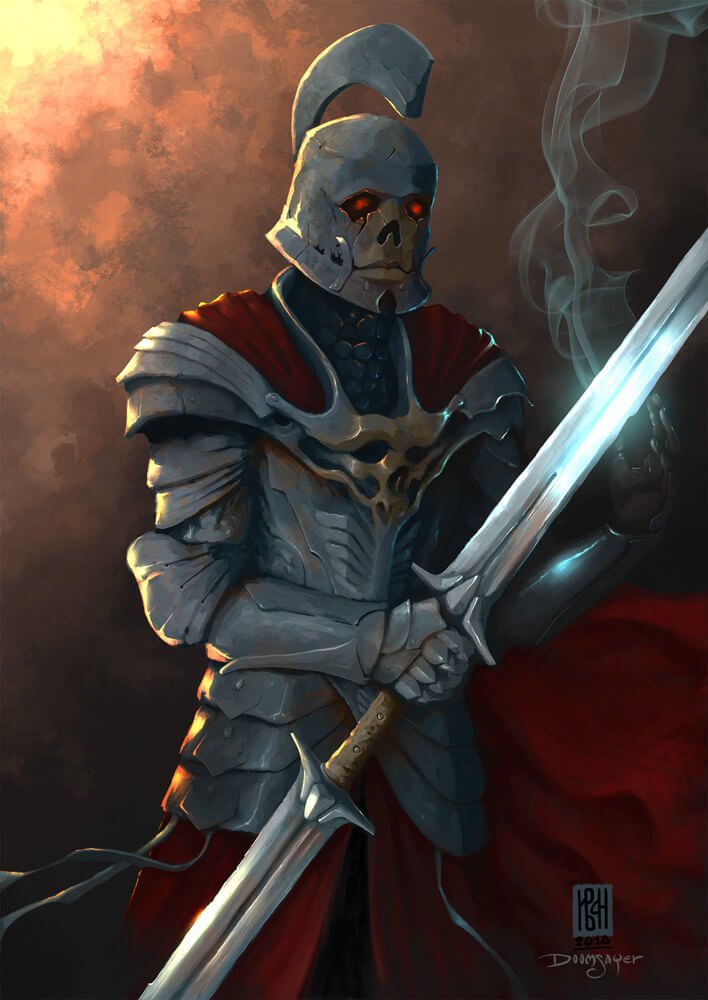 If you are into horror fantasy art, then this can be a great concept art to get inspired from. The face of the knight is hidden behind a headgear, but you can see red eyes, which indicate that the knight is not human. 
Plus, there are fumes coming from the steel sword, which are bluish in color. The background stands in complete contrast with yellow and orange hues depicting a war-like scenario. 
40. Battleworn Knight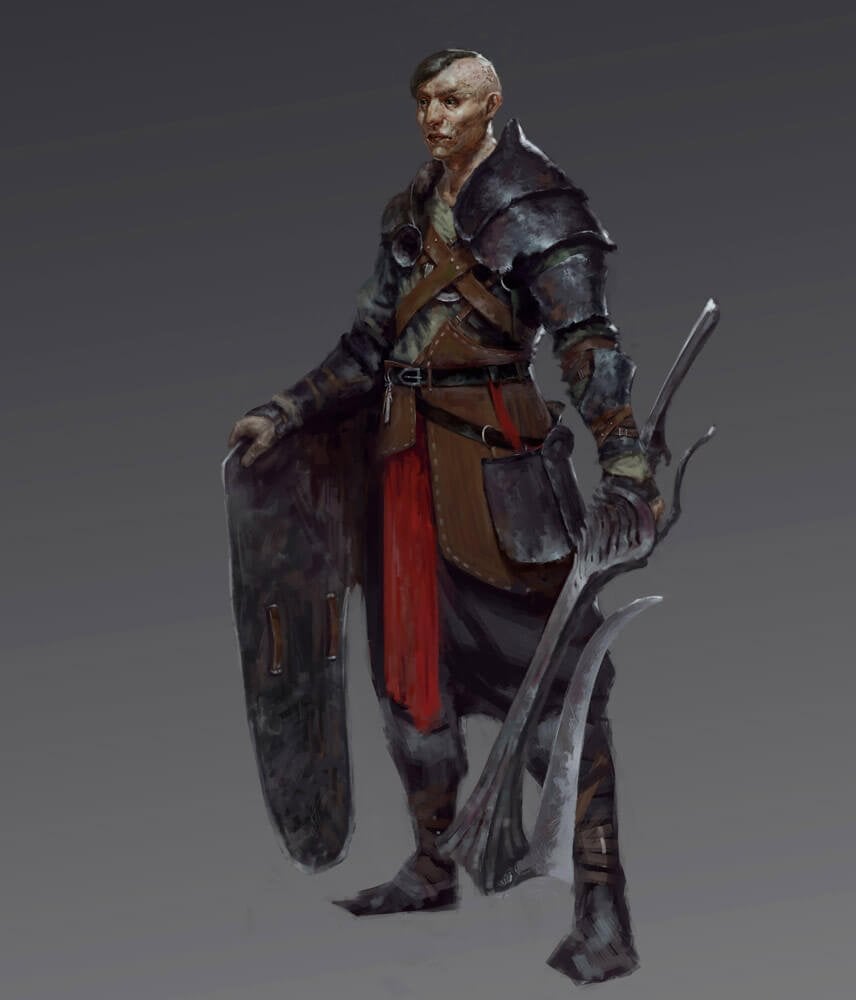 Another image that will help with character inspiration is this one where you can see a knight standing with unique-looking weapons. The knight sure has an interesting hairstyle that brings more attention to the face. 
Moreover, we loved the colors used to make the fabric and leather. It looks pretty realistic. Here, the background is not that important as the entire attention is given to the character. 
41. Space Knight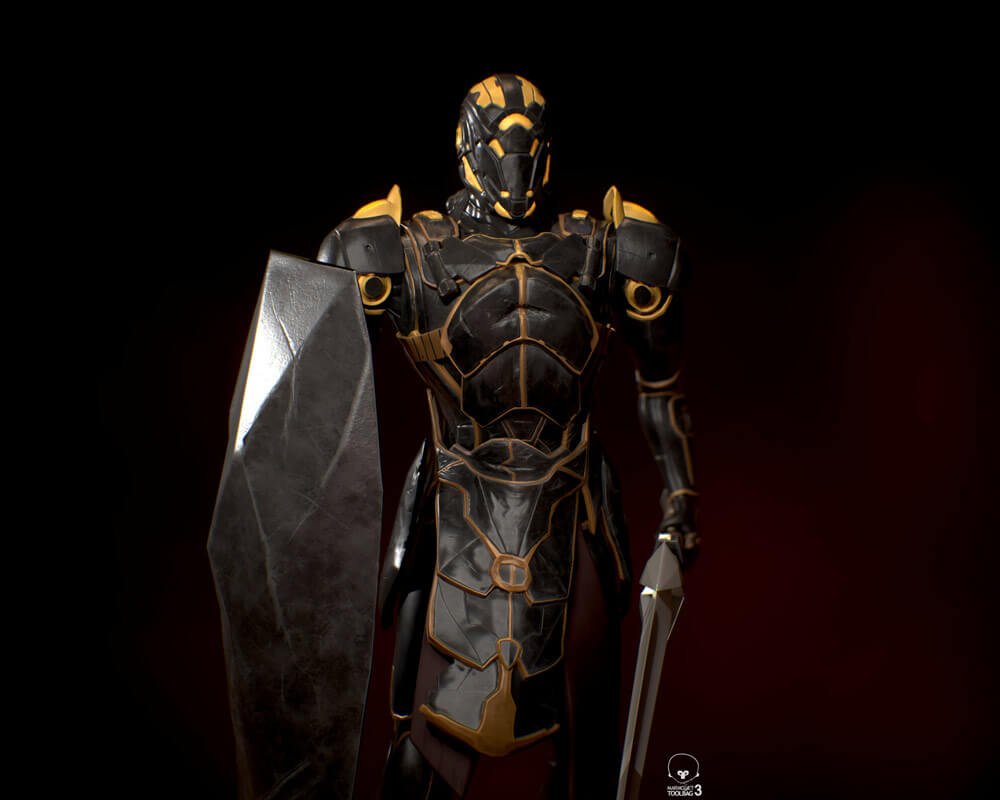 This is a design of a knight from space! Yes, you read that right as this futuristic design has been rendered, paying attention to the details and colors, which match that of extraterrestrial beings. Yellow has been used sparingly, while shades of black have been used to make the rest of the body. 
Also, you can see that the shield is designed in a minimalist way without intricate carvings. Plus, the sword looks like a laser weapon adding to the overall look. 
42. Knight Concept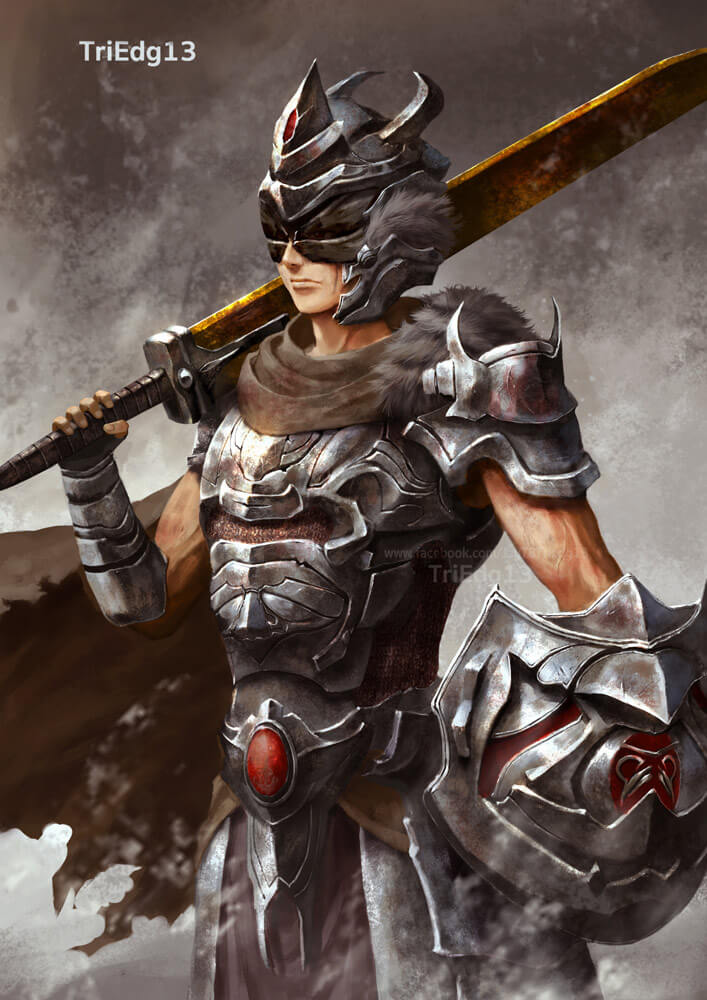 Up next is a 2D design of a knight who is standing in full glory. The metal suit looks well-detailed, along with a red stone near the stomach. 
Besides, the sword is held up high, and the knight looks ready for an upcoming battle. To add on, the background has a stone-like finish, which adds to the scene. 
43. Red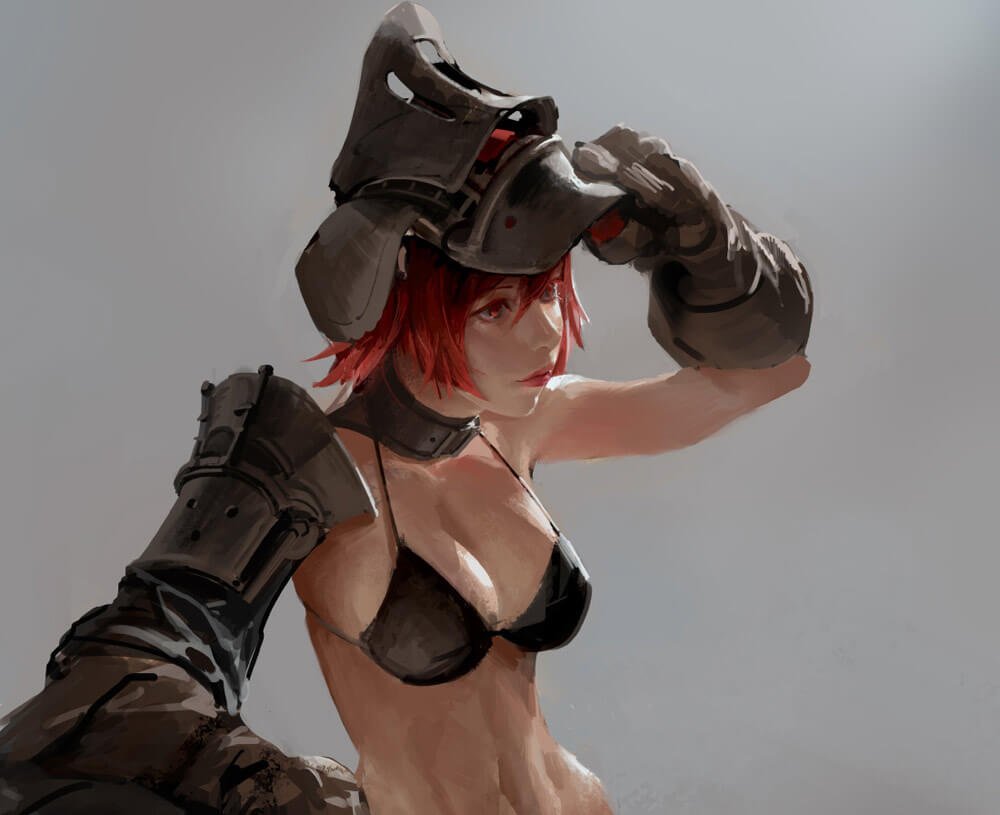 Here is a cool design of a woman in a semi armor suit. We are sure you might never have imagined this quirky costume, and it can help in designing unique characters. The light has been painted beautifully on the body as well as on the hat. And the background is kept very simple so that all the attention falls on the woman.
44. Lonely Knight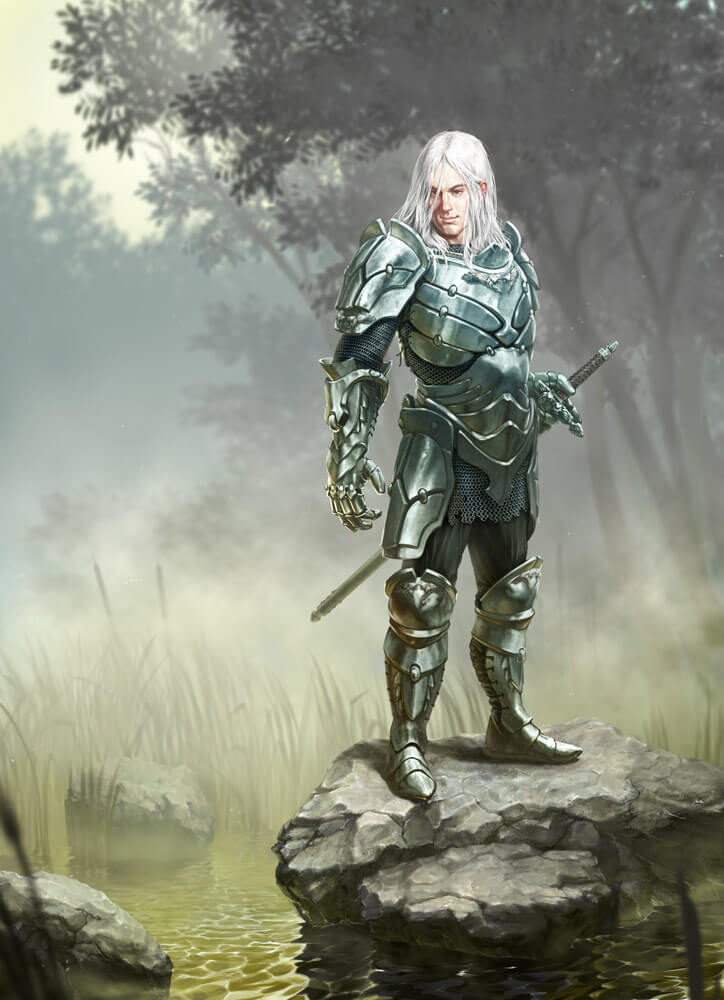 Here is a beautiful image of a knight standing in a green forest area with a water body below. The entire picture has been created with different shades of green, which makes it all the more unique. Only the face and the hair have white and beige color, but that is blended well with the rest of the image. 
45. Undead Crusader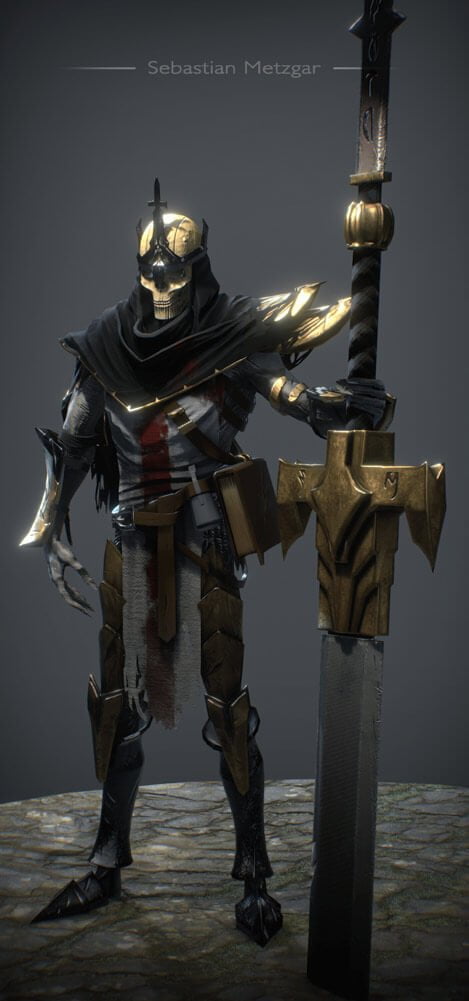 Here is a detailed rendering of a horror character that is made keeping in mind the devil and death. Known as the undead crusader, this is sculpted using a ZBrush. The textures that you can see are brilliant and are painted in Substance Painter. 
On the other hand, the hard surfaces have been made in Maya. Know that this 3D design can help you understand postures and shades better. 
46. Crusader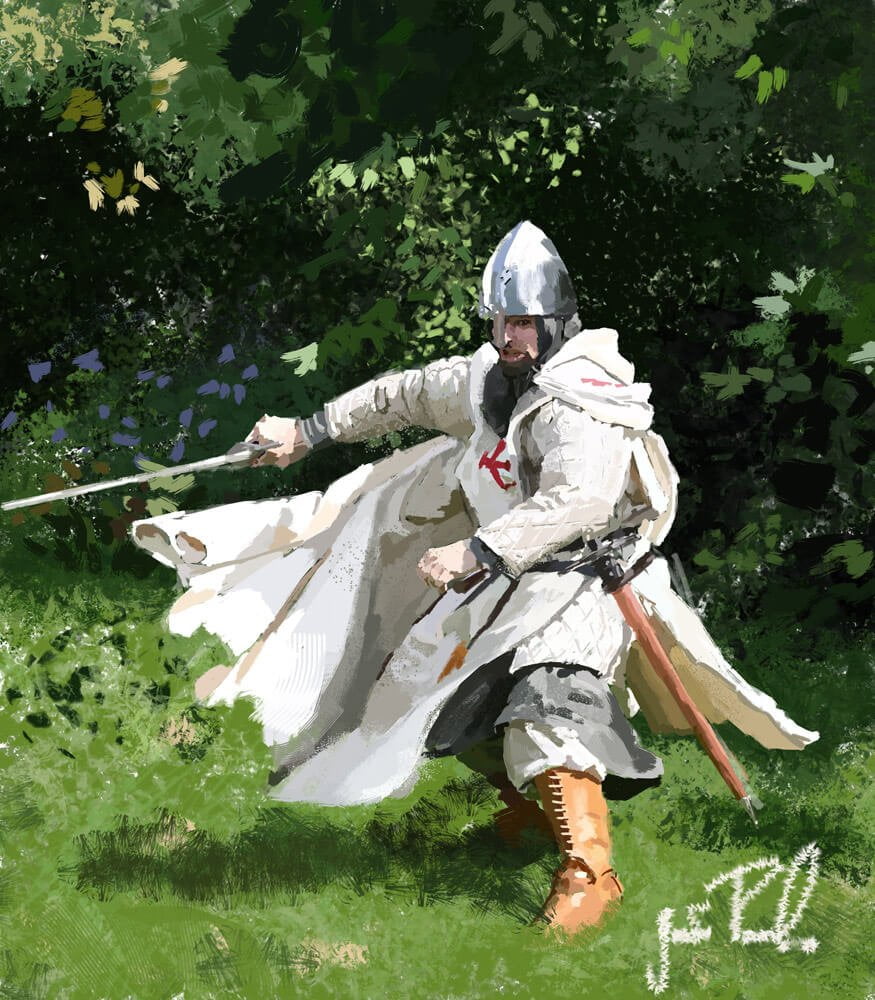 Here, you can see a knight in action amidst greenery on a bright and sunny day. This looks like a practice session where the knight who is draped in white is learning tricks in a forest. 
The green leaves are highlighted, and the dense forest is shown using different shades of green. The tan boots and the sword are in complete contrast but blended really well with the rest of the surroundings. 
47. Artois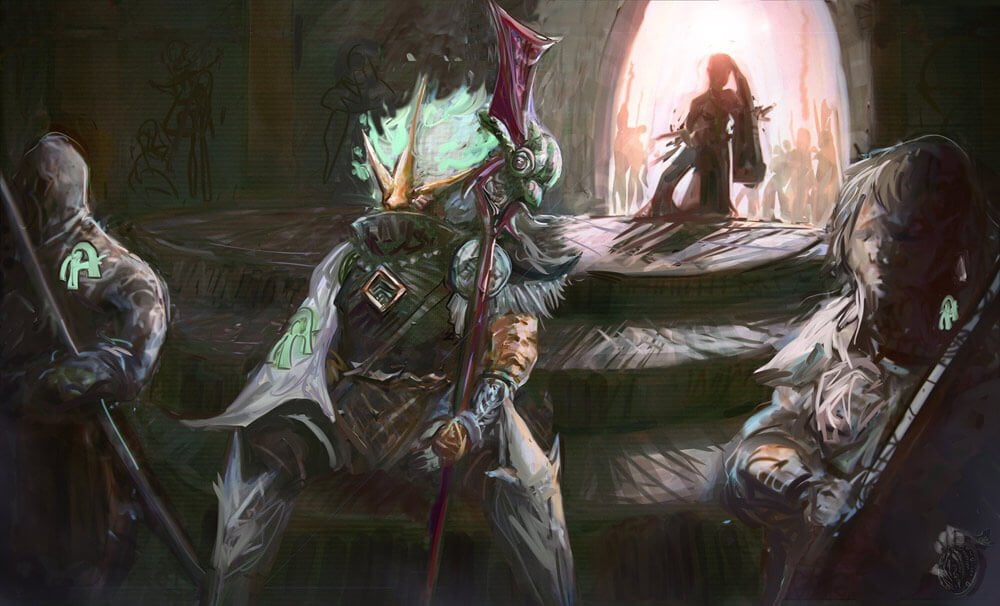 If you have painted anime characters before, then this can be of interest to you. While no face is shown, you can still understand that two warriors are facing each other. Green and golden shades have been used to create more depth in the picture. 
Plus, you can see the sunlight streaming in and a silhouette of a warrior standing near the doorway. This is indeed an incredible piece of artwork to get inspired from. 
48. Victoria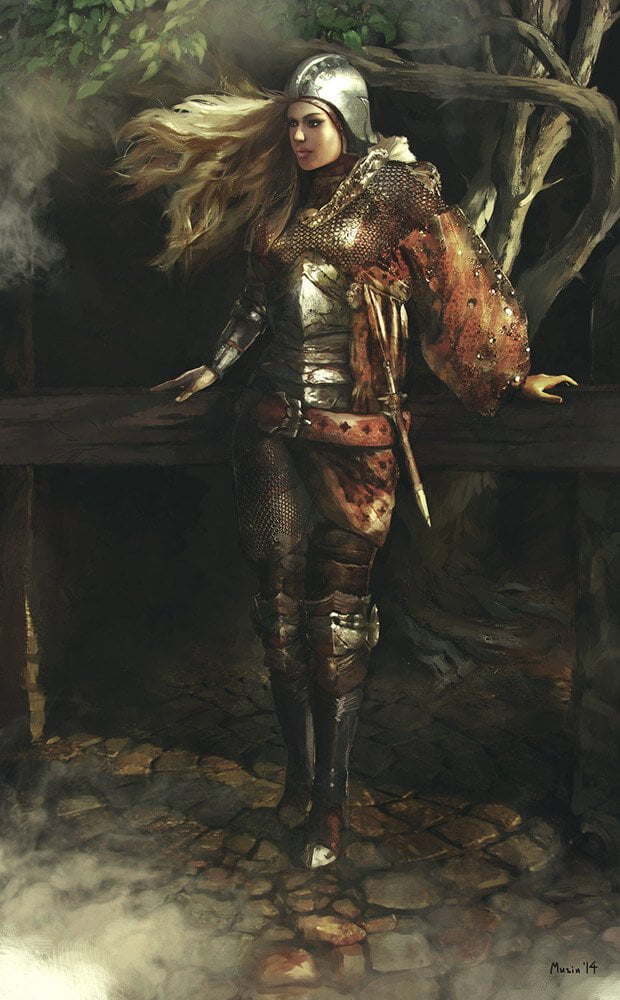 We found this to be an amazing Joan of Arc concept with this beautiful lady in a complete armor suit. She looks confident and is painted in dark shades. There is light coming in from the top, and the flying hair gives a breezy vibe to the image. 
Besides, you can see the light reflecting from her hair, which definitely stands out. Also, the floor is made of stones and they are very detailed. This completes the picture and creates more depth. 
49. Eldritch Knight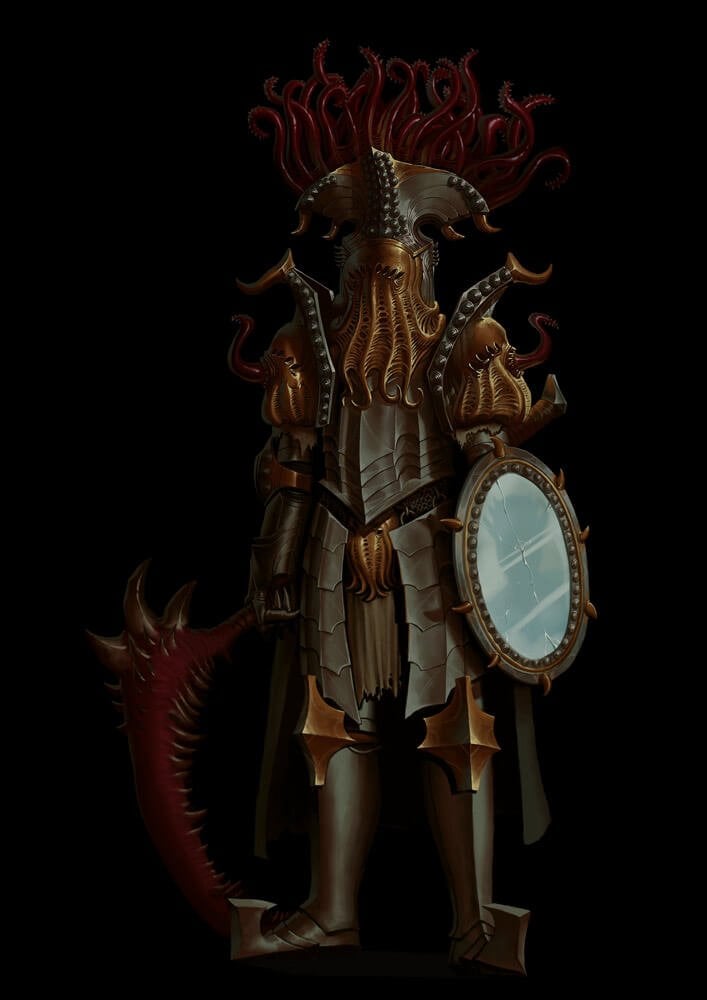 Eldritch refers to sinister, weird, and ghostly, and this image represents all of that perfectly well. The face is not a human one, and there seem to be tentacles coming out of the armor. 
With concept art, you can go wild with your imagination and create almost anything, this being a great example. 
50. The Blind Knight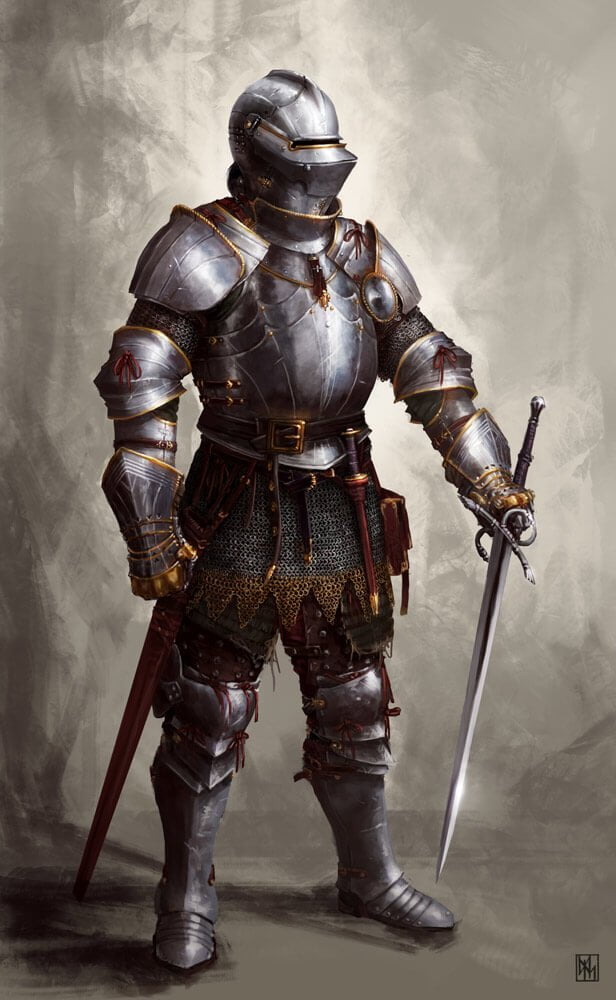 Next, we have a majestic design to check out if you are looking for full armor. You will love the detailing of the mesh made around the waist with gold and shades of orange. This stands in contrast with the shades of gray, making the image more appealing. If you are studying how to mix colors, this can be a great example. 
51. Nazgul Revisited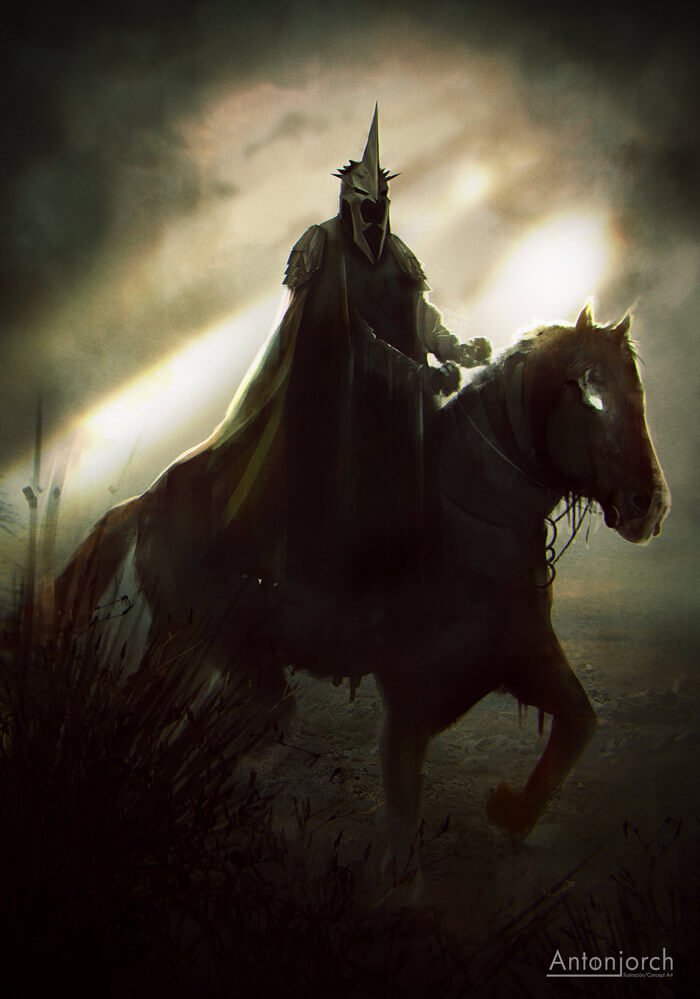 Nazgul, who is also known as the Black Rider, is a dreaded character who is seen in The Lord Of The Rings. 
So, if you are an ardent follower of the film, then this is going to be an interesting image for you. We love how the sunlight streams in from behind, and a ghostly silhouette of Nazgul is visible in front. You can use it as a reference for painting light and shadows.
52. Dragon's Knight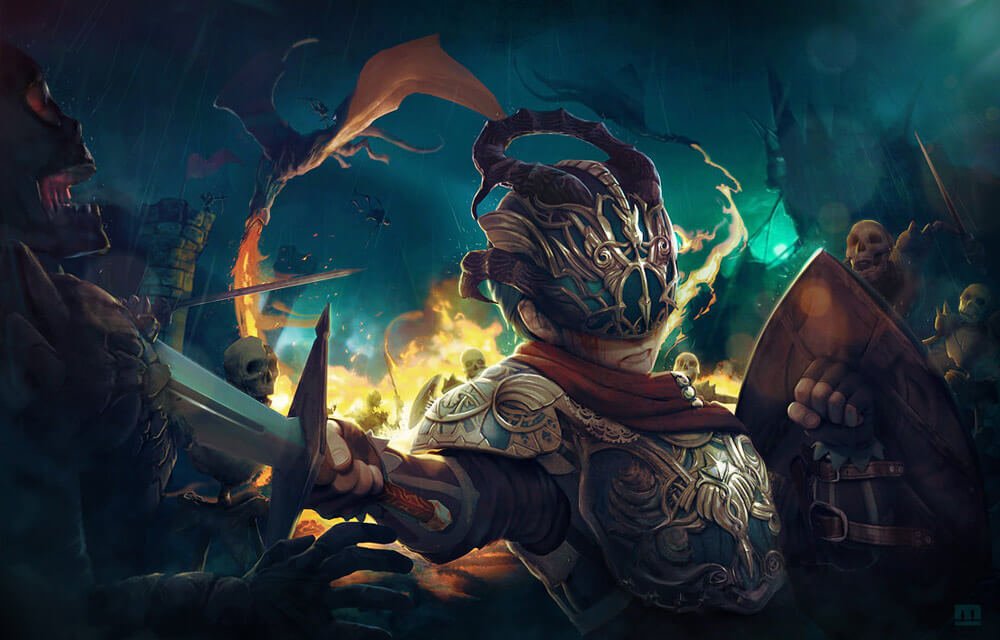 Made in Photoshop, this is an interesting image of war in full swing. Here the artist describes it as a war between the undead and the living. There are knights and dragons who are helping to ensure that darkness is removed, and this picture highlights the sheer determination of the knights. 
53. Bromin Character Design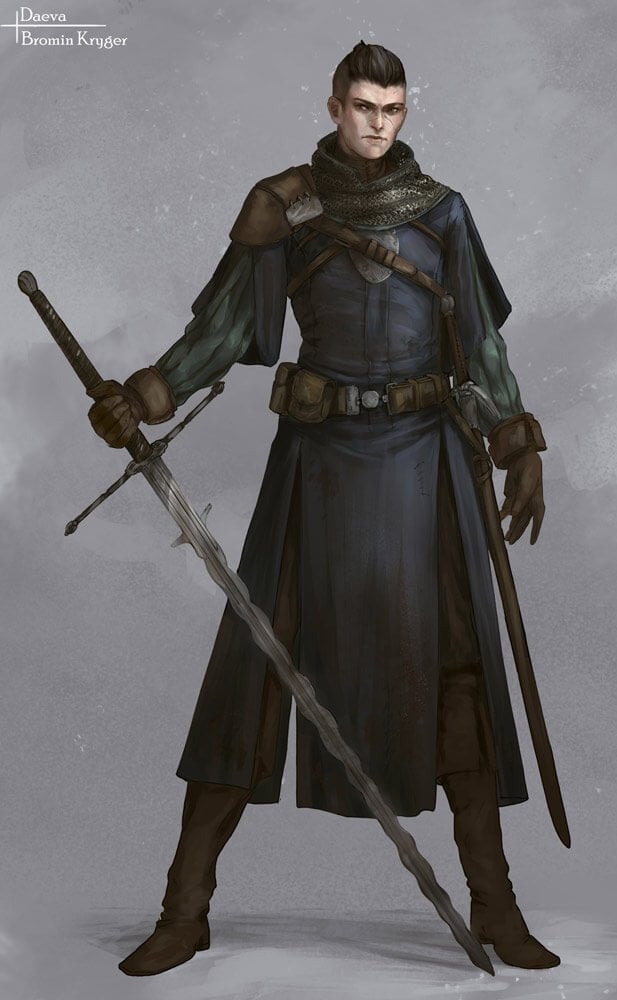 We have another great example if you are planning to design characters for a game or an animated movie. Here is a concept art with a stern-looking knight in proper war gear. The sword is pretty interesting and is made with grooves and curvy edges. 
If you see carefully, there are no bright or vibrant colors used. You will see shades of black and brown, which have been beautifully used to weave the image. 
54. Raubritter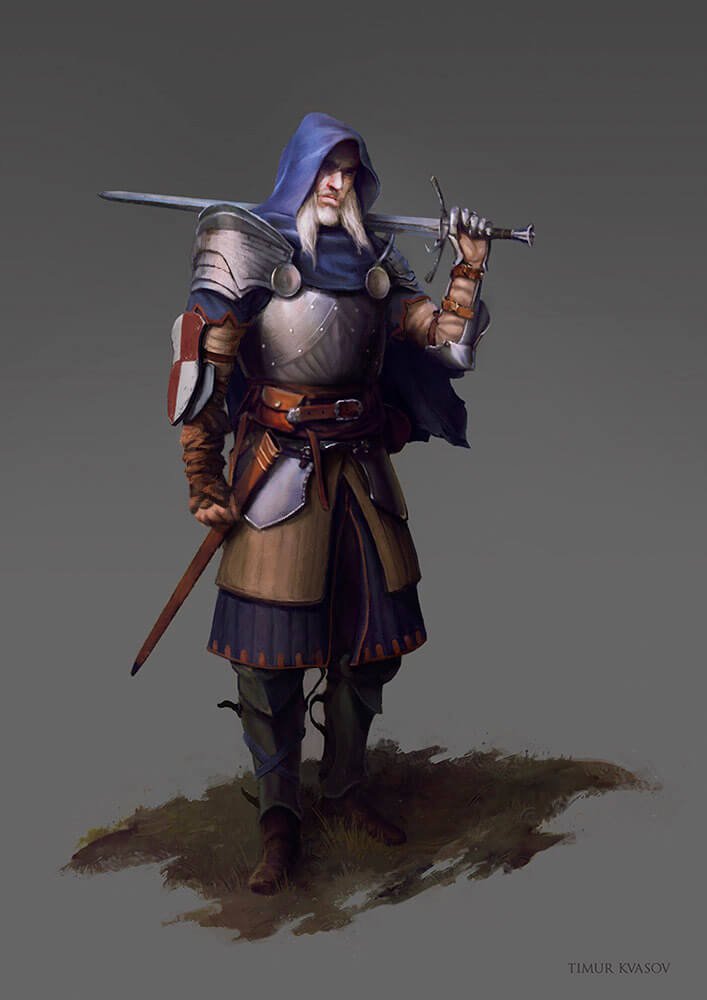 Next, we have a very interesting character who is known as the Raubritter or the robber knight. He is generally seen as a feudal landowner who stays above the law. Robber knights often collect higher tolls or become a bandit to maintain their position. 
Moving on, we loved the blue cloak on the head, which pairs well with the red and brownish gear. The picture speaks of brilliant detailing, and there is indeed a lot to learn from it. 
55. Meet The Nameless Bastard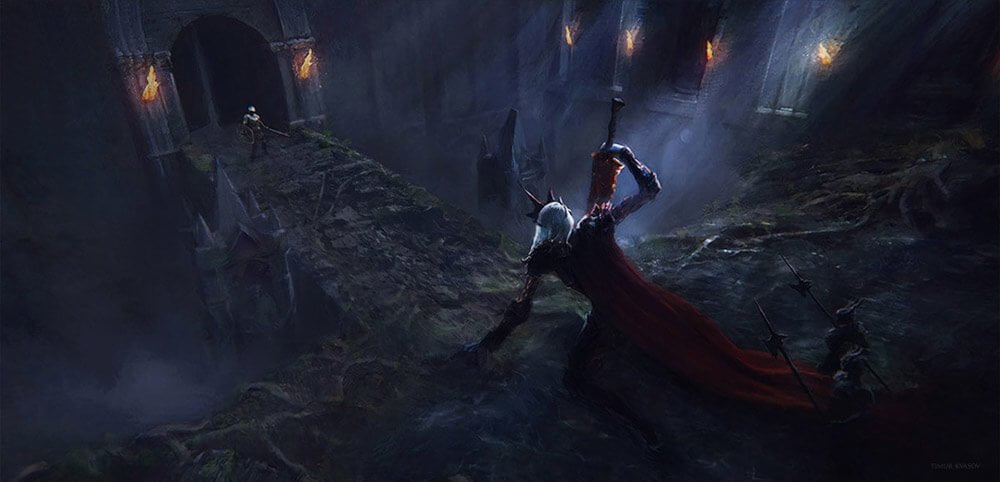 This is a proper one-on-one battle scene where you can see the back of a fallen warrior and another character standing at a distance. It feels like a dark dungeon or castle with fire torches at intervals, allowing you to see the characters faintly. Probably this is what makes it all the more beautiful. 
56. Executioner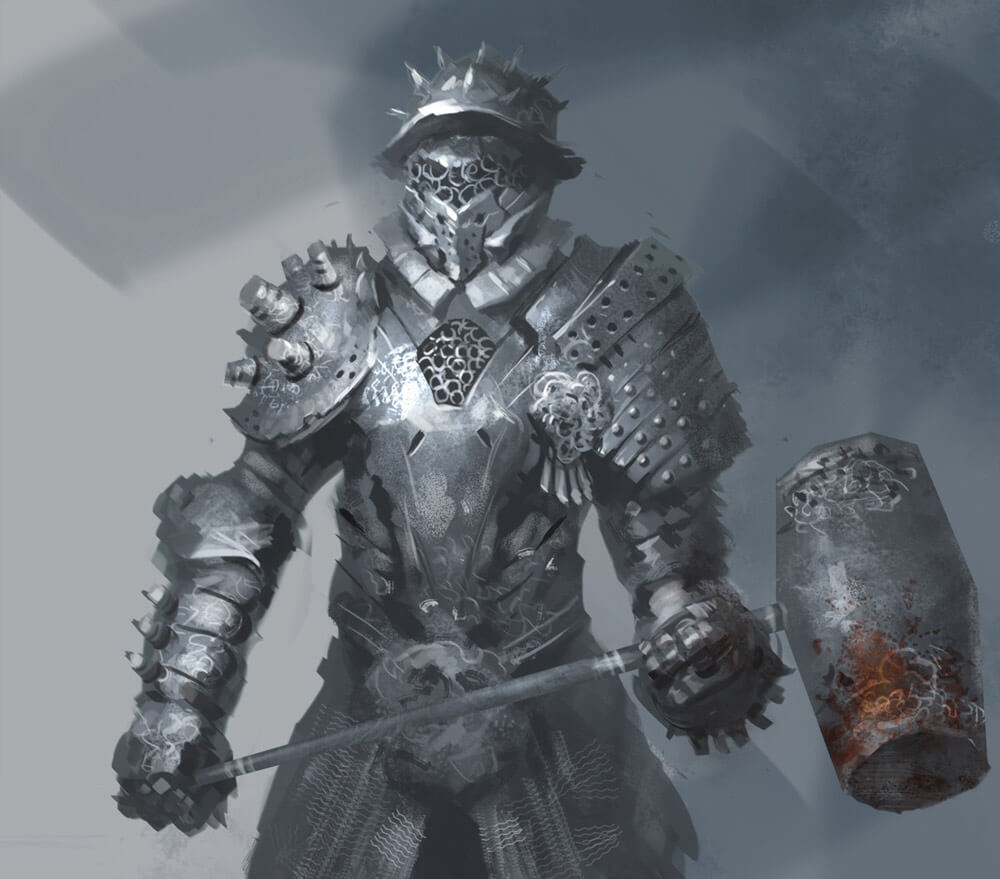 We consider this piece of concept art to be fantastic. Look at the sheer amount of detailing done to create the image, and you will be blown away. The artist also shares the process of creating the picture, which can help you learn more about the process of creation. 
Furthermore, a slight hint of red color has been used near the edge of the weapon, which indicates bloodshed and destruction. 
57. Immortal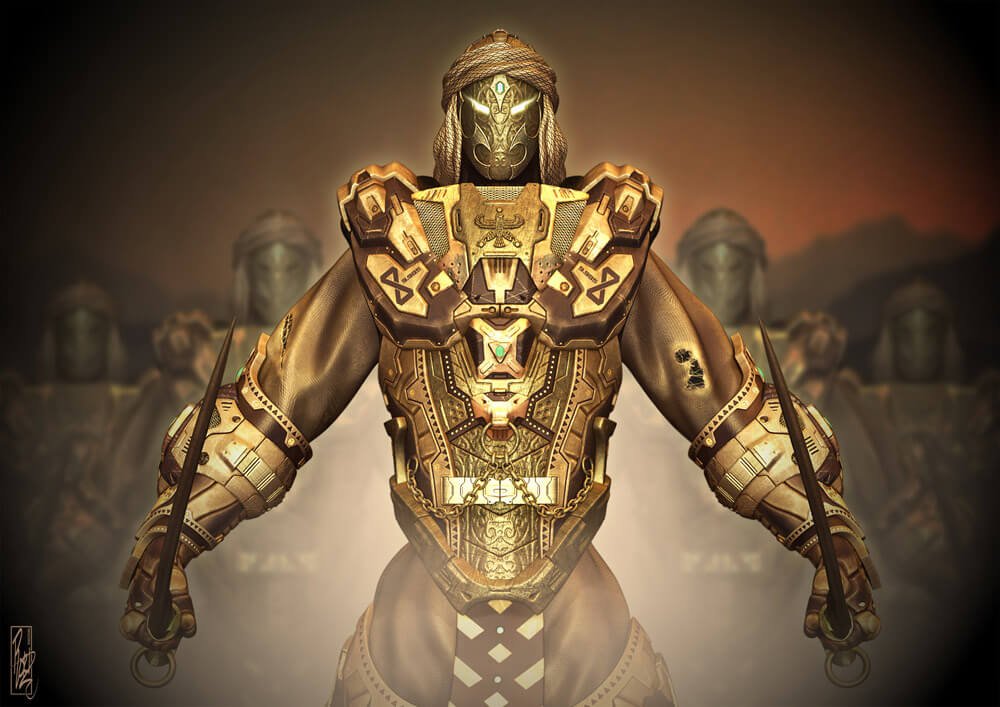 Made using Photoshop and Z-brush, this is a beautiful and unique concept art made of a knight ready to start the battle. While most of the images here are dark and grim, this one is made with bright gold shades adding to its attractiveness. 
58. 4 Knight Variants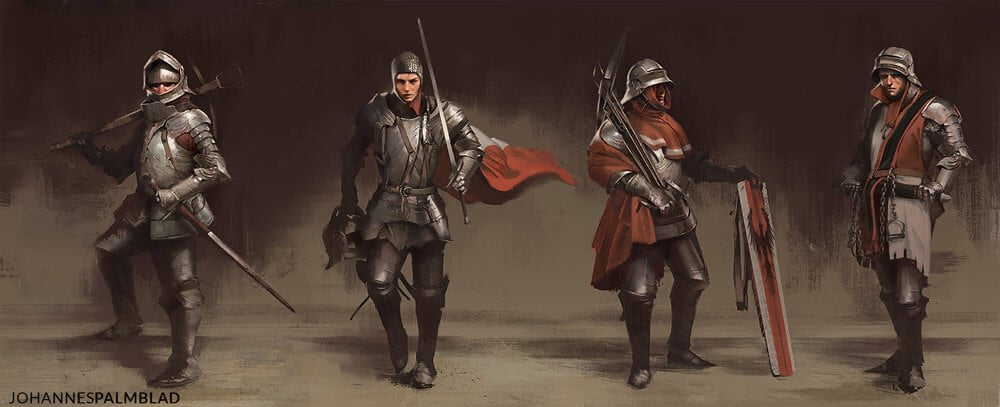 If you are designing a team of knights or learning to paint different poses, then this can be a good reference point. Here, you can see the images of 4 knights striking different poses. The artist has not experimented with a lot of colors, but there is a lot to learn about painting shadows and postures. 
59. Knights
Knights can be of various kinds as they mostly depend on the theme or the chosen concept. You can paint a general structure and make modifications based on the theme.
Look at these three knights, for example! All of them have the same pose, but they come with different colored capes, headgears, and shields of varying designs. Changing these aspects makes them look very different from one another. 
60. Skeleton Knights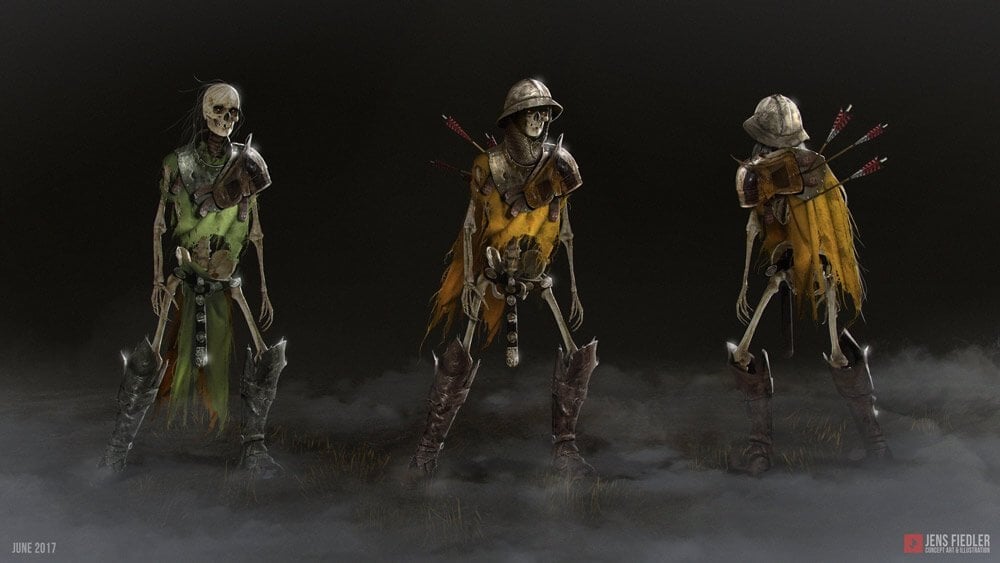 Yes, we know this is an interesting image with skeletons in the attires of knights. They look like they were killed in a battle as there are arrows sticking out of the body. The image is pretty unique and can be a great reference point for anybody trying to create unique battle characters. 
61. Hold On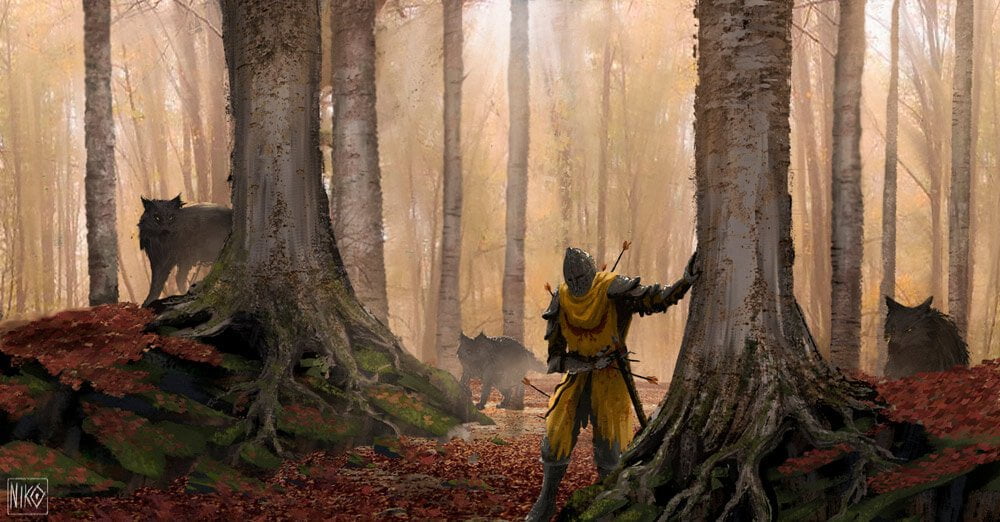 We found this image to be attractive because of the beautiful colors that have been used. While the moment seems dangerous because of wolves and a dying knight with arrows sticking out of his back, there is a strange sense of serenity. You can learn about how to paint forests and make them look intimidating while at it. 
62. Knight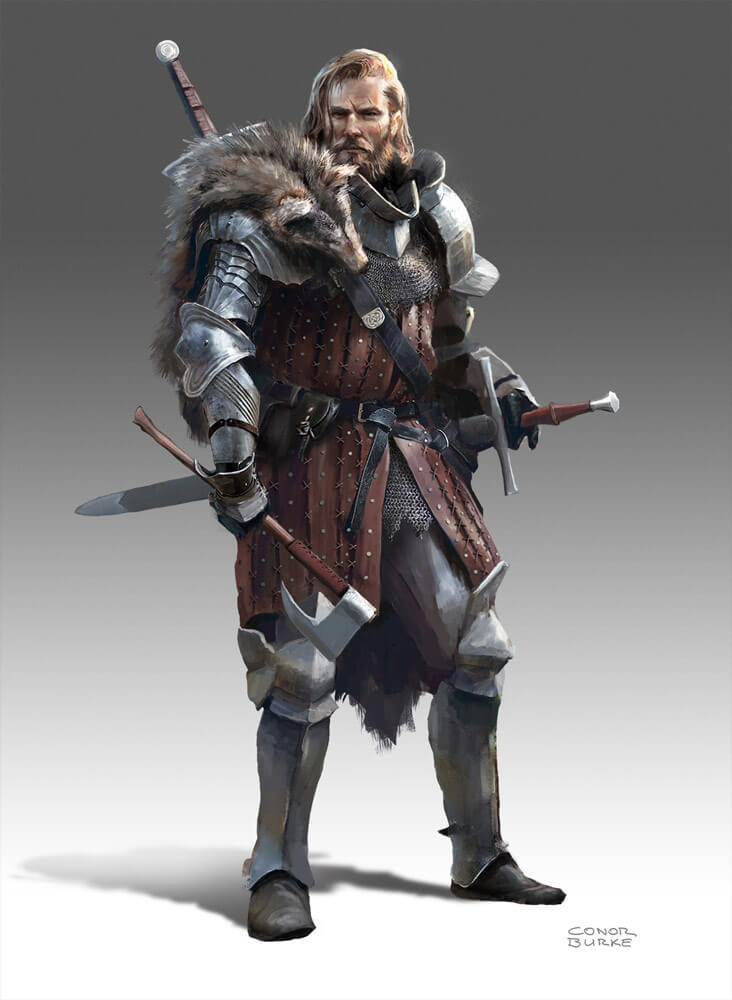 The inspiration for this image has been drawn from the Witcher franchise, and it is indeed a brilliant portrayal of a knight. We loved the detailed engraving on the metal armor as well as the ax. 
You can learn how to create the image as the artist will show you the process in stages. Plus, a steel helmet can be added to the head if you are not confident about painting the face. 
63. Leopald
In this picture, you can see a knight in action. Although there are no other characters or signs of war, the smoke-filled background is a great indication of this. Then there is a knight in front with a sword in hand. 
There are some visible details on the knight's armor that make him stand out. But the play of colors and shadows is the highlight of the image, and you should surely check it out. 
64. Richard The Lionheart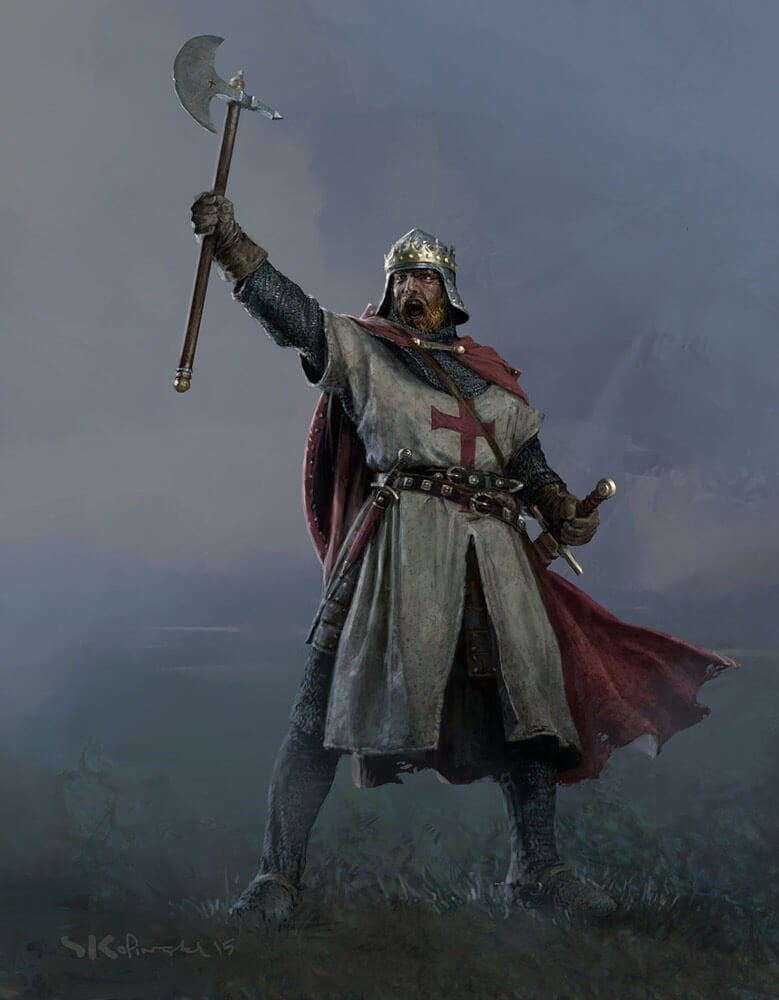 Richard the Lionheart, who was popularly called a chivalrous medieval king, was known to be an excellent warrior. His ferocious expression and posture speak volumes about it. You can see him holding the ax up with sheer determination in his eyes. Needless to say, this will help you draw inspiration for painting war heroes. 
65. Knight Of Skull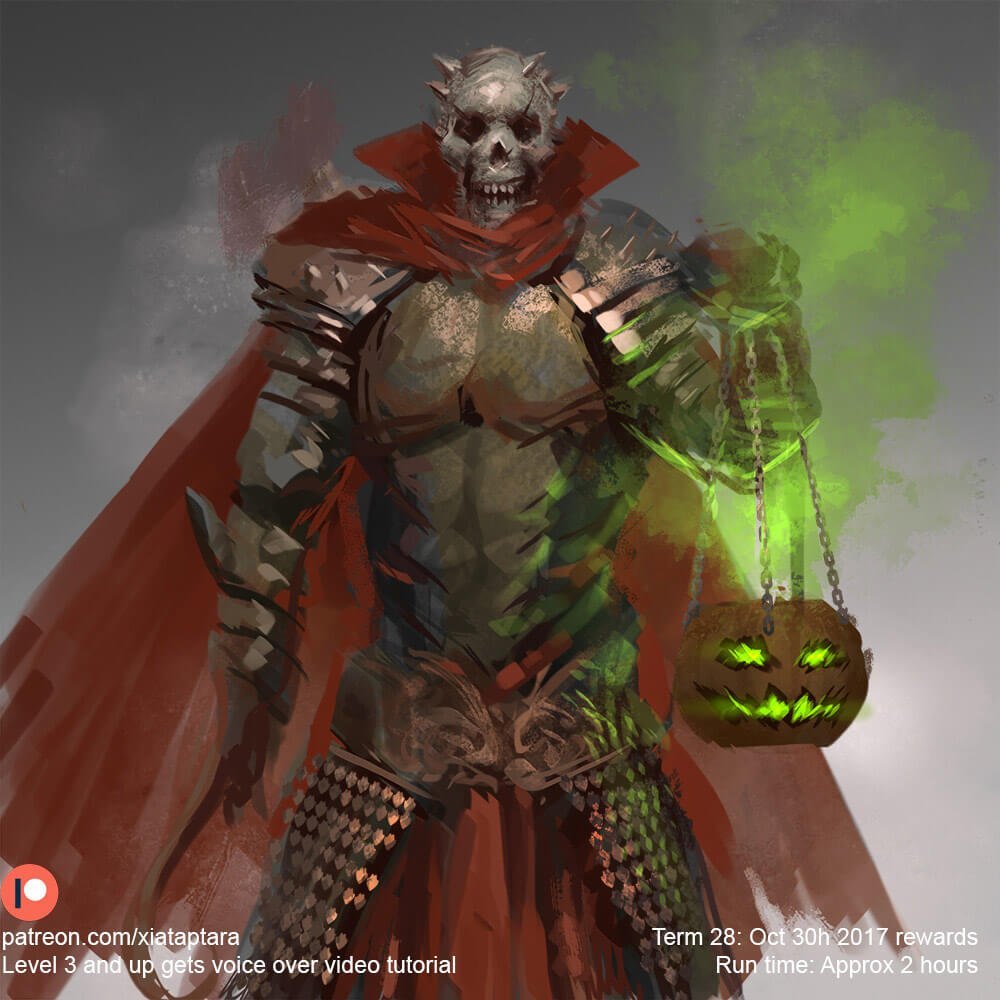 This is a pretty horrific image of a skull knight holding an enchanted pumpkin in hand. There are green fumes coming out of the pumpkin head, which make the picture even more mysterious. 
Additionally, if you are planning to practice texture and color play, then this is a worthy reference. Check out the green fumes and how it fades away towards the top, making it look very realistic. 
66. Crusader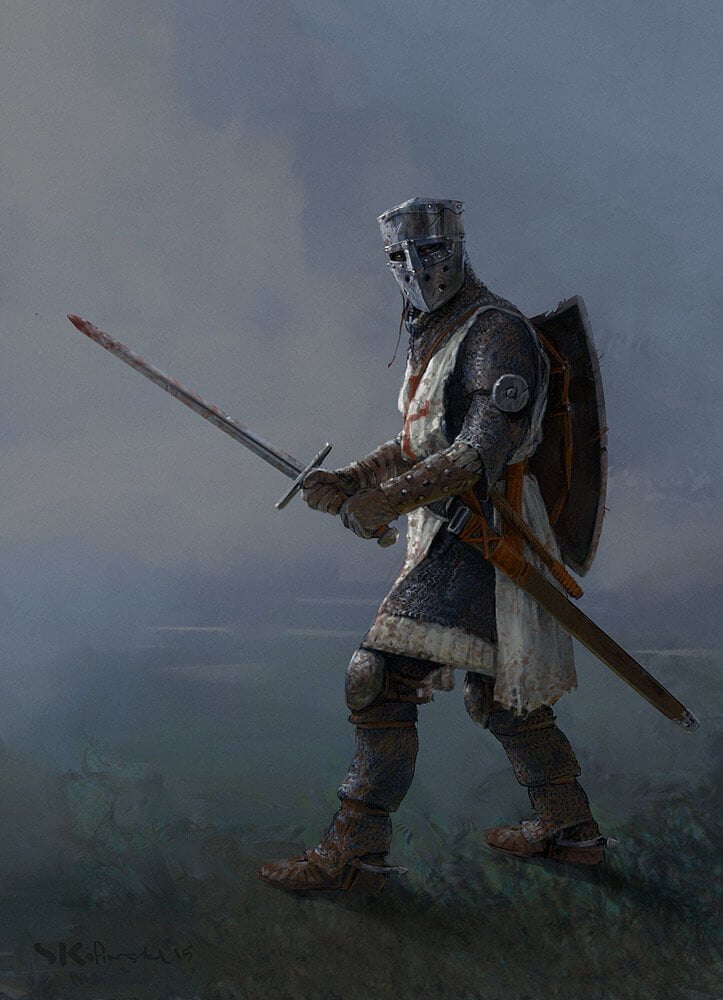 We have one more image with a knight in shades of black. His pose looks like he has been caught in action. There are hints of red on the body and the sword indicating rust and blood. The background has been kept blurry, making sure that the knight is highlighted. 
67. The Black Knight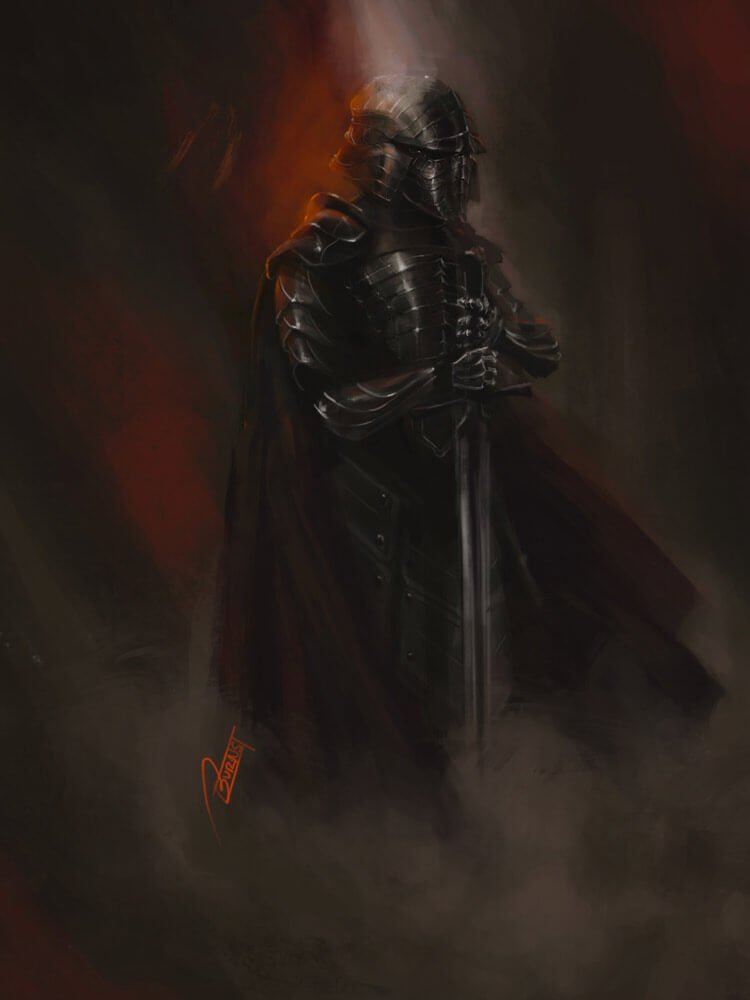 Are you creating artwork for a screenplay? Then this can be a brilliant option to look at. Here, the stage lighting has been set in such a way that the knight is covered by red and white light. The atmosphere is foggy, making it possible to replicate the scene on a stage. It can be a good point of reference for those interested in screenplay and drama visualization. 
68. Comfy Knight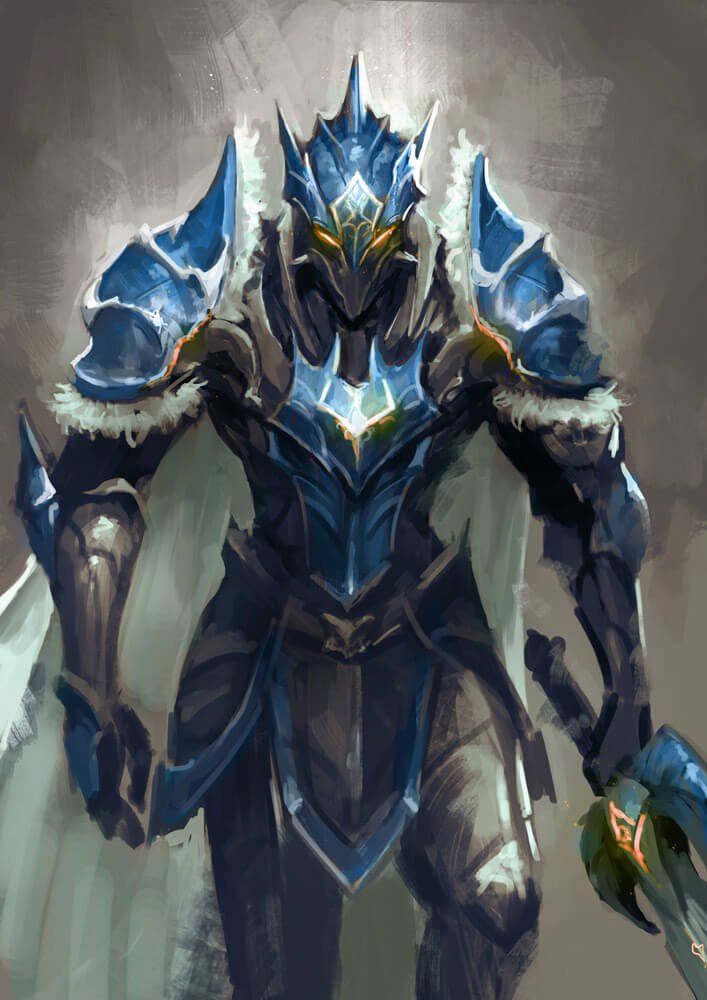 Painted in blue and black, this is a brilliant image of a knight who looks like he is from another universe. We love the detailing and the use of blue for making the body. Plus, the eyes are glowing, making it a perfect reference for designing video game characters. 
69. Demon Soldier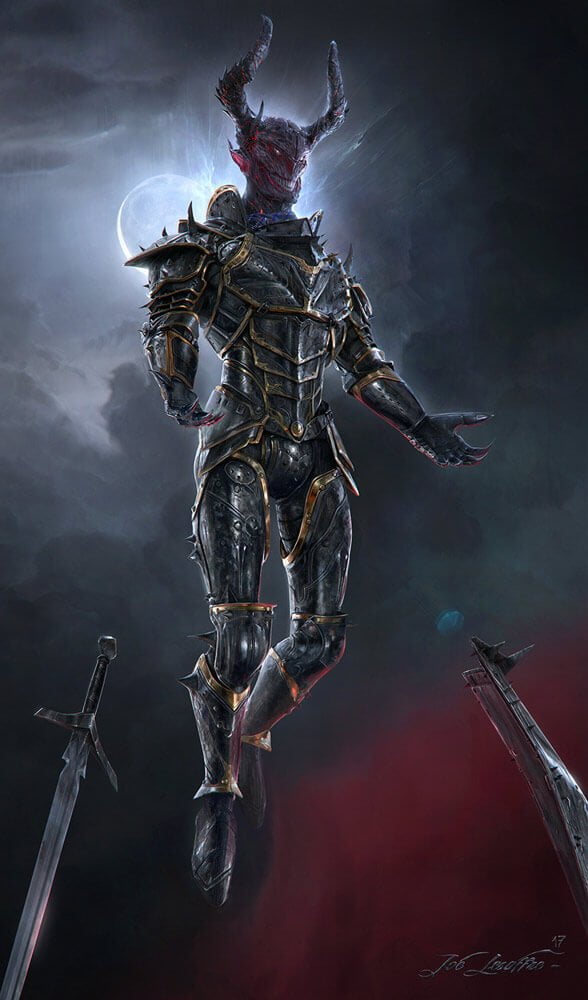 If you are planning to experiment with different kinds of landscapes and headgear, this piece can be inspiring. Plus, the brilliant use of colors makes the image look very real. It is painted on Photoshop, and you can use it as a reference point for painting knights in action.  
70. Double Blades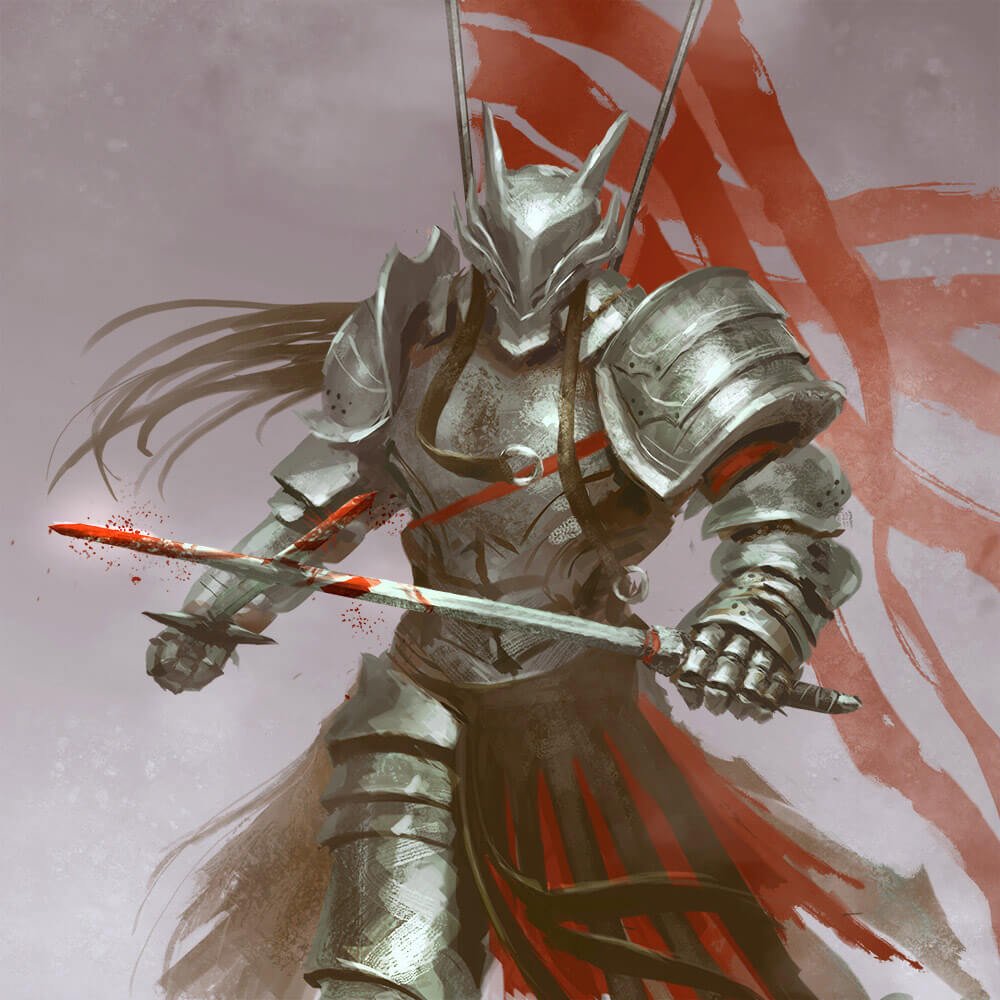 The color red stands out in this picture, and it has been brilliantly used to catch attention. We love the slight white glow at the edge of the sword with blood splattering from it. If you are looking to paint with watercolor brushes on the screen, this is a piece of inspiration. 
71. Artorias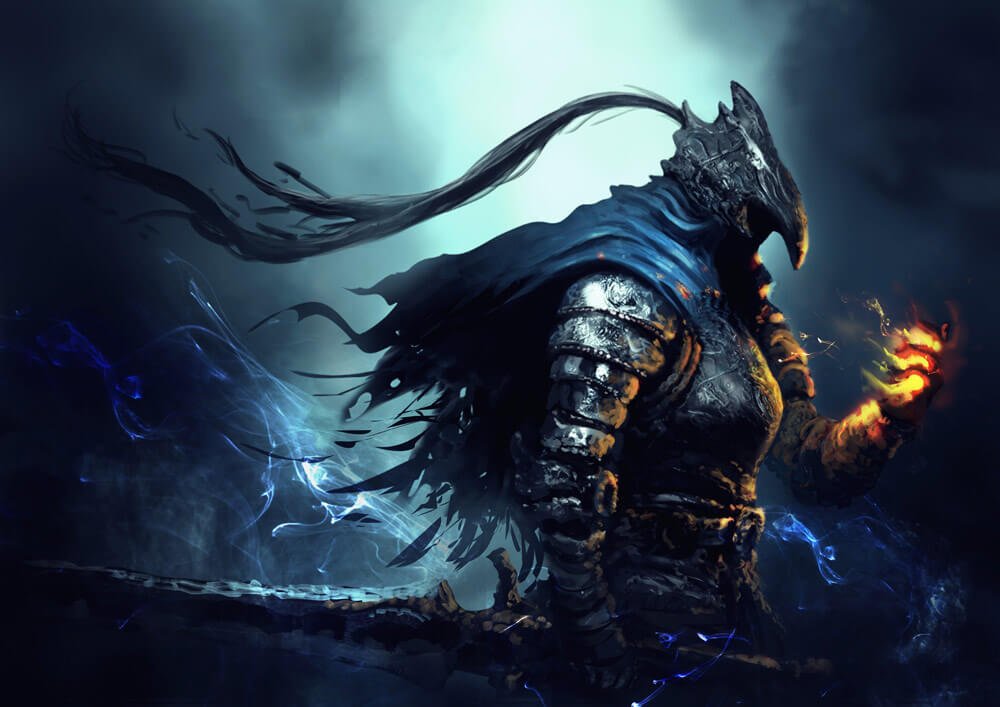 If you are enthusiastic about video games' character and design, then this can be a great image to get inspired from. Look at how the yellow light is reflecting on the hard metal surface. 
Moreover, you can see the faint shadow of other structures behind which are not in focus. So, for those studying depth, this can help. 
72. Wolvie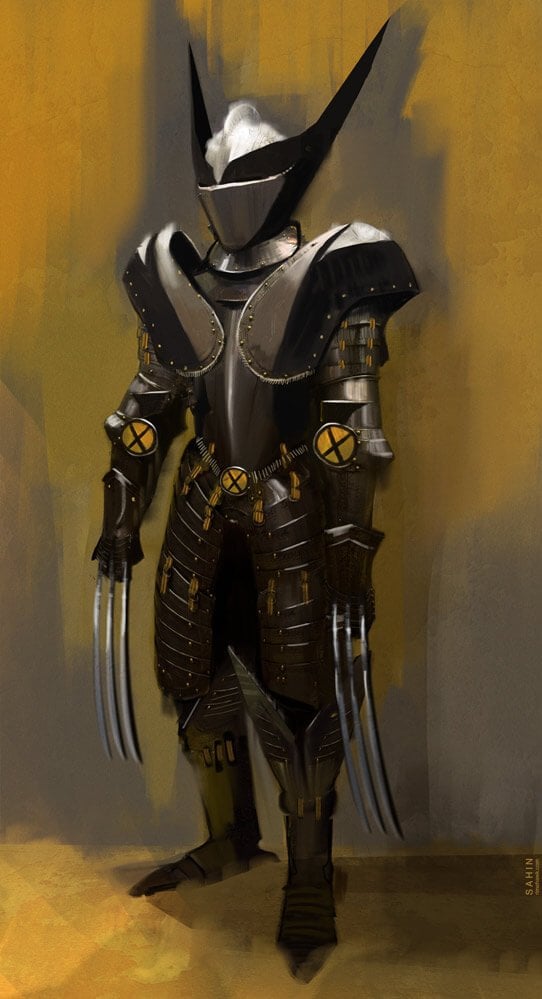 You must already be blown away by that detailed armor suit that he is wearing. So, if you are learning about pose, structure, and armor, this can be an inspiring piece of concept art to look at. Shades of yellow and black have been used to bring out the knight in the frame. 
73. Kaschei Concept Art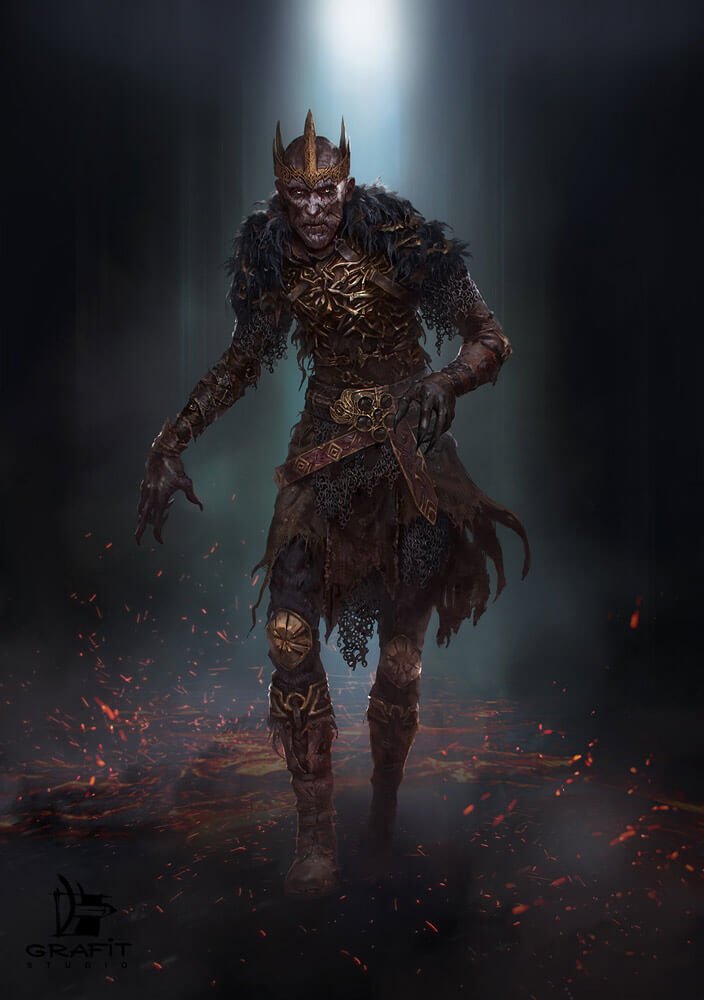 Another very ghostly and weird example is this undead knight who is walking forward. His posture and hand placement make the image look scary. The right set of colors has been used to create his torn and disheveled armor. 
74. Vainglory: Churnwalker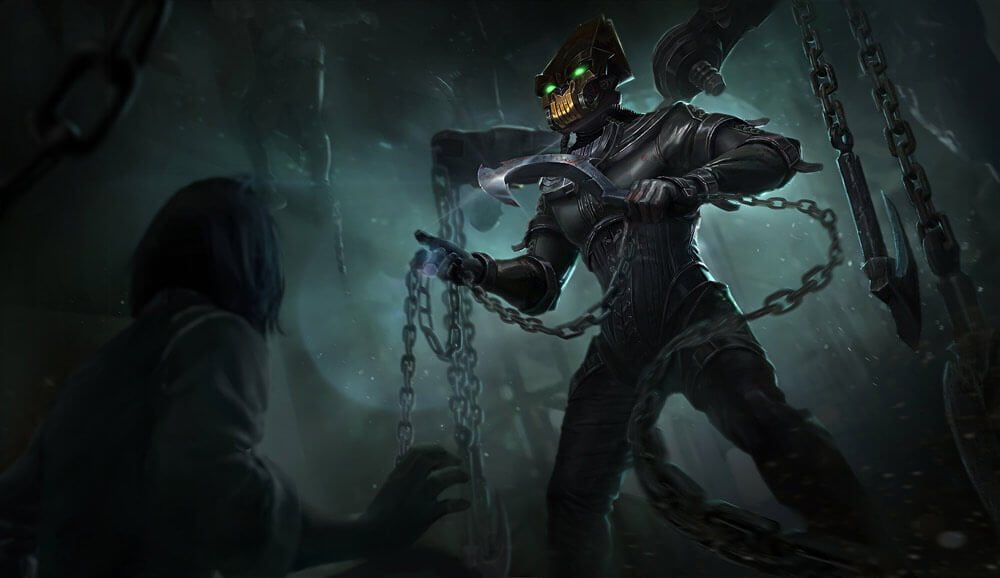 This can help you learn how to paint a battle scene without actually showing too many characters in it. While the knight is shown clearly, everything else is blurred to ensure that the attention stays on the knight. Plus, the golden highlight makes one look at the face as soon as you see the picture. 
75. Knight In Battle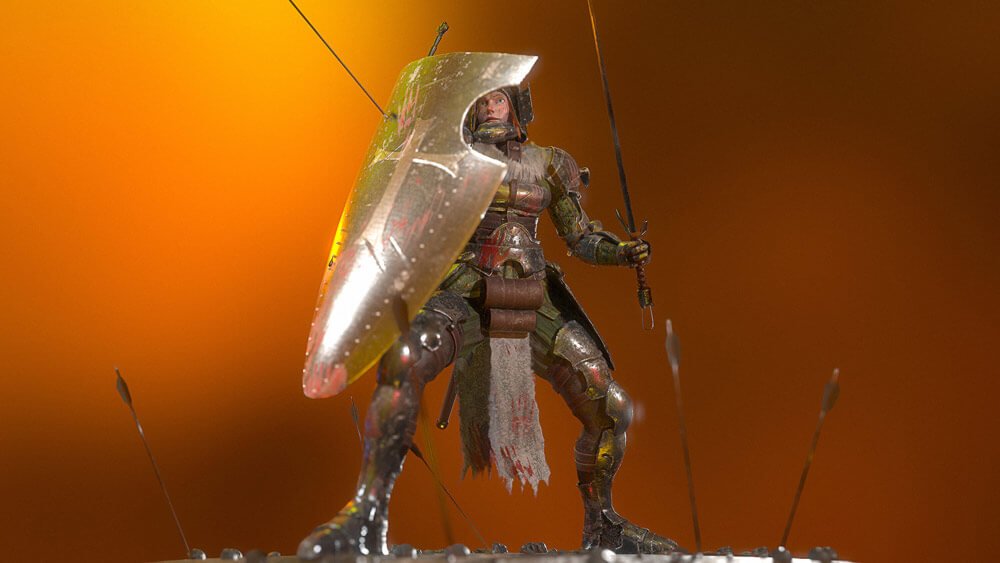 Here is another image that will help you understand the texture of metal and leather very well. Check out the image closely, and you will find intricate detailing on the body along with bright yellow, orange and red hues. The light is reflecting on the armor, making it all the more realistic. 
76. Paladin Dragon-Born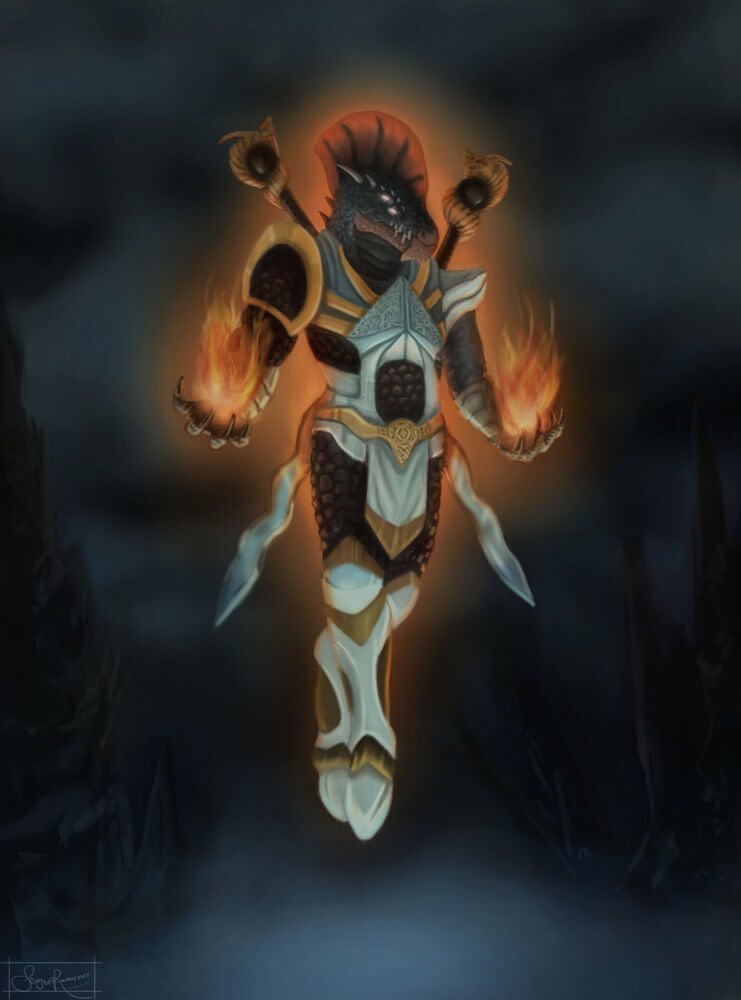 Here is a unique kind of knight with the face of a horse. He is holding fireballs and the use of yellow and orange against a grim background makes it a brilliant piece of work. This can help you design 2D and 3D characters for games and animated shows. 
77. Returning Home

Last but not least, we have this beautiful image of a knight returning back home. There are green meadows and a looming castle ahead. The scene has been painted with bright colors signifying a bright and beautiful morning.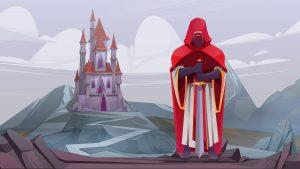 Conclusion
While there are different varieties of knights that you can create, you will need to understand the purpose and think about the concept before investing time in painting one. The story is very important for any concept art, and once you have that in place, there are multiple references to draw inspiration from. 
With this, we will be wrapping up, and we hope you have been able to find the reference pieces needed. There are tips and tricks for concept art portfolios too that are available on the internet. We will soon be back with more informative guides to help you out. 
Keep sketching and creating wonders; the world needs more of that!
Related Links
10 Epic Tips & Tricks for Concept Art Portfolios
22 Best Brilliant Sci-Fi and Fantasy Art Books for Artists
25 Best Concept Art Books for Artists
51 Enigmatic Forest Concept Art