Innovation and convenience are the two main ingredients we try everyday to build our society on. Resilience, durability, flexibility describe the primary advantages plastics offer us, an inexpensive practical solution for most domains, varying from food containers to furniture, medical supplies and so on.While everything seems positive enough, we often forget of the downsides of using these products in our everyday life and the grave impact plastic leaves on the natural environment. "Strong polymers in plastic are extremely resistant to natural bio-degradation processes. This means that traditional plastic products can persist in landfills for hundreds of years, if not indefinitely."
Considering our short life span in comparison the the natural elements surrounding us, we consider that the processes of recycling and up-cycling represent crucial responsibilities we should all assume. The simplest step you can all undertake on a daily basis is the recycling of plastics, providing them a new purpose in our life and home and limiting our purchase of similar products. Today we have chosen a few cute creative ideas revolving around plastic spoons and their great potential in recycling creative diy projects.
Decorate your blank ceiling with a plastic spoon chandelier
The first thing that comes to mind when having on hands a bunch of colorful plastic spoons is finding a method of using and displaying them as a decoration piece. Here, a group of blue spoons have been glued together to form an interesting ceiling decoration that is light enough to move and spin if placed in certain spots where air circulation is enhanced.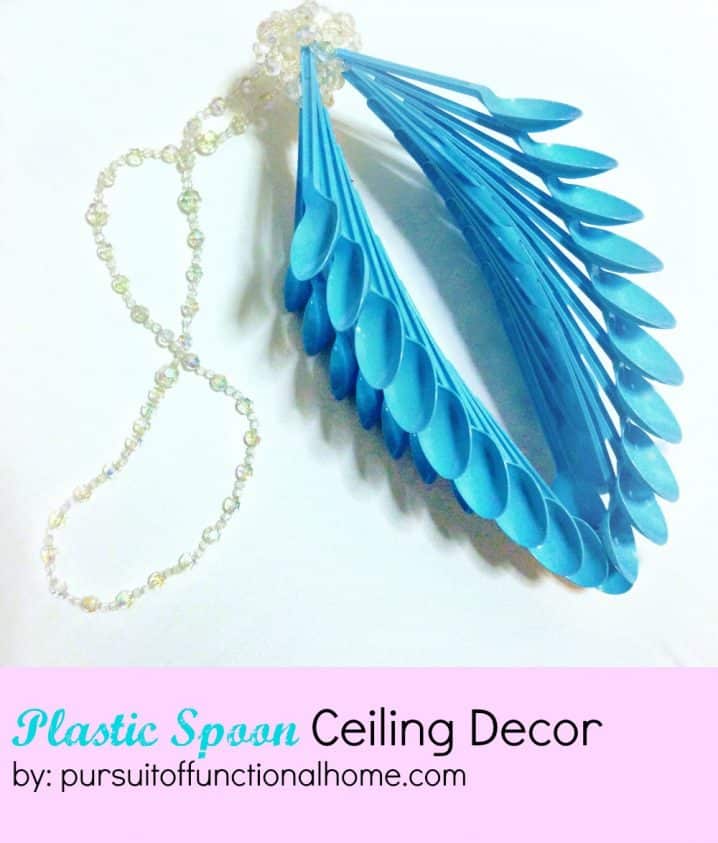 apply an ombre array of spoons an a dull flower vase
Make use of different tones and create an ombre arrangement on a mundane flower vase. Choose tones that will surely complement your flower pieces.
Greet the passing of time with a chrysanthemum clock
Rhythm and patterns mesmerize the eye and the clock below is no exception. Glue plastic spoon ends in concentric circles and create a frame for a colorful bright clock.
adopt a creative fun approach to a kid's lamp
For a more complex design, get inspired from the natural as a cute contrast and conceive a colorful pineapple lamp.
bring in color and merge it with light
Mix and alternate colors and allow light to diffuse tones on your ceiling.Your little ones will find this project interesting at least.
ornate your front door with a spoon wreath
Choose to go on a different path this year and make recycling a theme by creating an ombre front door spoon wreath.
use mirrors and their frames as an accent decor piece
Going for a red accent is certain to draw the focus and attention of a room. Add mirrors to the context and the contrast will be impressive.
What do you think about these creative recycling ideas? Feel free to share your thoughts and projects in the comment section below.