Tiles, artwork, paint for bathroom ceiling and walls – all these are imperative for giving the most functional room in the house a stylish makeover! 
Yet bathrooms are often the most overlooked when it comes to interior design. And while most homeowners may not agree, designing and styling a bathroom plays a key role in making the house feel comfortable and relaxing. 
Utilizing your bathroom wall space aesthetically further enhances the overall style of your house. Thankfully, the possibilities of doing so are endless, and you will find something that suits your tastes in the list below. 
So, here's how you could bring new life to your bathroom! 
24 Unique Bathroom Design Inspirations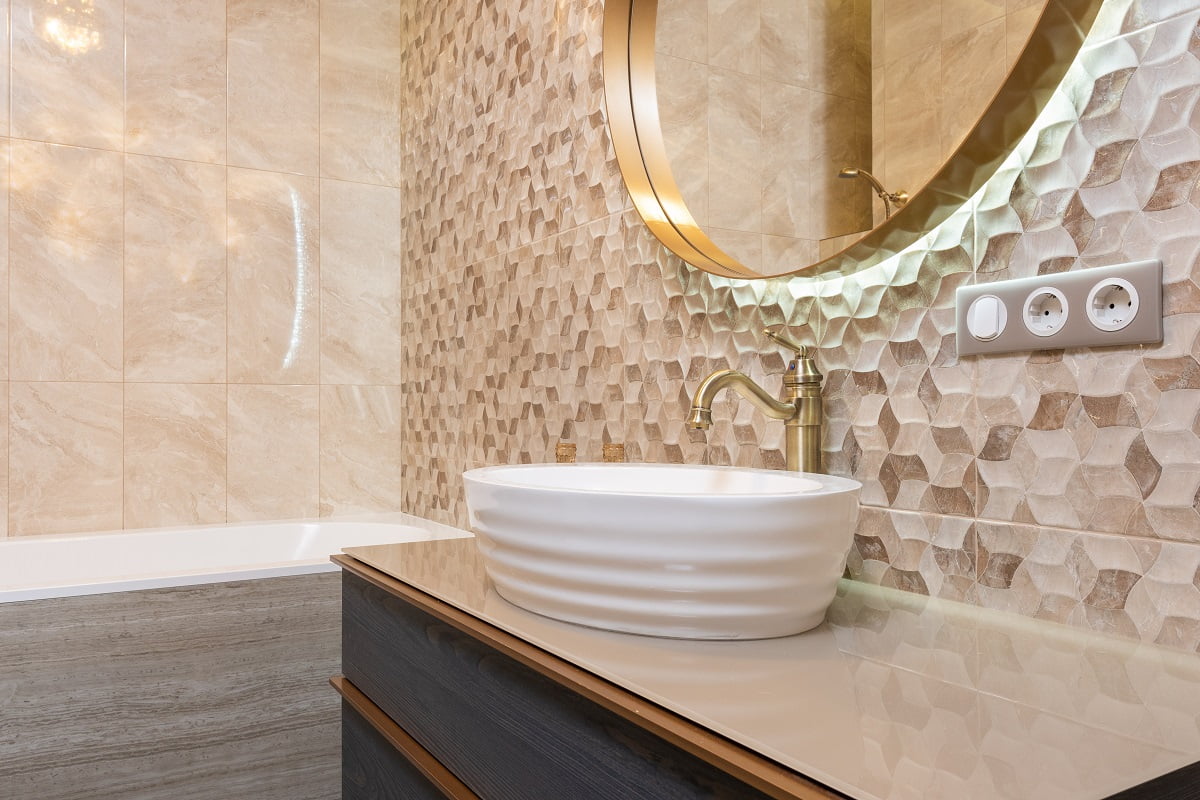 Level up your bathroom with these aesthetically pleasing designs and suggestions. From tiles and artworks to unique textures, these are sure to make your bathroom more pleasant. 
1. Floor Designs That Lead Into Your Bathroom Wall
Line your bathroom floor with new tiles for a fresh look. Abstract or geometric, these will create a premium look that withstands wet conditions while being striking to behold. Use vibrant stone tiles and experiment with different colors and designs for a look unique to your bathroom. 
2. Using Decorative Murals
Hand-painted murals will freshen up a typically dull bathroom layout. You can use stencils and paint brushes if you are not comfortable with free-hand painting just yet. The best thing about this method is that do-overs are easy and convenient. 
So, show off your creative skills with hand-painted murals and give your bathroom a fresh look. 
3. Using A Limited Color Palette
Color-coordinating every element of your bathroom will make it stand out in its own right. The curtains, shelves, wall and floor tiles, and artworks or murals can all be of a single color or two, channeling elegance out of simplicity. 
4. Save Wall Space With Shelving Essentials
Shelves save space, give your bathroom a neat look, and are an interesting break from the monotonous bathroom layout. Coordinate colors, find designs that suit your fancy, and just go for it. With a spacious and aesthetically pleasing shelf, your bathroom will have the perfect addition to the otherwise boring wall tiles. 
5. Bathroom Wall Tiles
Wall tiles come in all shapes and sizes. As far as color and textures are concerned, you can play around with them to your heart's content. 
Regardless of the color and design, tiles create a stylish and striking look for bathroom walls, and with the right color combinations, you add visual interest to your bathroom walls. Using the color wheel, you can find which colors complement each other the best and use them for interesting color and texture variations. 
6. Unique Mirrors
Mirrors reflect the light around the bathroom and make the space look larger than it is. With the correct lighting setups, this can end up making your bathroom look brighter and more lively. Combined with an appropriate wall texture, these will prove to be a fantastic décor choice. 
Note that bathroom mirrors are available in a myriad of designs and shapes. These will be a practical and fancy addition to the bathroom walls. 
7. Bring About Visual Variation With Artwork
If hand-painting a mural is not your thing, check out some pre-made designs for your bathroom walls to bring their aesthetic appeal to a new level. Position it strategically so you can have a leisurely eye on the artwork while bathing. 
Whether you choose painterly classics or abstract bursts of color, these will bring about a great change to your bathroom. 
8. Use Different Designs For Each Of Your Bathroom Walls
Using complementary colors, you can create a unique bathroom design where the walls have different colors or textures across the board. You can make your bathroom truly uplifting and colorful with the right combinations. 
9. Using Sliding Screen Doors
Prominent in Asian cultures, you can fit sliding doors to your bathroom to change the usual design formula. With sliding doors, you can stretch the designs on your bathroom walls onto the door screens for an effortlessly neat look. 
10. Using A Combination Of Wallpaper And Tiles
Bathroom wallpapers have been increasingly popular in recent times. So, tile the wall where the chances of it being wet are high and use wallpapers to bring about a sophisticated look. 
There are no limits to wallpaper designs. They add a unique visual flair to the bathroom without causing any worry about durability. 
11. 3D Patterned Bathroom Wall Textures
You can use 3D patterned textures on the walls to bring a striking change to your bathroom walls. These can be softer or more prominent, as per your tastes. 
12. Vary Your Bathroom Designs With Different Materials
By mixing natural materials with man-made ones, you can create a premium feel for your bathroom. 
You have the freedom of creating harmony between different textures or going about a more plain but elegant look. The depth added by the texture and material variation is unmatched. 
13. DIY A Slatted Wood Accent Wall
This is perhaps the easiest bathroom wall idea to DIY reliably. All you need is a few planks of wood and a nail gun to make an accent wall for a premium look. 
14. Create A Contrast With Wainscoting
Painted or slatted, wainscoting can make your bathtub pop with an interesting use of texture and color. Wainscoting makes your bathroom feel more sophisticated, and when combined with wallpapers, it can lead to a very cohesive look. 
15. Accentuate The Background With Paint
Combining dark-painted walls with bright bathroom tiles or vice versa will spruce up your bathroom like nothing else. A lot of people ask us, "Do you need special paint for bathrooms?" 
While you can use paint for bathroom tiles, there's more that you can do with them. Try experimenting with the colors and contrast them for striking results. Transform your bathroom into a spa with the right combination! 
16. Experiment With Repeated Patterns
Human minds like repeating patterns. There's a kind of satisfaction to them that we just can't get enough of. Even with a monochrome palette, you can bring life to your bathroom walls by repeating the same pattern across the room. 
By replicating the pattern on your bathroom wall on the shelves and ceramics, you'll produce a result that pleases the mind. 
17. Using Plants To Enliven Your Bathroom
Greenery can make your bathroom feel richer. Using bathroom-friendly plants has the added benefit of making the space feel more breathable. 
So, hang up a few plants to instantly make your bathroom wall more lively. You can choose to dedicate a corner to them or spread them around the room. 
18. Fill Up Empty Space With Monograms
Be it initials, elaborate symbols, or a single letter; a monogram can complement your bathroom wall textures with its simplicity. Contrast the details on your wall with the elegance of a monogram's simplicity. 
19. Recreate Stained Glass Paintings With Tiles
Another alternative to painted murals, you may use a pre-painted set of tiles that make up a beautiful painting once put together. The tiles can stand on their own with their unique textures and shapes. You can combine them with a mural for a truly artistic spin on a modern bathroom. 
20. Personalize Your Bathroom With Wall Decals
A simple sticker can make all the difference. With custom bathroom wall decals, you can get rid of the empty space on your bathroom wall and bring forth a personal touch. 
21. Tiled Accent Walls
The idea here is broadly the same as with slatted wood accent walls. The difference is that these are significantly tougher to DIY, and you will likely need professional help. A simple accent wall with interesting textures may be just what your bathroom needs to make it feel fresh. 
22. LED Cabinet Mirror
A cabinet mirror hides away bathroom storage without taking up excess space. The mirror is lined with an LED ring light to enhance the designs on your walls as well, making it an ideal choice for your bathroom. 
23. Something That's Just Out There
Cover the whole room in cabinets, or line the walls with wine crates. You can opt to make your bathroom utterly wild in all the right ways with dramatic lighting setups and unconventional décor. Have your shower curtain on rails or make pixel art from bathroom wall tiles – let your creativity run loose! 
24. Mixing It All Up
You can use some of these bathroom wall ideas, or you can use all of them. Have differently styled wall tiles and combine them with a painted backdrop, or you can use repeated textures with different color combinations. The great thing about bathroom wall designing is that you can experiment with them until it suits your taste.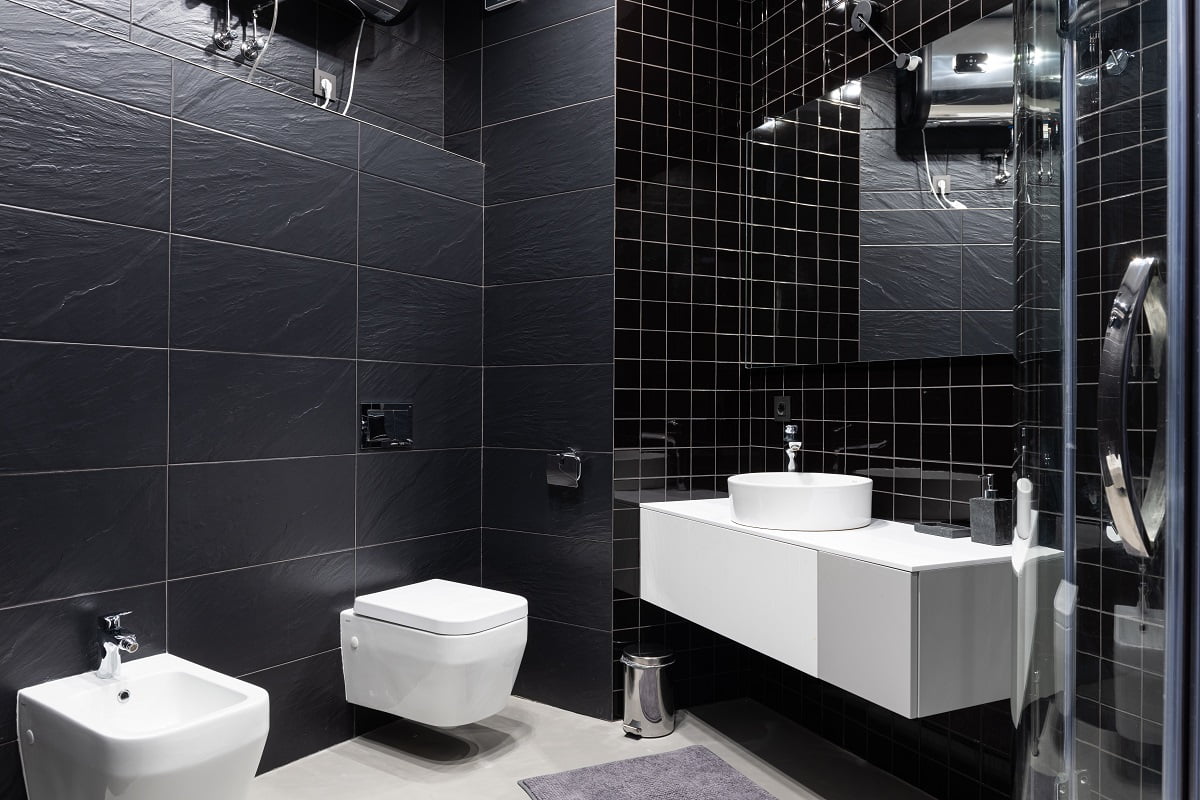 Things To Keep In Mind With Bathroom Walls
The list of bathroom wall ideas is endless. You can scour Pinterest boards for hours and still find new ways to decorate your empty wall space. 
But even with an inexhaustible supply of things to implement, there are a few things to consider when decorating your bathroom. The size and shape of your bathroom, usage, longevity, and design you're using, all play a crucial role in this. 
Size Of The Bathroom
Depending on the size of your bathroom, using the ideas listed above may have differing challenges. Since most washrooms are smaller, the decorations should match accordingly. You wouldn't want all the available space to be occupied by a single cabinet. As such, the space in a modern bathroom will define what kind of décor would suit it the best. 
Storage
Minimizing clutter in a bathroom can be challenging since it's usually the smallest room in a house. As such, storage is an essential factor when it comes to bathroom designs. A mirror cabinet is always a great pick, as is an integrated storage unit. 
Building the latter, though, is a more suitable way to save space in a bathroom. It's a fusion of style and function, after all. 
Humidity And Moisture
Naturally, washrooms are wet and humid places. Modern bathrooms take this into account during the design process. It would be best to keep any decorative articles that cannot tolerate humidity out of your bathroom. 
Lighting
The lighting makes all the difference when it comes to the appeal of a bathroom. Since bathroom tiles reflect light significantly, the best way to go about this would be the minimalist route. Small wall-mounted lamps will make a dramatic change to your bathroom décor. 
Suitable Colorway
A defined color palette goes a long way in defining a bathroom's atmosphere. You may use a color wheel guide to pick the right tones and contrast them without compromising on the looks. 
Colors inspire a certain kind of mood in people. Using the right colors, you can generate a relaxed atmosphere by mixing and matching different tones. 
Experiment All You Want!
Trying out different combinations is all part of the fun. You can use bold patterns, uniquely shaped mirrors, a small photo gallery on an empty wall, framed windows, or go monochrome – the list goes on. 
There is no reason why you mustn't go wild with colors and design options! So, analyze the space of your bathroom and decorate it accordingly.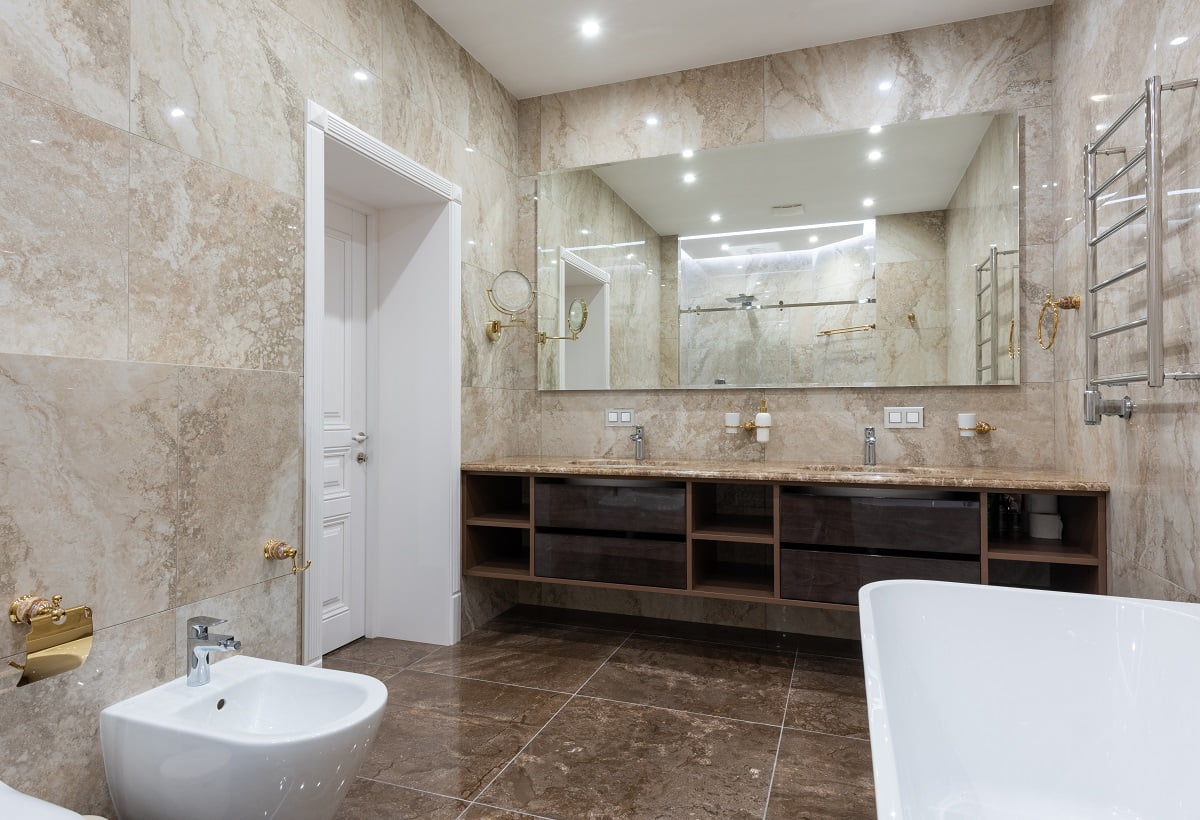 Ideas For Bathroom Walls Frequently Asked Questions ?
How can I make sure I have enough space for my ideal layout?
Consider consulting a professional to have your desired layout fit your bathroom. They will help you chalk out the path to your perfect bathroom décor. 
If your bathroom is too small, chances are you'll have to rethink the approach to the design. Sometimes, all you'll have to do is swap a few things around to finalize it. If not, you may build storage units into your wall to save space for this purpose. 
How can a bathroom design be future-proofed?
It's generally advised to incorporate practicality into your bathroom design, but doing so without compromising its style is where things get tricky. 
The most crucial detail is to keep ample space to move around. Keeping the bathroom from feeling cramped is essential. You can add overhanging cabinets and use creative ways to hide storage (as in a mirror cabinet). Other design choices, such as sectioning off the shower completely, can add to the future-proofing aspect of a bathroom. 
You may also use high-quality taps and shower faucets, so you won't have to worry about replacing them for a long time. 
What are the best lighting setups for bathrooms?
Working in layers of lighting will get you the best results. Task lights are used for utility, such as above your bathroom mirror and sink. 
Use ambient lights as overhead fixtures to create a calming atmosphere. Generally, these are overhead fixtures that bounce light off tiles and other reflective materials. 
Moreover, with accent lights, you'll be able to highlight a particular area of your bathroom. Be it artwork, the bathtub, or the mirror; these will make the defining feature of the room pop even more. 
On the other hand, decorative lights are smaller bulbs and pendant lights that add to a bathroom's overall look and feel. Hang these on your accent wall or simply across the ceiling to bring a dramatic shift to your bathroom's mood. 
Be sure to use ample lights for the best results. It's wise not to overlook lighting since it can single-handedly define the mood and feel of your bathroom.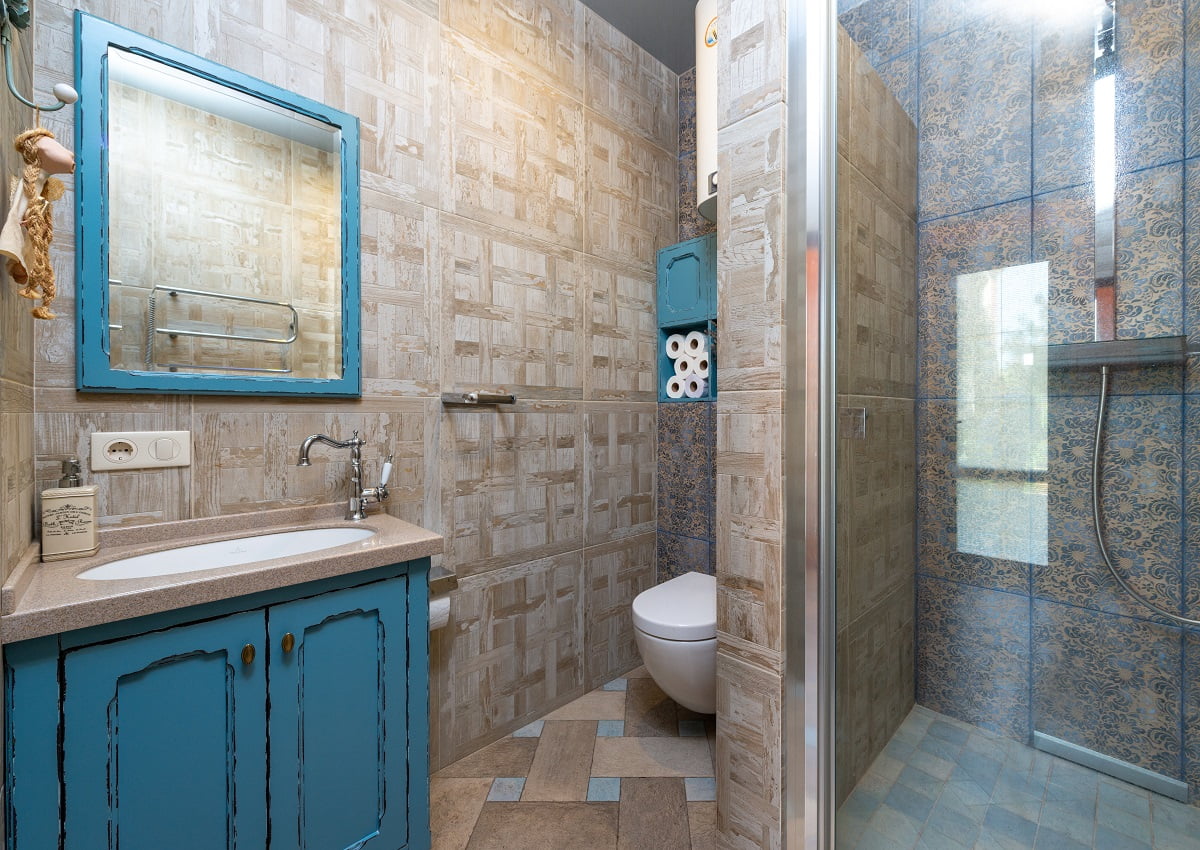 Ideas For Bathroom Walls Conclusion
The kind of décor you choose for the bathroom brings forth a part of your personality and gives it a visual flair that can't be found elsewhere. 
The easiest way to go about this is to dedicate a corner of your washroom space and hang paintings or plants to enliven the space. Add depth to it with vanity fixtures and proper lighting, throw in some tiles, and you'll have your desired bathroom layout ready. So, get ready to make a statement with your bathroom with the ideas listed in this article. 
However, no matter what you choose, it's crucial to plan the changes ahead of time. With a professional's help, you can mix and match the efficiency and style quotient of your bathroom. 
And before you know it, your dream bathroom will be ready for use!