Working in a  home office is not as easy as it sounds, it`s definitely harder then most people assume . The distractions in your own home, or any home for that matter are endless therefore being very hard to focus on your work, ending up in a lot of breaks.
Besides the family members, television, game consoles, gardening, comfy beds and sofas there are enough reasons for you to stop and yet hundreds other reasons to work at home.  A great method of escaping all these distractions and isolate yourself whilst keeping all the affinities and comfort of your home. Turning your basement into a home office is an extraordinary idea that will help you beat dozens of hassles, Tony Stark in Iron Man also has an extraordinary basement with his own workshop, office, garage, and hangar, what stops you ?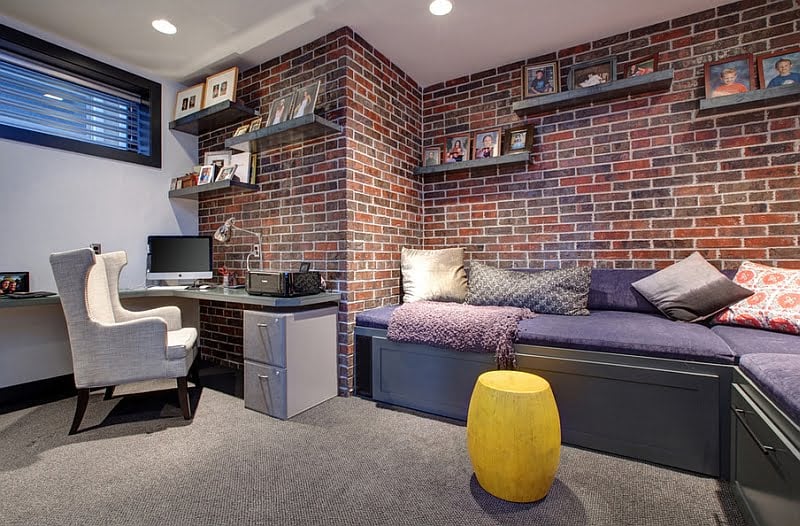 In basement home offices you can solve and accommodate huge advantages and most importantly you have the right amount of space to clearly define your office or workshop, sufficiently detached from the rest of the home.  You can enhance your workplace by cutting down on noise level and visual disturbance as well. Whether you are going to work for one or eight hours at home you should make sure that it`s comfy, ergonomic and elegant' it should fit your work routine as a glove.
Further on we will present a few smart tips that we find
interesting and useful.
How To Transform an Old Basement
Start with a quick inspection
If you are serious about this project you should plan properly from the very beginning and not skip any steps. The first very important step is to check the stability of your basement. After this structure aspect you should definitely waterproof the basement if it`s not already. Whether you are planning a basement bedroom, a wonderful game room or a bawling alley these two steps are mandatory. The ceiling and floor should be checked for any possible chinks and leaks, you can also chalk your walls with the actual plan and imagine the spatiality of the future walls or furniture, maybe you`ll have more then one room in your little corner.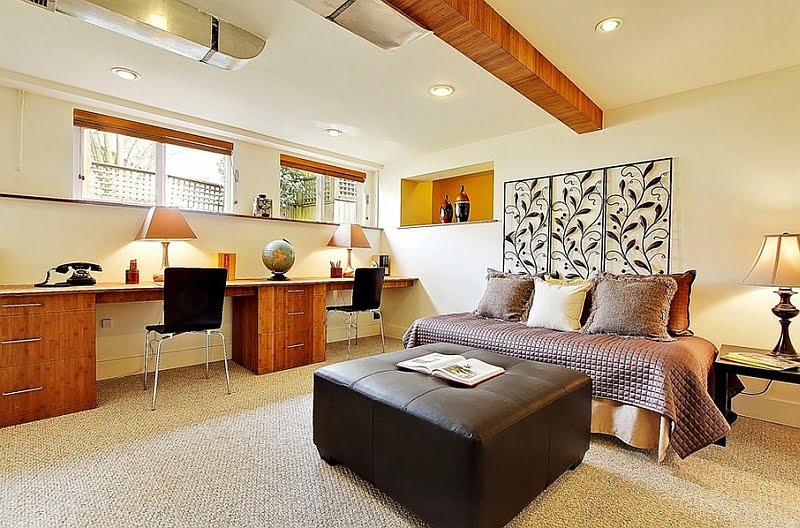 by Seattle Staged to Sell
The home office entrance and noise isolation
A basement entrance is by default tied to the access towards it, in most cases the access being through a pack of stairs.  If you are going to welcome clients in your work office as well you really have to consider the aesthetic value of the staircase. Moving your office in your home makes sense for a lot of reasons and more and more people are doing this everyday to save time and money whilst being surrounded in elegance and comfort. Two separate entrances could solve the problem easily, one serving the clients and one serving you and your family. A wooden ladder for your clients won`t do I guess.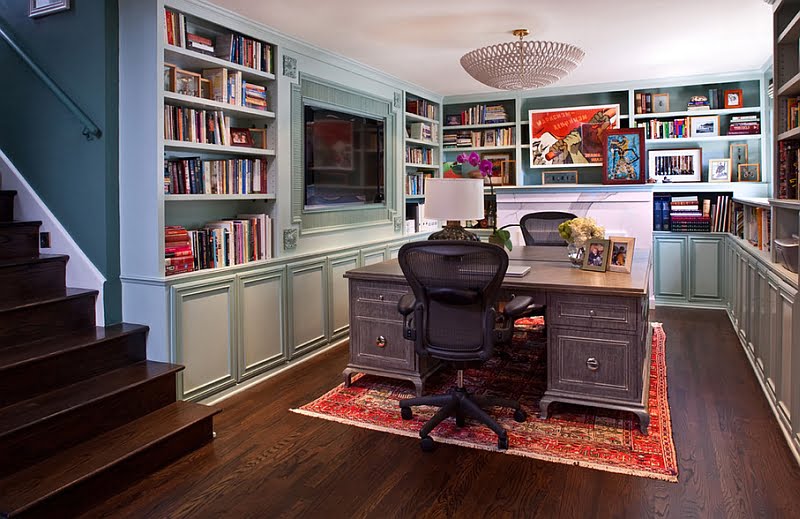 Another very important aspect that will massively influence your working routine is your ability to stay away from the household noise and stay focused on your work. There is absolutely no reason to move your work in a space in which you are unable to work. Or to organize an office cinema or a game room in basement that`s way to noisy. Consider this aspect before starting anything.
Using the space efficiently in your home office
Using your basement as a living and working space is an extraordinary reason to unclutter individual space that you can now decorate. You can move furniture around and use old rugs or some papers to see how much spaces you have saved and if is it worth moving down the stairs. This should be done before the construction begins, you should choose the decor and furnishings that you would like to use from the beginning, making sure that everything fits, that the space will not be to crowded or unorganized. You can make the most out of small spaces with Murphy tables for example, desks that can be easily folded away onto the wall along with some efficient storage area. The spending limit can be influenced by a thorough planning as well.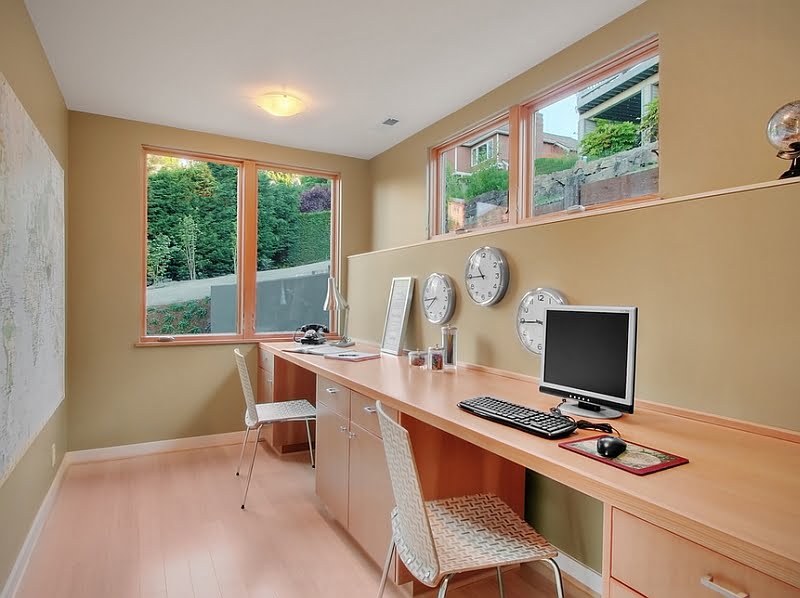 by Wentworth
Warm and lovely ambiance doubled by functional lighting
The basement is one of the most unfavorable places to shelter any sorts of living spaces or working spaces according to Feng Shui. You can however work around this aspect with proper lighting. Whether you consider Feng Shui when you design home or not you should be well aware that lighting is a crucial component in the basement office, in any workplace for that matter. If you manage to combine a smart functional lighting with the adequate and right task lighting you will obtain a cozy and warm space that invites and enhances work and practicality. Try and make the maximum use of any upper windows in the basement and allow natural light to complement illumination, you can filter it in any way if it helps you.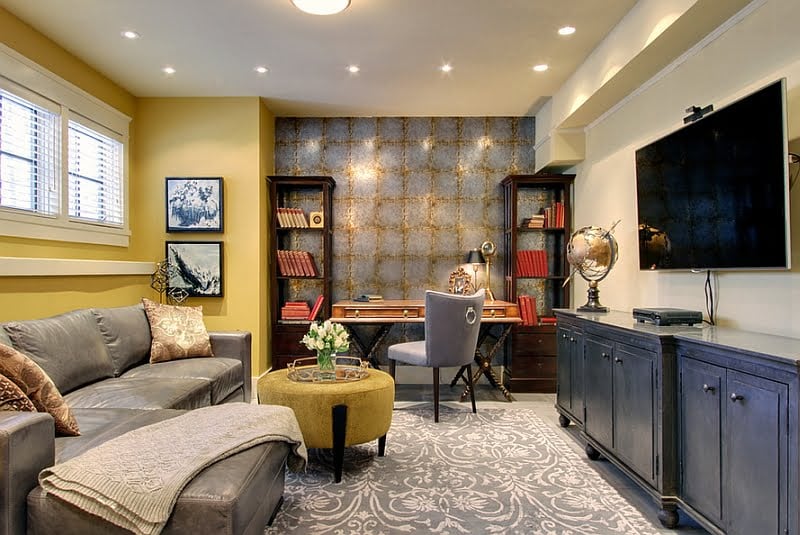 by KA Design
Some of the best options in a basement offices can be sconces, pendants or classic table lamps. In the basement every inch of space is valuable so using a floor lamp would be rather inefficient. These combined with smart recessed lighting can work like a charm and define an exceptional home office.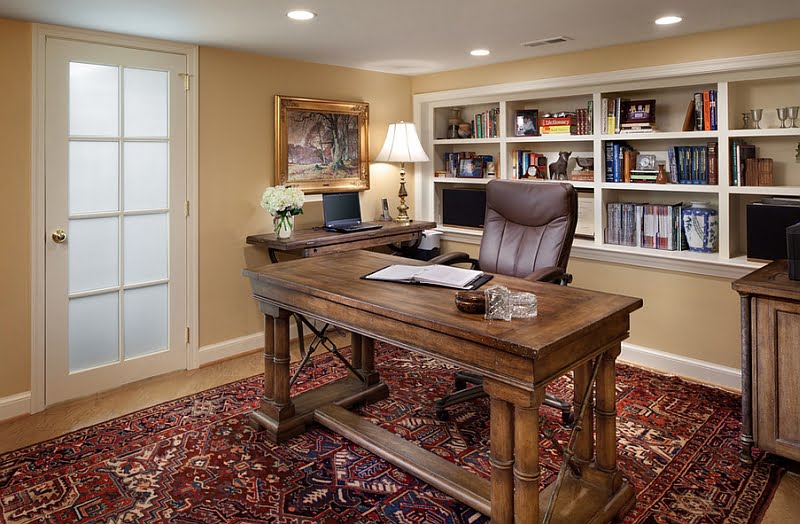 by Anthony Wilder Design/Build
The connection to the exterior
Unlike your bedroom or living room, a home office is far more demanding on the connectivity and electrical management. You should be able to have a proper and permanent connection with the exterior through a telephone, a fax machine, a wireless or wired internet connection and a couple of sockets, many sockets in which they will be plugged in. Besides these, a multitude of electronic gadgets are in need of electricity permanently. These as well have to be considered from the very beginning and be hidden from sight beautifully.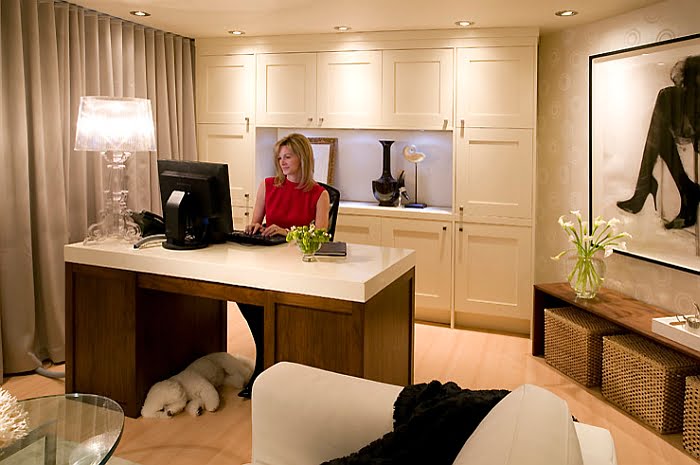 Use storage that will help you de-clutter
Besides the fact they can become highly aesthetics, the sturdy storage units can help you hide away the mess and keep your office organized and efficient. In small spaces storage units are gaining a far bigger importance, mounting them on walls, under the stairs or simply around your desk will save you a lot of space and offer you a highly aesthetic space. Bellow, the storage areas are hiding a humongous amount whilst maintaining an impeccable look.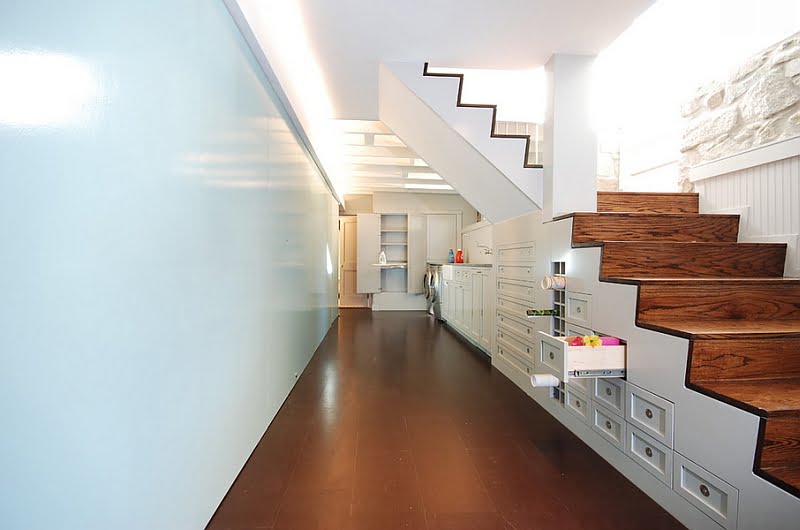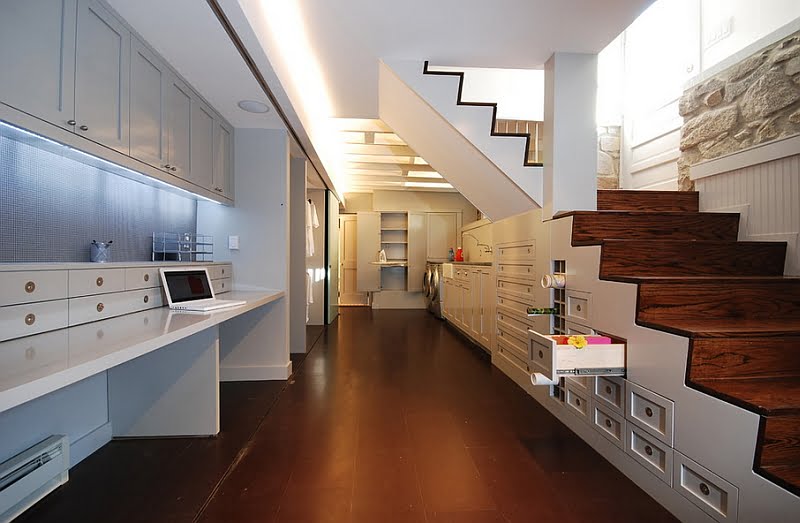 by E/L Studio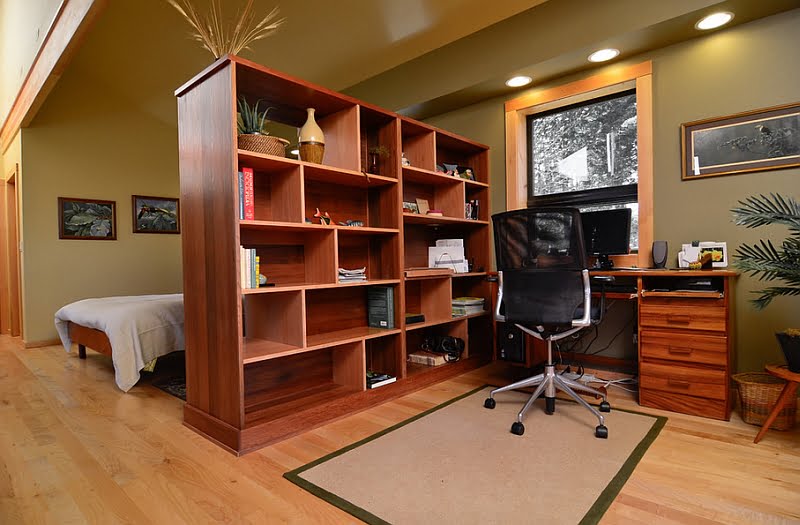 by Mountainwood Homes
Let your imagination surpass the boundaries set by the office walls
If you really want a comfortable and relaxing home office we are sure that you are going to do everything properly, a top notch isolation may protect you from low temperatures during winter months easier. A dehumidifier is also a very important asset that will help you enjoy your home office as much as possible. A small kitchenette or a small cool bathroom right next to your office will make your life easier, especially if you are planning to spend  a big amount of time in there.
A proper color scheme is very important as well, it will help you accentuate the required working ambiance of the home office without shattering into pieces. Choose colors that will help you focus, stay calm and relaxed.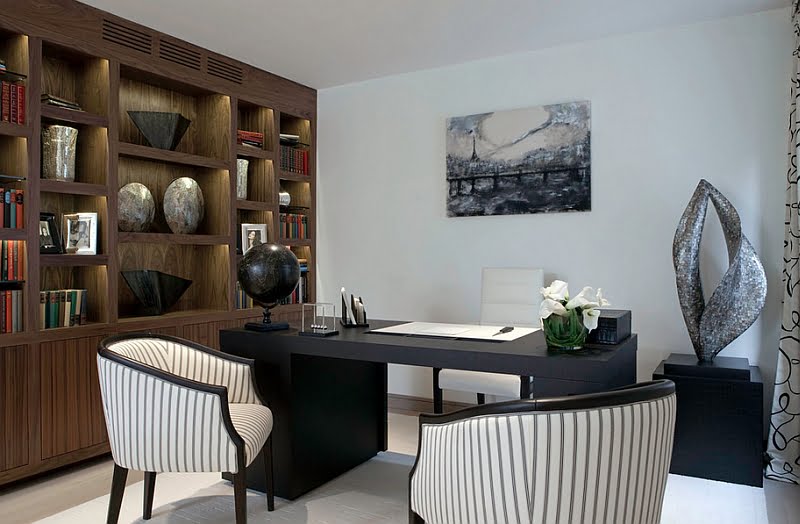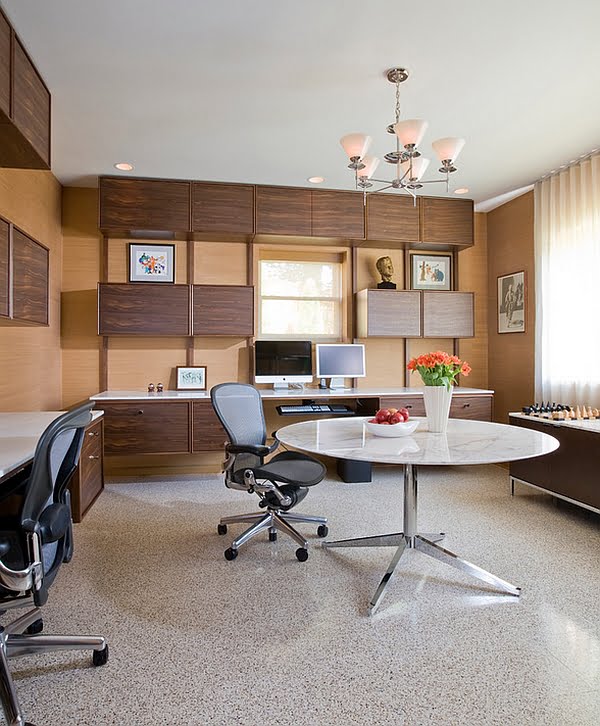 by Studio Santalla
Are you ready to start working on your basement home office? What do you think about working at home in general? We would love to hear your opinion in the comment section bellow on Facebook or Twitter.
Related Articles
8 Best Basement Cement Floor Paints
11 Best Paint For Concrete Walls In Basement 
11 Ideas for Basement Kitchens and Kitchenettes