Okay, it's about time someone finally says it – air conditioner units do not look "cool" (pun intended).
Don't get confused; an air conditioner essentially takes the luxury quotient of any household up a notch. But, doesn't a humongous AC unit at the front/center ruin the interior decor in the worst way possible?
Many of us believe that it does, and that's why we usually come across numerous homeowners who keep asking for unique ideas to hide their air conditioner units. That's why, today, we'll be sharing some of the most creative and budget-friendly ways to hide your AC unit and add a beautiful finishing touch to your home decor at the same time.
In order to turn your ideas into reality, the right set of tools is required. For small adjustments in and around your home a proper set of tools shouldn't be far away.An extensive collection of tools can be found on online with ease these days, be sure to be prepared before starting your DIY adventure.
It doesn't matter whether you're a DIY expert or not, because most of these ideas are as easy as pie. So, without any further ado, let's get down to business!
Ways to Hide Your Outdoor AC Unit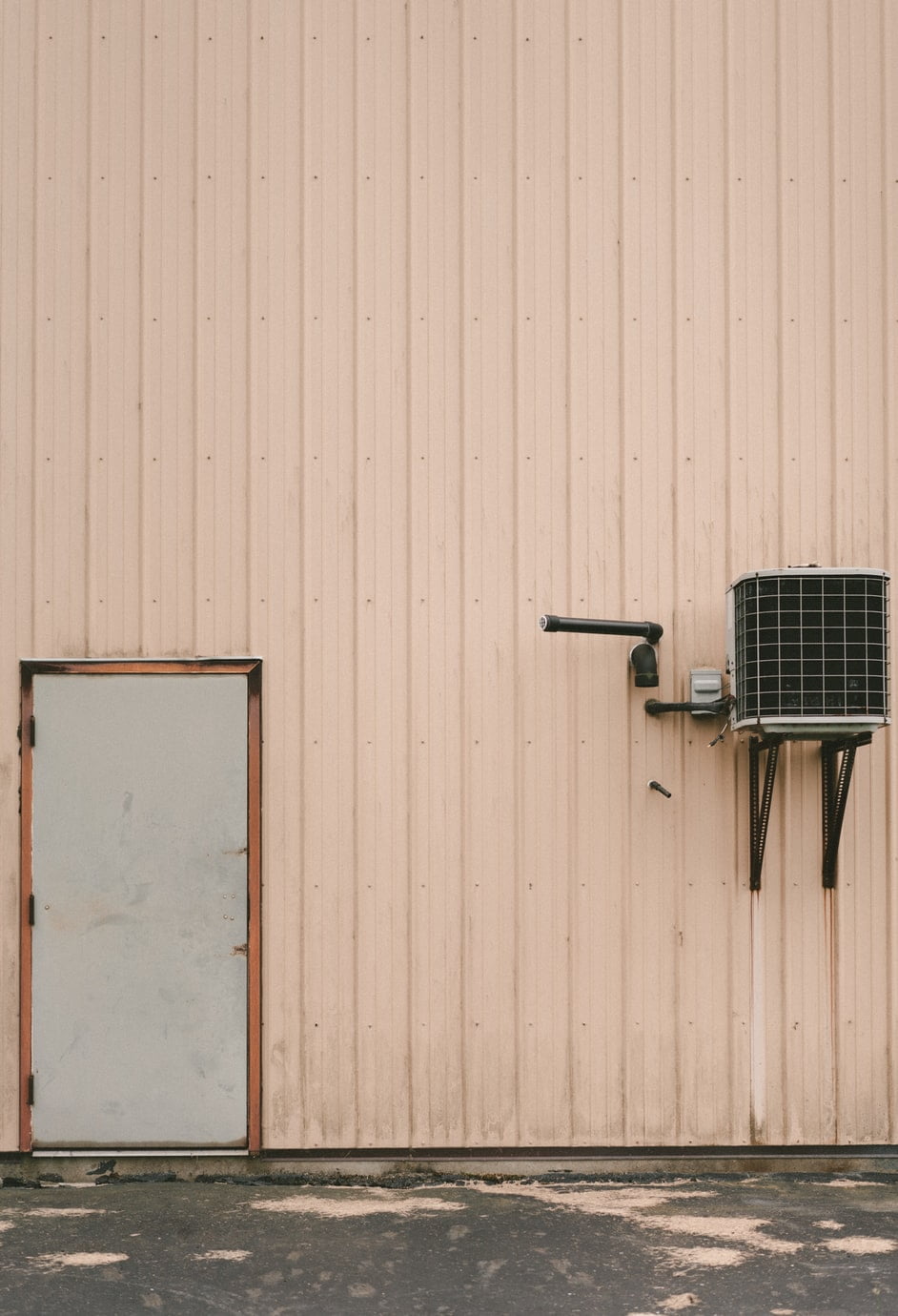 Most of us install the ugly AC units somewhere around the patio, so let's begin the list with our top outdoor AC cover ideas first!
Easy DIY Wooden Garden AC Unit Cover
If you're a fan of antique home decor schemes, you're going to love how aesthetically pleasing a wooden cover can be. All you need here is some high-quality cedar wood to build yourself a beautiful and compact wooden cover.
Also, if you're not quite handy with the nails, you can get the job done with sturdy adhesive. Add a little finishing touch by incorporating flower plants or creepers amidst the slats for a higher curb appeal.
DIY Outdoor AC Full-Cover Box
What if we told you that you could hide your AC and create more utility space for decoration at the same time? Well, with some premium redwood and expert assistance, you can create a wooden cover box to hide your AC overnight.
Decorate the surroundings with potted plants, or utilize the top area to showcase your souvenir collection – the possibilities are endless with so much storage space. However, make sure that the top cover is detachable, otherwise servicing the appliance will become your worst nightmare.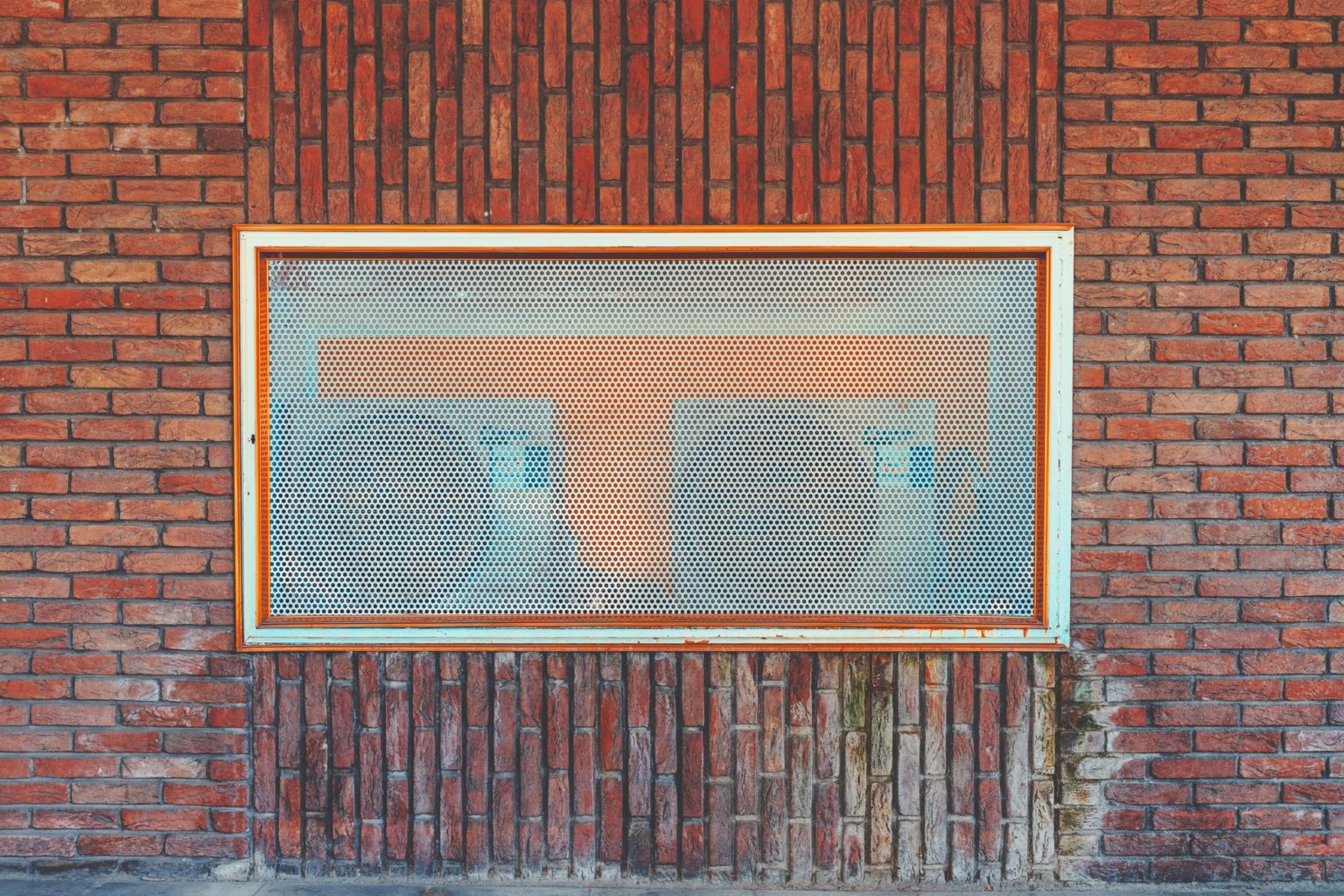 2-in-1 Tool Shed/AC Cover 
You can take it even further by building a 2-in-1 storage space for your tools and AC unit. This double-duty cover may pinch your pocket a little, but you won't be regretting your decision when you see the results.
As a bonus, building it near the garden would make lawn mowing and pruning even easier! However, make sure that the tools don't block the routes of air ventilation.
DIY AC Cover Pallet Planter
Here's a quaint idea on how you can instantly turn your AC unit into an appealing vertical garden without breaking the bank. In case you don't have enough outdoor room for a spacious backyard, you can create a compact platter planter to give life to your exterior decor.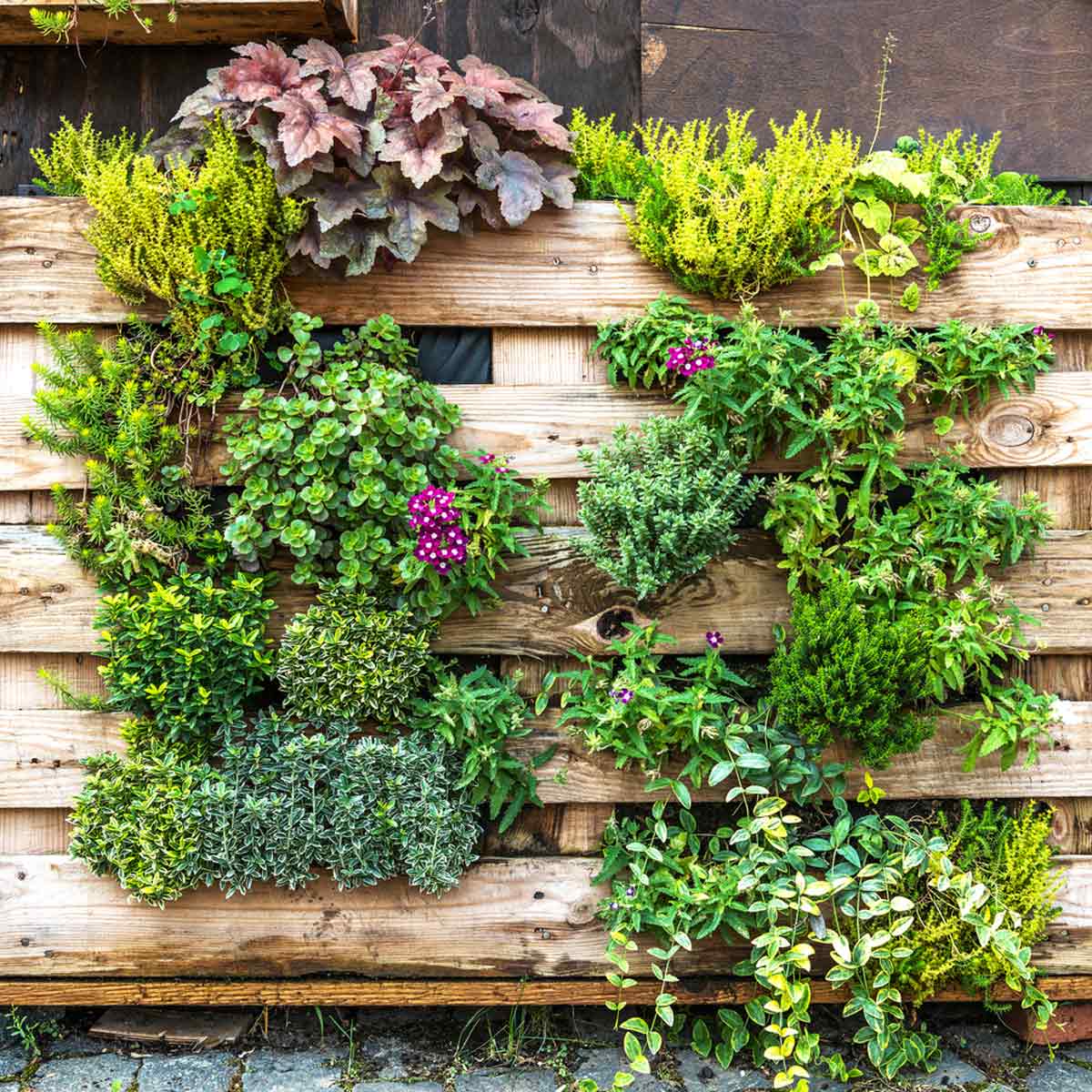 On that note, various landscaping professionals nowadays offer unique vertical garden design ideas, which include decorated outdoor AC cover boxes. So, you might want to give it a try!
DIY Colored Door Screen AC Cover
Finally, a refreshing out-of-the-box concept, if you excuse the pun! Here's an idea on how to add a bright theme to your exterior home decor.
Remember the exquisite colored doors we usually find in Caribbean houses? You can recreate it by hiding your AC unit behind an artistic exhibit. All you'd need are a few old doors and bright colors.
P.S- Our ideal color scheme would be a mix of ivory white and ocean blue!
Elephant Ears/Caladium Plantation
Ending our outdoor design ideas list with probably the most budget-friendly option – covering the ugliness behind some breathtakingly beautiful tall plants. You'll hardly need to cut a fat cheque on this one, except for the plantation costs.
Our ideal recommendation would be Elephant ears and Caladium, as these grow quite tall and spread around very quickly.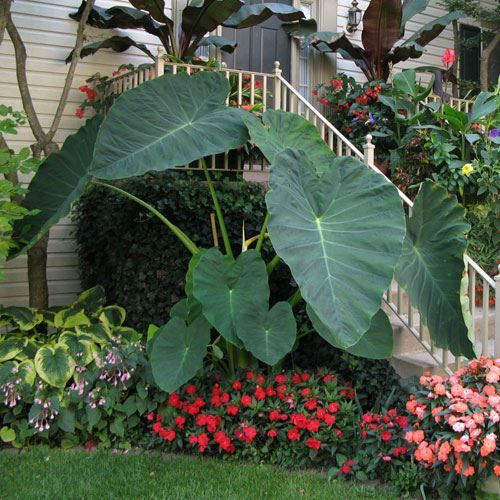 Ways to Hide Your Indoor Air Conditioning Unit
Some of us have, unfortunately, pet the devil inside our house. Worry not, we've got some creative ideas to hide your interior AC unit too!
Die-Cut Cabinet for Wall-mounted AC Unit
Indoor ACs are mostly wall-mounted, and what could be a better option to hide it than a wall cabinet? Not only does it set the bar higher for your interior decor, but it also protects the AC unit from any unforeseen accidental damage.
Although building these DIY cabinets isn't very difficult, we'd suggest that you opt for expert help for the utmost precision, if you aren't handy with the tools.
Slatted Wall Panel AC Unit Cover
If you don't mind raising your budget a little higher, a slatted wall panel is an interior decor idea you must consider. Apart from hiding your AC unit, it also adds a royal touch to your house.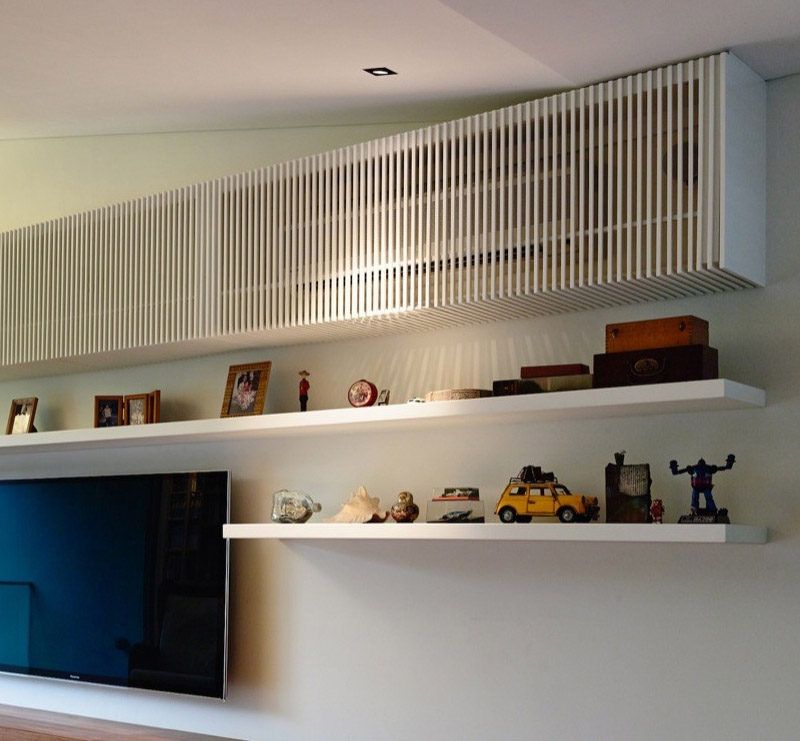 As a bonus, it also stands eligible for wall shelving, giving you higher value for your investment. Having one of these installed in your living room is guaranteed to have the guests talking.
Decorative Metal AC Cover Panel
If you're not a big fan of wooden decor, you can also opt for metal panels as an alternative. These give an antique Indian touch to your interior and come at a comparatively lower cost.
Also, these panels offer more space for uninterrupted airflow than the wooden boards, which is suitable for your unit's product life. Speaking about product life, click on the highlighted text to avail of some of the most durable air conditioning systems for your home.
Readymade AC Unit Cover
Last but not least, various brands already sell readymade AC covers that come with independent slots to install artworks. So, with minimal investment, you get a portable photo frame and AC cover at the same time!
Conclusion
Seriously – If there were a documentary on visually unappealing home appliances, that ugly box would be the main protagonist!
On that note, we hope that you enjoyed going through our personal favorite indoor/outdoor AC hiding ideas. Stay connected with us for more exciting content on home decor and renovation ideas.
Till next time!
Related Articles
10 Types of Air Conditioners to Consider | Buying Guide
10 Best Dual Hose Portable Air Conditioners | Buyer's Guide
13 Best Portable Air Conditioner and Heater Combos 
13 Quietest Portable Air Conditioners 
13 Best Smallest AC Tested + Buying Guide for Micro AC's  
LG Electronics LP0814WNR Portable Air Conditioner Reviewed
9 Best Ventless Portable Air Conditioner
Zero Breeze Mark II Portable Air Conditioner
7 Best Through-the-Wall Air Conditioner
5 Best Soleus Air Conditioners
How To Clean Air Conditioner Coils Properly
Evapolar EvaSMART EV-3000 Personal Air Cooler Reviewed
Replacing or Repairing Your Air Conditioner Unit 101 | All You Need to Know
LG Electronics LP0814WNR Portable Air Conditioner Reviewed
5 Best Soleus Air Conditioners