One of the best ways to relax and take a break from your busy schedule is in your hot tub.
You can spend some quality time with your family or invite your friends over as you bond over the water jets, which offer a soothing sensation. But what if you could take your hot tub experience and amplify it a notch?
To help you, we've formulated a list of the 29 best gifts to consider if you know someone who owns a hot tub. Not only are you giving them something worthwhile, but it'll better help you to share the hot tub experience.
You can try out scented candles, thermometers, or even rubber mats, which help prevent accidents. Although we've narrowed down the top items, you still have many options to choose from.
So, keep in mind the type of person you are giving the gift to, and let's dive into the reviews.
Best Hot Tub Gift Ideas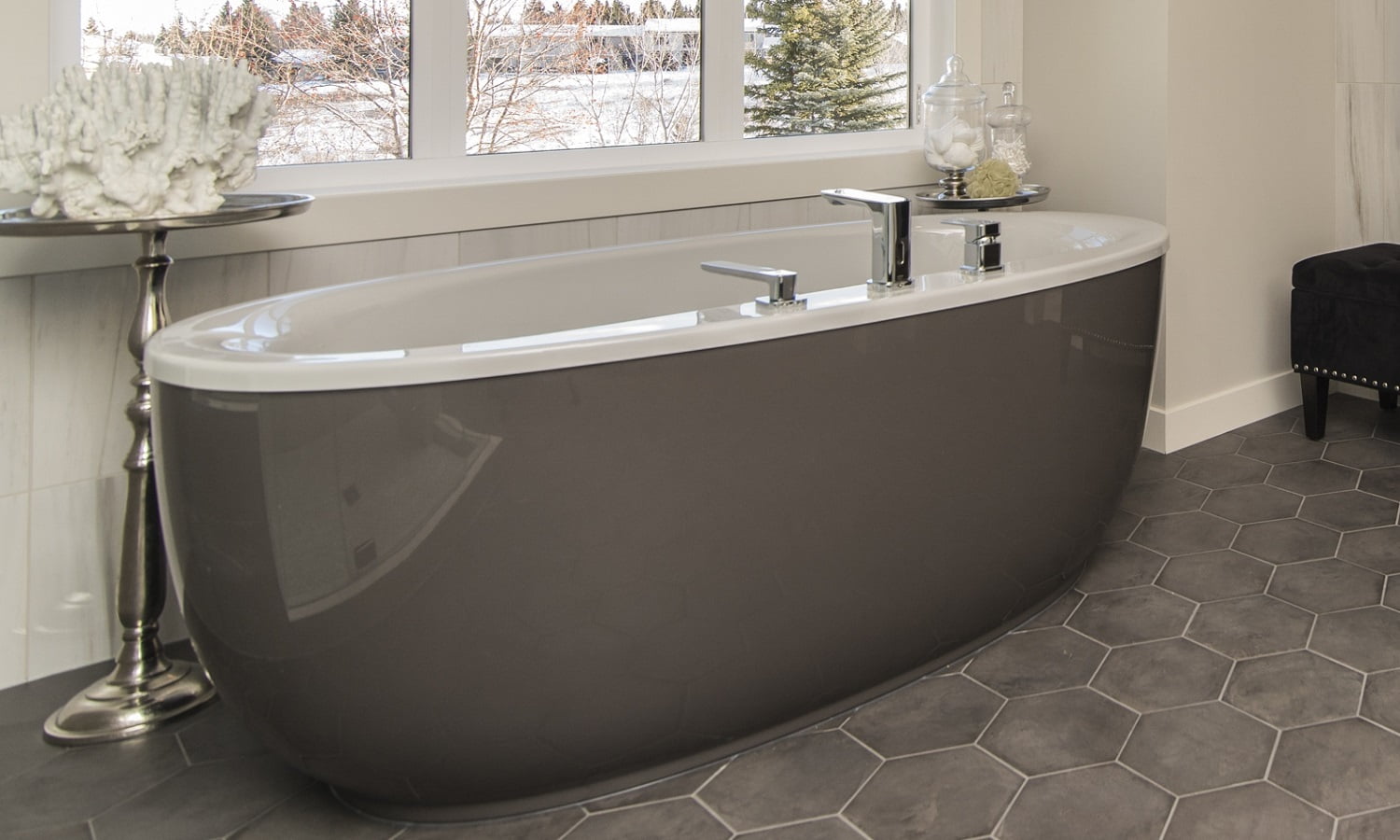 Our current recommendation stands out as an excellent option to consider for those bothered by clumsy entry and exits to their bathtubs. The Confer Signature Hot Tub Steps is one of the most budget-friendly products that make your bath a little more relaxing.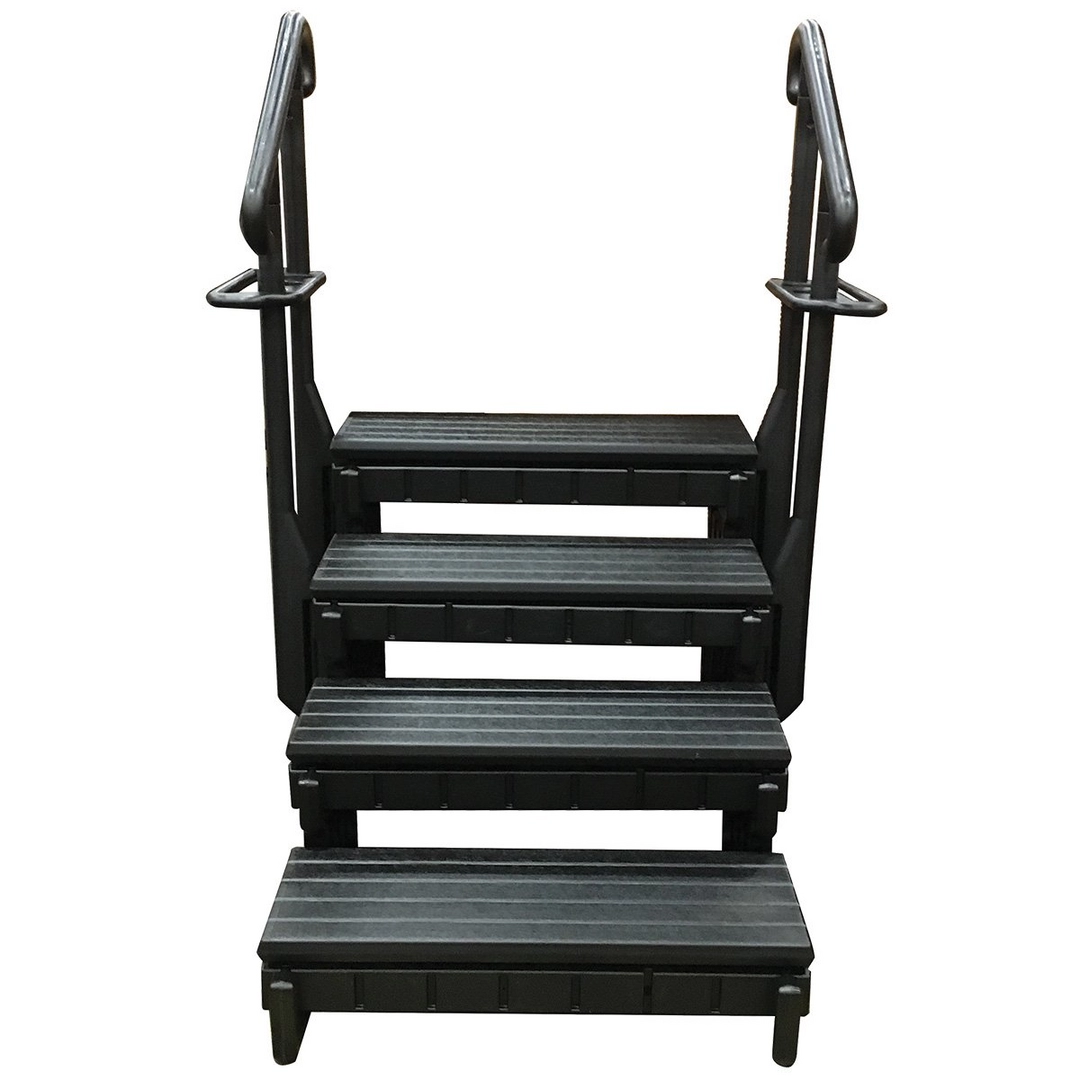 Don't be worried about losing your balance while entering or exiting the tub, as this product comes equipped with elegantly curved handrails installed on both sides. These 66-inch handrails provide optimal support to prevent any unprecedented accident.
Furthermore, we're in love with how convenient it is to use, all thanks to the spa shelf-cum-towel bar. To be exact, you also get incredible cross support to keep your towels at an arm's reach, which averts the wet mess afterward.
Lastly, the quality offered by the brand is second to none. The steps are built from high-end UV/shock-resistant PE resins that are of high density.
If the budget doesn't restrict you from enjoying the finer luxuries, our current recommendation would greatly complement your taste. Bryon Originals has recently launched a top-end rectangular step and stow to make your weekend spa sessions a lot more convenient. You avail it in a variety of colors, adding to the versatility.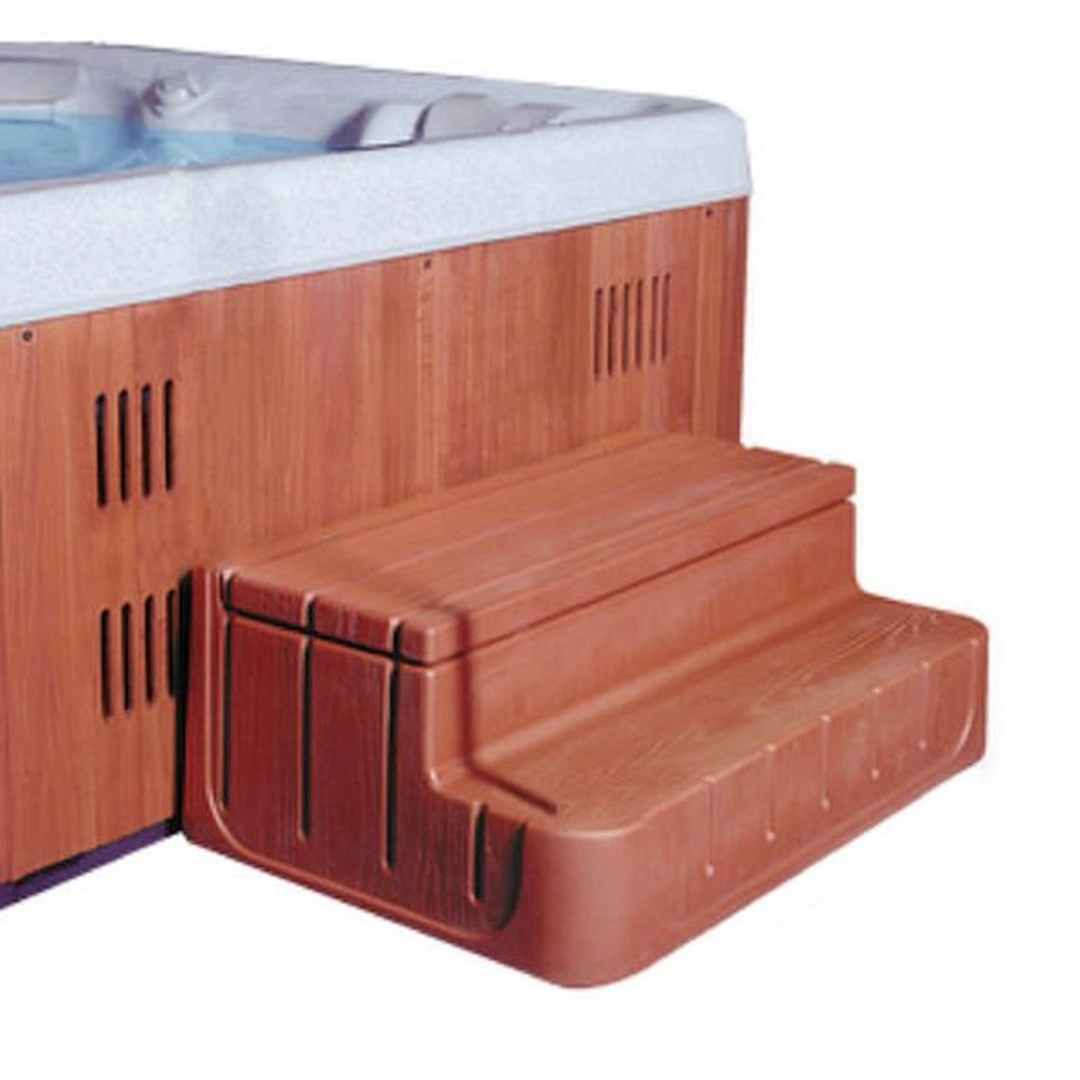 Firstly, it comes with a detachable handrail support that raises the bar higher for flexibility. It's backed up by a set of detachable side planters as well to enhance the visual appeal. Altogether, it's effortless to assemble without any guidance, which makes it one of the most practical gifts with which you could surprise anybody.
Besides, few brands are as precise as Bryon Originals when it comes to quality and finish. We're pretty impressed by its 100% impregnated color coating, accompanied by a premium non-slip wood grain finish. It's also made from high-quality HDPE material that delivers extended life.
One of the prevalent issues that bathtub spa owners face revolves around removing the covers. However, the Cover Valet Hot Tub Cover Lift is an efficient product to relieve your stress. Its lift assistance technology sets higher standards for user convenience, explaining why it's one of the brand's best-selling spa cover lifts.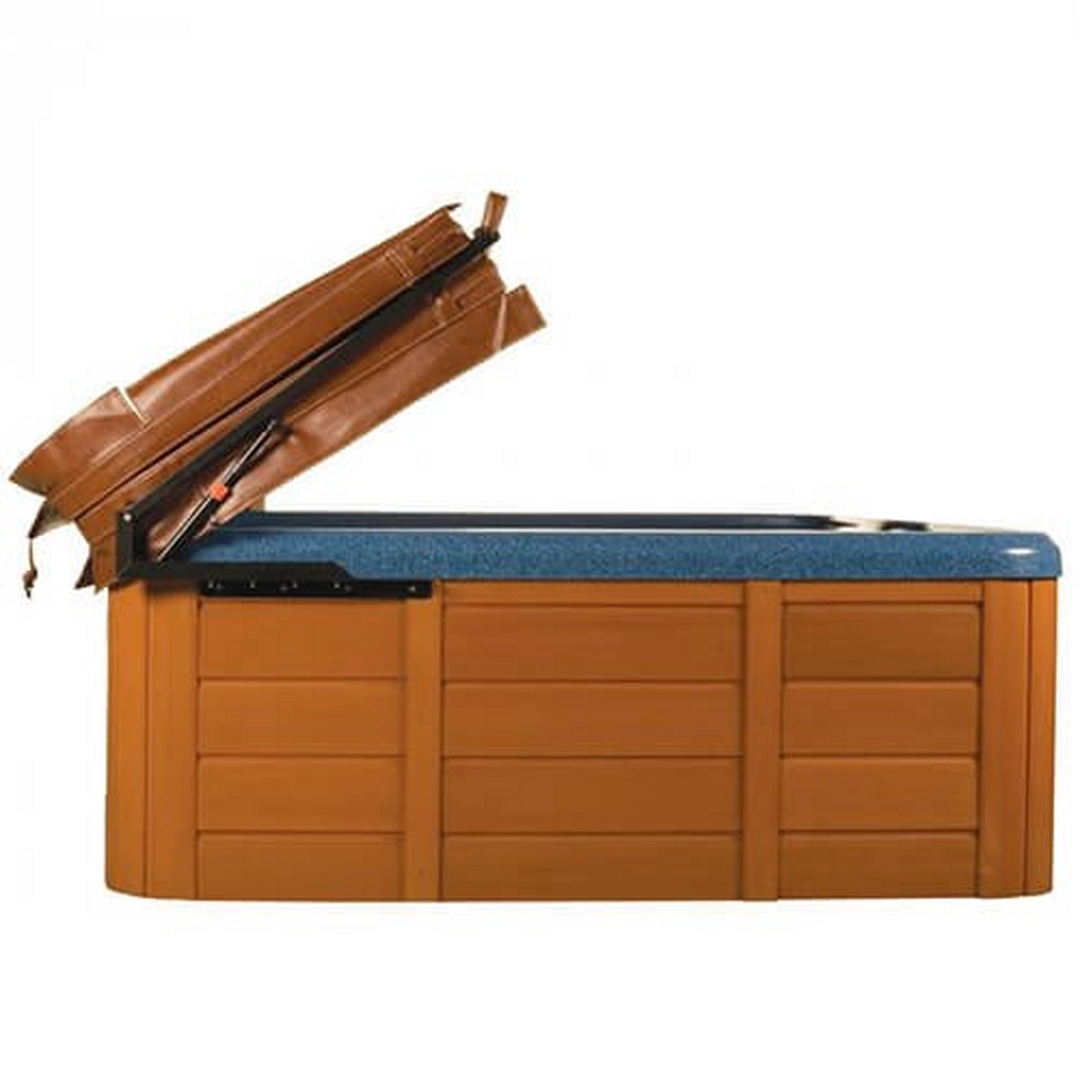 It comes with an incredibly smart locking system that helps lift the cover easily. Apart from that, its dual locking gas shocks thrive to offer an enhanced secure grip while the state-of-the-art lift assistance provides good value for money.
It's an ideal addition to your bathroom for those struggling with storage space, thanks to its compactness. It delivers about 6 inches of rear clearance making for a convenient fit. Besides, it offers excellent privacy through the cover storage and shields against the breeze to lessen the draft with fewer space requirements.
If you're searching for a pocket-friendly gift to make your loved one's spa experience twice as enjoyable, the Hinspergers Thermal Spa Cover fits the bill perfectly. The significant upgrade is its ability to maximize your spa's R-value, along with canceling excessive moisture for a longer cover life.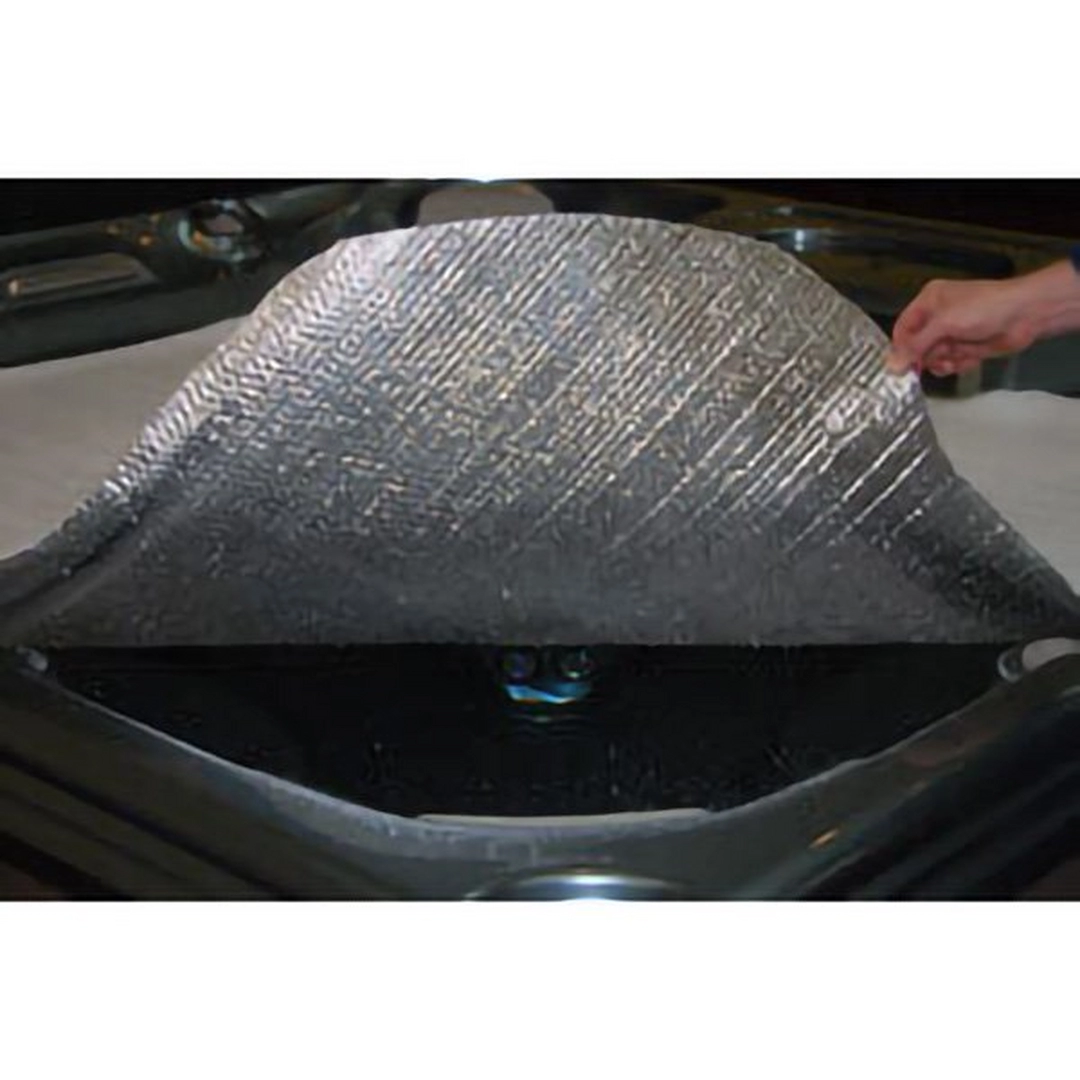 Using this product is elementary, as it comes as an enclosed blanket featuring a durable aluminum underside. It makes heat management a lot more efficient and helps reflect the heat towards the tub water for optimal temperature maintenance.
Another interesting fact is that it lowers electricity costs by a notable margin. It's accompanied by the best-in-class insulation technology, which helps keep the water warm for a long time. Finally, the surface prevents the accumulation of chemical gases, meaning you won't be bothered by the typical spa smell.
Nothing beats a cold cup of your favorite beverage while enjoying a hot bath. Thanks to the Intex PureSpa Cup Holder, enjoying such luxury is now feasible under a meager budget. This product features one of the most premium-looking designs we've seen by far and enhances your bathroom's visual appeal a few notches.
It comes with a set of two convenient beverage containers, making it easier to store your cups or glasses while in your bath. There are no chances of spilling the drink on the bathwater, considering how securely the holder grips your utensils.
Meanwhile, it includes a spacious snack container that makes the bath twice as fun. You can keep your favorite chips and fries at an arm's reach while having a relaxing spa session. As a result, it's highly convenient, while the removable design prevents storage issues.
For those looking forward to enjoying a mini-pool experience in their bathtub, the UBEGOOD LED lights are one of the most trusted decorative items in the market. Although installing electrical accessories becomes risky on bathtubs, this product's enhanced build quality makes it 100% safe to use.
It's built from high-quality dual-layer Aquaproof material that makes it water-resistant and prevents any unforeseen electrical hazard. On top of that, you also get a premium-grade silicone O-ring protection for watertight sealing. This way, the tub water won't be able to penetrate the cover to damage the lights.
Furthermore, it stands out as a cost-effective option as it runs on batteries. These inexpensive AAA batteries, wireless controls, and low-maintenance features make it an excellent gift package. Lastly, you can also enable an energy-conserving mode for higher efficiency.
If you're in the mood to give your loved one the ultimate solution to their solo spa sessions, Spa Tender has just what you're looking for. We present to you an exquisite-looking souvenir that offers best-in-class luxury to users.
Our current recommendation provides twice the storage space than our previous pick, at a somewhat similar cost. Here, instead of two, you get four different beverage containers because there's no such thing as too many drinks! Sit in your hot tub with a celebratory bottle, and enjoy your weekend to the fullest.
Besides, you also get a great snack storage area for keeping fruits or ice to spice up your drinks. Not only that, a separate phone/tablet holder allows you to binge on your favorite shows, which makes your hot tubs even more fun. You'll love that despite having an extensive container area, the product is relatively compact.
Have you wondered how awesome it'd be if you could have your towels arranged in your bathroom in an aesthetically pleasing manner? Yes, shoving towels in the hangers is a thing of the past with Milliard's portable outdoor towel tree.
Don't be fooled by the model's lightweight structure; it's brilliantly designed to tackle strong breeze without tipping over. The base is kept hollow to store water, which helps maintain higher stability. And it ensures you won't have to stress about the towels getting dirty or wet.
Furthermore, we're in love with the excellent design, which makes it highly convenient. The bars can be easily adjusted or detached as per your needs, so it's easy to use. All you need is to rearrange the bars lengthwise to maintain even weight distribution while storing the towels, and it'll do the job correctly.
So far, we've covered lights and beverages, and you're probably wondering about music arrangement? No bathtub party is complete without an excellent speaker, which brings us to our next gift recommendation.
Skywin has recently launched a top-notch hot tub speaker, which is all the rage right now. Its futuristic appearance and color scheme makes it an efficient conversation starter. But be assured that it's much more than just good looking.
We were surprised by its excellent wireless connectivity delivering a maximum range of up to 20 meters. And even if you're a little distance away from the device, it can be easily controlled through your iOS/Android phone. All you need is to pair both the devices via Bluetooth.
Another impressive aspect is the exceptional reliability, thanks to its water-resistant nature.
There's no age for fun, and our current pick is an ideal choice to consider if you're into decorating bathrooms with precious toy items. The Swimmables Store comes with its brand-new turtle oil-absorbing sponge. No surprises then, it's currently one of the best-selling bathtub accessories in the market.
First and foremost, we're very much in love with the unique turtle design to grab your attention. It includes an off-white color scheme, which gives it a premium look, but it's not limited to just a conversation initiator.
Once you start using it, you'll realize how advantageous it is at ensuring your water filter's longevity. The sponge efficiently cleans out the slimes, oils, and scum from the tub water. Moreover, it's perfect if you've got a tight budget, and it makes for a fantastic gift to make your loved one's life easier.
Speaking of toy products that make your bath session more fun, GoFloats has recently launched a range of inflatable cup holders at an affordable price. It's designed as flamingos, which instantly make it stand out. You can, therefore, enhance the visual appeal of your bathroom without needing to spend a fortune.
Apart from being utterly fun to look at, these holders also serve their purpose with precision. The floatable holders are hollowed from the middle, which allows you to keep your cups without worrying about it spilling over. And, thanks to the extra buoyant rafts, the cups are held tightly in place.
It's an excellent gift for kids because the adorable flamingo design would keep them engaged for hours during the weekend pool sessions. Plus, the striking design makes it suitable for indoor and outdoor use, enhancing usability by a few notches.
Although not many of us speak about this issue, a hot tub can sometimes become quite a super inconvenient experience for short people and children. Although hot tub manufacturers have a preconceived notion regarding the average human size, our next recommendation is the ideal unit for everyone to use.
The Hot Tub booster seat from Kenley is an incredibly useful product. It averts the trouble that short people face while using bathtubs by increasing the base height by a great deal.
There's no need to be worried about increased buoyancy, as the scientific design prevents such issues. As a result, the practical inner compartment of the spa pillow is considerably weighted.
Nevertheless, it doesn't compromise comfort or relaxation, with the cushion being exceptionally soft. Furthermore, you get excellent back support, which helps you relax even better, thanks to tiny beads which prevent floatation.
For those looking for some more tub step recommendations within a budget, Essential Hot Tubs is an excellent brand to look out for. It has a rich history of manufacturing some of the hottest-selling bathroom accessories in the market.
The product we're interested in is the top-rated HS2-BLK Handi Step, which is undoubtedly a visually-appealing accessory to consider. Apart from its appearance, it ranks high in terms of safety. You'll notice that the steps are protected by a segment-leading easy-to-grip stair feature, which is ideal if you've children at home.
It makes for an efficient staircase for both indoor and outdoor use. Moreover, it's built of highly durable and weather-resistant resin, ensuring a long-lasting product life.
Lastly, it saves you from the hassle of installation as it comes pre-arranged. Overall, it reduces stress and offers unparalleled fun and convenience.
It'd be a little unfair if people who don't prefer to consume beverages while bathing had to buy cup holders for storage space. That said, our current pick is one of the rarest bathtub storage trays in the market that serves its purpose without burning a hole in your pocket.
It comes with adjustable legs, helping you set it correctly as per your needs. Setting it up is exceptionally effortless, making it a suitable gift that is well complemented by easy-to-follow user instructions.
Furthermore, we're impressed with the ample storage area. It's 18 inches long and 9.5 inches wide, allowing you to keep anything from sunglasses, a smartphone, or a novel. Lastly, the manufacturers have gone the extra mile to offer next-level user convenience.
When you're enjoying a relaxing jacuzzi session with your pals, all you need are some beverages and a fun-filled game that keeps the crew engaged. Hoyle is a brand best-known for its amazingly fun water games, which has built a reputation for itself through an abundance of innovations.
We've fallen in love with its incredible waterproof clear playing cards, which makes pool time with friends and family a lot more exciting. These cards are not very different from the regular ones, except that they can't be easily damaged or torn. With such exceptional durability, it provides excellent value-for-money.
Speaking of quality, despite having been made from clear plastic, it's printed correctly. Plus, the flexible and washable nature makes it low-maintenance while the convenient size ensures it's easy to move around.
For starters, regarding bathroom equipment such as hot tubs, it's essential to stay one step ahead for optimal safety. When the world is affected by such a severe pandemic, it's becoming more critical to remain sanitized and hygienic at all times.
As a result, hot tub spa mineral sticks should be your go-to option if cleanliness is your priority. The sticks' primary purpose is to enhance the water's clarity and freshness, and it certainly lives up to our expectations.
Besides, these sticks also come in handy at canceling the typical odor of tub water, thereby offering a more relaxing experience. Not only that, but it also ensures that the ozone-equipped spas are performing optimally, which altogether contributes to enhancing water quality.
Lastly, we're impressed by its sheer cost-effectiveness as it can last up to 4 months. You also don't need to mix heavy chemicals to protect your tub water, which helps prevent side effects.
Coming back to some more flashy decorative items, our next recommendation is a waterproof LED string light under a budget. These products, however, stand out from our previous picks due to their distinctive shape and usability. The Italian-inspired lights offer an excellent bistro-like ambiance to set the mood right.
One of the best features is that it's 100% weatherproof, making it suitable for outdoor usage. You don't have to worry about it being damaged by water spillage, mainly because these lights are water-resistant for greater efficiency.
Plus, it's highly versatile, and it works more than a bathtub gift idea. You can efficiently decorate your bathroom surroundings with these beautiful LEDs to create a mellow and relaxing atmosphere.
Finally, it consumes very little energy, which makes it eco-friendly and saves you from over expenditure while renovating your bathroom.
If you're someone who likes to maintain order around the tub, our next product recommendation would effectively cater to your requirements. These new indoor and outdoor bin store tools are incredibly convenient at making more room around the bathtub.
But before choosing bin store tools, it's essential to evaluate whether its build quality is good enough. Rest assured, with this unit, you get an incredibly sturdy and long-lasting construction that doesn't fade away quickly. Most importantly, the water-resistant capabilities make it extremely convenient for most users.
It comes with ample storage areas that help store various utilities. Therefore, everything you need while taking a bath is within your reach, further raising the bar for convenience. Finally, the compact design allows it to be kept at any corner without hassle.
Now let's check out some gift options for your younger siblings or nephews this festive season. In that regard, the Yeonha Toys Bath Toys are a budget-friendly option to consider for those living with or around children. It's an eye-catching gift that's guaranteed to put a smile on their faces.
The best thing about these products is the sheer ability to change colors once they contact water. And it returns to the original color when it's removed. As a result, it helps keep the younglings engaged for long, ensuring you've some quality time to relax.
It's also available in a wide range of shapes and sizes, meaning you can easily avail of these lights in many animal or bird forms. Lastly, Yeonha is always appreciated for its uncompromised product quality.
Right away, if you're looking for a way to measure the temperature of the water accurately, then you can't go wrong with this monitor system. The thing that stands out is that you can sync it to your smartphone, tablet, or computer to receive updates regarding the temperature and humidity.
It doesn't matter whether you're at home or in your office as the latest technology will let you know when specific limits are reached. If you need to change your battery, you can stay updated, thanks to SMS and email notifications. Plus, the technology comes in handy, particularly during winter, when it's essential to monitor the temperature even if the power goes out.
You get exceptional reliability, and it also works well for measuring the temperature of plants and gardens. Moreover, it comes with all the components meaning you don't have to make any additional purchases. It provides easy installation and runs on alkaline batteries, making it highly convenient.
Straight off the bat, some of the tubs don't arrive with built-in thermometers, due to which it becomes difficult for you to determine how warm it is. However, our next pick can be a lifesaver if you're facing such an issue while taking a hot bath. Thanks to this next-gen technology, you don't have to guess the water temperature anymore.
Firstly, the premium build quality of the product makes it extremely reliable for long-term usage. It has a sturdy and long-lasting construction, meaning a single purchase keeps you covered for years to come.
Not to forget, these products are straightforward to use, which makes it a lot more practical as a gift. The average person can operate it without any special instructions, which explains why it's a best-seller in the segment.
Finally, the manufacturers raise the bar higher for quality with an extensive 1-year warranty offer. And if the product is damaged within this time frame, you get a 100% refund.
First and foremost, if the primary concern is safety, then you could give the Rubber Runner Mat a try. It makes the area around the hot tub non-slippery, so you don't encounter any untoward incidents. No surprises, then, that it's one of the top items and proves to be a valuable gift.
It has a diagonal texture that helps trap mud, sand, water, and dirt to keep your bathroom floor clean. Moreover, due to the waterproof nature, you won't have trouble with a foul smell, and you can leave it out to dry for the water to rinse-off.
You can also use it on your deck, patio, or other convenient spots where there's a slippery surface. Furthermore, the fantastic durability is on display, thanks to its ability to withstand daily use along with weather changes. It mostly comes in handy if you've kids at home who tend to run around, thereby risking injury.
Firstly, there's none better for the optimum relaxation experience than the Hot Tub Pillow, which amplifies your experience in the hot tub. It's developed with a non-slip nature, so it doesn't accidentally escape from under your head and cause injuries. Moreover, the back and neck support allows you to stay in the tub for a long time.
It reduces fatigue and prevents strain, thereby making it ideal for most age groups. Meanwhile, Kleeger has been mindful to ensure that it's waterproof, which makes it anti-mildew. You also won't have to worry about foul odor, as it dries quickly, making it low maintenance.
Similarly, it has built-in suction cups that come with additional padding to keep you safe without compromising comfort. It adjusts based on your neck's shape, which saves you the trouble of having to place your neck on the sides of the tub.
There are few better ways to relax than in your hot tub, with a glass of wine in your hands. In that regard, wine glasses can serve as an ideal gift by adding an element of sophistication. However, you must be careful to pick the model made from silicone as it provides unparalleled durability.
The area around your hot tub is quite slippery, and there's a possibility you could drop one of your glasses. With broken edges everywhere, the problem is further compounded if you're bare feet. So, it's best to use wine glasses that have retained their traditional look while maintaining safety.
Even if you accidentally drop them, it won't break, which is particularly useful if you've kids running around. You can also use them for other occasions as the attractive exterior makes it perfect for various events. No wonder it has received positive responses from buyers.
For starters, the bath cushion provides another fantastic option with which you can cover the hot tub in its entirety. It's a full-body mattress meaning you won't even have to touch the tub shell. You can take long baths without any issues, and it also comes in handy while bathing the kids.
Furthermore, thanks to the 3D air mesh, it dries quickly and provides a clear passage for water and air to pass through. You won't have to worry about mildew, and it has the added benefit of preventing a foul odor. On top of that, even after regular use, it retains the luxuriousness of the material.
When it's time for cleaning, all you need is to put it into the washing machine or wash it with your hands. Either way, you don't need to spend much time with maintenance. It's a terrific gift, given that it's not something one usually comes across.
The Sunnyglade Gazebo Tent offers the perfect form of respite from the outdoor weather while you're busy enjoying the comforts of your hot tub. It ensures you can relax for long hours without being hampered by the changing weather conditions. Moreover, it provides excellent sturdiness to deliver much-needed longevity.
You'll love the fact that while foiling the harsh weather conditions, it also spruces up the area around your hot tub. It gives you the chance to entertain a host of guests quite quickly and has the necessary features to hang up LED lights. In this way, you can have a friendly gathering at any time of the day.
Meanwhile, the significant aspect of the unit is the collapsible walls, which offer more space. And when you need to, you can lift them back up without any hassle. You get to experience the dual comfort of an open-air area while being covered on two sides.
First and foremost, the Patio Umbrella Light packs a wallop and serves to illuminate any area. It's ideal for lighting up the expanse around the hot tub while you enjoy some quality time with your family and friends. For added convenience, you can attach it to different sized poles.
It comes with two-crescent-shaped rubber clamps that are used to secure the lights in place. The clamps themselves are fixed to the poles by using strong springs, which offer exceptional reliability. Therefore, you can enjoy yourself in the evening, and it can be hung anywhere without any issues.
Moreover, the installation procedure is easy, and it comes with all the necessary tools, so you don't have to make any additional purchases. Remember to ensure you use the built-in auto adjustable clamp to fix the umbrella firmly. Then use the hooks and pole to set up the lights, which allows you to use your hot tub any time of the day or night.
What better way to treat yourself to a lovely weekend than to add some bath crystals to your hot tub? Apart from the jet of water to calm you down, the aromatic crystals play with your senses, free your mind, and help you relax. The combination of bath crystals and a hot tub is a match made in heaven.
You can have a cracking experience with your loved one, and even if guests are coming over, the crystals will add a degree of sophistication. The beauty of the product lies in its simplicity, and you don't have to worry about durability or placement.
All you need is to add the required number of crystals to the mix and let them do the rest. Moreover, it presents an affordable option that can be enjoyed by people of all ages. Your kids, too, will love the smell, something which stays imprinted on the mind.
Another fun accessory to have around your hot tub is the Mood Light Deco balls, which is a simple product but lots of fun. Rather than having a standard setup, you can let the deco balls float around to lend a more relaxing vibe. It comes in seven different colors, and there are no other components or nothing needed for installation.
Some people prefer using candles, but it's a hassle to keep them lighted or prevent them from falling. Consequently, you could opt to use these colorful balls, which even your kids would enjoy playing with. You can place them in a bowl or turn on the jest and allow the water to bounce them around.
The bobbing and floating motion helps put your mind at ease, which is one of the reasons they are so popular. Plus, they don't cost much as some of the other items, thereby providing an affordable option.

Verdict
We've reached the end of our guide, and hopefully, you've got a better idea of what gifts to consider.
Some of the options are suitable for all age groups, while others cater to specific needs like safety or decoration. You can pick one, considering the price and other relevant factors such as durability and setting.
But before signing off, we've decided to assist you a bit more by narrowing down the top products in different categories. We believe it'll help you make an informed decision. So, you can opt for the Confer Plastics Signature Hot Tub Steps for the best overall performance.
Apart from that, the Bryon Originals Inc. Rectangular Step n Stow is incredibly versatile while the Cover Valet Hot Tub Cover Lift offers excellent sturdiness. That's all for now. It's over to you to buy the ideal model and spruce up the hot tub experience.
Take care and adios!
Related Articles
How Much Chlorine Do You Put In A Hot Tub?
33 Inexpensive DIY Wood- Burning Hot Tub and Sauna Design Ideas