Hip roofs have been a popular choice from ancient times and continue to be a hit design today. But did you know there are multiple varieties of it?
Every house is not the same and has different requirements. With the different kinds of hip roofs available, you will find simple and complex options. These have been prevalent since the 18th century from the early-Georgian era. The French then took up this style, and you will find it in their colonial architecture.
This kind of roof is not only pleasing to the eye but helps keep the houses safe from storms and hurricanes. Their slanted surfaces prevent water from accumulating and make sure that most of it slides down. That is why these types of roof structures are very commonly used in hilly areas.
Moving on, we will begin with the 5 hip roof variants in the next section. It will be followed by 18 examples of the top styles that you can try out.
So, without further ado, let's dive in!
Types of Hip Roofs And Styles
Simple Hip Roof
You will find simple hip roofs in most houses, and it is indeed the most common variant. There is a ridge in the center, and that creates 2 triangles on the 2 sides. The other 2 sides form polygons, which complete the structure. We found this to have a symmetrical design with the slant being the same on all sides. The triangular sides are also known as hip ends.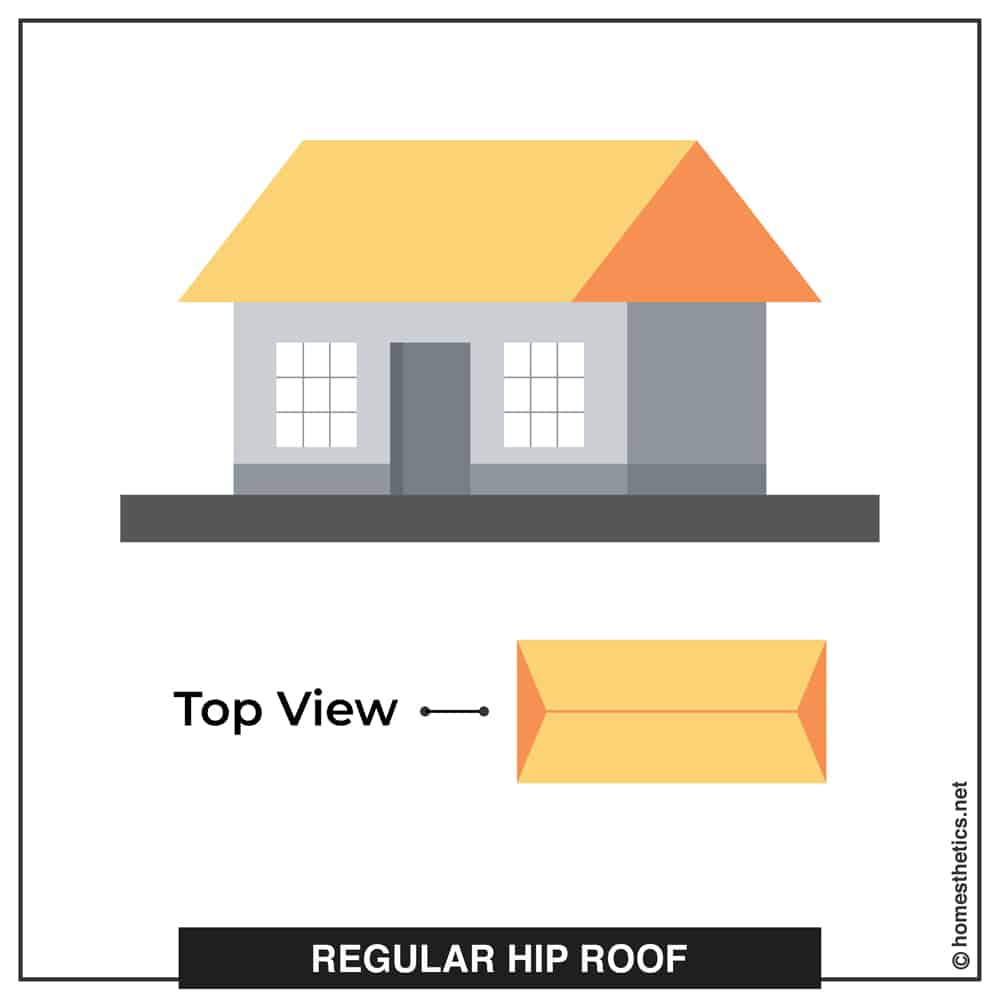 This type of roof is generally used if you do not want a lot of attic space. Since both the sides drop immediately from its center, there is minimal space in the attic, and you might not be able to store many things in it.
One disadvantage with these types of roofs is that they are prone to leakage. We would suggest that you cover up the ceiling of your attic with a protective water-resistant covering if the area is very prone to rainfall.
Pyramid Structure
A pyramid hip roof is one that has equal triangles on all sides. There are 4 triangles that are created, and they all meet at one point that is the center. The slant on all of its slides are the same, and its top juts upwards. In most cases, the pyramid structure is placed on a square walled house, and the peak rises just in its center.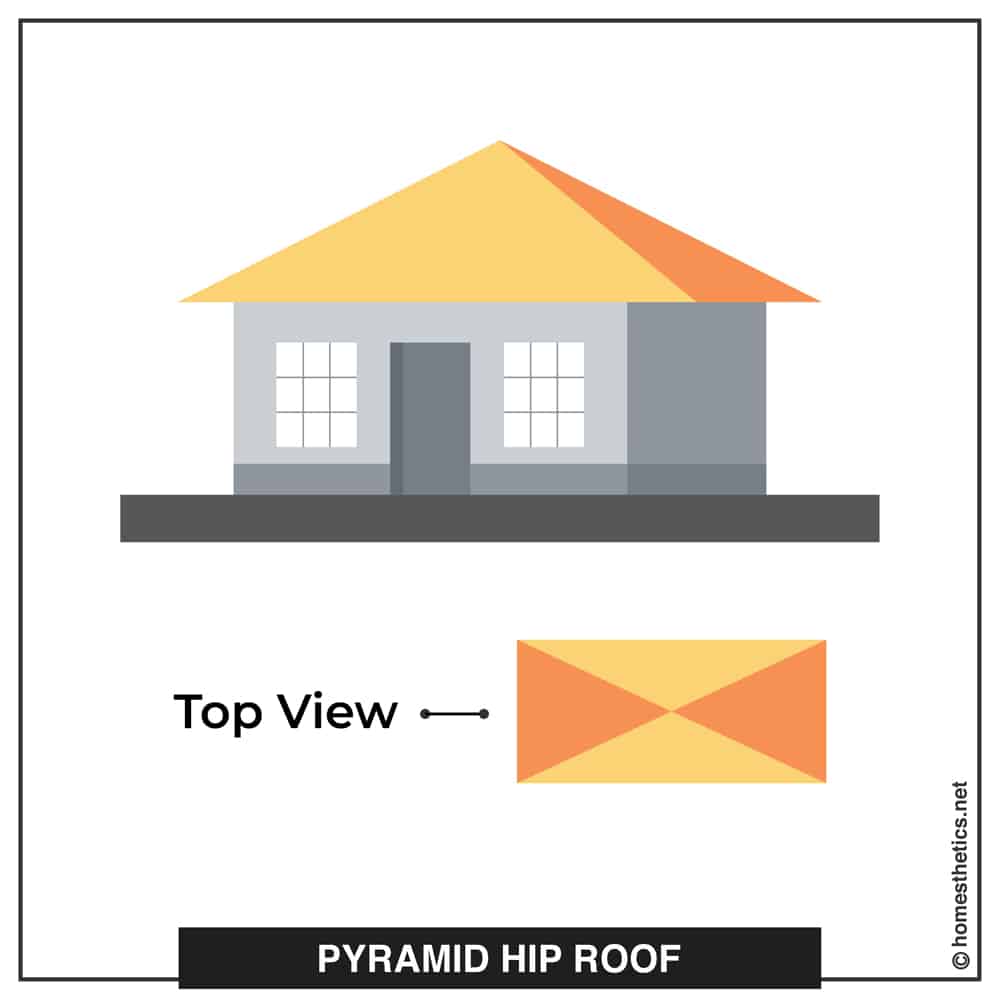 You will find these roofs generally over gazebos and pavilions, and they work well in preventing leakage and mold growth. This is because there is no place for the water or snow to accumulate on top of the structure. Anything that falls on the roof will slide off, thanks to the gradient slopes on all sides. This makes it perfect for houses in rain prone areas and in the mountains.
Half Hip Roof
Half hip roofs are one of the most stable forms when compared to their peers. These have the ability to deal with high wind and cyclone-like conditions while keeping the concrete or wooden structure below it safe.
Also known as a clipped gable roof, these consist of a gable with its upper part being replaced by a small hip. These work best with a gutter that you can attach on the sides. The gutter will go around the house and help remove excess water from its roof very quickly during heavy showers.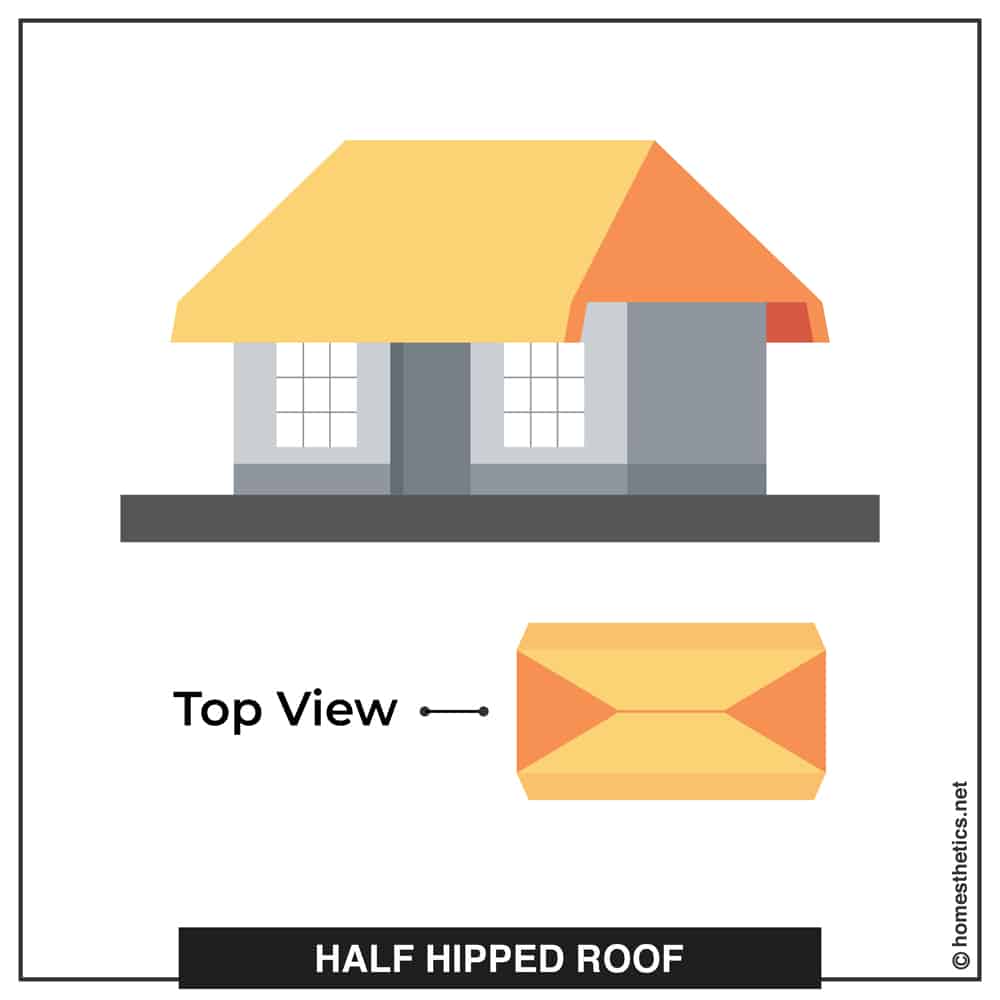 This kind of structure contains the benefits of both a gabled and a hip roof. They are popular in Europe and became a part of houses in Germany, Austria, Slovenia, and Denmark. A part of southeast England also sees this structure a lot.
Hip And Valley Roof
If you are aiming for the traditional look, hip and valley structures may be precisely what you want. Many contractors recommend this kind of structure if you live in areas with heavy rainfall or in those which are prone to storms. They can stand against tornados, too, and will keep you protected.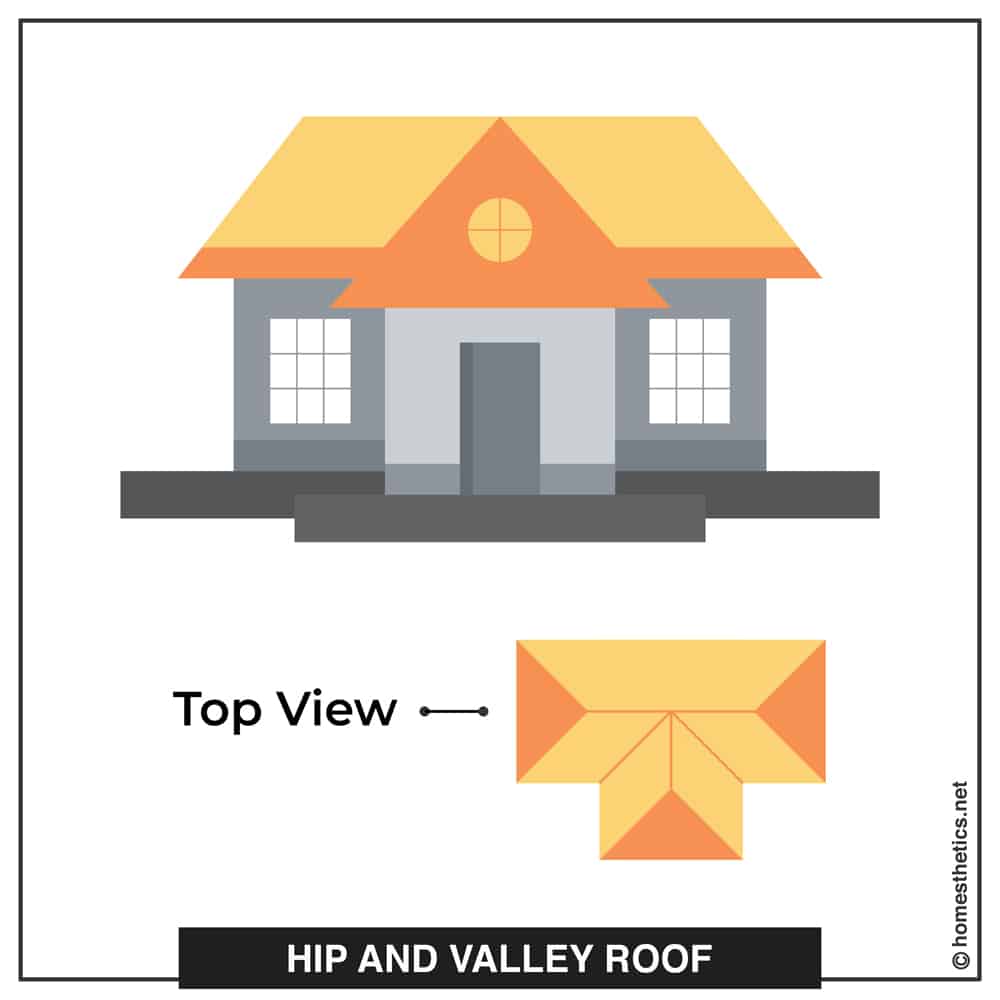 Another great benefit is that they allow for an attic big enough to fit in a lot of items. If you have great storage needs or want a skylight, this will be a great choice.
But yes, the problem that occurs is with leakage. Fully-adhered underlayments are problematic as they can cause massive leakage. Make sure that you add leaks in the roof insurance plan to stay fully secured.
Cross-Hip Roof
Up next is another well-known type of structure called the cross hip roof. This has gentle slopes on its sides, and the hip roofs form an 'L' structure. There are 2 hip roofs involved in this, which are placed perpendicularly to ensure that the building can stand against high winds. A gutter can be placed around the house, and the seam on top extends to form a valley.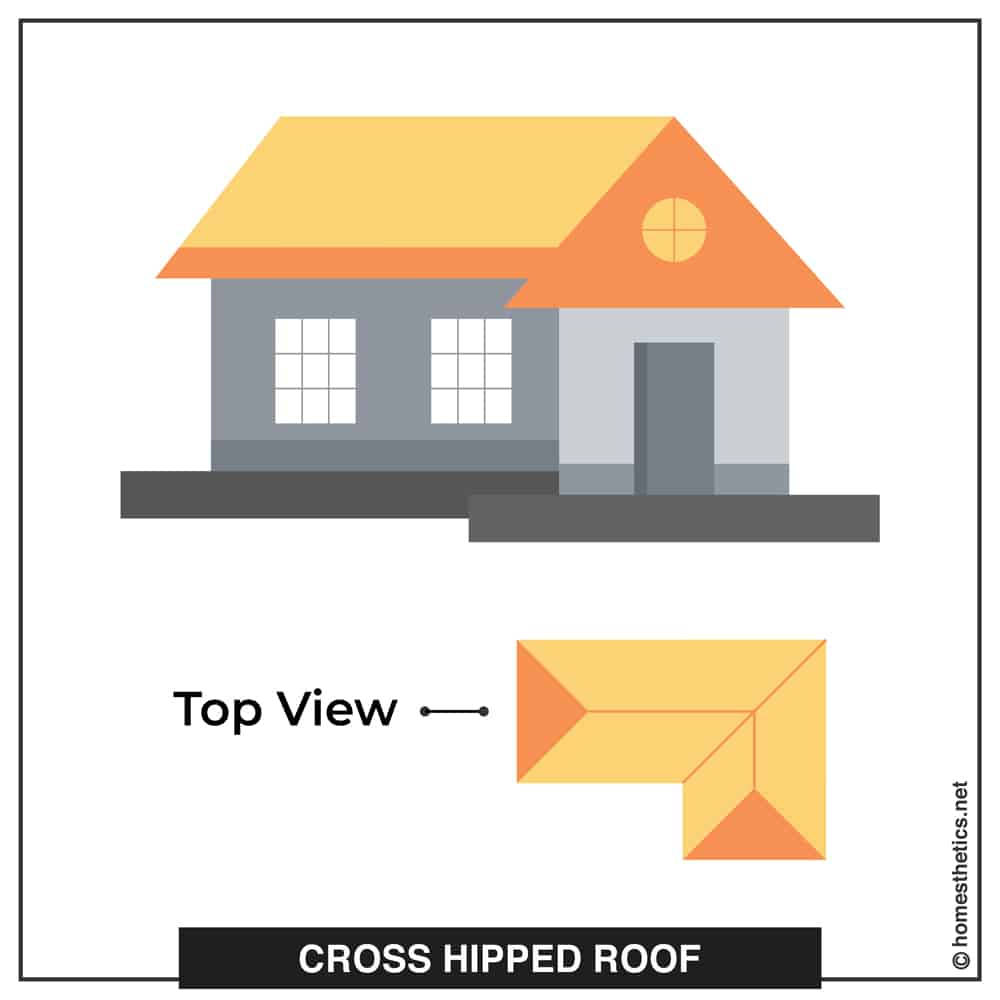 These were very popular, especially during the mid-1800s, when ranch-style structures and homes were trending.
But the only issue here with this kind of roof is that attic space is reduced. Since the slopes slant inwards, the attic remains very small, and you cannot fit in much into it.
Red Fairytale Hip Roof House
Remember that red wooden house by the brook from your fairytale books? Yes, it has a hip roof, too, with enough space for a chimney on top. The chimney is placed in a fairy glade, and the house is within a forest. It is covered by trees on all sides, and there is a freshwater brook in front.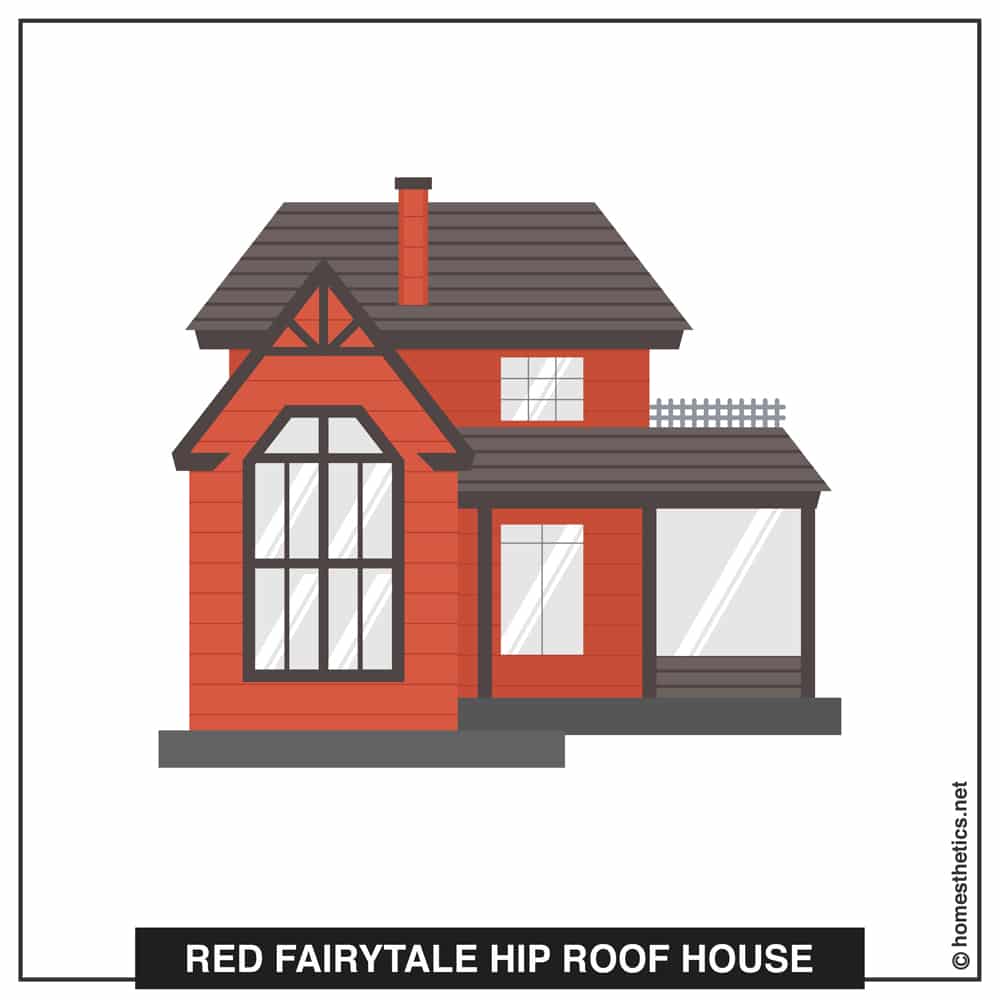 Although the house is mostly made of red bricks, the hipped roof is in a lighter shade of brown. It provides ample space for a big attic, and there is a gutter around the roof side. We found this to be the perfect place to relax and unwind. The structure makes for the ideal retreat and can be used by people who want to make a house to retire to during holidays.
Gray Stone Structure
Are you a fan of stone structures? This house gives off a beautiful and elegant vibe with its chic walls and roof. The walls are made of stones with a touch of wood, and the reflective windows add to its look.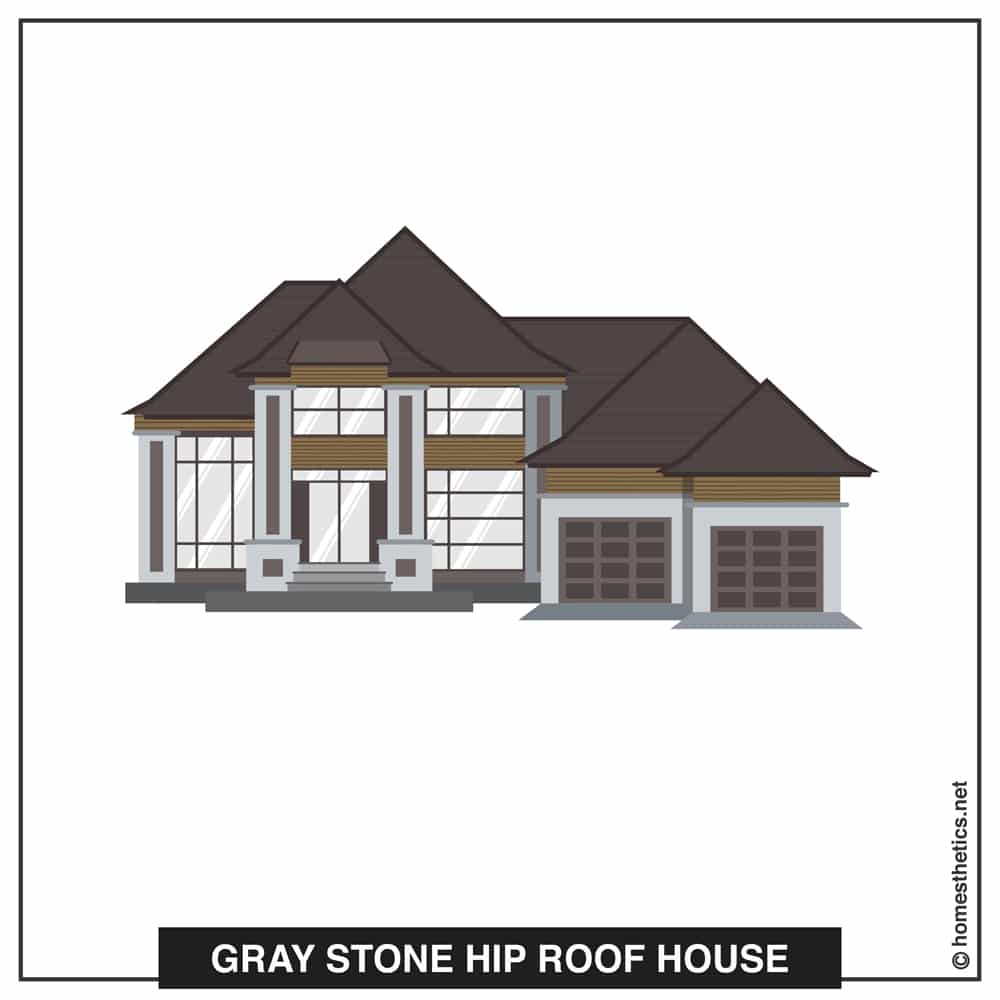 We loved the charcoal and smoky grey color of the hip roofs. It complements the white stone walls on the structure. The roofs can tackle heavy rain, and it will protect the house in case of storms or hurricanes.
Ultra Modern House
If you have the wealth, this is the kind of house you would want to splurge it on! We agree that it looks gorgeous, and the several hip and valley roofs that you will see on its top adds to the elegant structure.
The surface of the roof is made of a material that shines. It is a kind of metal that reflects light and looks beautiful at night. You must have also noticed the spotlights all around the house. This enhances the structure and highlights certain parts of the building.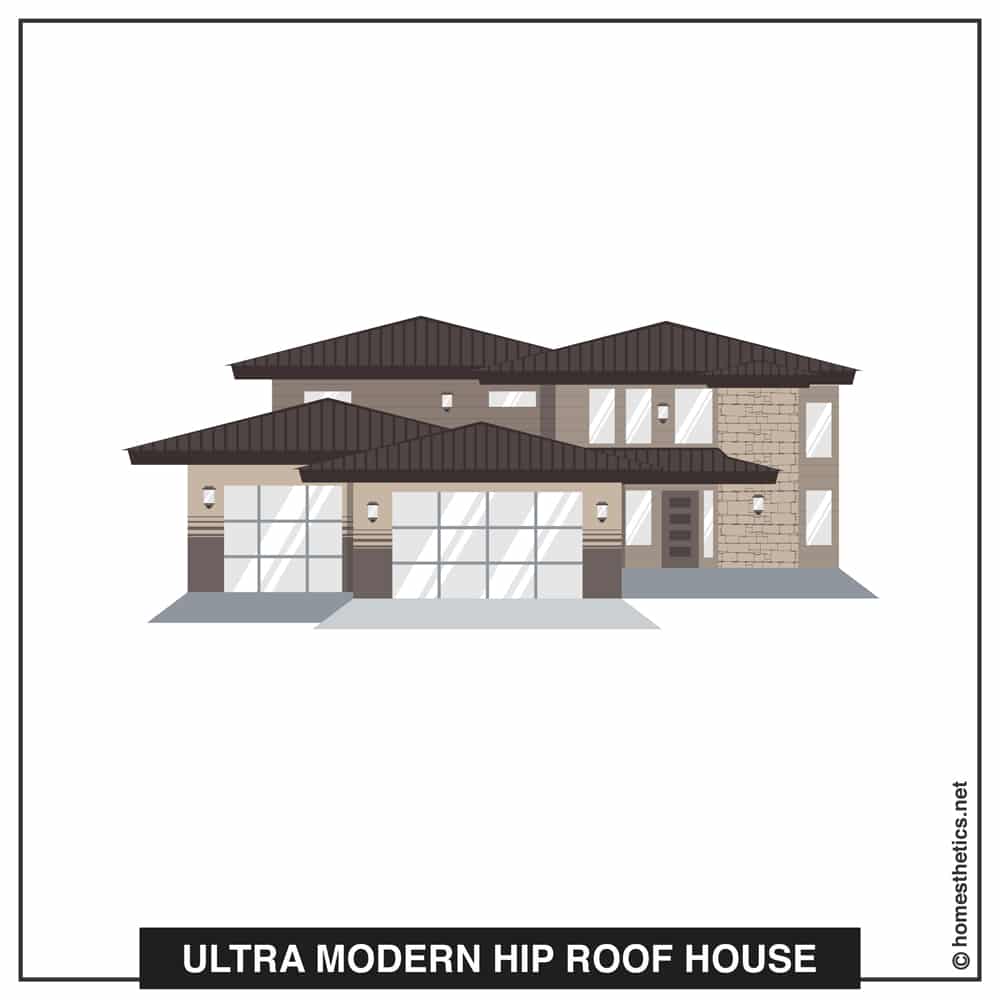 The big glass windows and panels compliment the textured walls and roof. If you see closer, the roof has a certain pattern on it, which makes it stand out. It is balanced by the large expenses of plain glass to achieve the perfect combination.
Countryside Cottage Structure
Now that we have already discussed an ultra-modern house let's talk about a simple house. Some people prefer simplicity, and we have the perfect design for you. With shining white walls, this is the perfect mid-century designed living space that you can boast of.
The roof has silver shingled hips that add to its design and make for a perfect room in the attic. You can provide our teenagers with ample privacy and give them the attic room space.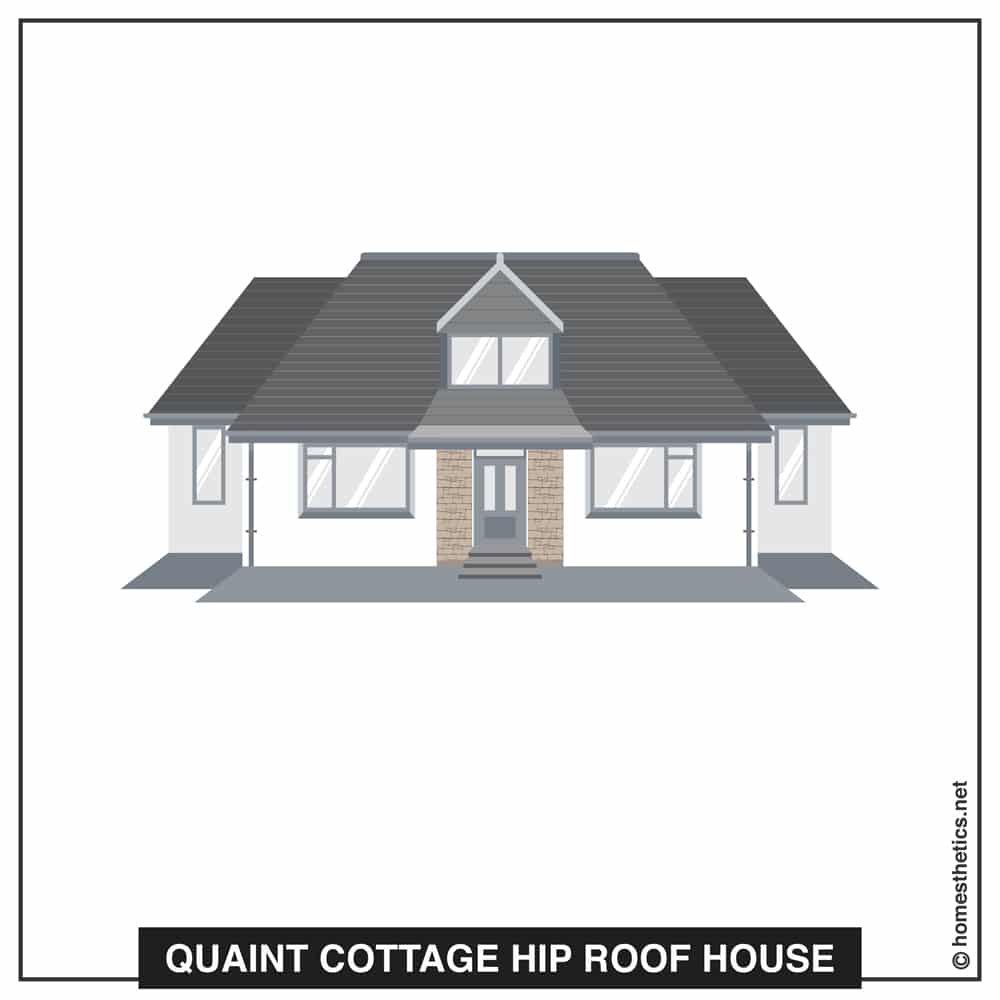 It can also be used for making art or a music room for that matter! You will also find additional storage space because of the multiple hips. The house in itself is very spacious, and the color provides for a warm and inviting space.
You will be able to spot a proper L-shape and cross hipped structure. This is a great example of both and fits well with the countryside vibe. It helps cover large structures which are spread over a considerable area.
Triangle Time Structure
Up next is a house that has a number of straight lines and triangles. When you see the house from upfront, you will notice the number of triangles that are a part of its roof. The triangular hip ends make this house unique and add to the plain white walls.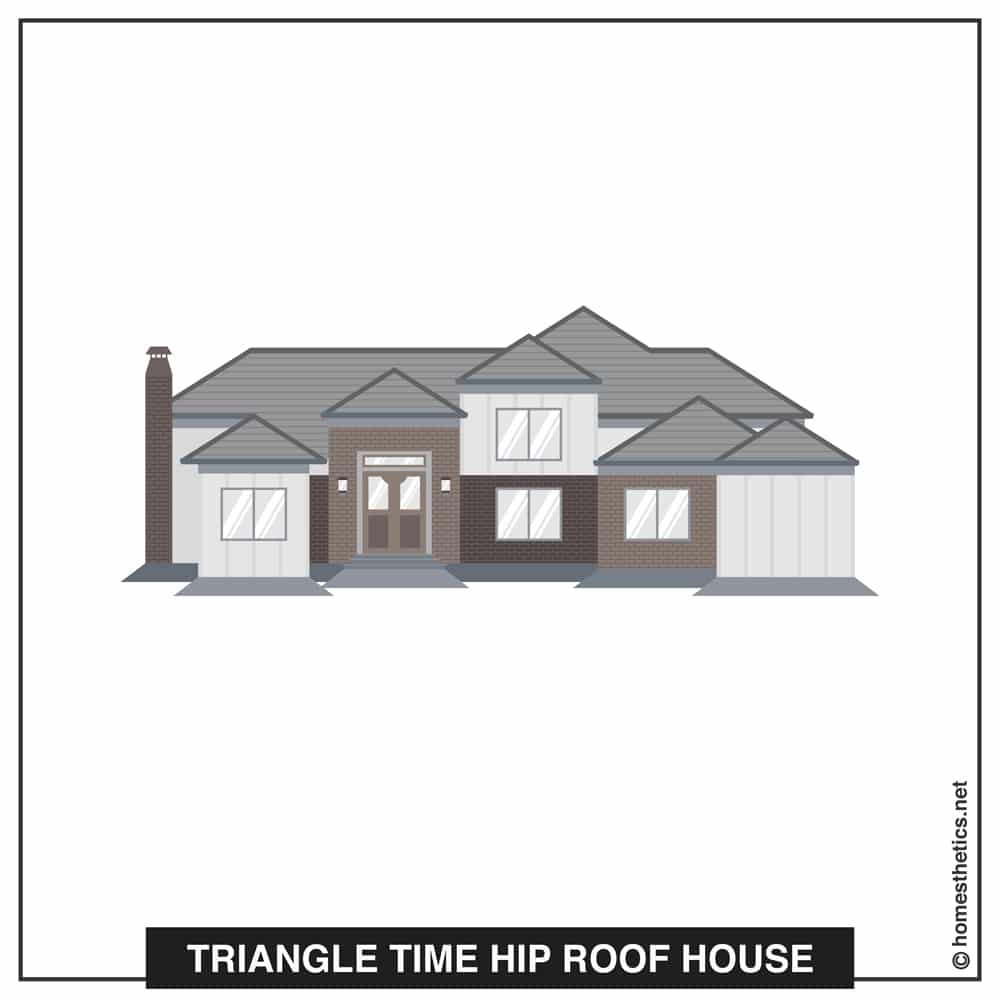 Look closely and tell us whether it will look as attractive without the hipped roof? Probably not! The warm color tones of its wall complement the silver-gray color that its roof has. It is painted with a very eye-catching color, and the horizontal lines add to the design.
If you add some spotlights just below the roof at multiple places below the gutter, it will light up and create an even better structure at night.
Colonial Hip Roof
If you want a countryside house that looks elegant as well as royal, this is a great example. You will find beautiful white walls along with a roof which is colored brown. The earthy tone goes very well with white and works for large structures. There is a sense of continuity, even if it takes a huge amount of space.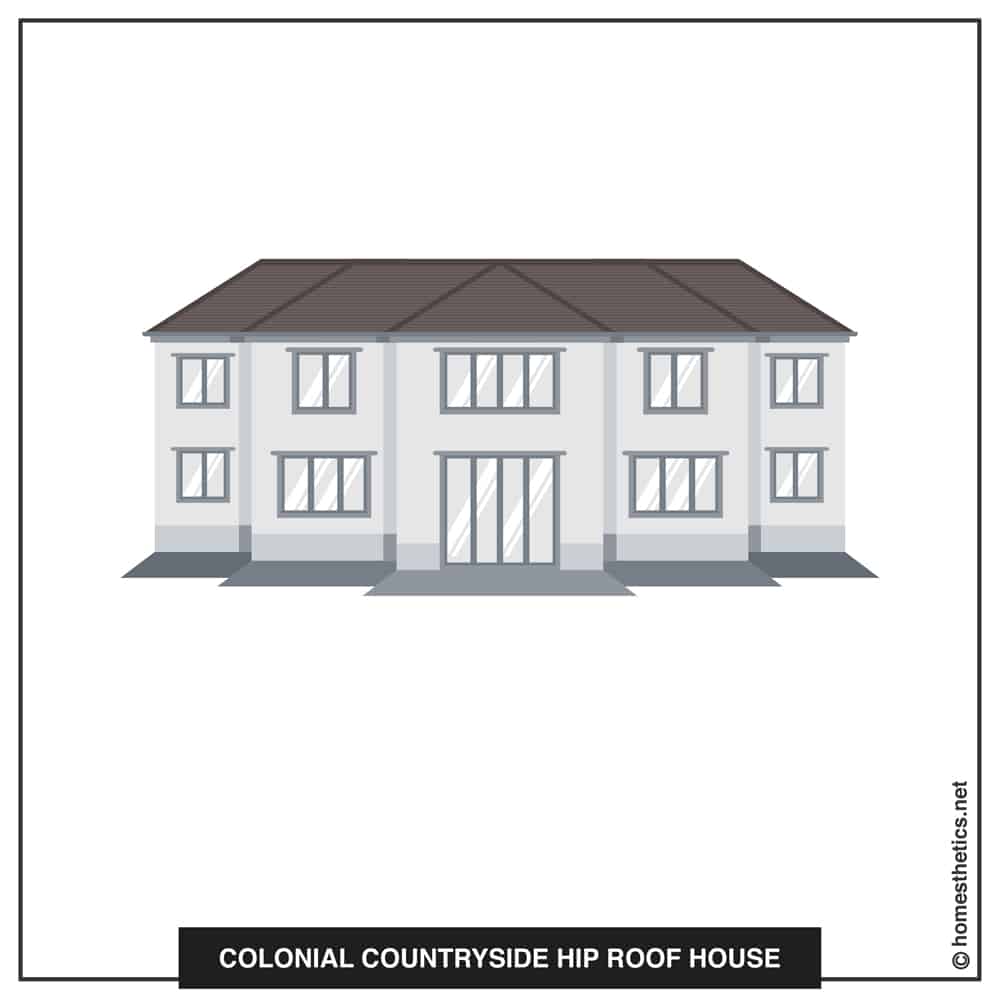 This has the vibe of old churches, but with reflective windows, it looks more homely. You can team it up with a beautiful front porch and a lovely back garden. The hip and valley roof, along with the white-walled structure, works well for wealthy farmers and countryside lovers. This would also work as a holiday home or your summer retreat.
Georgian Mansion
Do you find Georgian architecture attractive? If this is where your heart lies, you can make this perfect winter retreat right in the middle of a forest or near the countryside. This was a design that was very popular during the 18th century in England. There is a low angled hip roof structure that is complemented by large windows.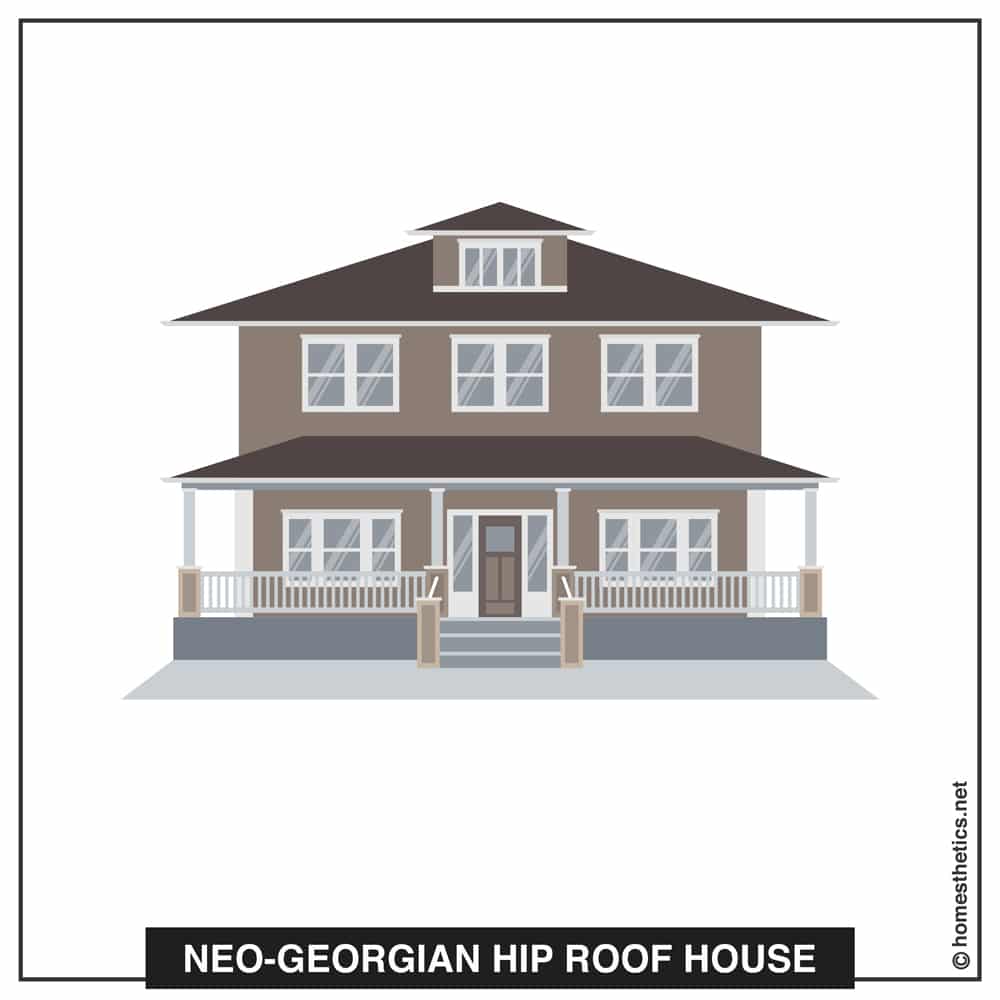 The white stenciled windows are an incredible example of old England designs, and the white chimney columns add to it. The house in itself is made of small bricks that complement the white and grey roofs.
Crimson And Grey House
Are you an art enthusiast or a DIY artist? This house may just provide you with all the inspiration that you need. It has a unique design with half the surface made of river stones, and the other half is painted a dark shade of crimson.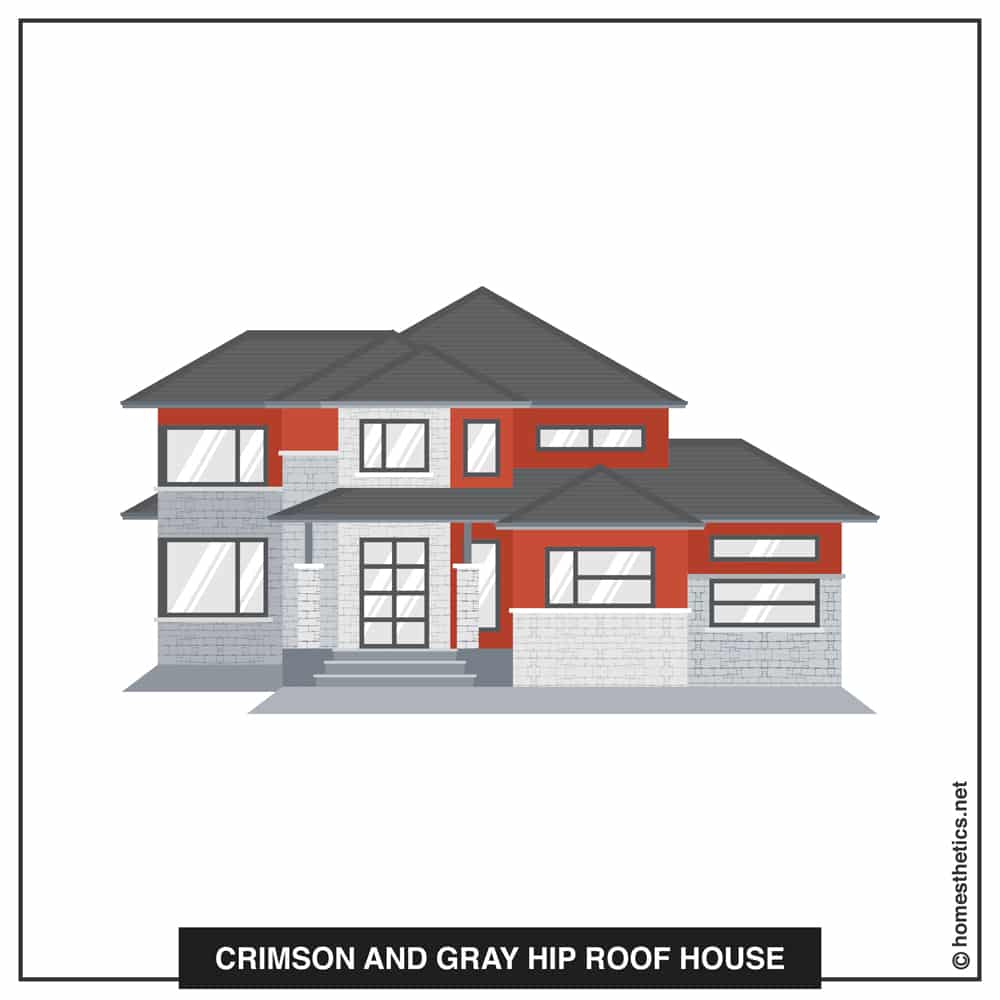 This is paired with a grey hipped roof on top to finish the look. The windows are rectangular and extend towards the sides more. You will also notice a number of hips around the roof, which provides the structure with more shape and form. This will work for a city house as well as the countryside.
14 Charcoal Hip Roof Structure
The best part about this house is its sweeping roof, which takes up half the space. It looks brilliant and catches a lot of attention. The dark grey roof is paired with a cream-colored structure that has tall windows. The doors and windows have reflective surfaces and dark grey borders, which enhance the look further.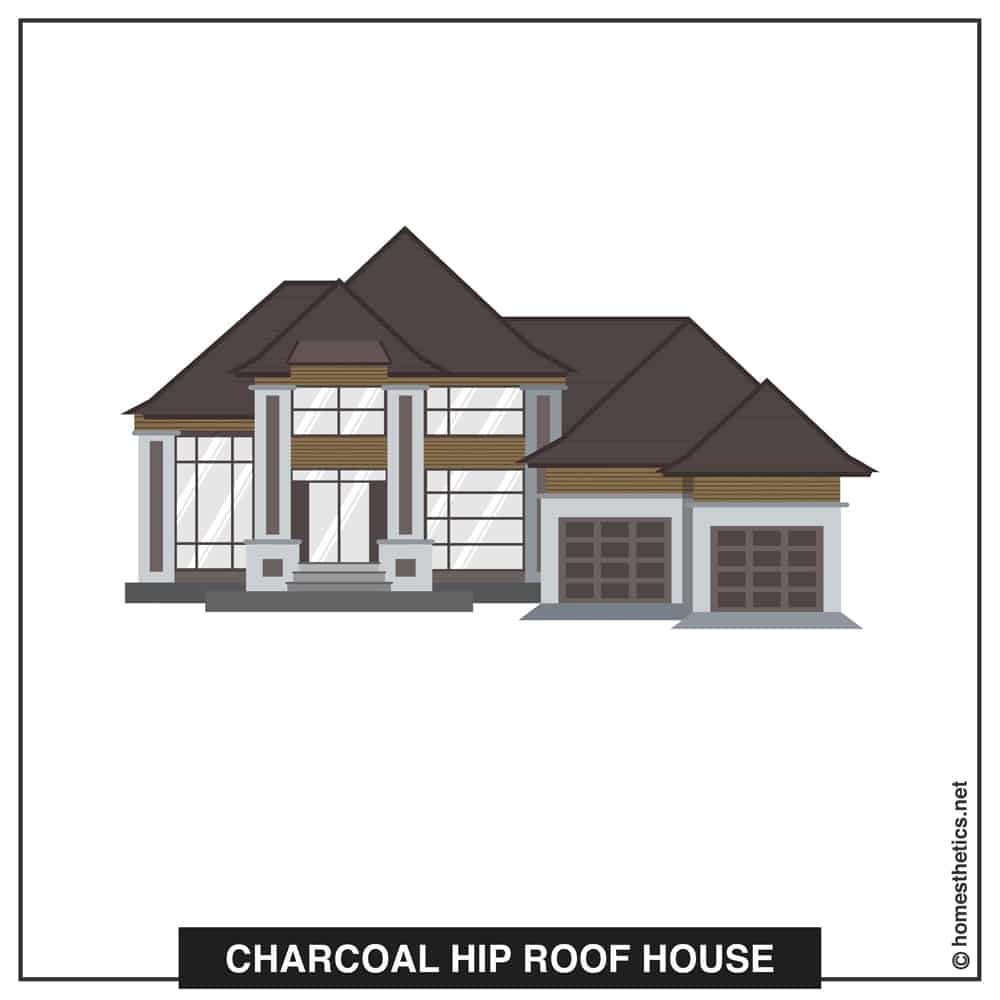 The color palette that is used here is brilliant, with its stormy grey complementing the cream very well. The sweeping dark roofs can have recessed outdoor lights towards its bottom, which will enhance the light and dark color play further.
Green Half Hip Roof Home
Do you want your house to look cozy and comfortable? We have the perfect option for you, and it is in a shade of green. Pastel shades of green are used to make the house, and it is painted on wooden walls.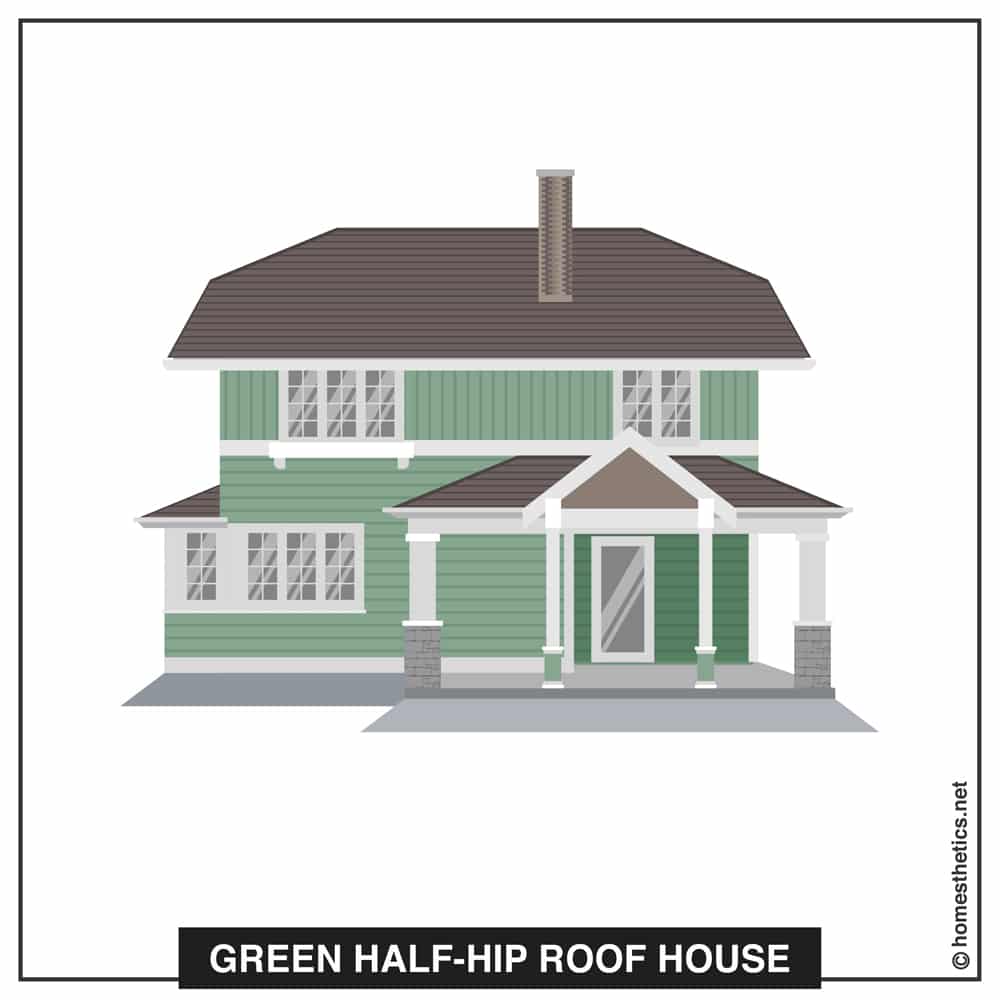 If you see the roof, you will notice the half-hipped roof design, which adds to its look and is made with bricks. It also has a chimney, which is again made of bricks and goes well with the countryside look. The white outlines and windows make the house look extremely elegant.
Another special characteristic of this house is the gabled entrance. It looks extremely good and makes the entrance stand out. This could be the perfect autumn or winter retreat.
Neo-Georgian House
Do you want to create a fusion of modern and classic designs? This is the structure that you can aim for. It is an excellent blend of contemporary design and Georgian architecture, which together creates a masterpiece.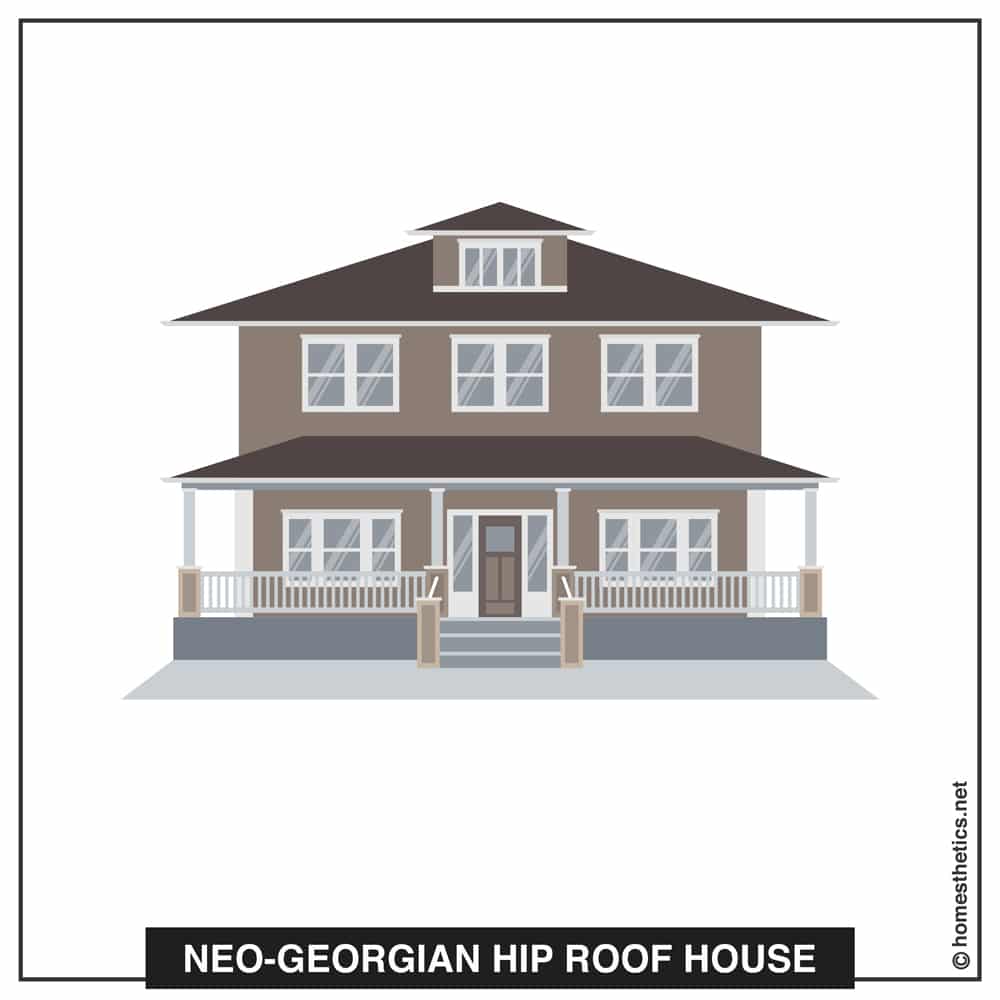 The walls are painted a light shade of beige, and it also has a roof that is rectangular shaped and expands on both slides. The windows are perfectly square-shaped, enhancing the symmetry of its structure. It is indeed very symmetrical as the entire house is rectangular in shape too.
Add some manicured lawns in the front, and you have the perfect space to flaunt.
Grey On Grey Home
Are you a fan of subtle colors? This pale grey house might just be what you are looking for. It has pale grey walls with a warm beige complimenting it. The roof is extensive and covers a lot of areas. Painted in silver grey, it will perfectly cover a large house and looks very attractive.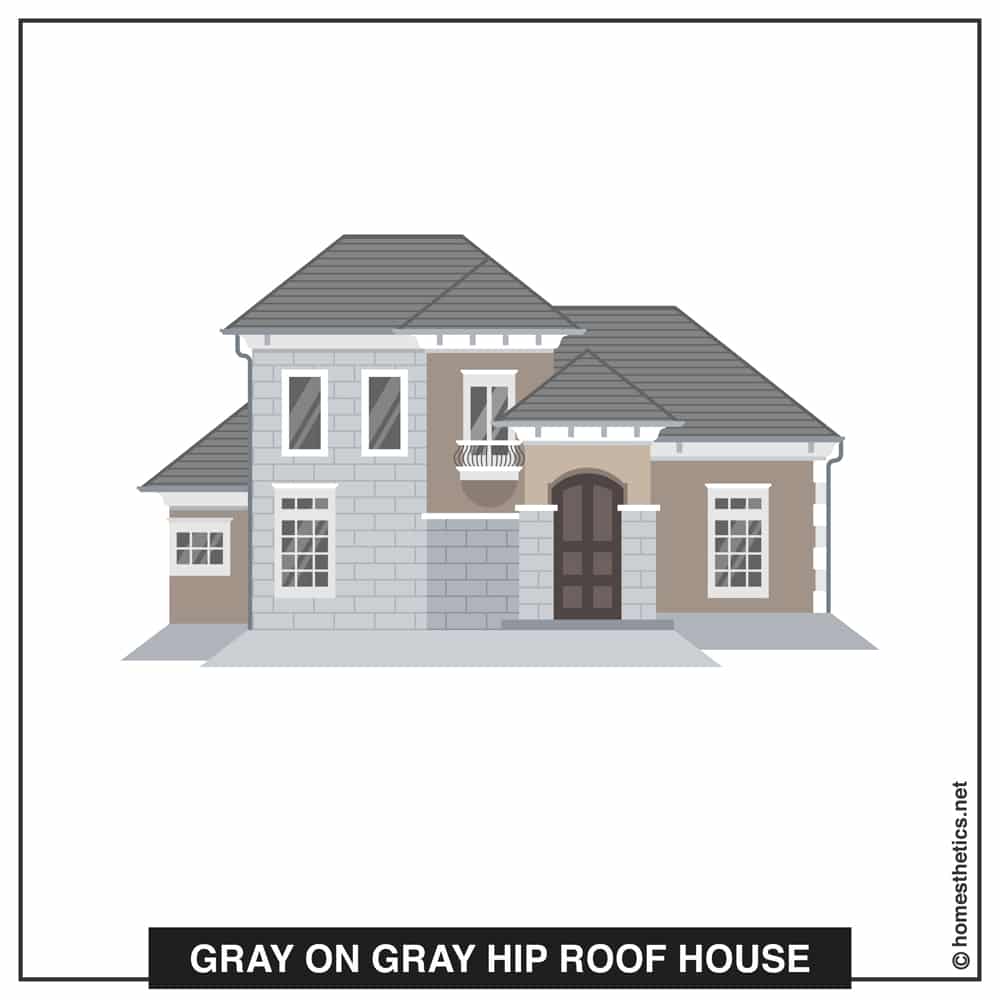 Also, you can pair it up with a manicured lawn or garden. Throw a party in the front while the house looms behind. It would be the perfect summer retreat in the countryside.
Colonial Hip Roof House
If you were looking for that perfect quaint house that uses rustic warm colors, this might be a great choice. It will provide you with a classic rustic look that will remind you of the good old days. No, this structure does not have anything contemporary about it and will help keep the old world charm alive with white walls and beige windows.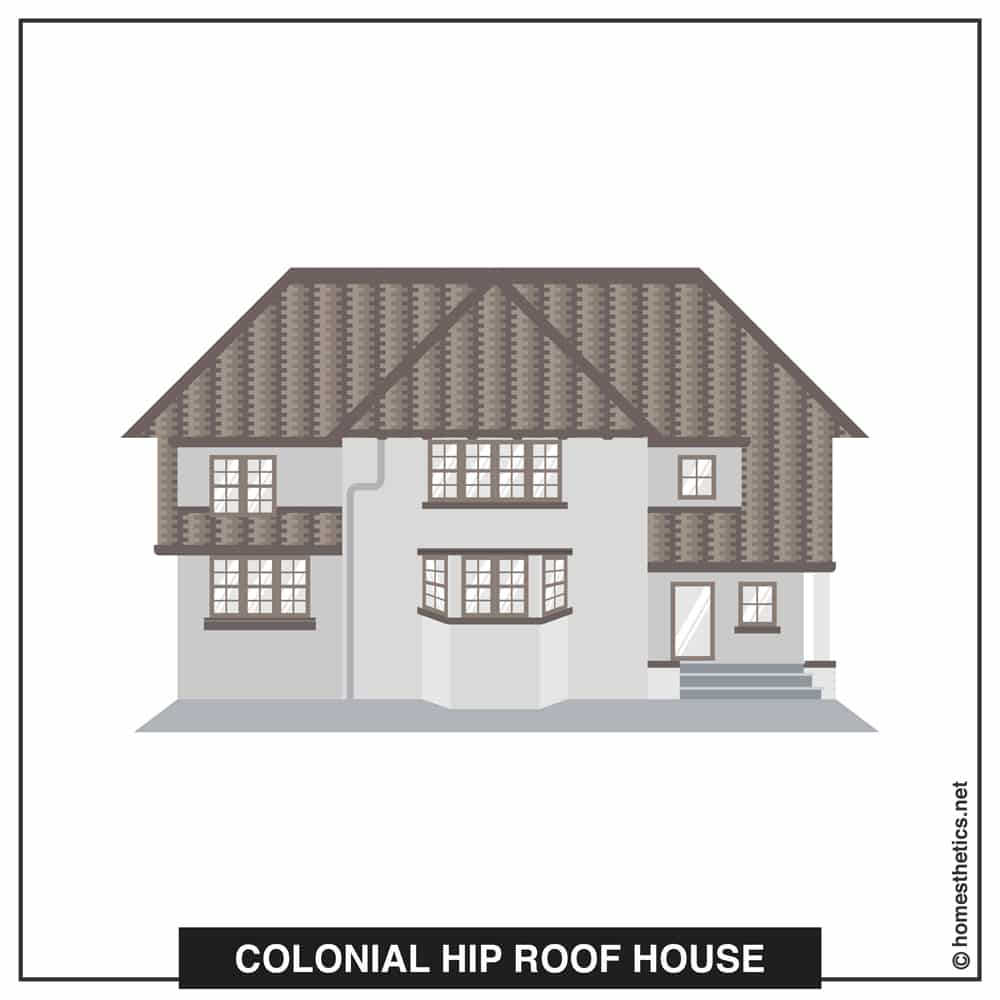 The roof is made of brown bricks, and there is a chimney on top, which adds to the beauty of its design. Remember those farmhouses from the 80s movies? This will give you the same experience with a colonial aura. The peaked roof adds to the symmetry and works very well with shrubs and trees around.
Little Gray House
If you want a quaint small home, this is a great design to aim for. We loved the stylish exteriors, and pale colors have been used to make it look bigger. You will have neutral tones being used for the walls of this house while the roof is made of gray shingles and consists of hips. This dark grey color looks great with lighter colored walls.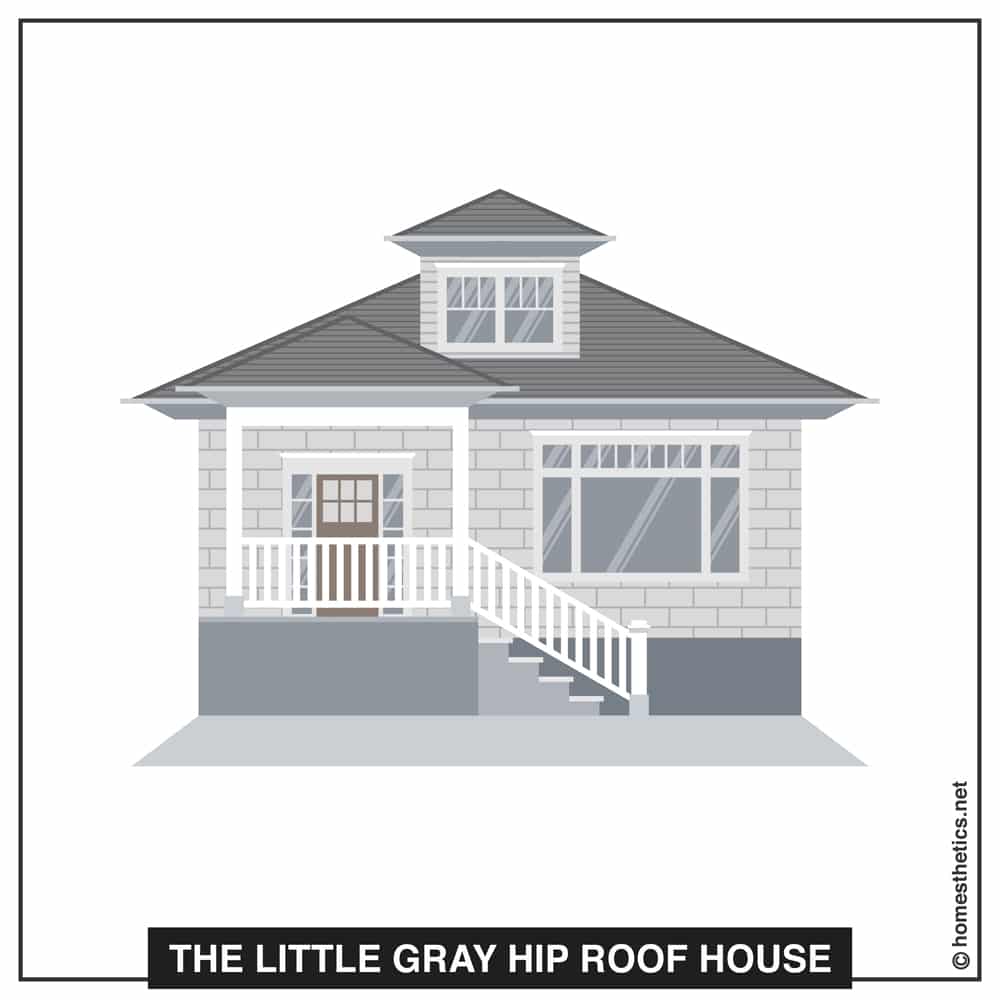 The deck is painted white and consists of vertical bars, which provide a much-needed pattern to the otherwise solid colors that this house is painted with. It will look best with manicured lawns, and you can host barbecue parties in it.
Red Brick Villa
How does a vibrant red house sound to you? If it appeals, then you will love this house made of red bricks. It has a very warm vibe, and the roof balances the vibrant red with a darker and cooler shade of it. It has a shingled red hipped roof with a valley in between.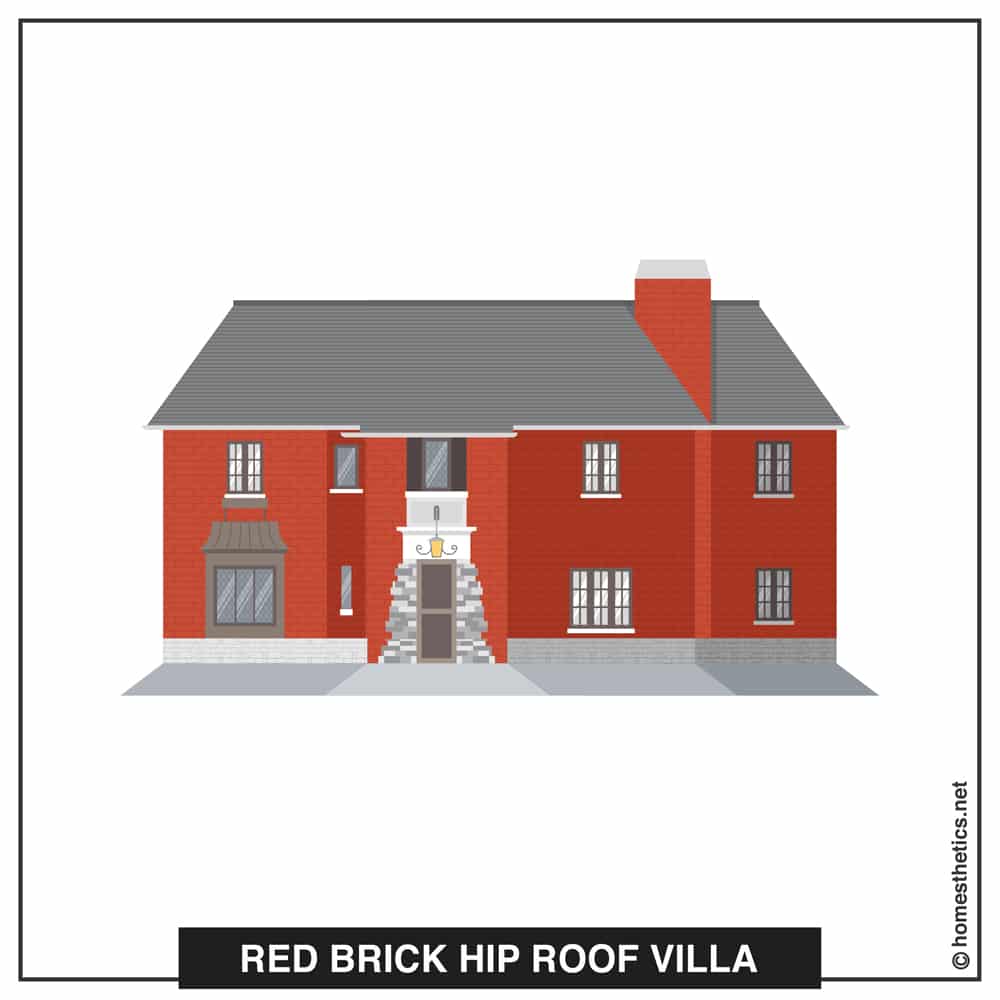 This will also give you a lot of attic space, and you can use it for storage or for music practice. One can also build a skylight and set up a bedroom because of the vast flat space on it.
Neo-Palladian Hip Roof Villa
Are you planning to build a villa for yourself? This Neo-Palladian design will impress you a lot. We were very delighted with the giant and majestic windows along with arched doorways. The red walls and the dark grey hipped roof look brilliant together. You can see multiple hips, and it flaunts a hip and valley roof style.
We also loved the patterns around doorways and windows, which are painted white and stand in contrast with the light red wall. If you have seen English Aristocratic houses of the past, this one will look very similar to that design. It creates the ideal space for large families to live and works well with sprawling estates.
Coral Pink Hip Roof House
If you like colors, this hip and valley roof design will be an excellent choice. The house looks very attractive with the bright red hipped roof with white walls to complement it. There are multiple skylights, and you will be able to see the sky while lying on the bed. And since the slopes are board, you will easily be able to make a room in the attic.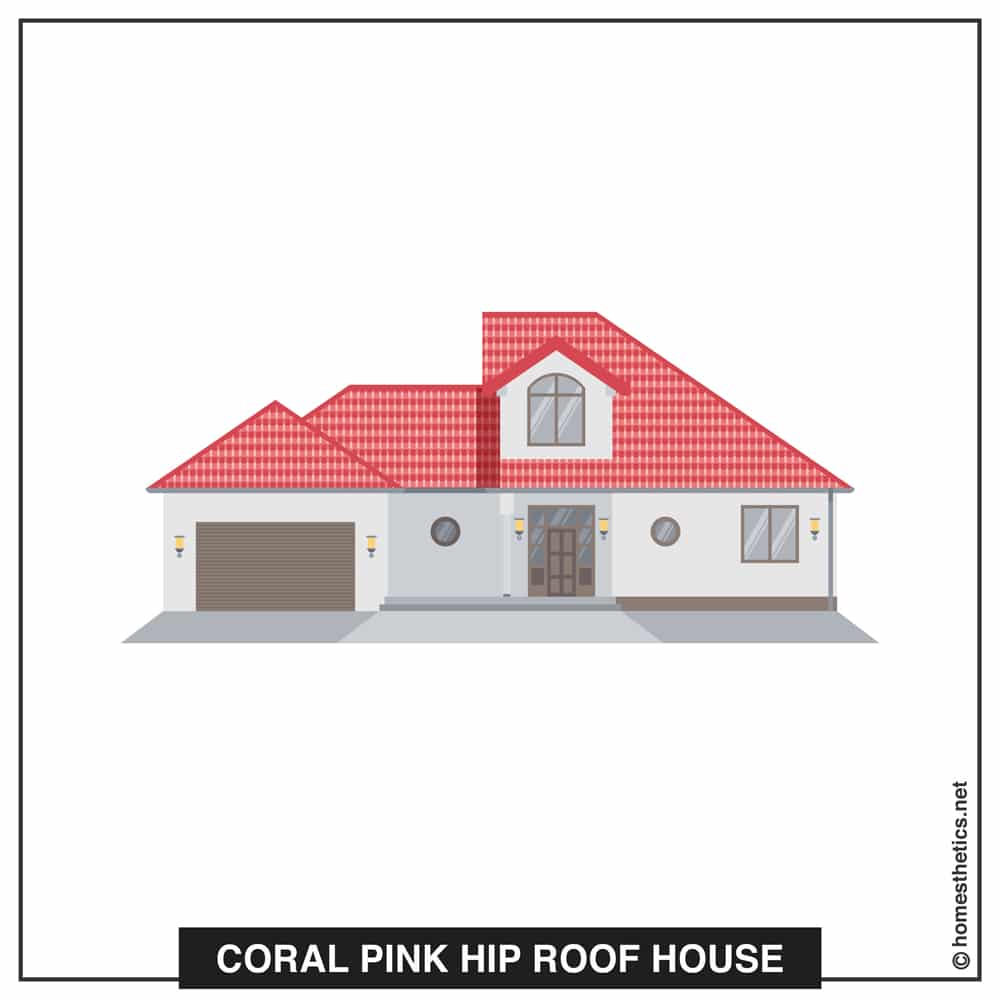 It is also bright enough to stand out among other houses. Look at the picture, and you will see how you first notice this one before the grey colored houses situated around.
Cream And Grey Roof
Finally, we have a cream and grey color combination that works out very well for countrysides and small towns. The cool gray shade of the hipped roof is balanced by the pale cream color of its walls. Although both are neutral shades, they combine to form a very elegant structure. The doors are painted a dark red color, which provides the house with a splash of vibrancy.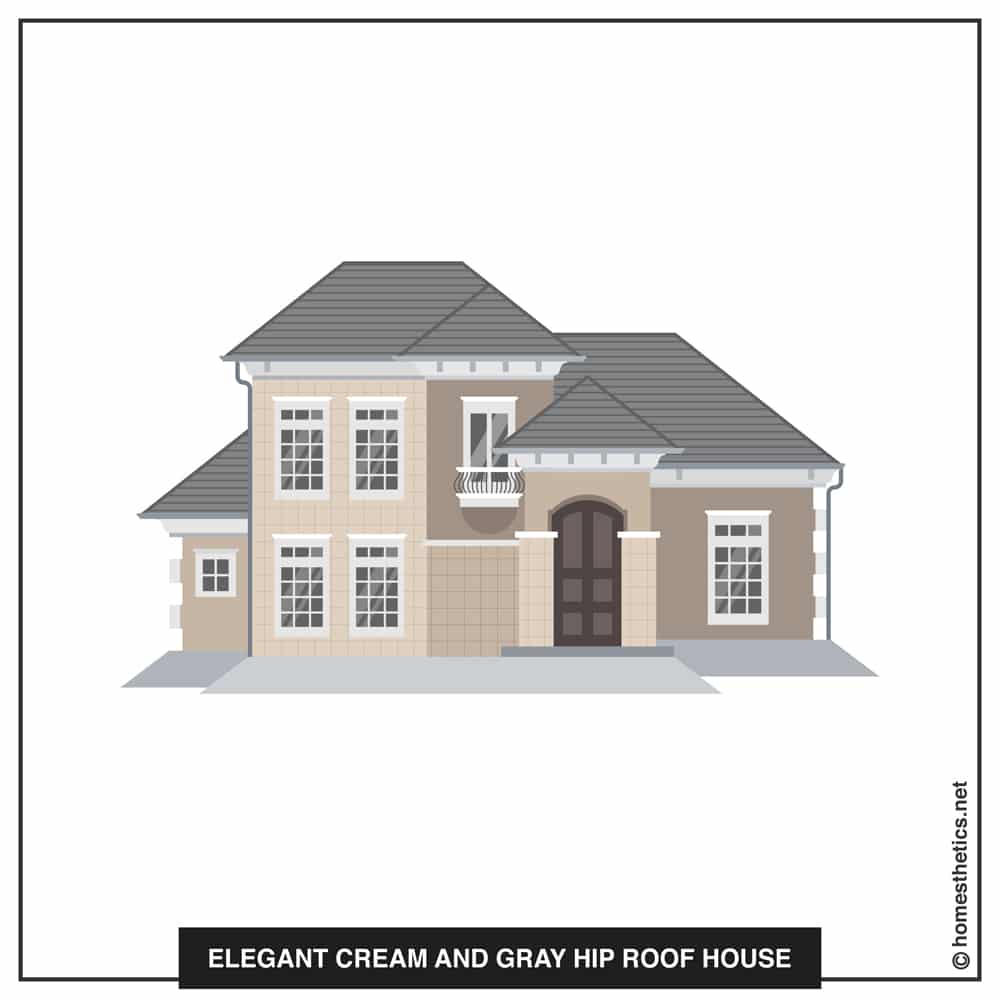 Also, if you look from afar, you would notice how the roof together forms a triangle like structure, which provides proper symmetry to the house. The windows are made of dark-colored glass, which works well with the pale cream color.
Hip Roof Types & Styles Buyer's Guide
Now that you know all about hips roofs and their styles let's move on to some general points that you should keep in mind. You must have realized that there are pros and cons to every roof style and the type, and each one differs in their slant, attic space, and more.
We have written about the common points to remember before making a purchase. This should guide you to make an informed decision.
Attic Space
This is a very important consideration while making the roof. A common complaint with this kind of roof is that they might not provide a lot of attic space. A hipped roof that drops down immediately will provide very little space, and you should think twice if you plan to store a lot of items in the attic.
Hip and valley roofs and half hip roofs provide more space and may work out better if you want to make a bedroom in the attic or use it for storing items.
Process Of Installation
Although hip roofs are known to prevent water and snow from accumulating on top, they have to be installed properly to eliminate leakage. Since there are many joints, each one has to be covered and installed by professionals. Instead of trying to do it on your own, take professional help, and that should prevent leaks.
Also, if you see any leakage happening, consult a professional and get it fixed immediately before the damage deepens.
Ventilation
Hip roofs are known to provide ample ventilation, and hence our house will not heat up too much. If you have problems relating to claustrophobia, these kinds of roofs might be exactly what you need. The homeowner also can create a corner or a crow's nest to add to the attic space.
Cost
Hip roofs are generally more expensive than gabled roofs because of the large amounts of material needed for construction. They are also more expensive because of the complex structures that often need to be created for larger houses.
You might have to create a complicated system of rafters and trusses, which is not going to come cheap. However, we would say that the money is well spent and you will be getting a beautiful house at the end of the day.
Final Words
Hip roofs are known to be versatile, and you can choose your own style from the multiple options that we discussed above. You can also combine and create a unique style that reflects your personality. The best part about these roofs is that they can help provide your contemporary style structures with a traditional or a classic touch.
These provide more aerodynamics than flat-roofed structures and will keep the house safe. After all, there is a reason why they are still popular after 3 centuries since they were first used.
With this, we have come to the end of our guide. Let us know if you have any further queries in the comment section below.
Until next time!
Related Articles
Learn About the 20 Most Popular Roof Types for Your Future Home
What is the Mansard Roof, Advantages and Disadvantages Sheltered
6 Eco-Friendly Roofing Materials and Why You Need Them
How To Clean Gutter Guards Efficiently
Shur Flo Gutter Review | All You Need to Know
EasyOn Gutter Guard Review 101 | All You Need to Know
5 Best Foam Gutter Guard [Reviewed & Buyer's Guide]
9 Best Micro Mesh Gutter Guard Today | Buyer's Guide
13 Best Gutter Guards For Pine Needles [Buyer's Guide]
11 Best Gutter Guards for a Low Maintenance Home
23 Extraordinary Beautiful Ways to Repurpose Rain Gutters in Your Household
LeafGuard Review | Everything You Need to Know