Pedro Friedeberg was one of the most famous designers from Mexico, known primarily for his surrealist works that included ancient and religious symbols.
One of his most well-known pieces, the Hand Chair with Foot, became a cultural symbol in the 1960s and 1970s. It was essentially a wooden chair designed in the shape of a hand, with the palm acting as a seat and fingers for the back and sides.
Most experts agree that this is his most groundbreaking artwork to date. On that note, Friedeberg's hand chairs serve as an excellent furniture piece if you want to add some vintage style to your home décor. 
And due to the popularity of this iconic carved unit, you can find similar items from other manufacturers. To help you find the one that best suits your needs, here is a list of some excellent hand chairs for your home.
Without further ado, let's begin. 
 Hand Foot Chairs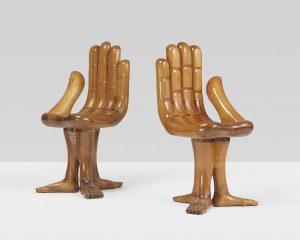 1. Mid-Century Solid Granite Carved Hand Chair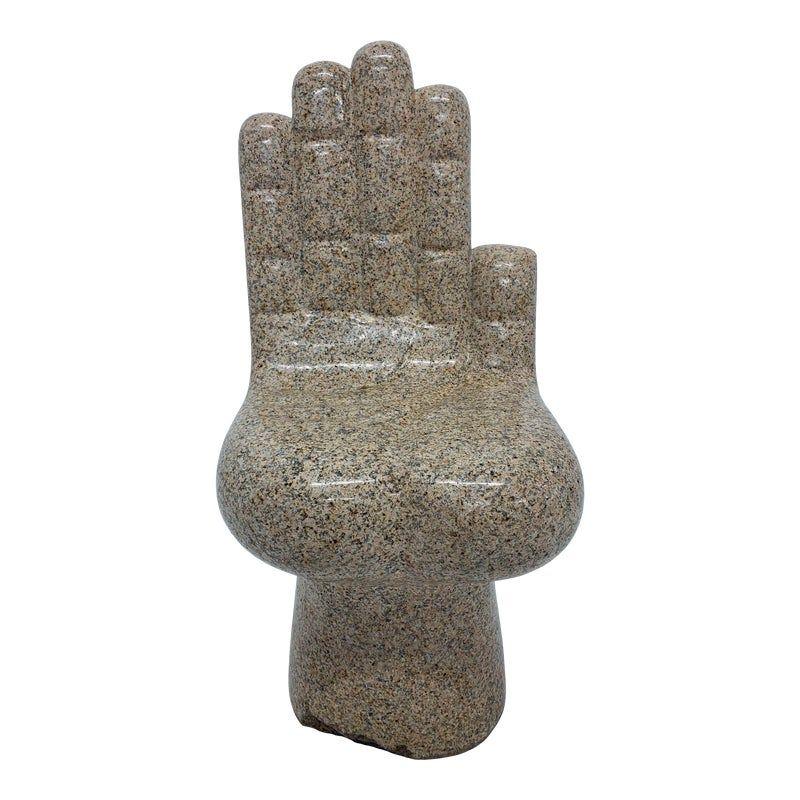 This hand chair undoubtedly takes inspiration from Pedro Friedeberg's Hand Chair with Foot and resembles a hand with the palm facing the front. It is made of a solid granite block and has been hand-carved with the utmost skill and care. 
According to the seller, this piece was constructed during the 1970s and is still in excellent condition. After all, being built from granite, this chair retains its solid and stately appearance, making it suitable for outdoor use as well.
2. Pr. Vintage Hand-Carved Miniature Hand Chairs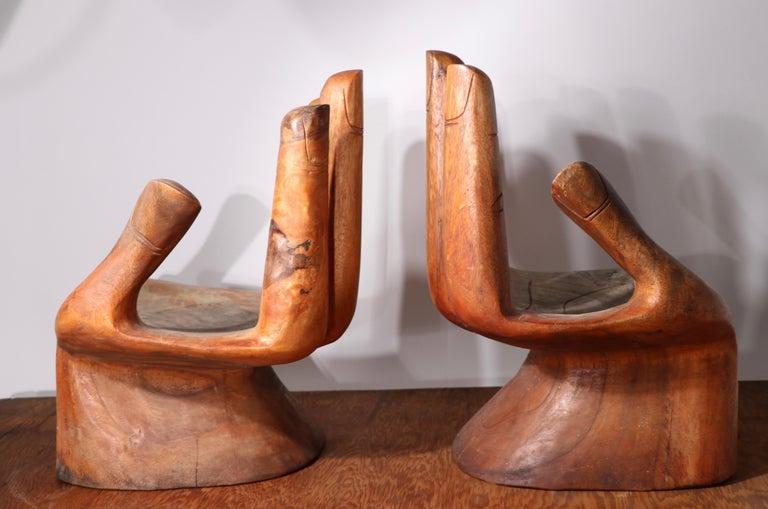 If you are looking for miniature hand chairs, then this pair of vintage carved hand chairs is a perfect choice. Needless to say, the size makes them ideal for use as children's chairs, sculptural decorations, or even conversation pieces. 
As for the units themselves, these chairs are made of wood, and its origins can be traced back to the late 1970s. And since these are available in a set of two, you can use them as functional seating or just as home décor. 
3. Pedro Friedeberg Silver Hand Chair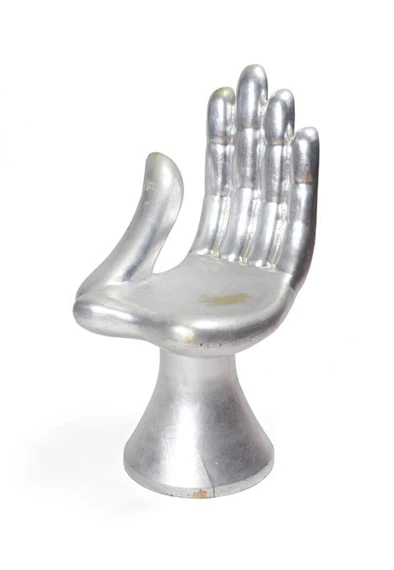 Perhaps one of the best-looking hand chairs on the market, the Silver Hand Chair offers a unique look to your living space. This hand chair was manufactured in the Mexico region during the late 1960s and has retained its excellent quality. 
Besides being hand-carved to perfection, it comes with a soft silver finish that sets it apart from similar products on the market. This silver appearance provides an elegant accompaniment to other pieces of furniture and accentuates your living space. 
4. Carved Hand Chair After Pedro Friedeberg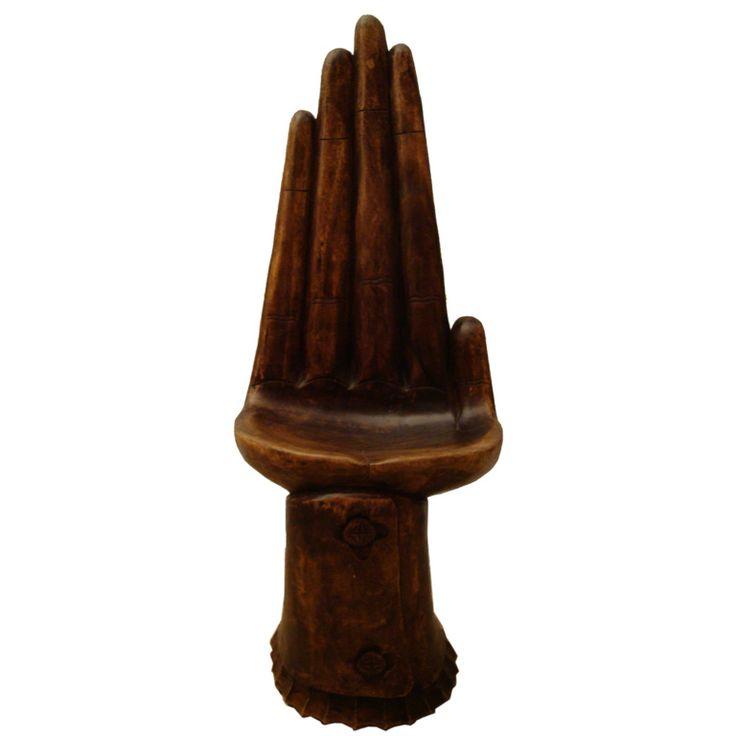 This piece is a hand chair that takes inspiration from Friedeberg's sculptures, but also creates its separate identity. That said, the fingers that form the chair's back are narrower and straighter than those on other hand chairs, creating a more sophisticated look. 
It is made of hand-carved wood, and even the base has been designed as a shirt cuff with buttons. What's more, its distinct folksy look provides an edge that sets it apart from other projects by Friedeberg. 
5. Carved Walnut Pedro Friedeberg Style Hand Chair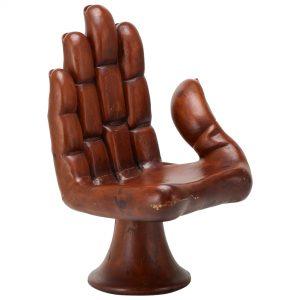 While most hand-foot chairs are not designed with comfort in mind, serving more as decorative fixtures, this Carved Walnut Hand Chair is an exception. It has a more extensive, thicker base than most other hand chairs, allowing you to rest comfortably. 
The manufacturer has used high-quality walnut wood to hand-carve it, giving it unique wood grain patterns. As an added tip, you can create a contrasting theme by using this hand chair with a white background. 
6. Sculptural Wooden Hand Chair In The Manner of Pedro Friedeberg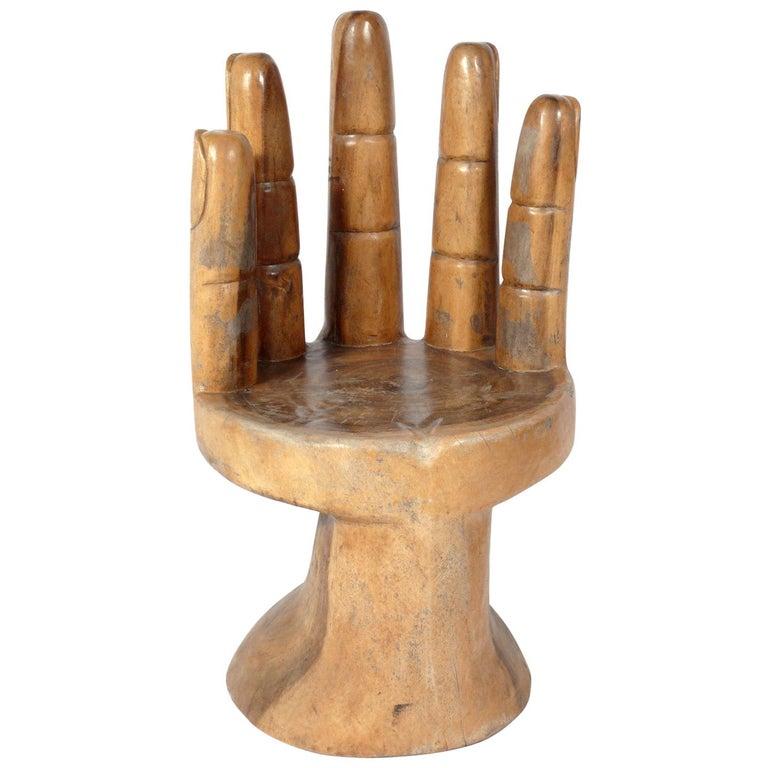 One of the hand chairs manufactured in Mexico during the 1960s, this sculptural wooden hand chair is the perfect addition to your furniture collection. Despite being over 60 years old, it still manages to retain its original warm platina. So, if you are a collector looking for a unique product from the 1960s that pays tribute to Friedeberg's works, this is the one to go with.
7. Pedro Friedeberg Mahogany Wood Hand Chair Surrealist Mid-Century Modern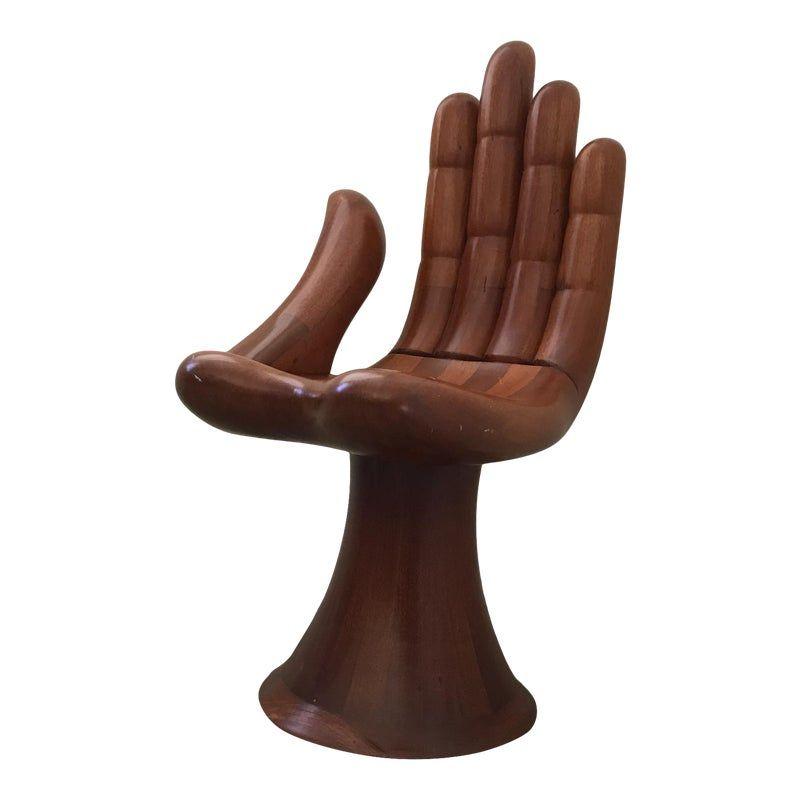 You'll be delighted to know that the following product is one of the original pieces from Pedro Friedeberg. It is made from high-quality mahogany wood and is a great piece for decorative purposes. 
Despite being a product from the 1980s, it is still in excellent condition and a perfect piece for decorative purposes. Not to mention how the artist's signature in black ink is still visible at the bottom as a proof of authenticity.
8. Rare Editioned Bronze Hand And Feet Chair By Pedro Friedeberg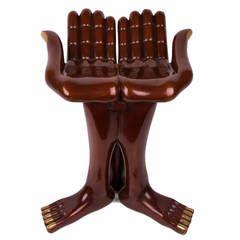 This hand and feet chair from the '80s  is one of the best examples of Pedro Friedeberg's surrealist works. Instead of a single hand, this chair features two hands and feet joined at the center. 
It has a cast of bronze and a design that represents Mexican folklore tradition to perfection. What's more, it is one of the rarest pieces that survive today, with only nine rare-edition chairs being produced originally. You can also find Friedeberg's signature on one of the legs. 
9. Pedro Friedeberg Style Carved Hand Chair Sculpture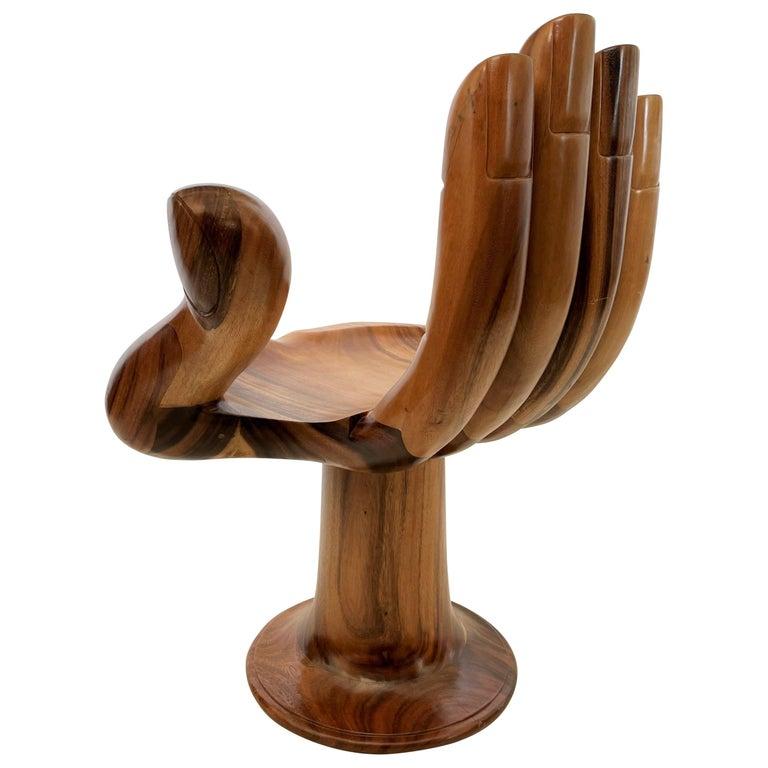 If you are unwilling to spend a hefty sum on getting one of Friedeberg's original designs, this Carved Hand Chair Sculpture is a great alternative. It is an eye-catching sculpture that will help you accentuate any space effortlessly. 
The sculpture is made of premium quality wood and can serve as a great conversation starter. This functional sculpture can also be used for seating purposes, with the fingers serving as back and armrests. 
10. Mexican Carved Hand Chair In The Style Of Pedro Friedeberg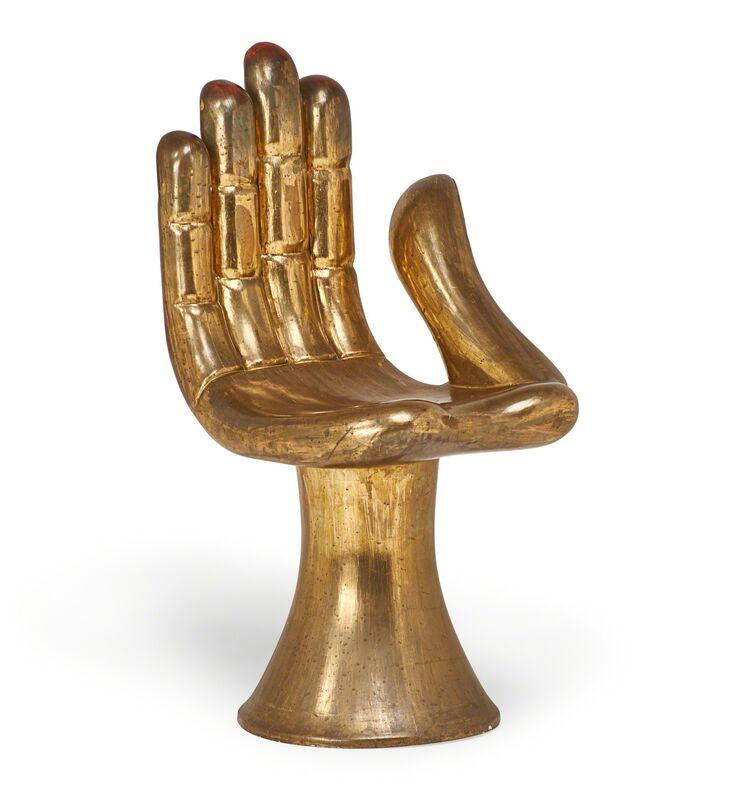 Those who are looking for a studio-carved hand chair are sure to love this hand chair. It was crafted in Guadalajara, Jalisco, Mexico, during the 1960s. The chair comes with rich details, such as an intricately carved love line and lifeline. It even has richly detailed fingernails, folds, and joints of the palm. 
Additionally, the base is in the form of a two-button cuff with a decorative vine that adds to the beauty of this sculpture. This sculpture is ideal for use in all types of settings, both outdoors as well as indoors. 
11. Carved Hand Chair In The Style Of Pedro Friedeberg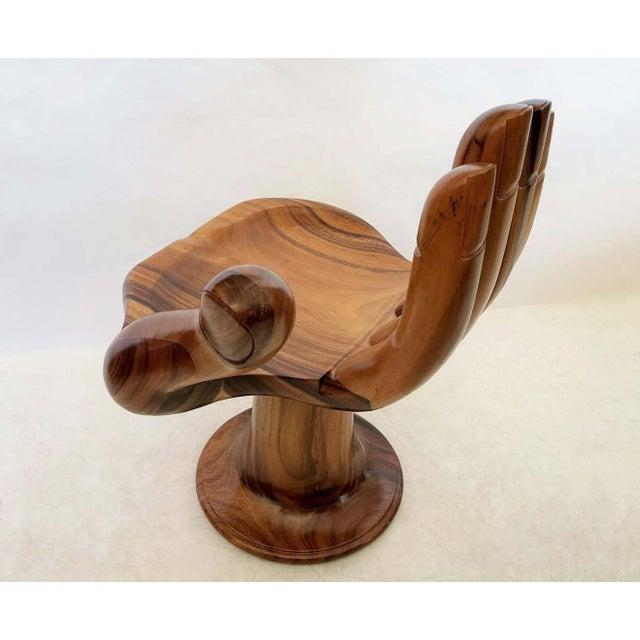 This hand chair is an excellent mid-century modern product belonging to the 1970s. Just like the previous product, this one also has some finely crafted details. The fingernails on this hand chair are exceptionally crafted, and it is also made of superb quality wood. 
As far as carved furniture is concerned, this is one of the most delicate pieces on the market. It is one of the hand chairs manufactured in Germany and is still one of the most exotic pieces to get.
12. Gold Hand Chair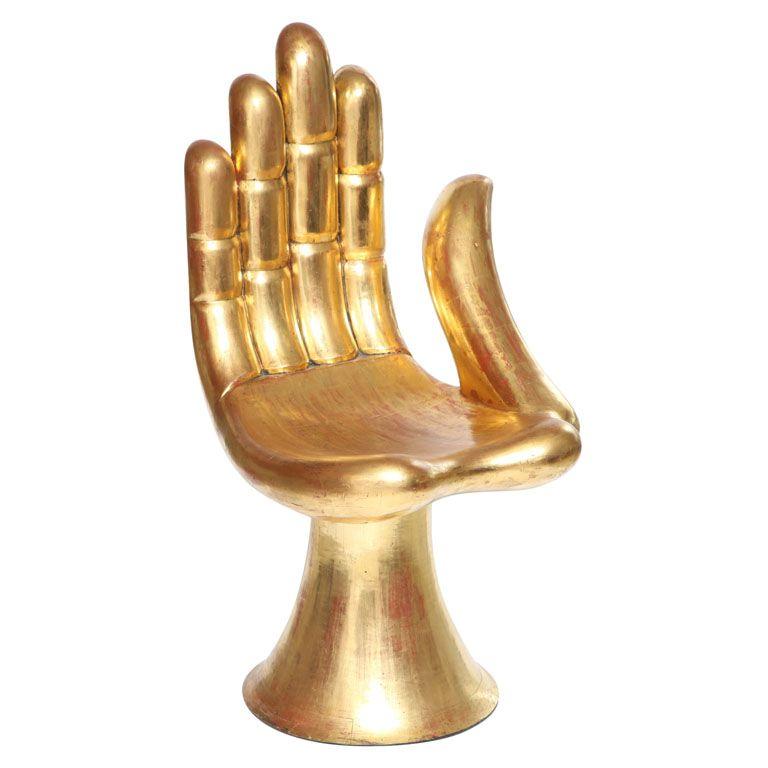 The Gold Hand Chair is another piece of art from Friedeberg's original works. It has a wooden base covered with a gold leaf and is a fantastic example of the artist's skill. It makes for the ideal interior decoration item and is a must-have for collectors of rare sculptures and decorative pieces. 
This hand chair comes with a certificate of authenticity signed by the artist. Additionally, you can find the signature at the base of this Pedro Friedeberg hand chair.
13. Hand Chair In Black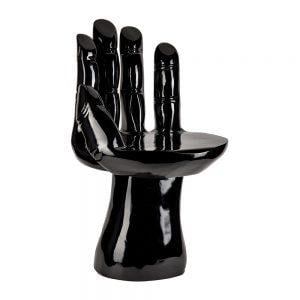 Black is the perfect color if you are going for an understated look, and this hand chair in black is especially suited for that purpose. It is available as part of a two-piece set, but you can also purchase only one. 
Besides serving as a great showpiece, this chair can also be functionally used for sitting purposes. For areas such as porches, this hand chair in black can help create the perfect look. You can even use this superb hand chair in your living or dining rooms, or out on the porch. 
14. Carved Mexican Walnut Hand Foot Chair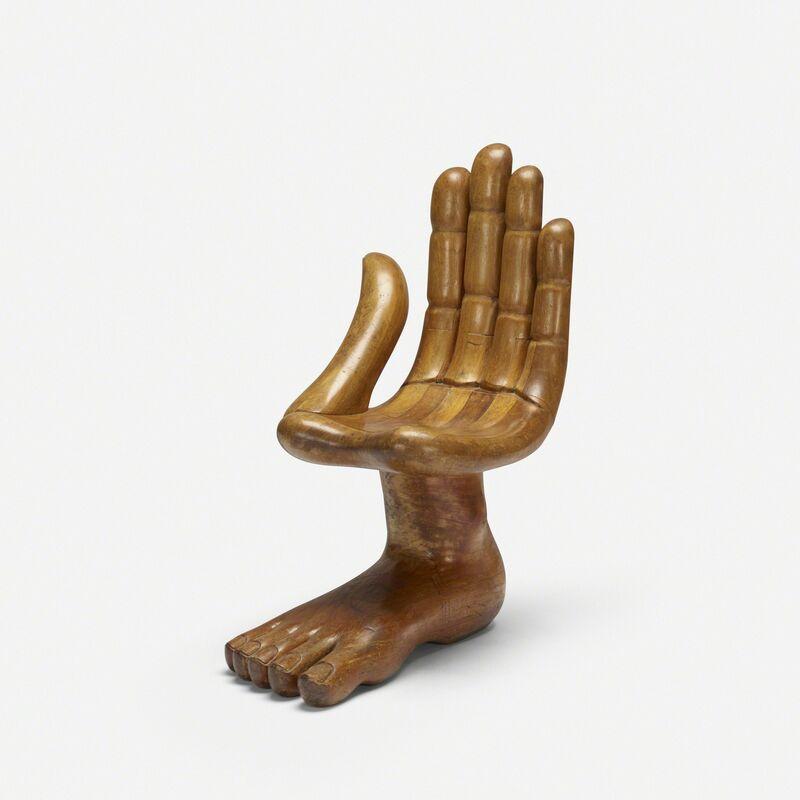 It is much easier to find Friedeberg's hand chairs than his hand and foot chairs, which is why this carved Mexican walnut hand foot chair is one of the rarest products to find. This chair was produced by Friedeberg in Mexico City during the late 1960s using the best quality walnut lumber. 
The walnut wood also provides an excellent appearance to the hand and foot chair. It also comes with a branded signature of Friedeberg at the base of the sculpture.
15. Signed Pedro Friedeberg Gilt Hand Chair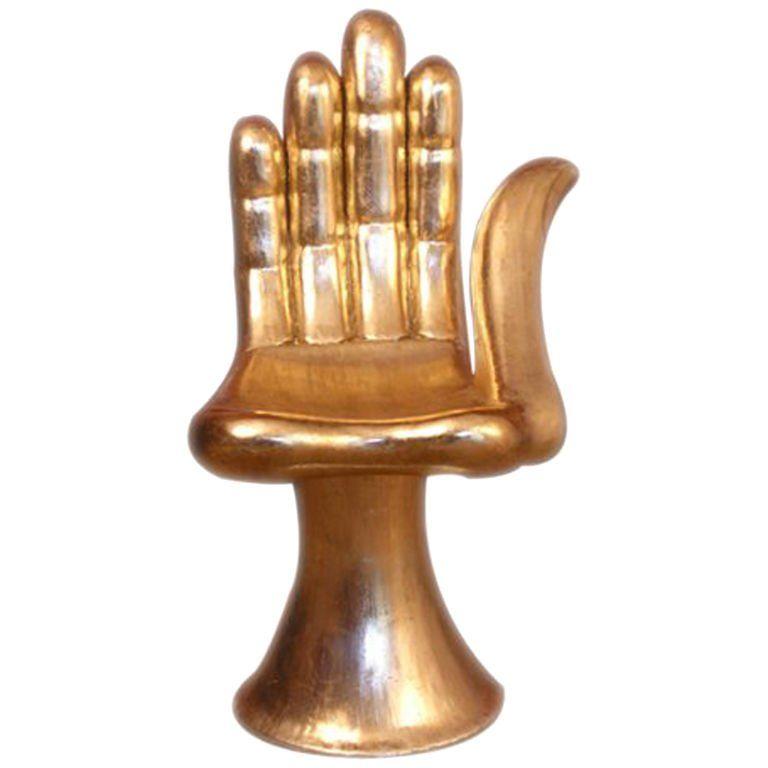 The Gilt Hand Chair is one of the hand chairs that is made to order by the artist. It is made of wood, with a gold leaf covering for a gilded appearance. Besides making for a stunning piece of artwork, you can also use this hand chair for sitting purposes. 
The base of this gilded chair has an unusual flat surface, and the chair is accompanied by Friedeberg's signature as well as a certificate of authenticity. This chair can be customized according to your preferences, with different colors, materials, and styles. 
16. Iconic Hand Foot Chair By Pedro Friedeberg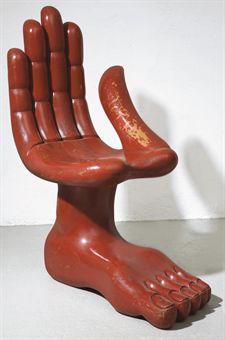 As the name implies, this iconic hand foot chair is one of the most well-known hand and foot chairs. The sturdy and solid wooden base has a coat of red paint that stands apart from the rest of Friedeberg's sculptures. 
The artist's signature appears on the thumb of the chair and has also been burned into the chair at the bottom. Unlike most hand and foot chairs  This hand foot chair was also manufactured in Mexico and is the perfect symbolization of the 1960s era.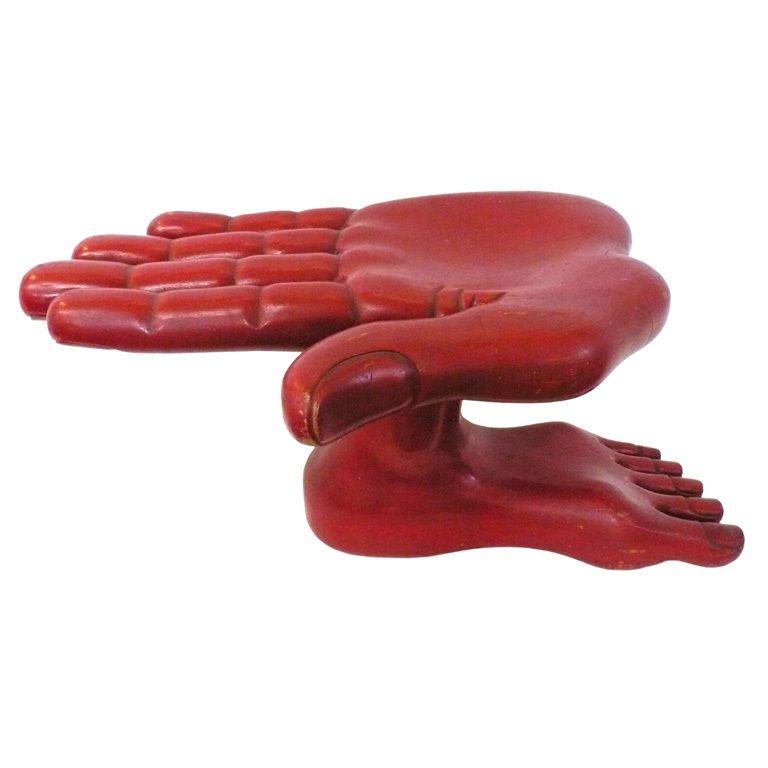 Final Words
With that, we've reached the end of our list of the best hand and foot chairs on the market. These hand and foot chairs not only serve as excellent décor pieces but also provide great functionality. 
Not to mention how some of them are incredibly rare and very hard to find. For collectors and art enthusiasts, this list might come in handy for finding coveted items. Anyhow, these hand and foot chairs complement all types of settings, both indoors and outdoors. 
So, if you are planning to redecorate your home, get a hand and foot chair that suits your style.
Related Links 
15 Popular Interior Design Trends
23 Most Loved Mid-Century Modern Chair Designs
39 Types Of Chairs to Consider Today