Silicone glue is one of the most commonly used adhesives in household applications. Hence, it's crucial to choose a premium-quality product to get optimal results.
However, buying a quality silicone glue that offers permanent flexibility and protects against stains caused by molds may not be that easy after all. There are many factors to consider, and with the availability of a ton of options on the market, choosing an ideal one can be challenging and time-consuming.
So, to make your task simpler, we have handpicked and reviewed the 4 best silicone glue options currently available on the market after hours of extensive research and testing. Plus, we have included a buyer's guide towards the end of the article to help you make an informed purchase. 
So, without further ado, let's jump right in!
Best Glues for Silicone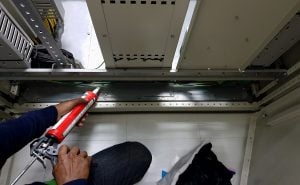 J-B Weld is one of the leading manufacturers of high-quality adhesives for plastic, wood, metal, and general-purpose use. And on that note, let us introduce you to the 31310 All-Purpose RTV. This silicone glue is designed for use in mechanical or household applications, and may deliver satisfactory results every time.    
Why Did We Like It?
As a piece of adhesive from a 40-year old brand, we are happy to say it lives up to our expectations. 
This product delivers a durable seal that can stand the test of time with ease, making it an ideal adhesive for automotive and household applications. Plus, it is available with a wide variety of color options, thereby enabling users to choose a shade as per their requirements.
Now, the major issue with most sealants and adhesives is that their beads are susceptible to mold and mildew growth that tend to affect the bond of your project. But you don't have to worry about that with this product, as it tackles the issue beautifully with the inclusion of mold and mildew-resistant features.    
Lastly, it sports an affordable price tag, which makes it an ideal buy for those on a tight budget.  
What Could've Been Better?
It is undoubtedly one of the best options on the market, given its durability and affordable pricing. However, while testing this product, we found that the nozzle of the tube tends to clog up pretty quickly, which was a little disappointing. But other than this, it does the job quite conveniently. 
Pros
Comes at an affordable price

Delivers a durable seal

Available in a variety of color options

Ideal for household and automotive uses
For over 70 years, GE Sealants has dedicated itself to designing innovative and top-notch sealants for all our home sealing projects. And the Silicone II Household Glue & Seal from the brand is the perfect example of a reliable option that can deliver optimal results on a range of surfaces. Keep reading to know more. 
Why Did We Like It?
We were quite impressed with what this glue has to offer. For starters, it can be used on multiple types of surfaces, which include wood, painted surfaces, fiberglass, ceramics, and a lot more. Hence, you will be able to use this product for all types of projects.
It forms a durable and flexible coating that doesn't tend to shrink or crack over time; this means you can rely on it to stay intact for a very long time. Also, it is super easy to apply, which is no short of a bonus for people who are new to DIY applications.
On top of that, this glue is backed by a limited lifetime guarantee by the manufacturer. This enables you to return the proof of purchase for a refund if you are not satisfied with the results. And finally, it has a low odor, which you will barely be able to smell while using it.      
What Could've Been Better?
During our period of usage, we didn't come across any significant downsides to this product that would affect the results. That said, we did notice that it takes a while to completely dry, which might be an issue for people that don't like waiting too long.   
Pros
Can be used on a range of surfaces

Backed by a lifetime guarantee

Doesn't shrink or crack over time

Has a low odor
Our next pick is an effective product from the house of Beacon, a brand well-known among DIYers for its range of adhesives, sealants, and coatings. Equipped with a slew of features that work to deliver a permanent seal, the 318OZ Advanced Craft Glue from the brand is an option you wouldn't want to miss out on.  
Sale
Why Did We Like It?
This product is known to resist water and provide a tough seal that lasts a lifetime; hence it is appropriate for bathrooms and areas that come in contact with water. However, you can use it on other surfaces as well, including plastic, metal, fabric, or wood as per your requirements. 
We loved the fact that it dries up pretty fast, so you don't have to wait around for too long. And the best part is that even though it dries up fast, it still allows time for moving pieces in place if required. As such, if you feel the need to make small corrections in your project, don't hesitate. 
Apart from this, it is priced quite reasonably, ensuring that it delivers good value for money. Overall, it is one of the top-rated glues for silicone on the market.        
What Could've Been Better?
The only drawback of this otherwise exceptional glue is that the packaging material used is poor. When it came to us, the packaging was warped, and the glue was leaking. This was a bit annoying, to be honest, given the brand's popularity.  
Pros
Sports a reasonable price tag

Provides a permanent seal

Can be used on a variety of surfaces

Dries up pretty fast
Cons
Poor packaging material used
Next, we have included the 8212302 Max Strength Clear from Gorilla, one of the most popular glue brands in the country. It helps deliver an outstandingly durable seal in all weather conditions. Obviously, there's a lot more to it so let's take a closer look. 
Why Did We Like It?
For us, the main highlight of this glue is its non-foaming formula, which ensures a crystal clear seal that is extremely heavy-duty. Needless to say that it can withstand all weather conditions with ease without shrinking or developing cracks. So, be it winter or summer, you can use this product without worrying about its durability.
On top of that, it is 100% waterproof and can work even underwater; now, this is something you don't get with the normal glues on the market. From tiles to ceramics to drywalls to woods, it can be used on a wide variety of surfaces. This means that you can use this product for different DIY projects without hassle.
Not only that, but we also loved how easy this product is to work with and apply. All you need to do is unscrew the nozzle and place it in a caulk gun, and you are good to go. Lastly, it has a low odor, which is something we truly appreciate. 
What Could've Been Better?
We couldn't find anything faulty with this product. That said, we would have really liked it if it had a faster drying time. Unfortunately, it takes quite a long time to dry. But since this doesn't comprise the results, we'd definitely recommend it.   
Pros
Provides a durable seal

Can be used on multiple surfaces

Easy to apply

Has a low odor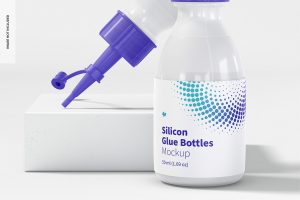 Glue for Silicone Buying Guide
Now that you have gone through all the 4 products, are you able to make a choice? Something tells us you are still confused about which product to go with. Well, to be honest, we are not surprised as just the brand names, specifications, and a few pros and cons is barely enough information when buying the best silicone glue. 
You see, there are a few other factors that you need to keep in mind in order to make the right choice. The following buyer's guide will help you in selecting the product that will meet all your requirements. As such, we strongly recommend reading the entire section carefully; otherwise, you might miss a thing or two.
Color Tint
More often than not, silicone glues are available in a wide range of color options. So, before buying, check the color mentioned on the package and ensure it's the same as the color of the surface on which you are going to apply it. 
However, if you get confused, simply go with the 'clear' color option, as they work well on most surfaces.  
Drying Time
The drying time is a very crucial factor that you must consider when buying the right glue for silicone. In most cases, it is advisable to go for a fast-drying product so that the users don't have to wait around too long. 
That said, slow drying also helps on certain occasions, especially when there's a need to make small corrections in a project. Slow drying time allows time for moving pieces if required. So, choose as per your requirements. 
Waterproof
Your silicone glue should be able to resist water, especially if it's used in bathrooms. Otherwise, water will affect the strength of the bond, and eventually, it might shrink and crack. So, before buying, make sure you check the specifications to ensure that it is resistant to water.   
Versatility
Versatility is also an important factor that people often tend to overlook. Since buying silicone glue requires a significant investment, you will want to make sure that you can use it on multiple projects and a wide variety of surfaces without any difficulty. So, be sure to check the surfaces it adheres to before buying. 
Steps To Glue Silicone
If you are a first-timer, you need to know the process of bonding with silicone glues. In this section, we have explained each step in detail.
You will need the following items to glue with silicone
Clean-up liquid

Soft cloth

Caulk gun

Silicone glue

Surface Preparation
Before you start with the process of bonding the silicone, make sure that the surface is thoroughly cleaned and free of debris. You can clean it by using water or other cleaning agents such as acetone and isopropanol. 
Once you are done cleaning, let the surface dry entirely before you start the silicone bonding process. If the surface has uneven areas, ensure that you fill them up. After that, you can prepare the cartridge and put it together with a caulk gun for use.
We strongly recommend practicing on a piece of cardboard before applying the silicone glue on the surface. If you are able to handle it properly, you can start by applying silicone beads on one side of the surface. If the surface is too big, make sure that you use more silicone glue and lay down the beads tightly.
Now, you can join the two surfaces by exerting high pressure. If you notice some silicone glue escaping, be sure to pick it up with your finger or a spatula and wipe it off using a soft cloth.    
This is the part where you wait. The drying time mostly depends on the silicone glue you have used. So, refer to the instruction manual that came along with it to know the drying time. In general, it takes about 24 hours for silicone adhesives to completely cure. 
That said, if you can afford to wait a few more hours, we suggest you do it.  
Silicone Glue Frequently Asked Questions 
These are some of the most frequently asked questions regarding silicone glues. Read it to have all your doubts cleared.
What does 'RTV' mean in silicone glues?
RTV stands for Room Temperature Vulcanization. If your silicone glue is an RTV one, it means it will start curing as soon as it is exposed to air.
Can silicone sealants be painted on?
Unfortunately, glues for silicone are not paintable, unlike latex-based glues, also known as caulks.
What is the right temperature for applying silicone glue?
For best results, it's important to apply silicone glue at room temperature.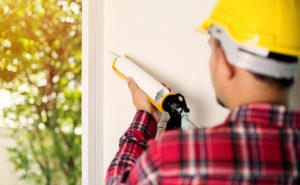 Verdict
So, we have finally reached the end of our review-based guide and you know that choosing the right silicone glue is not complicated. 
You just need to consider a few factors to make the right buying decision. But before we call it a day, we will let you in on our favorite products from this list.
The J-B Weld is the best model overall, mainly because it sports an affordable price tag and provides a durable seal. Moreover, the GE Sealants Silicone II Household Glue & Seal is a great option if you want a product that has low odor and is backed by a lifetime warranty. 
But if you are in search of a product that dries up in a jiffy and can be used on several surfaces, you can't go wrong with the Beacon. With that, it's a wrap. See ya! 
Related Articles
How To Glue HDPE 101 + Best HDPE Adhesive
3 Best Adhesive for Carbon Fiber
How to Remove Gorilla Glue From Skin Safely & Easily
The Difference Between Epoxy & Super Glue [Clear Winner?]
Types Of Glue | Everything You Need To Know
9 Best Caulk For Your Showers and Bathtubs [Buyer's Guide]
9 Best Glue for Metal to Wood [Reviews & Buyer's Guide]
10 Best Leather Glue on the Market
11 Best Aquarium Safe Silicone
11 Best Permanent Fabric Glues [Reviews & Buyer's Guide]
9 Best Glue For Acrylic Plexiglass
9 Best Glue for Plastic Eyeglass Frames
10 Best Glue For Stainless Steel
Polyurethane Glue 101 | All You Need to Know  
Gorilla Glue vs. Super Glue | Strengths, Weakness + Winner?
JB Weld VS Gorilla Glue | Comparison & Winner
9 Best Glue For Hardwood Floors
7 Best Glue For Particle Board
5 Best Glue To Fix Fridge Plastic
7 Best Adhesive For Acoustic Foam
Glue That Works On ABS And PVC