While making jewelry, the first thing that you will realize is that you have to work with precision. But messy glues can cause problems in this case. 
The best glue for jewelry is one of the indispensable tools that need to be in your craft box. Now, you will find a variety of jewelry glues on the market but not every option will give you the same results. 
While some will provide you with a great option for jewelry repairs, others might work well for bead jewelry. Then there are products that will not turn yellow because of UV light. You can use these options for jewelry made for rough and everyday uses. 
To make it easier to choose, we will recommend some of the top options, which will help you find the best glue for jewelry. We have also added a buyer's guide towards the end to ensure that you make the right choice. 
So, read on! 
Best Glue For Jewelry
IMAGE
PRODUCT
DETAILS

Our Top Pick

Our Top Pick

Aleene's 21709

Available in a 0.70-ounce pack
Gel formula that dries very easily
Offers a permanent drying solution

VIEW LATEST PRICE →

CAT PALM B-7000 Adhesive

For precise and fine applications
Can be stretched to 900 times its length 
Will provide excellent bonding strength

VIEW LATEST PRICE →

G-S Hypo JA-GSHYPO

Can be used to attach beads and pearls
Known for its precise application capabilities 
1 ml in every pack 

VIEW LATEST PRICE →

E6000 Jewelry Glue

4 tips for easier use
Equipped with an industrial-strength formula
Includes 1 pack weighing 3.53 ounces

VIEW LATEST PRICE →

G-S Hypo GSHYPOGLUE

Available in a 9ml pack
Dries to form a clean, transparent layer
Offers precise and mess-free application 

VIEW LATEST PRICE →

Beacon Dazzle Tac JG1OZ

Provides an extra-strong permanent gluing option
Dries to form a crystal clear option 
Can be used with glass beads and semi-precious jewelry

VIEW LATEST PRICE →

Lermity B-7000 Adhesive

Package consists of 3 packs measuring 15 ml
Takes 24-48 hours to cure completely
Known to be very stretchy 

VIEW LATEST PRICE →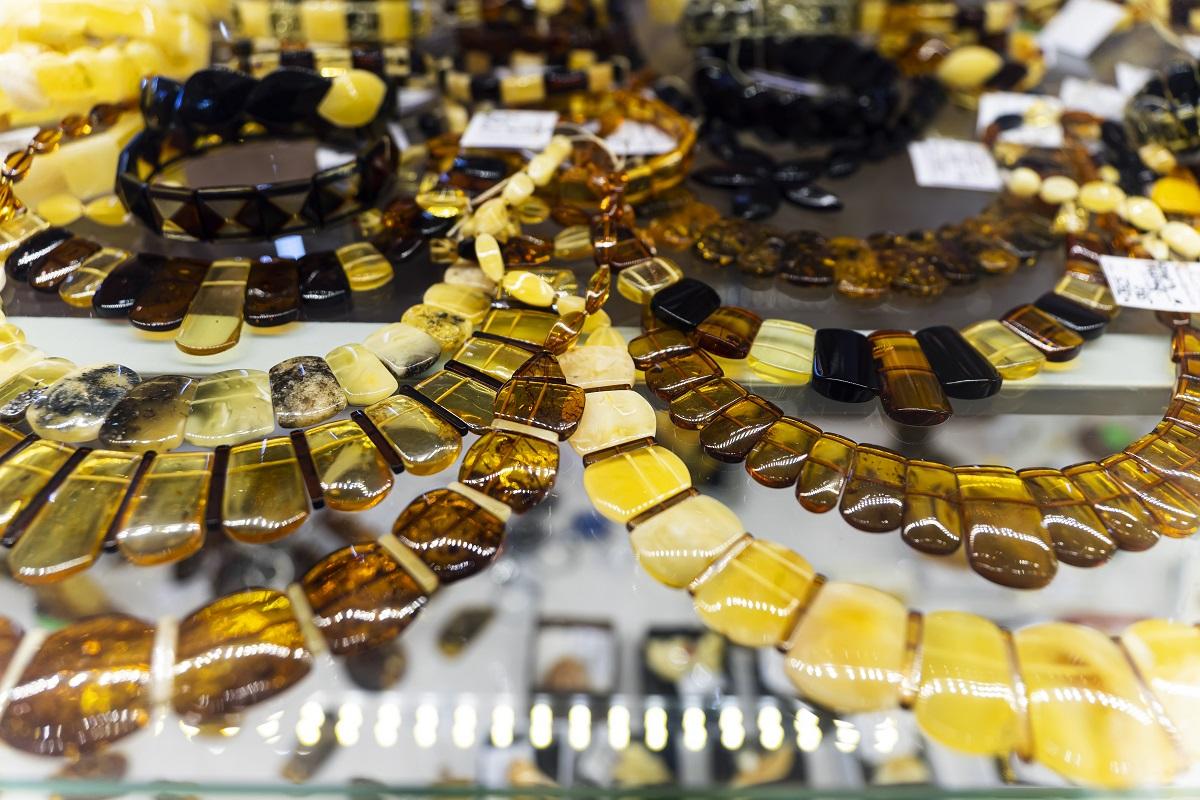 If you are into jewelry making with metal pieces, then Aleene's 21709 can be a perfect choice. It will offer you a hoard of benefits and also help you with all kinds of DIY projects. You can purchase one tube for making 2-3 pieces of jewelry. 
Sale
Why Did We Like It?
This jewelry glue comes in a tube with a gel formula inside. It can flow smoothly and is easy to apply. It will flow out easily once you turn the tube towards the beads. We recommend using gloves and newspapers while working. Place the newspaper well before you keep the jewelry pieces on top. 
To top it all, the glue for jewelry will dry to form a clear transparent layer that is very strong. It can be stretched, but the bond will not break. We used it for our art and craft classes, and it worked out well. 
Next, you can use it on a variety of surfaces, including glass, metal, as well as stones. Plus, the nib of this glue is thin, so you can work with repairing old pieces of jewelry too. 
What Could've Been Better?
This glue for jewelry will work out well, but you can have a very messy experience if you're not careful. Remember that the glue is in a gel form; hence, do not squeeze too hard. Once you learn the technique, it should not be very difficult anymore. 
Pros
Will dry to form a clear layer

Perfect for creative art and craft projects

Offers a strong and permanent solution

Will work with glass, metal, and stones
One of our top recommendations for jewelry making is the CAT PALM B-7000 Adhesive. It is perfect for metal jewelry and is known for its versatile usage. You can use it as a bead adhesive because of the precision that it provides. 
Why Did We Like It?
To begin with, you will love the needle design that will prevent the tip from getting blocked. Also, this jewelry glue will work for multiple applications. You can permanently bond metal surfaces, paper, wood, cloth, nylon, textile, ceramic pieces, PVC, rubber, fiber, and cloth. 
Next, this is the right jewelry adhesive if you are looking to create jewelry from various kinds of materials. Kids can use it for making jewelry with ceramic, wood, and rubber. You can also use it for minor jewelry repairs or as an instant glue adhesive. 
Moreover, the glue will help you seal surfaces, which will prevent airflow. You can make jewelry last for a long time and ensure that the whole crafting process is smooth. 
Moving on, this is an effective glue that can be used for mobile repairs along with attaching gemstones. It is specially formulated and can be stretched 900% more than its length without breaking the layer. 
What Could've Been Better?
While the craft glue works for jewelry making very well, it does come with a limited shelf life. Please check the expiry date of the glue before purchasing. If you keep this in mind, then there should not be any further problems. 
Pros
Can be used to seal gas and air

Surface drying time of 6 minutes

Suitable for multiple purposes

Perfect for underground application
Cons
Comes with a limited shelf life
The G-S Hypo JA-GSHYPO is not only used for jewelry making but also can help bind non-porous surfaces well. So, if you are looking for glue that will help you put together beautiful pieces of jewelry of different types, then go for this. 
G-S Hypo Cement
Tube contains 1/3 ounce of glue
Great for highly detailed work, perfect for small jewelry...
Why Did We Like It?
For starters, this jeweler's glue will provide a very strong bond that will last for a long time. You can use it to put together pearls and beads on other surfaces. That's not all, as you can attach a nice diamond stud firmly so that it stays in place. 
Another important factor is that you will require very small quantities of the liquid to work. Jewelry pieces need very precise application along with neat placement of the beads. This glue cement will ensure that you can work with pearl jewelry and gold jewelry. 
Moreover, this flexible glue will help you create art and craft projects along with creating jewelry. Not all glue can be used for versatile purposes; hence this stands out. 
Plus, you will get a small tube that can be used to make 1-2 pieces of jewelry. That way, it will never dry up, making them a great option. 
What Could've Been Better?
Rhinestones are often used in making jewelry but ensure that you do not use this jewelry glue with them. This is not the right adhesive for rhinestones as it may spoil the finish and the surface of it. Remember this while making a choice. 
Pros
Very strong adhesive

Can be used to attach cords and wires

Helps in fine detailing work

Provides a transparent layer
Cons
Not to be used with rhinestones
One of the best glue for jewelry making is the E6000 glue, which has brilliant jewelry adhesive properties. It is known for its industrial strength formula, which will help you work with all kinds of materials. Many professionals use this glue for making art pieces. 
Why Did We Like It?
This is a waterproof glue that will work for all kinds of jewelry. The formula is very strong, and it can bind surfaces together easily. 
Also, the best part about this product is that there are 4 tips provided in the pack. This will help you use the glue easily, even if 1-2 tips get blocked. You can work with the glue for a long time with the same amount of precision. 
Moving on, the tips are very thin, ensuring that you can only squeeze out tiny drops of the glue. This will make it easier to work with, especially when you need to attach tiny beads. It is a bead glue, but you can also use it for repairing jewelry. 
That is not all; this great glue can stick fabric pieces as well as can be used for making jewelry with metal. Some customers have used it to fix screws in place, and it has offered a permanent solution. 
What Could've Been Better?
While the jewelry glue will work well, the smell can be bothersome. This adhesive releases chemical vapors, so it is best that you wear a mask while working with it. Then leave the jewelry in a dry place for a week before you start using it. 
Pros
Made for precise applications

Offers a waterproof and dry layer

Can be used for pearls and beads

Perfect for jewelry making
One of the best glues for jewelry is the G-S Hypo GSHYPOGLUE, which works very well as a jewelry adhesive as well as for a host of other purposes. We wanted to design some jewelry with plastic for a kid's art class, and it worked out very well. 
Sale
Why Did We Like It?
The jewelry adhesive properties work very well when you are using it with glass, metal, ceramic, and crystals. It will surely keep the beads or the tiny parts in place, making it one of the sought-after craft glues on the market. 
Moving on, this glue will take very little time to dry. After application, wait for a few minutes, and you will see that a transparent flexible layer has formed on top. The best part here is that this will work well as a jewelry adhesive as it will not stick your fingers. 
Adding on, you will get 9 ml of the jewelry glue in the pack. This should help you work with a small or a medium-sized jewelry project. Please close the cap after you are done to prevent the excess glue from drying around the mouth of the tube. You can use a nail polish remover to wipe the mouth if you see a lot of glue around the tip. 
What Could've Been Better?
Remember that this jewelry glue will flow out easily. Hence it is recommended that you understand the dispensing rate of the tube before using it on fine jewelry. That way, you will know not to squeeze too much, and you can easily apply with precision. 
Pros
Perfect for jewelry making

Takes less time to dry

Will not bond fingers

Can be used as a metal glue
If you are looking for an extra permanent solution to use for your jewelry, then the Beacon Dazzle Tac JG1OZ will be a good option. It can help you create and repair jewelry pieces. We were very happy to see that this option worked out well with semi-precious jewelry. 
Why Did We Like It?
If you are trying to work with plastic or you want to attach a mirror to a frame, this will be a great option. It can glue all kinds of materials together, making it an ideal choice. That is not all; the layer will dry fast and will be flexible. You can rest assured that there is no chance of it breaking down. 
Moving on, the jewelry glue will ensure that the layer is waterproof. It is also resistant to UV light, making sure that the layer will not turn yellow on exposure to sunlight. You can use it for mirrors, wire, beads, metal surfaces, mosaics, and stones.  
Some people also use it for making jewelry for regular wear. We will recommend letting the glued pieces lay in a dry place for a few days before you start wearing them outdoors. 
What Could've Been Better?
Before you use this product, you should know that the vapor can be harmful to humans. Hence, please wear a mask while working. We will recommend working in a well-ventilated area where the fumes can easily disappear. After the job is done, leave it for a few days before using the jewelry. 
Pros
Shockproof option

Resists impacts

Can be used for daily wear jewelry

Offers waterproof performance
One of our final recommendations is the Lermity B-7000 Adhesive, which is known to be a multipurpose glue. If you were looking for a product that could take care of many projects at once, then this might fit you well. Read on to know all about its features. 
Why Did We Like It?
This jewelry glue comes with a very thin tip that will help with the fine and detailed application. It can be applied without creating a mess, making it easy to use. Just point the tip towards the exact spot and squeeze the tube. 
Moving on, the glue will take around 3 to 6 minutes to dry to touch. But it will take approximately 24 to 48 hours to dry up completely. We will recommend leaving it alone for a few days before using the jewelry or any other product on which you are applying this glue. 
Additionally, you can work with multiple surfaces, which includes fiberglass, cell phones, rubber, plastic, metal, leather, PVC, ABS, textiles, sponges, and films, to name a few. This is a multipurpose glue that will save you the hassle of purchasing other glue types for different surfaces. 
What Could've Been Better?
Since the formula is in a slightly runny form, you will have to be careful while using the glue. Please do not squeeze too hard, as that could lead to a lot of glue coming out at once. Press gently and test the flow of the glue before working with precious jewelry. 
Pros
Surface dries to touch within 6 minutes

Can be used on multiple surfaces

Easy to work with

Has the consistency of hot glue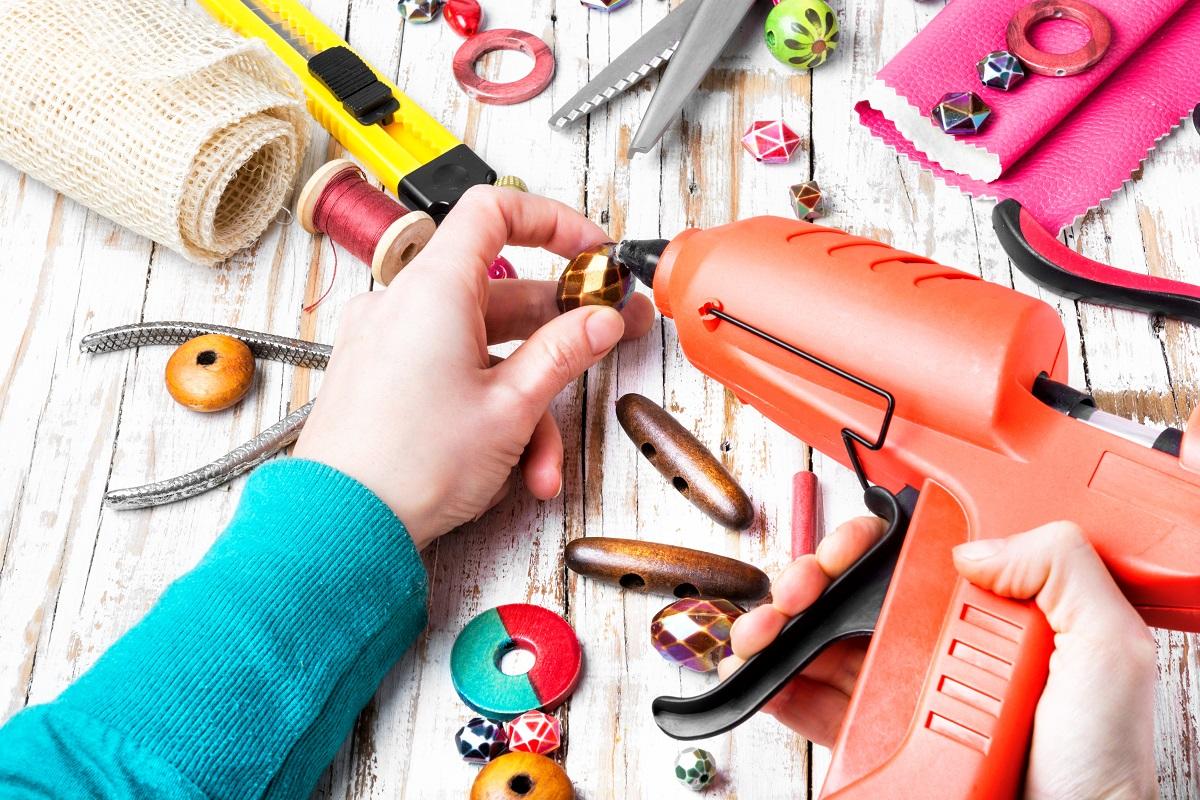 Glue for Jewelry Buying Guide
Jewelry making is known to be a great hobby for some, while others may want to do it professionally. The best glue for jewelry will ensure that you can stick all the parts easily without having to worry about a stone coming loose. 
Now there are different pieces of jewelry, including bracelets, earrings, rings, and necklaces. You can either repair older pieces or create new ones from metal pieces. Knowing the purpose of your use is very important, and the following points will help you in choosing one from among the lot. 
Time Taken To Dry
The drying time varies a lot with different brands of glue for jewelry. Now, if you have limited time or you have to finish working on a number of jewelry pieces in a short period of time, then the glue can be very helpful. These will dry within minutes, and you can go about attaching the next piece. 
However, if you want the bond to be long-lasting, then let the jewelry glue rest for longer. Then it will harden up more, providing you with a better hold. 
But remember, if you are a novice, it is better to select a glue that takes a longer time to dry. That is because you can make adjustments and place the parts in perfect position. Then you can allow it to dry. 
Tips 
Please check the tips well before purchasing any jewelry adhesive. Not all glues will have a thin tip, which can make it easier to apply tiny amounts for jewelry making. You may need very tiny amounts for attaching small pieces of beads or diamonds. Epoxy resin glue may not be able to help you out, and you might need a gel-like formula with a very thin tip. 
The best jewelry glue should be such that you are able to work without the jewelry adhesive running all over the surface. You will need a good consistency, and you can test it on a different surface to understand the dispensing rate. 
Strength 
Jewelry that is worn every day may be exposed to a lot of rough usages. One thing that you need to remember while creating jewelry is that the glue should be strong. It should not be affected by high temperatures. 
Moreover, most people wear their rings or earrings while taking a bath. Hence, the right glue should be able to resist water and other fluids. You do not want your beads or stones to become too loose very often, making strength a necessary factor. 
Now there are superglues like gorilla super glue gel and epoxy glue on the market, which are very strong. Epoxy glues are used for making molded jewelry, while super glue or gorilla glue can help you fix almost anything. So you can choose them too if needed. 
Glue Flexibility 
A jewelry adhesive should be able to dry without becoming brittle. When a brittle layer is formed, then it can crack and lead to the beads falling off. More pressure might be created for the beads or the parts, but this can be avoided. Look for a jewelry adhesive that is flexible and can be used easily.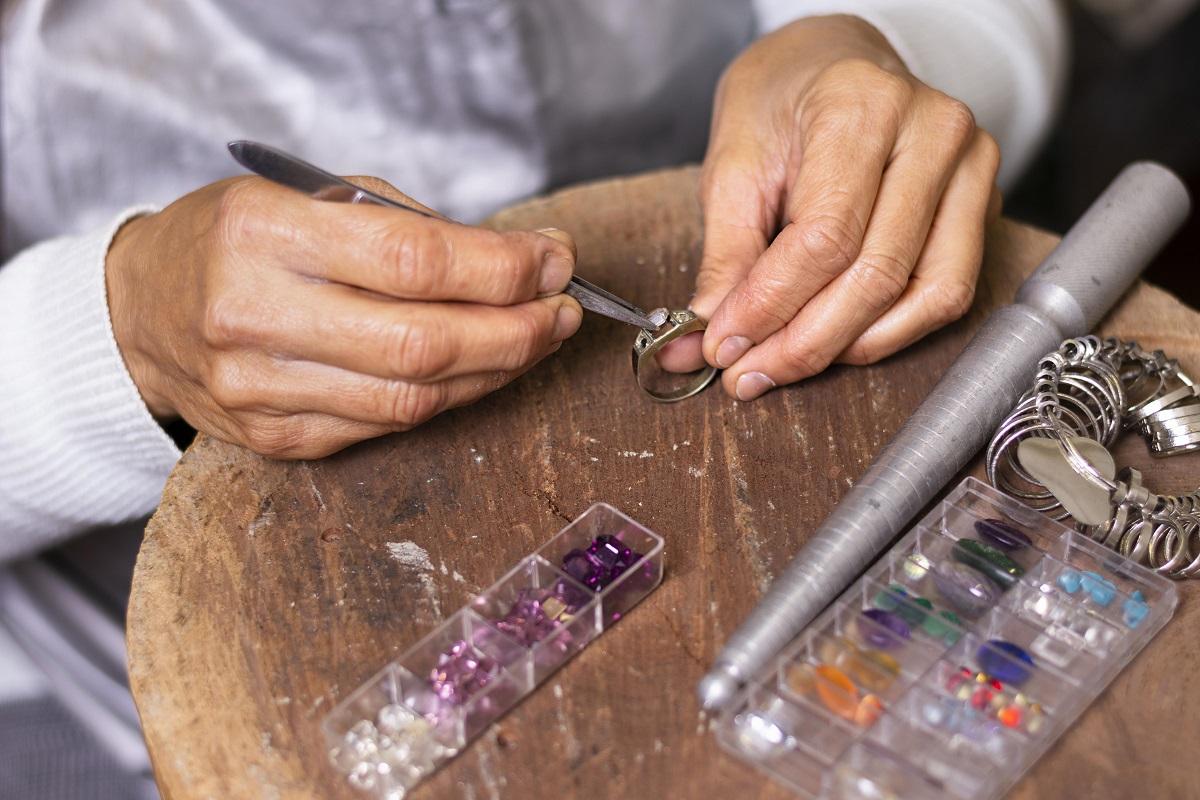 Verdict
The best glue for jewelry will always work out and will make it easy to create beautiful pieces. If you are not very confident about it, you can use a toothpick to apply the glue from the tube onto the item. 
With this, we have finally reached the end of this guide, and it is time to take you through our favorites. The Aleene's 21709 is an incredible option for metal jewelry. But if you are looking for something to use for beads, then the CAT PALM B-7000 Adhesive will work well. 
On the other hand, the G-S Hypo JA-GSHYPO will help in bonding porous surfaces. Let us know about your favorite jewelry adhesives in the comment section below. 
Take care and bye! 
Related Articles 
17 Epic & Insanely Creative DIY Jewelry Organizer Ideas
11 Best Glue for Polypropylene
11 Best Glue For Paper & Paper Mache
9 Best UV Light Glue for Amateurs & Professionals
13 Best Wood Glue for Firm and Durable Bonds Today
10 Best Ceramic and Porcelain Glue
11 Best Permanent Fabric Glues
10 Best Leather Glue on the Market
9 Best Glue For Acrylic Plexiglass
9 Best Glue for Plastic Eyeglass Frames
10 Best Glue For Stainless Steel
JB Weld VS Gorilla Glue | Comparison & Winner
9 Best Glue For Hardwood Floors
7 Best Glue For Particle Board
5 Best Glue To Fix Fridge Plastic
7 Best Adhesive For Acoustic Foam
Glue That Works On ABS And PVC