Everyone has his or her little vanities in life that cannot be given up and require their own allocated space at home. While some people prefer jewelry, perfumes, bags or shoes, others prefer hats. A hat does not only make an outfit complete, it also protects the head from the nasty heat of the sun or the blistering cold. Having a hat storage is essential to keep the storage clutter-free and to avoid getting hats mixed up in places that will damage their shape. Take a pick on your favorite hat storage below.
Genius and Lovely Hat Storage Ideas
Sale
Bestseller No. 1
1. caps in simple dress hanger and hooks
Organizing hats is not as hard as it seems; one must only know what works and what does not in storing hats. This is a simple setup for a hat rack organizer, using just a clothes hanger and hooks. For people who have little space, this can be a wonderful initial idea in storing your precious items.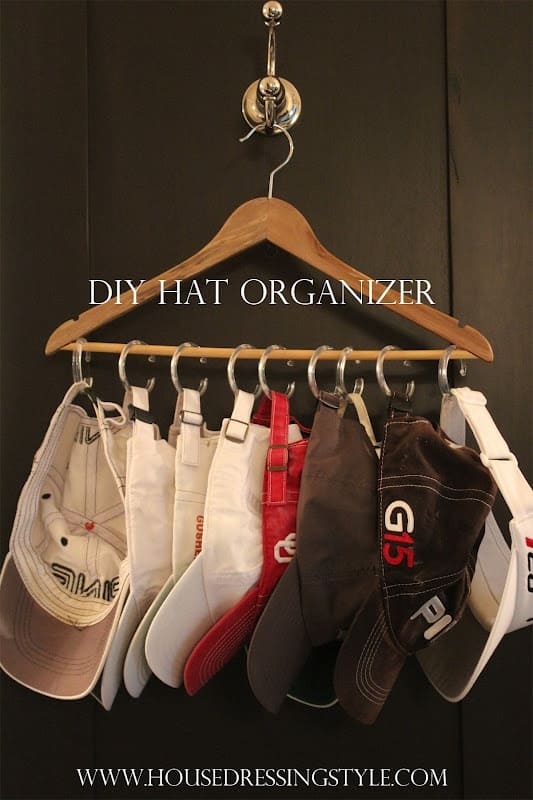 2. hanging compartments for easy storage
Hanging caps and hats is the usual way of storage, but this idea is also very useful especially for baseball caps. Organizing hats by color, use or by brand will also make things easier. Each hat rack compartment can accommodate one hat at a time which makes it clutter-free.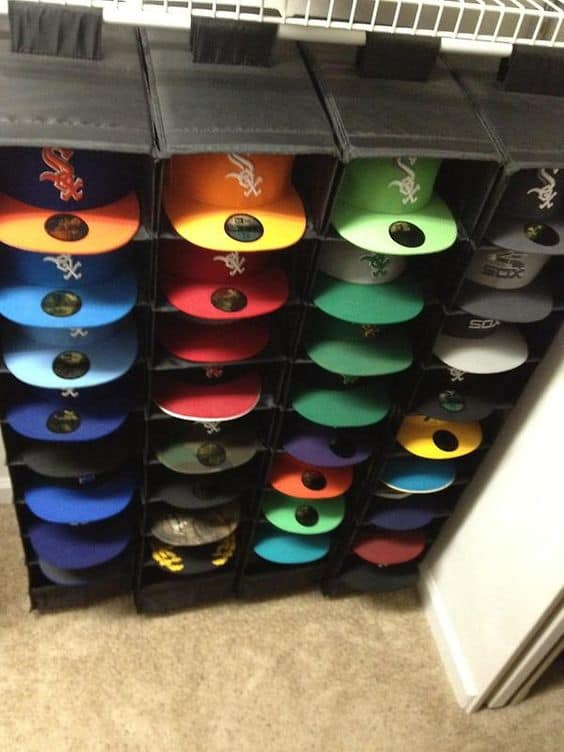 3. accent the wall with hats
Colorful and different kinds of hats need to be flaunted and this is a very lovely way of doing so. Having a wall dedicated for the hats to hold and display creates an unique décor inside the home. This way of hat storage hits two birds with one stone.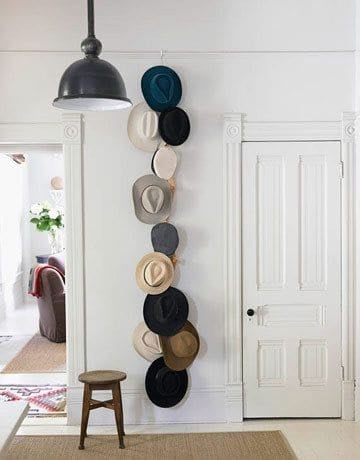 4. fashionable display in an organized way
Hat storage need not only have hats- displaying other personal accessories also looks clean and sharp when added with caps and hats. Layering the jewelry with other fancy items in the hat rack presents an effective all-in-one approach for storage.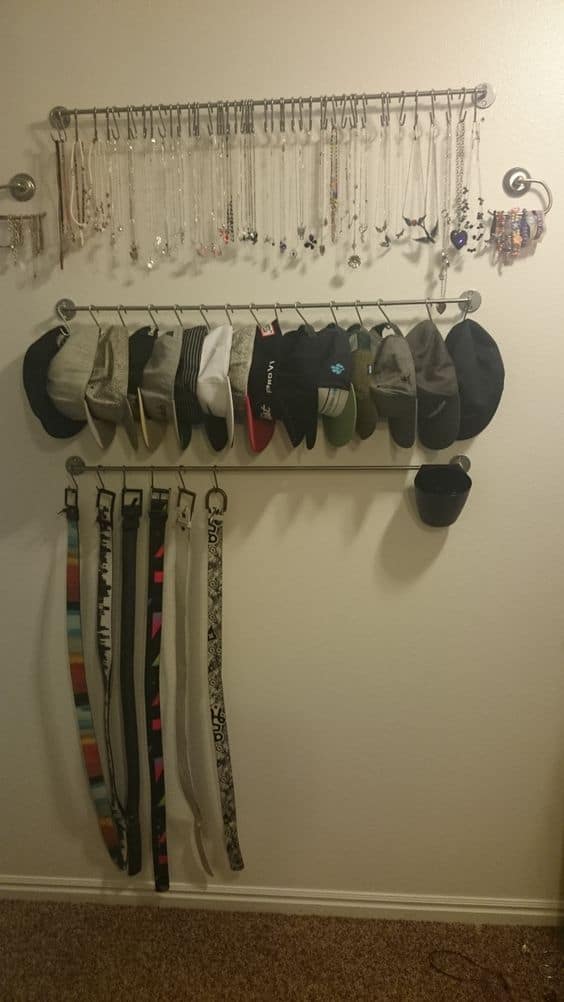 5. by clip and by copper tube
When the cabinet is not spacious enough and the wall has no other display, this hat storage idea can be a better option. Not only is this hat rack useful for storing hats, other items may also be displayed along with the hats, like photographs.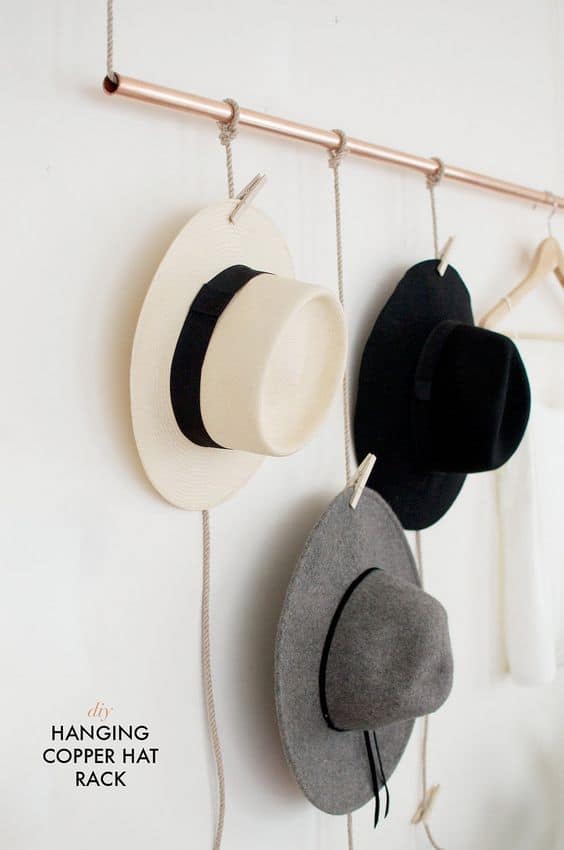 6. classic distressed wood and hook
Hooks are the usual way for hat storage and it is truly an effective way. The usual hooks are boring but making these hooks more interesting is possible. One way is using distressed woods as a base and painting each base in bold colors that complement your wall finish.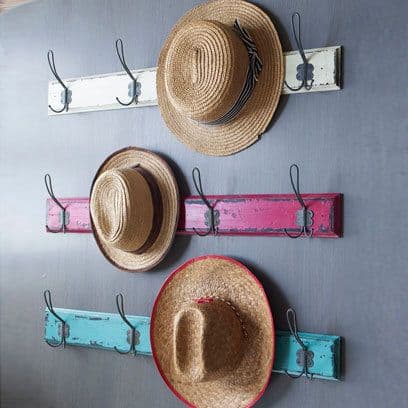 7. layers upon layers of hats
Spaces behind doors are often unused and left bare, and is the best place to put on hat hangers. Simple bath towel rods have enough space to hang multiple hats and caps on. The usual hooks  can secure the hats in place but do not make it hard for anyone to grab a hat easily, useful hat rack especially for big volumes.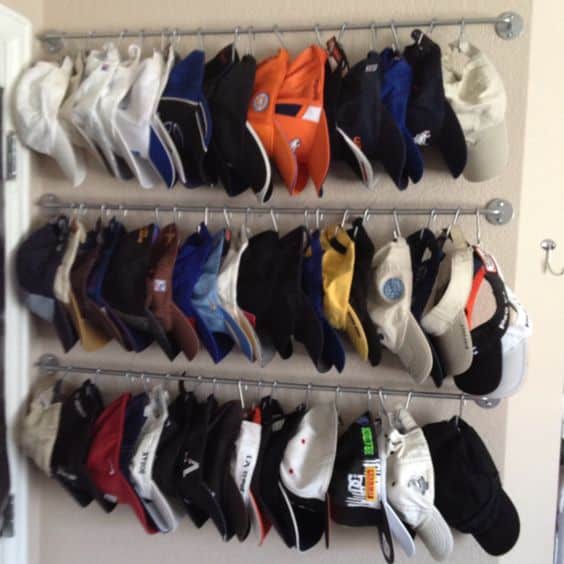 8. keeping the balance of wood and textile
Wood is lovely and can be used in virtually anything under the storage and decoration use. Using wood as the main way of storing and displaying hats is a great example of mixing the beauty of wood with textile. The wood sets a lovely background while the hats provide the lively mix of colors, simple and efficient hat rack.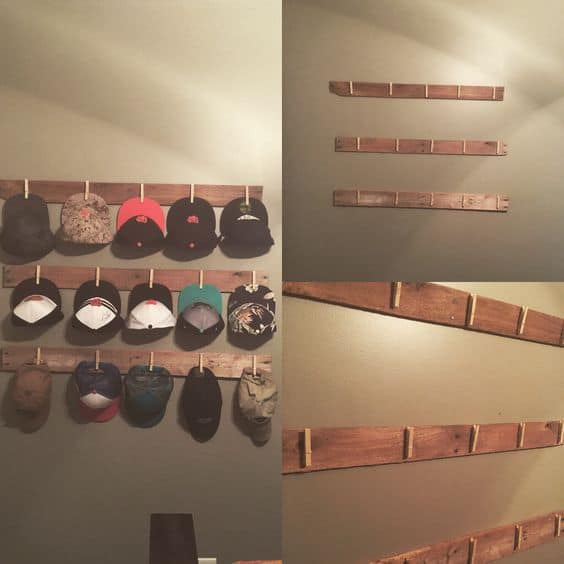 9. neatly snuggled inside drawers
Displaying hats on walls is a great idea, but keeping them organized inside drawers is also a useful one. Hats are protected from dust and other elements that might affect the vibrancy of the hats' colors. Neatly lining up the hats will also make quite a display, the hat rack for valuable hats that shouldn't see direct sunlight or dust particles often.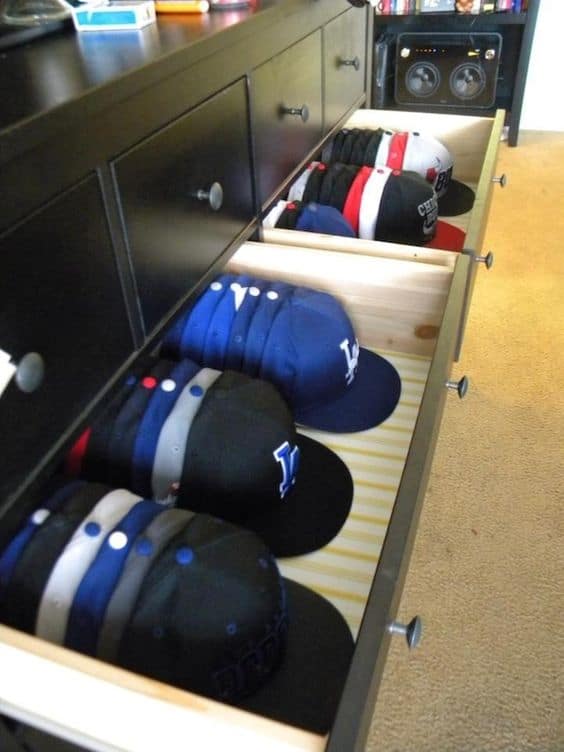 10. maximizing the space just above the cabinets
When the space behind the doors and the usual wall is already occupied by other displays and decorations, using the space above cabinets can be an alternative for hat storage. It will be a stunning display for a hat collection and an unique place to store hats.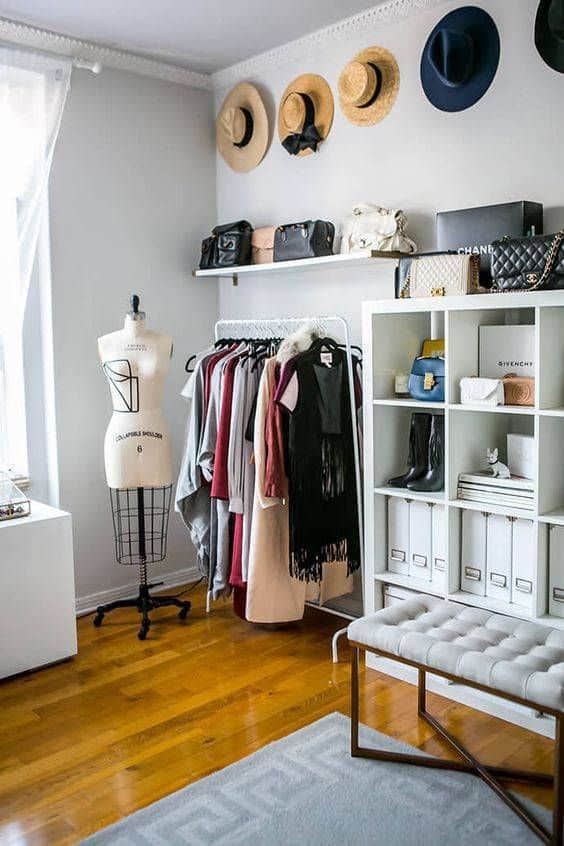 11. display your love for hats
Creating an accent wall with hats as the center of attraction is lovely and will definitely amaze guests. While many prefer paintings and photographs, this unique way of displaying hats will save space and is an ultimate stunner, a pretty at rack idea that doubles as wall art.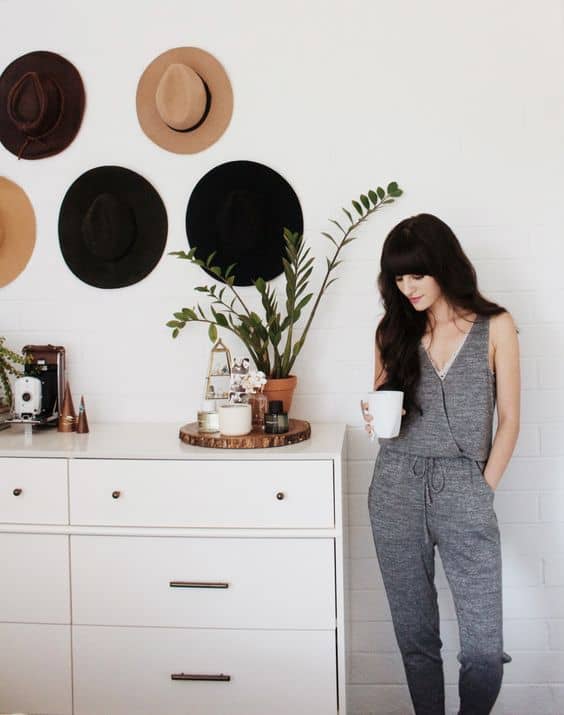 12. Vertical display of colorful hats
Horizontal hat storage is the usual way, but doing it in a vertical way can make a huge difference. Not only will this hat rack fit more hats on a limited space, it can also be a colorful display against the wall. The use of wood board is lovely especially in between the solid wall color and the mix of colors of the hats.
13. hanging by the door
Starting with something simple for a hat storage is fine if space is not a luxury in a home. Using the back of the door as a hat rack is the most convenient for many since hats can be grabbed easily on the way out. Though this hat storage is very simple, the function and neatness it presents is still something to consider.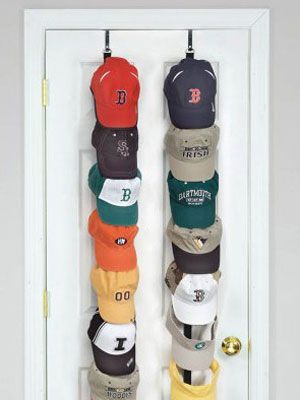 14. going steampunk for hat storage
Steampunk works for almost anything and every type of storage at home, even hat racks. Because of its design, this pipe hat storage can fit well into the steampunk category and still be of great use for many things besides hats. This is a nice example of a functional steampunk display that many people would commend a homeowner for.

15. larger hooks for better display
Hats of any sort must be displayed and should be seen from every angle. However, some diy hat storage have small hooks which will often leave a hat displayed only on one side of it, with this hat rack though you can control the viewing angle with ease.
16. wire mesh and clips for unique hat storage
While most would opt for wood planks or copper bars, this unique use of wire mesh hat rack can actually be a fashionable alternative. The mesh provides the right space and support for the clips and the hats. It is also an easy alternative to wood boards and copper bars.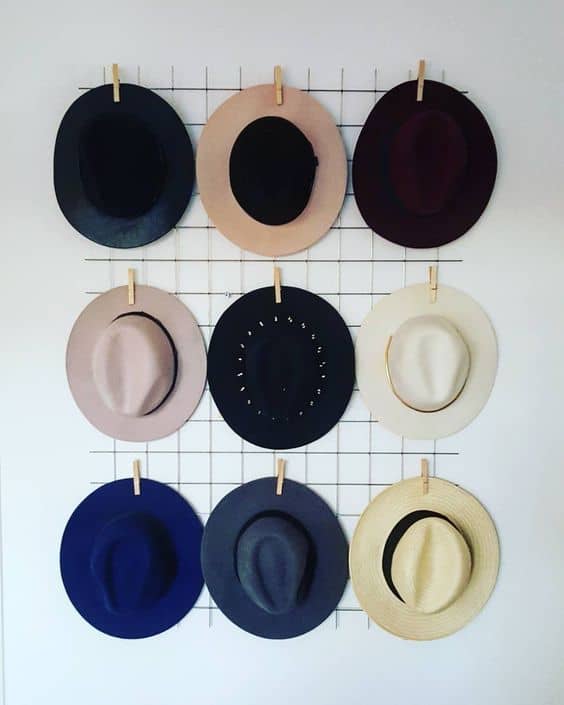 17. chained up for display
Hanging hats for storage is taken literally in this diy hat storage idea. A chain is used to support the clips and the hats, making banderitas or flags of hats. This hat rack idea is great for small walk-in cabinets or just for the corner of the bedroom.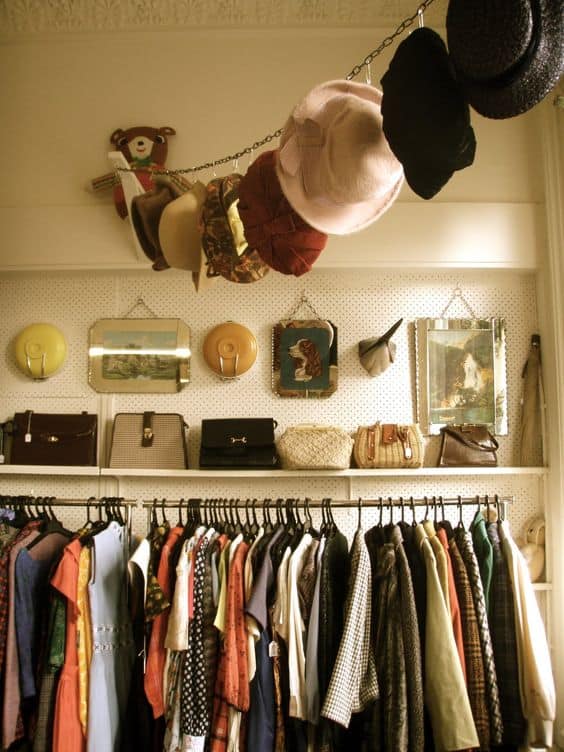 How do you store your hats if you have such a passion? Feel free to share your hat rack ideas and hat collection in the comment section below.
Sale
Bestseller No. 1