The trellis is loved by gardeners and those who maintain yards all over the world. One might say it is a mainstay in most situations.
This hardscape has been defined as the backbone on which the garden mostly grows. Usually, the trellis takes not only numerous forms but also serves multiple functions. Be it simple structures where vining vegetation is lifted, to the more complex alternatives with elaborate and sturdier designs, the trellis is always useful. 
Even back patios and pathways benefit from these installations, as they spruce up any location. While these installations can improve the aesthetics of a place, trellises can be expensive to buy. That is why we have prepared some of the best trellises that you can make for yourself. 
Not only are they functional, but the process is easy too. You can rest assured that these trellis ideas will match whatever style you have in mind. 
Now, let us dive into the details without delay. 
DIY Garden Trellis Ideas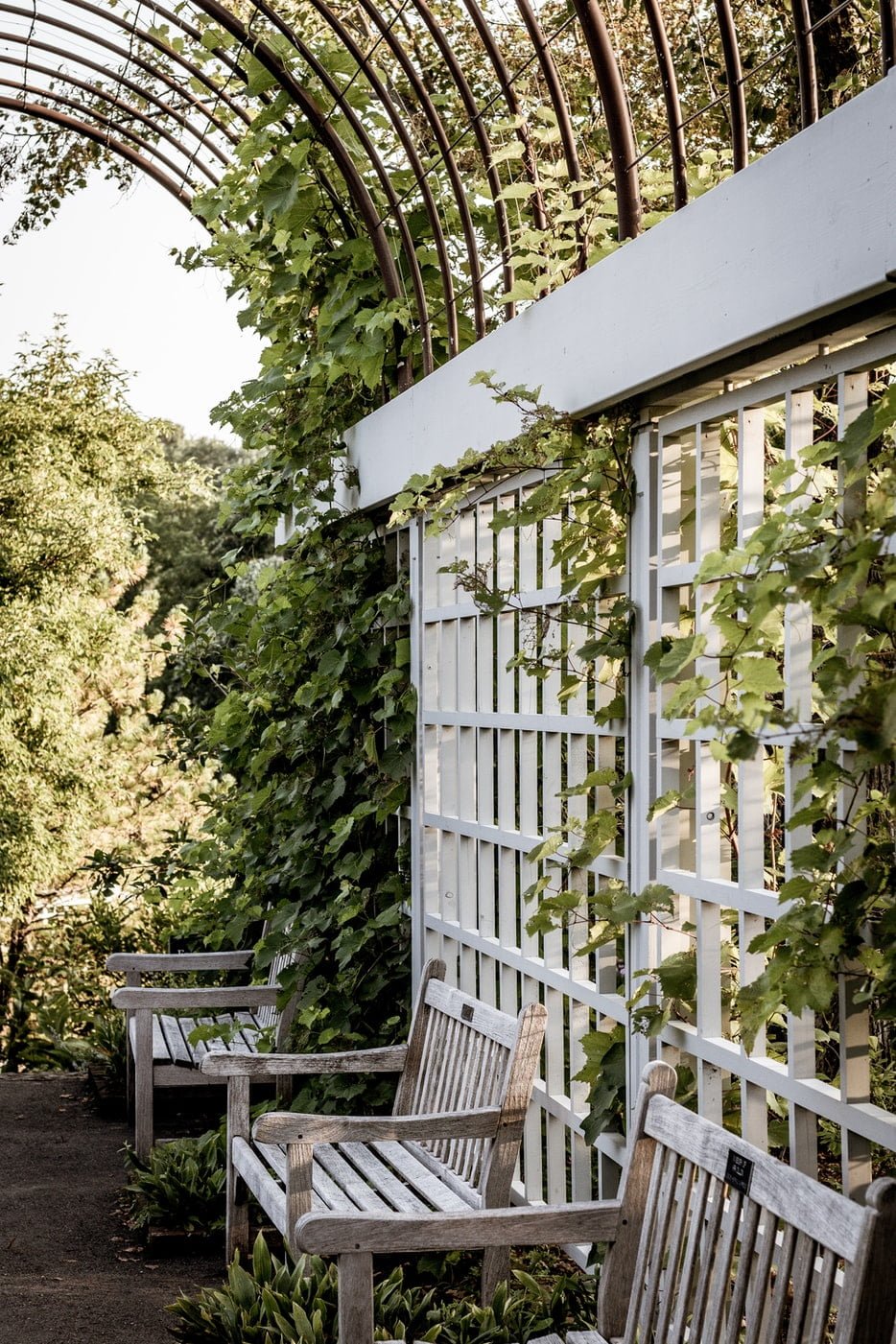 DIY Pergola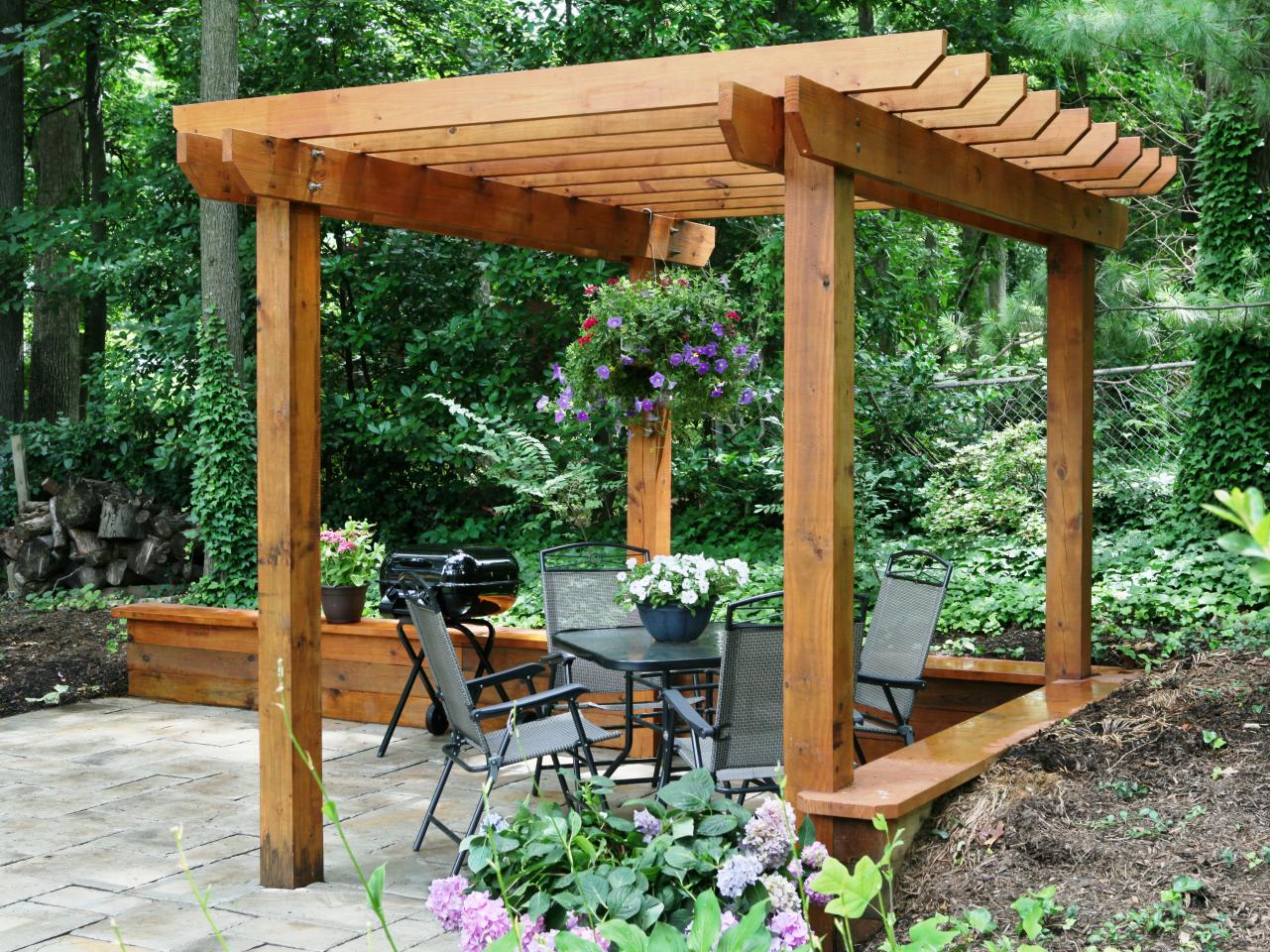 Often pergolas are known as arbors or trellises. Not only can they be used as a structure that vines use for support, but also to define the space outdoors. You'll see how they are functional as shades for cooling once you start using them. 
Before making a pergola for crawling vines, it is best to know where the underground lines are located in your garden. Normally, you'd have to sink the footing so that it is one quarter the height of the desired post. 
Honeycomb Trellis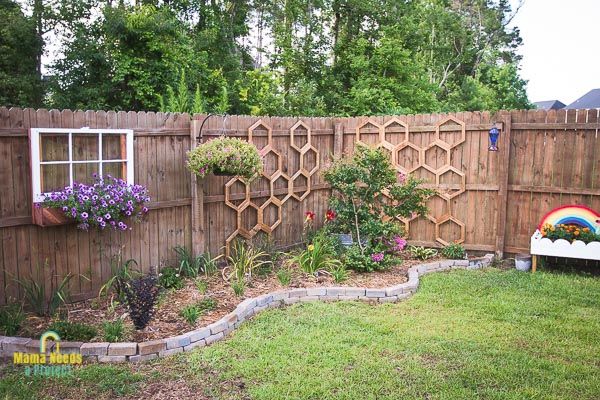 If you're in the mood to make your garden look good, then this trellis is the right way to go. The structure looks lovely as it is, and the hexagonal shape is sure to make your property look sleek and stylish. 
Using a miter saw, you can easily make these hexagonal cuts. Then, you'd have to mount the trellis on the fence, ensuring that you've screwed in adequately into every one of the horizontal supports. 
T-Post Trellis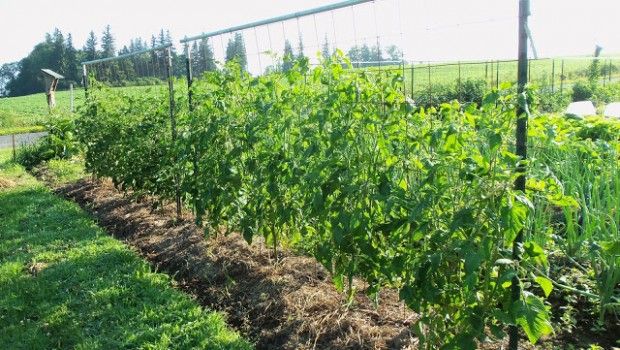 The T-Post trellis is a rustic and sweet addition, which you can easily make using two T-posts. In addition, you can make use of twigs from poplar saplings as well as twine. Then, it is best to resort to zip ties to get additional strength for the trellis. 
Using bigger branches towards the bottom and smaller ones at the top add a degree of strength to the structure. Alternating the thick ends as per rows brings a degree of stability too. 
Fancy Trellis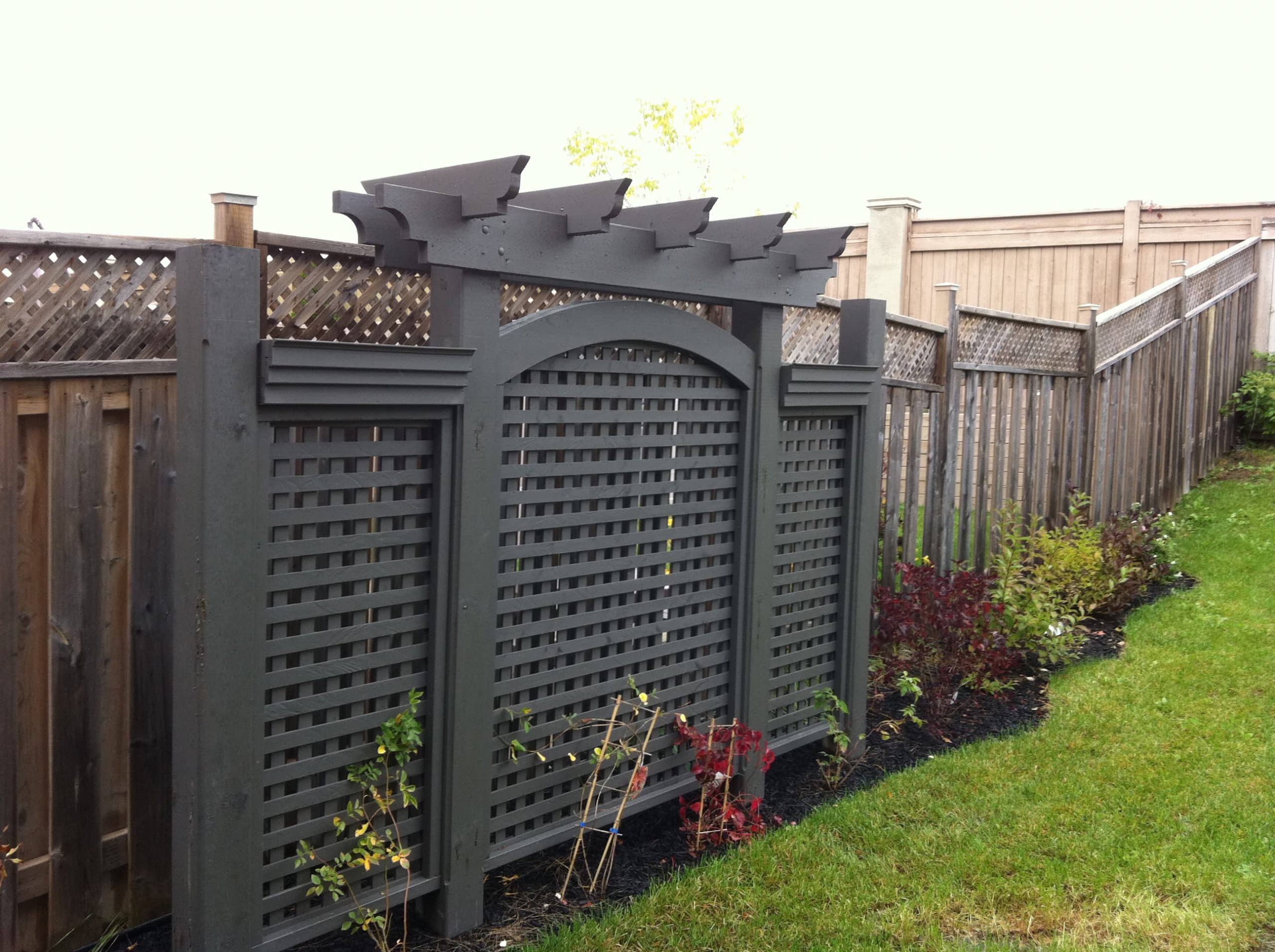 Eager to show off the entrance to your house? Bank on a fancy trellis to grab the attention of everyone. If you drape it with a flower-like clematis, you'll find the structure especially nice. While using these flowering vines, make sure the trellis is made of pressure-treated lumber. Having a sealer and stain will ensure it stands the test of time too. 
Clematis Trellis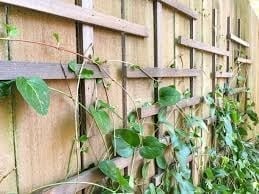 You might love the privacy offered by tall fences around the house, but they don't always look good. Alter this uninspiring appearance, and feel free to jazz up the backyards by adding a clematis trellis. It gives an adequate amount of support to flowering vines, so they can climb high. 
In order to execute this project well, cut the cedar boards into one-and-a-half inch strips so you get the right material for the trellis. 
Trellis with Planter Box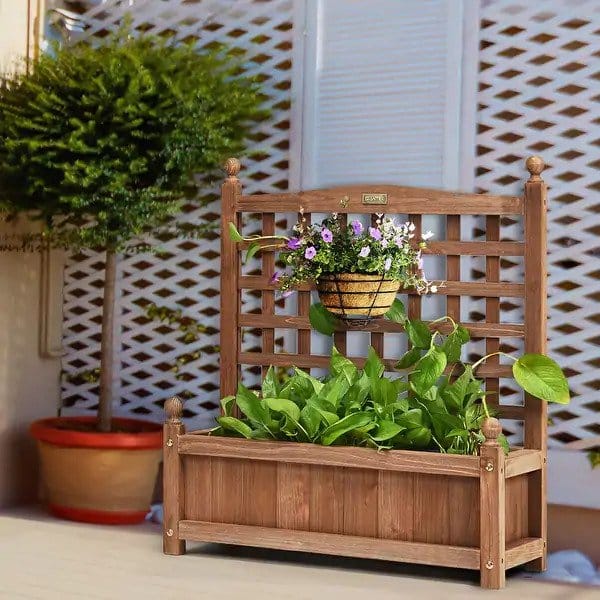 For two projects in one, this installation is the right way to go. Here, you'll see that a trellis is placed inside a handy planter box. There are casters that are mounted on the bottom of the box as well. Thus, there is no trouble in moving the entire thing. 
We recommend adding drainage holes at the base, along with casters, so that the plants remain healthy too. 
Wire Wall Trellis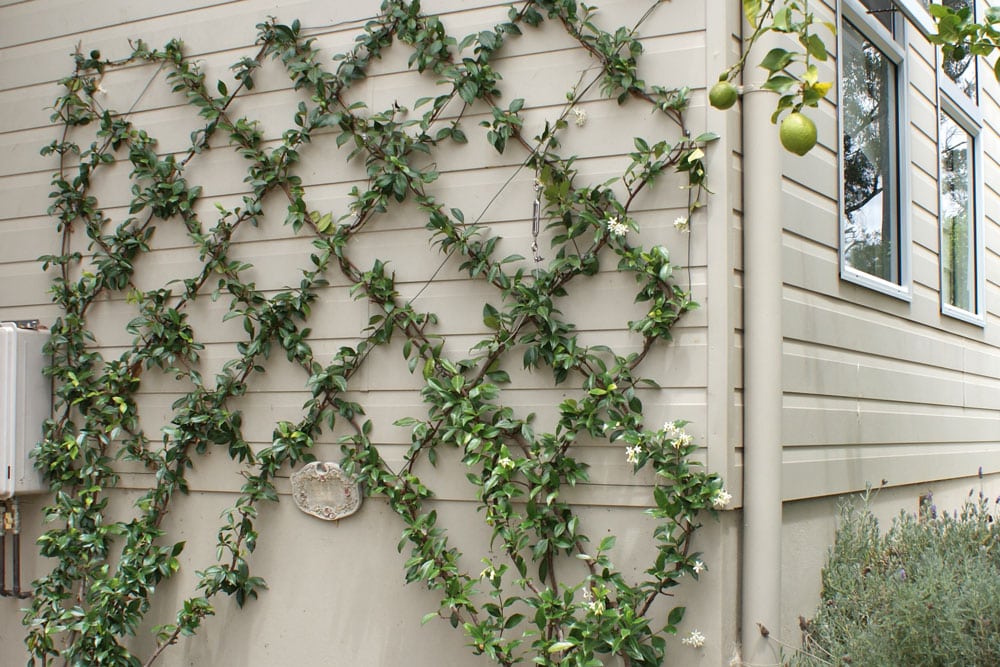 In the event that your garden or yard has a brick wall, it might look quite dull as compared to the greenery around. But, there's a great way to spruce up the look by adding a few vines to the wall. These crawling plants add the right dash of green, and if there are flowers, the overall look is further improved. 
With the masonry anchors, cable wire, and eye hooks, you can create a great foundation for the vines. 
Copper Trellis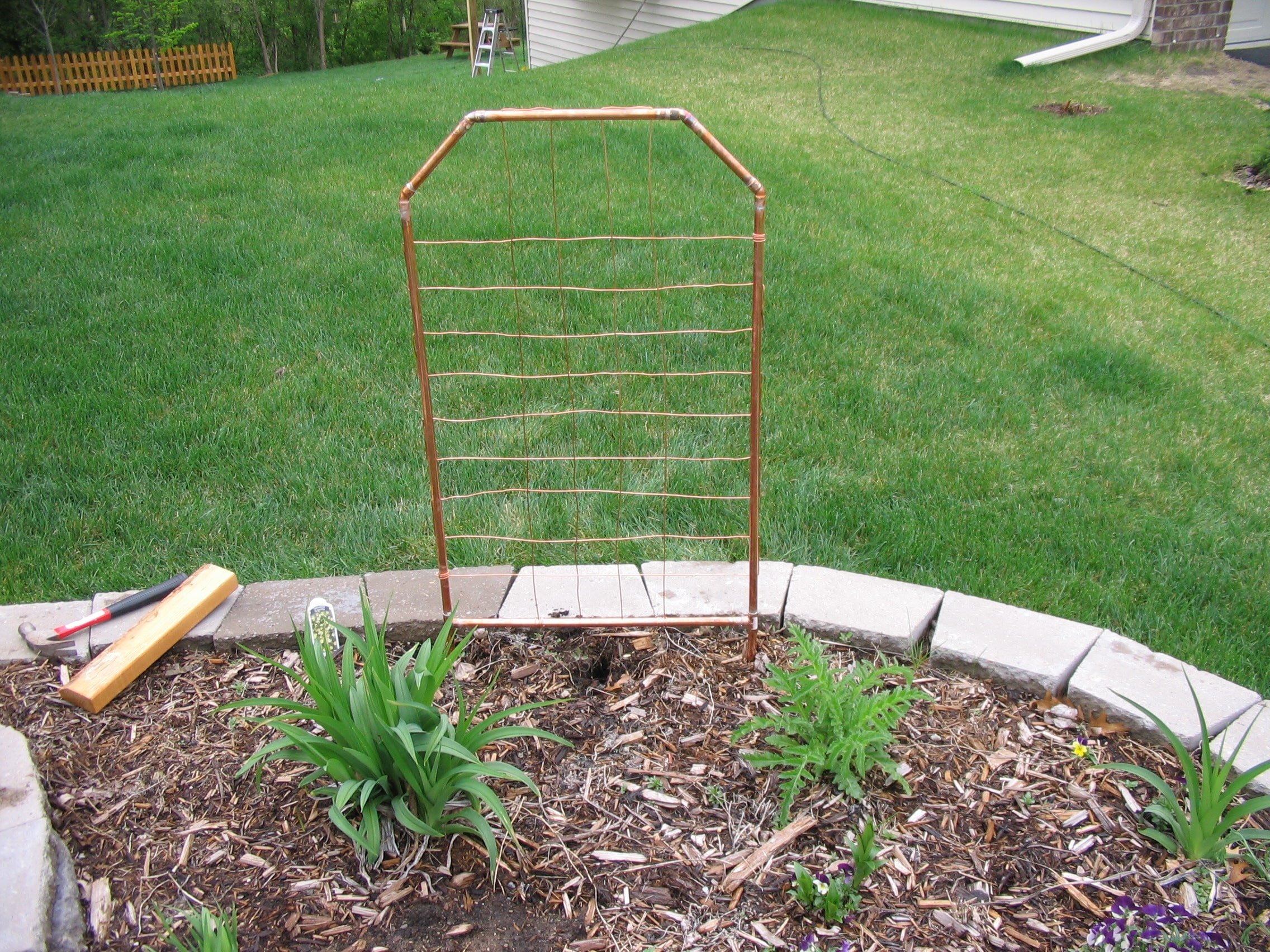 A trellis made of copper pipes manages to encapsulate a feeling of delicateness and strong aesthetics at the same time. Although the assembly might feel like a tough task involving welding, you'll end up finding that it is quite simple to put together. 
We recommend having some strong glue handy to put together the parts. Once the vines begin growing, the entire installation will take on a shade of patina. 
Rustic Trellis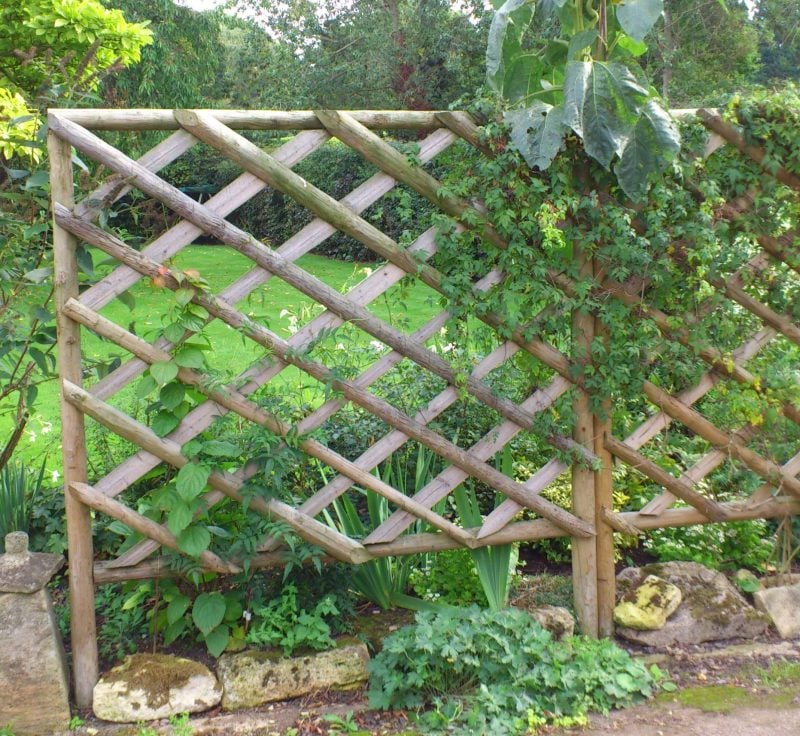 Many like their gardens to look deeply charming while retaining the whimsical aesthetic. You'll find the trellis has been made with green saplings, while they are bent into a certain shape. After they're turned into hoops, these trellises are wedged between the large rocks for around two weeks.
Once dry, the ends are kept in wooden inserts that are buried in the ground on both sides of the walkway. You can also make sure the saplings are lashed together, using additional twine, just so that the structure is more stable. 
Criss-cross Wall Trellis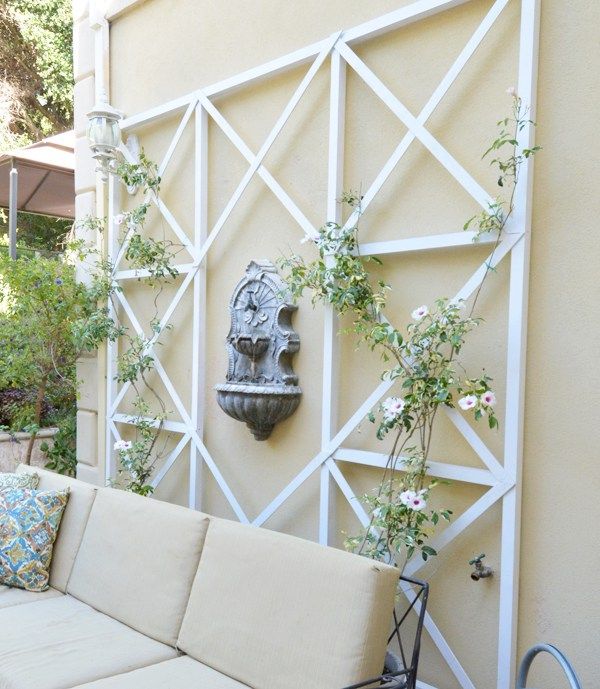 Sometimes the garden might serve as a formal setting. But that doesn't mean it can't look good at the same time. You can easily resort to the criss-cross trellis that champions a degree of elegance. 
There's plenty of space for foliage to climb over, using some kind of support. You'll see pink bower vines growing particularly well here. Sometimes, artwork or installations like fountains can also be highlighted using this structure. 
Simply place the object at the center of the 'X' formed by the trellis. Thus, the entire thing becomes a frame, drawing your attention to the central piece. 
Trellis Ladder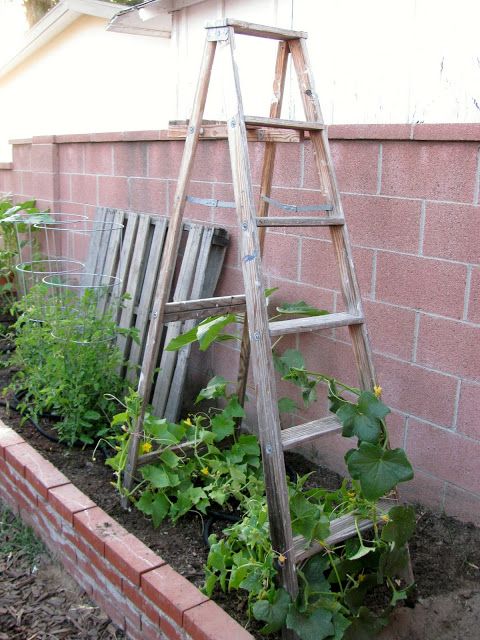 A ladder doesn't just have a degree of utility but serves as a great decorative piece as well. You don't just have to use the item as a trellis, but you can also create a degree of support. In order to do this, you can go about using a bunch of posies, or other decorations, based on the season. 
Overall, this choice becomes a great addition to your patio or porch. If you craft the ladder from black birch saplings or limbs of other unique trees, there is a greater amount of visual appeal to the entire thing. 
Garden Obelisk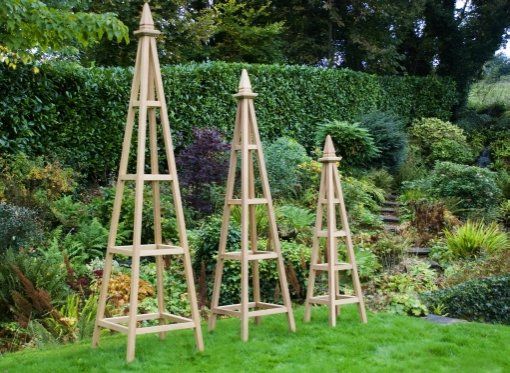 Using this simple yet cheery obelisk trellis is an excellent choice. Thanks to its multifunctionality, you can pretty much do anything, from growing roses to turning it into a cage to grow tomatoes. No matter your need, this installation will come in handy, 
As far as construction is concerned, make use of pine, so the structure is sturdy and long-lasting. For the finishing touch, you might even add a weather vane at the top. In some cases, the trellis is coated with Tung oil instead of using traditional paint. 
Cattle Panel Trellis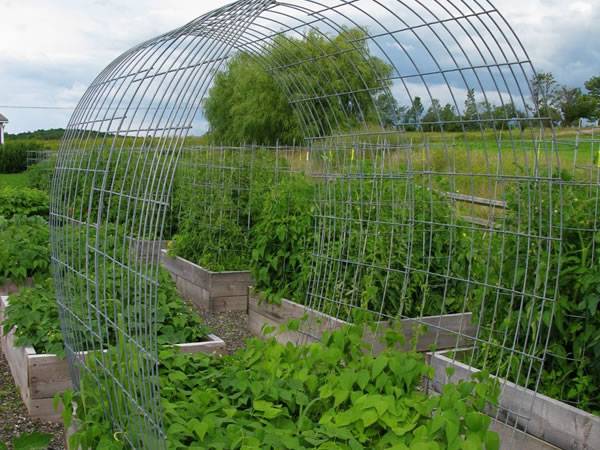 In the event that you don't have much room for gardening, you'll see that the cattle panel trellis saves a lot of space. The design is rather intelligent, allowing you to use metal cattle panels.
Using these, you can grow a lot of vegetables and plants like cucumbers, beans, and pole peas. The way to install it is to trim the panel and make it in half. Then, make use of cable ties or hog rings in order to join them. 
If you need to take the trellis out and store it for winter, then this option saves a lot of space as well. All you have to do is to fold the panes, and you're good to go. 
Freestanding Trellis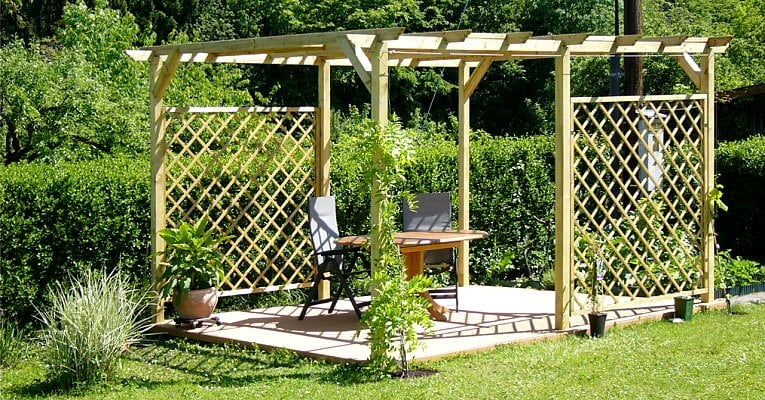 Combining efficiency, ease, and incredibly affordable materials, the freestanding trellis is preferred by several gardeners as a DIY project. Taken together, the raw materials come within $5 sometimes. 
The cost-effectiveness can hardly be understood as the product spruces up the exteriors. You can make this trellis using furring strip boards, brad nails, and glue. Overall, the size can be customized to suit the sizes of different gardens. 
Pea Trellis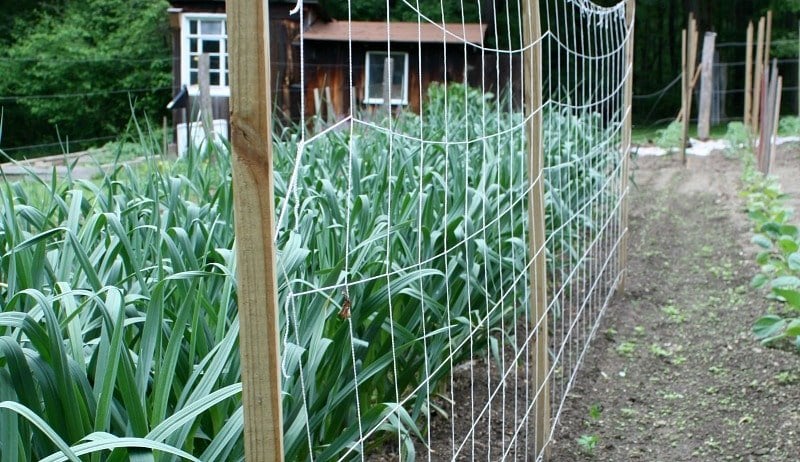 The first thing about this trellis is that the ease of construction makes it stand out. Even kids love lending a helping hand to set it up quickly. You can make the frame out of four bamboo poles and join them with twine. 
All you have to do is to run this twine up and down so that the frame stays together. As it remains taut, try to coax the peas a little and watch them take to the trellis naturally. 
Vining Plant and Pea Trellis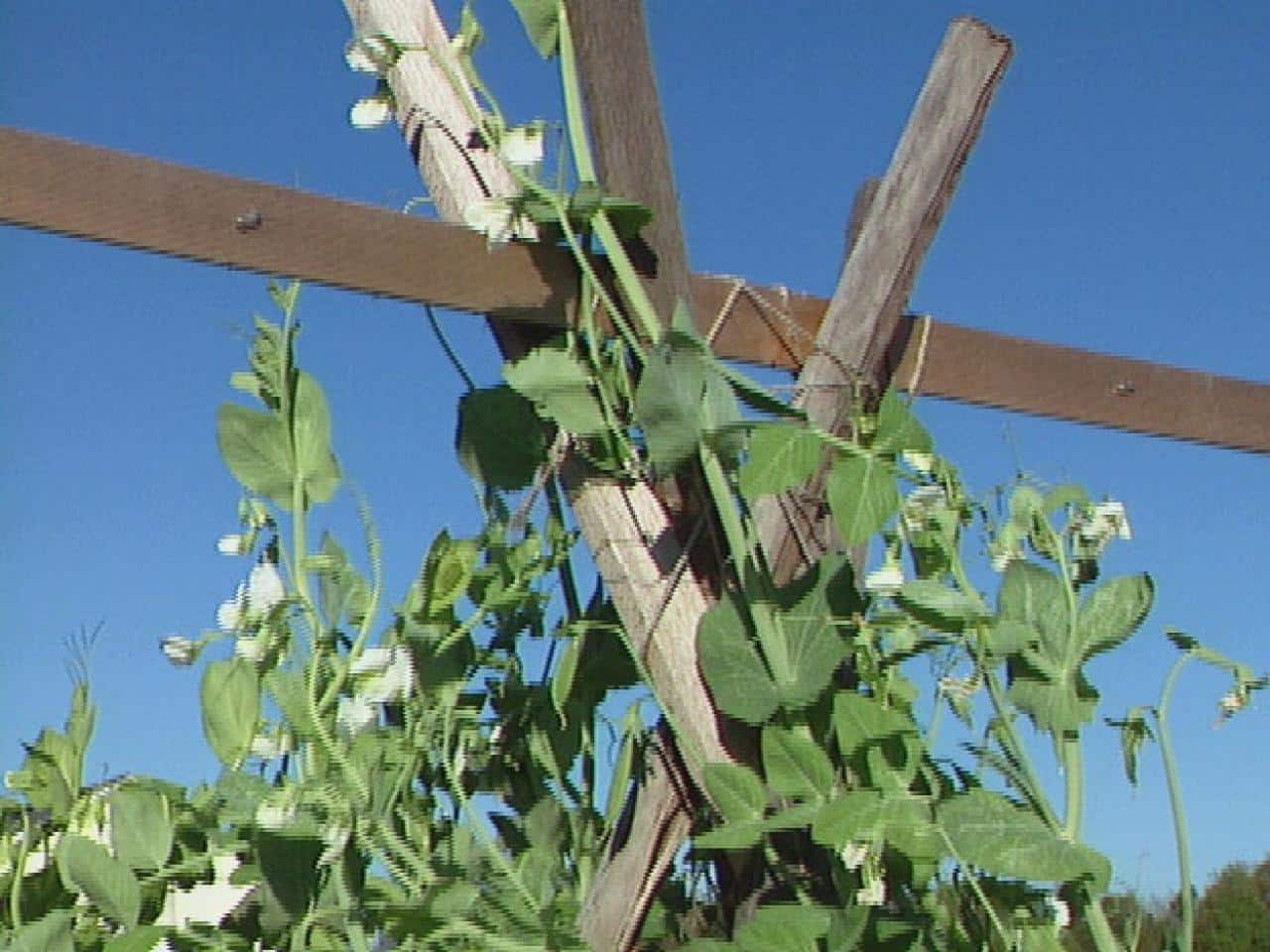 You can build this trellis to be higher or shorter, and it is perfect for any vining plant or peas. Based on your needs, you might also decide to make these trellises thicker and sturdier. In that case, we recommend using better boards so the structural integrity doesn't get compromised over time. 
Trellis Planter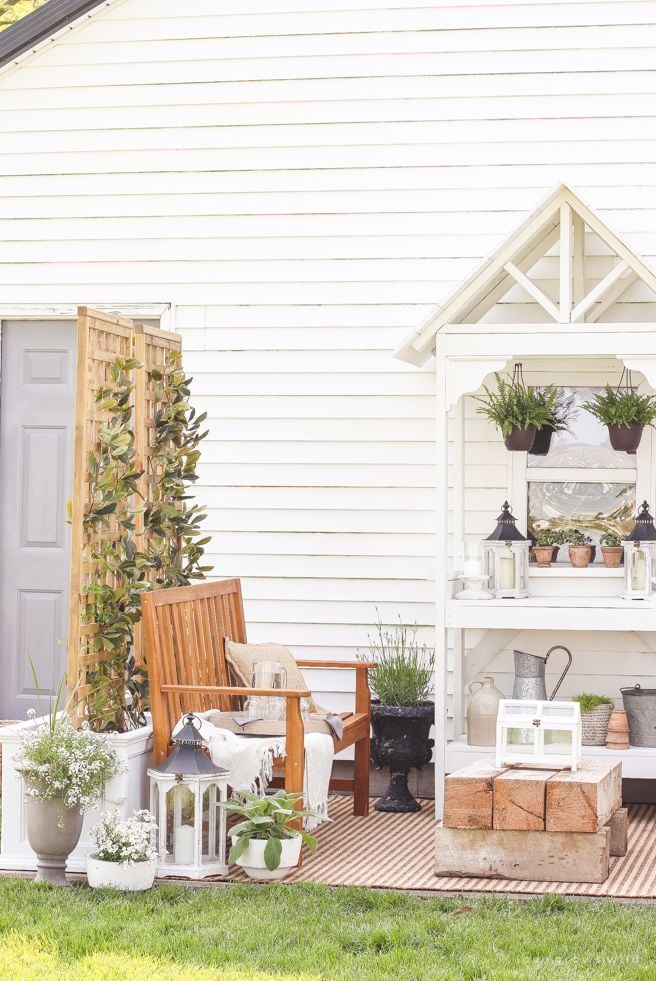 The trellis planter is smart looking and practical. At the same time, these structures add a degree of weight to your porches and patios. To make the build easier and faster, you can make use of latticework, which is prefabricated. 
In order to give this installation a complete look, you can even consider adding a frame with lumber that is pressure-treated. Just place it all around the trellis, and enjoy the effect created. 
Trellis Wall
These trellises are pretty as a picture and make blank walls look visually interesting as well. If you happen to add a bougainvillea creeping on this structure, it will become all the more aesthetically pleasing. 
But, you have to keep in mind to have a few inches of space when installing the trellis so that the vines have space to grow out. Soon, you'll see the trellis covered in pretty greenery, sprucing up the wall.  
Pallet Cucumber Trellis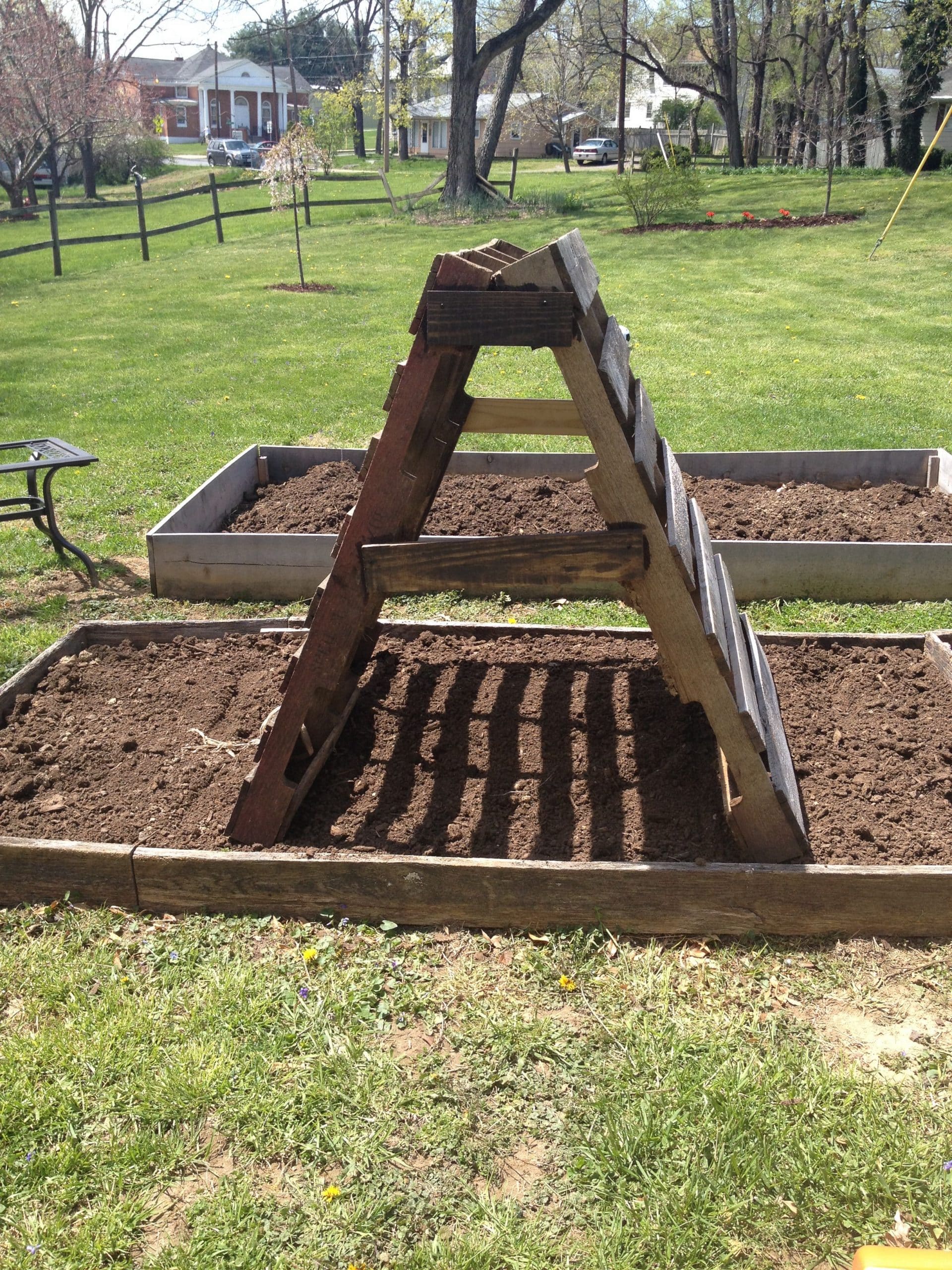 While growing cucumbers, you might face the problem of insects or rodents since they are close to the ground. With the help of the pallet cucumber trellis, these vegetables can now be given a degree of heightened safety. 
It is extremely simple and easy to make these trellises using wooden pallets. All you need are two posts and some twine. Put together, the structure is firm enough and can be used to grow crops like radishes and lettuce as well. 
Garden Tools Trellis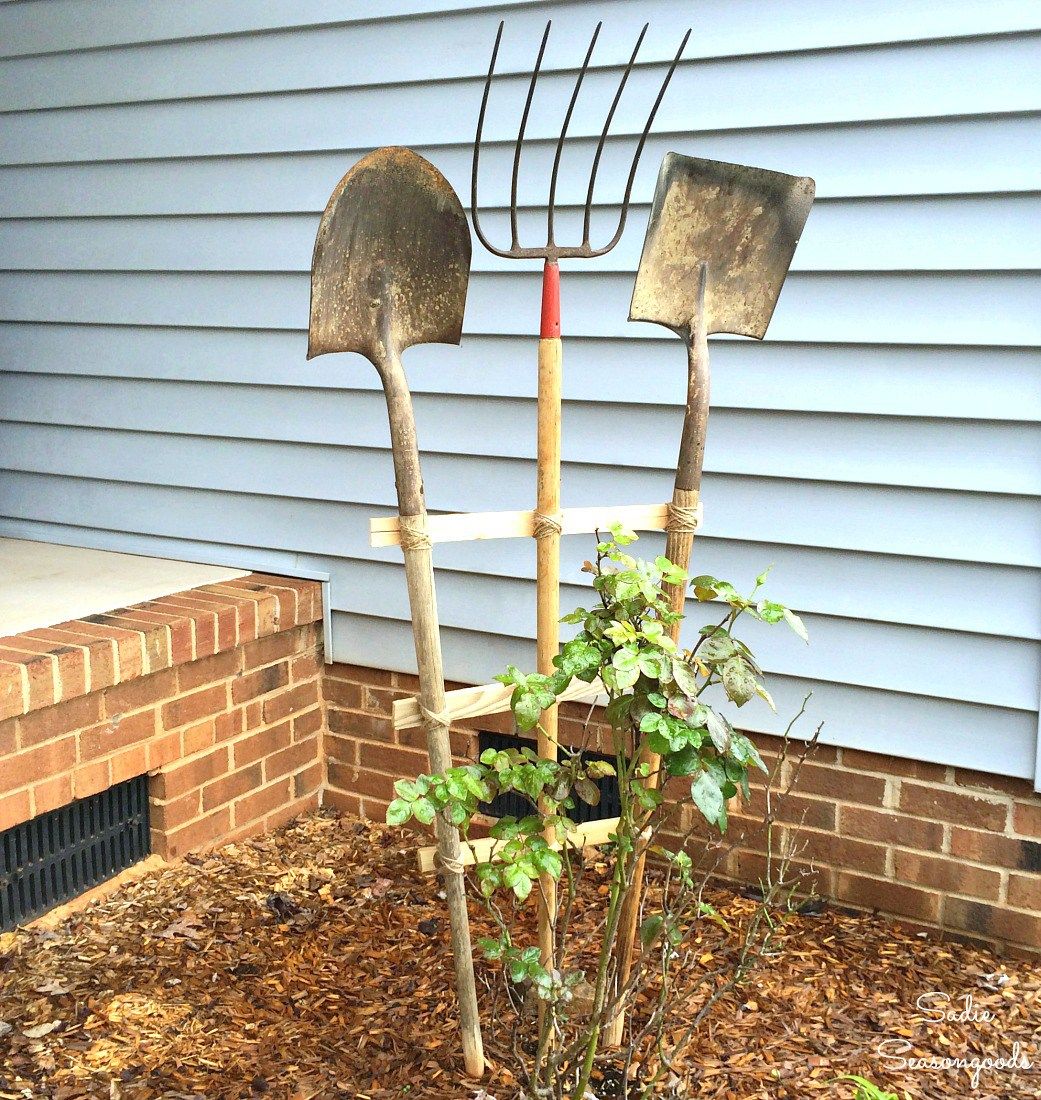 If you've been gardening for a long time, you're bound to end up with a few broken tools which have no practical use anymore. Instead of throwing them out, you should try and make use of the worn-out items, like hoes, rakes, and spades, by making trellises. Apart from the utility, the installation also doubles as garden art. 
First, you need to chisel the handles of the tools, so they're shaped like a stake and can be driven into the soil easily. Then, attach cross slats across the handles, made out of scrap wood. Hold them together with the help of nails or glue. As the structure becomes increasingly weathered, it will look more charming too. 
Chevron Lattice Trellis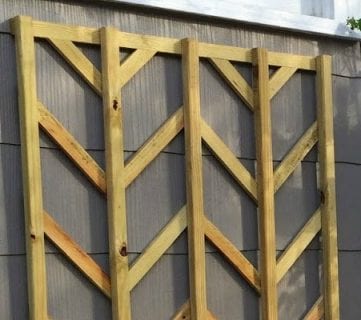 The chevron shape never goes out of style, and if you add it to your trellis, you can be sure the installation will make your garden look all the more modern. Add a dash of flair with this structure, especially if you paint the entire thing black. 
Using zip ties, you can add clay pots with flowers and plants to this trellis so that your garden becomes the talk of the neighborhood. 
Modern Trellis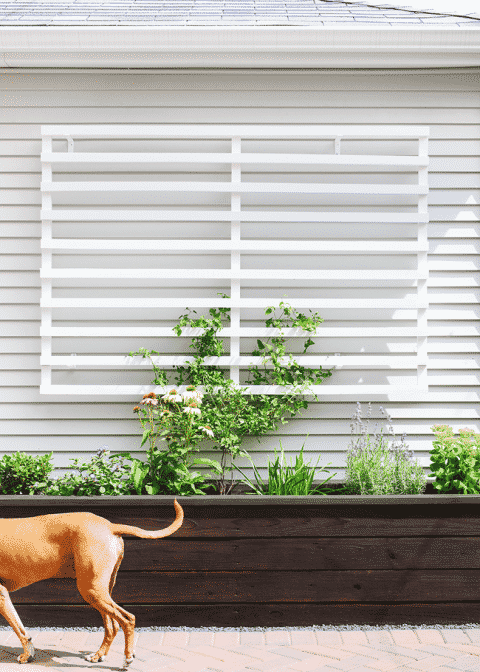 This option embraces the tenets of modernity by being slim and sleek. Even the lines offered are unfussy and simple enough. There is a great contrast visible due to the heavier and more traditional planters, which are placed behind such trellises. 
In order to keep the look clean and bright, you can apply two coats of semi-gloss paint on the exteriors. For more ease, you might resort to sprayers as well. 
Tiny Rose Trellis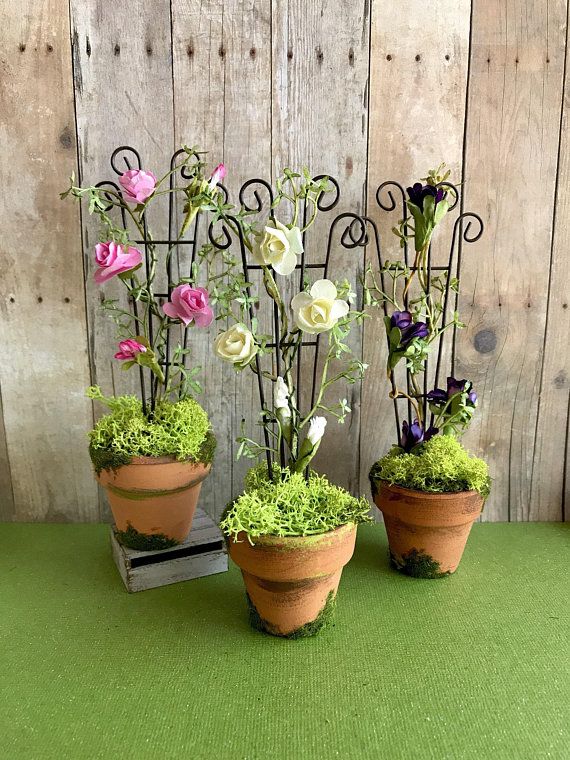 Sometimes the answer lies in simplicity, and nothing proves this better than the miniature rose trellises. Here. You don't need any elaborate design to get the job finished. Try these quaint options that don't take up a lot of space but manage to look sophisticated at the same time. 
If you have a smaller garden area or want to create the look of a comfortable nook, then this trellis is the right way to go. With a delicate framework, they'll make your gardens stand out. 
Bike Rim Trellis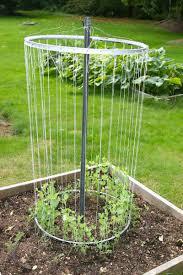 In case you've got a bike rim lying around, taking up space, you can now use it to make an attractive trellis. You might be the person who prefers utility over decor, in which event, this choice is perfect for you. 
Use some gardening twine along with the old bike rim for a functioning trellis that can support plants. Apart from the effectiveness, the process doesn't cost too much money either, making it an endearing prospect. 
Background Trellis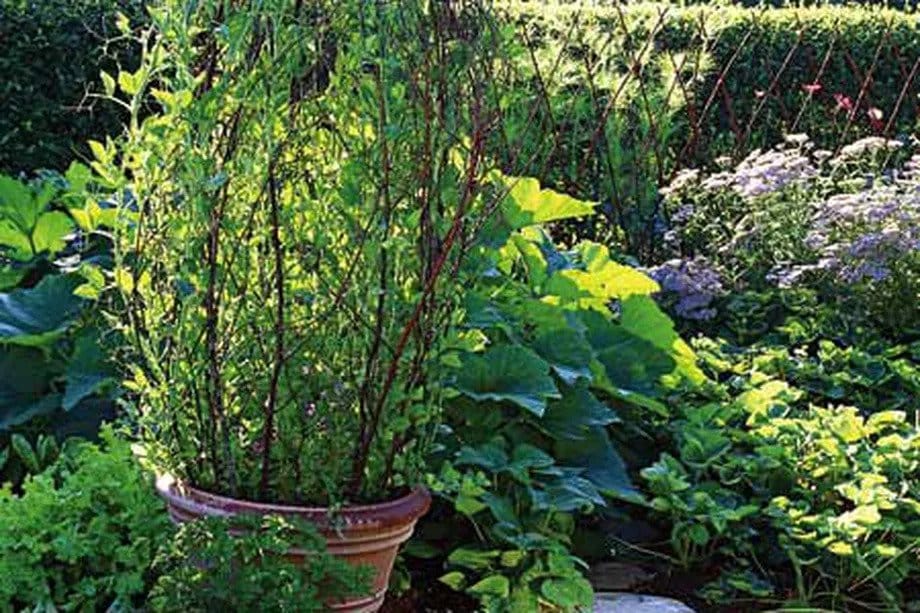 When you use the background trellis, you'll notice how the structure supports the bushes which are in the background. At the same time, the potted plants seem to benefit from the location of the trellis as well.
Ultimately, it is a great example of how a framework can be well incorporated into the design of the garden. The cherry on the cake is obviously how these trellises easily spruce up the place. 
Swooping Trellis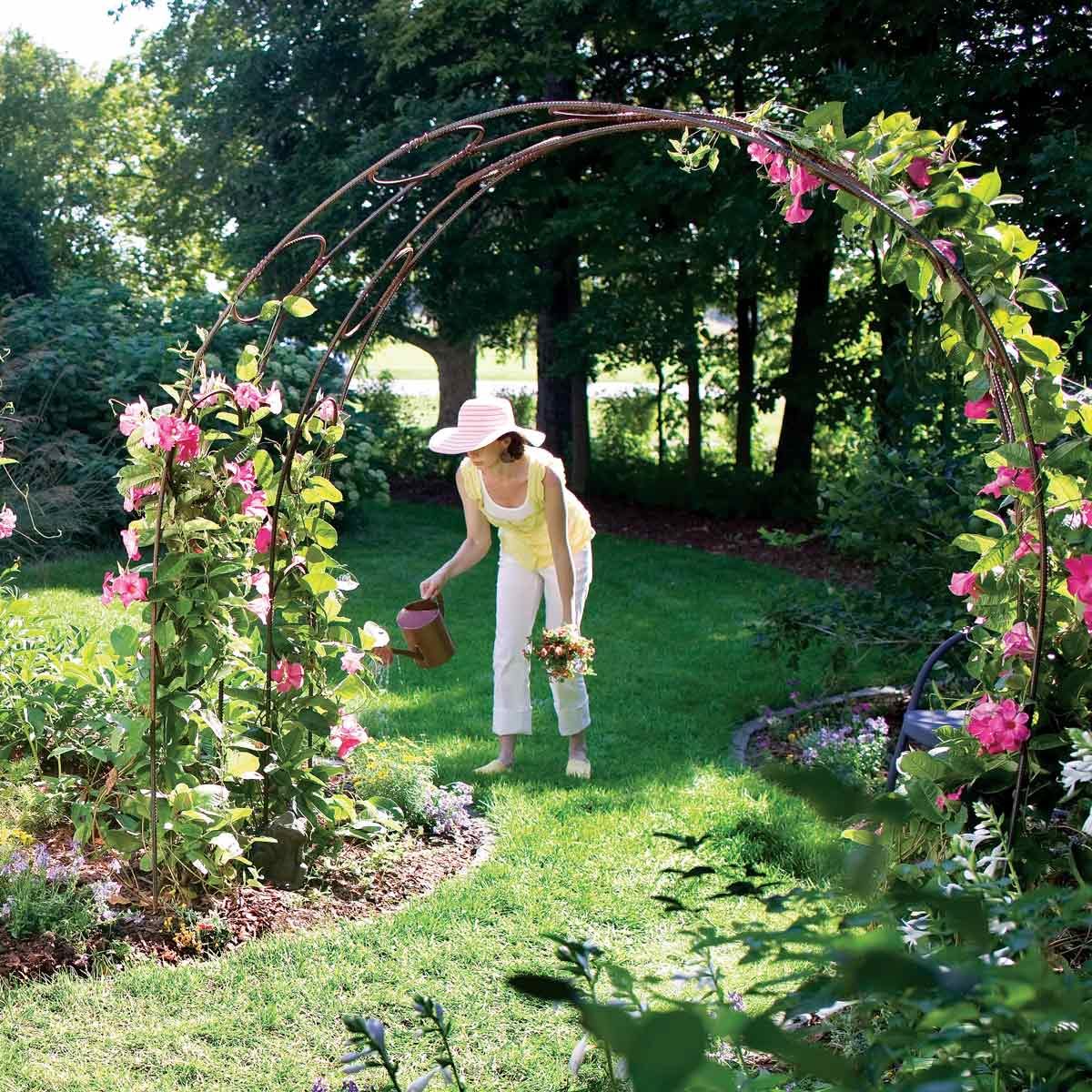 For those who want there to be a canopy effect in their gardens, the swooping trellis is the perfect option. There is a covered effect on the walkway, and the arches attract attention automatically. 
Not only is the framework easy to make, but you'll find the canopy covered in flowers and vines after a while. It makes the garden look and smell wonderful. 
PVC Pipe Trellis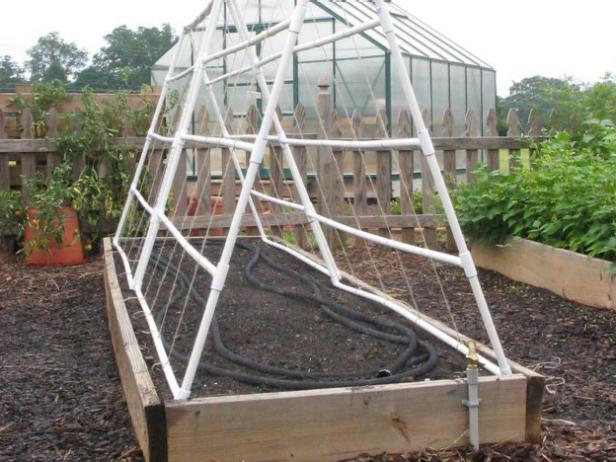 Gardeners are always on the lookout for new ideas for trellises. The PVC pipe trellis is a fantastic addition in such cases. It is a relatively easy DIY project involving PVC pipes and some gardening twine. 
Not only is it easy to build, but the entire project doesn't cost much either. All you have to do is look around the house for some raw materials. 
Rough Trellis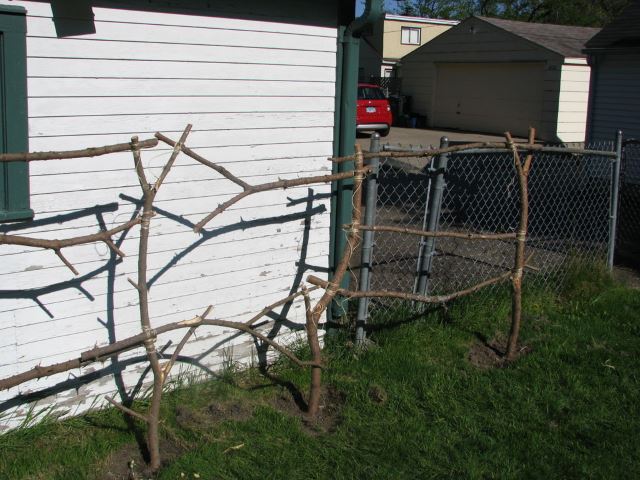 Farmhouses or country cottages snuggled in the woods can make good use of this trellis. It adds a rustic look and has a lot of character. As compared to an ordinary trellis, this design is definitely rougher. While the rough trellis is certainly not traditional, it is considered to be a wonderful addition to most gardens. 
Squash Arch Trellis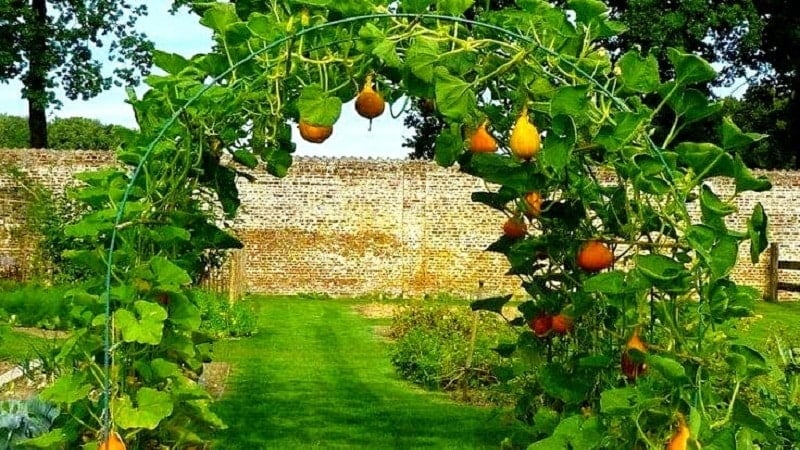 This is a nice spin on the ordinary arch trellis. You'll find that it can support most vines and plants. But, using it to grow squash or pumpkins is especially beneficial in enhancing the overall beauty of the garden. 
Thanks to these trellises, you can be sure that the vines will get all the support and sunlight needed. Once the blossoms become eye-catchers, you can be sure to earn praise for this smart DIY project. 
Contemporary Trellis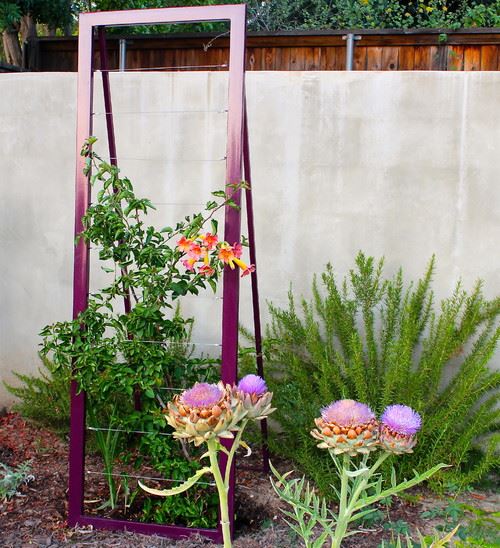 This is a new take on the traditional trellises that most people are used to. Be it a chic getaway or a modern home; the contemporary trellis fits right in. It has a sleek design and happens to be smoother than many other variants. 
Since the wood is painted, the colors are eye-catching, and the smooth texture makes it all the more gorgeous. If you're looking to make a smart addition to your backyard, then this DIY project is the right way to go. 
Creative Trellis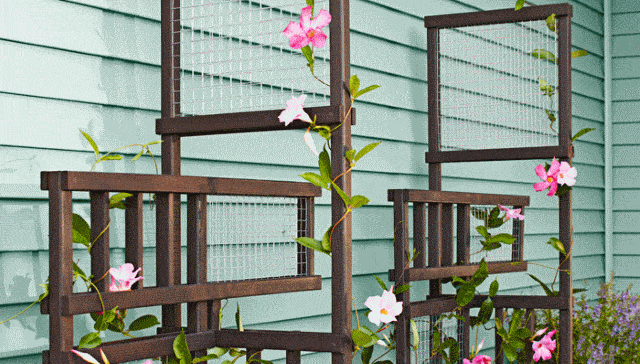 With DIY projects, the best bit is that you can always improve your creativity. This is most evident in some trellises, which look more like art installations. In the creative trellis, you can easily compile several trellises into a standalone concept. 
Be it a porch, or a garden, or even against a wall, these creative trellises only look sophisticated, but they're actually easy to assemble and install. 
Trellis Bench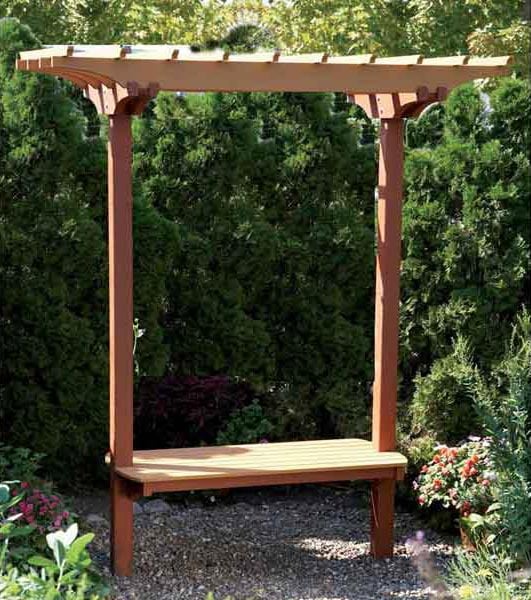 If you've got a pretty garden, it is understandable that you might want to spend some time sitting and looking at it. Instead of adding chairs or seating arrangements, you can always save space and opt for trellises with benches. 
These designs are found mostly in country houses or properties with more sprawling garden areas. If you have parties or gatherings, then this seating arrangement can be perfect for highlighting those who are at the center of the party. 
Moreover, the quaint bench is protected by the shadow of the arch and looks incredibly welcoming when installed properly. 
Trellis Fence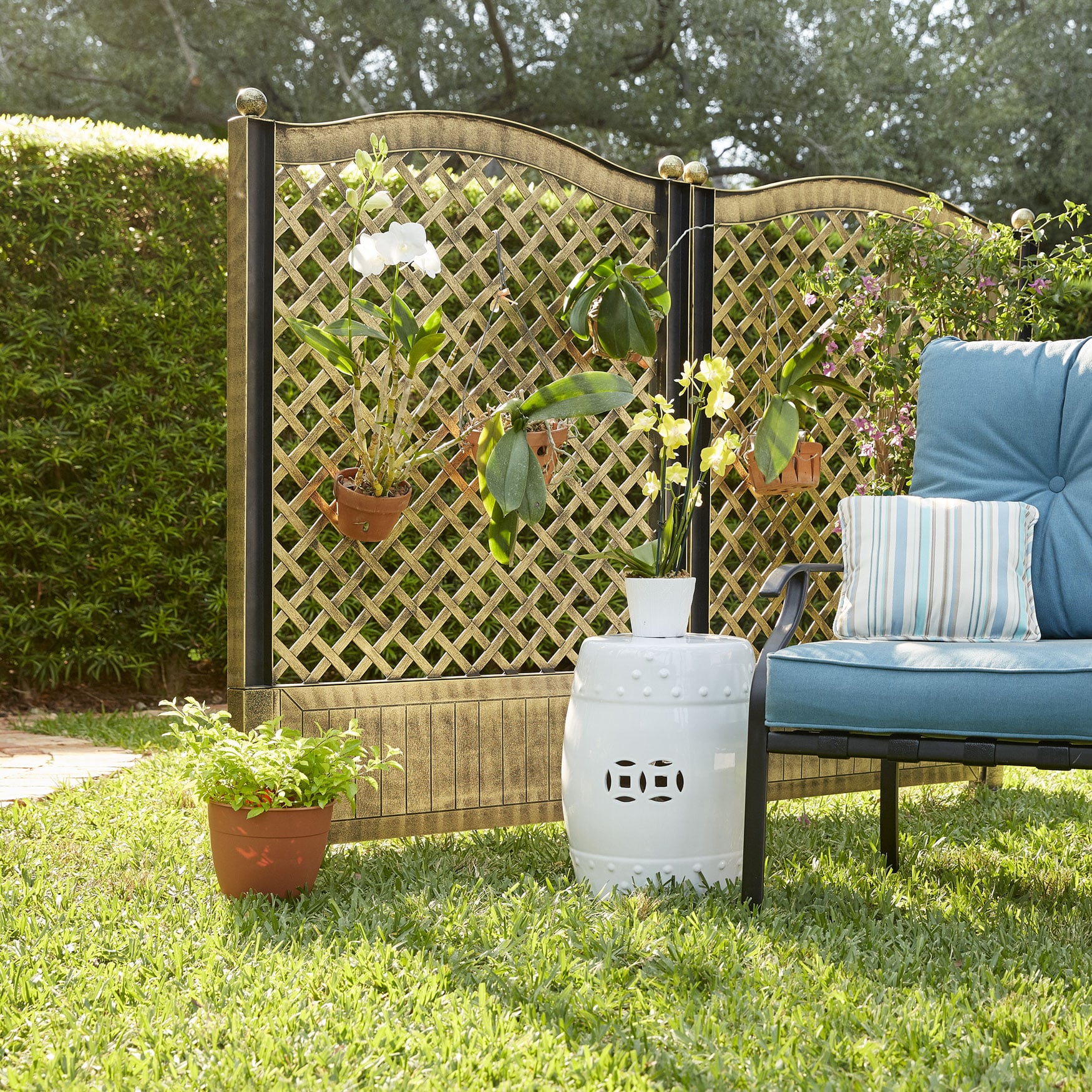 The concept of a trellis fence is extremely nice and easy to execute at the same time. It is simple to put together with materials lying around the house. In essence, it looks like a tiny part of a fence with plants growing on it. 
Enthusiasts can customize the item even further by using materials and colors of their choice. Basically, all you'd need is some wires or twine and wood to build this DIY trellis. 
Japanese Wood Lattice Trellis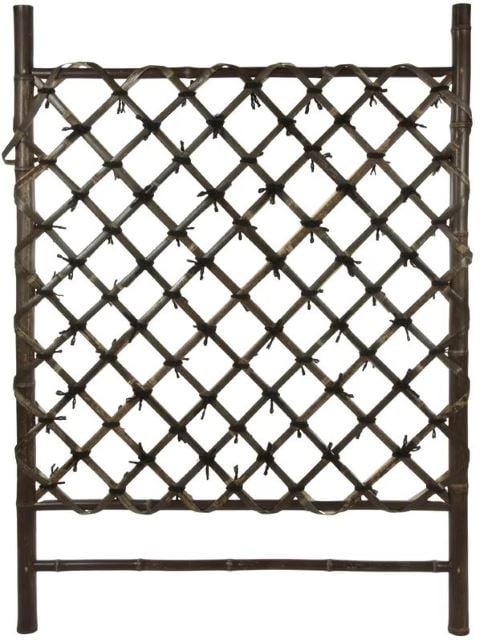 Add a dash of culture to your garden with the help of these Japanese wood lattice trellises. They effortlessly combine beauty and elegance. All you need is a little bit of patience and time to put together this structure. But, you shouldn't feel daunted because the assembly process is relatively simple.
Once the project is wrapped up, you can definitely take a step back and appreciate how it enhances the overall appearance of your garden. 
Vertical Planter Trellis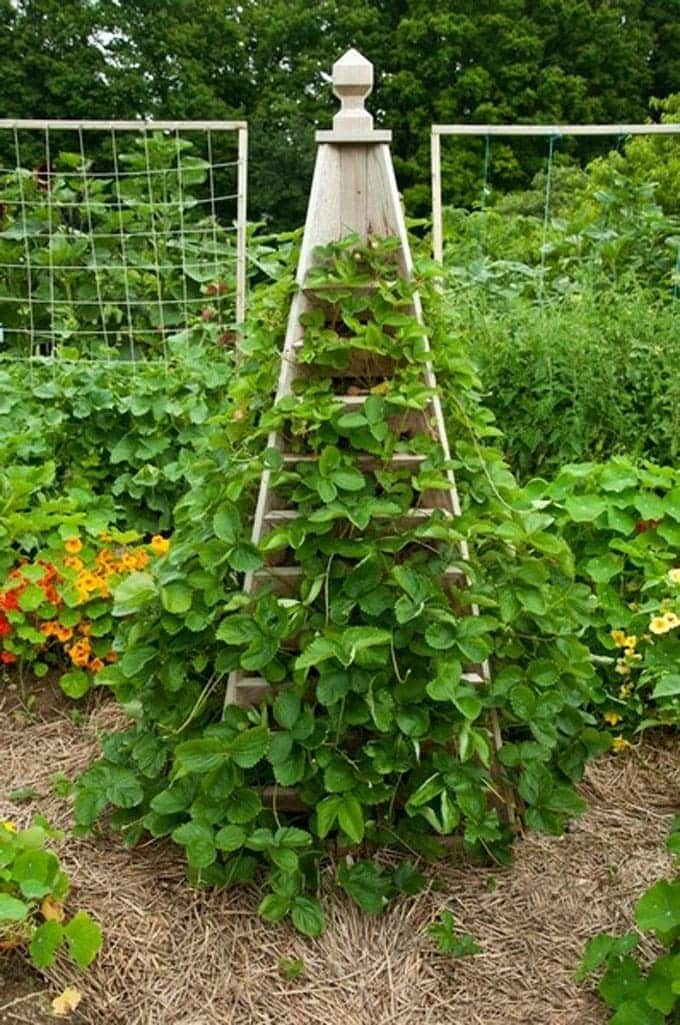 A vertical planter is often the way to go if you're looking to save some serious space. These structures can easily support a lot of plants, making it simpler to care for them too. With the help of the vertical trellis, you can add a dash of efficiency to your garden. 
Stack up the plants in this structure, and the trellis will support them as long as you need to. The installation is sure to catch the eye of everyone for its unique design. Making vertical trellises is easy too, and all you need are some basic tools and extra wood. 
Willow Garden Trellis with Bench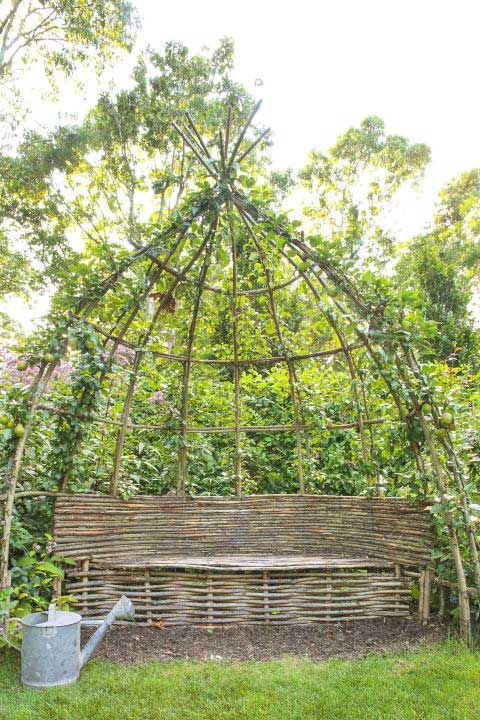 You can make your garden look magical with the help of this willow garden trellis. Using willow wood, you can construct the structure. We recommend adding a bench to the entire installation, so it doubles as a natural seating arrangement. 
Due to the material used, it feels like a natural extension of your decorations, which is why the enchantment is much more. Assembly is relatively simple, and the DIY project lasts for a long time without needing much maintenance. 
Traditional Trellis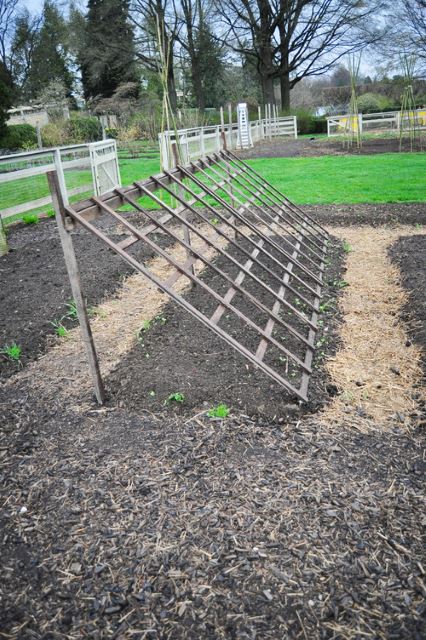 The slanted trellis happens to be a more traditional design that gardeners tend to go with. Once again, it is very simple to put together. All you have to use is some spare wood and twine. For those who don't prefer to slant it, can always go for a hovering setup. 
Normally, these trellises are great for growing tomatoes, pumpkins, and a variety of other vegetables. 
Giant Trellis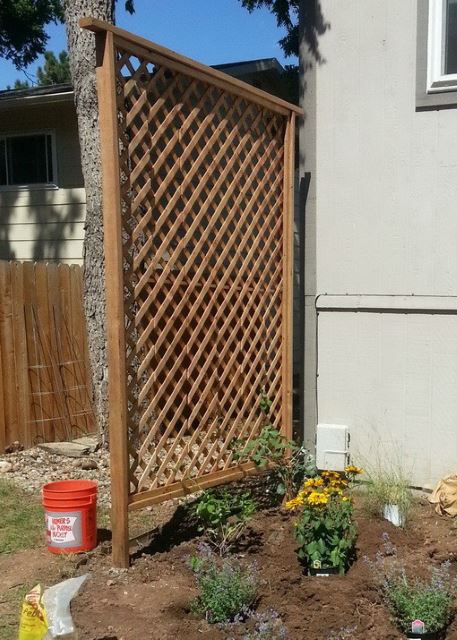 If you're planning to go big, then this giant trellis is the perfect option. You can take some time to create this highly unique design. If you have a side garden or even a yard, it is best to utilize the space with the help of this trellis. 
Notably, the bigger the size, the more plants can be put on it. 
Trellis with Lighting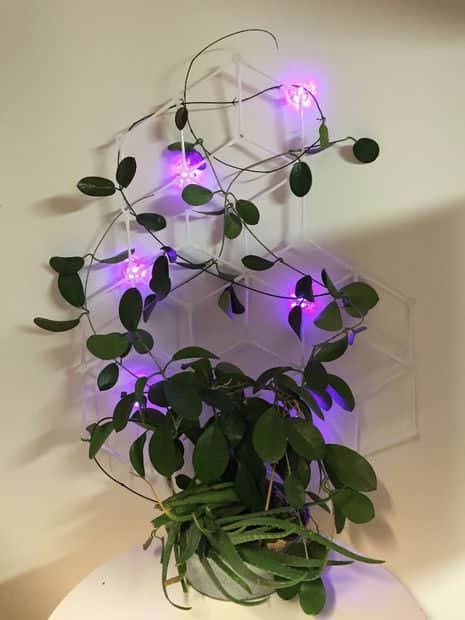 This trellis comes with an incredibly cute design that would be best suited for an interior space. The mood lighting is incredibly funky and adds a bohemian touch to how plants are kept. Not only are the lights bright yet simple, but the plants benefit from the supportive structure of the trellis as well.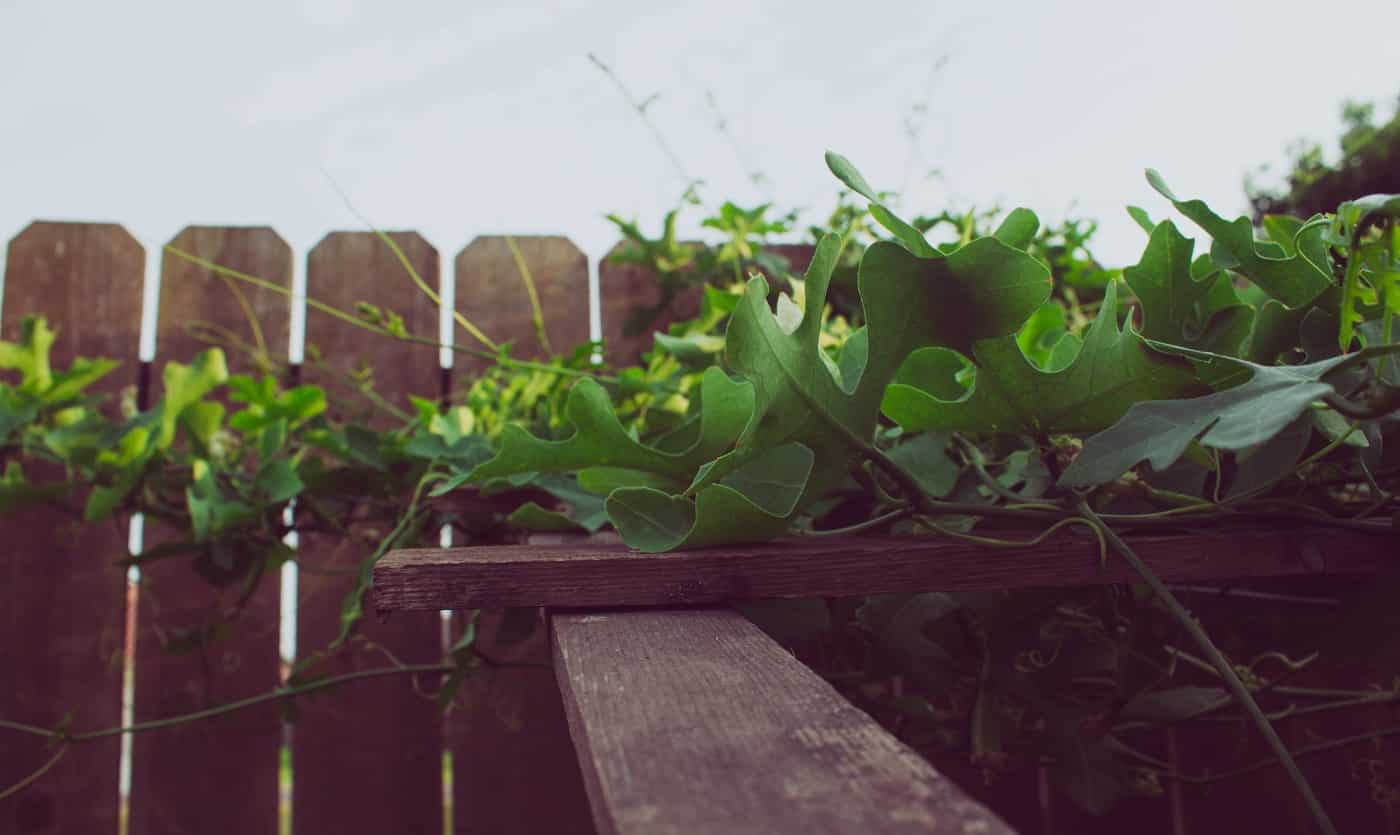 Final Words
Now that you're acquainted with some of the best DIY trellis ideas, it is time to apply these to beautify your lawns or gardens. Be sure that the installations look stylish and are crafted with longer-lasting materials. 
If you want, you can further increase utility by adding benches. While some of the trellises require a larger degree of handiwork, others can be simply assembled with materials that lie around every household. 
Depending on your requirement and the kind of aesthetic you're going for, you can decide which trellis suits you the best. And with that, we will take your leave now. If you run into any problems with the assembly or choice of a trellis, then do reach out to us. 
Goodbye for now!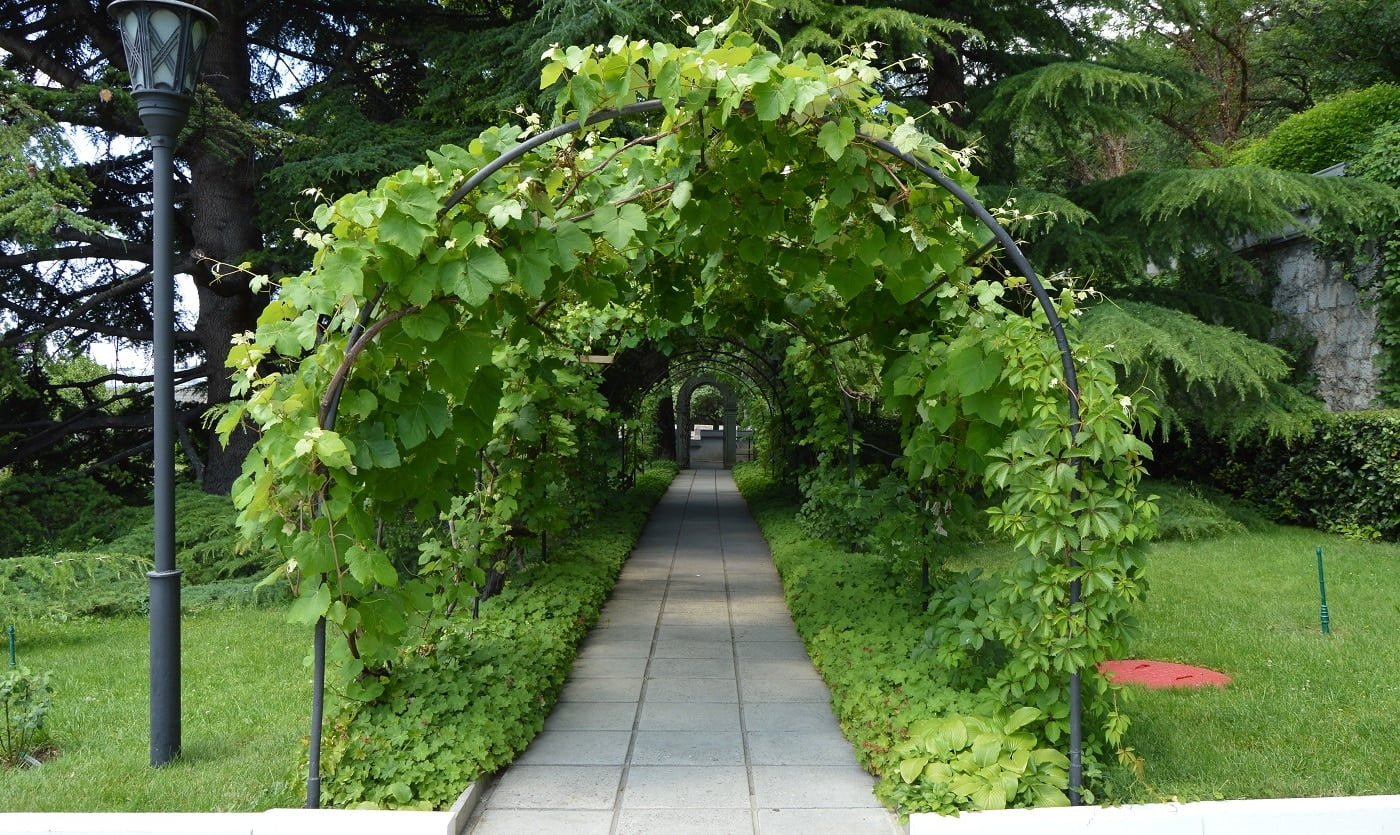 Related Articles
10 Best Folding Lawn Chairs to Rock
53 of the Best GreenHouse Plants for Happy Gardeners and Gardens
72 DIY Greenhouse Plans to Build Easily in Your Own Garden
Effective Tips for a Weed-Free Landscape Design Today
5 Best Weed Barriers and Landscape Fabric for Happy Gardeners
Best Lawn Edging for a Legendary Garden 
Short Intro Into The Basics of Lawn Care for an Epic Curb Appeal
5 Best Self-propelled Lawn Mowers Right Now
The 5 Best Lawn Mowers for St Augustine Grass Right Now
53 of the Best GreenHouse Plants for Happy Gardeners and Gardens
72 DIY Greenhouse Plans to Build Easily in Your Own Garden
5 Best Weed Barriers and Landscape Fabric for Happy Gardeners
7 Best Greenhouse Plastic | Buyer's Guide and Reviews
13 Best Trimmer Lines | Multi-Sided, Round, Square, Twisted & Serrated
8 Best Dump Cart for Lawn Tractor & ATVs | Buyer's Guide and Reviews
7 Best Shoes for Cutting Grass Comfortably | Buyer's Guide
13 Best Tow Behind Spreaders of 2022
11 Best Fertilizer for Citrus Trees Right Now
13 Best Poison Ivy Killer Reviewed
13 Best Fertilizer for Fruit Trees  
13 Best Fertilizer For Blueberries 
13 Best Organic Lawn Fertilizer 
13 Best Fertilizer for Tomatoes  
13 Best Fertilizer For Succulents Reviewed 
13 Best Fertilizer for Hydrangeas 
13 Best Fertilizer for Hibiscus 
13 Best Liquid Lawn Fertilizer Right Now