An ideal companion to all kinds of construction work, the Freeman PFR2190 Framing Nailer is an exceptional product to choose.
Now, are you wondering what exactly constitutes a flawless nail gun? We will tell you that the right one fits into your work schedule effortlessly, helping to finish the task at hand in a breeze. But there are different factors determining if one is suitable considering the volumes and sizes of nails that are needed.
This device is designed to work with 21-degree full head nails and functions superbly for all kinds of installation and construction work. We have used it for subflooring, wall sheathing, and side installations and honestly, it works like butter, even on the toughest of surfaces.
Without further ado, let us get into it!
Why Buy This Product?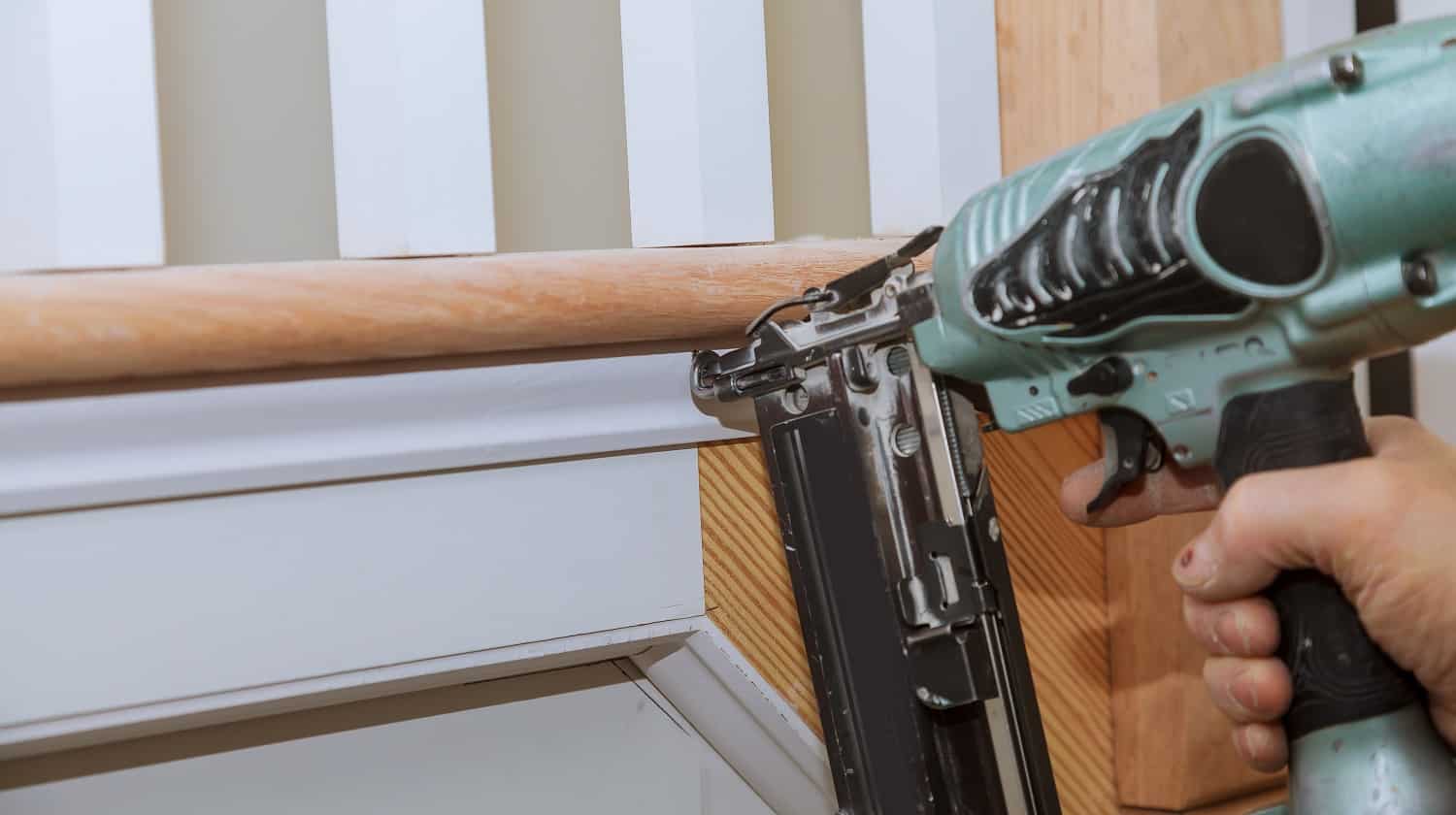 This nailer impressed us with its wide variety of nails that it could work with. Its capacity ranges from 2 ⅜ to 3 ½ inches straight and ring shanks. Most fail to work with both of these types, but this one stands out.
And that wasn't the only aspect of its versatility that impressed us, as it operated at 70 to 115 PSI. Known to be one of the most robust and dependable devices, it can prove to be a valuable addition in your arsenal. But how exactly? We will move on to its extensive bells and whistles to tell you just that.
Jamming
Now, if one says that a nailer will not jam, they are clearly under a misconception! Every nailer, however good, jams at one point, the only difference is its frequency. With Freeman, jams and misfires are rare occurrences, and every time they do occur, it is very easy to reload and begin working again.
Working with hard surfaces
The product works superbly well with wooden surfaces. You will feel like nailing through butter; such is the convenience provided. This level of smoothness is further enhanced by two fire triggers.
One of them is secured to the gun itself while the other is a rapid-fire trigger. If you are working with very hard surfaces that are usually difficult to penetrate, this rapid trigger will help immensely. This is handy for all kinds of jobs, from flooring and framing to wood box assembly, pallet building, and fencing.
Ease of use
Do you plan to work for long hours? Every professional knows how strenuous it may get for the hand while using a nailer for long. But this unit takes care of it with its brilliant grip and lightweight design. It is easy to lift and hold, and the grip is quite comfortable.
With a magnesium body and ergonomic, secure handle, what more could you be looking for! Also, it features anti-vibration comfort. This prevents the product from vibrating too much while working, thus, in turn, reducing the strain.
Depth Adjust
Those who are into professional drilling will know that surfaces vary in depth a lot. While some surfaces are easy to nail through, others may be very deep and may require more pressure. To make sure that you do not go wrong here, this product features a depth adjusting mechanism. You can customize the firing depth according to your needs to achieve consistency.
No-mar tip
While you are at your job, it is very easy to leave scratch marks on the surface that is being worked with. We have faced an issue with this many times, especially when the surface is smooth, and the tip of a device is sharp.
But with a rubber tip which guards the metal underneath, there will be no dents to worry about. You can always aim for a clean, professional finish thanks to this.
Now, if you are working with a slippery surface, the rubber can be removed too. Once you remove the rubber, you will be able to expose the teeth. This will help grip the surface better and make sure that there is no misfiring.
Prevents dry firing
These kinds of gadgets can often be damaged if they are fired without nails inside. It is not possible always to keep a count of the number of nails left in the chamber. But with anti-dry fire, no nails will be fired as soon as there are less number of them left. The stock needs to be replenished before the device starts working again.
Anti-dust cap
A significant problem for a nailer is the accumulation of dust inside the body. This happens especially when you need to store it for long. But with the anti-dust cap, the internal parts are well protected and remain clean even if you store it for long.
360-degree adjustable air exhaust
Another brilliant feature we cannot miss out on is the adjustable air exhaust. You can adjust it in such a way so as to keep the air away from your face while working. It can get quite annoying if the air flows directly into your face and may disrupt the work. But now it is 360 degrees adjustable.
Moreover, this can also be used to clean the work surface before you begin nailing. It will efficiently blow away dust and debris, letting you work in peace.
What Could've Been Better?
We found that though the anti-dry firing was beneficial in keeping the device from getting damaged, it also proved to be a bit of a hindrance. The gun would automatically stop without you realizing, and it would hang suddenly in between work.
We would have preferred it if there was a small window that let us view the number of nails inside. This would alert us if there were a lower number of nails, and we could work till the last nail before replenishing it. A window is essential, to say the least.
Another thing which disappointed us a little is that it has more recoil than other devices in the same range. This led to the plastic of the nails to fly off in any and every direction. This could hurt you, and thus you need to be careful while working.
Again, nothing is perfect, and we will not hold these two drawbacks against the exceptional list of features that accompany this product.
Pros
Compatible with nails ranging from 2 to 3 ½ inches

360-degree air exhaust

No-mar surface and no-slip teeth

Lightweight and durable

Interchangeable trigger for more power

Ergonomic grip for comfort

Tool-free finger depth adjustment
Cons
No window to view nails

More recoil than other devices
Framing Nailer Buyers' Guide 
A good nailer can make or break your day. It has the power to allow you to work efficiently and quickly, or it may cause work to lag. So choosing the right sort of nailer is vital. Now it is not enough to know the names of the best nailers; you also need to make sure that it fits your specific needs. 
We have listed down some of the essential points which you should keep in mind before making a purchase. Read on to know all about them.
Size of nails
There are many sizes of nails in the market, and different nail guns work with different sizes. It is crucial that you check the size of the nails you want to use and then go for a product. They vary in size capacity and cannot fit in nails, which do not fall under the mentioned size limit. 
Heaviness
Imagine having to work for long hours with a heavy gadget? It sounds like a colossal task, right! People often do not pay attention to this in the beginning, but, in the long run, suffer a lot. Always choose a lightweight device that is easy to carry. 
Also, bulky devices become a hindrance in case you are working with tight spaces. What happens is that space is already less, and a heavy and bulky machine cannot function in it. You will not be able to hold it properly and so it is best to choose something versatile enough to be used everywhere. 
Firing methods
There are different firing methods that enable you to work smoothly. From contact or bump firing to single actuation, full-sequential and single-sequential firing, check the details of the device to know what your device supports. 
While bump firing allows one to drive nails in succession, single sequential firing stops you from doing so. So you need to understand your needs before buying a device as it is very easy to go wrong here. 
Safety features
Never ignore the safety features as any injuries with a malfunctioning device could be fatal. The 360-degree adjustable air exhaust is a useful feature because it prevents air from directly blowing into your face.
Also, the no-mar tip protects work surfaces keeping it safe from scratch marks made by the metal tip. Another thing to do is wear safety goggles because the plastic of the nails may come flying at you. 
Grip
A good grip can help you a lot in the long run! The hand faces severe fatigue when working for long hours, and an excellent soft grip can work wonders to ease the pain. Always check on the grip and see the features it comes with. 
An excellent choice would be to go for one which absorbs vibration from the machine and releases half the pressure build-up. Anti-vibration technology goes a long way in making sure that your hands do not face too much stress.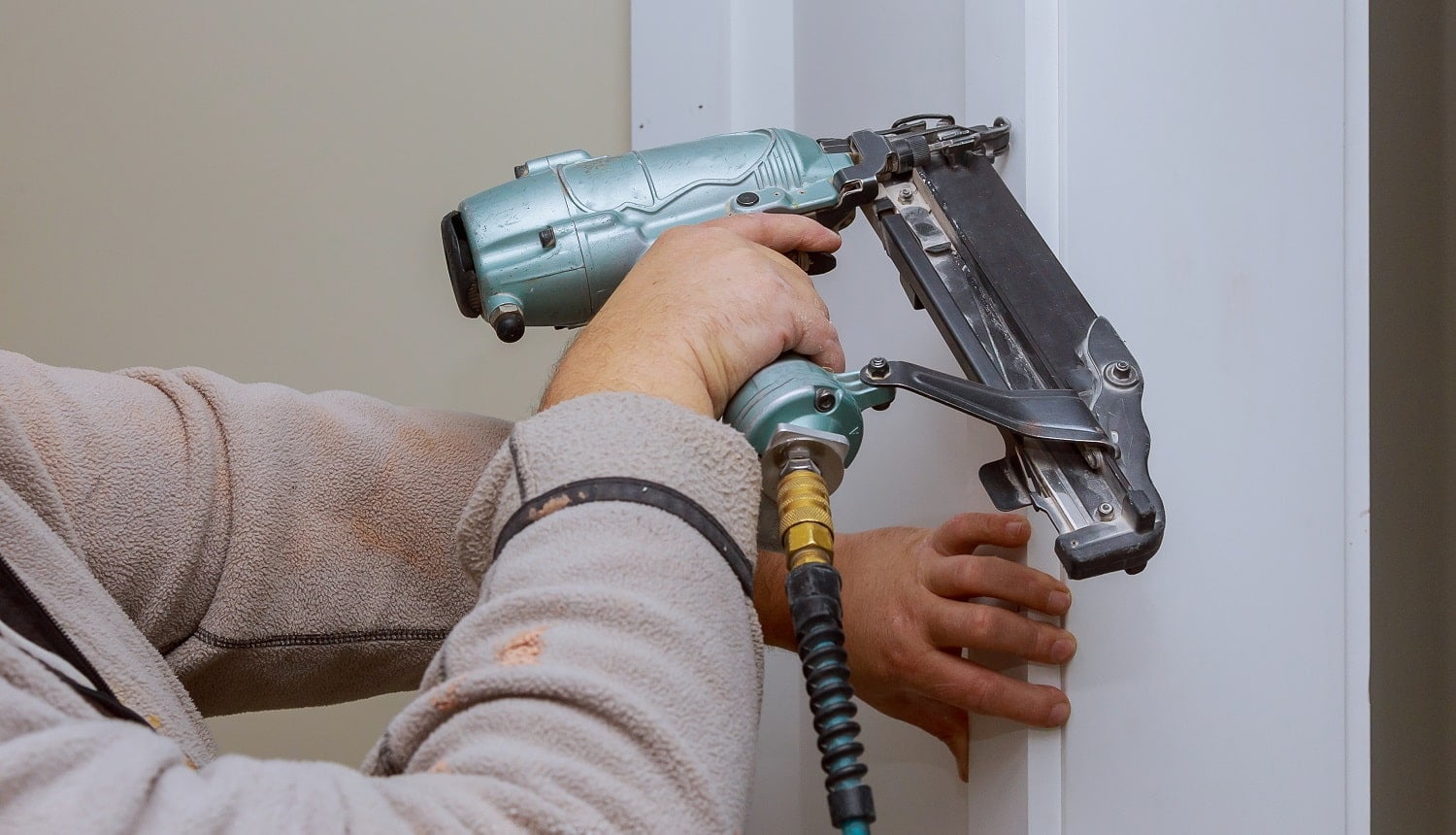 Verdict
If versatility is on your mind, you cannot go wrong with the Freeman PFR2190. With a hoard of features and top-notch quality, it gives you the most bang for the buck. We found it to be a pretty affordable device.
Also, the safety features and the ease of use is quite impressive. We have been using the product for almost a year now, and there are no signs of wear and tear. The body may be lightweight, but it is pretty sturdy and does not get impacted by bumps and jolts.
It is now time for you to buy one for your projects. If you have any further queries, let us know in the comments section below.
Happy shopping!
Related Articles
9 Best White Face Paint For Cosplay, Clowns & Halloween
8 Best Face Paint For Kids Reviewed
6 Best Body Paint | Top Brands Compared
5 Epic Face Painting Supplies That Will Improve Your Designs
6 Best Body Paint For Cosplay Reviewed
11 Best Face Paints Reviewed | Top Brands Compared
Learn How to Body Paint With Brilliant Results Right Now
16 Brilliant Face Painting Techniques to Feed Your Imagination
11 Best Face Painting Kits Put to the Test
13 Best Air Compressors | Buyer's Guide and Reviews
10 Highest CFM Air Compressors  
9 Best 6 Gallon Air Compressors for Your Home & Garage
10 Quietest Air Compressors For Your Garage
13 Best 30-Gallon Air Compressor d
Makita Mac2400 Air Compressor Review
10 Best 80-Gallon Air Compressor to Consider
13 Best 20 Gallon Air Compressors 
13 Best Portable Air Compressor 
How To Refill Co2 Tank with Air Compressor?
13 Best Quiet Air Compressor for Your Home 
10 Best 60-Gallon Air Compressors to Use 
13 Best 10-Gallon Air Compressors for the Buck 
10 Best Air Compressors For Impact Wrenches 
10 Essential Air Compressor Accessories You Need
10 Best Air Compressors For Nail Guns
13 Best 60 Gallon Air Compressor 
12 Best Gas Powered Air Compressor for the Buck in 2022
What Do You Use a Brad Nailer For?
What Size Nails Do You Need for Framing?
Pin Nailer vs. Brad Nailer 101 | Key Differences, Advantages & Disadvantages
What Size Finishing Nails For Baseboards?